This afternoon's wedding is a great reminder that from us to you that you really don't  need to have anything for a wedding other than two people in love, committing to each other.  Benjamin, a gold miner and Perry, a former track athlete, author and health coach,  tied the knot via a romantic elopement at Ross Priory on Loch Lomond, Scotland on June 12th 2014.  This wedding really is about the couple and their ceremony – though the breathtaking Scottish backdrop adds an element of awe wonder.
This is a stunning elopement entwined with the brides love of colour and with a gentlest of nods to the deco era. It's why I love the weddings hat Annabel features on Love My Dress – they are always so real, honest and inspiring.
"We went to Scotland because, near Loch Lomond to be married – it is where the Buchanan's are from and that's my ancestry. Both of us are very Scotch­ Irish, through and through.   We also wanted to be outside, because it felt more natural to be in that setting. We are both very earthy people and it felt right not to be in a building. For us, that was the most ultimate romantic thing one could do. Our wedding pictures really reflect that."
Photography Copyright (c) 2014, Maureen Du Preez
"At first, were going to rent an entire castle and we invited friends. Most of them (97%) were not even going to be able to make it, since it was a destination wedding and we are at the age everyone is having babies or just had babies. So after sending out invites and paying a deposit on a castle, we sent another letter out saying that we were basically going to elope and it would be great if you could attend, but it's totally okay if you cannot.
We lost the deposit on the castle."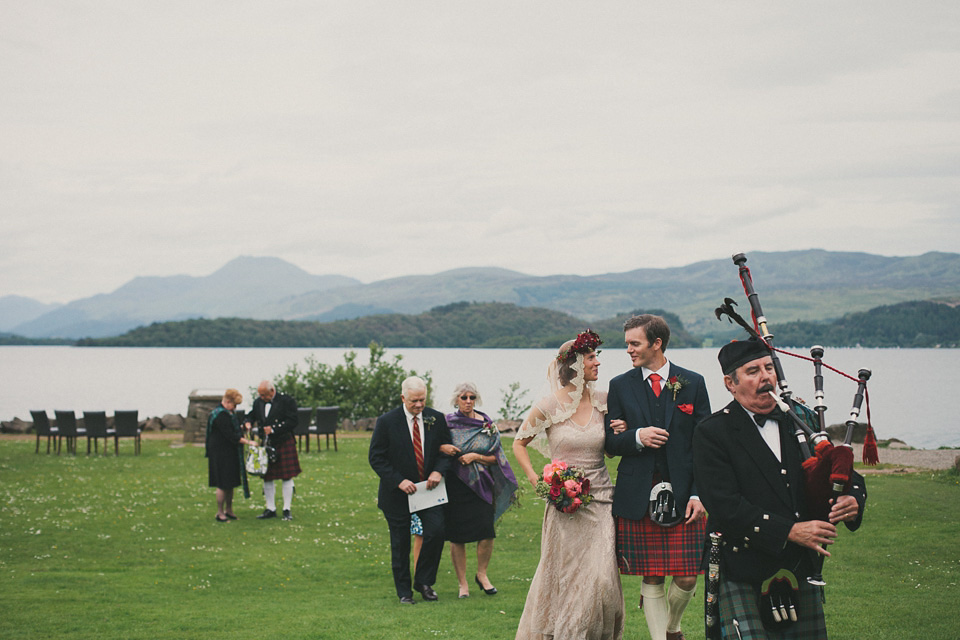 Perry organised her stunning flowers the day before the elopement at Roots, Fruits and Flowers in Glasgow…
"My bouquet was beautiful –  earthy, but vibrant – a bit like me!"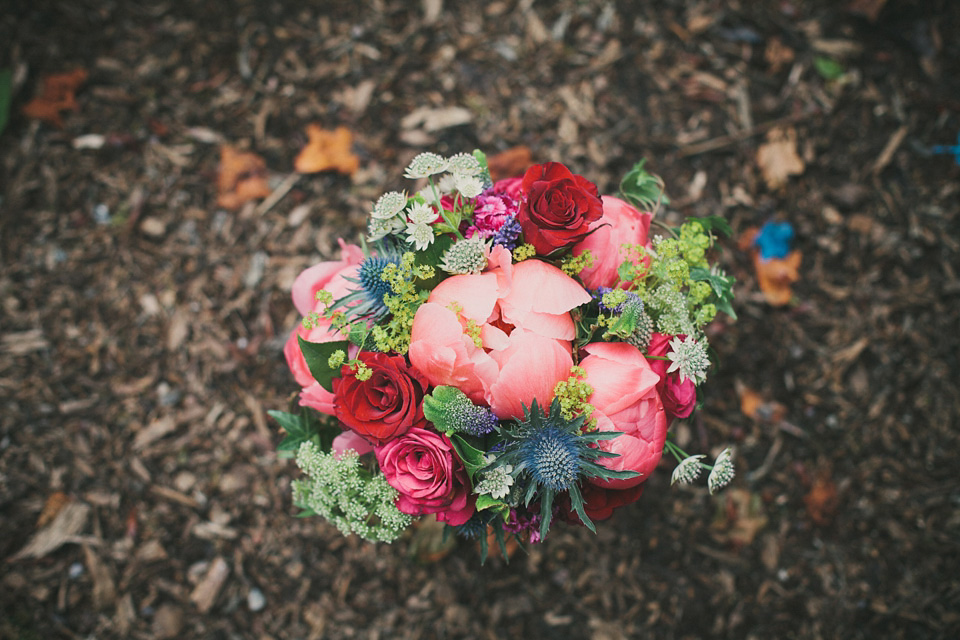 Perry wore a beautiful elegant rose gold dress by Theia from Neiman Marcus but didn't find it easy at first to find exactly what she was searching for.  Her striking floral crown was from Rock 'n Rose – though she did have some real blooms added on the day.
"I really could not find what I wanted. Everything was really expensive, and to be honest, I didn't want to buy a dress that I would only wear once, I'm quite a practical person in that respect.  After I exhausted some bridal boutiques with all 'poofy' dresses, and all of them telling me that their 'white' is really cream, I decided to do off the peg.
I'm a real colourist too – I went to art school and actually chose my dress it as it was rose gold.  So, even though I had originally wanted longer sleeves, I loved the rose gold dress and didn't feel I'd compromised in choosing to wear it on my wedding day. My dress was very affordable and beautiful. It also makes for a fabulous cocktail and evening dress.  That isn't white!"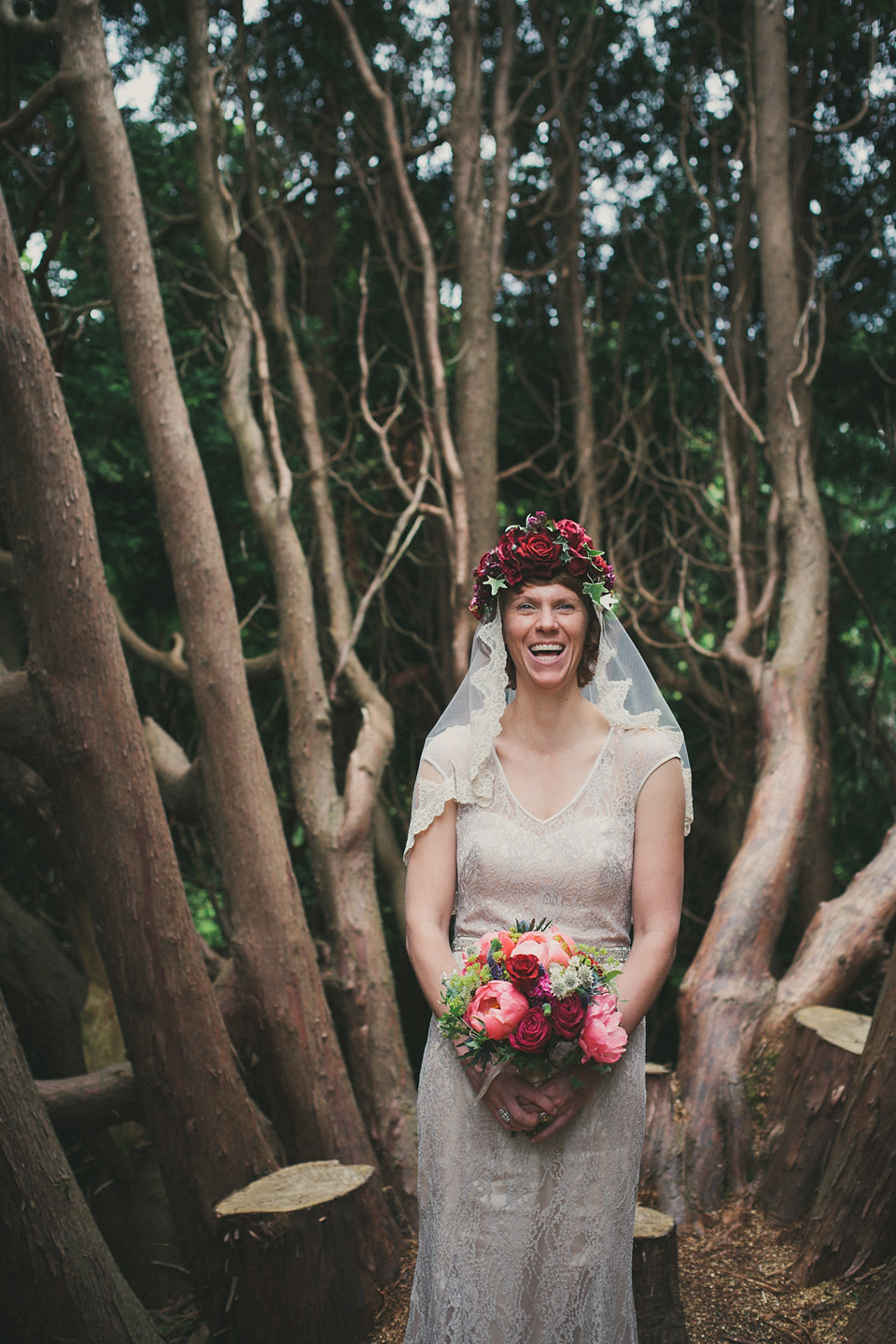 "I had a lady hand make the veil and dye the tulle to match as best she could. I wore boots and painted them gold."
Perry and Ben chose Glasgow based photographer Maureen Du Preez.
"Maureen is awesome! She has a real earthy vibe and is very good with shooting outside in nature. That's us and that's her, it was a perfect match. Some couples like to have very traditional posing, but Ben and I are not posy people. We wanted something very natural."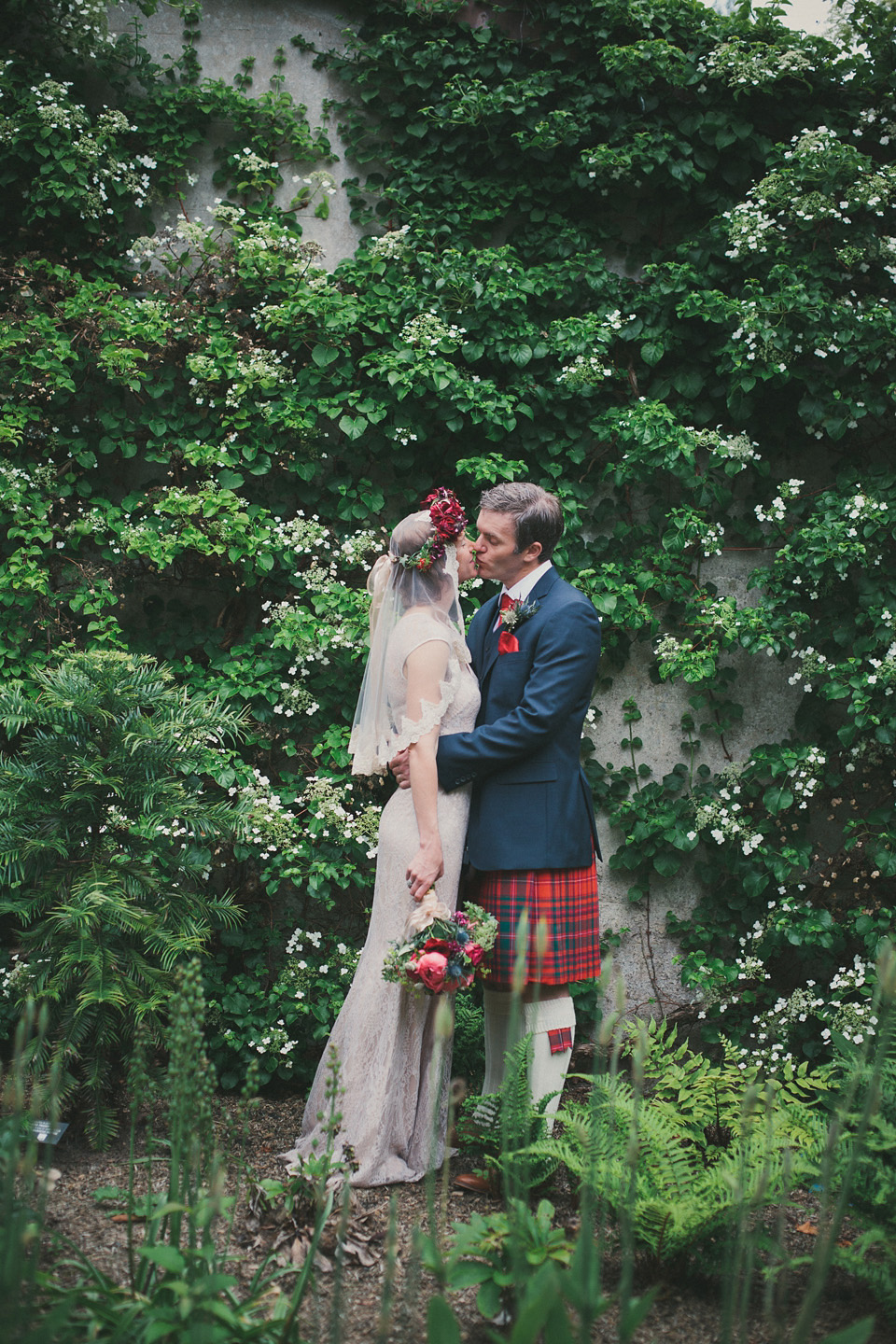 "Ben got his kilt hand made from MacGregor & MacDuff in Glasgow. They shipped it to Colorado. He is a McDougal. Then we went to a suit shop in Denver and match up his outfit, the blue jacket and vest. Loved it!"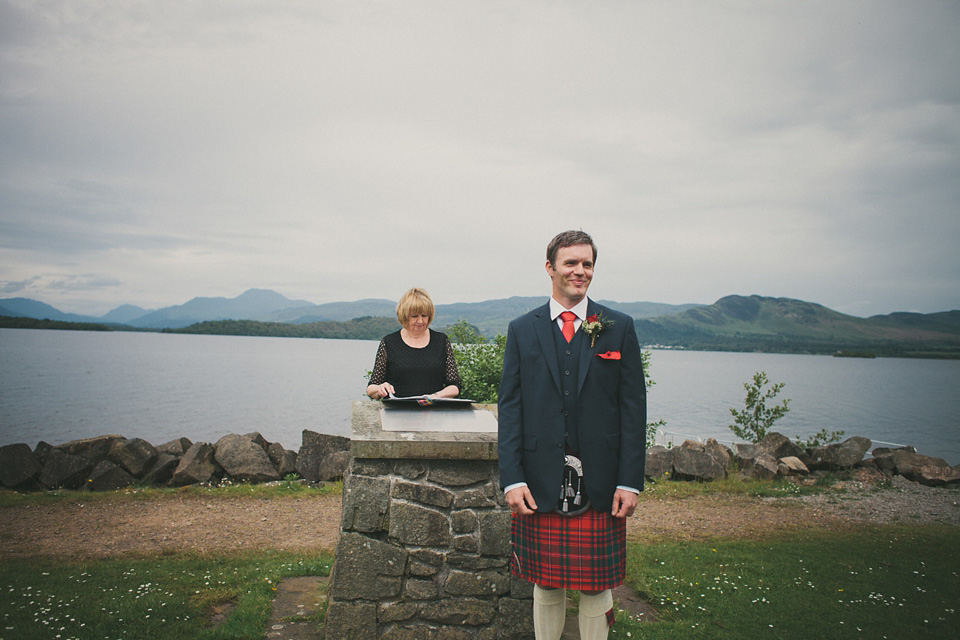 "Benjamin and I met at the gym – in the sauna actually! We went out on a first date a few days later, a second date the very next day, a third date right after that, etc. Then he moved in. We have been living together for four years and decided to get married several years ago. It seemed long overdue once we did get married."
Perry didn't want to feel like anyone else but her on the day and did her own hair and makeup.
"The truth is I don't believe you should pretend to be someone else on your wedding day. People transform themselves and get way too 'made up' for the day. It's about being yourself, just a well groomed version. I just ran a comb through my hair.   I had a tiny bit of lip stick, that you could hardly see, and a tiny bit of white eye shadow."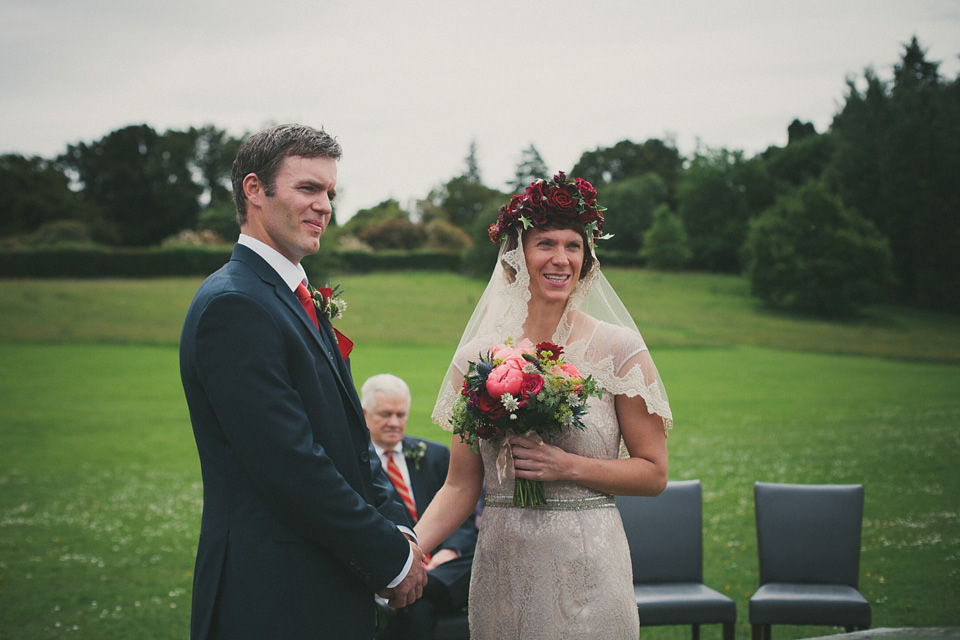 "Our vows were amazing. We had an awesome celebrant named Sheena Johnston and she was amazing! We answered a questionnaire and she just pegged us totally. I read through the ceremony and I almost cried. Then we had a part where we said our own vows and our vows were intense. We also hand fasted and did a ring blessing where our rings were passed around. It was amazing.
It felt like nobody was even there, just us and the lake and the sky."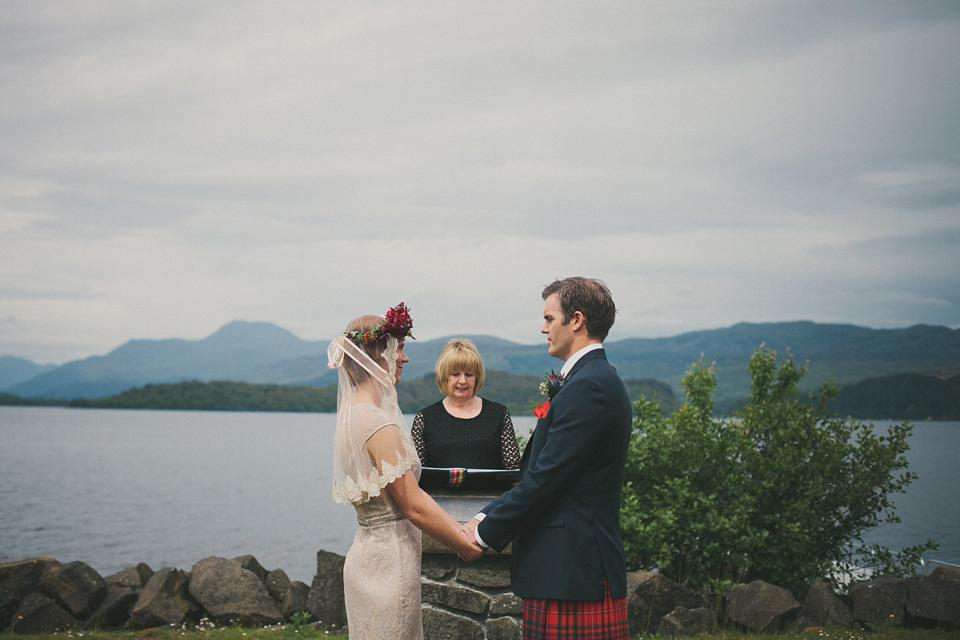 Perry worked with a jeweller designer in Colorado Springs (who happened to be Scottish);
"I designed my wedding ring and gave input to the final design for Ben's ring a celtic knot design. I decided on a 4 carat yellow sapphire with pigeon blood rubies (very romantic) set in white and rose gold knot work. My ring took over a year to make, because we were searching for the perfect yellow sapphire. I decided that a wedding band wasn't for me. I was going to wear my engagement ring and a big wedding ring, no band."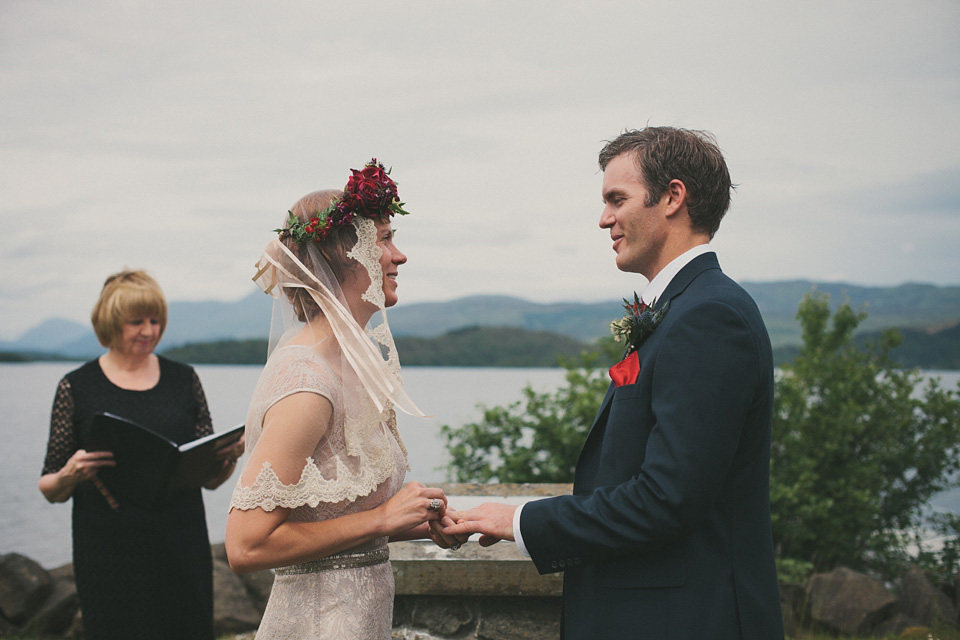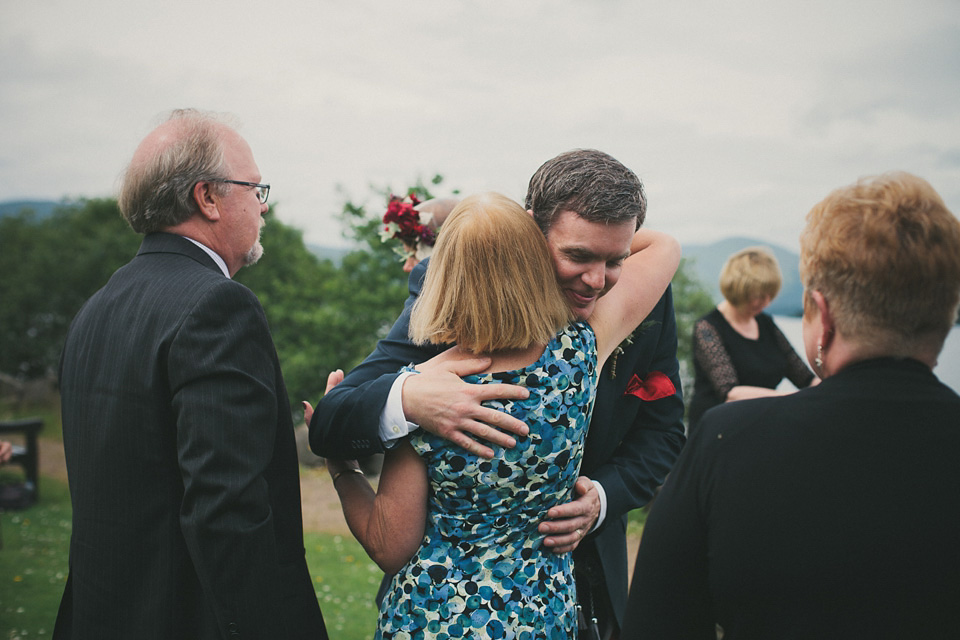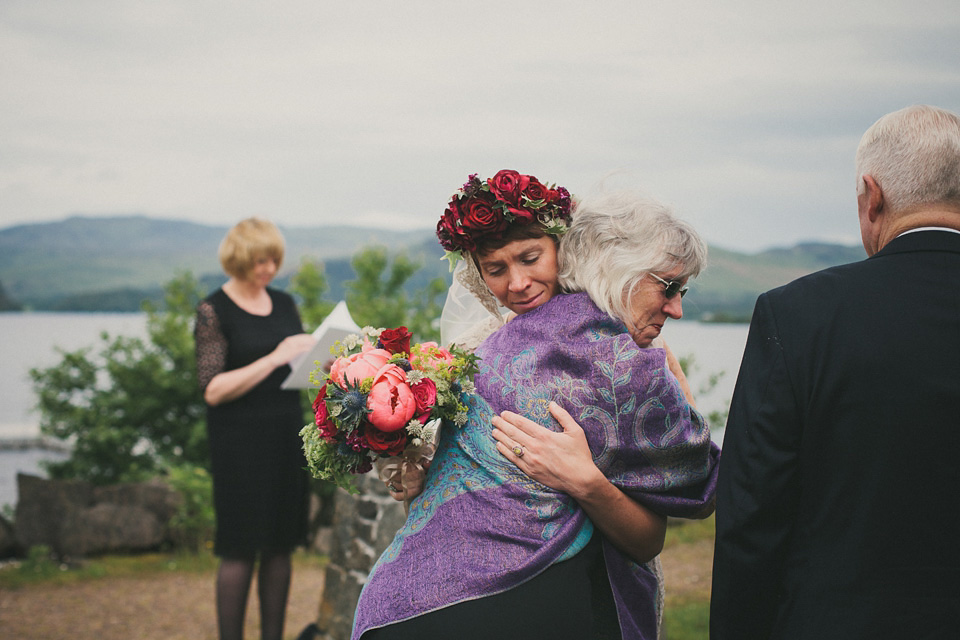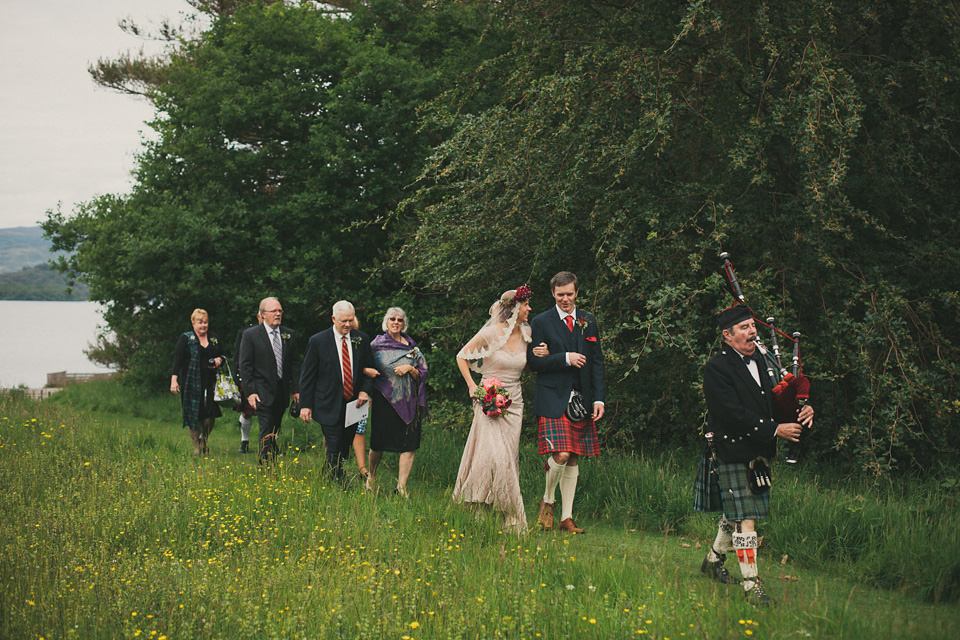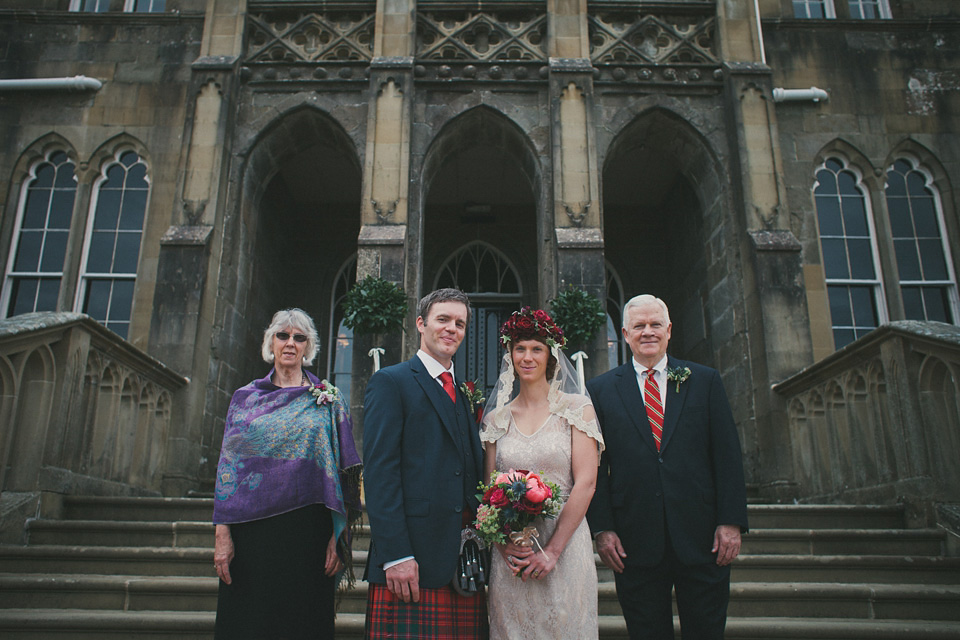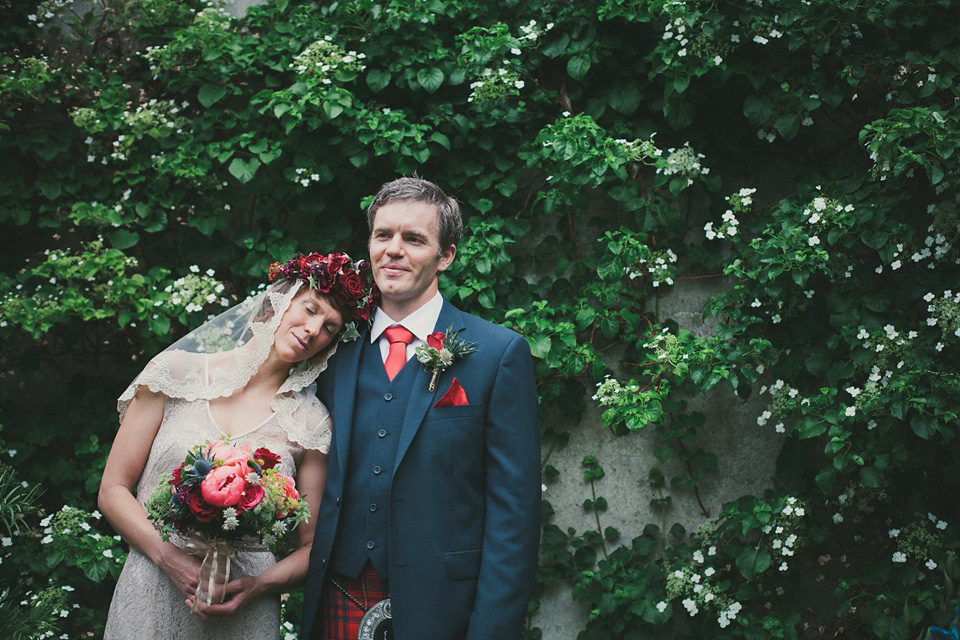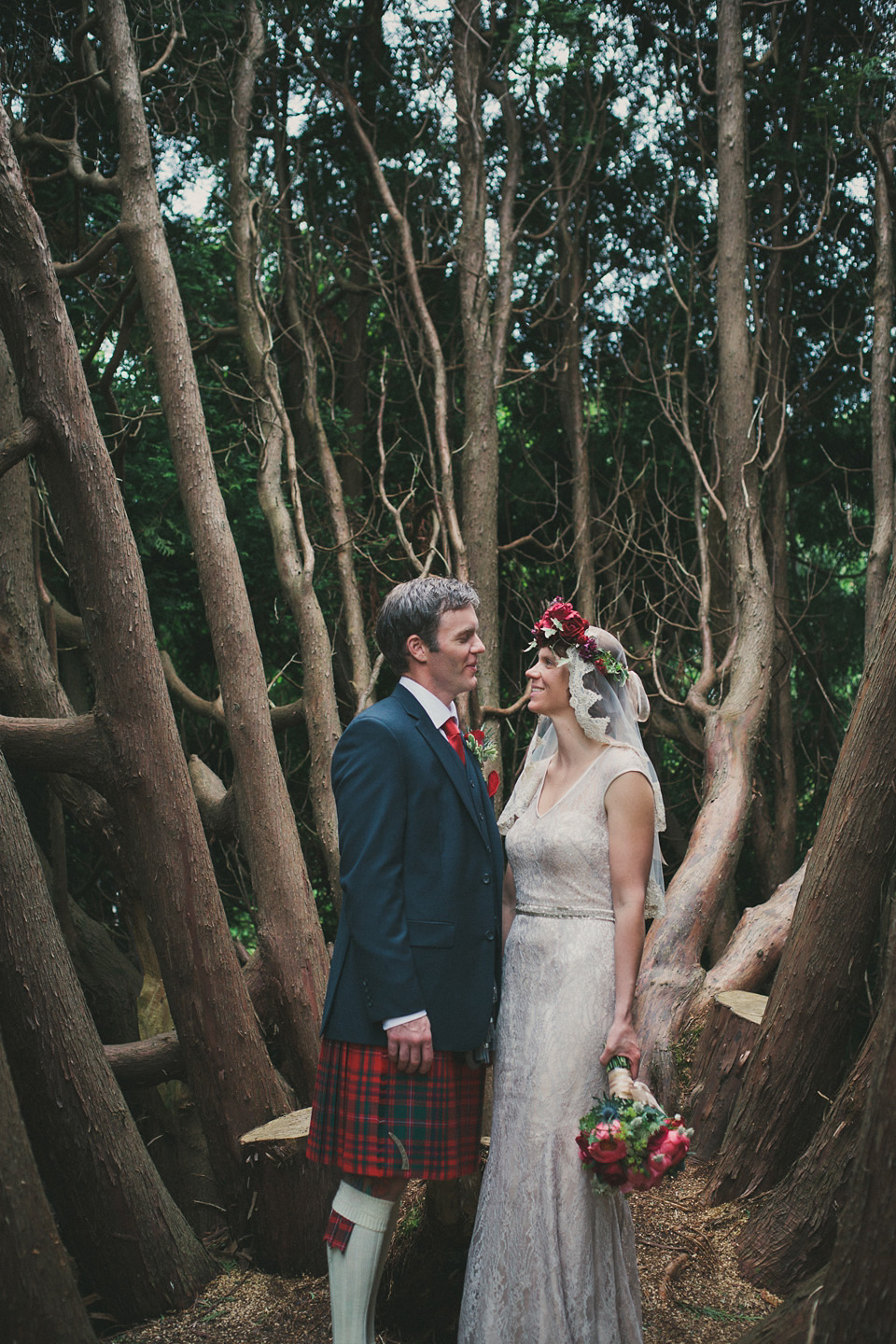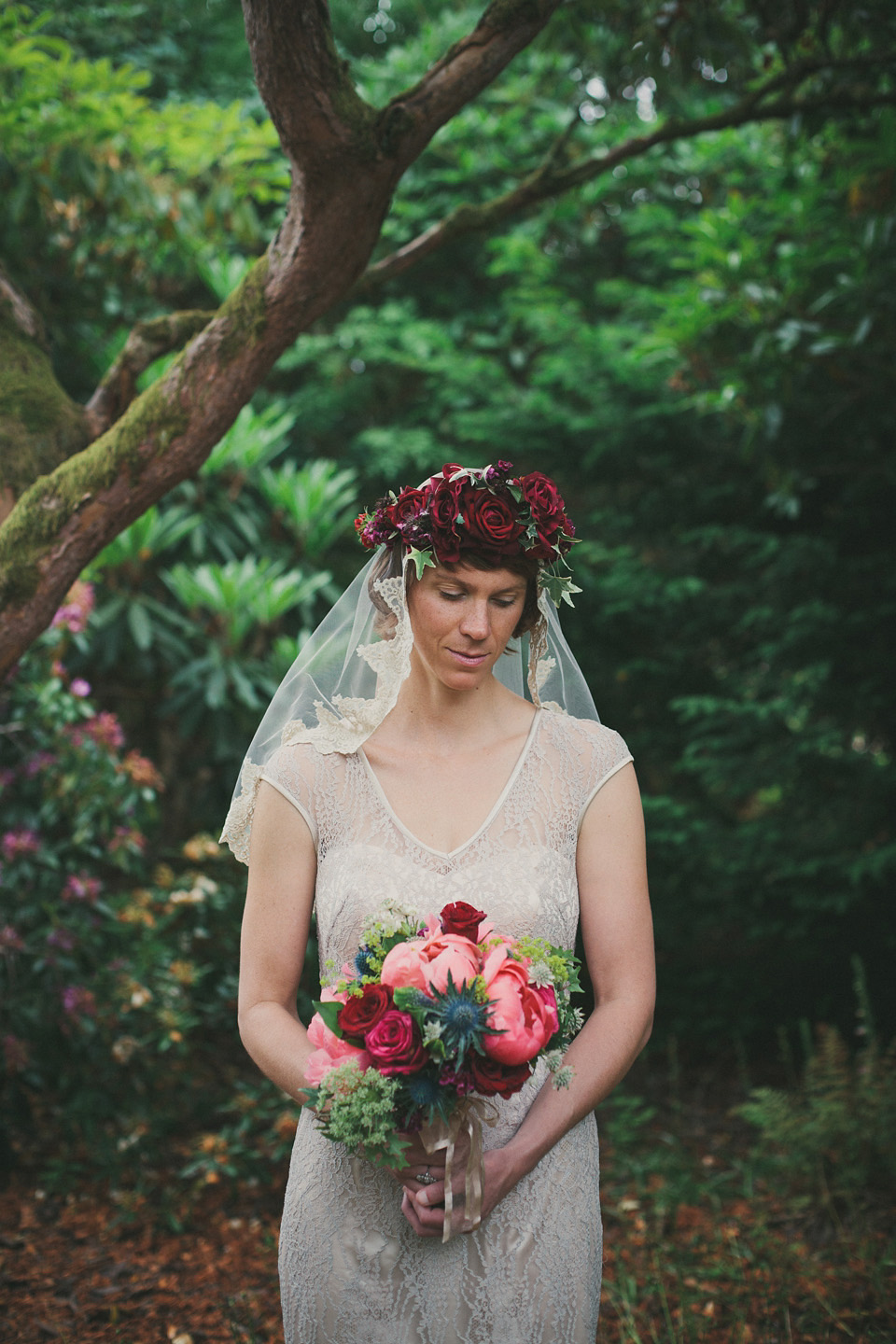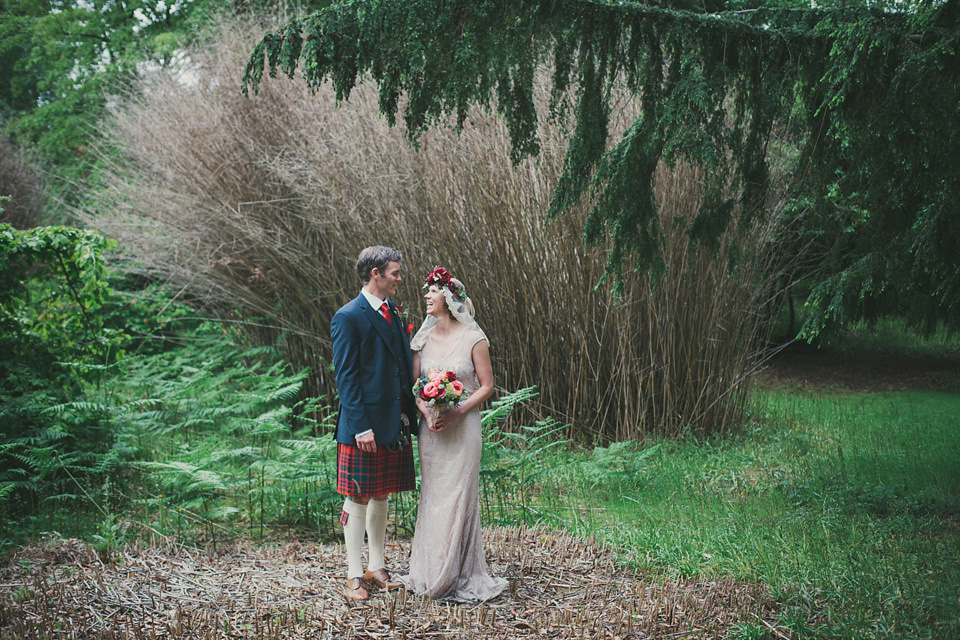 Words of Wedded Wisdom
"There are so many wonderful colours out there, so get crazy and have fun. You can still look like a princess if that's what you're going for, in colour! Remember, Cinderella wore light blue, not white. It's a time to be yourself, not try to fit into the style that has been put on every bride. 
Also make the day easy so you can enjoy yourself. I've been to weddings where people make it way too complicated and have drama with their families during the celebration. It's about the YOU. It's about a celebration of the people who are getting married, nothing more.
It's OK to marry someone whose families may not get along and if that's the case, just elope if the stress is too high. This is a happy time, not a time to make everyone else happy. DO what you want.  In the end our actual ceremony with us two looking at each other and saying what we had to say, was what mattered."
A huge thank to Maureen Du Preez for really encapsulating the essence of Perry and Ben's wedding in these beautiful images and sharing them with us to enjoy today.
Thank you also, to the wonderful Perry and Ben – congratulations to you both and wishing you the happiest of futures together. Here's to being in love and being yourself!
For those of you reading this today who really love the idea of having a very intimate wedding, perhaps an elopement is the option for you? You can explore other elopements that we have featured here on Love My Dress.
Love Rebecca x
Photographer – Maureen Du Preez
Venue – Ross Priory, Loch Lomond
Celebrant – Sheena Johnston
Bride's Dress – Theia from Neiman Marcus
Bride's Floral Crown – Rock 'n Rose
Groom's Kilt – MacGregor & MacDuff
Florist – Roots, Fruits and Flowers