Good morning lovely people- are you glad it's Friday? I know I am! It's been an exceptionally busy week and so I plan to take some time this weekend to look through all the beautiful weddings that have featured so far on Love My Dress.  I hope you have the Friday feeling already, but if not, don't worry, as this morning's wedding will have you grinning away in no time. I absolutely love these images from photographer Noel Deasington, so atmospheric and almost folky in style, with such beautiful use of detail and the evening light.  Sigh…
Let me take you away to a feast of fish and chips in a flag-festooned woodland in Somerset with a bride in a beautiful Vera Wang dress – and make sure you read to the end because there are some brilliant 'words of wedded wisdom'.  Chris, who owns his own business, and Gemma , who works in educational sports development, married in a fantastically fun, wonderfully relaxed, and family-orientated celebration in the woods last August, surrounded by their favourite people, most loved things, and bunting galore.  The couple chose Treborough Woodland, Exmoor, as the location for their wedding extravaganza, and have nothing but praise for the owner Liz, and her husband Tim, who acted as advisor, supplier and event planner throughout.
"Liz Pearson whose family owns the wood was a constant source of information, décor ideas, and supplier details. She was the unofficial event planner and we could not have done it without her and her lovely husband Tim directing us."
Photography Copyright (c) 2015, Noel Deasington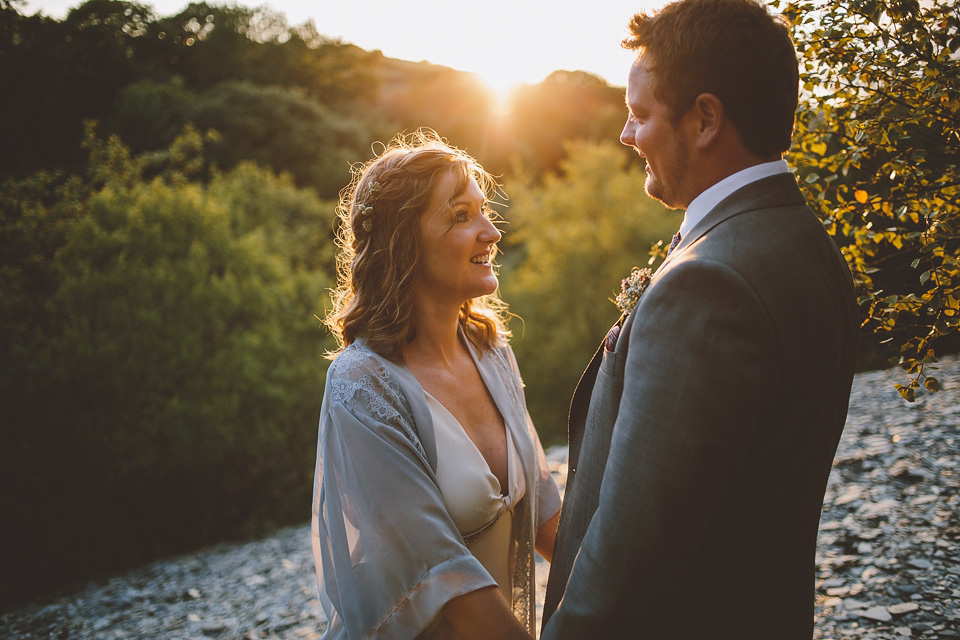 "Chris was rushed off his feet setting up his new business in Bristol and I was trying to get my head around organising the wedding. Feeling massively overwhelmed by it all a really good friend from work gave me a piece of advice I will never forget which is to do whatever you both really love. So, and in keeping with that theme, we wanted to organise much less of a traditional wedding and much more of a party (it's no stranger that we love a party).
With a mutual love for the outdoors, camping and music we decided to organise a weekend of camping with all our family and friends which would also incorporate a small ceremony."
Gemma wore a pre-loved iconic Vera Wang dress for her big day, which she bought early in the planning, and which looks utterly fabulous on her.
"In a moment of being extremely efficient about the wedding planning (which I lost for a good few months post purchase!), I bought a dress on eBay which I instantly loved. I knew I wanted a second hand / vintage dress and didn't want to spend much money on it. As many people do though, I got doubts about it closer to the day. Luckily my sister came down to Bristol for a weekend so we could try on some dresses in a shop and it cemented my love for my original dress again. I love the shape of my dress, and the detail."
Part of the charm of Love my Dress is, I think, that we have such a huge mix of brides, bridal styles and weddings, and it is of course always the choice of the individual bride how much she can justify spending or wants to spend on her dress. Take a look at this feature written by Annabel for another viewpoint – it explores the concept of 'the perfect wedding', and why it's OK to spend money on your wedding day.
A whole woodland takes a lot of decorating, but the couple managed to make it look enchanting, with the help of supportive suppliers and good friends.
"Chris lovingly made and painted 10 blackboards for us to decorate around the site. Although we were pressed for time it was really nice to have an excuse to spend a weekend together making these and he never fails to impress me with his DIY skills. Alice very lovingly wrote all the information on them the day before. There really was no job Alice didn't help with. I also made what felt like a million pom poms in red and blue for the marquee décor which my niece helped me with the day before. They were then used at another wedding a few weeks later and some are in my nieces rooms – wedding legacy.  Another piece of wedding legacy was the bar that Chris made for the wedding. It took him 2 days and is amazing. I can't wait to go back to the woods and drink at the Parry Bar."
"We used flags and bunting from Klare at Event Flag Hire. Again Klare was so helpful with our requests. We hired the most amazing marquee from Covered Marques. Nick and his team always went out of their way to assist our requests and the marquee was amazing."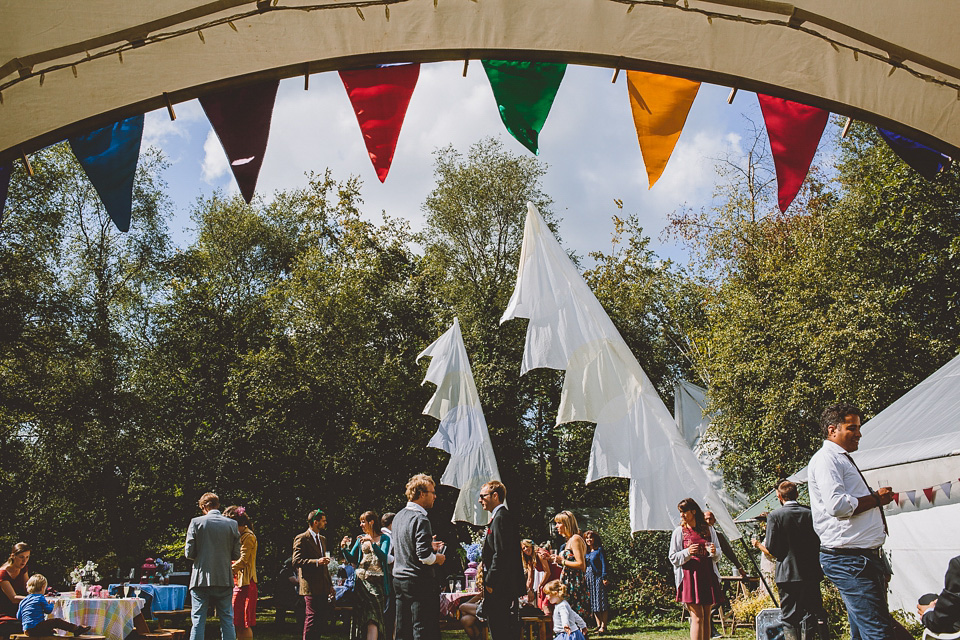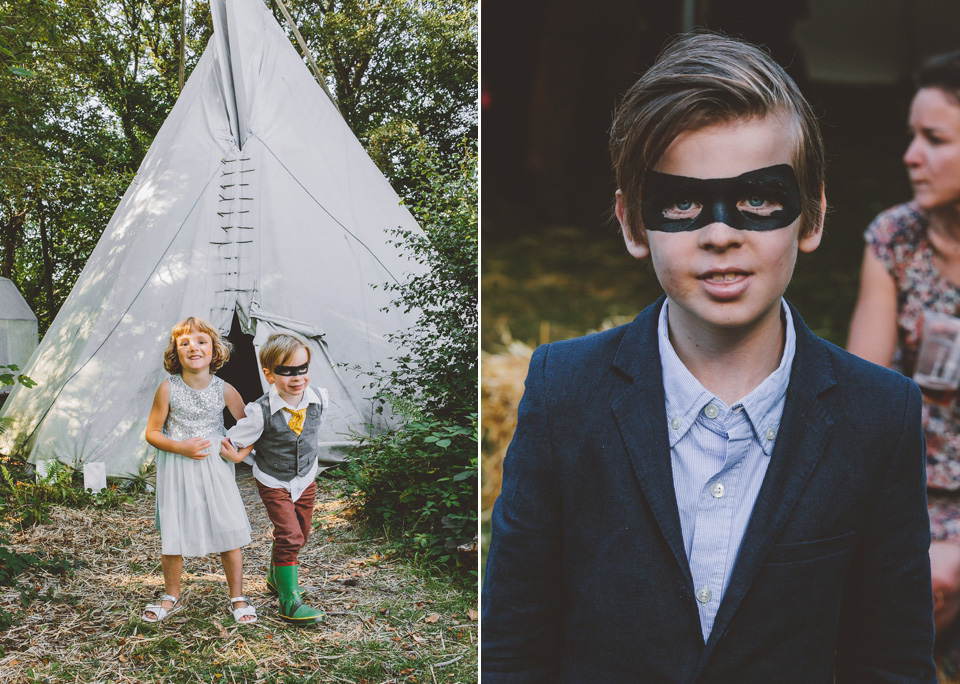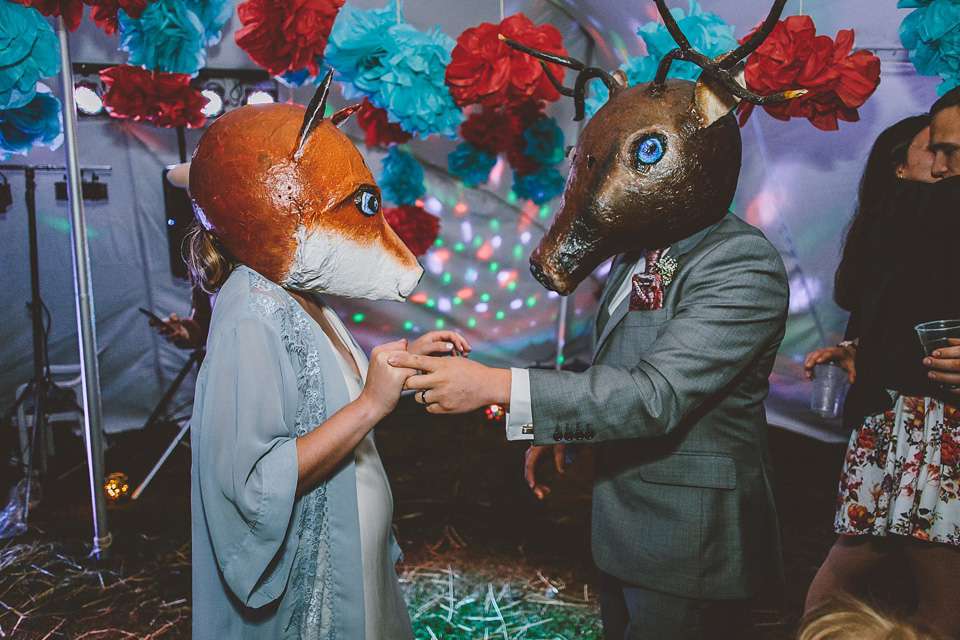 The couple's move to Bristol around the time of their engagement was largely responsible for Gemma and Chris meeting their fantastic wedding photographer Noel Deasington.
"We hit jackpot in many ways when we met Noel. We had literally just moved to Bristol when our dogs met across a crowded park! One thing led to another, our dogs got married for our wedding invitations, and we chose Noel to be our photographer. To say Noel was just our photographer is an understatement though. Noel helped us with thinking about our venue, the timings on the day, our invites, pointed us in the direction of wedding blogs, the list goes on. Noel has such a fantastic eye and way of capturing moments; his pictures made us realised how much of the day we had missed, I have no idea how we managed to capture it all.
Our invites were created by Noel's equally creative other half, Naomi, and what a fantastic job she did. I can't wait to see what she designs for our 'thank you' cards.  They are one seriously talented couple."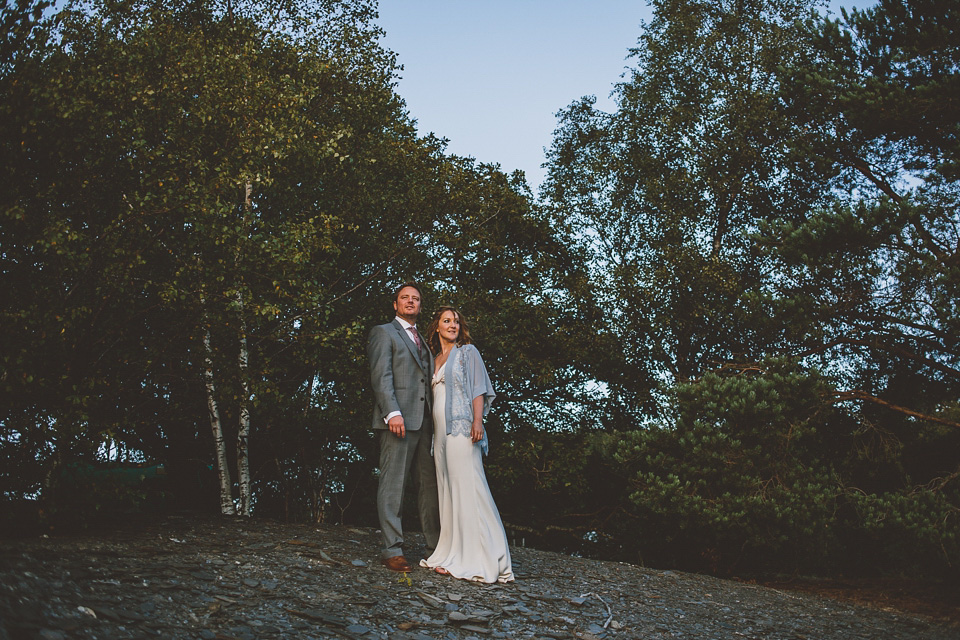 "We met through friends although bizarrely we both moved to London at the same time (Chris from Melbourne and Gemma from Cumbria), and lived within a few streets of one another. The stars didn't align for a few years though and I instantly look a shine to him when he walked into an evening at my house with a bottle of Sambuca and his cheeky grin. Again, it was a few months of us both hassling our mutual friend for one another's number before named friend finally gave in and we went on a date.
Since then we have had many fun nights dancing around our decks through our mutual love of hip hop, 80s cheese, and electro. Chris loved my 'eccentric' music collection gathered from years of charity shop trips with my dad. After toying with a move to Oz and briefly living in NZ we moved to Bristol with our dog (star of our wedding invites), when Chris proposed around a campfire at a camp site in Exmoor. Exmoor has since become a very special place for us both."
Gemma accessorised with a pair of summer sandals from a family run leather business in Camden.
"Again, I didn't want to buy some shoes I would never wear again and these were a great recommendation from a friend (although I did have a plea with Chris a few weeks before for some Jimmy Choo's which is ridiculous but those last few weeks before a wedding do turn you somewhat insane. Thank goodness he reasoned with me and made me see the light!)"
"I wasn't going to have my hair and makeup done by anyone but I'm glad that I decided to get my makeup done professionally as I literally cried with happiness for the first few hours of the wedding and my makeup didn't smudge one bit! Lucy Davies did an absolutely fantastic job and I would wholeheartedly recommend her. My bessie is amazing with hair so she did my hair and also my nails. She did a brilliant job and the hair stayed in all day.  I owe her big style!"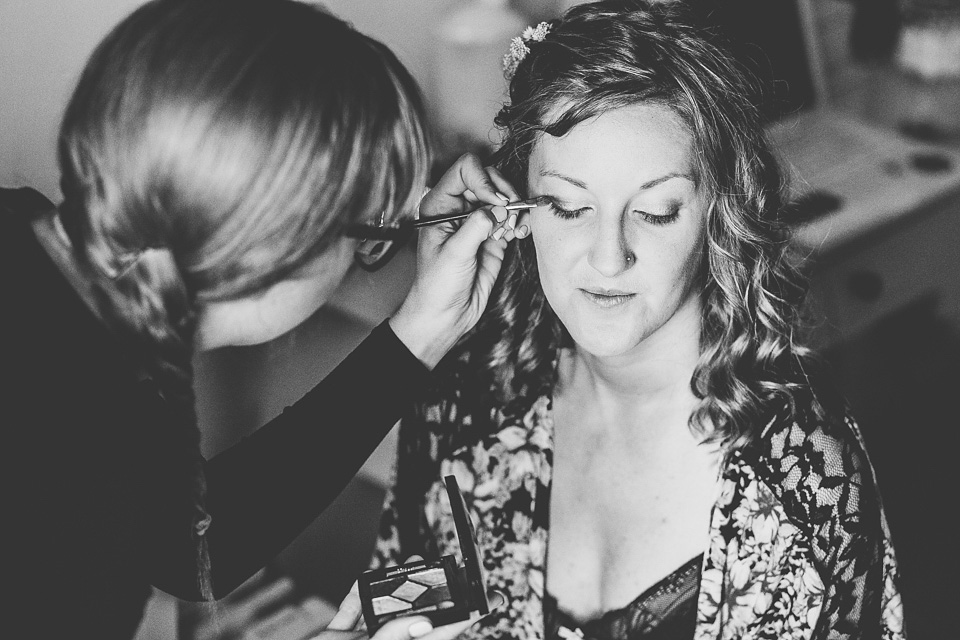 Gemma wore Hugo Boss 'Orange' as her fragrance. Beautifully summery.
"Out of nowhere Chris decided we needed to go scent shopping as we needed 'new scents for this new period in our life'.  Ha! He never, ever fails to surprise me my husband.  Also, who knew you need to smell coffee beans when testing new scents? Chris did!"
Did you read our feature on how to have a 'scented wedding' yesterday? You might also want to read this feature onhow to find the perfect wedding day perfume too.
Gemma wore Hugo Boss 'Orange' as her fragrance. Beautifully summery.
"Out of nowhere Chris decided we needed to go scent shopping as we needed 'new scents for this new period in our life'.  Ha! He never, ever fails to surprise me my husband.  Also, who knew you need to smell coffee beans when testing new scents? Chris did!"
Gemma kept her accessorises very simple and tasteful, with just some pretty flowers in her hair, and her stunning bouquet!
"My florist made some beautiful flower pins to go in my hair which looked beautiful. I wanted to keep everything very simple so I didn't wear any additional accessories bar my nose piercing.  Our florist is actually one of my best friends and one of the most talented and creative people I know. Pip (of Pip Lowe Flowers) has such an eye for colour, design, flowers, and moods and I still can't believe what she put together for us on the day."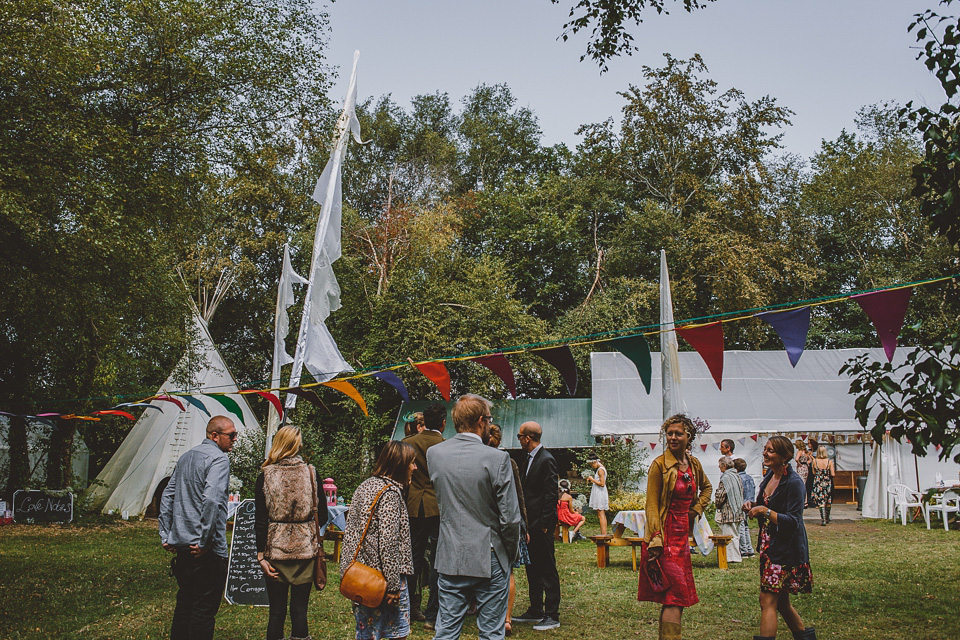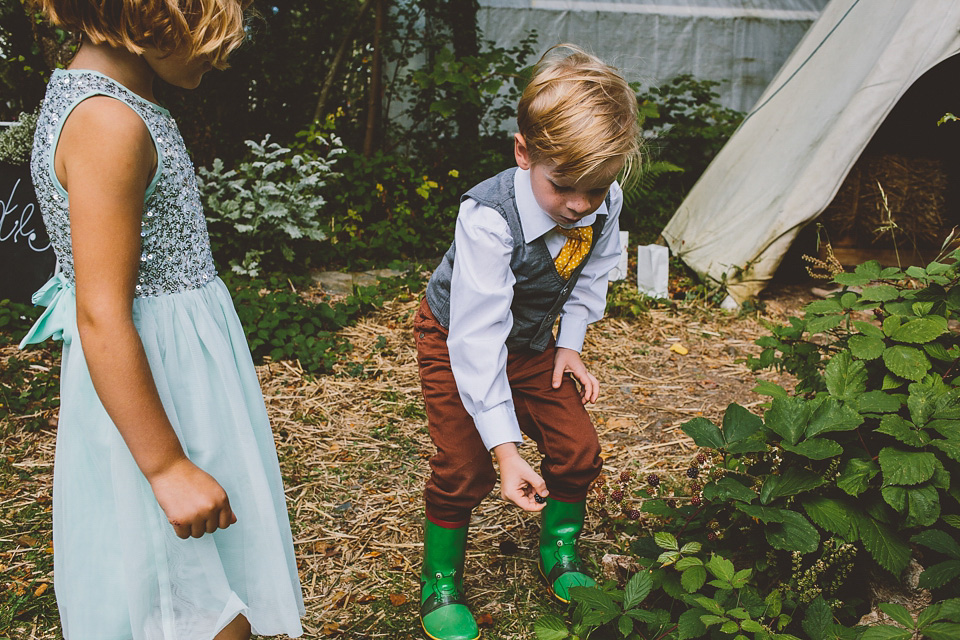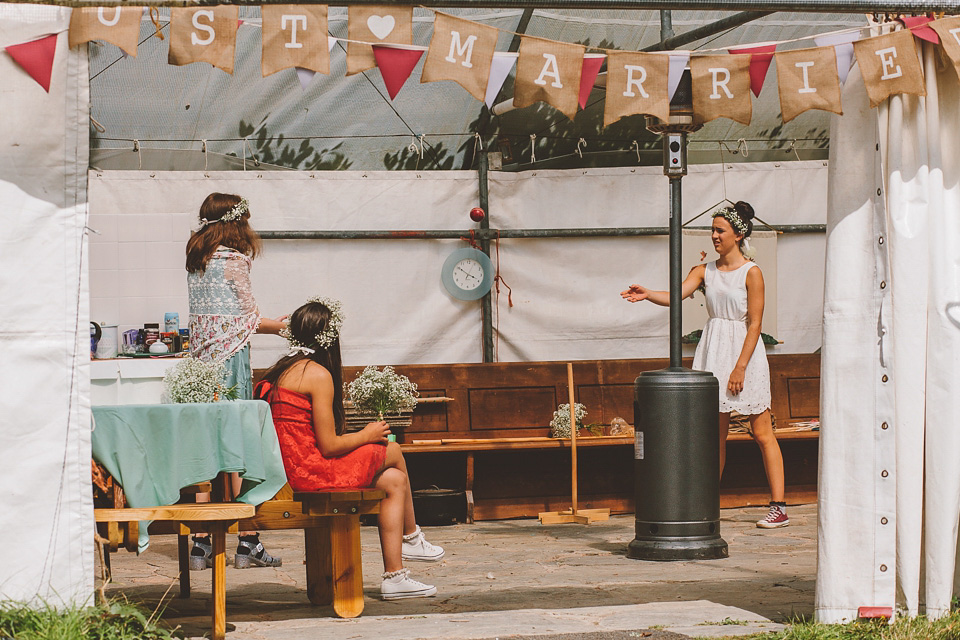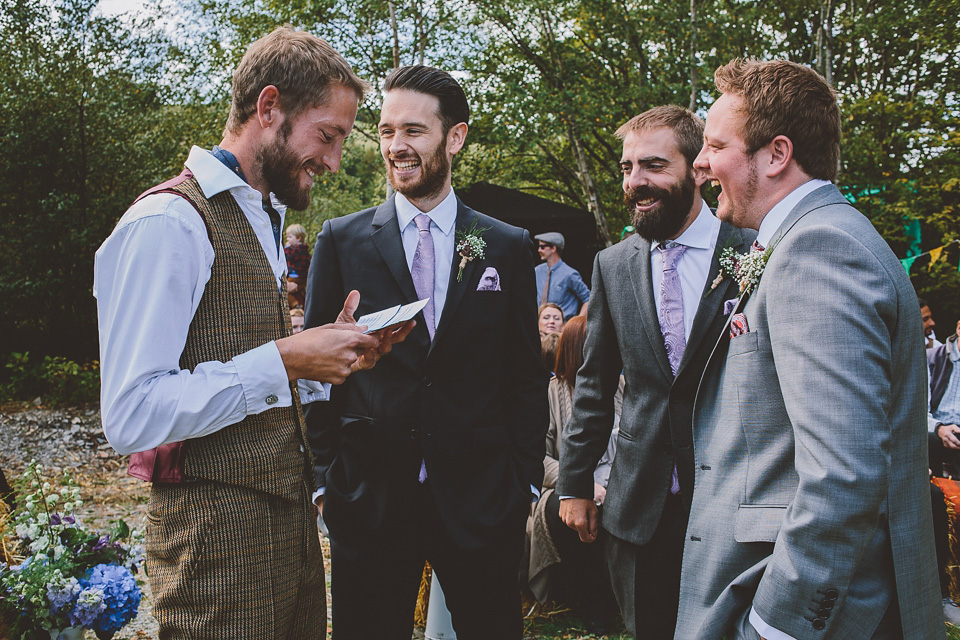 Groom Chris certainly didn't let the side down, looking exceptionally swish in a suit by Ted Baker, teamed with shoes by John Rocha, and a tie from handmade tie specialist.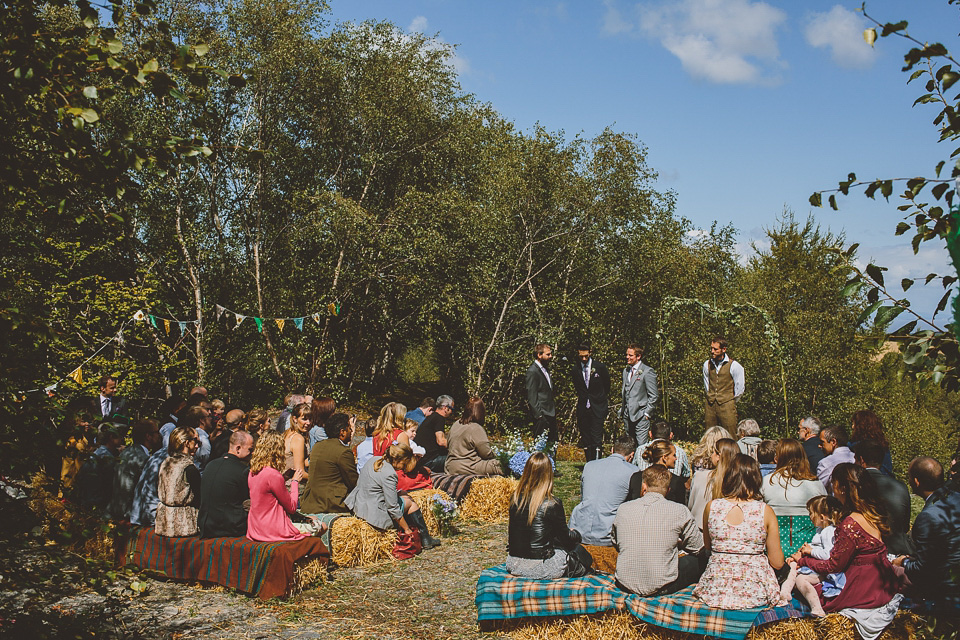 Little flower girl Poppy's dress was from Boden and Page boy Oliver's wore Boden and Next. All the bridesmaids finished the look with crowns and bouquets of romantic gypsophila.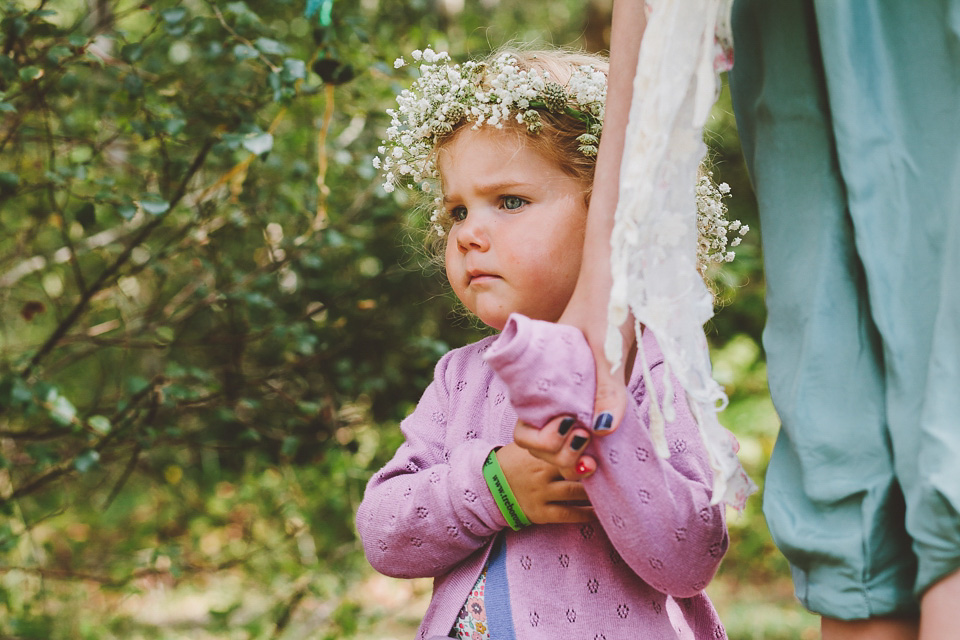 Gemma's bevy of bridesmaids all chose their own outfits for the day, with two of them choosing jelly shoes and Converse as their footwear of choice- as Gemma says, "My nieces and sister-in-law are very cool."
"The only brief the bridesmaids had was to wear something special but comfortable.   My niece Rosie customised her dress (she's really creative and loves fashion), Chris' sister Ashley wore a lovely jumpsuit, and my nieces Florence and Bella wore dresses from Holister and Topshop.   They looked beautiful."
Gemma's best friend Alice sang Gemma down the aisle as the bridesmaids processed and Gemma made her way (quickly!) towards Chris.
"One of my sisters, Kate, walked me down the aisle. My Dad was moved into a care home last year and thus was unable to attend the wedding so Kate stepped up. I always knew the walk would be emotionally for many reasons and so I ran down. My nieces and nephew and Chris' sister did such a good job of the walk. I however ran down it with Kate so as to not look at anyone and cry. Of course, as soon as I stopped and saw Chris I started crying my eyes out."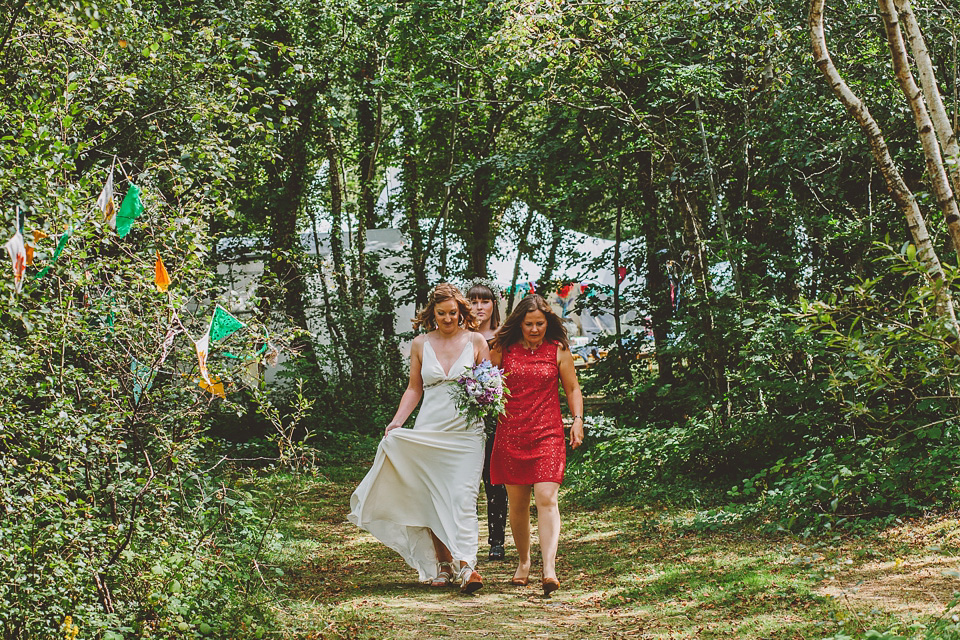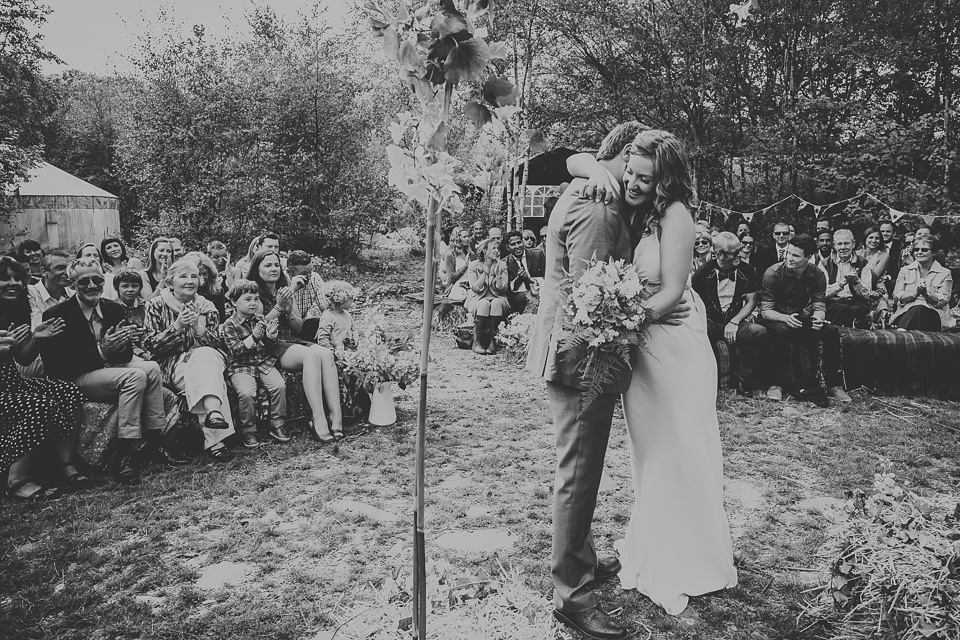 Gemma and Chris' outdoor ceremony combined a laid back atmosphere with intense emotion, and again, close friends played a huge part in making their day perfect for them.
"My sister drove me from our hotel to the site on the day (with a stop at the B&B that had our family staying in that had been freezing our pizza dough to check that Chris had remembered to pick it up in the morning. It was all very relaxed)."
"Alice and I have always known that she would sing me down the aisle and I still can't believe that my bessie mate who I've know what seems like forever actually did sing me down the aisle. It was such a surreal and amazing moment as Alice has the most amazing voice in the world (she's in musical theatre, and currently starting in Dirty Rotten Scoundrels in the West End), and no matter how many times I see her perform I am overcome with how amazing she actually is. For many of our guests it was the first time they had heard her sing and they were blown away. She was such a huge part of our wedding, it still makes me cry to think back to that moment, standing at the end of the aisle waiting to go that I heard her voice. 
We chose Bob Dylan's – Make You Feel My Love, but the Adele slightly slower version to fit the walk. Neither of us can listen to it without crying now!"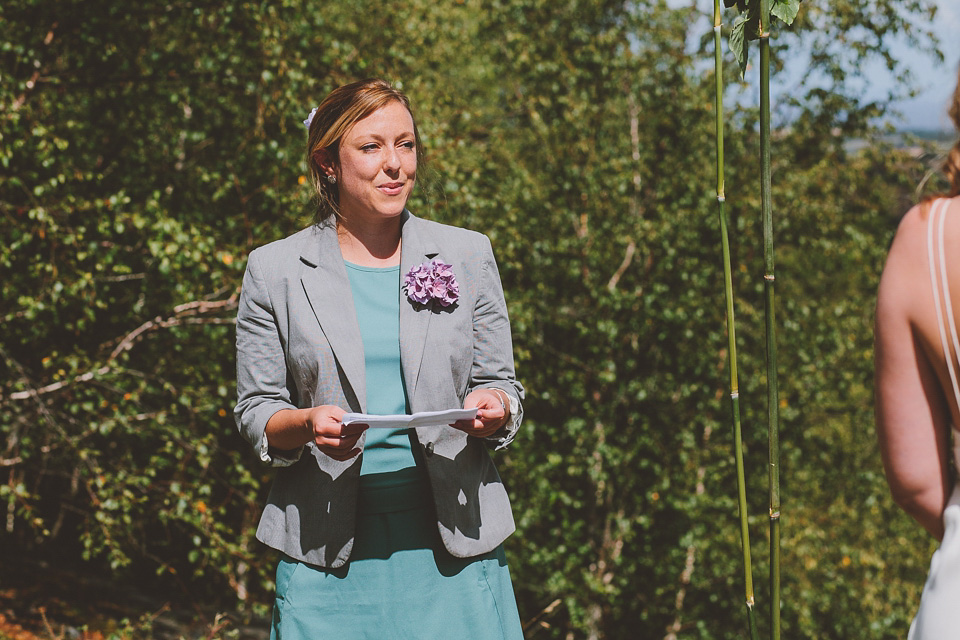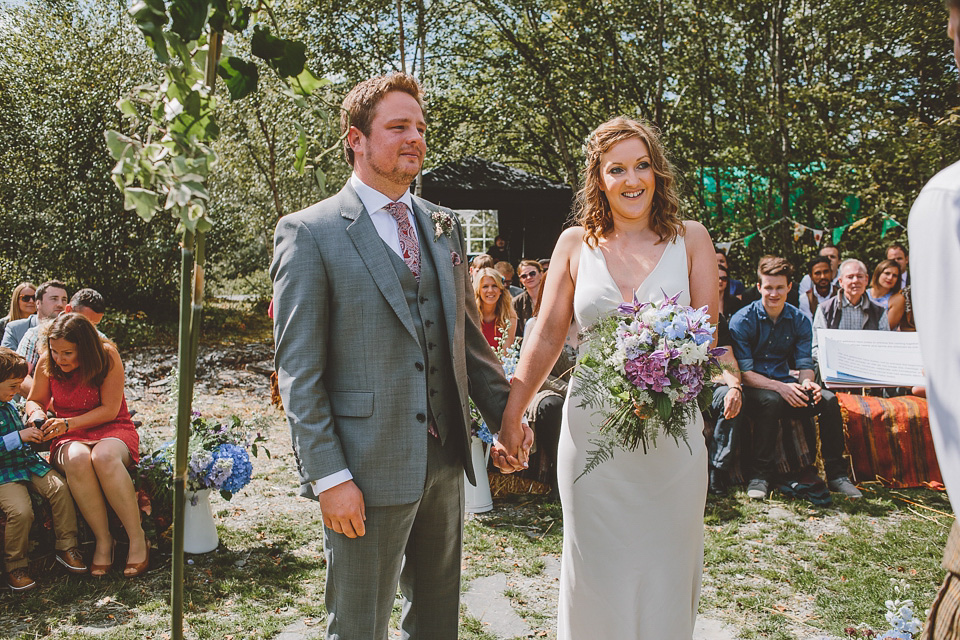 "Our very close friend Tommy did the ceremony and what a sterling job he did! Tommy is such a good friend and has the most amazing voice, and with his background in performance art he was top of our list to marry us. Having done the legal bit a few weeks before (which was so romantic. Just the 2 of us, we pulled 2 random strangers off the street to be our witnesses. They are the loveliest people and we now have two new pen pal friends).  
The official day was such a beautiful day with Chris. After our initial ideas of Chris wanting a huge party, me just wanting to run off and marry, we got to do both). We chose our vows and readings and again, had 3 of our favourite friends reading them."
I absolutely love their huge smiles throughout, and the arch under which they exchanged their vows. And that blue sky! Just Idyllic.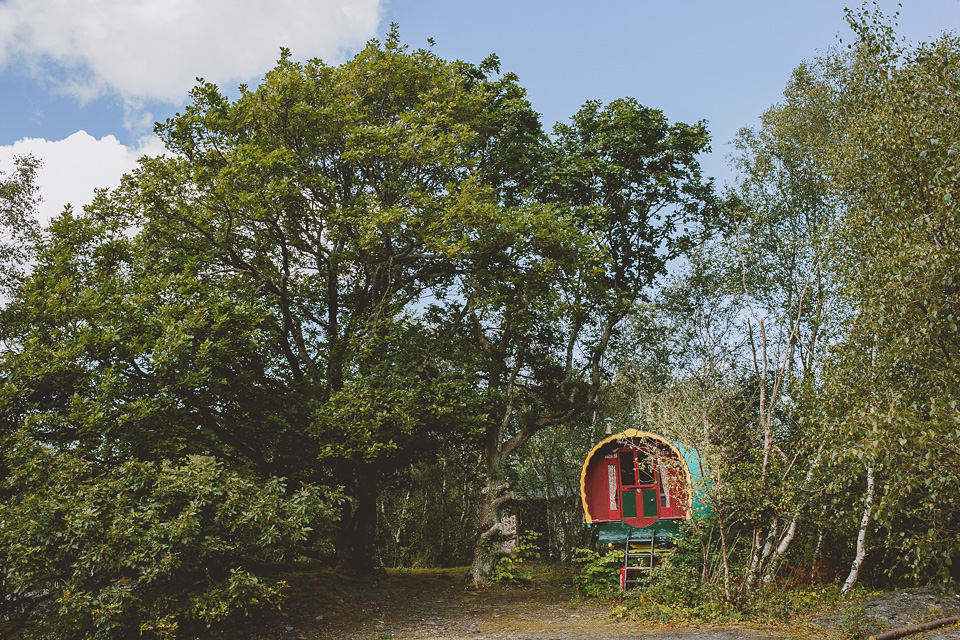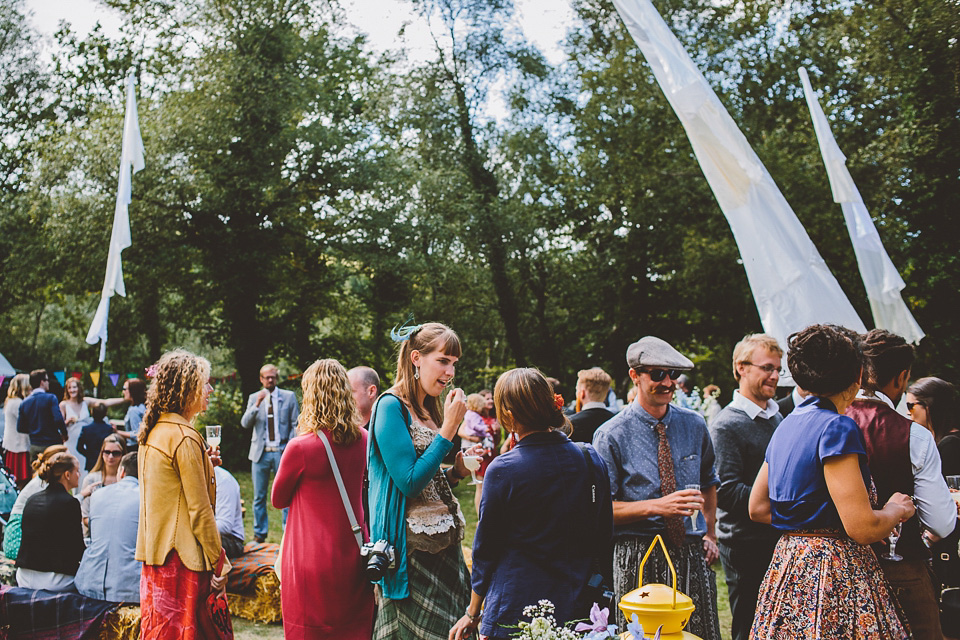 The couple's food choices fit perfectly with the festival feel they desired, and sound completely delicious!
"Chris and I were never going to have a traditional sit down meal and thus were looking at street food options for the wedding. Holidays, and lots of major life events like birthdays in fact with my family have always incorporated fish and chips and Liz very kindly found us a fish and chip supplier which also meant there was no additional clearing up or mess afterwards. Ashley was most amazing in the lead up to the wedding with all my strange requests and panics about non-fish eaters. The fish and chips were the best we have ever had."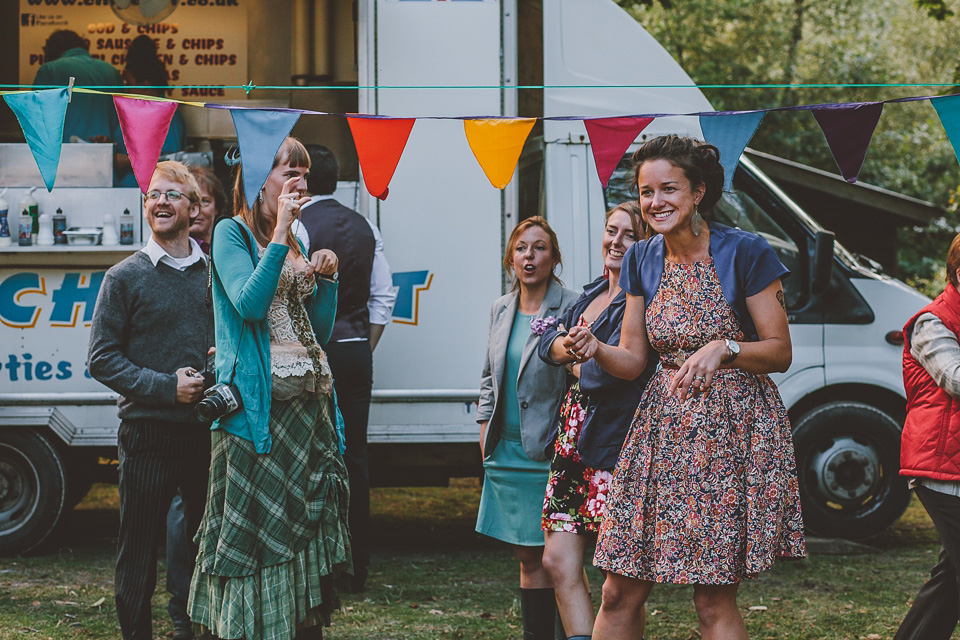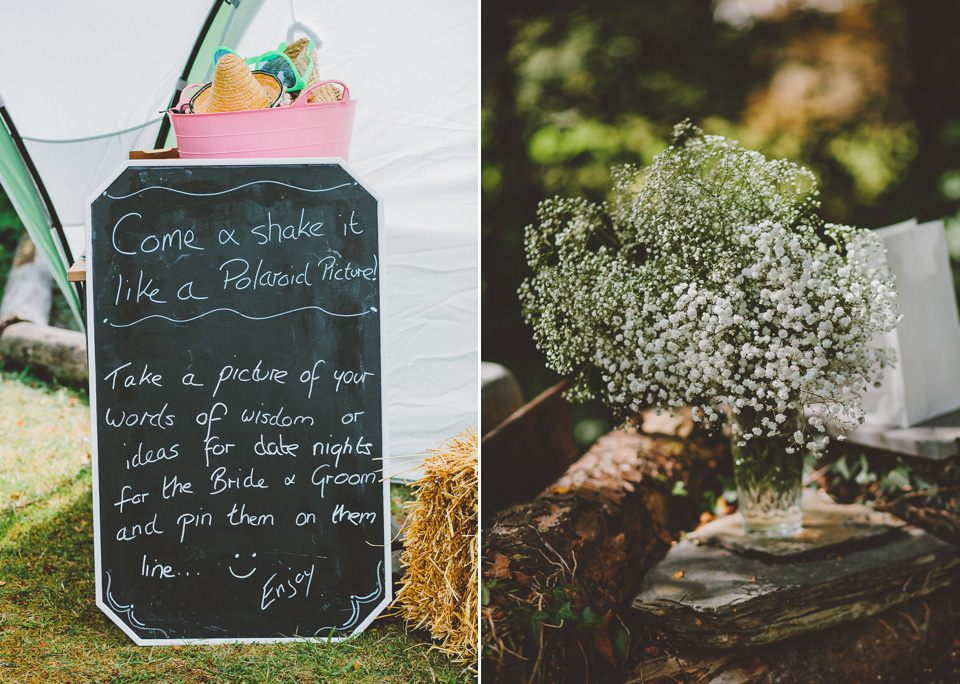 "As the site had two wood burners for the evening meal by brother-in-law very kindly organised a pizza operation which involved him and my nieces again baking pizza's for everyone. He had also made elderflower champagne for the toasts which had also travelled all the way from Cumbria. Another big thanks goes to him for the catering."
After their delicious, but decidedly non traditional meals, the couple felt they needed a favour it compliment this individuality. Temporary tattoos were the perfect solution.
"We provided Love Hearts and temporary tattoos as favours (again, a play on the idea of all things that we love). Custom Inkwear supplied our tattoos and their turnaround and customer service was outstanding . They were also very reasonably priced."
One of the things I most like about this wedding, is the level of involvement from the couple's family and friends, and how they paid back the favour by making sure every single one of their guests had a fantastic time, from oldest to youngest. I especially love the face painting (which the adults certainly made use of too) and the treasure hunt they set up for the youngest guests, to make sure they too had a brilliant day.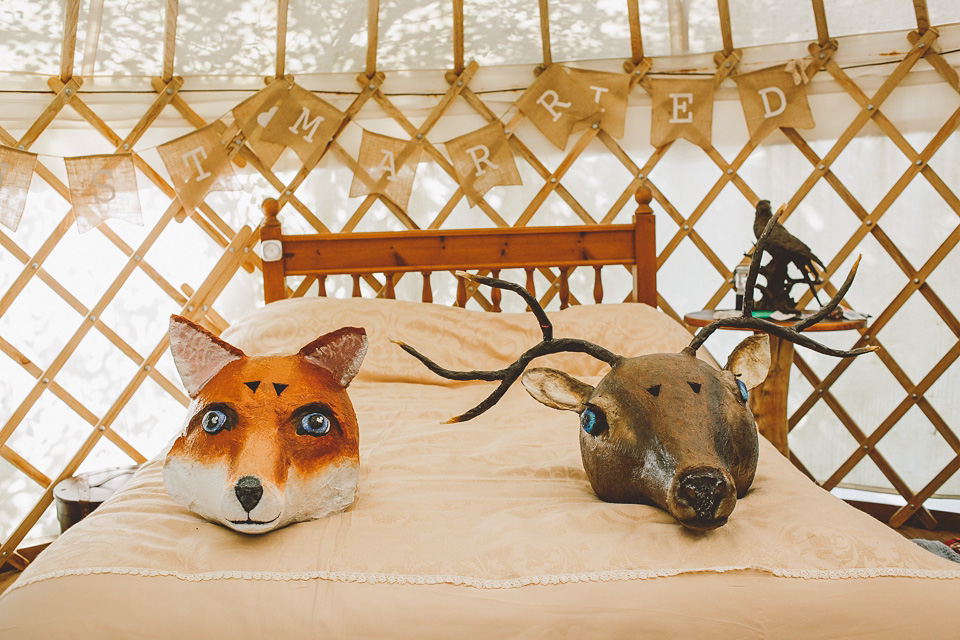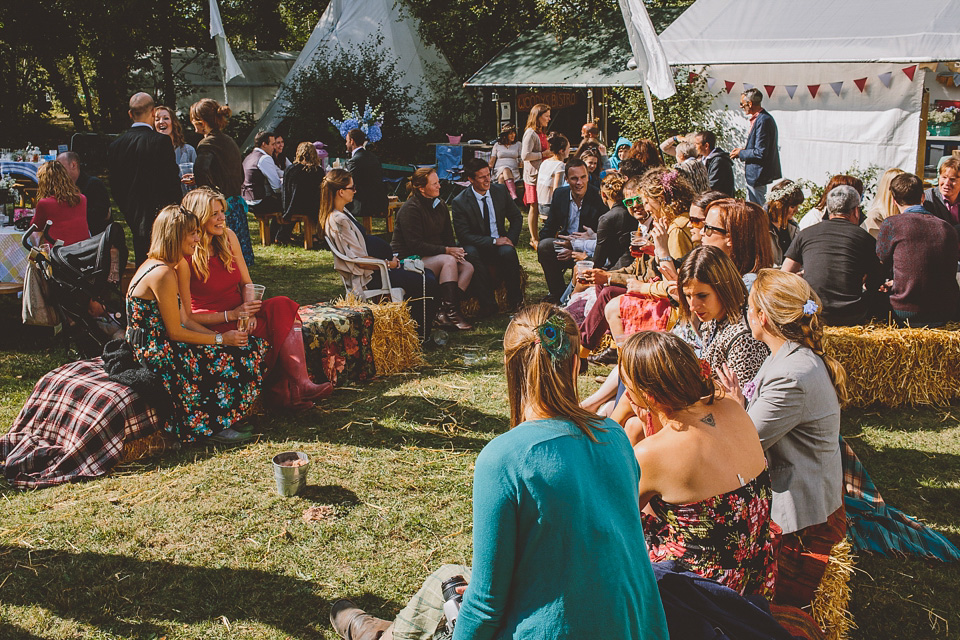 "Our wedding really was a family and friends collaboration. We had 2 cakes: 1 was a traditional white cake made by my very talented Aunty Fran which travelled all the day from West Cumbria on my Mum's lap for 8 hours the day before. The other was a cake that still gets talked about to this day because of its flavour and design. This one was made by my niece and one of the Bridesmaid's Bella. I have to stop myself dribbling a bit when I think about it. Not that many people noticed but there was a layer missing as Bella's dog ate a layer a week before the wedding."
Both cakes are beautiful, but I do love a rainbow cake.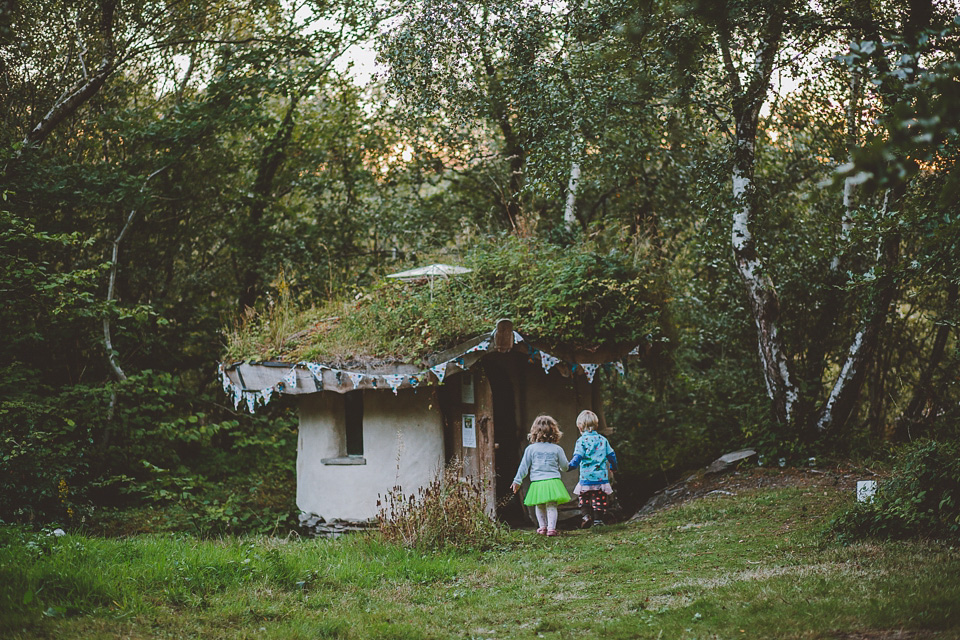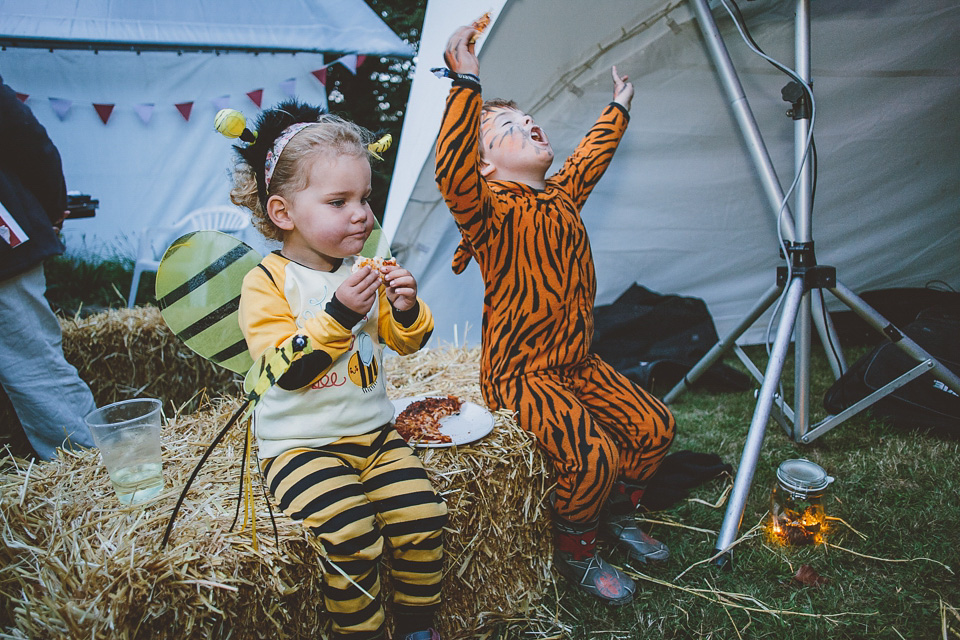 I really enjoyed looking through the photos of this wedding as everyone just seems to be having the best time, and no time more so than in the evening, dancing to the music.
"Liz pointed us in the direction of a local band, Go Tell Alice who were our band for the evening and also accompanied [Gemma's friend] Alice as I walked down the aisle. Again, they were fantastic in the lead up to the wedding with all our queries, as well as on the day."
"A good friend introduced us to Edward Sharpe & The Magnetic Zeros and as soon as we heard 'Home is wherever I'm with you' we knew it would be our first dance song. Chris has lived all over the world and our first trial of living together was in NZ when Chris had thought about leaving the UK. The track is very special to us in that home will be wherever each other is, whichever country or place that is. The track was on our Spotify playlist and we wouldn't listen to it without crying before the wedding it's so special."
With a wedding this fabulous, where would you even start do identify you favourite moments?
"There were so many – for Chris it was seeing his Mum, Dad, Sister and brother who had travelled all the way from Melbourne, Australia for the wedding. He also enjoyed drinking the free bar. For me the drive to the site on Saturday morning with my sister and Chris' sister was very special. It was hilarious in that my sister was swearing at the tractor we were stuck behind (we were late), and the fact that we had to stop at the family B&B to check the boys had picked up the pizza dough.
Also, waiting at the end of the aisle knowing that I was about to see everyone, to see Chris in his amazing suit (he looked very handsome), and to hear Alice singing was really special and a real tear jerker. I literally ran down the aisle to see Chris. Saying our vows was also a very special moment. We were so lucky in that we have the best family and friends around us and that really made a positive impact on our wedding planning. Both sets of families let us do our own thing and simply supported whatever we wanted to do without any stress."
Words of Wedded Wisdom
"Keep some money spare for the last two weeks before the wedding.  I don't know what happens but suddenly you find things that you HAVE to have for the wedding to be perfect. Something's you may need, something you don't. Try to keep a level head and only get the things you really truly do need. Chris was amazing during this period and refused to let me buy anything we wouldn't want in the house afterwards. He also made me talk through purchases and sleep on them; he never said outright no to anything (which would have made me buy them there and then, I can be very stubborn).
Planning a wedding is all about team work, especially with your partner. Luckily Chris was amazing and contributed when needed but was quite happy to be guided by me. He simply paid for it.
Give yourself plenty of time to set up the site of your wedding and do not underestimate how much time it will take to set up and take down."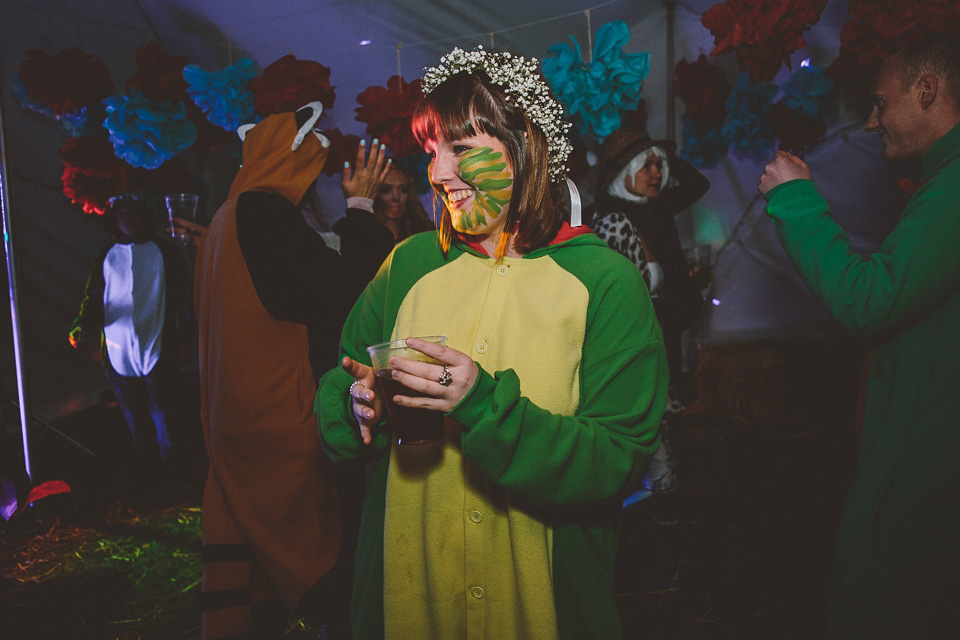 "Give friends and family specific jobs to do – they will love feeling a part of your day and will enjoy it rather than it feeling a burden. Also, try and have someone on the day who can work behind the scenes making things flow. Tim and Liz at our site were invaluable both before the day and on the day for this. They made the whole day flow perfectly through beavering away in the background. It's your day and although you know the plan of the day you're going to be far too busy catching up with your guests to think about paying suppliers/setting off the children's treasure hunt / switching on fairy lights, etc.
Block book B&B's/hotels that are local to the site for the family members who won't want to camp as soon as you book your site. Hotels and B&B's get booked up unbelievably quickly and you'll kick yourself if you don't think of this earlier.
Get as much information out in your Save the Date card as possible so that the wedding invitation is only really giving out timings. Guests like to book things early and plan things so if you know the information then pass it onto them."
And possibly most important of all….
"Enjoy the process.  It's overwhelming at first but break it down and ask people to help you if you can. It may seem hard to find jobs so far away from the big day so plan décor weekends when you can just make things, chill with your girls and catch up about the wedding instead."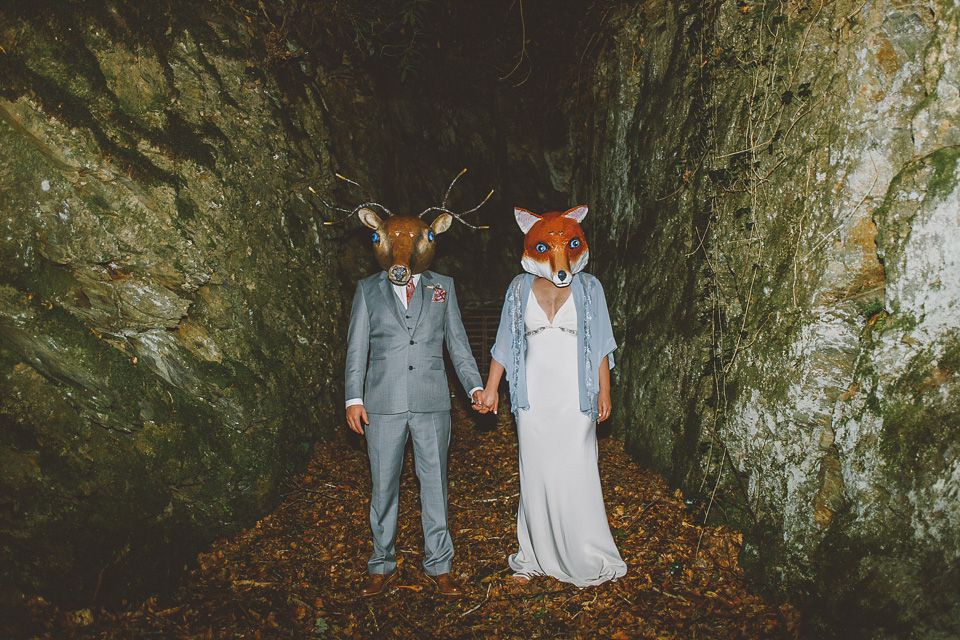 Lots of advice there, and all of it very useful- especially if you are considering a woodland or festival style wedding too- share your plans with us. We'd love to hear from you.
Thank you so much to Gemma and Chris, for sharing your wonderful day with us- we wish you every happiness. Thank you too, to Noel Deasington for sharing his beautiful, and very atmospheric images, I can't wait to see more of his work.
Hope you all have a lovely weekend,
Shona x
Photographer – Noel Deasington
Venue  – Treborough Woodland
Wedding Dress – Vera Wang, from eBay
Hair Accessories – Flowers from Pip Lowe Flowers
Shoes – Gohil's, Camden
Bride's Scent – Hugo Boss 'Orange'
Groom – Suit from Ted Baker, with tie from Otaa + shoes by John Rocha
Bridesmaids – Hollister + Topshop
Flowergirl – Boden
Page Boys – Mini Boden + Next
Florist – Pip Lowe Flowers
Cake – Gemma's Aunty Fran
Entertainment – Band – Go Tell Alice, DJs – Starturns Entertainment
Rings – H Samuel
Catering – Chip Cart
Stationery – Naomi Wilkinson
Makeup Artist – Lucy Davies
Favours – Custom Inkwear
Flags and Bunting – Event Flag Hire
Marquee – Covered Marques