Hey there Saturday people – lovers of 60s stark architecture, sleek eye liner flicks, vinyl records, light writing photography, music and a good old London pub knees up will love the little wedding I have for your today courtesy of Heather of Eclection Photography.  The wedding of Alex, who works in fashion marketing and PR professional, Chris took place in Spring last year, on 19 April 2014 and is simply too hip for words. Together, they tell the story of their day.
"As we wanted a London wedding in a grand old town hall, our ceremony was held at Camden Town Hall.  Camden had the added benefit of being easily accessible for relatives from the north .  There's also a great pub round the corner too called McGlynn's Free House where the lads all met for a pre-ceremony pint.  Most of all, we just wanted to have a great party and we wanted it to reflect our individual tastes. I love old curiosity shop finds, taxidermy, antiques and vintage bric-a-brac – and we both love music, so that was the basis for the theme and styling of our wedding day."
Photography Copyright (c) 2015, Eclection Photography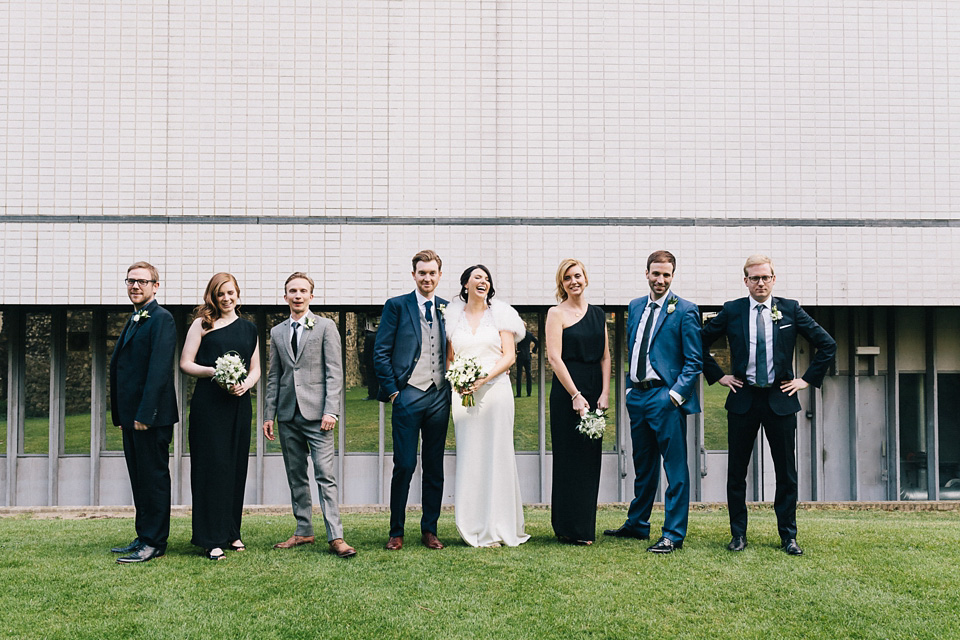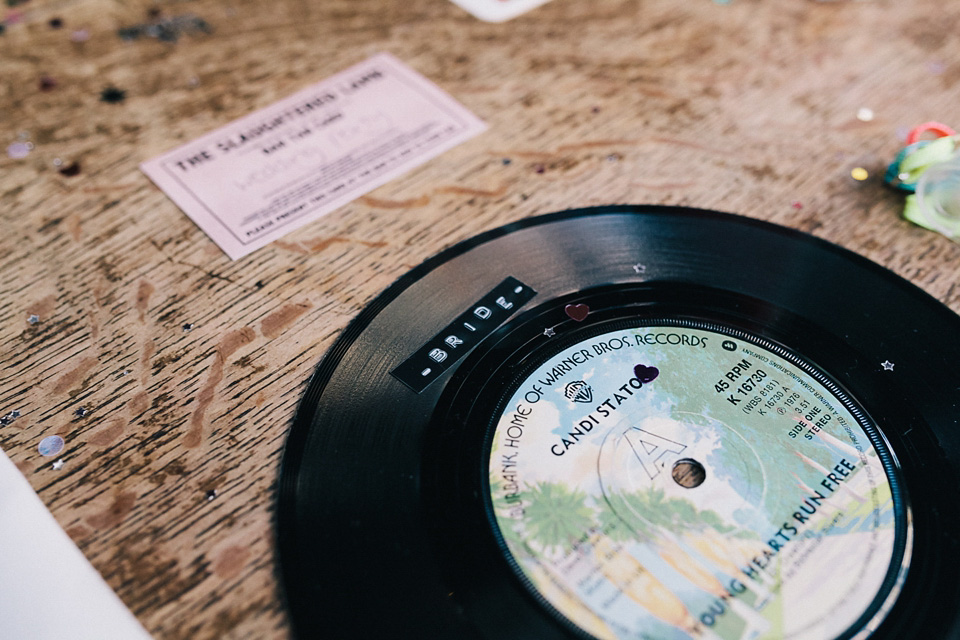 The make-up artist with the artistry skills to draw that perfect eye liner flick was Elkie Phillips who, together with hairdresser Carly Price, created the beautiful look that lasted all day.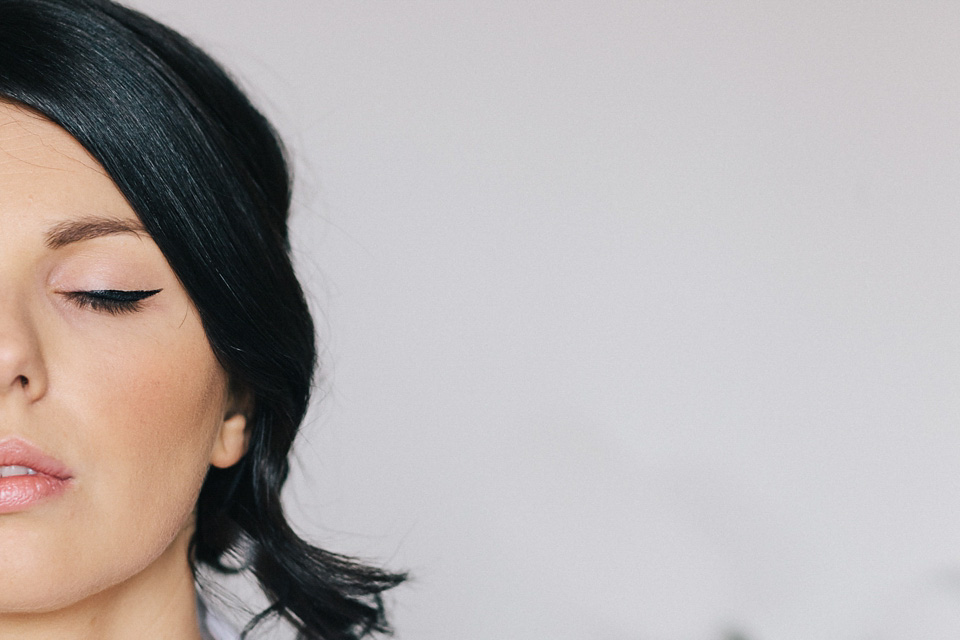 "It took me some time to find the right dress as when I tried on big dresses I felt like I was in fancy dress! I actually ordered my Badgley Mischka dress online from TheOutnet.com – the sister of Net a Porter, whilst in the hairdressers with a big glass of wine, after discovering that day that my first dress could not be adjusted!
When it arrived I knew it was the one, I loved the beautiful vintage style lace, slim fitting and detail on the back."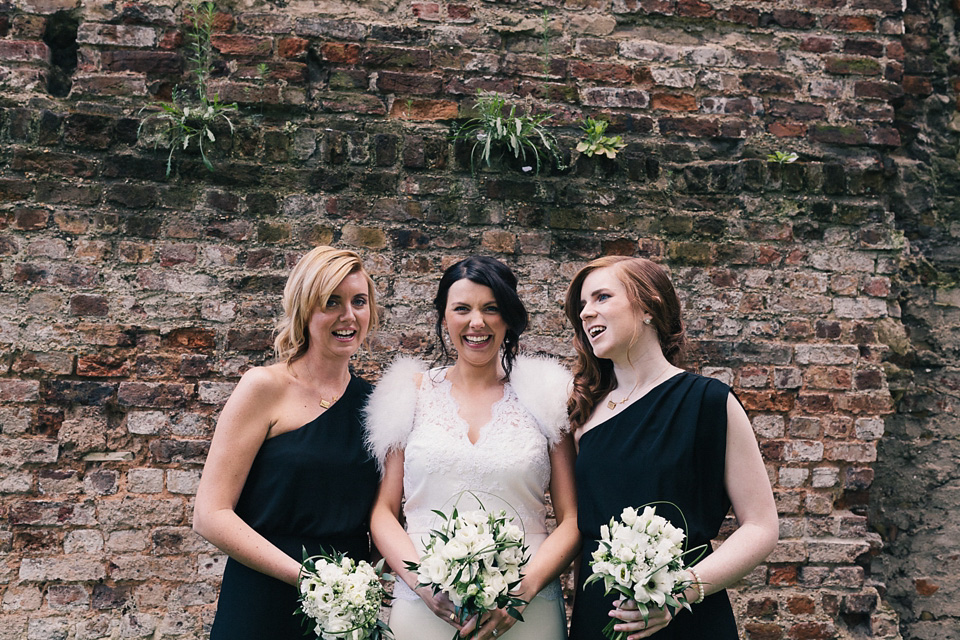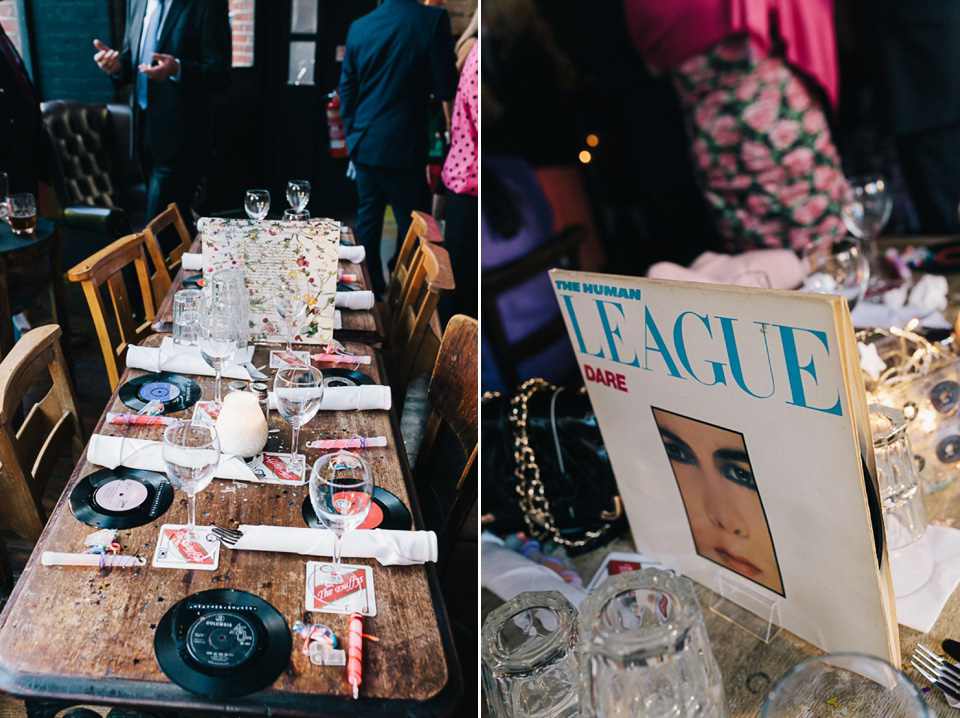 "The first time we met our Heather of Eclection Photography, we really hit it off discovering our shared love for food and music. Heather went above and beyond anything we could have wished for and we love our photographs."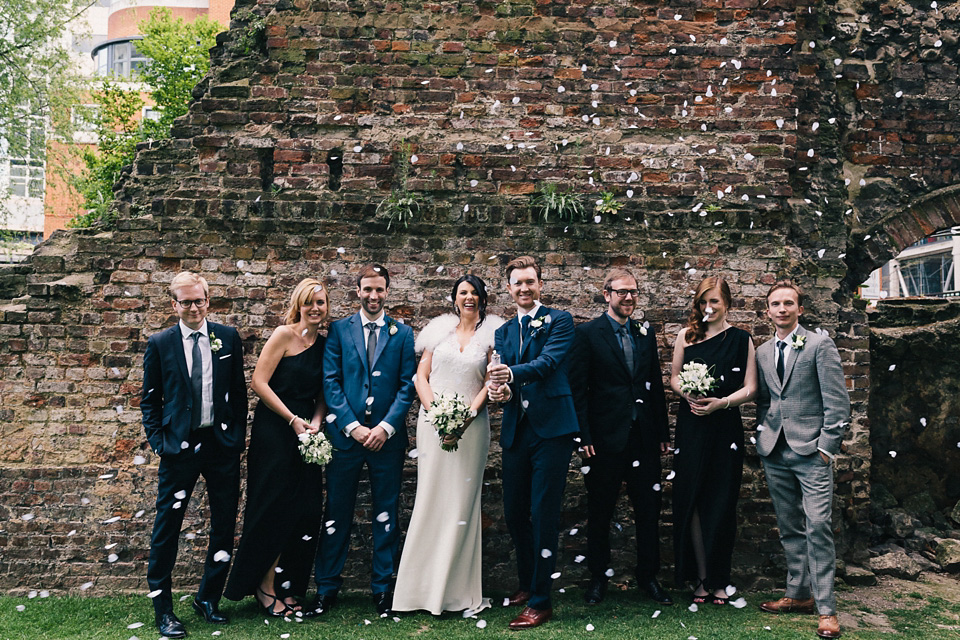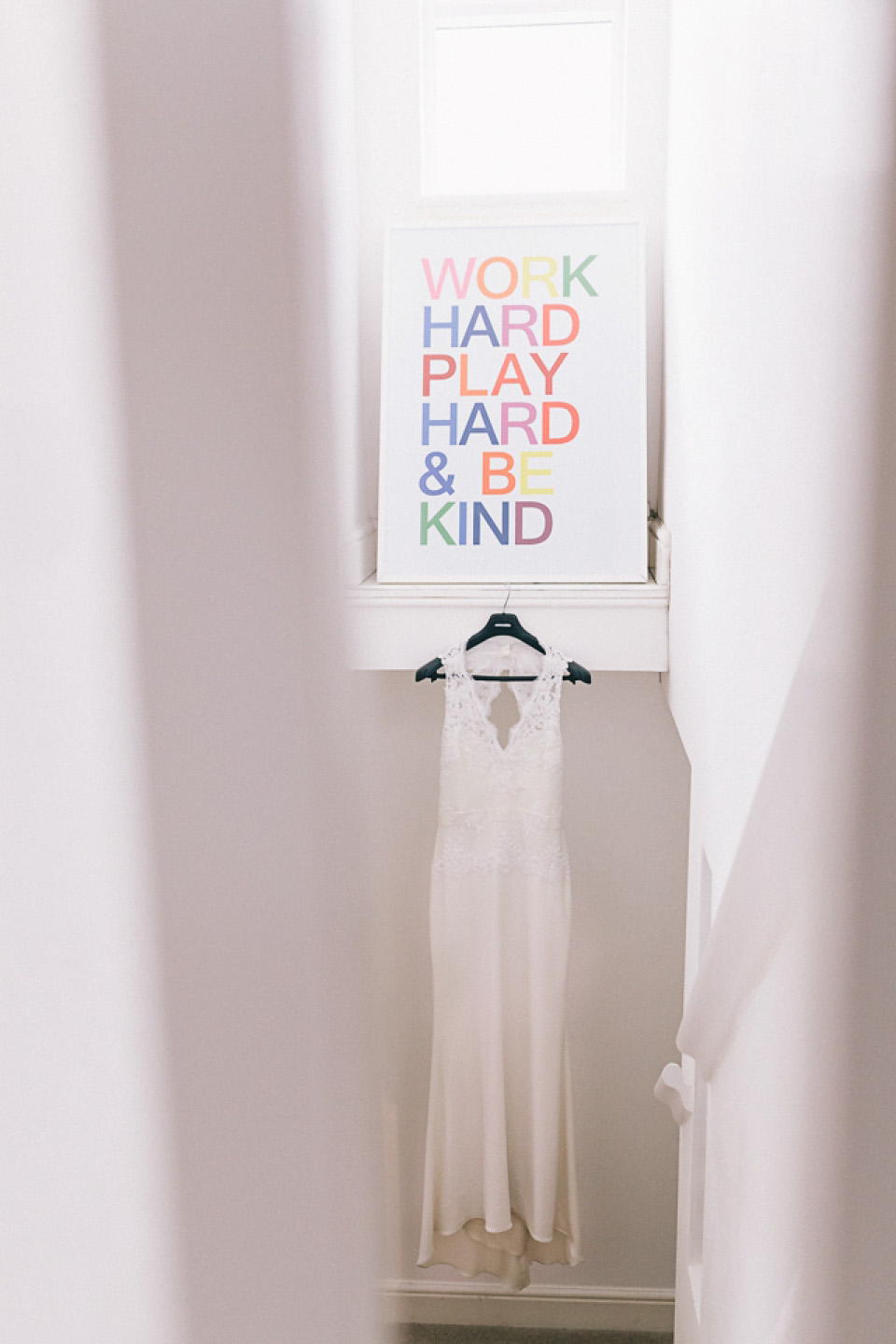 "I wanted beautiful white flowers with a hint of green to set off the white and black anemones that I loved from Mrs Florist."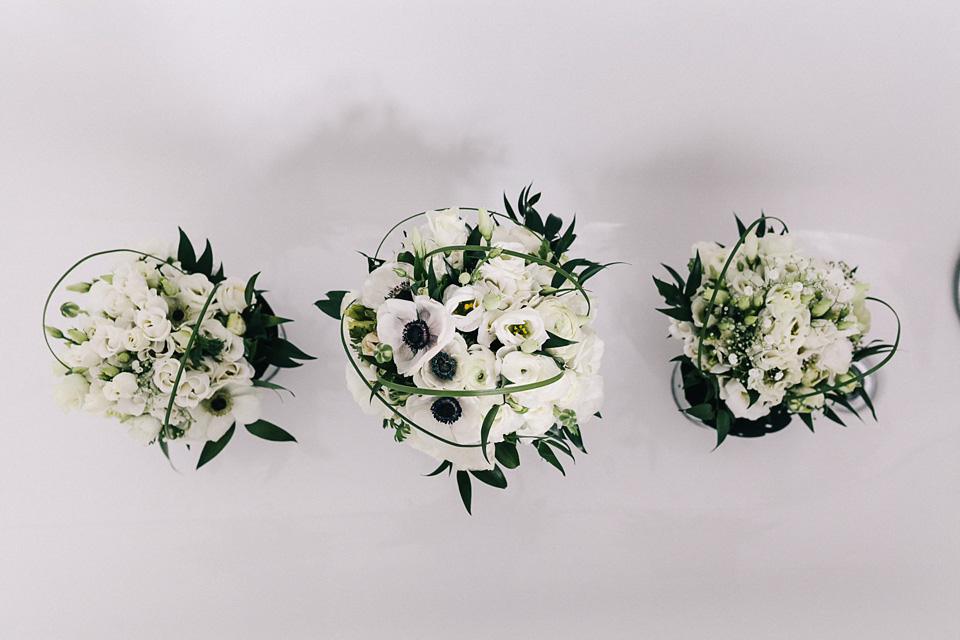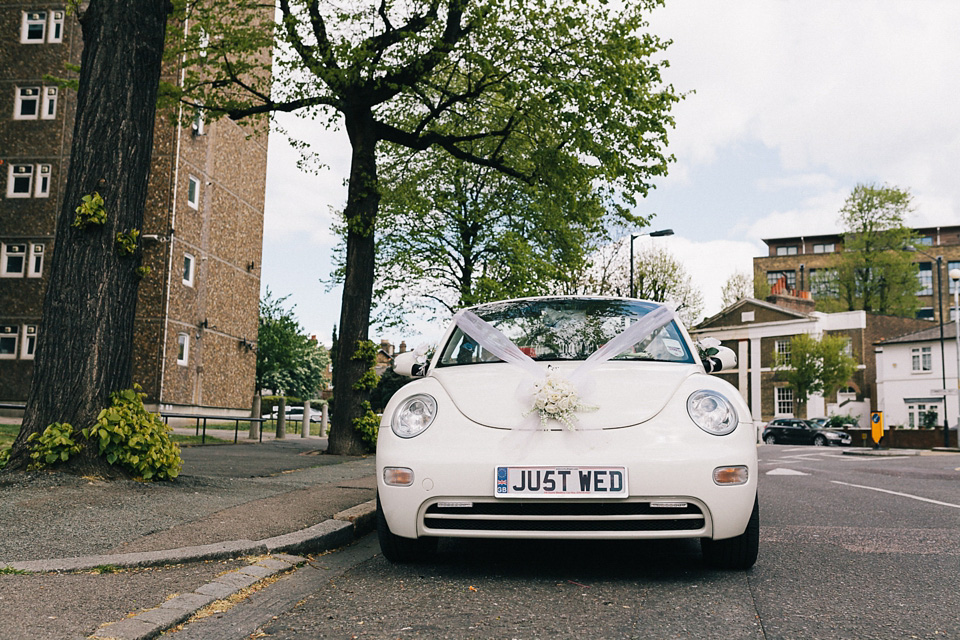 "We met when Chris lived in a shared a house with my best friend at Liverpool Uni. I used to come up from Nottingham Uni to visit and we hit it off over a love of hip hop, funky house and indie rock – so music generally then. We got together a couple of years after graduating, as I had to get the travel bug out of my system. Chris proposed on a beach in Sardinia at sunset (after phoning my dad for permission). We were engaged about 18 months before we married, mainly for practical reasons as we were saving to buy a house."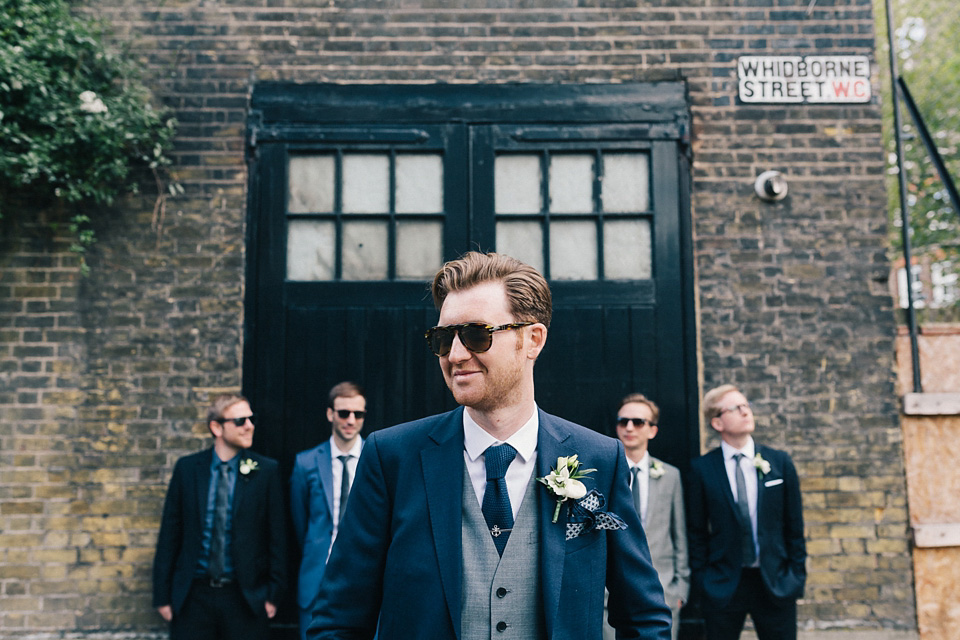 The groom, in his dapper Reiss suit and Poste shoes along with all his men, didn't let the side down.
"As we were working to a budget we asked the groomsmen to wear their own suits, but gave them a navy blue tie to bring them all together."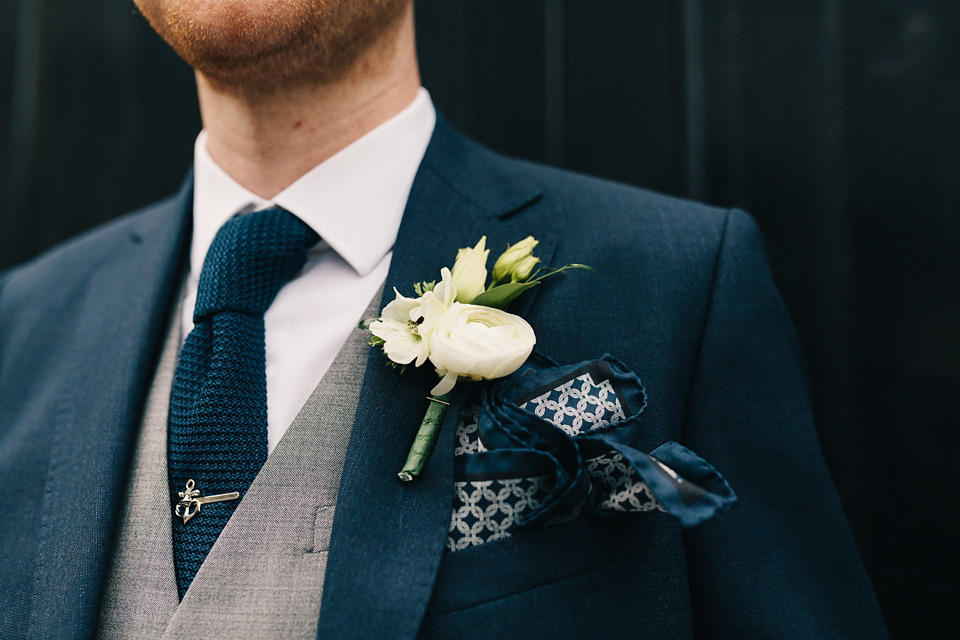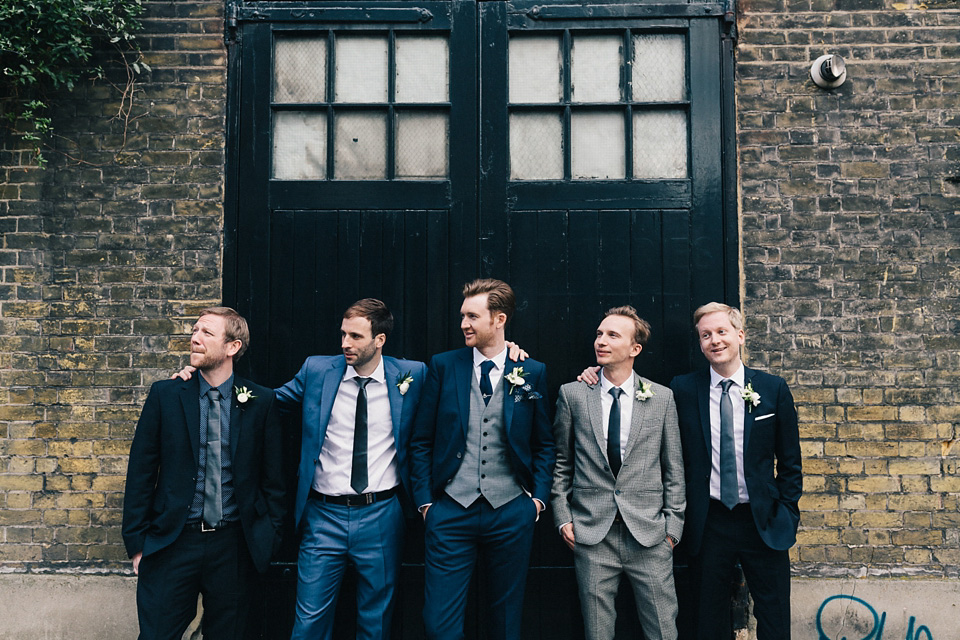 Alex put the finishing touches to her look with a crystal headpiece from Coast that she felt was more fitting than a veil to the style of wedding, earrings from Grays Antiques and a beautiful vintage pearl bracelet given to her by best friend Claire. She also pinned a gold horseshoe into a handbag given to her by her Mum and Dad.
Alex walked down the aisle with her dad Clive to The XX's 'VCR', however one of their favourite tracks for the ceremony was when they left to Primal Scream, Loaded. It really summed up what they wanted their reception to be!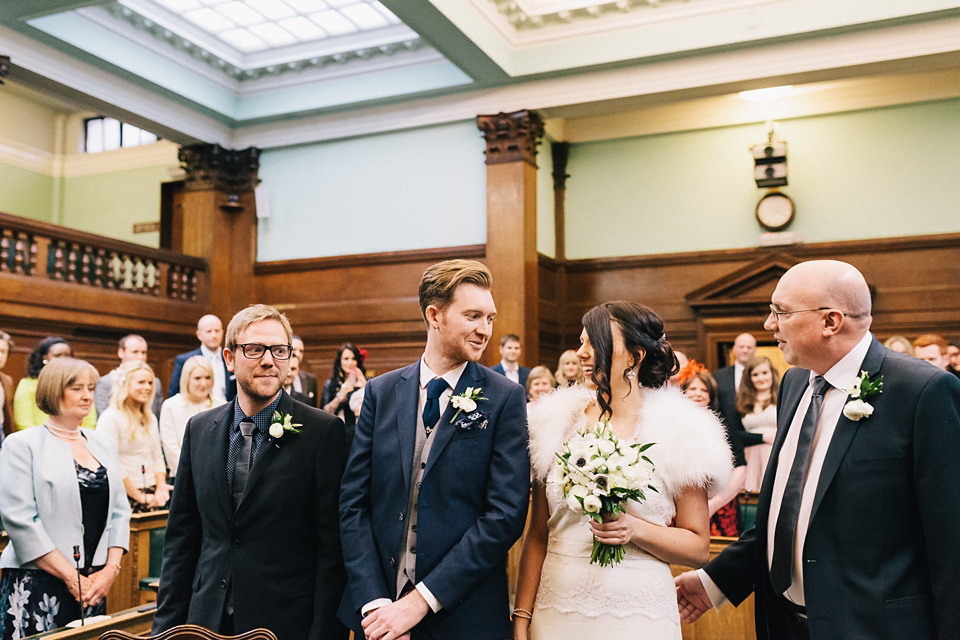 "All rings were also from Grays Antiques, just off Bond Street. We love old jewellery and the history behind it. Alex's rings were both 1920s with beautiful engraving you just cannot find on a new ring. It must come from my childhood, as my mum was an antiques dealer and my auntie a jewellery dealer."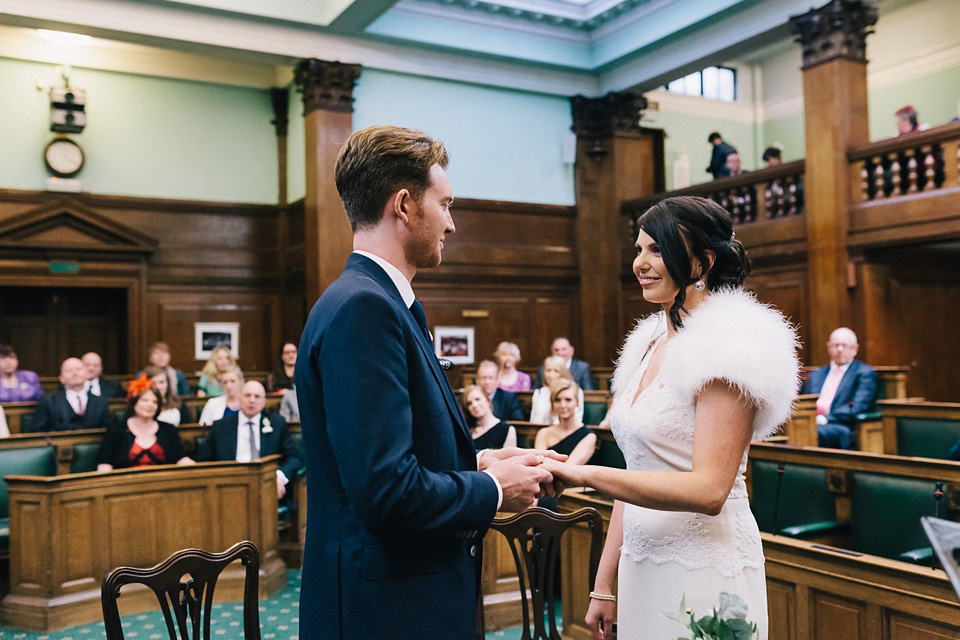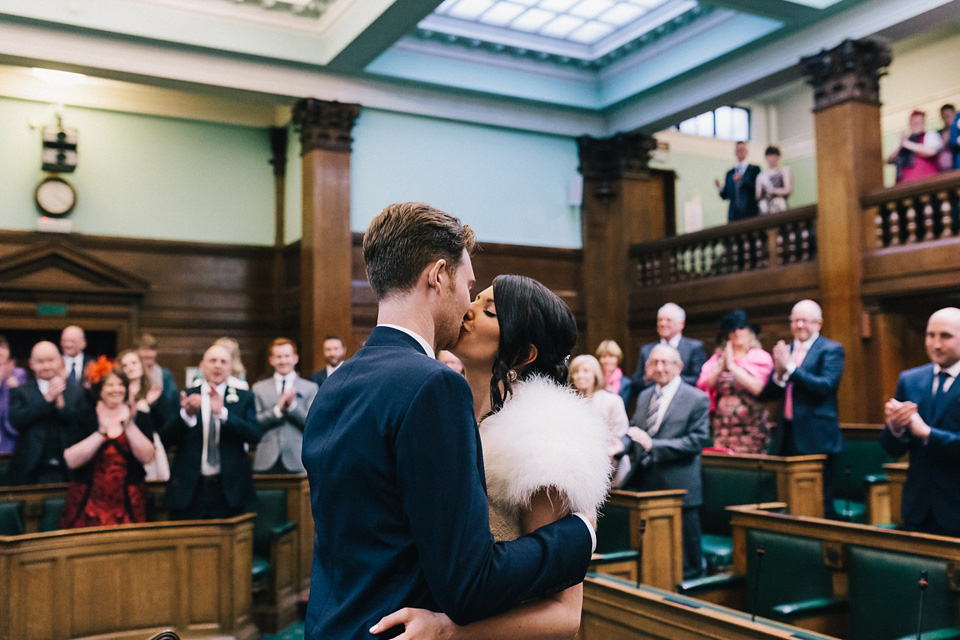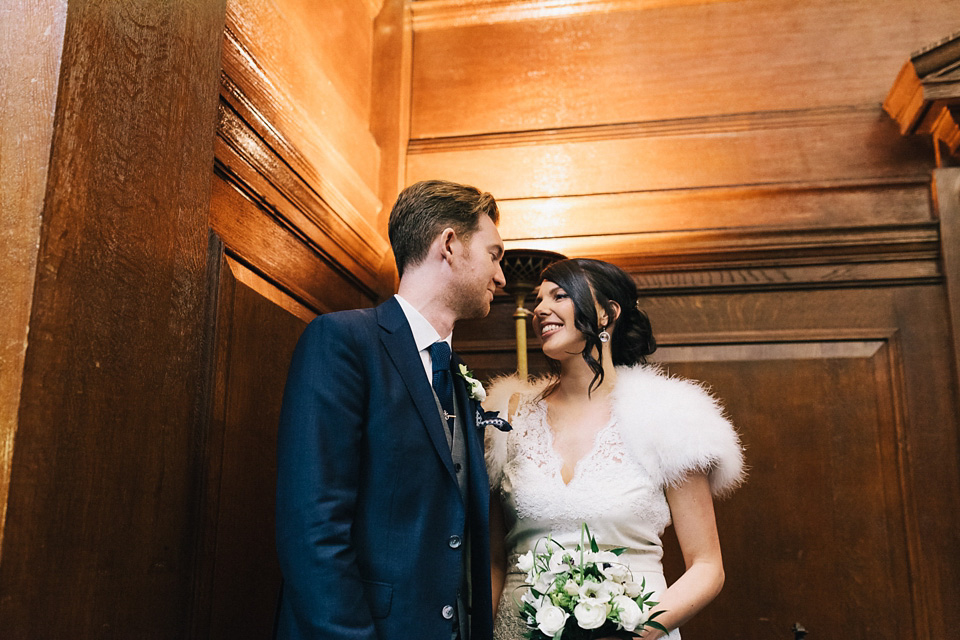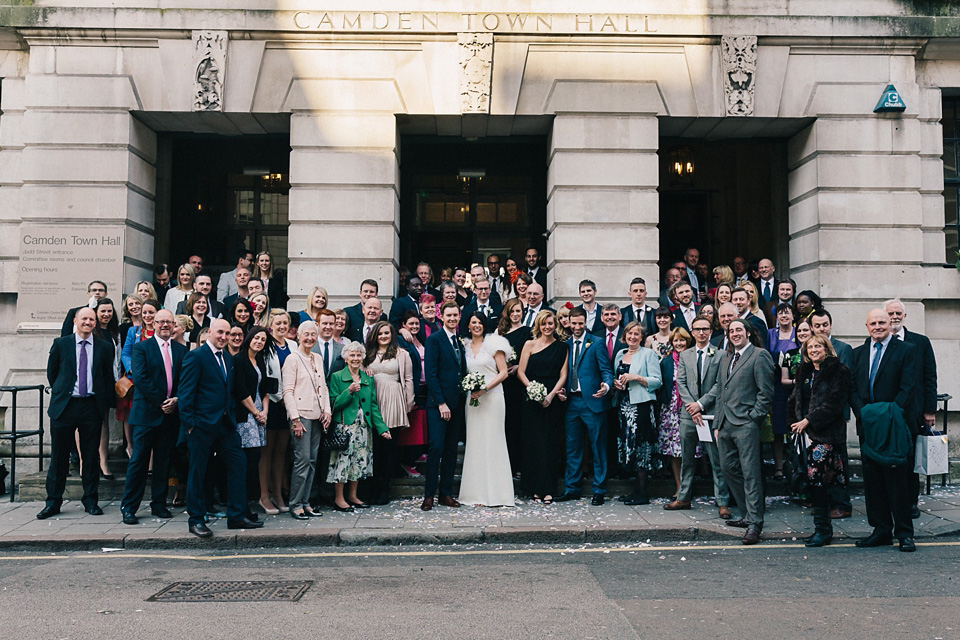 Alex's maids looked delightfully chic in full length French Connection gowns in contrasting black.
"We gave the bridesmaids necklaces from Maria Allen Boutique. They each had a personalised message engraved into wooden letters which were inserted into the golden envelope pendent and they wore earrings from Marks and Spencer."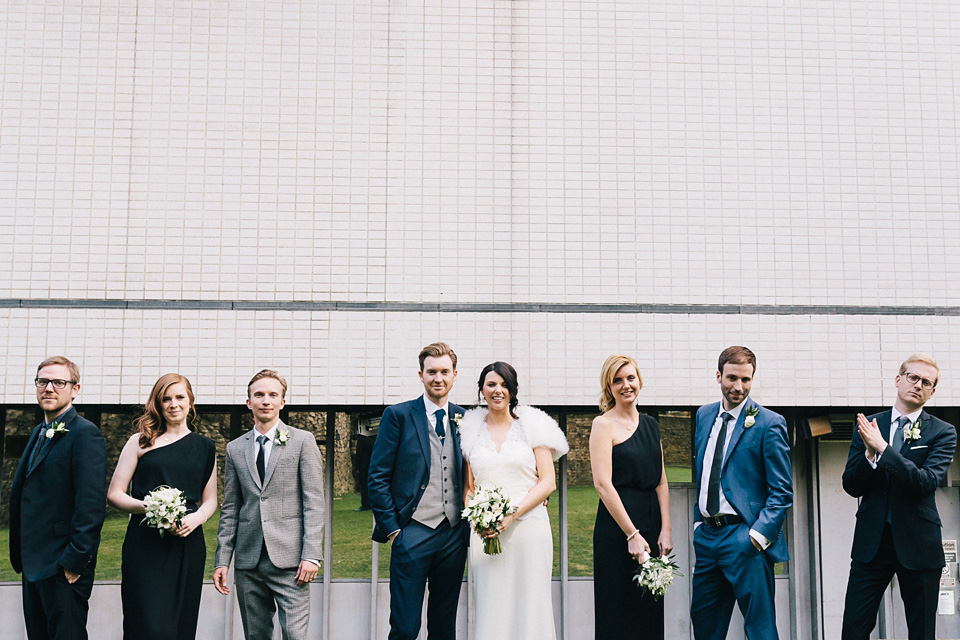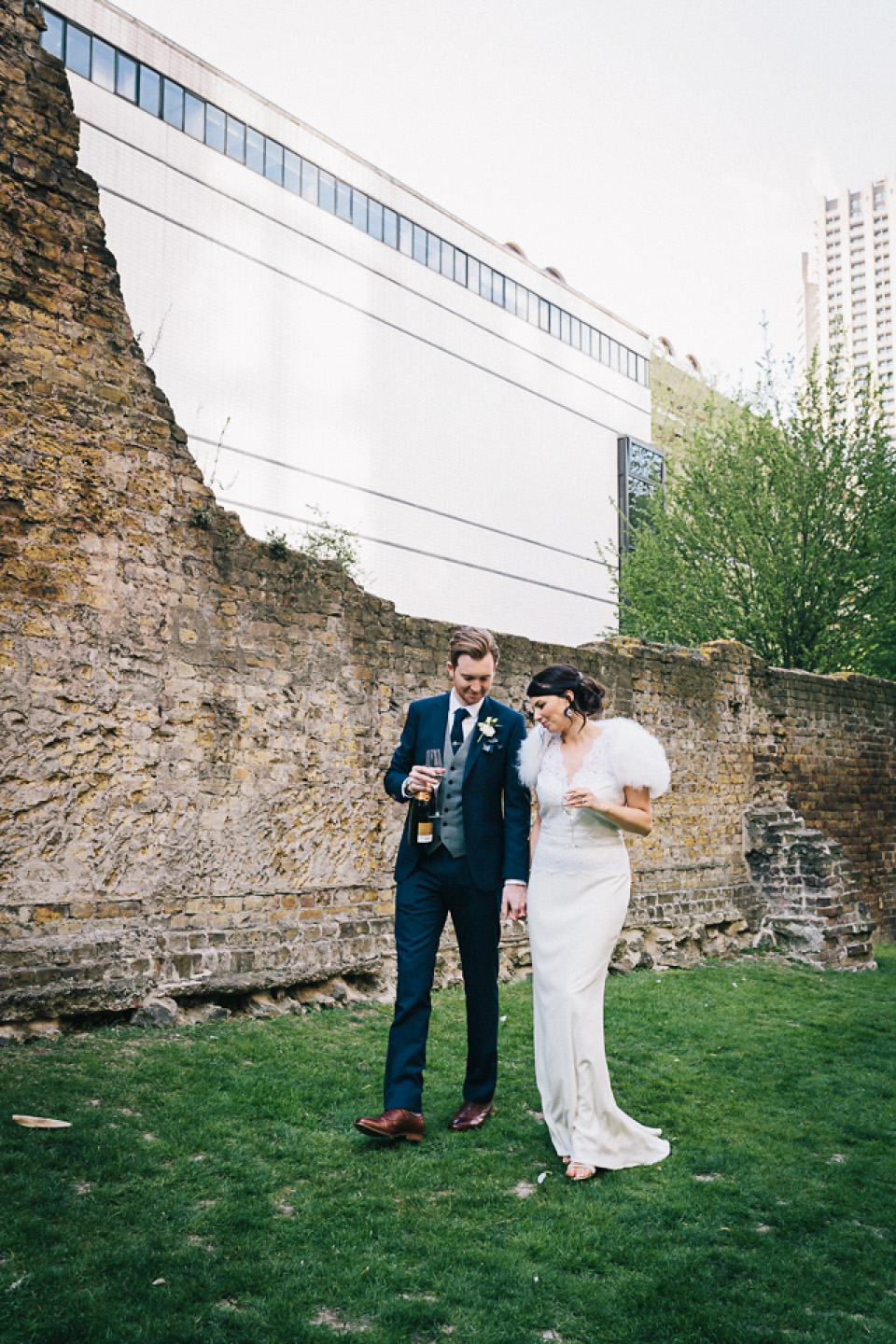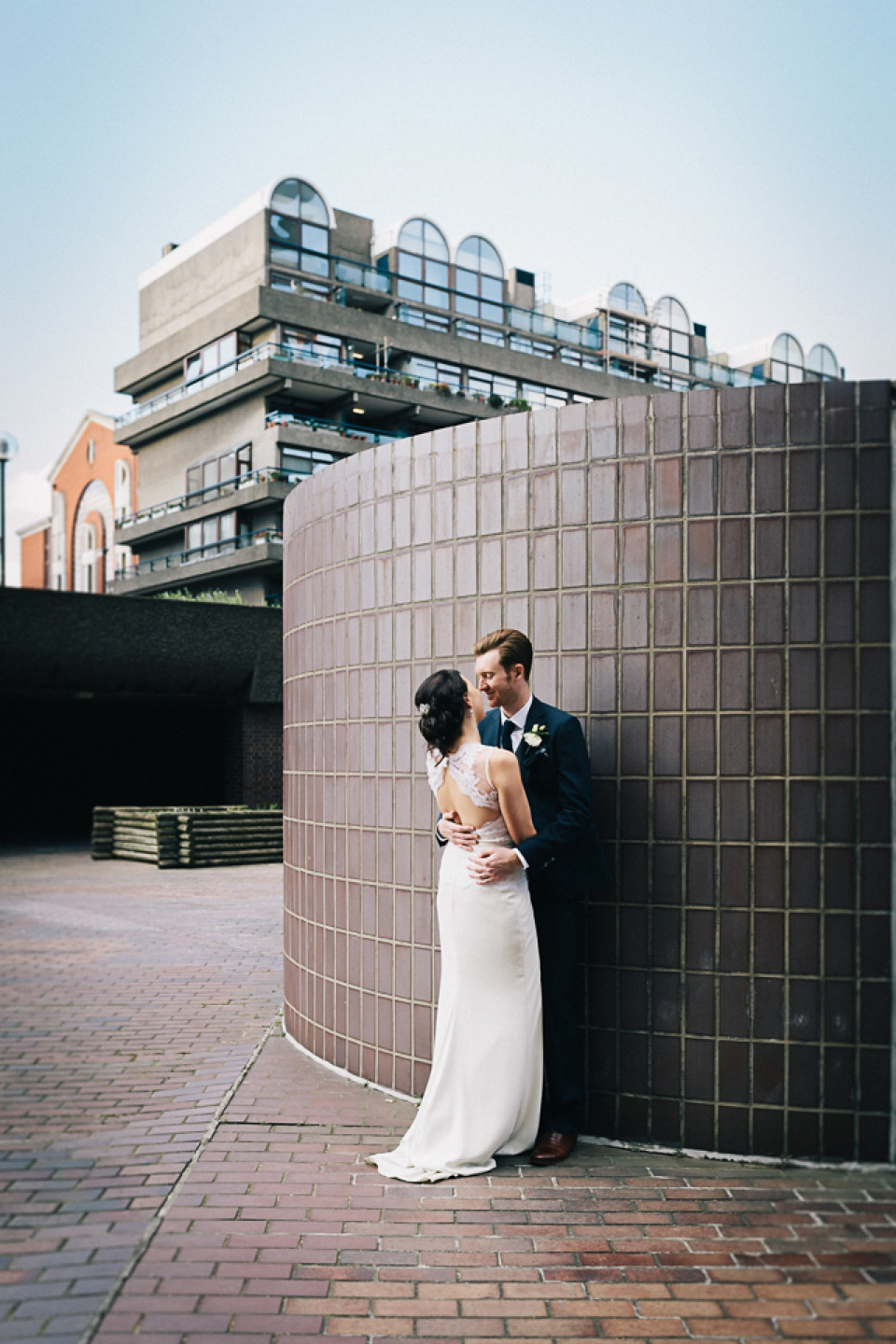 "We chose the reception venue, The Slaughtered Lamb in Clerkenwell, mainly because it ticked all of our tastes – it's a little den of iniquity down a back street and has a real old London, but also vaguely hipster vibe, with animal heads and other peculiar nick-nacks all over the walls. We really clicked with the staff there too and they've a separate room where we could have the DJ and dancing. This is useful when you have older relatives who aren't going to want to sit in a noisy room all night.
We dressed the pub with our own custom made beer mats, place settings in the form of old 7 inch vinyls (we did our best to meaningfully/mischievously match songs to people), centrepieces made from old cassette tapes, fairy lights and bunting and for favours we gave everyone whistles and glow sticks to ramp up the party vibe."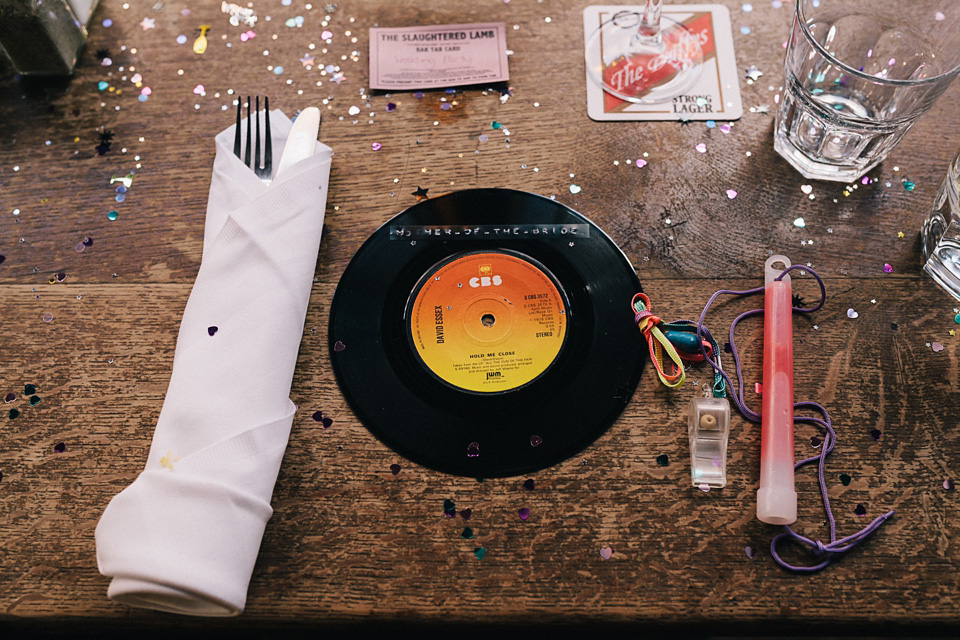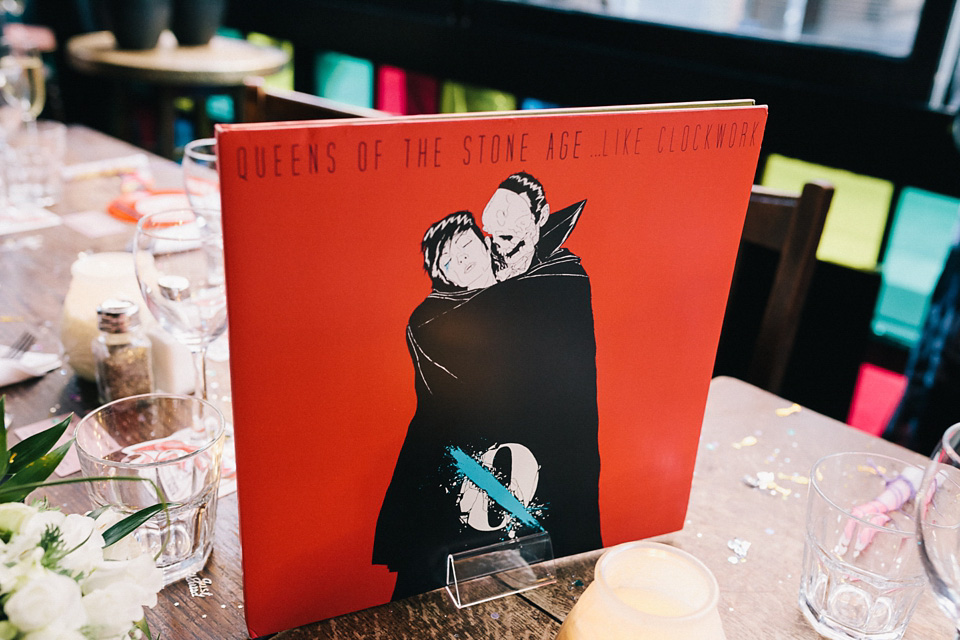 "Each table was named after one of our favourite albums and the table plan was designed to look like a festival line-up. Chris also made centrepieces out of old cassette tapes – they were glued together into a small vase and then stuffed with white LED lights from Primark. We also bought a job lot of 7 inch vinyl from Deptford market and used them as place settings, with an embossing device used to create name labels.
We broke the mould and didn't go for an order of service and to keep costs down we invited everyone by email to the wedding! An agency I work with, TPS, designed the table plan for us based on the Reading '94 festival poster."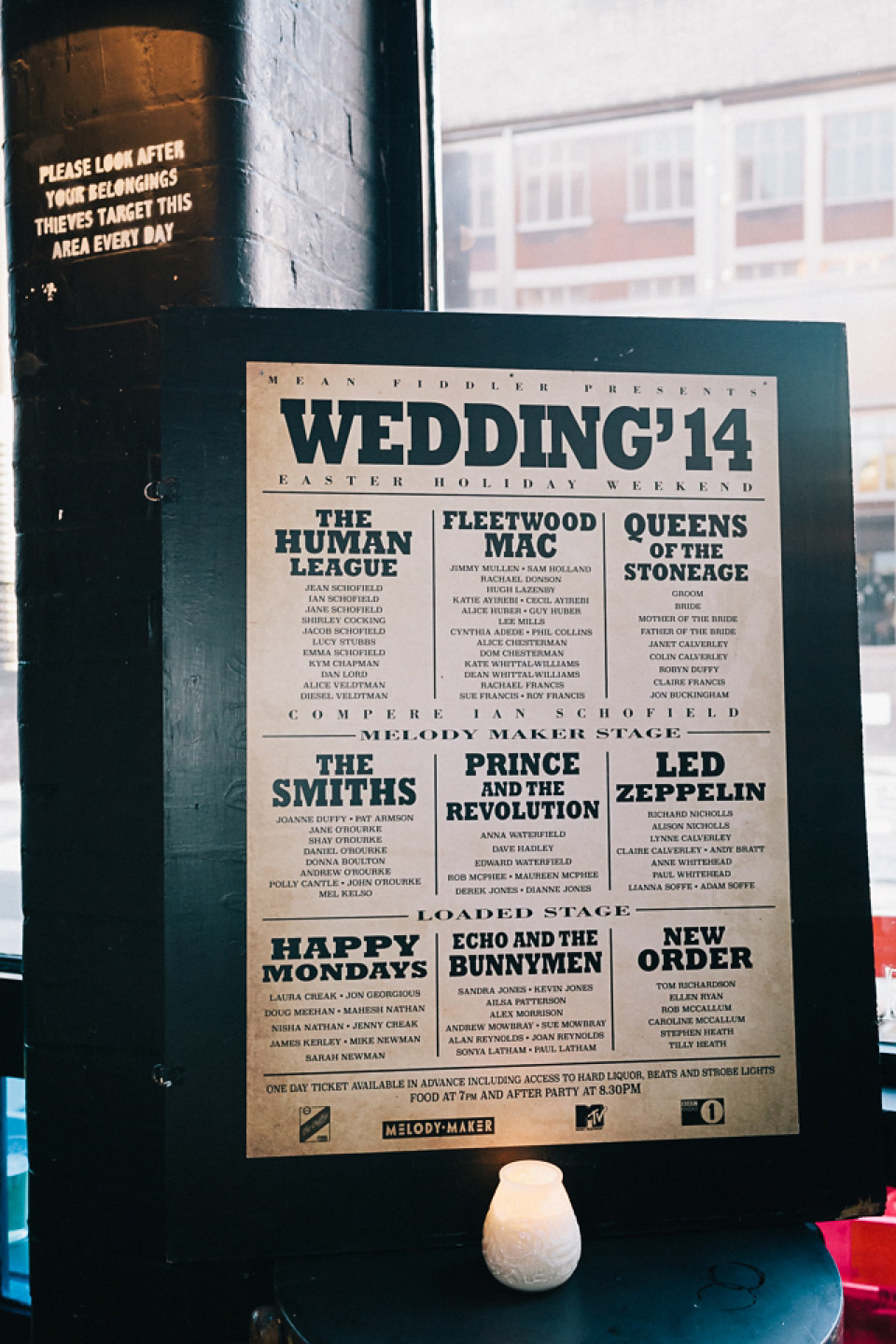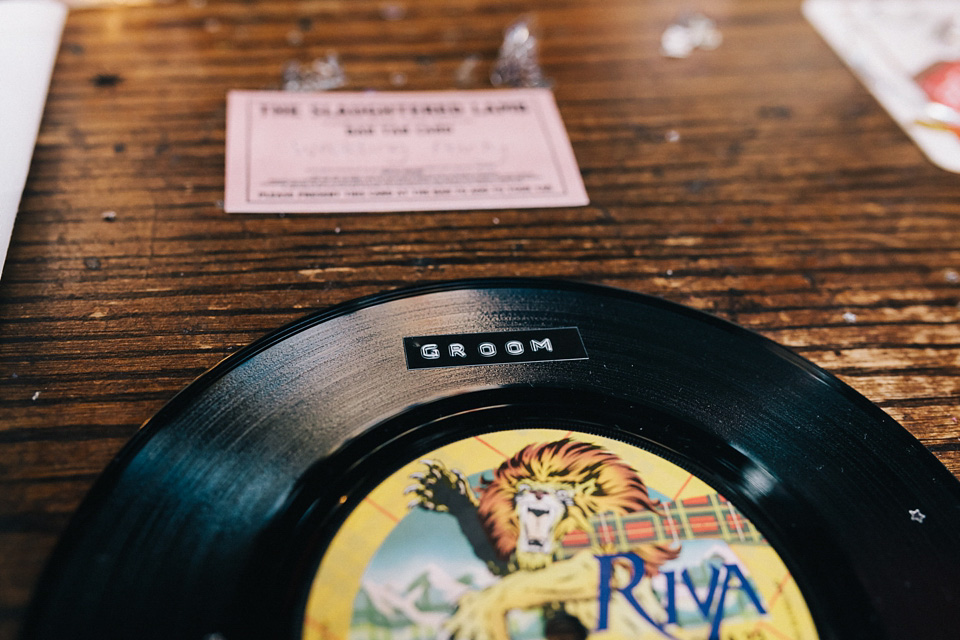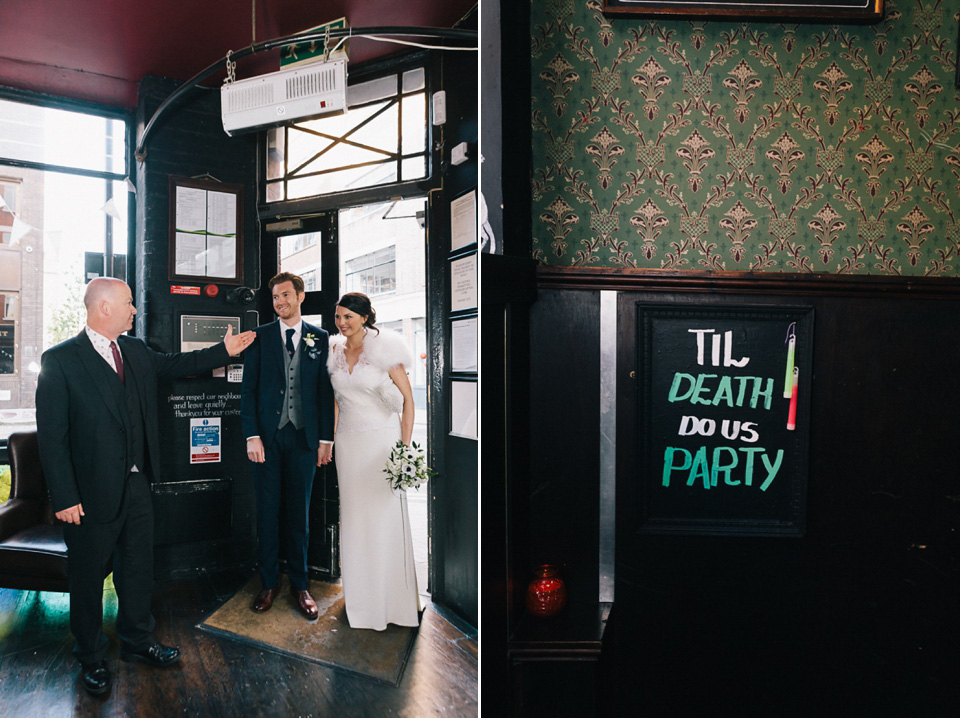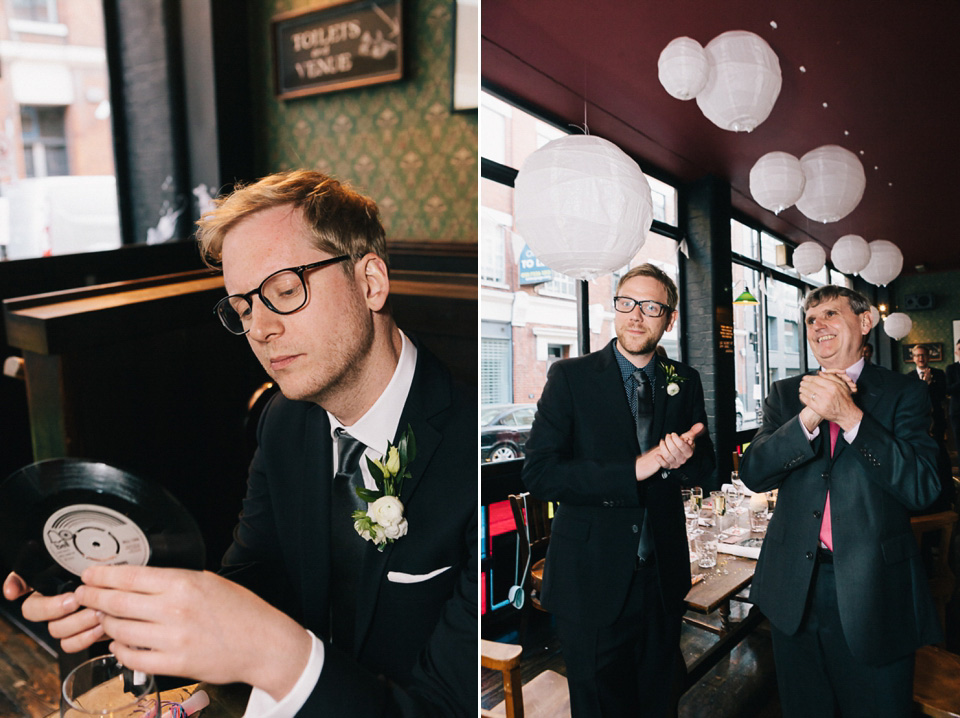 "Our first dance was to 'Let's dance by David Bowie.' We felt that it fit with the party vibe, but is also a love song. I think it's rare for a dance song to be a love song! This was about our favourite time of the day – when all the pictures are done, you've said hello to everyone and you just have a dance and laugh with the people you love."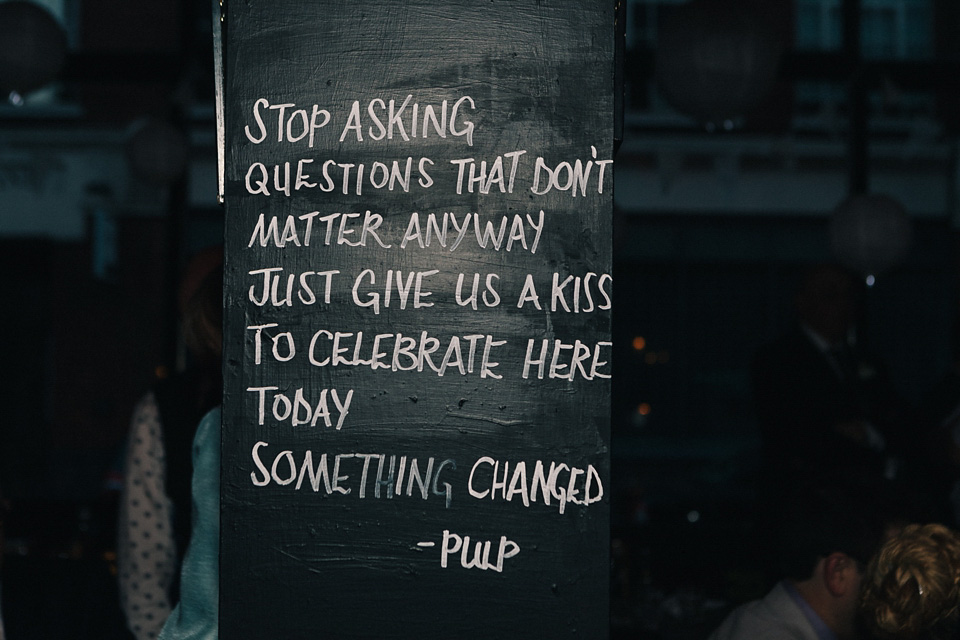 Words of Wedded Wisdom
"Don't let it take over your life for too long. We did everything in about two months. If it takes over your life (which it will) for too long, then you're probably not going to enjoy the day as much as you'll be obsessing about details that no one else notices!
Enjoy having everyone close around you in the morning; sharing that time getting ready was an amazing part to the day. Have fun! It really was the best day I would love to do it all again.
You don't need to spend a lot to have the best day, we did our wedding for £8,000 and it was wicked. It's worth investing in your photographer, as I have really enjoyed looking back on the photos with the biggest smile."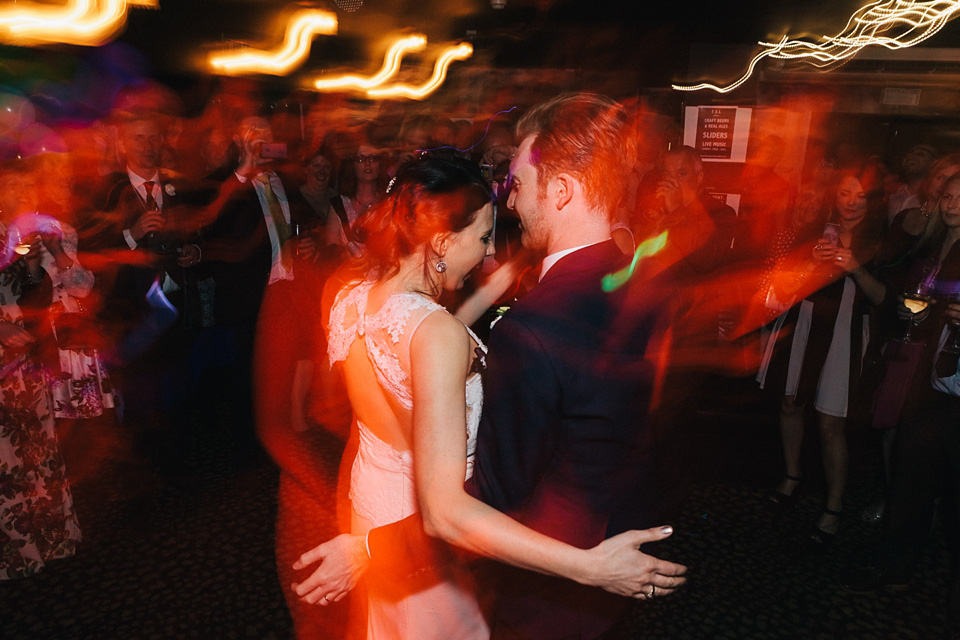 I too have smiled looking at these images and I love the importance of music right from the start of this relationship. I couldn't live without it, so I wholly approve of this theme and the way it is woven throughout the day. However, as someone who has recently purchased a turntable for the first time in 30 years, my heart aches a little for all those 7" singles used as place names; I hope they weren't too scratched by the end of the day! 😉
Thanks to you both for allowing us to have a peek at your wonderful celebrations – long may your music filled party continue! Thanks also to Heather at Eclection Photography for sharing the fabulous images with us all.
Much hipster love
Katie xx
Photographer – Eclection Photography
Venue – Camden Town Hall & The Slaughtered Lamb
Wedding Dress – Badgley Mischka from The Outnet.com
Shoes – Dune
Headpiece – Coast
Rings & earrings – Grays Antiques
Groom – Reiss + tiepin via Vivienne Westwood + shoes via Poste
Bridesmaids – French Connection Shoes – Office
Bridesmaids' necklaces – Maria Allen Boutique
Florist – Mrs Florist
Cake – cheese cake from Neal's Yard
Hair Stylist – Carly Price
Make up – Elkie Phillips
Open top Beetle – Lucky Dream