Good morning everyone! Welcome to a new week full of content that we hope inspires you and lifts you in spirits.  Such a windy morning in the North East of England today – I barely dare open the door!   Did you have a chance to catch up on Love My Dress over the weekend, as we posted 3 beautiful new features – introducing the pretty new hair pin designs by Britten (with details of how you can save on your order if placed before midnight tonight), this elegant and coral colour Spanish wedding and these exquisite new floral inspired headpieces by shoe designer Harriet Wilde.  Remember too that we currently have a wonderful competition running with bridal wear designer Vicky Rowe, to win your wedding dress.
This morning's wedding is that of Copywriter Emily and city Trader Sam, who tied the knot on 25th August last year with a humanist ceremony at the Old Church in Stoke Newington, followed by a reception at The Londesborough pub.
Emily says in planning and styling her wedding, she combined two of her great loves – the printed word and Liberty prints, which she managed to incorporate beautifully into various styling elements of the day.  The couple commissioned Mckinley-Rodgers to shoot their wedding.  Their photographers also happen to have a sister company, Story Catchers, that produces wedding films too. I love how both the photographs and film capture the essence of love and fun and prove that it really doesn't matter if it rains on your wedding day.
Film Production Copyright (c) 2015, Story Catchers
"Sam and I met at University ten years ago and during the time since, we have lived in Spain for two years, had two children and moved house nine times! We were engaged for three years before tying the knot (life just got in the way!).
Our wedding was the perfect balance of traditional and modern celebration – I loved that were able to make the ceremony personal and unique to us.  The Londesborough is our local pub, so it made the perfect setting for a good old 'knees up!'"
Photography Copyright (c) 2015, Mckinley-Rodgers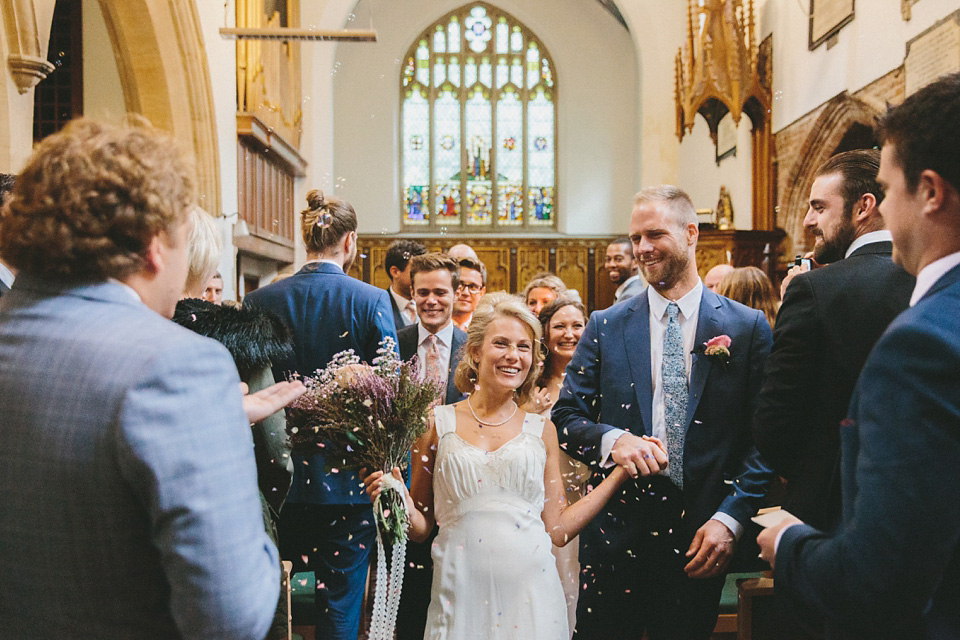 "To decorate and style the day, we used Liberty fabric bunting made by my mum, and helium balloons from BonBon Balloons.  The balloons were filled with tissue paper and pieces of old newspaper (which I sourced from the day Sam and I were born – and one of which was also the newspaper that my Dad was the Editor of at that time!).  
We also had paper art installation from a student artist I met at a market (Edlyl Asis) when admiring her work – she made hanging birds made from Liberty wallpaper and the old newspaper from our birth-days – they were hung outside The Londesborough to look as if they were flying in a flock!"
Emily chose to wear an elegant and understated gown by Charlie Brear…
"I knew my Charlie Brear gown was mine the moment I saw it. I was with my future sister-in-law who was looking for her dress to marry my brother in, so I couldn't make a fuss, but, I dreamt about it the same night and promptly returned to Charlie Brear the following morning, tried it, and paid in full!
We hadn't even set a date, or year, for that matter at this point. To be honest, it was the dress that prompted everything that followed. (four months later we had the wedding!)"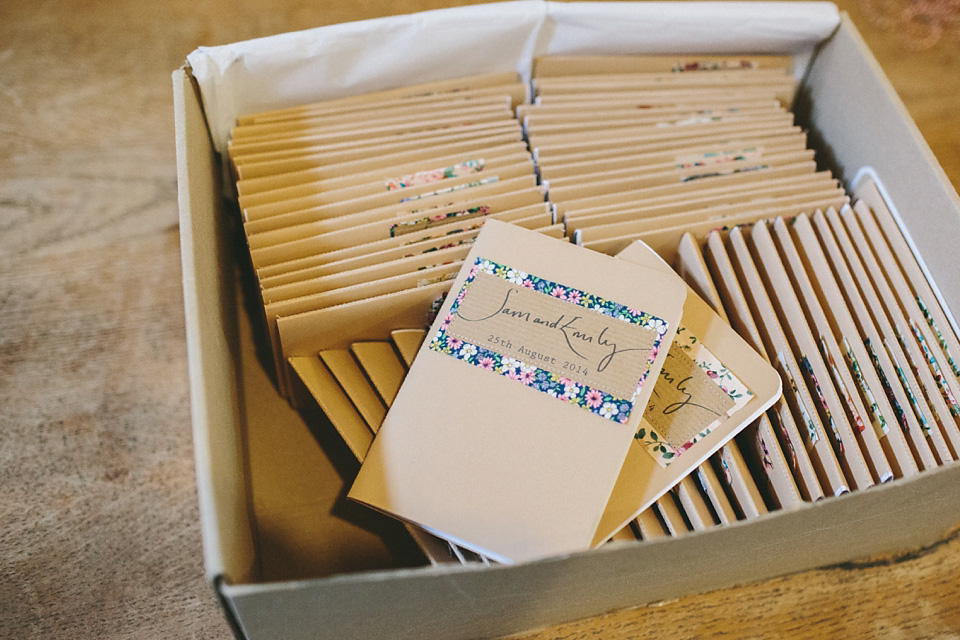 "Pen and Cam of Mckinley-Rodgers were our photographers, and they were an absolute joy to have on the day.  We couldn't be happier with the photographs and film that they also produced . If you make one splurge for your wedding- splurge on them. You won't regret it. The day goes so quickly – having wonderful photos and a film is the consolation for this!"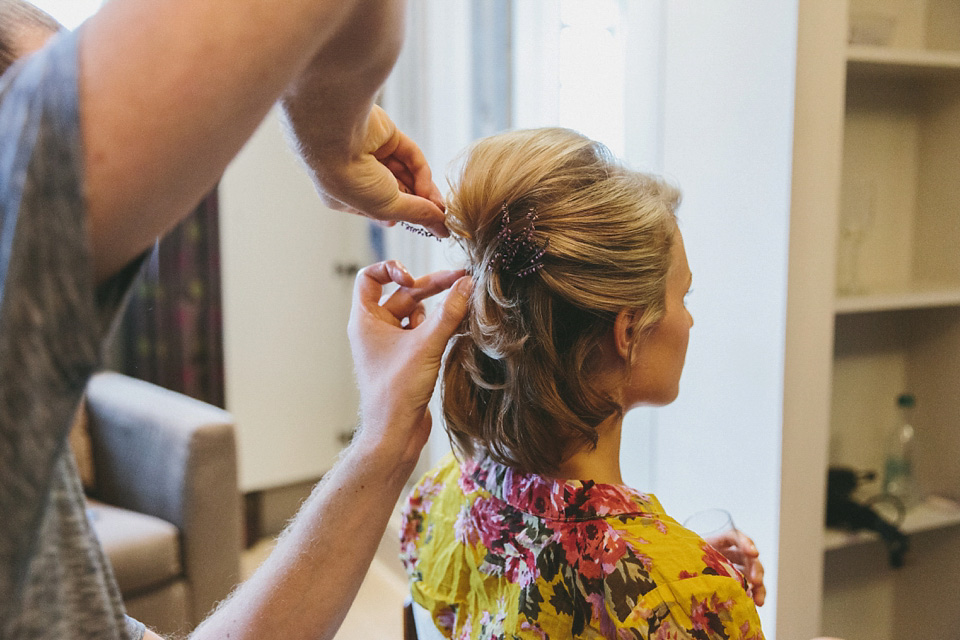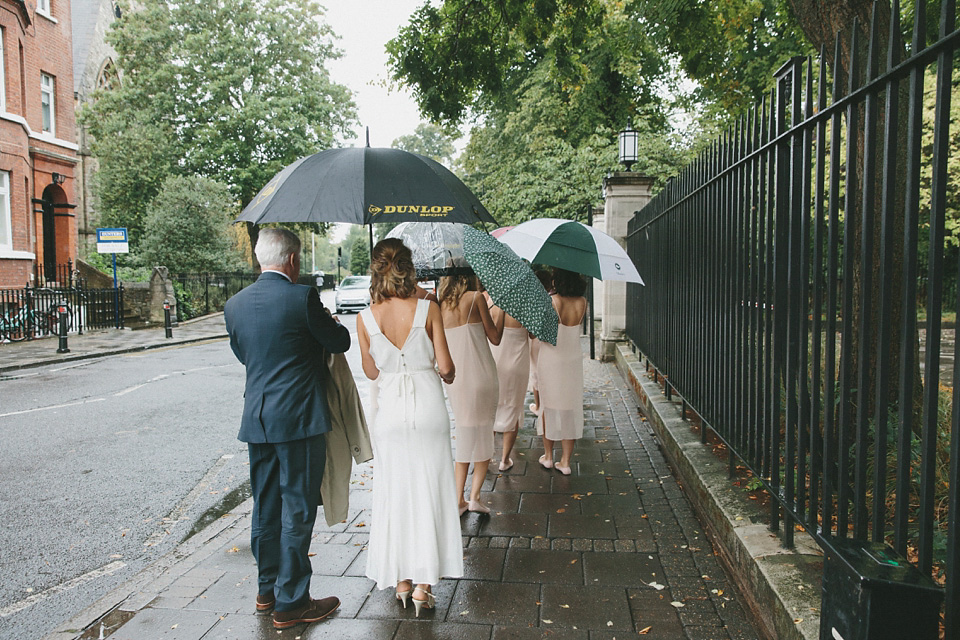 "My Dad walked me down the aisle to the sound of 'Canon in D', which was played by a very dear friend and important person in my husband's young life (and professional organ player)."
"I did my own flowers. My mum picked (a lot!) of wild heather from the North Yorkshire Moors – it's in season in August and it is such a beautiful and meaningful flower for me, it seemed like the perfect option. The day before the wedding we went to Colombia Flower Market in east London and selected the rest of the flowers to go with it. Then we came home, jars and ribbon at the ready and worked like mad to get them all done in time for the 'rehearsal' dinner!"
"We had a humanist ceremony and Mark Hayford was our fantastic celebrant. Because writing is what I do for living and what I love to do, it felt right that I should write the script for the whole ceremony- which he was happy for me to do. I asked a few special people to surprise us with a reding of their choice during the ceremony, as well as asking people to do a couple of our favourite readings and a big singing session led by our best friends. Hopefully, it was a very relaxed, inclusive and meaningful ceremony."
"I wrote my vows too (as did Sam to me). here they are…
'Sam, I love you. I am who I am because of you. You are the person I am supposed to spend the rest of my life with, you are my soul mate, my best friend, my partner, my supporter and my compass through life's journey. Thank you for being you and for loving me for me unconditionally.
I promise that I will always be yours.
I promise that we will always laugh together, walk together, dance together, learn together and grow old together.
And finally, I promise that as the person that I love most in the world and as the father of my children, your place in my heart and my mind will always remain.'"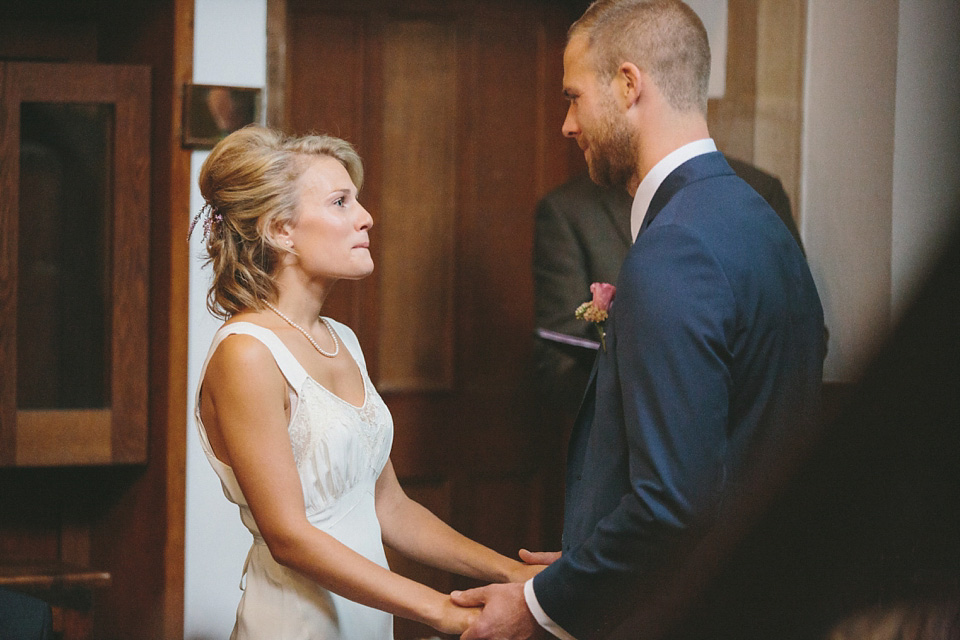 "I wore a Tiffany & Co. pearl necklace given to me on my 21st birthday from my brothers and I borrowed my sister's pearl earrings. I also wore an amethyst ring, identical to the one I gave my maid of honour on the day."
"My little sister surprised me with our reading, 'A Lovely Love Story', by Edward Monkton.  My Sister is only 16, and the moment she stood up in front of a room full of people and read this out with such emotion and sincerity was a very proud one for me.  There wasn't a dry eye in the house at this point!"
'The fierce Dinosaur was trapped inside his cage of ice.
Although it was cold he was happy in there. It was, after all, his cage.
Then along came the Lovely Other Dinosaur.
The Lovely Other Dinosaur melted the Dinosaur's cage with kind words and loving thoughts.
I like this Dinosaur thought the Lovely Other Dinosaur.
Although he is fierce he is also tender and he is funny.
He is also quite clever though I will not tell him this for now.
I like this Lovely Other Dinosaur, thought the Dinosaur.
She is beautiful and she is different and she smells so nice.
She is also a free spirit which is a quality I much admire in a dinosaur.
But he can be so distant and so peculiar at times, thought the Lovely Other Dinosaur.
He is also overly fond of things.
Are all Dinosaurs so overly fond of things?
But her mind skips from here to there so quickly thought the Dinosaur.
She is also uncommonly keen on shopping.
Are all Lovely Other Dinosaurs so uncommonly keen on shopping?
I will forgive his peculiarity and his concern for things, thought the Lovely Other Dinosaur.
For they are part of what makes him a richly charactered individual.
I will forgive her skipping mind and her fondness for shopping, thought the Dinosaur.
For she fills our life with beautiful thoughts and wonderful surprises. Besides,
I am not unkeen on shopping either.
Now the Dinosaur and the Lovely Other Dinosaur are old.
Look at them.
Together they stand on the hill telling each other stories and feeling the warmth of the sun on their backs.
And that, my friends, is how it is with love.
Let us all be Dinosaurs and Lovely Other Dinosaurs together.
For the sun is warm.
And the world is a beautiful place.'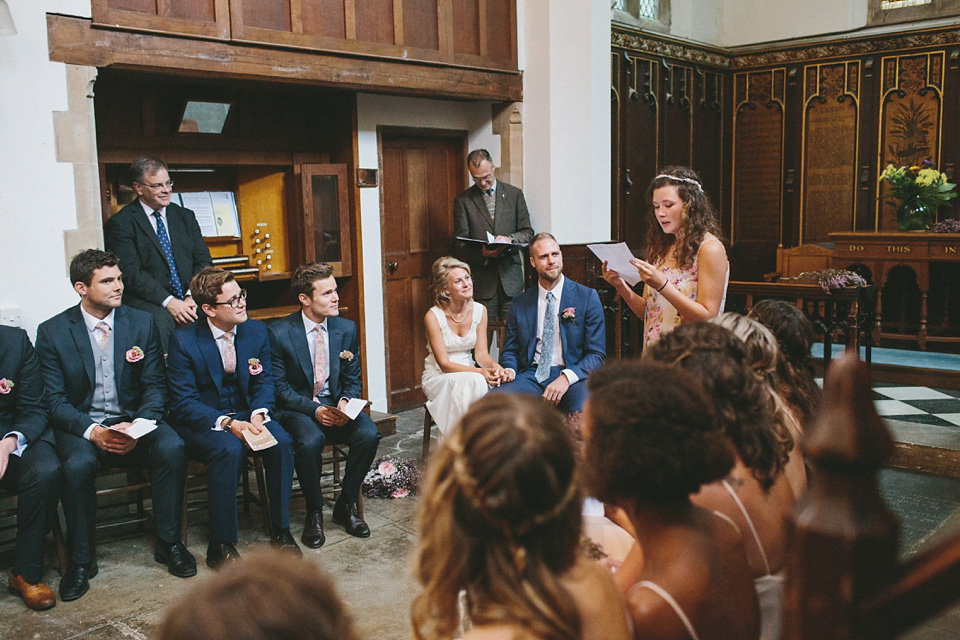 The groomsmen all wore bespoke ties made in Liberty fabric
"I bought vintage material from Liberty's and commissioned Peckham Rye tailors to make ties from it."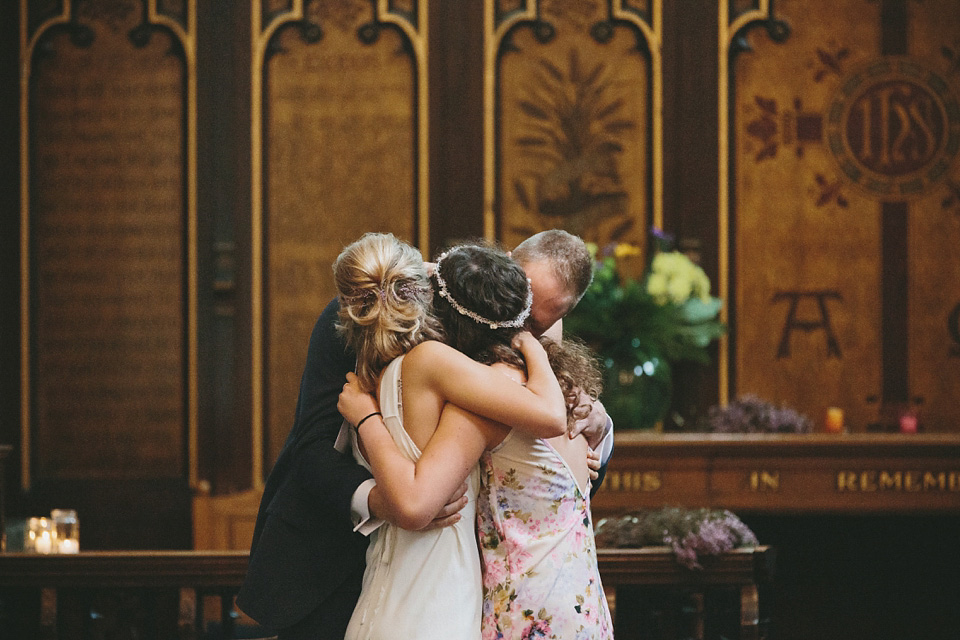 "I designed our rings with a local jeweller in Stoke Newington, Metal Crumble, who we have been using for years now.  I wanted everything to be as bespoke, personal and unique to us as it could be."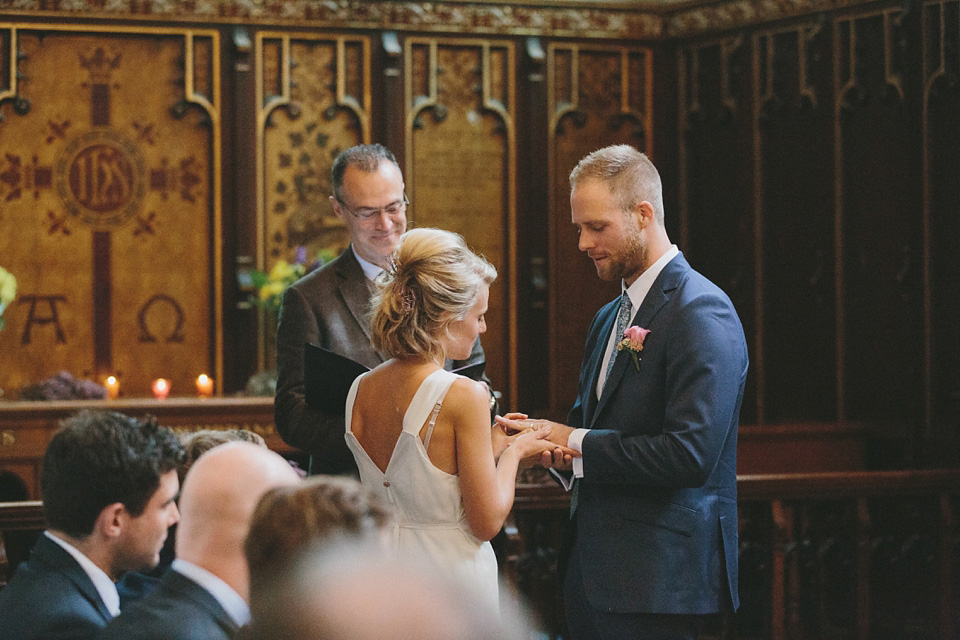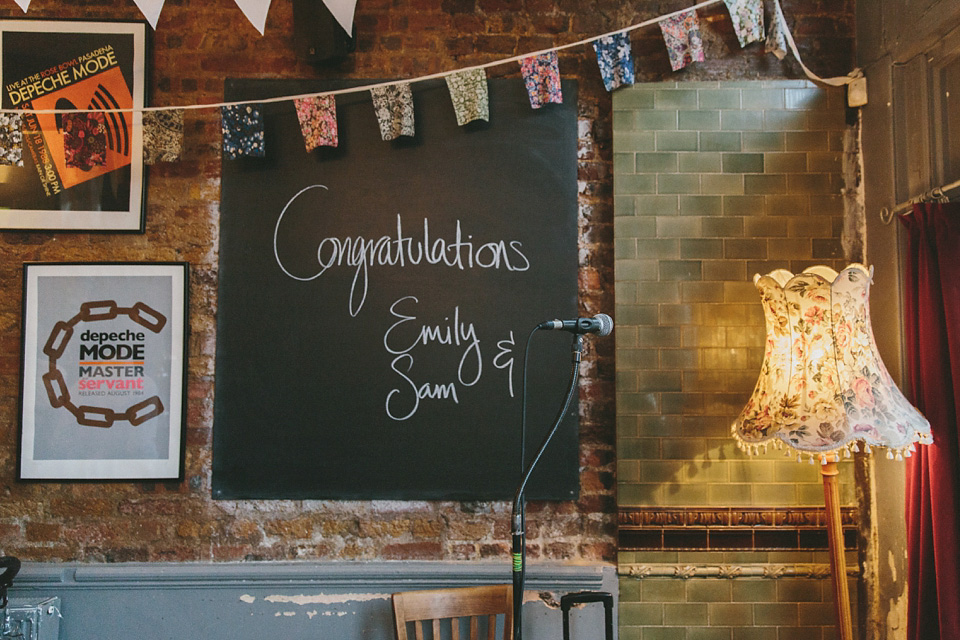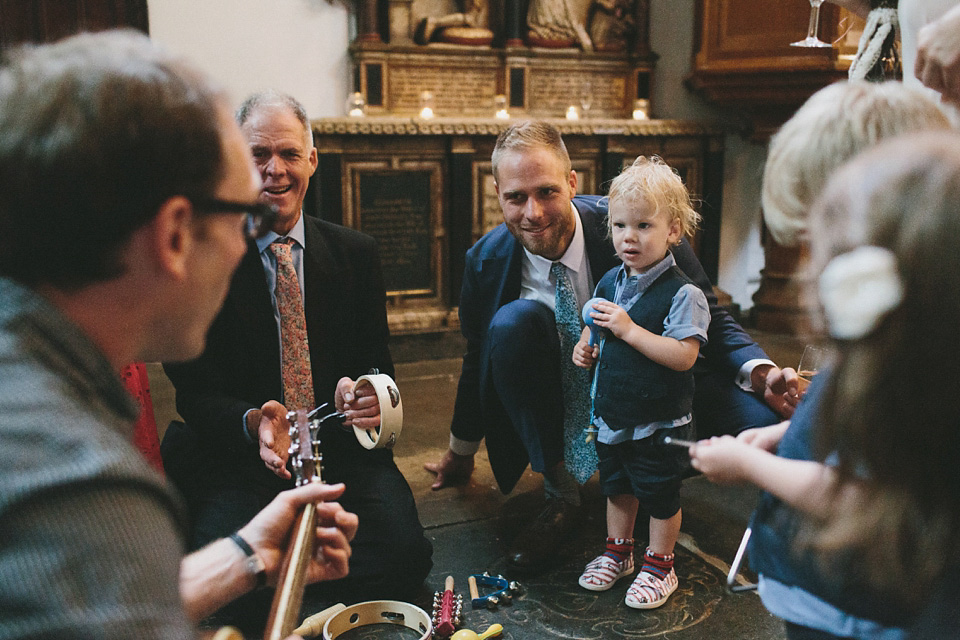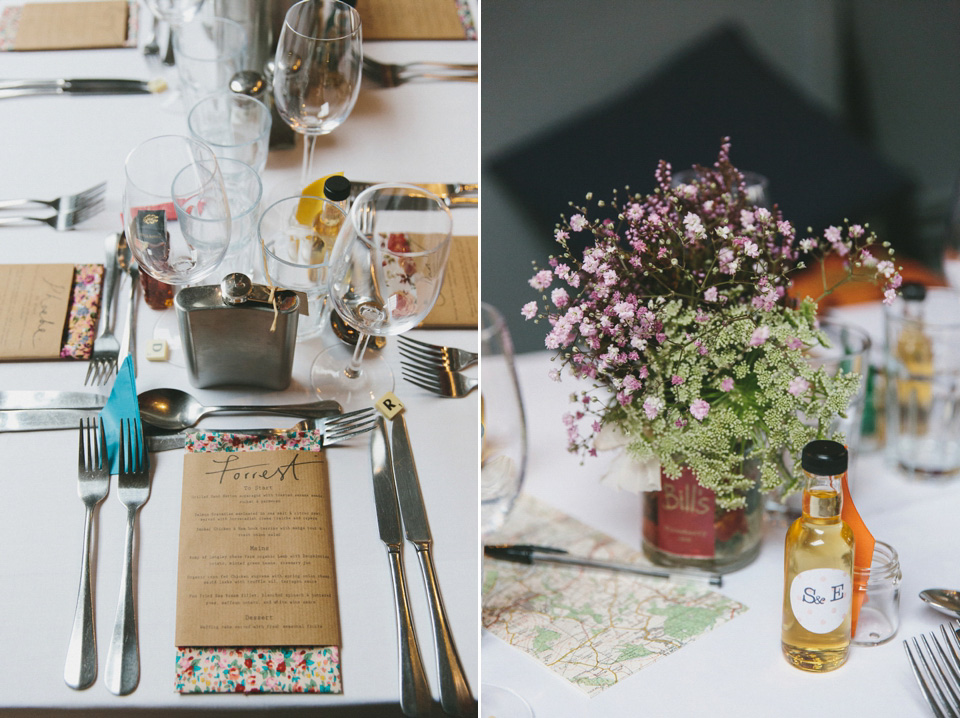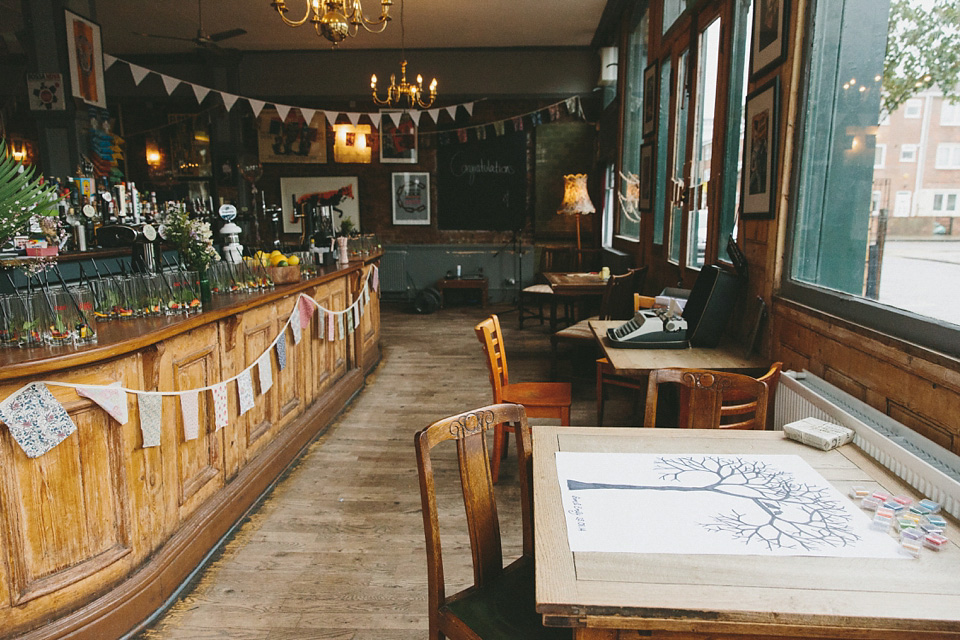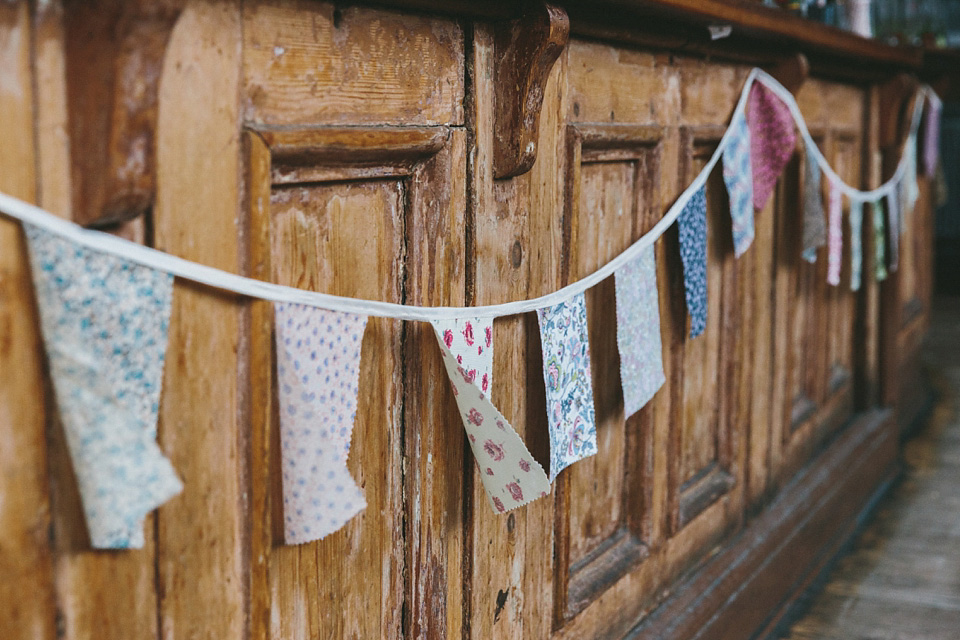 "I made the favours myself – I sourced some little bottles and filled them with our favourite after-dinner drink, American Spirit Honey Whiskey and Katie, our stationer of Oh Squirrel made the stickers 'E&S' with mini jam jars bottoms for shot glasses.
We asked everyone to use them when Sam was making the groom's speech. I also provided Liberty print napkins for all the guests to use and take home, an old scrabble piece with their initial on and a paper hat like the xmas crackers one's just for fun!"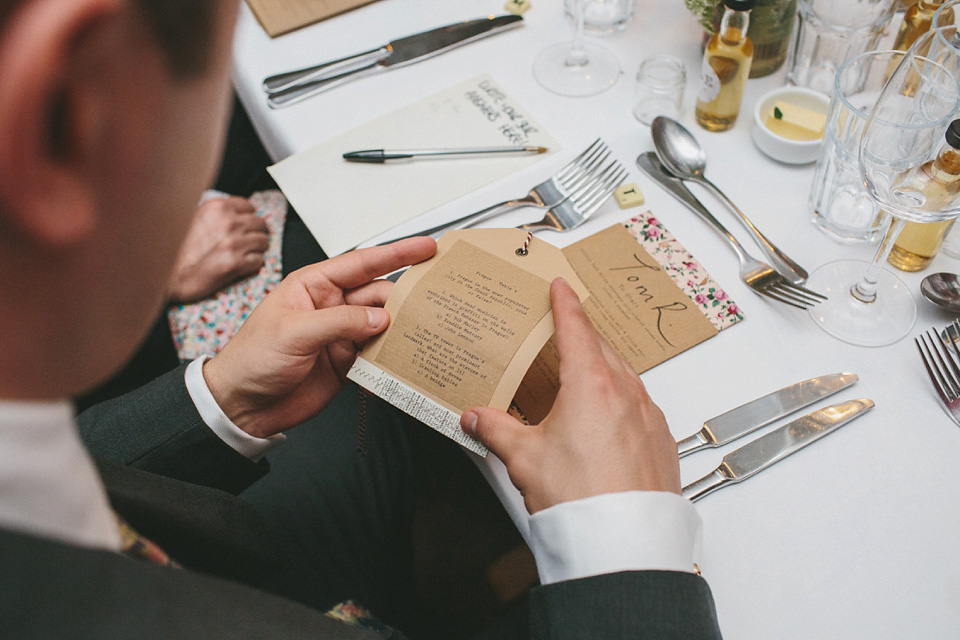 "The Hummingbird Bakery provided our wedding cake – we had a three-tired with vanilla in one tier, carrot cake in another and then raspberry and lemon in the third. I wanted it to be plain and simple in design (and chic in my opinion!), so opted for some Liberty ribbon around the bottom which I picked (to tie in with the theme) and some silly photos we had taken in the Photo Booth at Shoreditch House a few weeks earlier as our cake topper."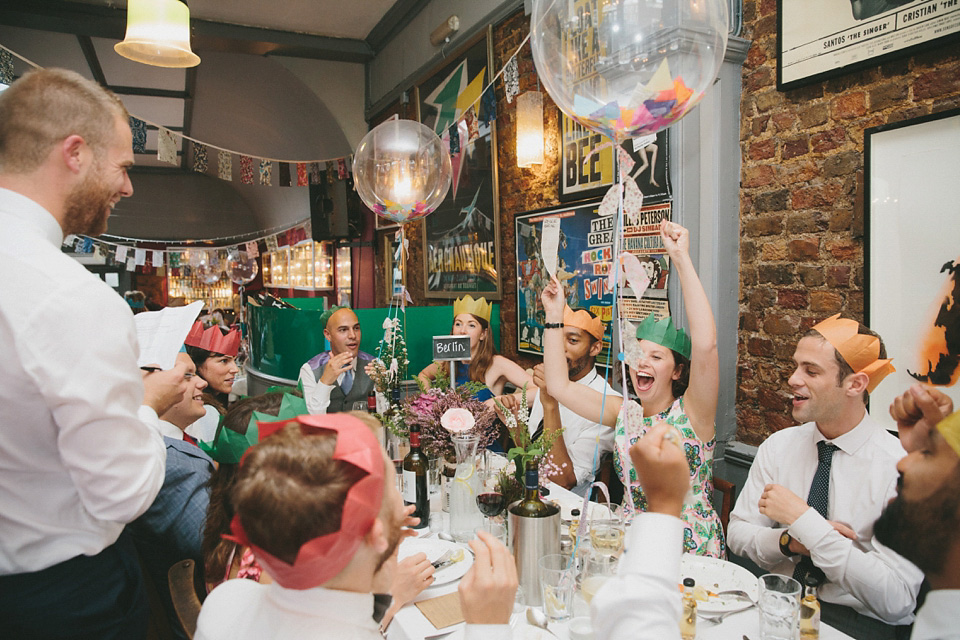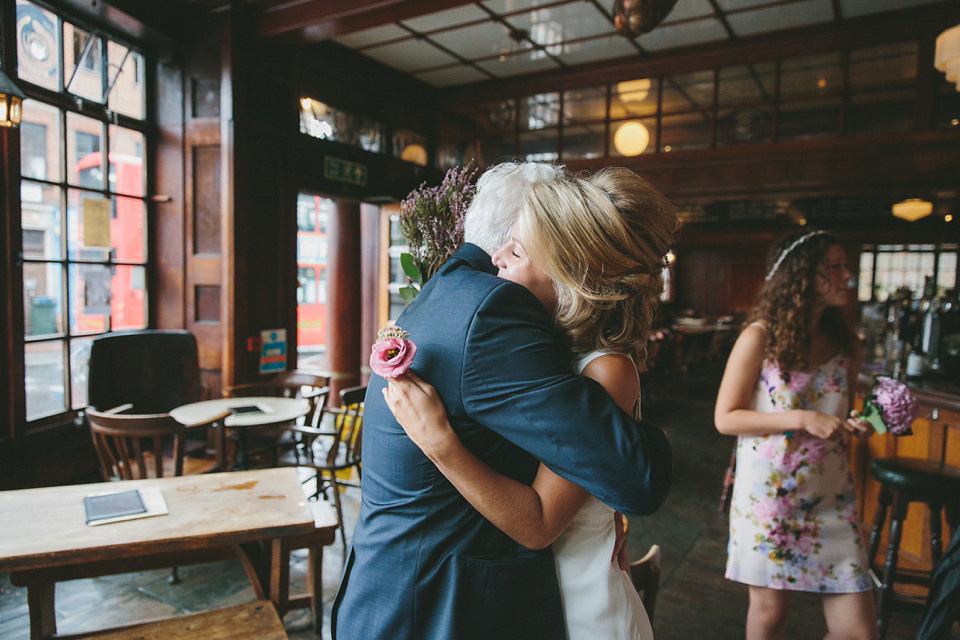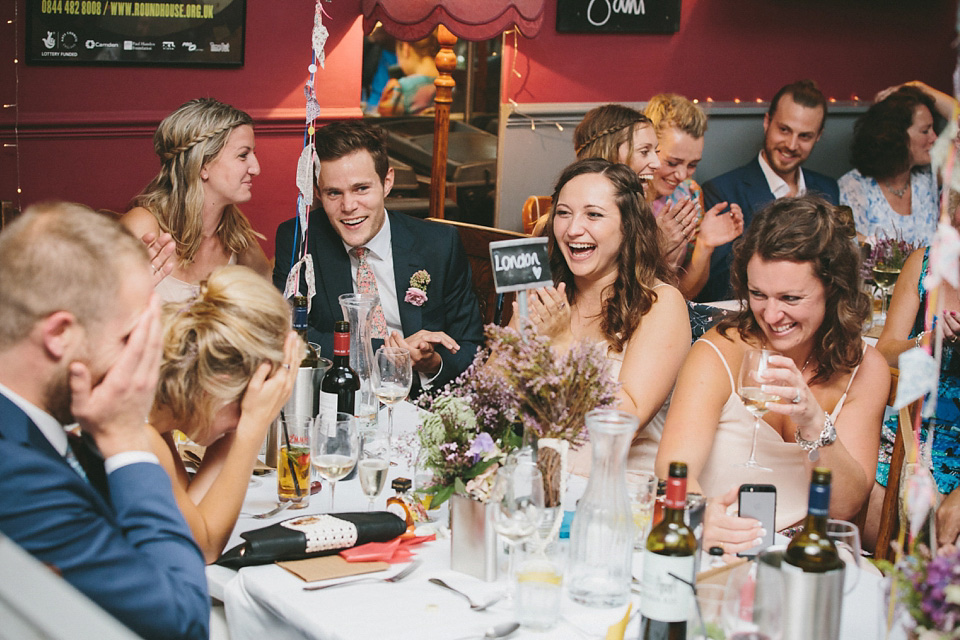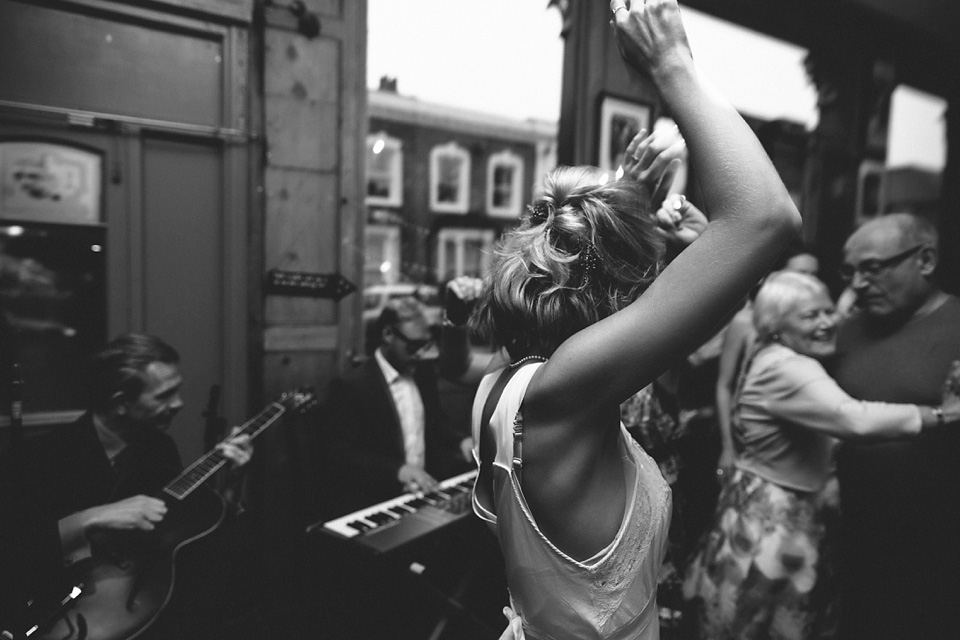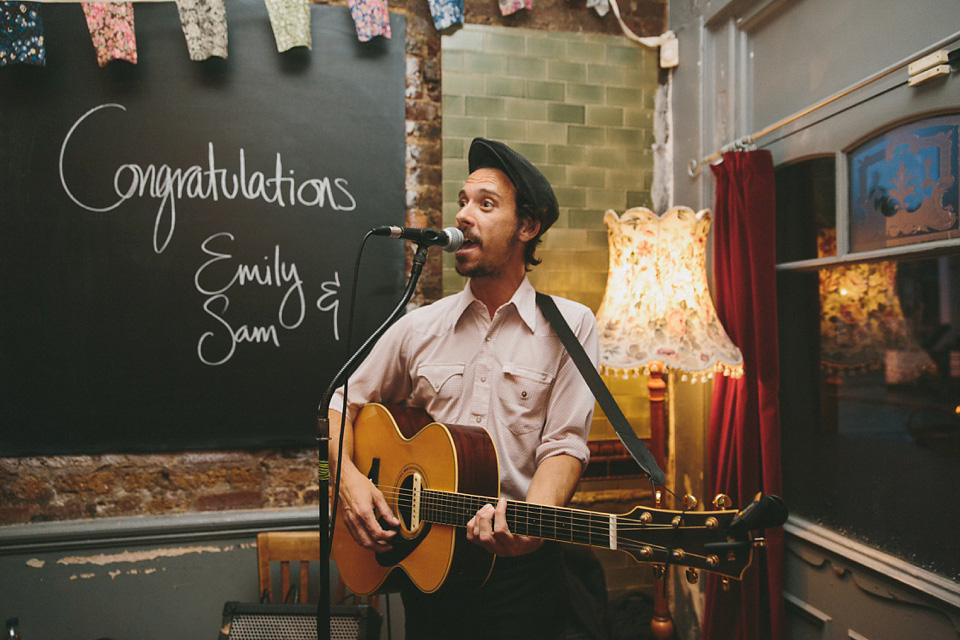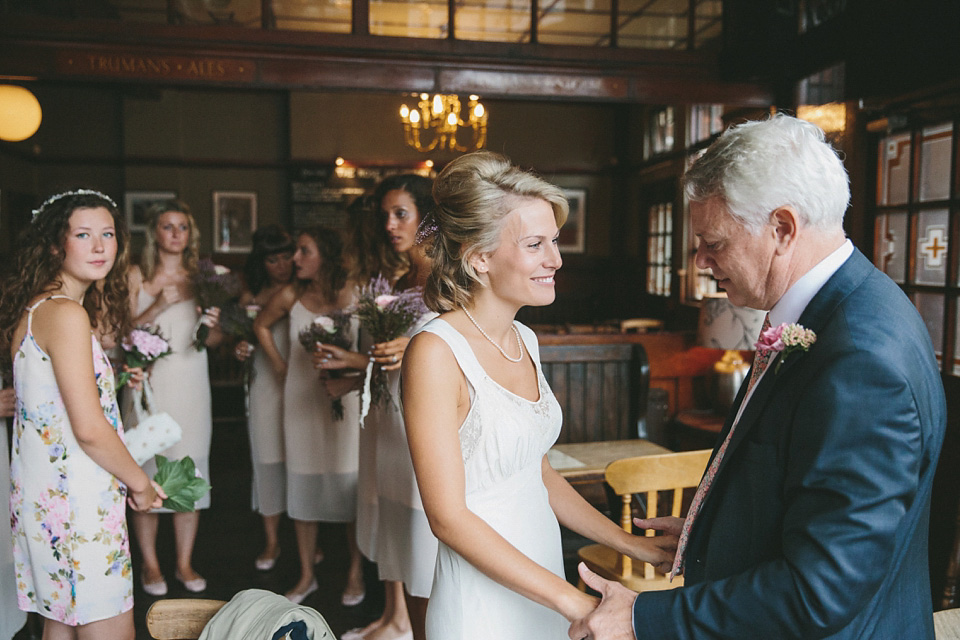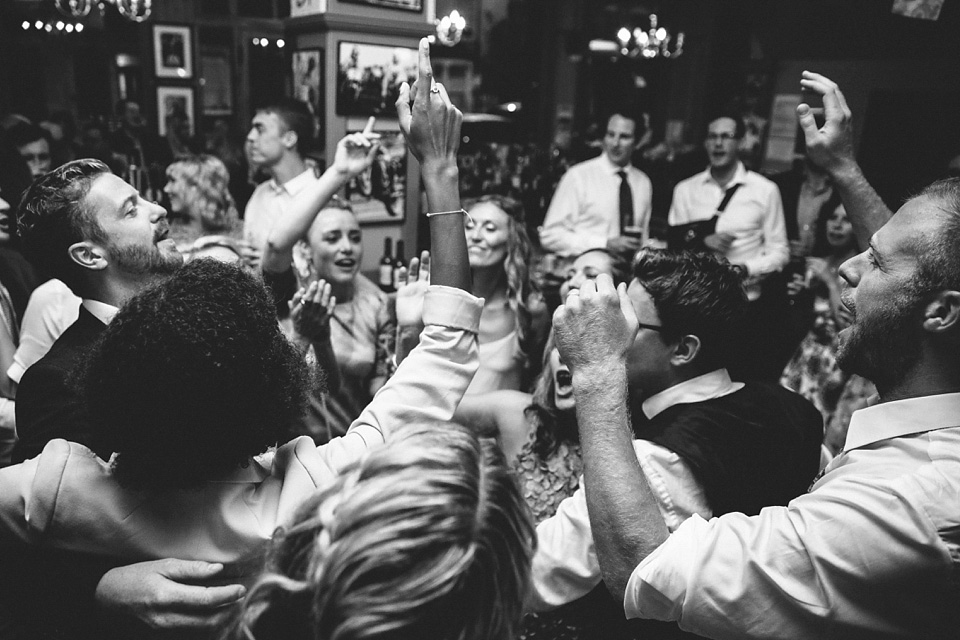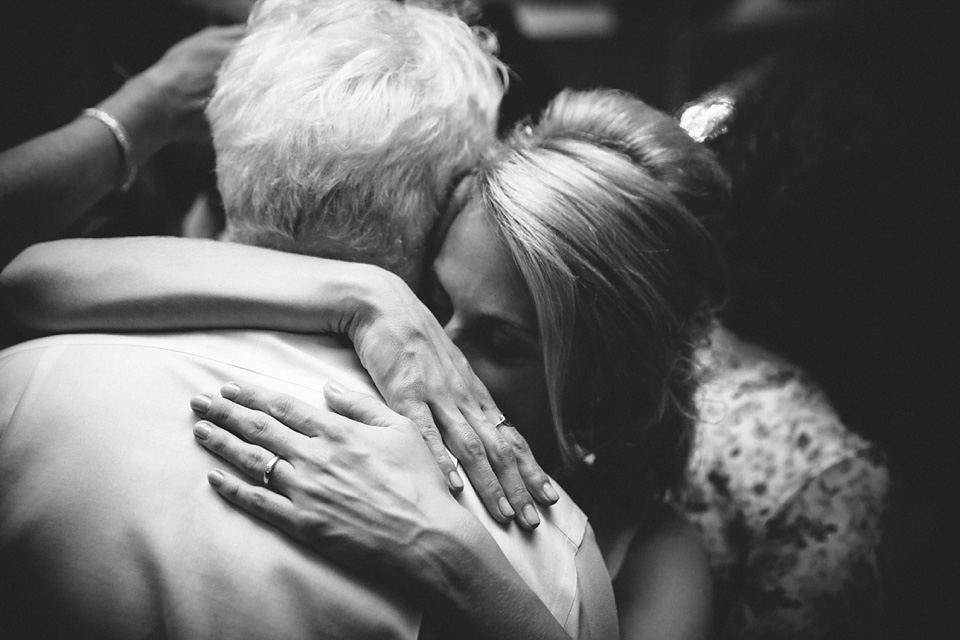 Words of Wedded Wisdom…
"Remember to have fun and make it personal – a wedding is a celebration of your love, and that's exactly what it should reflect on the day."
Such a wonderfully fun-filled day – I love the sense of family, friendship and celebration. Huge thanks to Mckinley-Rodgers and Story Catchers for sharing this lovely set of images and film, and of course, huge congratulations to you both too Emily and Sam.
Love Annabel x x
Photographer – Mckinley-Rodgers
Film – Story Catchers
Humanist Ceremony Celebrant – Mark Hayford
Venue – Old Church in Stoke Newington + The Londesborough pub
Bride's Dress – Charlie Brear
Bride's Shoes – Italian shoes from a vintage shop in Stoke Newington
Accessories – Tiffany & Co. pearl necklace
Perfume – Coco Chanel
Grooms Suit – Jaeger + Liberty tie + cufflinks from his grandfather
Bridesmaid's Dresses – ASOS + Topshop pink ballet pumps
Flower girl Dresses – Topshop boutique
Pageboy – Monsoon Boys
Florist – DIY
Cake – Hummingbird Bakery
Rings – Metal Crumble
Catering Company – Easy Gourmet (drinks + canapés at the church) + The Londesborough
Hair Stylist – Andi, owner of Blutit Salons in London
Makeup Artist – Katie Arnold
Entertainment – Miserable Man (reggae inspired international busker) + Basin Street Brawlers (ragtime band)
Entertainment (children) – Tiny Tempo
Stationery – bespoke illustration by Robbie Porter + Oh Squirrel