It shouldn't be any secret by now how much I love to support talented independent designers, who have worked hard to build a successful design business from scratch.  This is not an easy thing to accomplish for anyone, by any means, but it's something even less achievable when you're putting yourself out there in a market that is saturated with other bridal fashion brands. It takes a special something to stand out from the crowd, a glowing archive of feedback from delighted customers, a collection of gowns that makes you stop and go 'wow' in amidst a sea of designer dresses, a commitment to artisan craftsmanship and the use of time-honoured lace making and fabric production techniques – the kind other contemporary brands might overlook for a more cost effective alternative.
One such designer I had firmly in mind as I penned this piece was the delightful Sally Lacock.  Sally, who resides in and has her work base in London, first caught my attention with her exquisite wedding dress designs back in 2010.  After discovering a shared passion for antique lace and beautiful era inspired detail (particularly from the Edwardian and 1920's periods), we became friends, then colleagues and now you could say I'm one of Sally's biggest fans.  And so, it would seem is bride and 'The Spool Room' Etsy shop owner Kathryn, who wore one of Sally's gowns for her July 2014 wedding to restaurant manager Mike….
"I hugely admire Sally's integrity in the provenance of the lace she uses to make he dresses – it is from Northern France and is made on the original leaver machines. Her designs are exquisite and romantic but not fussy – just stunning! Sally is friendly and helpful and offered lots of really useful advice."
Photography Copyright (c) 2015, Catherine Hill Photography
"Our venue, The Beacon House, and the style of my beautiful Sally Lacock dress inspired our day, which I wanted to have a relaxed, beachy, vintage feel.  I have always dreamed of getting married outside. Mike and I love Whitstable and on one of our visits we walked past The Beacon House whilst a marriage was taking place. That was it! We had found our venue!
It is such a stunning location and the house is just beautiful, perfect for an intimate wedding."
"I made strings of bunting from vintage lace doilies (made by my Grandmother), which we hung around the veranda and from the trees in the garden. We had framed photographs of all of our Grandparents on their wedding days placed on a table with a vintage tea-cup full of fresh flowers, sea glass, sea shells and an old Wedding card dated 1918 which I found on eBay. I purchased an old leather suitcase in a charity shop which was ideal for holding our cards."
"Sally Lacock works from her wonderful studio in Dalston, East London.  Mike's Mum showed me Sally's website a few years ago when I wasn't even planning on getting married and I immediately fell in love with her designs. I knew that if I ever did get married, Sally's studio would be the first port of call. In fact it was the only place I looked!
I tried on about five different dresses but it was the Edwardian inspired 'Carly' wedding dress design I kept going back to.  I loved the fact that it was so simple yet full of detail and had an Edwardian feel to it. The dress is made from 3 different types of beautifully soft French lace and has a separate silk slip which felt divine. It was comfortable but elegant."
"We wanted to mark the centenary of World War 1 in some way, so our favours were packets of Flanders poppy seeds. Mike and I are both keen gardeners so we thought it would be lovely for the guests to be able to grow poppies at home. I wrapped each packet of seeds in brown paper and white doilies tied with vintage lace. We bought them from B&Q because they make a donation to the Poppy Appeal for each packet sold."
"After spending hours researching local photographers we came across Catherine Hill's website and we were immediately drawn to her fantastic images. We loved the reportage style of her photography and the way it tells the story of the day. As our wedding was very informal we wanted the images to be natural and spontaneous – she did that perfectly!  
Catherine invited us to her gorgeous house in Bridge to discuss the wedding and our thoughts about the photography. We looked through some of her albums which were amazing. Catherine has a wonderful way of making you feel relaxed, has a great sense of humour and is generally great fun to be around, needless to say we were entirely won over.  Catherine is a true professional and we cannot recommend her highly enough."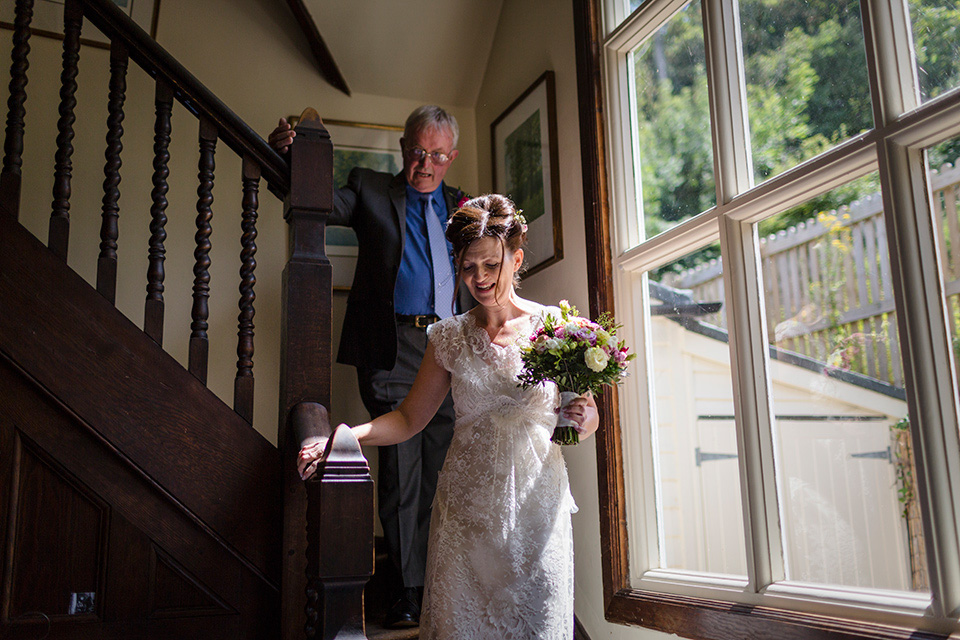 "William our son was in charge of the ring. He wore a grey, cotton blazer from Boden."
"My Dad walked me along the veranda, the song we played was 'Beyond the Sea' by Bobby Darrin."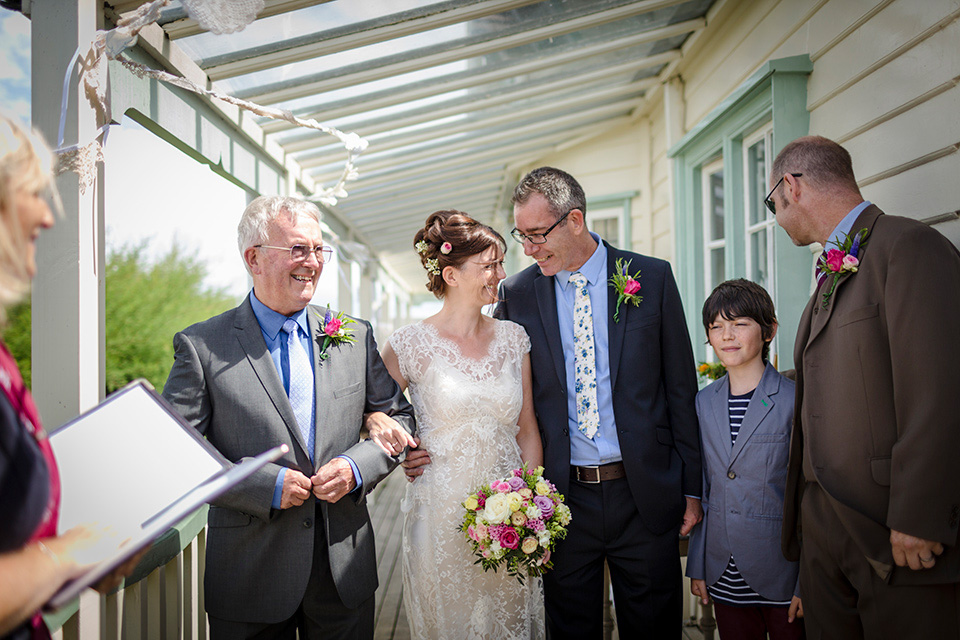 "We didn't tailor our own vows, and we chose not to have any readings – but without doubt, our most favourite part of the whole day was the ceremony – it was really special and we both felt incredibly happy. The weather forecast was horrendous for the whole day. Back in Worthing they were suffering from flash floods and it was due to be coming our way. Dark clouds were looming all around and we thought that the dream of an outside wedding was to be dashed. Amazingly as I walked on to the veranda the clouds drifted and we were married in sunshine! It was very blustery but it felt refreshing and it was lovely to hear the waves crashing as we said our vows."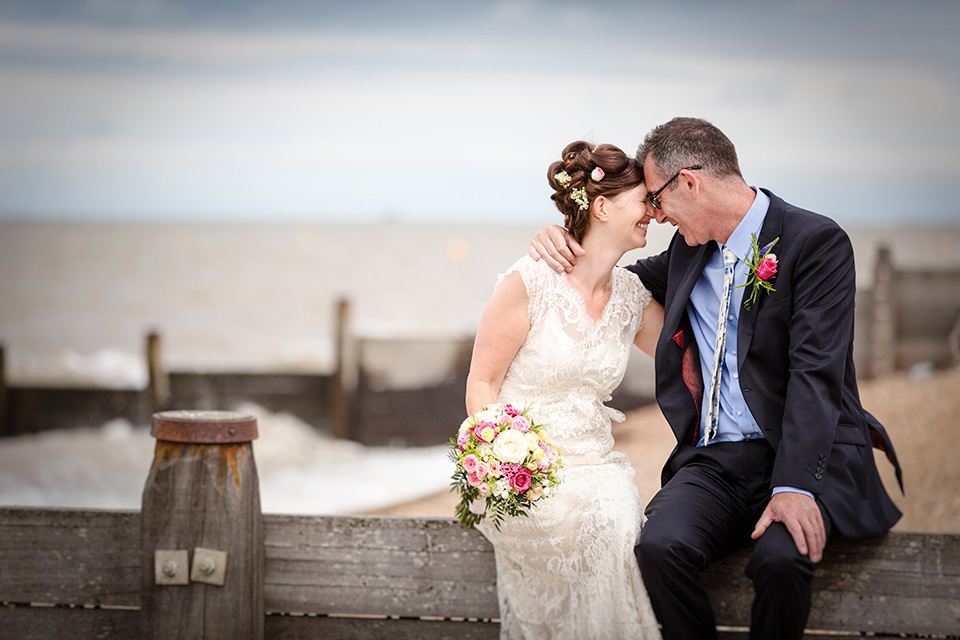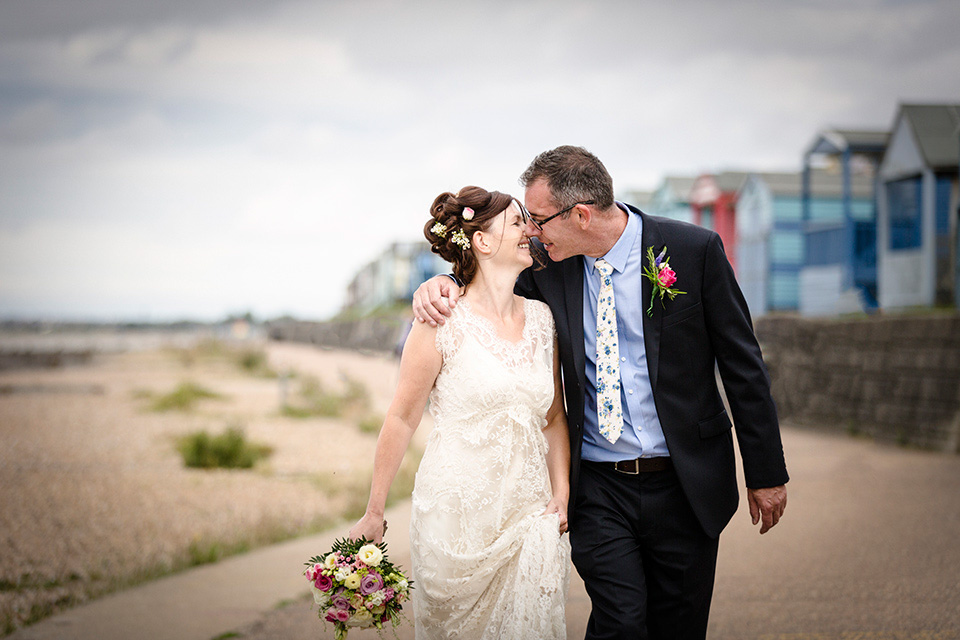 "Our florist was  Graham Greener of Whitstable.  I really wanted my bridal flowers to look like they had been gathered from a country garden. So we had lots of different sized roses in soft pinks, creams and vintage lilac, some pretty wax flowers and delicate lisianthus which were tied together in a slightly dishevelled way – I didn't want them to look formal. They were absolutely stunning. I had various glass bottles and jam jars with lace tied round them filled with country flowers dotted around the house and garden. Jane was amazing she knew exactly what I had in mind."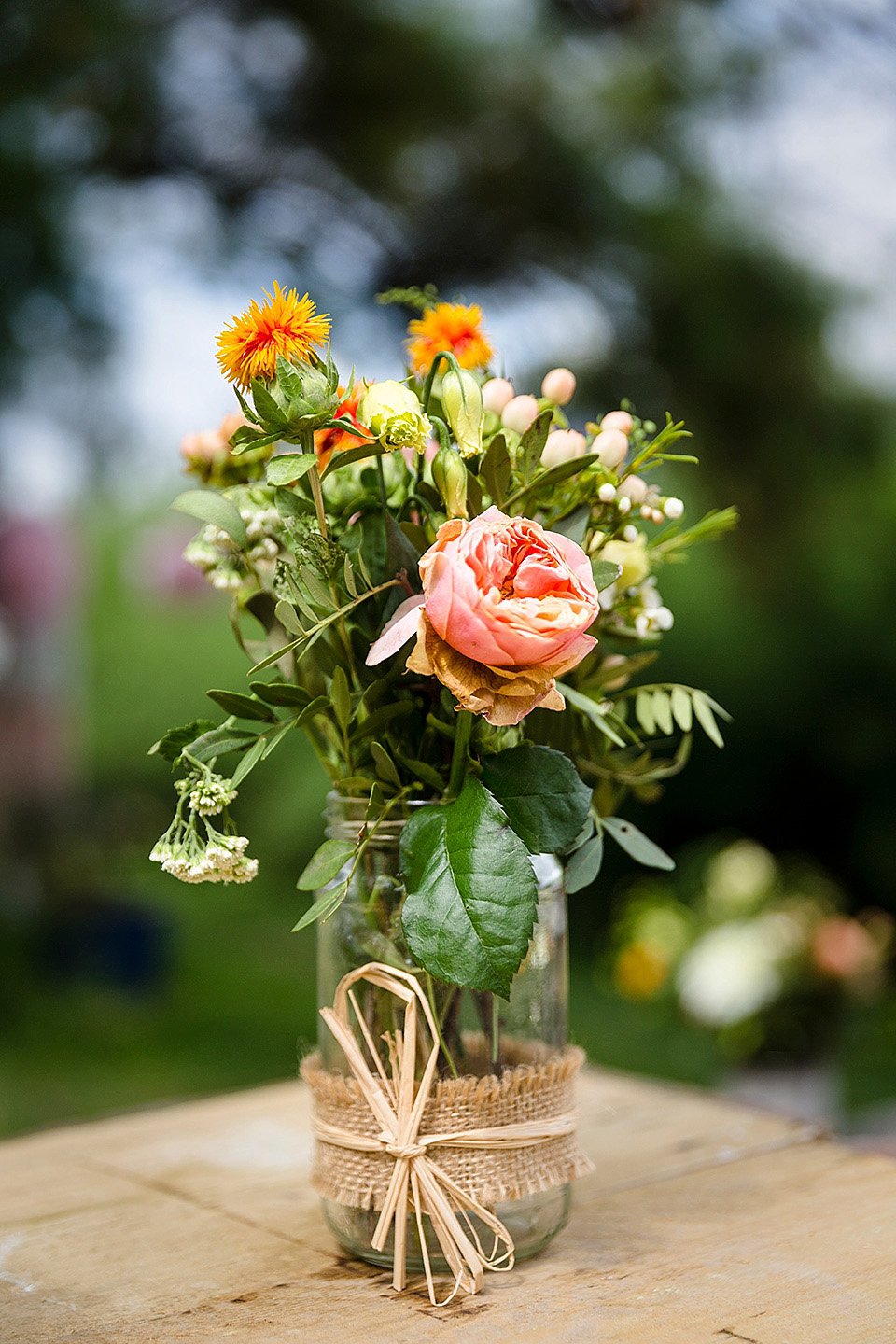 Words of Wedded Wisdom…
"Quality not quantity! If you are on a tight budget there are ways of getting what you dream of if you are prepared to compromise a little. We both thought it was important to have a professional, talented photographer but unfortunately our budget didn't allow for a full days shoot. So we decided that we would have the photographer that we really wanted for half a day rather than someone cheaper for a full day. Again our budget didn't allow us to hire the Beacon House for a full weekend so we just hired it for a few hours.
Don't be afraid to ask for help. Most people are more than happy to do anything for you, it makes them feel part of the day. We couldn't have achieved half of what we did without the help and generosity of others.
On reflection I would have tried to relax a bit more while I was getting ready. Our wedding was very much DIY and we had less than an hour before the ceremony to decorate the house and garden. I was panicking that it wouldn't be ready in time but my wonderful family and friends were fantastic. They all pulled together and dressed The Beacon House beautifully! My friend Alison sent me a message in the morning telling me to 'Relinquish control and let the magic unfold' and that's exactly what happened. There were quite a few hiccups but nobody noticed. Enjoy your day surrounded by the people you love and take it all in!"
Finally, Love My Dress was my absolute favourite wedding blog, full of inspiration, creativity and class. I became totally addicted to it! I felt inspired to do something a little different and break away from tradition when it came to our wedding, and if I hadn't had the opportunity to to see all the beautiful 'Real Weddings', I would have been a little nervous that I might not be able to pull off  my vision. Love My Dress gave me the confidence to do it my way and not worry too much about what other people may think. Most of our guests loved the fact that it wasn't a traditional wedding and really appreciated the little details and quirkiness – so thank you Annabel and team for your help! Just keep doing what you're doing!"
How absolutely wonderful! Thank you so much Kathryn for sharing details of your most lovely of wedding days.  My huge thanks also to photographer Catherine Hill Photography for sharing her work today.
Brides, are you having a dress made by a talented independent designer? I'd love to hear from you if so.
Love Annabel xx
Photographer – Catherine Hill Photography
Venue – The Beacon House in Tankerton Beach, Whitstable
Wedding Dress – Sally Lacock
Brides' shoes – Hobbs
Perfume/Scent – Clinique's 'Aromatics'
Grooms Suit – Ted Baker + tie from Grand Frank
Page Boys – Boden
Florist – Graham Greener of Whitstable
Cake – Family + friends
Catering – Pizza Express in Whitstable + Treats on a Tricycle
Stationery – DIY
Make-up Artist – Emma Smisson