Good morning you lovely bunch – now, those booking wedding photography will often be booking the services of two people – the photographer, and their assistant, but on how many occasions when you have two people to shoot your wedding, are they twins?  Kelly and Caroline of The Twins Weddings are two talented (and utterly beautiful, damn then) twin sisters from the North East of England whose work I have enjoyed sharing for a couple of years now. I absolutely love that they are such talented photographers who work together in business. Talk about nailing a really cool unique selling point!
The Twins were commissioned to shoot the wedding of Laura and Kevin, who tied the knot at The Stables at Brinkburn Priory in Northumberland last year and this morning it gives me much pleasure to be sharing those images with you.  This wedding really appealed to me for its sense of laid back family fun – and that beautiful bride in her pretty copper rose crown too.
"Our venue, The Stables at Brinkburn Priory and the stunning surrounding area gave us so much inspiration. We love Northumberland and wanted our wedding to reflect the countryside and the laid back feel of the area. There was no real colour theme; we just wanted the wedding to be as colourful and pretty as possible.  There was no way we could have walked away from Brinkburn Priory and not have chosen in as our wedding venue. It took our breath away – the architecture, the river and the peace and quiet.  It was perfect in every way!"
Photography Copyright (c) 2015,  The Twins
Laura wore a White Rose gown, that she purchased from Ann's Bridal Room, and her veil was by Richard Designs.
"I just fell in love with the dress as soon as I saw it and couldn't wait to try it on. It just felt right and had a gut feeling that it was the one. I never wanted anything too structured and my dress was just so floaty and comfortable. It allowed me to dance the night away!
Having a veil was a last minute decision, but I am so glad I had it. My Richard Designs veil  just completed the dress, although there was a moment of crisis when we picked it up and realised it was too long! My mum just threw caution to the wind and chopped about a foot off two days before the wedding – and I'm so glad she did though – it was perfect!"
"Christine at Lavenders Blue was recommended by the venue as a florist, and she was amazing! I love simple garden flowers and I wanted them to be everywhere! Christine just totally understood what I wanted. We didn't really want centrepieces as we had chosen to have long benches so we decided to fill jam jars with flowers. Mum and I spent a lovely sunny afternoon decorating over 70 jam jars with lace, hessian and bark and we were so pleased with the result! It was very important that I had tulips in my bouquet as Kev has always bought me them; my bouquet was so fragrant too – another lovely touch.
I also, always wanted a flower crown, and Christine just completely understood my vision.  I cried when I saw it for the first time!"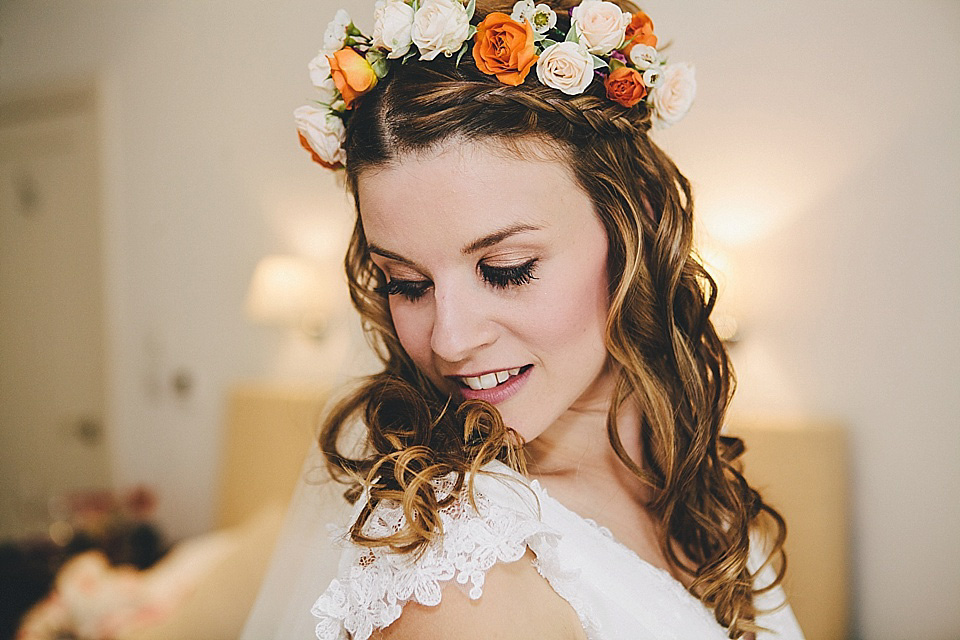 "I wore Chloe perfume. My Mum and Sister both wear it and I wanted to wear something new, so that when I smell it now it always reminds me of our wedding day."
Readers, have you chosen a wedding day perfume to wear yet? If not, these features might interest you, but particularly this one on how to choose the perfect wedding day perfume.
"My sister was pregnant (she had her beautiful daughter only a month after the wedding and she looked AMAZING by the way) and the three of the bridesmaids have very different styles, so I was very nervous about going shopping for them! However they all made it incredibly easy for me and we found the dress very quickly. They are from John Lewis.  I know I am biased but the three of them looked radiant.  
The girls also wore gypsophila in their hair, along with earrings and necklaces from Accessorize.  I also treated them to a  personalised bracelet each from Jewelsalem on Etsy."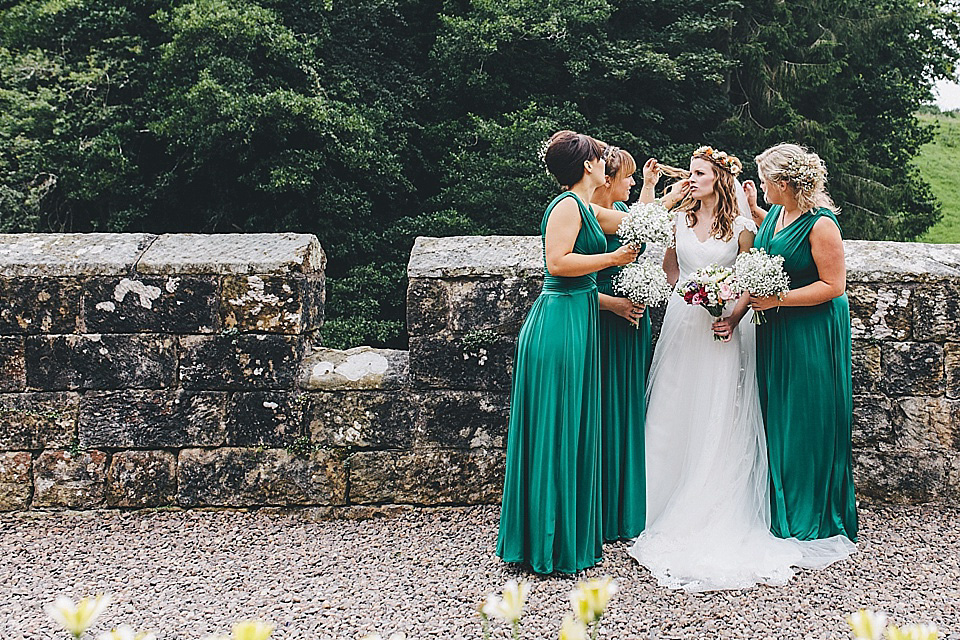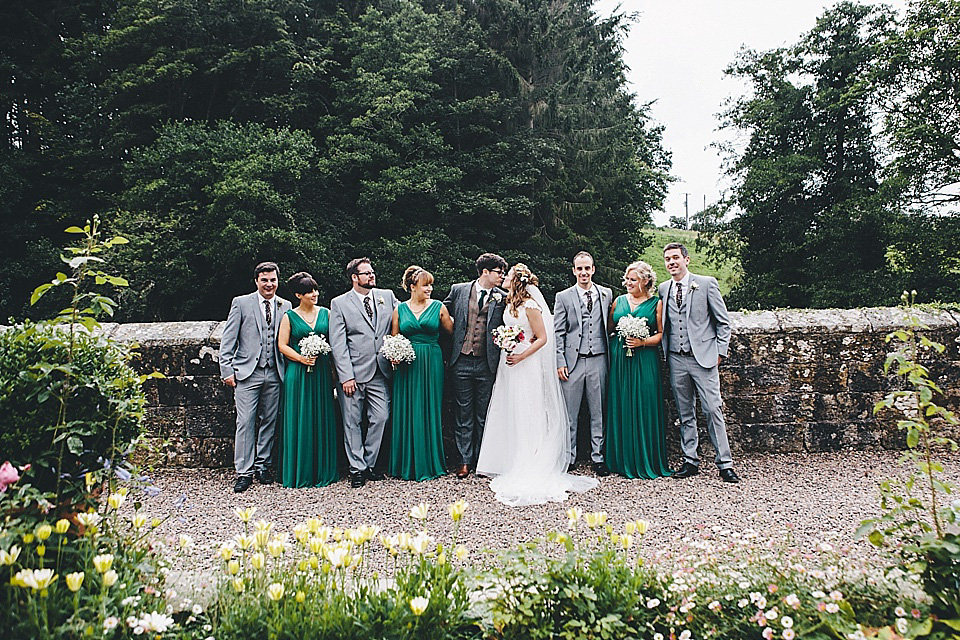 "As soon as we came across The Twins website we just knew that we had to have them to photograph our wedding! Their photographs have such a magical quality and the girls are just lovely. They made Kev and I feel at ease on the day (and Caroline even gave me a few make up tips!). We can't recommend Kelly and Caroline enough – they really are such talented ladies."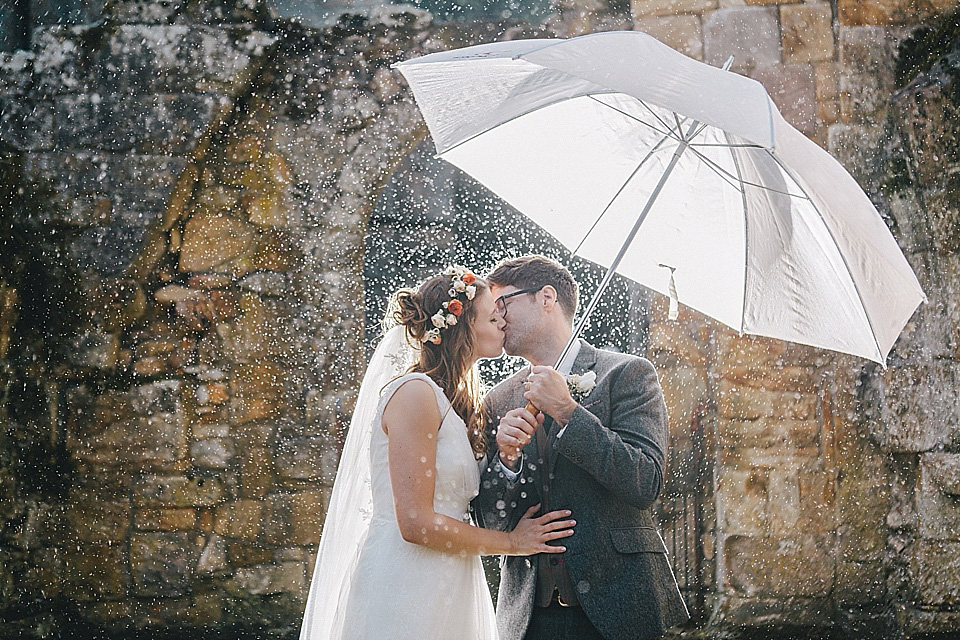 "Kev and I met at the Student Union in Norwich. We were very drunk and Roy Walker was hosting a game of 'Catchphrase' – the most random but most important night of our lives!
We were together for eight years before we got engaged. Kev took me back to his family home in Wallsend for the weekend. While we were there he took me for a walk along King Edwards Bay in Tynemouth. It was lashing down with rain and ridiculously windy when he asked me to marry him but it didn't matter – it was perfect! As we had been together for a long time we didn't want a long engagement and booked our wedding for nine months later."
"I still can't get over how much I love my shoes! They were the Mimosa design by Rachel Simpson, in ivory."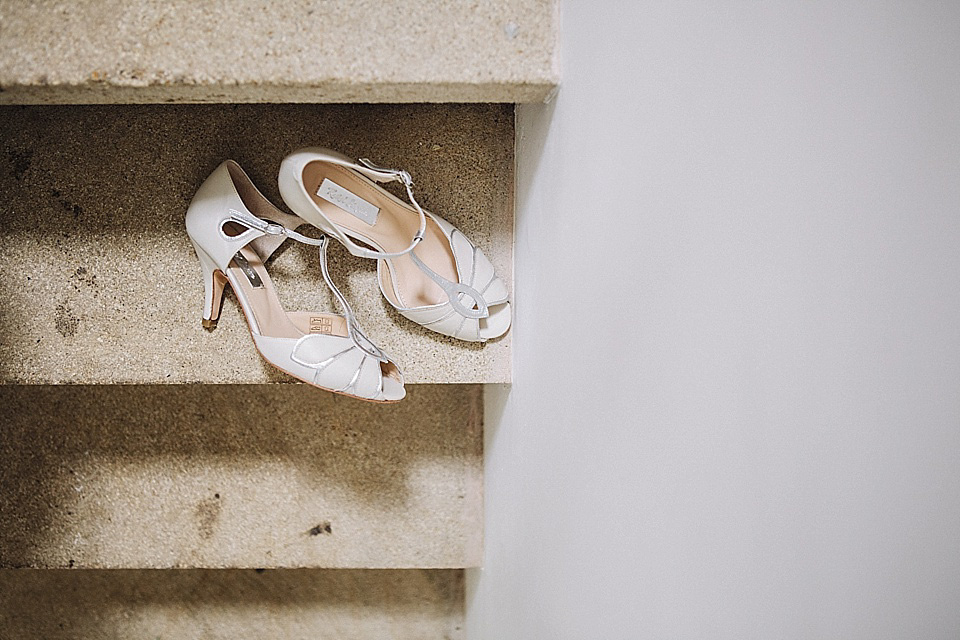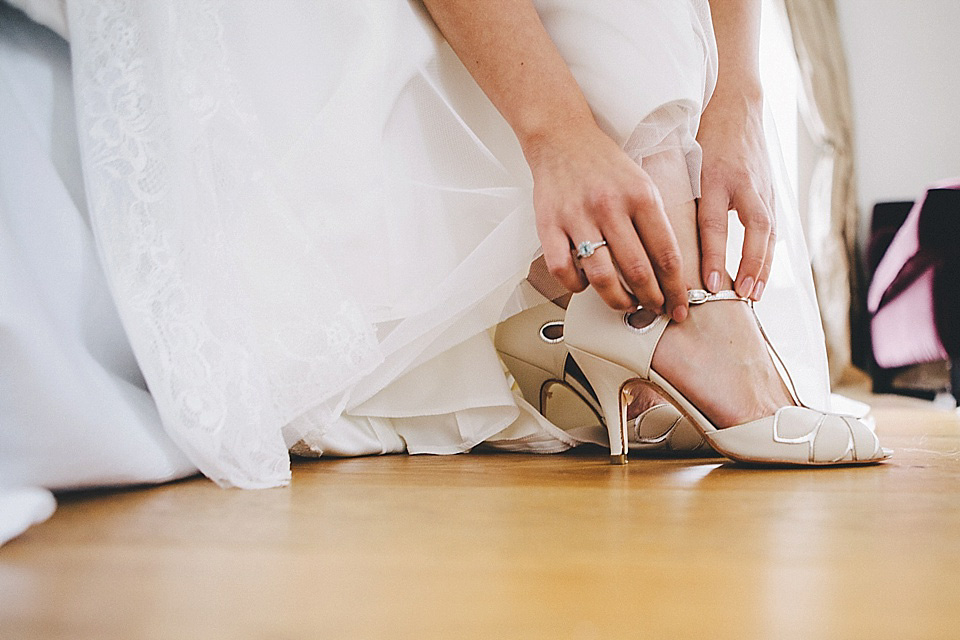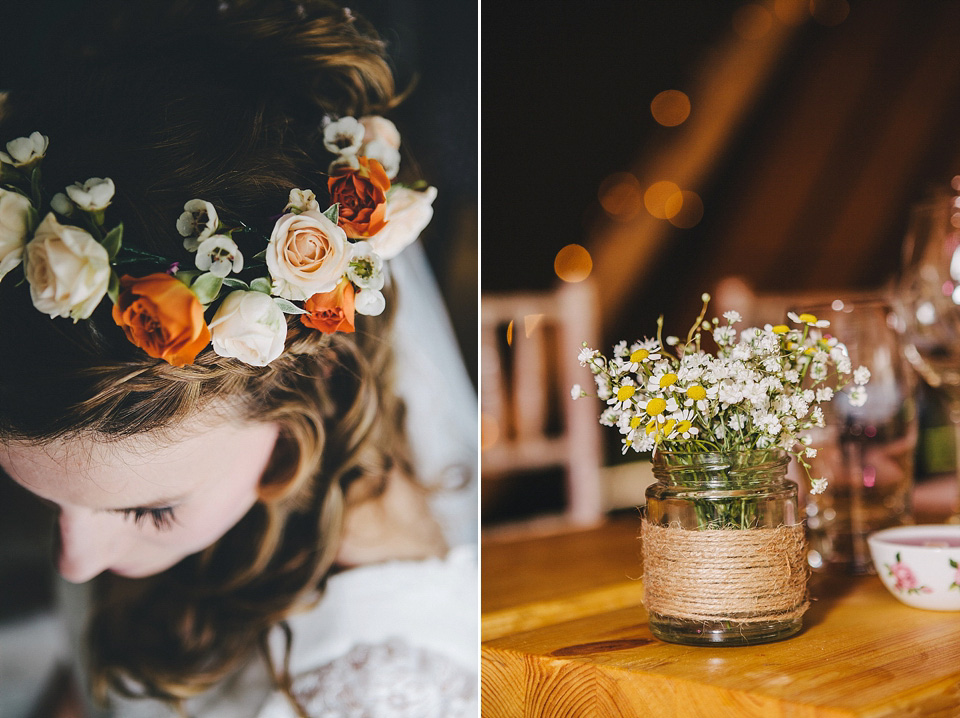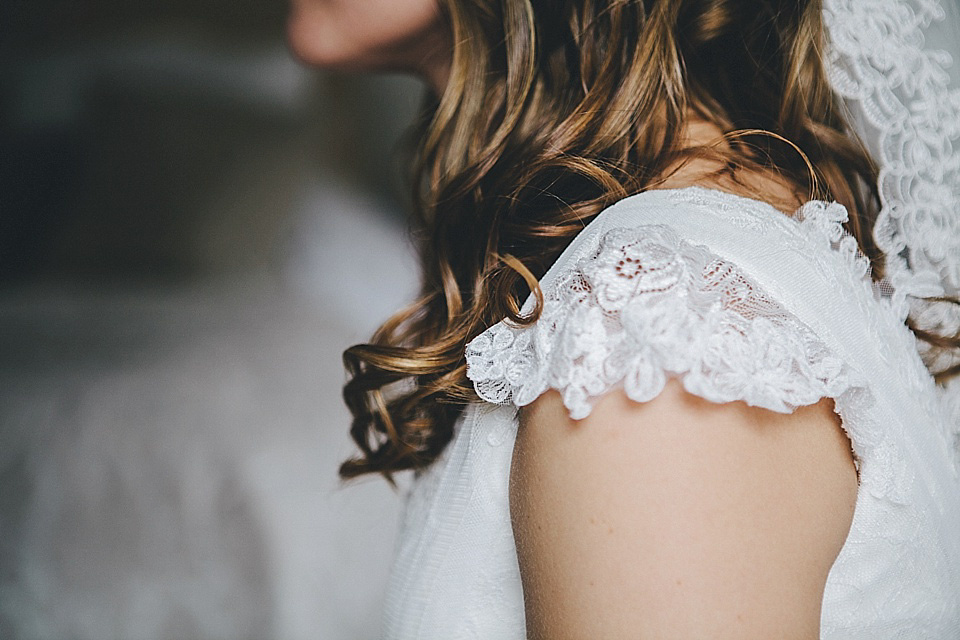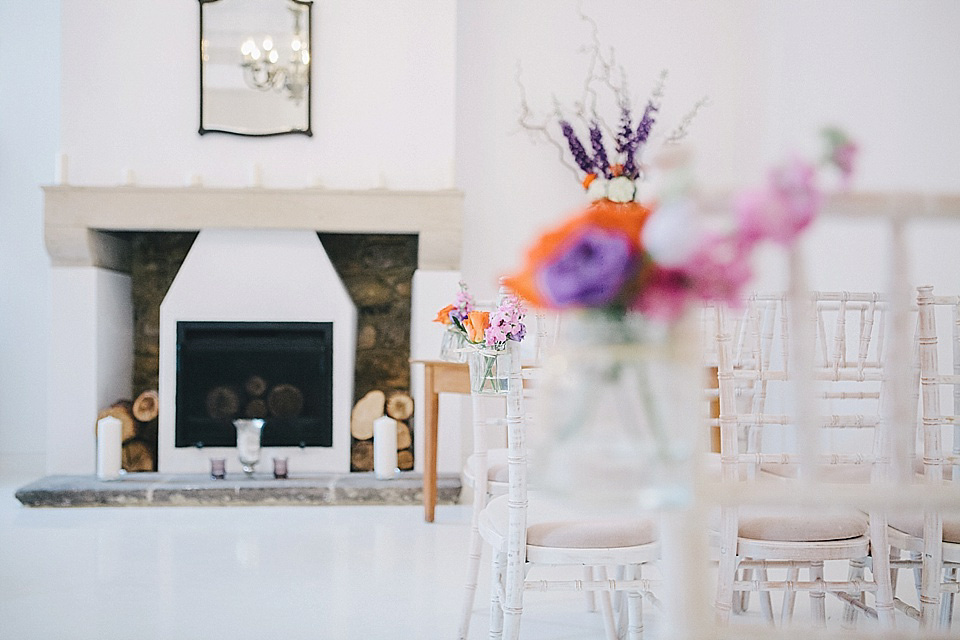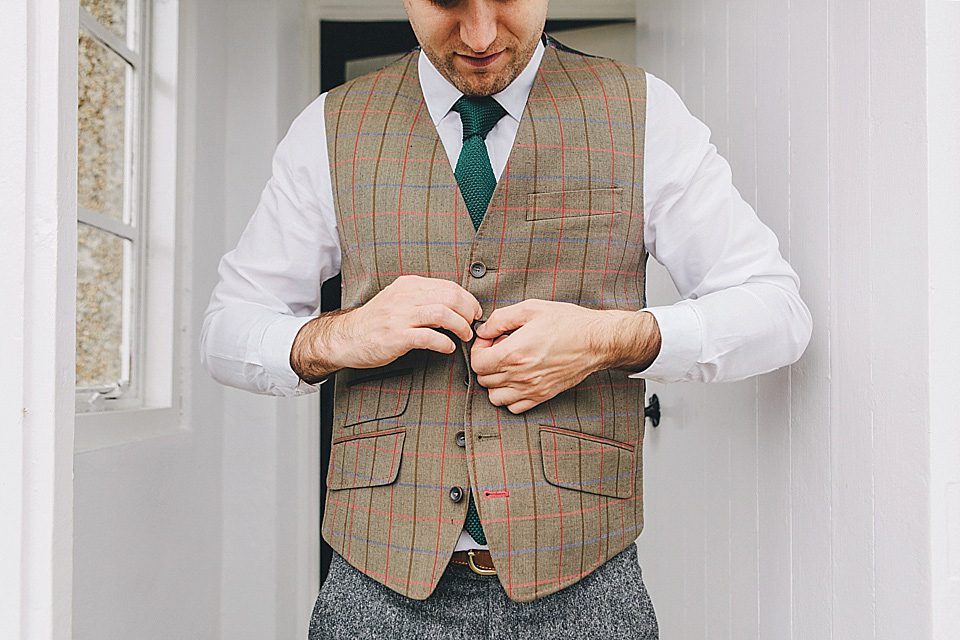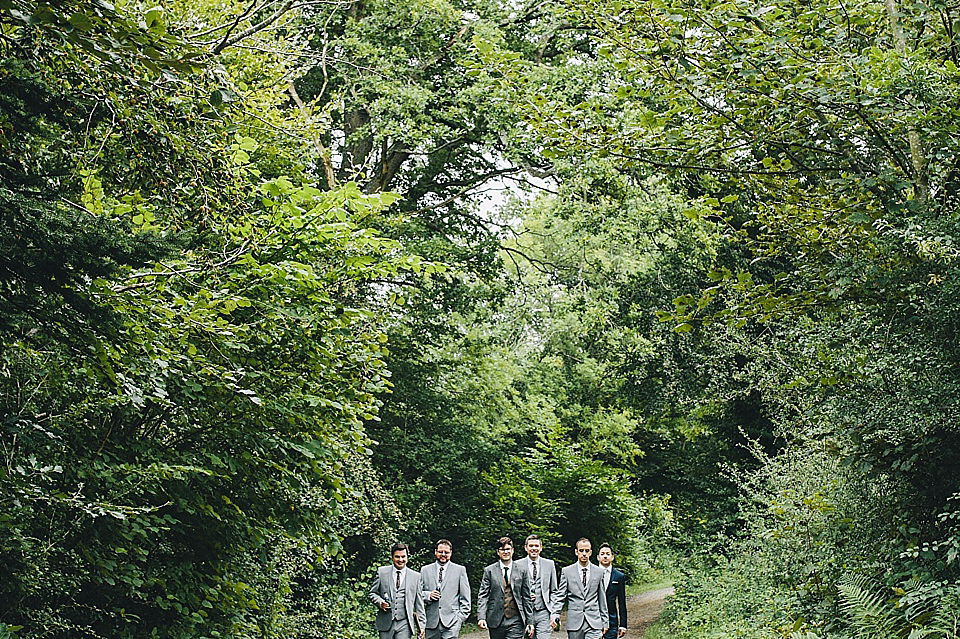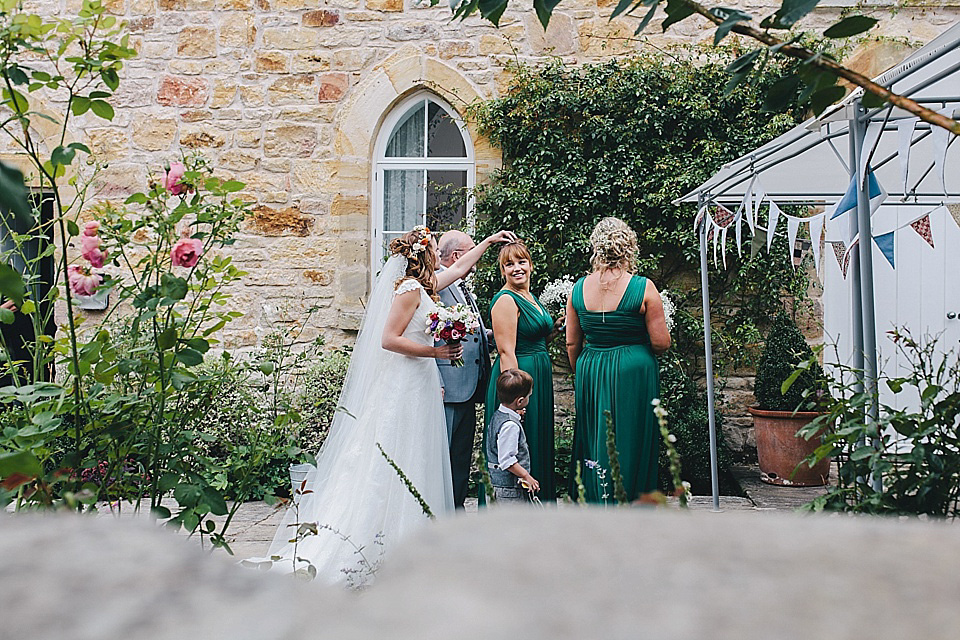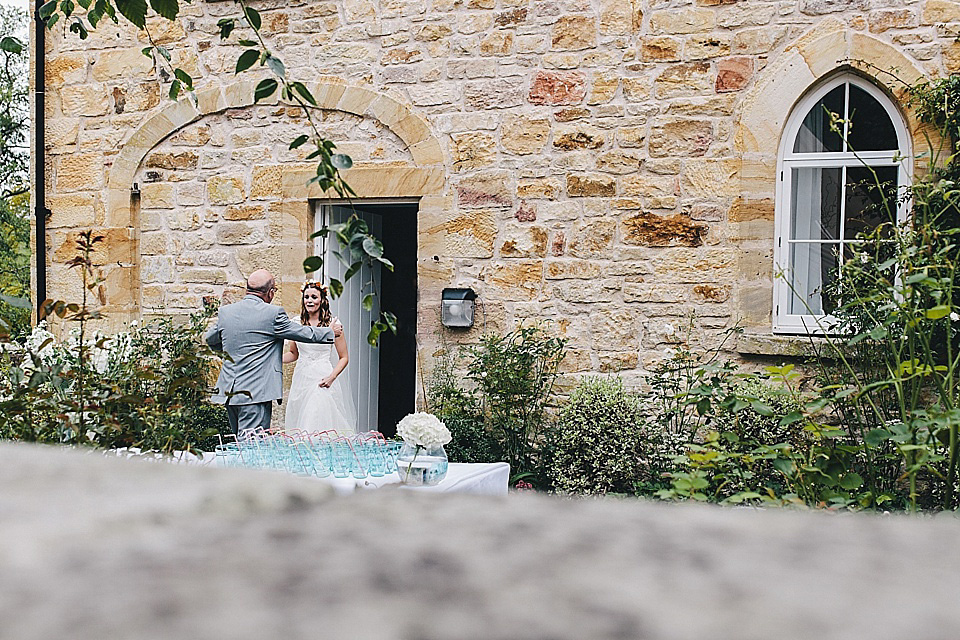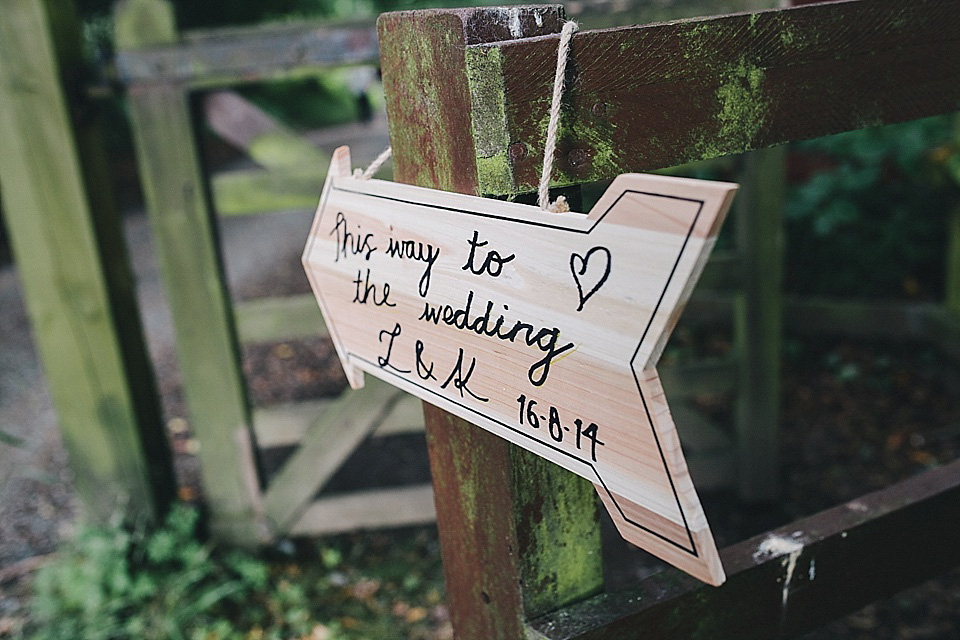 "My nephew Albie had the very important job of bringing the rings down the aisle! He looked very dapper in his trousers and waistcoat from Next. After a very unfruitful search for a tie on the internet, a friend unpicked one of the groomsmen's ties and made him his very own bespoke bowtie!
Kev's nieces Evie and Tyne were our flower girls and they looked absolutely adorable! They live in California and so only tried on the dresses a week before the wedding! However their Monsoon dresses suited them down to the ground."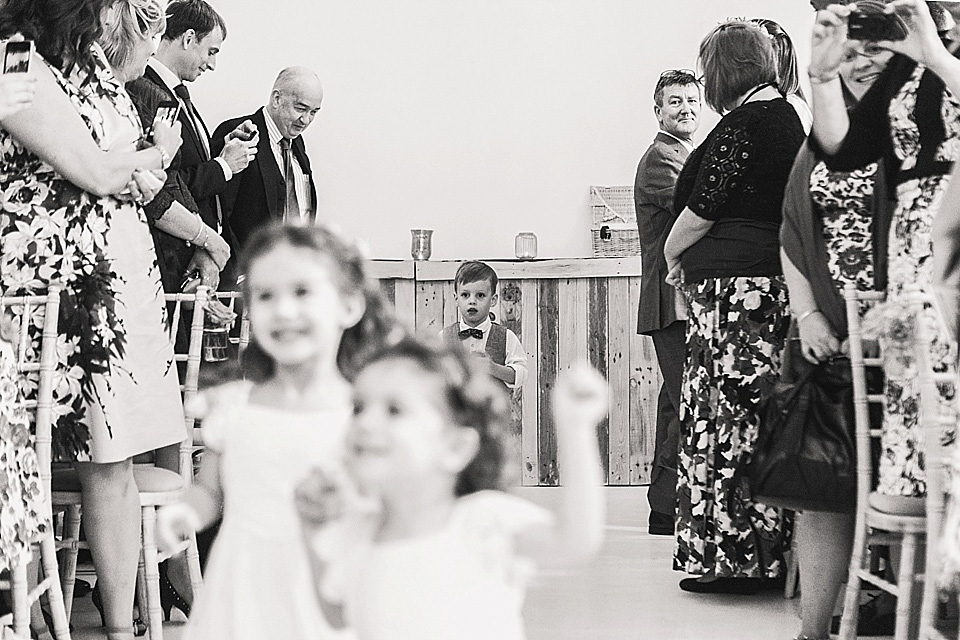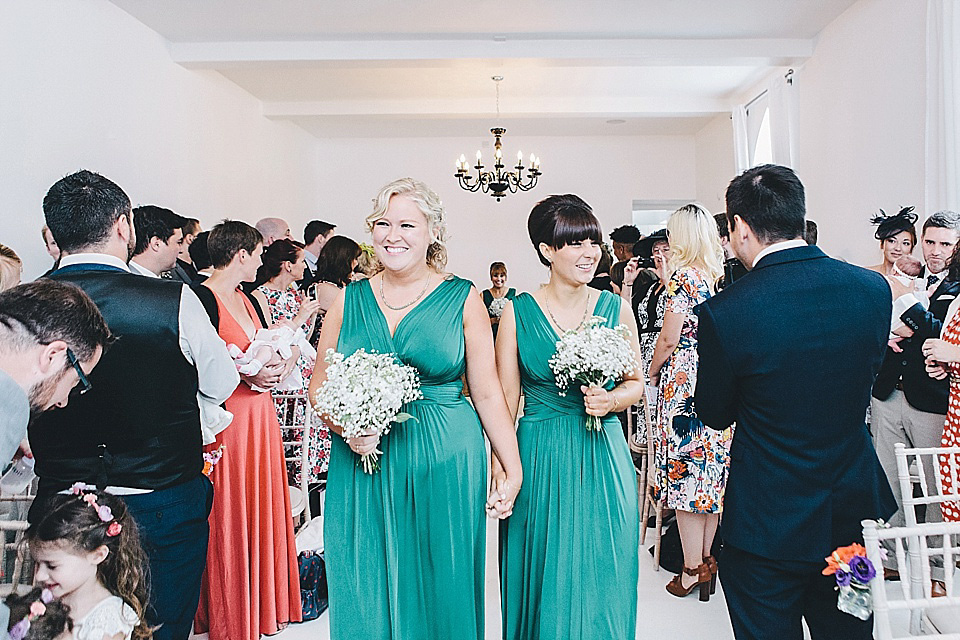 "We walked down the aisle to the acoustic version of Sam Smith's 'Latch'. This song makes me cry whenever I hear it – so having a rehearsal the day before was probably a good idea…let's just say there were a lot of tears!"
Oh my gosh, I adore this song too! I can only imagine the emotion present at the moment these chords started playing – wonderful stuff.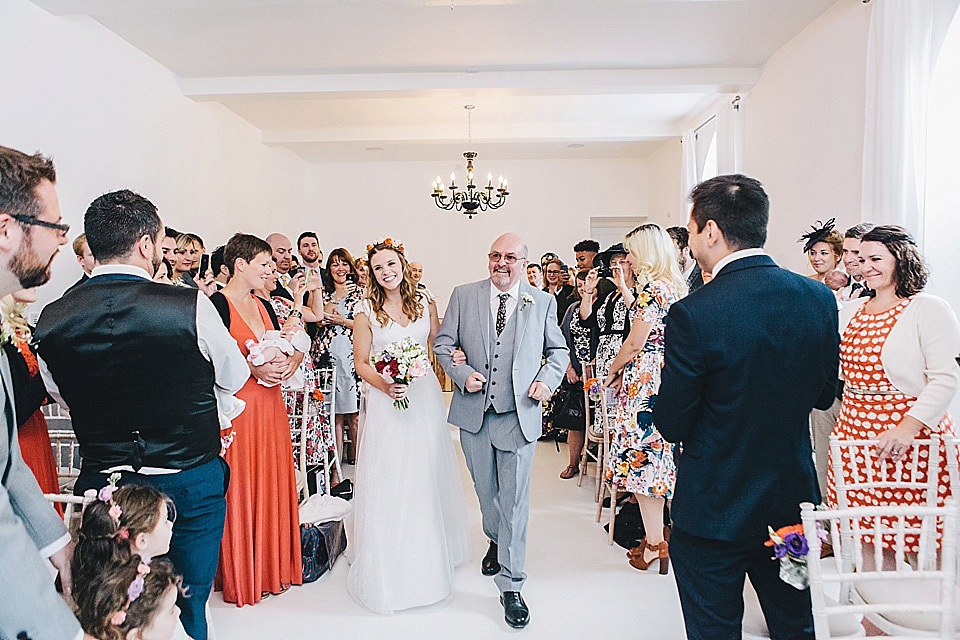 "We were given options by the Northumberland Registry Service and we decided to kind of mix these up to give us personal and meaningful vows.  We had two readings during our ceremony –  'A Lovely Love Story' by Edward Monkton and 'Grow Old with You' from the film 'The Wedding Singer'."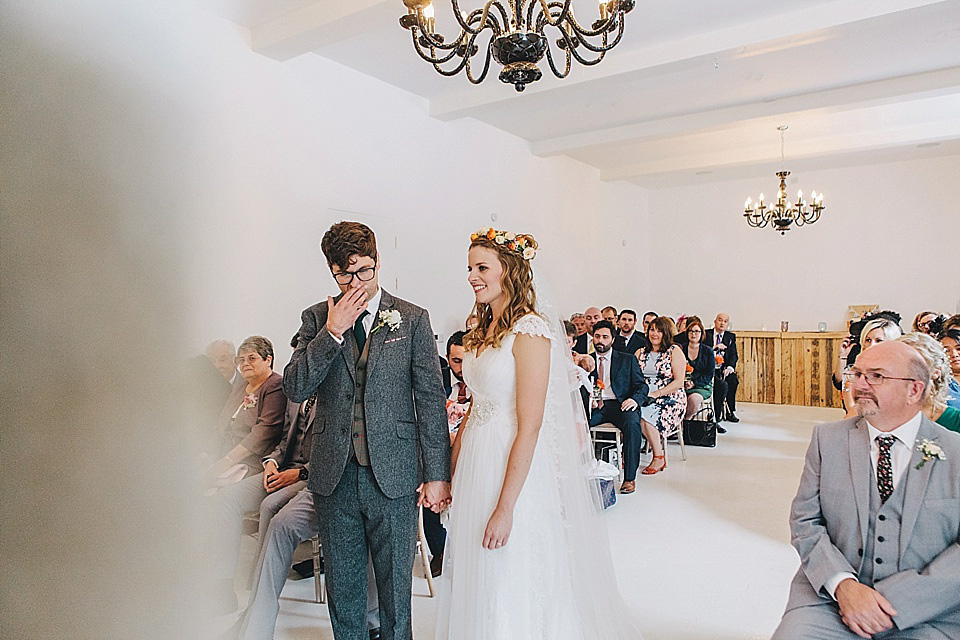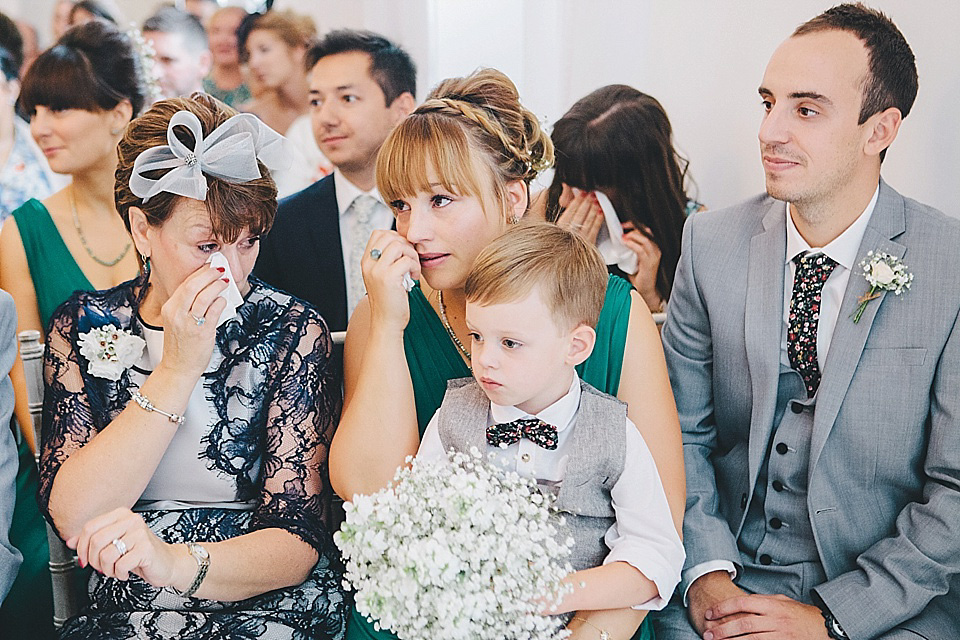 "Kev had bought me 'A Lovely Love Story' when we had been seeing each other for 6 months and so we always knew that it had to be read at our wedding. And the words of 'Grow Old with You' kind of summed up the promises we wanted to make one another."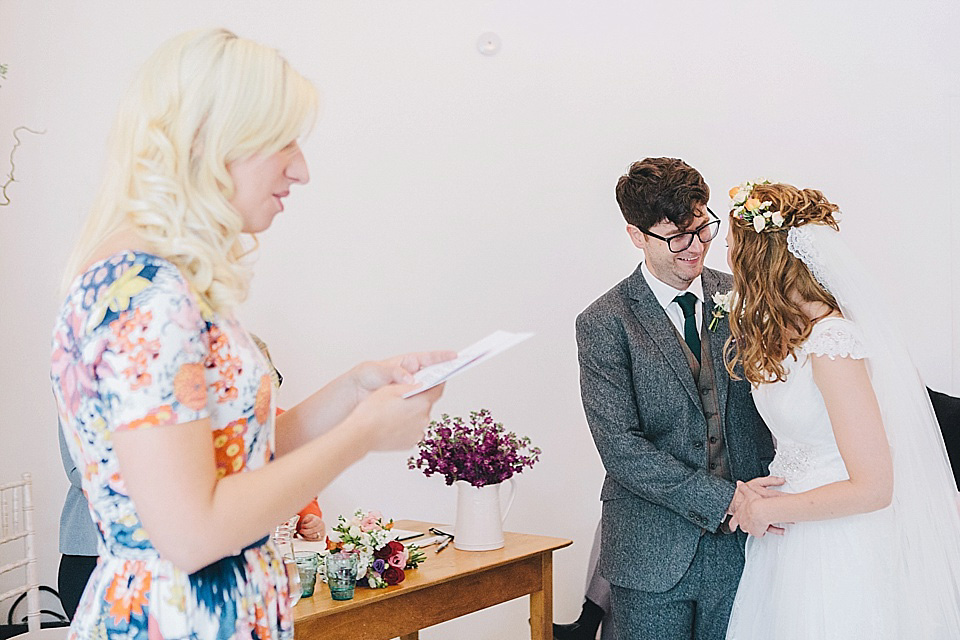 "I know it sounds cliché, but seeing Kev for the first time has to be my favourite moment of the whole day. He just made all my nerves and worries disappear. This 'favourite moment'  is closely followed by turning round at the end of the ceremony and seeing everyone that we love and care for in one room – it was unbelievably special."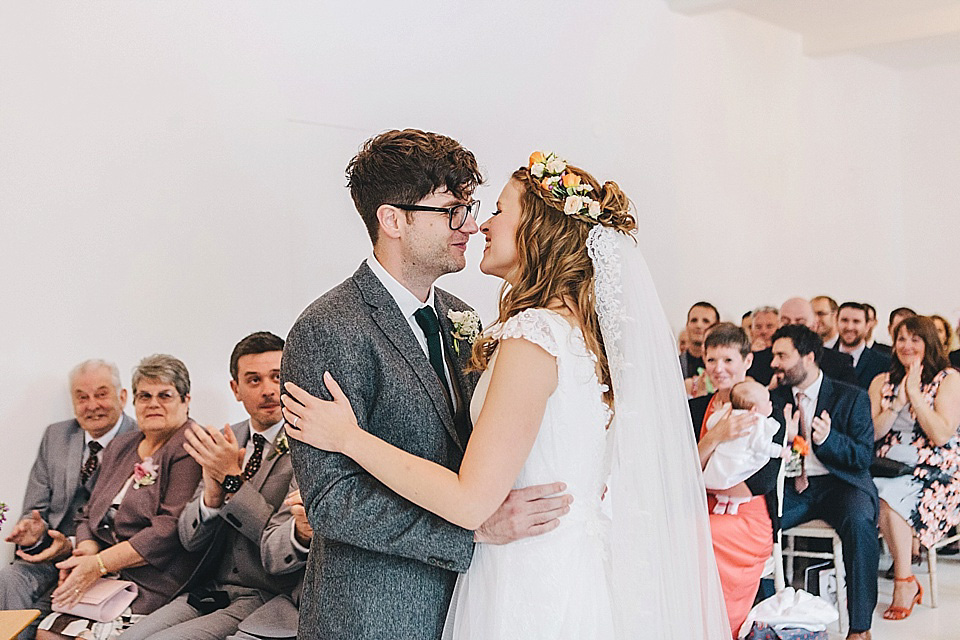 "Another top moment was when as we walked back down the aisle one of my bridesmaids stepped on my veil and almost decapitated me! We laughed so much; especially as our Registrar had just asked our guests to fill our lives with happy and funny memories!"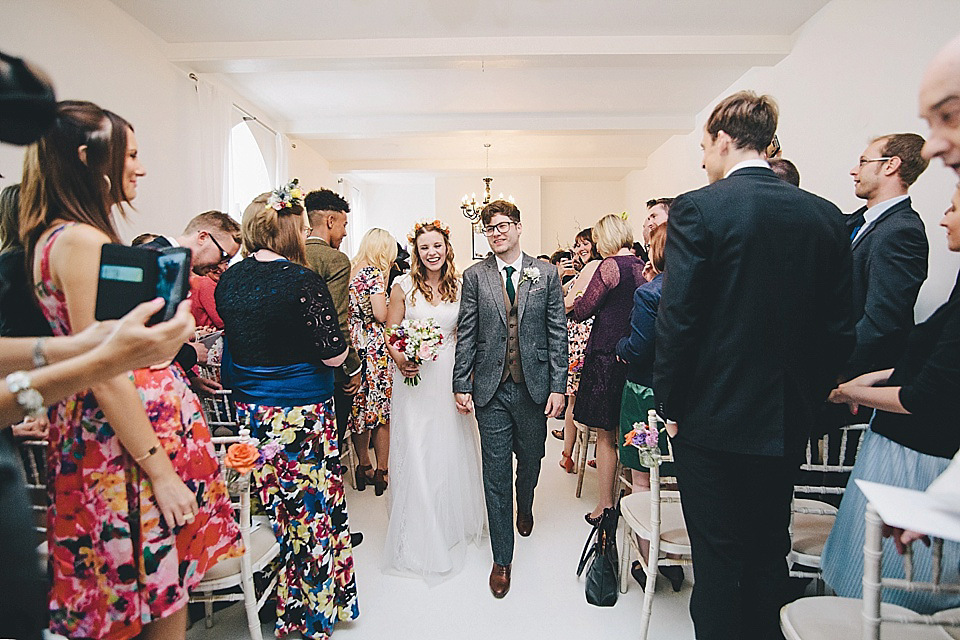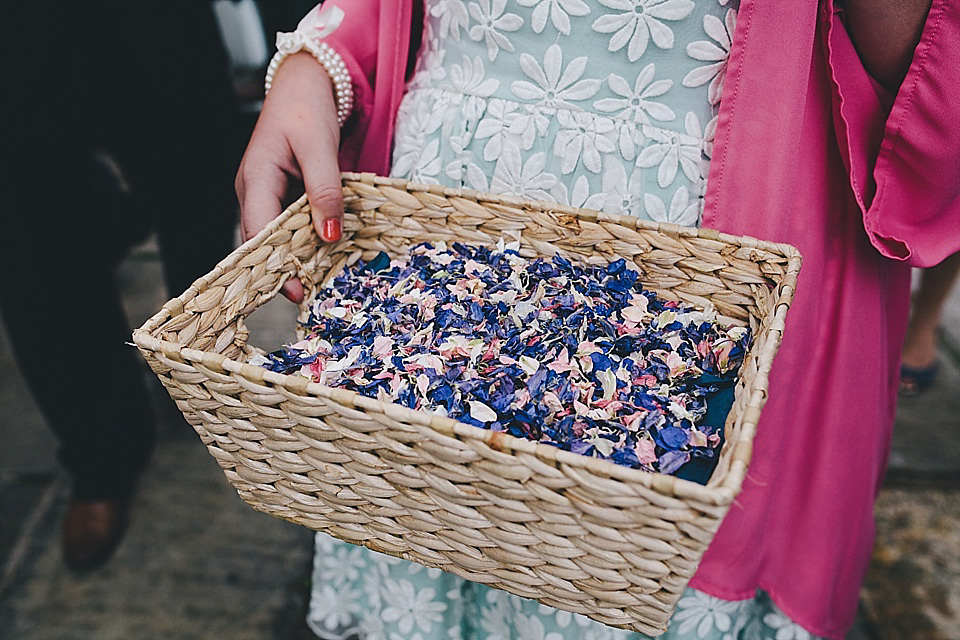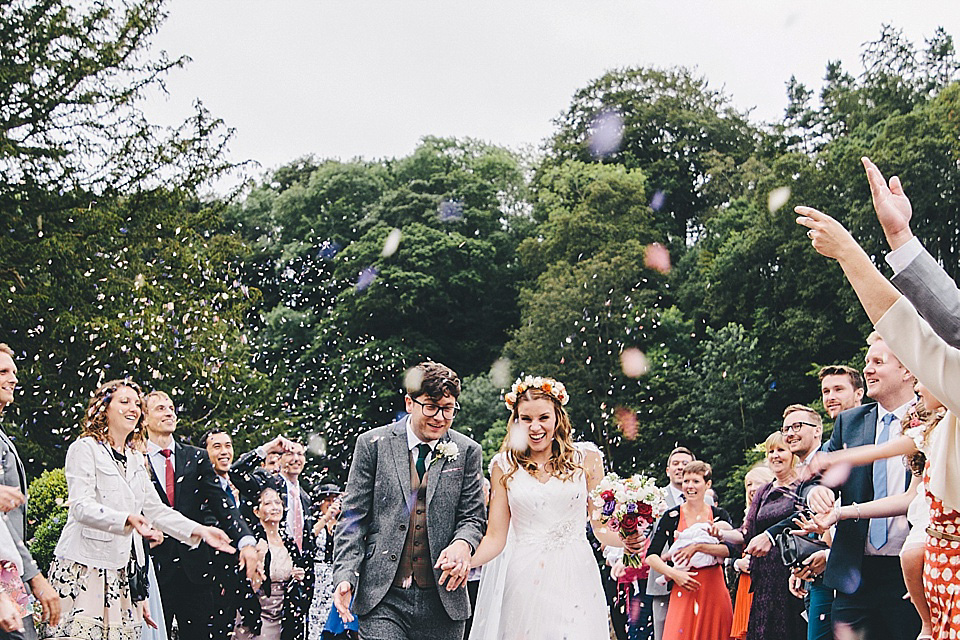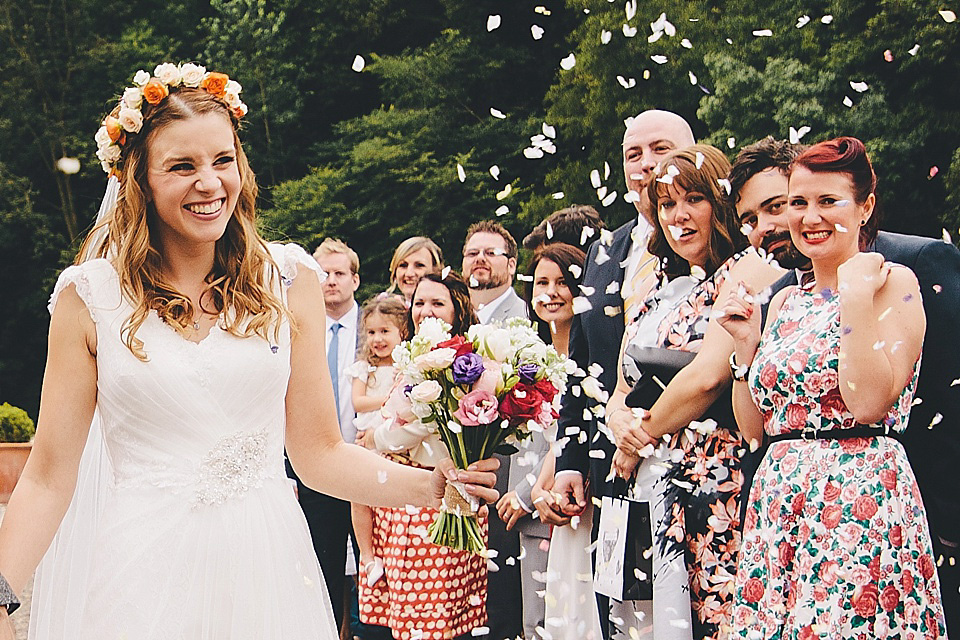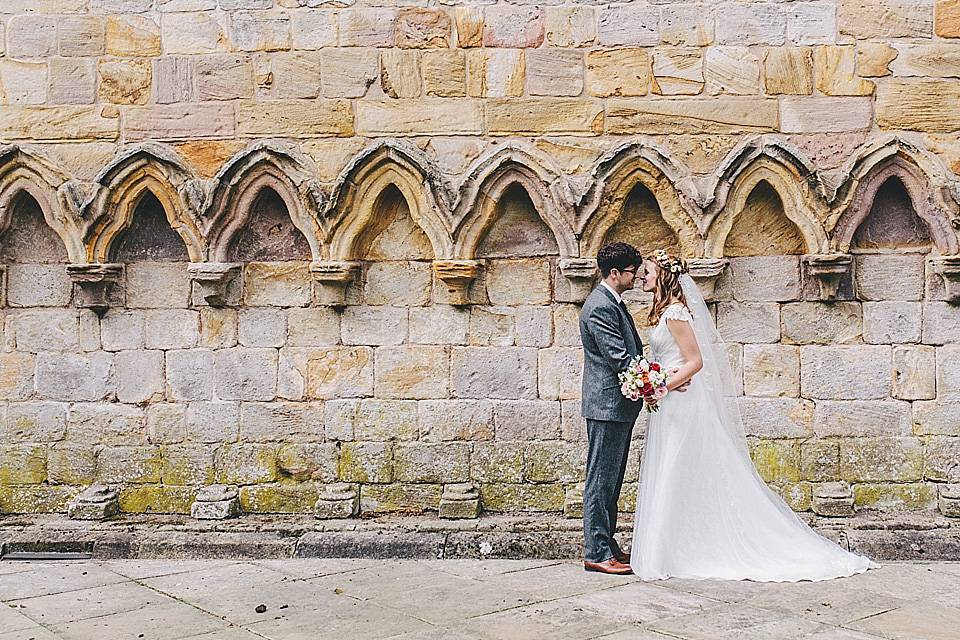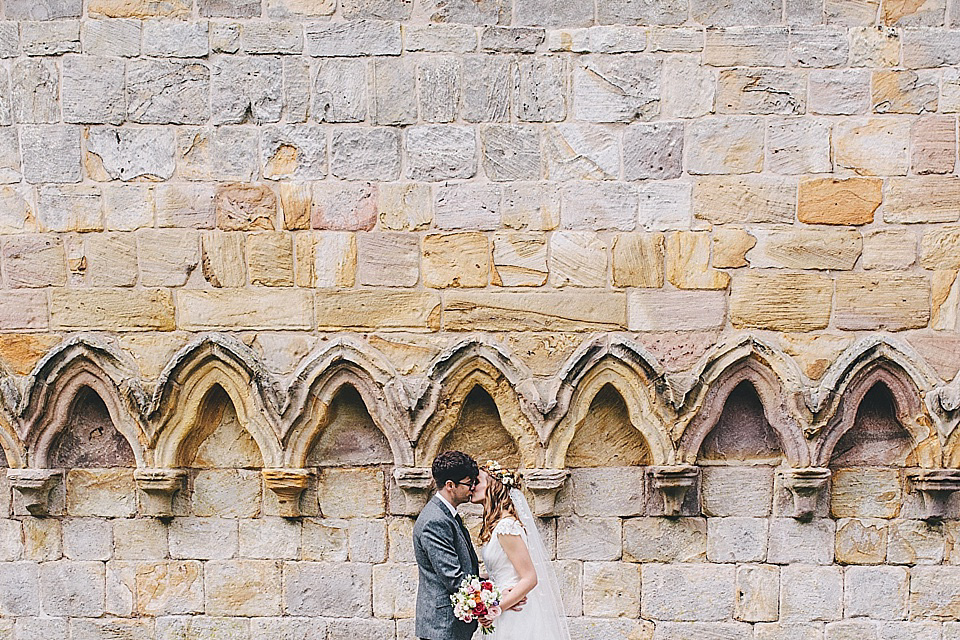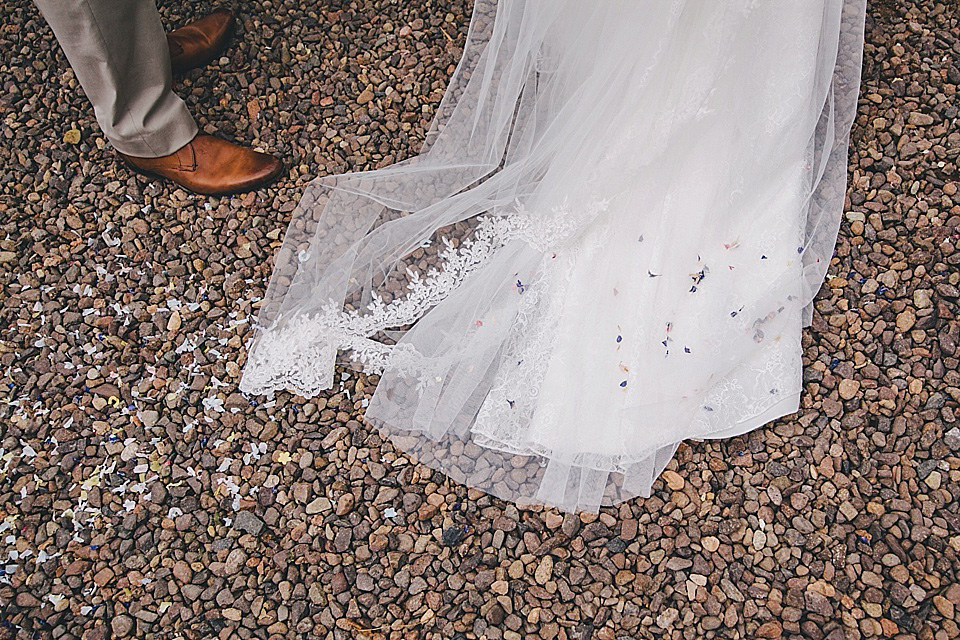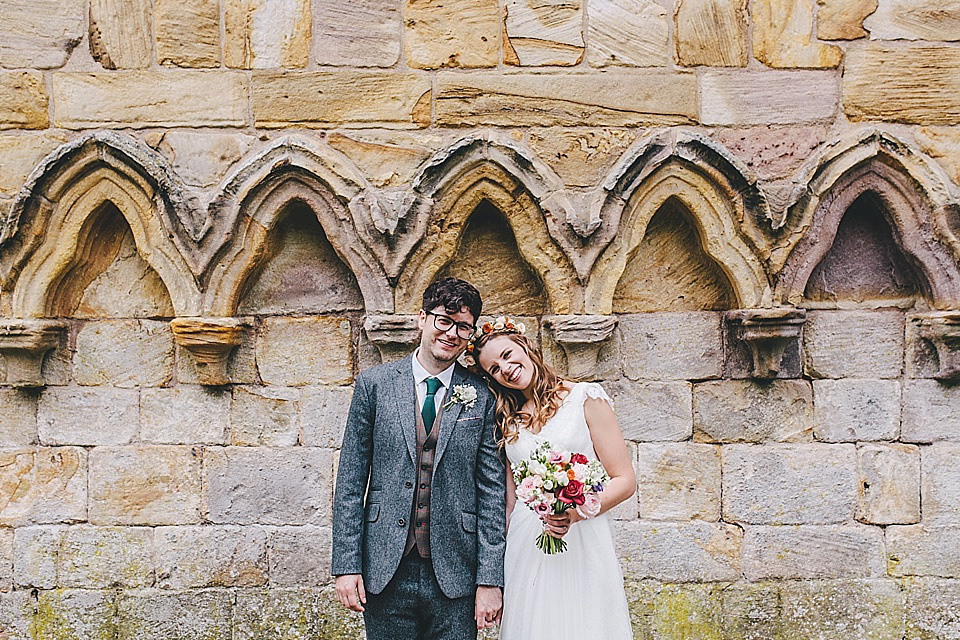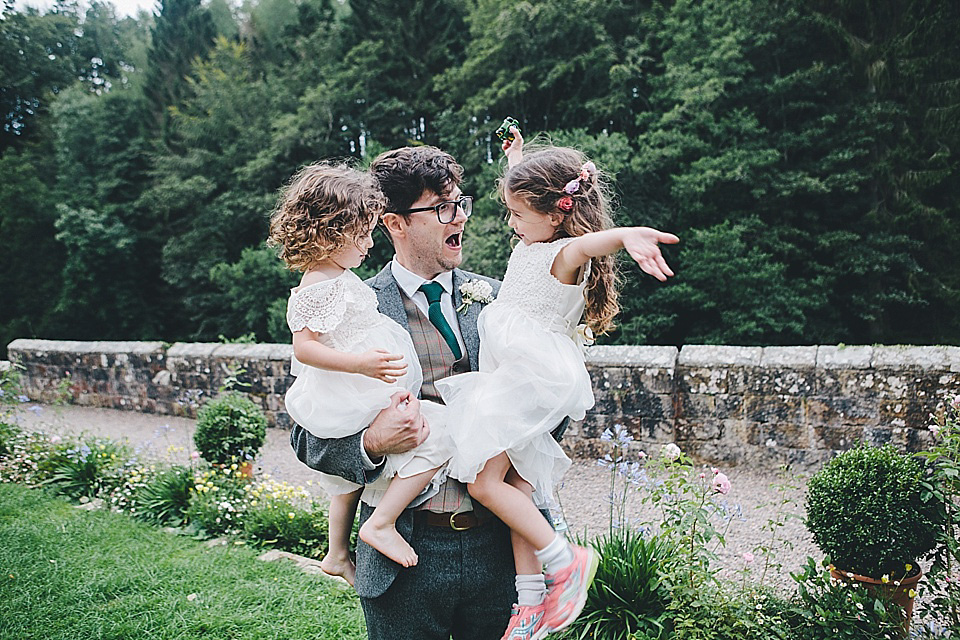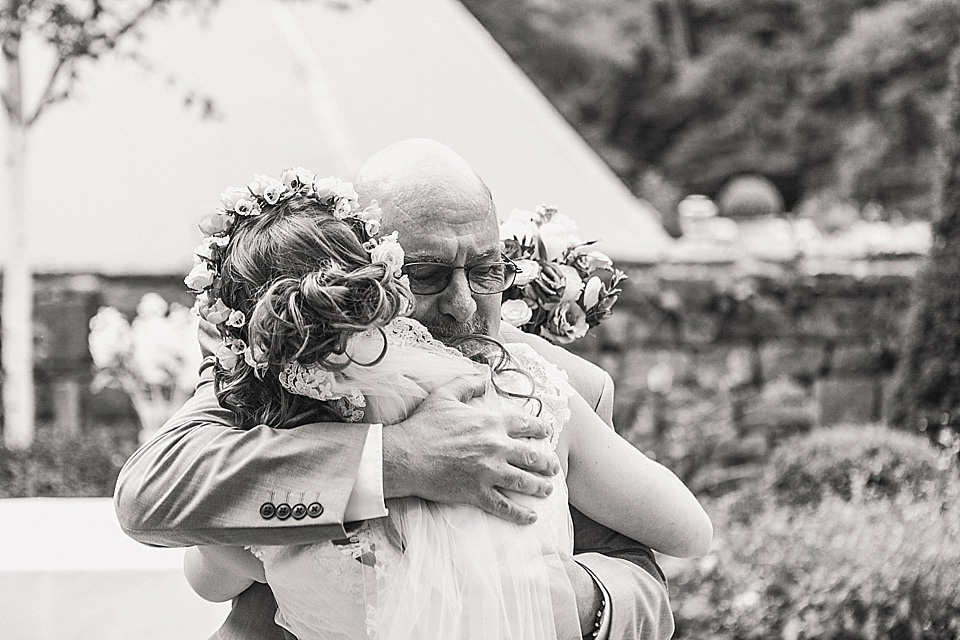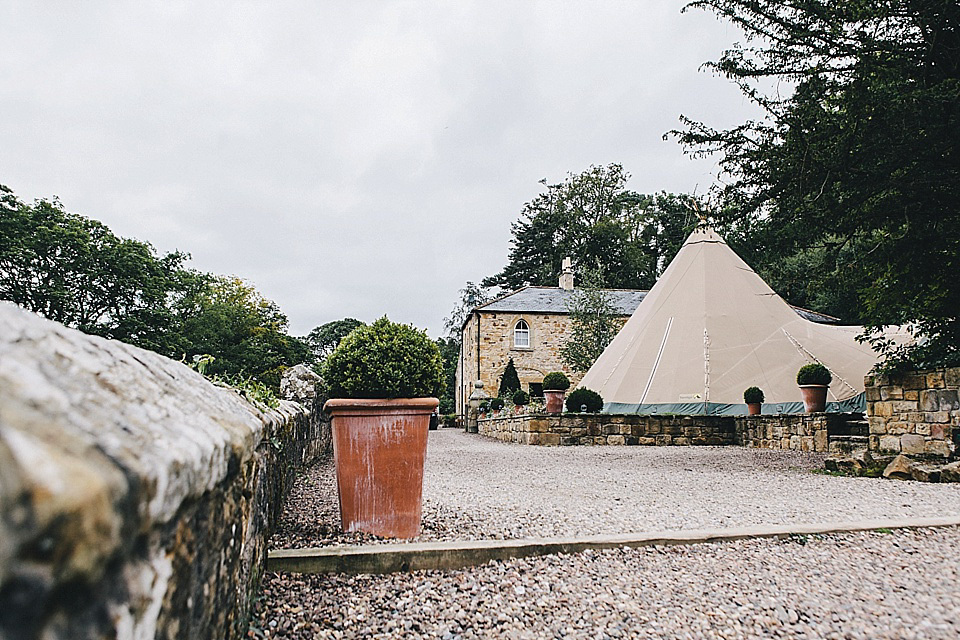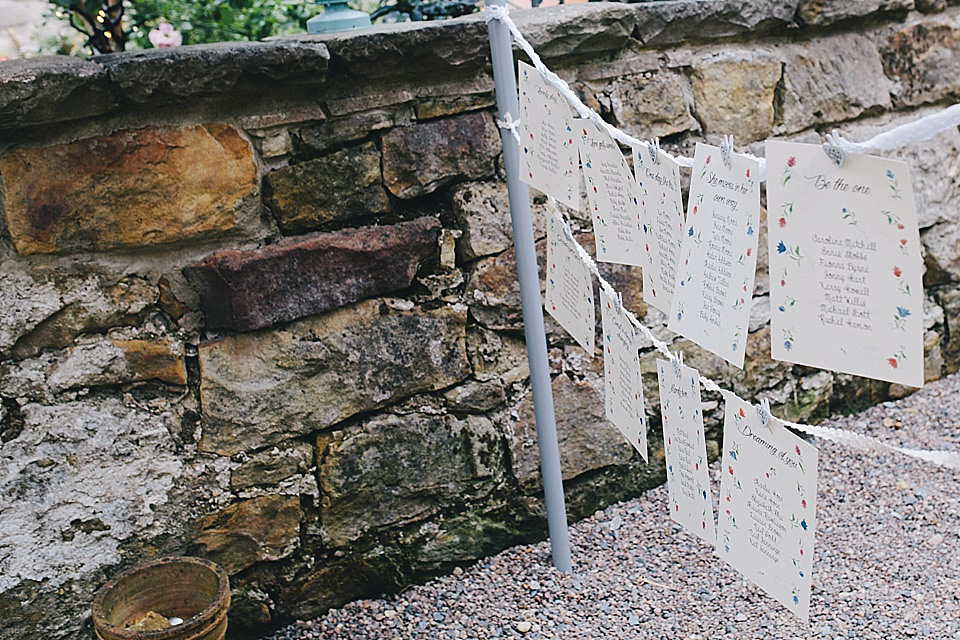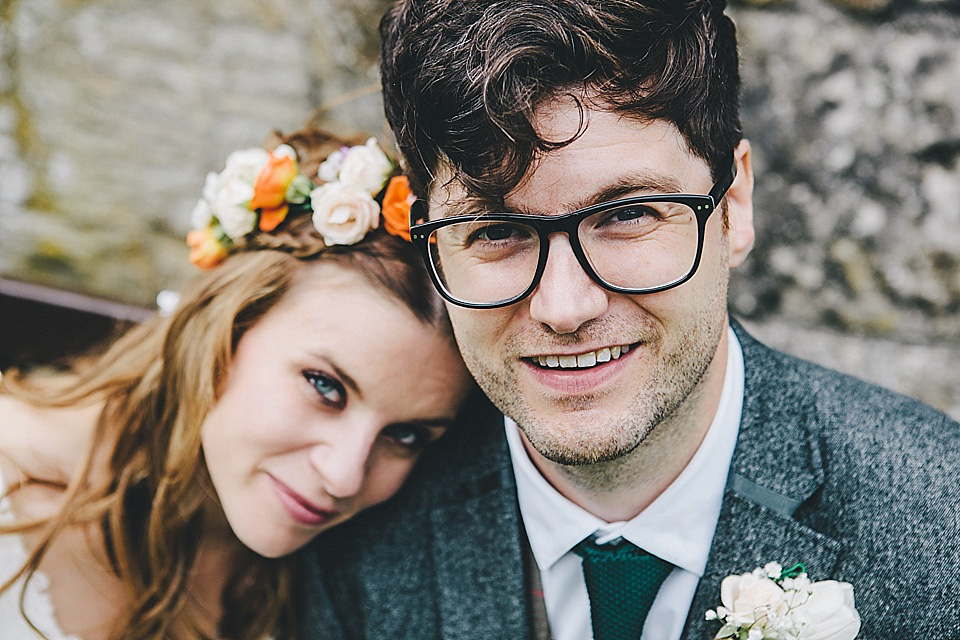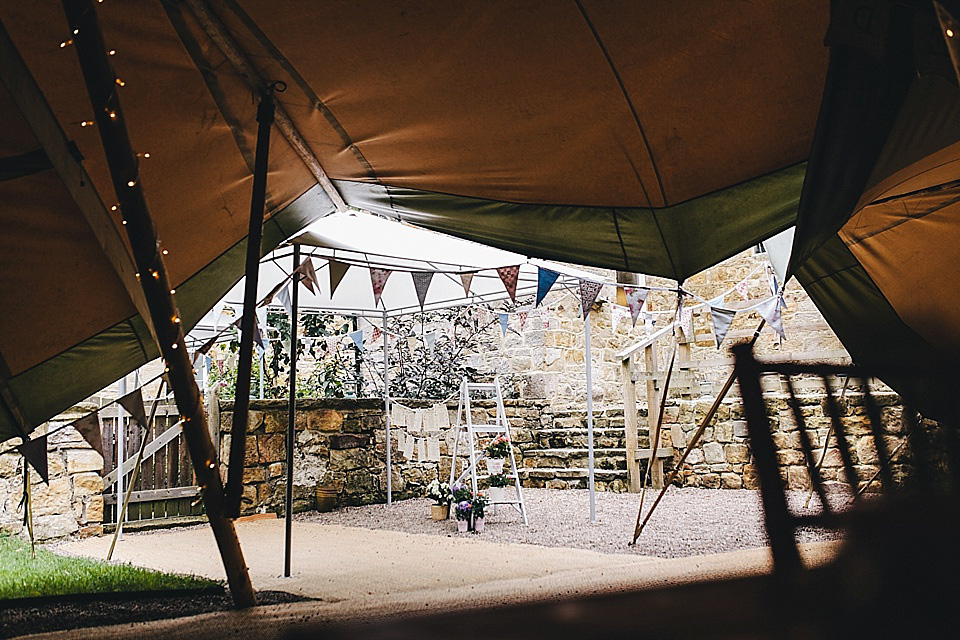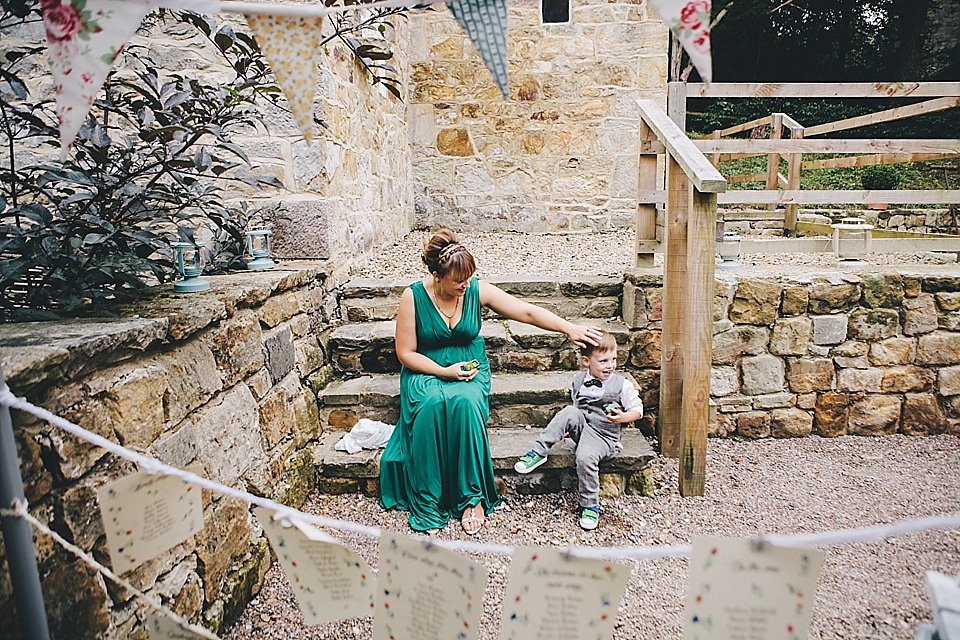 "We decided early on that we wanted to make something for our guests as a favour, and quickly chose to make jam. Kev being Kev took this project on with (maybe a little too much!) gusto and ended up making chutneys and marmalades too! In the end though we ran out of time to put on labels so it became a bit of a game of 'preserve roulette' for our guests.  Everyone loved them (and some even caught fire during the meal – turns out material jar covers and candle flames are not a good mix)."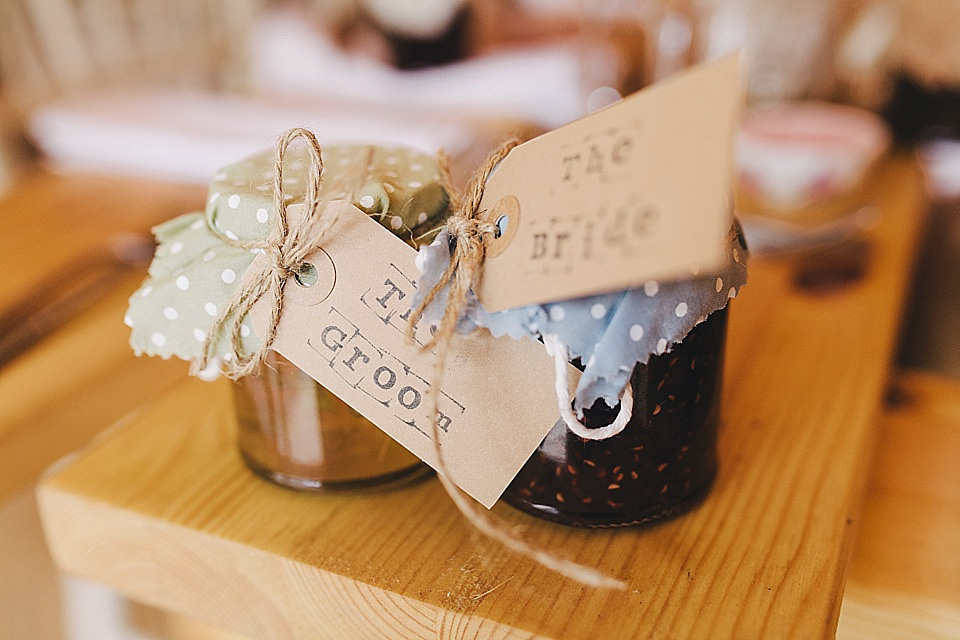 "The cake was one of my favourite things about the day! I hate fondant icing and fruitcake so a traditional wedding cake was out of the picture. We loved the look of Naked Cakes and thought that it would really fit the venue. Donna at Daisy Cupcake did such a brilliant job! On the day the cake wouldn't stack but Donna used her creative genius to display the layers in almost a woodland scene!
We decided to have Sylvanian Family rabbits on the top; I was obsessed with them as a child and Kev had bought me a family when we had first met. However, tracking down a bride and groom was quite a challenge so I ended up finding Jenkuehle on Etsy who makes bespoke Sylvanian Family outfits – who knew?!"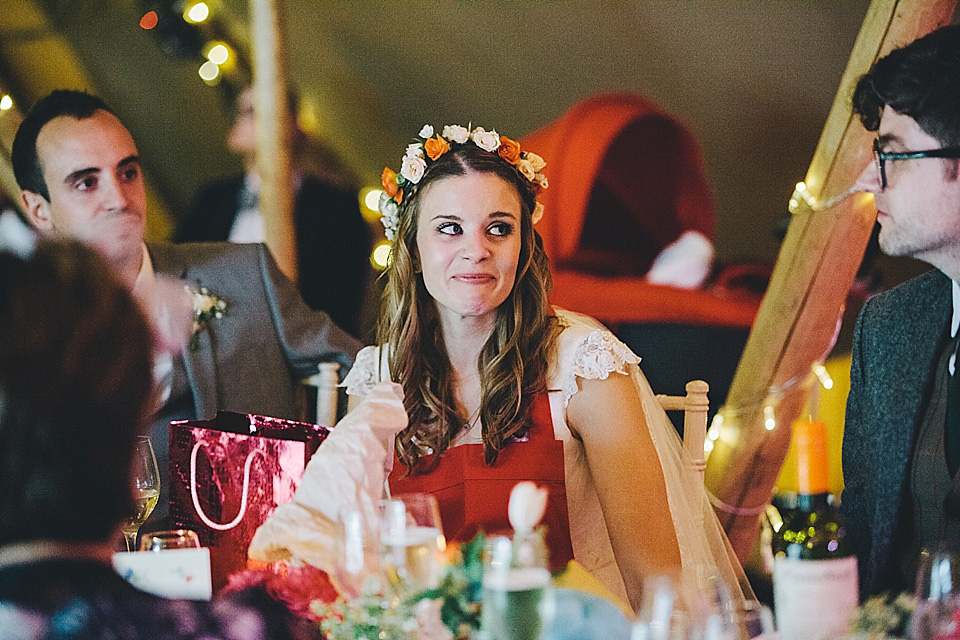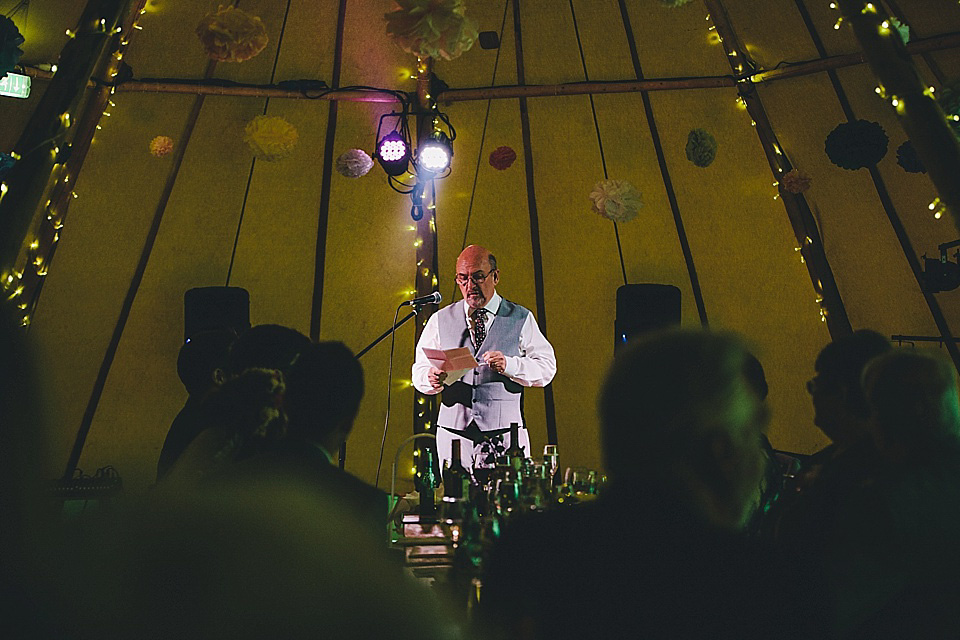 "We used the venue's recommendation again. Neil from Wilkin's Fine Dining was amazing! He prepared all the food onsite and it tasted fantastic! He also provided a delicious Hog Roast at my 30th Birthday Party/Post Wedding Party the next day."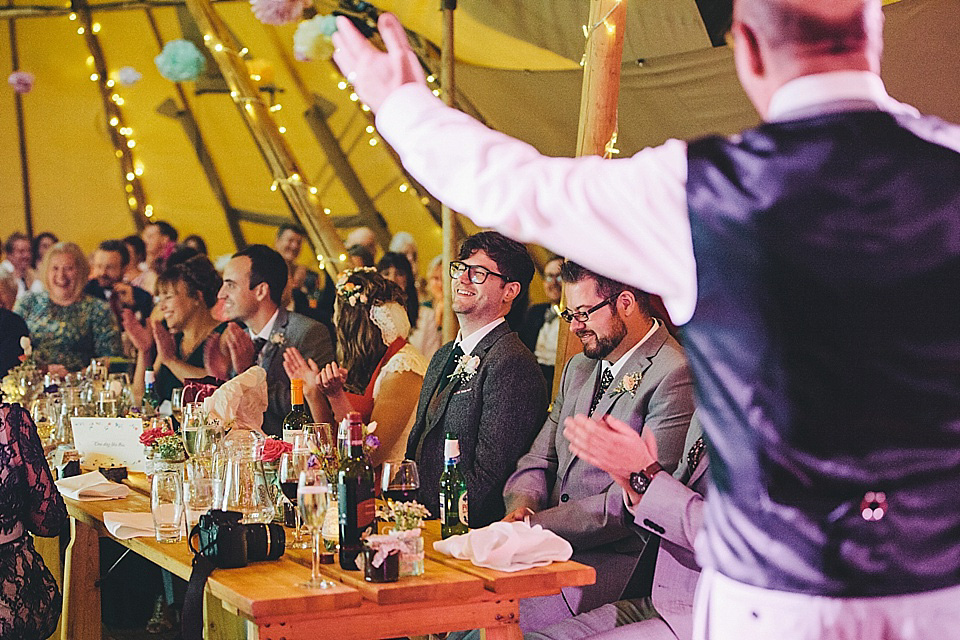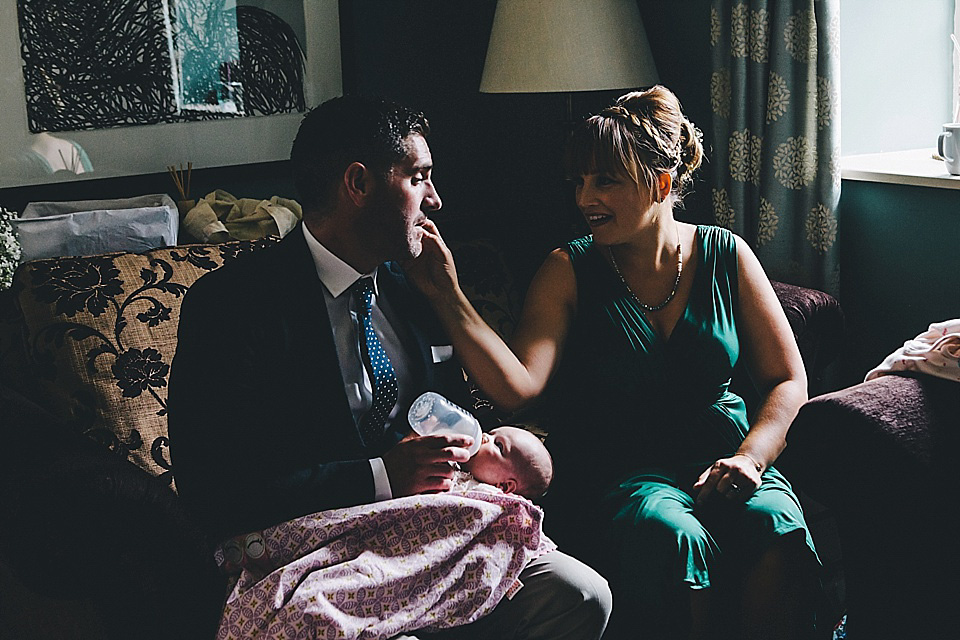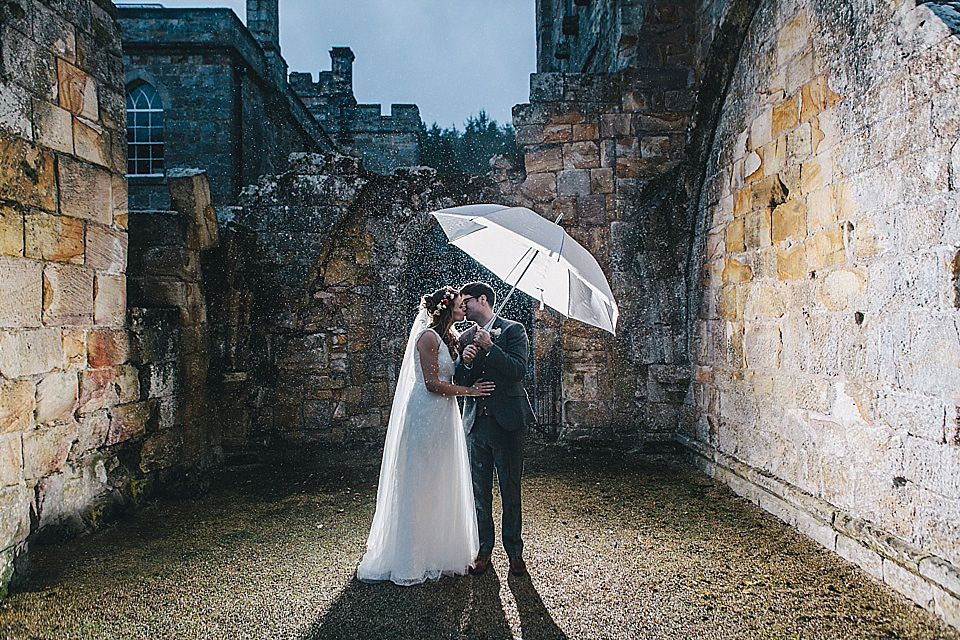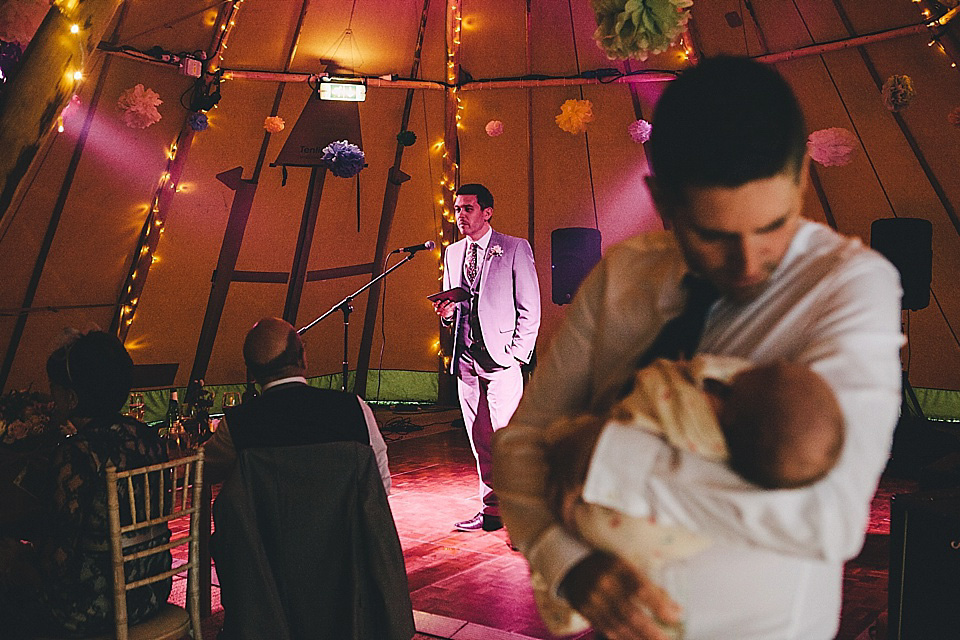 "We hired Mista Cova Lova (based in London) to play in the evening and they were fantastic! The dance floor was never empty and they were so much fun. They even let me do my own rendition of 500 Miles! Our poor guests."
"Our brother-in- law designed the stationary and he did an incredible job!"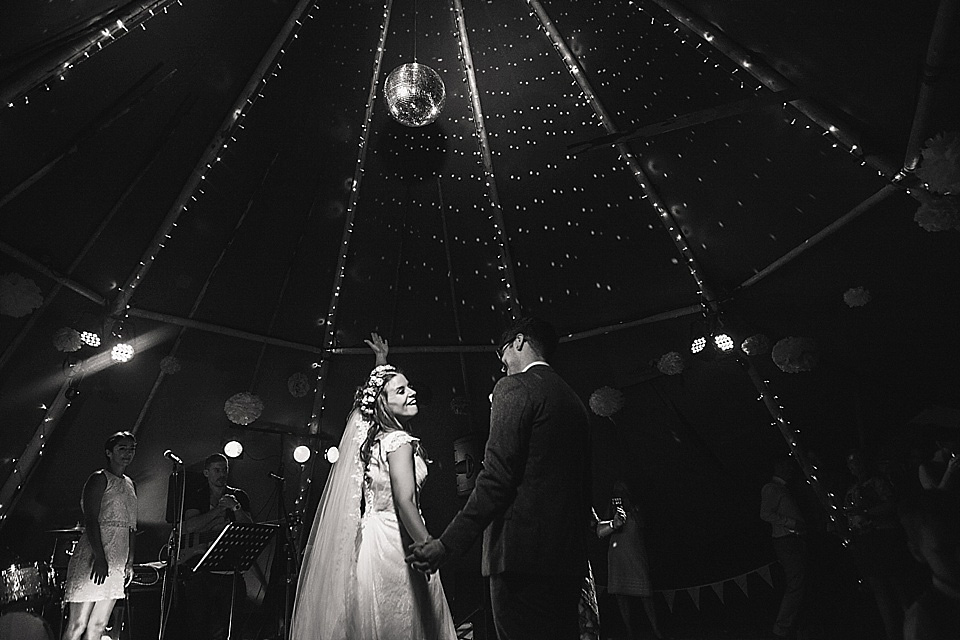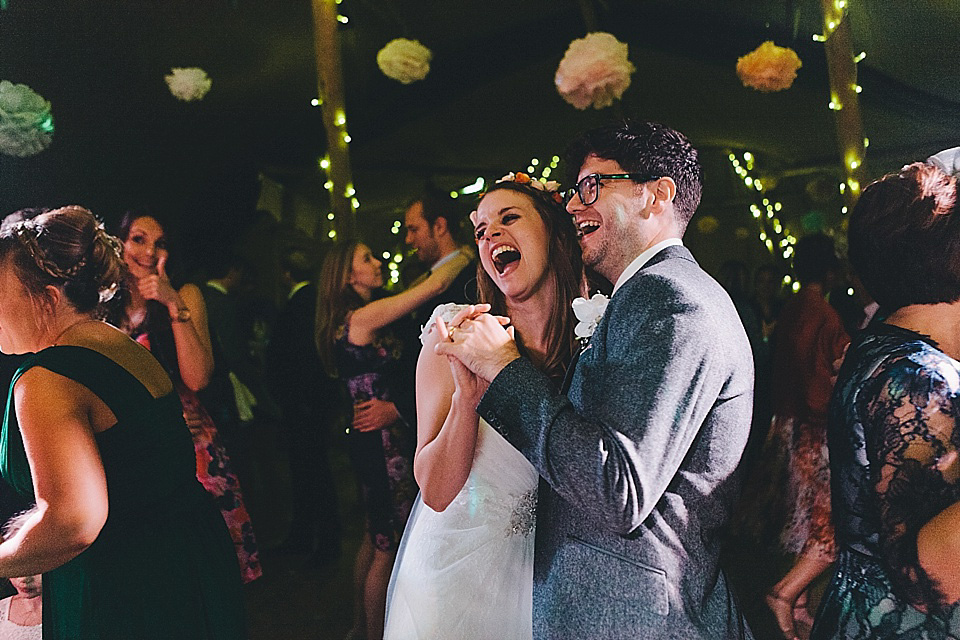 Words of Wedded Wisdom
"Delegate! This wedding has taught me that I am such a control freak but in the end I had to give other people jobs because there simply was not enough time. My dad and brother were in charge of the pom poms and my mum and bridesmaids were in charge of setting up the table plan. These were jobs that I wanted to do myself…but in the end they did such a better job than I could have ever done. So I suppose I would say that 'trust in people' would be my biggest piece of advice.
I also wish I could have gone back to a few days before the wedding and told myself to chill out.  Not everything went to plan on the day but it did not matter.  The most important thing is that you are marrying the person you love."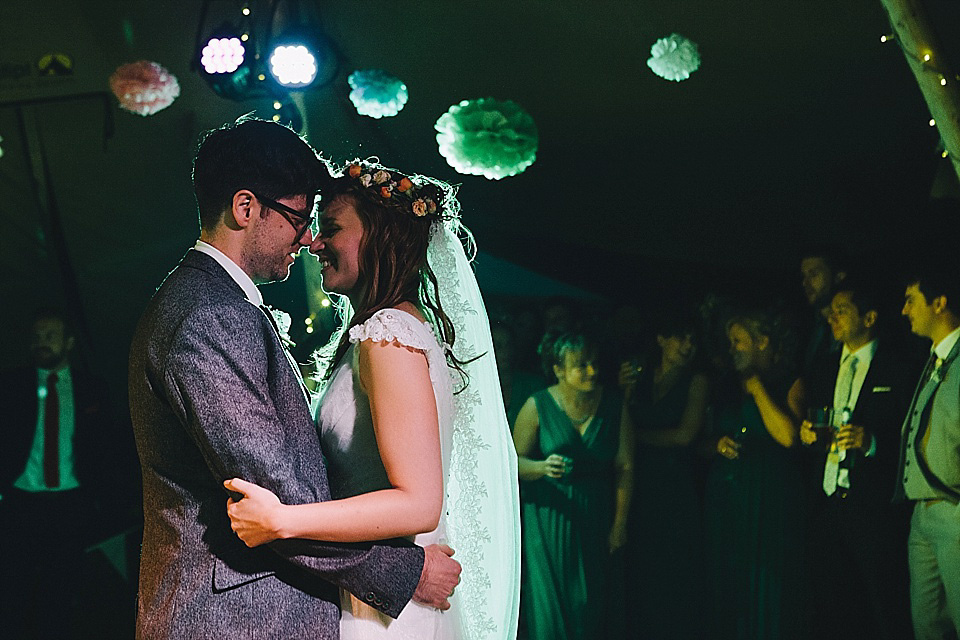 What an absolutely lovely day! Beautiful photography as always by those delightful Twins, more from whom, you can see on Love My Dress here.  I'd love to hear from any of our readers who also planning a wedding in Northumberland. It's such a beautiful part of the world – I feel lucky that it's only a couple of hours drive from where we live – I feel a calling to visit and explore that beautiful rugged coastline quite soon.
Laura and Kevin – our thanks for sharing your lovely day with our readers – I hope the first year of marriage is treating you both well – sending all our love.
Have a good morning all, whatever you're up to,
Love Annabel xx
Photographer – The Twins
Venue – The Stables at Brinkburn Priory in Northumberland
Dress – White Rose from Ann's Bridal Room
Veil – Richard Designs
Floral Crown/headpiece – Lavenders Blue Florist
Shoes – Mimosa design by Rachel Simpson
Bride's Scent/perfume – Chloe
Grooms Suit – Ted Baker + tie via Marks & Spencer + Hudson shoes
Groomsmen – suits from Next
Bridesmaids – John Lewis + a personalised bracelet from Jewelsalem on Etsy
Flowergirls – Monsoon
Page Boys – Next
Florist – Lavenders Blue Florist
Cake – Daisy Cupcake + Sylvanian family topper by Jenkuehle on Etsy
Entertainment – Mista Cova Lova
Rings – Cool Rocks + Oddpower on Etsy
Catering – Wilkin's Fine Dining
Hair and make-up Artist – Natalie Dickinson from 'Snip and Style'.  Tel 07540 – 421152
PomPoms – Pom Poms for Parties