Hello there and good morning!  I'm hoping this first real wedding post of 2015 finds you safe and well and feeling good after the Christmas and New Year celebrations.  I'm also hoping you've had a chance to read my personal post of yesterday, as well as enjoy this post that is bursting with a collection of some of the many beauteous weddings we shared in 2014.  You also need to bookmark this post full of time-limited, money saving offers from our sponsors – there are some great promotions included – don't miss out!
I'm excited to be sharing this wedding with you this morning – our first beautiful celebration of love in 2015.  It's one of those magical outdoor weddings that I'm sure, as a little girl, I would have fantasised about – a whimsical celebration set in the woodlands – I'd have had the fairies, pixies and elves as guests of honour.
Josie, a Textile Design Student at St Central Saint Martins University, married her fiance Warren, who works for a church and charity based in Soho, on 24th August 2014 on the Gower Coast in Swansea, South Wales.  As Christians, the couple wanted a wedding with a community feel, so they set out to gather their nearest and dearest in the woodland near their childhood homes, where 'fields and forest meet the ocean' and they could be close to nature.  I love how this couple really made their wedding their own – I also love the 'words of wedded wisdom' that Josie has taken time to share at the end of this feature.
"Everyone came together to help out, which was wonderful. We were also really inspired by the landscape – getting married outside meant that we were limited to a certain amount of decorations, but we worked with the beauty that was already there and just added a few key elements."
Photography Copyright (c) 2015, Gabby Lewis Films
"Warren and I met in Wales and moved to London when we both started university. We spent the summer of 2013 travelling and then in the November, Warren proposed. We had been engaged for around nine months before our wedding in August last year.
We got married on the Gower Coast in Swansea, South Wales. It is close to where we grew up, and our families still live there. It's one of our favourite places, with fields and forests meeting the ocean."
Photography Copyright (c) 2015, Green Antlers Photography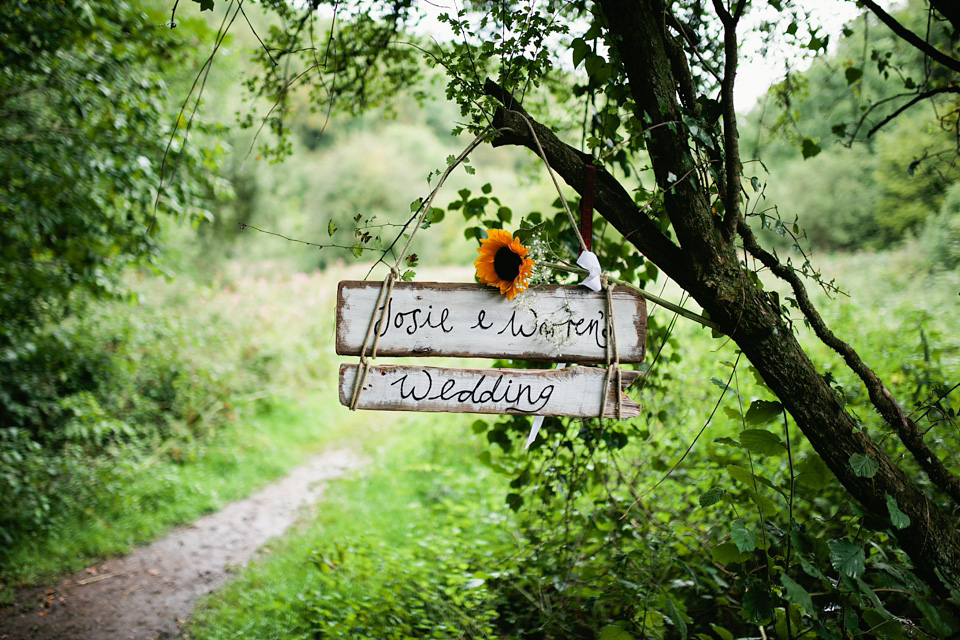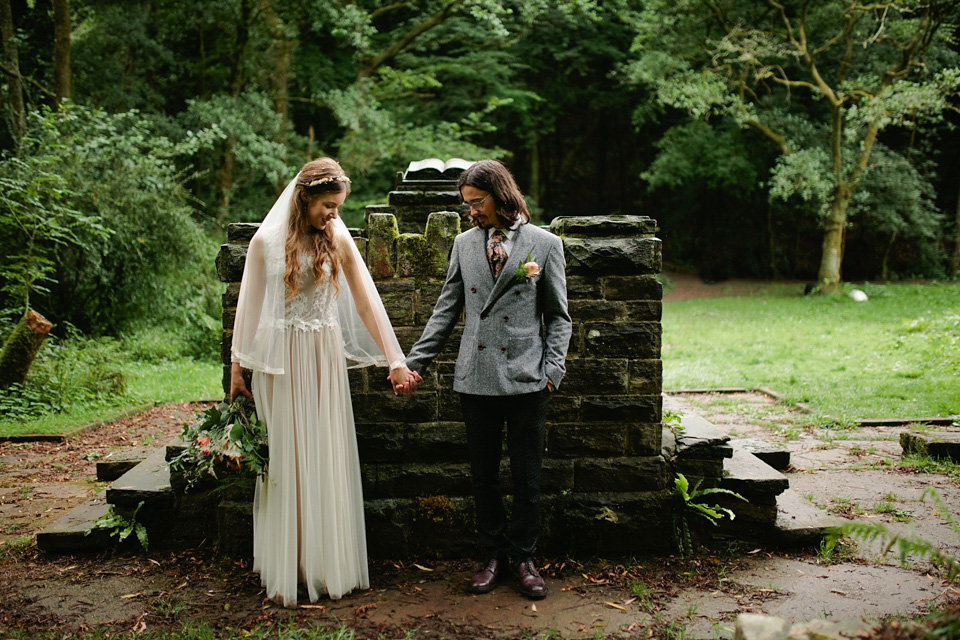 I adore Josie's dress by designer Katya Katya Shehurina, a beautiful find from Luella's Boudoir. I first discovered this wonderful bridal wear brand at The White Gallery in 2011 (take a look at some of their dresses on Love My Dress® here).
"My dress was designed by Katya Katya Shehurina, and I brought it from a sample sale at Luella's Boudoir.  I loved how it came in two parts, a really delicate dress paired with a slip. I had the choice of a white or brown slip, and in the end I went for the brown as it suited the style of my wedding. It was really comfortable and great for dancing in, I loved the high neck and the vintage feel it had."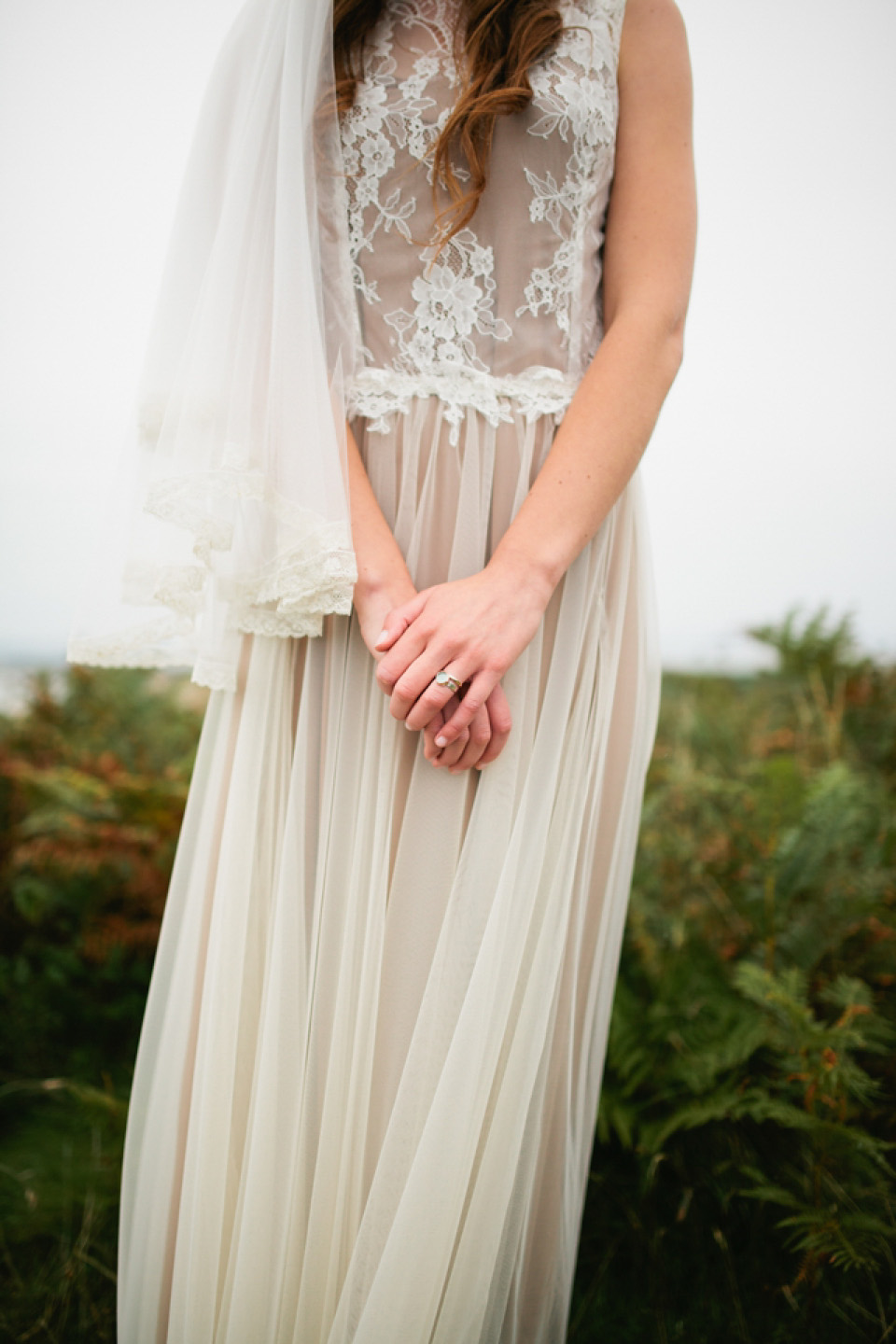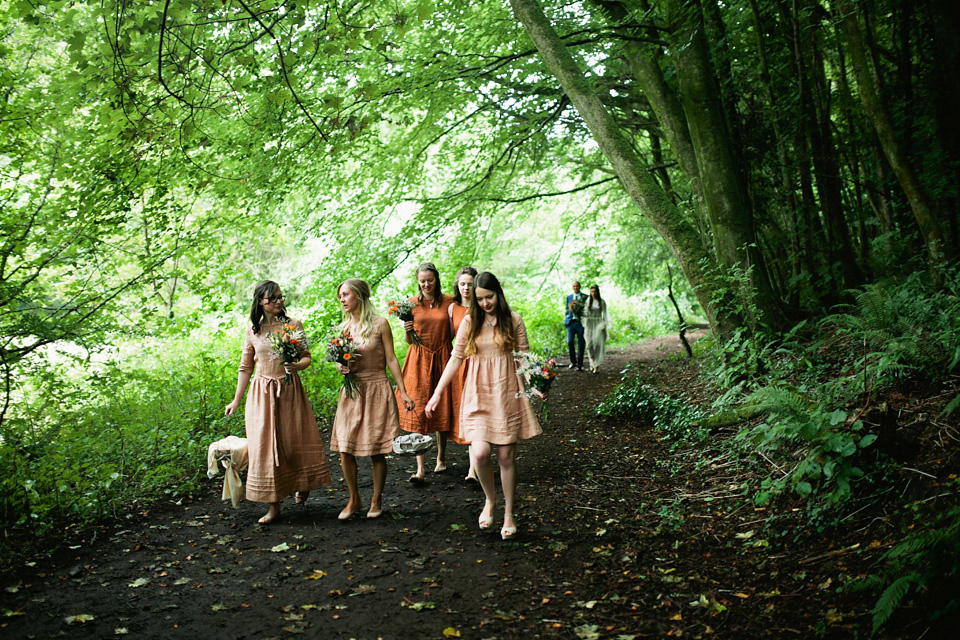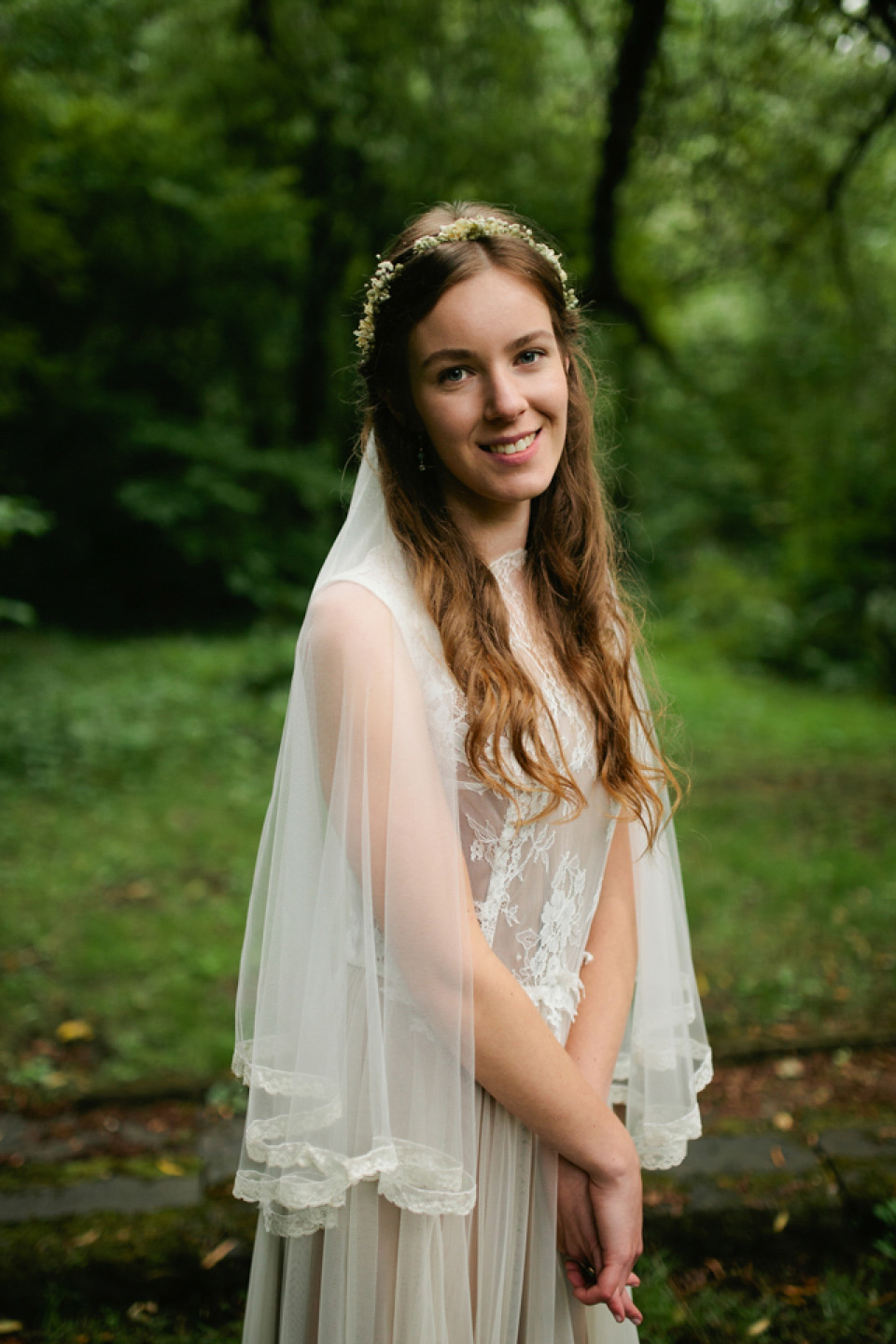 "For the bridesmaids dresses, I decided on a simple linen dress, they decided on having it in burnt orange or dusky pink and they choose there desired length and style. I brought them from a dress maker on Etsy called 'CamelliaTune' and loved the ability to customize them.
A local florist Simone Robbins made my bouquet and she brought with her bunches of the same flowers for us to put together the bridesmaids posies. We had Amnesia Roses, Proteas, Orange freesia, Sea Holly and plenty of herbs and greenery for fill."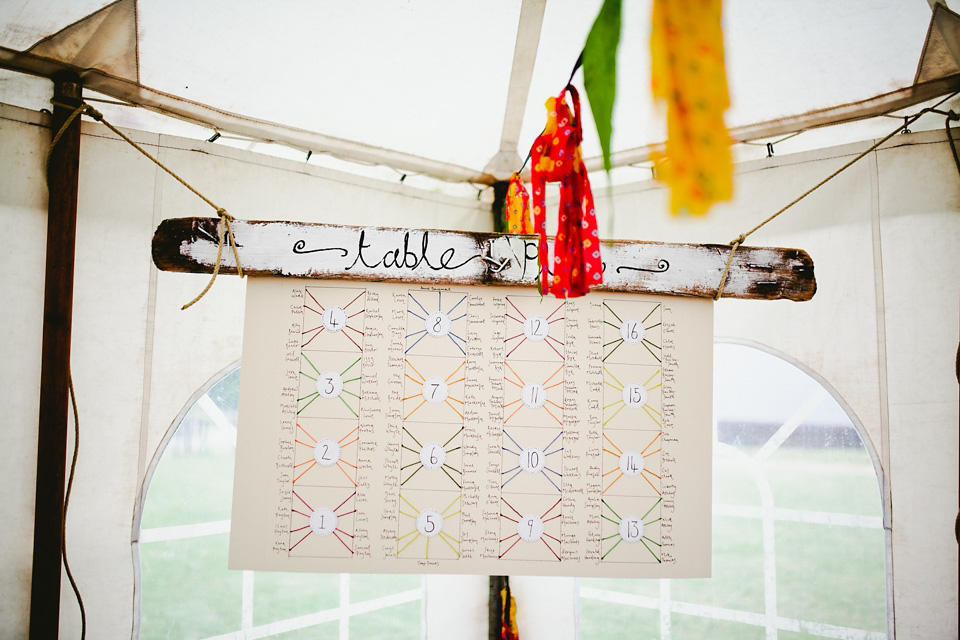 "Our photographers were Green Antlers Photography. Sam and Diana are the sweetest couple, they made us feel so relaxed and fitted into the celebrations with ease. We love the way they work and their desire to capture truthful, natural shots. They were an asset to the day and we couldn't be happier with the results.
As a surprise a videographer friend of mine Gabriella Lewis, captured some wonderful moments of the wedding and made them into a short film."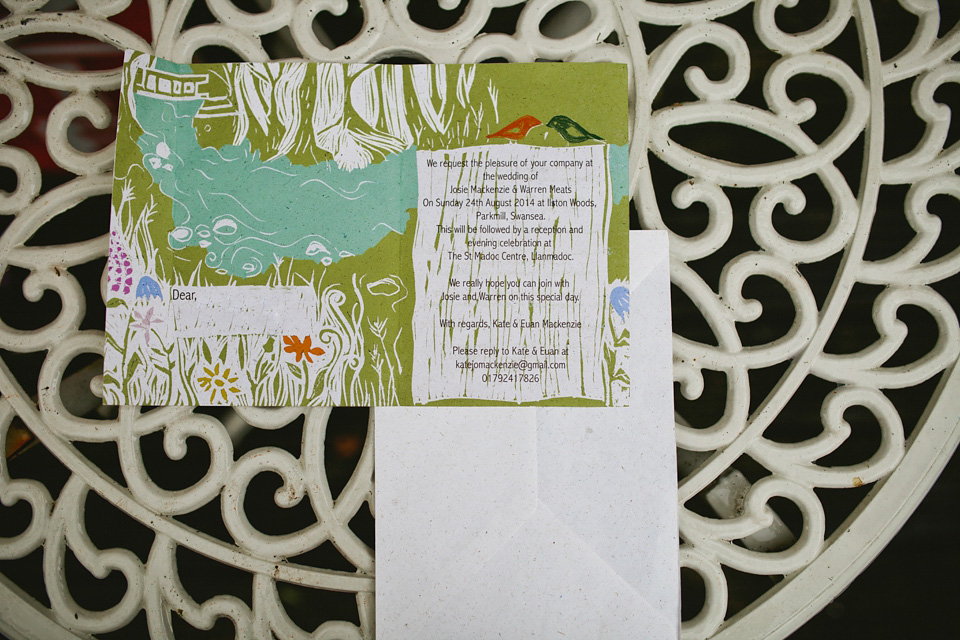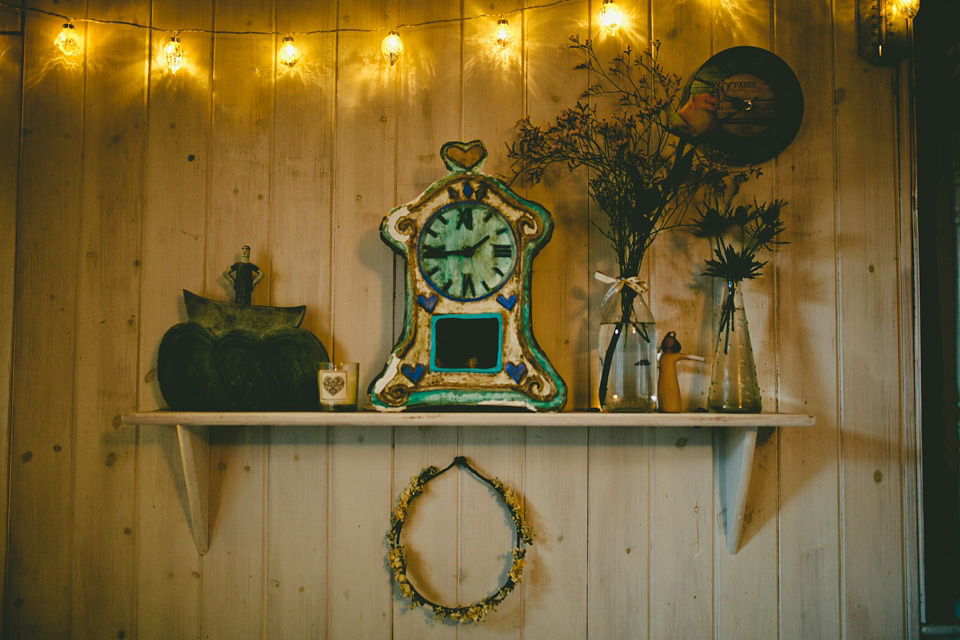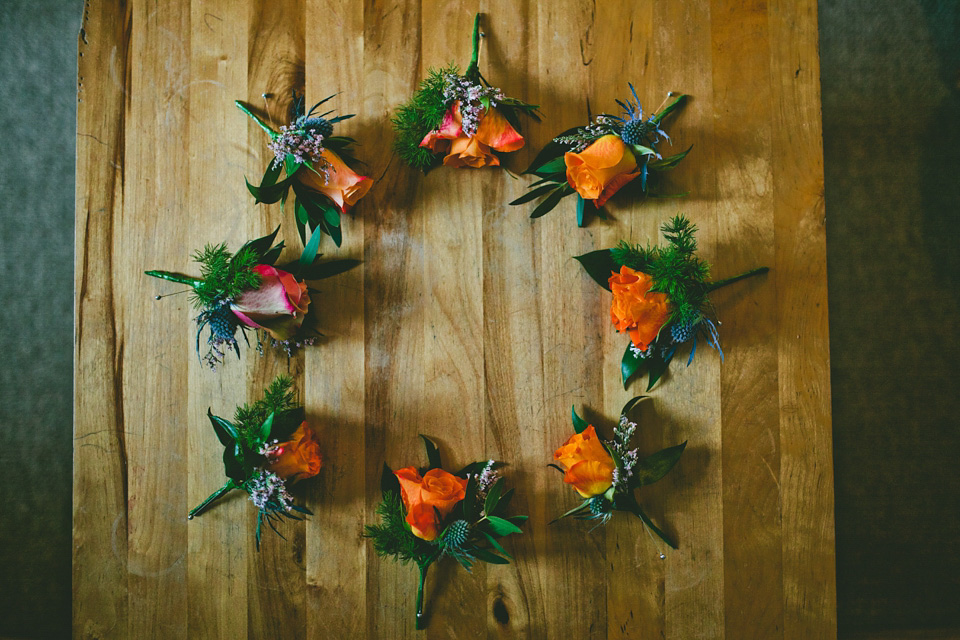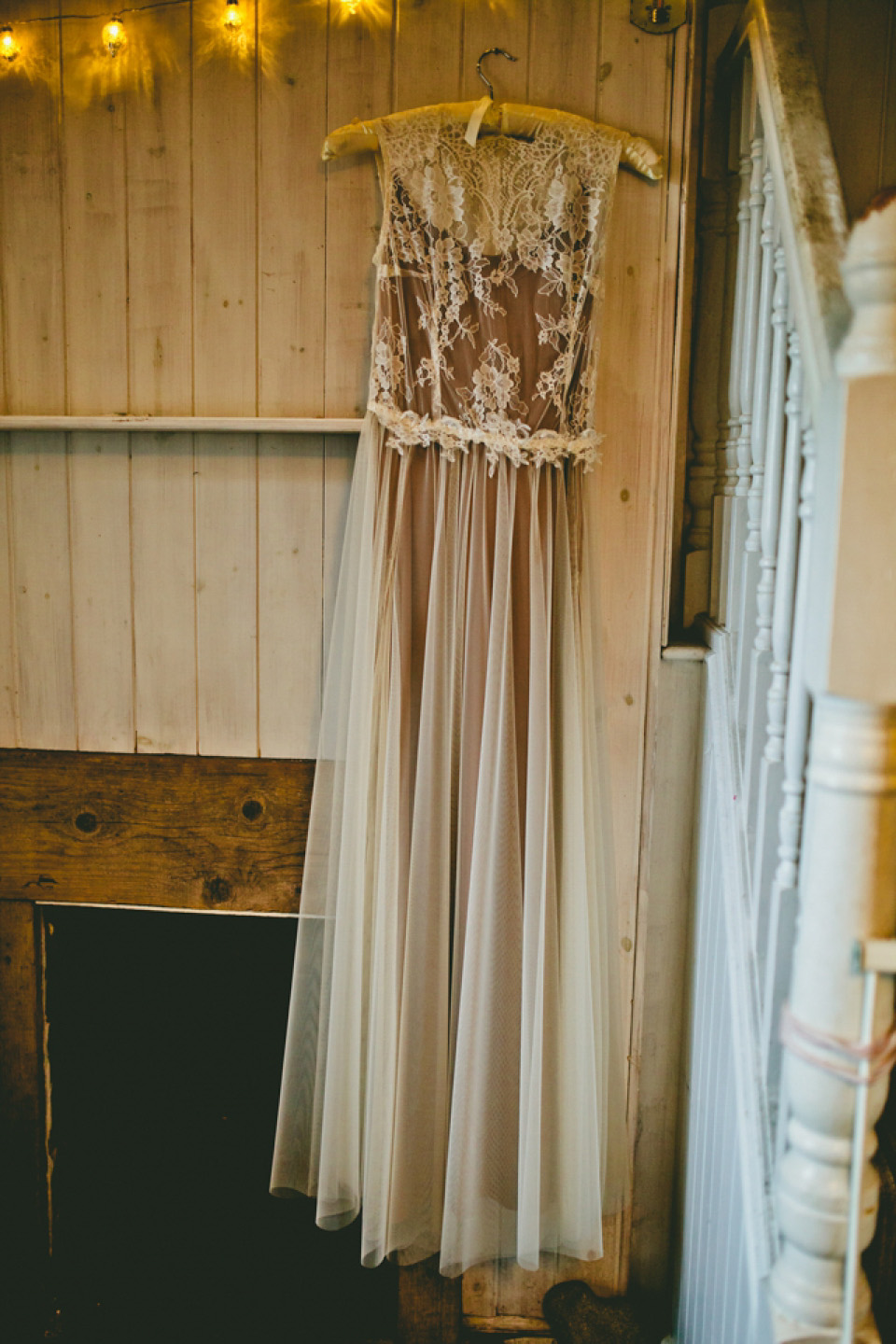 "I made my veil with a tulle fabric from Cloth House in Soho, and used the lace trim from my great grandmas veil, which had a beautiful aged off white colour."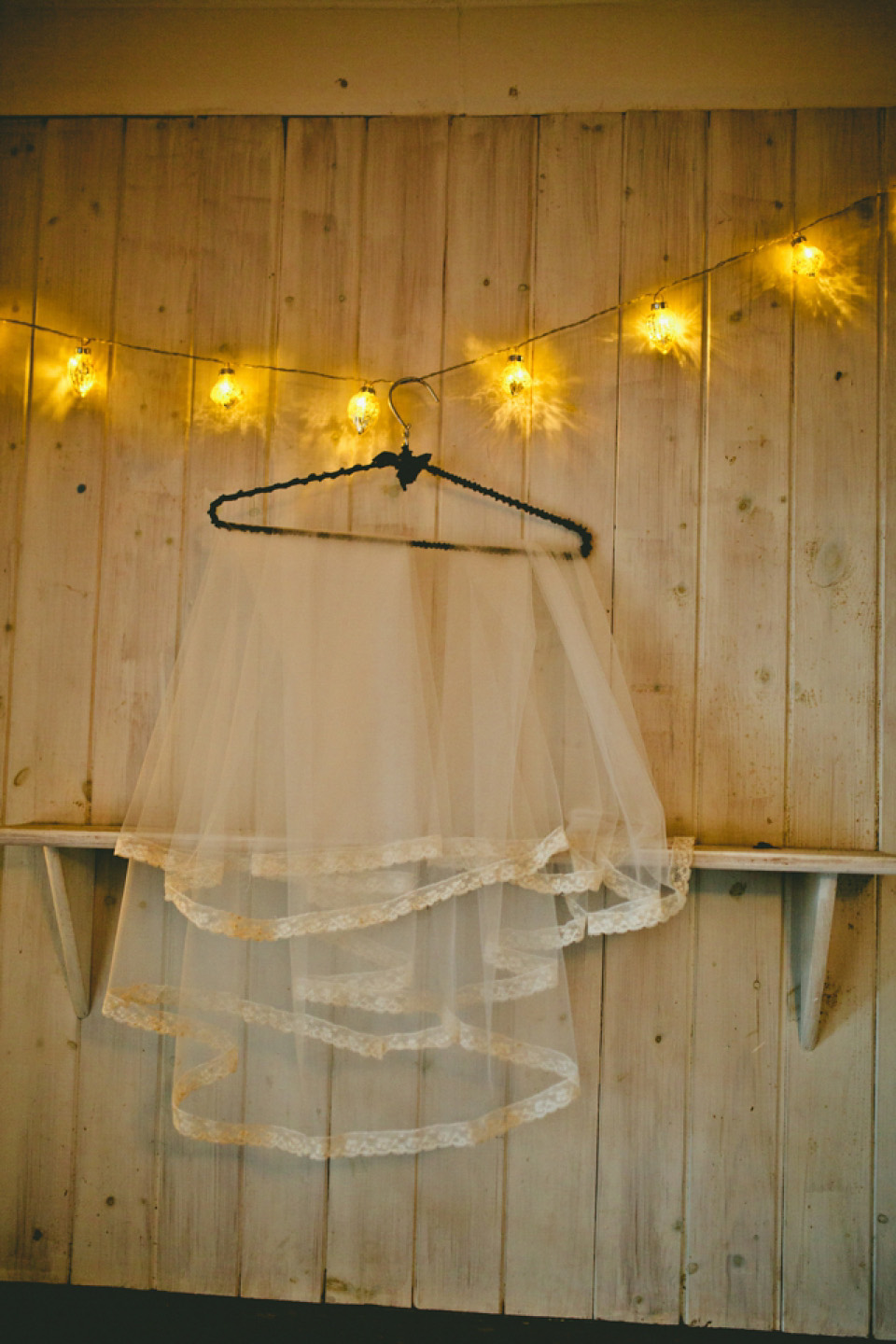 "My Shoes were flats, made by Porselli, I brought them from TOAST."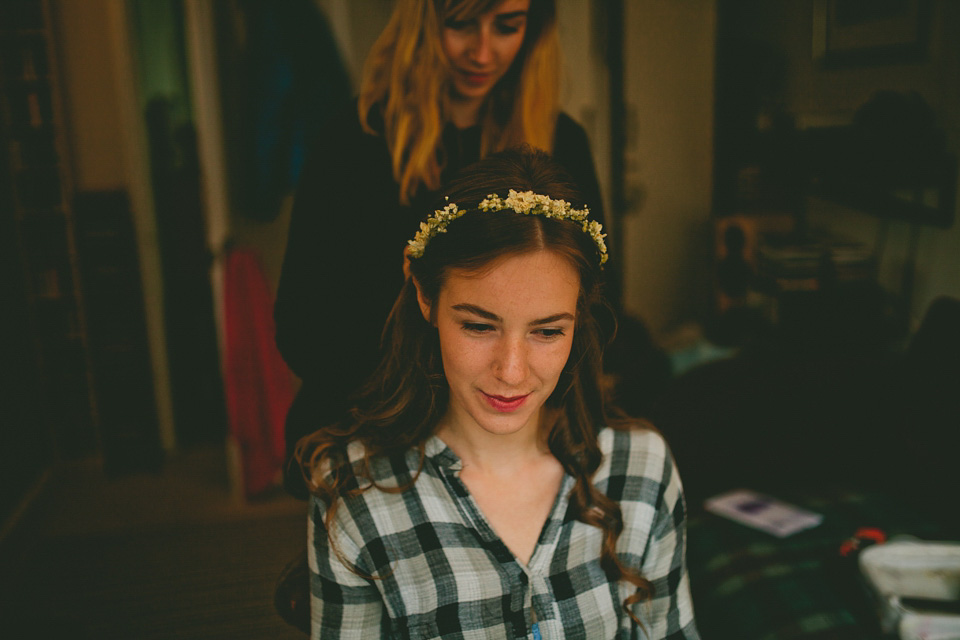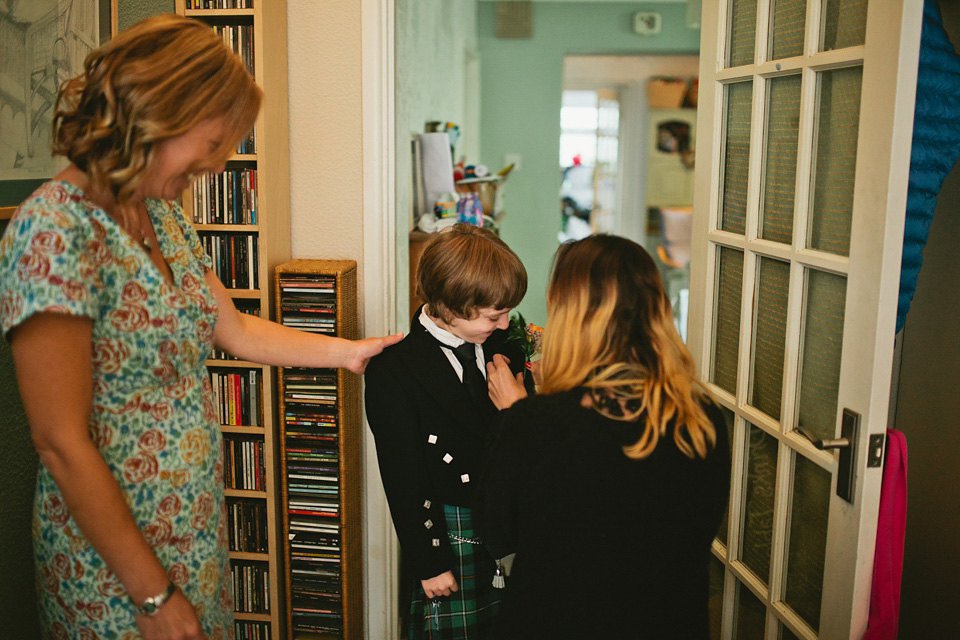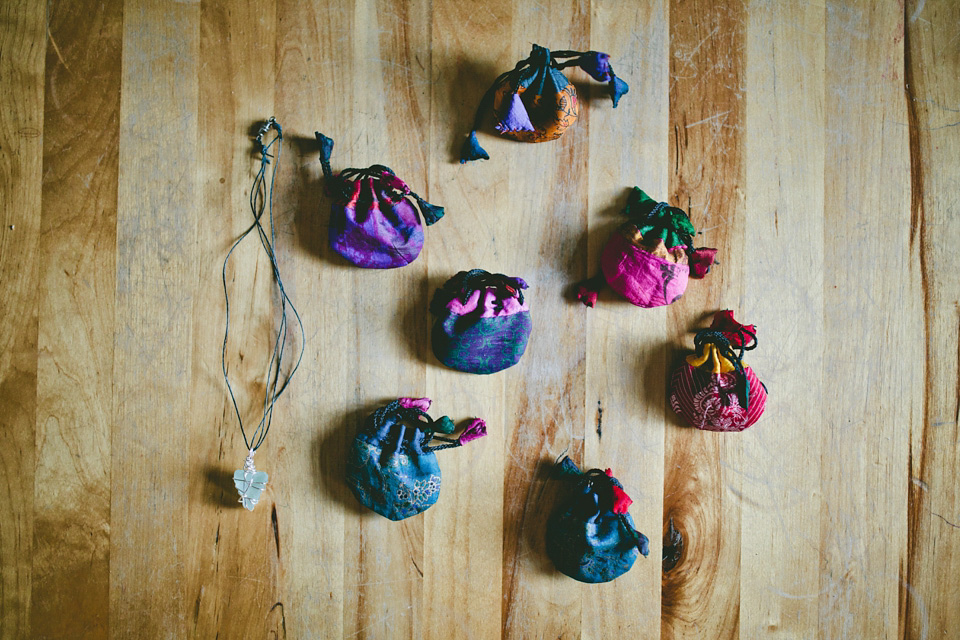 "My mum made the bridesmaids necklaces, from sea glass found on the shore."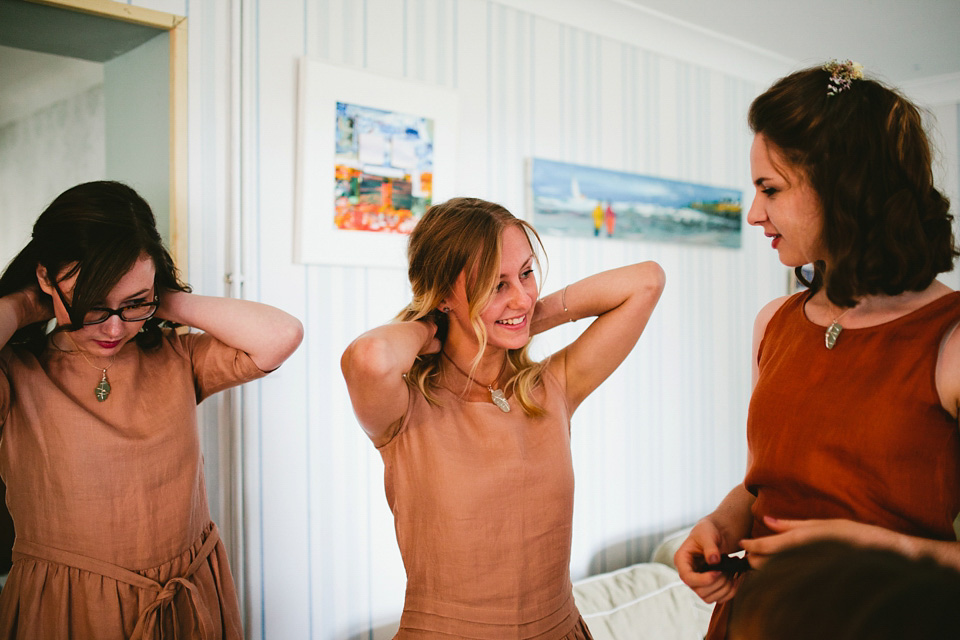 "I had a dried flower garland from Artisan Dried Flowers.  I also wore a pair of my mums earrings made by one of her friends."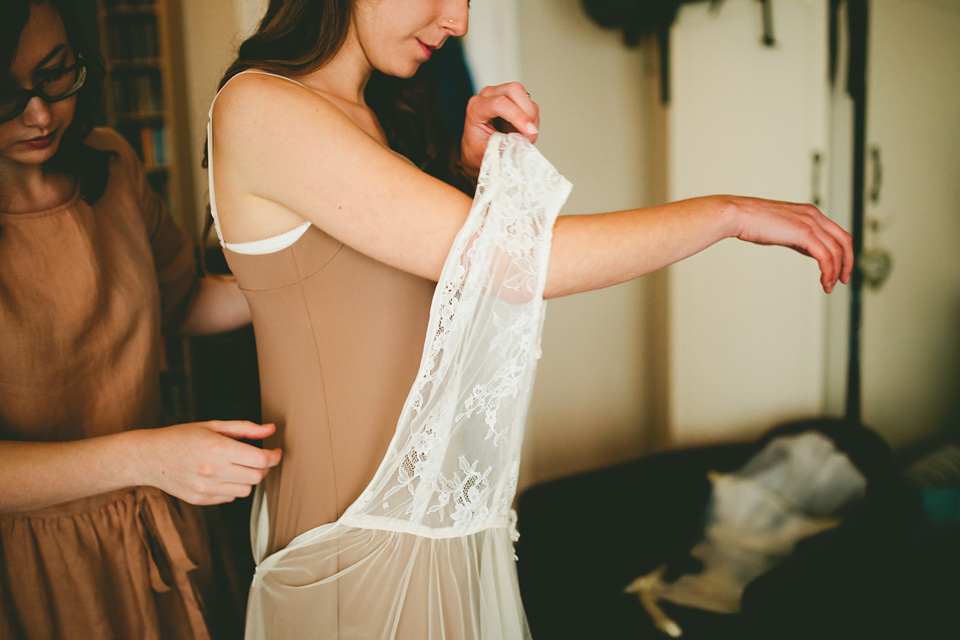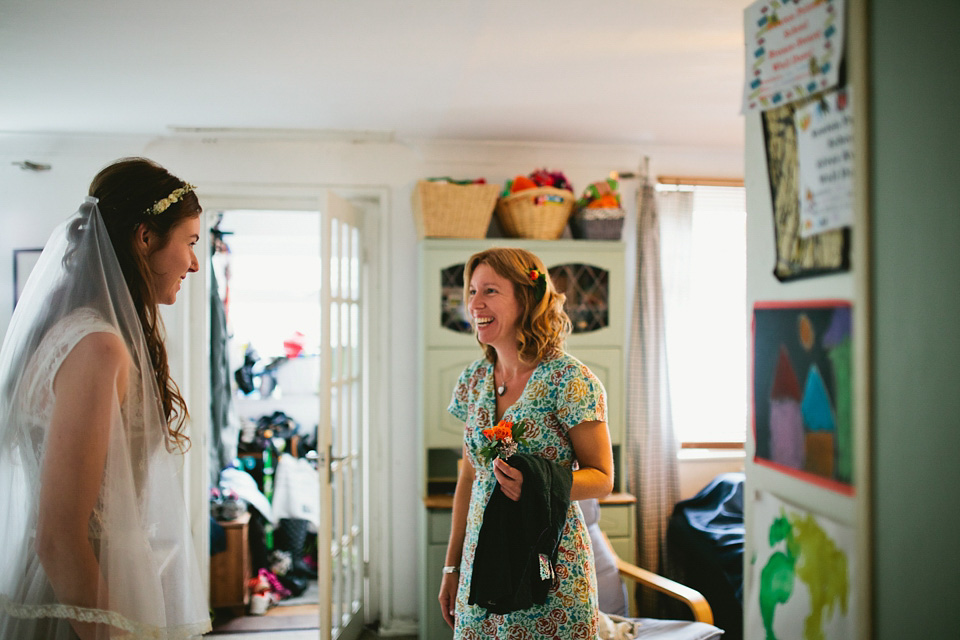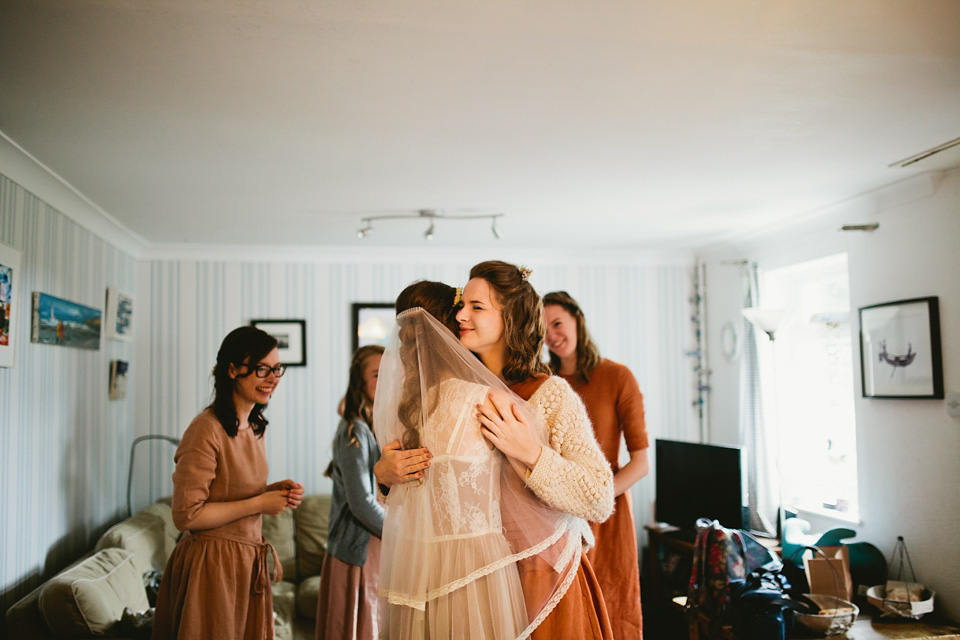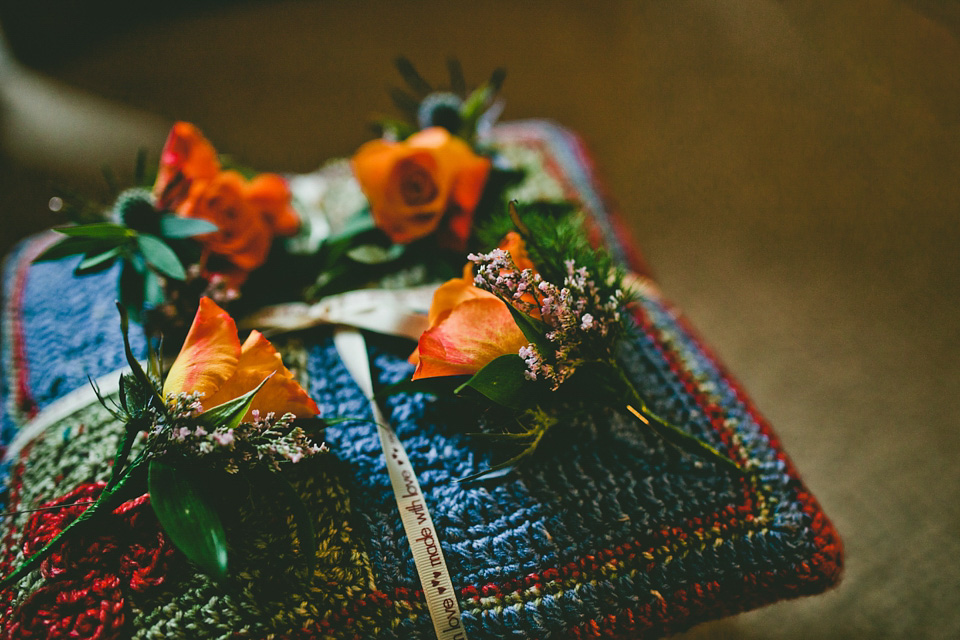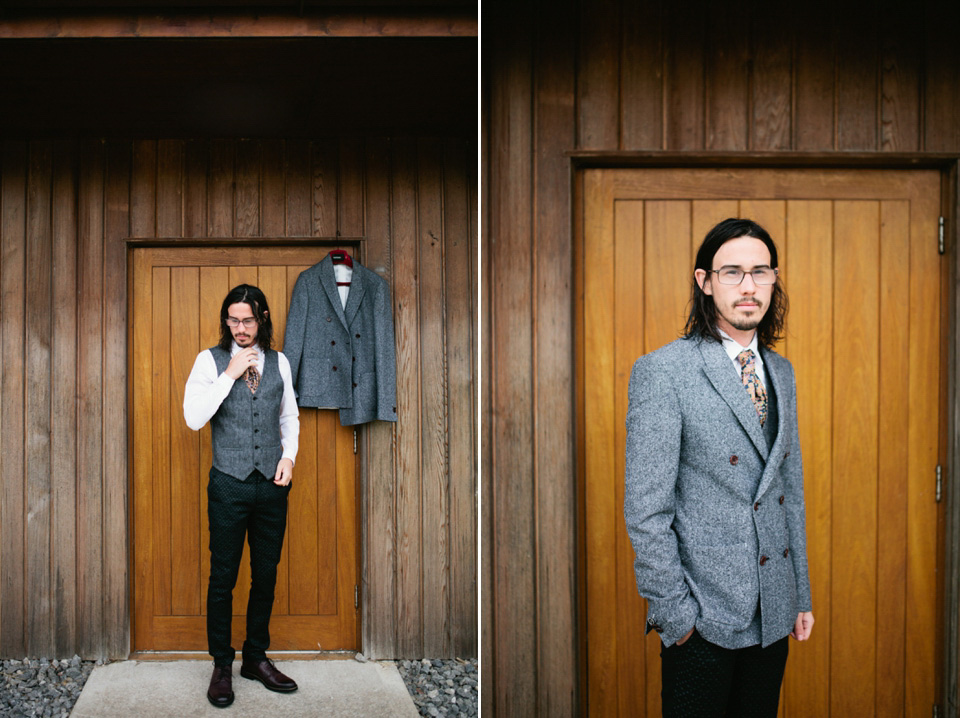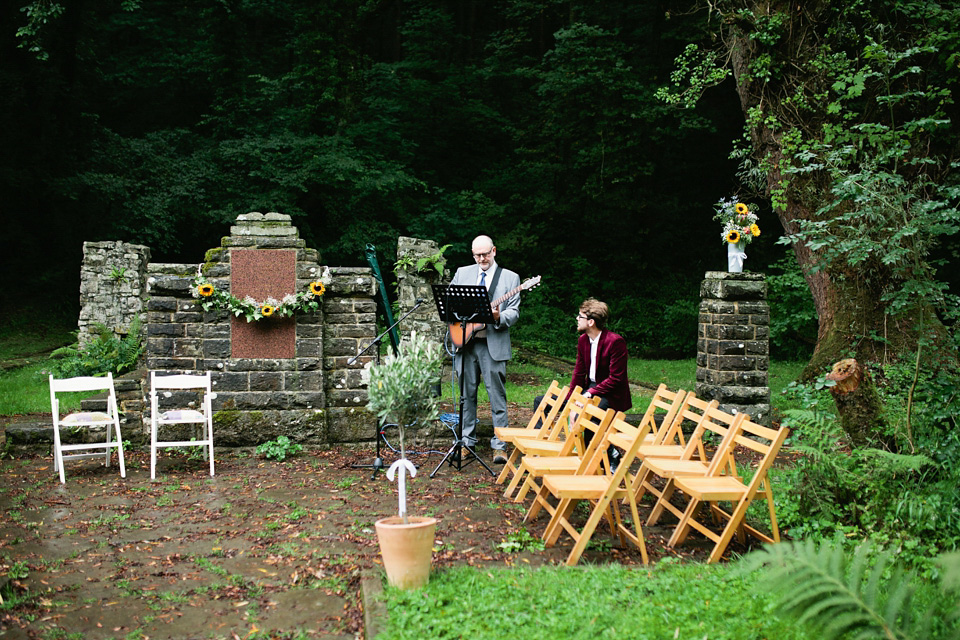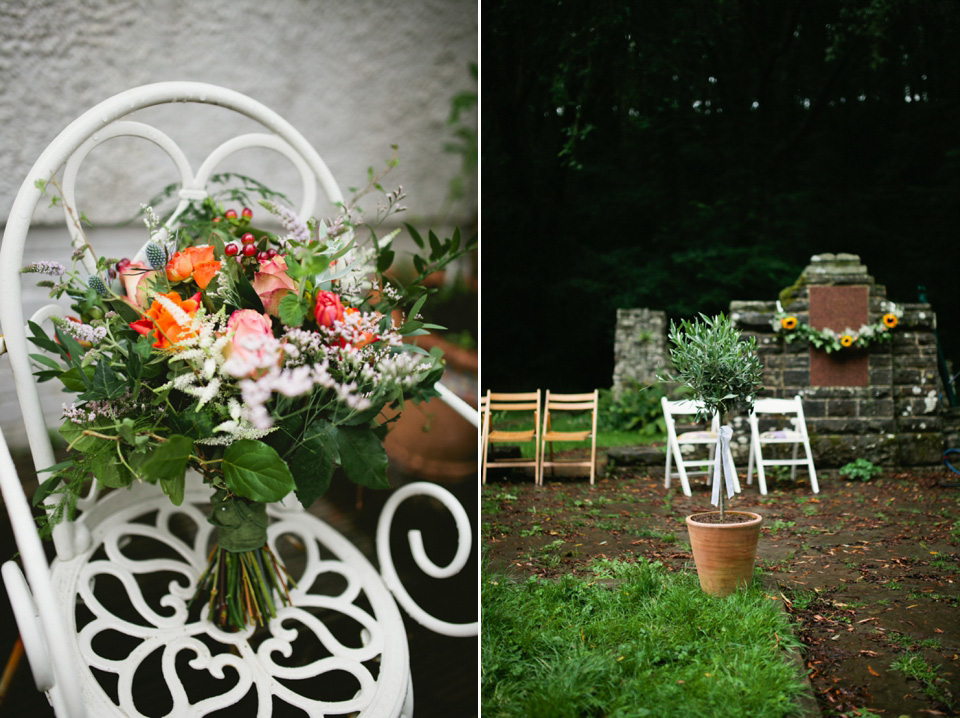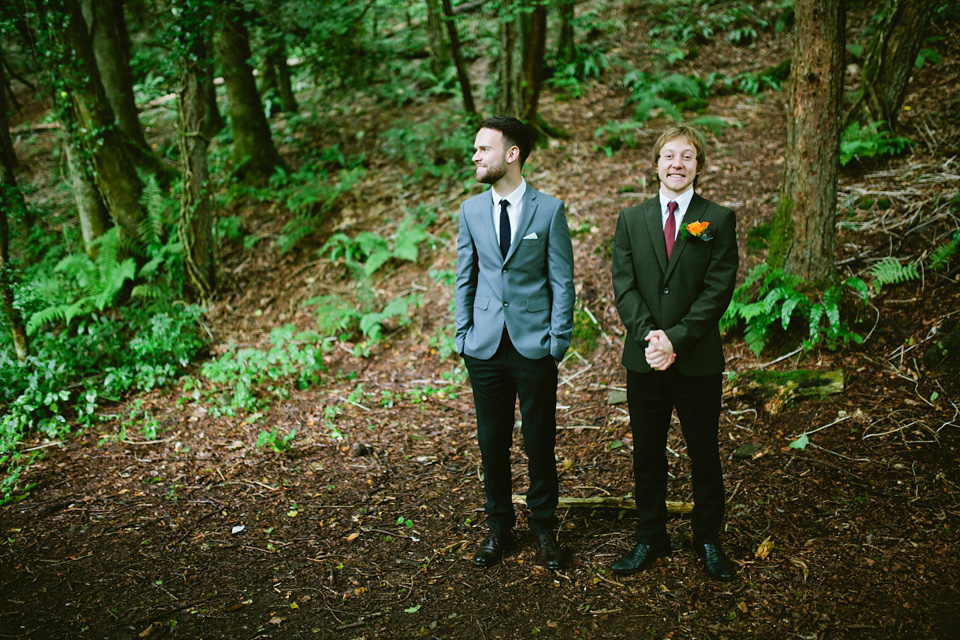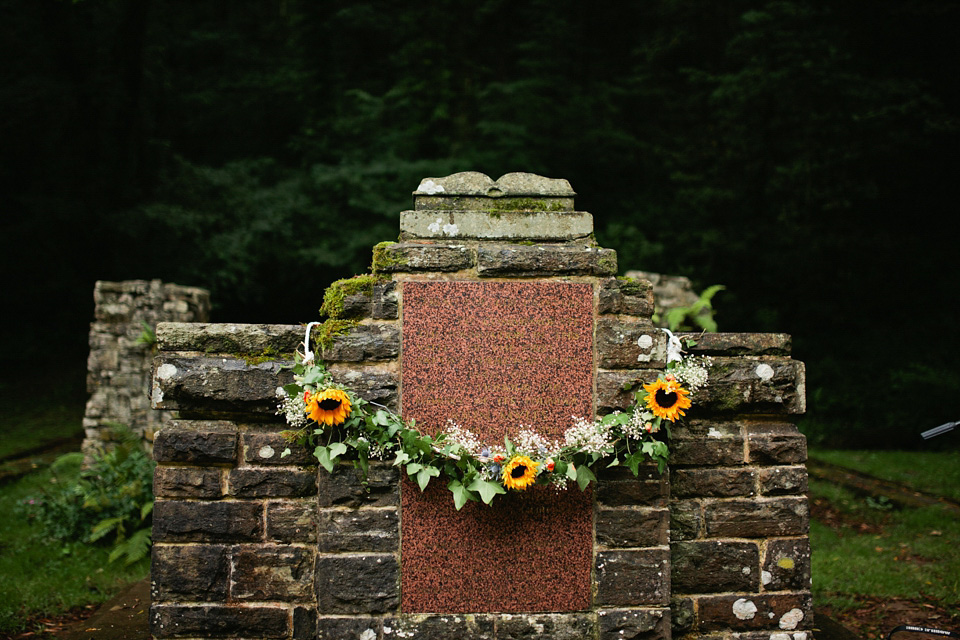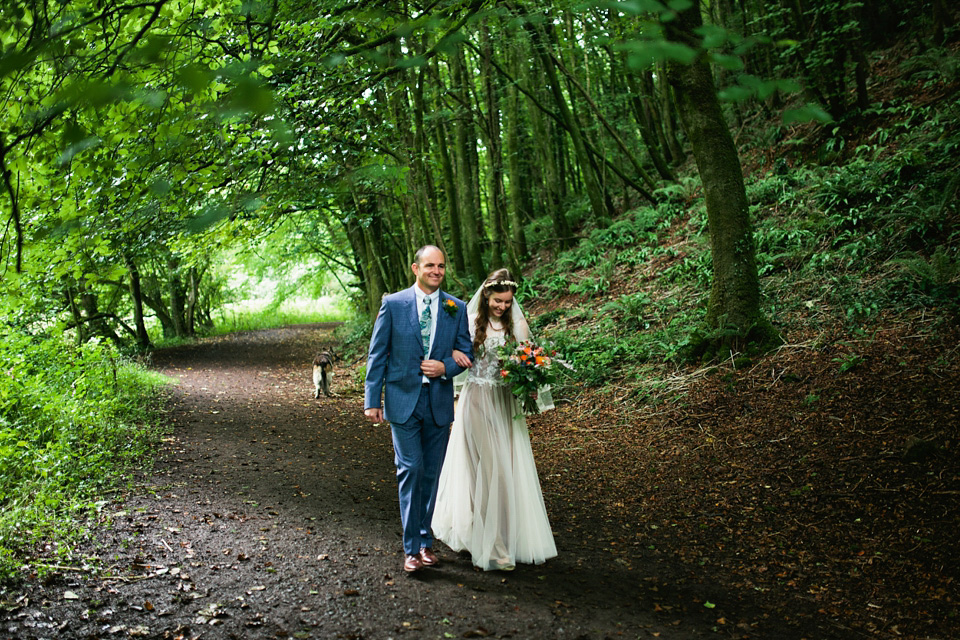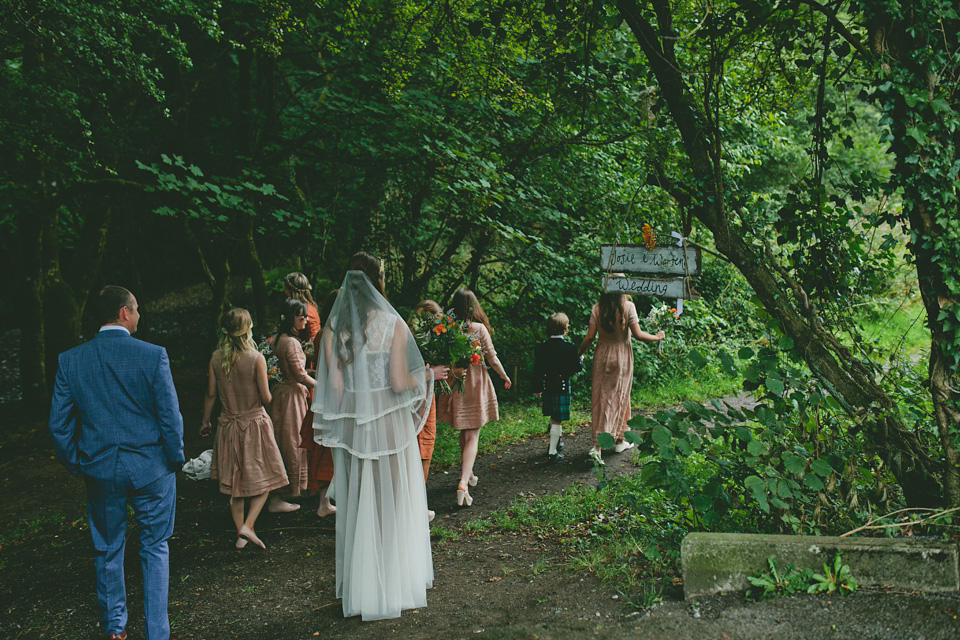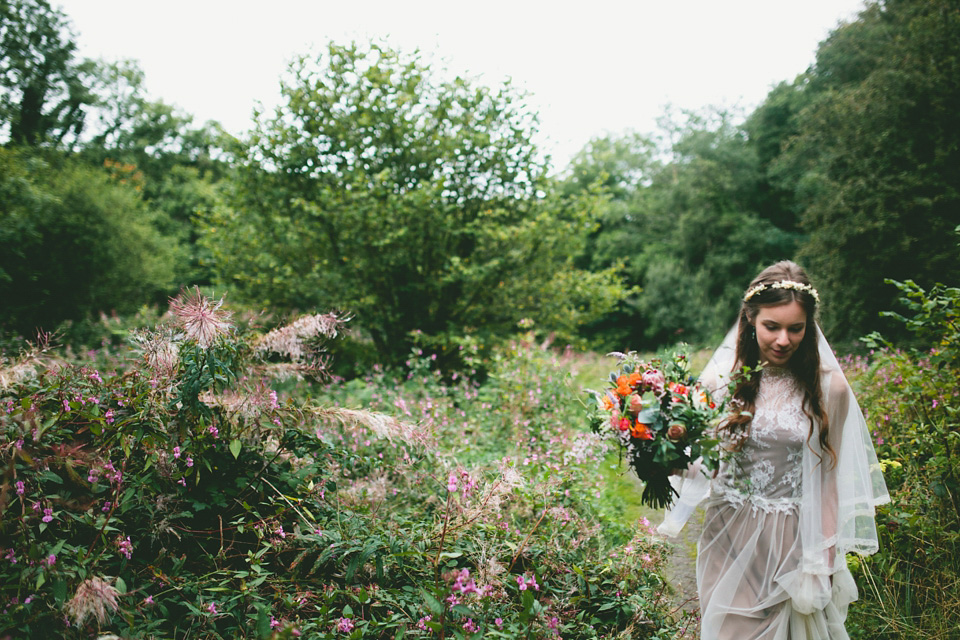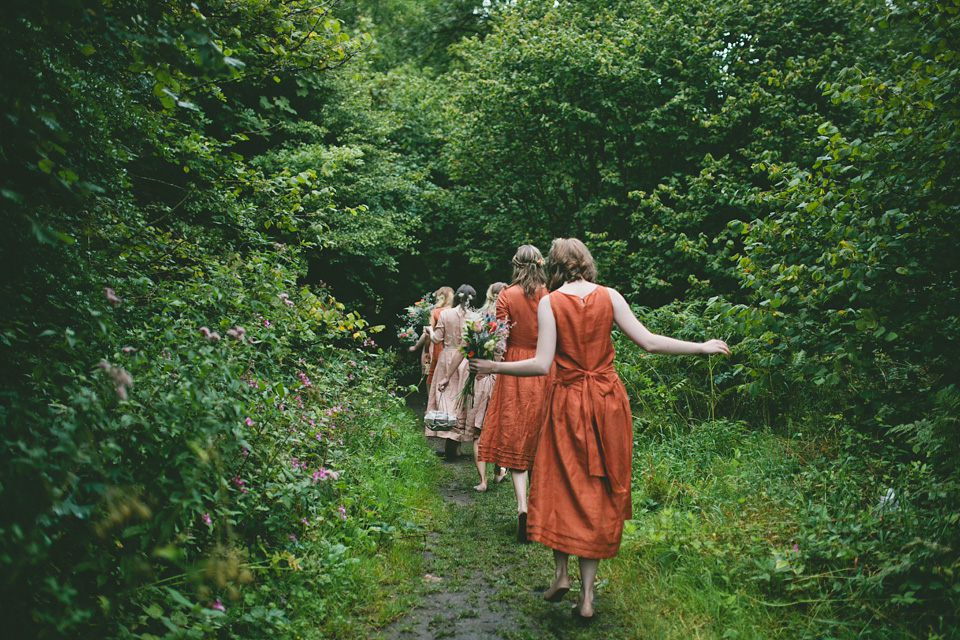 "My favourite part of the day was walking across the bridge and seeing all our favourite people gathered in one place, and then looking down the aisle and seeing Warren. I loved the service and sharing our vows it was an incredible time, a collision of our visions and dreams."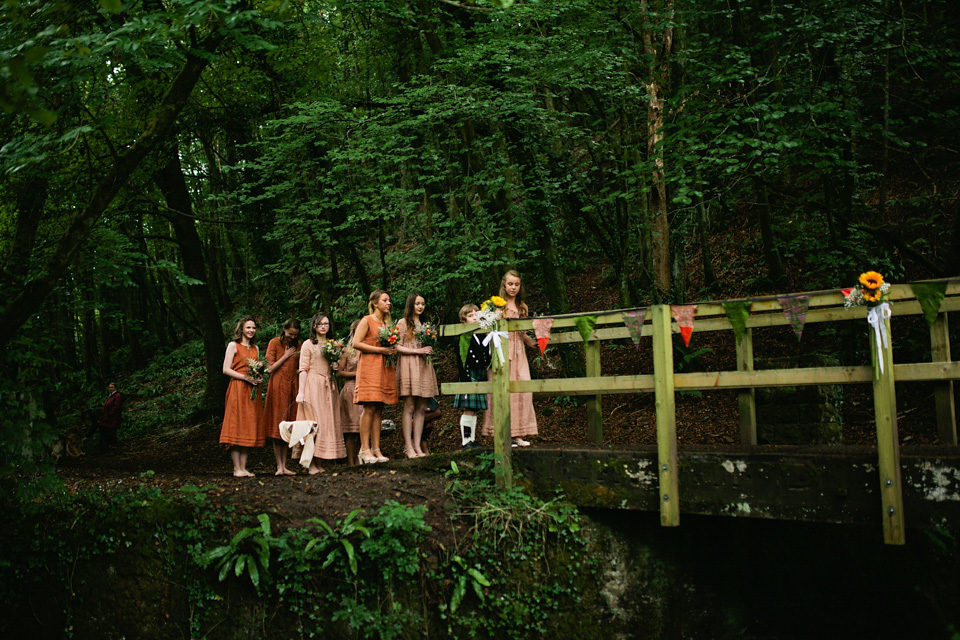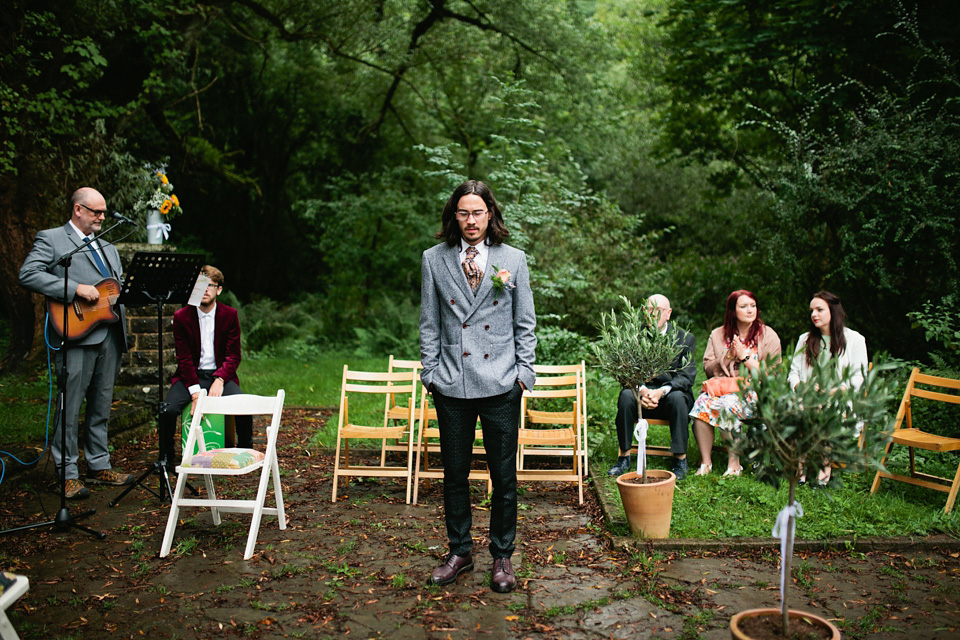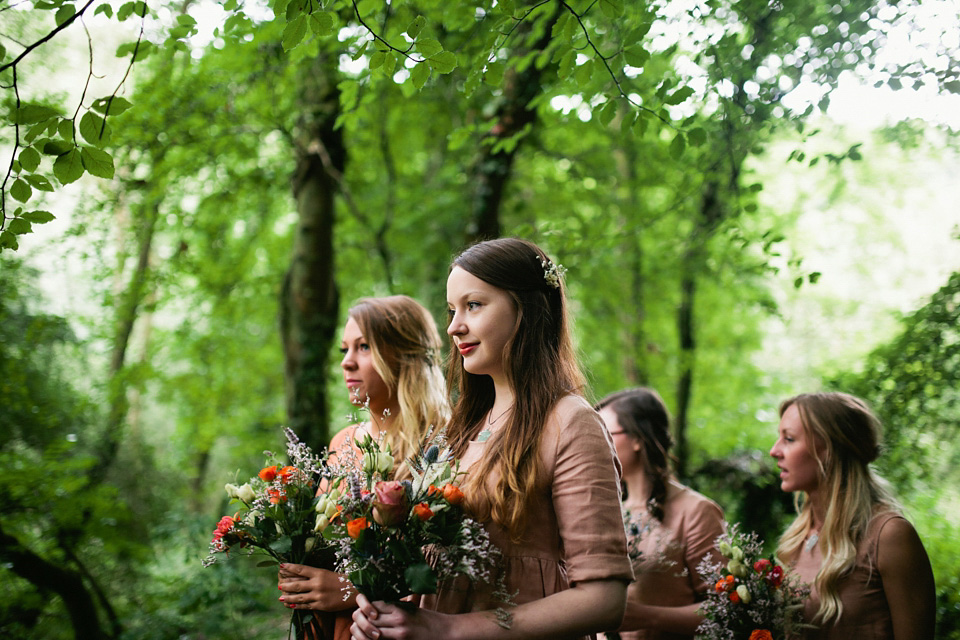 "My dad 'gave me away' and a very talented friend of mine wrote and sang the song acapella for my entrance – it was a truly special moment."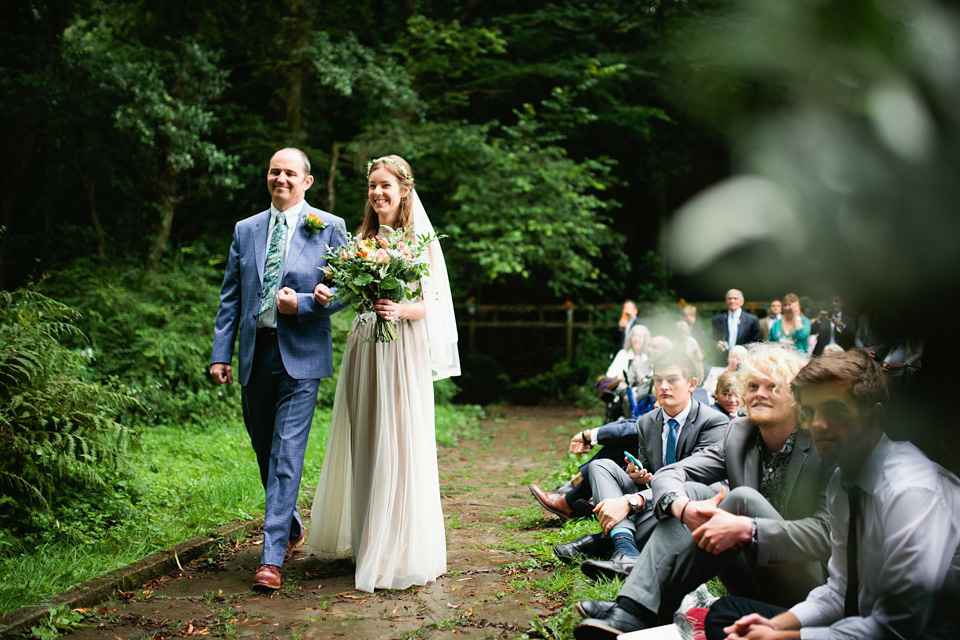 "We wrote our own vows, it was really personal and intimate.  We also had two readings from the bible one from Song of Songs; 'Place me like a seal over your heart, like a seal on your arm; for love is as strong as death, it's jealousy unyielding as the grave. It burns like blazing fire, like a mighty flame. Many waters cannot quench love; rivers cannot wash it away.'  It carries a beautiful strong message about the passion, power and depth of love."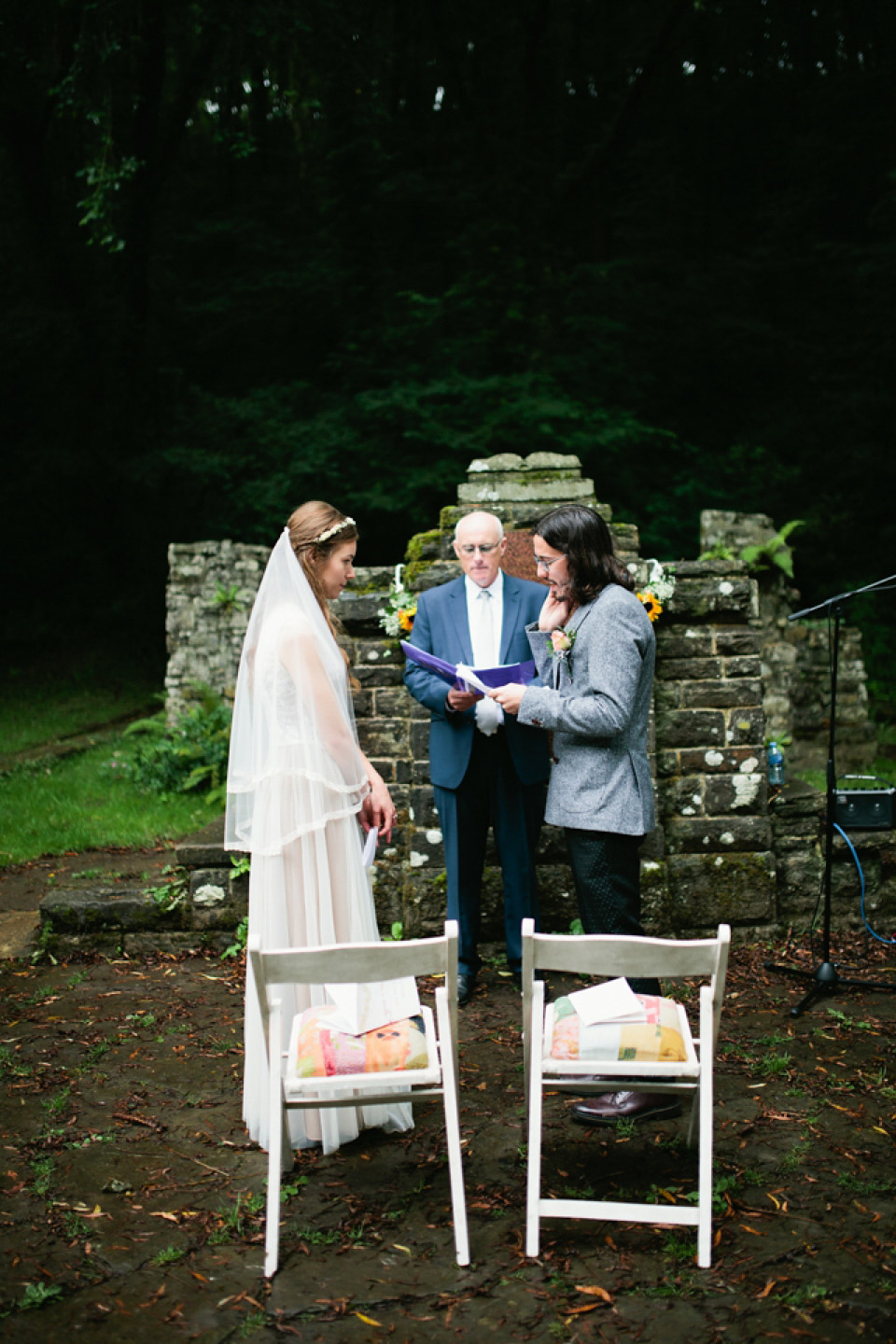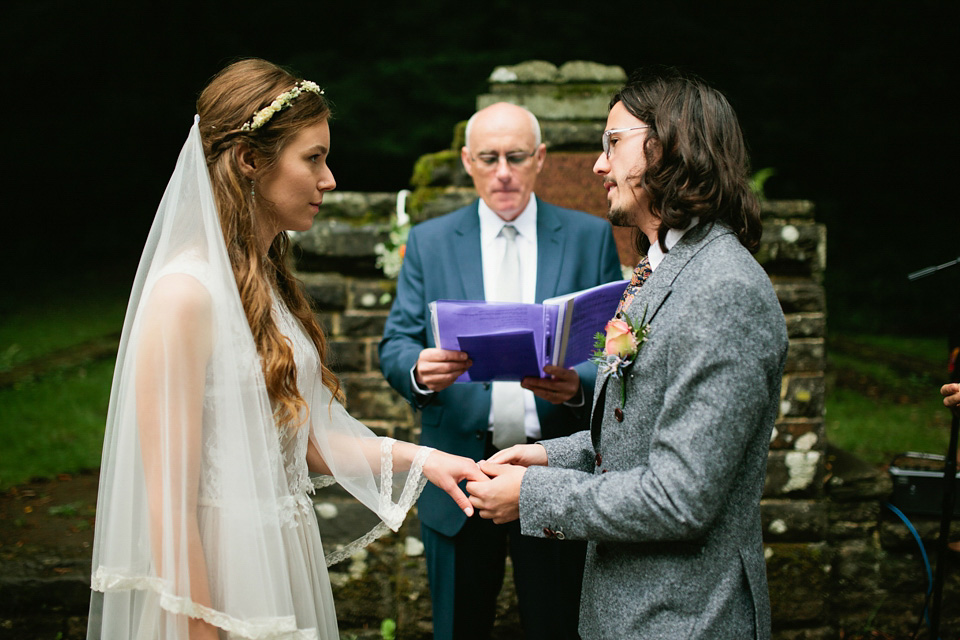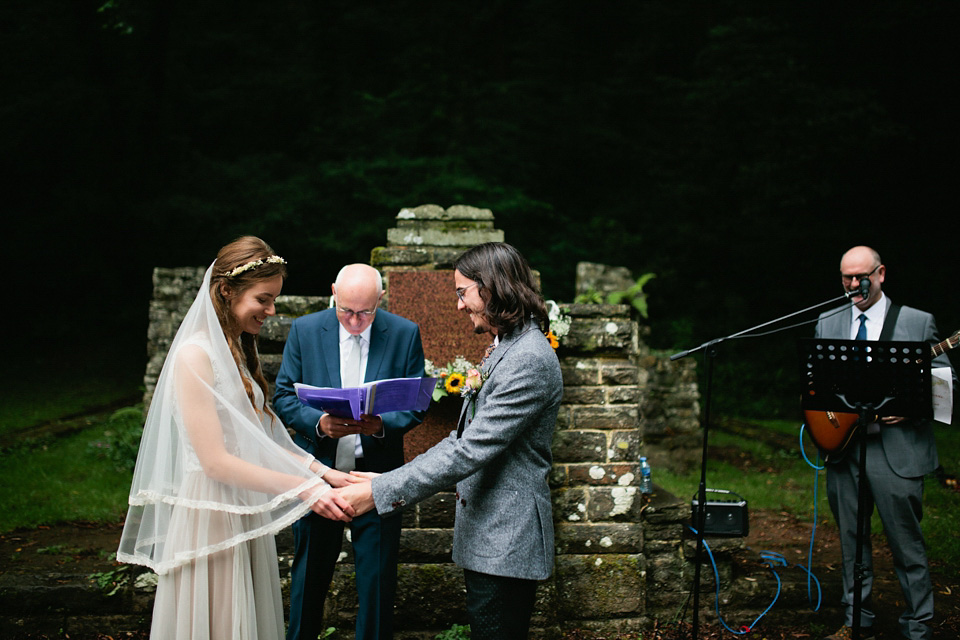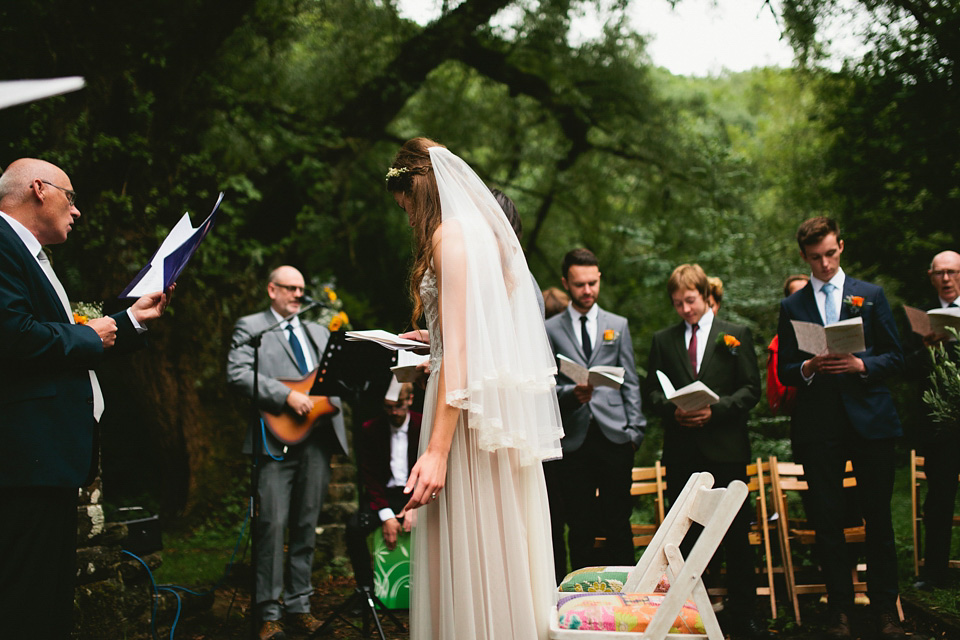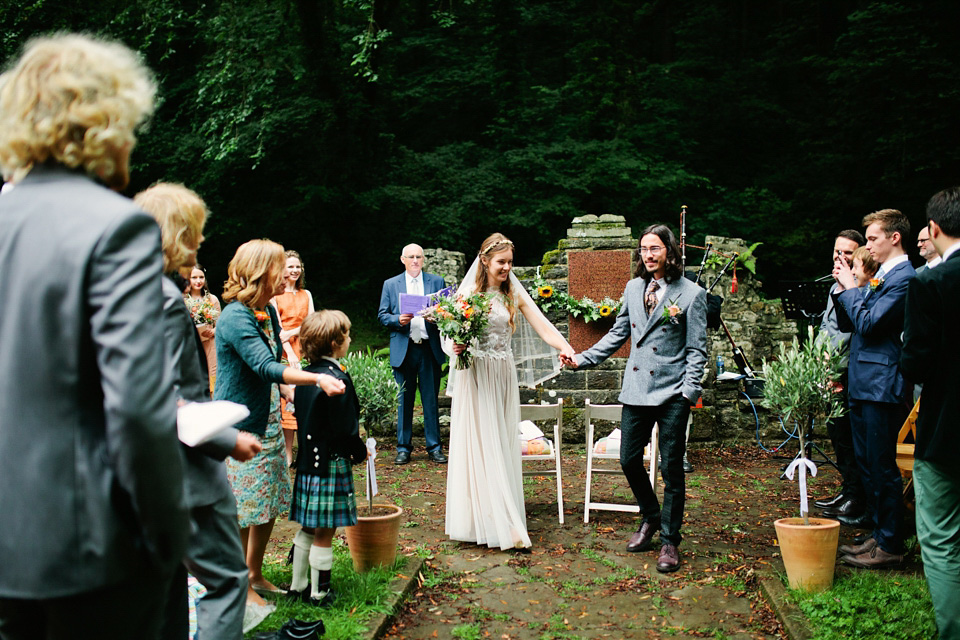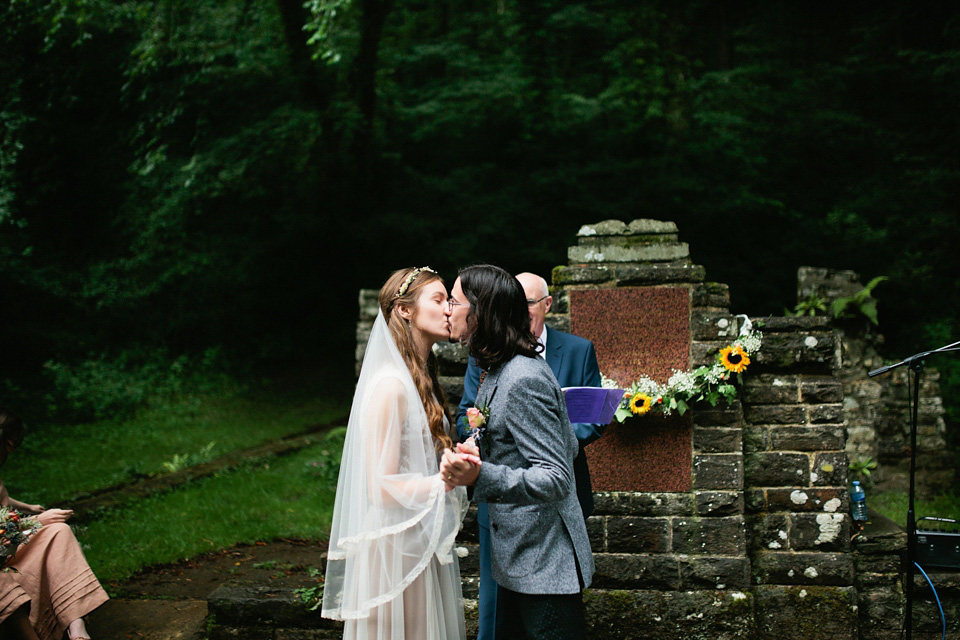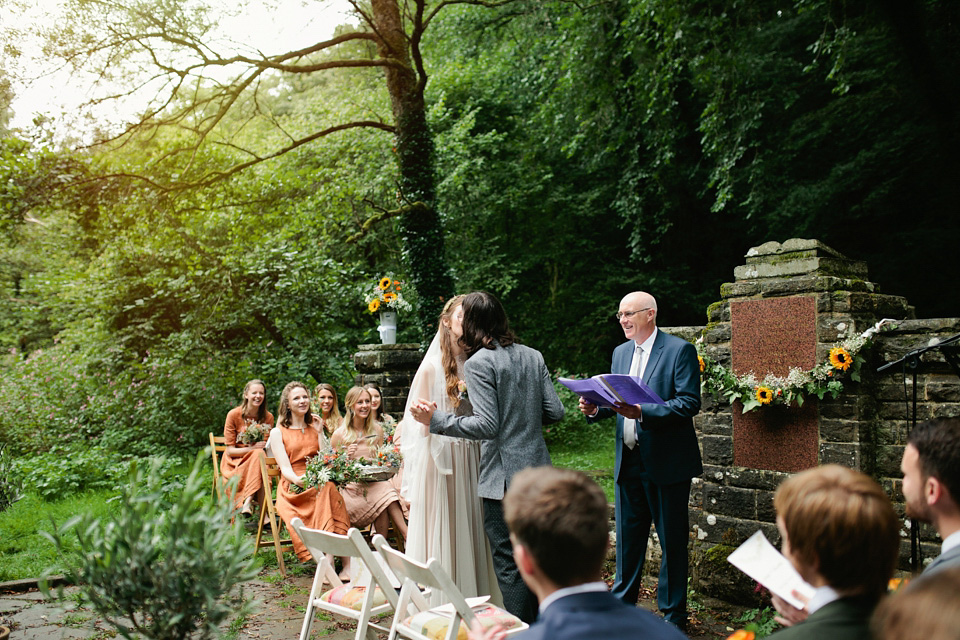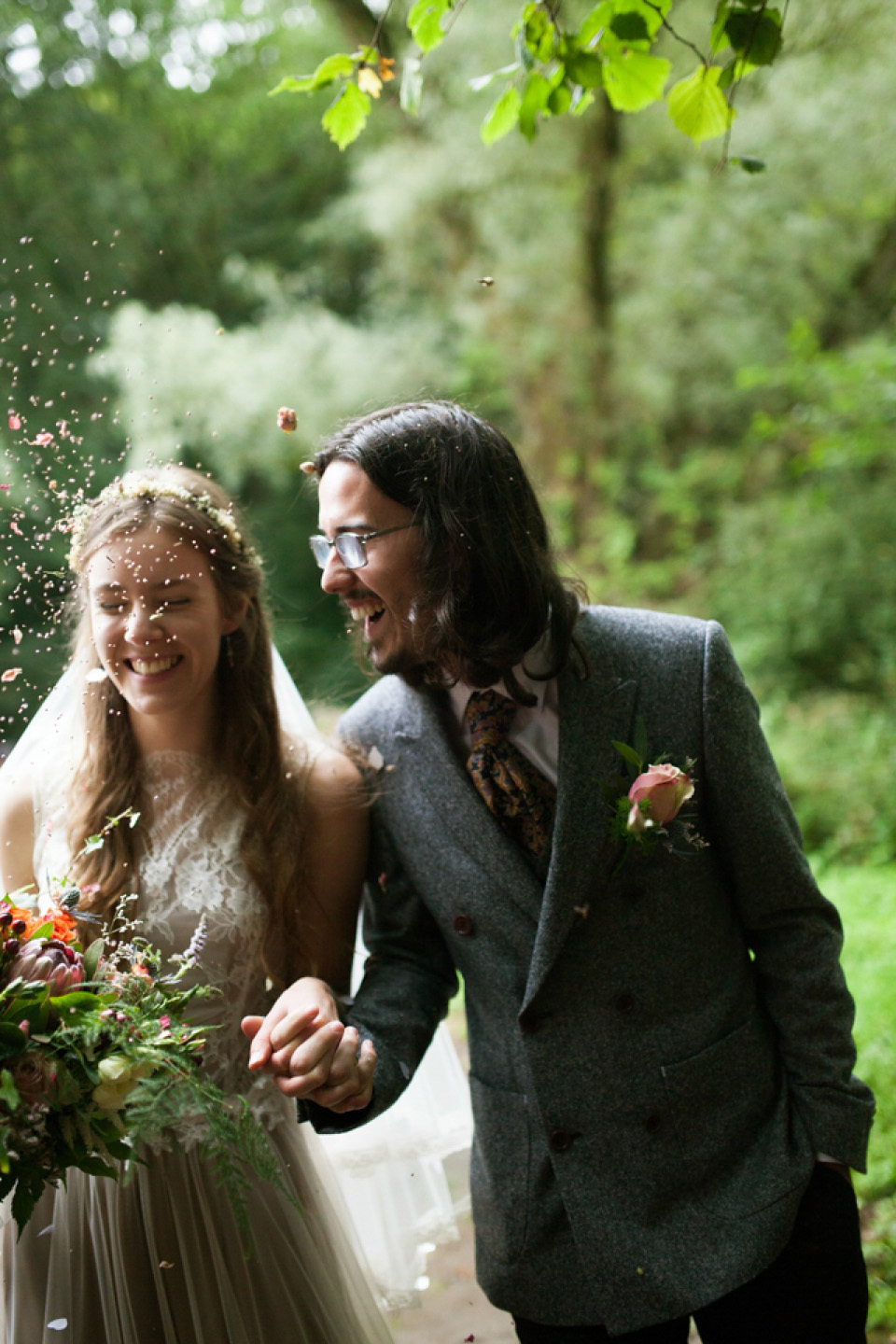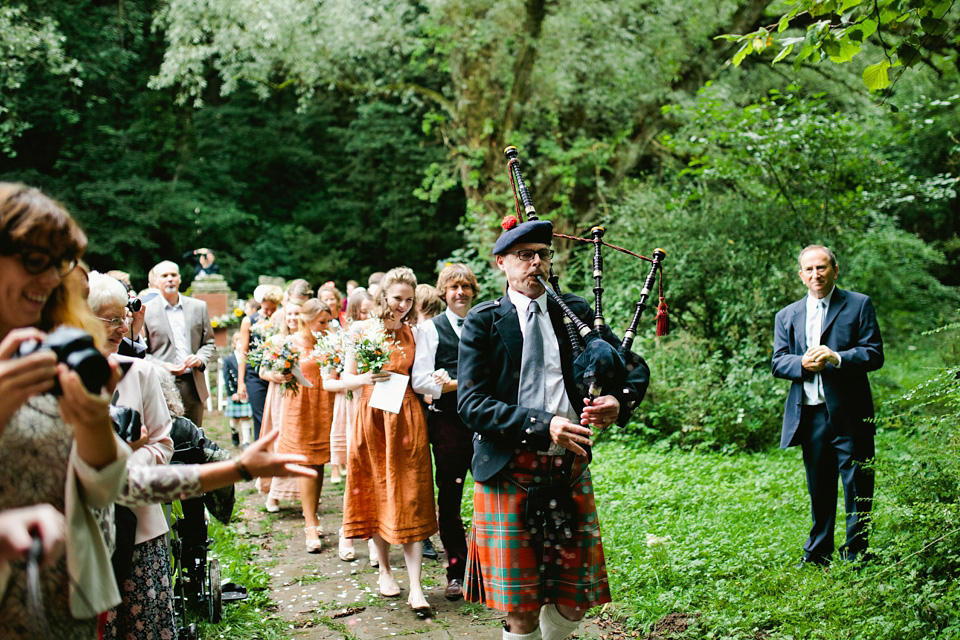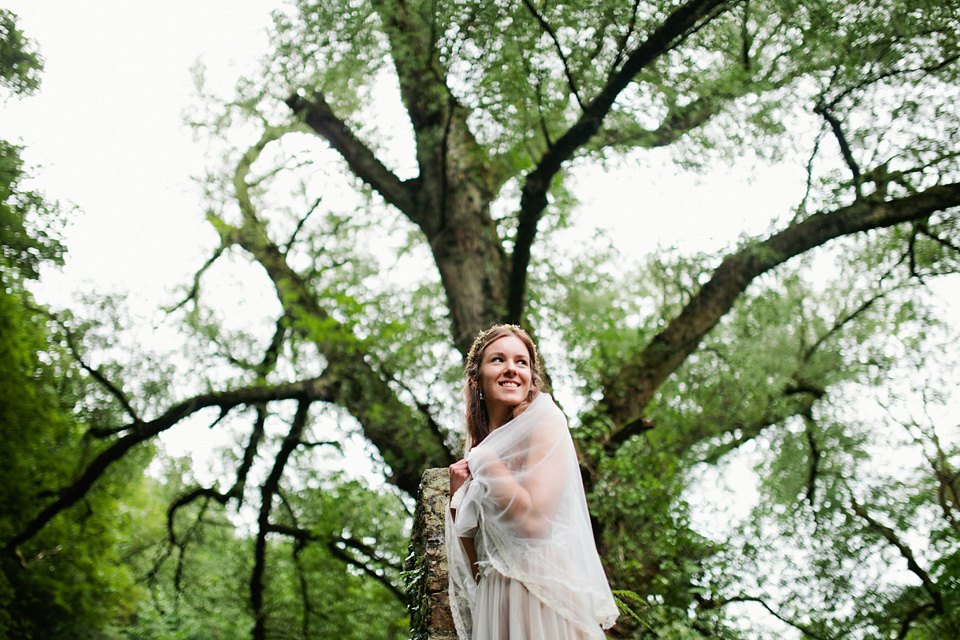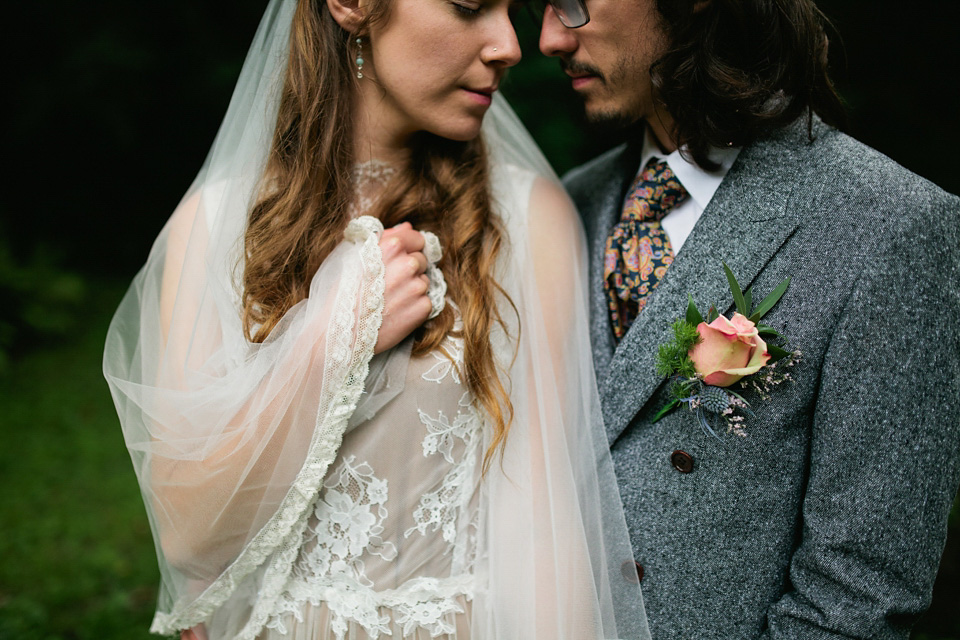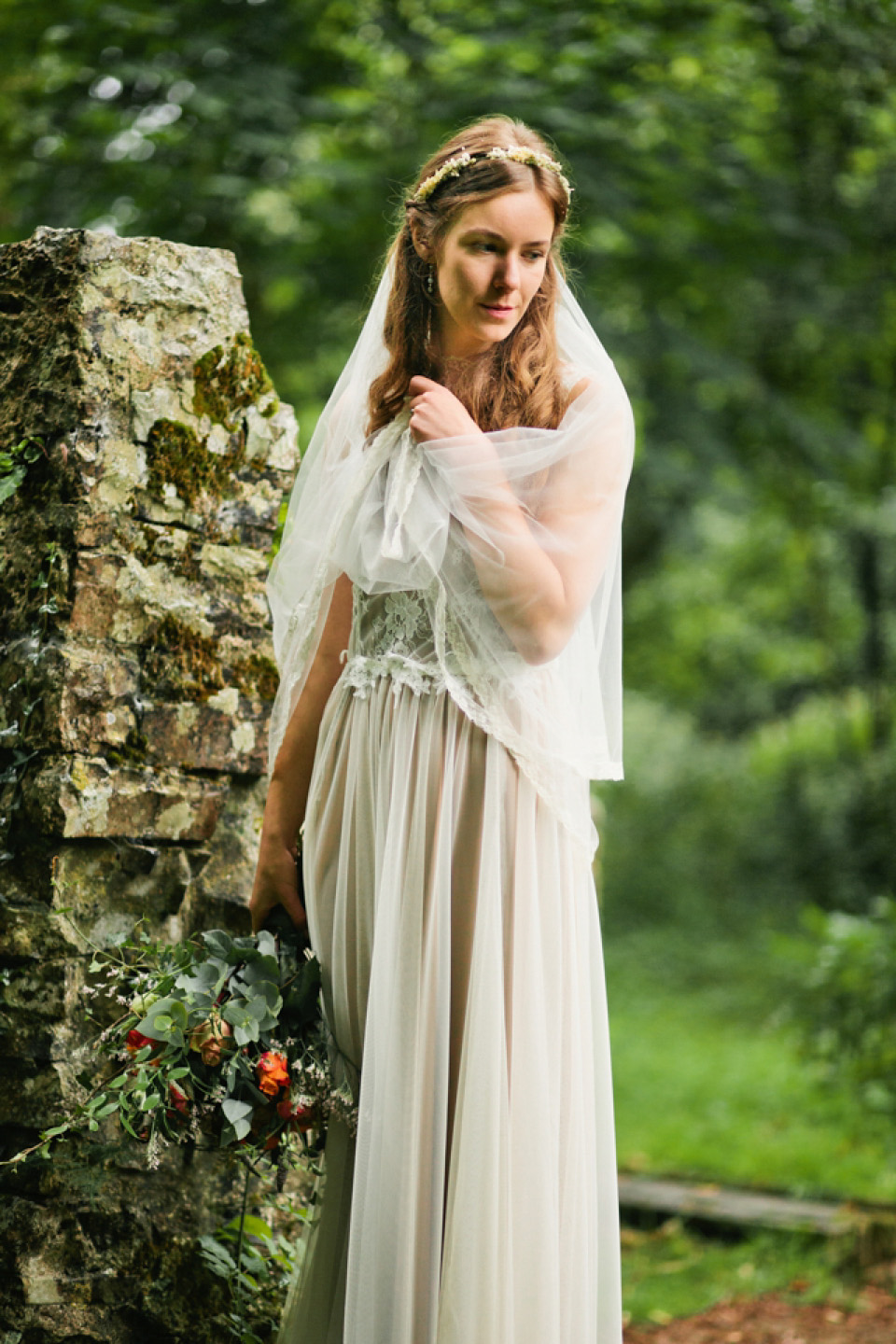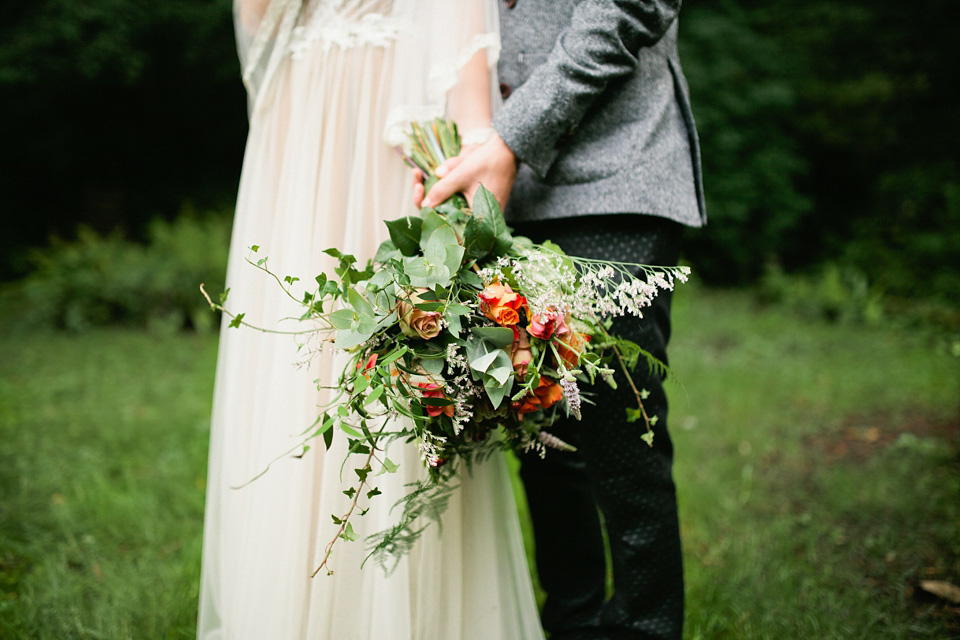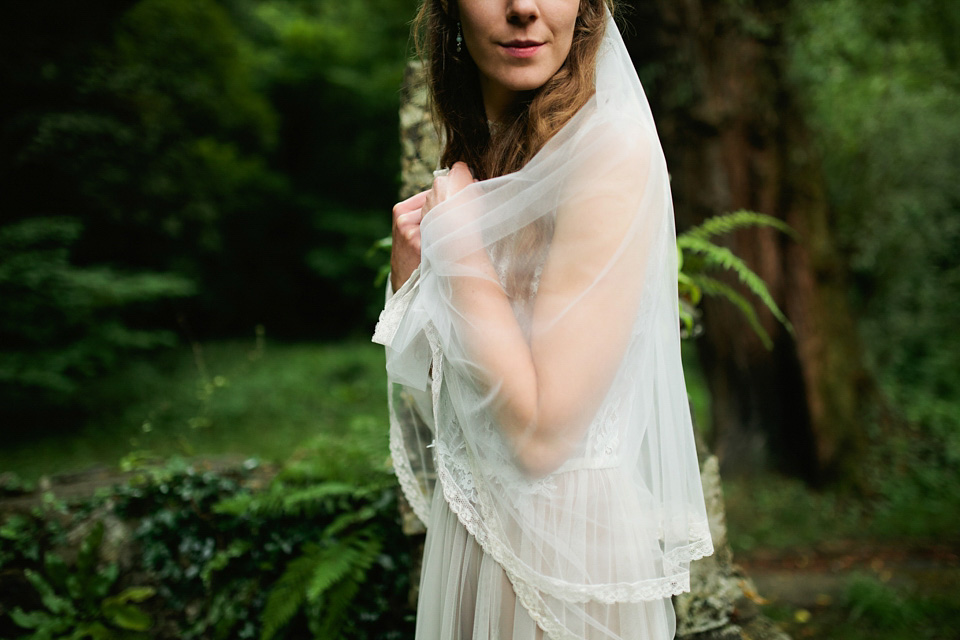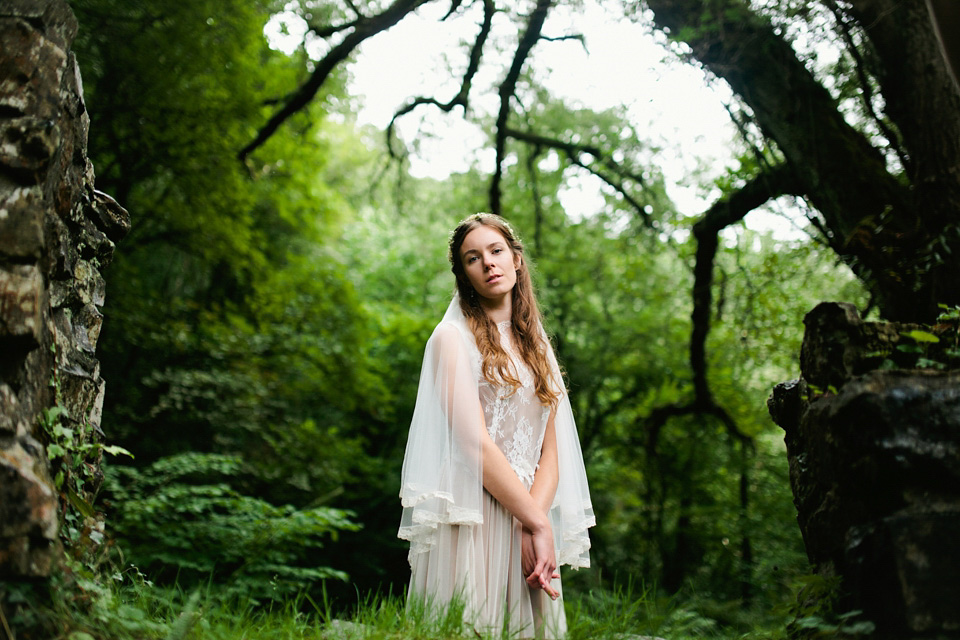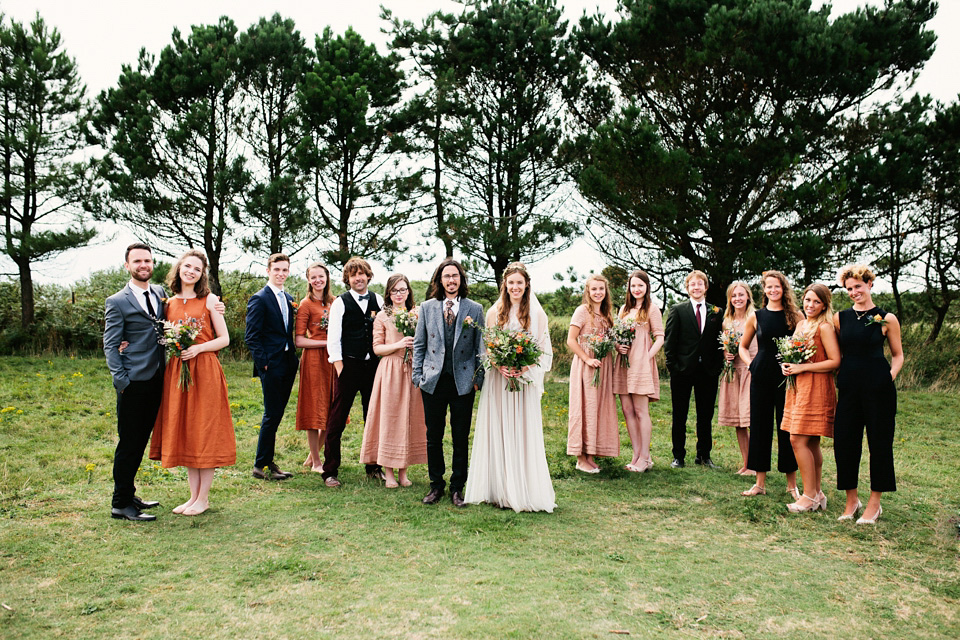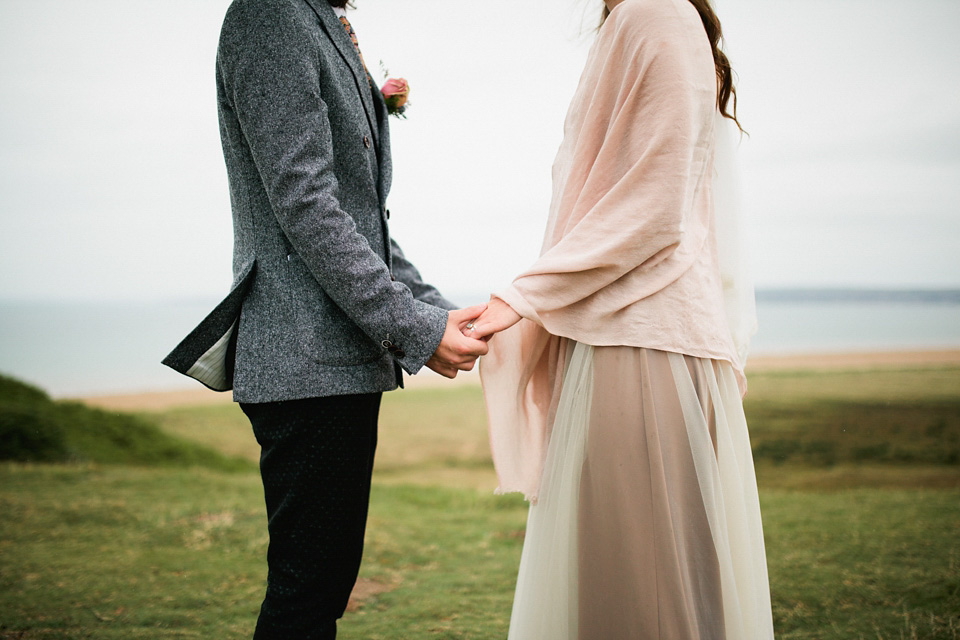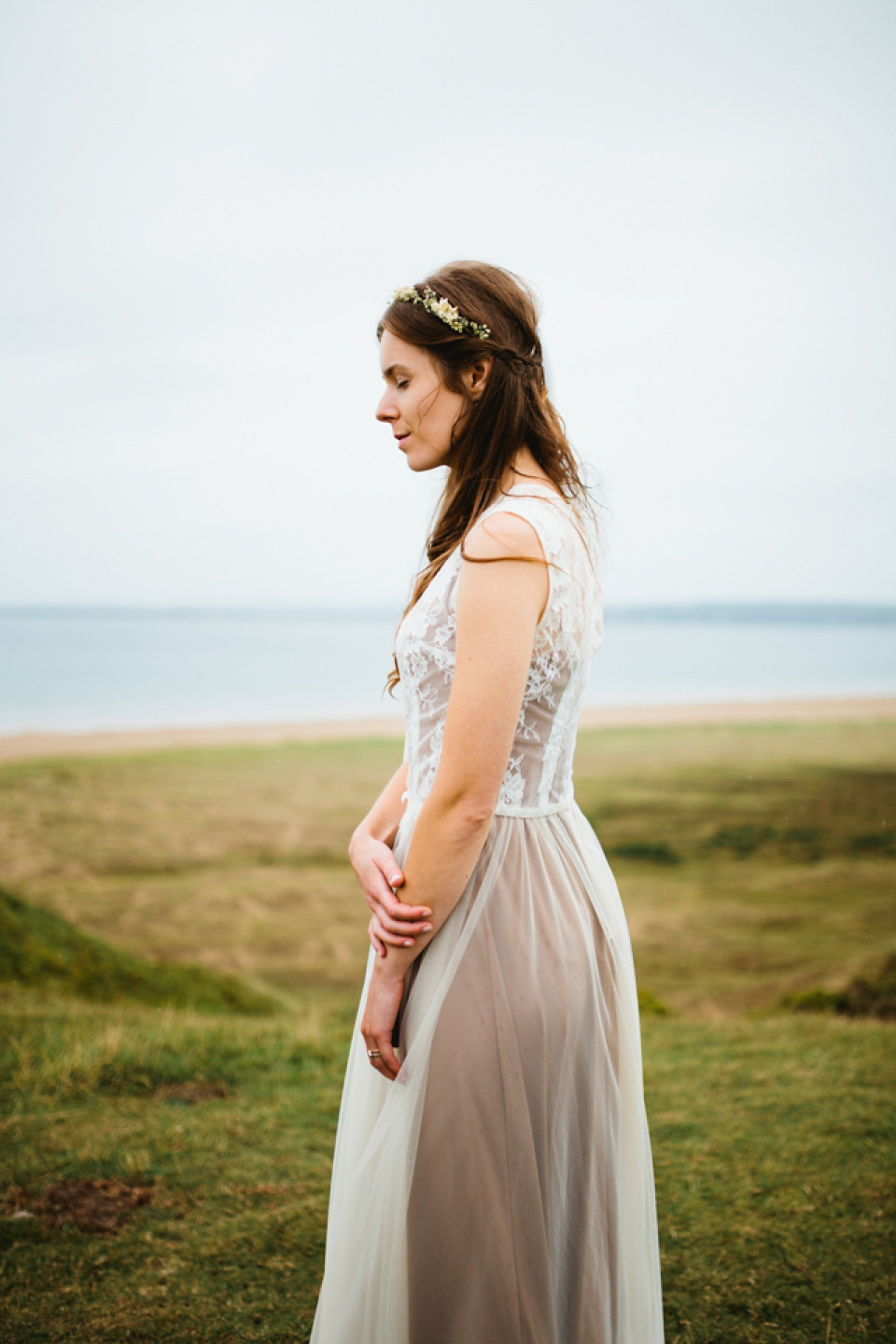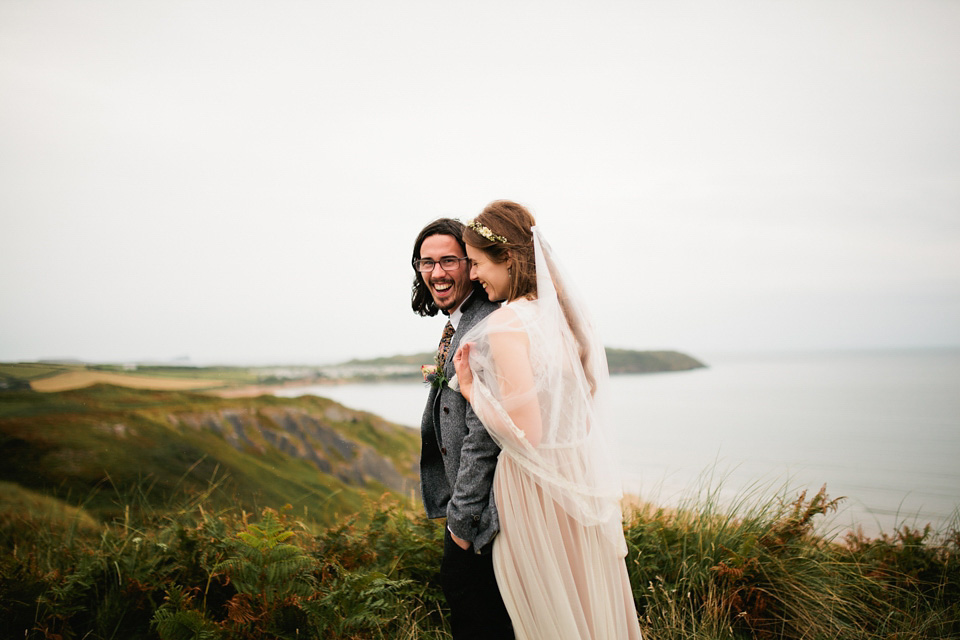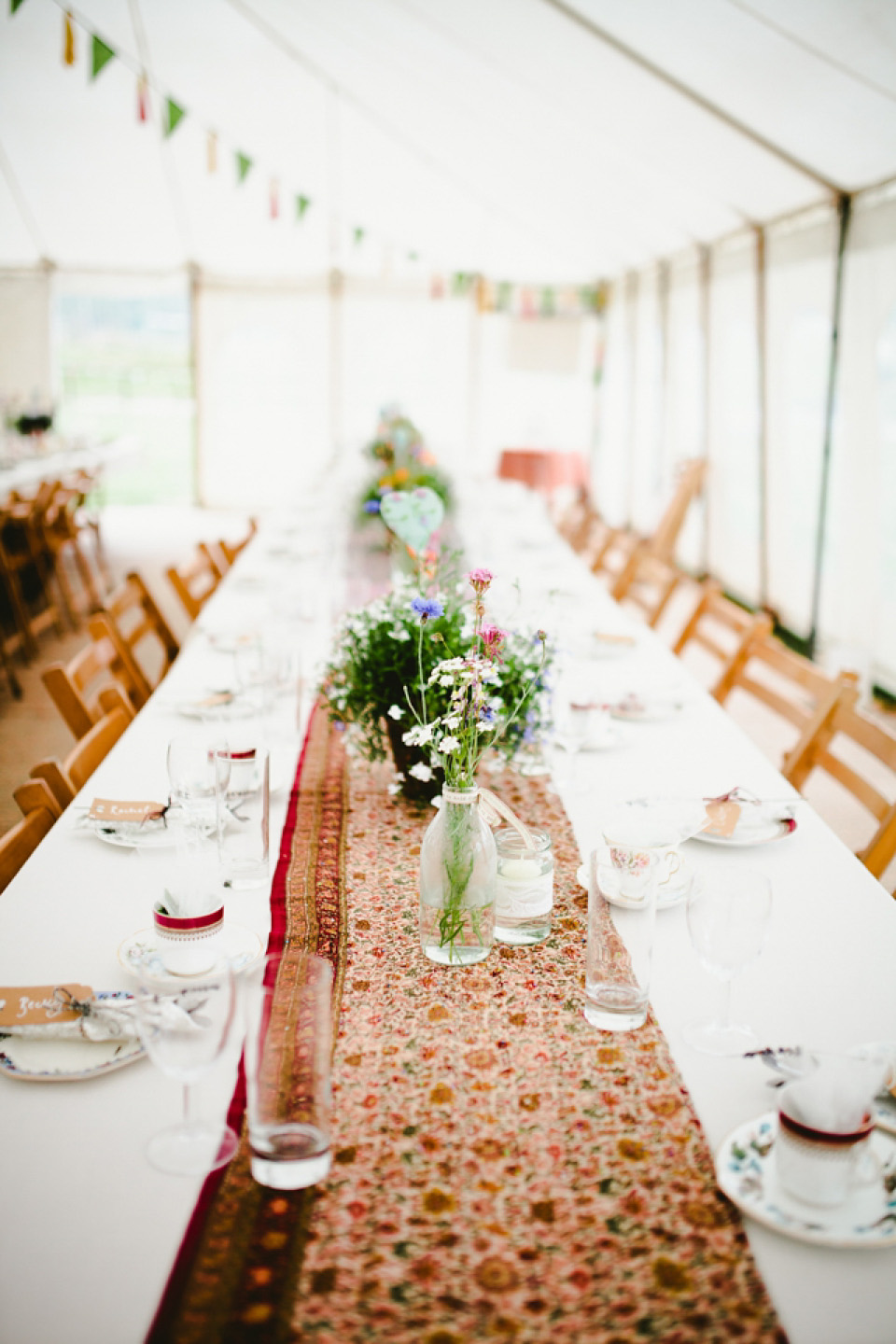 "We grew wild flowers in a friends field and picked them the day before for the table arrangements. We also grew lobelia in small pots for the tables and stuck the table number in them. My aunty turned vintage saree's brought off eBay into beautiful table runners and I used the rest to make bunting."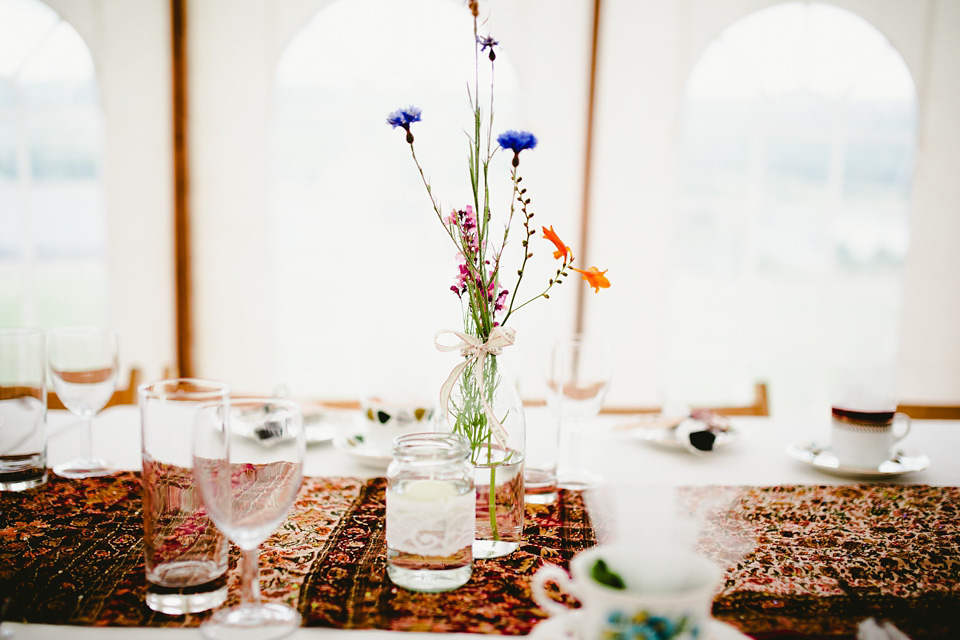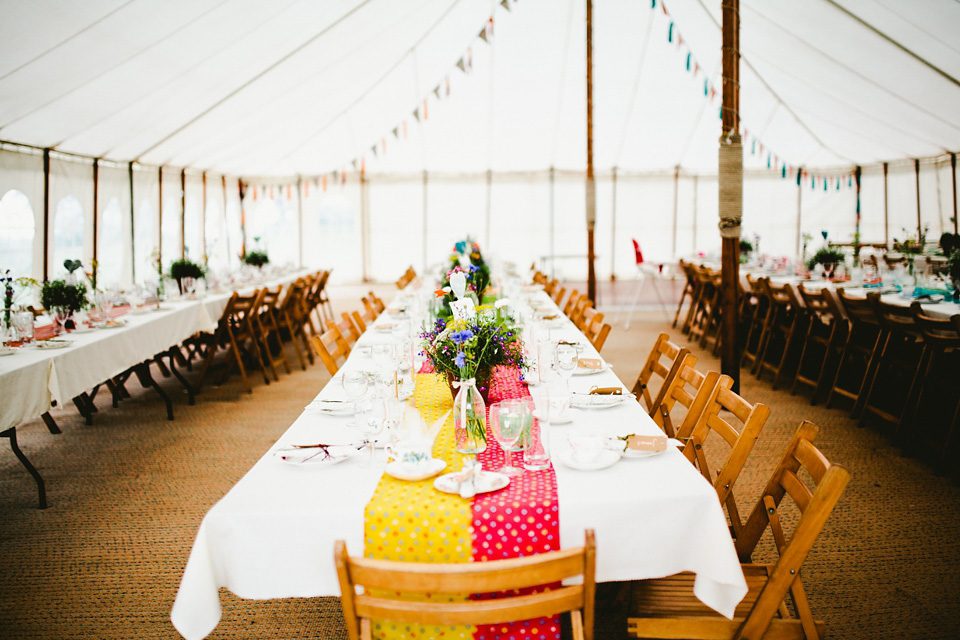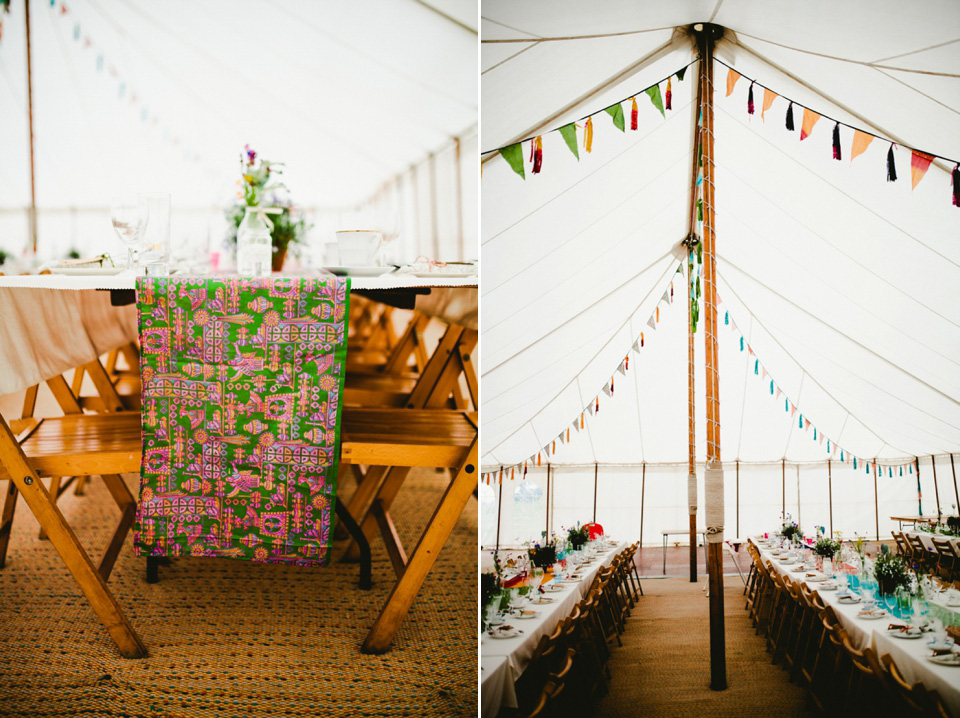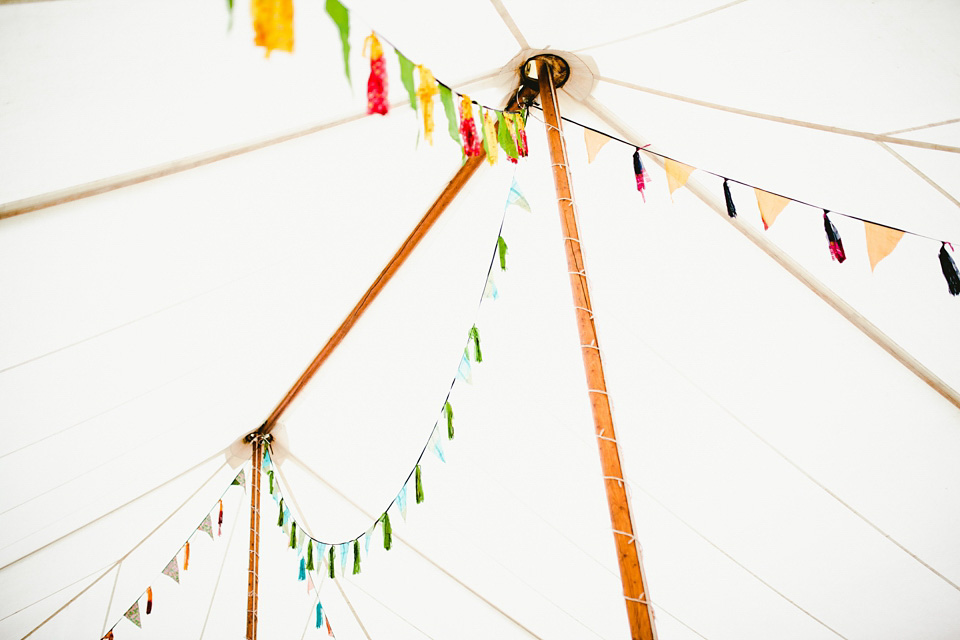 "We had a cake table, many friends brought home made cakes in a variety of styles and tastes."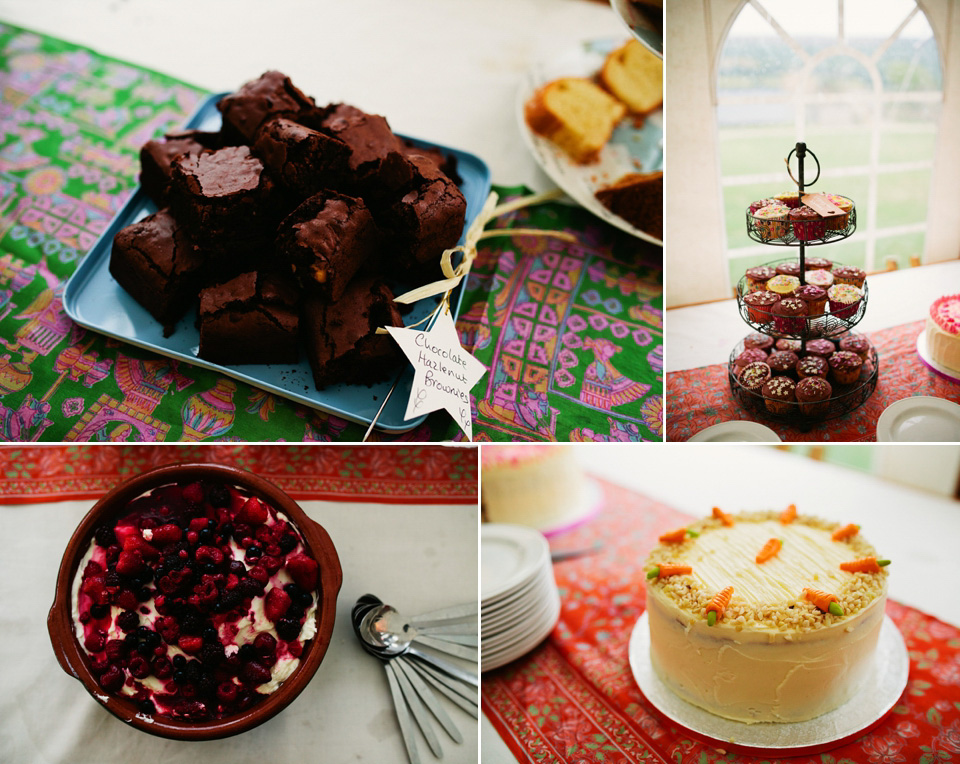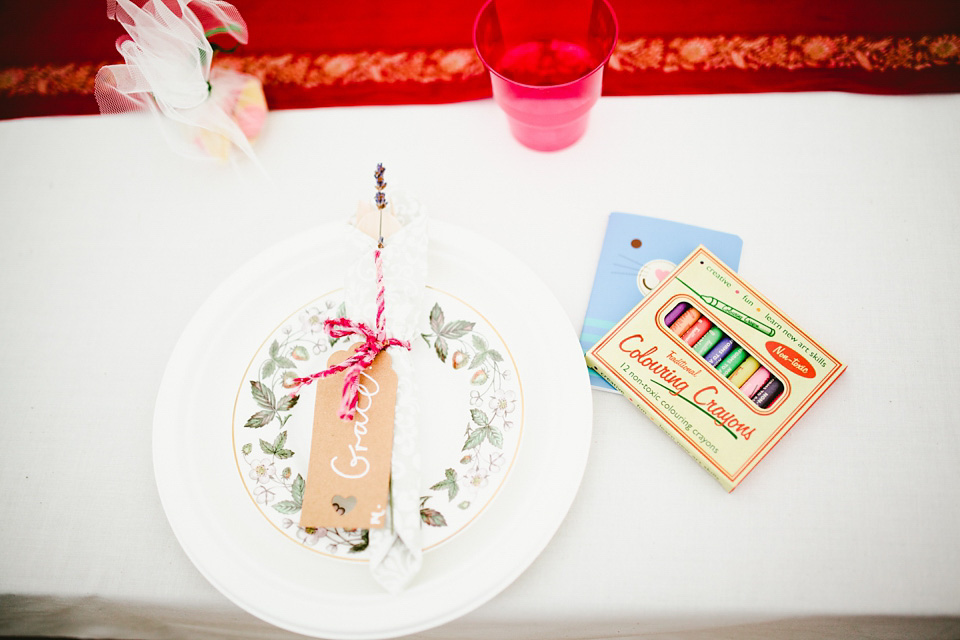 "A good friend of ours Lucy Elizabeth Britton, wrote and played a song for our first dance. It was beautiful. You can listen to it here – its called 'For your love'."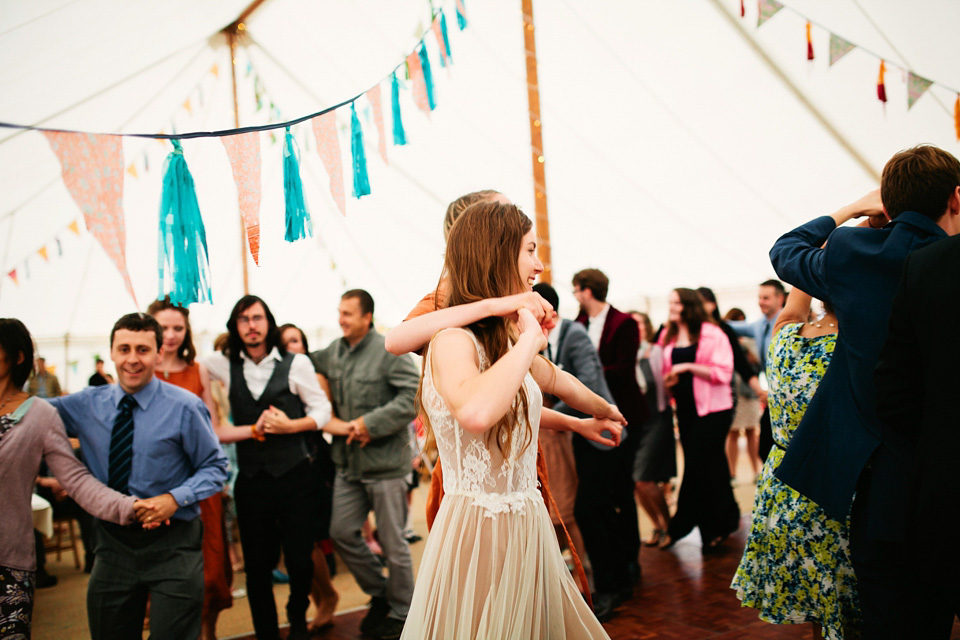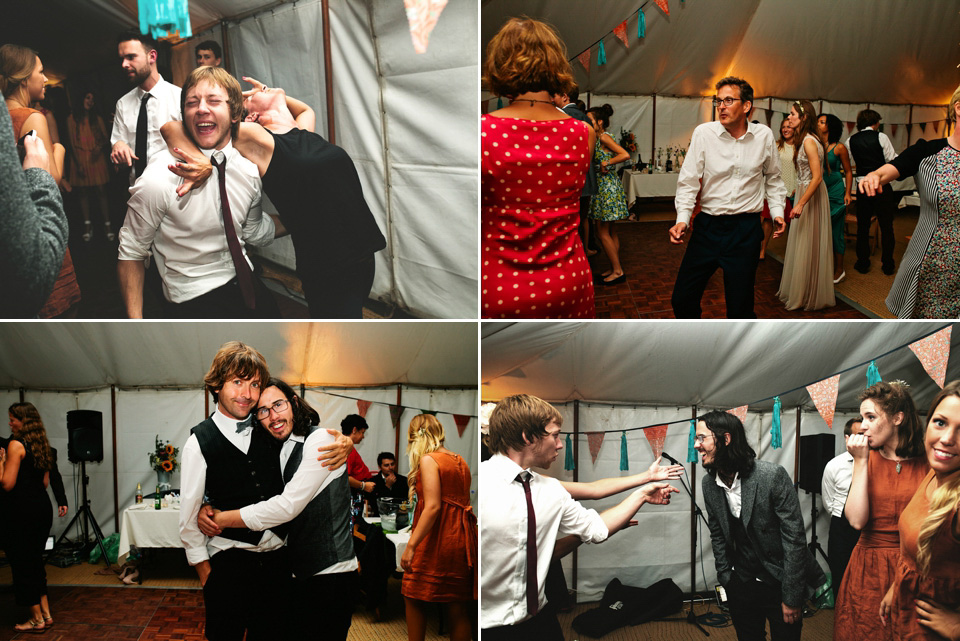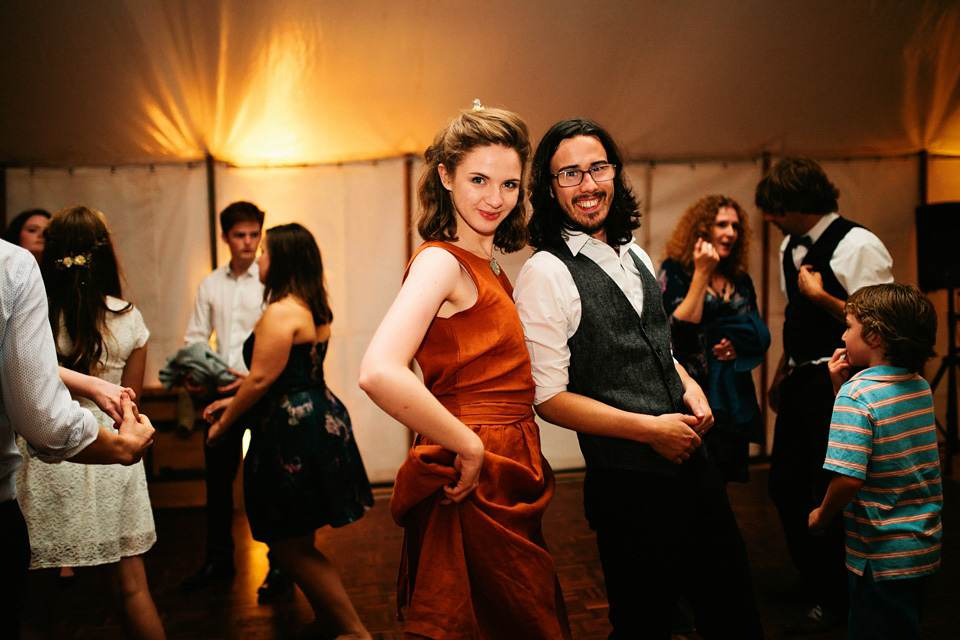 Words of Wedded Wisdom…
"I went into this wedding knowing not everything will be perfect, it rained a lot throughout the day – that was a risk we had to take. I think if you enter this process with a desire to marry the one you love and a peace of knowing its importance, then the mistakes and hiccups on the day are over looked and laughed off. What you remember is the pure humanity of it and the joy of what you've just achieved, and what's ahead.
Friends and family love to get involved, so when you have the chance, let them! Some of my favourite moments are of the days before, running around with my bridesmaids and family getting everything sorted.
Also, take moments for yourself – our wedding started at 11.30am, so by 6.00pm I was really tired – myself and a few friends snuck off for a cup of tea and hid for 10 minutes before the dancing began."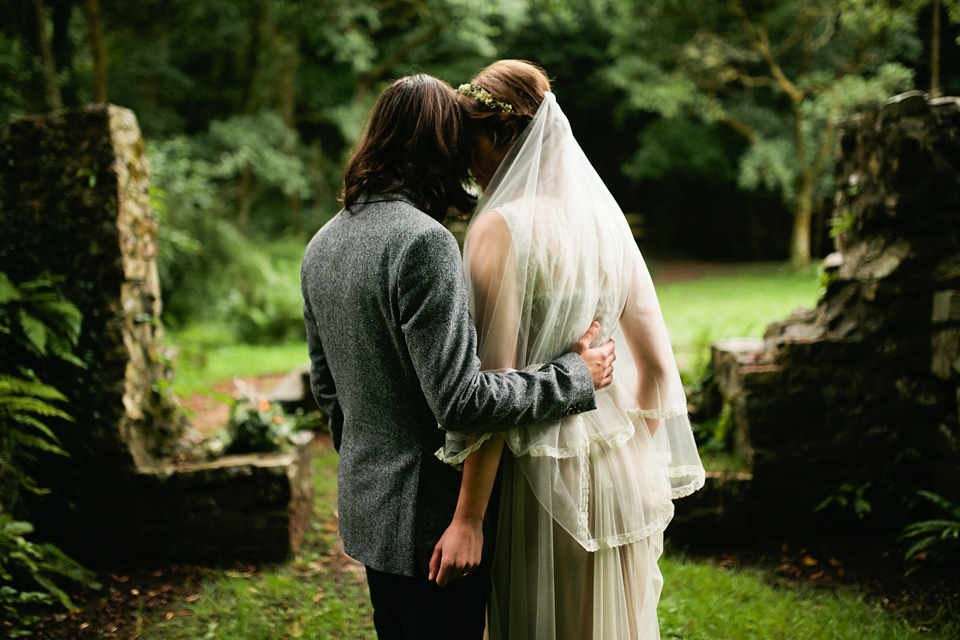 Such wise and wonderful words of wedded wisdom to start the new year with Josie – readers, please take note.
I'd like to thank Green Antlers Photography for sharing these beautiful wedding photographs, as well of course as Josie and Warren for sharing their story.
I hope you've found something to inspire you in these photographs – I'd love to know what you love the most about this beautiful wedding?
Check back later this afternoon for our second wedding feature today.
Love Annabel x
Photographer – Green Antlers Photography
Film – Gabby Lewis Films
Venue – The Gower Coast, Swansea, South Wales
Wedding Dress – Katya Katya Shehurina via Luellas Boudoir
Veil – DIY made by the bride using tulle fabric from Cloth House in Soho
Headpiece – Artisan Dried Flowers
Shoes – flats by Porselli via TOAST
Perfume – Daisy by Marc Jacobs
Groom – River Island + cravat made by a friend
Bridesmaids – CamelliaTune
Florist – Simone Robbins
Cake – DIY (guest cake table)
Entertainment – local Ceilidh band
Rings – JADE (just off Hatton Gardens) + engagement ring via Vena Amoris Jewelry
Catering – a local café called 'The Front Room'
Stationery – DIY (the bride and her mum)
Hair Stylist – local hairdresser
Makeup – the bride