Happy Wednesday lovelies! Are you wondering where on earth January went?!! It's been a very busy and productive month at Love My Dress headquarters. I love January, as I always feel invigorated and full of positivity at the beginning of every year and go about setting goals (but consequently try to achieve them all at once!). So, for a little bit of downtime, I spent last weekend away with my hubby at a gorgeous little country pub, with a crackling fire, long walks for lots of fresh air and am now recharged again to tackle February. Whilst on my mini-break in the countryside, I felt just like today's lovely couple, Nikki Leadbetter, a wedding photographer herself, and Jamie, an electrician, who married on 12th July 2014 at Alvie Estate in the remote, picturesque Scottish Highlands.
"We got married in tipis on the grounds of Alvie Estate which is in Kincraig just outside Aviemore in the Scottish Highlands. My parents have a house in Kincraig and we all spend a lot of time up there as a family, it's our peaceful escape! Jamie proposed to me on a bench over looking Loch Insh, where we had photos taken before the ceremony. The main house is very rustic, with beautiful grounds. You feel like you are in the middle of nowhere miles away from everywhere, which you kind of are. It's beautiful."
Photography Copyright (c) 2015, Lakshal Perera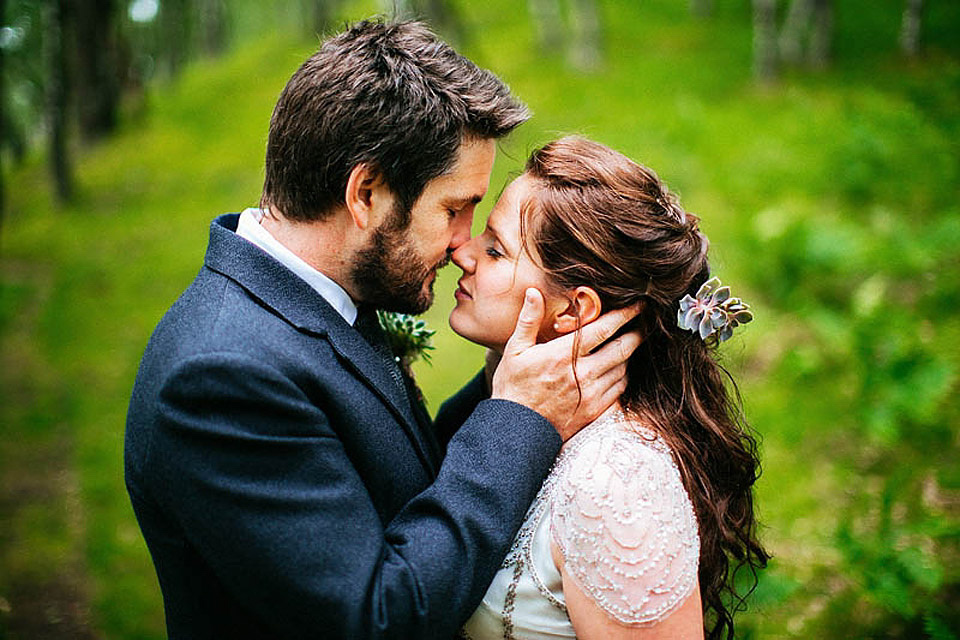 The couple didn't have a particular theme in mind for their wedding, but a love of stag antlers, together with the venue being a hunting estate, formed the basis of the quirky style of their day.
"People regularly said to me I would know exactly what I wanted because I work in the wedding industry. However I didn't. I knew what I didn't want more than what I wanted. I knew the suppliers I wanted to use but didn't have a theme per se. My family have a love for stag's antlers, we all have a set on our walls. Maybe because we find a lot on long walks we do together while up in Aviemore around the Cairngorms, so this set the ball rolling for styling in the end.
We had sets of antlers on the beams in the tipis with flowers wrapped around them and single antlers along the table with succulents and flowers wrapped round them. Alvie is a hunting estate so the antlers fitted into the surroundings perfectly. We got married on the lawn at Alvie over looking the loch and moved into the house when it started to rain. The house itself is quintessentially Scottish with tartan carpets, stag's head, huge fireplaces and oil paintings on the walls. No other decoration was needed."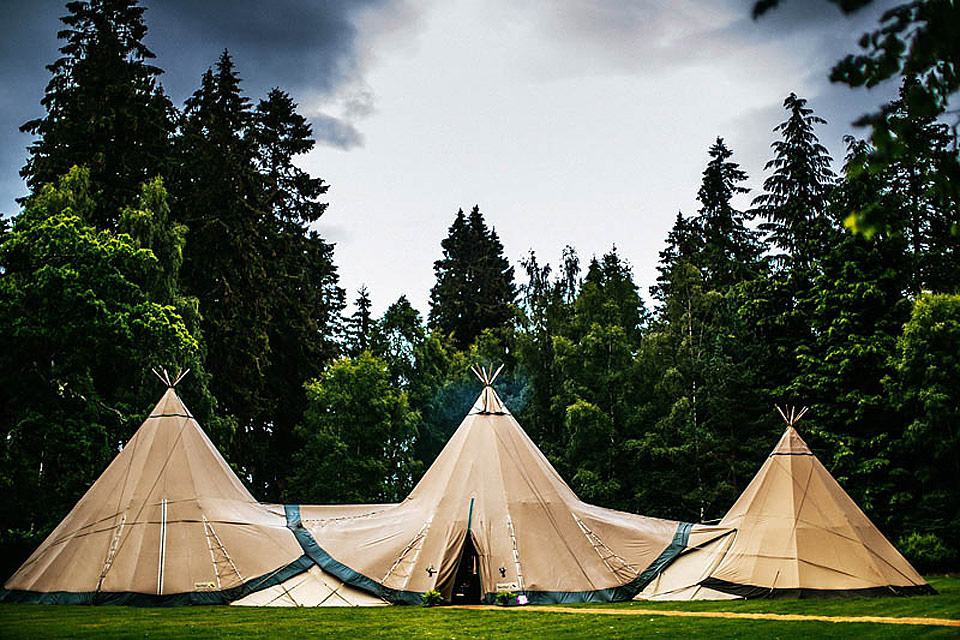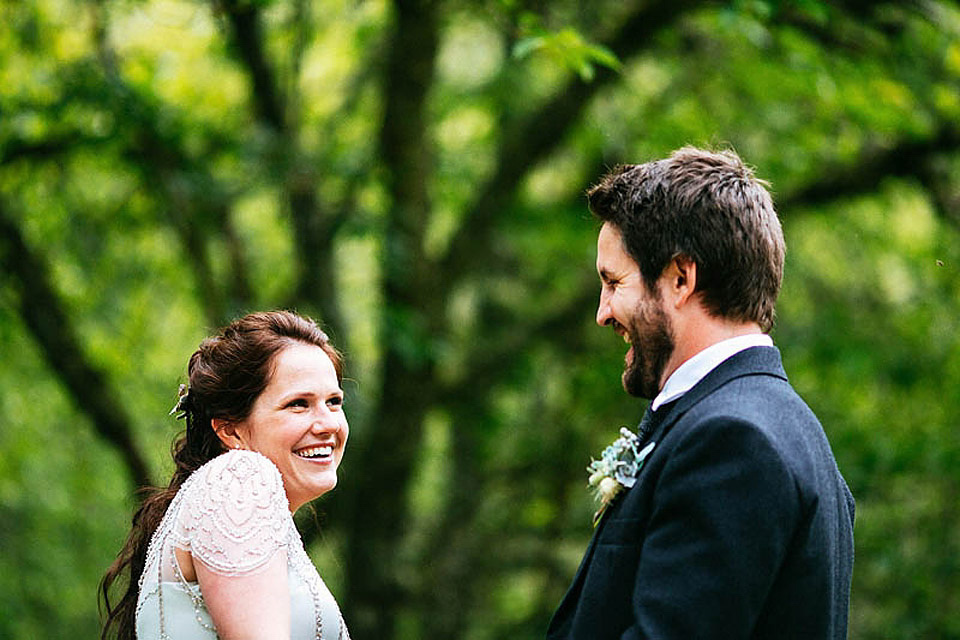 In a recent Love My Dress feature, we discussed the very important wedding dress issue of finding 'the one' – and how more often than not, it's not quite the fairy tale, perfect experience it's built up to be – something Nikki herself experienced.
"I found the dress choosing process a difficult one, I never had that wow moment. I was pregnant at the time which made the whole process pretty difficult imagining what I would look like. I knew I didn't want a traditional dress. I see white wedding dresses every weekend and although very beautiful on my brides I didn't see them as 'me'. I tried on a few when I was in Australia but just didn't feel right in them. There are a lot of Australian designers I absolutely love but unfortunately didn't have time to try anything.
"I love Jenny Packham (see more loveliness from the designer here on Love My Dress) and was recommended Pan Pan Bridal in Edinburgh. Lee was lovely and helped me find something that wasn't white and something I was happy with. The dress was absolutely beautiful but if I'd had more time I would have chosen a different more unusual dress, but unfortunately time (or my figure) weren't on my side."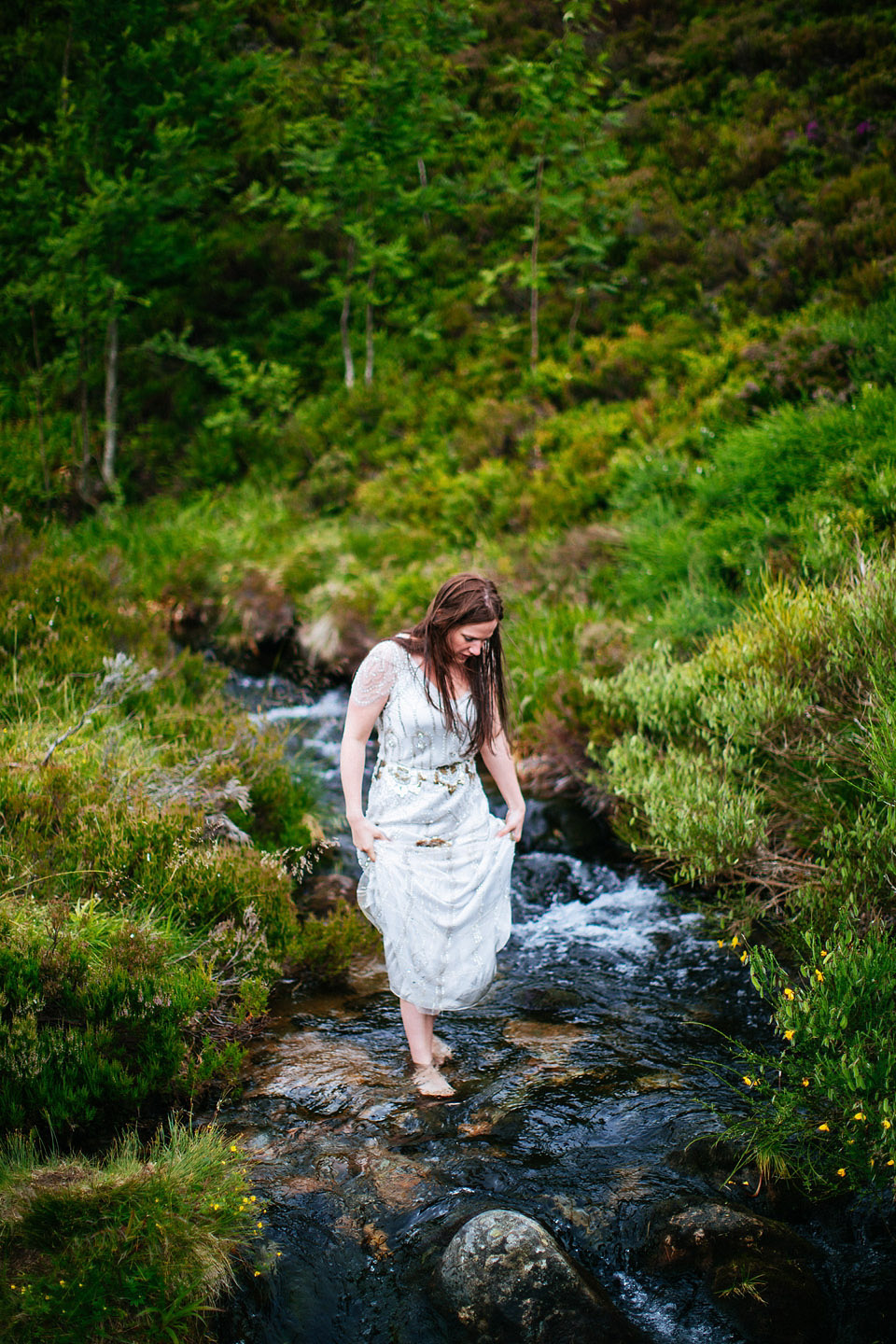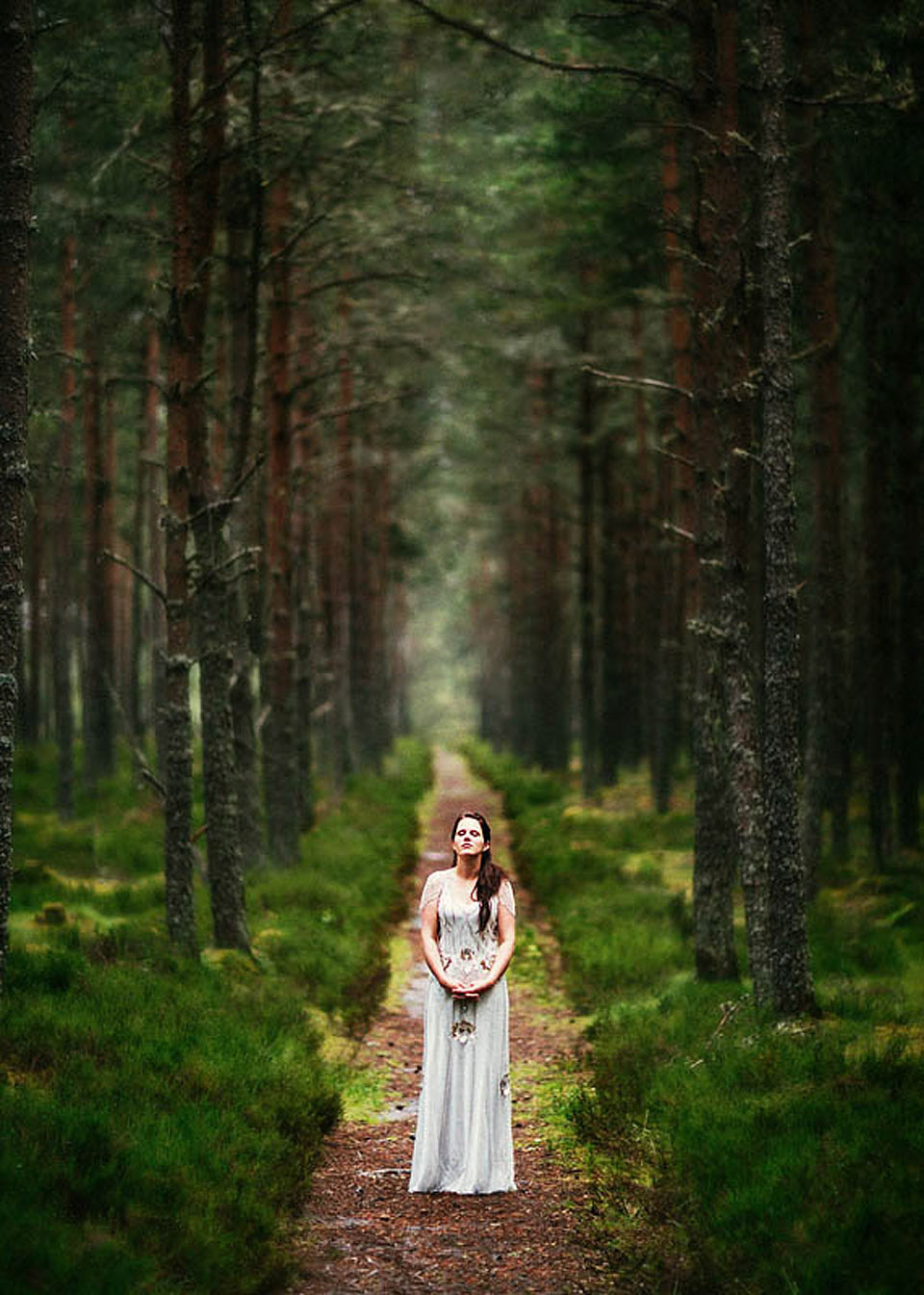 Nikki's three bridesmaids looked stunning in Mango dresses, Lipstick Lashes and Locks expertly did the ladies' hair and make-up, and just look at the beautiful little flower girls in their tutus!
"Leotards were from Dance Direct and the tutus were made for us by Dainty Dizzy. I knew exactly what I wanted the flower girls to wear from the start and I absolutely loved how they looked and how excited they were."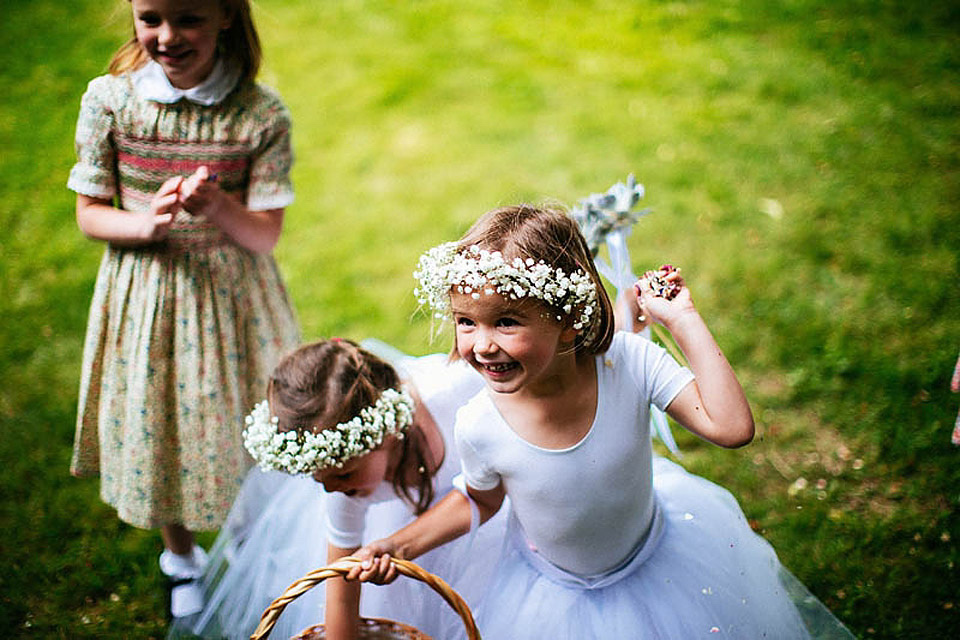 "I bought the bridesmaids a necklace and earrings from Etsy. My nieces got little kiwi bird pendants to represent New Zealand and Jamie's nieces got little deer pendants to represent Scotland."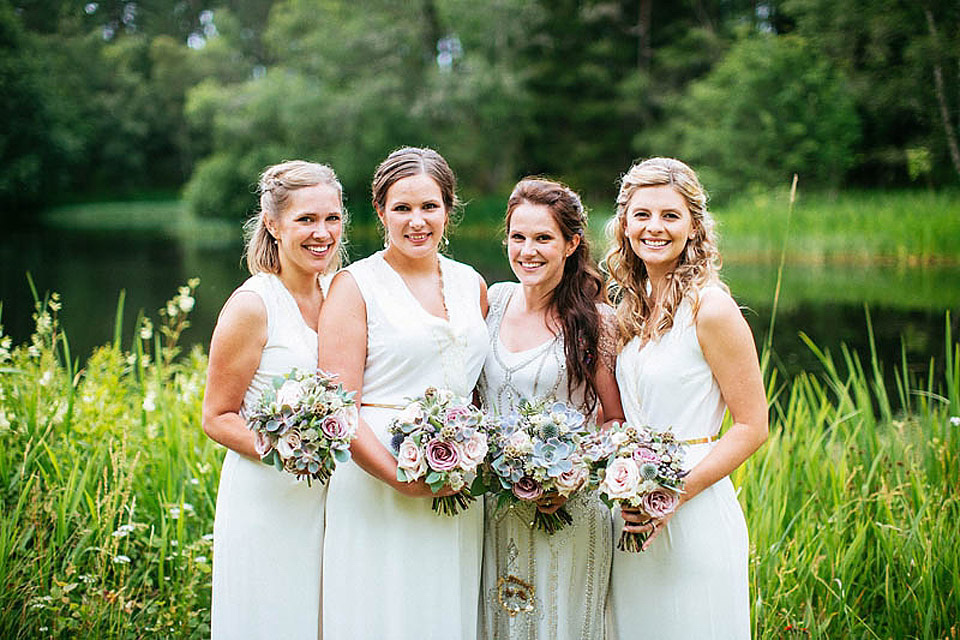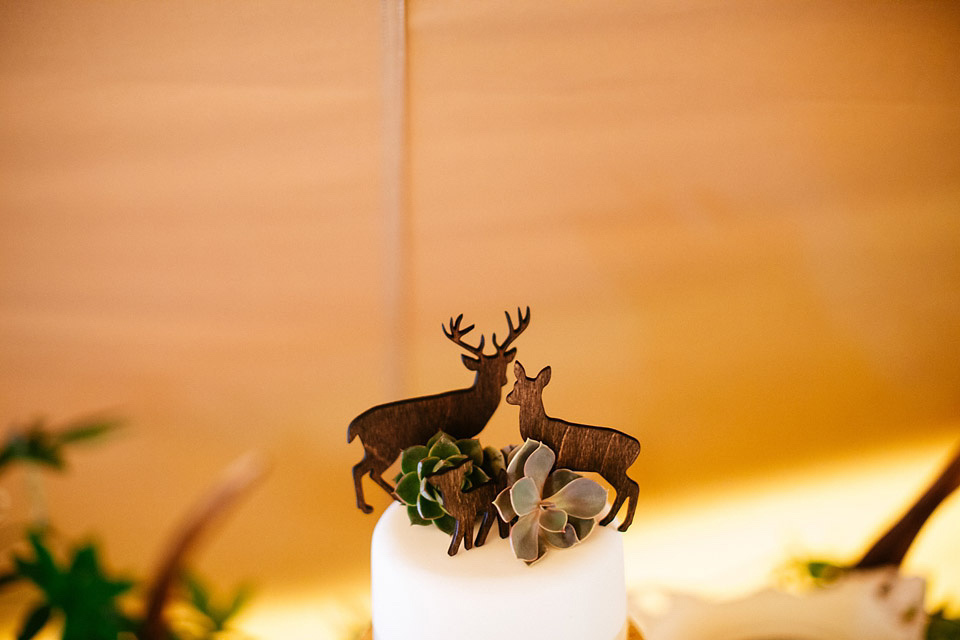 In a lovely touch to Jamie's roots, the couple peppered references from New Zealand throughout their flowers and wedding favours; in conjunction with the stag styling.
"Lisa from Little Botanica is a friend of mine through the industry and I love their work. I just told Lisa I wanted succulents, flowers and plants wrapped round the antlers and trusted them to do the rest. They didn't fail to impress. The flowers looked beautiful! The flower girls had succulents on sticks instead of bouquets which were a really nice tough and beautiful flower crowns. They also put fern in the bouquets which represented the New Zealanders".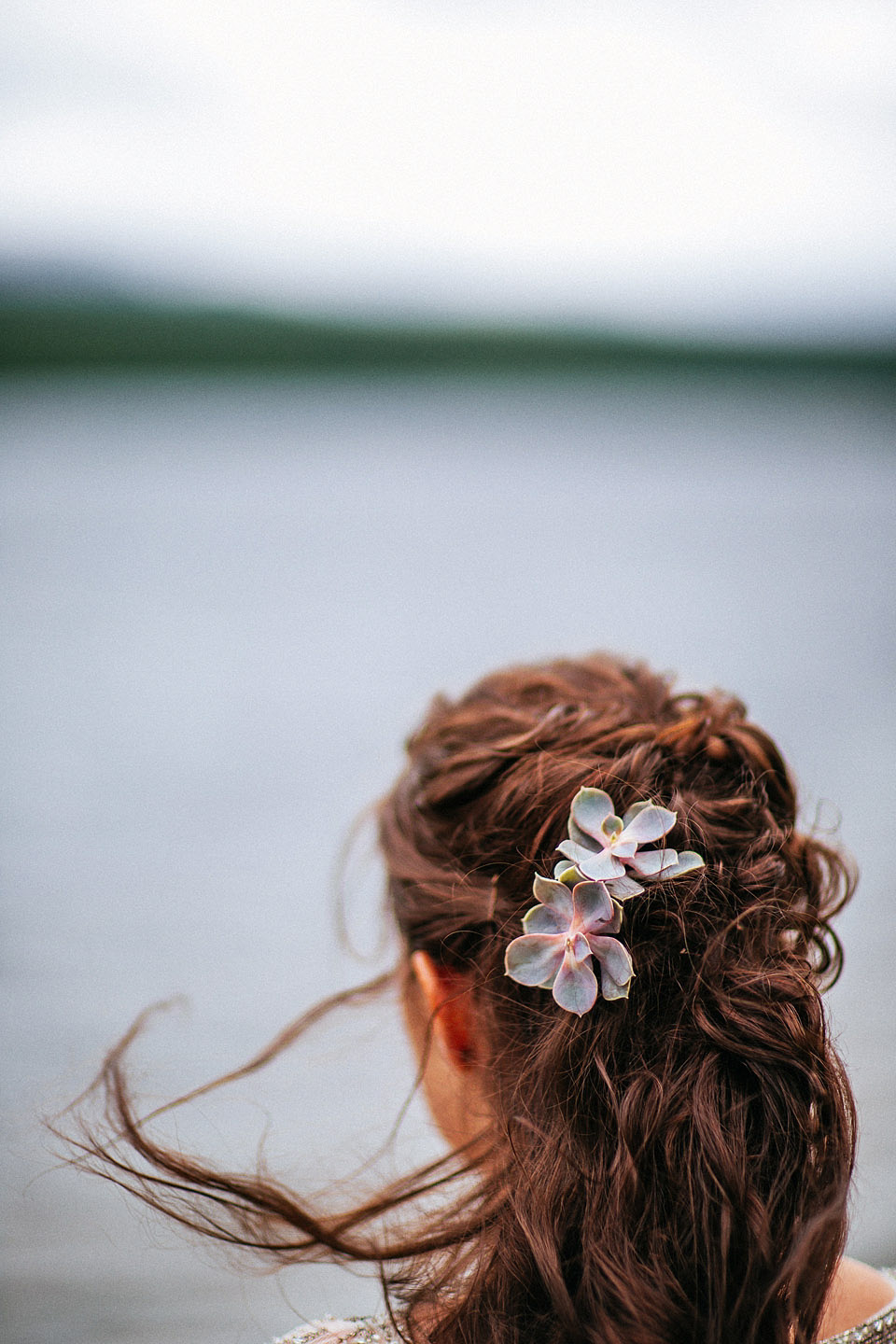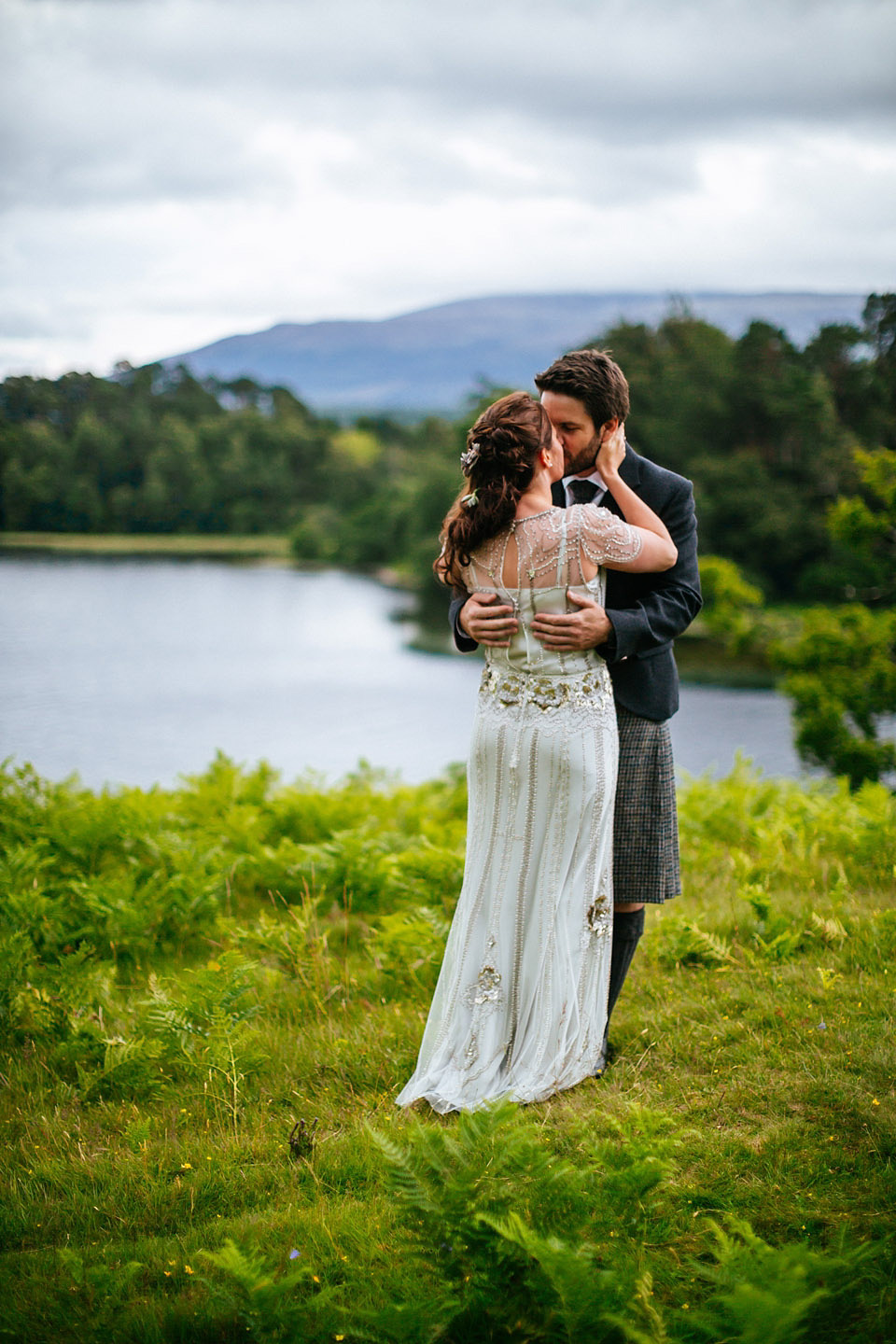 "Our photographer was my lovely friend Lakshal Perera and his wife Kristen. I was asked more than anything else who I was going to choose as my photographer and it was a no brainer for me – even if I had to fly them over from Australia! I first came across Lucky's work a couple of years ago when searching for a photographer for my friend's wedding in Australia. We chatted, then met then became friends and when it came time for my own wedding I didn't even give it a second thought as to who I was asking first. I knew we were in VERY good hands and we were especially lucky that they were in Europe for the summer of 2014. 
Lucky and Kristen have a magical ability to capture all the favourite memories of a wedding day. I was in tears looking back through my photos and can only hope that my couples feel like this when receiving their photos. I would highly recommend Lucky and Kristen to anyone. They are awesome and just really really lovely people to have around. They were a very important part of our wedding day for us and I am utterly in love with my photos and I just really enjoy hanging out with them too."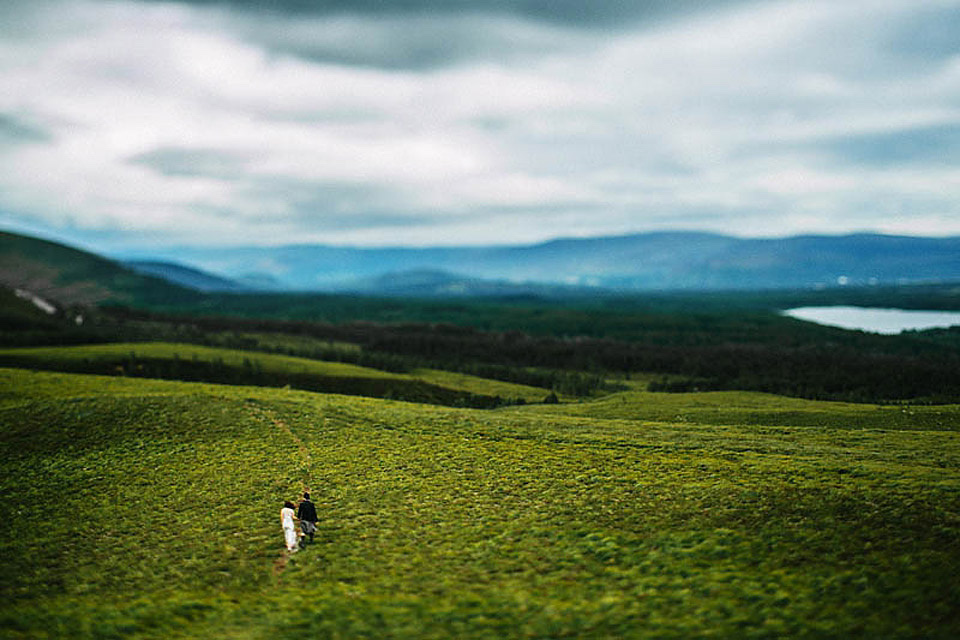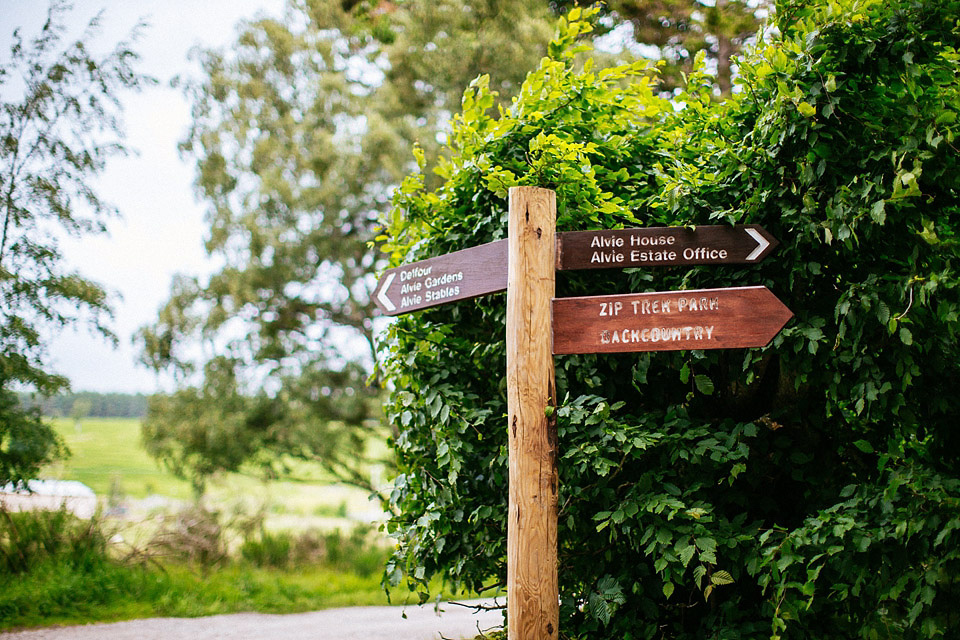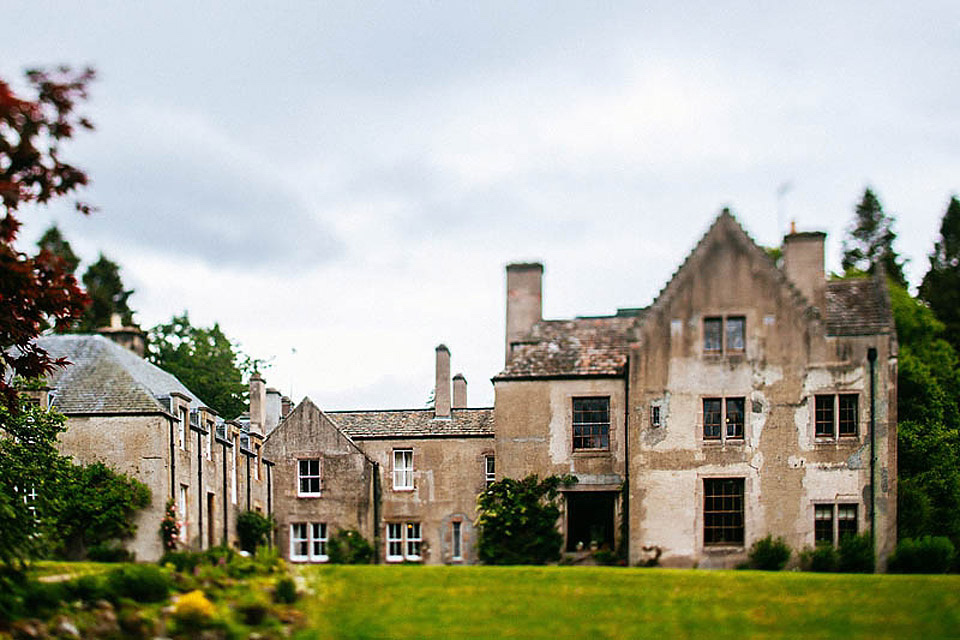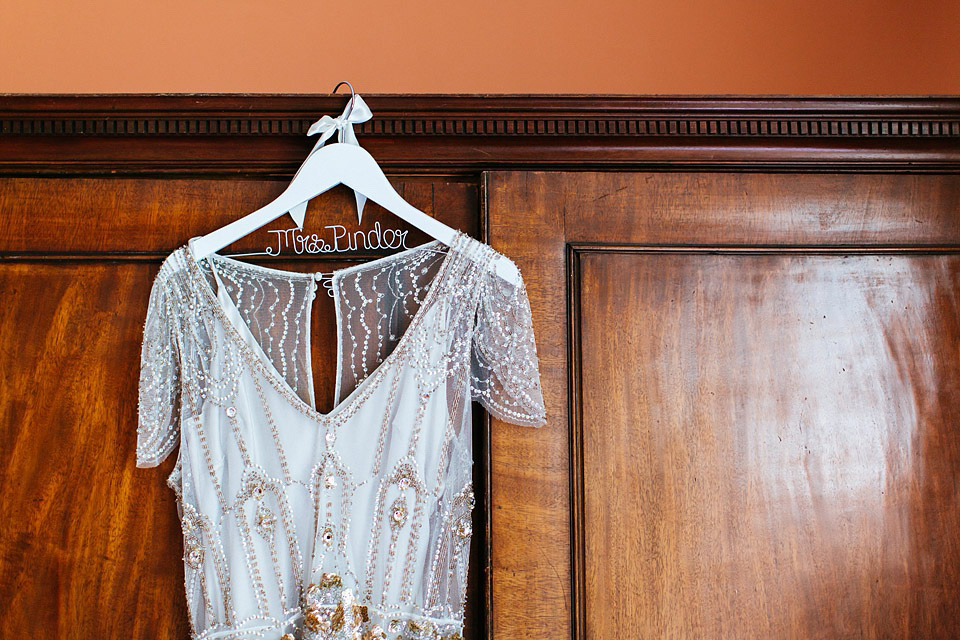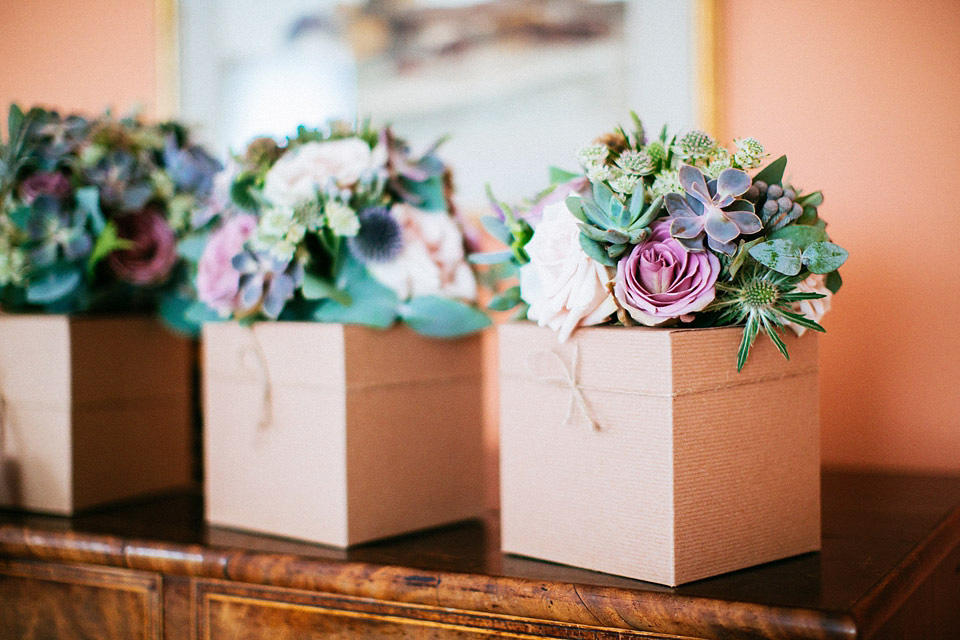 Nikki wore Rachel Simpson Shoes, perfume by Miss Dior, a delicate succulent hairpiece to match the florals from Little Botanica and special accessories.
"I didn't really accessorise that much because the dress was so detailed, but I wore pearl earrings that my parents bought me for my 30th birthday and my grandmother's engagement ring."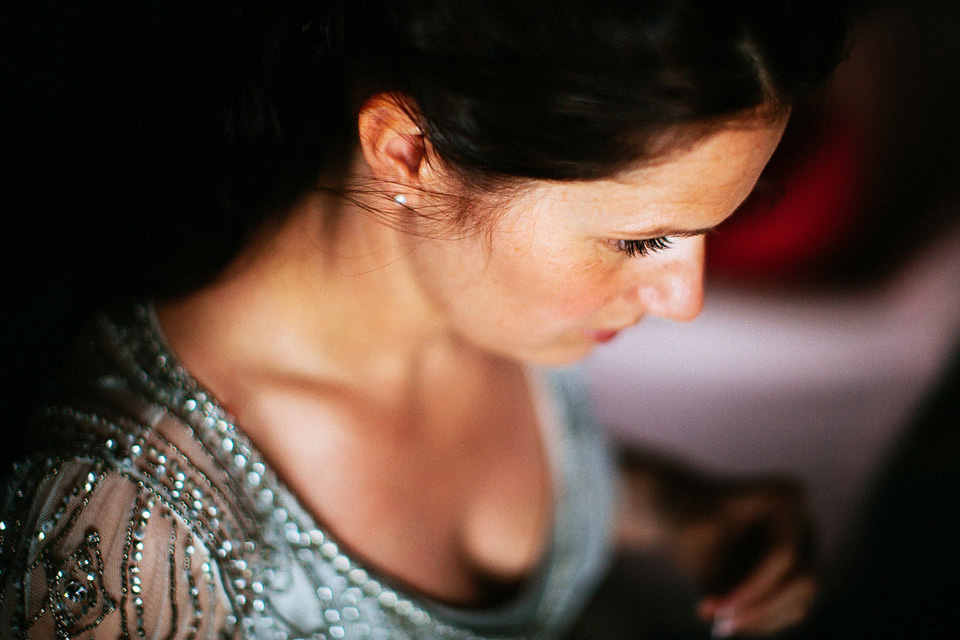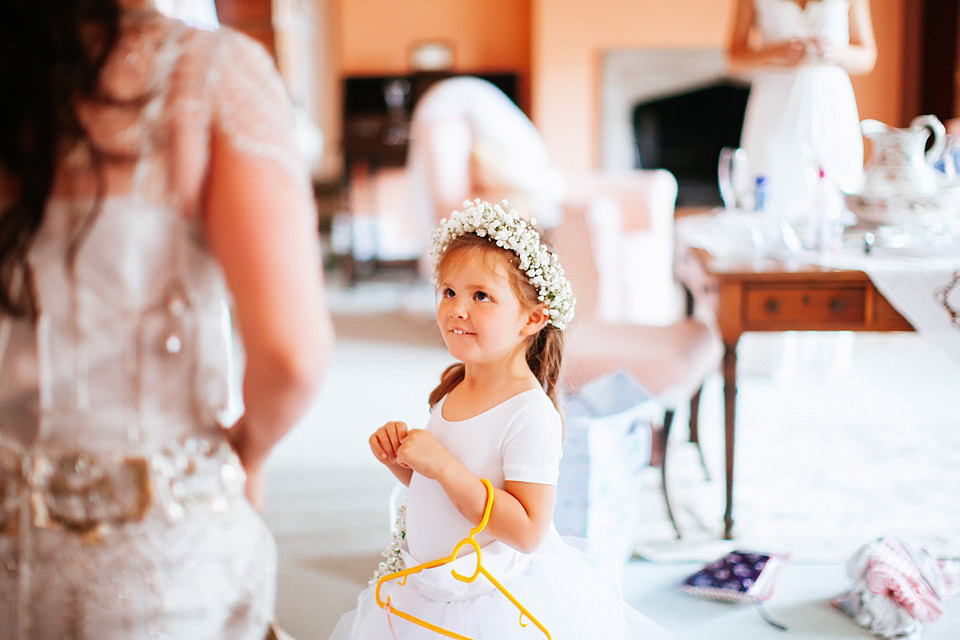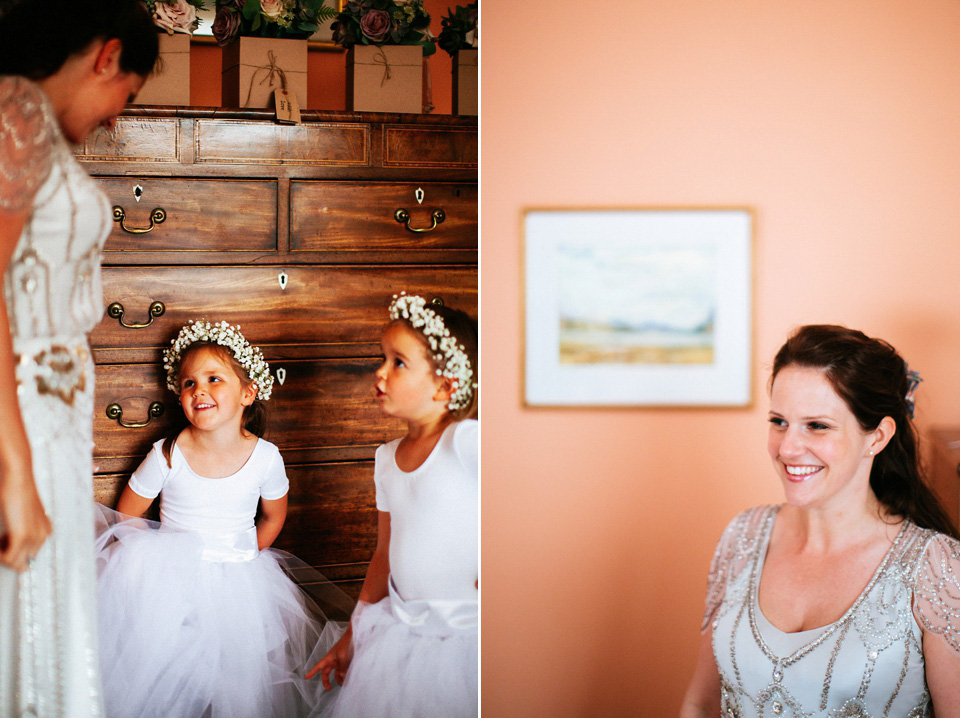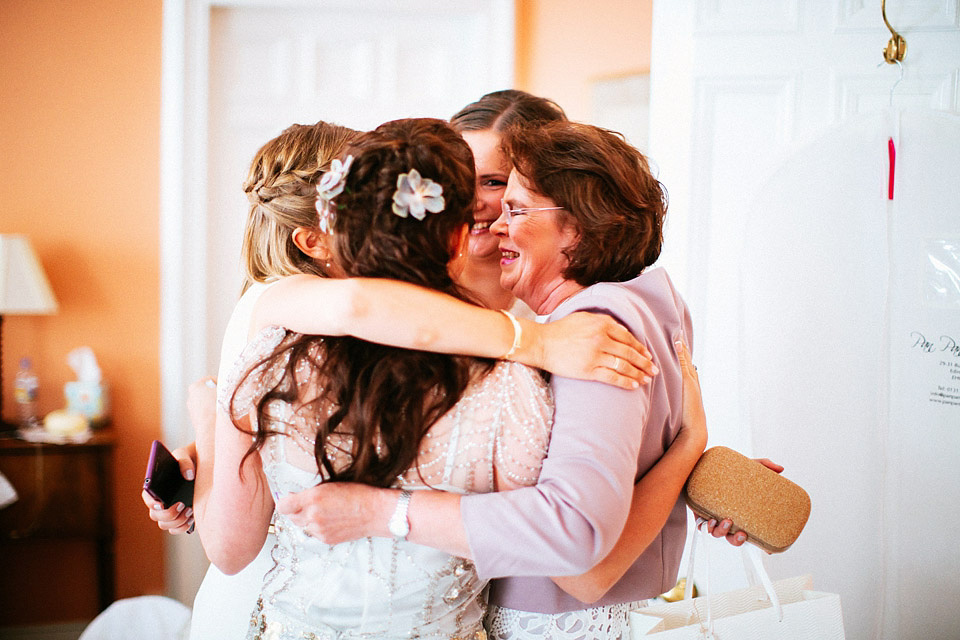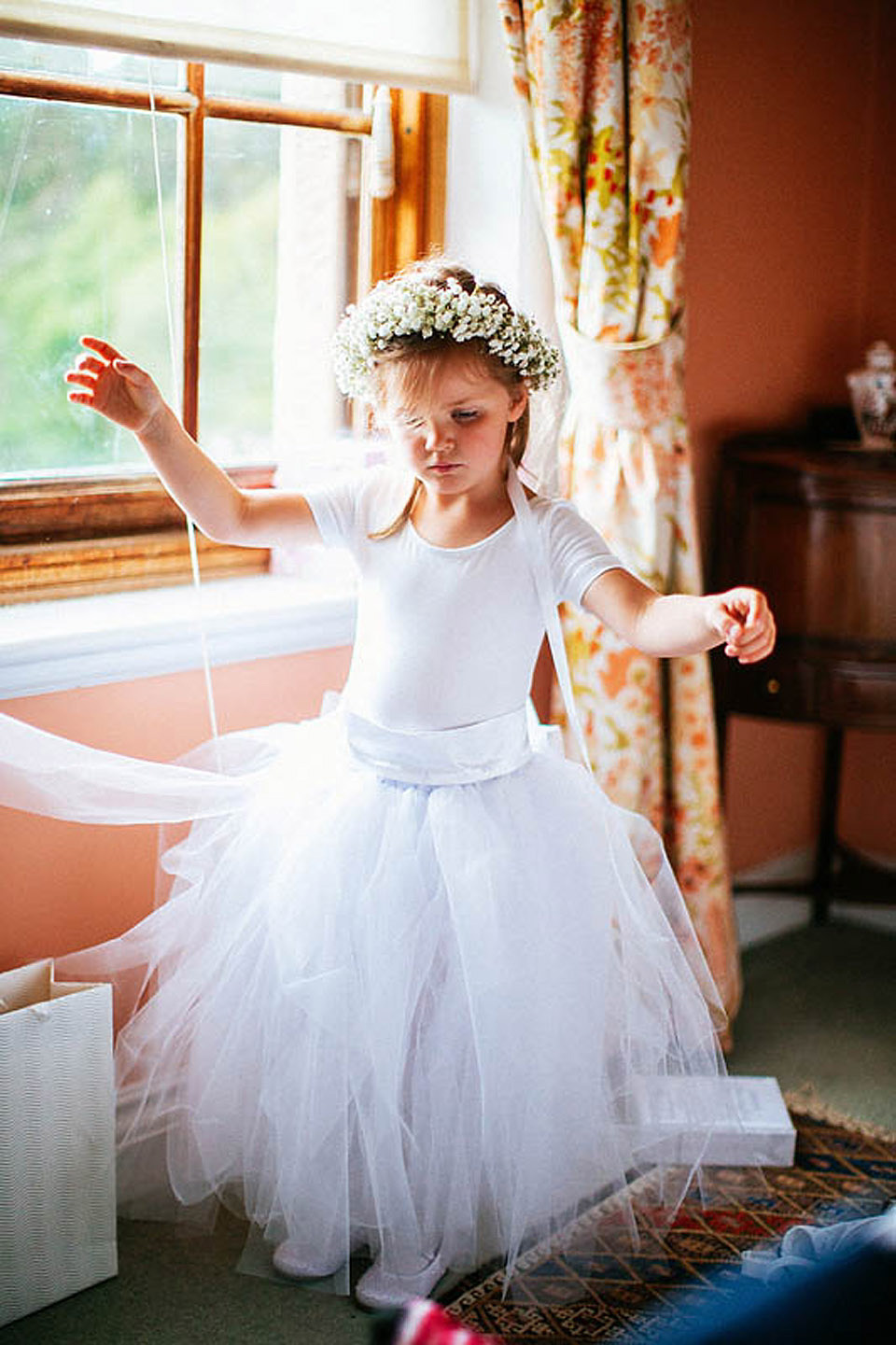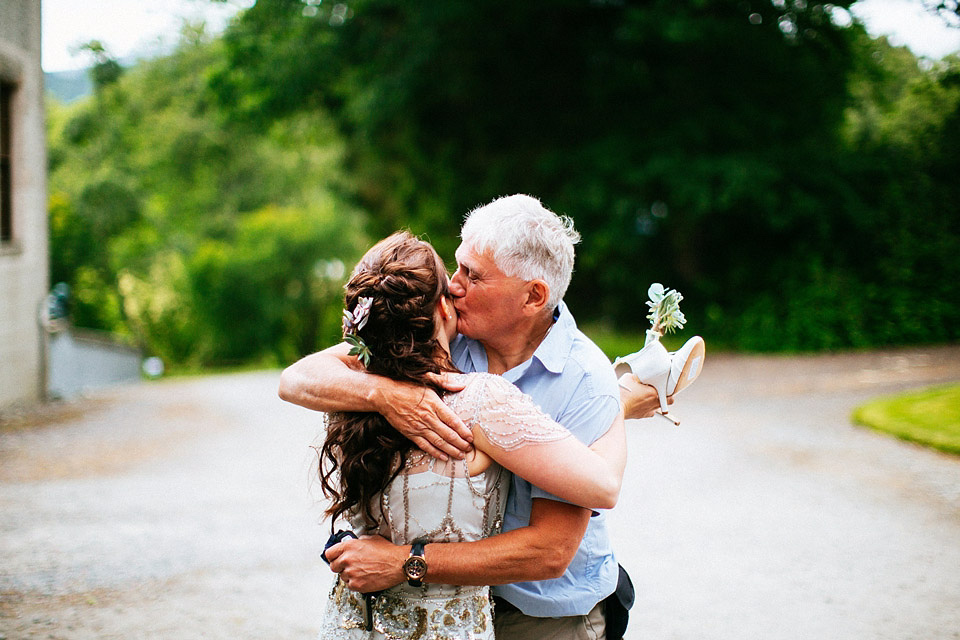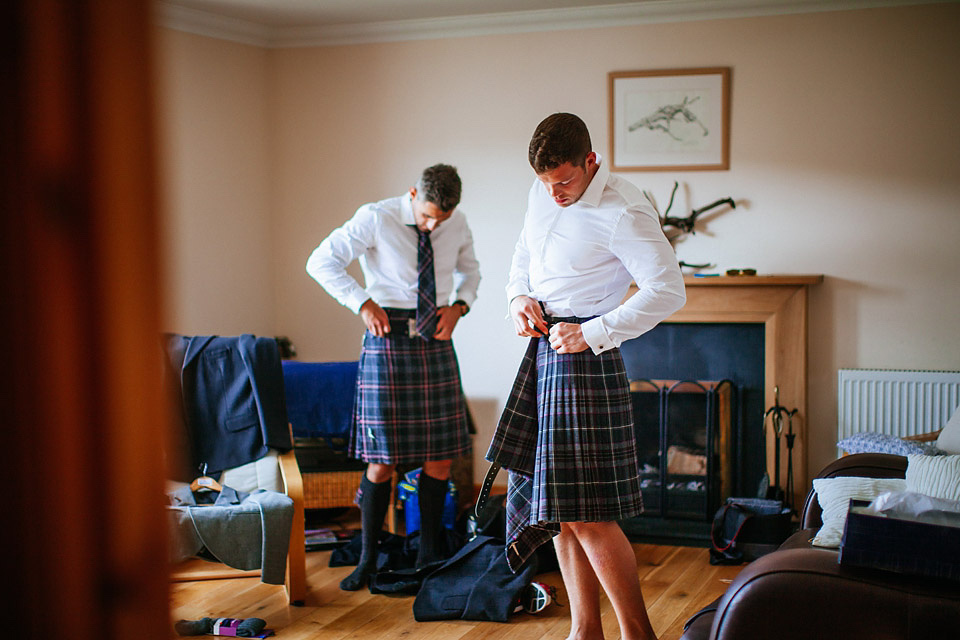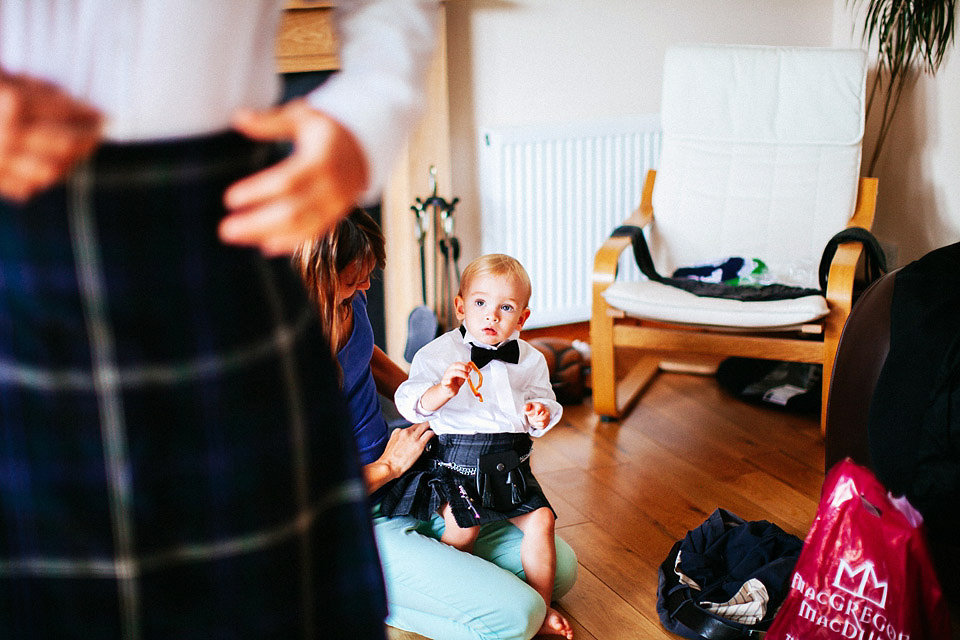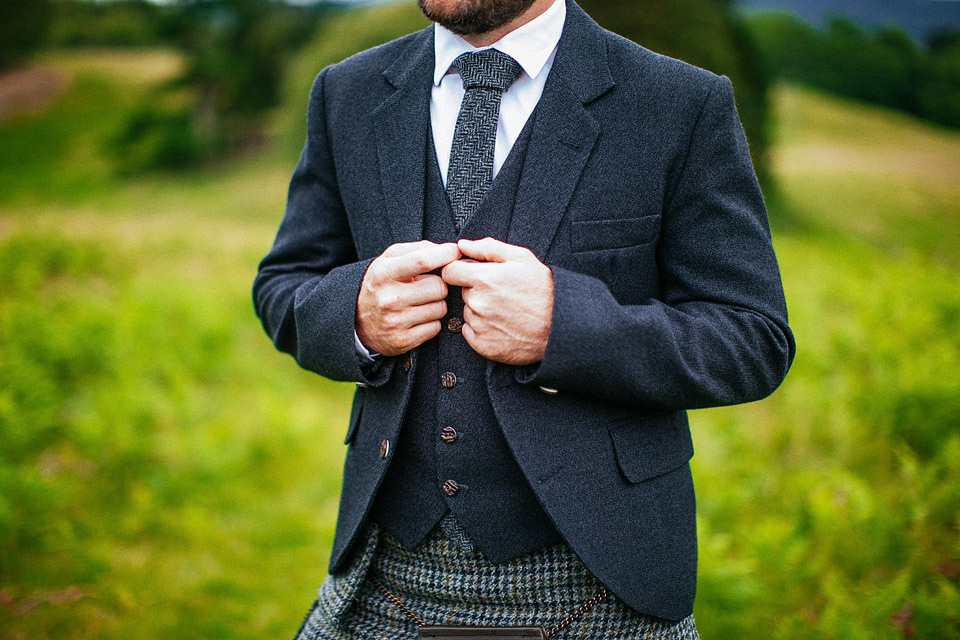 In true style, the groom and groomsmen went with tradition and sported Scottish kilts. And how about these teeny, tiny kilts for the little fellas? So sweet!
"Jamie wore a Harristweed kilt kindly lent to us by Howie Nicholsby from 21st Century Kilts and his jacket was provided by John at Geoffrey the Tailor in Edinburgh.
Jamie's older brother Sam was best man and his closest NZ friends Zak and Josh and closest Scottish friends Ross, Scott and Niall rounded out the party. The boys all wore traditional Scottish kilts and were mismatched at the bride's request."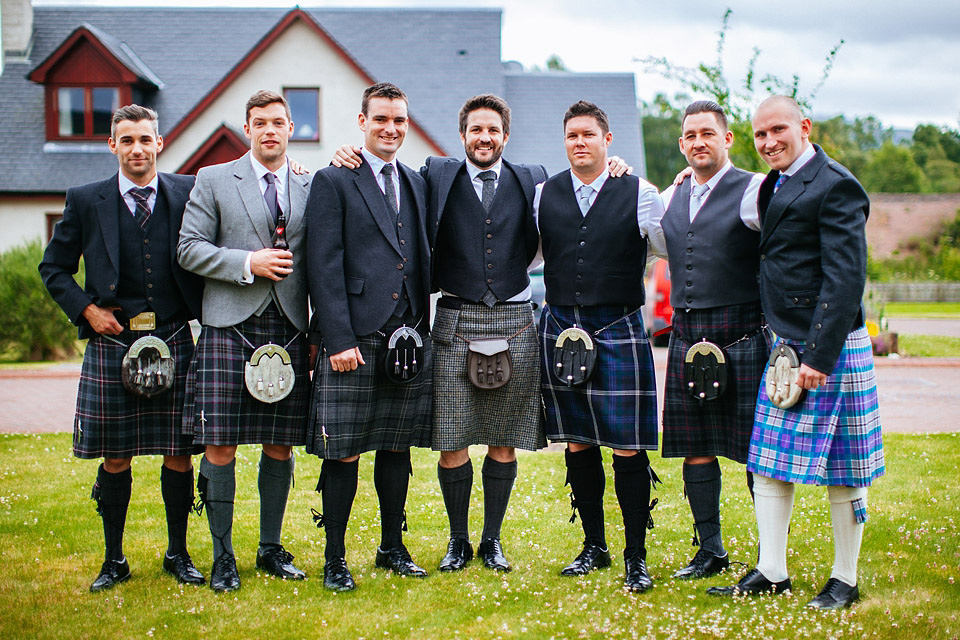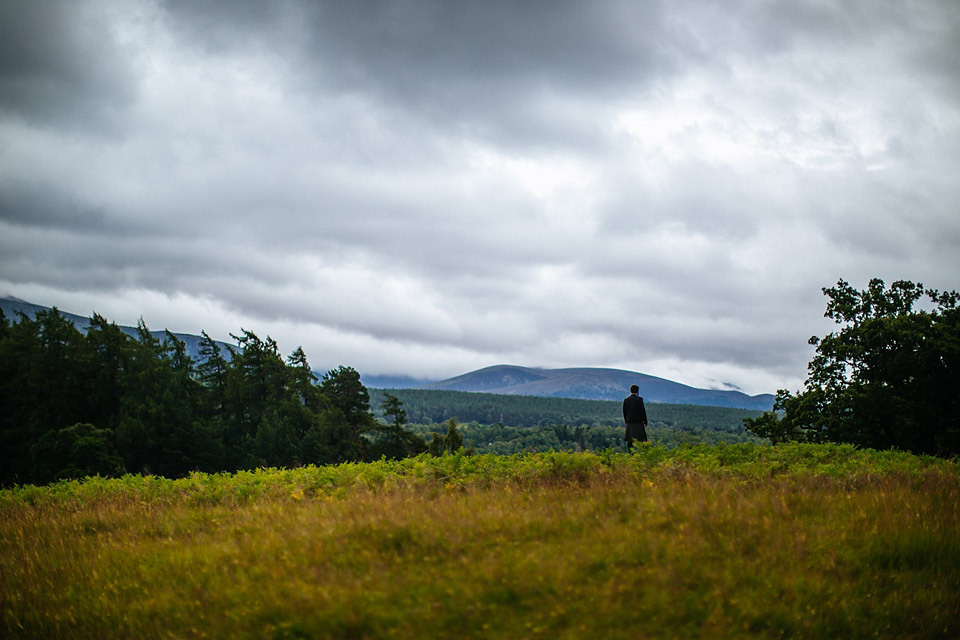 Nikki and Jamie met via an online site designed with Antipodean travellers in mind – which helped greatly come speech time!
"Jamie and I met…online! I was living in London but travelling a lot with work and Jamie was over from New Zealand playing rugby in Scotland. My flat mate and I joined a website called antipodate which was to meet other travellers living in London. It was geared towards Australians, Kiwis and South Africans. I spent a lot of time in South Africa with work and was living with Australians so I had a soft spot for Antipodeans. Jamie's brother and sister in law had signed him up and in the initial stages did all the emailing. We (or what I thought was only Jamie) started chatting over our common love of surfing. Dubious at first as Jamie was wearing a leather mask, tennis shorts and white ankle socks in his photo, we emailed for months (Jamie promises me he took over the emailing early on) before finally meeting.
We hadn't told a lot of people how we met, always saying we met through friends and on the wedding day Sam, Jamie's brother who had first signed Jamie up to the website, was sworn to silence during the speeches. Of course as soon as he stood up he got straight to the point and completely outed us. He was side splitting funny and everyone was in stitches with laughing so much. He also had VERY large visual aids of our profile photos. Me on a surf board and Jamie with his leather mask and white ankle socks."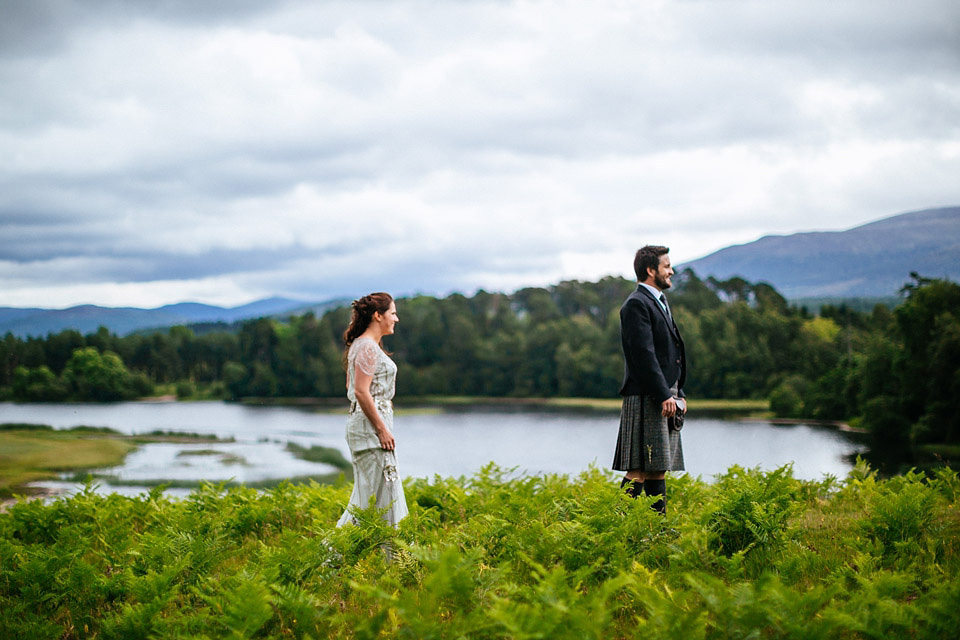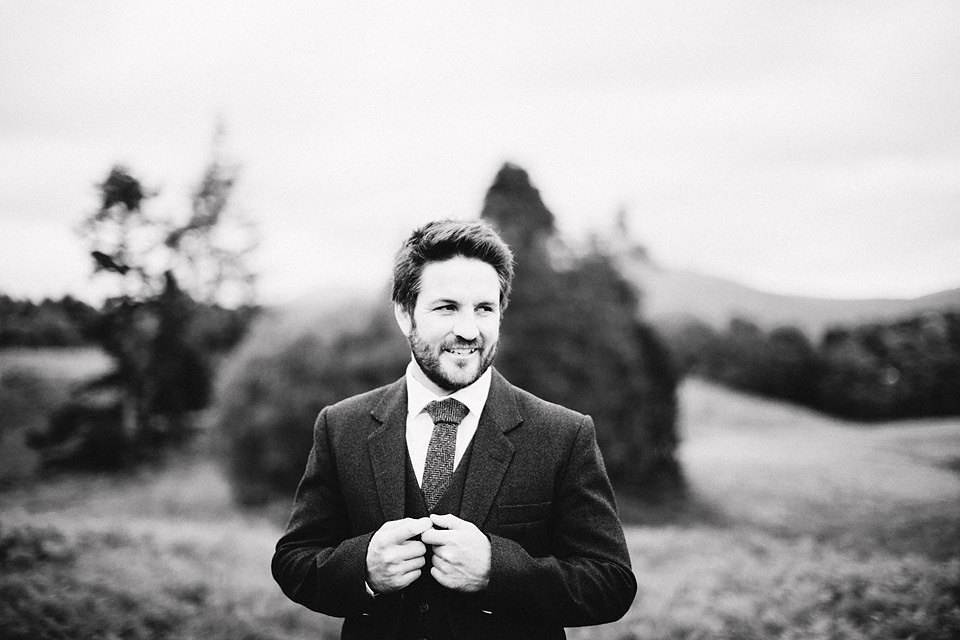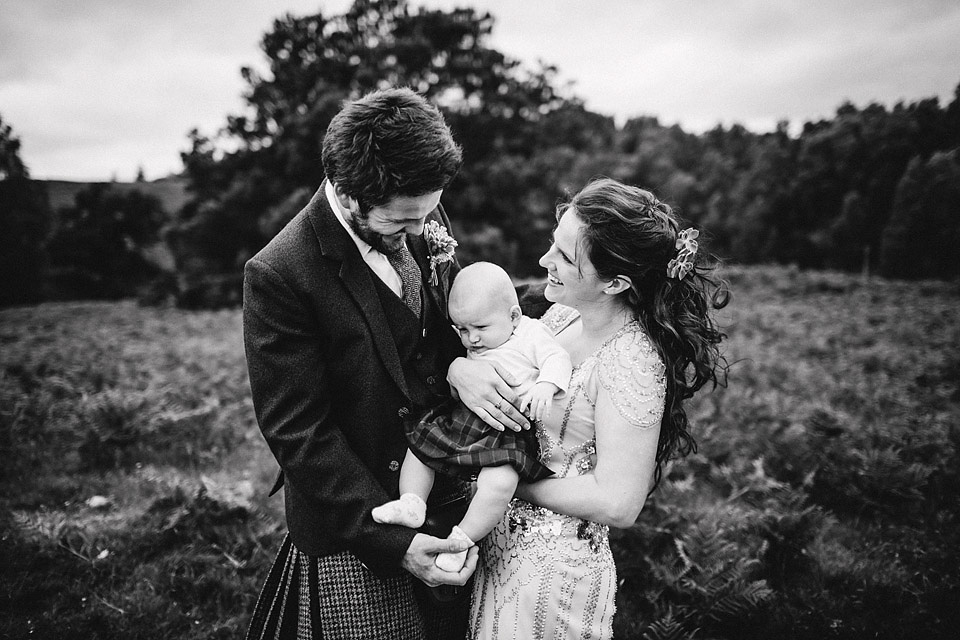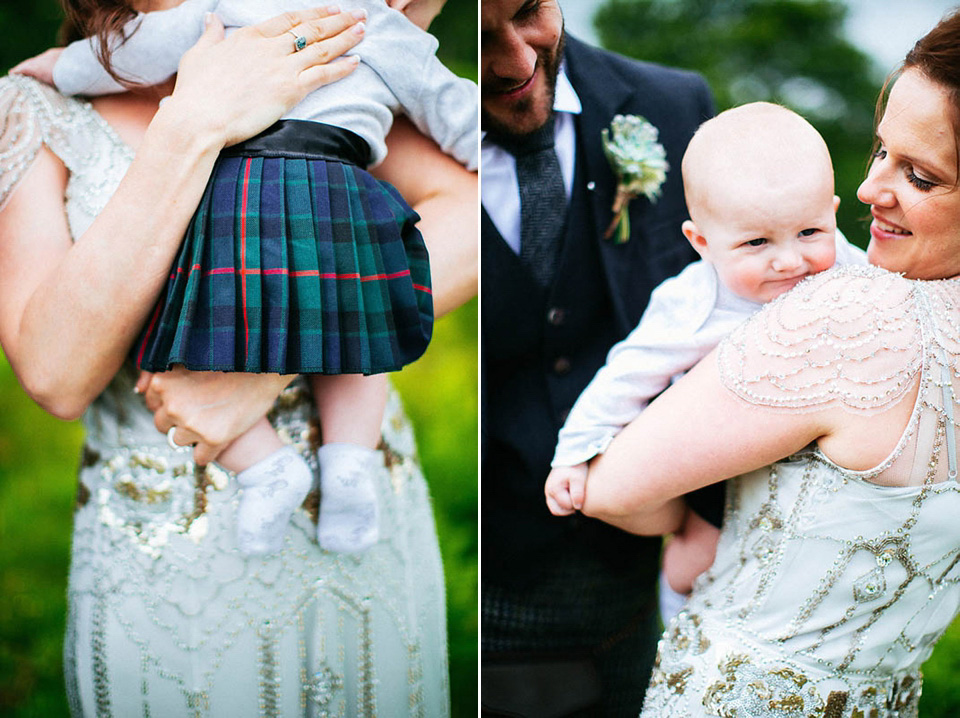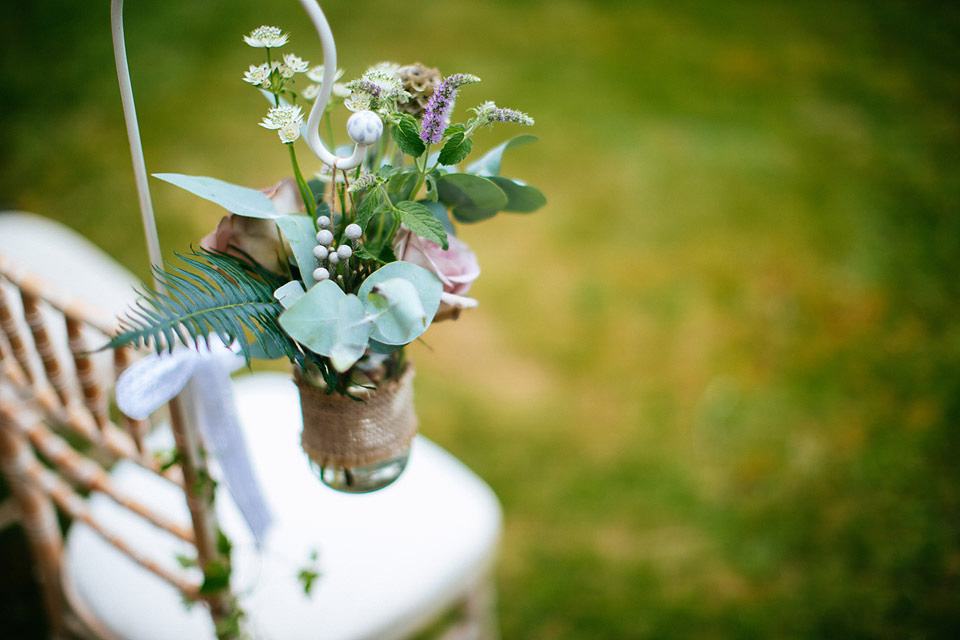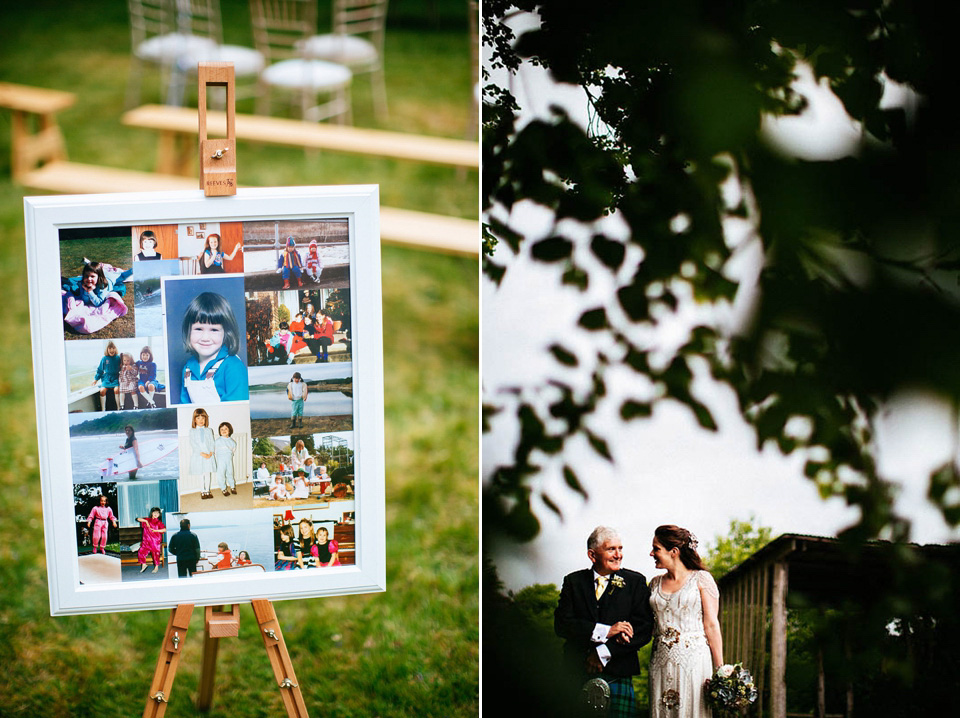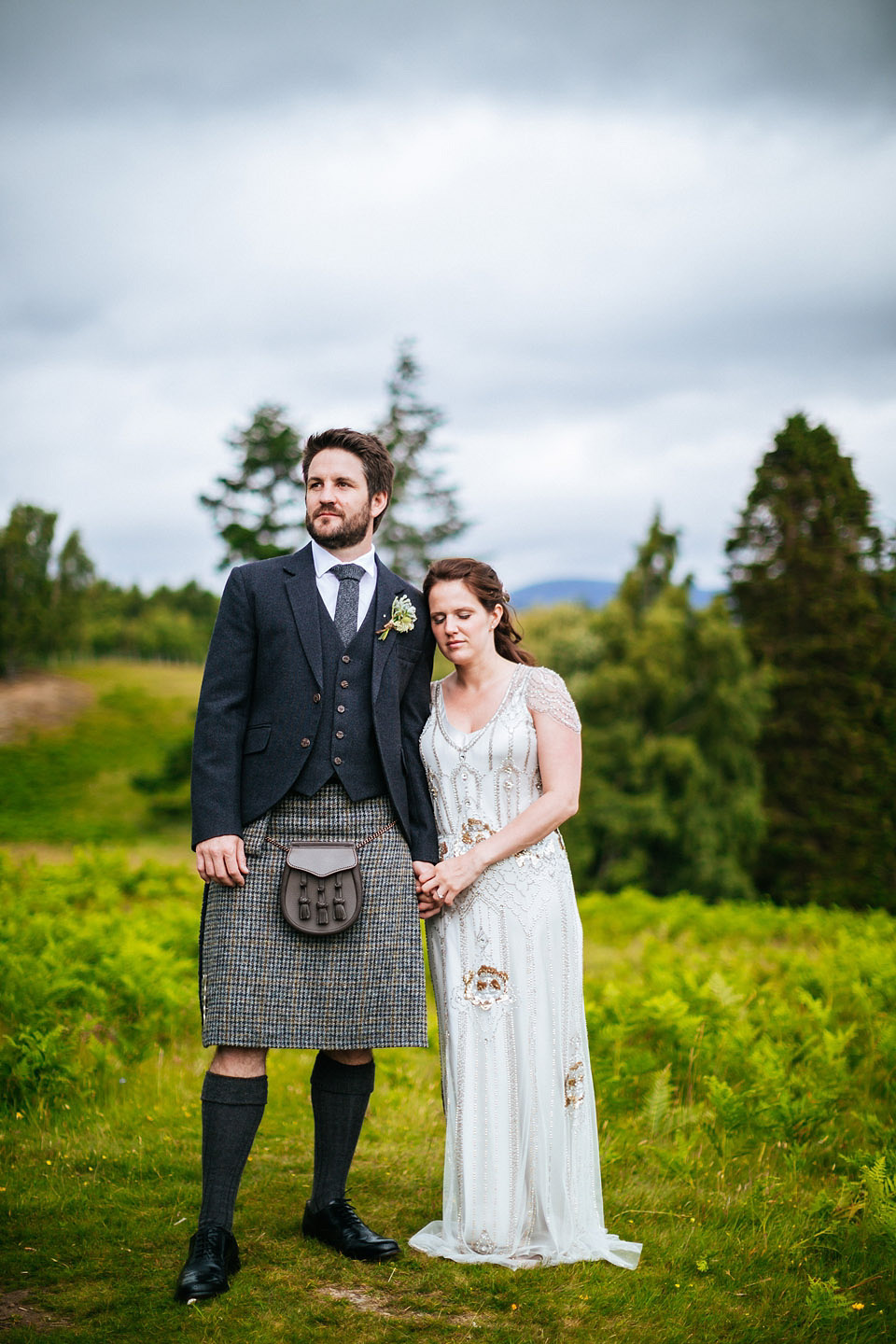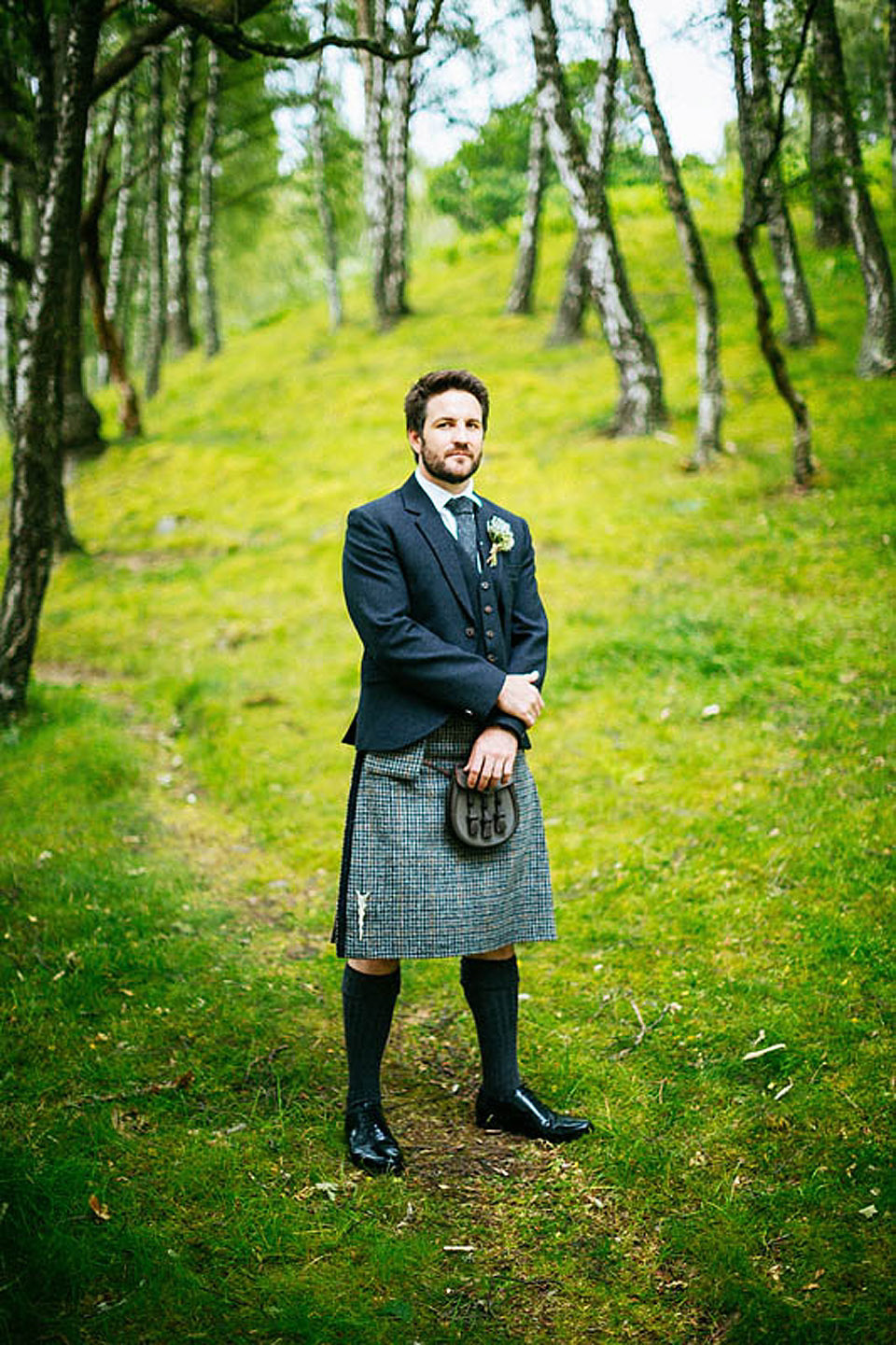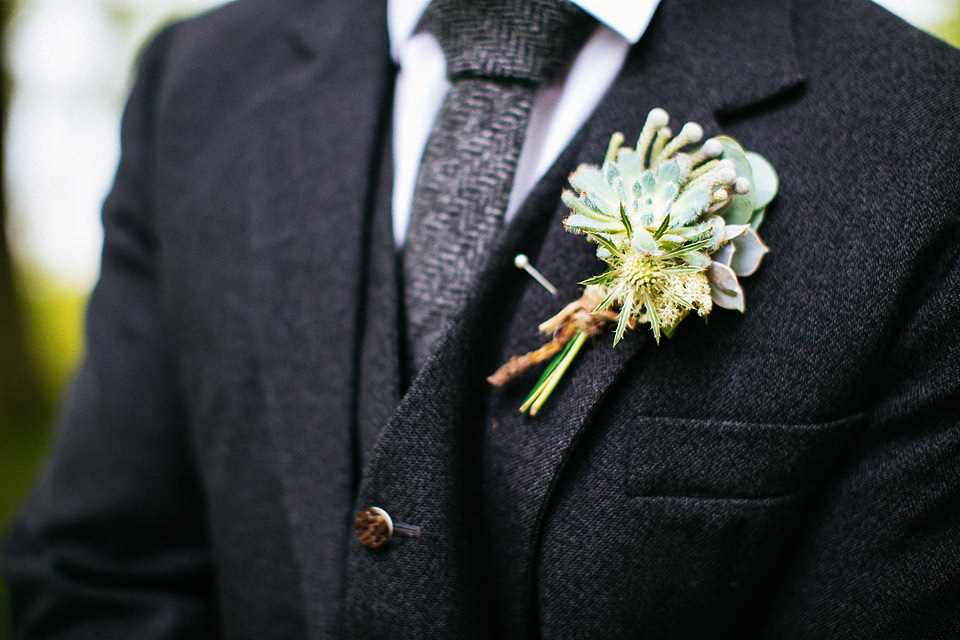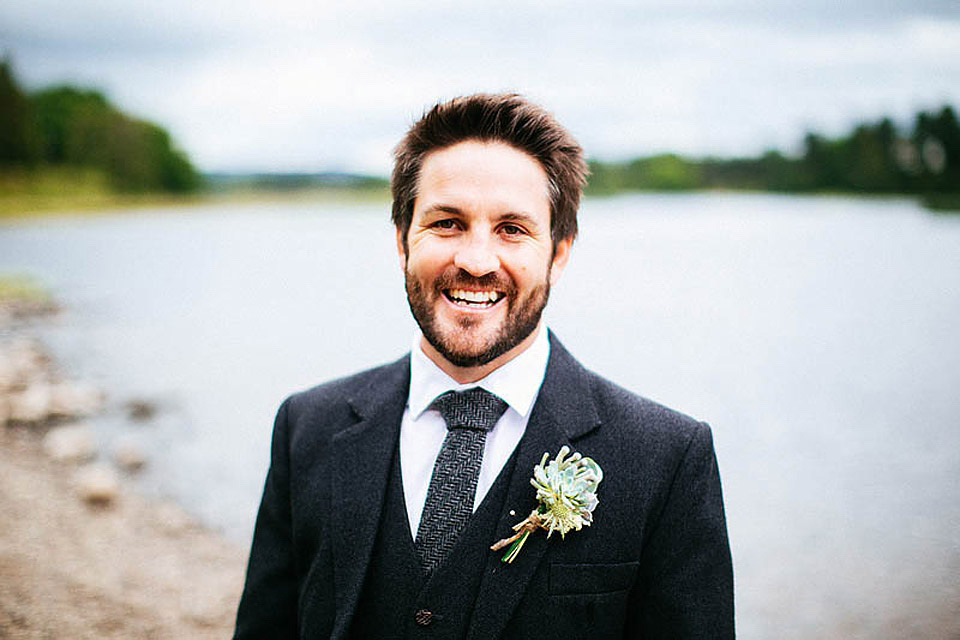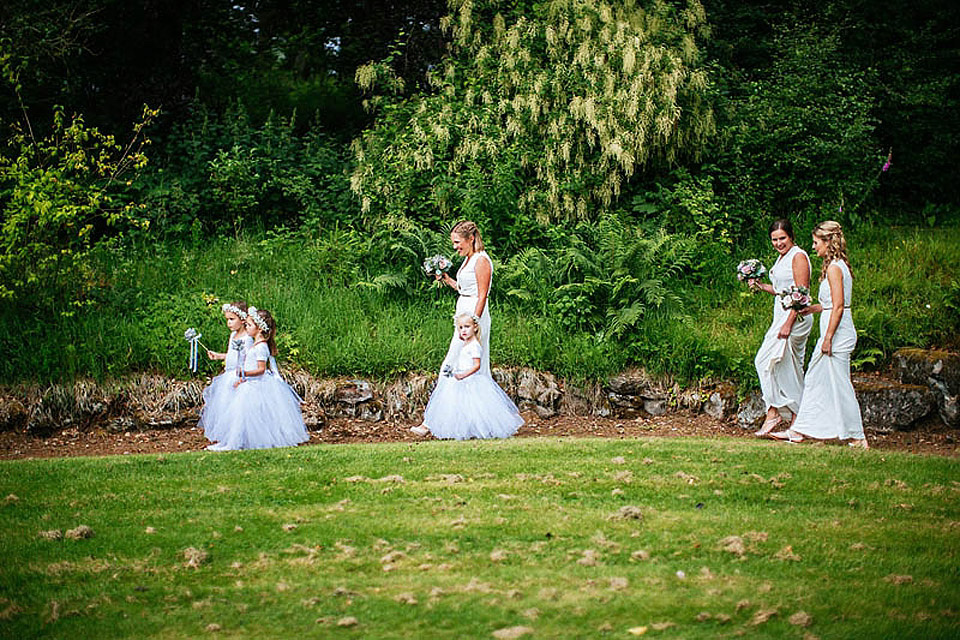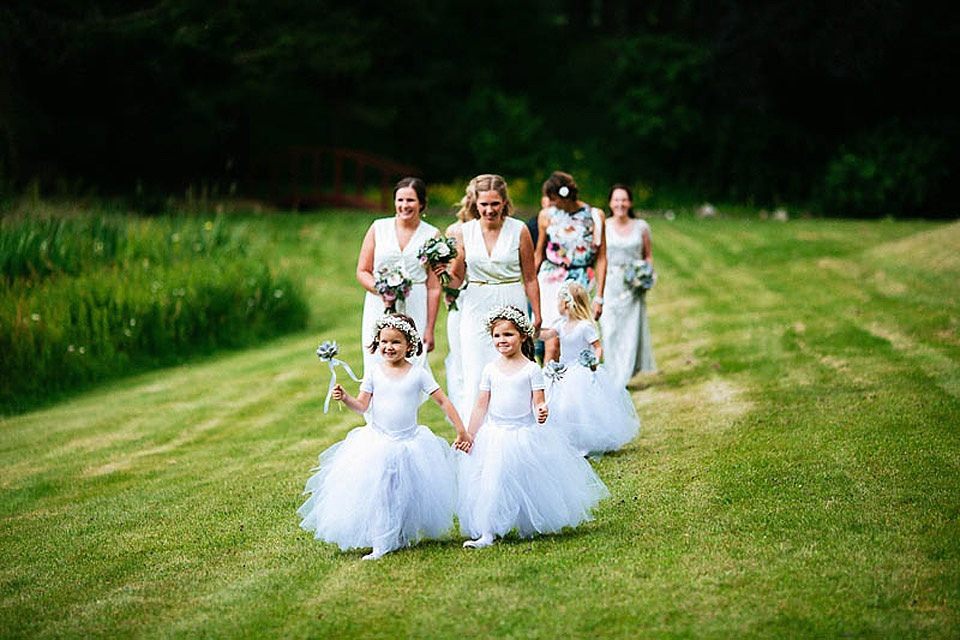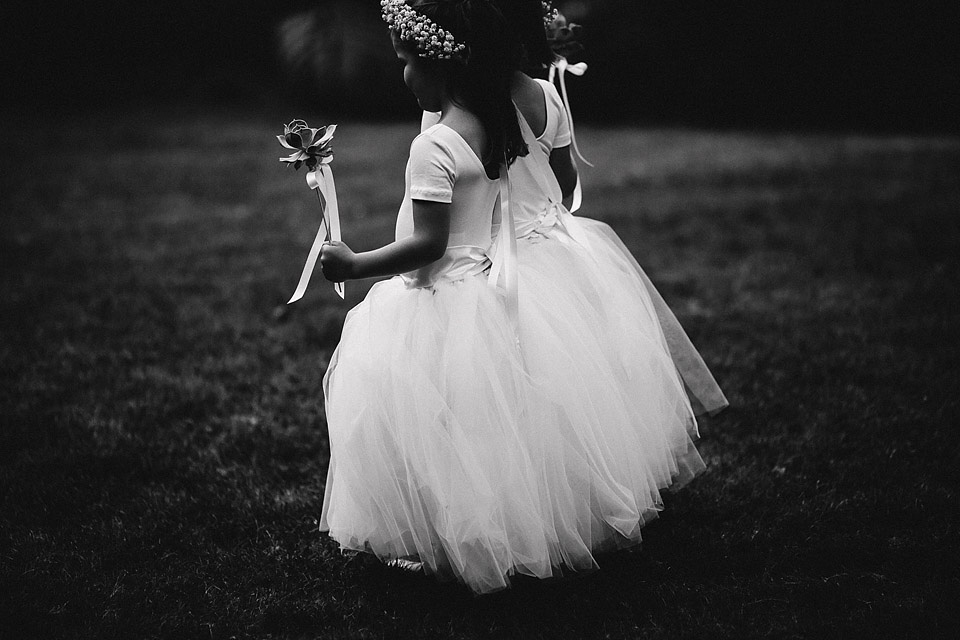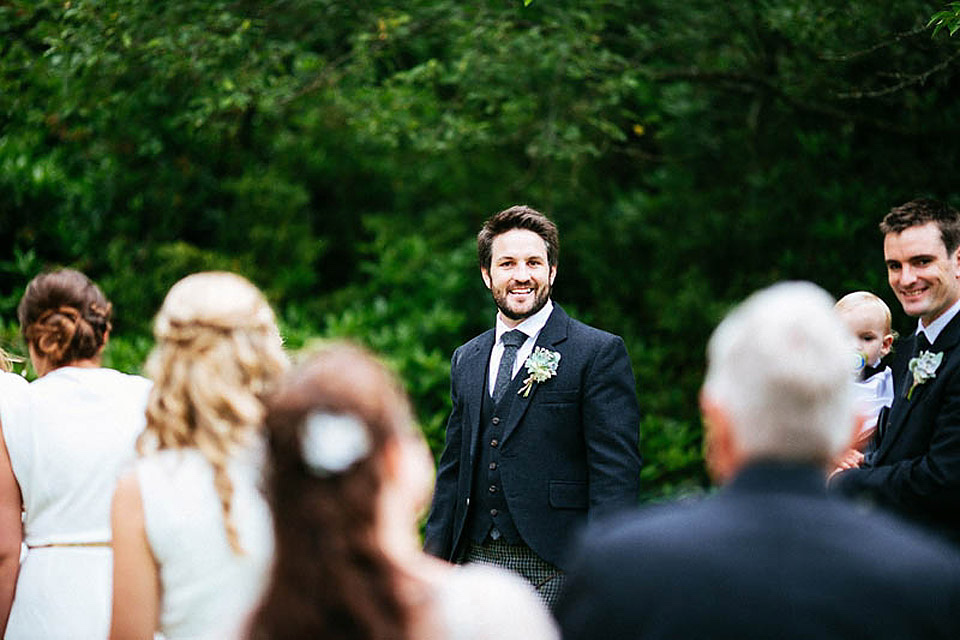 The couple had plenty of musical interludes throughout the day, with buskers, ceilidh dancing, bagpipes, and help from family members.
"Music is really important to me. I've grown up with it as a big part of my life so it was definitely important to incorporate it into the day. While I was shopping one day in Glasgow I saw two guys (Jack McLuckie and David Callander) busking. I found myself watching them for a while without realising, they were so talented. One was playing violin and the other was playing guitar while singing. They were singing Ben Howard who I love, that's what stopped me in my tracks! I went up to them and asked if they would be interested playing at the wedding. I didn't think they would be up for it as Kincraig is a three-hour drive from Glasgow, but they said they were up for it and gave me their number. There were a lot of jokes around family whether the buskers would turn up or not and would I be left with out music but I knew they would and they did. They were absolutely brilliant!"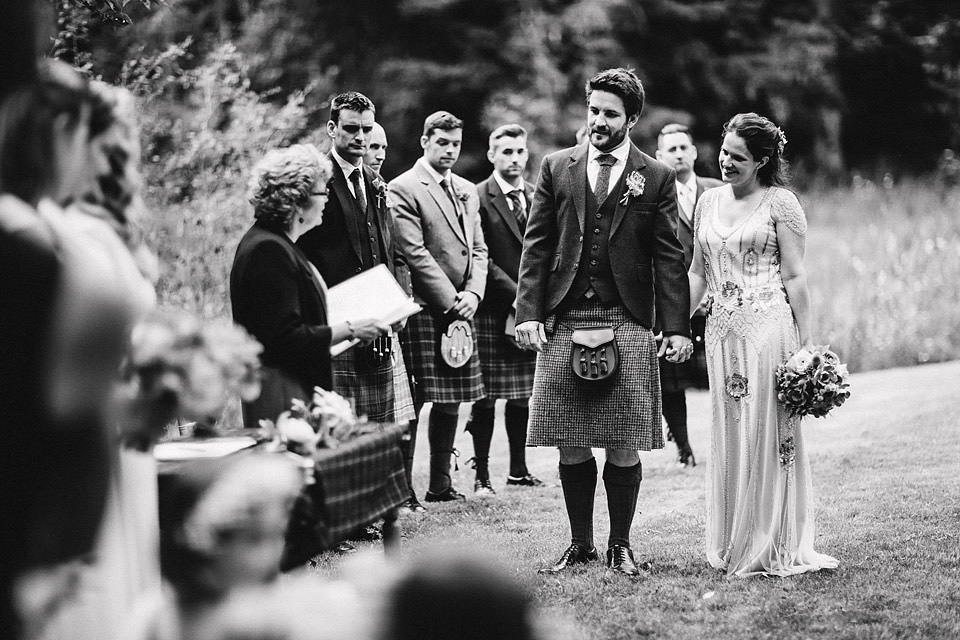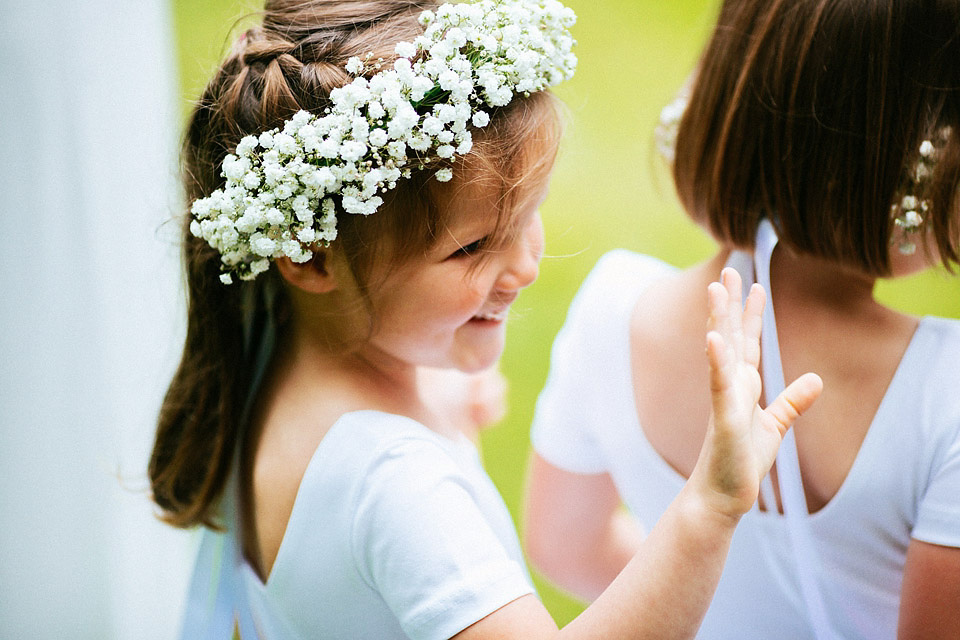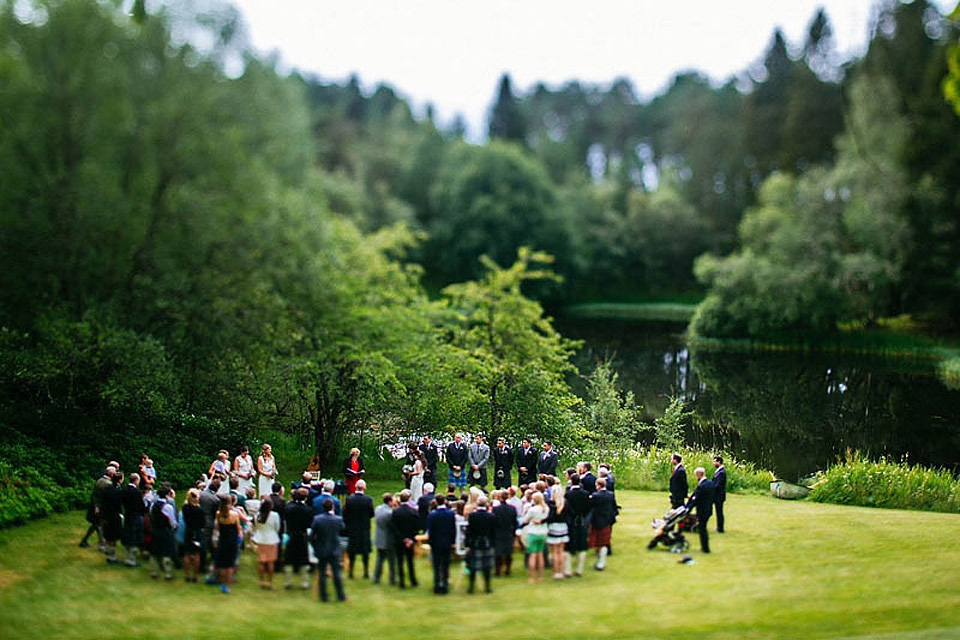 Nikki walked down the aisle to Ben Howard's 'Only Love' (played by their busker musicians) and was given away by her dad. The couple want to give a special mention to their celebrant.
"We would like to mention our celebrant. We were finding it difficult to find anyone to do the ceremony then a friend of ours recommended her mum Sheila Lawtie who was quite new to weddings. She was absolutely wonderful and I'm so glad she was able to do it for us. She went above and beyond for us before the wedding and felt like we'd known her for years. She incorporated a traditional hand tying during the ceremony with a black and white ribbon to represent the New Zealand rugby colours."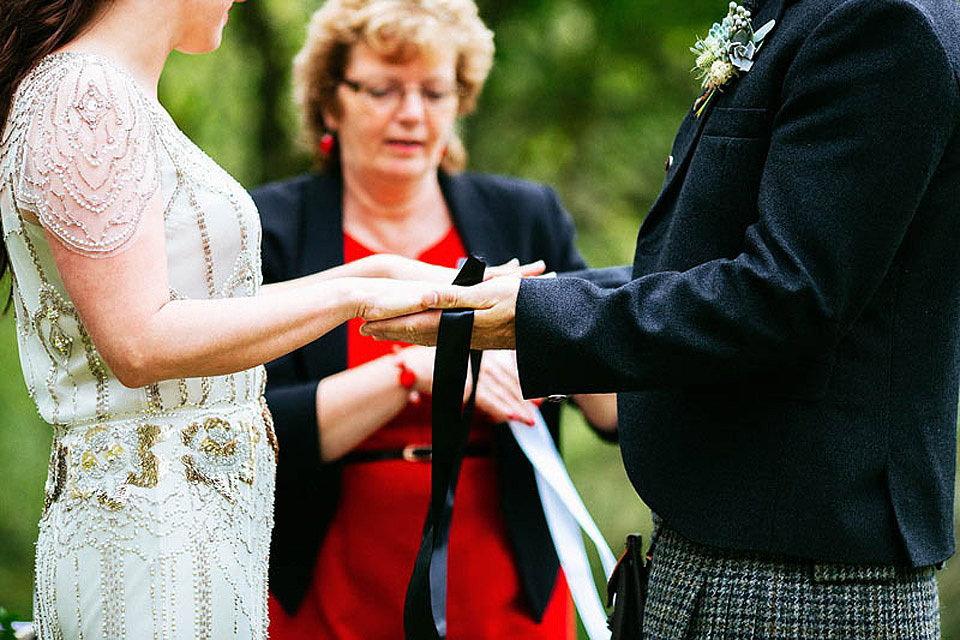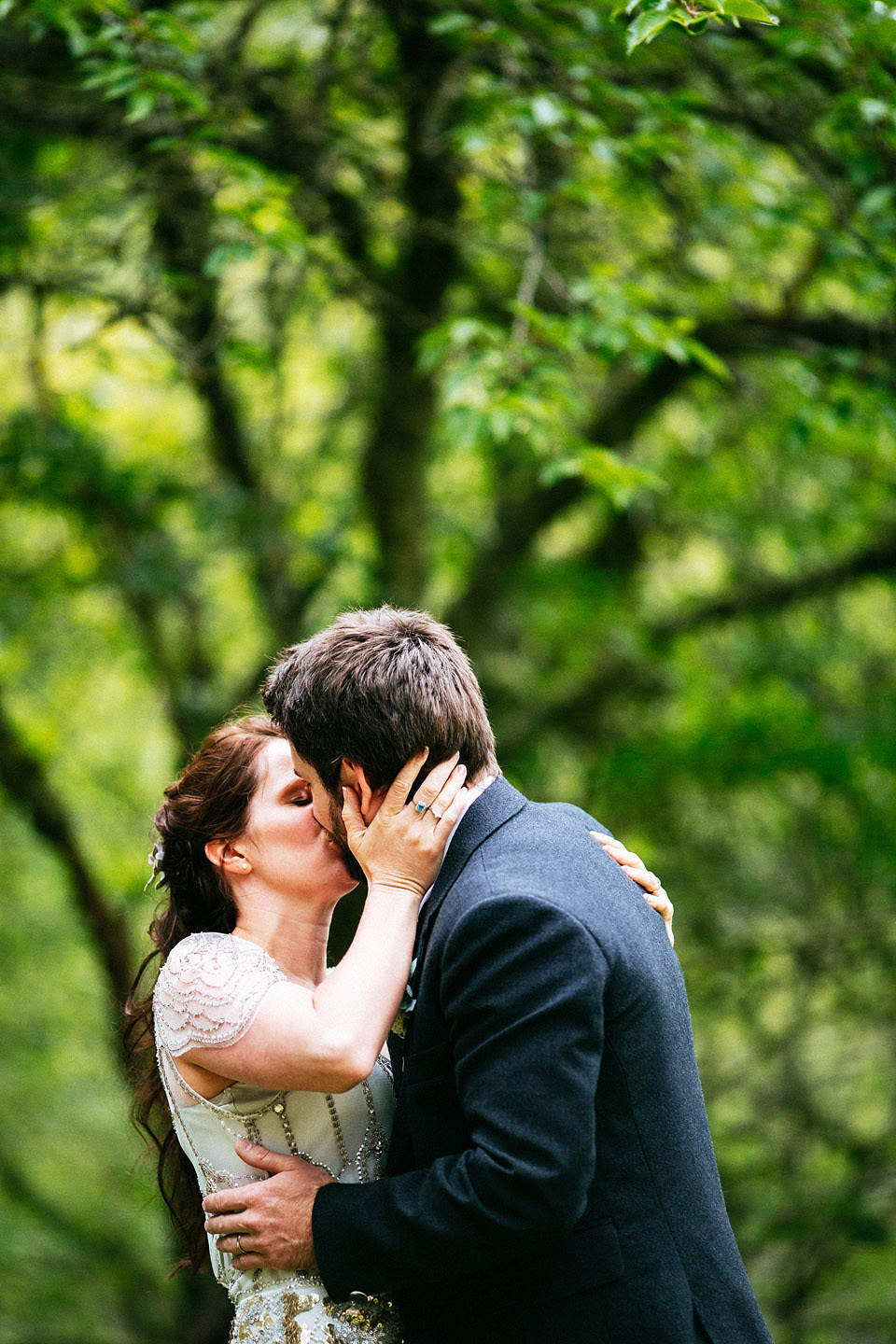 "During the signing of the registrar my older sister sang George Ezra's 'Budapest' while my dad played guitar. Again it was so important to me to have a relaxed laid back day and having my family and friends do some of the entertainment really helped achieve that. I also had a local girl called Liona play the fiddle. She was recommended to me after my aunt heard her playing in the local pub. She was brilliant. Just before dinner she turned round and ask if we wanted her to pipe us into dinner. I didn't even know she played the bagpipes. There is something about the bagpipes that makes us Scots feel very patriotic!"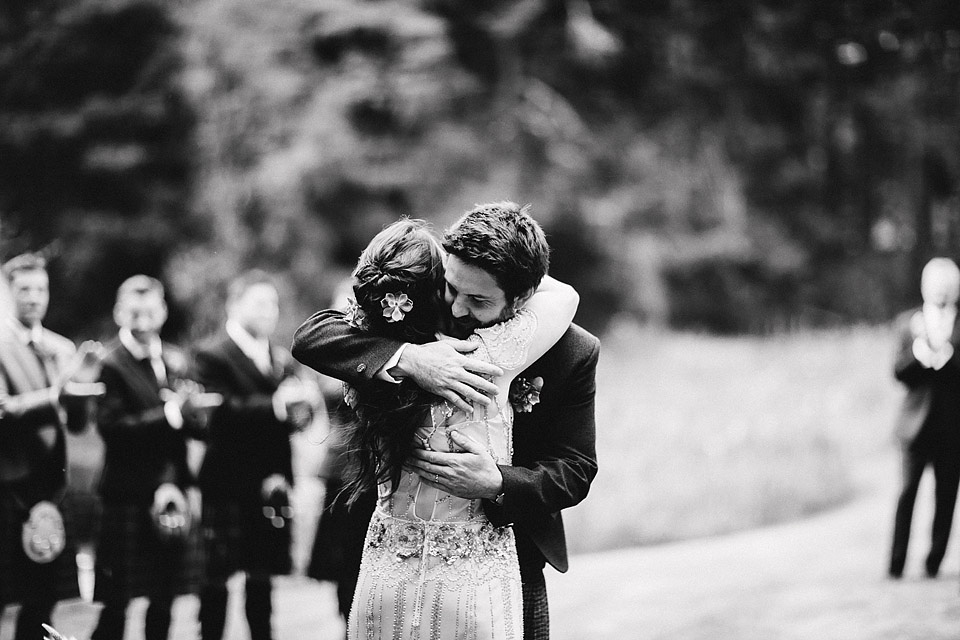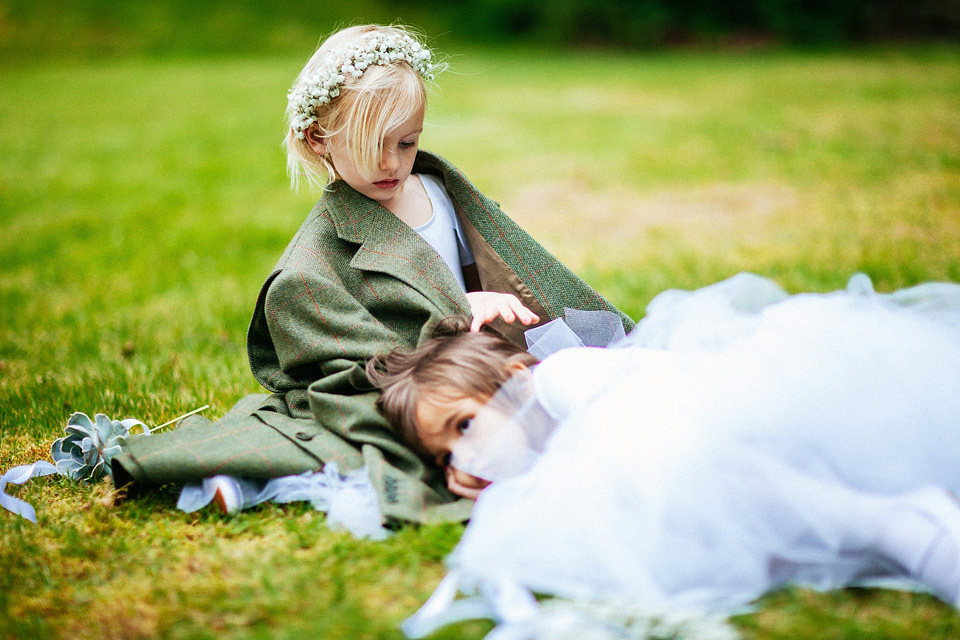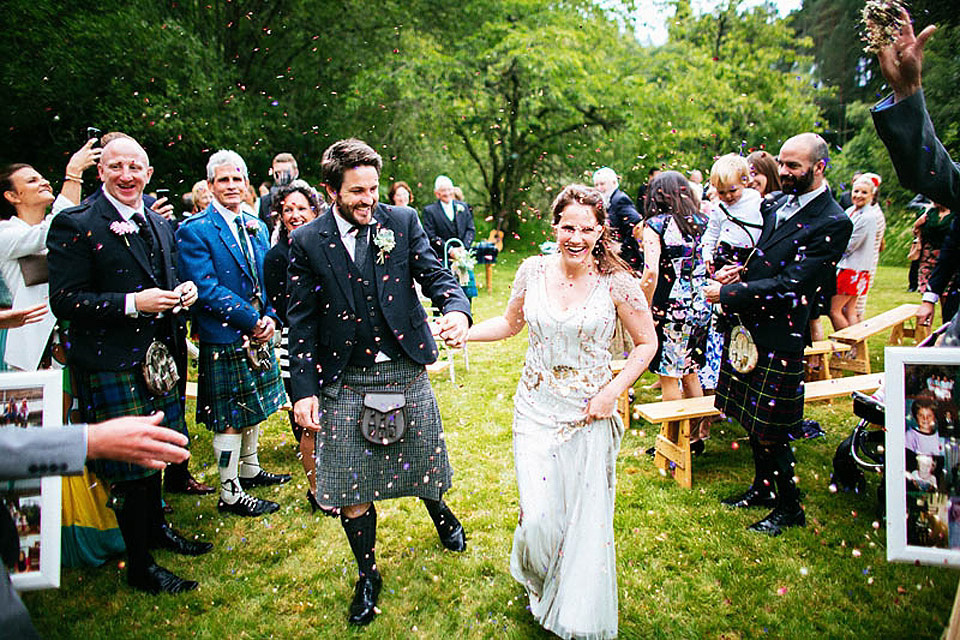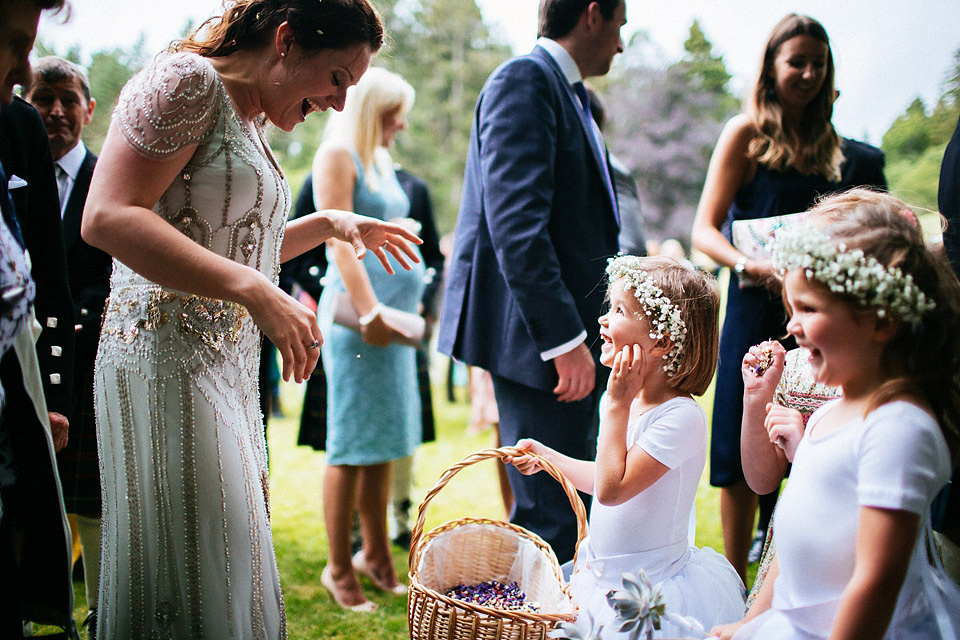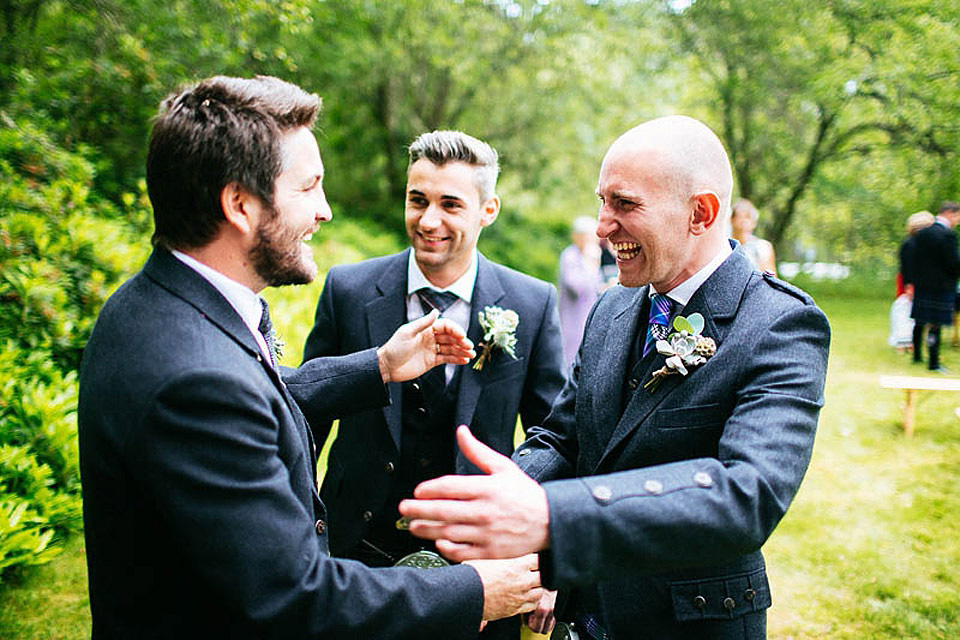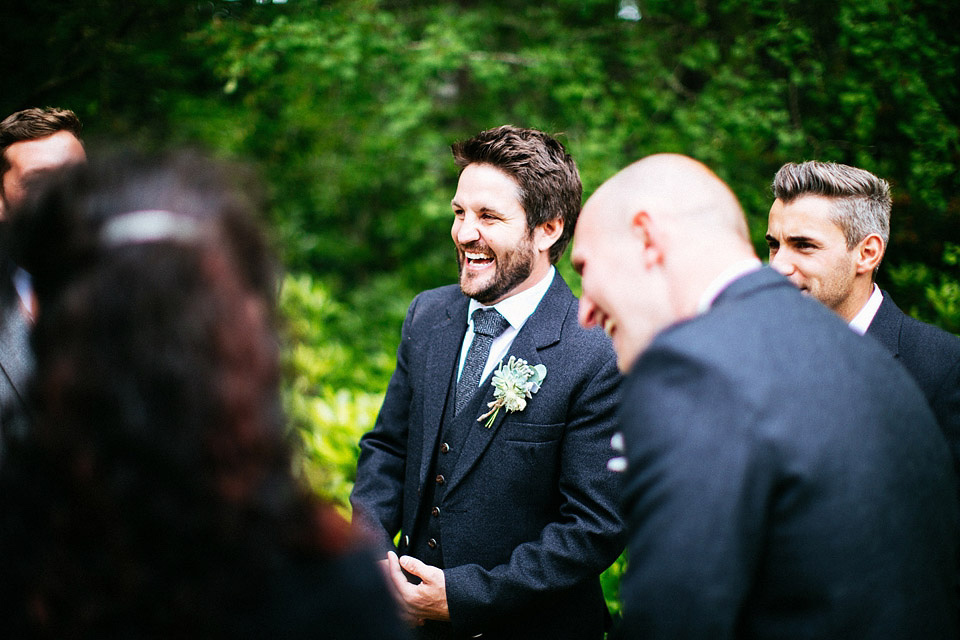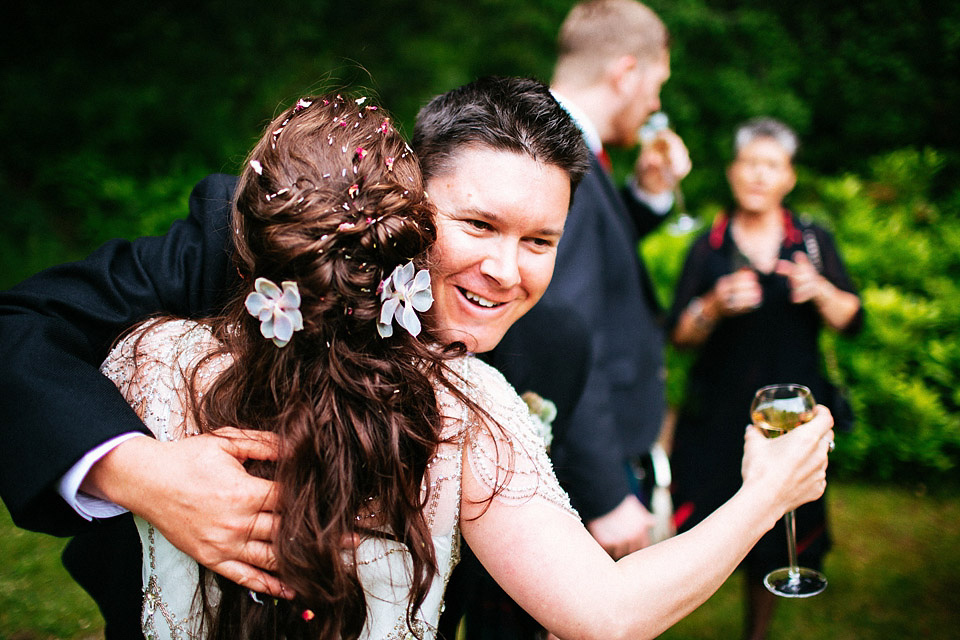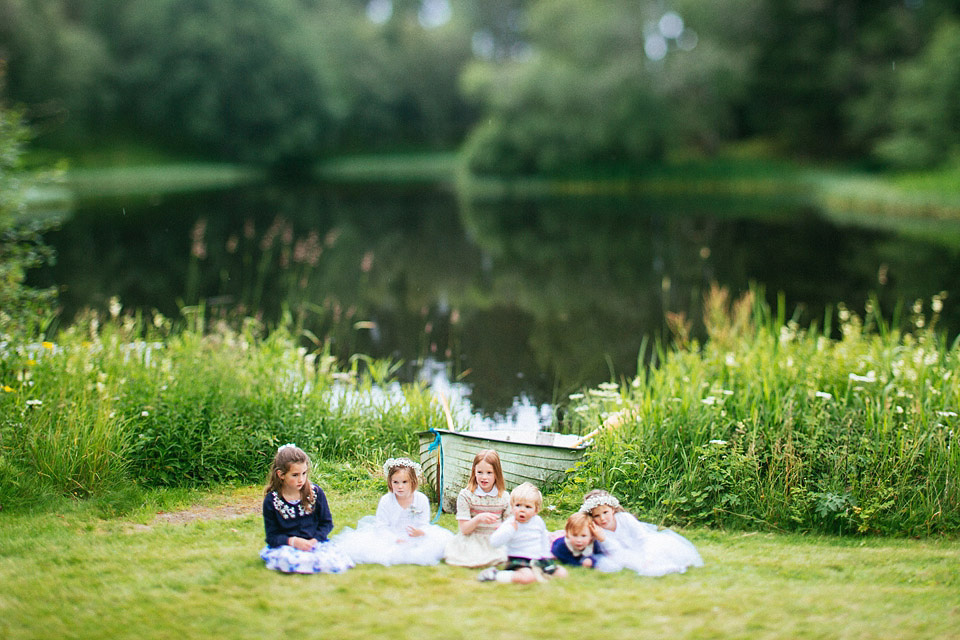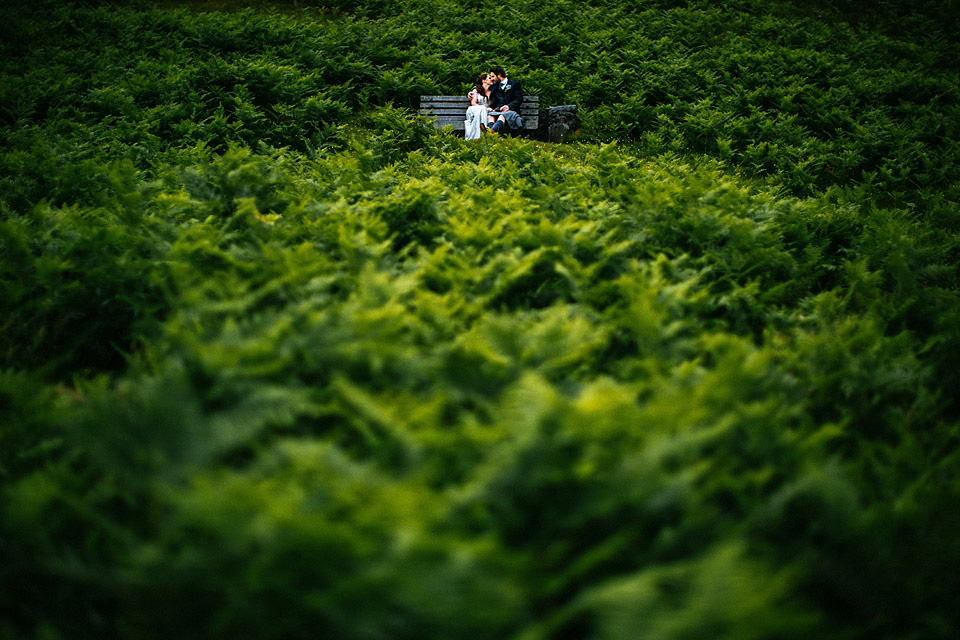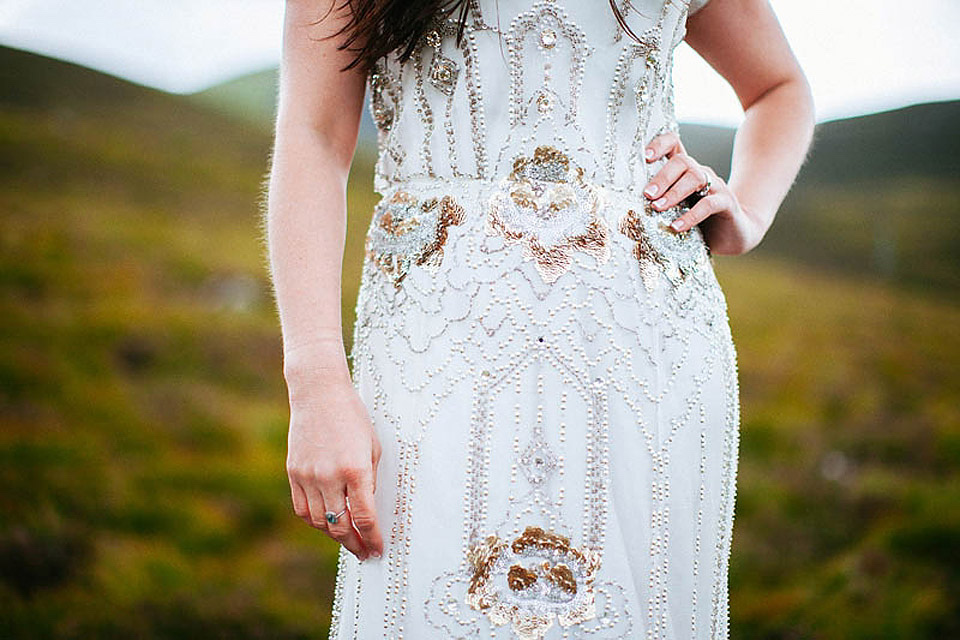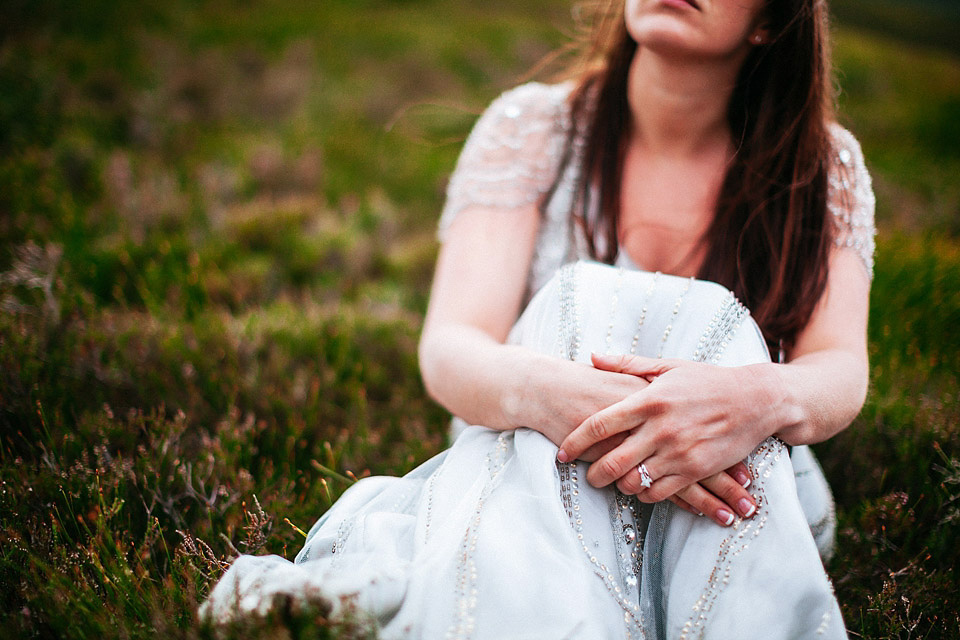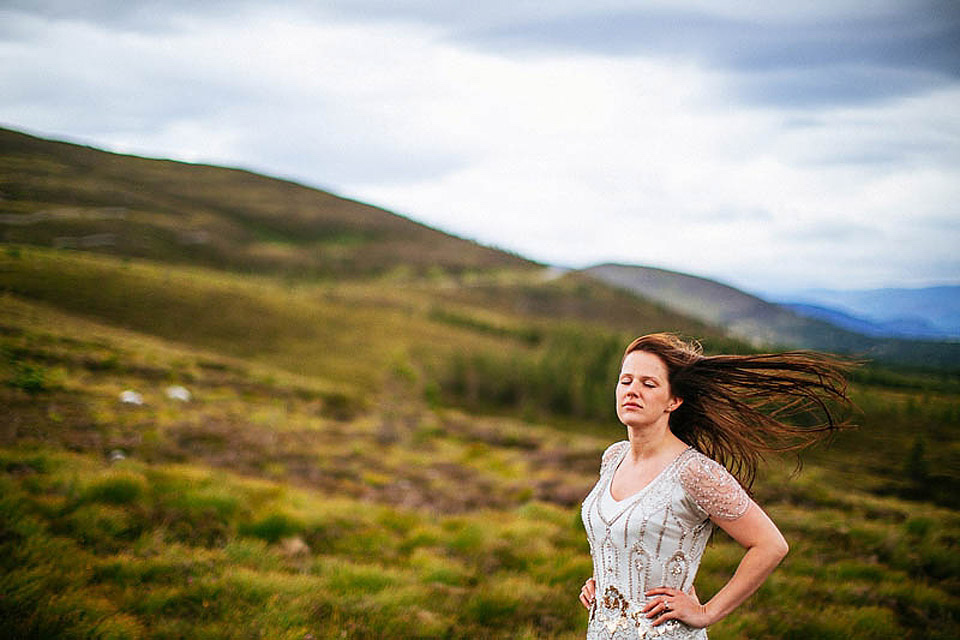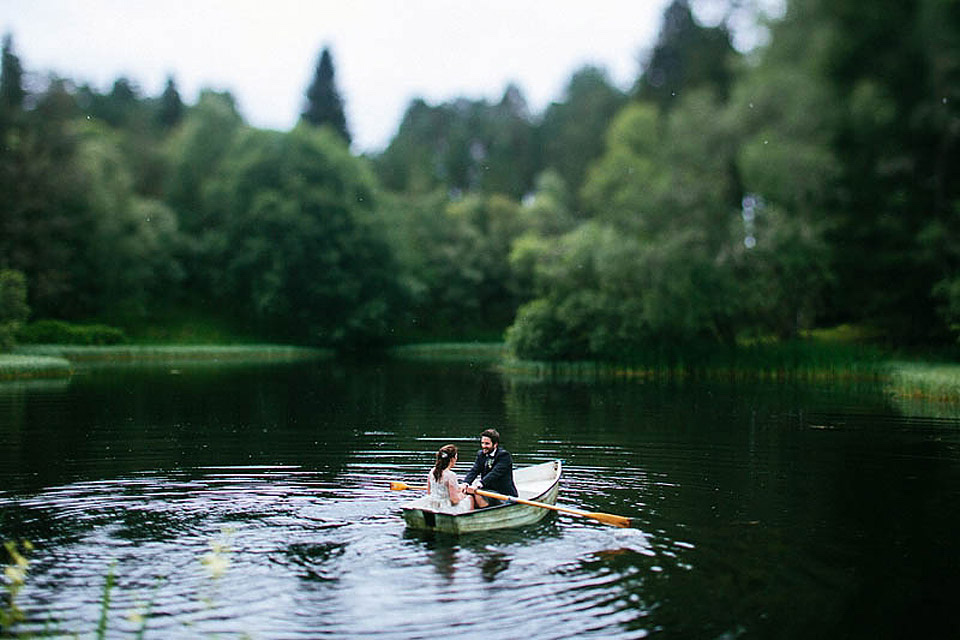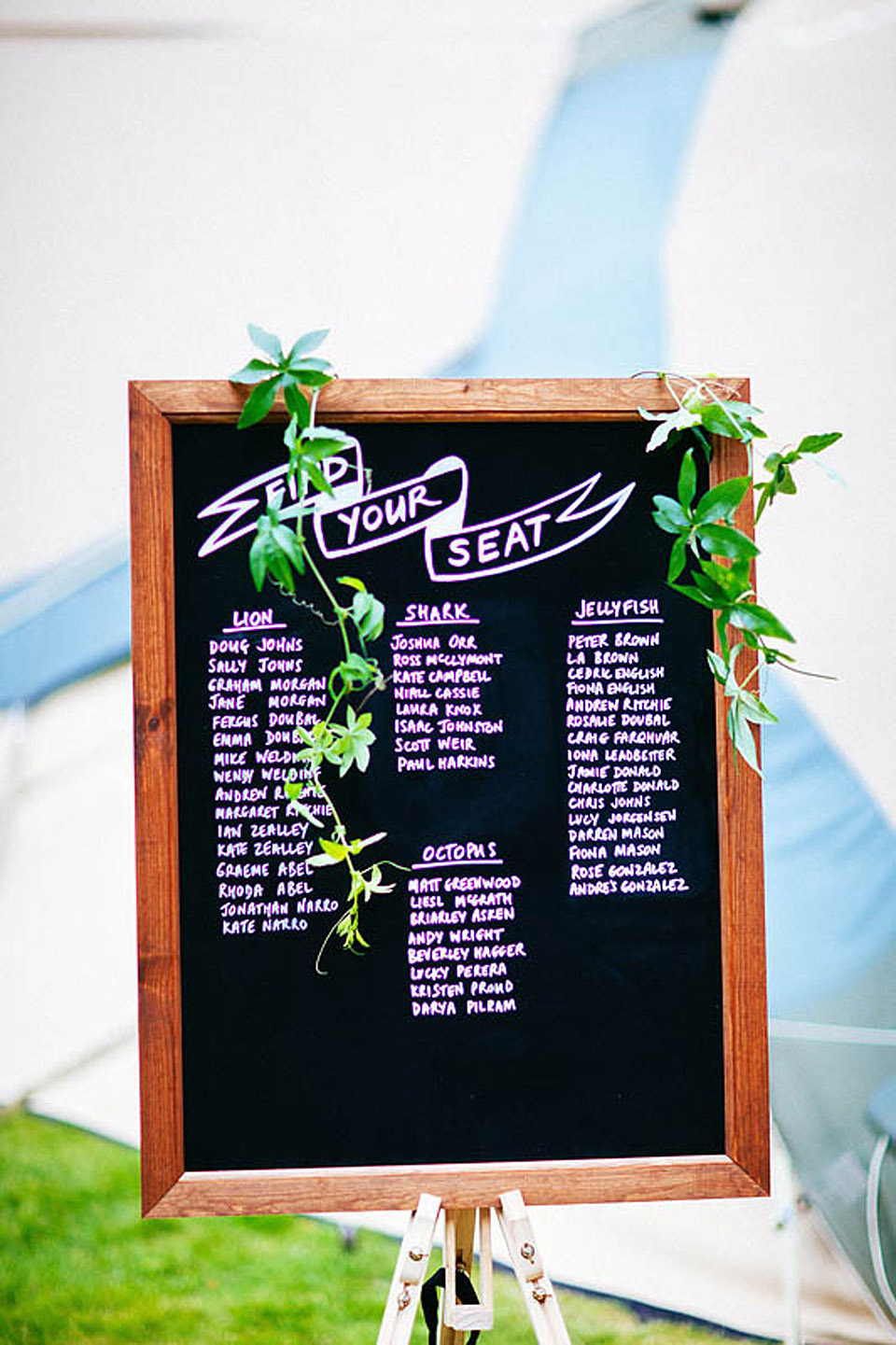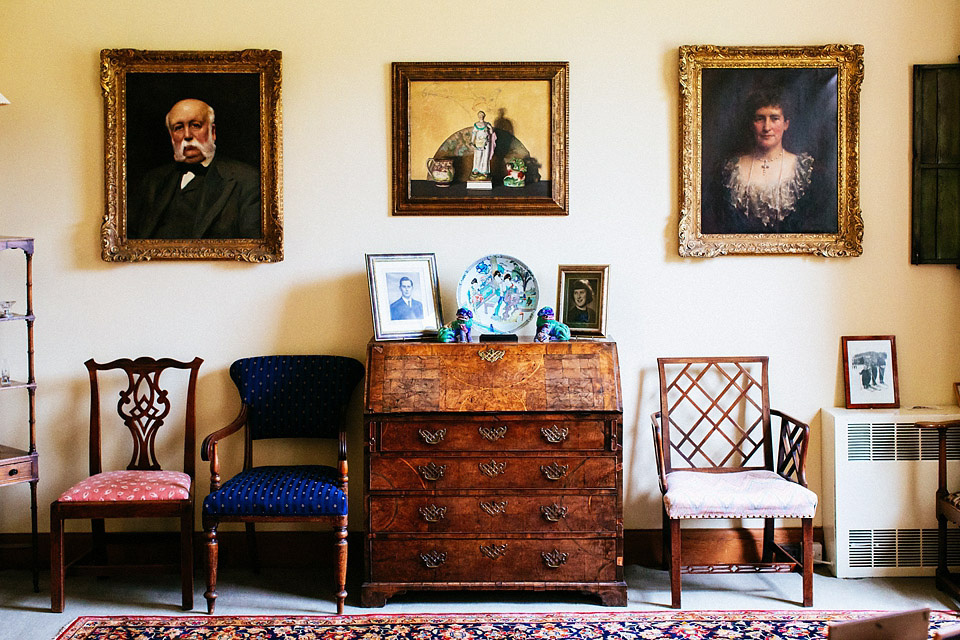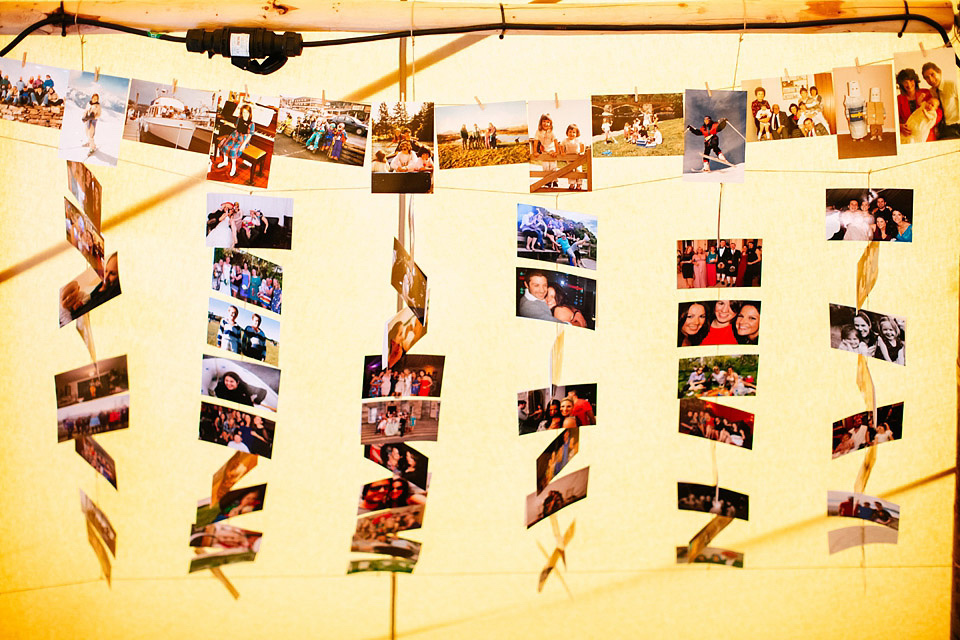 "Jamie's mum brought over little flax bags called 'kits' from New Zealand. They are traditional Maori bags. We put a mini peanut slab (kiwi chocolate) and a wooden keyring (for boys) or magnet (for girls) which had our names, date of the wedding and Paua shell on it. I made up little badges that I put on each bag. On the badge was a kiwi bird with antlers which I designed myself. Something a little quirky just like us. Our kiwi deer featured on our invitations as well. It was brilliant to see all the badges being worn later on in the night."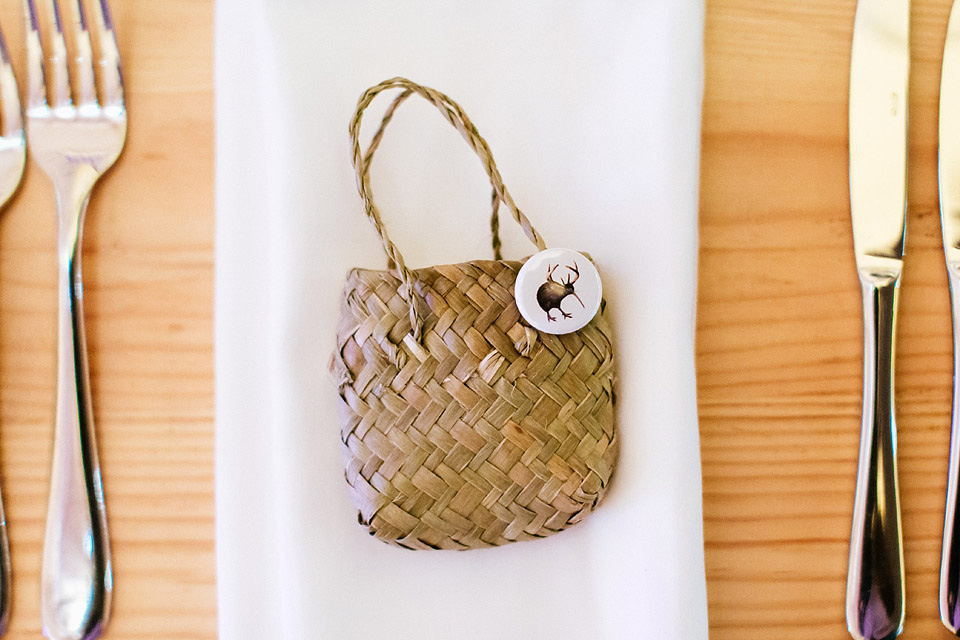 "The food was amazing! I taste a lot of wedding meals…one of the perks of my job, so I was hoping that I would have something that would stand out. We had parma ham and fig for starters, venison haunch for a main which was incredible and caught from the estate, and then kiwi-fruit cheesecake for dessert. I can't fault the food, it was brilliant. Jamie and I aren't big drinkers but we love good wine. Jamie chose the wine which were all from New Zealand."
"We had a stunning wedding cake which was given to us as a gift from Liggy's Cakes, who is a family friend. It looked and tasted amazing. It had succulents on a couple of the tiers that tied in with the flowers. I ordered cake toppers –
a stag, a deer and a fawn to represent our little family – from Etsy and LOVED them!"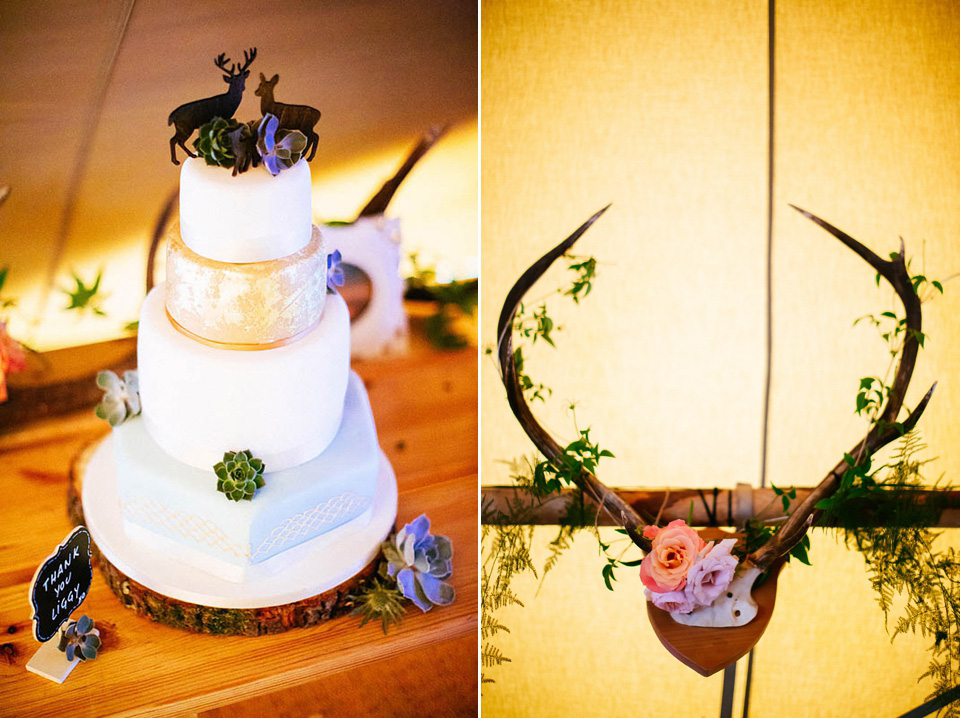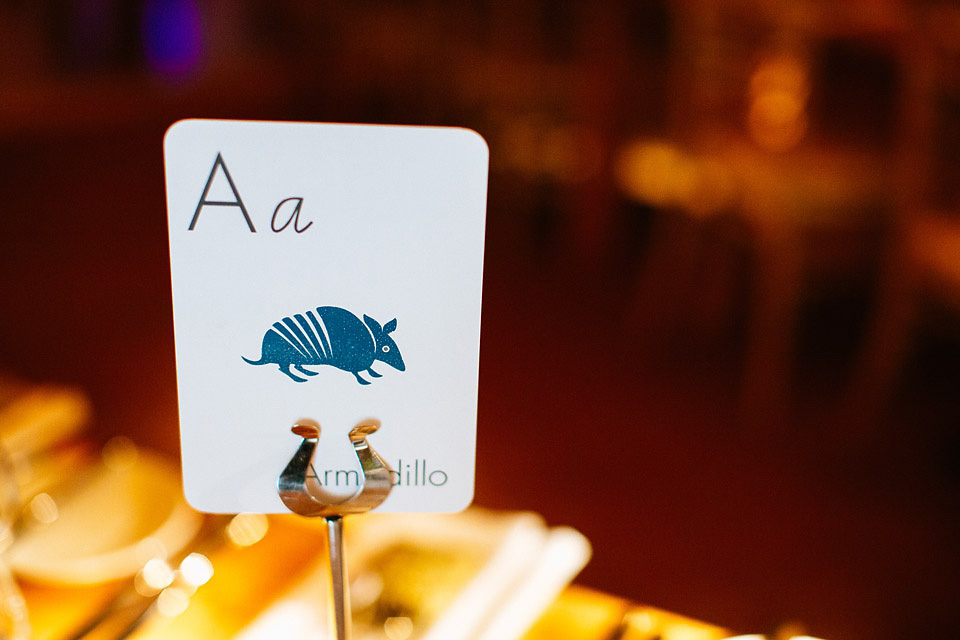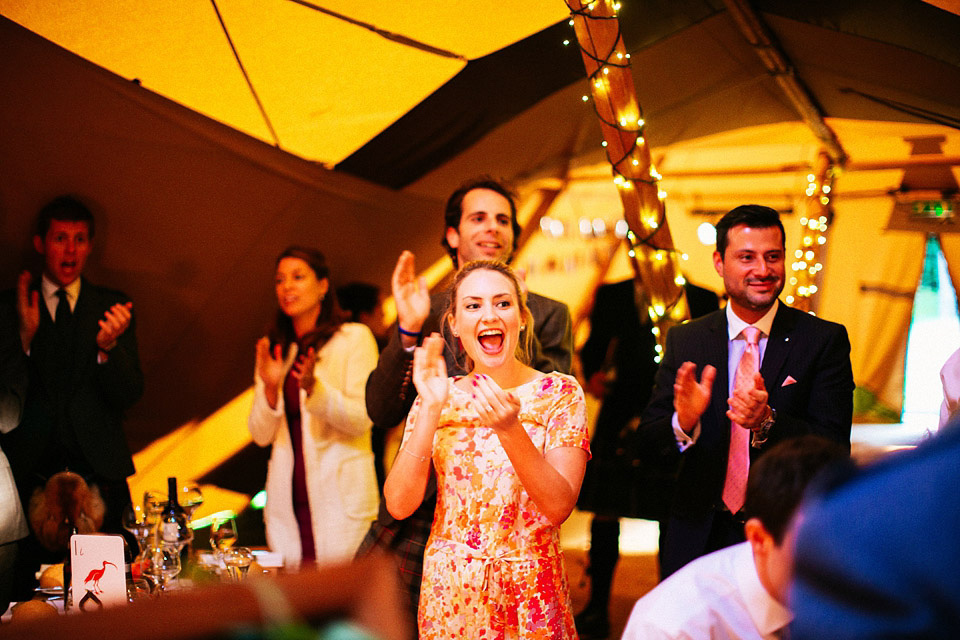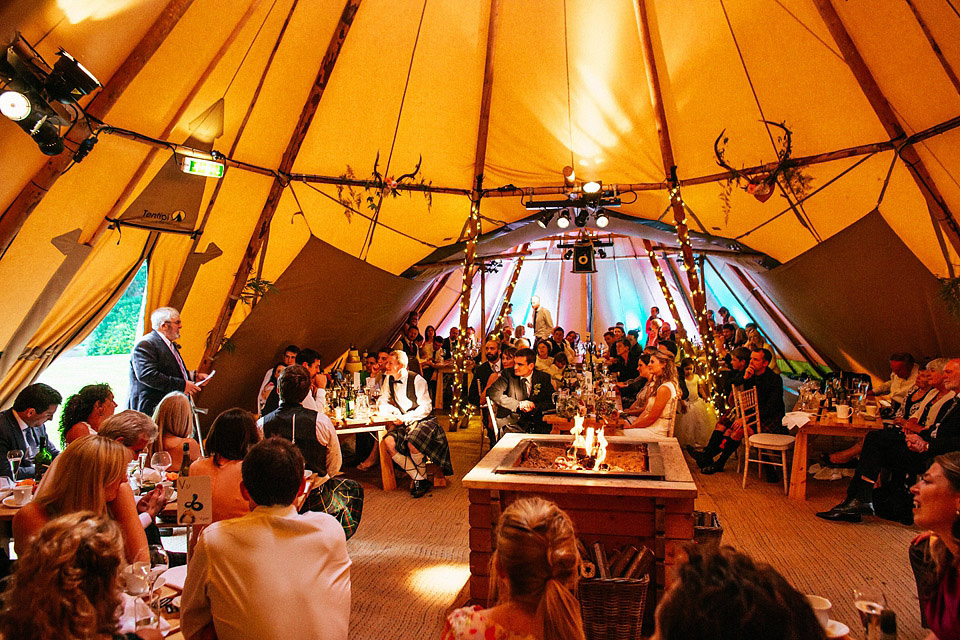 "Besides actually getting married, my favourite part of the day was at the end of the night. The band played Auld Lang Syne, a traditional Scottish song that is sung as a farewell at the end of the night at ceilidhs, dances, weddings etc. All our guests made a big circle around us and linked hands while singing. I stood in the middle with Jamie looking around at all our favourite people from all stages of our lives. It was an amazing and emotional feeling knowing that all these people were here for us and won't be in the same room at the same time together again.
We were so very lucky as we had friends and family come from all over the world; from New Zealand, Australia, Hong Kong, Kuwait and California. Jamie's usher Zach even sold his ute to pay for his plane ticket. The wedding wouldn't have been what it was without these people and we can't thank them enough." 
"For our evening band I had seen Callanish play quite a few times and had never been disappointed. We wanted ceilidh dancing because they have a brilliant knack of getting everyone up dancing together. But also some current music so it wasn't too overbearing for the Kiwi and Aussie guests. They were amazing and the dance floor was packed all night. Everyone had smiles on their faces along with a good shine by the end of the night!
We chose 'One Day by Op Shop, a New Zealand band, for our first dance. We first listened to it on our first trip back to New Zealand together and it reminds us of very fond memories. The band learnt and played it for us. It was perfect! Unlike our dancing skills!"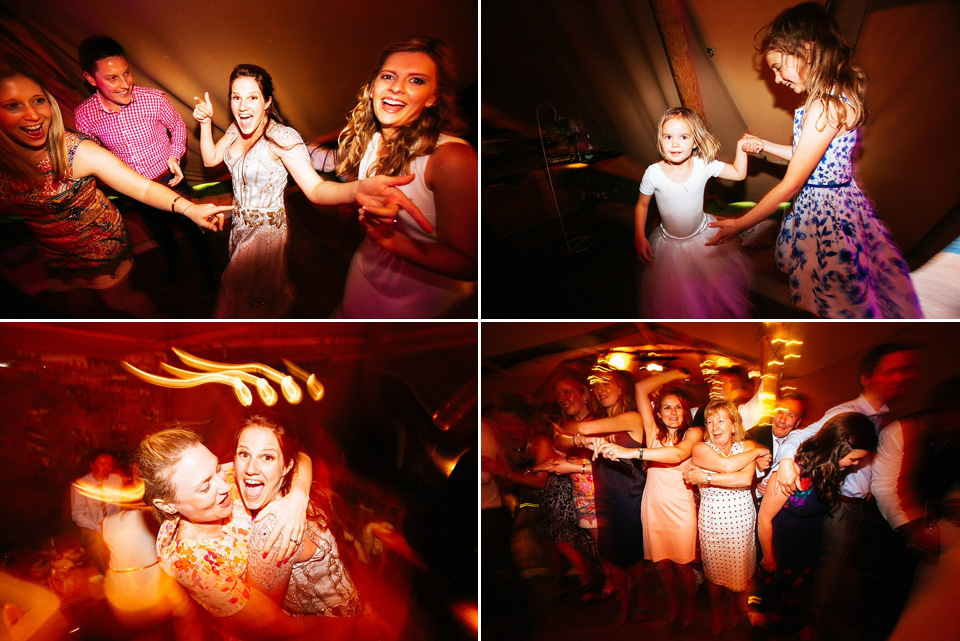 Words of Wedded Wisdom
"It's a lot easier to look back on things after the event and understand what people meant but I would definitely say don't sweat about the little things. Yes details are lovely, making things look nice is great fun and makes your wedding personal to you, however just remember that it's about the people not the décor. Not the little details which more often that not end up being the things that stress you out the most … that and the seating plan! I see time and time again couples getting stressed out over the little things and all these things go out the window when they see all the people that have come just for them. The people were without a doubt the post important part.
Also embrace new ideas. I think people should think out of the box more. A lot of people think they have to conform to wedding traditions but things have changed so much that we should be making our own traditions. Don't get me wrong, I love some of them but I also think that too much importance is placed on some of them. Jamie and I did a first look before the ceremony. We met beside the loch where Jamie proposed to me. Lucky came with me and Kristen was with Jamie waiting for me. It was really important for us to get a little bit of time together before the madness of the day. We got some gorgeous photos taken of our little family. I wish more people did first looks. I know it's not for everyone but it's a lovely time to get a bit of quiet time together and get excited about the day ahead, together. I always say take 5 minutes to yourselves at some point during the course of the day. It really does go so quickly but its nice to take 5-10 minutes out to reflect on everything that's going on around you and take it all in. Trust your suppliers, they do weddings all the time. Tell them your ideas and what you would like. They are the experts.
I would also say right at the very start of the wedding planning process, set out a budget. It's very easy to get carried but be strict. People have different priorities of what is important to them on their wedding day. Mine was the photography as this is what I was going to be left with to remember my day. Then we tried to fit everything else into a budget. We were a bit rubbish at this but hindsight is a wonderful thing."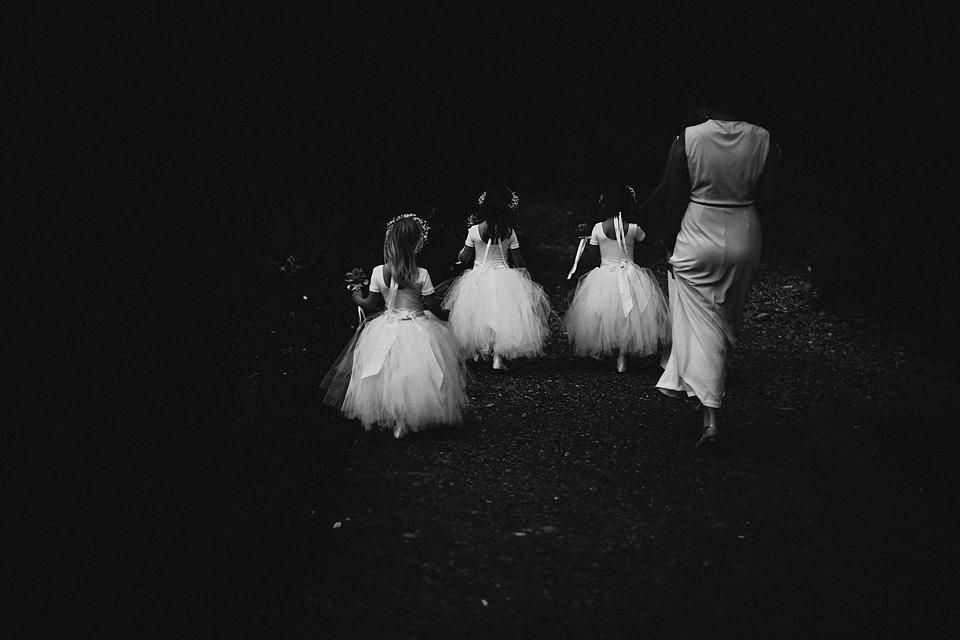 Some realistic pearls of wisdom! And Nikki adds how much she was inspired by this very blog.
"I love the styling of Love My Dress. The colour palette is really pleasing and I love how interactive the site is. I keep wanting to press different things and roll my mouse over links to see where it takes me. It really draws you into the site. It's got a very classy look to it that a lot of other blogs don't have. It feels timeless. I really like the menu bar at the top with the drop down photo links. It's great for inspiration on lots of different levels as a photographer and as a bride."
I absolutely love how personal Nikki and Jamie's wedding day was to them; with their very quirky antler décor, reminders of Jamie's New Zealand and Nikki's Scottish heritage, and their family and friends joining them from around the globe. That's what it's all about. A huge thank you to Lakshal Perera for the simply breathtaking images and I wish the happy couple a lifetime of happiness, love and laughter.
And if you've been inspired by the location, you can view more stunning weddings in Scotland here.
Have a jolly rest of week lovelies!
Love Jo – xxx –
Photographer – Lakshal Perera
Venue + Catering – Alvie Estate, Kincraig, Scotland
Celebrant – Sheila Lawtie
Bride's Dress – Jenny Packham via Pan Pan Bridal, Edinburgh
Bride's Shoes – Rachel Simpson Shoes
Bride's Hairpiece – Little Botanica
Bride's Accessories – Own pearl earrings and grandmother's engagement ring
Bride's Scent/Perfume – Miss Dior
Bridesmaid's Dresses – Mango
Bridesmaid's Shoes – Own shoes from Dune, Aldo and Primark
Bride's and Bridesmaid's Jewellery – Necklace and earrings via Etsy
Groom and Best men – Tweed kilt lent by Howie Nicholsby from 21st Century Kilts and groom's jacket from Geoffrey the Tailor
Flower girls – Leotards via Dance Direct and tutus via Dainty Dizzy
Florist – Succulents from Little Botanica
Cake – Liggy's Cakes and stag, deer and fawn cake toppers via Etsy
Rings – Diamond Heaven
Tipi Hire – Highland Tipis
Hair and Make-up Artist – Lipstick Lashes and Locks
Entertainment – Buskers Jack McLuckie & David Callander (no website), Liona (no website) on the fiddle and bagpipes, and Callanish ceilidhband