Well hello lovely Tuesday readers!  Are you taking time off work for half term this week, or are you working through like usual? I've spent the past two days in London where I've been working on some beautiful blog content that I'll be sharing with you soon – including the brand new collection of bridemaids gowns from Twobirds Bridesmaid.  This morning, I'm on an assignment to Upper Street Shoes where I'll be having a go at actually designing a pair of heels! Watch out for photographs and details of a rather lovely little Upper Street contest coming your way soon.
This morning's wedding is an absolutely charming summer time affair, full of pastel pretty shades and featuring a dress I've adored ever since I set my eyes on it back in 2010 – the 'Jean dress' – a time honouring design from the Classics collection by Temperley London, which also happens to be one of my very favourite bridal fashion brands.
Freelance writer and Fitness Instructor Natalie tied chose to wear the beautiful Jean dress to tie the knot with her beau, Documentary Photographer Daniel, in June last year at The Matara Centre in South Gloucestershire. This wedding is delightfully pretty affair and I hope you enjoy the photographs shot by talented wedding and portrait photographer, Tarah Coonan, as much as I have.
"We had wanted a relaxed, laid-back and ethereal wedding. When we found The Matara Centre, we immediately fell head over heels in love with it. No other venue would or could compete.  As lovers of literature, we found that the venue lent itself perfectly to Shakespeare's, 'A Midsummers Nights Dream'. We were also getting married on Midsummers Day, so it couldn't have been better. "
Photography Copyright (c) 2015, Tarah Coonan
"It was important that it was a day that reflected us both. Daniel was a huge part of the planning process and it felt even more special, knowing how much Daniel loved it – it was our day and couldn't have gone any better.
After an initial bad experience with a wedding planner, my friend Sophie Smith came to the rescue; she made the process come together seamlessly and made everything look magical."
"Having got engaged and chosen my ring in Brighton, I decided to go back to get my dress. I stumbled upon Leonie Claire Bridal. The boutique was just how I had envisioned my 'dress experience' – so sumptuous and very feminine – without being over the top.
I thought I had already found my dress, a tea length Naomi Neoh gown, and I never planned on wearing a long dress, so everyone was very surprised!  I spotted this dress in Leonie Claire – it stood out because of the embellishment.  I thought, I'll try it on and give it a go, as well as the Claire Pettibone 'Willow' dress, which was beautiful. However, once I stepped into the Jean dress by Temperley London and looked in the mirror, I knew that it was 'the one' – yes, I had that moment.  A few tears were shed, and I just didn't want to take it off.  It was and remains the most beautiful dress I have ever seen."
"Our florist was Emilie of 'Daisy Lane Floral' was a dream to work with. She captured our vision perfectly. We wanted to compliment the venue, and as we love flowers, we went a bit crazy with them. They were a wild flower collection, peonies, daisies, roses, lilacs..well, the list goes on and the scent was divine.
I wanted it to be as though they could have been picked that morning. Emilie also dotted glass milk bottles and glass jars amongst the chairs, tables and water edge and filled them with flowers – the result was breathtaking."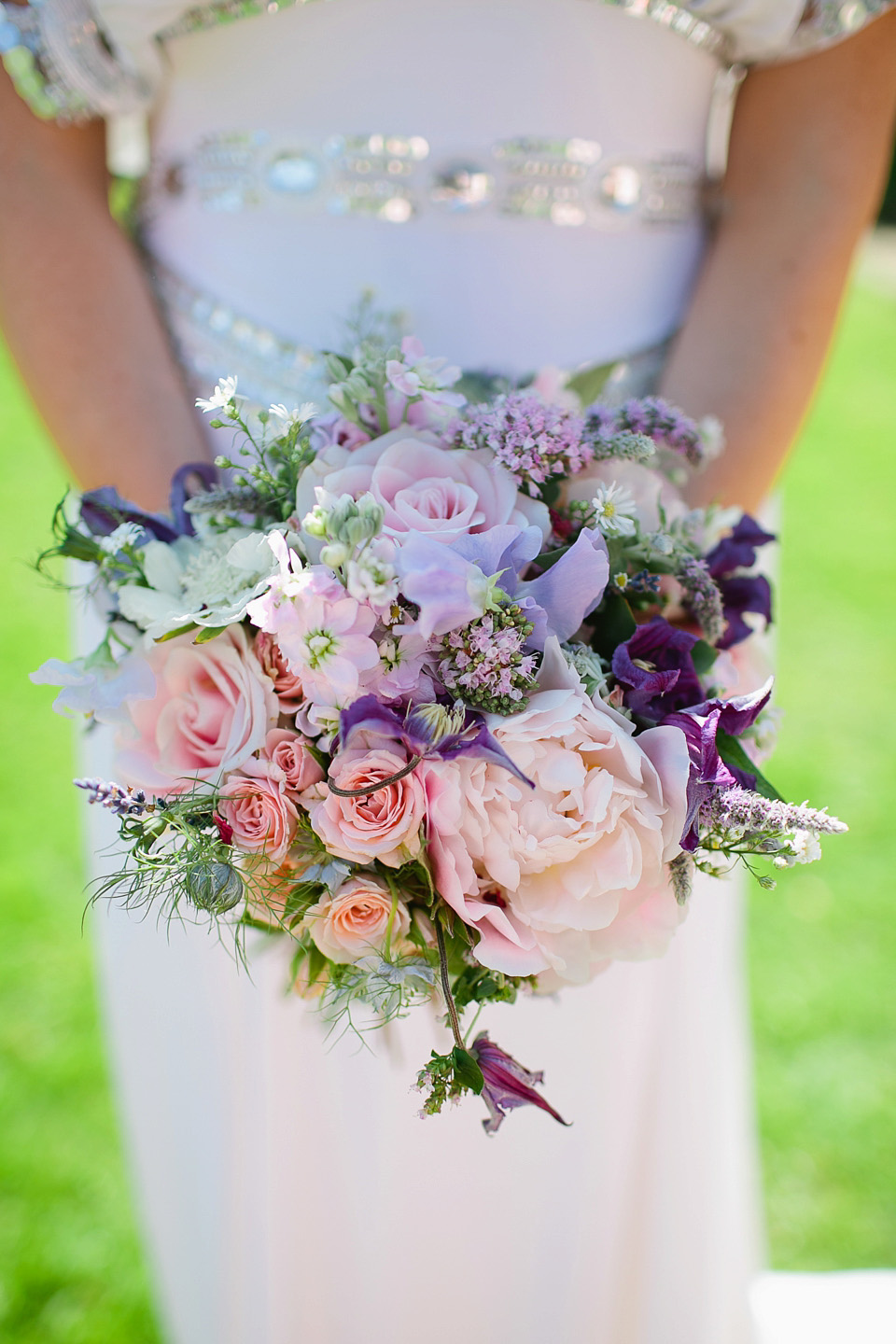 "Our photographer was Tarah Coonan. With Daniel being a photographer, choosing a photographer was always going to be a bit tricky. We did allocate a big part of our budget for our photography, as it was important that we would have this day preserved in a beautiful way, with no regrets. When I first found Tarah, we hadn't even found our venue or secured our date. We instantly loved her reportage style and her photographs emulated the style that we had been searching for. We were determined to book her as soon as possible.
Tarah was perfect on the day, too. She made everything so straight-forward."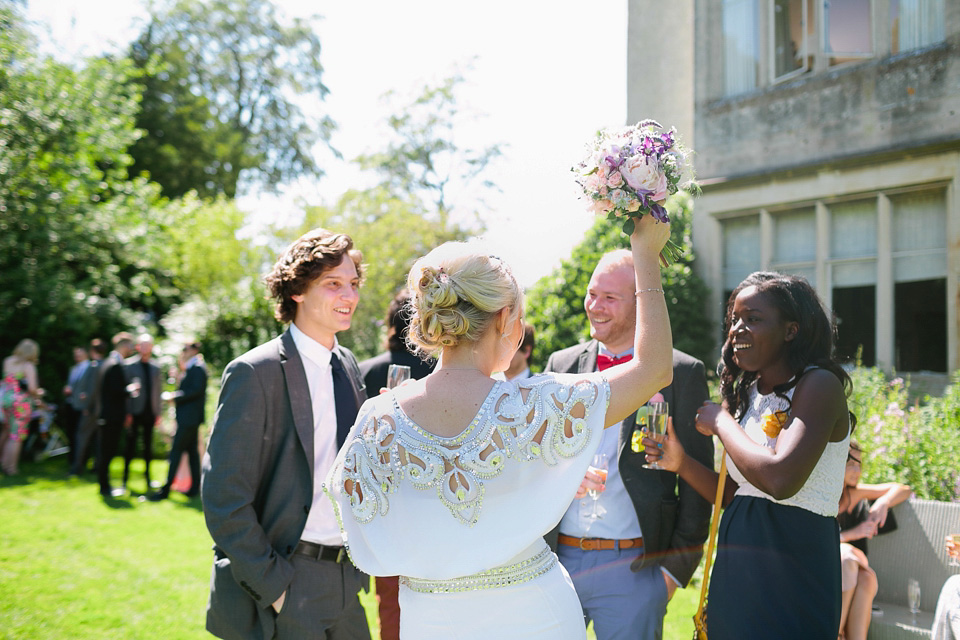 "Daniel and I had known each other almost ten years before we reconnected. The chemistry was very much still there and three months after our first date, we took a trip to Brighton together (we were heading to a New Forest cottage for a few nights afterwards). We had a lovely evening meal and bottle of bubbly, then, after walking along the seafront and sitting looking out to the sea, Daniel – out of the blue – suddenly got down on one knee and proposed. I asked him if he was being serious, two-three times, and when I realised that he was, I said 'yes!'.  Then we both laughed hysterically (all the shock!) and shed a few tears excitedly.
We ran to a bar on the beach where we celebrated with more champagne.  As it had been spontaneous, we spent the next morning wandering around the lanes searching for the ring. Wow – it was amazing. One of the two best days of my life. We were married three years later."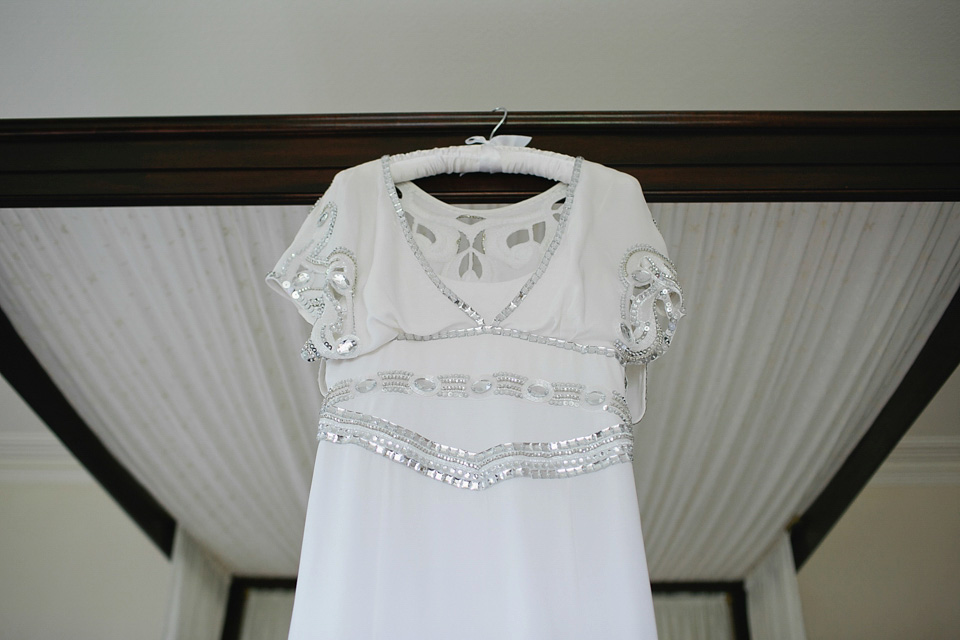 "Oh my Jimmy Choo's – it would have been rude not to! I went with my mum to Harrods. They fit like a dream and actually lasted all day. They are beyond beautiful and complimented my dress!"
"My make-up artist was my darling friend, Vanessa of Make up by Vanessa. Vanessa also did my make-up for our special meal the night before in the house! I remember saying when I first looked in mirror – "Wow, I actually feel beautiful!" then the tears welled up. I wish she could be my make-up artist everyday!
My hair was by Laura-Jane Rowe at Blushes, Cheltenham. Laura – is fabulous. I adored the hairstyle she created, which was how I had imagined it. A bit Bridget Bardot. Laura and Tiffany, also styled the bridal party hair – they looked stunning! I also had a Gwen Stefani-esque hairstyle by Blushes for the night before, too. I loved it!
I wore Chanel Chance – Eau Tendre. This is a perfume I was wearing when I got engaged and always made me nostalgic when I smelt it. It seemed like the perfect choice, to wear it on the next chapter of our love story."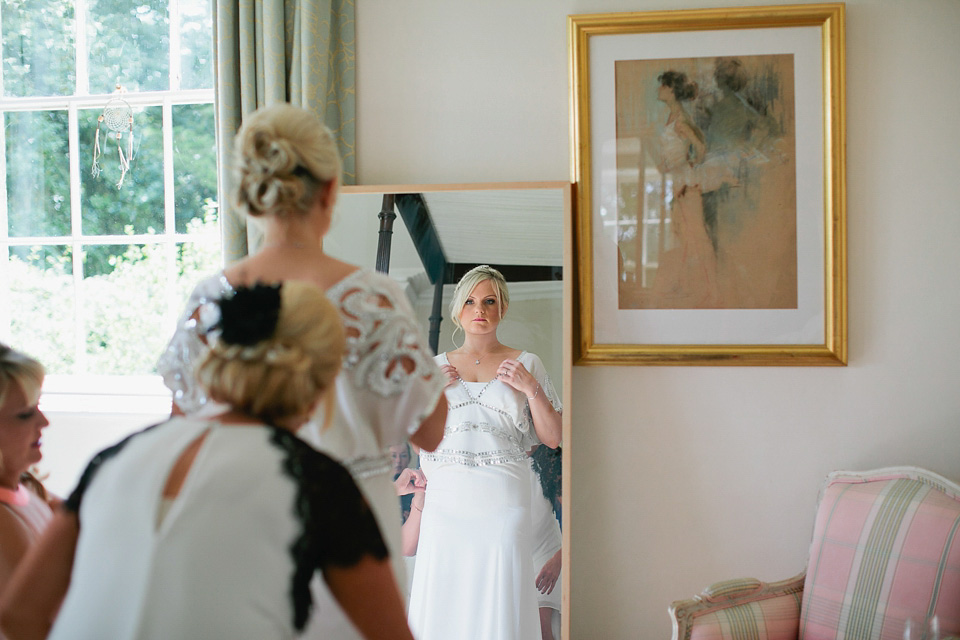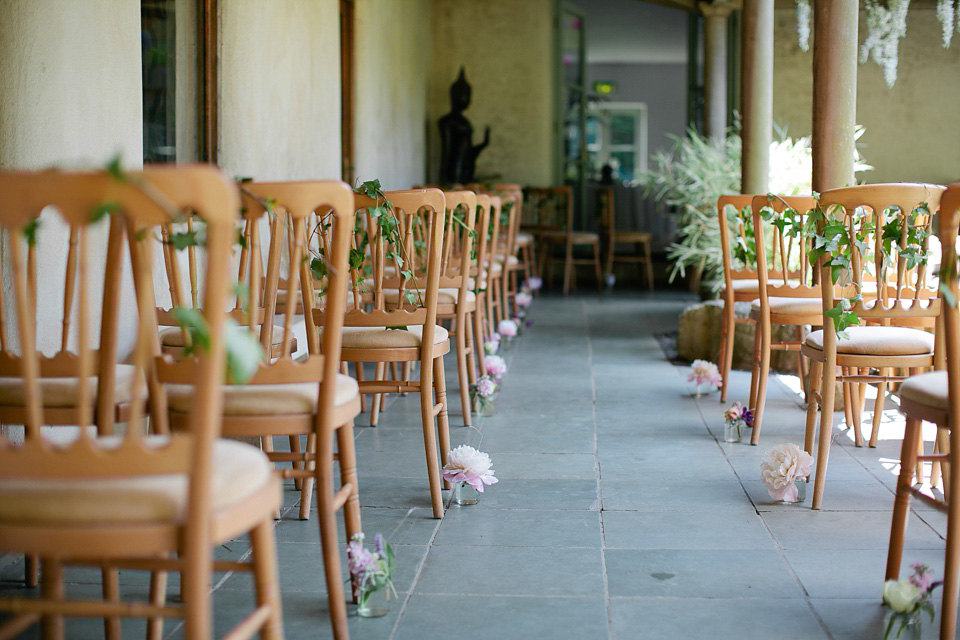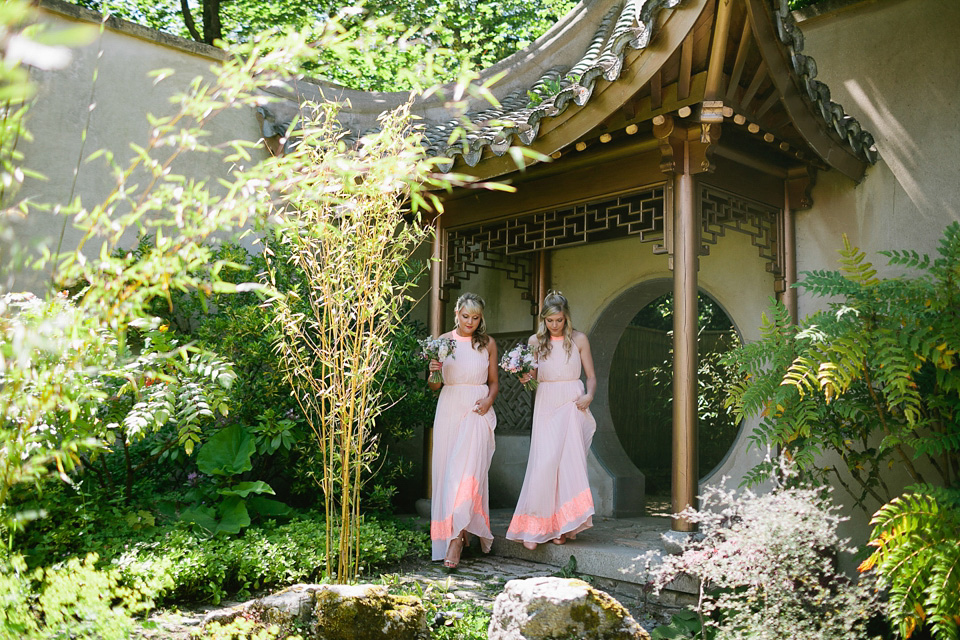 "Walking down the aisle with my dad and seeing Daniel waiting for me, giving me his gorgeous smile and little wink of assurance was my favourite moment of the whole day. I knew I was about to marry my soulmate and was almost dreamlike, especially being surrounded by the people we love most. Beyond beautiful. Hearing the celebrant pronounce us as Husband and Wife and the kiss – was incredible!
Another moment was before my dad, bridesmaids and I walked downstairs to head towards the ceremony. I stepped back and looked at them all, looking at me. They each looked so amazing, that I had a mini 'meltdown' – as my niece called it! All of a sudden, my calm state disappeared and I felt rather overwhelmed that this magical day was actually happening. It was wonderful."
"My handsome dad walked me down the aisle – it was a very emotional and beautiful experience.  We were accompanied by the sound of Amy Wineshouse's cover of Ella Fitzgerald's 'There is no greater love'. It was perfect moment and very etherea."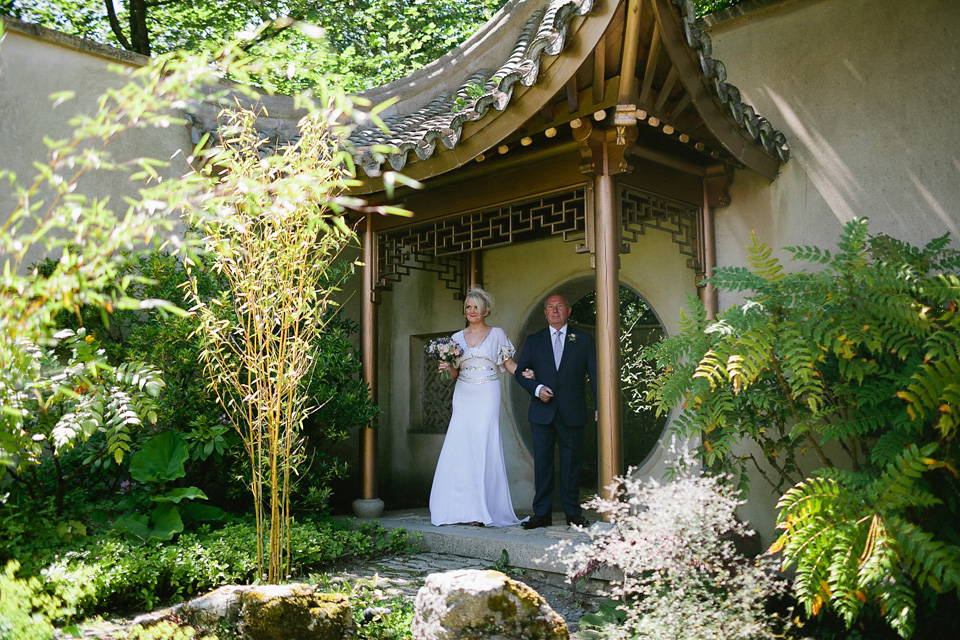 "We had our rings designed by a local, independent designer, R.J. Spicer in Cheltenham. I love a bit of bling, so went for a full diamond band. It's super sparkly and ever so beautiful. Daniel wanted something simple and chose a palladium band."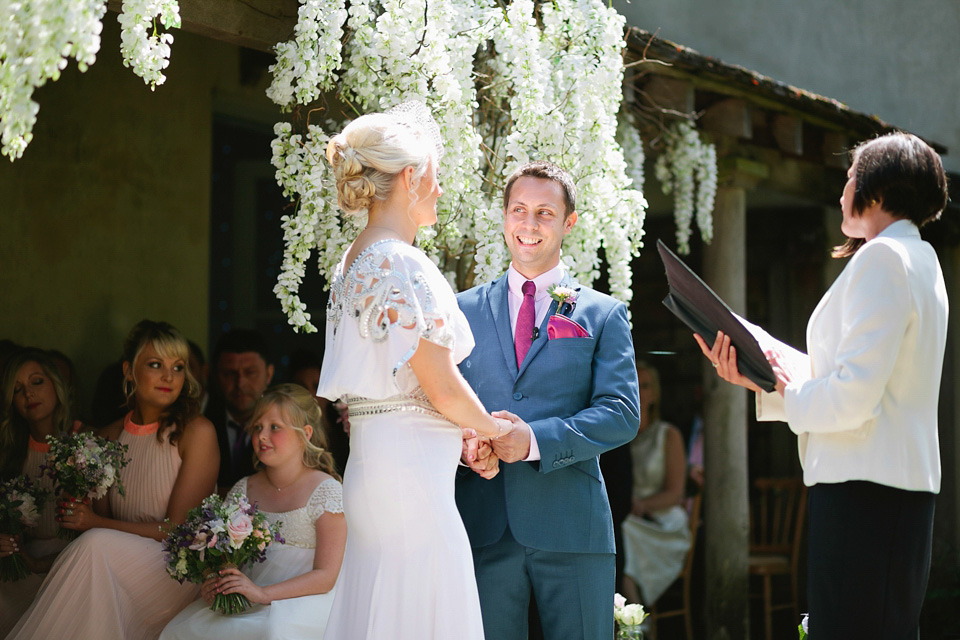 "As readings during our ceremony, we had an Excerpt from 'The Notebook' by Nicholas Sparks, read by Ben Fullalove – one of Dan's best men. I adore this book and felt it described how we fell in love and how we feel about one another."
'Poets often describe love as an emotion that we can't control, one that overwhelms logic and common sense. That's what it was like for me. I didn't plan on falling in love with you, and I doubt if you planned on falling in love with me. But once we met, it was clear that neither of us could control what was happening to us. We fell in love, and once we did, something rare and beautiful was created. For me, love like that has happened only once, and that's why every minute we spend together has been seared in my memory. I'll never forget a single moment of it.  I love you. I am who I am because of you. You are every reason, every hope, and every dream I've ever had, and no matter what happens to us in the future, everyday we are together is the greatest day of my life. I will always be yours.'
"We also had Shakespeare's Sonnet 116 – read by my oldest friend, who is like a sister to me, Candice Smilth. We couldn't not have had a spot of William Shakespeare on our wedding day!"
Sonnet 116
Let me not to the marriage of true minds
admit impediments. Love is not love
which alters when it alteration finds,
or bends with the remover to remove:
Oh, no! It is an ever-fixed mark.
That looks on tempests and is never shaken;
it is the star to every wandering bark,
whose worth's unknown, although his height be taken.
Love's not Time's fool, though rosy lips and cheeks
within his bending sickle's compass come;
love alters not with his brief hours and weeks,
but bears it out even to the edge of doom.
If this be error and upon me proved,
I never writ, nor no man ever loved.
(William Shakespeare)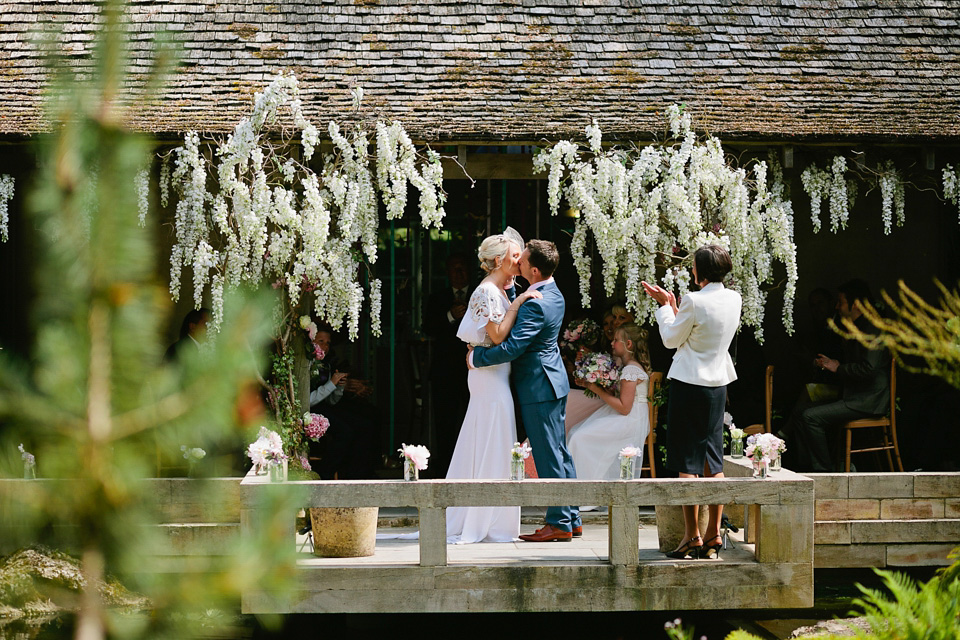 "My darling Mother purchased my Art Deco necklace and earrings, while travelling in America. They were from an independent jewellers. Mum has the same taste as me and said she knew they would be the perfect match with my dress. They also acted as my 'something new'.  My diamond bracelet was a gift from my family for my 21st birthday, which I had as my 'something old'. Since my grandparents are no longer with us, it was lovely to have something that I knew they had liked with me on my wedding day."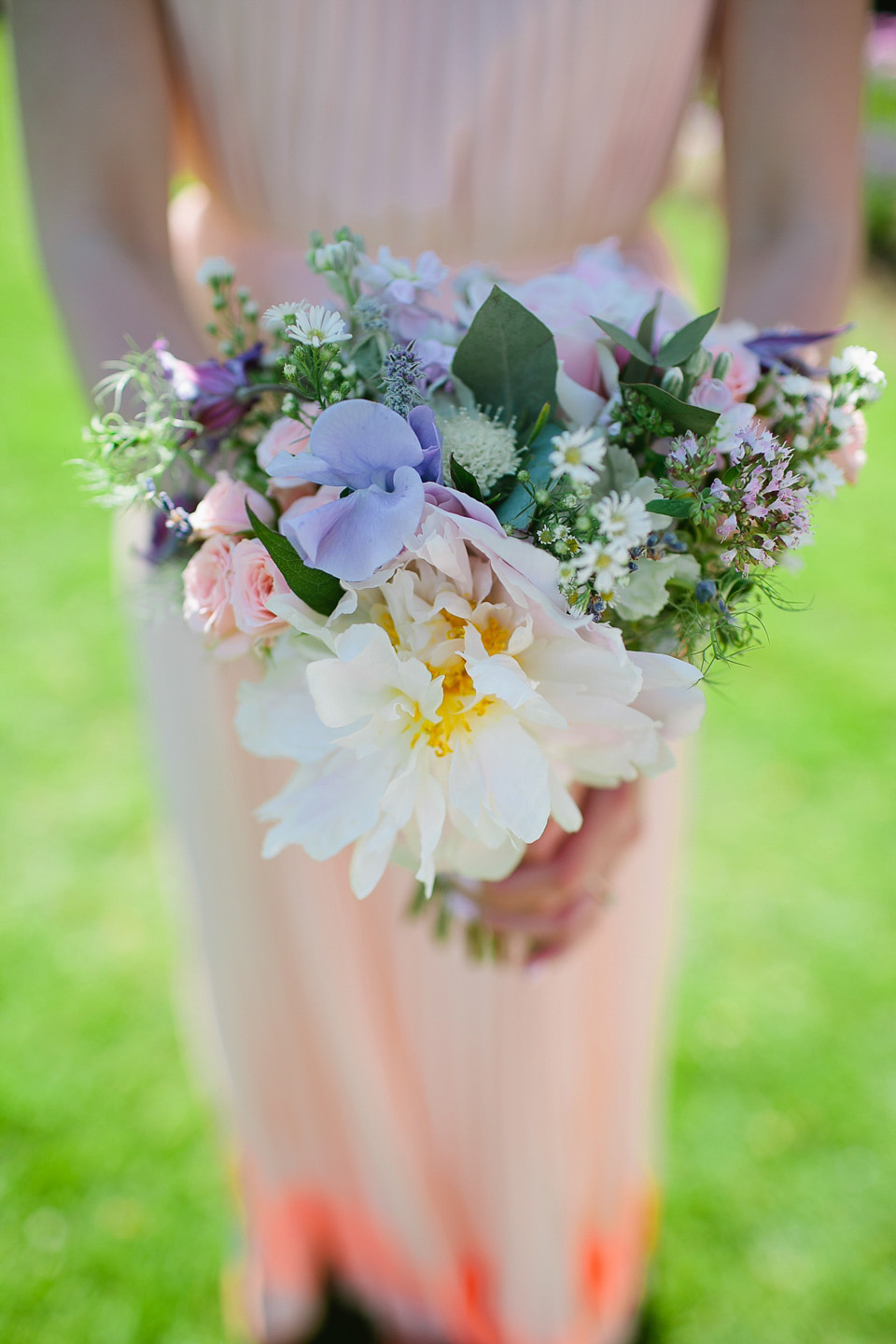 "The bridesmaids wore pure silk maxi dresses from Ted Baker. I didn't want them to have to wear a dress that could only be worn once. I loved the hint of neon trim and the coral colour. I'm a lover of fashion, so I was never going to choose a traditional bridesmaid dress. In fact, my bridesmaids are two of my oldest and best friends, so I wanted them to feel comfortable and gorgeous, too. They both loved the dress out of so many options and even opted for the same colours! They looked beautiful.
"The flowergirl dresses were from Monsoon. I also gave Paige (my niece) a dainty necklace as a gift prior to the ceremony and a jewelled hairband."
"Daniel's suit was by Lambretta, an Italian design – it provided the 'Mod' look that Daniel was always after and was from  Slaters in Cheltenham. The service was brilliant and Daniel even managed to get new shoes, ties and pocket handkerchiefs for himself and the wedding party."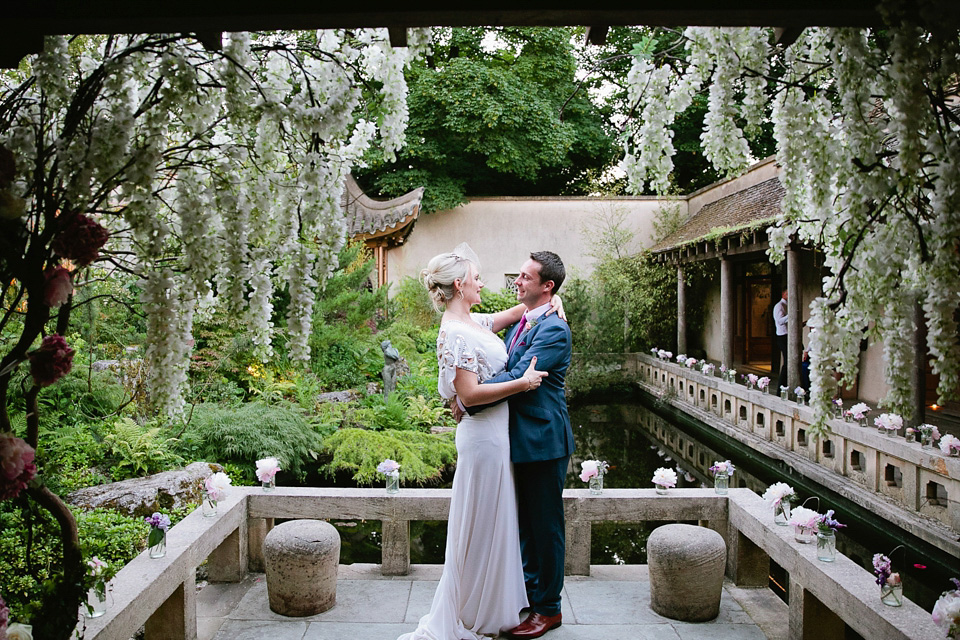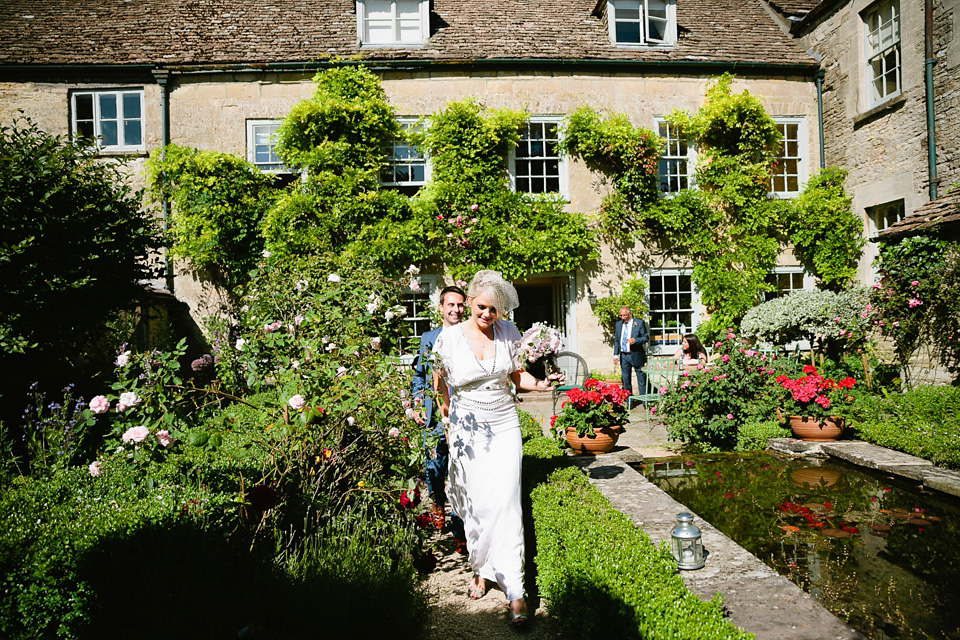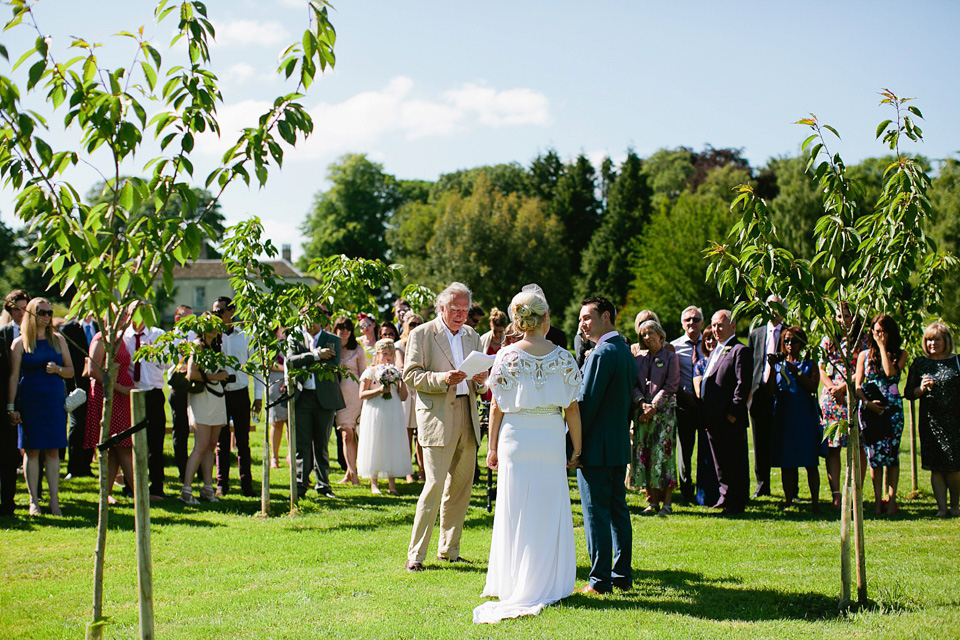 "Following the champagne reception, we walked over to have a 'tree dedication and hand fasting ceremony'. This blessing was important to us, as here we spoke our own vows, planted our tree – a Beech tree (known as a lover's tree, where people would carve their names into the trunk). My mother-in-law had also brought soil from where Daniel and I had both grown up, so that it blended together in the Gloucestershire countryside, that we now call home. Everyone then tied a ribbon onto the branches and granted us a special wish."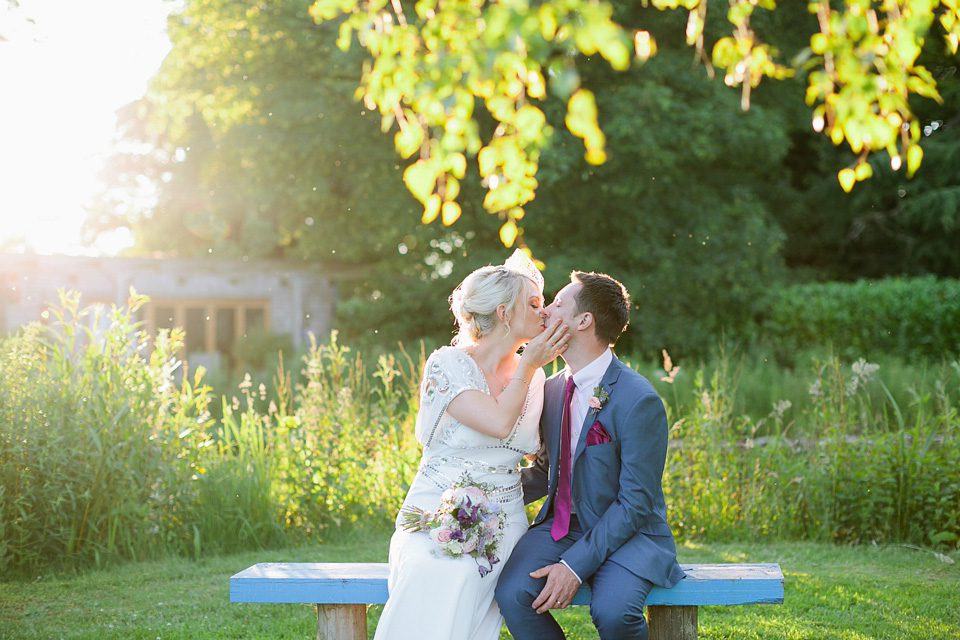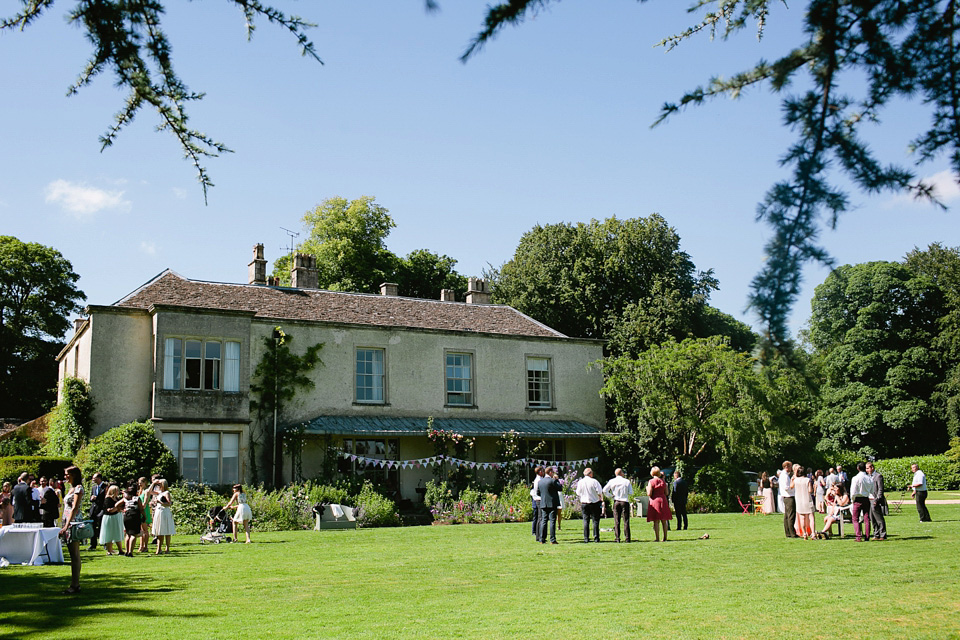 "A friend of mine, Catherine of 'Vintage Loves Roses' created our stationery. She was amazing. Catherine was a natural decision as I have always loved her work. She captured our theme beautifully and exceeded all of our expectations."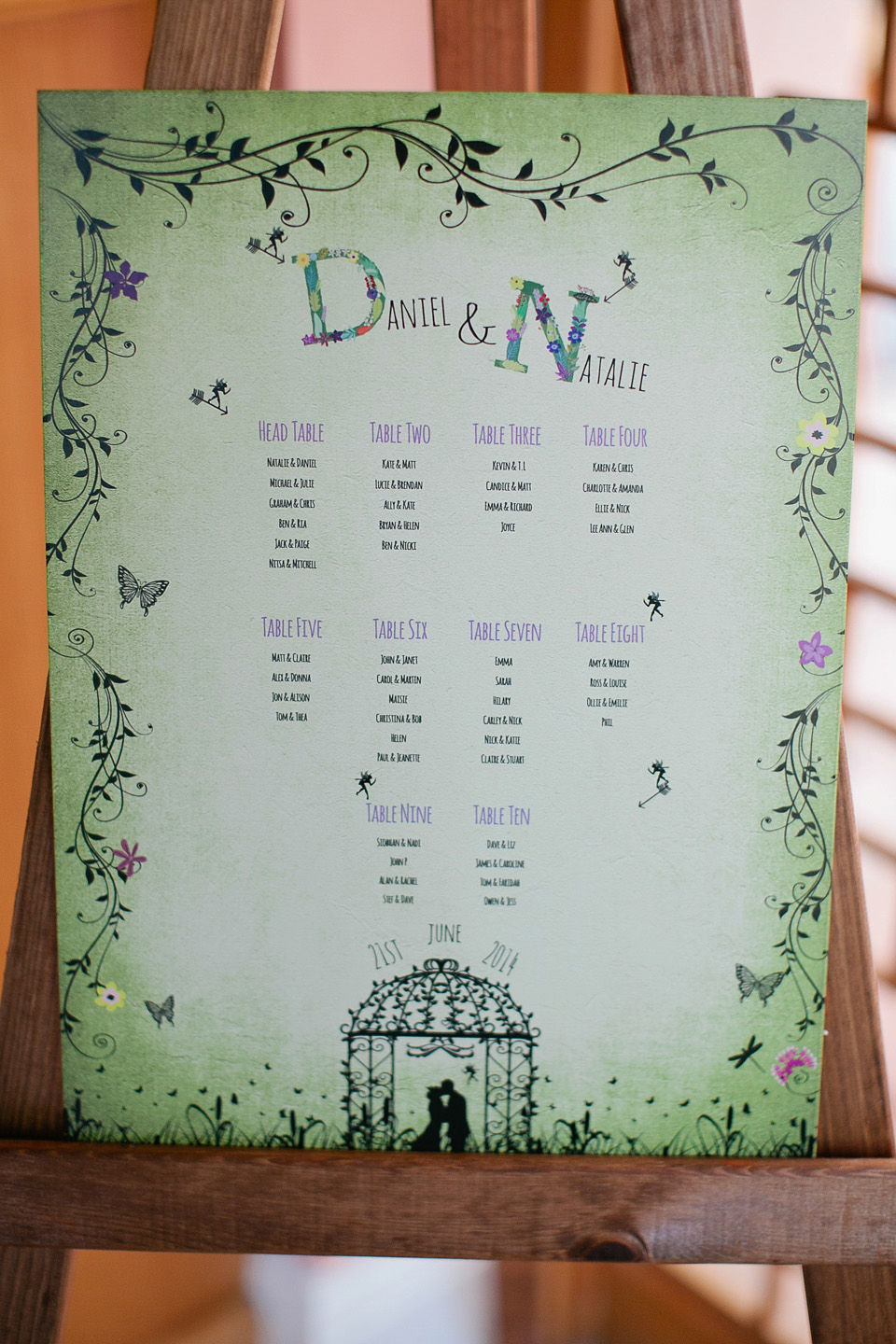 "As favours, we wanted something that our guests could keep to enjoy afterwards. We both love scented candles and always have one burning, so we thought we would opt for mini candles. We got small Lily Flame candles – their names couldn't have been more fitting: Party Time, First Kiss, Blush!, Fairy Dust, Daisy Dip, Wild Jasmine, Summer Pudding. We hadn't planned it, but after the wedding breakfast we noticed that quite a few of our guests had lit their candles – the room smelt beautiful! It was fab to see them enjoying them so much."
"We wanted to create an enchanted forest effect for the venue, something that echoed 'A Midsummer's Nights Dream'. I purchased a pink sequin tablecloth for our cake table on Etsy, hired vintage crockery, tablecloths and glasses from the wonderful, Lesley of The Vintage Hire. Lesley captured our theme better than I could have ever hoped for. Her service was fantastic and her items beautiful. I felt they really added to the day."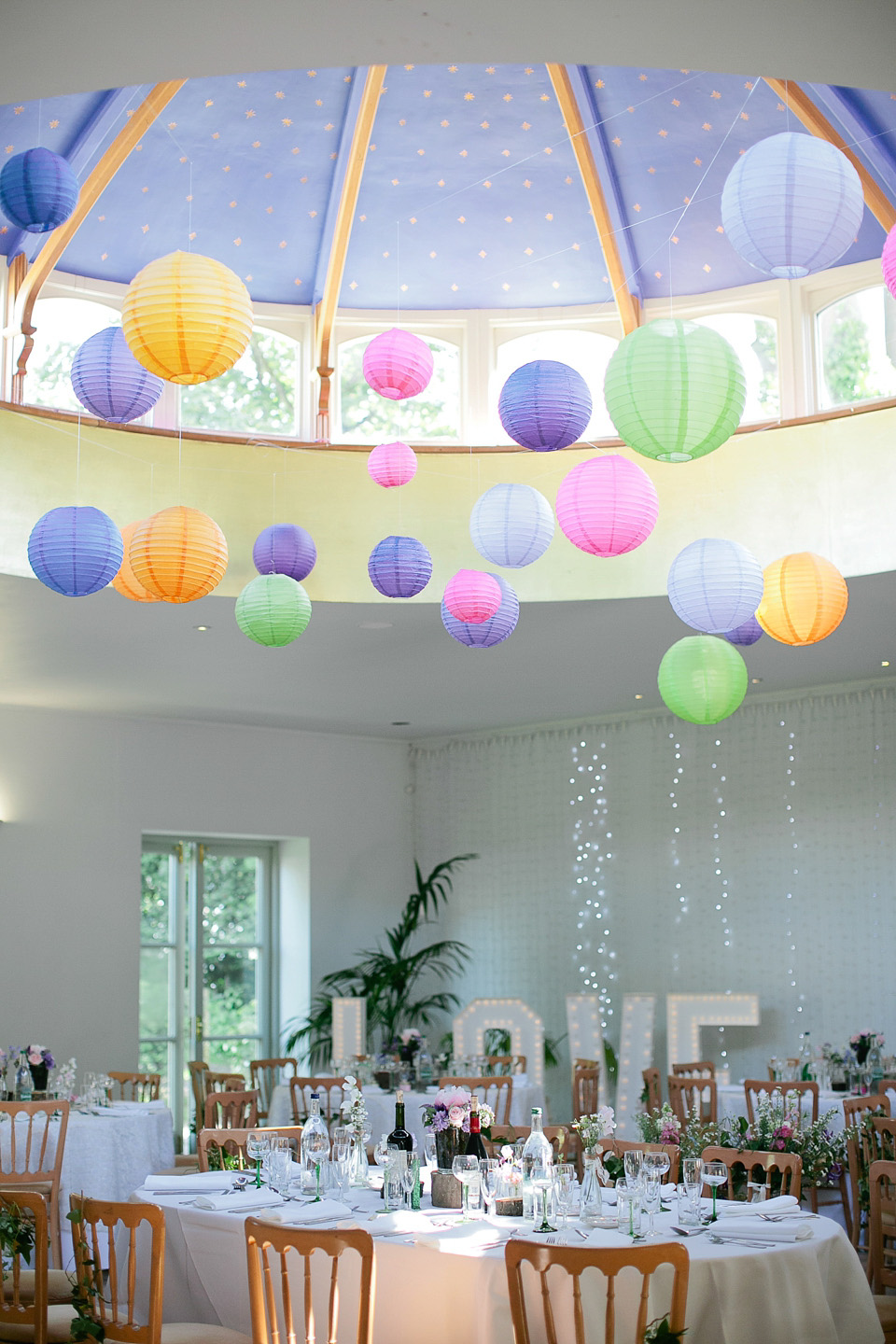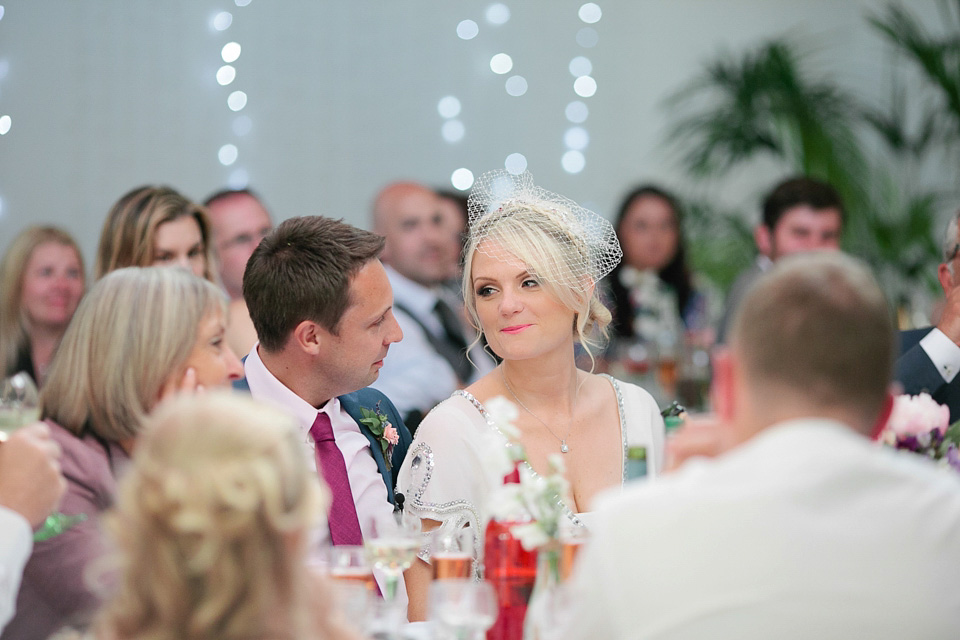 "Our simply delicious cake was by Pia at Vanilla Pod Bakery in Cheltenham. Neither of us like traditional wedding cake, so chose a two-tiered cake, which consisted of our favourite cake: Strawberry Buttercream as icing, with a fresh raspberry and lemon curd sponge cake. I cannot put into words how tasty it was. Hardly any was left, so I think it went down a treat with our guests, too!"
Words of Wedded Wisdom…
"Enjoy every single moment – it zooms by. Also, enjoy the planning and try not to get stressed out by any of it – it will be perfect.  You are marrying the person you love! Remember to smile and when it gets to the day itself, let everything just happen. Whatever happens that isn't planned, doesn't matter – in fact, it adds to the day and is what makes it unique!  It will be the best day of your lives – knowing that everyone there is there because they care and love you so much, is very overwhelming and humbling. It's the start of your new life together!  I do wish we had not worried so much about the little things – nobody actually notices.  And prepare for lots of tears of joy and a face that aches from so much smiling 🙂
The night before, our bridesmaids, ushers and immediate family stayed at the house for an intimate celebratory meal. We all got dressed up, had a 3 course dinner and sipped champagne in the main house. This was so much fun and really added to the weekend.
Instead of gifts, we said that if anyone wanted to get us anything, then a contribution to our honeymoon would be wonderful – however, we still received some fantastic gifts. Reading the cards and seeing the gifts was very emotional.
Finally, we're so pleased that we opted for a videographer. It was very last minute and having worked with Charlotte and Chris of Mr & Mrs Productions  before, I knew they were fab. They happened to be free on the day (literally, a week before the wedding!) and the DVD was so beautiful!"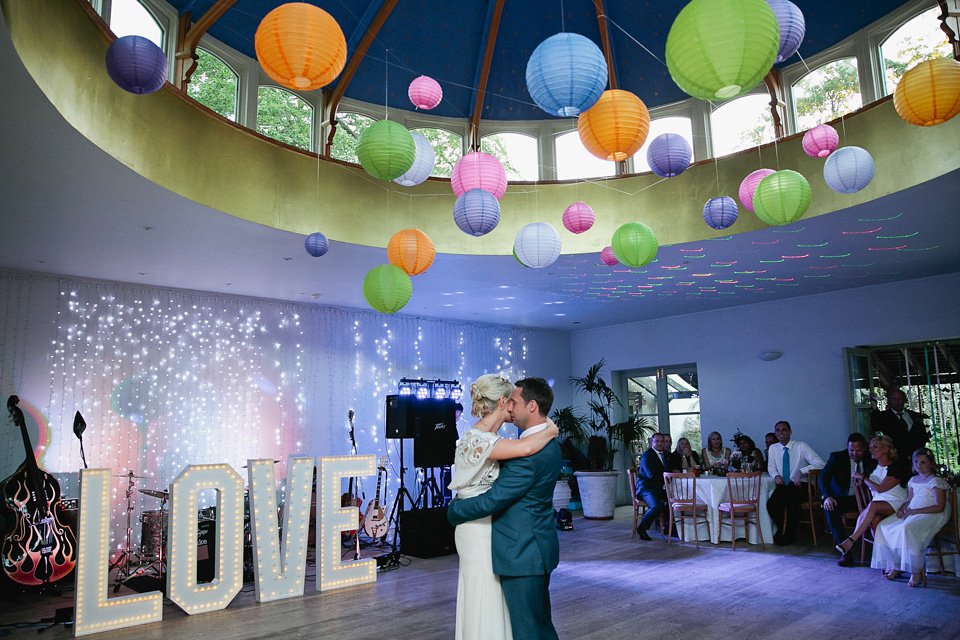 What a beautiful wedding and wonderful words of wedded wisdom – thank you  so much Natalie, and thanks also to photographer Tarah Coonan for sharing these beautiful images.
Have a lovely morning all,
Love Annabel xx
Photographer – Tarah Coonan
Film – Mr & Mrs Productions 
Planner/Stylist – Sophie Smith
Venue – The Matara Centre, South Gloucestershire
Wedding Dress – Temperley via Leonie Claire Bridal
Veil – A Touch of Vintage
Shoes – Jimmy Choo
Bride's Scent/perfume – Chanel Chance – Eau Tendre
Groom – Lambretta via Slaters
Bridesmaids – Ted Baker dress + Jimmy Choo shoes
Flowergirls – Monsoon
Young Male Outfits – Next
Florist – Daisy Lane Floral
Cake – Vanilla Pod Bakery in Cheltenham
Entertainment – Gypsy Jazz band + The Delray Rockets + Deckstar Deluxe
Rings – R.J. Spicer in Cheltenham
Stationery – Vintage Loves Roses'
Hair Stylist – Laura-Jane Rowe at Blushes
Makeup Artist – Make up by Vaness