Good afternoon lovely readers.  At a party last night, I met and got chatting to Hazel, who kindly shared some really helpful wedding advice. When planning her wedding, Hazel was struck by how many of her married friends lamented that their own wedding day had passed in a blur leaving very few crisp memories. Determined to avoid the same fate, Hazel and her husband resolved to take regular breaks throughout their wedding day to capture 'mental snapshots' of their wedding. It worked, and three years later, Hazel and her husband have a whole bank of memories they can return to at will. If, like Hazel, you are married and have some helpful wedding advice to offer those of us planning a wedding, please take the time to share your 'words of wedded wisdom' for our new series here – we'd really very much love to hear from you.
Now, to this afternoon's delightful 1950s retro inspired wedding.  Stacy, a technical analyst, married Jack, a medical statistician, on the 3rd of August last year at Stratford-upon-Avon Town Hall, followed by a reception at Alveston Pastures Farm*, which provided the perfect rural setting they longed for and the freedom to do exactly as they wished.
"We didn't have a specific theme, but I was influenced by both country gardens and shabby chic. We based our colour scheme on my bridesmaids' green and pink dresses.  We were able to decorate the venue as we wanted, choose the caterer and supply the booze, allowing us to really make it our own. Plus the gardens are lovely; there is even a maze!"
Photography Copyright (c) 2015, Anneli Marinovich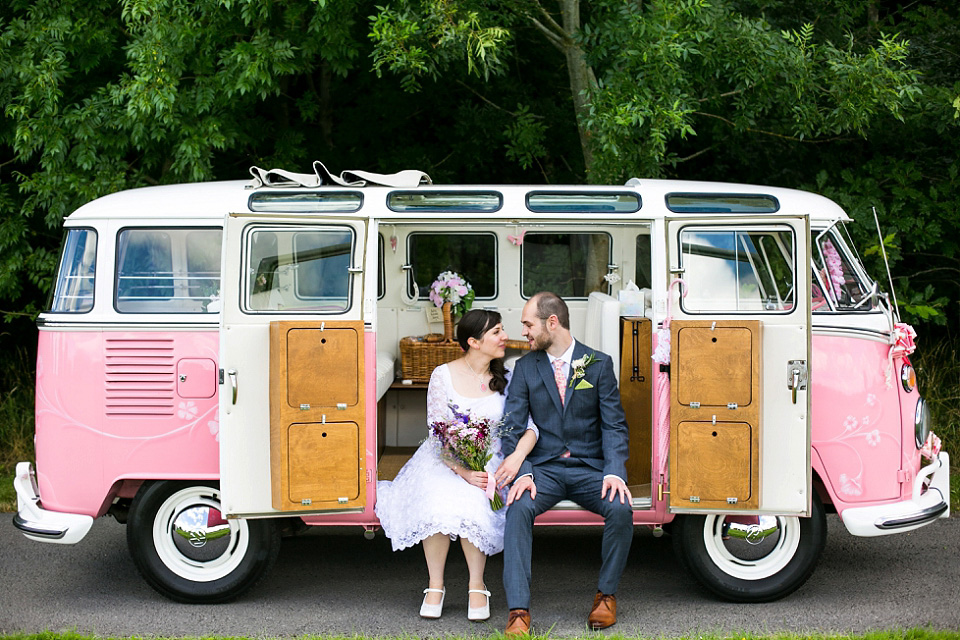 The couple commissioned photographer Anneli Marinovich to capture their day in images – I love the crisp, clean nature of these images, bathed in all that bright and lovely summer light…
"I spent hours trawling through websites looking for the style and quality of photography I was after. I was so pleased when I found Anneli Marinovich. Anelli was definitely our best supplier; she was lovely to have around and did such a great job. It was the best money we spent; I just love looking at our photos, they make me really happy and we have a wonderful record of the day."
"We chose Honey Pot Flowers because we wanted locally grown blooms. We didn't know exactly what I'd have in my bouquet until the day, but I was so pleased with how it turned out.  On the tables we had succulents in terracotta pots and our friends and family arranged flowers (supplied by Honey Pot) in jars and bottles the day before the wedding."
Stacy accessorised with a custom made necklace from Keneka on Etsy, embroidered with 'S & J', pink heart earrings from Accessorize and her mum's silver heart bracelet. In her hair she wore a pink bow from Hello Betty Bow (also via Etsy).
"My bridesmaids wore pretty, floral, fifties style halter neck dresses from Vivien of Holloway and nude patent shoes. I bought them each a flower clip from the Master Craftsman via Ebay."
"I really wanted to reuse or recycle a dress so I chose a 50's vintage gown from Luxe Bridal and had it reworked by bridalwear designer Erica Stacey. She made it into my perfect dress."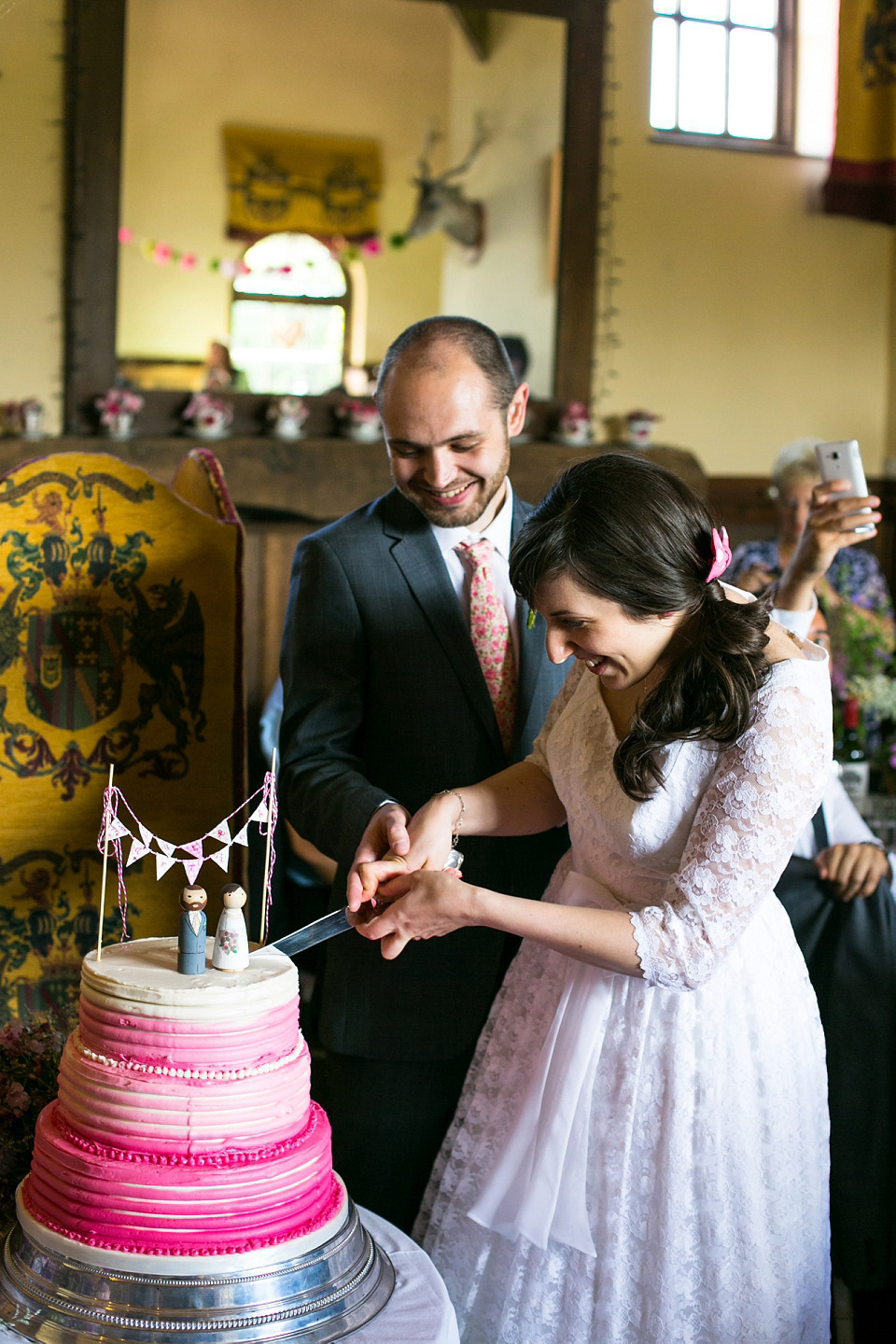 Jack and Stacy created their own stylish wedding stationery using Wedding Chicks' free DIY printables. Customisable stationary templates are a great way of saving money and can be found all over the net. You can see my top 10 free wedding stationary printables here.
"I used a free printable to make most of our wedding stationery including the table numbers, place cards and a seating plan. I used Microsoft Publisher and Adobe Fireworks to design the invitations and printed them on card made from 100% post-consumer waste. Finally I traced and scanned a map from Google Maps, coloured it in and decorated it with flowers using Adobe Fireworks."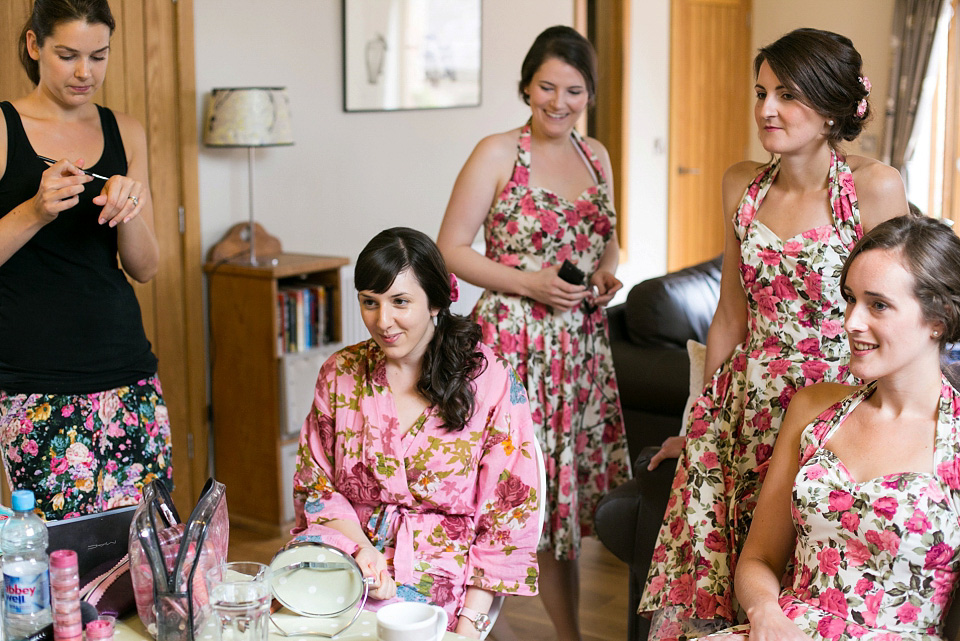 Stacy's father walked her down the aisle to the sounds of 'Only You' by Yazoo.
"Jack 'mixed and matched' his vows, selecting various bits from the booklet the registrar sent. Since Jack stole all the best bits from the booklet, I wrote my own vows.  I kept it brief; it's a special moment but there's a room full of people watching you!"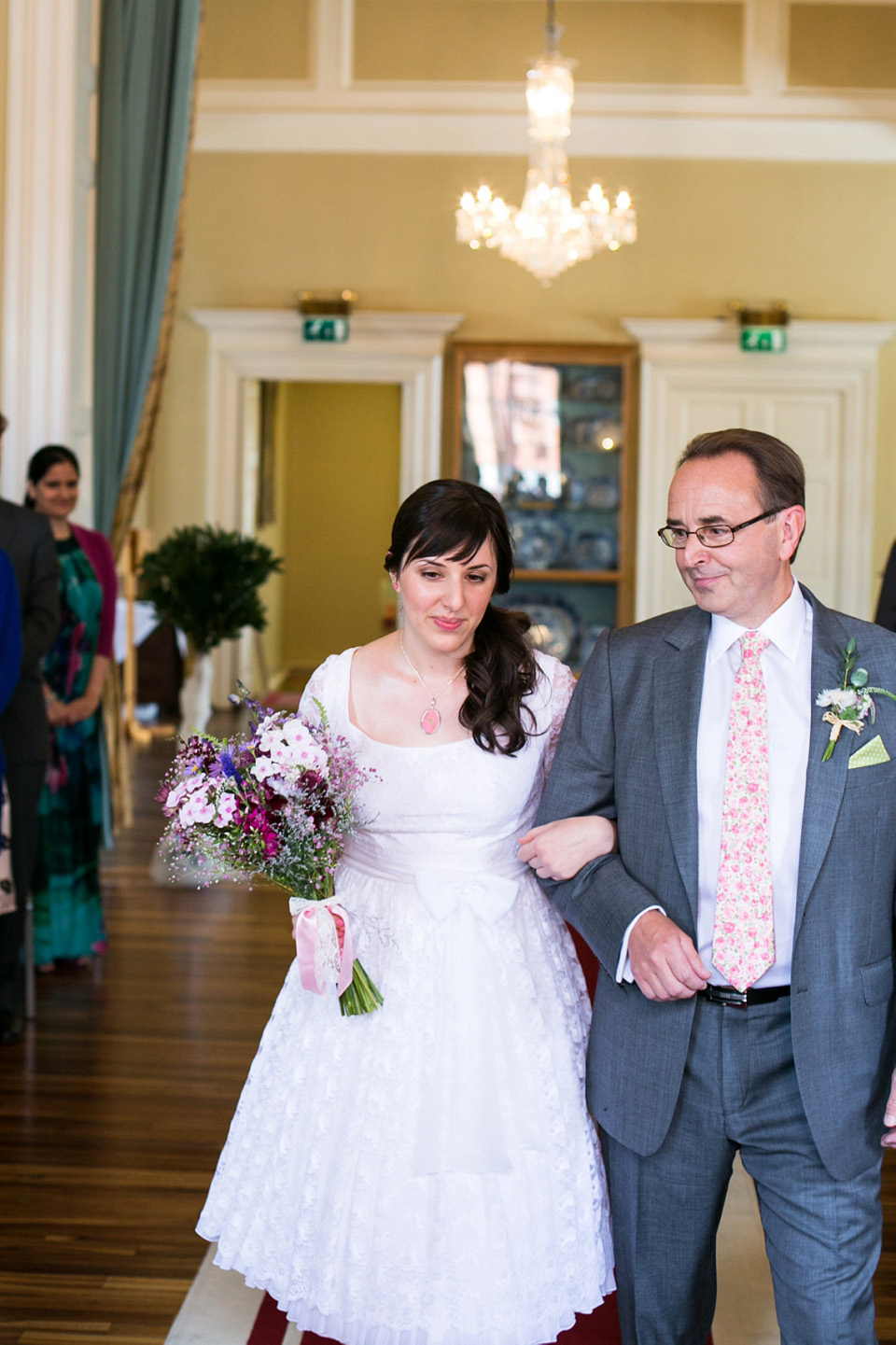 Jack and Stacy opted for three readings; a quote by Robert G Ingersoll on marriage, along with two poems, 'Rain' by William Carlos Williams and 'On your Wedding Day' by an unknown author.
"We chose 'On Your Wedding Day' because we wanted something that was from the reader to the couple and not too slushy."
Jack and Stacy travelled between the ceremony and the reception in 'Flossie', a pink VW campervan hired from Calico Moon. The journey turned out to be one of the most memorable parts of their day.
"Jack and I met in a club briefly and then properly at Jack's house party when we were celebrating finishing university.  In March 2012 Jack suggested we go to the Lake District for my birthday, which made me suspicious as I usually plan any trips we take. When we arrived in Keswick, Jack seemed overly concerned about the lack of a safe in our hotel room which got me wondering whether he had anything particularly valuable with him.
On the day of my birthday, it was gorgeous weather (20˚C plus, in March!) and we walked up a hill. At the top, as we were sitting looking over Derwent Water, Jack gave me a birthday present and inside the box there was an engagement ring. When I took it out he asked me to marry him. We were engaged for just over 16 months before we married."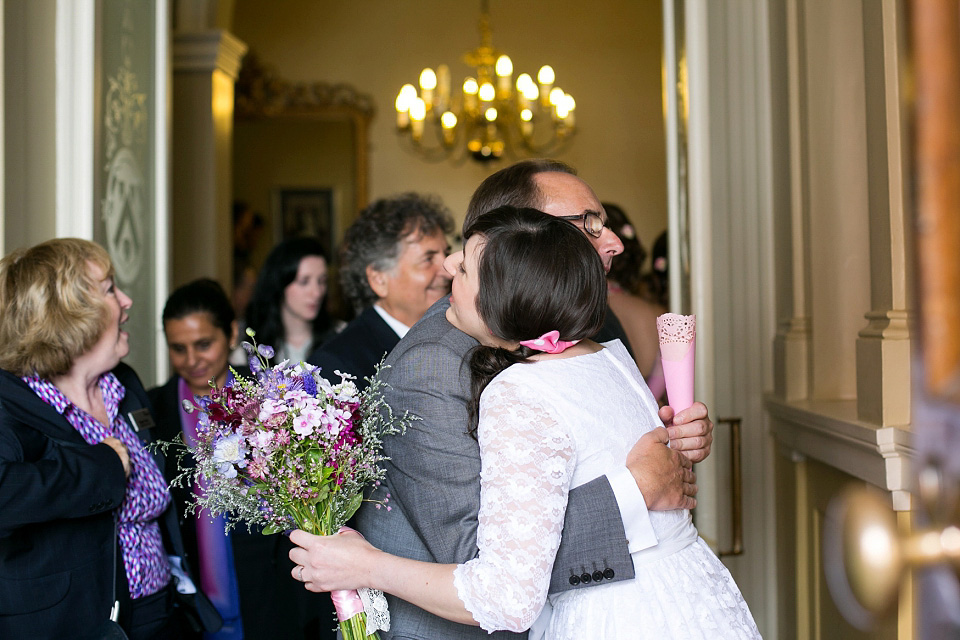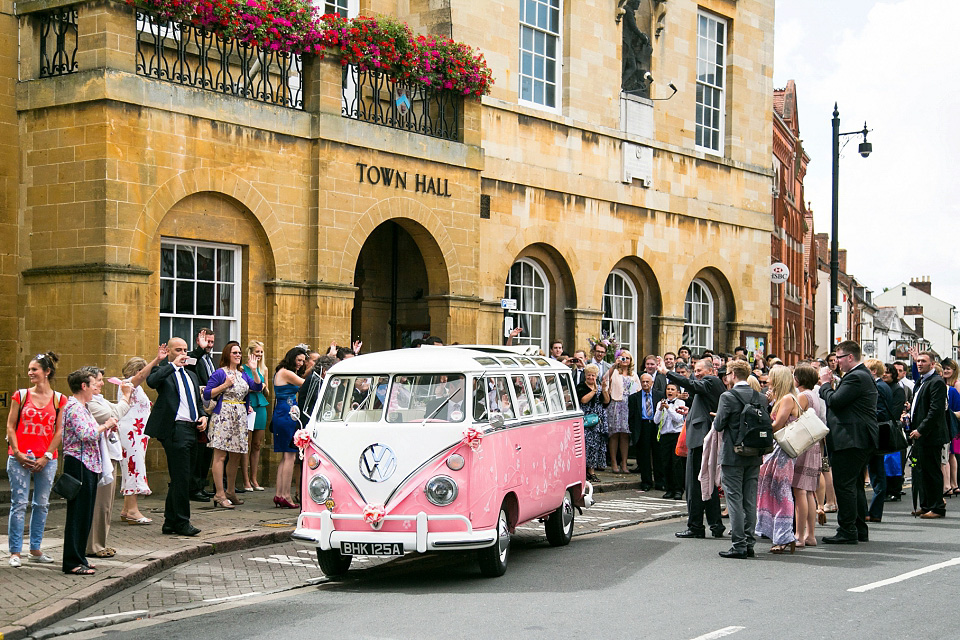 "One of my favourite parts of the day was driving through Stratford in Flossie with people waving at us and taking our photo. The ceremony was over, so we didn't need to feel nervous anymore, and we were excited and happy to be finally married. It was really fun having so many members of the public join in with our special moment."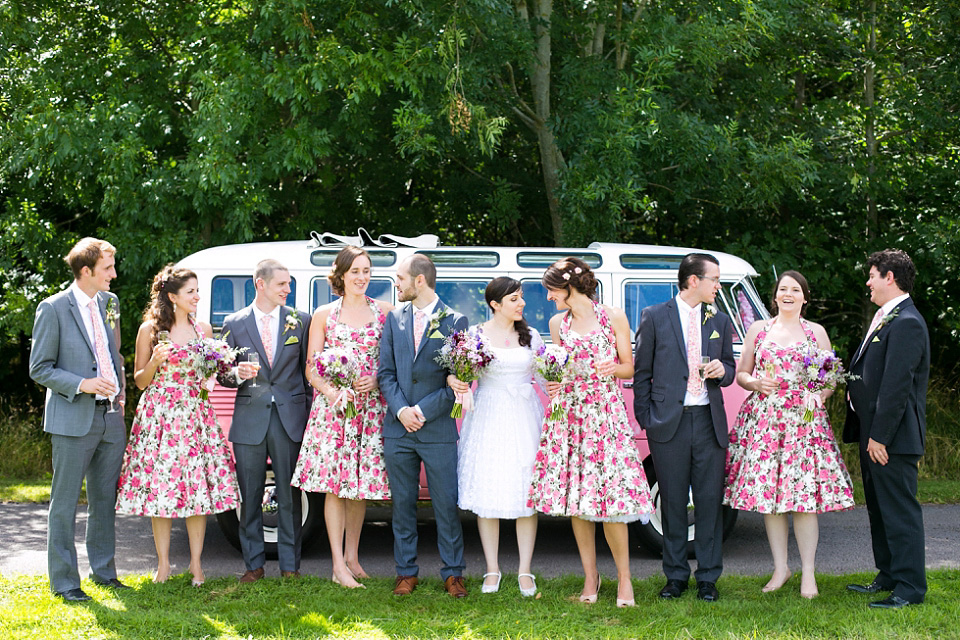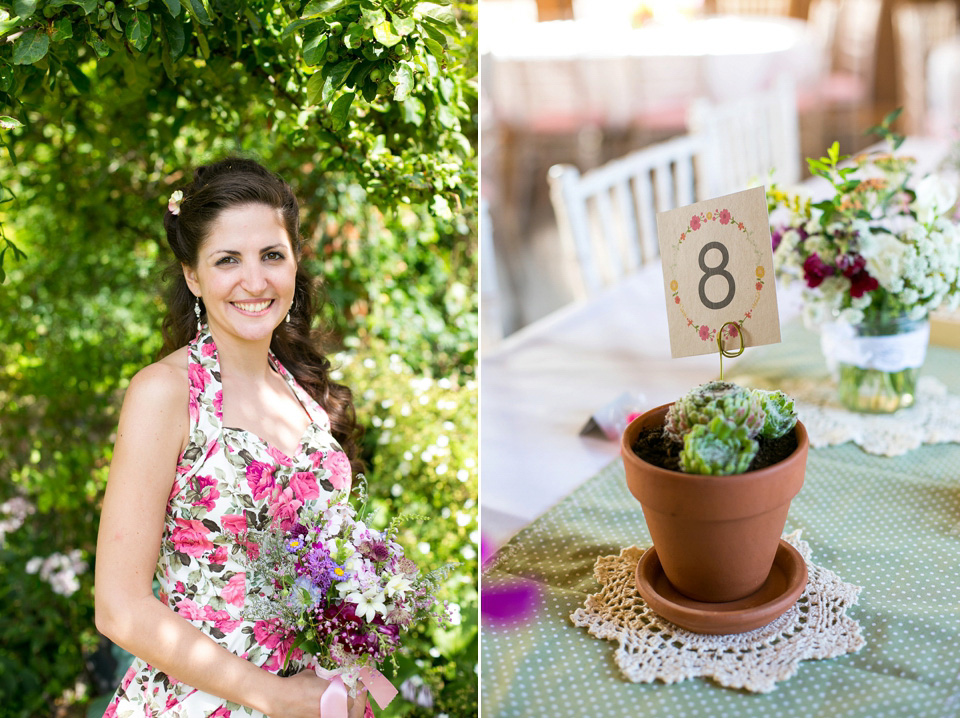 "My mom's amazingly talented friend, Jane, made round, green, polka dot table runners with 'Congratulations Jack and Stacy' embroidered around the edges. She also made our 'Jack and Stacy' banner, bunting and hearts. With help from friends I made lots of pink and green pompoms which we hung in garlands."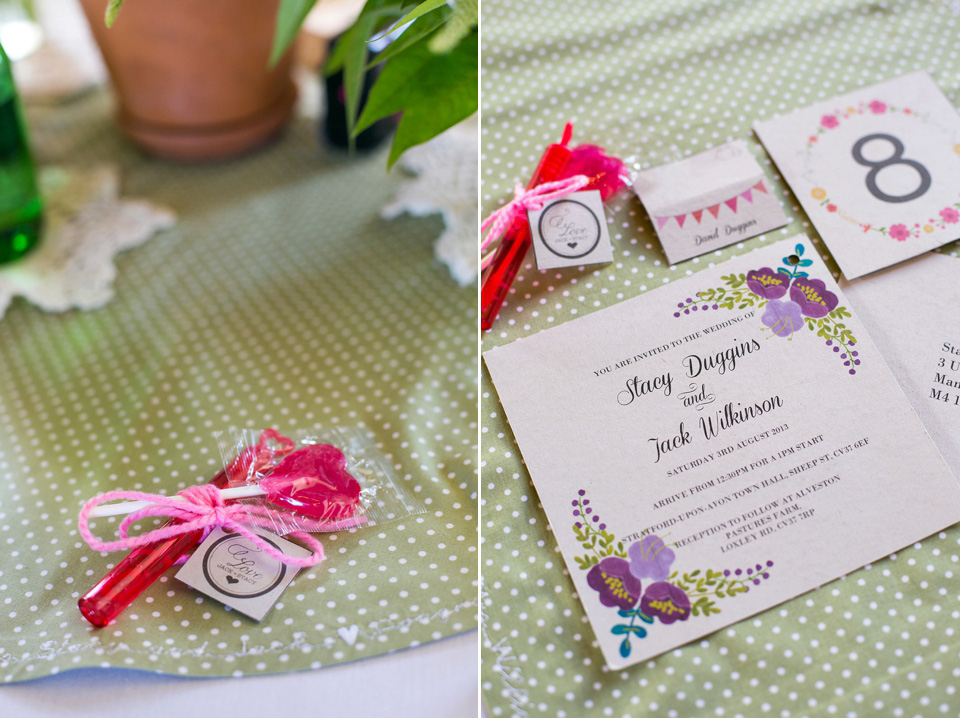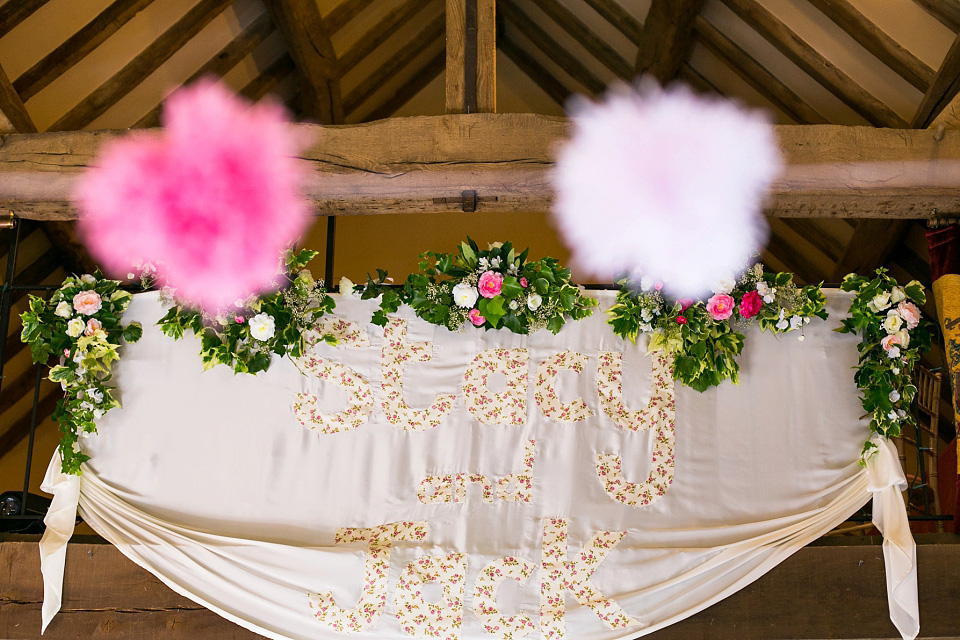 "Our cake was covered in pink ombre buttercream and made by Grants Bakeries (now Blackmans Bakery). We had one real top layer, so that we had something to cut into, but the rest was made of polystyrene.  I bought 'Just Married' bunting from  Cherubs Boutique on Etsy and painted wooden dolls in our likeness to go on the top."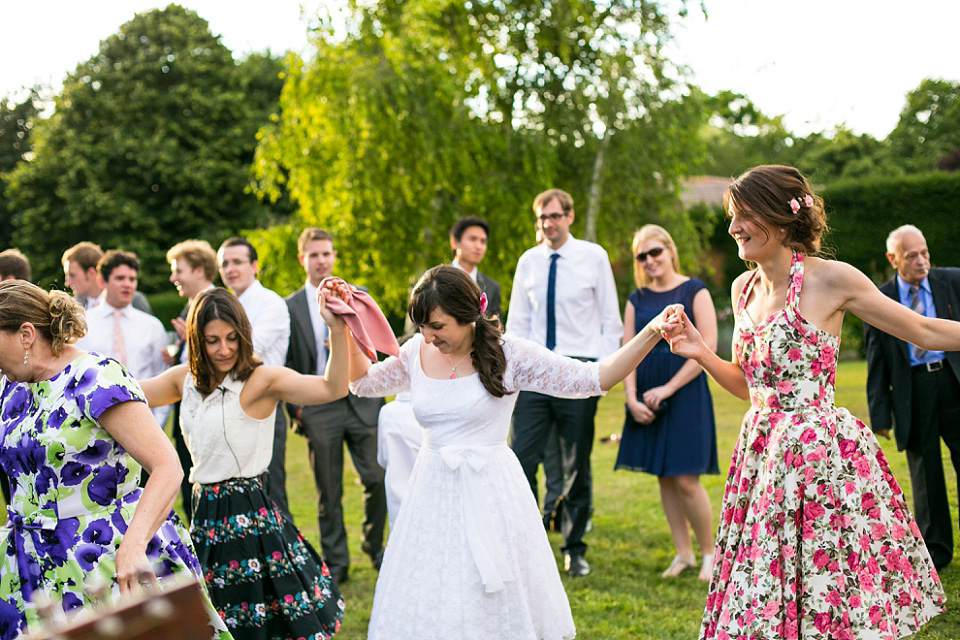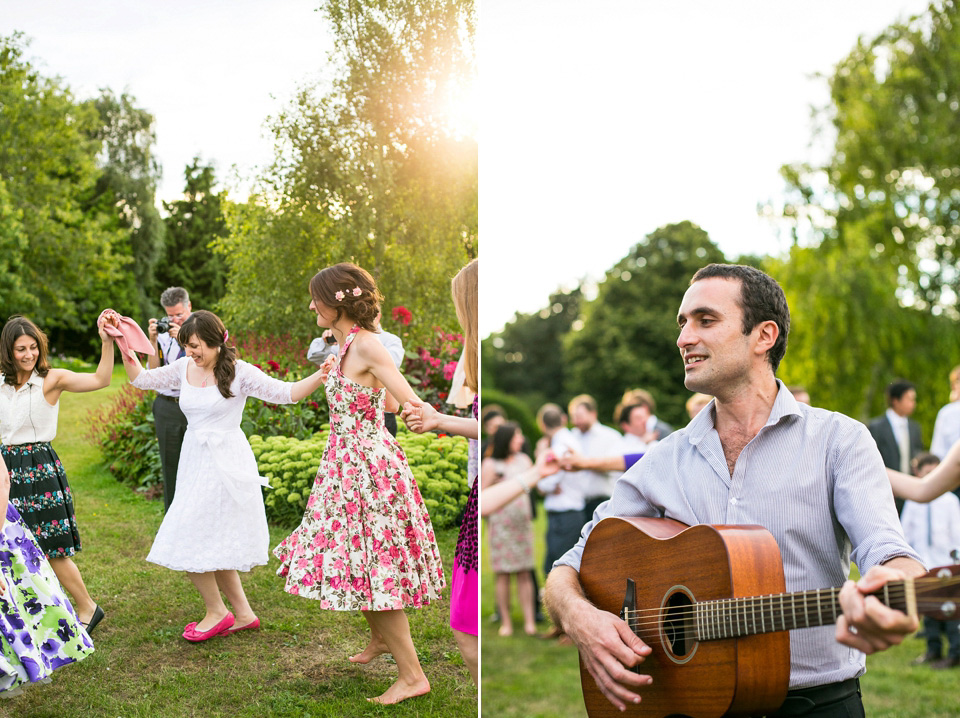 "My mother is Greek – Cypriot and so we wanted to include some traditional elements in the day. We hired a Greek band call Moosootoo and danced around the garden with our family and friends. It was a great moment and really fun; I never expected so many of the guests to join in.
 For our first dance we had a Cypriot 'money dance', where guests pin money to the couple as they dance. We didn't want any real money, so we provided fake notes."
Words of Wedded Wisdom
"Spend the extra time planning every detail in advance so that on the day you don't have to do anything and you can just enjoy it. Delegate all tasks for the day. If anything does go awry, don't worry about it – nobody will even notice."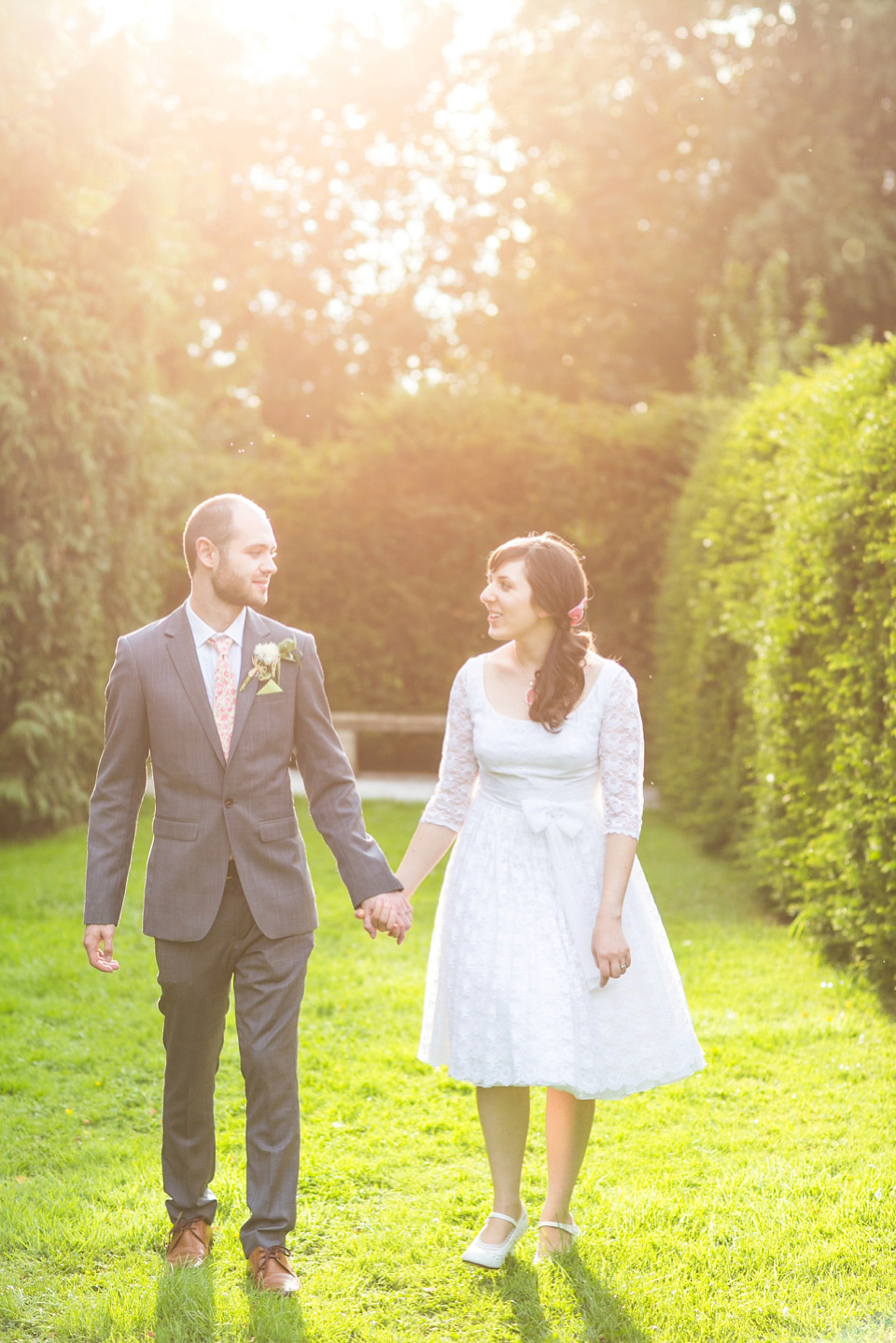 A big you to Stacy and Jack for sharing your special day and to Anneli Marinovich for capturing it so well. If you'd like to peruse more  50's inspired weddings, click here.
Annora x
Photographer – Anneli Marinovich
Venue – *Alveston Pastures Farm (no official wedding website, but you can contact the farm via its accommodation site here)
Wedding Dress – Vintage dress from Luxe Bridal altered by Erica Stacey
Headpiece – Pink hair bow from Hello Betty Bow via Etsy
Accessories – Accessorize earrings + Keneka necklace via Etsy
Bride's perfume – Stella by Stella McCartney
Groom – FCUK suit + Ted Baker shoes + Rhian Eleri on Etsy + pocket squares made by the bride
Bridesmaids – Vivien of Holloway dresses + Master Craftsmen flower clip via Ebay
Florist – Honey Pot Flowers
Cake – Grant Bakeries, now Blackman Bakeries + Cherubs Boutique on Etsy
Transport – Pink VW campervan from Calico Moon
Entertainment – Moosootoo
Rings – Groom's ring; Craft and Design, bride's ring; Jenny Jones Jewellery
Catering – Kemp & Kemp Catering
Stationery – Wedding Chicks free printables printed on Eco Craft recycled card
Hair Stylist – Jeni Aldridge