Welcome to the start of a fresh new week lovely readers! I trust you had a wonderful weekend and are raring to go forth and conquer. My muscles are recovering from moving furniture … honestly, it was reminiscent of the Friends episode where Ross commands and shouts 'Pivot!' to Rachel and Chandler as they haul a couch up a set of stairs! We battled the elements and it rained down upon us. And although it rained on our lovely couple, it certainly didn't dampen their spirits for their beautiful barn wedding, held on 2nd August 2014 at the simply stunning venue The Byre at Inchyra, in Glencarse, Perthshire, Scotland.
For Hollie, a secondary school English teacher and Dave, an engineering programme manager, inspiration for their big day stemmed from precious childhood memories of local village summer barn dances.
"We both decided right from the very start that we wanted a rustic, laid-back, relaxed day, filled with good company and good food. We wanted all of our friends and family to be part of our special day and finding somewhere we could have an amazing party was essential. We both grew up in small villages in Fife and had memories of summer barn dances – nostalgic moments from our childhood which we were keen to try and recreate. We were one of the first couples to visit Caroline and James at the Byre. We knew instantly that we'd found the perfect place (and people) for our special day, and took a leap of faith, booking our wedding before they'd even started renovations." 
Photography Copyright (c) 2015,  Jen Owens Images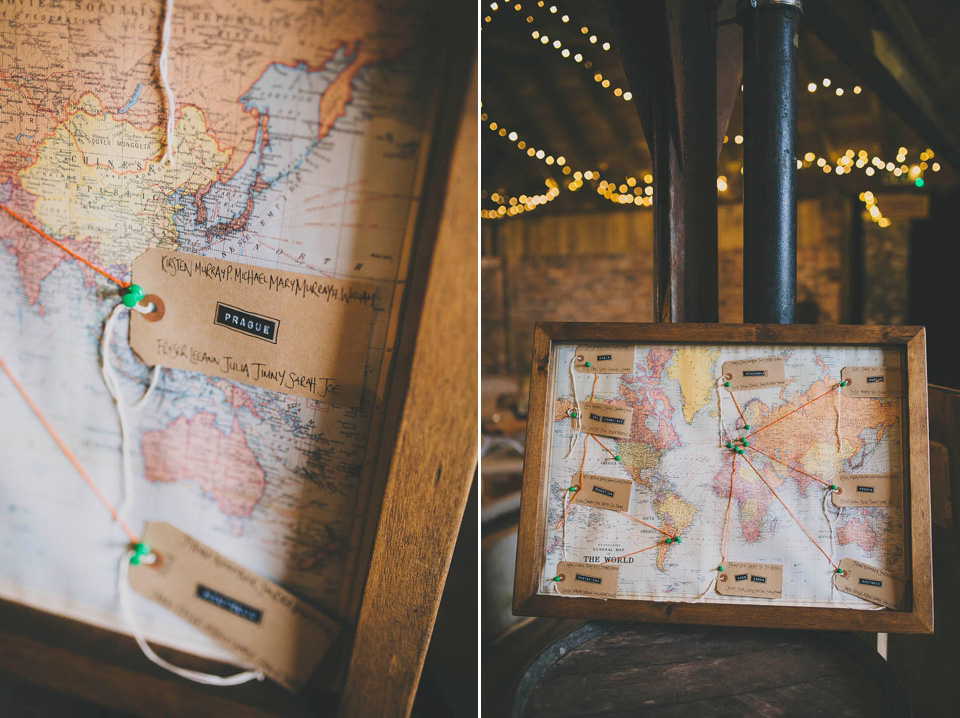 Hollie looks absolutely stunning in her champagne 'Onyx' Catherine Deane  gown, found via BHLDN, but like a lot of brides she found this part of the wedding planning very stressful (if you haven't already, check out this wonderful feature by our writer Shona on shopping for the perfect wedding dress).
"I found dress shopping the most stressful experience in the entire wedding planning process. I had an idea of what I wanted but couldn't find it in any of the shops I visited. As the wedding drew nearer and nearer I became worried that I'd end up walking down the aisle in my underwear! Friends began to console me, saying that finding the perfect dress was a myth, but I knew that I had to keep looking. Scanning a wedding blog one day I ended up on BHLDN and that was when I saw it. I knew instantly that it was the dress for me and ordered it there and then.
I knew ordering my dress online was a huge risk, especially from America, but I had a gut feeling I couldn't ignore. My heart was racing when I finally got to try it on! I loved it straight away and knew it was the dress I'd walk down the aisle in. The lace detail was simply stunning and the skirt so romantic and floaty. It was so light and effortless to wear and I loved the vintage champagne colour. Just perfect!"
Hollie's six bridesmaids looked gorgeous in their peachy/coralWarehouse dresses, own shoes and 'Karma' necklace from Dogeared. Hair was by Michelle McHugh, from Casaid Hairdressing.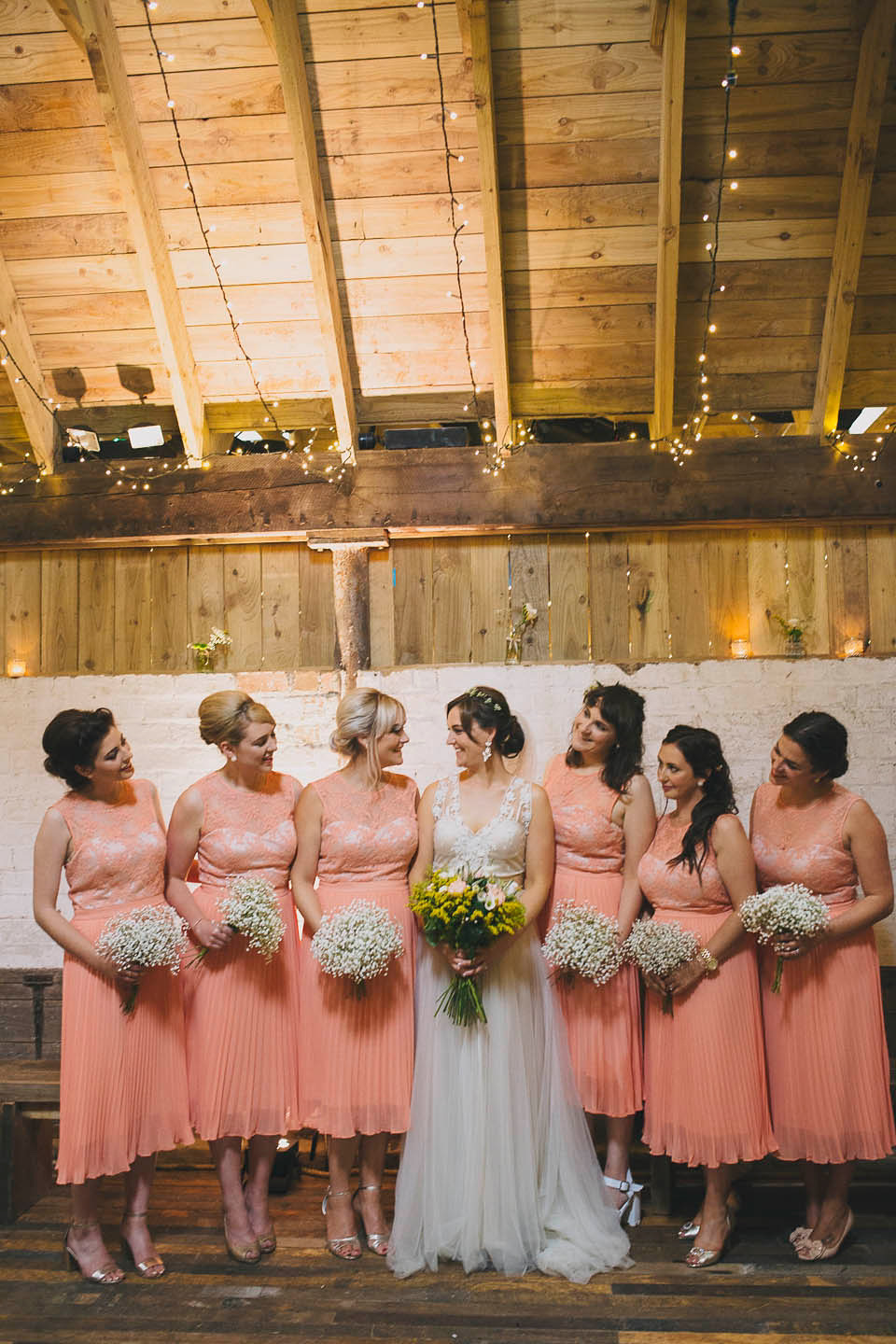 The couple chose Jen from Jen Owens Images for their natural photos and were very impressed with her friendly, helpful nature and the final resulting images.
"Jen is amazing – honestly could not recommend her enough!  She is always so easy to talk to and knew exactly what David and I were looking for from our photographer on the day. We wanted relaxed, natural photos that would capture the mood of the day – and that's exactly what we got! Just perfect, beautiful photos. Jen was never invasive and really listened to what we wanted. She was such a huge help on the day itself, ushering my bridesmaid's about in the rain under the cover of an umbrella and her endless patience with our guests whist trying to organise group photos was incredibly admirable."
The couple has one of the lovely bridesmaids to thank – after she introduced them at university.
"While at university in Glasgow, Dave and I were introduced by a mutual friend – 11 years later she was bridesmaid at our wedding! Dave proposed on Christmas Eve and organised a surprise trip to Paris for New Year to celebrate. We got married the next again summer, 18 months later."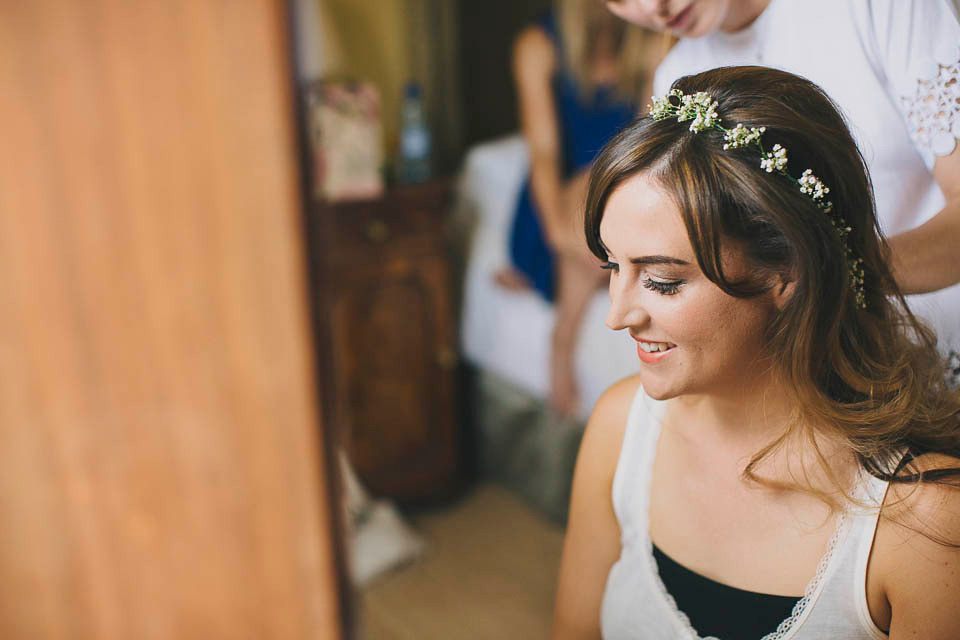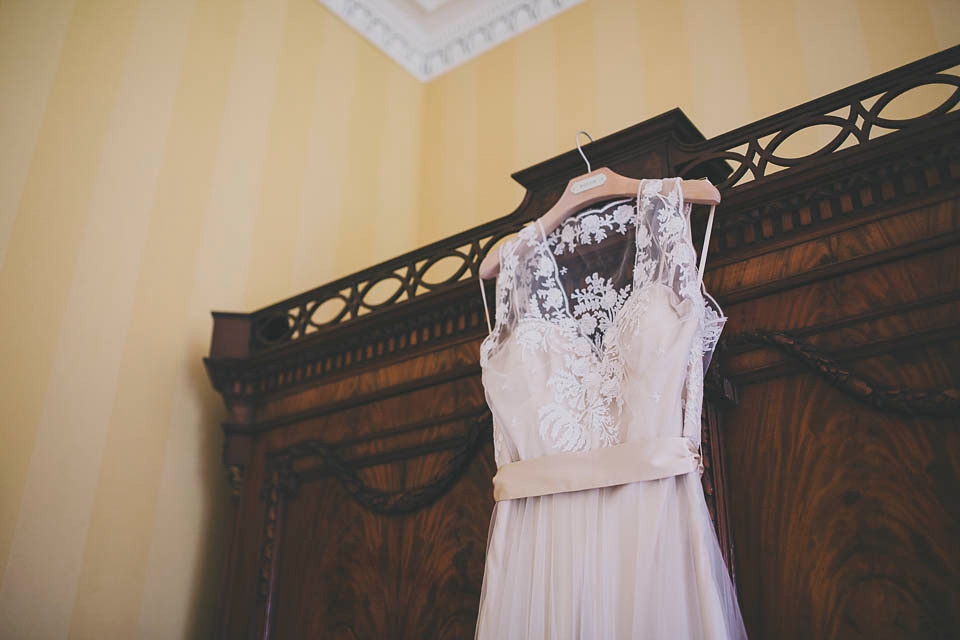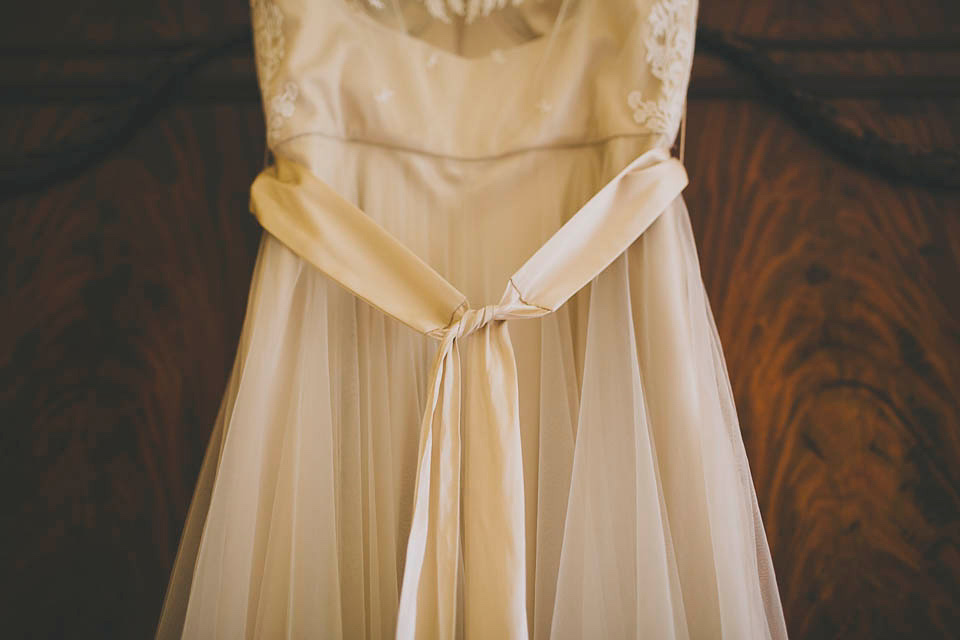 The pretty-as-a-picture bride wore Rachel Simpson 'Mimi' shoes in ivory satin,a handmade veil by Karen at Bridal Bliss Online, and drop earrings from Accessorize. She wore the perfume'Stella' by Stella McCartney and donned the sweetest floral head-dress, from Williamson Design Florist.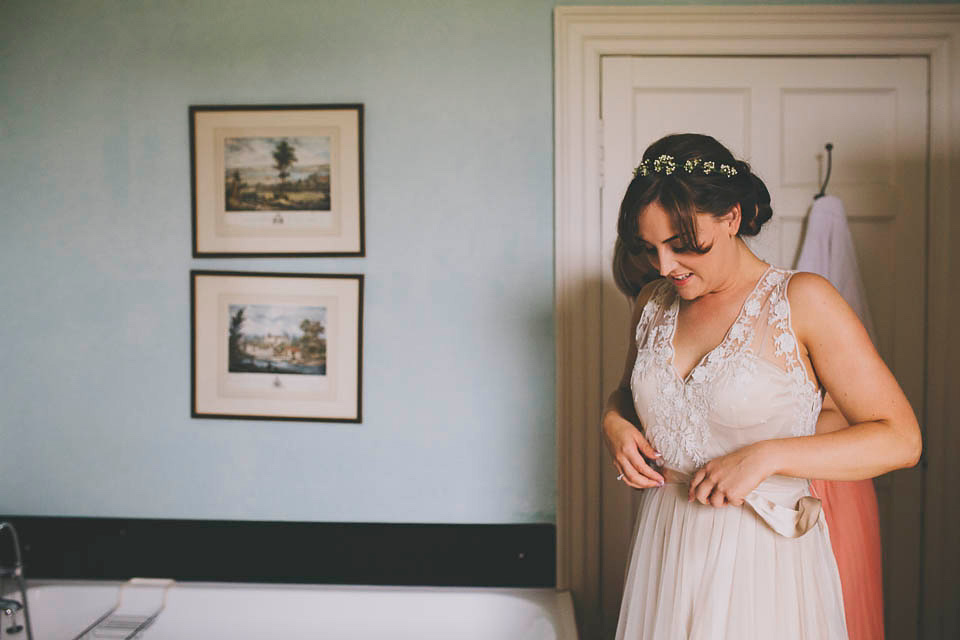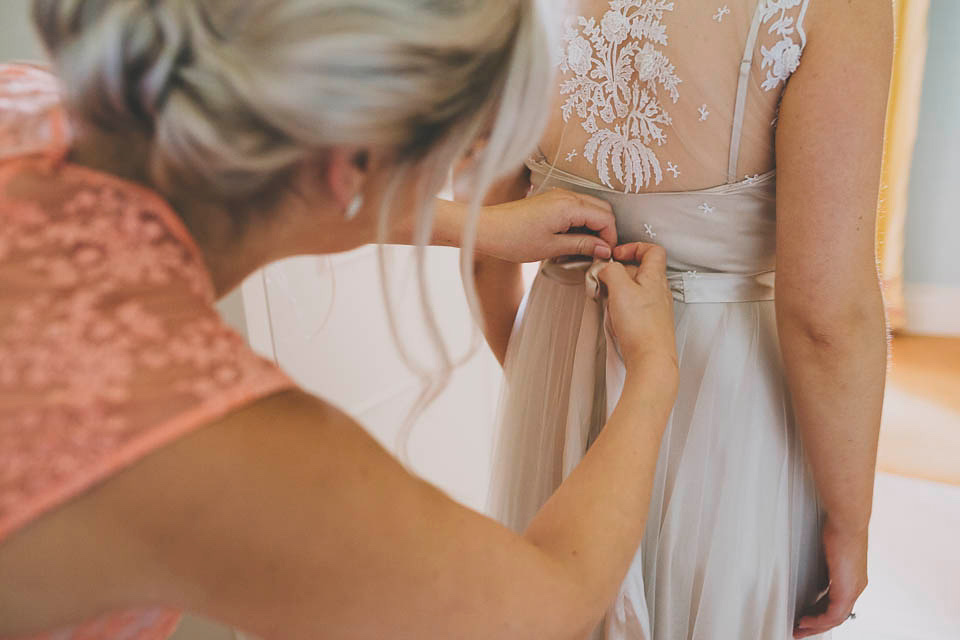 Alison MacNeil from Juniper Garden Flowers provided the pretty florals and put the sunshine into the couple's big day.
"The flowers were done by Alison MacNeil from Juniper Garden Flowers, Dunfermline. She is such a talent and I knew that she would do an amazing job. We wanted the byre to look bright and colourful, with a real happy, warm glow. We used lots of peach, yellow, green and cream colours in my bouquet and to decorate the venue. The bridesmaid's had simple bouquets of gypsophila tied with hessian."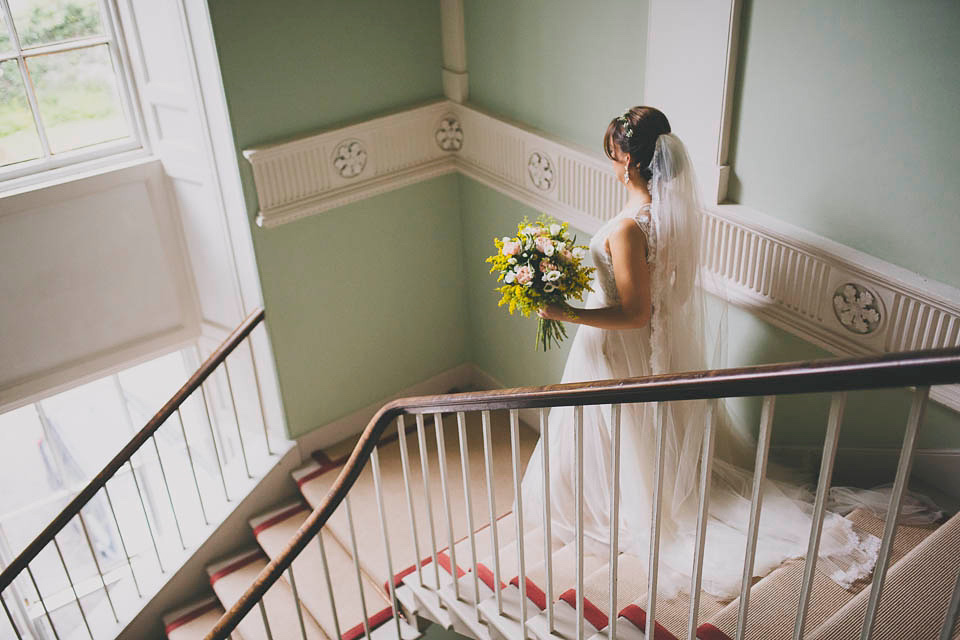 It's  not a Scottish wedding without sporrans and kilts – with the handsome groom and his three groomsmen sporting Slanj Kilts.
Hollie reminisces about her favourite part of the day – the heartfelt ceremony.
"I loved the ceremony. In the run up to the wedding I hadn't been nervous at all – Dave and I had dated for 11 years so I knew what I was getting into! But the night before I didn't sleep a wink – my mind kept racing about what I still needed to do, and who would be there, and what was going to happen – that panic really didn't stop until I stood with my mum at the back of the stable room just before the ceremony. I knew then that it was all going to be okay.
I practically ran down the aisle! It was such an overwhelming feeling to look out and see a sea of faces, all of whom I knew and loved. I hadn't really considered that and it really was very overwhelming. Having my mum with me in that moment was very special."
Hollie was walked down the aisle by her Mum, to the sound of bagpipes, and had a wonderful celebrant for their ceremony who reminded them of the three things the couple love about each other.
"We were piped down the aisle by Jake, the son of Caroline and James who own the Byre. Jake did a work placement with Dave the summer before the wedding and we'd gotten to know him through our visits to the Byre so it was very special to have him play for us on our special day.
Invitations were literary-themed penguin book covers by Marty McColgan (for Hollie the teacher!) and I just love the decor the couple designed – it's full of delightful colours, crafty paper pompoms, and a vintage map from notonthehighstreet.com which formed their table plan and table names, so clever!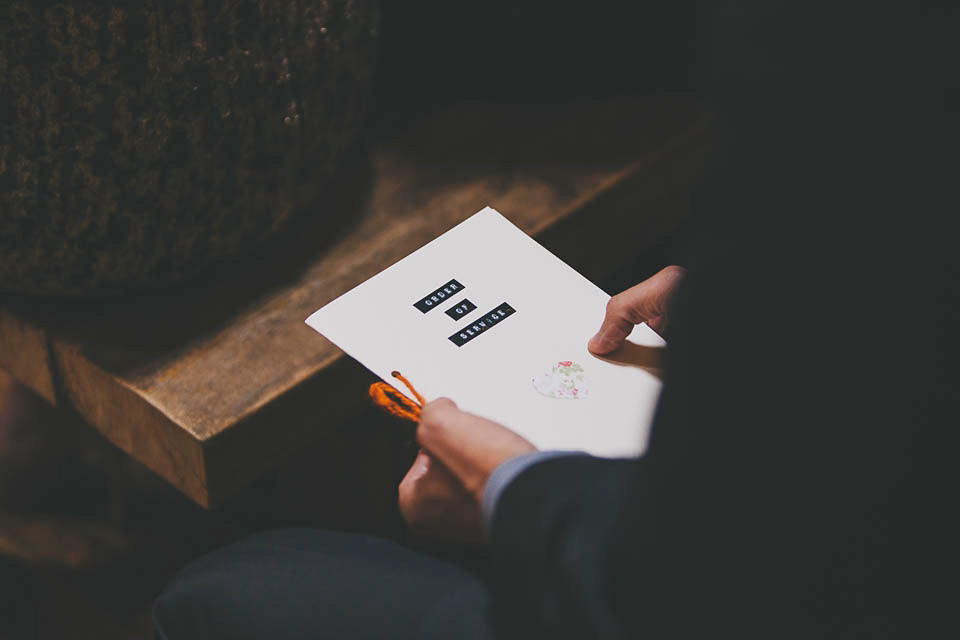 "We found the most delightful celebrant to conduct our ceremony, without Duncan I'm sure it would not have been the same. He was so open, warm and generous with his time from the very beginning and we always left his company feeling very honoured to have been graced with it. The ceremony was genuinely our favourite part of the entire wedding. We each gave Duncan three reasons why we loved each other, months in advance.
We'd actually forgotten about it and so we were left speechless when he read them out and we realised we'd each separately said the same things – we're the opposite but the same (so a challenge but also a comfort), we inspire and admire each other, and are each other's best friend."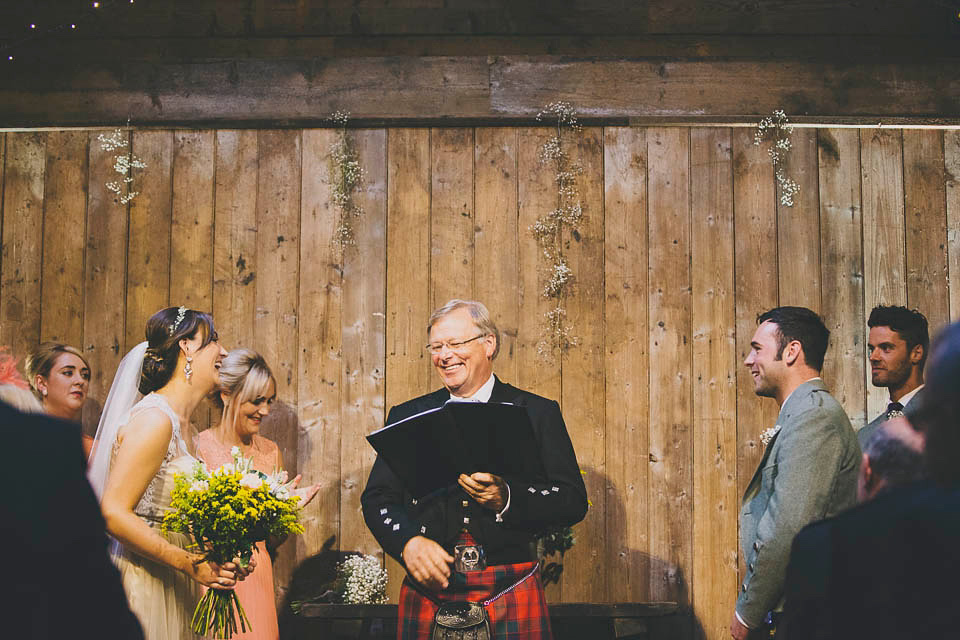 "We included three readings: Dave's sister and brother-in-law read 'He Never Leaves the Seat Up, my auntie Lorraine read 'Marriage is…' and my best friend Catherine read a passage from 'The Velveteen Rabbit.'  We wanted to keep the ceremony quite light-hearted and joyful and deliberately picked readings with that in mind. I'm an English teacher and knew straight away that the sentiment in each of the readings would be just perfect for our day – this was something fun, a celebration, but also a very real vow of for better for worse, in sickness and in health, till death do us part.
We want to grow old with each other and this was our way of expressing that."
The couple's rings were purchased from Glasgow-based Mr Harold and Son.
"The same shop Dave bought my engagement ring from. A family business with a really personal professional service."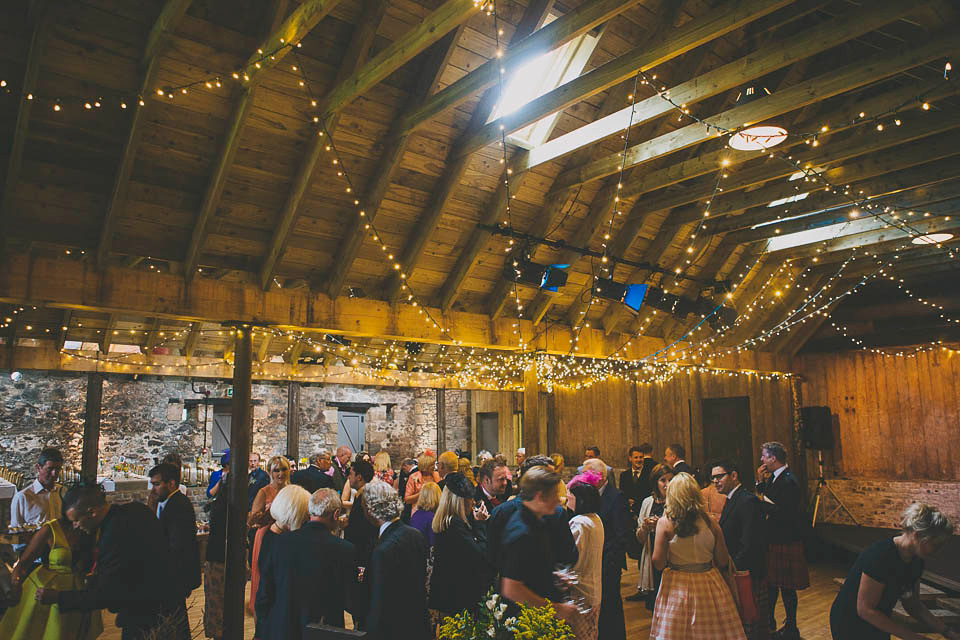 In keeping with their plan for good food, Hollie and Dave went with delicious catering and a naked cake from local caterer Lazy Sunday. My mouth is watering!
"The food was simply divine – I could eat it all over again! And we had a selection of pies for the evening buffet from The Wee Pie Company."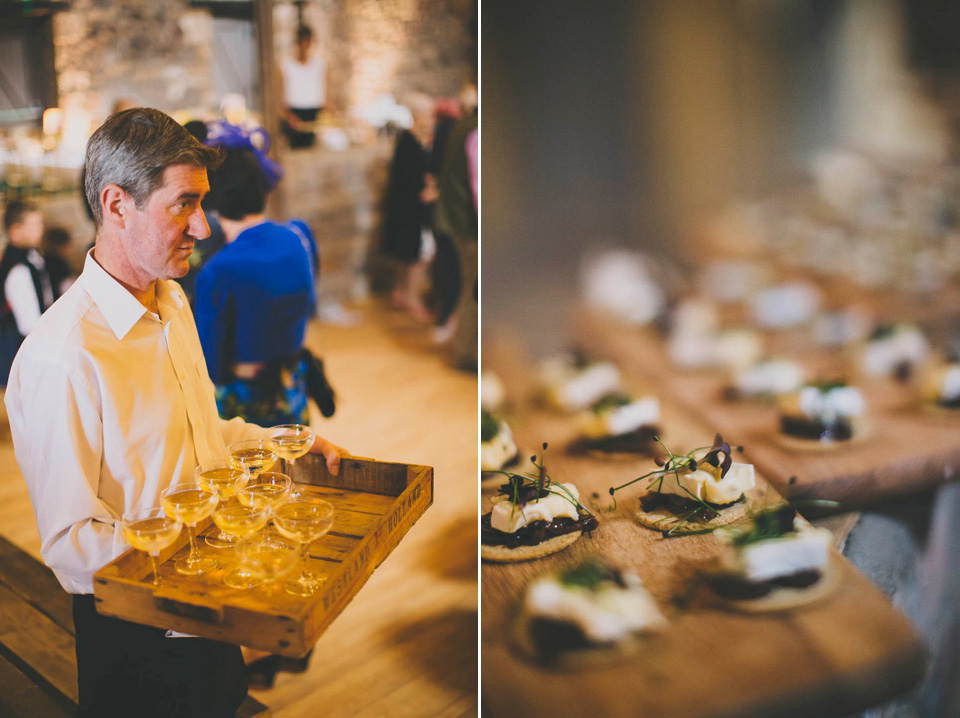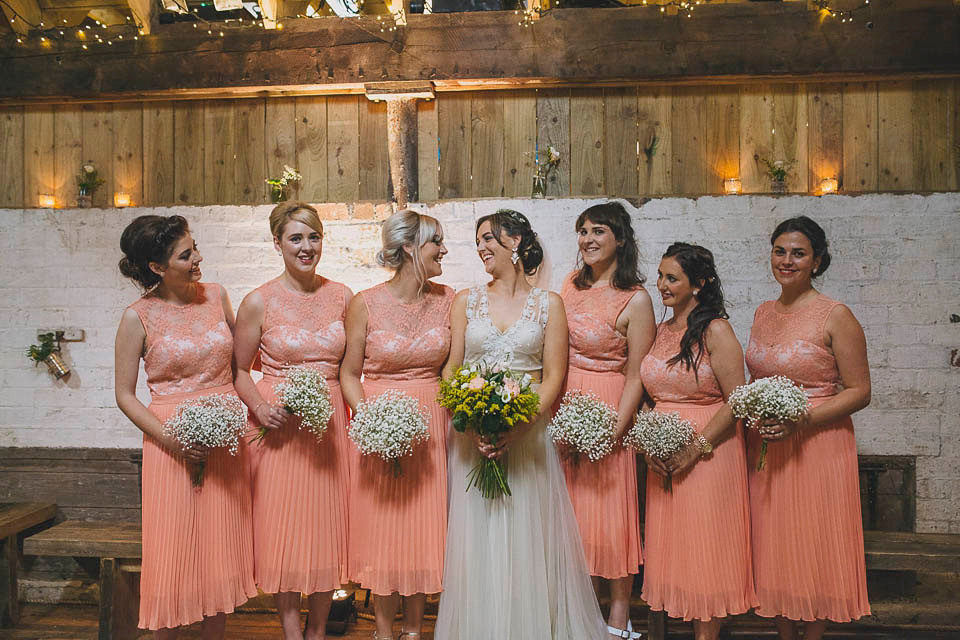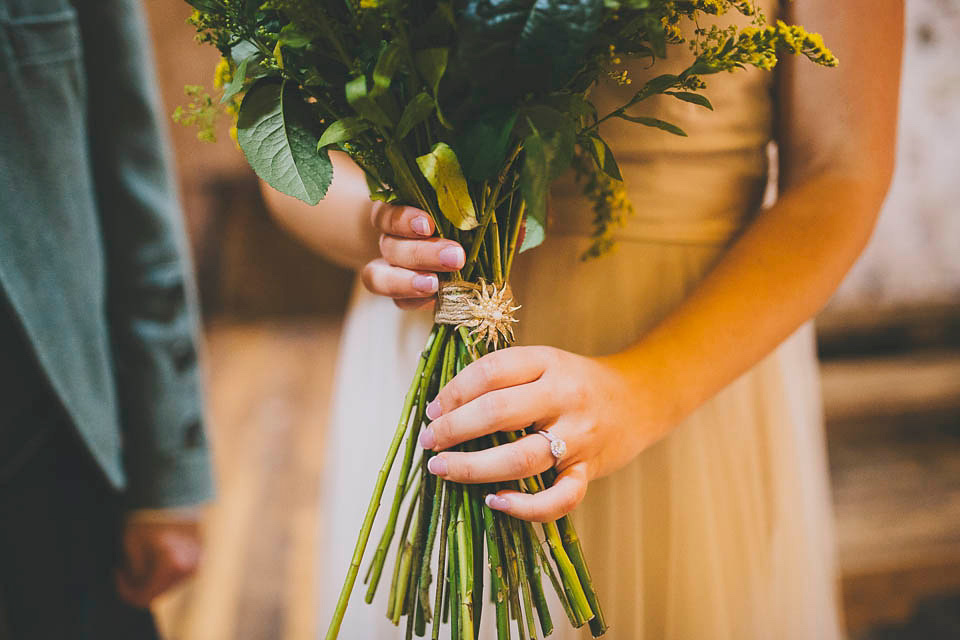 "We filled the Byre with tissue paper pompoms in coral, peach, and yellow. We used an old vintage style post-box for our wedding cards from Country Baskets and an old map of the world in a rustic wooden frame for the table seating plan. Glass jars of all shapes and sizes decorated the tables and with simple singe flowers. 'H heart D' gypsophila wreaths and huge inflatable 'LOVE' balloons.
We did everything else ourselves – hessian table runners, wedding favours as place cards, chalk-board menus, and DIY orders of service (made the night before by the bridesmaids – eek!)."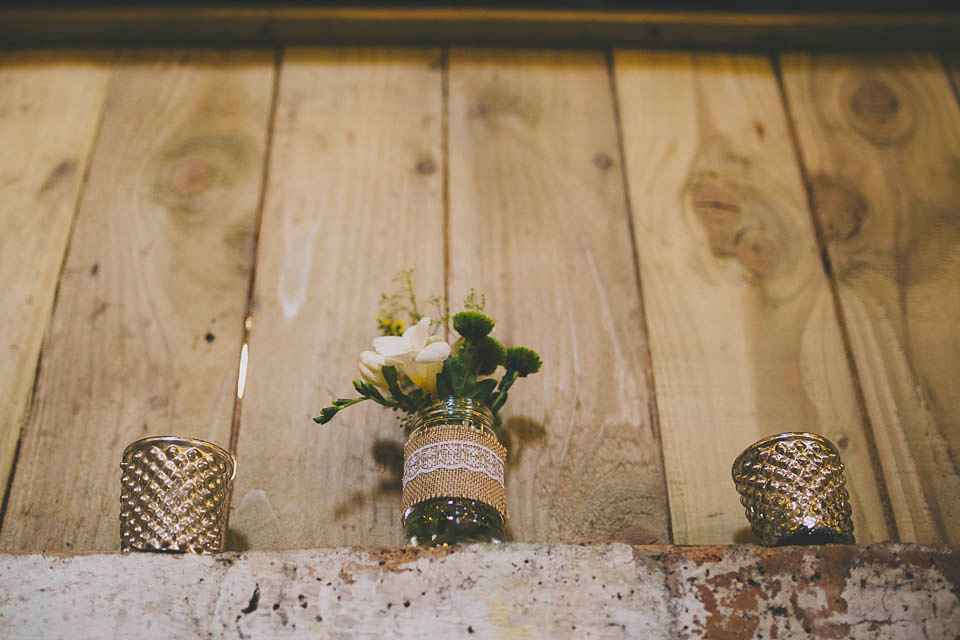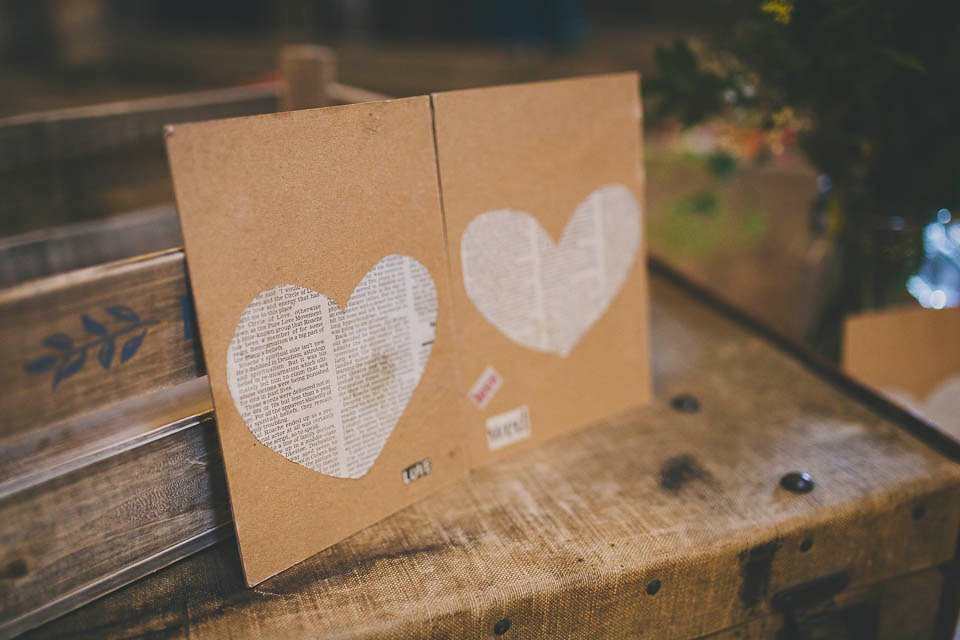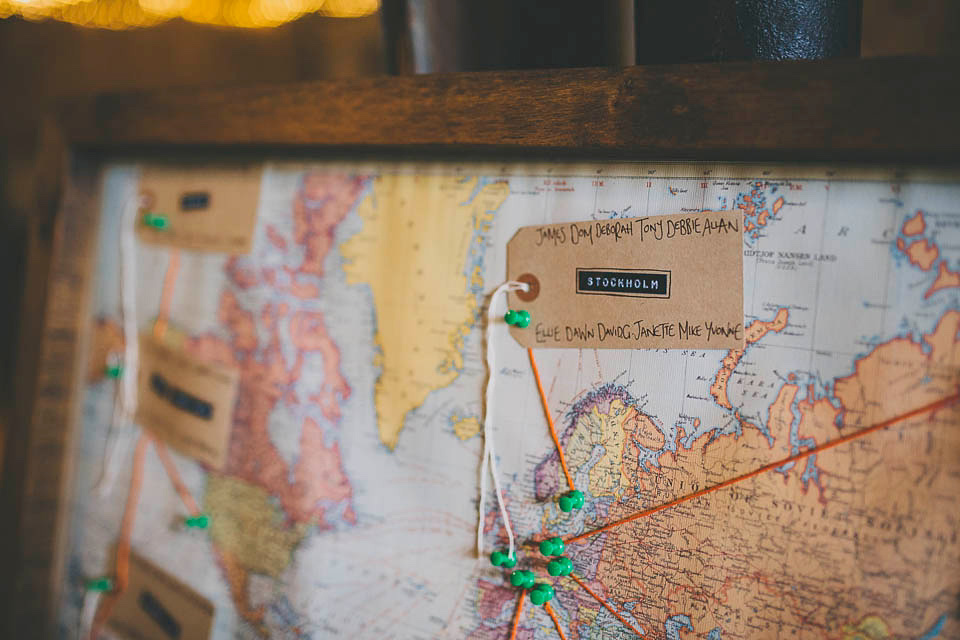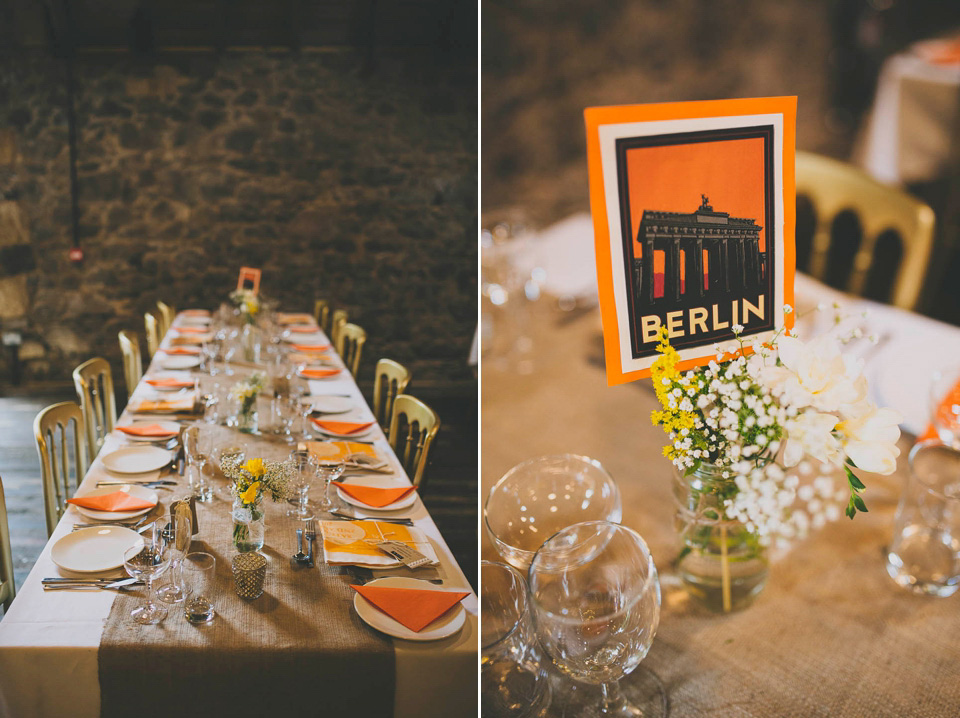 "The favours were tea-towels from the Wedding Tea Towels Company and miniature bottles of bourbon and a 'In Sickness and in Health' DIY hangover kit from Etsy."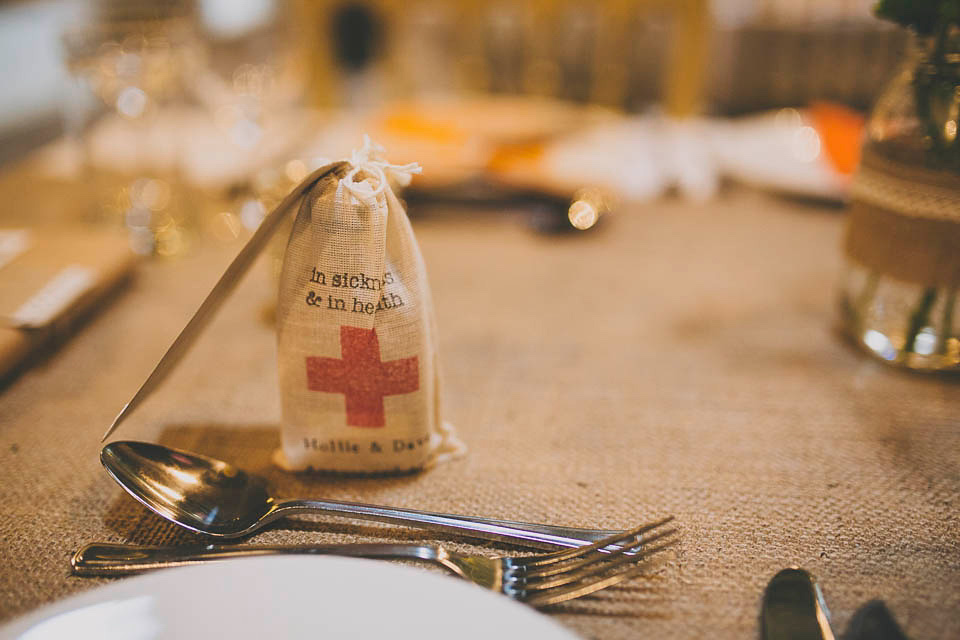 "We had a naked cake – a layered Victoria sponge with homemade strawberry jam and lemon curd, sprinkled with icing sugar and decorated with butter-icing and lots and lots of fresh fruit." 
"Our first dance song was George Ezra's 'Budapest'. He's got an amazing voice and we loved the sentiment of the lyrics. We'd agonised for months over what song to pick and had a short list drawn up, but we didn't use any of them. We'd stayed up late one night organising things for the wedding and the song came on the radio. I can't explain why or how it happened but somehow we both just stopped, got up, and ended up dancing around the kitchen at midnight!"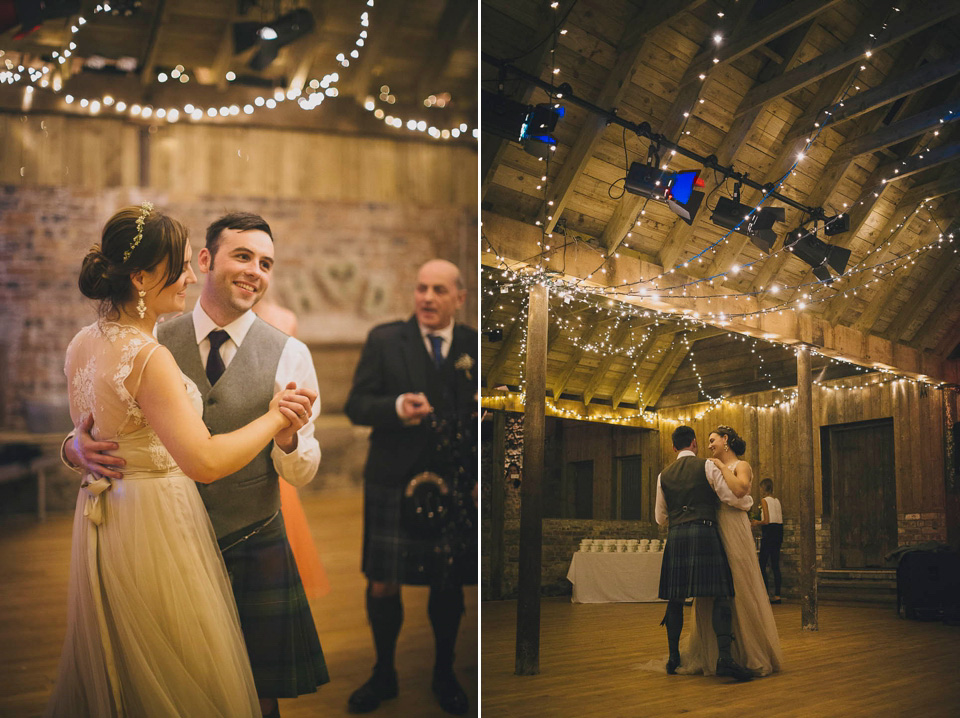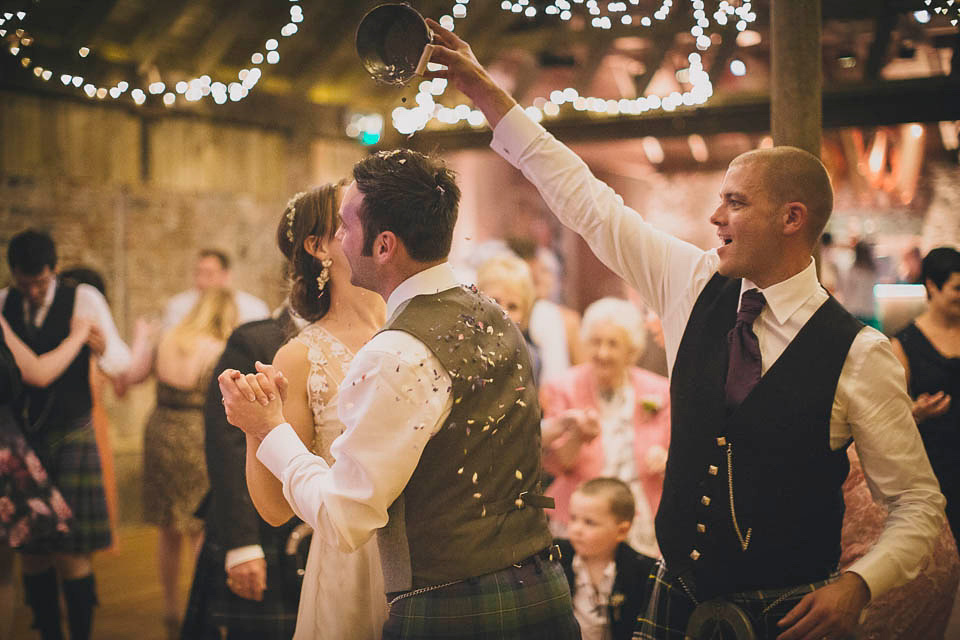 "The band The Strides were brilliant – they took the time to learn our first dance song and kept our young guests entertained by letting them join in up on stage."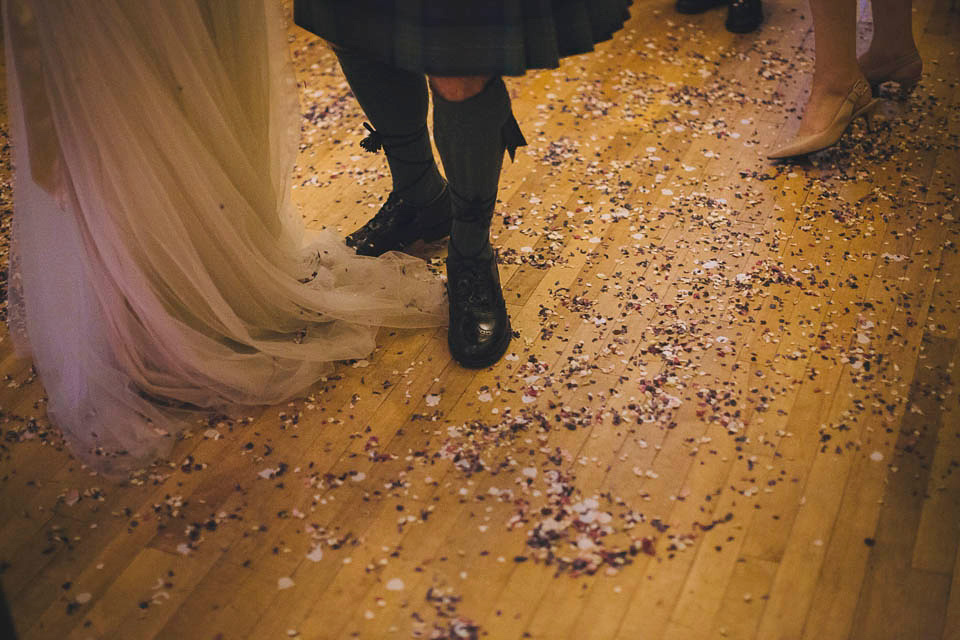 Words of Wedded Wisdom
"Make the time to plan and organise everything you want to do, but don't just do that. It can be quite stressful so it's so important to still go out on dates and spend time with each other so it doesn't just become all about the wedding. On the day, just relax and enjoy it – everyone else is there for you, so they will make sure everything goes to plan and everyone has a good time!"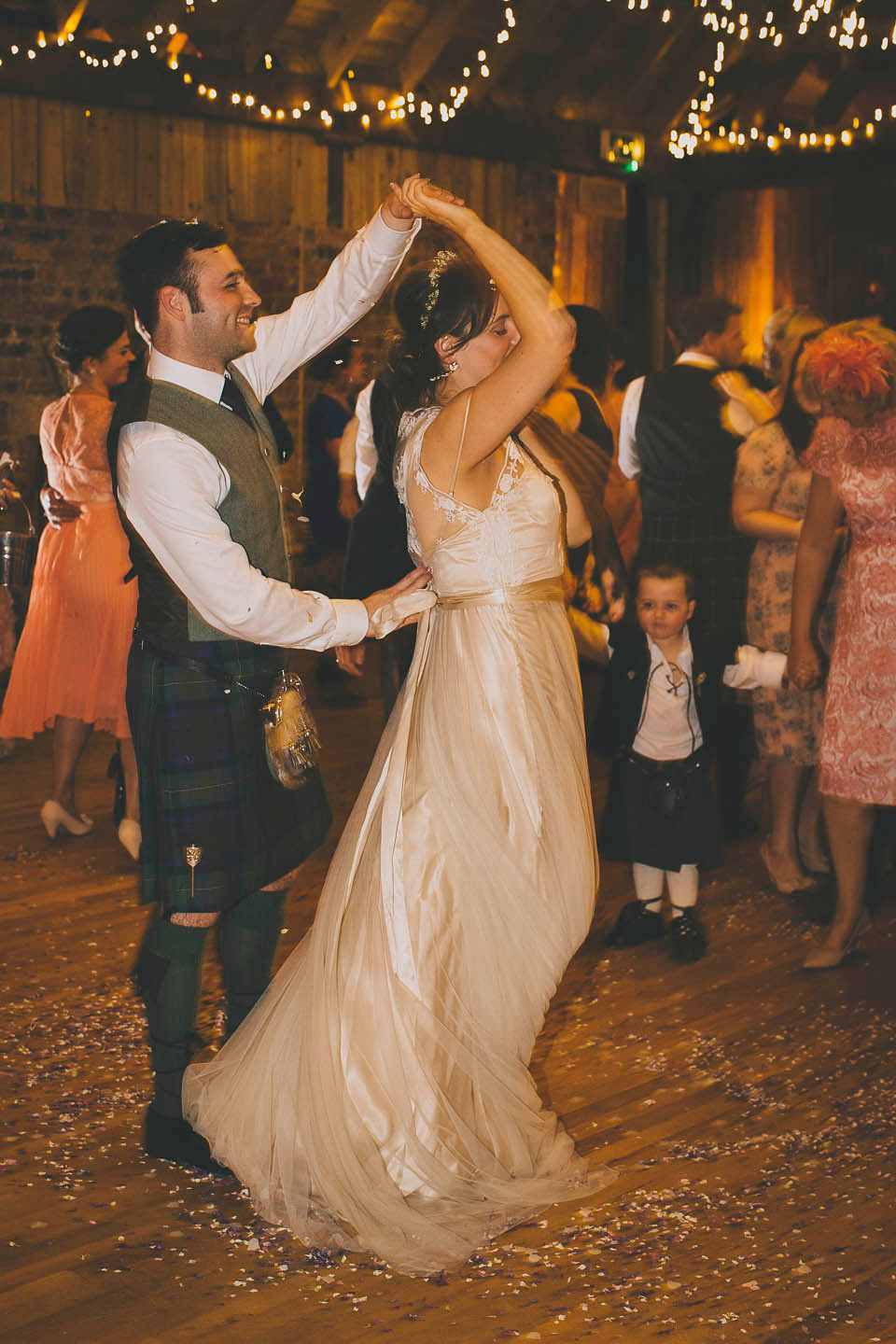 Hollie and Dave, what a brilliant wedding you had – a picturesque barn setting to bring back lovely childhood memories, bright and colourful decorations, quirky little decor details (LOVE the vintage map table plan!) and a gorgeous Catherine Deane dress to top it all off! Thanks for sharing your day with us – and thank you to Jen Owen Images for capturing such lovely memories for the happy couple.
If you're in the throes of planning a barn wedding, see here for more inspirational barn-style settings.
Have a brilliant week everyone!
Love Jo -xxx-
Photographer – Jen Owens Images
Venue – The Byre at Inchyra, Glencarse, Perthshire
Bride's Dress – Catherine Deane via BHLDN
Bride's Veil – Bridal Bliss Online
Bride's Shoes – Rachel Simpson Shoes
Bride's Floral Crown – Williamson Design Florist
Bride's Accessories – Earrings from Accessorize
Bride's Scent/Perfume – 'Stella' byStella McCartney
Bridesmaid's Dresses – Warehouse
Bridesmaid's Shoes – Own shoes
Bridesmaid's Jewellery – 'Karma' necklace from Dogeared
Groom and Groomsmen – Slanj Kilts
Florist –Juniper Garden Flowers
Catering + Cake – Lazy Sunday
Evening Buffet – A selection of pies from The Wee Pie Company
Rings – Mr Harold and Son
Confetti – Shropshire Petals
Invitations – Marty McColgan
Decor – Vintage map from notonthehighstreet.com + Country Baskets
Favours – Tea-towels from Wedding Tea Towels Company + Etsy
Hair – Michelle McHugh from Casaid Hairdressing
Photobooth – Bygone Photobooth Company
Entertainment – The Strides