Time for a mid-day movie, because we're half way through the week already (and indeed powering through it productively I hope!). Today's movie features the beautiful Northumberland wedding of Marianne and Neil, sent in by Mischa + James Wedding Films. I have to confess that I am in love with the landscape in this part of the world, and completely understand why this lovely couple will have relished at the idea of being filmed wandering along the shore, hand in hand, in their newly-wed and blissed up state. It makes for the most charming film, which I hope you enjoy viewing.
This is such a charming little film – the music, the whole backdrop and setting, and Marianne's perfect choice of dress and headpiece.  I've genuinely loved watching this movie and hope it brings a smile to your face too.
Film by Mischa + James Wedding Films
"Neil and I got married at Newton Hall on the 23rd August last year. We'd been planning the wedding for around 18 months, and had a really clear picture in our minds of what we wanted. I'd seen Newton Hall as it's not far from where my Dad lives, and I loved the idea of being near to the Northumberland coastline.  The hall was one of the first places we looked at and we both knew straight away it was where we wanted to get married. We loved the fact that each area had such a different feel from modern to eclectic to vintage – it was perfect."
"Our florist was Helen from Bels Flowers. Her style is soft, feminine and so so gorgeous which fitted in perfectly. My dress was Willow by Jenny Packham. I loved this dress from the moment I saw it and knew I didn't want to get married in anything else. Helen did a gorgeous bouquet that really complemented my dress.  My shoes were by Jimmy Choo and my evening shoes by Rachel Simpson.  My headpiece was created for me by Vintage Headdresses – it was originally a 1940s piece that was reworked and mounted onto a headband."
"The men wore grey fitted suits from Blades in Blagdon and my husband wore a fitted navy blue suit from River Island. The bridesmaids wore lavender dresses by Dessy and the Flowergirl an ivory dress from Monsoon. Her gypsophila crown was by Bels Flowers and was so gorgeous."
"Throughout our planning, people always asked 'what's the 'theme'?', and to be honest, we never really planned one.  If there was any 'theme' at all, it was simply 'organic and pretty'. We just knew what we liked and chose things that fit in with our ideas. After securing the venue, the next thing we did was to book our photographer and videographer. This was a really important part for us as we wanted the day to be captured in a particular way – light and organic."
"We knew we wanted to use Katy Melling as our photographer as we'd looked around for a long time and adored the way she uses light. Katy recommended Mischa & James as videographers and when we looked at their portfolio we knew that they would be perfect. They were just starting out and were keen to hear our ideas and thoughts to make sure everything was perfect."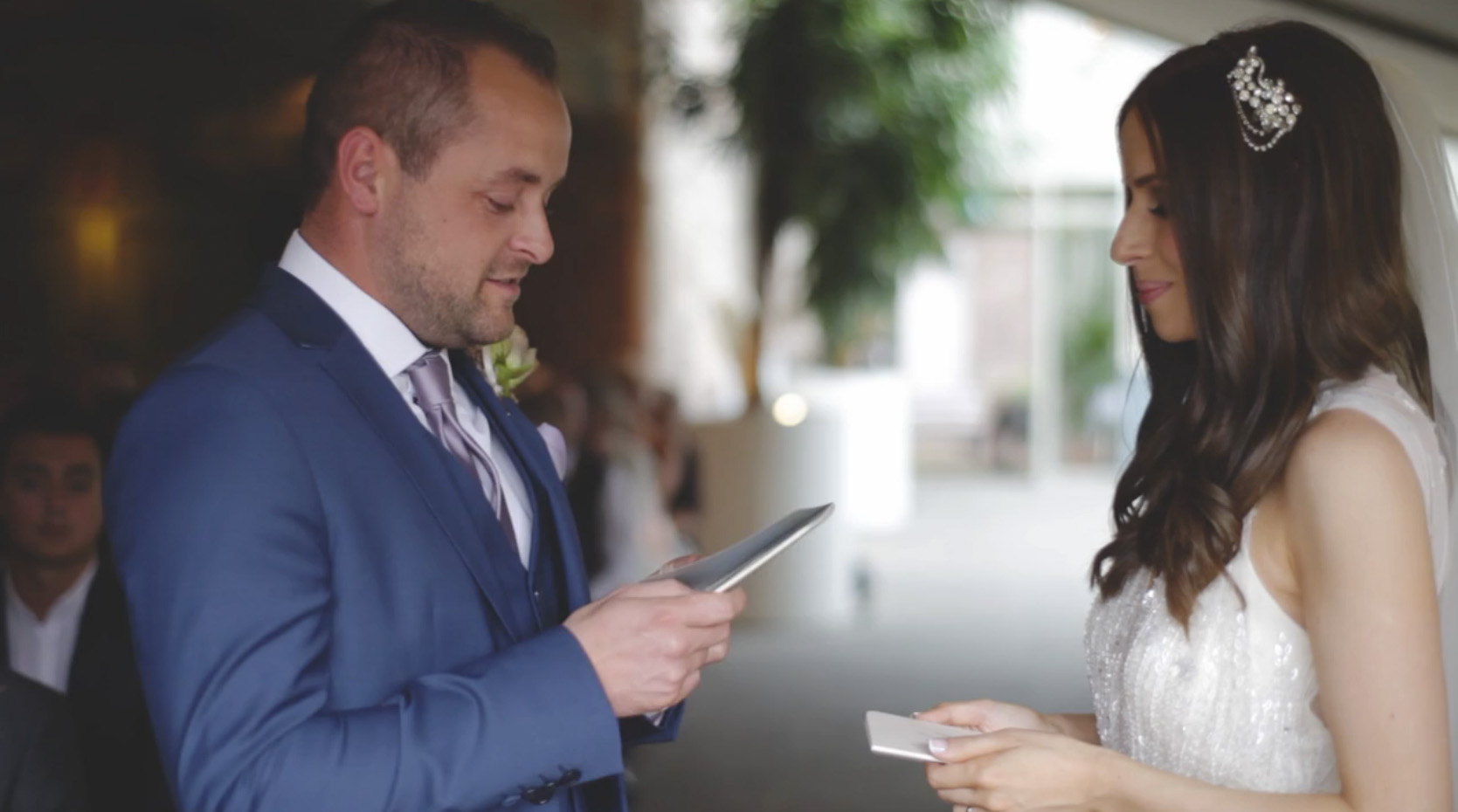 "I collected lots of pretty things for the wedding such as Ball Mason jars, frames and signs. The other styling was done by Charlotte at The Finishing Touch Company. She had loads of great things to style the wedding. We opted for pintuck cloths and waterfall chair covers in a nude/blush pink."
"The lighting and photobooth was provided by Coco Luminaire and our cake was gorgeous. I had designed and drawn it and it was brought to life by Love Lily Cakes and styled by The Finishing Touch Company. We were so happy with how it turned out."
"Our wedding day was everything we could have wished for. It was relaxed, natural and pretty. The weather was typically British but eased at exactly the right moments to allow us to get out and get some photographs. We made it down to the beach in the evening just the two of us and that was perfect. The backdrop was simply stunning."
"We are absolutely thrilled with the photographs that we've received from Katy and the videos we've received from Mischa & James. They have captured the day perfectly and are memories that we'll always treasure. We'd had the idea of doing Simply the Best as something a bit different and are so glad we did it – It's great to have a mix of organic and fun." 
How very lovely – thank you so much Mariane for sharing so much helpful details for our readers, and love and thank also to Mischa + James Wedding Films.
So very many of our readers will tell us that they wished they'd have had their wedding filmed. Are you budgeting to have your wedding filmed too?
Love Annabel xx
Photography: Katy Melling
Film: Mischa + James Wedding Films
Venue – Newton Hall, Northumberland
Cake: Love Lily Cakes & The Finishing Touch Company
Lights and Photobooth: Coco Luminaire
Styling: The Finishing Touch Company
Hair & Make-up: La Belle Vous
Headpiece: Vintage Headdresses
Flowers: Bels Flowers
Dresses: Bride – Willow by Jenny Packham
Flower girl – Monsoon
Bridesmaids – Dessy
Shoes: Jimmy Choo + Rachel Simpson
Suits: Groom – River Island
Groomsmen – Blades