Writing a wedding feature for Love my Dress is always a delight, and I feel very lucky to be a part of this fantastic blog and able to legitimately look at endless weddings in my free time, claiming it is work 🙂 Every wedding really is an absolute pleasure to write, and I enjoy putting them together immensely, but it's always extra lovely when the style of the bride and groom is so close to your own tastes and this wedding is everything I love; countryside, Autumn, lace and soaring oak beams. I absolutely adore the seasonal colours, rustic fabrics and abundance of wood in this wedding, and the Terry Fox dress worn by the bride is an absolute beauty. I hope you enjoy it as much as I have.
Kevin, an electrician, and Dominique, a graphic designer, married in a wonderful autumnal ceremony in Suffolk, on the 27th of September 2014; a wonderful time of year when the ends of summer are just creeping away for another year and autumn starts to move in, with its crunchy leaves, smell of wood smoke and darkening evenings. Such a romantic time of year.
Photography Copyright (c) 2015, Michelle Lindsell Photography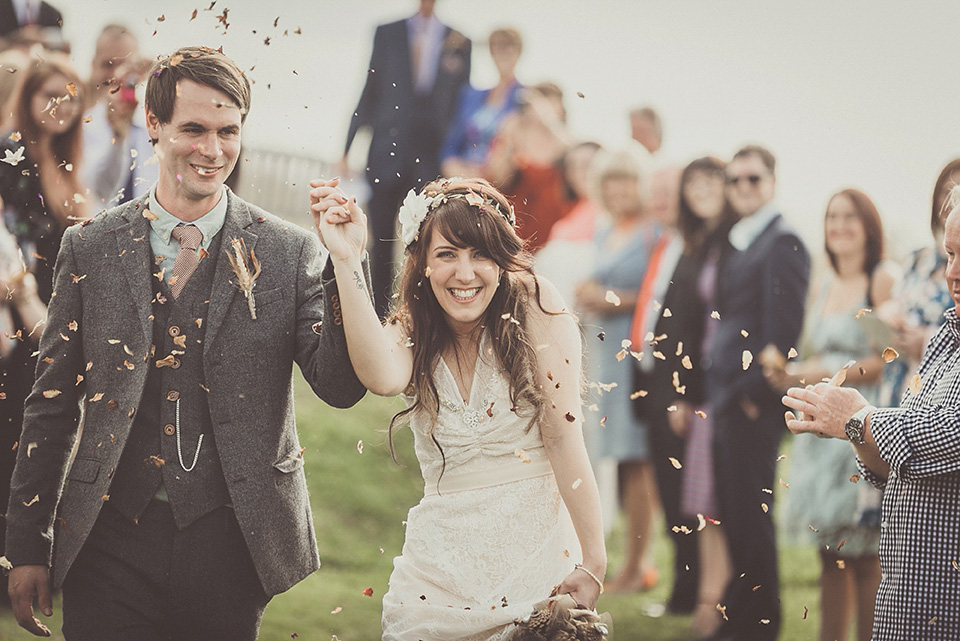 The couple chose the stunning Alpheton Hall Barns, Sudbury, as the setting for their golden brown, leaf strewn nuptials, as its beautiful wooden beams and quirky spaces provided exactly the relaxed and friendly atmosphere they were looking for.
"We're both fairly laid back, easy going people, as all our friends and family will tell you; getting down and dirty with the dogs in the countryside, festivals and socialising means everything to us. We decided early on that we would have a relaxed and completely informal day; we both wanted an autumnal, beer festival, country style wedding. The venue was so beautiful that we just combined all the elements thrown in with a little creative flair and luckily it all just fell into place."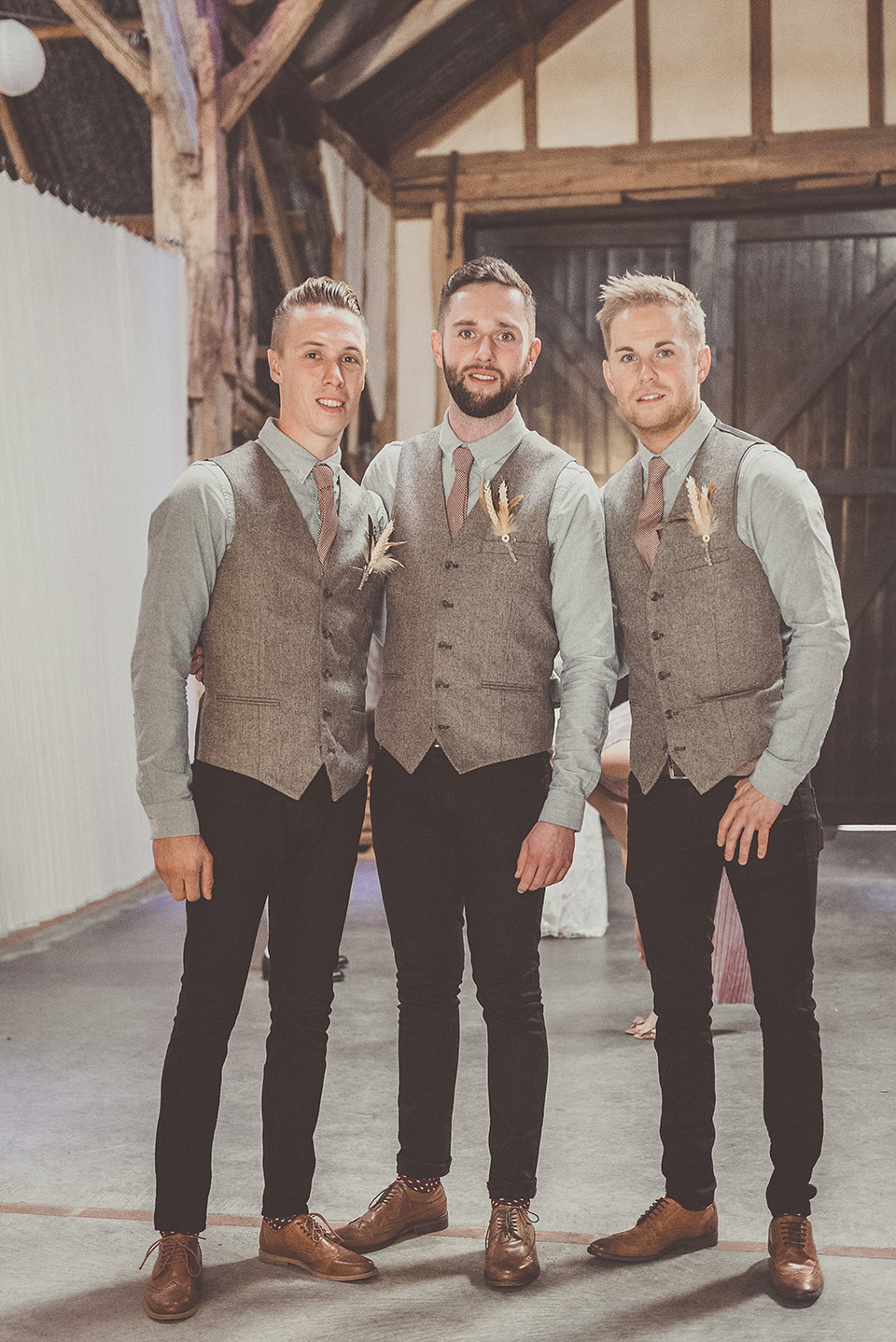 Dominique's gorgeous lace dress is a creation by the fabulous British couturierTerry Fox- one of my very favourite designers. Terry actually did an interview with Love My Dress back in 2010 when LMD was but a baby and her fairy-tale shapes, interesting use of fabrics and unique style has always been a popular choice with our readers.
"I was really worried about choosing a dress as I knew I didn't want a 'traditional' bridal gown, but I still wanted to feel like a bride. I was recommended Terry Fox by a friend, immediately looked her up online, and found my perfect dress. It was exactly what I had in mind; classic and stylish but not over complicated, a little bit of sparkle for the girly touch and beautiful hand made Italian lace. As soon as I tried it on I knew it was (for want of a better term) 'the one'."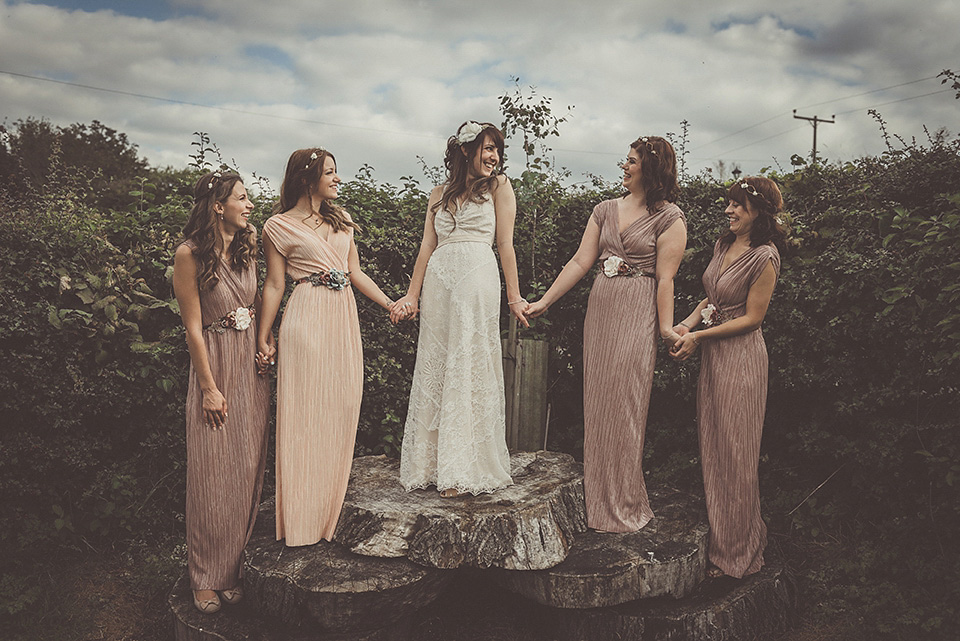 I really love the full length dresses in tones of brown worn by the four bridesmaids, and those belts are something else!  As a gift to her bridesmaids, Dominique also bought them bracelets from Hibiscus Days on Etsy to complete their ensemble and the couple's two young nieces wore dresses from Monsoon to set off the wood-fairy look.
"The bridesmaids all wore 'Oh My Love' maxi dresses. Originally we had planned for them to all be in mismatched dresses based on one colour pallet, however when we saw the dresses and tried them on, not only did they mimic the style of mine brilliantly, they suited every one of them perfectly. My maid of honour and sister Nicole wore a different colour to the other girls. To help enhance and relax the dresses they all wore the most gorgeous 'Claudette' ribbon ties as belts from Her Curious Nature.
My Mum and I hand-made the bridesmaids head dresses using vine covered wire and little cream fabric flower blossom, I was so pleased with the result and we had so many comments on them throughout the day."
Kevin donned a dark grey herringbone tweed three piece suit from ASOS, with his shirt and tie matching the groomsmen and the couple's fathers. To fit in with the relaxed theme the groomsmen wore tweed waistcoats from Topman, olive green shirts from ASOS and all bought their own black jeans and brown brogues. I love the final look; set off by their unusual buttonholes, handmade by Dominique and her talented Mum.
"My Mum and I handmade the button holes for the Grooms party, using wheat and feathers. I was really chuffed with them, as they sat with the suits beautifully and tied up the whole theme."
"We met through a mutual friend 9 years ago in the May, and in true laid back 'Kevin style' we made it official in the August. Seven and a half years later he took me completely by surprise and proposed. We headed out for a Christmas Eve dinner to a beautiful pub/hotel on the Hambleton peninsula. We were shown to a tiny table next to a roaring fire but completely out the way of the rest of the restaurant, which at the time I thought was a bit odd. I wanted to be a part of the Christmas spirit and hustle and bustle of the other guests. Little did I know what I was in for!
Public embarrassment and drawing attention to myself is really not my gig, so Kevin had planned the tables to be re-arranged and us to be sat out of the way so he could privately ask me to marry him – of course after seven and a half years I thought he was actually joking. It wasn't until he pulled out the ring I knew he was deadly serious."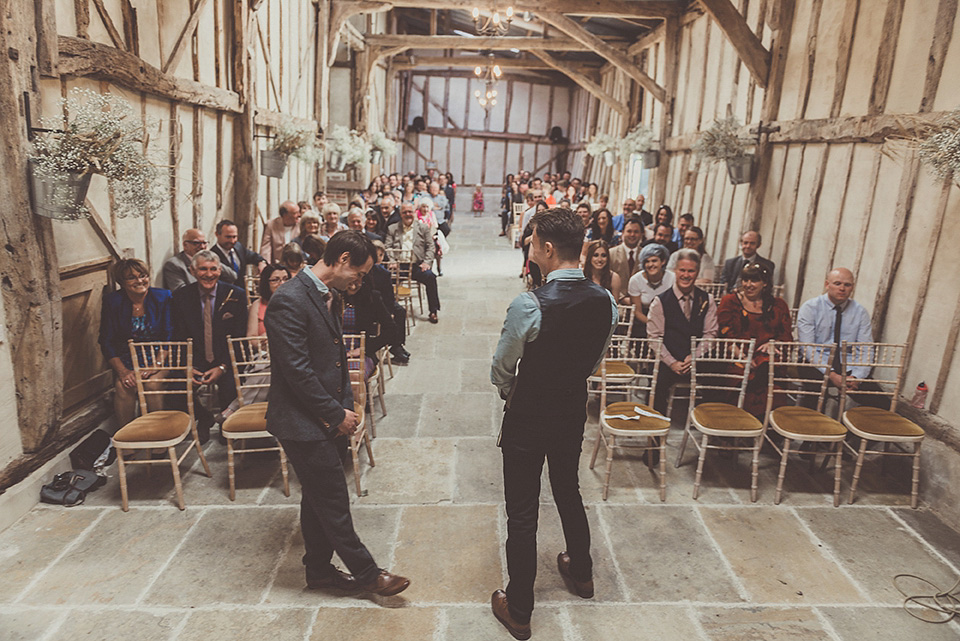 "We always knew we wanted a quirky, relaxed and informal day. Most importantly in a venue that would allow us to share the whole day with all 125 guests, ideally in one location. Alpheton Hall Barns was the first venue we went to see and instantly fell in love. It was everything we'd wished for, two adjoining rural, untouched 10th century rustic barns, which allowed us to hold the whole day in one location. It was almost as if the barn had fallen right out of our imaginations and into its beautiful surrounds. It wasn't until after we booked I found out I had ancestors from the area. Later on after sharing our photos we discovered that my great-uncle collected his hay from the very barn we married in. It was definitely meant to be."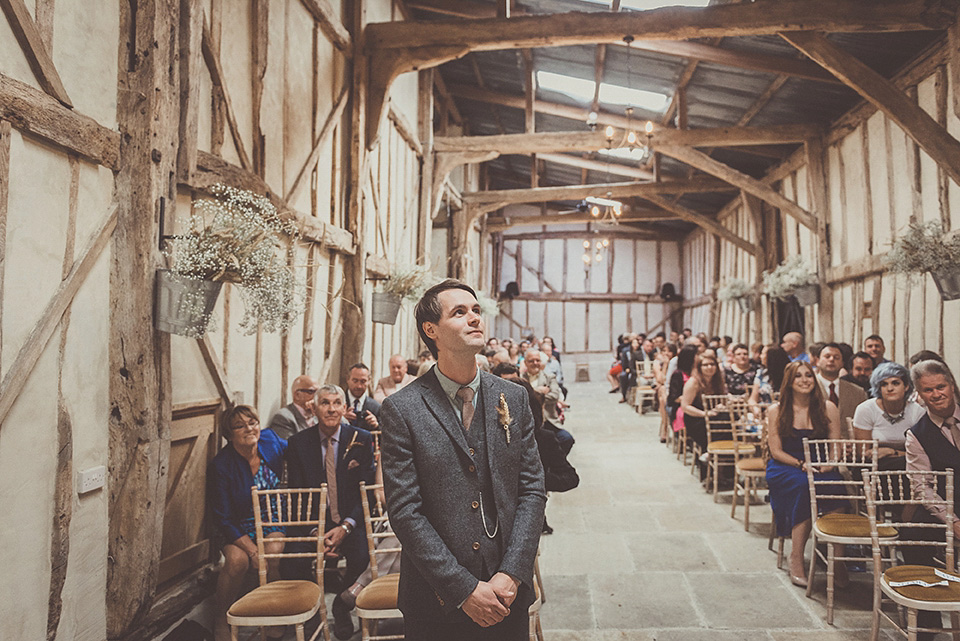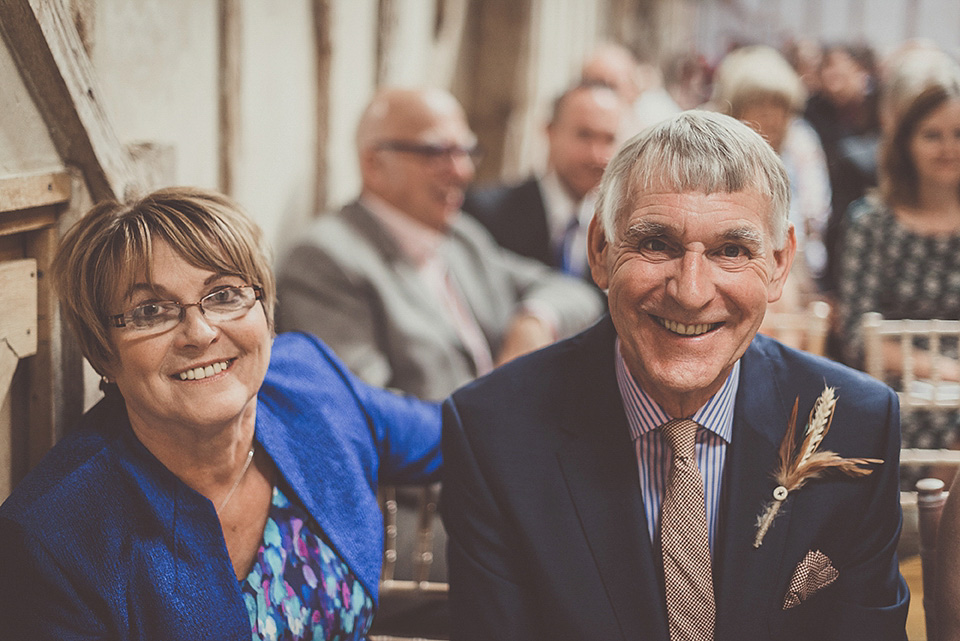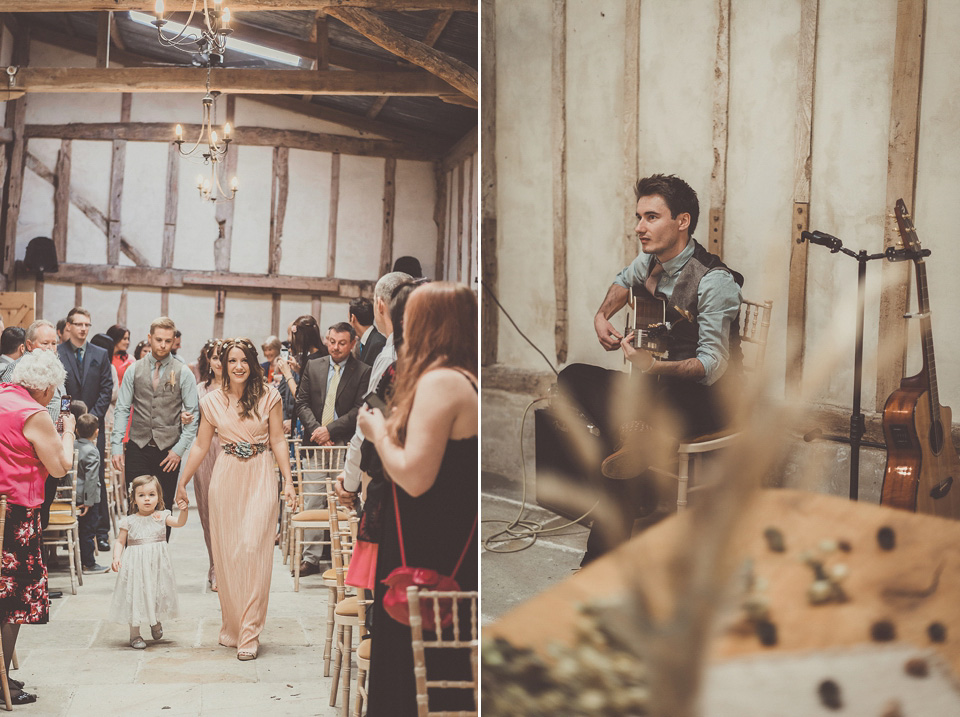 Dominique was walked down the flagstone aisle by her Dad, who looked most splendid in his traditional kilt.  The wearing of this was a huge surprise to Dominique, as she had requested he dress in it ahead of time, but he had told her he had bought a new suit…. "When he turned up to the house and I saw him in his kilt I nearly cried."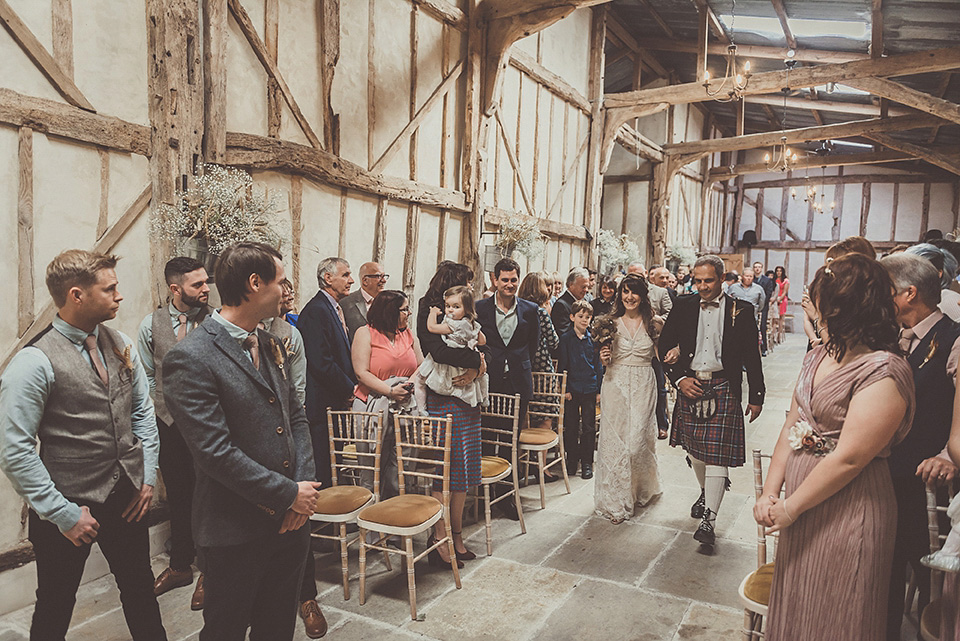 "Our incredible talented musician groomsman played me down the aisle to a rendition of the wedding march. He then played us back out to a very apt Ben Howard, 'Old Pine'."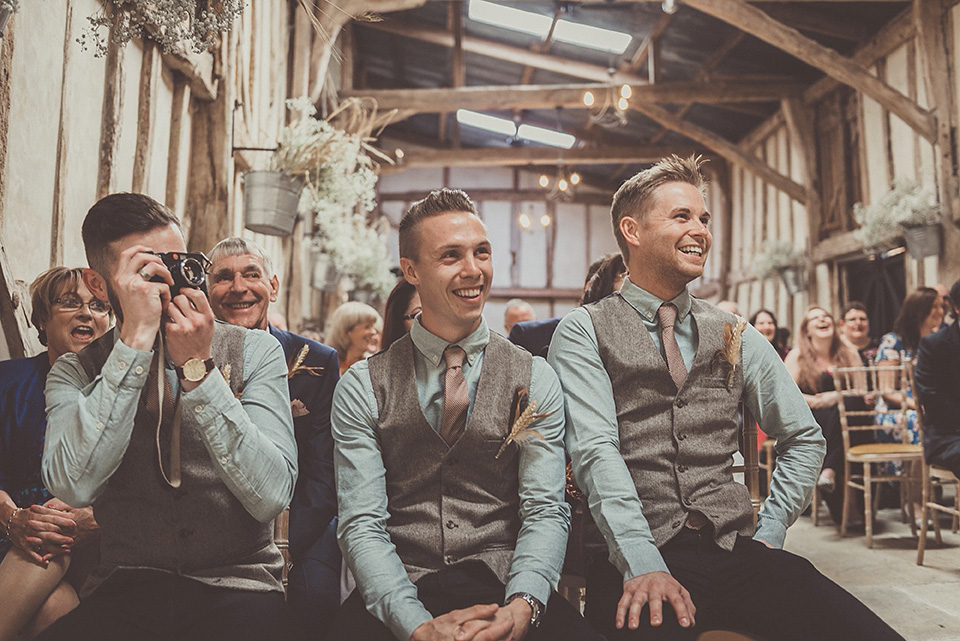 "My bouquet was handmade by myself and sister (maid of honour) using pine cones, vintage buttons and pearl drop beads. The only flowers we had supplied were the gypsophila hanging in buckets in the ceremony room, paired with some dried wheat we hand picked. We also used dried wheat and poppy heads on the tables."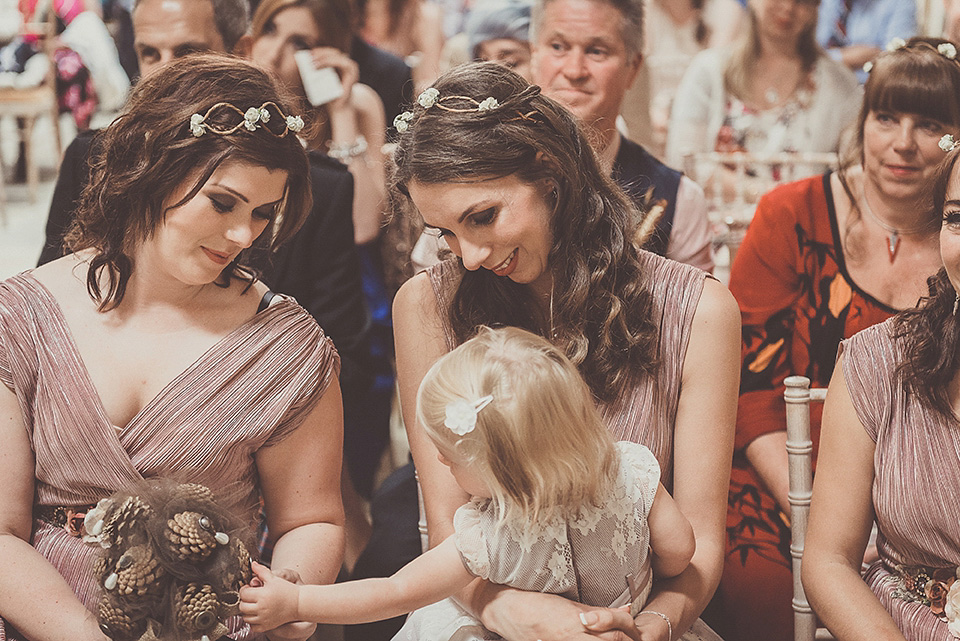 The couple were married by a close friend; a lovely idea and very intimate I'm sure.
"Top priority for both of us, and a running joke within the group was our close mutual friend (or our third wheel as he refers to himself) would marry us. Unfortunately he couldn't legally do that in the UK, so unbeknown to our guest we sadly had to slip off to do the legalities the day before. It was vital to us that the ceremony Ed conducted was in our eyes, and the guests, the real deal. He prepared the most memorable service combined with our own vows. It was and forever will be an incredibly cherished moment of our lives. You just don't get the same level of intimacy and sincerity from a stranger.
We didn't have any readings, but our 'minister' Ed added a skit from Friends into his ceremony speech. We had joked the day before over drinks about Joey from friends and his speech on 'marriage is all about giving and receiving, and having and giving, and receiving'. It set the tone perfectly."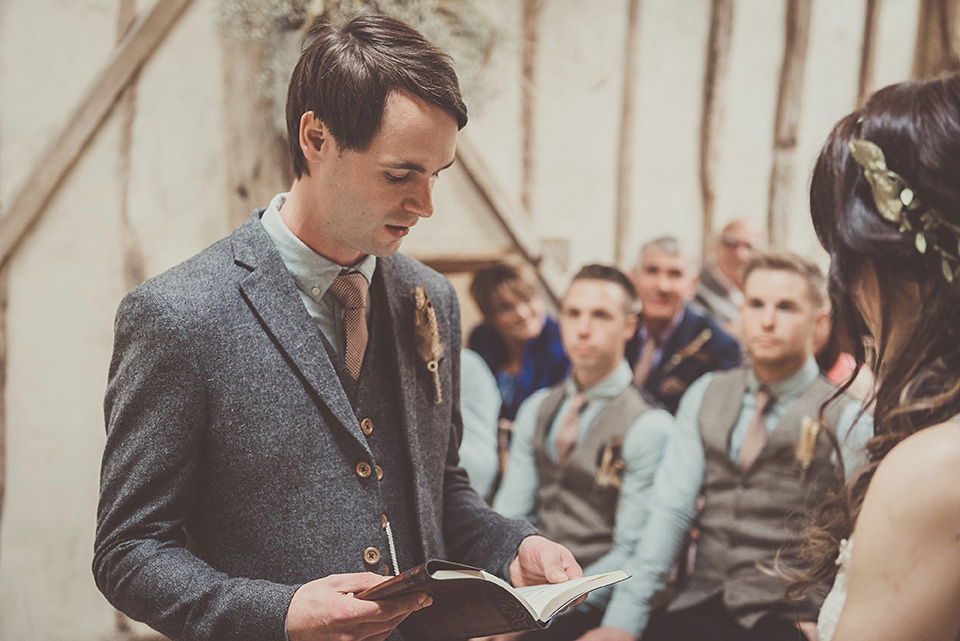 A woman after my own heart, Dominque wanted to choose accessories she could use again after the big day.
"I was very careful when choosing my accessories as I wanted pieces I knew I would get use out of time and time again, so right from the start I knew a veil just wasn't me. I trawled the net and found Mignonne Handmade who make beautiful silk and ivy halo head dresses. It was perfect; not too over-the-top, and something I will wear again.
My Mum also gave me a silver sixpence from her birth year which has a cute little heart cut through it which she bought online. As I couldn't wear it in my shoes I attached it to my buckle. I also wore Chanel Mademoiselle, given to me as my wedding scent by my lovely Dad. Every time I wear it or walk past someone who is, it just brings back such lovely memories."
"We bought the rings from a local independent jewellers who helped us select and design our rings. I opted for a simple twist platinum band so it would sit perfectly with my engagement ring and show of its flawless beauty. Kev opted for a plain brushed palladium band."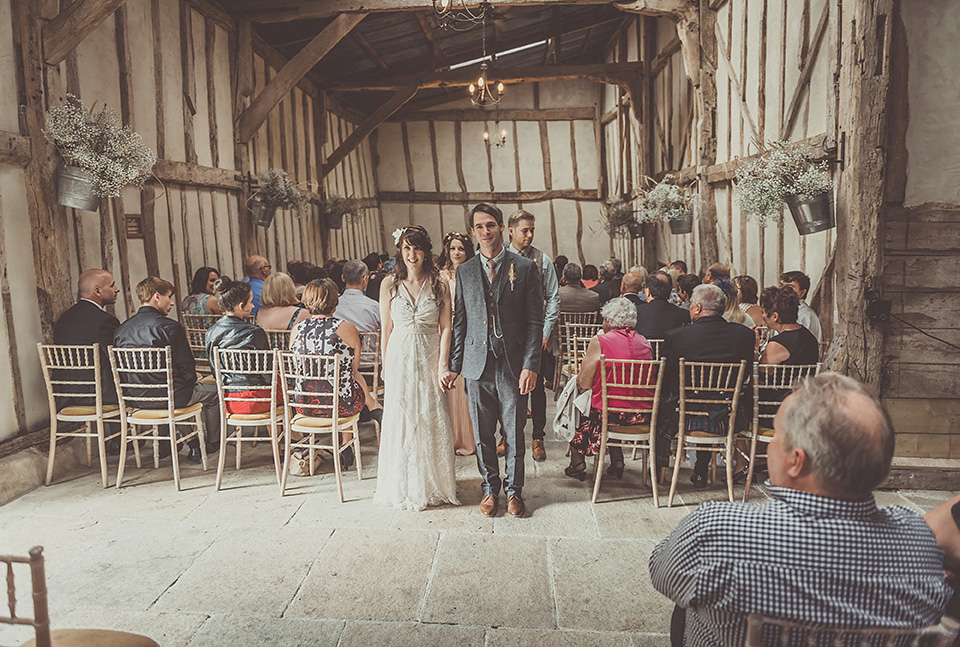 I absolutely love signature style of Michelle Lindsell Photography, who has been featured on Love My Dress before, with work from another gorgeous wedding. She comes very highly recommended by the bride;
"I cannot thank Michelle and her team enough. As a creative perfectionist in a design world, photography was a high priority of importance to me.  On a tight budget, it was one thing I knew we could not skimp on. I found Michelle after relentless internet searches and I'm so pleased I did. I know its cliché to say they made the whole day so much more special, but they really did. Our photographer made all us girls instantly relaxed from the minute they stepped through the door and it didn't change all day."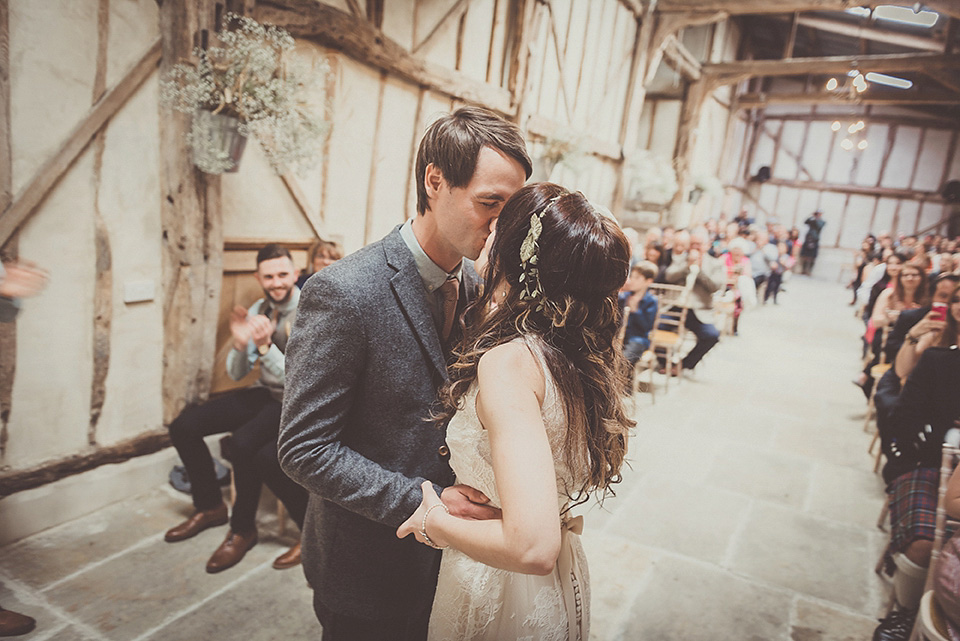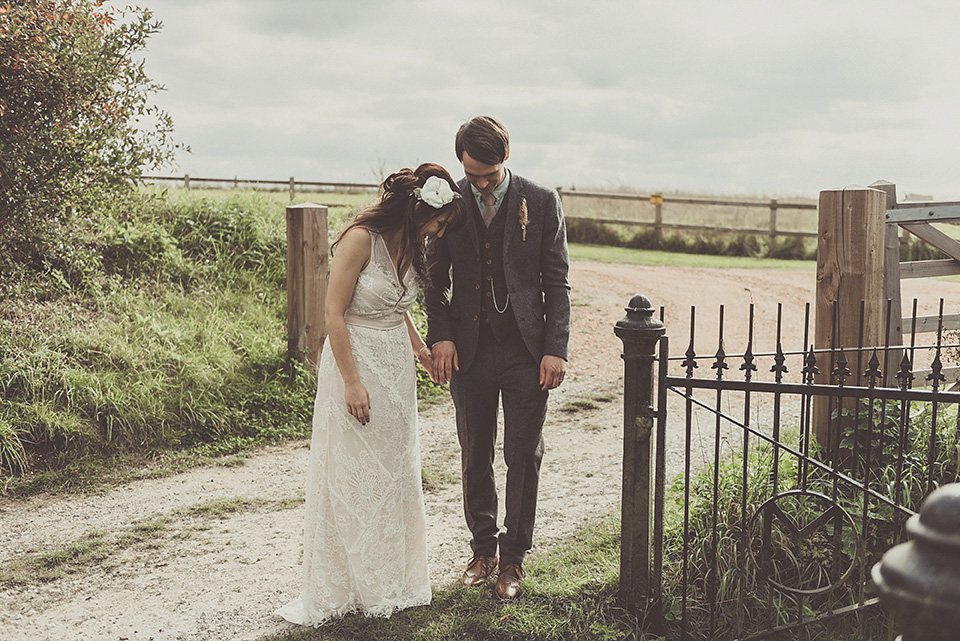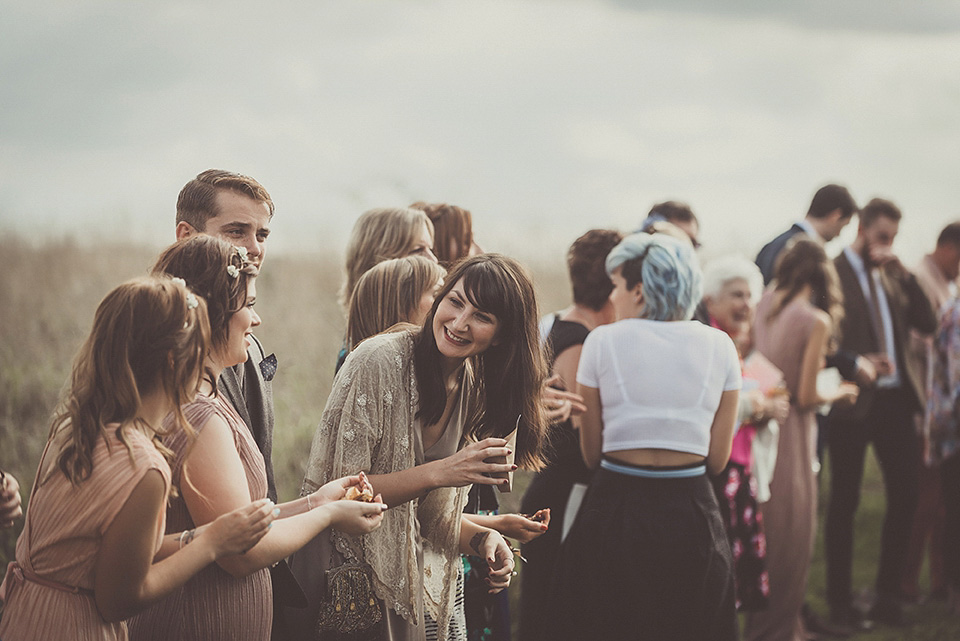 After the emotional ceremony, lots of giggling during the photographs and drinks on the lawn in the late autumn sunshine, the guests moved into the great barn once again, and tucked into a mouth-watering hog roast, provided by This Little Piggy Hog Roast and a delicious cake made by a generous family friend.
"I can not recommend these guys enough… Just WOW. I don't think people will ever stop talking about our wedding food, and 'those little sausages'. Charlie and her team were impeccable from start to finish."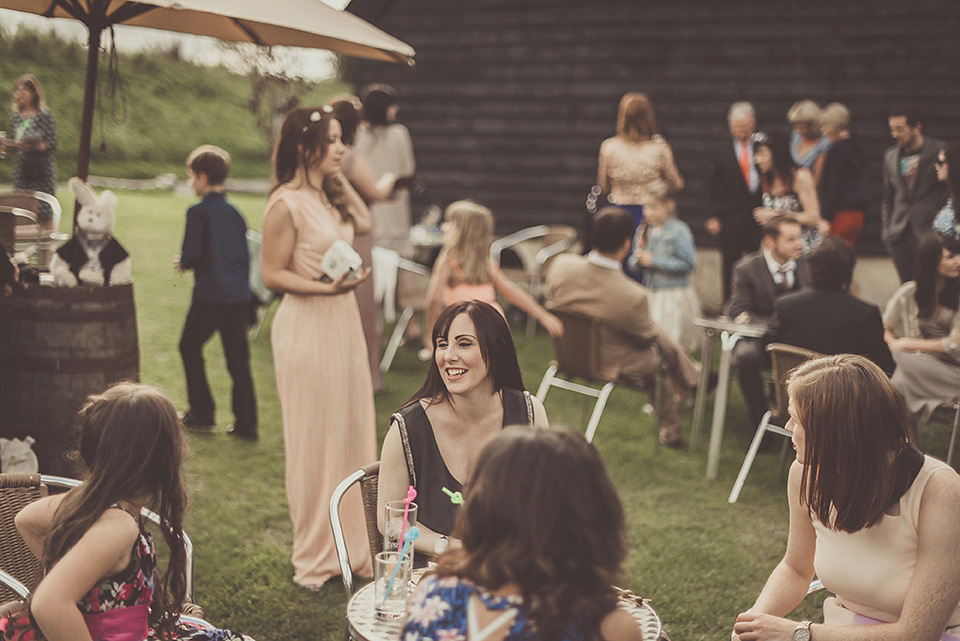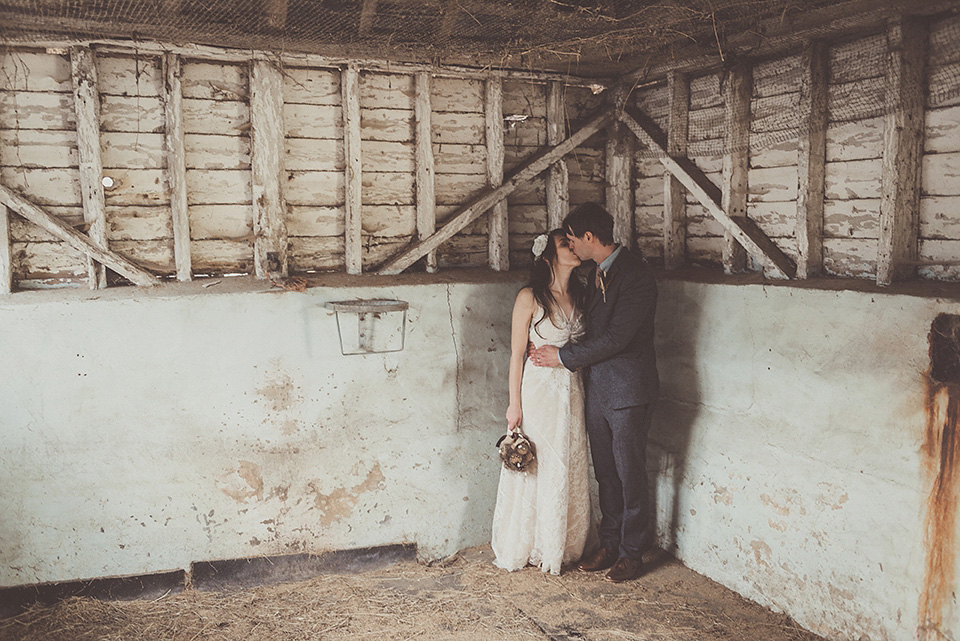 Throughout the planning process, Dominique frequently turned to Love My Dress for inspiration and advice. We love it when our brides have been through it all with us!
"During the planning, blogs, mood boards, scrapbooks and the Internet were my new best friend. I went into frantic bridal planning mode- the poor fiancé didn't know what to do with himself, as I was forever sending him links, pictures and suggestions! LMD was my biggest inspiration, especially the crafting/DIY pages."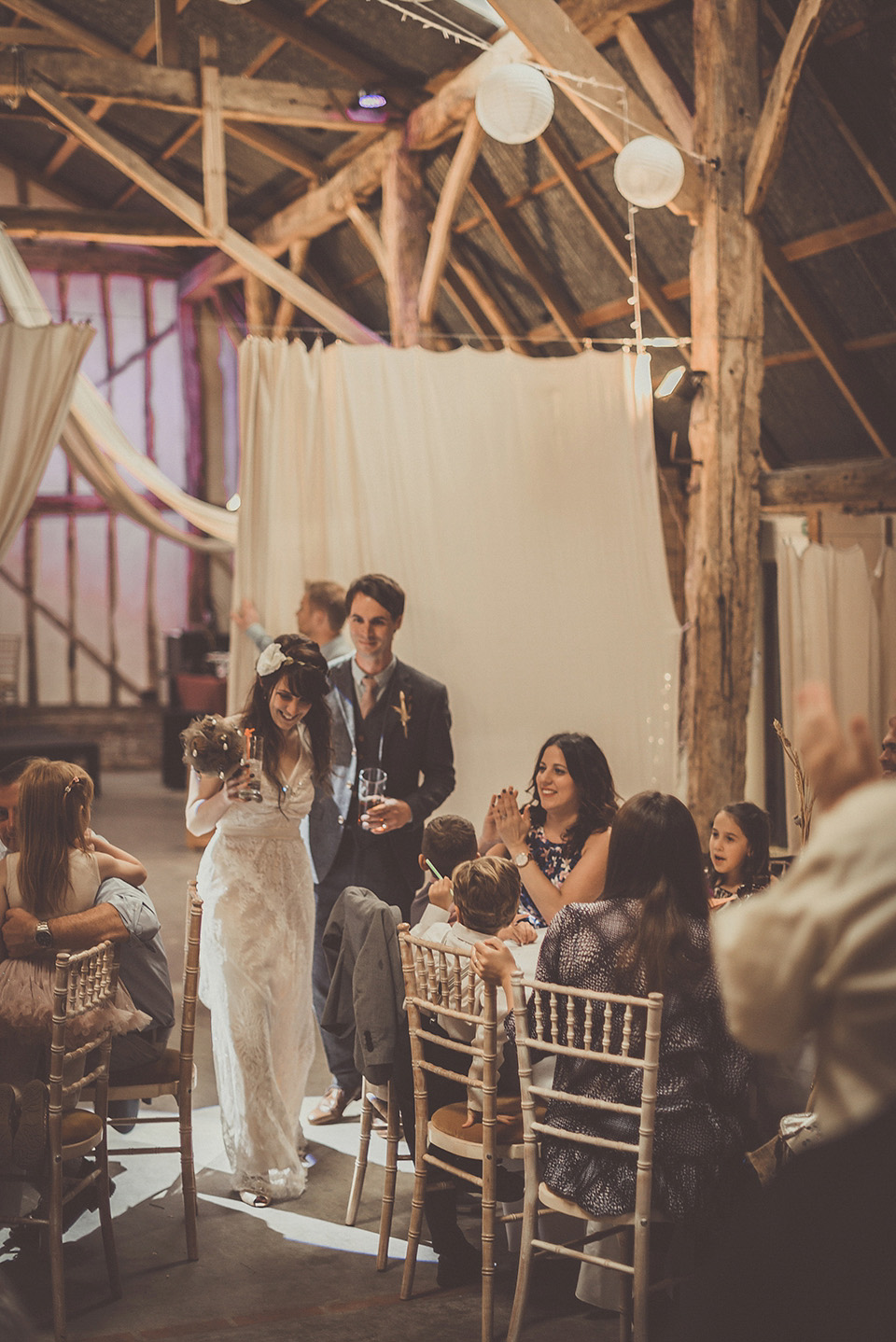 "We stuck to all things natural and autumnal. For the tables we stared collecting the autumn before the wedding in preparation. We silicon-soaked autumnal leaves, collected pine cones, acorns (which were painstaking stuck back into their hats) and conkers. We then used all of these to scatter on the tables, each table having its own theme. To stick with the beer festival idea, I spray painted (Kevin's favourite) Old Speckled Hen glass bottles with chalk paint and used them as table numbers. We used plain white table linens and Mum and I handmade burlap table squares.
Kev and friends also had the hard task of drinking a lot of ale in glass bottles (poor them) so we could cut them down to use as tea light holders. We didn't want to spoil the beauty of the main barn itself, so we hung fresh hops around some of the beams and over the bar and hung a few lanterns from the ceiling fairy lights and left it just at that."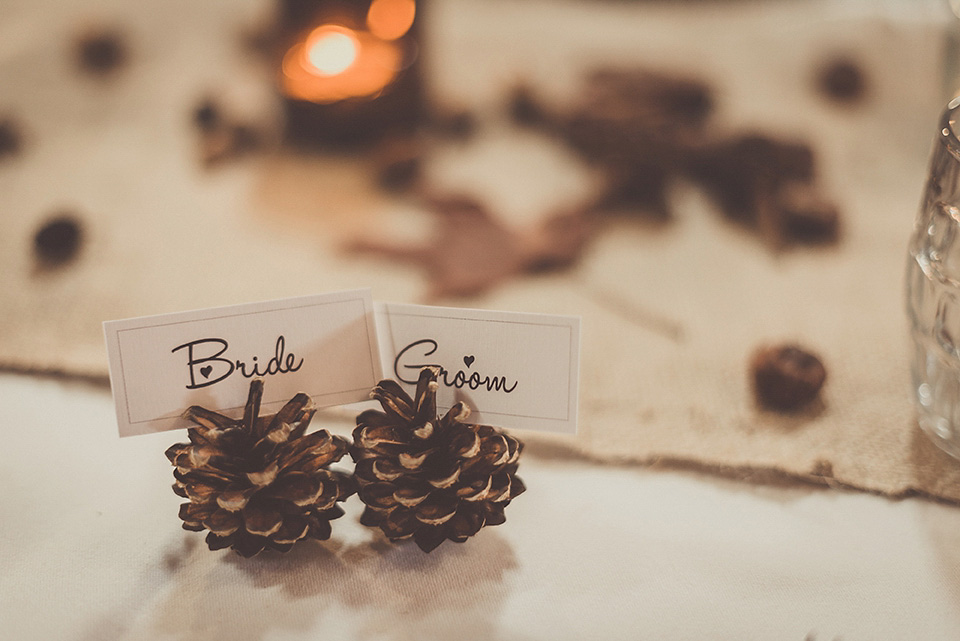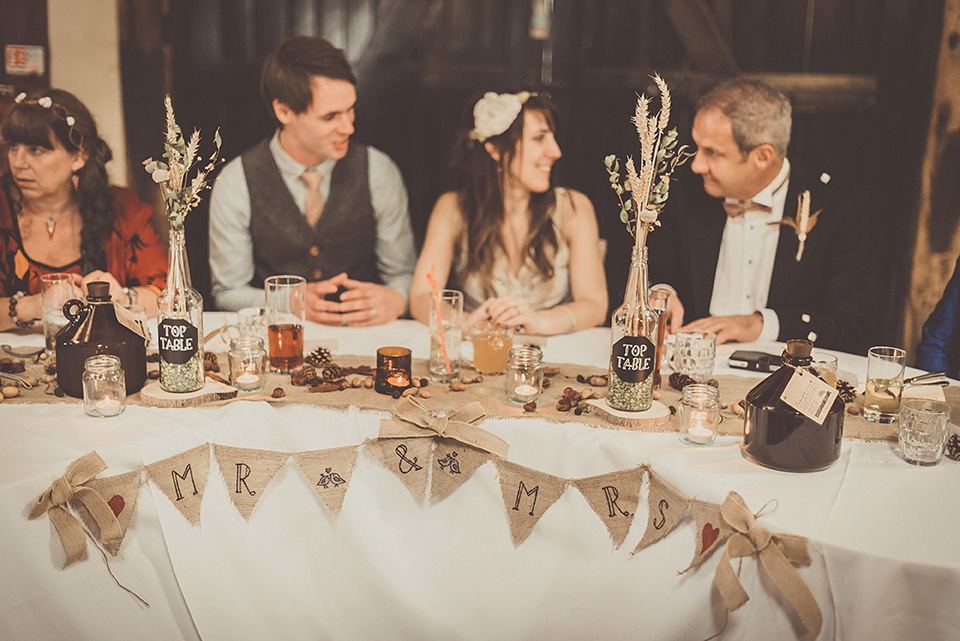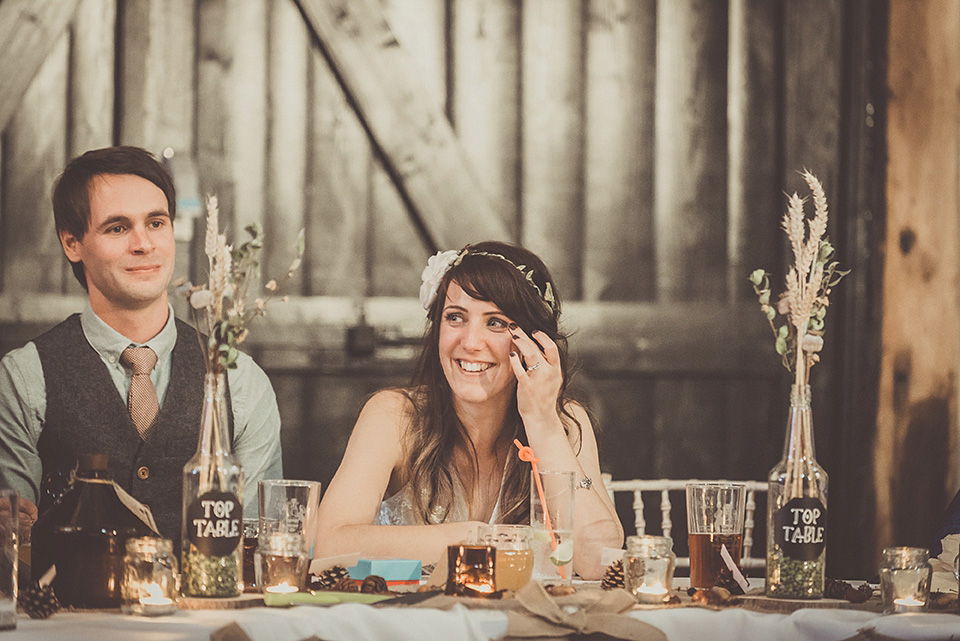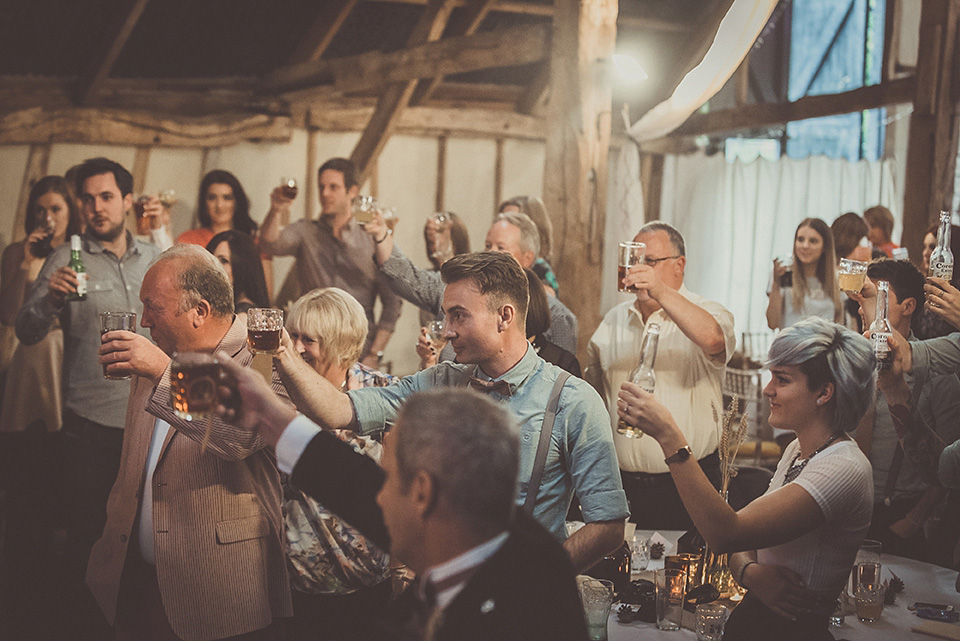 "We had such a beautiful cake topper made by my sisters talented friend Poppy of our two border terrier fur babies and we didn't want a fancy cake taking away all its attention so we opted for a simple American frosted three tiered cake, made by a family friend, which was placed on a handmade wood slice stand, which stood centre of attention in the barn on its own beer keg."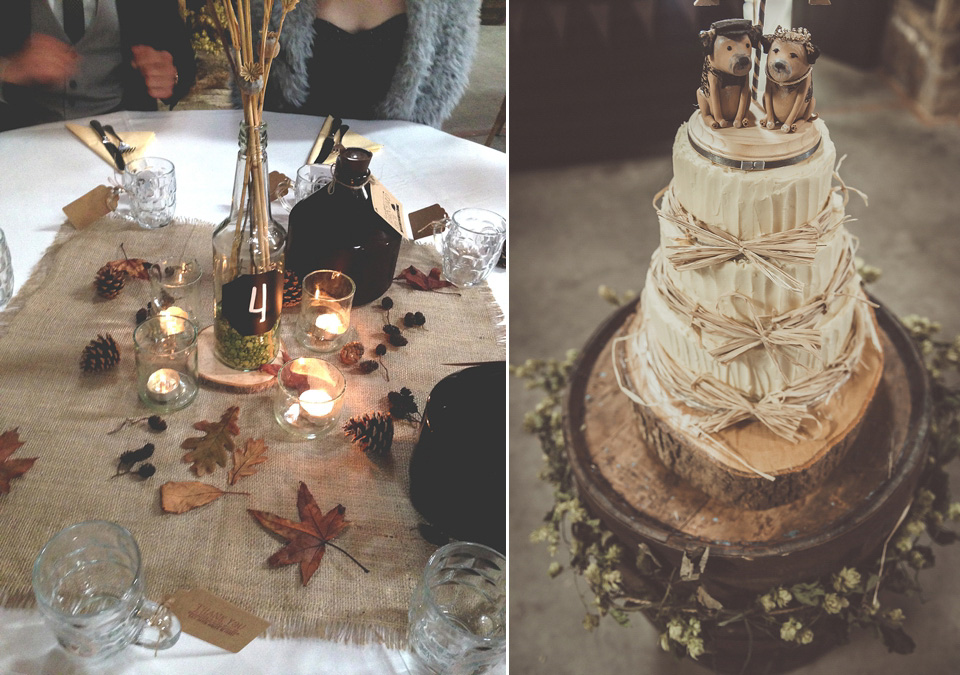 Words of Wedded Wisdom
"Please follow your heart; do what makes you as a couple happy and do not be wrongly influenced by the people around you. It's your day and it's vital it stays that way regardless of what others think.
Chose your wedding party carefully, you will rely on them so heavily so you need a good bunch of people by your side.
Lastly, you do not need to spend a fortune to make your day special; you can not put a price on the happiness of your guests and you don't need lavish decorations and food to make them happy, believe me! Budget on the things that are important to you, after all, it's these things that stay with you forever.
Enjoy every single second from engagement to your travels home on your honeymoon. It all goes so fast and you'll want to do it all over again in a heartbeat, tears, stresses 'n' all.
Make use of your loved ones. Being a designer I am a total perfectionist but believe me when I say people who offer help will not let you down. Delegate!
Include your partner. They might not realise it yet, but they are actually interested. When you need advice on something turn to them; they can be your most valuable critic.
A lot of people have asked me my favourite moment, but I can honestly say hand on heart there is not one particular one. Having all your friends and family in one room with you whilst you commit and pledge your life to your soul mate, then having a huge party with them afterwards… words can not describe that. I wouldn't change one single thing about the day. Everything was just absolutely perfect from the smallest detail to the biggest."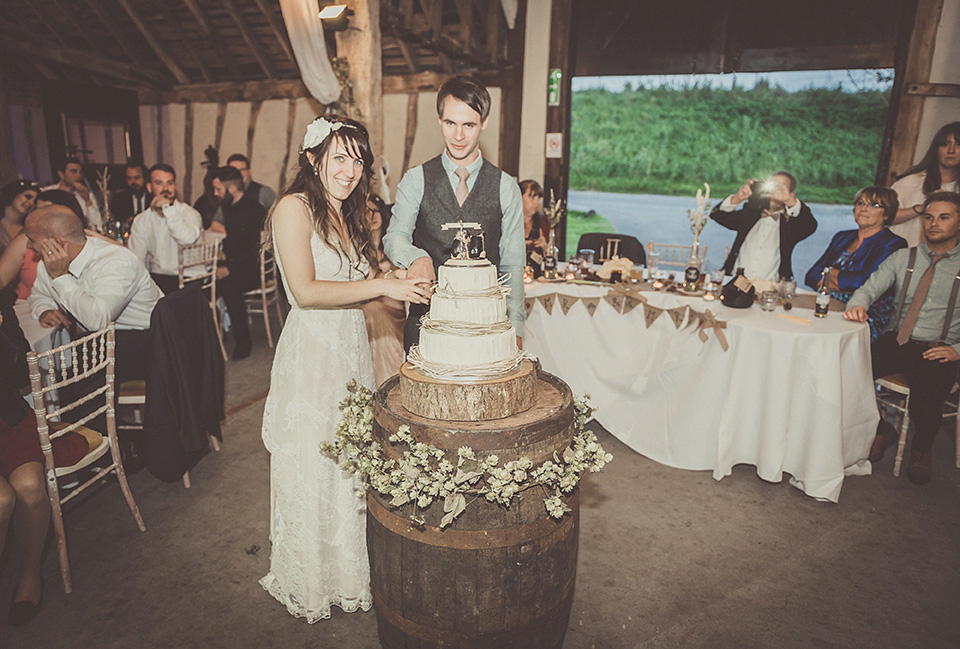 As always, wonderful advice.
Finally, Dominique wished to add a special thank you to their groomsmen to the end of this piece:
"I really don't know how to thank you enough. I had everything planned for months and a loose plan of action for the day. I didn't have to think or worry or even ask a question as to what was going on, 'how's this and that'. You were one step ahead of us and on the ball all day with a plan, sorting out catering and guests and it meant Kev and I could truly enjoy our day for all its hard work and efforts without having a care in the world. I am eternally grateful for all your work and kindness. We could not ask for a better set of people to be with us on the day. Thank you all from the bottom of my heart."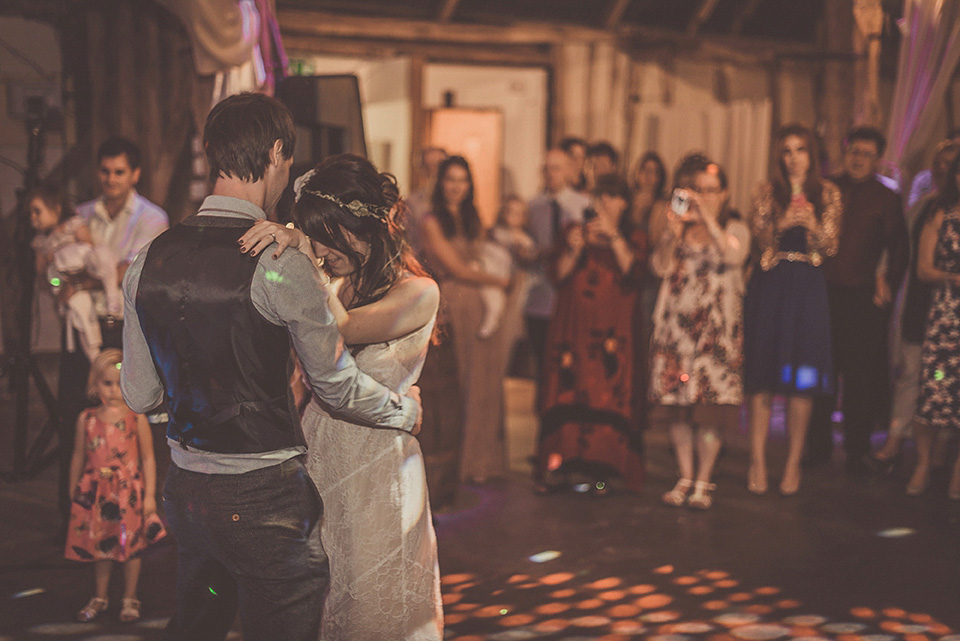 A very beautiful, relaxed and deliciously fun looking day, no? Thank you so much to Dominique and Kevin for sharing it with us, and to the marvellous Michelle Lindsell for her lovely images. Keep coming back to visit Dominique- we love keeping in touch with our newly wed readers.
Are any of our other brides lucky enough to be wearing Terry Fox for their big day?
Much love,
Shona x
Photographer – Michelle Lindsell Photography
Venue – Alpheton Hall Barns, Sudbury, Suffolk
Weding Dress – Terry Fox, 'Flimsical' from Vow bridal Gallery
Headpiece – Mignonne Handmade on Etsy
Shoes – Rachel Simpson, Mimosa
Accessories – Hairy Growler Jewellery
Bride's Scent – Chanel Mademoiselle
Groom – Suit from ASOS, tie from MrsBowTie, shirt from ASOS
Groomsmen – Waistcoats from Topman, bow ties from MrsBowTie, shirt from ASOS
Bridesmaids – Dresses from 'Oh My Love'with belts from Her Curious Nature
Bridesmaid's Accessories –Bracelets from Etsy, headdresses homemade
Flowergirls – Monsoon
Florist – Flowers by the Bride
Cake – Made by a family friend, cake topper by Poppy's Cake Toppers
Entertainment – The Baltik Ceilidh Band
Rings – Rodgers and Sons, Peterborough
Catering – This Little Piggy, Hog Roast
Stationery – By the Bride
Hair Stylist – Keighley Hutson, no further details available
Makeup Artist – Lucy Rose Hanagan