Salut tout le monde (Hi Everyone!), well from that you may have guessed that I have for you today a very sweet French wedding. I must admit I do have a little soft spot for French weddings. France has a very special place in my heart after living there for eight years and getting married in the Vendee in 2013. With its beautiful architecture, stunning countryside and not forgetting of course the wonderful climate, it's no surprise France is a very popular wedding destination.
Today we are going to the little village of Chapdeuil in the beautiful Dordogne region of France, where caterer Hannah and groundsman Dan tied the knot on the 30th of August 2014. Hannah and Dan also purchased a house the day before the wedding… yes the day before, these guys are as cool as cucumbers! Looking through their lovely wedding pictures by Sally T Photography, the photos exuded love, laughter and happiness. Hannah and Dan look perfectly in the moment in every picture!
To begin the feature I'd like to share with you a little stop motion video of Hannah and Dan's day created by the very talented Sally T Photography, who also took these photographs.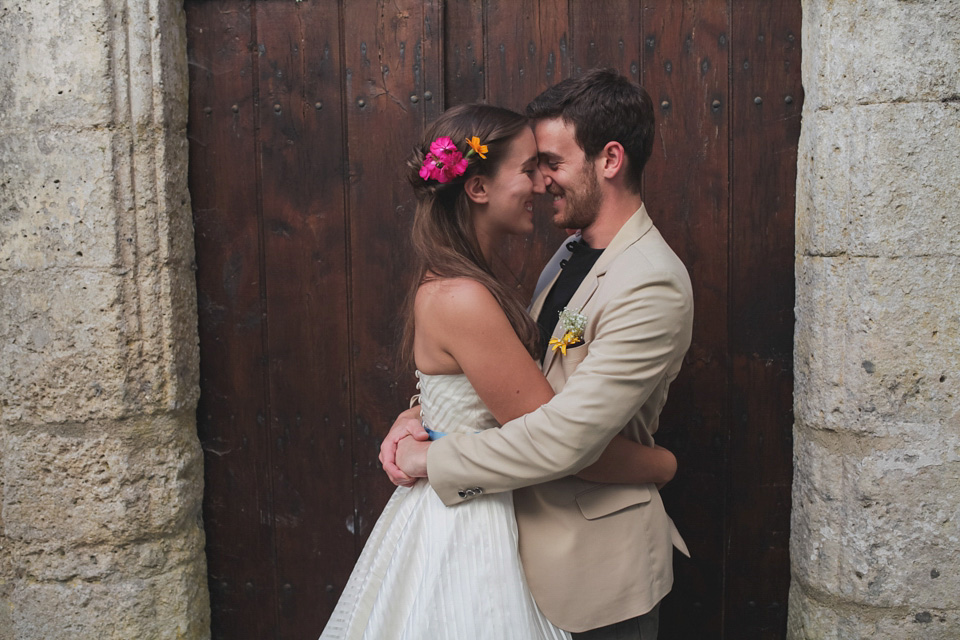 "We wanted our wedding to be as happy and laidback as possible. We've moved so many times and met people from all walks of life, that the best way to make sure everyone had a great time was to make it enormous and filled with sunshine and wine!"
Film and images by  Sally T Photography
Sally of Sally T Photography is an alternative and creative wedding photographer covering Leeds, Yorkshire, the entire UK and beyond. Capturing the beautiful, the real, lots of colour, lots of soul and lots of love is what Sally loves the most and that's what Hannah fell in love with when she first saw Sally's work.
 "I went to school with Sally and we used to do art and DT together, she was always much better at creative things than me though! But when I was looking for a photographer I had a quick glance at her photos and was completely spellbound by her style, and the personal moments she managed to capture. During the day we didn't even notice her photograph the tiny smiles and jokes that she did, everyone felt so relaxed with her around, and we have some of the most beautiful pictures that we could ever dream of."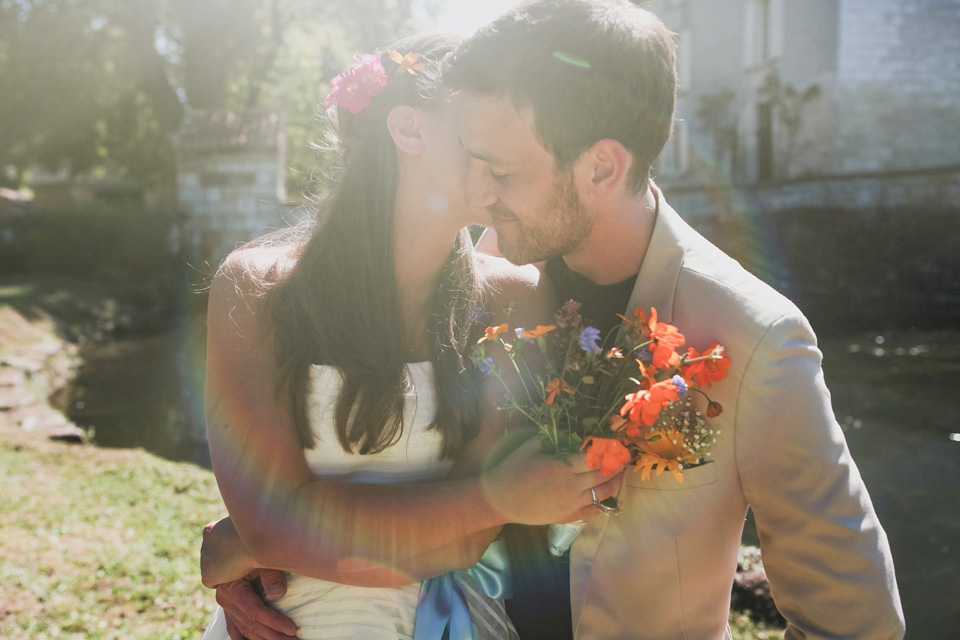 "We met 8 years ago through mutual friends whilst Dan was at uni in Middlesbrough and I was at college (not very exciting). We got engaged in Brantome in the Dordogne a couple of years ago whilst on holiday – Dan had threatened to propose in front of his family later that week but I got frightened and insisted it was just us!"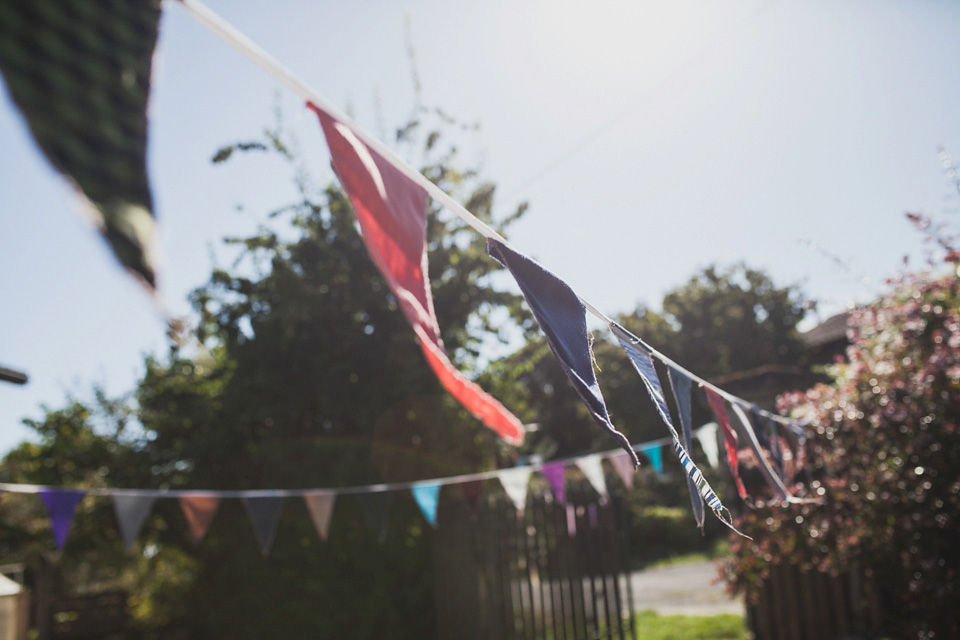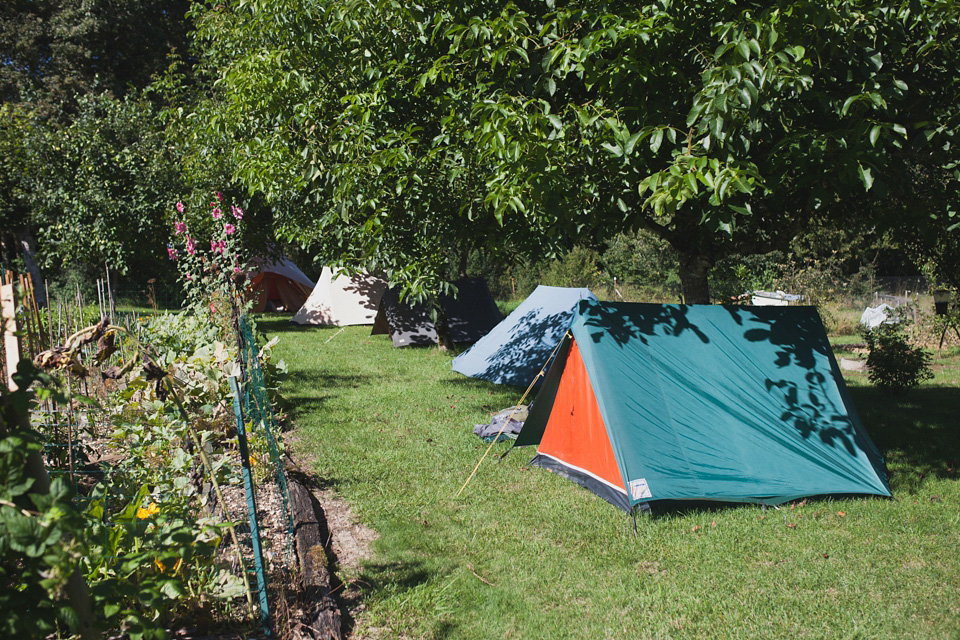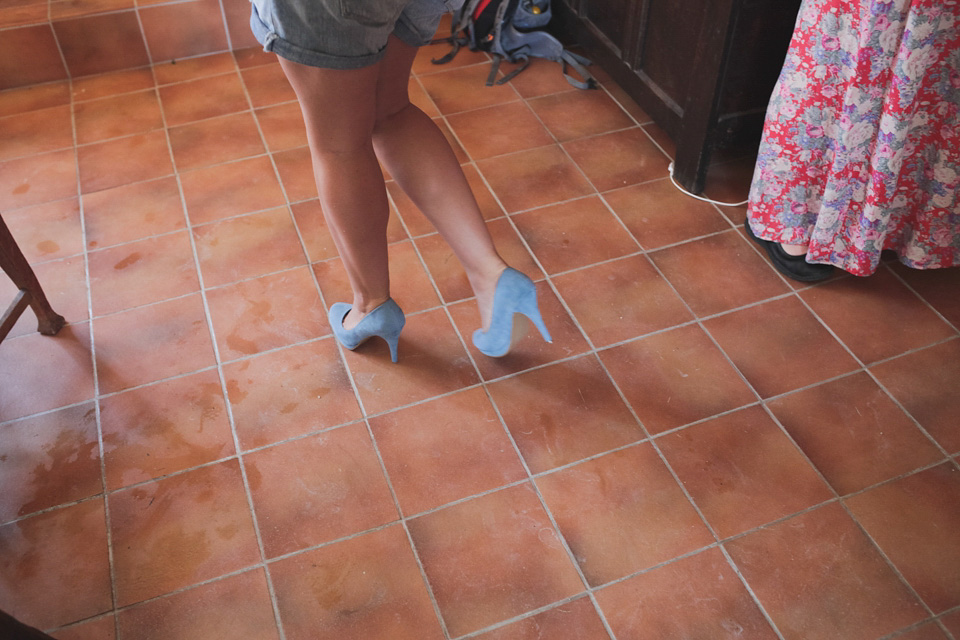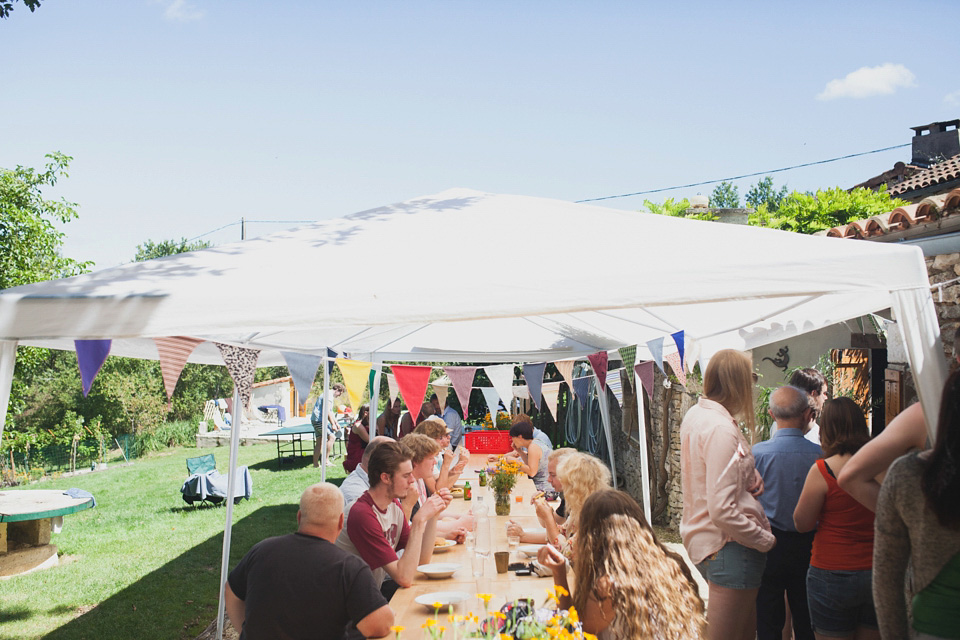 Many brides, myself included, would be horrified to find out on their wedding day that they had forgotten to organise flowers, but Hannah took it in her stride and sent a quick text to her mum who collected wildflowers from the side of the road.
When holidaying in France you will often hear a long convoy of cars tooting their horns of a weekend, it's a real tradition in France when getting married to inform the locals this way, it's a lot of fun too.
"It's traditional where we are in France to have a long convoy of all the wedding guests tooting their horns for the whole journey, so that the whole valley knows there is a wedding going on, and that's exactly what we did. We led the way with My mum driving her BMW at the front! Not fancy but very loud! Then we had a coach dropping everyone back after the party."
"My engagement ring is a single black diamond set in a silver ring, made by Lee Zolin Jewellery – and he made our wedding rings too. Neither of us wanted a shiny ring, we wanted them to age with wear and tear and show marks of our lives and that's exactly what they do!"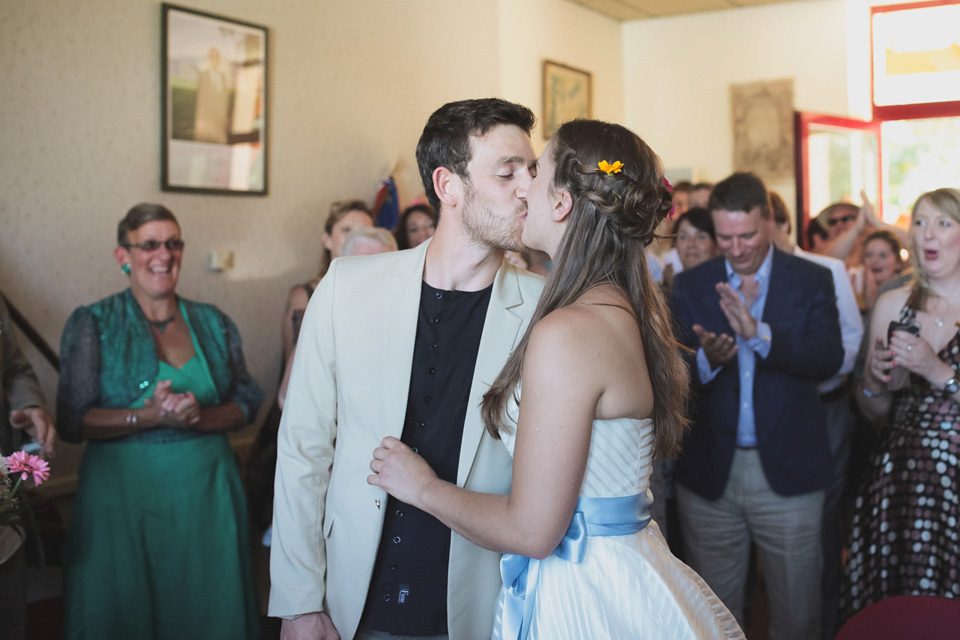 Hannah tells us that her favourite part of her wedding day was spending time with all their family and friends in the glorious sunshine.
"Our friends and family came out to France for various durations for the whole two weeks around our wedding, so every day was full of laughing, good food and good wine, but after our wedding, we all got the bus back to our house (about 50 people were staying in our house, camping, neighbours houses etc) and everyone sat around the swimming pool dangling their legs into the water to soothe sore feet, laughing and talking until about 5am. It was absolutely perfect."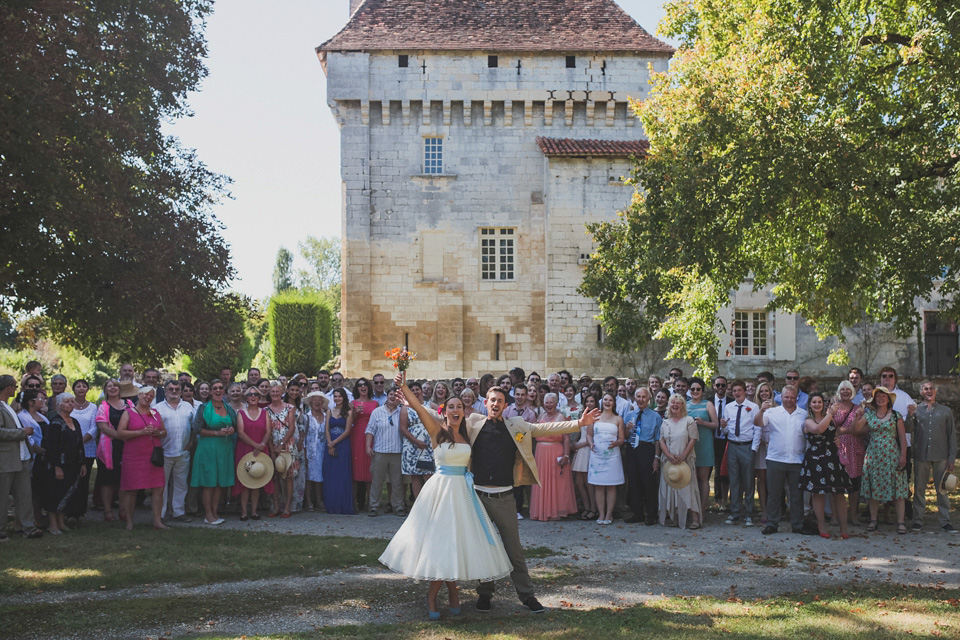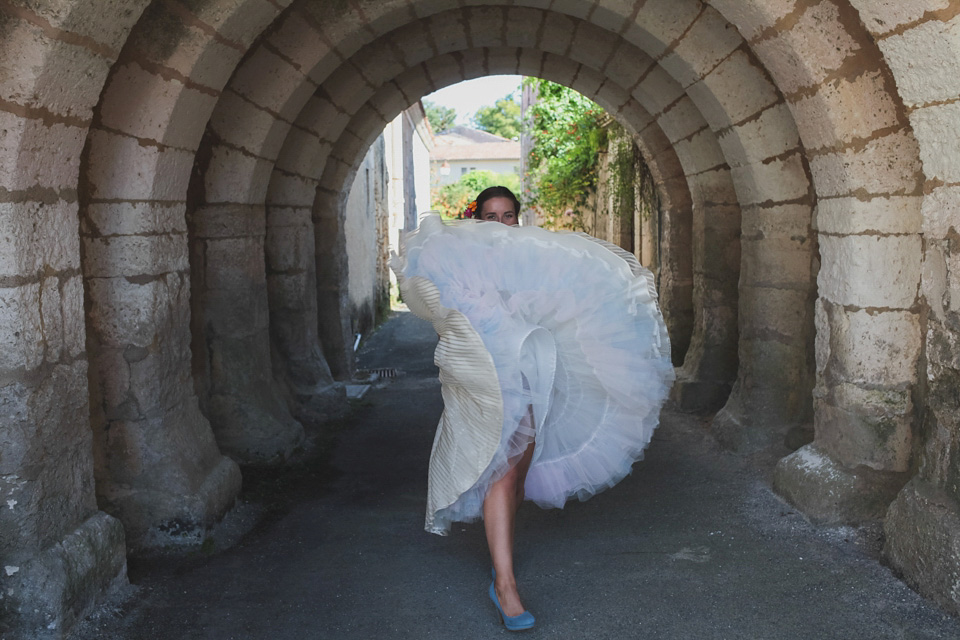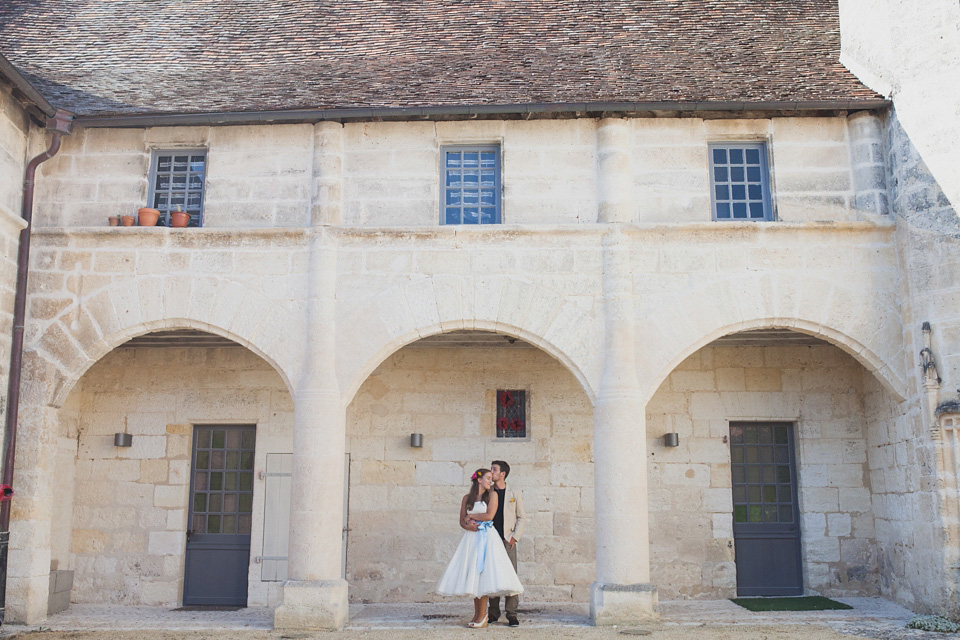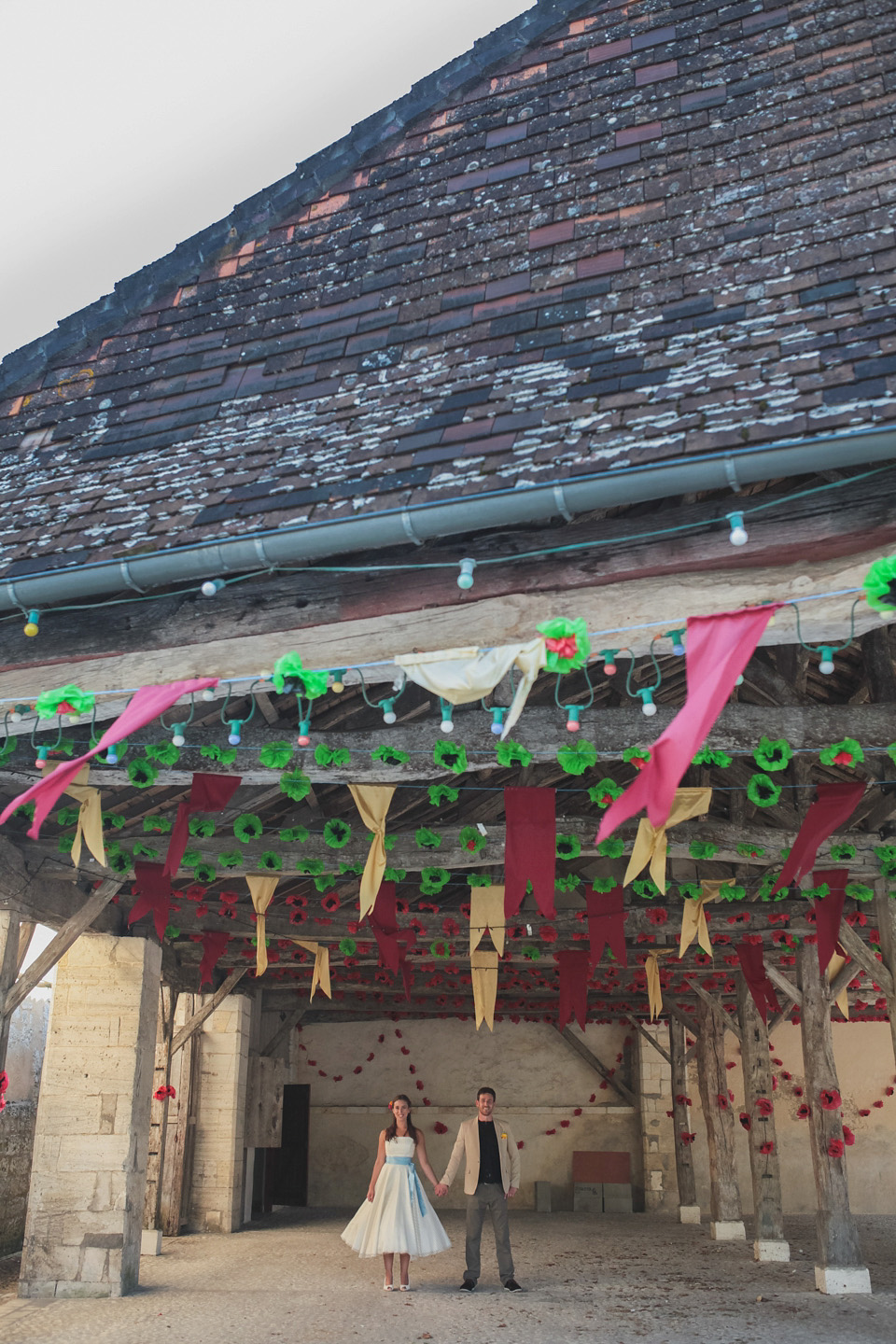 "Dan's dad's band, 'The Night Shift', played for hours and they were amazing, we didn't sit down once. Dan sang two Elvis songs for Hannah's mum too! As people were arriving at the reception Dan's Granddad (who used to be a classical pianist) played the piano."
Words of Wedded Wisdom
"Don't take it too seriously. Your wedding day is the start of your marriage – and ours started surrounded by laughing friends in the sunshine."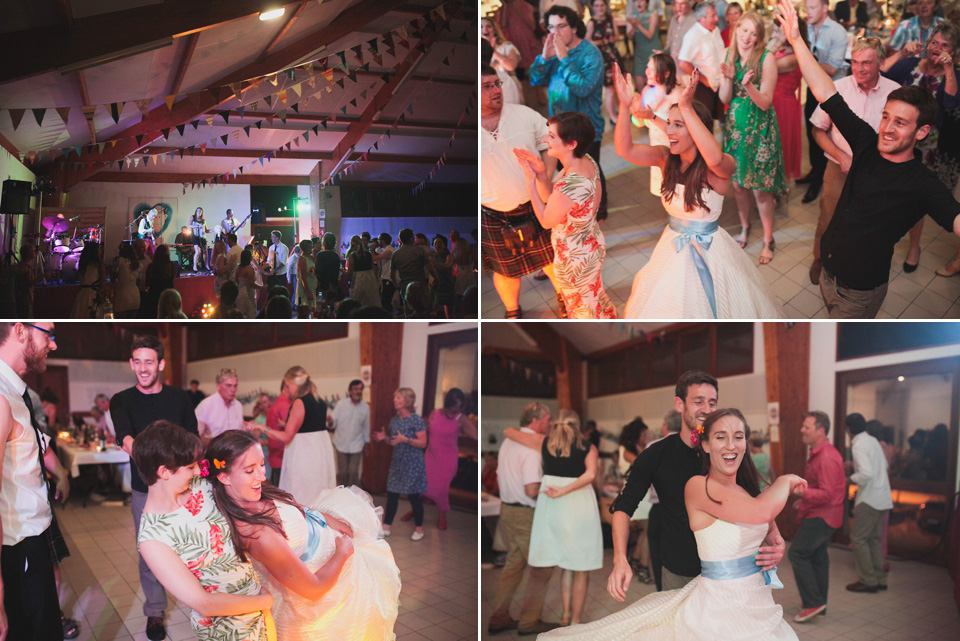 Congratulations Hannah and Dan, thank you for sharing your special day with us and a huge thank you to Sally of Sally T Photography for sharing your lovely photography with our readers.
Are you planning a French wedding? For more gorgeous inspiration – click here.
With Love, Christina x
Photographer – Sally T Photography
Wedding Dress – Blue by Adore dress from Bridal Rogue in York
Shoes – Blue suede stilettos from New Look
Groom Suit – Hugo Boss & Ebay
Rings – Lee Zolin Jewellery
Catering – Les Granges Cuisines
Entertainment –  The Night Shift
Stationery – Homemade
Makeup Artist – Brides Friends
Cake –  Croquembouche from the local baker