Good morning and a very happy Monday to you. I hope you found some time to relax this weekend, and perhaps had a chance to catch up on all the lovely weddings we have featured over the last few days? This morning's wedding is another lovely mid-winter celebration, perfect for those of you who are looking forward to this upcoming winter for your own nuptials. The bride wears a beautiful original 60's dress; completely stunning and wonderfully unusual.
Sarah, a quantity surveyor working in Christchurch, New Zealand, on the rebuild after the 2011 earthquake, and Tai, who is currently completing a Masters degree in nursing, married in a beautiful winter ceremony in the New Forest in December 2014, followed by a relaxed and fun-filled reception at The Long Barn in Alton, Hampshire. These lovely images are courtesy of Viva Wedding Photography.
"We always knew that we didn't want to stick with a colour scheme or a style idea, we just wanted everything to be relaxed and full of things that we liked even if they didn't match."
Photography Copyright (c) 2015, Viva Wedding Photography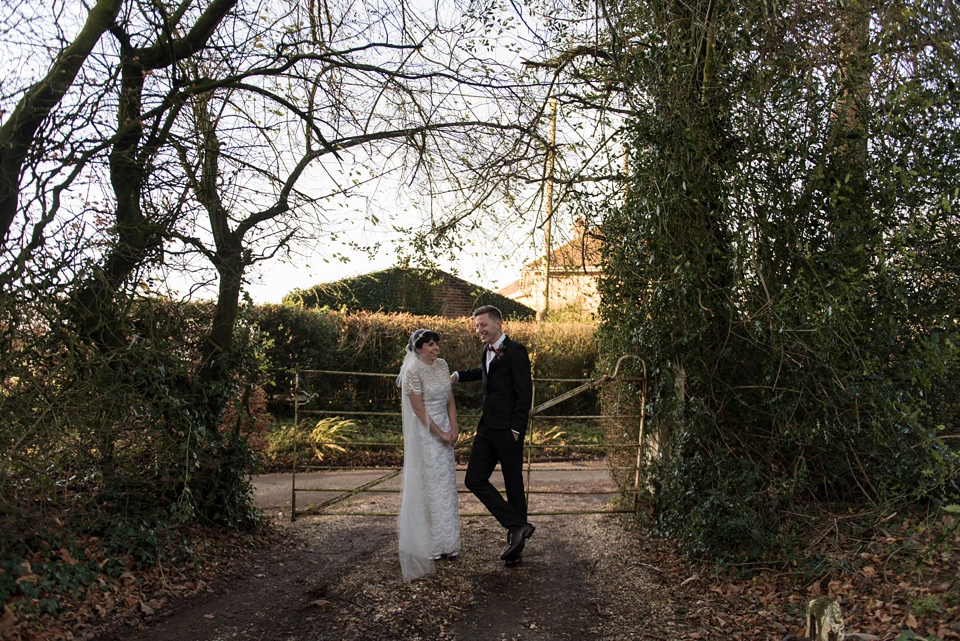 This remit could only really lead to a happy, fun filled day, couldn't it?
I absolutely love Sarah's unusual and original 1960's dress, purchased from Elizabeth Avey– that beading and high neckline is just stunning and the shape suits her small frame perfectly.
"I always knew that I didn't want a traditional wedding dress. I tried some on in the beginning just to make sure and although they are super flattering and classic they just weren't me. In the April after Tai proposed we decided we should go back to the UK for a visit, to meet with our wedding suppliers we had booked so far, see the venue so we knew what we needed to do with decorating it, have an engagement party, and most importantly, go dress shopping in London. " 
"I booked my Mum and my Nan in for four solid days of shopping when we first landed. I had it all arranged, all the bridal stores I'd spent hours researching, I had all the appointments set up with just enough time to get from one to the other.  The second to last appointment of our day was at the fabulous Elizabeth Avey's studio.
I've always liked the idea of something vintage; my engagement ring is vintage (1940's) as are most of my clothes and so I had high hopes. Elizabeth's studio is a treasure trove of awesomeness, I think I picked out about 10 dresses that I wanted to try. My dress was the second one I tried on and as I looked in the mirror and at my Mum and Nan's faces (my two biggest critics), I knew I could cancel the other appointments. The only problem was it was a size 18 and needed to be tailored."
The following day we went to an amazing tailor that Elizabeth recommended and they pulled and pinned the dress ready for the alterations. However, it wouldn't be ready before I was going back to New Zealand.  Having not tried the dress on after this I questioned and questioned my decision – in the end, my Mum had the dress sent out to NZ for me. It was lost by the courier and held at customs and I eventually received it 4 weeks before we were flying back to the UK again in December to get married! I needn't have worried though as it fit perfectly and was everything I could have wanted."
I'm so glad to hear all turned out well, what a stress… Remember that, if you do start having dress wobbles, before, during or after the dress buying process, it is honestly quite normal. (If you really have fallen out of love with your dress though, have a read of this blog post by Annabel)
The couple's story began with a meeting at the stone circle at Glastonbury festival in 2010 and continued with an exciting whirlwind of travel and exotic locations;
"We chatted all night [at Glastonbury] and for the rest of the festival hung out loads. The day after Glastonbury Tai went to Thailand for two months and the day before he came back I went to India for a month. We kept in touch via Facebook and arranged that we would meet in London to go to the Bricklane music festival on the 18th September, and that night we had our first kiss.
At the time Tai lived in Bristol and I in London, we agreed we would try the long distance thing and lasted about two months before Tai moved down to London. We spent the next two years in the UK and then headed to South America where we travelled for five months. We had planned to be away for a year and our next stop was New Zealand where we had two weeks planned. Two years later we are still here! Tai proposed one Christmas morning on the floor in our lounge (I was playing with our 2 kittens at the time, so he had to sit on the floor next to me)."
"I never wear heels and live in brogues normally so it was an obvious decision for me to wear flats for the day. I found some amazing sparkly shoes on the Top Shop website and ordered them straight away and had them delivered to my Maid of Honour's house – I didn't see them or try them on until the day before!"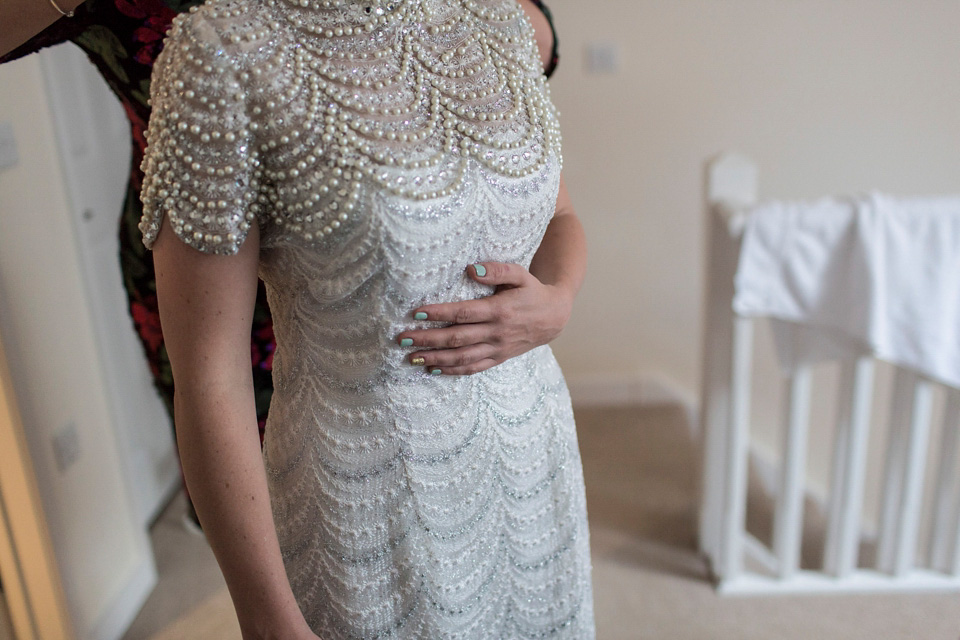 To accessorize, Sarah wore her Grandmother's diamond bracelet and pearl earrings and attached her Great Aunt's brooch to her bouquet; a lovely touch.
"I would have loved to have gone shopping with my bridesmaids for dresses but as they were in the UK (all different parts of the country) and I was in New Zealand it just wasn't to be, so I found some lovely full length lace dresses from For Him And For Her. We all agreed on a colour and ordered. We just went with standard sizing and if I could go back I would have gone for custom ones from the same place, as although the dresses were beautiful they all needed little tweaks to make sure they fitted the girls properly. They all turned out brilliantly on the day though."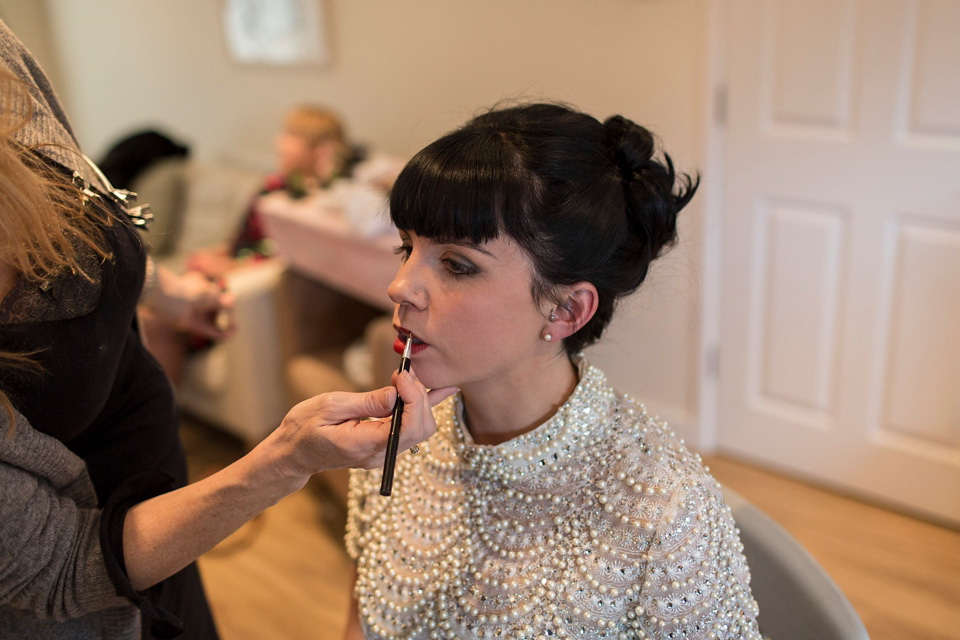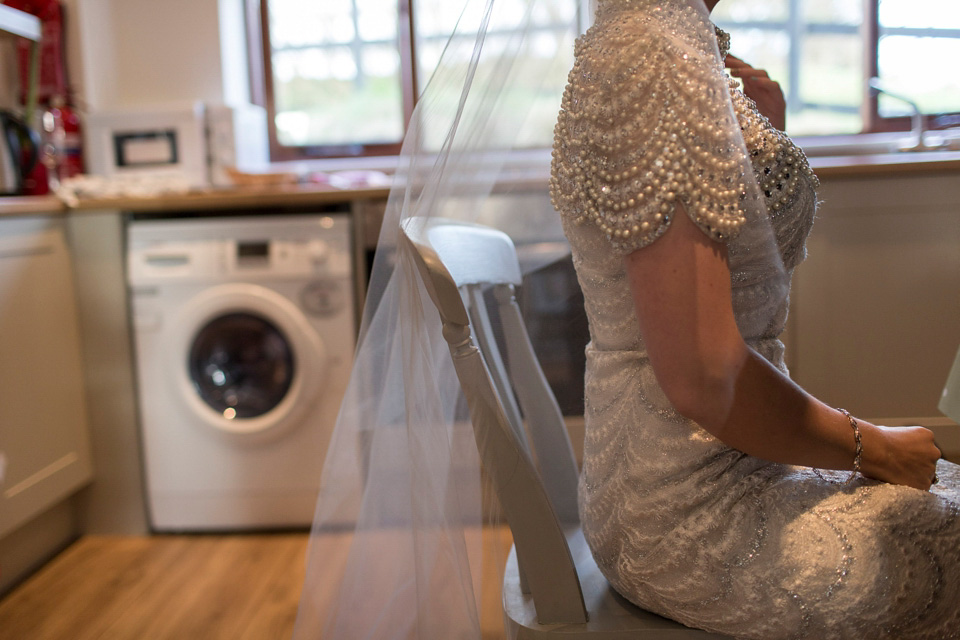 "Unfortunately my grandma Rose passed away in the June before our wedding. We knew she was very much looking forward to coming and used to carry around our Save the Date card with her everywhere, so my Auntie gave me her wedding ring to have as my own and luckily it was the exact same size as my engagement ring. Tai always wanted a plain gold band as well and so we went looking in some vintage jewellers in town and found one for him too."
"My Juliette cap veil style and was ordered from Etsy. As my dress had a silver underlay I didn't want a cream or ivory veil. I sent a photo of my dress to Gilded Shadows and the lady sourced silver tulle specially and also put pearls in the headband which was attached to the veil. It was floor length and I couldn't have been happier with it. I wore my veil up until the evening and as it had the headband attached I didn't wear any other accessories in my hair."
Sarah and Tai chose a florist local to the New Forest to create all the bouquets, buttonholes and floral arrangements- Florality, based in Lyndhurst.
"Chrissy did a great job – she even managed to get flowers to the church and to the reception venue which were 45 minutes apart, as well as to us and then the boys who were staying somewhere different again!"
I particularly love the individual stems carried by the bridesmaids (does anyone know what they are?) and Sarah's burst of blooms in shades of red is both dramatic and beautiful.
Tai's suit was sourced from the ever popular Moss Bros. Luckily it was an easier process than Sarah's dress!
"We had spent the day up in London during our brief visit back in June catching up with friends and as we were walking back to get dinner we passed the shop – a suit in the window caught his eye and so we decided to go in and have a look – he tried in on and decided there and then that was the one. Easy!"
Tai ordered a burgundy beauty of a neck accessory from Mrs Bow Tie and shoes from ASOS to match. He and his groomsmen also all wore braces, which added a quirky twist to their traditional suits.
"Thegroomsmen all wore burgundy tuxedos which we found in a shop in New Zealand and sent over. Luckily all the sizes were right and they all looked awesome on the day. Tai also got personalised hip flasks for the boys and filled them with whisky on the morning of the wedding."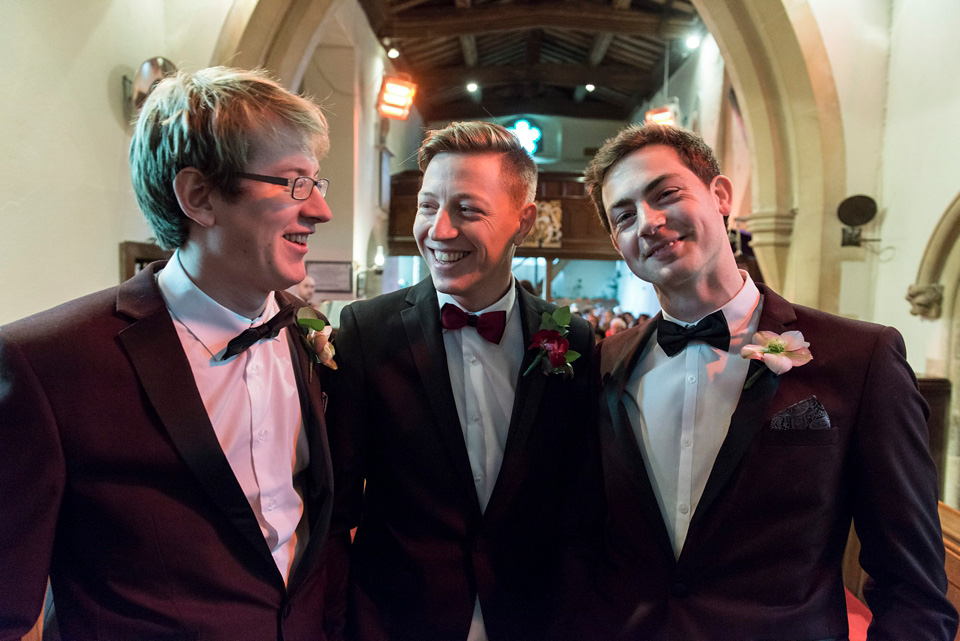 "I walked down the aisle to 'Angels' by The XX and we walked out of the church to 'You
Make My Dreams Come True' by Hall and Oates. When we first met we used to watch the film '500 Days of Summer' a lot and this song was on the soundtrack.
The ceremony took place in the pretty Bramshaw Church, nestled in a wonderful old churchyard, with beautiful views across the countryside.
"We chose the church as it was in my Dad's village- it's situated on the top of a small hill in the New Forest. We booked the slot that we wanted but had not seen it before we went back in June to try and get things organised; luckily we fell in love with it as soon as we pulled up outside, then when we were sat overlooking the countryside waiting for the reverend to show us around we saw wild deer and rabbits in the field opposite."
"We had the traditional vows that were given to us by the church. I thought this would be the part I would feel the most self conscious out of the whole day but it turned out it was one of my favourite parts – there is something very special about it."
"We had two readings which we let the readers choose and they kept them as a surprise until the day…. It was very emotional hearing both for the first time and we couldn't have been more touched with their choices."
Tai's mum read from 'A Natural History of Love' by Diane Ackerman Love
'What a small word we use for an idea so immense and powerful. 
It has altered the flow of history, 
Calmed monsters, 
Kindled works of art, 
Cheered the forlorn, 
Turned tough guys to mush, 
Consoled the enslaved, 
Driven strong women mad, 
Glorified the humble, 
Fueled national scandals, 
Bankrupted robber barons, 
And made mincemeat of Kings. 
How can love's spaciousness be conveyed in the narrow confines of one syllable? 
Love is an ancient delirium, 
A desire older than civilization, 
With taproots spreading into deep and mysterious days. 
The heart is a living museum. 
In each of its galleries, 
No matter how narrow or dimly lit, 
Preserved forever like wondrous diatoms, 
Are our moments of loving, 
And being loved.'
Sarah's brother's girlfriend read an amended version of 'Oh The Places You'll Go' by Dr Seuss, which made everybody smile.   The whole poem is very clever, and the final verse reads:
'So Sarah and Tai, this is it now 
No turning back, no way no how 
The adventure awaits, as husband and wife 
So good luck in your new married life.'
Sarah's ring was a family heirloom, and Tai's was a vintage gold band, which matched the style of Sarah's.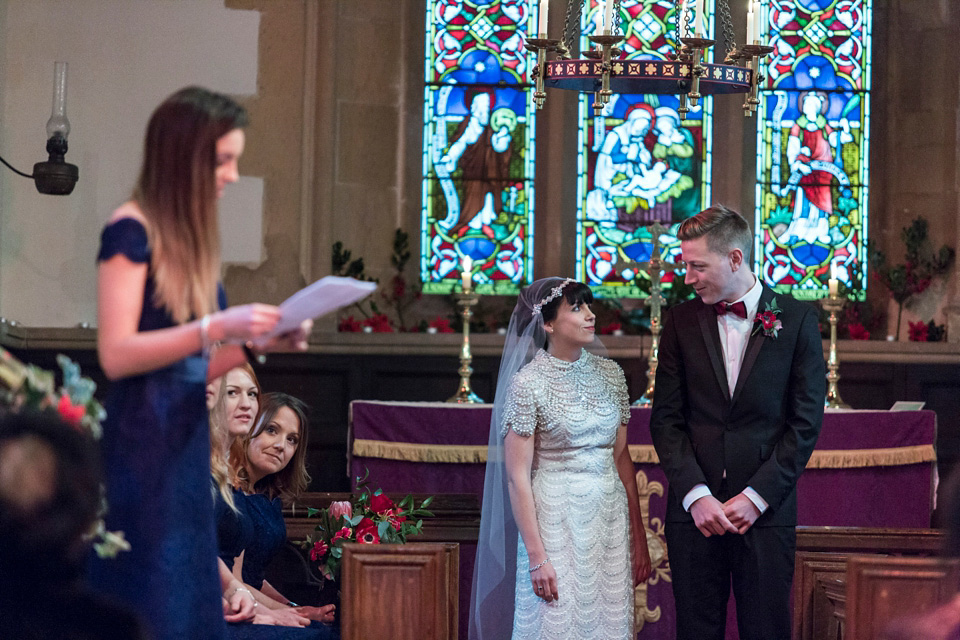 Sarah and Tai couldn't have been more pleased with their choice of photographer, Adam from Viva Wedding Photography, who brought along fellow photographer Lisa Devlin as a second shooter.
"We chose Adam Bronkhurst of Viva Wedding Photography to shoot our wedding – we had been recommended him through another photographer as the guy to go to for winter weddings and we couldn't have been happier, plus he brought his friend Lisa Devlin along to be second shooter. The two are friends and worked amazingly together- it was like having friends at our wedding and they fitted in wonderfully and made us all felt super comfortable. I honestly can't praise them enough and I'm sure the pictures speak for themselves."
The reception took place at The Long Barn, Alton– a relaxed but lovely backdrop to the post-ceremony celebrations.
"As it was winter we struggled to find a venue that had everything we wanted, we knew we wanted a large open space that we could make our own – being in the New Forest that ruled out our original idea of a warehouse conversion so we began looking at barns, most of which closed over the winter months. We found The Long Barn on line and asked my Mum to go and see it for us; she emailed us straight away after leaving and said she loved it. The next day we paid the deposit. It wasn't till 6 months later that we saw it for the first time."
Sarah and Tai chose an unusual wedding breakfast, which went down a storm with their guests…
"We struggled a lot with choosing our wedding food- the idea of a 3 course served dinner didn't really appeal and as neither of us really eat meat then we weren't drawn towards the idea of a hog roast or BBQ either. I spent ages looking through wedding blogs trying to get ideas and in the end googled 'alternative vegetarian friendly wedding food'. The first link that came up was paella. We both loved the idea and luckily found Melissa from Vamos Paella. We spent some time emailing and talking about different ideas and then sent my dad and step mum up for a tasting.
After hearing their glowing reviews we booked her immediately. We also couldn't resist going to try it for ourselves when we came back in June too and we were so glad we did; the food was delicious, we sat in Melissa's kitchen and chatted away washing it all down with a lovely bottle of Spanish wine and left feeling content that it was another thing we didn't have to worry about. On the day the food was great and the paella was presented beautifully in huge paella pans for all the guests to see and smell. The best thing was that Melissa served a meat option, a seafood choice and a vegetarian one so there was something for everyone."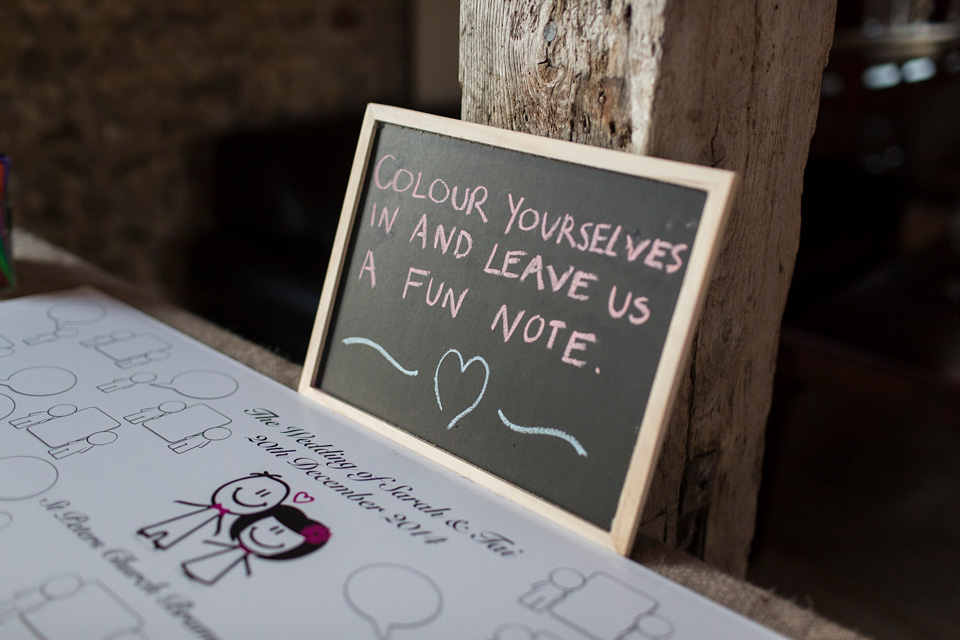 Every wedding we feature is important, and an absolute pleasure to share, but it's always especially lovely when the bride (and sometimes the groom) have been a Love My Dress reader during their planning process as well. I was thrilled to hear that Love My Dres, along with some other excellent wedding blogs, helped make Sarah feel able to share her planning with friends and family back home in the UK.
"I used to have a morning routine in the months leading up to the wedding where I would look at Love My Dress. I would then copy and paste link after link to our friends and family asking them what they thought of this and that – I probably drove them all mad but doing this really helped me feel as though I was still sharing the planning experience with everyone back home even if we couldn't go look at bits for the wedding together. This was the next best thing.
I want all our friends and family to know how much it meant to us they were all there and that they helped so much in the organisation of the day. I probably haven't mentioned half of what everyone contributed – all the little things really did mean so much to us so thank you- we love and miss you all very much."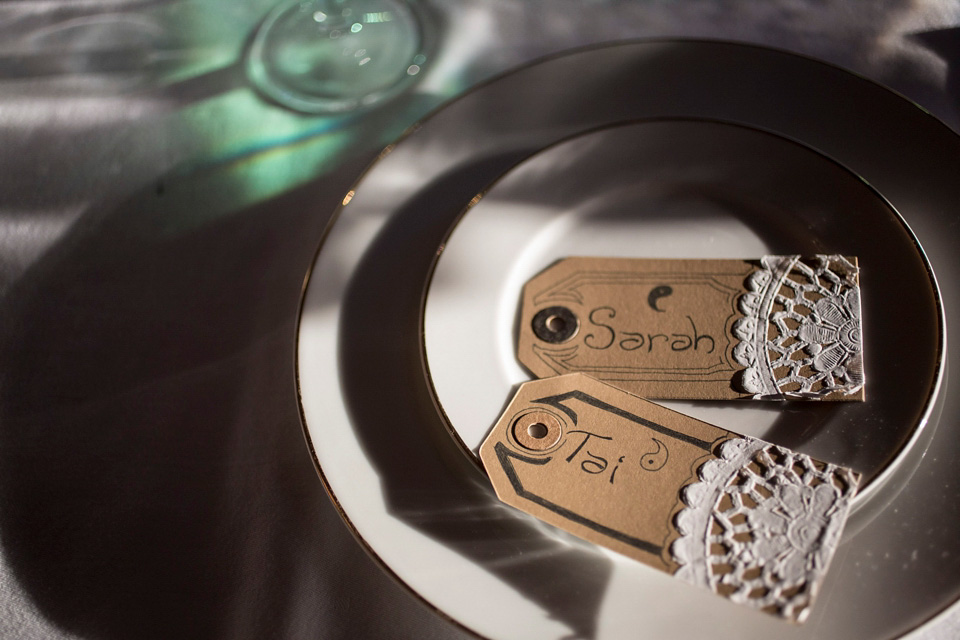 As Tai's mum is head teacher of a primary school she decided to do a project with some of the classes where they had to draw what they thought our wedding would be like – the drawings were amazing and we pinned them up on the wall for everyone to see. My best friend and maid of honour Helen also got some Mr and Mrs banners which fitted in perfectly with the rest of the barn."
The lucky pair had three wedding cakes, all made by talented family and friends. The first was a 'naked' tiered sponge made by Sarah's Mum, the second a church-shaped lemon cake made by Tai's sister and the third a coconut cake made by the couple's friend Harriet. Just in case that wasn't sufficient for their guests, they also had red velvet cupcakes dotted around as well, to make sure no-one went hungry.
The tables were decorated with a plethora of vintage bottles, with a single flower stem in each, and the whole barn decked in fairy lights, bunting, banner and paintings. The final touch was a pair of giant light-up letters- an S and a T of course, hired from Vowed and Amazed.
"I had it in my head that I didn't want anything to match and I also didn't want to fill the tables with too many decorations so I got the idea of using vintage bottles. For the twelve months leading up to the wedding my mum searched car boot sales, vintage markets, and second hand shops and collected as many bottles as she could find. In the end we had an amazing variety of bottles in all shapes, sizes and colours and our florist then just put a single flower in each. We also got both families collecting any empty jars that they could and used those for candles. Tai's mum made some amazing bunting out of atlases and we hung that and fairy lights across the barn.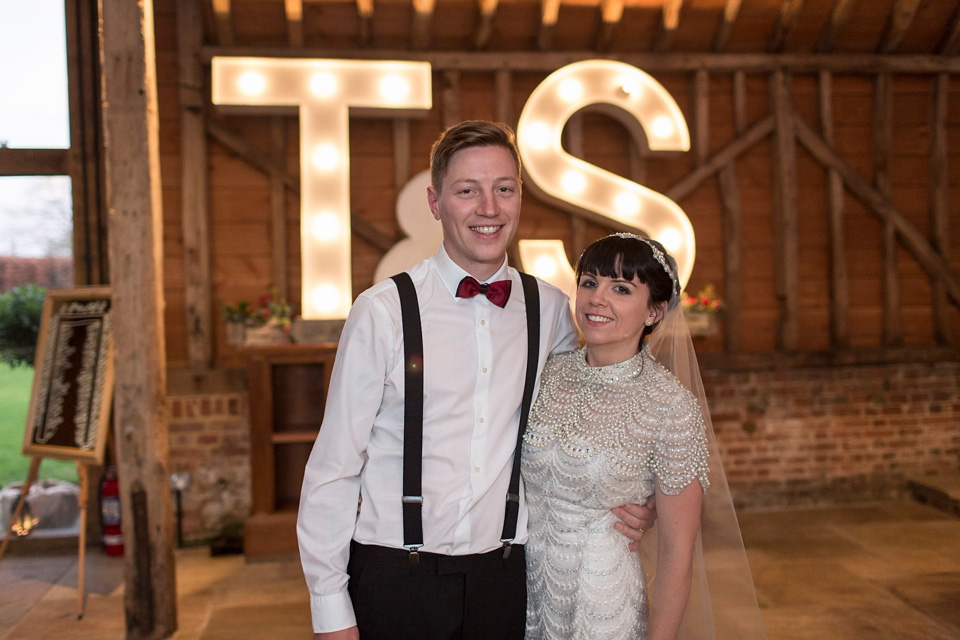 "We found a review for Freddie and the Freeloaders on a wedding blog. The music was an important part for us as we really wanted a party atmosphere to finish the day off and a full dance floor was a must. We emailed the band and they told us they were playing a free show in London in a couple of weeks time – as we were in New Zealand we delegated again and our good friend Allan went and saw them. He said the dance floor was full and that we should definitely go for it. We trusted him completely and so that night sent an email confirming we would like them to play. On the day they were great, they learned our first dance and the music got everyone up dancing. We couldn't have asked for more.
For our first dance we chose 'I'll follow you into the dark' by Death Cab For Cutie; the band learnt it especially. We saw Death Cab when we lived in London and spent many tube rides home listening to this song whilst sharing headphones, trying not to fall asleep and miss our stop."
Words of Wedded Wisdom
"Enjoy every second and don't be nervous"
A huge thank you to Viva Wedding Photography for sharing these lovely images with us, and to Sarah and Tai for allowing us a glimpse into their big day. I hope this brings all the memories rushing back for you.
Are any of our readers wearing an original vintage dress for their upcoming wedding? It's becoming an increasingly popular choice these days- a dress or veil with history is very romantic, don't you think?
Much love,
Shona x
Photographer – Viva Wedding Photography
Venue  – The Long Barn, Alton
Wedding Dress – Original 1960's, purchased from Elizabeth Avey
Veil – Etsy
Headpiece – Gilded Shadows
Shoes – Top Shop
Accessories – Family jewellery
Groom – Suit – Moss Bros Bow tie – Mrs Bow Tie Shoes- ASOS
Bridesmaids – Dresses – For Him And For Her
Flowergirls + Pageboys  – Next
Florist – Florality, Lyndhurst
Cake – Made by friends and family
Transport – Minibuses for guests, the bride and groom went with family
Entertainment – Freddie and the Freeloaders
Rings – Bride- family heirloom, Groom- vintage
Catering – Vamos Paella
Stationery – Save the dates – Wedding Paper Divas + Invitations via moo.com
Light up letters – Vowed and Amazed