Morning all!  Ushering you all back with a HUGE welcome this morning, after what will have been a long Easter holiday for many of our readers (though our schools still aren't open until tomorrow). And all of a sudden, it feels like Summer is on the horizon after a, mostly, glorious few days of sun.  Just a quick one whilst I have your attention, you you applied for these two separate $500 BHLDN giveaways on our Instagram feed here and here?
This morning's couple are Sarah, a Secondary School Assistant Head Teacher and Art teacher, and Medical Editor Richard, who tied the knot on 1st August last year at Tonedale House in Wellington, Somerset.  These beautiful and vibrant images were taken by photographer Tori Hancock – and I love them.
"We wanted a fairly intimate and small wedding but we also wanted all our friends to bring their children too. Putting all the effort into an event that was over and done in three quarters of a day seemed too short for us to have time to see everyone properly so we opted for a venue where friends and family could stay and where all the children coming could run around and have their own space in which to party and celebrate."
Photography Copyright (c) 2015, Tori Hancock
"Rich wanted all the decorations, bridesmaid dresses and colour scheme to be a surprise – it was part of my gift to him. I picked up things that I loved as initial inspiration which had no specific heme, for example a 1920's linen scarf, some glittery bunting from a children's toy shop and the glittery toed animals which served as candles/table decor made by Lola Beau Designs in Bath."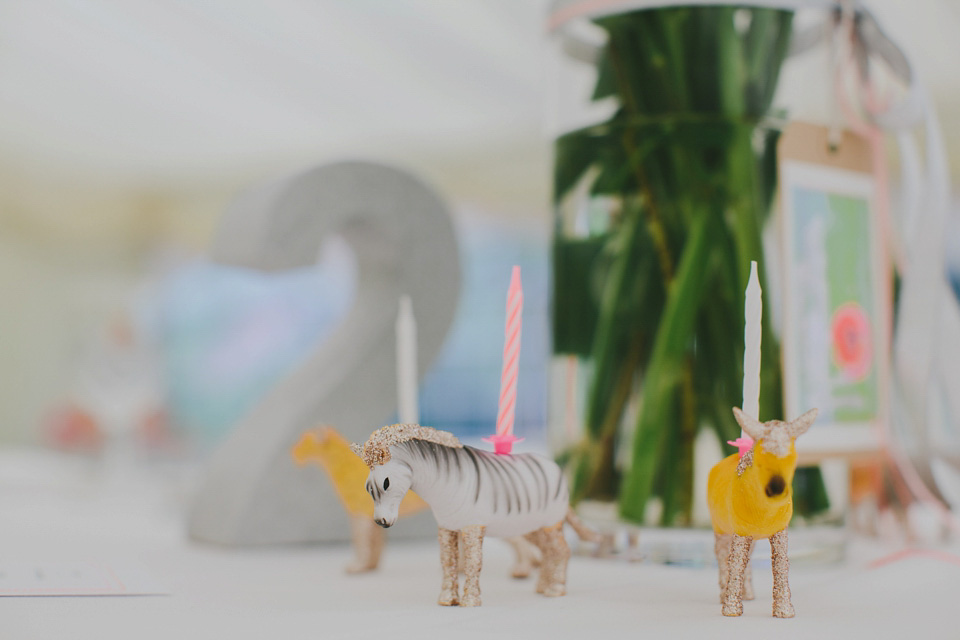 "There was a slight worry about how everything would go together, but I kept a sketchbook of ideas and a few months before the day, when I was teaching at school, I remembered the Bristol artist, Dan Parry Jones. I have always loved his work; the feeling of space he creates in his images, the familiar Bristol imagery, his combination of processes, but most of all his choice of colours. As I started to make the invites those colours emerged as the 'theme'. Two days before the wedding we went to get the flowers from the market.
Mistakenly, the supplier had ordered about 20 pale coloured hyacinth stems when I thought I had ordered several planted hyacinths for the outside space. I jumped up and down in his cool store with excitement, much to two other customers' disapproval! They made the nudes and neutral tones come together with the greens, corals and flouro tinted oranges and pinks."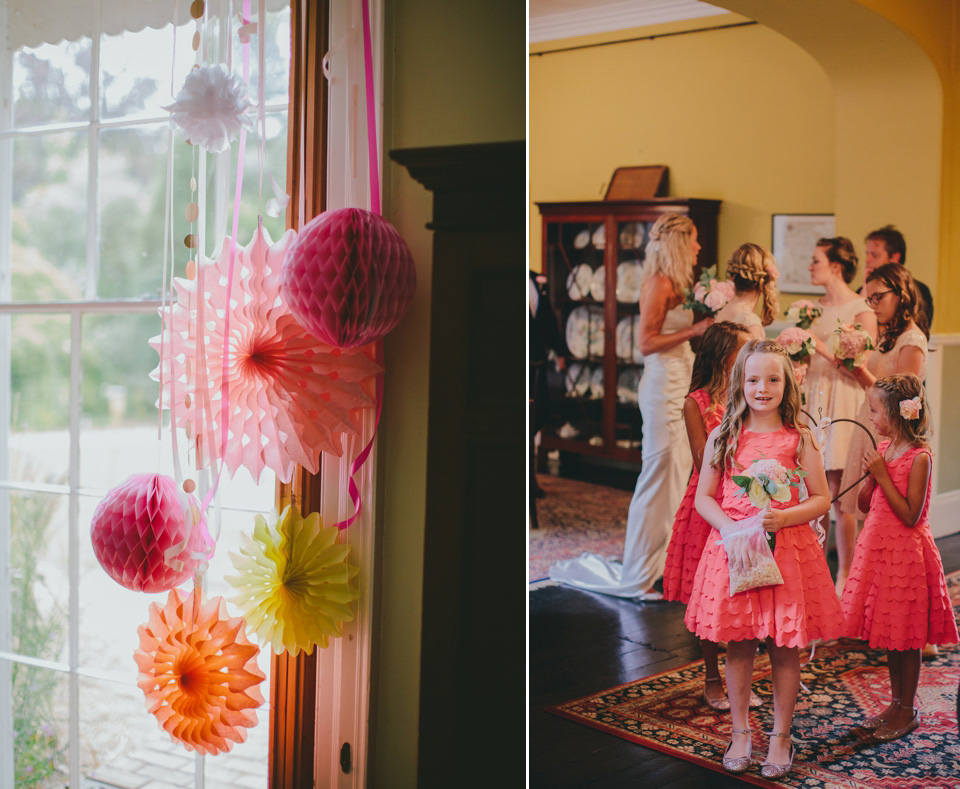 "I made the feathers for my hair – I wanted a full on feather headdress but it didn't really match my dress so I went for dipping white feathers into silver glitter. It's the Art teacher in me! They were poked into my plaits and twists in boho-style."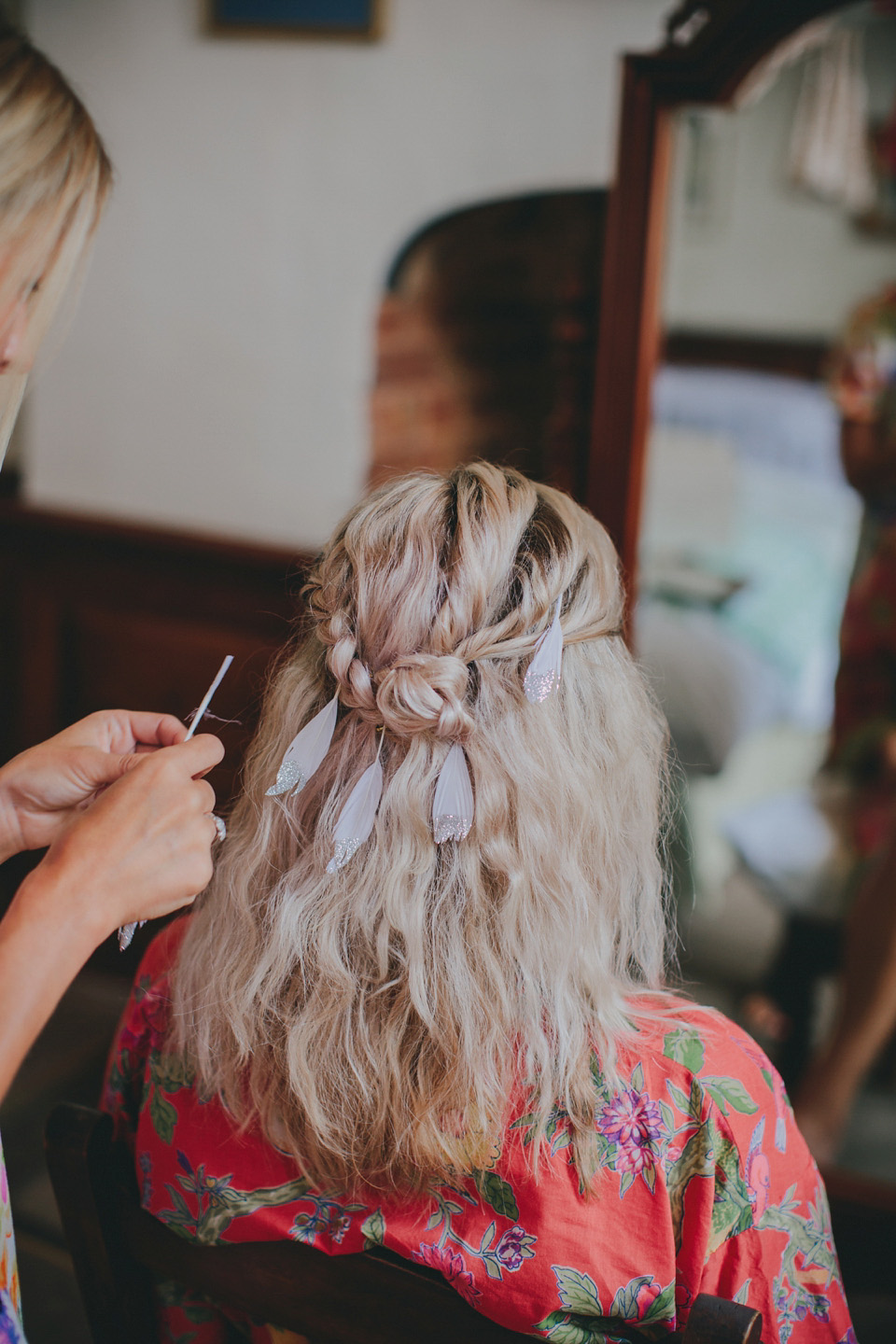 "I tried on about 64 dresses and they were lovely but none of them made me feel like me. I was all about the feel of the fabric and the weight of the fabric against my skin when I was wearing it. I happened to spot a shrug with some beading on it in another wedding dress shop and the shop staff told me it was by Amanda Wakeley.  I loved it immediately, so came home and 'Googled' Amanda's dresses Within two weeks, I was up at her flagship store in London! I choose my dress when I was on my own – I knew immediately, it had the right balance of glamour and softness for me.
My bracelet was from Australian bridal designer, Joanna Johnson – I ordered it before anything else. I loved her whole range."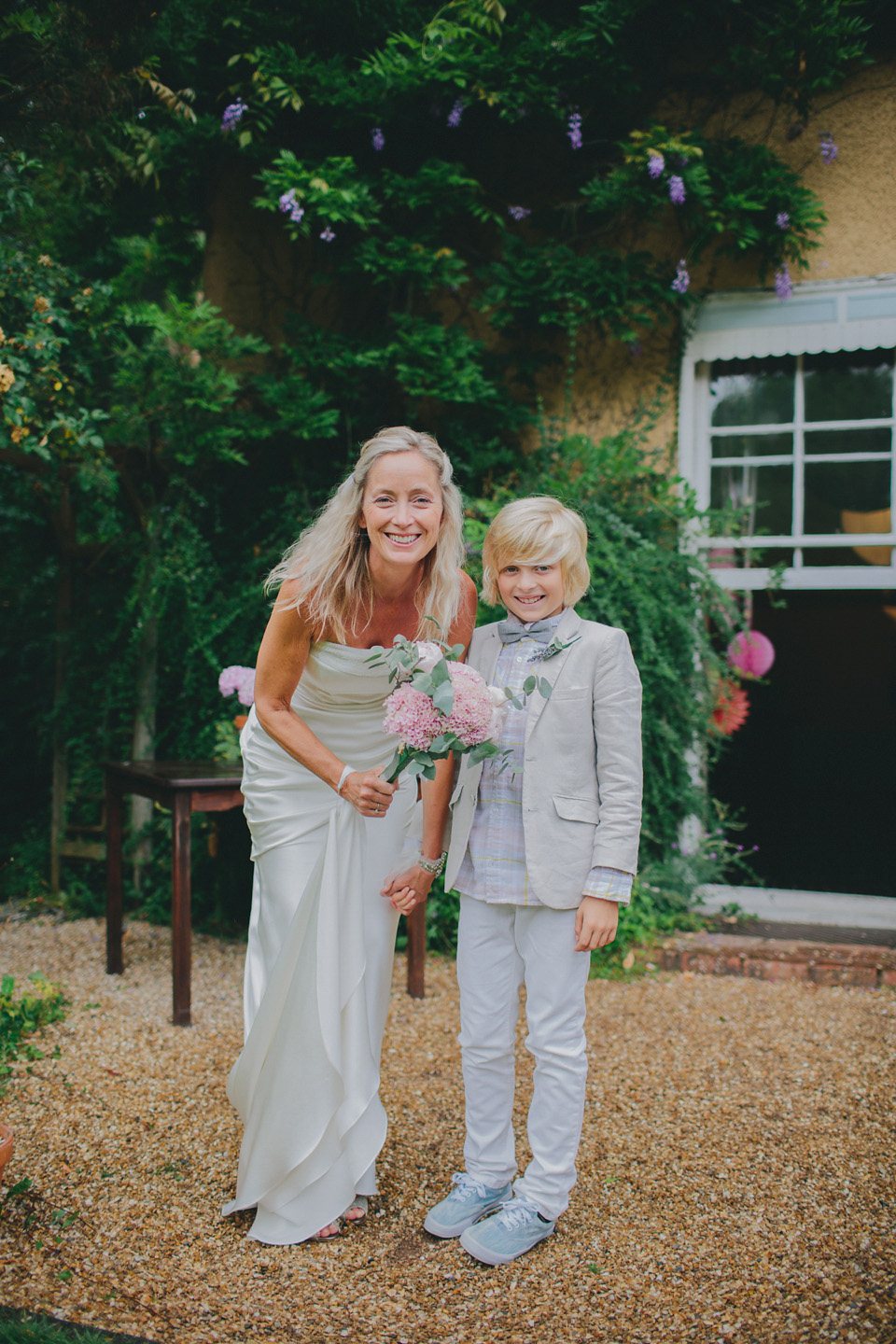 "The relaxed feel of Tonedale suited us well and we had lots of options in terms of how we decorated and how we used the space on the day. We wanted to have lots of time outside and Tonedale meant we could have a three-day event. Although on the day of the wedding, rain stopped play in the gorgeous garden, we still had a great internal space to use and where our guests felt 'at home' having been there since the day before."
The couple didn't need a wedding planner, given the army of creative friends they have…
"We have lots of creative friends and we wanted the day to be shared, so wherever we could get people involved.  We did the flowers ourselves with support from our friends, using Bristol Flower Market. We weren't really sure what we were doing and the transportation of flowers was tricky, but my best friend made my bouquet. It was the first time she had made a bouquet and it was perfect! We had jugs and vases of flowers all over the house – it was stunning."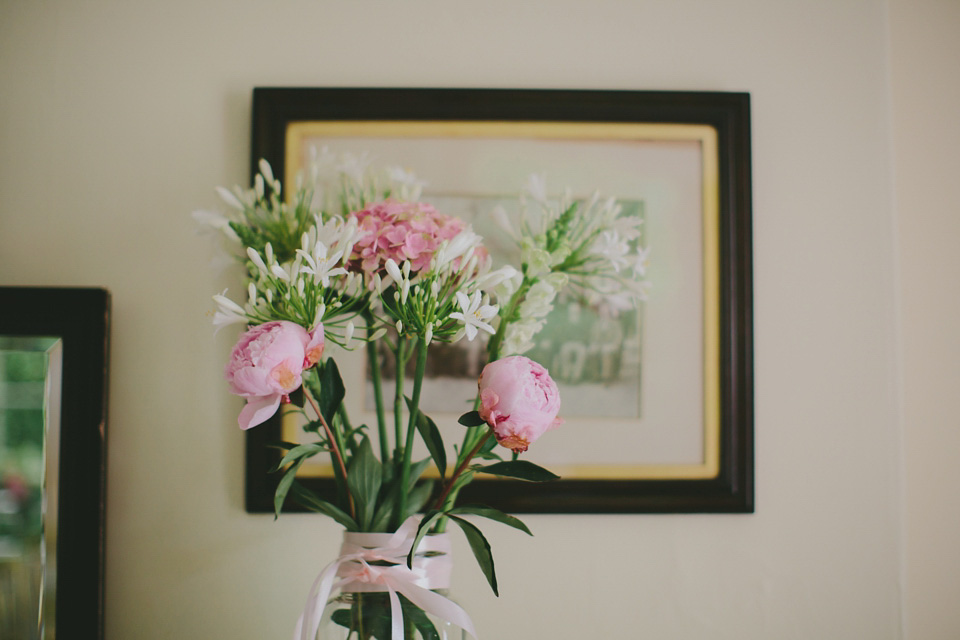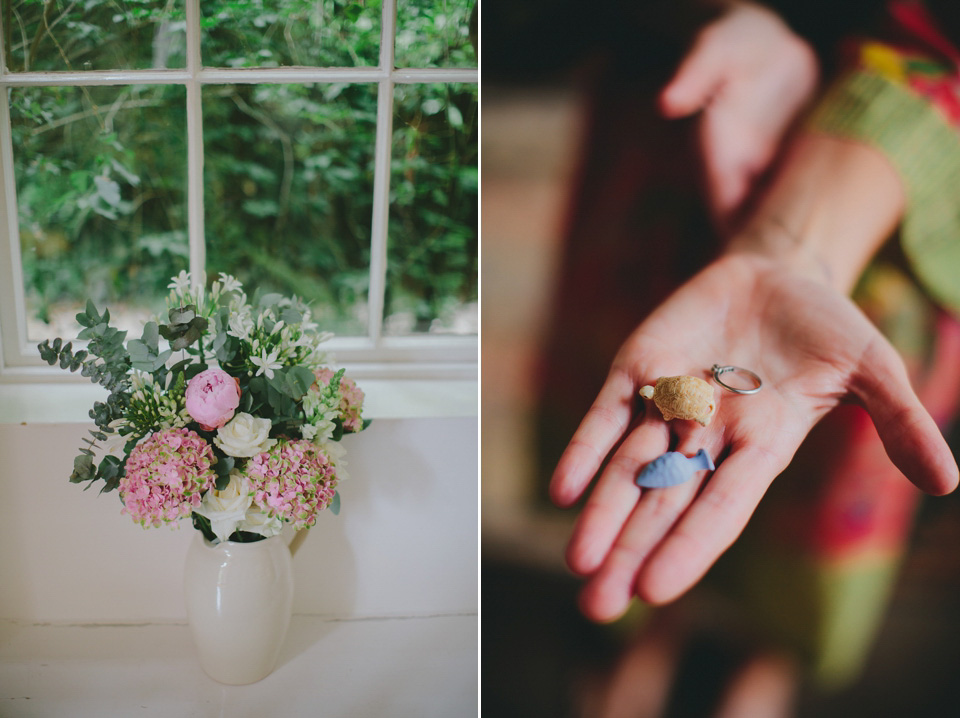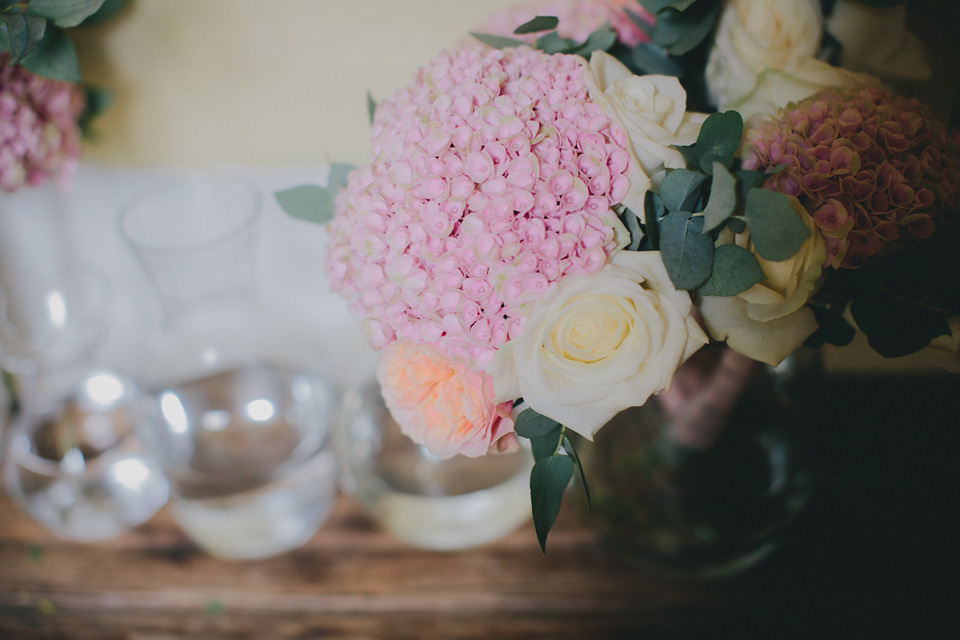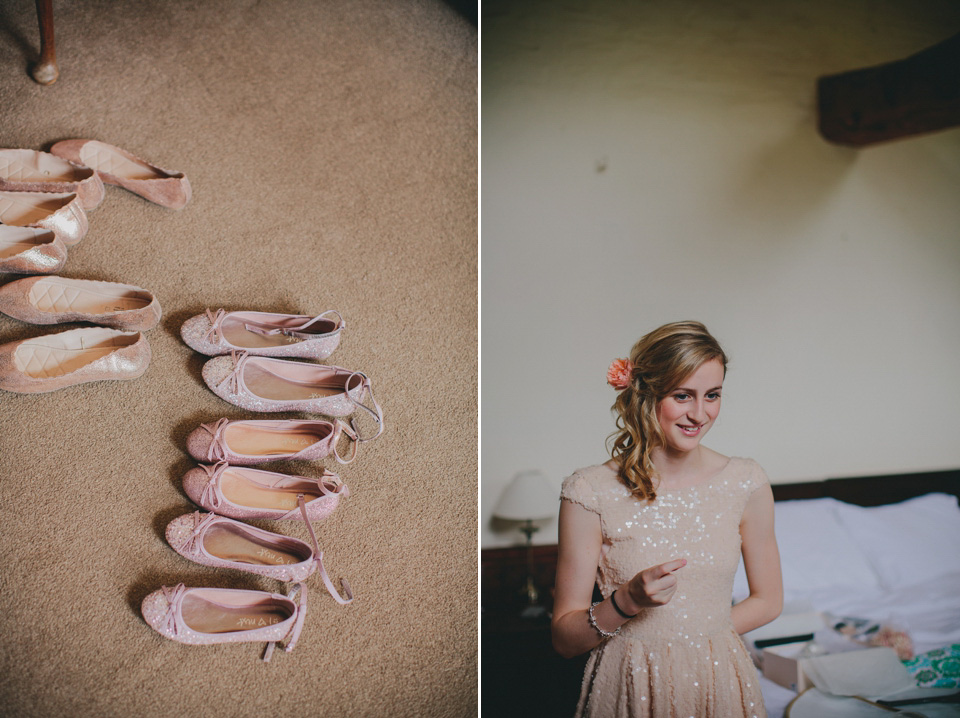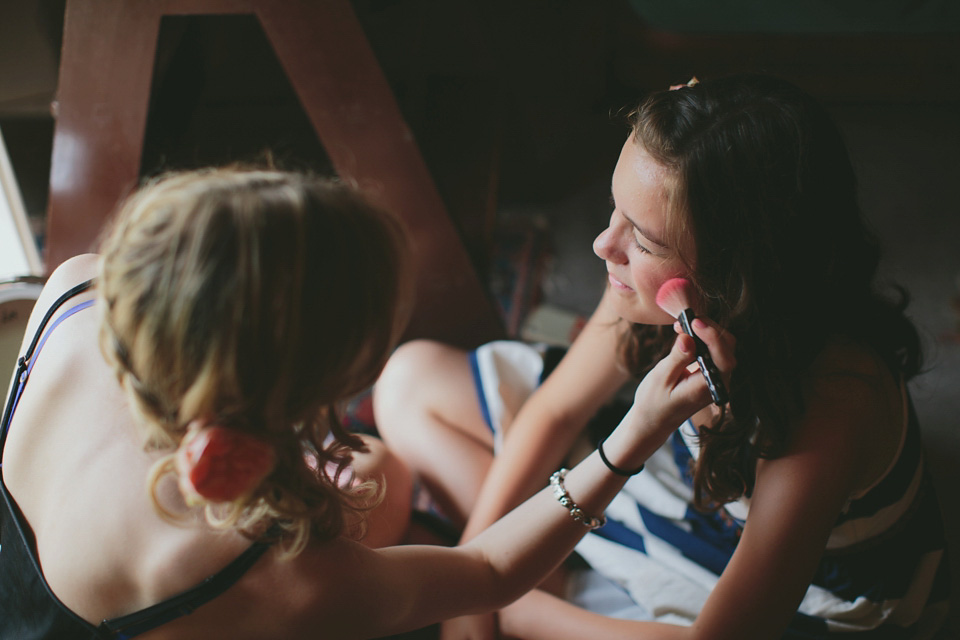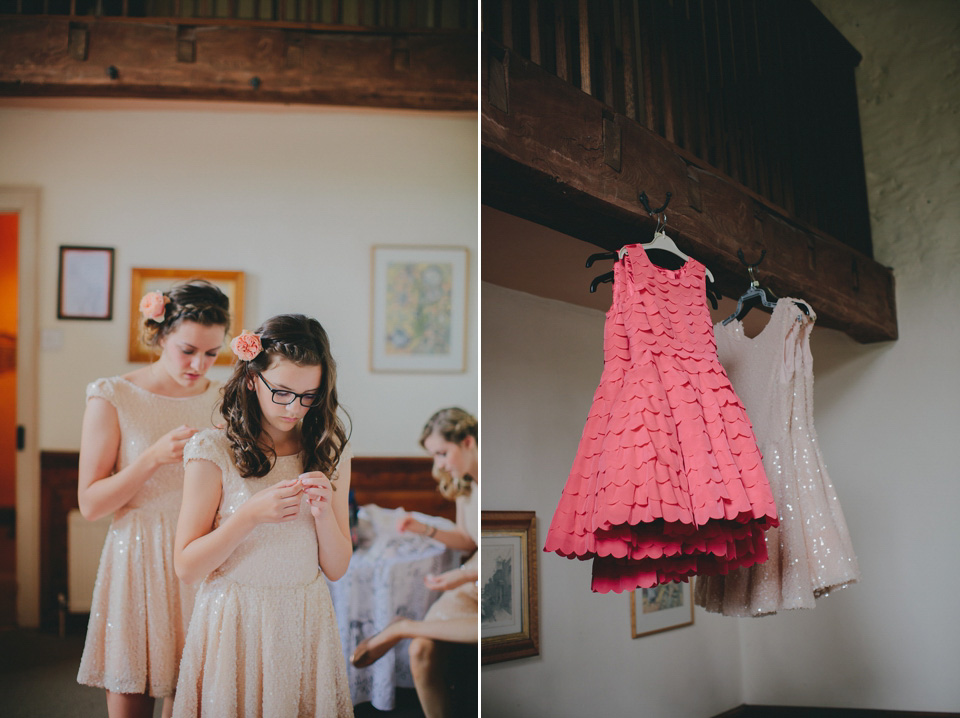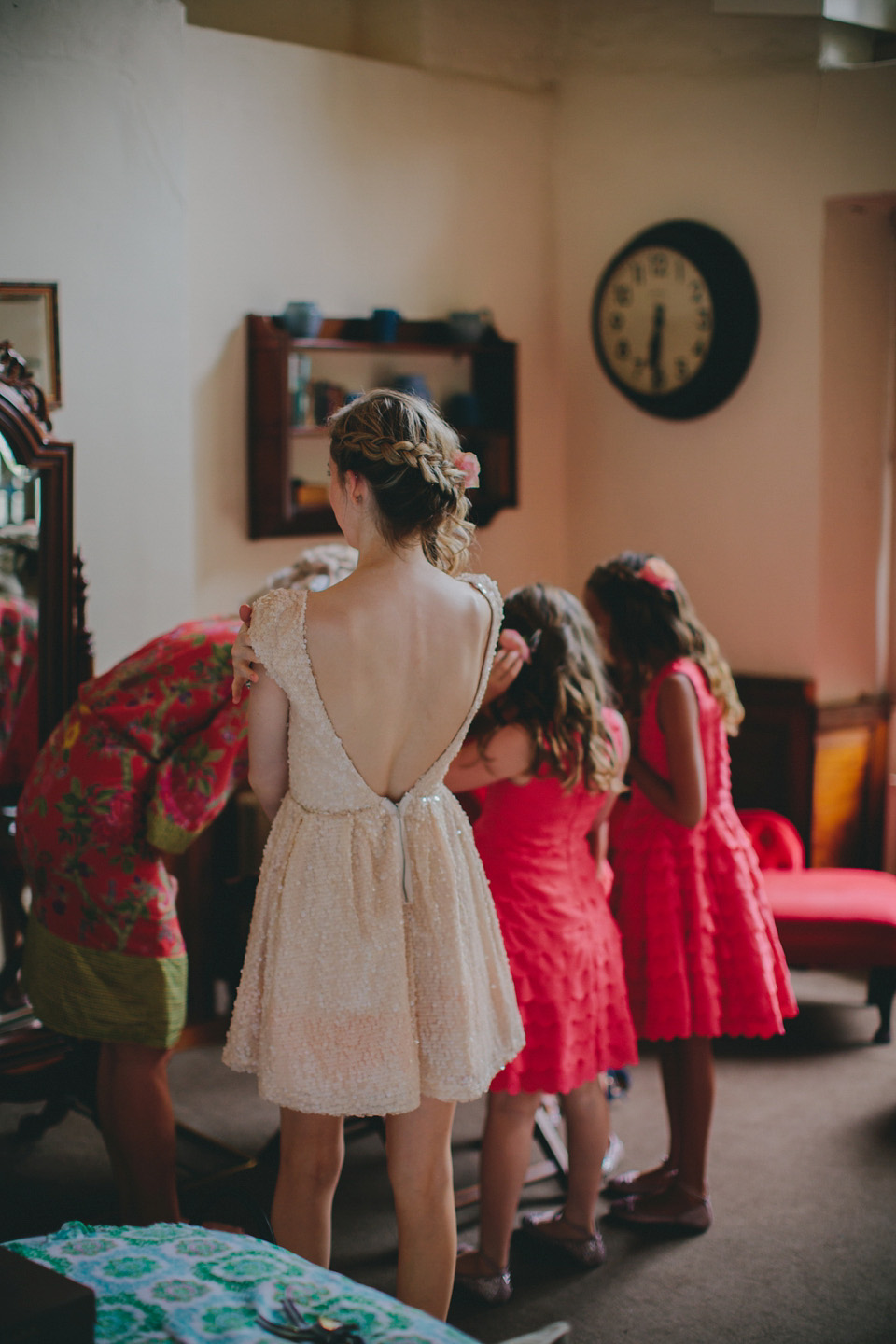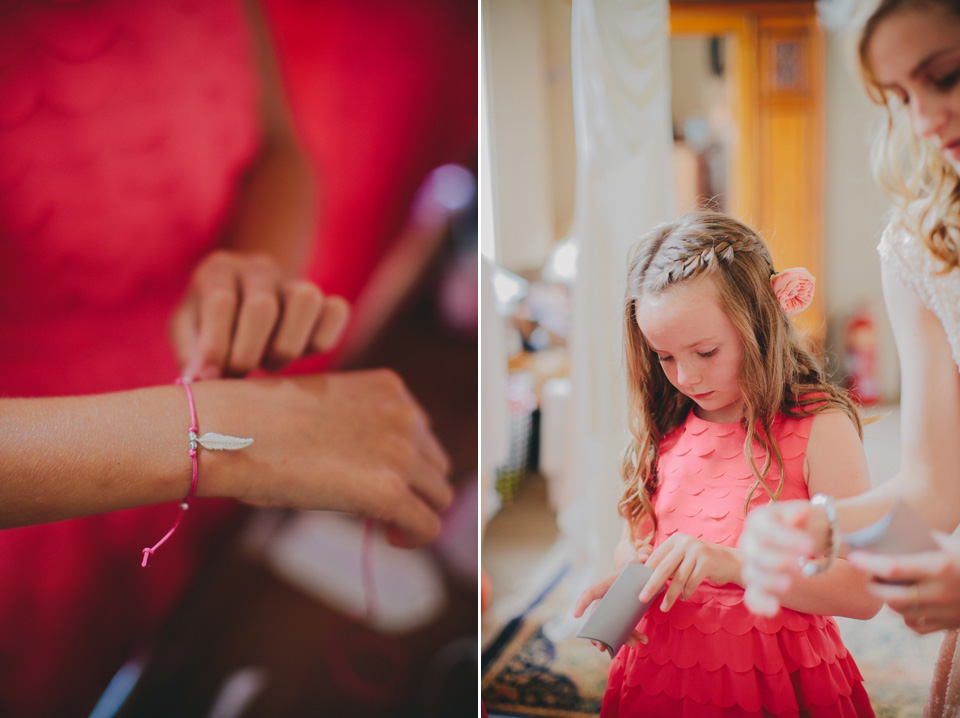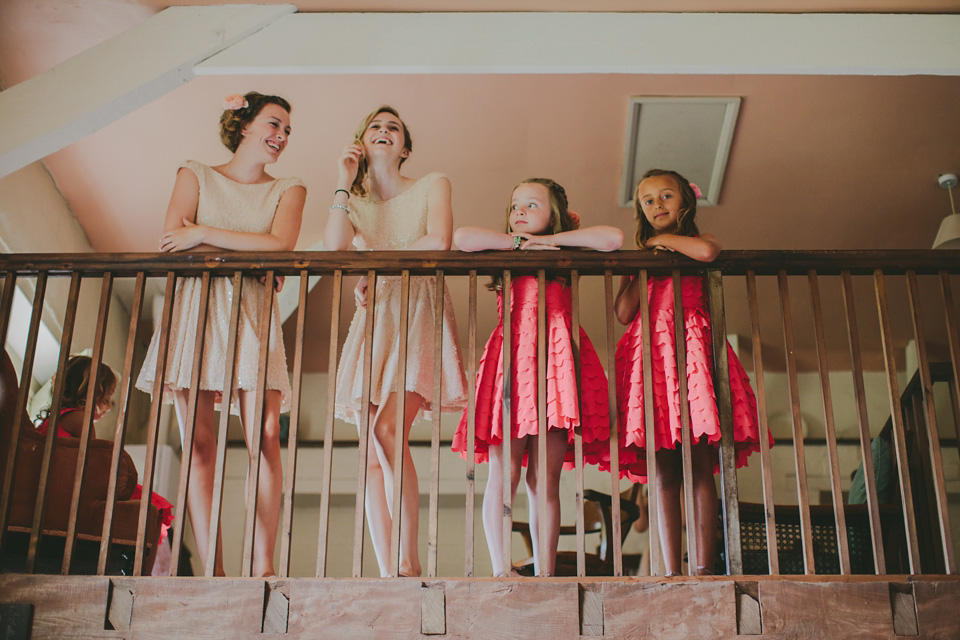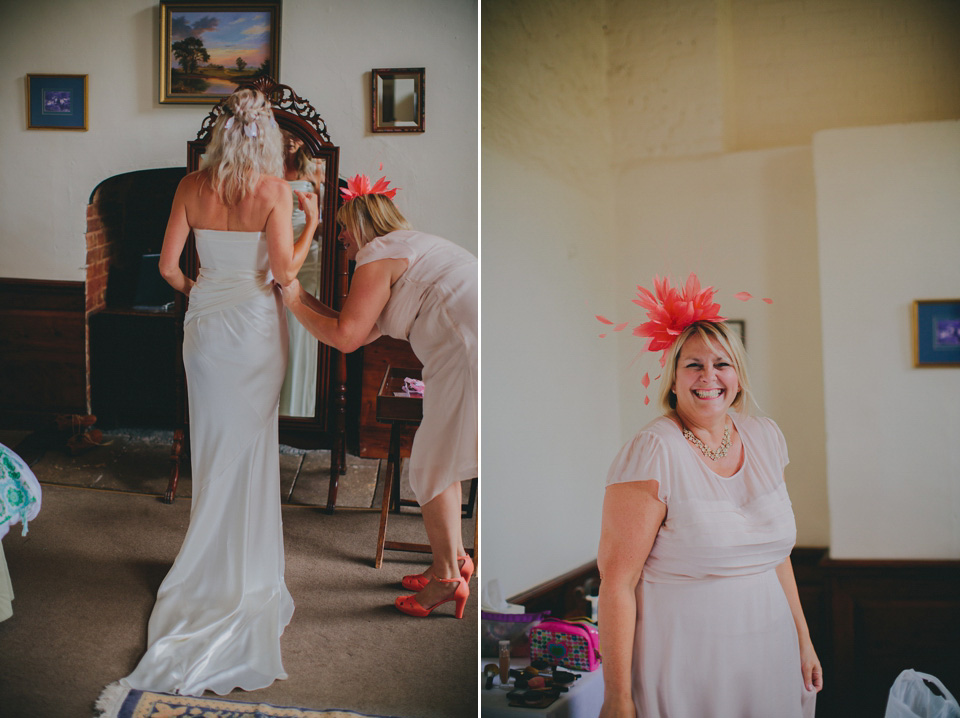 "My shoes were Jimmy Choo's.  All the girls in the bridal party had glittery feet to match the table decorations."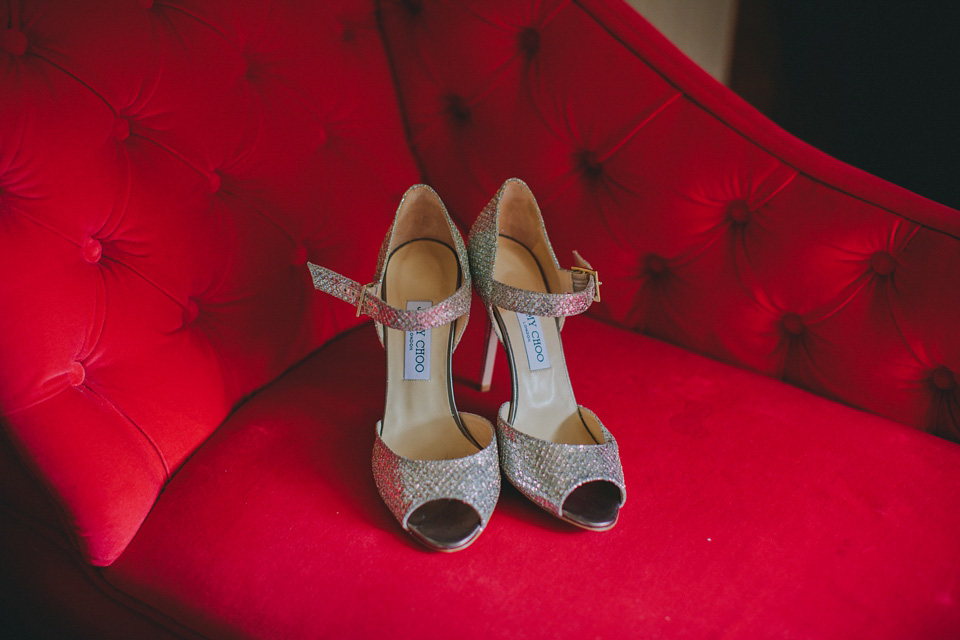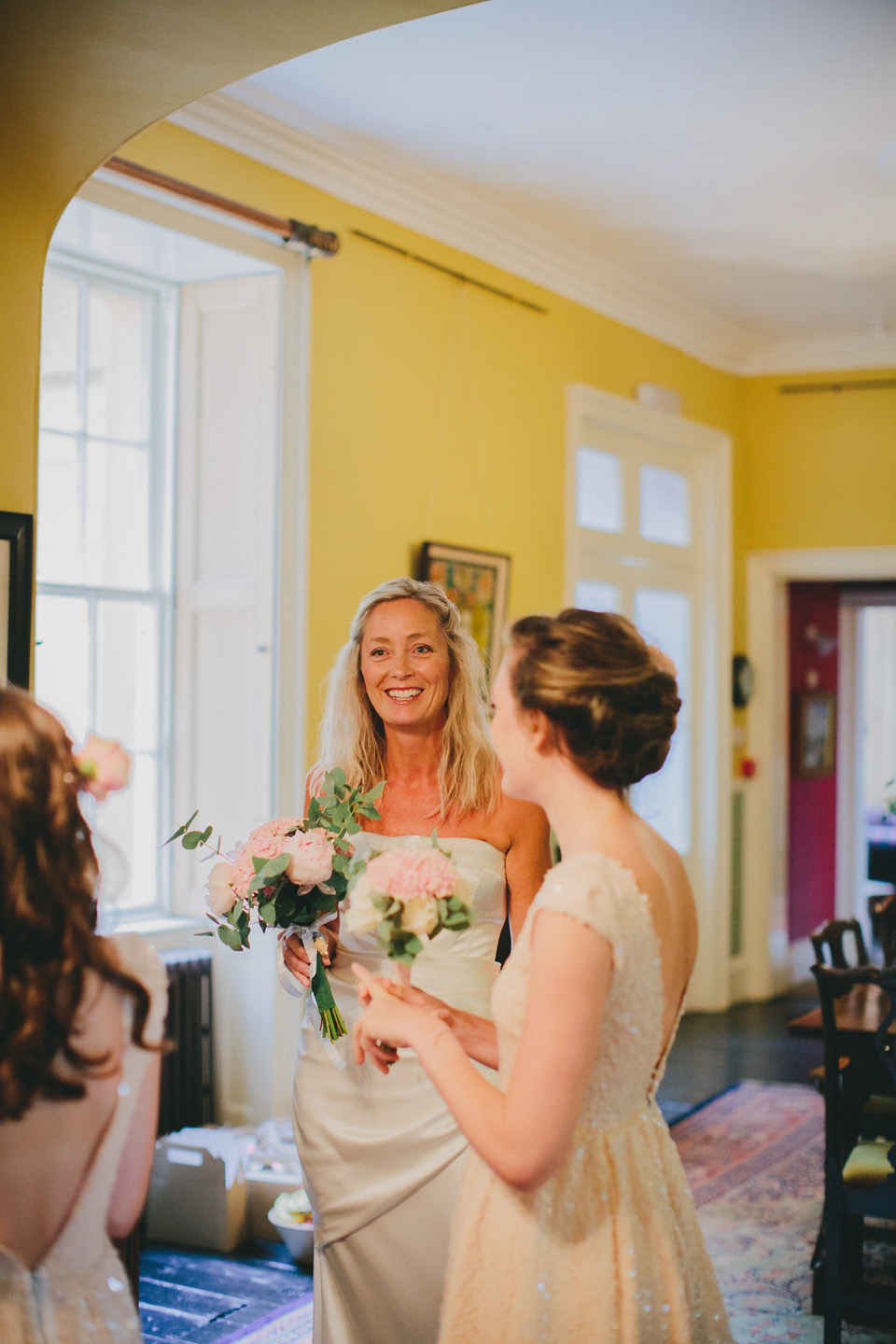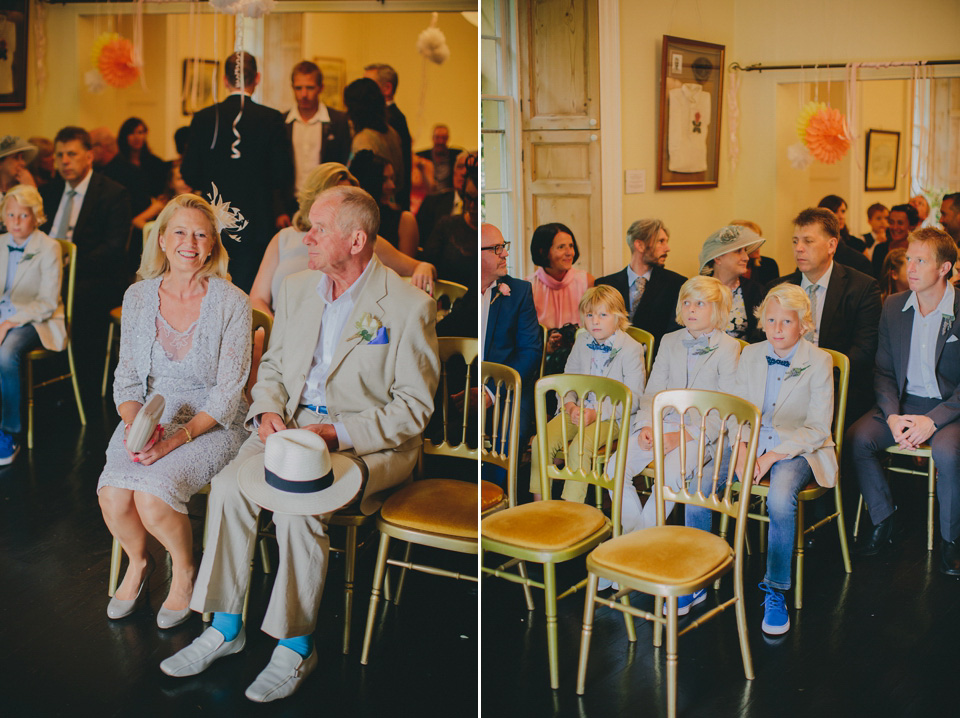 "My brother flew over from New York for two days and agreed to give me away – it was perfect.  We were accompanied down the aisle by the sound of Sebastien Tellier's La Ritournelle."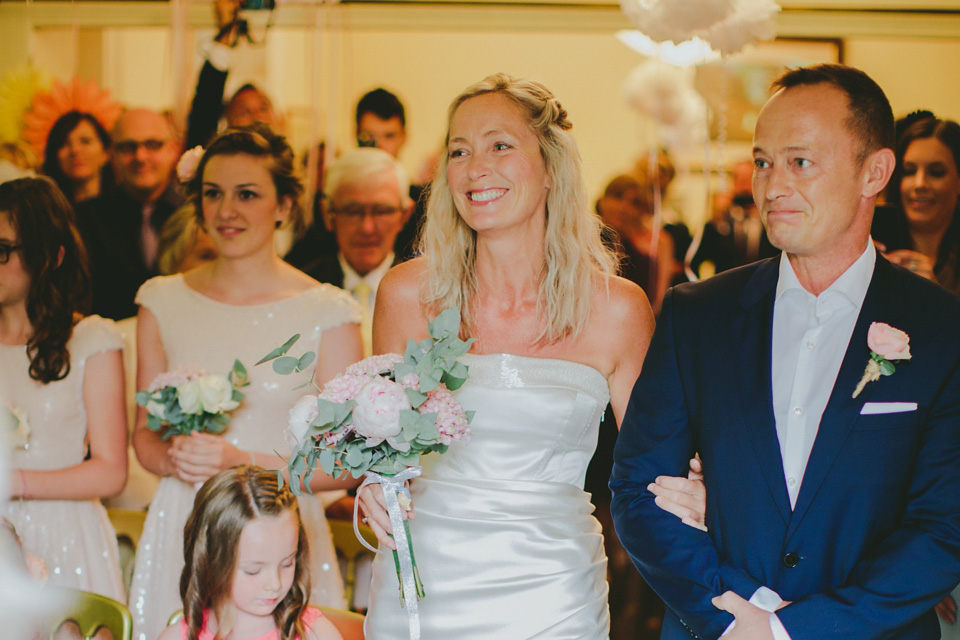 "My favourite part of the whole day was the ceremony. I was so nervous about walking down the aisle and everyone looking at me but they all disappeared.  It was only Rich and I looking and smiling at each other – we were so excited."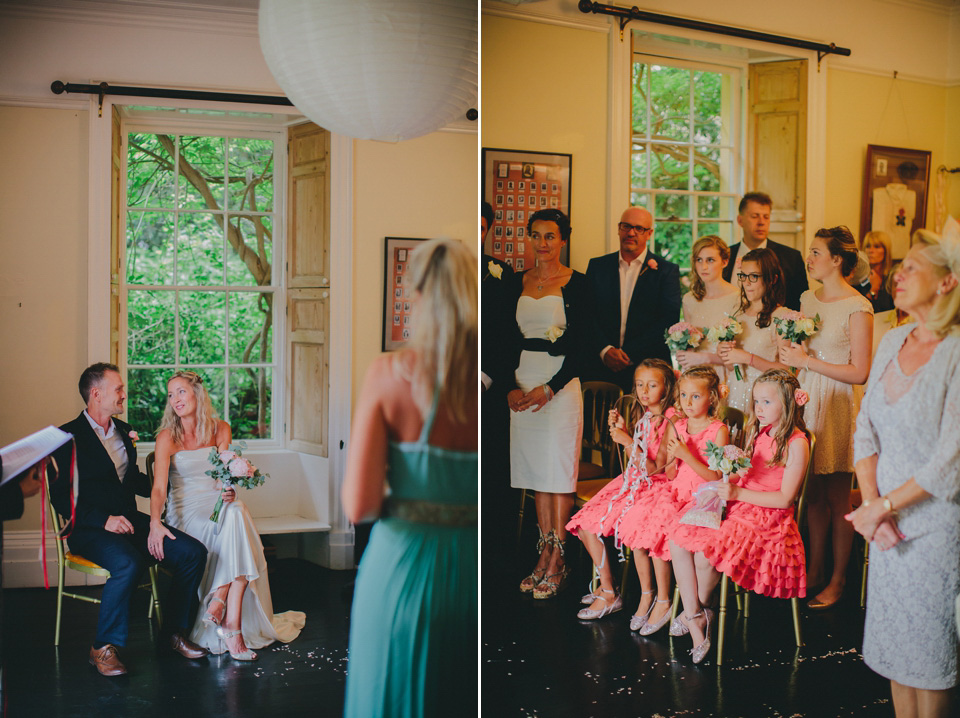 "Our celebrant had come to meet us in Bristol and we spent the day in the garden with our tortoises! She gave us lots of tips and ideas of how to start. Then we went to Morte Point in North Devon and wrote our vows whilst watching seals on the rocks below. It was very special. We wanted our friends and family to marry us so the ceremony was about that, and how we feel about one another. We asked a few friends and family members to choose readings, and didn't know what they'd chosen until we heard them at the ceremony – and they were perfect.  There wasn't a dry eye in the house!  At the end, our guests left the ceremony rather than us. They walked between us and out onto the lawns. It felt right, and we had a few moments in the room together alone.
Our readings included 'Apache Wedding Blessing', read and chosen by Rich's Dad and 'A lovely Love Story', chosen by one of my best friend's Sarah."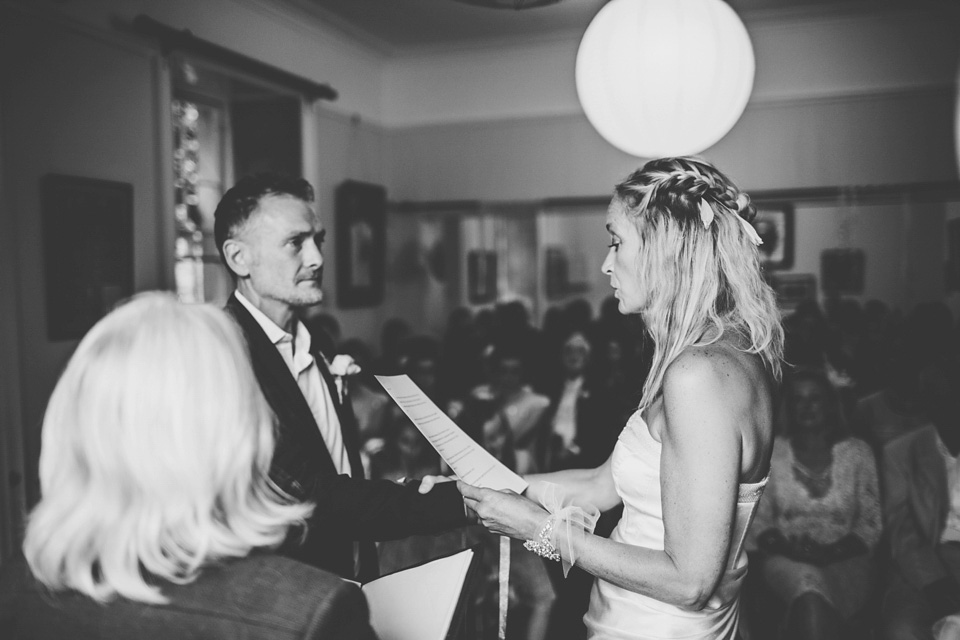 "Our rings were from Diana Porter Bristol – they were stunning rings that seemed to suit us. Rich has rose gold and I have 12 carat white gold which changes colour. Some days it is gold, sometimes pink and sometimes a brown gold."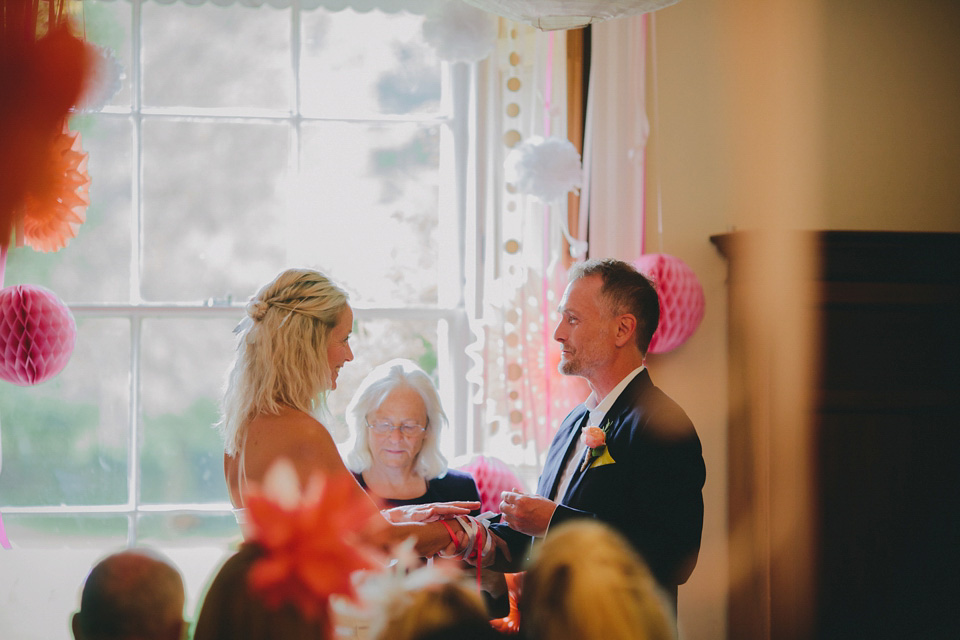 "My two best friends (also Sarah and Sarah) helped me make pompoms and source decorations from various suppliers. I found some glittery fabric, which I made into circular weights that hung from the bottom of the pompoms and sparkled alongside everything else glittery."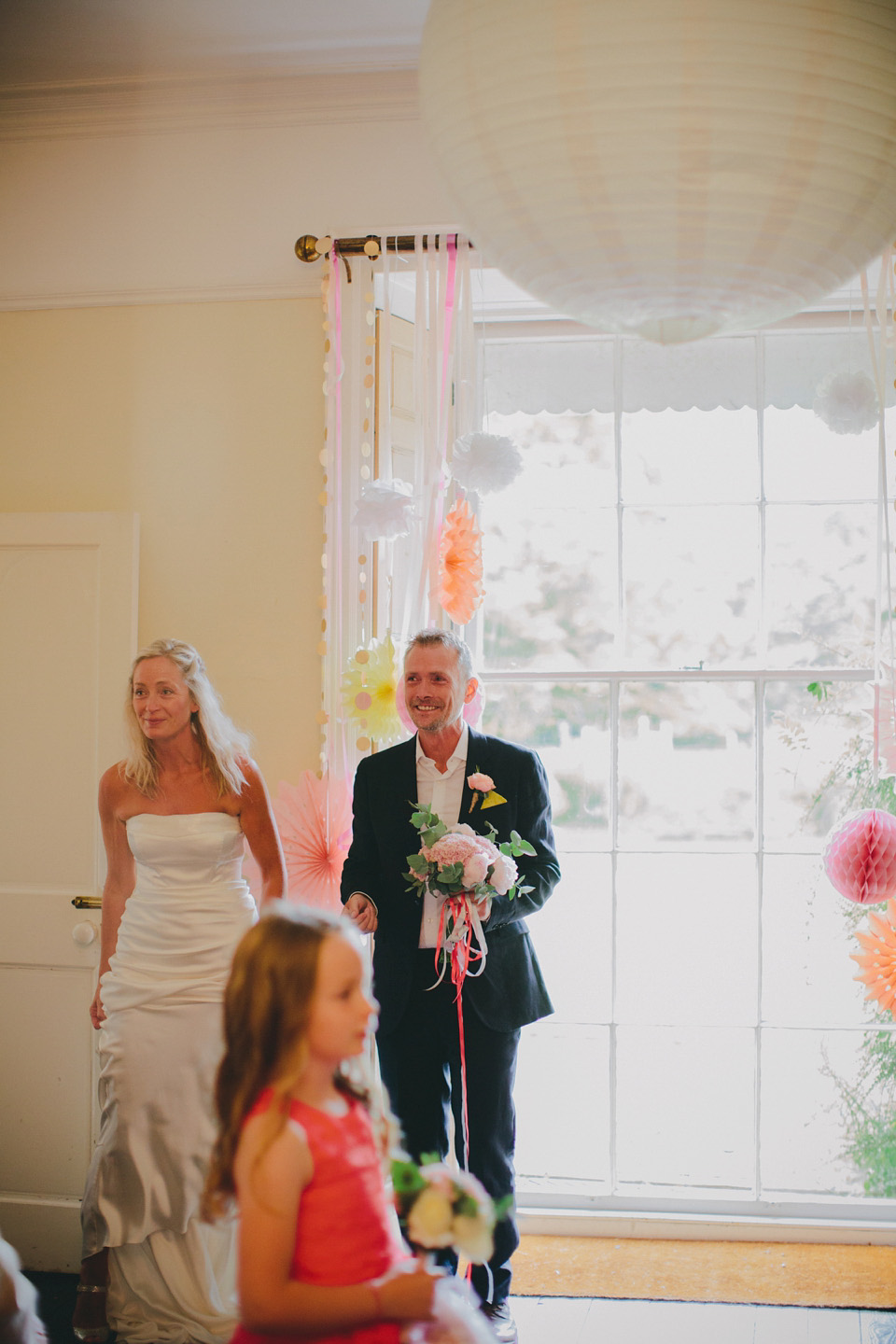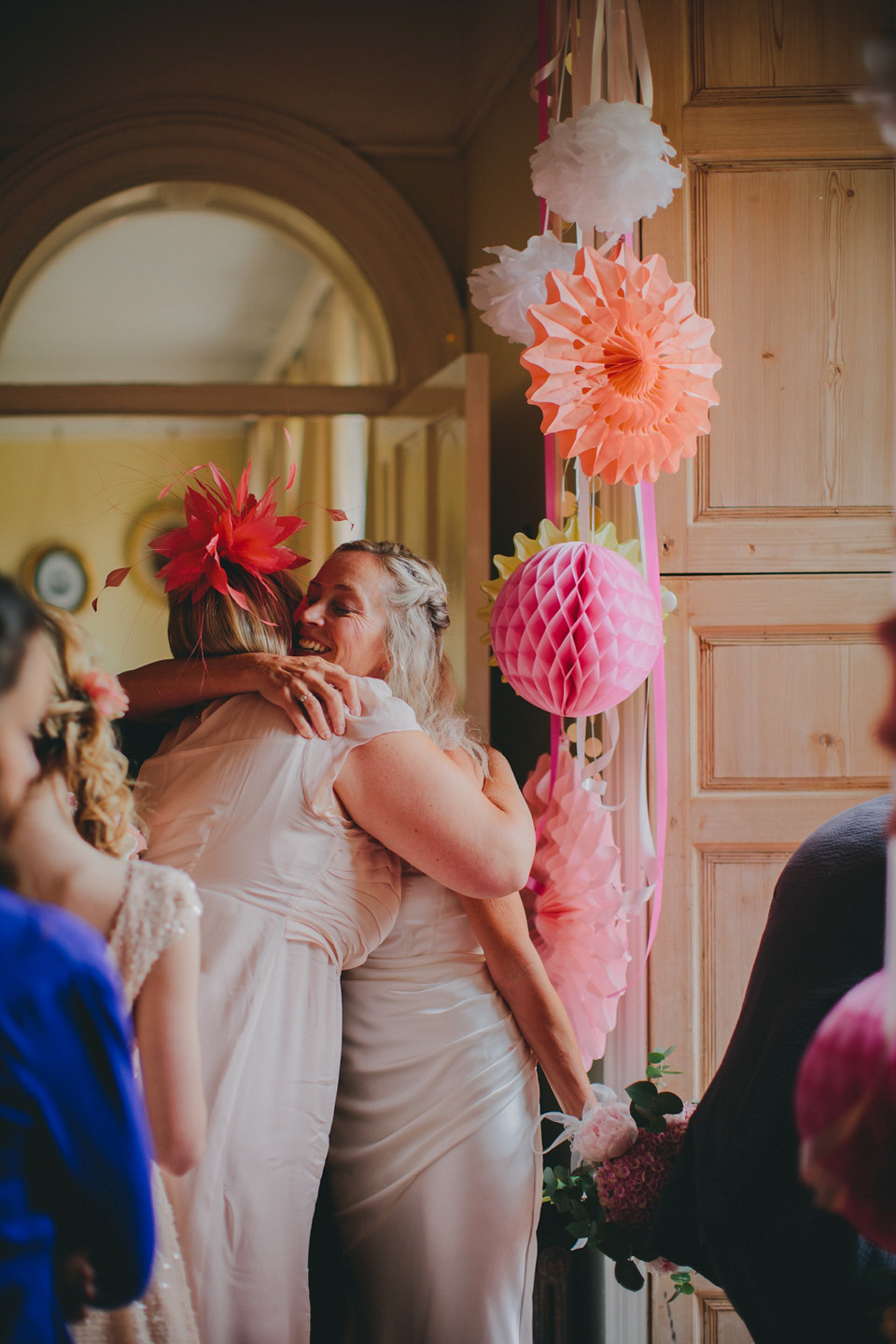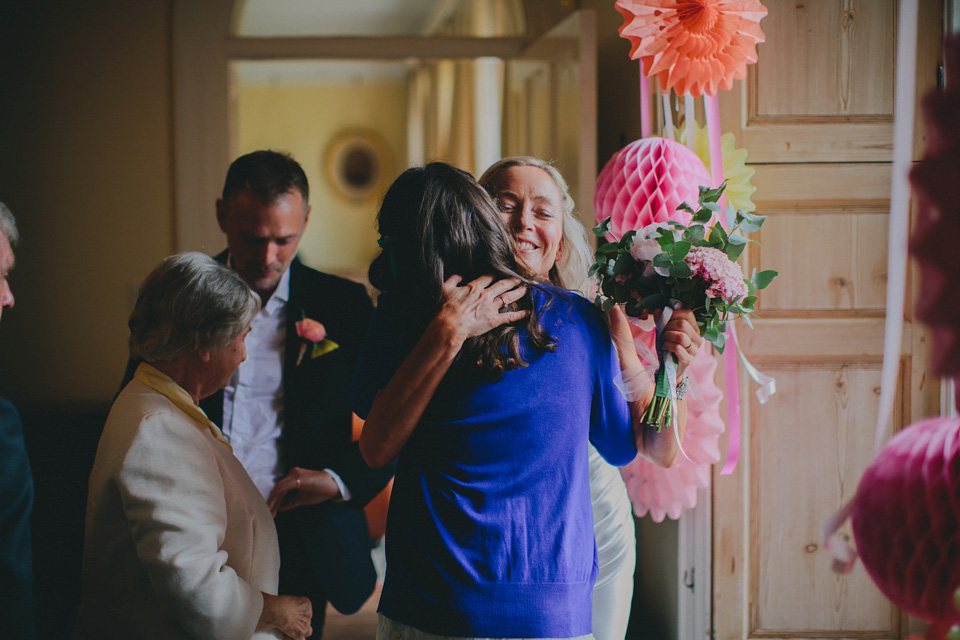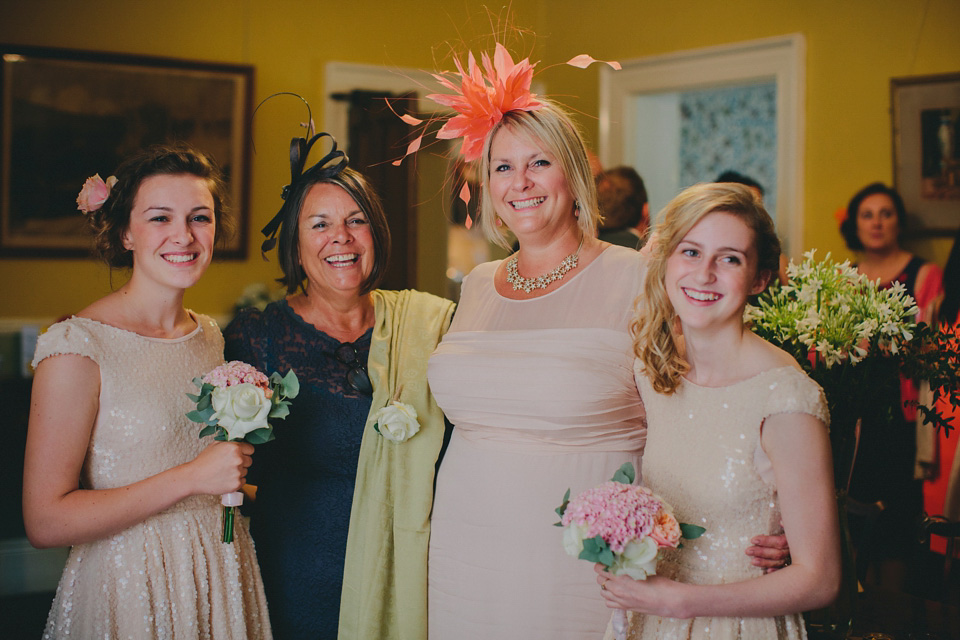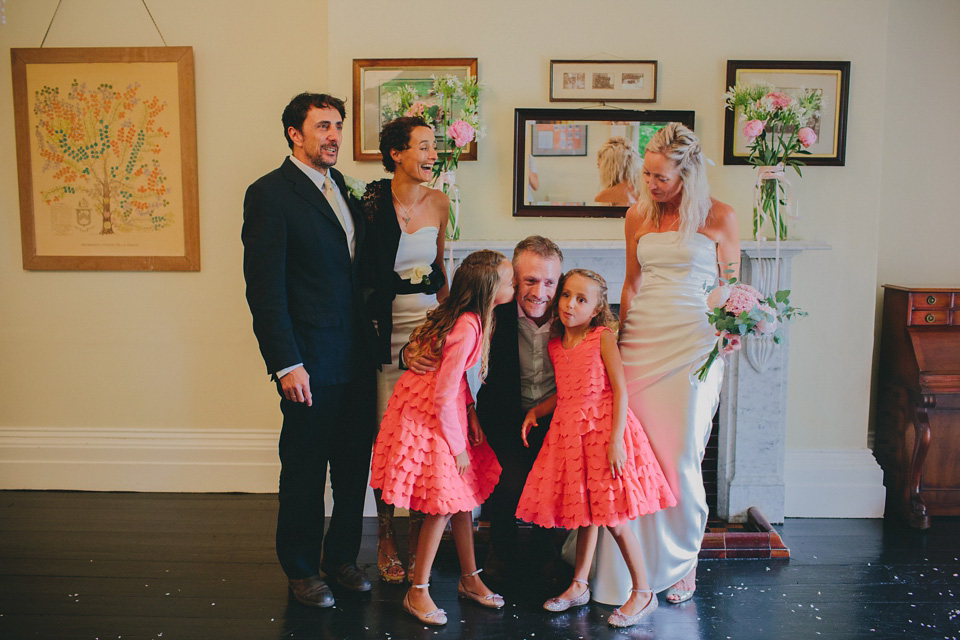 "Our photographer was Tori Hancock. We were so worried about feeling 'under the spotlight' and ending up with posed photos, but Tori was amazing. She was everywhere, but neither us or our guests were aware of her doing her job. We choose her because she sees the world in the same way as I do, and I knew she would capture all the key elements of the day."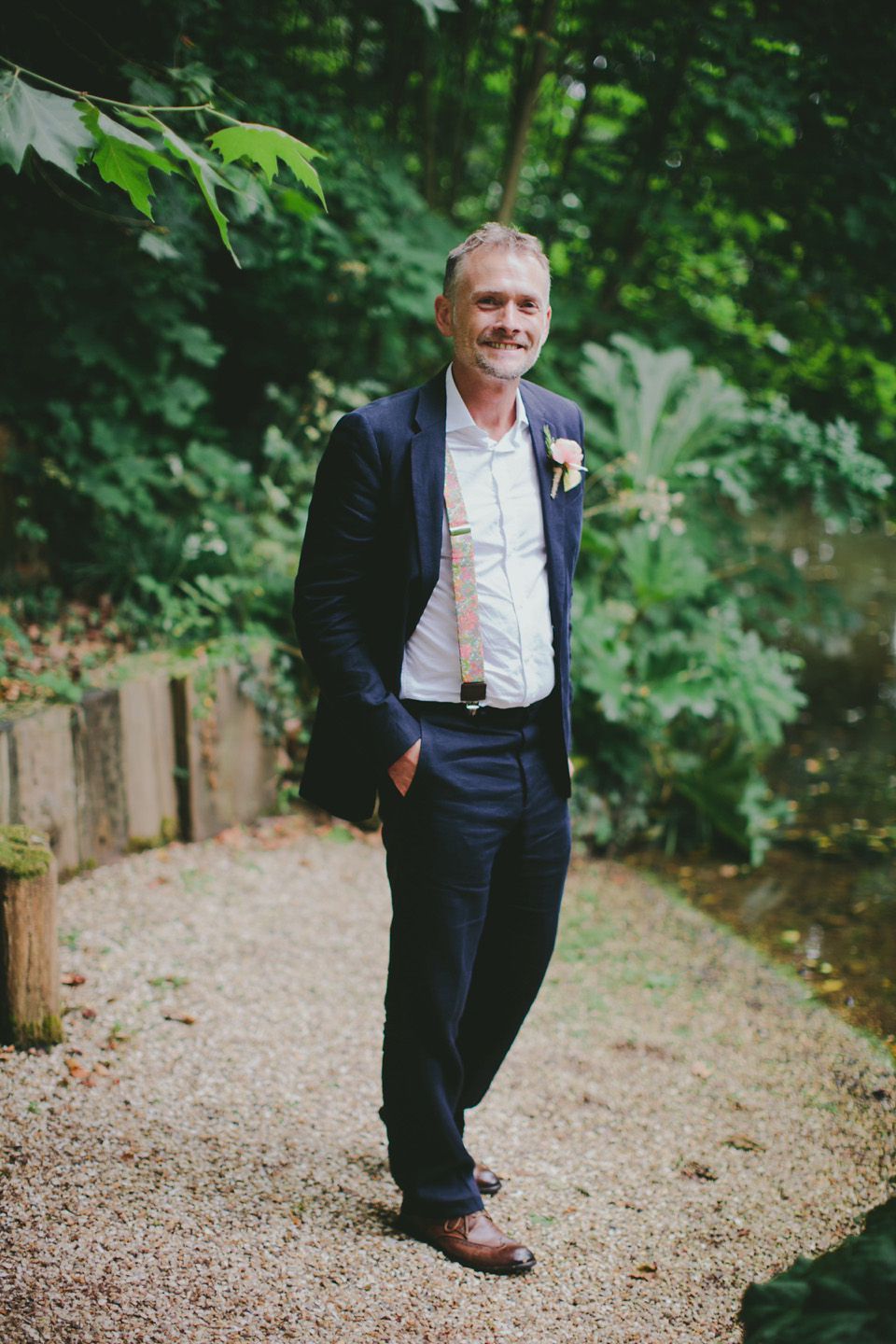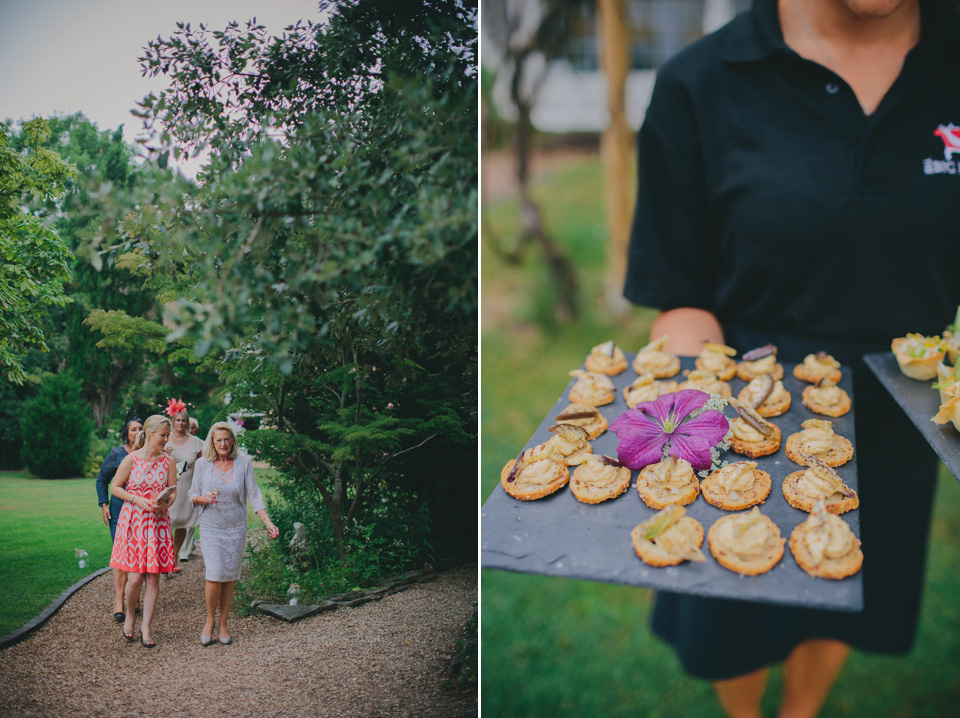 "I made all the wedding invites. They were made into a small package that guests received in the post all tied up with a label. These were also used as part of the table decoration. I used several different processes to create the invites including screen printing and silver leaf. My only advice would be never double stitch around every invite, menu, name tag and place settings, once you start, you can't stop!"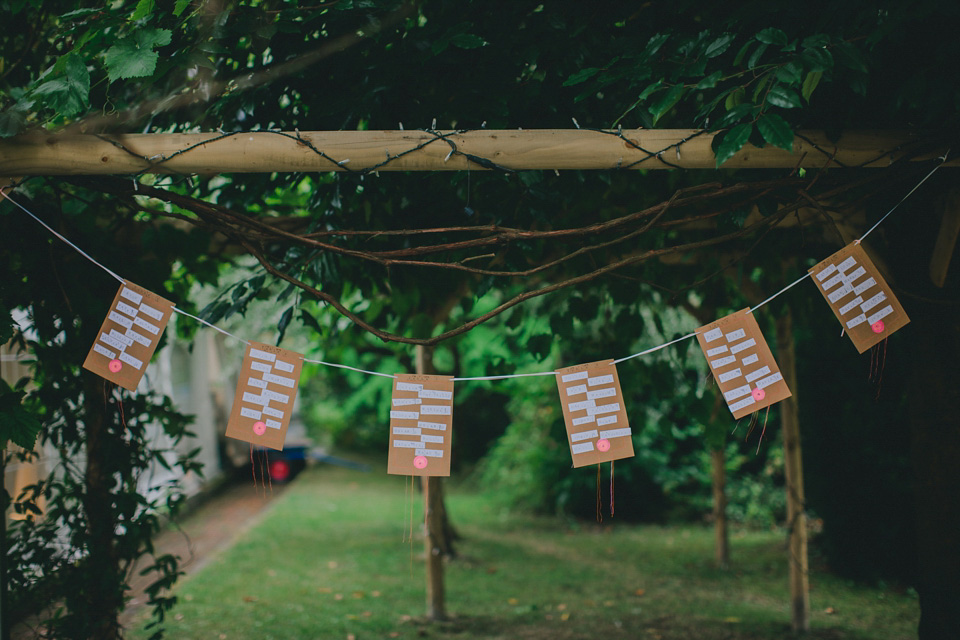 "The mum to the three older girls was my right hand woman. She wore a Boden dress and Chie Mihara shoes. Here feather headpiece was a well selected ebay purchase!  All the bridesmaids received a silver feather gift from me – these came from Not on the High Street."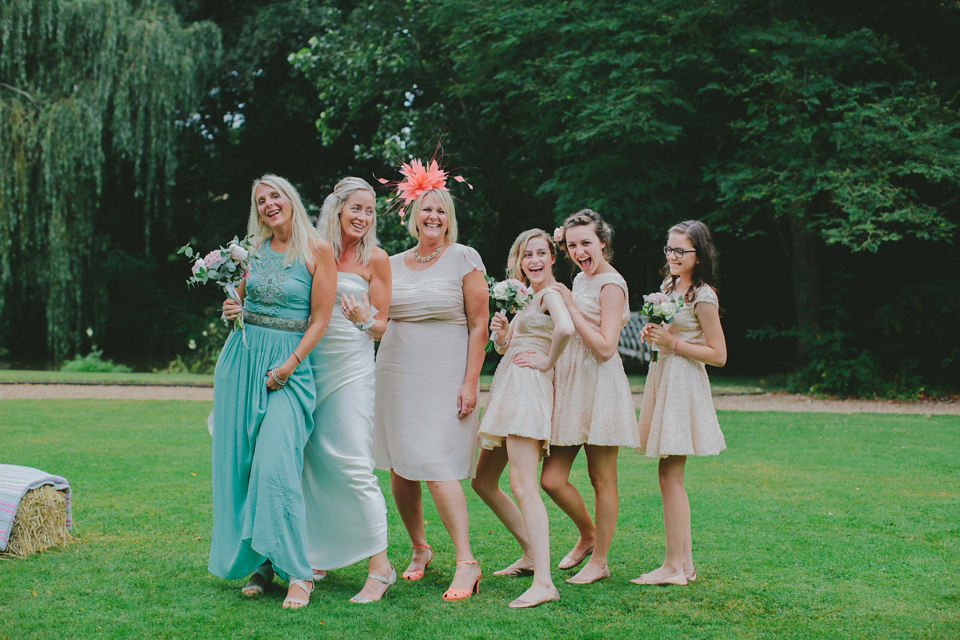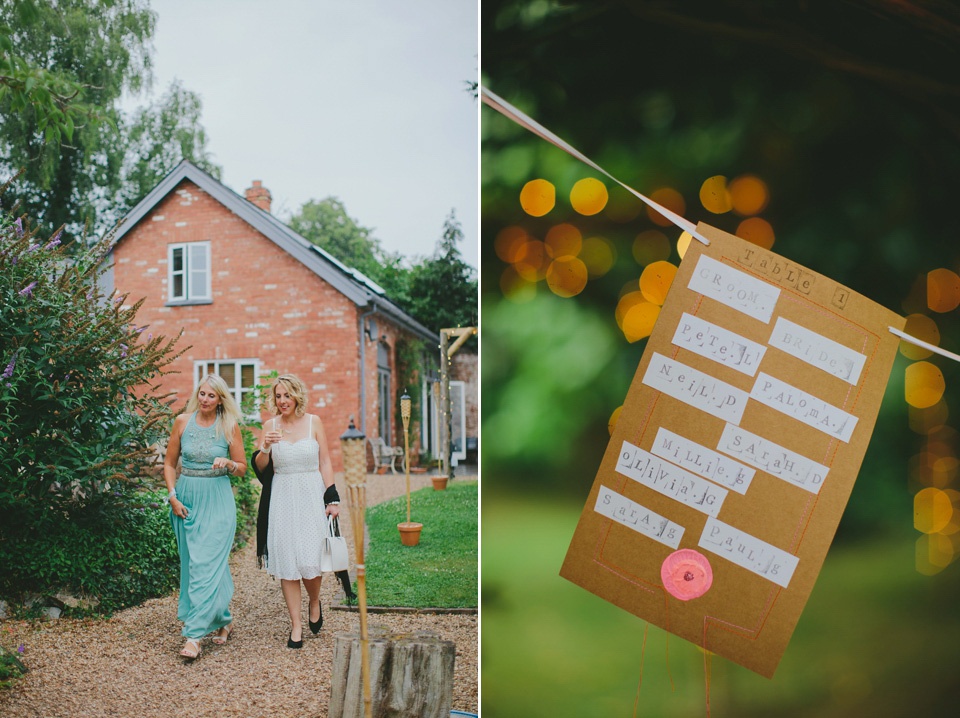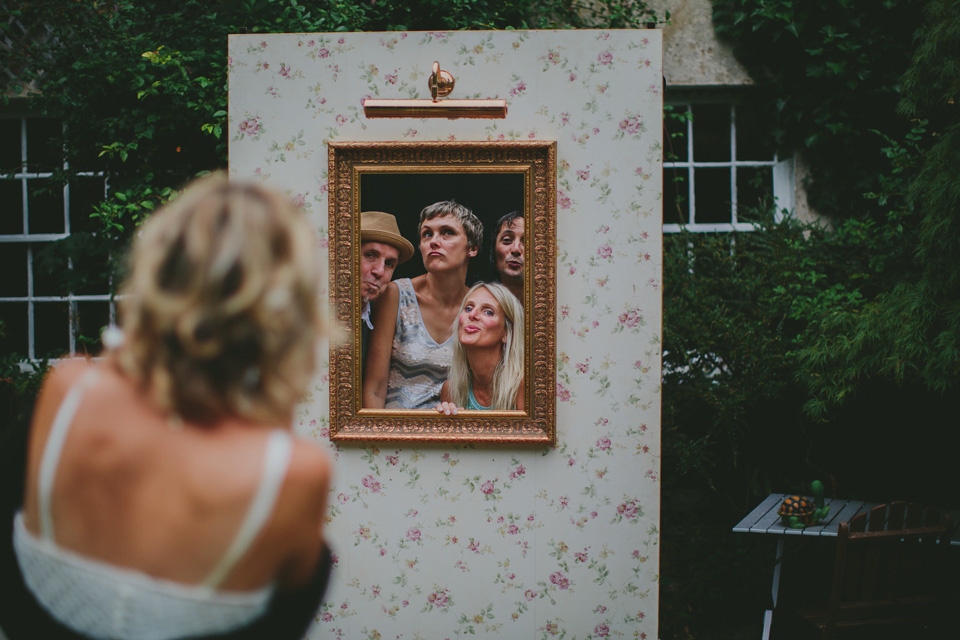 "In the evening, we did a shared 'picnic' – each table had a box delivered to it with bread, cheese and pies (see pics). Guests were free to move from table to table to explore the different offerings – these were such a success and everyone loved it – we sourced all sorts of tasty local delights to go in there, which was great fun!
We were able to make brown cardboard lunchboxes for each child. The children were each sent a personal invitation, which was enclosed with the main family invitation, which they were asked to return to us telling us what their favourite packed lunch ingredients were.  My mum made these up individually. We also made up wedding survival kits for each room (chocolate, crisps, etc!)."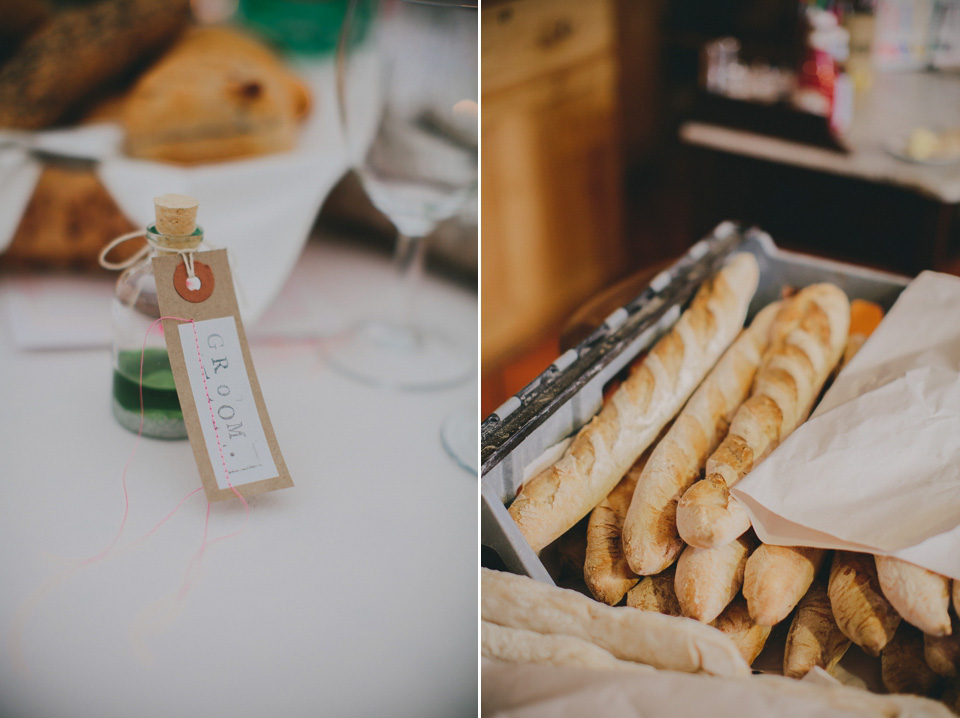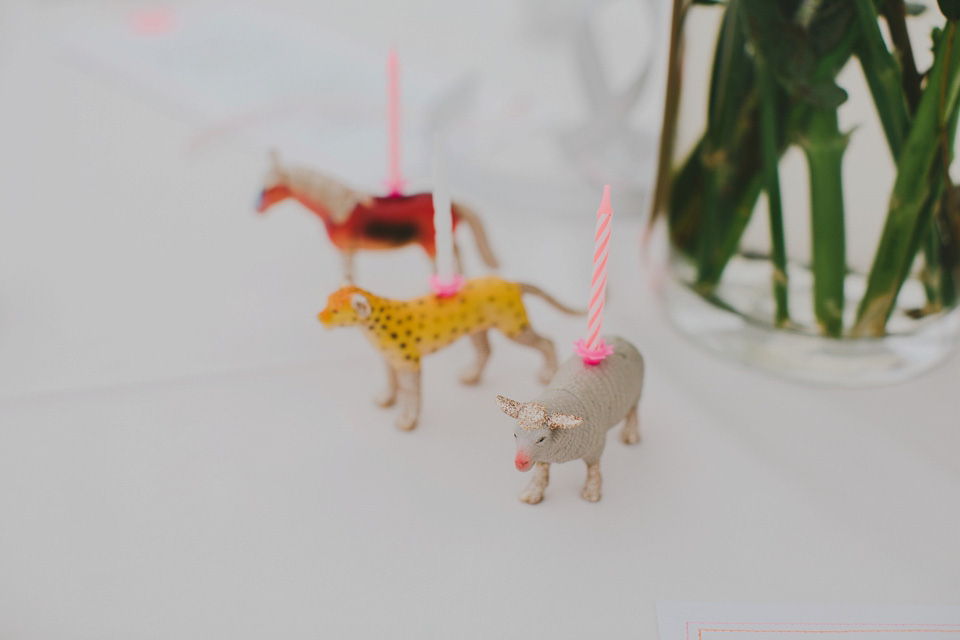 "My friend Nike made the cake. Orange, almond and cardamom base layer, rose and pistachio in the middle and victoria sponge on the top layer. She worked on several trial bakes and they were all delicious – it was the star of the show! Decorated with plastic flowers from my classroom at school and special top characters."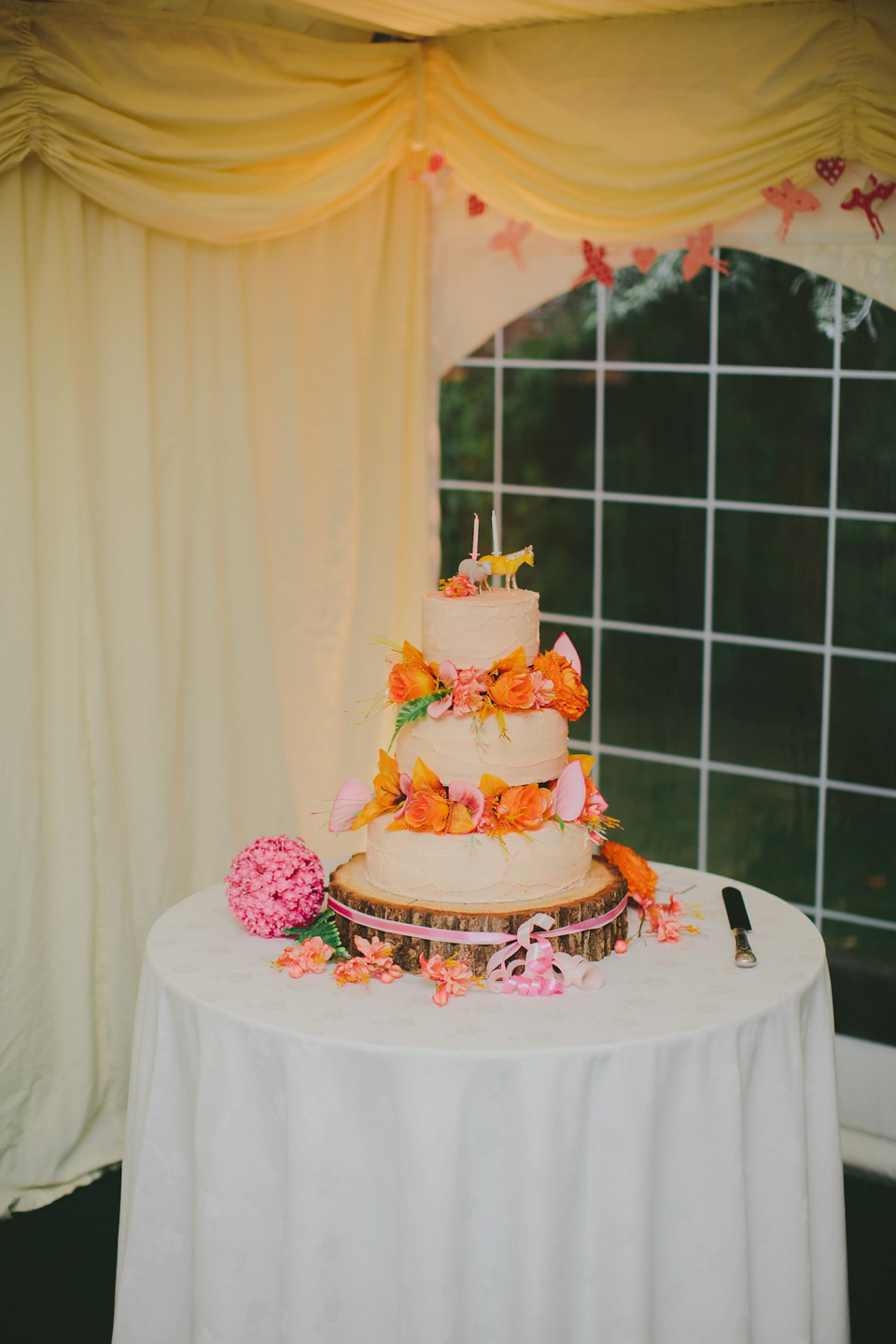 "The place settings were small bottles of Chartreuse. This was my dad's favourite liquor and he had died a few weeks before. We decorated the bottles with glittery bases and tied the place settings onto them, so they doubled up as wedding favours."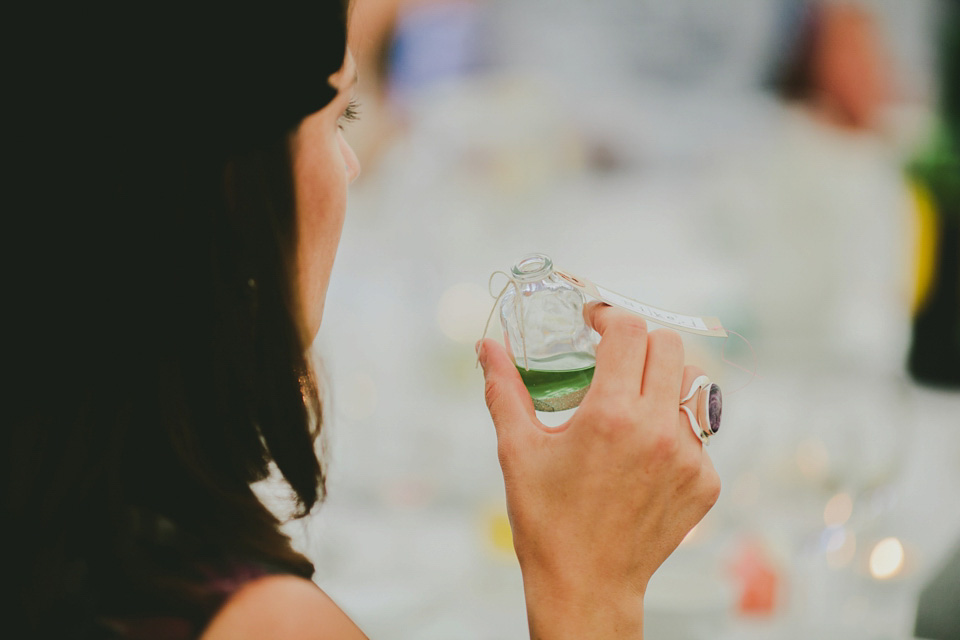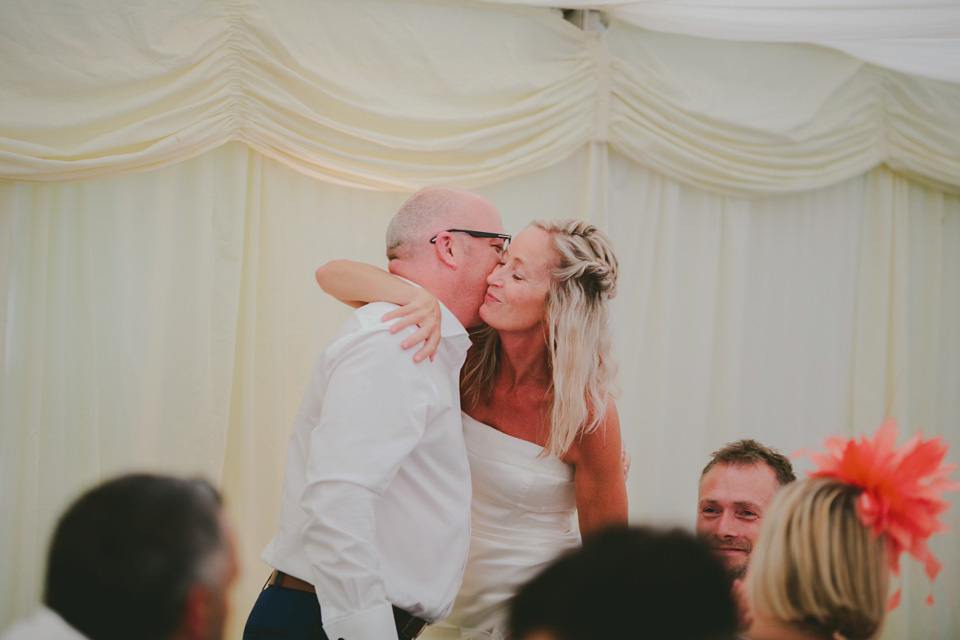 Words of Wedded Wisdom…
"Do what feels right for you and don't get sucked into the traditions or expectations of a wedding if they do not suit you. It really is about you two and it is the most special and amazing thing to do – cherish every moment."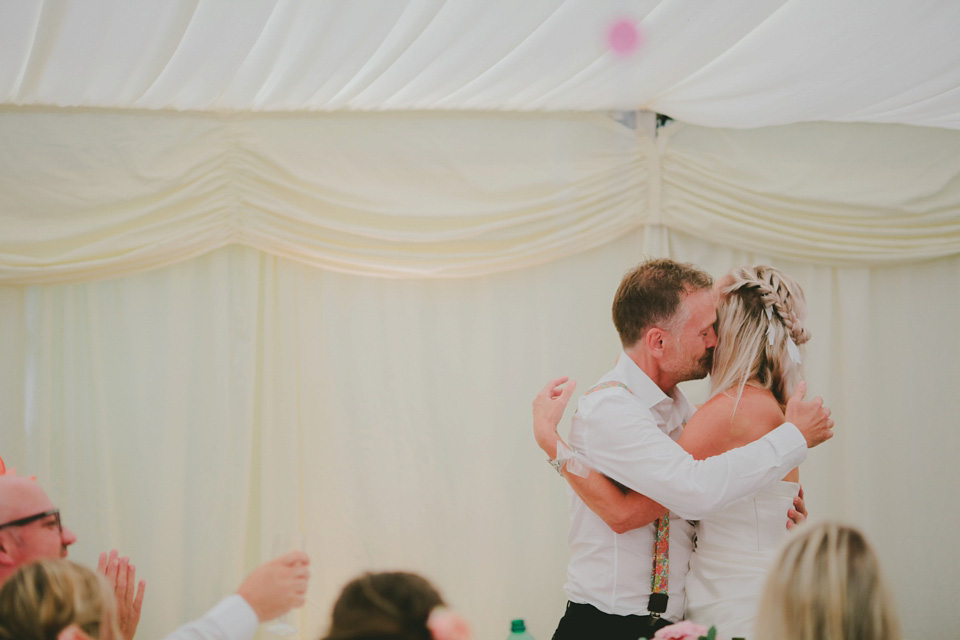 How absolutely lovely is all of this? I love the colourful and fun DIY approach but how the couple's down to earth nature shines through as well – I hope these photographs have inspired you today.  Huge thanks to Sarah and Richard for allowing us to share their beautiful day, and much love and thanks to photographer Tori Hancock for sharing her work too.
Have a really lovely start to the week all,
Love Annabel xx
Photographer – Tori Hancock
Venue – Tonedale House in Wellington, Somerset
Dress – Amanda Wakeley
Headpiece – glitter dipped boho-style feathers
Bride's Shoes – Jimmy Choo
Accessories – bracelet via Joanna Johnson
Perfume – Stella, by Stella McCartney
Grooms Suit – Paul Smith + J Crew shirt + Liberty fabric braces + Liberty shoes
Bridesmaid's Dresses – Topshop + glittery shoes via Next
Flowergirls – Carmen party dress, Monsoon
Cake + Flowers – friends
Entertainment – Pete the record man from Tobacco Factory Farmer's Market
Rings – Diana Porter Bristol
Catering – Food to Go + Sam's Kitchen Deli (pies + children's lunch boxes)
Stationery – DIY, the bride
Hair and make-up Artist – Kelly from the Mount Salon in Wellington