The strongest wish that Antonia and Chris had for their special day was that it was a relaxed and informal occasion for all their guests. They kept that firmly in mind when choosing the venue and the day's entertainment and I think that the fun atmosphere simply shines out of these wonderful images taken by Eliza Claire, even when the rain started to fall.
The couple married last year on 19 July 2014 at Lains Barn in the Oxfordshire countryside.
"I've always been a bit boho and I almost never wear heels when I know that I have some serious socialising to do, so that's one thing that dictated the style. Chris despises flashiness and so our priority was to create a relaxed atmosphere for everyone – kids, friends, families and most importantly for us! We both like to do things a bit differently and so we focused on doing what we thought would be nice, rather than feeling the need to do what people expect.  So no muse, just a desired state of non-conformist, comfort and relaxation for all!"
Photography Copyright (c) 2015, Eliza Claire
"We chose Lains Barn because of the flexibility of both the space and the service. We wanted the kids to have somewhere safe, enclosed and big enough to play and the barn makes up three sides of a good size lawn so was perfect for garden games. When it comes to food and drink, the owners have a long background in catering and run, and own, the catering company that services the barn. As well as having a really diverse set of food and drink packages, they literally let you choose whatever you want and help you find the most cost-effective way of getting the food and drinks you would like for your guests.
We just knew that the combination of a truly beautiful venue as well as the laid back approach of the team at Lains Barn would be a recipe for the relaxed and informal wedding that we craved."
We recently shared one of our 'join the chat' style posts, in which we discussed the whole issue of 'how to shop for your wedding dress, and 'finding the one' (or maybe not so).   In Antonia's case there is absolutely no doubt that her and her simply beautiful Eliza Jane Howell dress were meant to be.
"I discovered Eliza's dresses when searching online. I had a pretty clear idea of the sort of thing I wanted and I didn't really know if it even existed. I searched for designers who specialised in vintage style and boho wedding dresses and I couldn't believe my luck when I came across Eliza's collection – it was love at first sight! I got in touch with Eliza's London office and I arranged for the dress to be sent to Ellie Sanderson (who were an approved stockist but didn't have my dress listed). I took my mum with me to try it and bought it without trying on a single other dress!"
"Janine from The Garden Room was our florist. Janine is fantastic, she really understood what I was trying to achieve. I wanted something natural and relaxed looking and was keen on using wild flowers, particularly things with papery leaves. Since the bridesmaids' dresses were all neutral, I was pretty relaxed about colours but I opted for oranges, creams and yellows.
I really wanted poppies and despite it being a July wedding, there were still a few about so Janine managed to arrange a few of them into my bouquet and the buttonholes. She also used British herbs which smelled amazing."
"The wonderful and incredibly talented Eliza Claire was our photographer. Eliza has given us a stunning account of our wedding day, her pictures tell a story. She captured the mood of the day beautifully and the more you look at her pictures, the more you see.
My main aim when I was looking for a photographer was to get pictures that we would actually WANT to put on our walls, something funky and different, she certainly gave us this. Yet I had no idea that she would have such a unique way of capturing the whole day. It was such a whirlwind and it's fantastic to be able to relive it so vividly." 
"My mum bought some appliqué from a shop in County Durham called Dainty Supplies for about £3. My hairdresser fixed it in with hair grips and added some fresh flowers from the florist."
Antonia loves make up and so did her own for her special day. There was no way that she would have handed that task over to anyone else! She opted for a fairly natural look using dark eyeshadow to tight line her lashes rather than liquid liner and she stayed away from false lashes!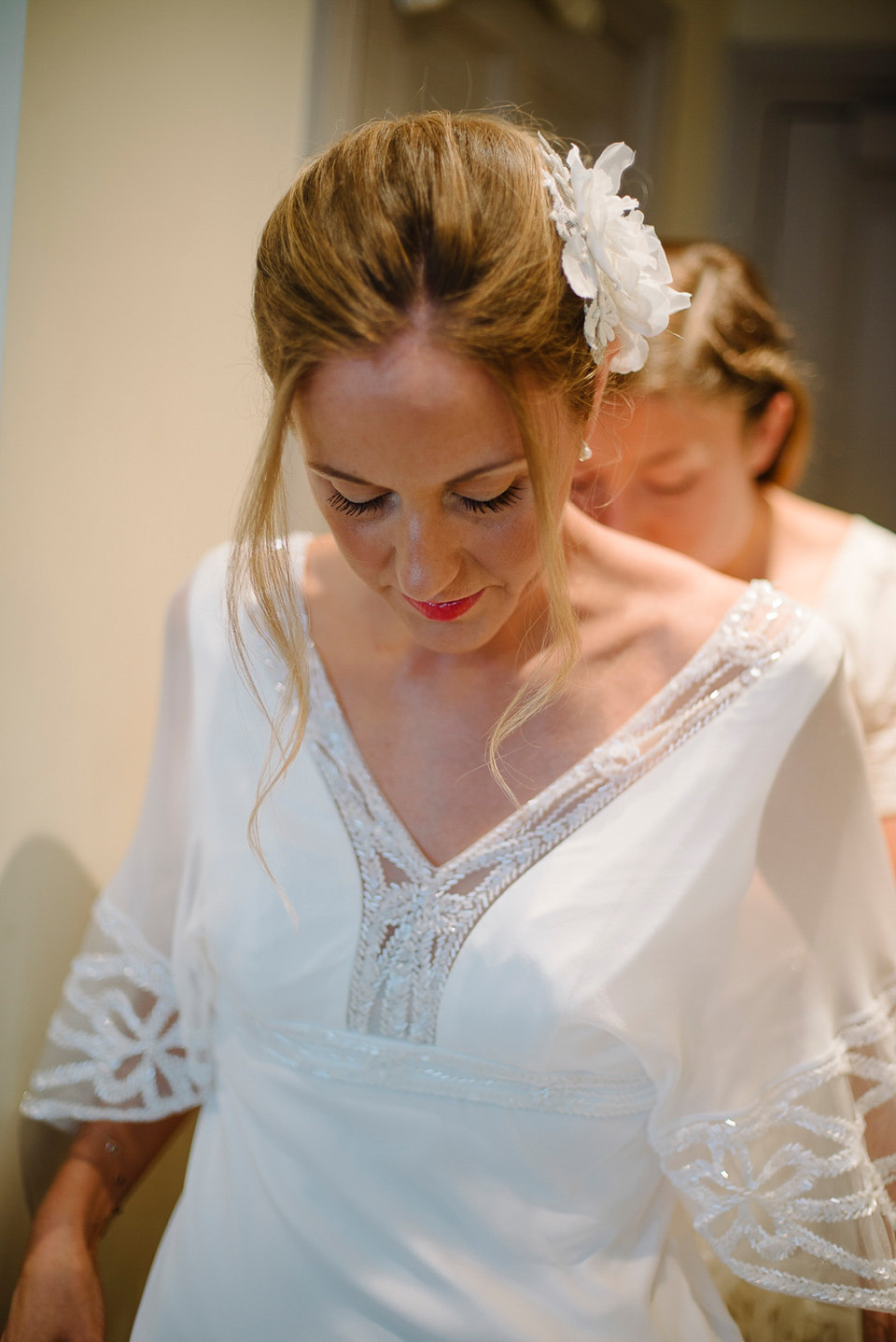 "Chris and I met while working at the same company in Cheltenham but Chris left the business and we got together after a chance meeting around 18 months later. Chris proposed with a Pop ring in Paris on my 30th birthday and then I chose a vintage emerald and diamond real one. I just wanted something a bit different and emerald is my birthstone. So I guess there were 14 months between our engagement and the wedding. In that time, we built our own home, had a baby, moved house and I changed jobs…organising a wedding was a walk in the park after all that!"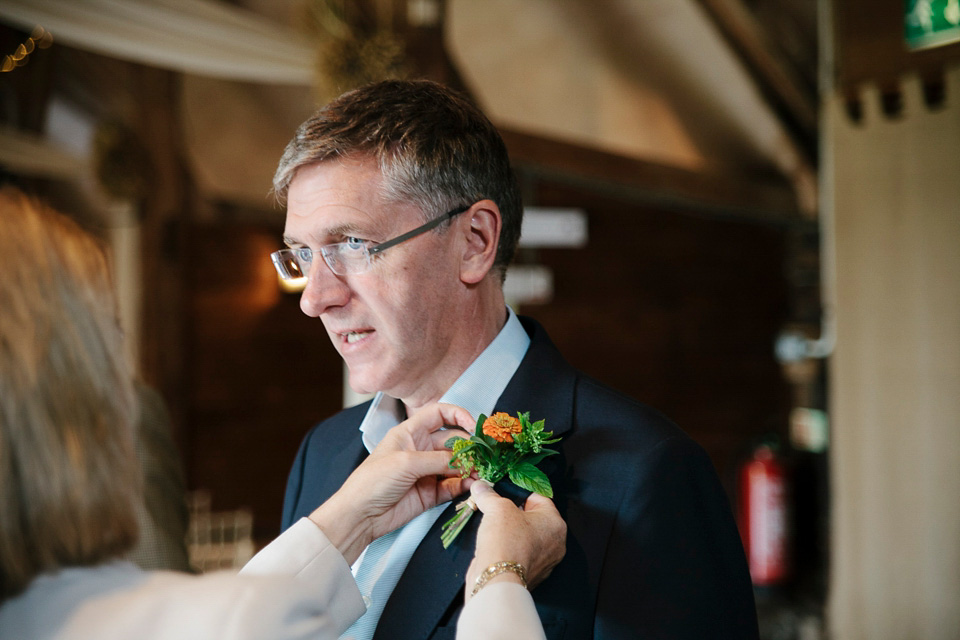 "Our sons, Solomon and Reuben, wore John Lewis two-piece suits and Converse. I had trousers for Solomon and long shorts for Reuben and they both wore waistcoats and buttonholes."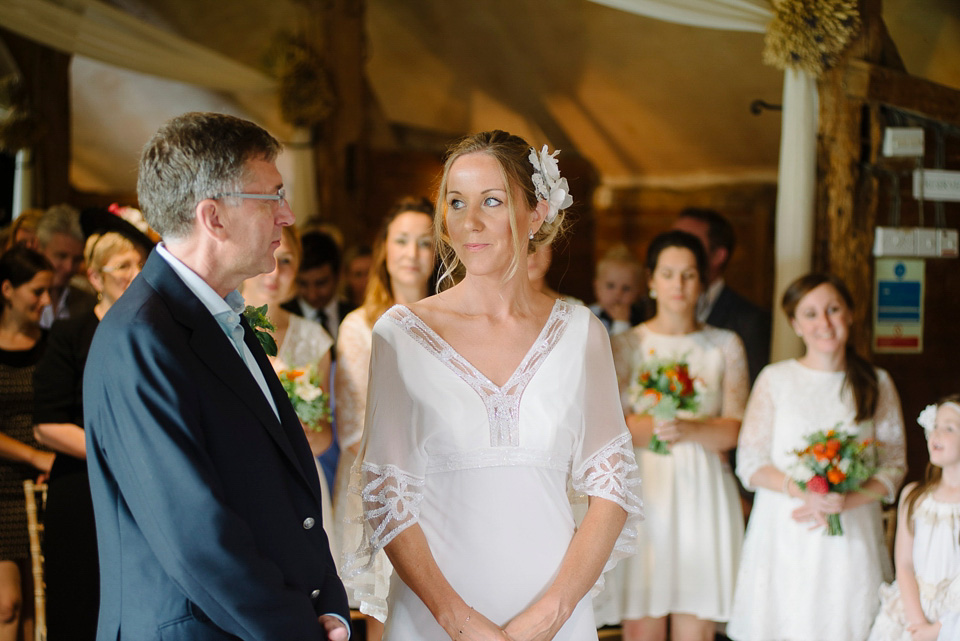 "The ceremony was a very special part of the day, it was so emotional and truly beautiful. My girlfriend Claire was our MC and it made such a difference having someone that knows and loves you speaking from the heart. I'll never forget that feeling."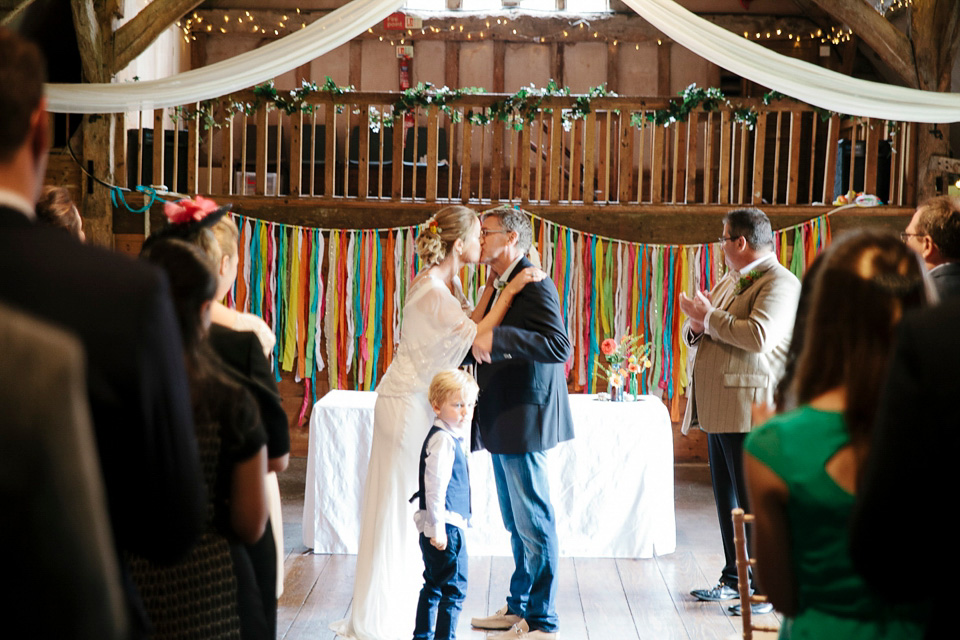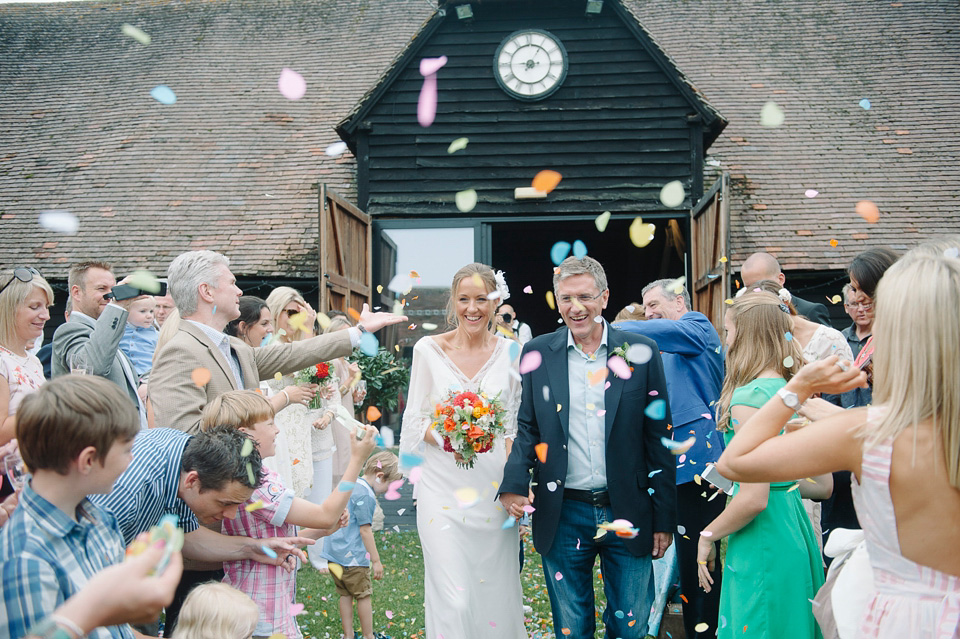 Antonia's maids wore a 'mish mash' of dresses in shades of ivory and lace. Most of them were from Asos. However the flower girl dresses were custom made by RainRene who trades on Etsy.
"They were pretty pricey but so worth it- the service was incredible and the dresses are stunning and totally unique."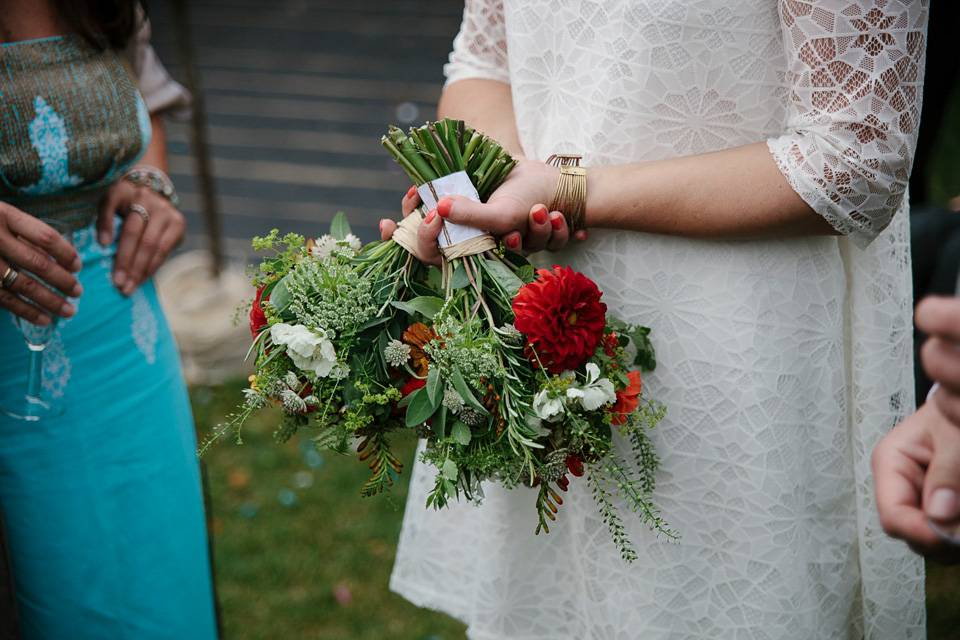 "I wore a very fine rose gold bracelet that my husband had bought me the previous Christmas and some pearl earrings that I borrowed form my maid of honour. She was, in fact, due to be wearing them but my Thomas Sabo earrings that I had planned to wear looked a bit too much! To be honest, I didn't really plan my jewellery, I certainly didn't test what it all looked like. I just sort of went with it so it was a good job my maid of honour stepped in!"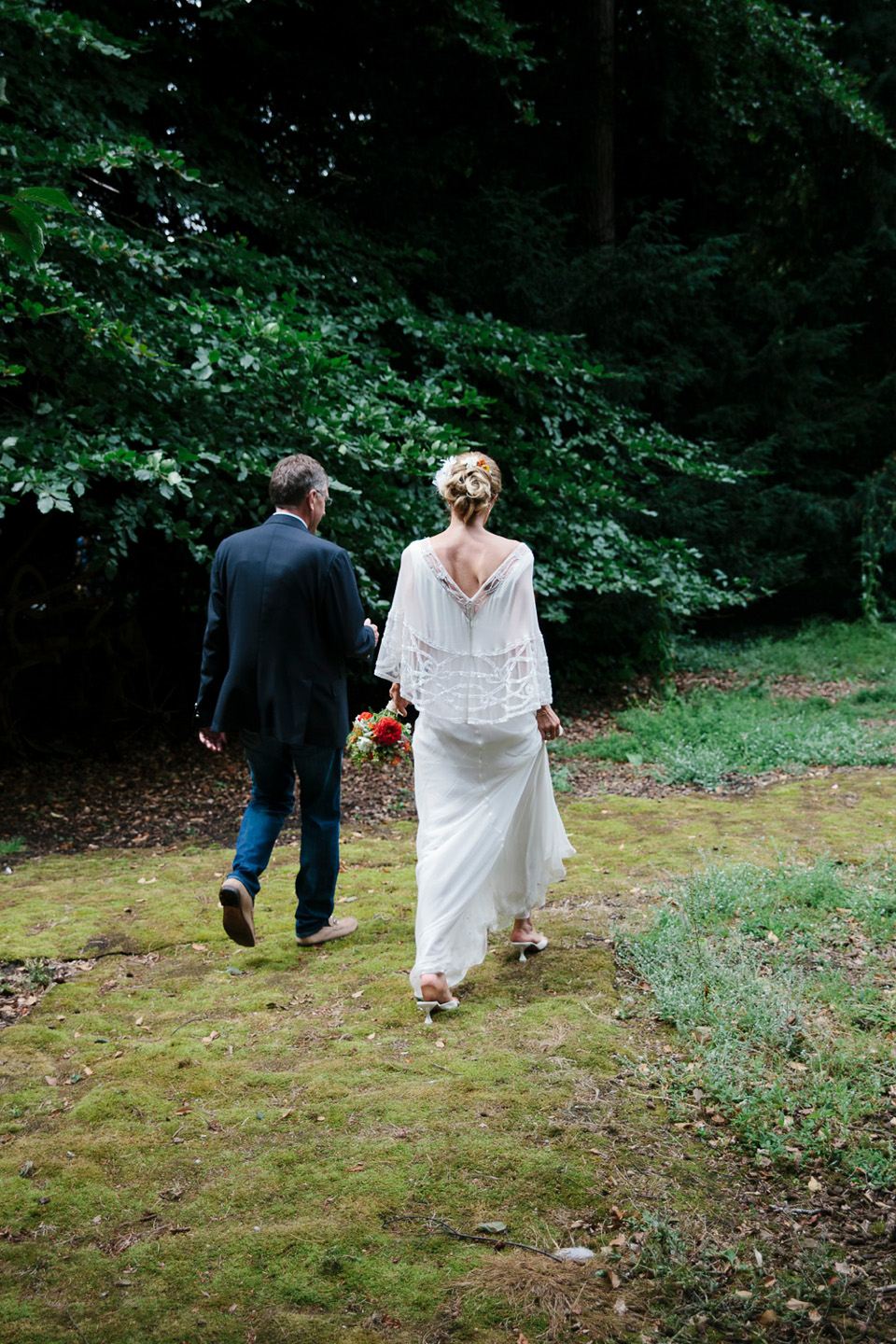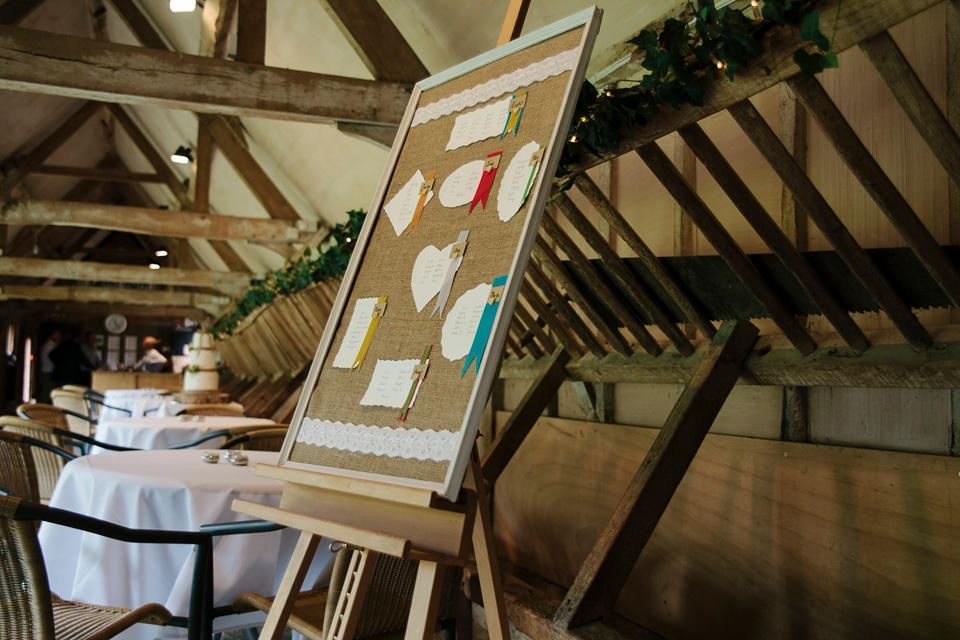 "The barn is really very beautiful in its own right and I didn't want to take away from that. I opted for simple flowers on the tables and I made a ribbon curtain using strips of multi-coloured material and a long piece of rope. This was hung against the dark wood wall at the end of the barn and formed the backdrop to the ceremony.
We had bright helium filled balloons and colourful table decorations for the kids' table and I managed to source biodegradable confetti in the same bright colours from eBay which the flower girls (my nieces) handed out to guests who formed a confetti tunnel which was so much fun and we got some great snaps from that."
"Our cake was made by Rebecca at Streatley Village Cakes. Her cakes are sooo good, she was a finalist in the industry awards last year. I asked her to copy a cake I had seen on a wedding blog where the icing was molded to look like tree bark. A friend of ours, Magda, made the cake toppers. She's an artist and makes decorations in stained glass. 
I didn't want a corny bride and groom cake topper so I asked her to make something for us and she made six beautiful stained glass hearts. We have them in top of a special wine bottle and burn candles behind them- they look fab!"
"I made all my own stationery. In truth it was probably a bit of big undertaking because I went for something quite labour-intensive. Thank heavens we only had 80 people! I absolutely loved the result though; they really fitted with the style of the wedding and I think people really appreciated those special touches."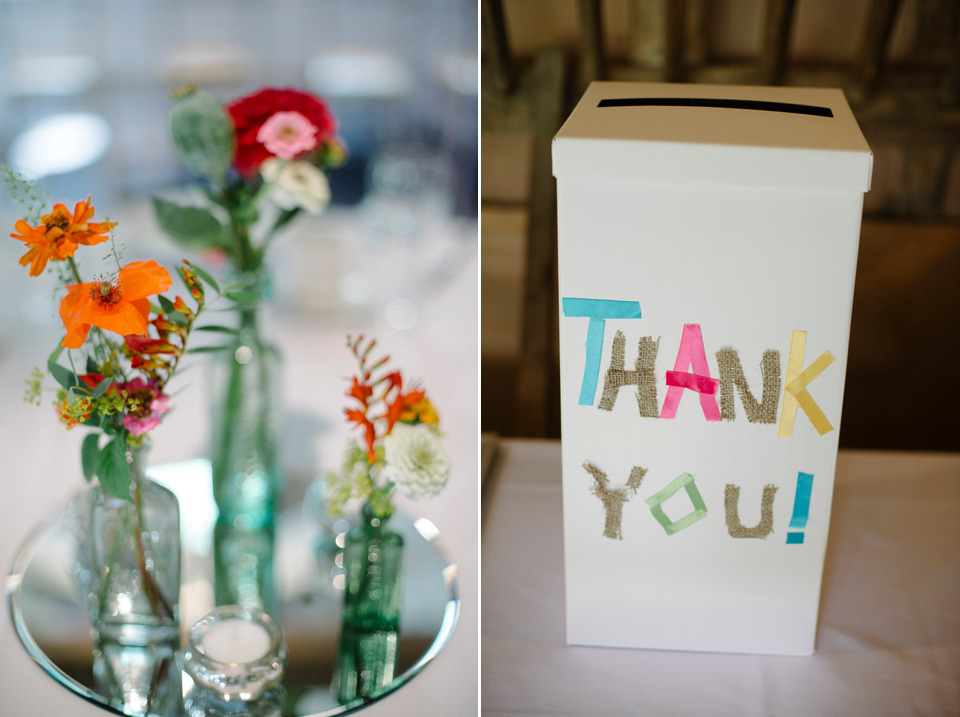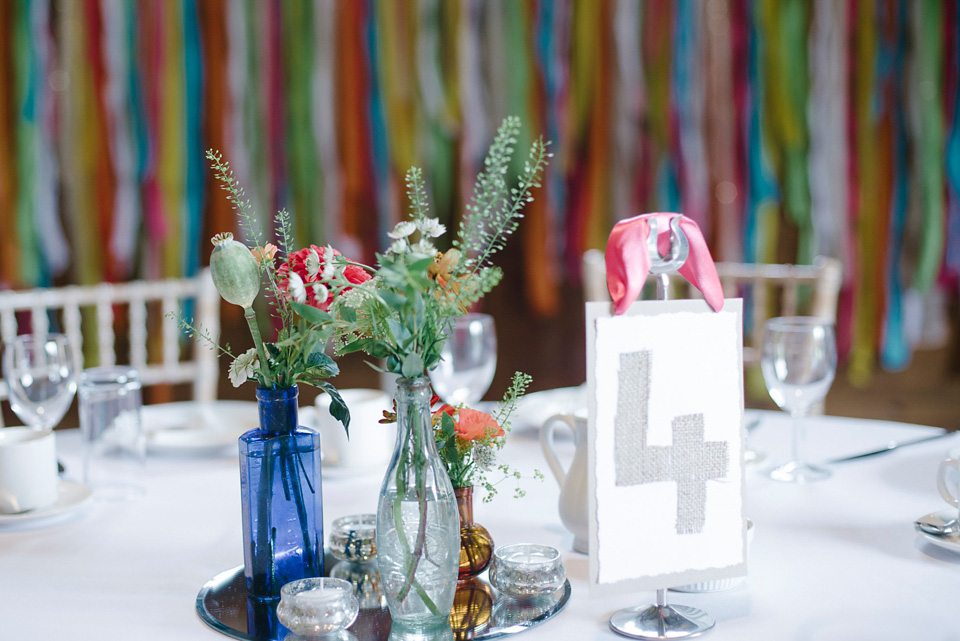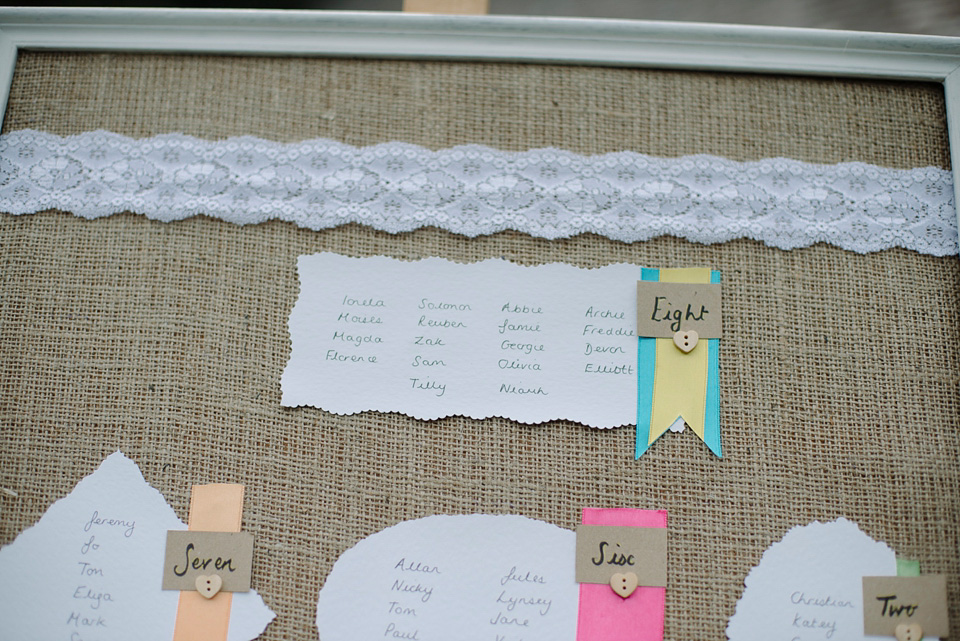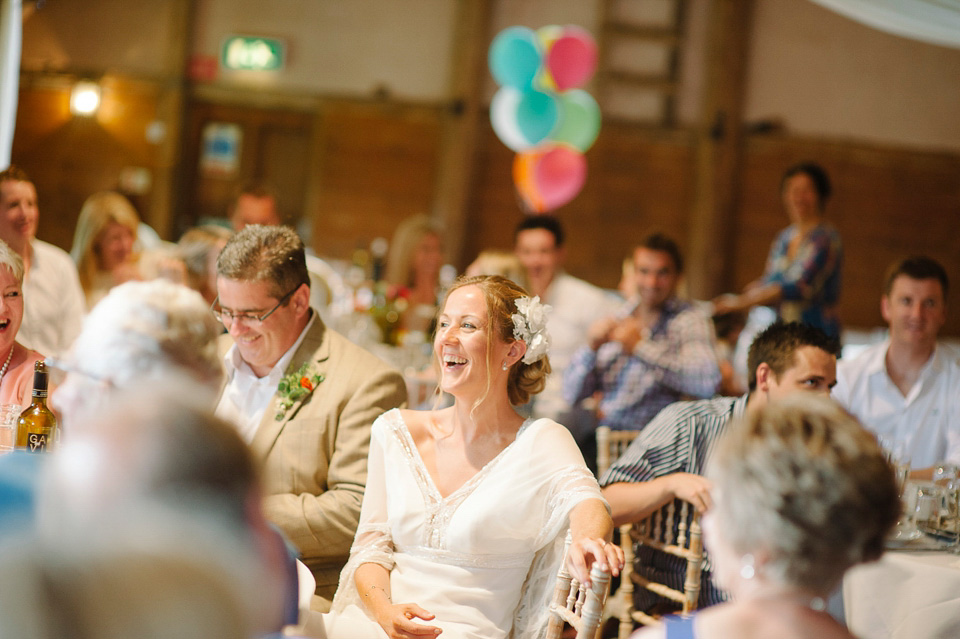 "Our cake was made by Rebecca at Streatley Village Cakes. Her cakes are sooo good, she was a finalist in the industry awards last year. I asked her to copy a cake I had seen on a wedding blog where the icing was molded to look like tree bark. A friend of ours, Magda, made the cake toppers. She's an artist and makes decorations in
Congratulations to Antonia and Chris for creating and truly enjoying their perfectly informal day and special thanks to Eliza Claire for sharing these images with us.
I fell in love with the beautiful Eliza Jane Howell collection through LMD and you can see more of our brides in her dresses here. And one day, when Bradley Cooper invites me to join him on the red carpet, he is going to treat me to one her glamorous creations! 😉
Much daydreaming love
Katie xx
Photographer – Eliza Claire
Venue – Lains Barn
Dress – Eliza Jane Howell
Headpiece – Dainty Supplies
Bridesmaids – Asos
Flowergirls – RainRene
Page boys – John Lewis
Florist – The Garden Room
Stationery – DIY
Cake – Streatley Village Cakes (no website)
DJ & entertainment – Discowed