I like to keep those weddings with an extra-special something for a Monday morning.  Everyone needs a bit of a lift at this time, so I hope this feature will help ease you gently back into the working week.  This particular wedding was sent in by one of my favourite London based photographers, whose work has already featured extensively on Love My Dress. Laura McCluskey of LM Weddings was chosen to capture the laid back and elegant London pub wedding of Jess and Nick, who tied the knot on 13th September last year.
Jess, who is owner of a video production company Cherry UK, and Nick, the general manager for a pub company, chose to hold the formalities of the day at Mayfair Library, and followed with a London pub style celebration at The Union Club in Soho.  I really love the laid back nature of this wedding and that simple elegant, slip-style gown by Charlie Brear.  Sometimes, less is more, no?
"I wanted an unfussy, classic day with little personal touches that were within budget. The fact that this was a city wedding  pretty much dictated a lot of choices, including my dress style. The Union Club has such great décor as it is and represented our taste so we didn't have to do much to personalise the space."
Photography by LM Weddings
I love the idea of having a personal Instagram hashtag.  Is anyone else planning on doing the same?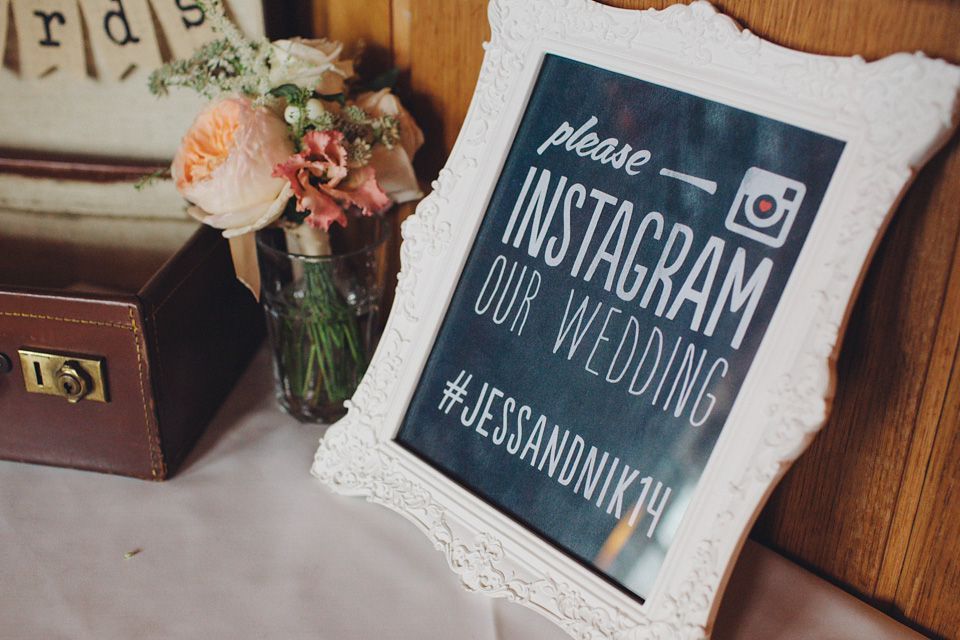 "I really wanted an original vintage dress, but after trying a few I realised it was going to be hard to find exactly what I wanted. I knew I wanted a really simple dress so that I could alter the look throughout the day and evening and the Charlie Brear dress worked well for that. I also didn't want to spend ages trawling wedding shops or websites for months, which might sound odd! The whole 'dream wedding dress' is not really my thing, I just wanted something lightweight and fluid, nothing stiff and boned or with loads of embellishment."
A woman after my own heart.
"We're not massive cake eaters didn't want to spend a fortune on a cake just for show. I was staggered how much some cakes are! I'll happily justify £600 on shoes, but not cake! We had Cakes by Robin supply our wedding cake in the end.  We liked the naked wedding cake look and preferred a victoria sponge to a traditional fruit cake. I found Robin's cakes on line and I ordered it to be delivered to the reception venue and the florist decorated if for us. We didn't even taste it, but our guests said it was delicious.
We sourced some paper Mexican wedding banners from Viva la Frida and had them hung up in the Union Club to make it a bit more 'wedding'y'. They had a big impact for not much money."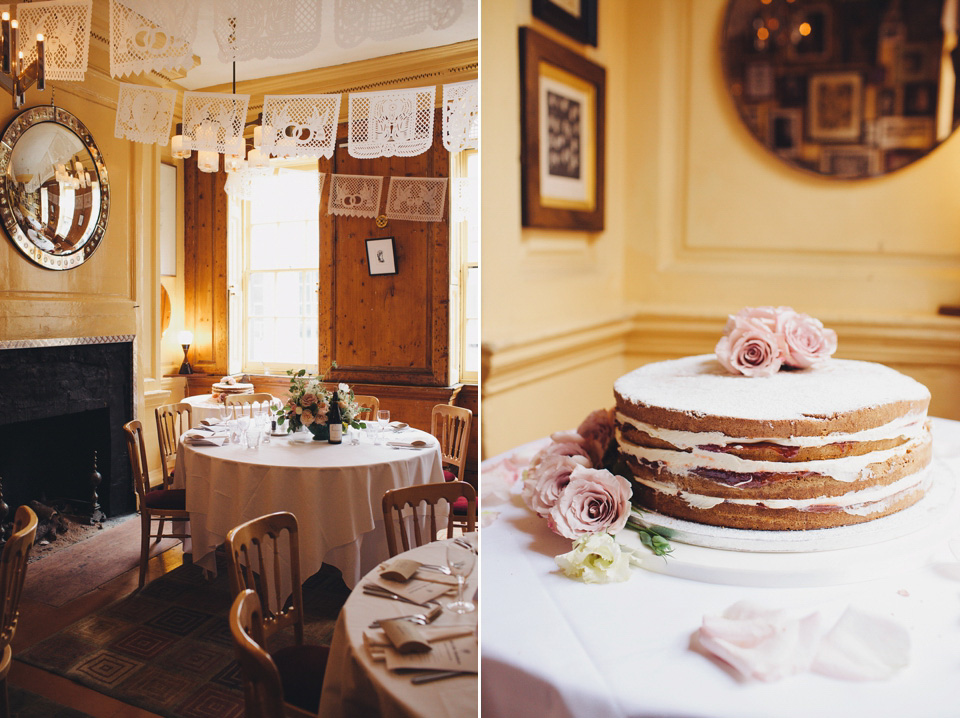 "Our photographer was Laura McCluskey of LM Weddings – I found her online and we met her for a drink and thought she was lovely. We loved her narrative style images and booked her straight away. We subsequently found out that she lived in Hackney (where we used to live) and her boyfriend is someone I used to work with in Soho. Such a small world! It was like the Universe was confirming our choice.
On the day Laura was amazing, she was calm and totally invaluable with all of her wedding experience. Loads of people thought she was a friend of mine rather than someone we'd only just met. It felt like she was an extra friend in the room when I was getting ready and she became such a key part of the day and everyone loved her. I would 100% recommend her."
"My amazing friend Lotten Holmqvist did my makeup.  She is a professional make up artist and has worked with tons famous publications and names including Victoria Beckham, Philip Lim and Keira Knightley. She did my make up as a gift and although I thought I'd do my make-up myself (control freak!) it was lovely to have her do it on the day as I was nervous and I felt pampered having someone else do it. We'd had a trial before and I totally trusted her.
Lotten also helped me into my dress and just generally took care of me while I was getting ready and I love her for that."
"My hair was styled by Ashley Beecroft at Percy & Reed in London.  Ashley has been my hairdresser for a while now and she knows my hair and how I like it styled. She is also massively talented and works on TV shows and Weddings as a stylist and has tons of experience. We had a trial beforehand with the headpiece and it was so great to have someone I knew and trusted to do my hair on the day. I just wanted to feel and look like myself on the day (at my best, obvs!). She also did my Mum's hair and the Bridesmaid's so everyone felt pampered."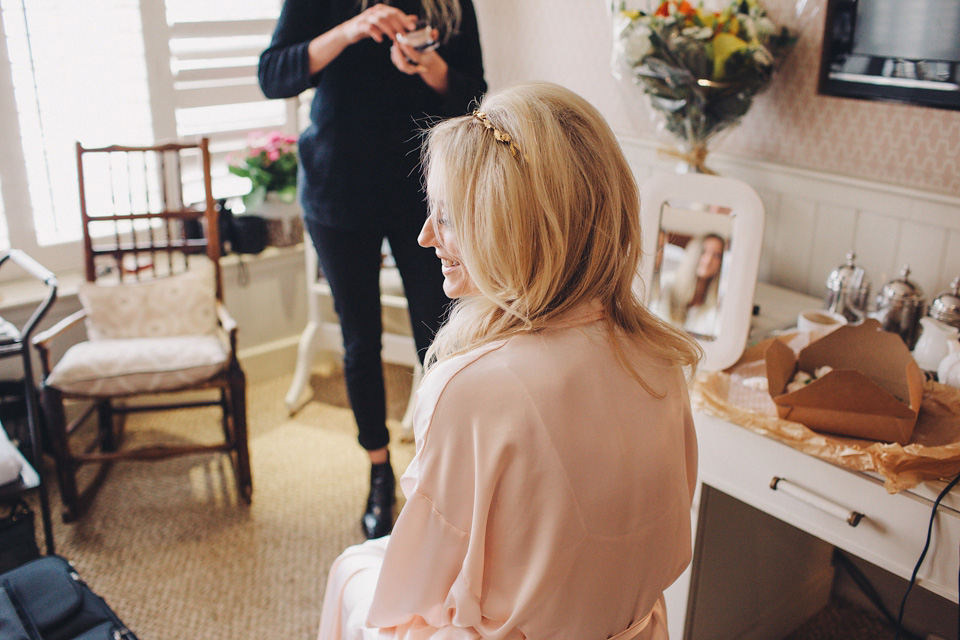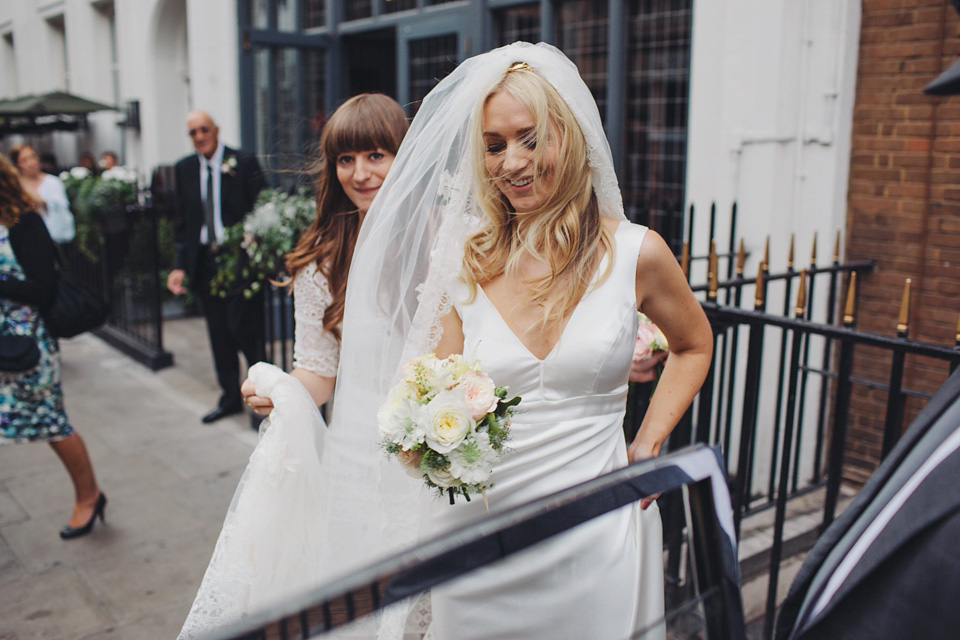 "My Dad told me that he and my Mum had a Daimler on their wedding day and so my Dad helped me chose the Car. It was really lovely being in a special car for the day and it gave Dad and I and then Nick and I some time alone together on the day to take it all in."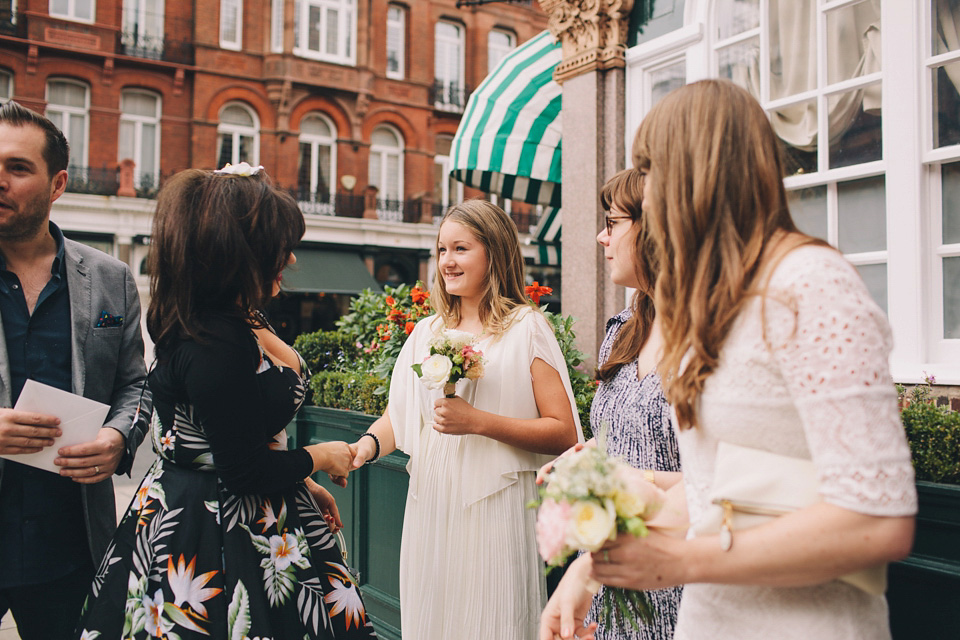 "Nick and I met at my company's favourite local pub in Fitzrovia, London. We'd seen each other to say hello to for ages and then finally got chatting one evening and things went from there! Nick is from Sweden but has lived here for 18 years and I'm a Londoner born and bred.  
We totally clicked, and laughed a lot. We were Engaged for nine months (neither of us saw the need for a long engagement, and I didn't want to spend years thinking about and planning the wedding). Also, my Dad is living with terminal cancer and it was important to us both that he was there and well enough to enjoy the day."
"We chose Mayfair Library, as it is perfect for intimate weddings and near to where we live in Marylebone. The Union Club is in Soho, London, which is where both of us have worked for long periods of time during our careers. In fact, when we met, we found out we'd both been working on Dean St a few doors away at the same time years ago!"
"My Dad walked me down the aisle and it was so special as after his Cancer diagnosis I wasn't sure that it would actually happen. Amazingly my Dad has now lived with a terminal diagnosis for over 3 years and I'm convinced it's to do with a positive mind-set. I am so proud of the way he has coped and there were a lot of tears on the day, especially when he did his speech.
I walked down the aisle to Pachelbel's Canon in D – we found it quite difficult to pick music so settled on a classic. We mixed it up and walked out to Ingrid Michaelson's Be Ok as it was tongue in cheek and made us smile!"
"My engagement ring was an antique Edwardian diamond and 18ct yellow gold ring from Berganza. We both love antique jewellery and Berganza is the best place to go in London in my opinion. They source quality products and service and clean your ring every year free of charge. I wanted an antique wedding band too, but I have freakishly small fingers and wanted a really thin band so it became impossible to find. Luckily Tiffany came up trumps with a fine, gold band.
Nick's ring is from the 1940's and we both loved the fact that it had history and a lovely patina from years of wear. We had both wedding bands engraved before the wedding too to make them totally personal."
"We didn't tailor our vows; we just felt that wasn't really us. We know how we feel about each other and so do our loved ones and it felt too forced to write anything.  My oldest friend Beccy read this poem for us. It was a big ask, as she hates public speaking! We promised not to catch each other 's eye before the ceremony as we knew we'd both cry- needless to say, we failed and she had the whole room in tears (in a good way!)   I found it online and Nick and I both liked the simple sentiment."
The One
When the one whose hand you're holding
Is the one one who holds your heart
When the one whose eyes you gaze into
Gives your hopes and dreams their start,
When the one you think of first and last
Is the one who holds you tight,
And the things you plan together
Make the whole world seem just right,
When the one whom you believe in
puts their faith and trust in you,
You've found the one and only love
You'll share your whole life through.
(Author Unknown)
"It's really hard to pick out a specific moment of the day as a favourite part, but I was surprised that I enjoyed the ceremony more than I expected to. When we were planning the day, it felt like a formality to get out of the way before we could relax and enjoy the rest of the day, but it really didn't end up feeling that way. It was really special and was great to feel all the love in the room from our friends and family."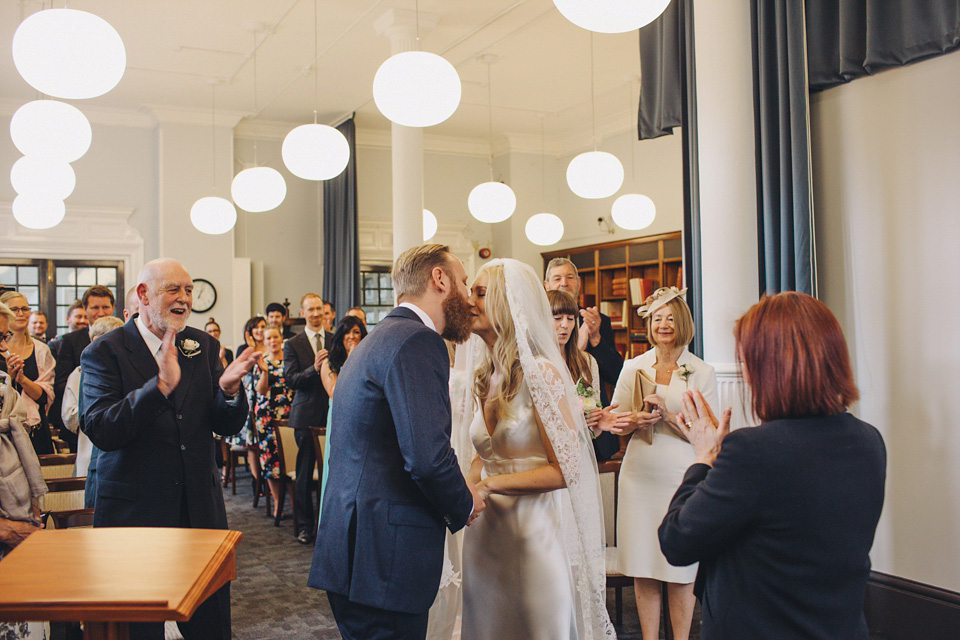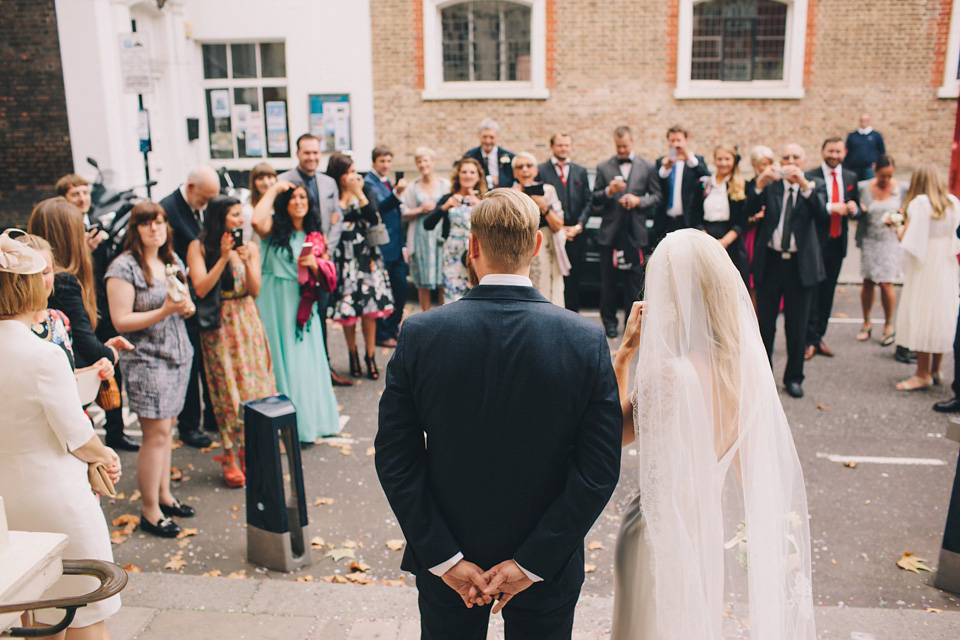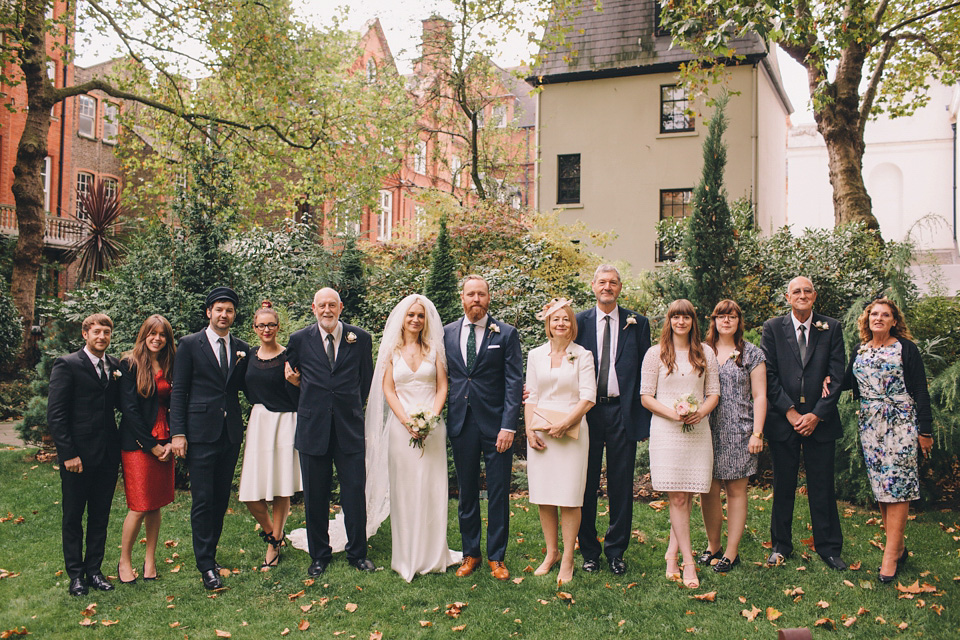 "A lot of our guests had travelled from Sweden (where Nick is from) so we wanted them to have an authentic London experience with the Routemaster bus, even though it was only a short distance to the reception venue. It proved to be a massive hit (even with the stoic Londoners!)."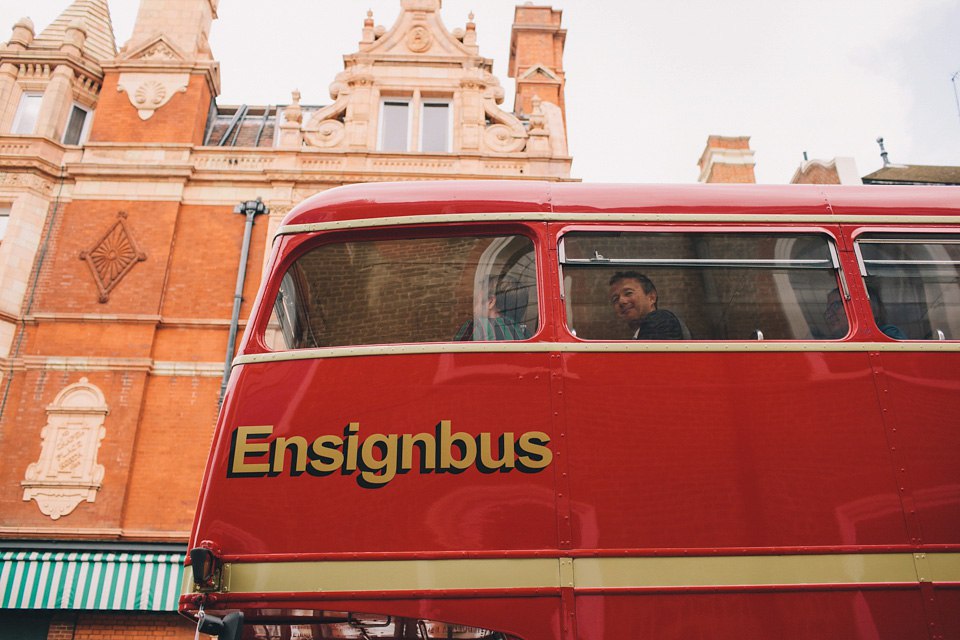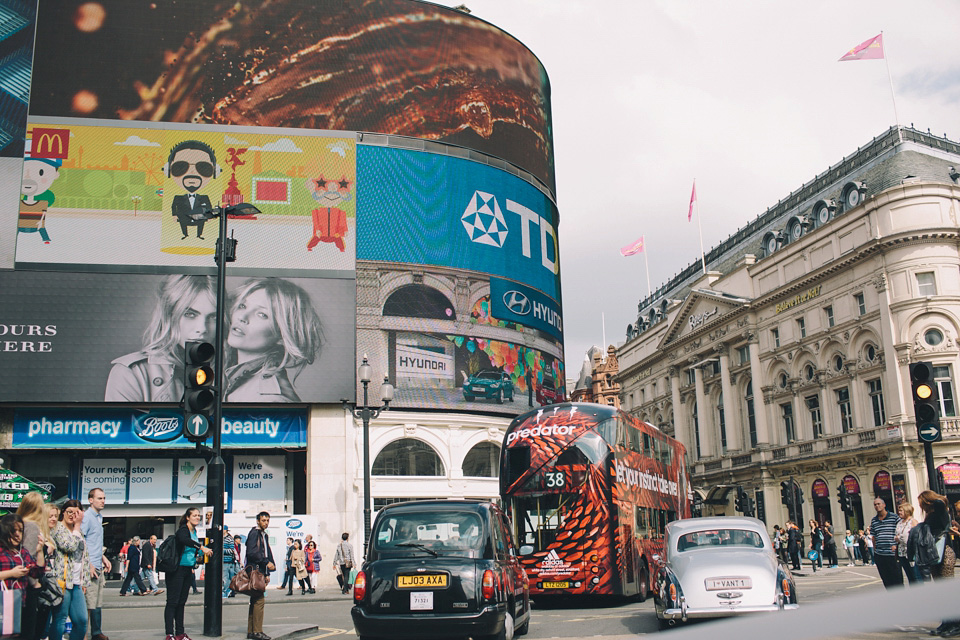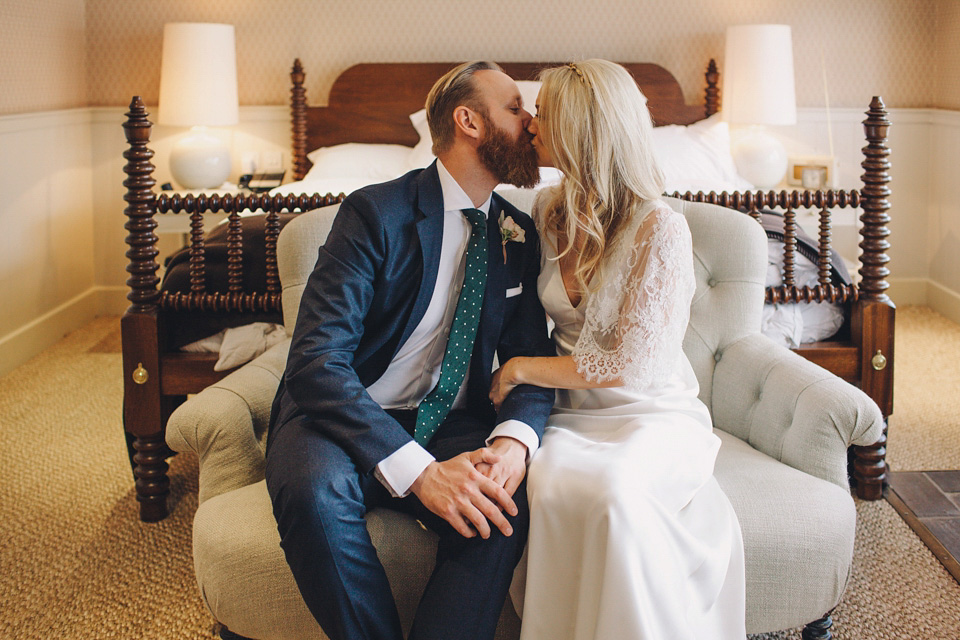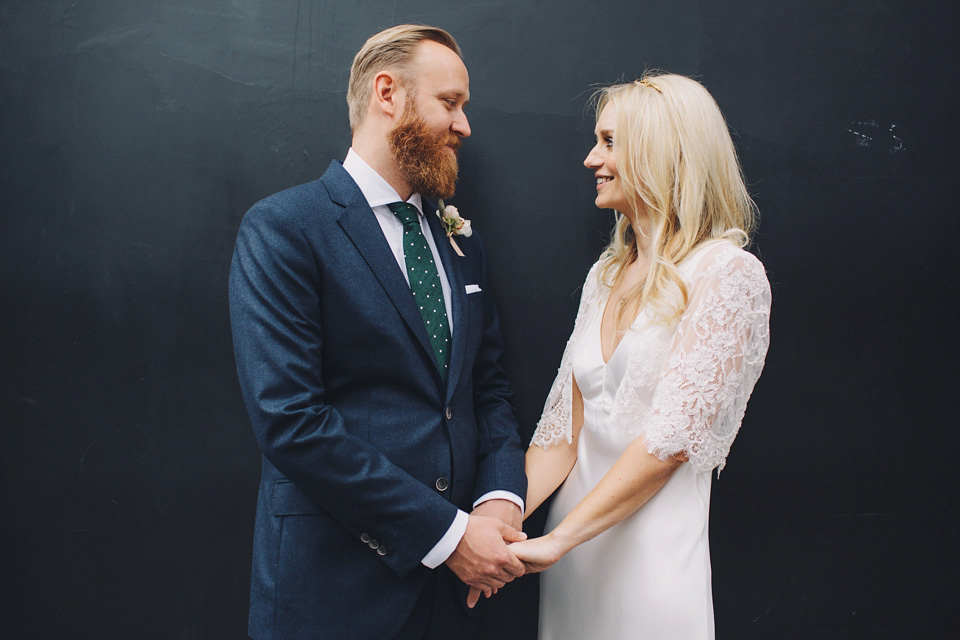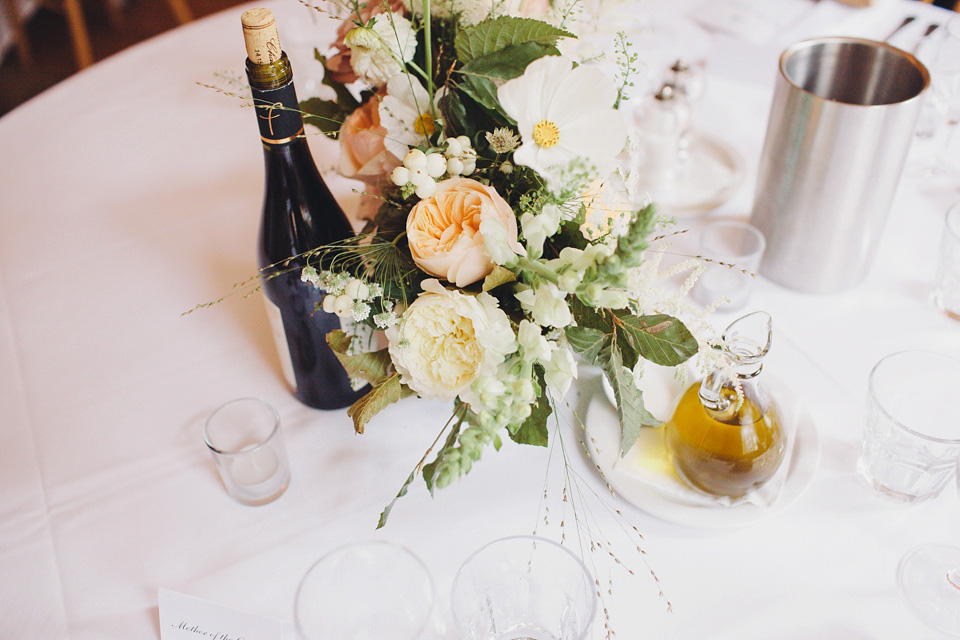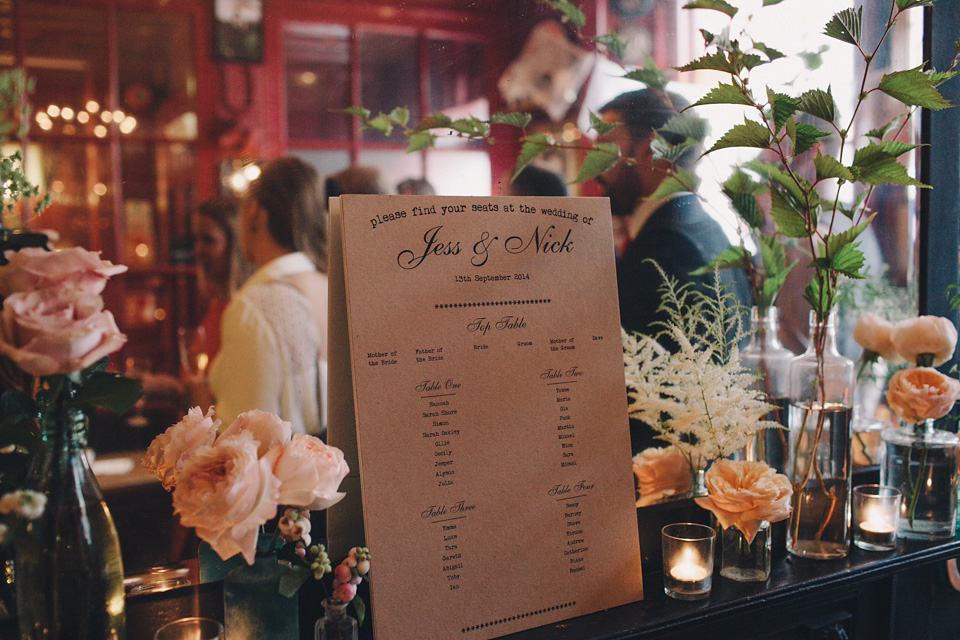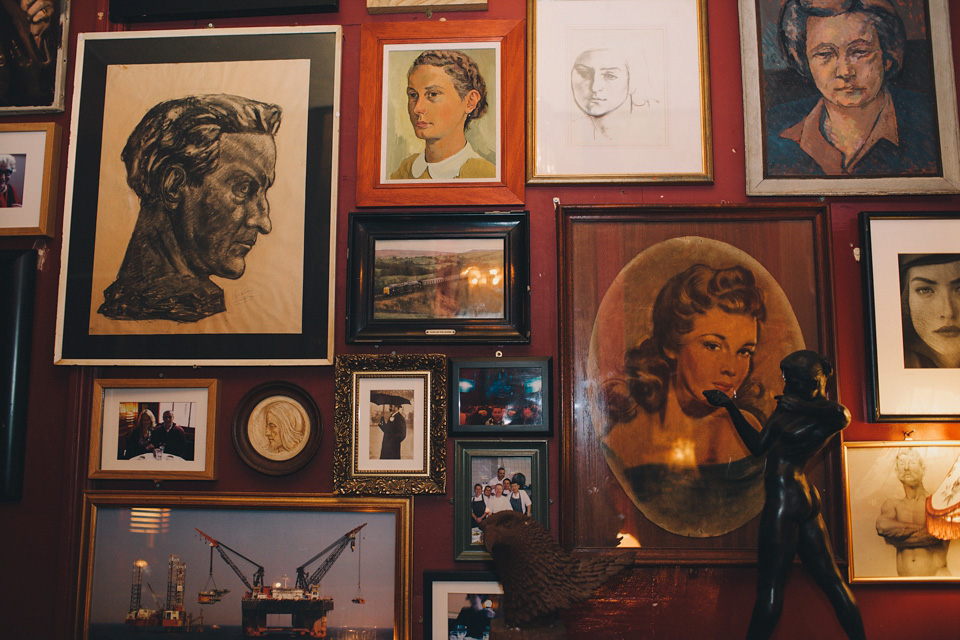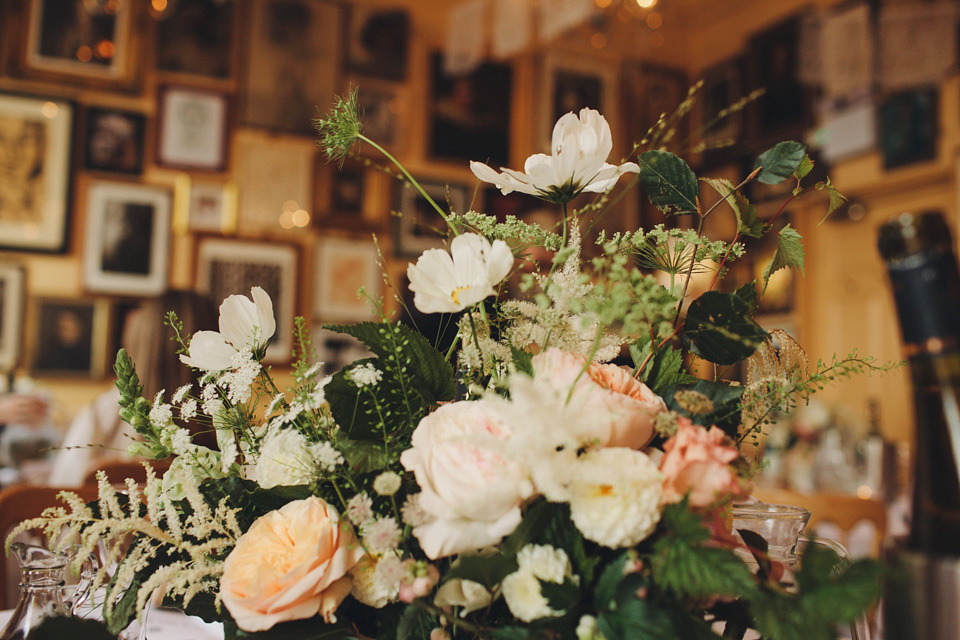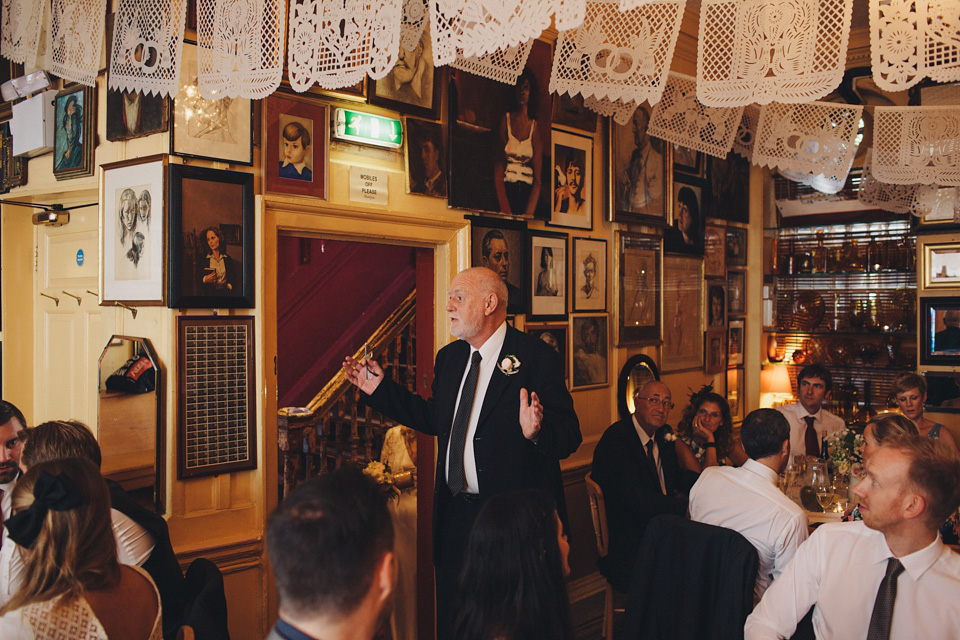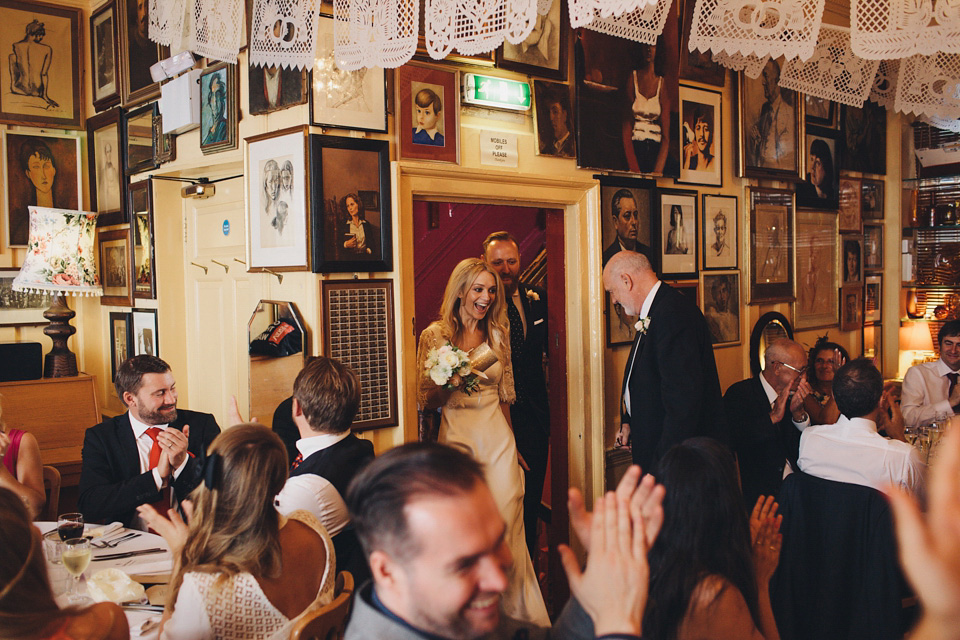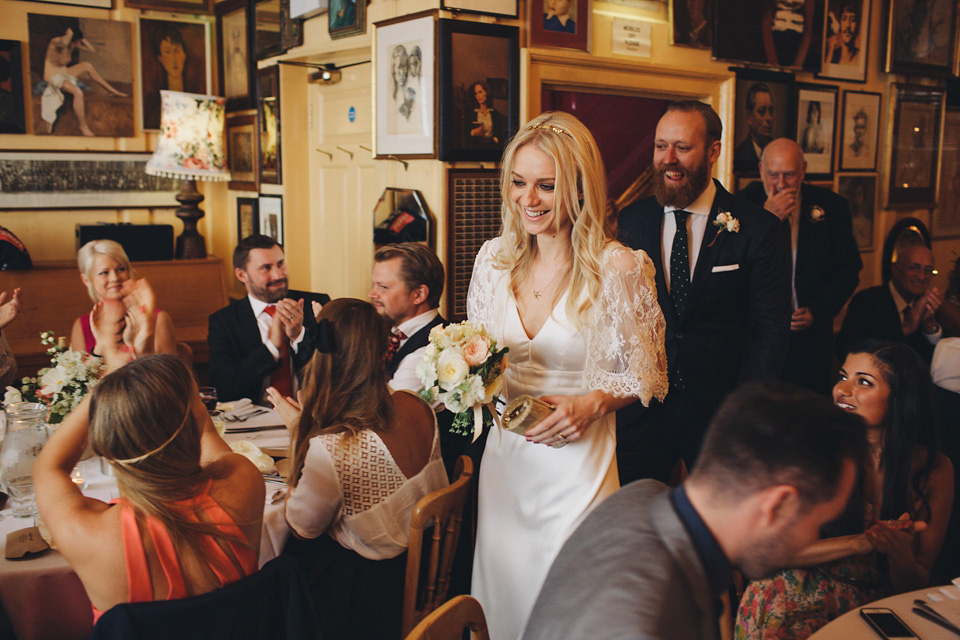 "Whenever we travel abroad we buy a fridge magnet as a memento to remind us where we've been, so using this idea we found a supplier via Etsy who uses vintage maps to create bespoke glass magnets for you. You chose the map locations and style of the magnet -we had glass hearts. We put these into a pillow box that we'd stamped with a personalised stamp (both from notonthehighstreet.com) and I handmade a scroll with a thank you message for the guests and explaining the significance of the place and that we would send a photo of them taken on the day to put up with the magnet.  
This was a really cost-effective way of making favours and I was really happy with the result."
"The Union Club in Soho provided all the catering and we would highly recommend them! The food blew us away and lots of our guests told us it was the best wedding food they'd ever had!"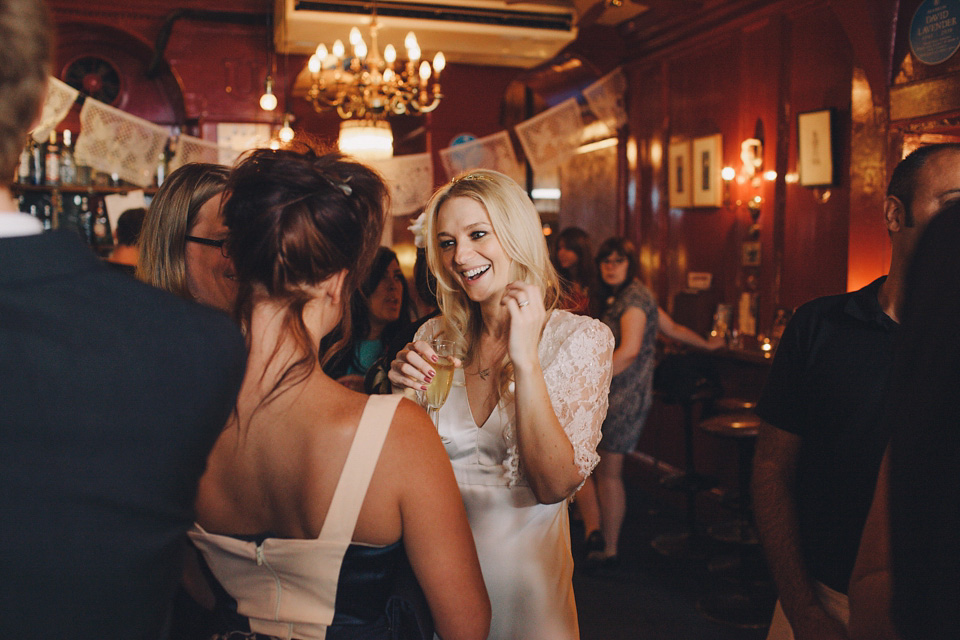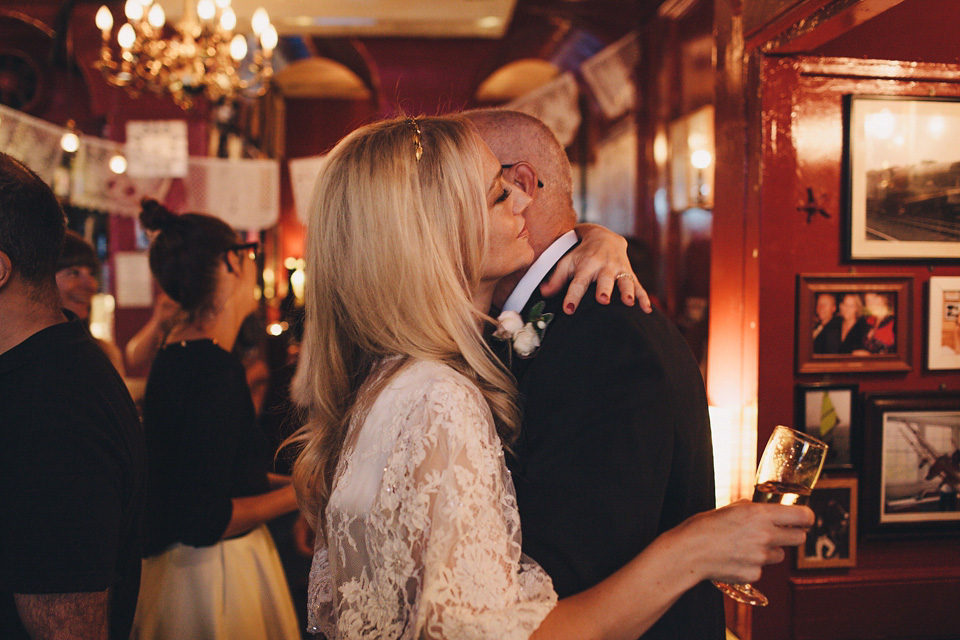 "Tom and Martin, the 'Still Moving DJ's' were so chilled out and amazing. We thoroughly recommend them! They got everyone dancing and I have amazing memories of being on the dance floor with my Dad, Uncle, Mum and brother's and sister.
We also had an impromptu singing of "It Must Be Love" around the piano by our friend Dean who tours with Madness –everyone joined in and sang along!"
"We spent ages settling on a first dance track –we finally settled on Otis Redding's 'That's How Strong My Love Is', and I bought it on original vinyl so we could have it played authentically and then keep afterwards."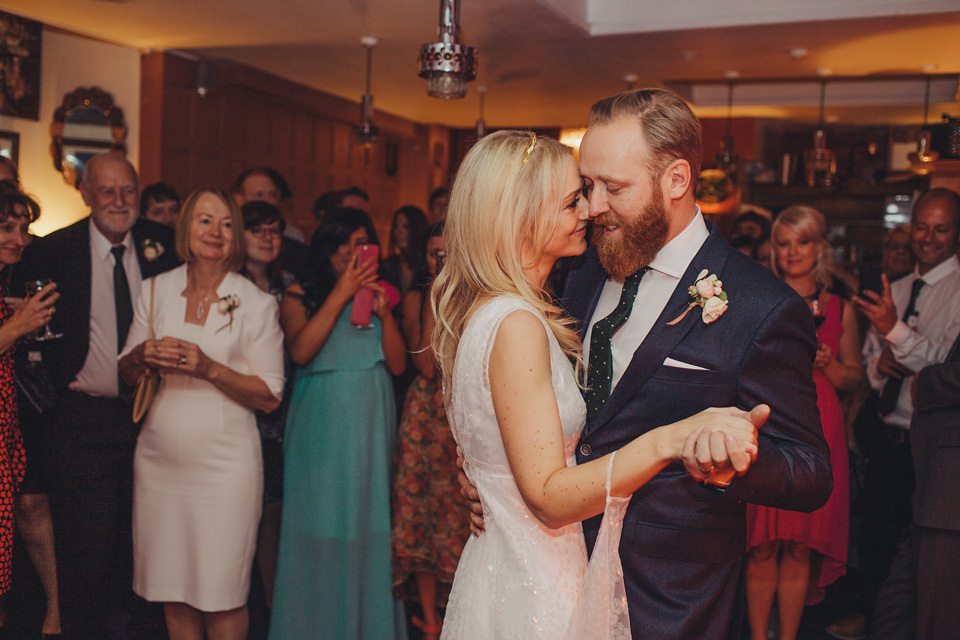 Words of Wedded Wisdom
"On reflection, we both really enjoyed the process of planning the wedding. As you're in the thick of it, it sometimes feels a bit "chore-like", but we both enjoyed sourcing things connected to the wedding and look back on days spent shopping for outfits etc. as something really fun and a great excuse for a day out somewhere different.
As the bride, accept that you are likely to be doing most of the research! Delegate certain jobs to your husband to be and make sure you make final choices together so you both feel that the day reflects you as a couple. Try and stay true to your own taste as it's easy to keep looking at different blogs and liking so much that you dilute the idea you first started with.
Don't worry if you have doubts about your dress, it's normal! I know I did, but on the day, I didn't really worry about what I was wearing after all (strange, but true). There's so much else going on on the day that something you focus on so much before (the dress/ what you wear) becomes less important than you thought beforehand. Just find a dress you like, feel good in and can afford, then stop looking!"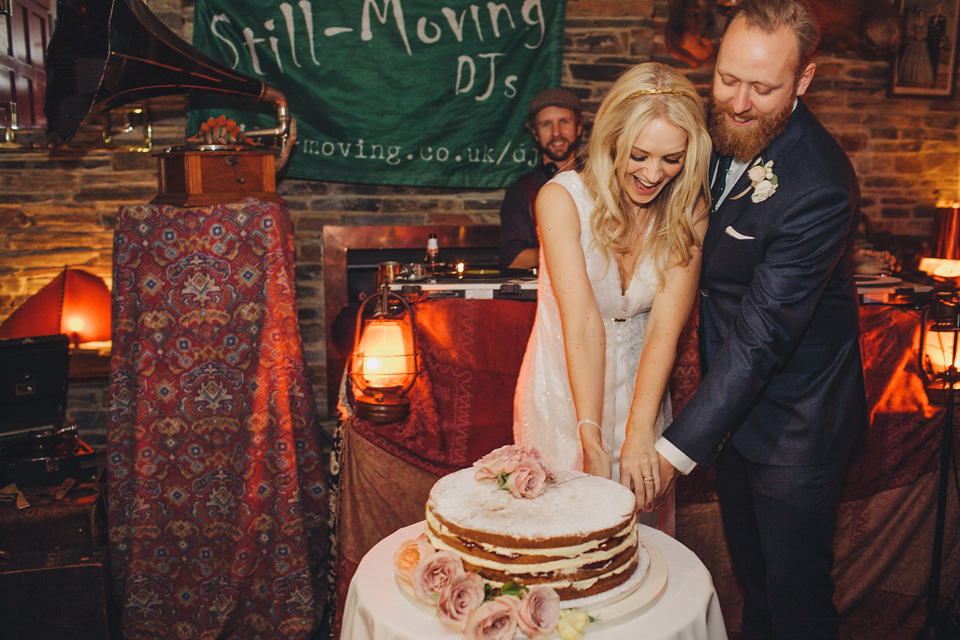 Sometimes, less is more, no? I adore that beautiful satin gown by Charlie Brear – it looks as though it was made for Jess.
Much love and thanks to Jess and Nick for allowing us to share this beautiful day.  And love as always to photographer Laura McCluskey of LM Weddings, whose work I take such pleasure sharing with you guys.
Have a productive and positive morning all,
Love Annabel xx
Photographer – LM Weddings
Venue – Mayfair Library + The Union Club in Soho, both London
Brides Dress – 'Slipper Satin' by Charlie Brear
Headpiece – 'Laurel Leaf Bandeaux' by Jennifer Behr New York
Bride's Veil – Charlie Brear
Bride's Shoes – Jimmy Choo's 'Lottie' in nude, via Saks Fifth Avenue
Accessories – Antique Love bird with seed pearls by Annina Vogel at Liberty, London
Perfume – Narcisco Rodriguez – L'eau for her
Groom – Hackett London + Drakes tie + Loake shoes
Bridesmaid's Dresses – Reiss + shoes by American Apparel
Flower girl Dresses – a shop in Sweden (where the Groom is from)
Cake – Cakes by Robin
Entertainment – Still Moving DJ's
Engagement ring – Antique Edwardian Diamond & 18ct yellow gold from Berganza
Bride's wedding ring –Tiffany, London
Groom's wedding ring – Antique 1940's gold band
Stationery – Beautiful Day via notonthehighstreet.com
Hair – Ashley Beecroft at Percy & Reed London
Makeup – Lotten Holmqvist
Transport – Vintage Daimler & Routemaster Bus via London Legend
Pub Decor/Mexican paper banners – Viva la Frida
Note to readers: sadly we are unable to recommend the florist for this wedding as the couple were let down.