Hello all, I hope you're in the mood for a lovely, laid back wedding today – Auzzie style!   I'm sure I am not alone in enjoying poring through endless photographs of all the lovely details of a wedding, the hair accessories, the shoes, the table centrepieces etc.  However, a few months ago you may have read Annabel's first post about the growing 'Share the honest Love' movement in wedding photography, which featured a very moving piece by Laura Caudrey.  Back in Autumn 2014. Laura launched a new social media hashtag called #ShareTheHonestLove, explaining that she had created this to encourage people planning weddings to focus less on all the extras (flowers, shoes, dresses etc) and more on remembering to celebrate what a wedding day is really all about – love and family and friends- the important stuff in life.
This wedding is a beautiful reminder of the #ShareTheHonest Love ethos.  Yes, the location is beautiful, the decor pretty and the dress very lovely indeed, but there are no hours of posed photographs, no unnecessary stress and no fakery; just one couple joining their lives together in the presence of their friends and families, and a lot of love and laughter.
"Al and I met in London in 2005 and have been together since. Our engagement was simple and sweet, and lasted for about 18 months.  We just wanted it be relaxed, and natural and above all fun.  I'm Australian and Albert is from New York, with Argentinean heritage, so we tried to combine the relaxed Aussie vibe, with a South American family get together- lots of food, wine and conviviality."
Photography by Maureen Du Preez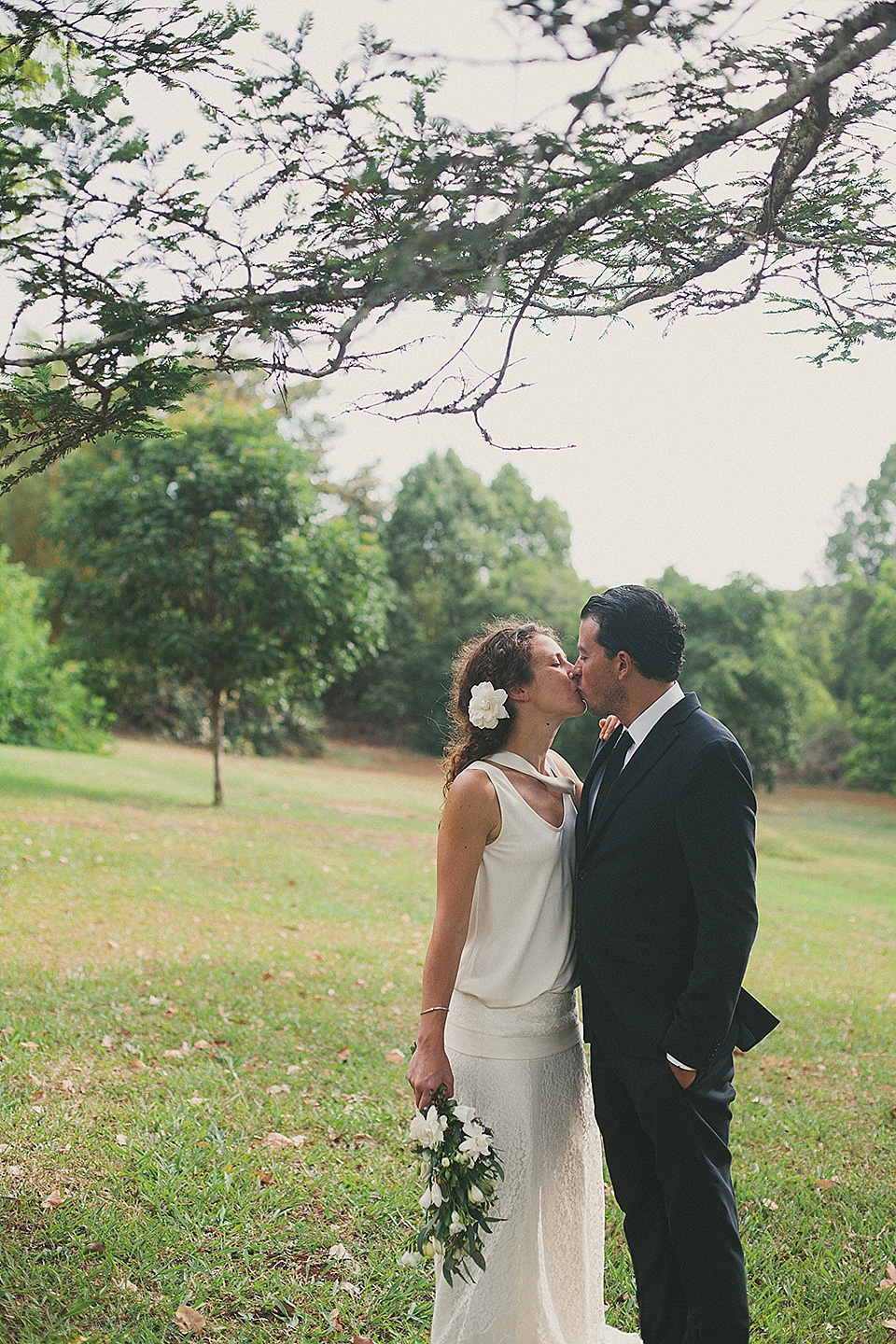 Tam's dress was by Delphine Manivet, a designer I am delighted to have discovered, and had the rather marvellous name 'Abristol Jupe'.  I adore the lose drapey style and the lace panels in the skirt.
"I bought the dress from Maria Fekih in Copenhagen. Maria was amazing – I would recommend her in a heartbeat.  It was not the first dress I tried on, but I knew straight away. It was so comfortable. I felt like a really pretty version of myself, and not just 'a bride'.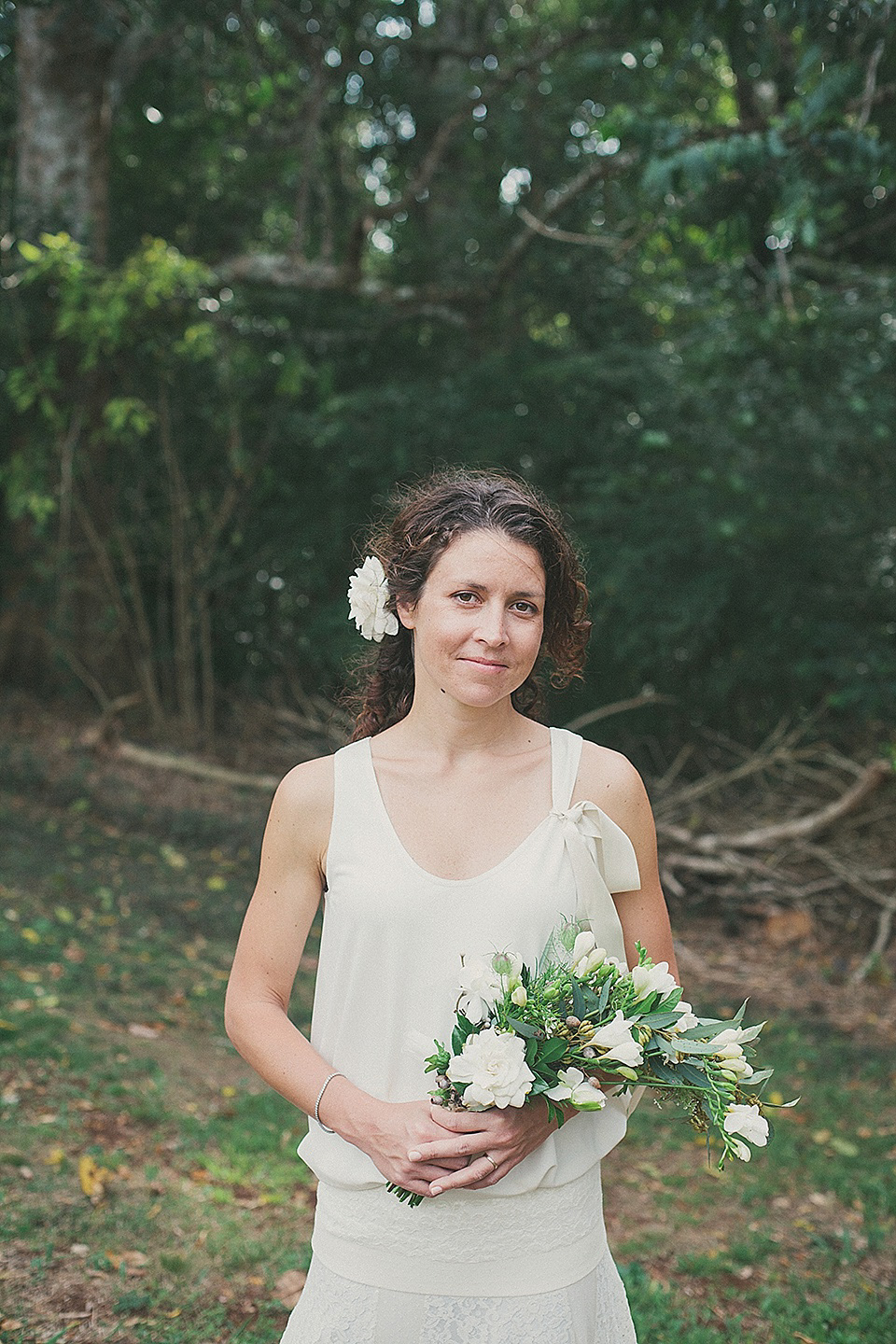 Tam teamed her dress with an elegant pair of shoes from Repetto, bought from Moshi Moshi, in Copenhagen, a diamond tennis bracelet from PLUKKA borrowed from her cousin Amanda and a gardenia in her hair, picked from the garden that morning.  She chose a natural hair and beauty look, to compliment the feel of the day, and finished with a spritz of 'Peony and Blush Suede' by Jo Malone.
I absolutely adore the Jo Malone scent range- each one is wonderful, and the scents can be combined to create something new and personal as well.  I chose English Pear and Freesia for my own wedding day and now every time I spray it, it whisks me back to that moment just before heading downstairs to the ceremony room- to me it smells of excitement and love and just a tiny bit of nerves.  Smell really is such a powerful sense, and well worth considering as a reminder of your wedding day, or perhaps you might wear a familiar scent to calm youtr nerves?  Have you seen the wonderful new range of bottles from Jo Malone?  They're designed for brides and are exquisitely beautiful- Tamryn writes about these, and the wonderful idea of a 'scented wedding' here.  If you're having trouble choosing your wedding perfume, have a look at this article from last summer.
Scotland based photographer, Maureen Du Preez, captured the day on camera.  Maureen lives on the Western Isles of Scotland, but travels the UK (and much further!) to capture the wedding photographs of her clients.  She describes herself as an 'artistic storyteller', which really does come across in the reportage style of her work.
"Initially, it was hard to explain what we wanted of our wedding photographs, but Maureen just knew.  Not at one moment did we feel that she wasn't going to capture the emotion and feeling that we had, but also that of everyone around us.  She became a part of the day, it was natural, and flowing, and all about catching the moments."
"Natural, and flowing, and all about catching the moments"; I absolutely love this phrase; it just sums up good wedding photography to me, and highlights a photographer who understands their job so completely.
Tam and Al, who both work in the food and wine industry, married in Tam's beautiful home country on the 22nd of November 2014- a time of year which would be chilly and perhaps grey in the UK, but most certainly wasn't in New South Wales.  The venue was the completely gorgeous Gurragawee, which nestles in the picturesque surrounds of the Byron Bay Hinterland and is also the home of Kate LeMessurier, a very old family friend of Tam and her family.
"Kate is like an Aunt to me. When we visited her for New Years Eve in 2013, we both knew it was 'the place'."
"My sister, Simone, is a makeup artist, so I got lucky in that department.  However she said it was the most nerve racking 'client' she's had!  We went natural, with hair, and minimal make up."
The little flowers girls wore gorgeous floral dresses were bought from Nordstrom by Tam's Mum while on holiday in Hawaii.
"We sewed on a little trim of white embroidered lace to the neck line and hem.  Their pumps were PW Dance Apparel from Emporium Traders in Brisbane."
Tam walked down the aisle with her father to 'Here, There and Everywhere' by The Beatles.  I absolutely adore the images of Tam and Al during their ceremony- there is just so much emotion and love in these photos and you really can't help but smile!
The couple chose two readings- 'It Must Be Love' by Madness, read by their niece, Ruby; "Simple and sweet, and reflects our time in the UK."
And an extract from Julia Child's 'Mastering the Art of French Cooking', read by lifelong friend Sarah LeMessurier.  The extract reads as follows:
"Train yourself to use your hands and fingers; they are wonderful instruments.  Train yourself to handle hot foods; this will save time.  Keep your knives sharp.  Above all, have a good time"
Wonderful advice for life, don't you agree?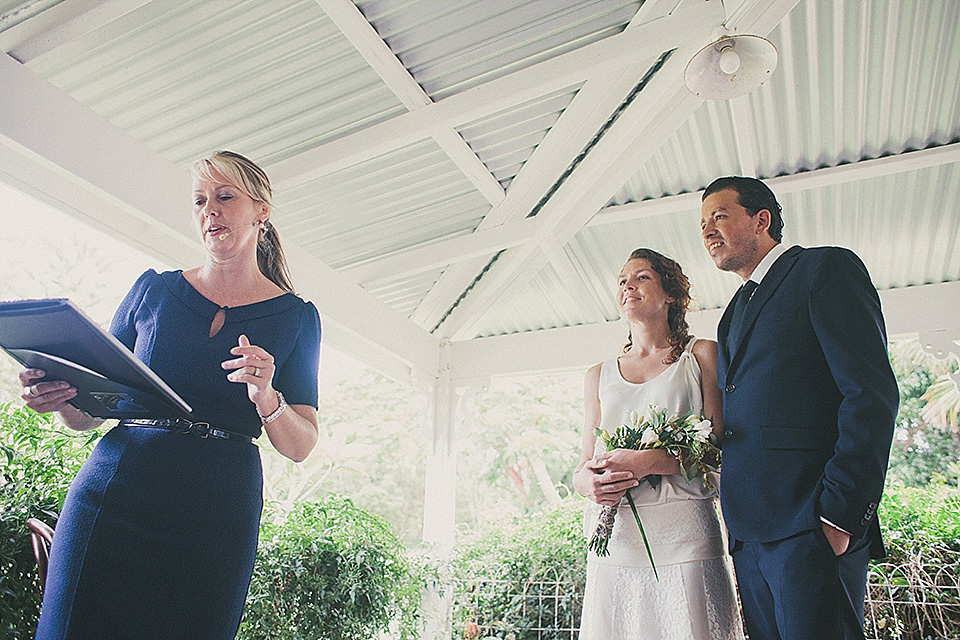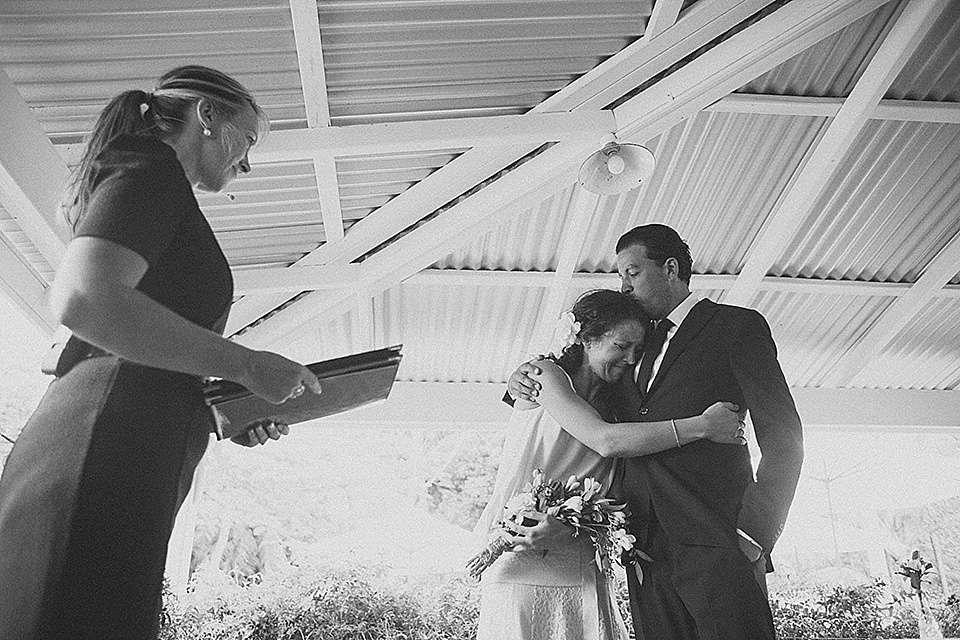 "Our wedding bands were a bespoke design by Daniella Draper. We love the rings and it felt so special to have a friend craft them for us."
"For both of us, the best part of the day was hugging everyone after the ceremony. It was so near and intimate – I get emotional thinking about it."
Tam's beautiful bouquet, and all the rest of the floral arrangements, were provided by Georgie, one of the venue's recommended florists.
"For mine and the girl's bouquets, we wanted a wild look, as though they had just been picked from the garden.  They were a combination of English garden flowers, and native Australian wild flowers, and for the girls Georgie added a little pastel to bring out the tone of their frocks. We also added crowns of baby's breath for the girls.  The flowers were amazing, and many of the flowers were from Georgie's own garden.
Georgie also supplied us with flowers for the tables which we arranged ourselves.  We used only native Australian flowers; Kangaroo Paw, Jarrah Tip, Pin Cushions, Billy Buttons, Dryandra etc."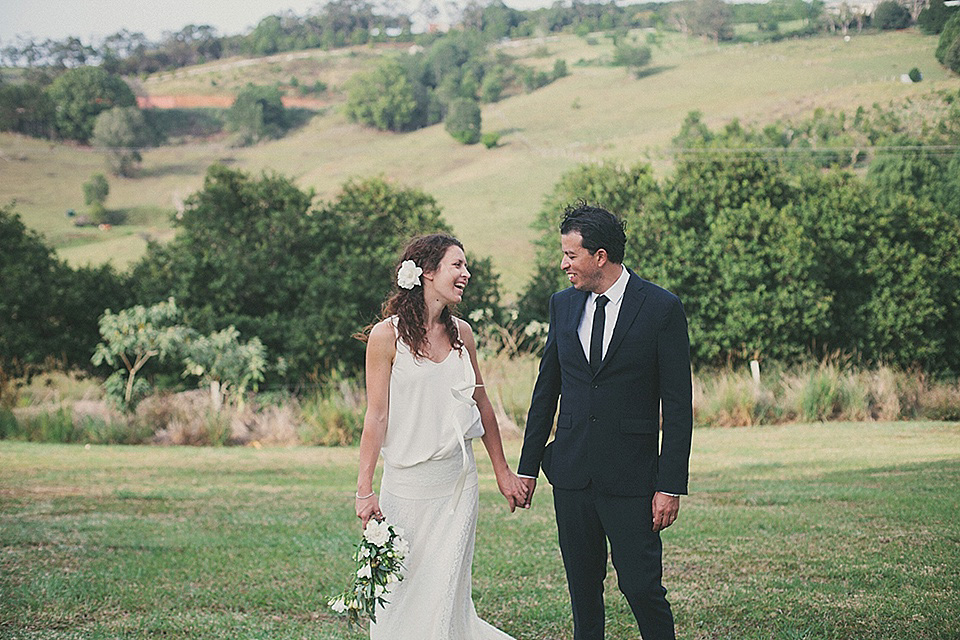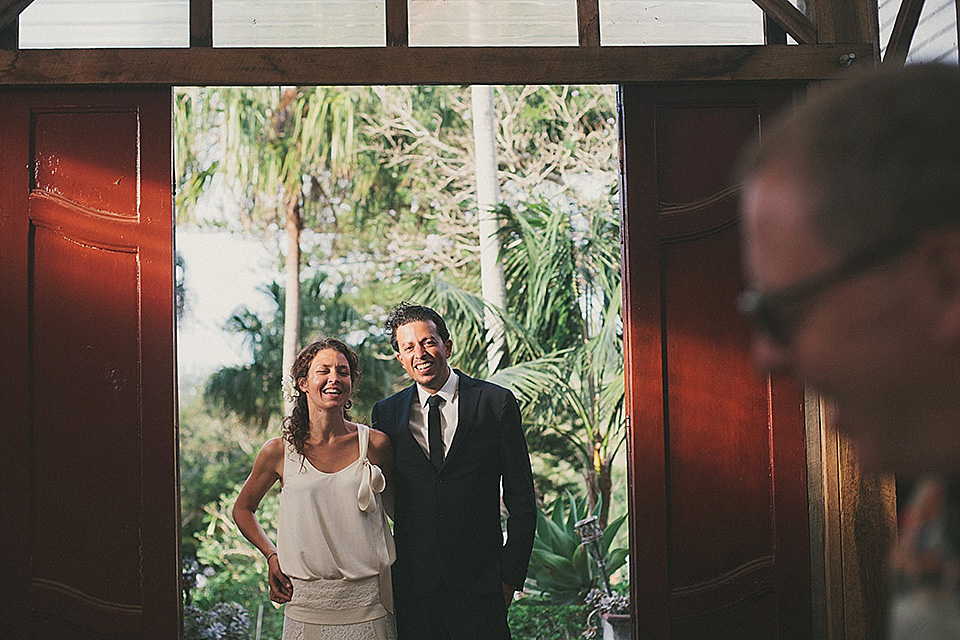 The catering was undertaken by the hardworking team from Seaweed Cuisine.
"We served canapés on the veranda in the afternoon.  For the meal we served an Argentinean style Asado; plates of charcuterie to start, followed by two cuts of grilled beef with salads.  Everything was laid down the centre of the table and shared.  Dessert was then served outside in the garden; fruits with goats curd, macadamia nuts and local Byron Bay honey. 
Later in the evening, in lieu of a cake, we served dessert canapés.  Monique and the team at Seaweed were relaxed, yet professional, and so down to earth, just the type of service we wanted."
As specialists in the industry, the food and drinks were obviously important to Tam and Al, and so wines were sourced from Andrew Guard Wine Imports, to compliment the meal.
The evening celebrations were fabulously relaxed, with a playlist carefully prepared by Albert  and soft, yet colourful lighting illuminating the garden, creating a wonderfully romantic atmosphere.  You can almost feel the warmth of the summer evening and the smell of the flowers coming through these images- how gorgeous….
"Being an outdoor wedding, we did focus a lot on lighting. We used North Coast Events to style the garden, with coloured festoons, LED spot lights and fairy lights, and the shed with a hanging chandelier, and the best audio equipment."
Words of wedded wisdom
"Don't sweat the small stuff.  It's going to be amazing, so try to be present and enjoy every beautiful moment…..
And don't run out of wine."
Thank you so much to Tam and Al for sharing their wedding day with us, and to Maureen Du Preez for her wonderful photo-storytelling.  More of Maureen's work can be seen on Love My Dress here if you have a few moments to spare.  Are you having a destination wedding? If so, I hope today's offering has provided you with some inspiration!
Much love,
Shona x
Photographer – Maureen Du Preez
Venue – Gurragawee
Venue styling – North Coast Events
Wedding Dress – Delphine Manivet, bought from Maria Fekih in Copenhagen
Shoes – Repetto, bought from Moshi Moshi, Copenhagen
Accessories – Diamond tennis bracelet from PLUKKA, borrowed from a cousin
Perfume – Jo Malone Peony and Blush Suede
Groom – Drifter J Dark Navy suit via Acne Studios +_ Saint Laurent Shirt + Grenson Shoes + Tiger of Sweden tie
Flowergirls – Nordstrom
Florist – Georgie Taylor – email : [email protected]
Rings – Daniella Draper
Catering – Seaweed Cuisine
Stationery – Invitations by Mount Street Printers, Mayfair, London.  Menus etc made by the couple.
Makeup and hair – Agents of Beauty