The deadline for my second Lovette post couldn't have come at a better time. I'm sat, glass of wine in hand, in my pyjamas (it's safe to assume that I'm always in my pyjamas), after a very busy, but successful weekend of wedding-related activities.
After lots of weeks of thinking, daydreaming, pinning and general blue-sky thinking, I woke up one day and thought: 'It's probably time to actually start doing something.'  After all, no one wants to be the bride walking around her wedding saying: 'You should have seen the things I was going to do, if I'd spent less time looking at pictures of dogs in bow ties on Pinterest….'
First up, Dan's suit. Dan wears a suit quite often for work and he didn't just want 'another suit'. So we looked into made to measure suits, specifically on Savile Row, but quickly realised we'd have to sell our dog to afford one. And once people realised our dog is quite grumpy, we probably wouldn't get that much cash. So we did some research and booked an appointment at Reiss in Birmingham. They offer a made to measure service – you choose everything, from the material to whether you want shiny or matte buttons. I'd definitely recommend it if your groom wants to invest in a really nice, made to measure suit, but doesn't fancy selling a kidney to pay for the privilege.
Moving on from kidneys – I had my hair trial this weekend. Now, I'm not going to lie, my hair is a deal breaker. I believe it's very important to figure out what your bridezilla trigger could be right at the start of planning and then throw some cash at it. If I hate my hair, I will cry. It's not something I like about myself, but it's the truth – I still remember some curls going badly wrong for a high school disco when I was about 13, and sitting in my mum's car, refusing to get out.
Perfect wedding hair (Lucky Shops, via Pinterest + Jose Villa)
So, to avoid having a teenage tantrum, I did a lot of research and eventually found the Bridal Hair Specialists. Sally was so lovely during my trial – she looked at my wedding dress and hairpiece, and immediately showed me photos that were exactly what I wanted, but better. And my favourite bit? I will be able to wash my hair on the morning – I was dreading being told to wash it the day before and leave it, because nothing feels as bad as greasy hair. NOTHING.
And the whirlwind of activity doesn't stop there. After watching numerous episodes of Don't Tell the Bride, I was very aware of exactly how bad bridesmaid dress shopping could get – trying to find one dress that would suit four completely different girls was probably going to end in someone crying in a changing room, and it probably would have been me. I really wanted a simple alternative – and I got it with TwoBirds Bridesmaid. All four of my bridesmaids loved the dress we picked – they passed the all-important 'swish test' so we knew we were onto a winner.
I celebrated by visiting Shoe Heaven in Harrods and buying my wedding shoes from Jimmy Choo (do you like how I write that casually, like it's not a Big Deal?) First point – they're flats. Which means no pain and no falling over. And secondly, if you've never been to the shoe floor in Harrods, stop whatever you're doing and go there immediately.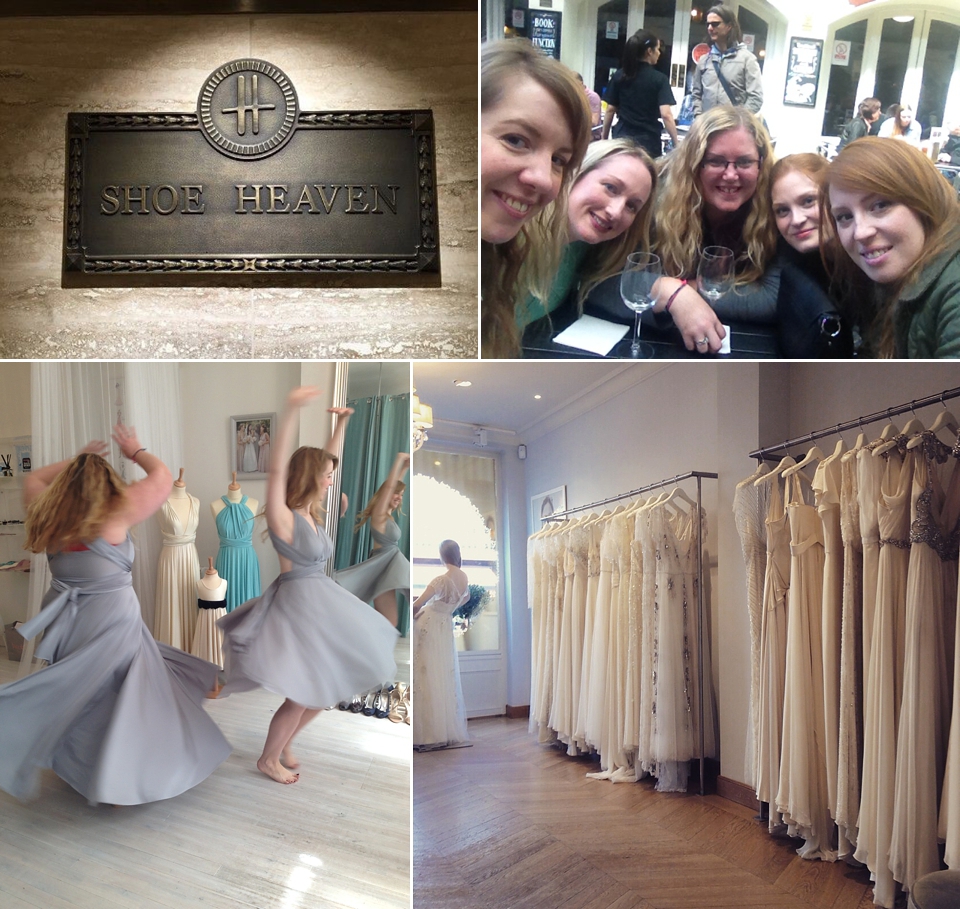 But probably the most exciting thing to happen since my last post was trying my dress on for the second time, so I could show my sister. For those who didn't see my first post, (and I warn you, there's no way to say this without sounding really smug) I won my wedding dress in a competition run by Brides magazine and Jenny Packham.
Prior to this I had found shopping for a wedding dress really hard. The more I tried on, the more confused I became. I had a clear idea at the start what I wanted, but then I began to doubt myself. Nothing felt completely right – I would like a dress, but then go home, look at photos and slowly but surely go off it. I was beginning to despair a little – until I got the email from Brides magazine, and it felt as though I must have won for a reason.
My dress is the most beautiful thing I've ever seen – going to the Jenny Packham bridal boutique in Belgravia with my mum to try it on was a really amazing experience. Elizabeth, the store manager, is the loveliest lady and she was genuinely really excited for me. I can't recommend the Jenny Packham boutique enough – they also further encouraged my magpie tendencies by sending me to the Jenny Packham accessorises shop, armed with a discount voucher.
I think we all know how that ended. But I can't finish this paragraph without mentioning the other boutiques I went to that were special, for any Midlands–based brides needing a steer. Tilly Trotters in Leamington Spa, Rachel Ash in Atherstone, Coco and Kate in Hatton and Quello in Kenilworth were all fantastic.
Photo by our wedding photographer! (Mister Phill)
So that's what I've been up to for the past couple of months. But rather than divulge any more just yet about our plans, I wanted to end this post with a thought. The recent furore over the posters insisting we all get 'beach body ready' made me think about the pressure women are under to look 'perfect'. Quite a bit of this pressure comes from outside sources (e.g. idiots putting posters like this up in public places) but a lot of the pressure, if we're very honest, comes from ourselves.
I have watched women practically starve themselves prior to their wedding day and this always makes me really sad. I can't speak for everyone, but I think weddings are a time when we can get a bit bogged down in how we look, and how we won't settle for anything less than perfection. I was worried I would be especially bad at this, as I definitely have previous when it comes to being silly about my weight, but actually the opposite has happened. I've used the wedding as inspiration to become healthier and fitter – not skinnier. Any changes I've made are because I want to be in good shape for the rest of my life, not just for one day. So I guess what I'm trying to say is that it's important in the run up to your wedding to be kind to yourself. Don't put yourself under ridiculous amounts of pressure.
You're not perfect – no one is. The brilliant thing is that another imperfect person thinks you're amazing, wobbly bits and all. And if in doubt, remember, massive pants were invented for a reason. Invest in some and then concentrate on enjoying the run-up to your wedding – that prosecco isn't going to drink itself.
Love Emily x
Emily is due to marry Daniel on 12th September 2015 at Shustoke Farm Barns, Warwickshire.  Their photographer will be Mister Phill. You can find Emily on Instagram and Pinterest and read her other posts for Love My Dress here.  Drop her a line – she'd love to hear from you.
Images not directly credited were taken on Emily's iPhone.