Happy Friday folks, I hope many of you were able to enjoy the May Day holiday and the lovely 4-day week that followed. This wedding is perfect for wrapping up the shorter working week.  Victoria who works in Public Relations and Adam who works at a university were married at Beauchief Abbey, a part ruined church dating back 900 years, on the13th of September last year. A reception in the grand surroundings of Whirlowbrook Hall, near Sheffield, complete with Ukulele band followed.
The mix and match bridesmaid dresses, VW Campervan and bunting have a vintage air, while garden games, candy stripe straws, tuck-shop sweets, and a Fujifilm Instax Mini 8 Camera set a summer fete scene. Shot beautifully by Photography34, this wedding is the perfect remedy for all those of you still stuck at work on this somewhat dreary Friday afternoon.
Photography Copyright (c) 2015, Photography34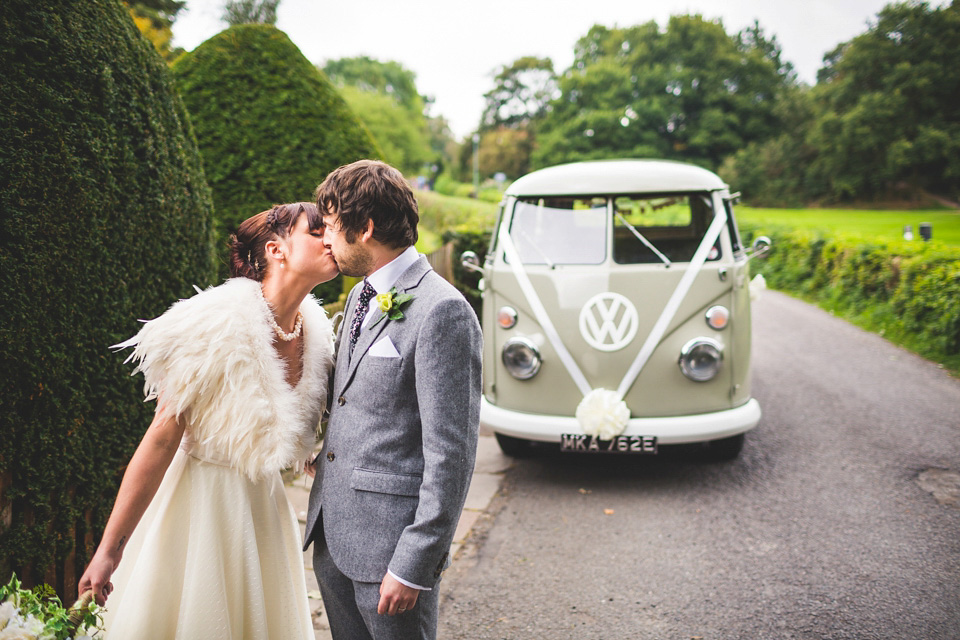 "We met at the Leadmill in Sheffield in February 2006. I was at university in the city and Adam was visiting friends, having recently moved back to Derbyshire. We shared the same interests, and had the same sense of humour. Two years later, Adam moved to Sheffield and we got a cat. He proposed in Manchester in August 2013."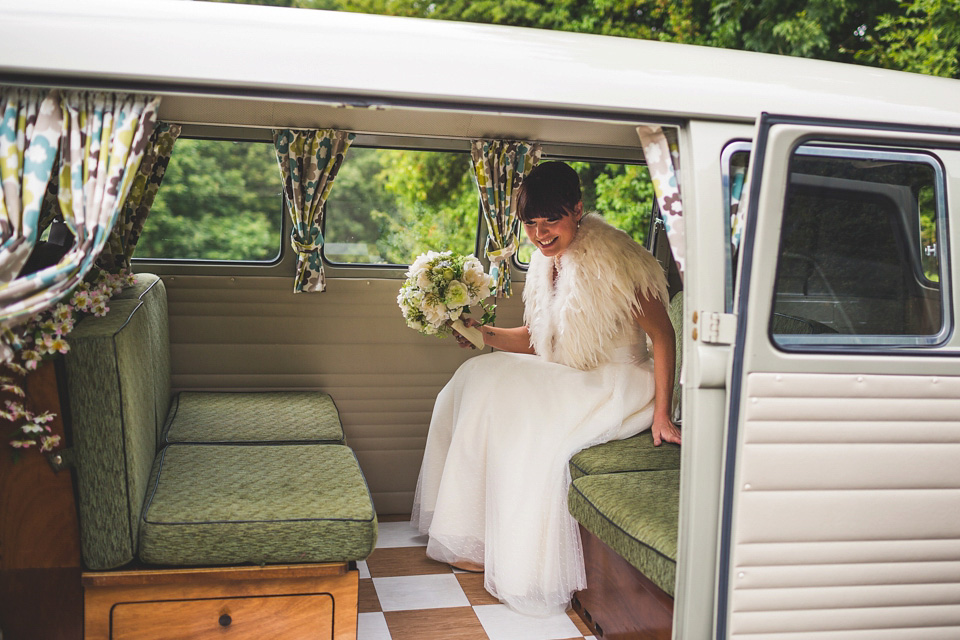 "Adam's mum, Silvana, did our flowers. She used silk peonies, roses, baby's breath and ivy (sourced from garden centres across the West Midlands!), and her outstanding skill and patience to hand craft them into the beautiful bouquets, button holes and bird cages we had on the day."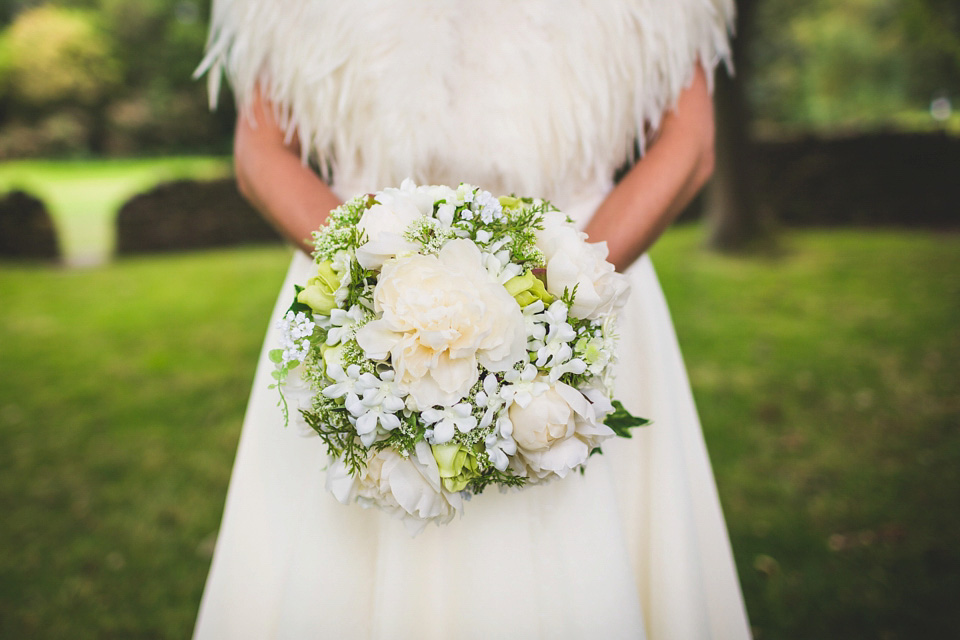 Victoria's Stephanie Allin tea length dress and Biba  feather cape exude 50s glamour.
"I always had a 50s style gown in mind, and when I saw Stephanie Allin's 'Allie' I knew it was 'my dress'. The tea-length gave it a vintage look, but the cut and neckline were classic, fitting for our church ceremony. I loved the feel of the dress when I had it on, of the fitted bodice and the 'swoosh' and volume of the layered skirts. The dress looked chic and feminine, but the heavy ivory silk and polka dot tulle made it original. I felt like a grown-up but it was still 'me'. My dress is still hanging on the back of my bedroom door. I can't bear to put it away."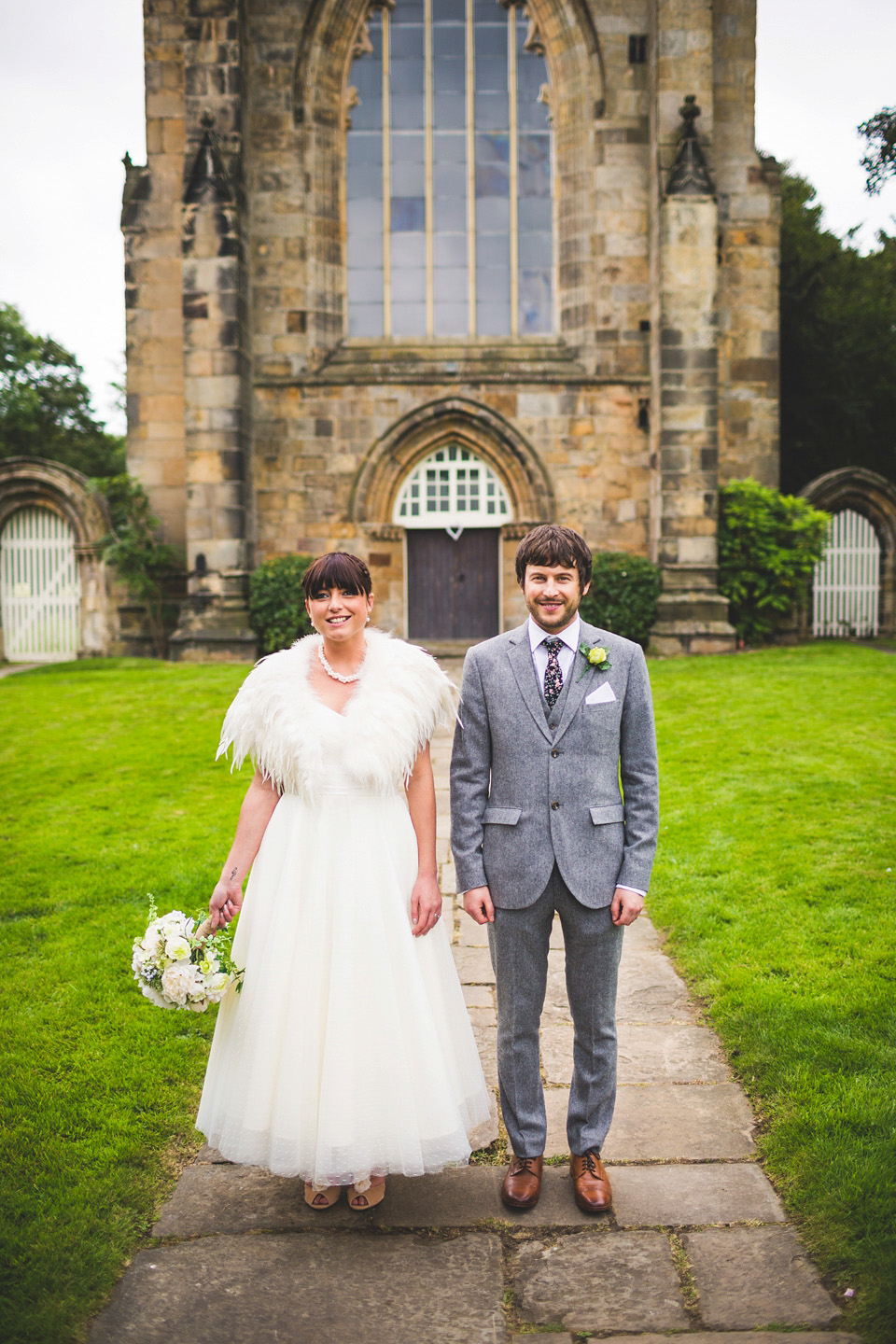 Victoria and Adam were delighted with the documentation of their special day by the wonderful Tony of Photography34. Having a pre-wedding shoot with him allowed the couple to relax in front of the camera, something that all camera-shy couples should consider. They also got some great pictures, taken in the streets of their hometown of Sheffield.
"Our Photographer Tony of Photography34 was fantastic, I couldn't recommend him enough. Our urban pre-shoot was fun and a chance to get to know Tony but the photos are pretty awesome too. His contemporary and photojournalistic style drew us in from the beginning and he perfectly captured our special moments, and our friends and family sharing them with us. Our wedding album is something we will treasure for the rest of our lives – thank you."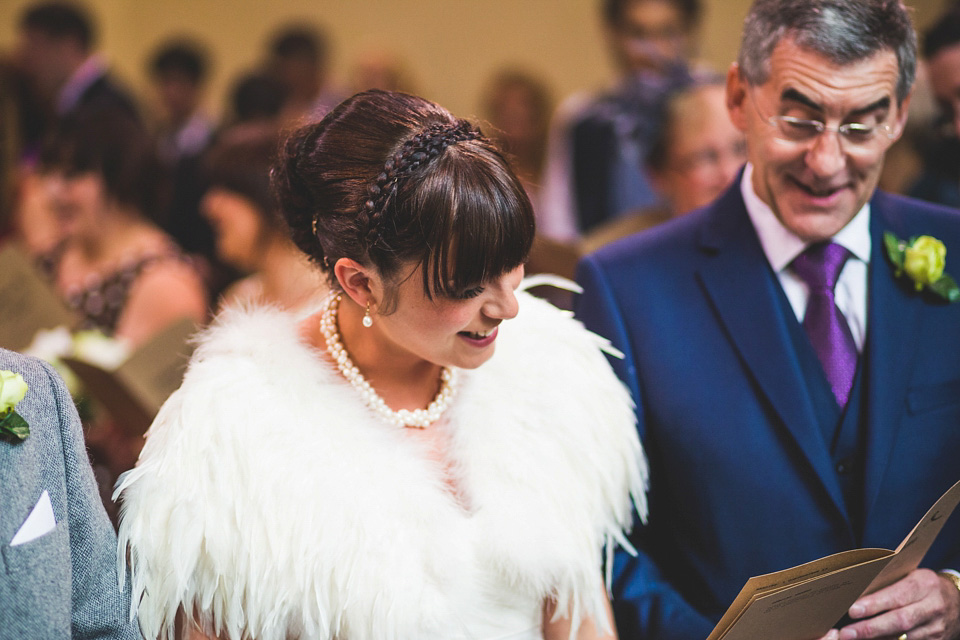 "My tea-length gown meant my shoes were on show. A last minute change of mind meant a makeover for my nude leather t-bars, and I glued silk flowers from my bouquet to the straps the night before my wedding day."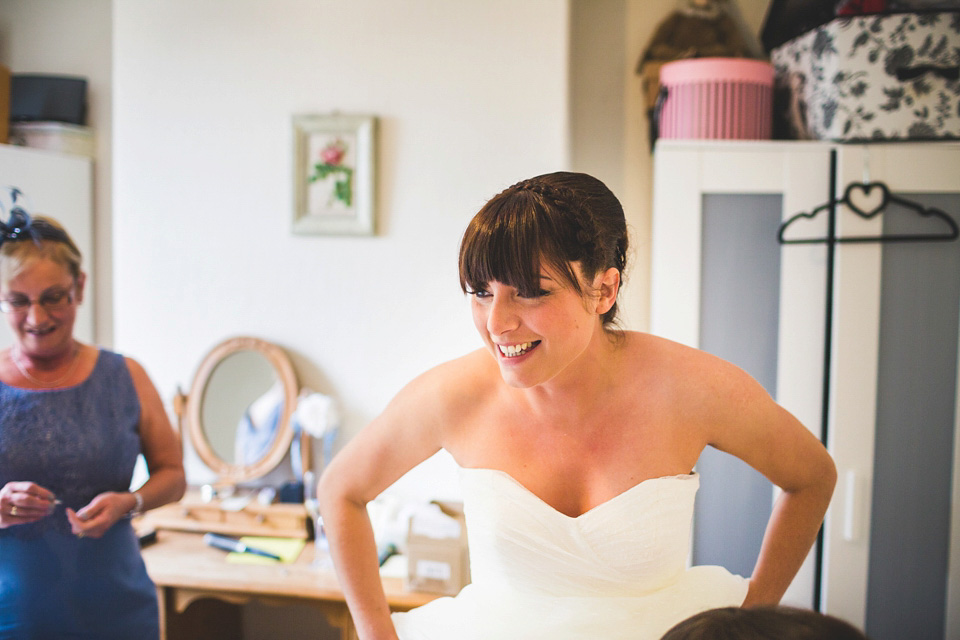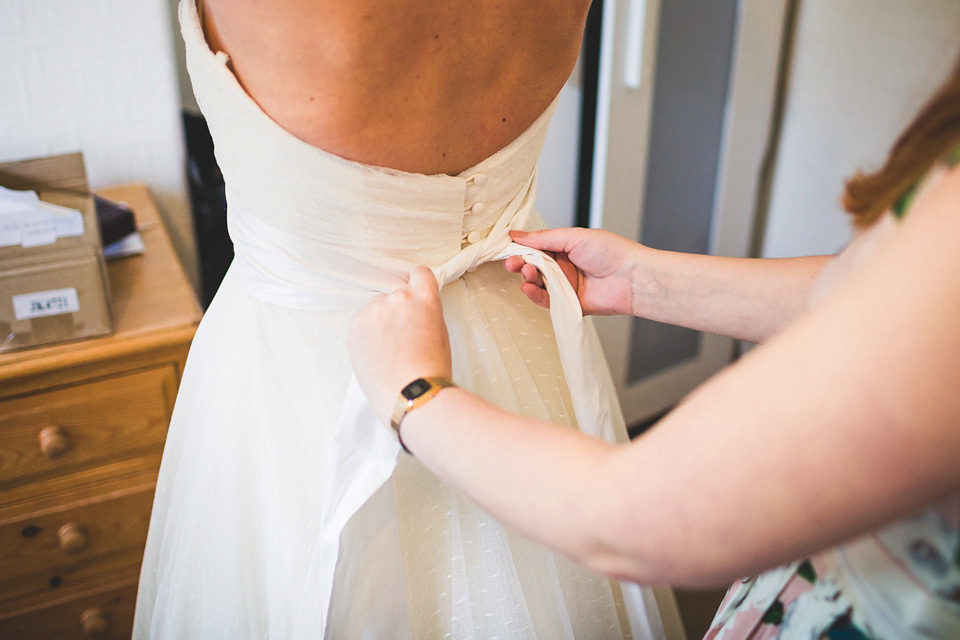 There was only ever one scent Victoria would choose to wear on her wedding day.
"Adam bought me a bottle of Chanel No 5 for my 25th birthday. I've worn it ever since."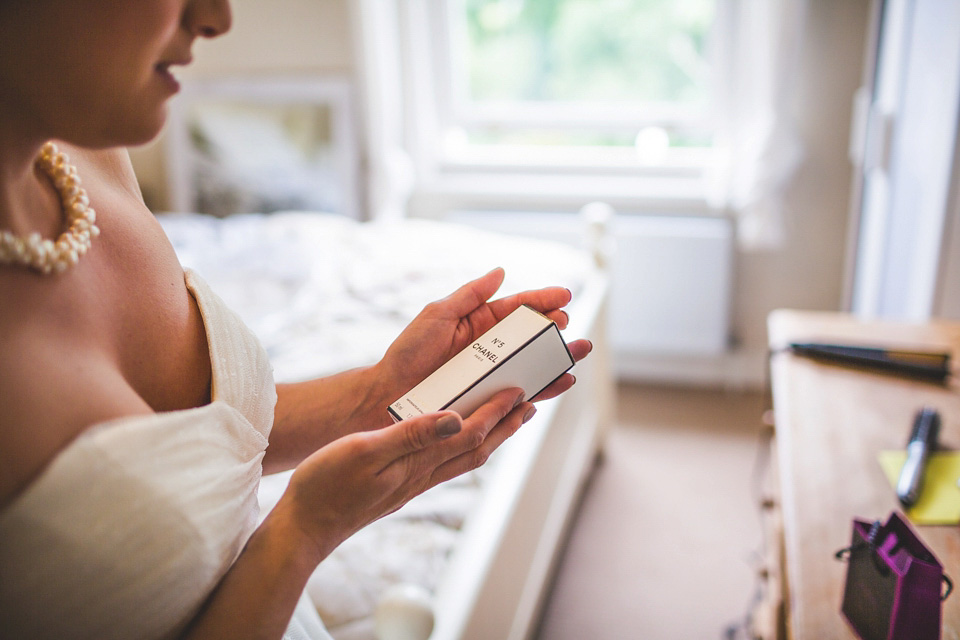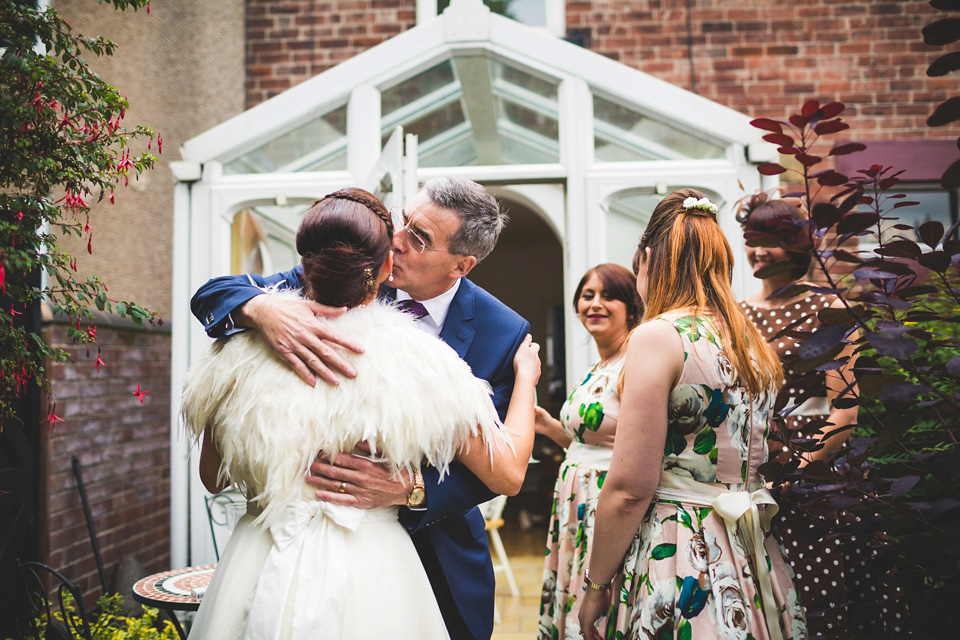 Victoria's best girls continued the 50's look in contrasting floral and polka dot prom dresses with underskirt petticoats for extra volume – perfect for dancing the night away! Not only are the mix and match dresses visually appealing but all four girls got a dress which compliments them perfectly.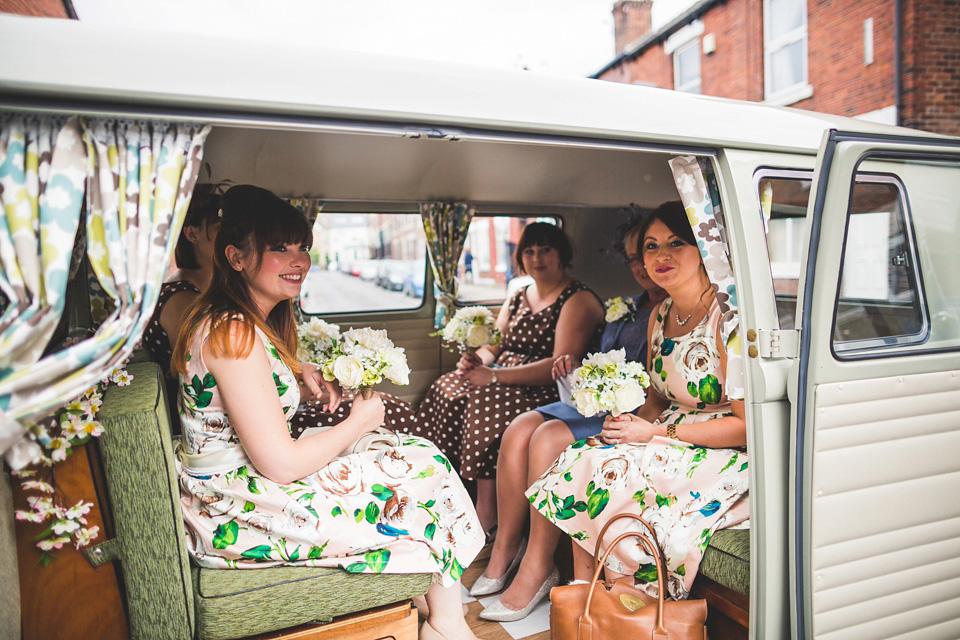 "My pearl necklace was handcrafted by Sheffield company, River Pearls. I bought it locally from Sharrowvale Market. My 'something old'pearl earrings belonged to my late grandmother."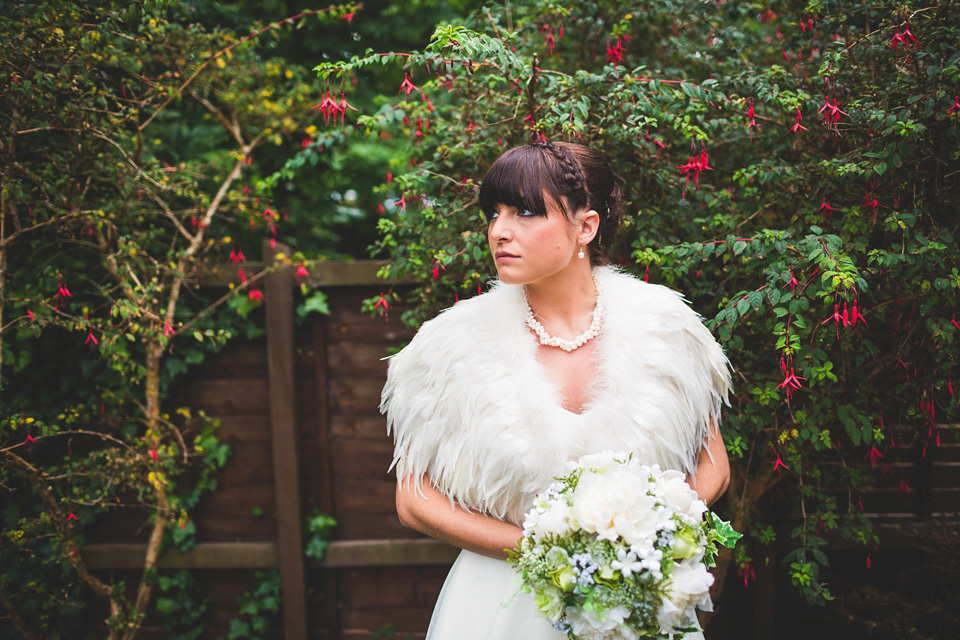 Adam and his best men were all kitted out at Topman using a mixture of light and dark grey shades. Yellow buttonholes added a pop of colour.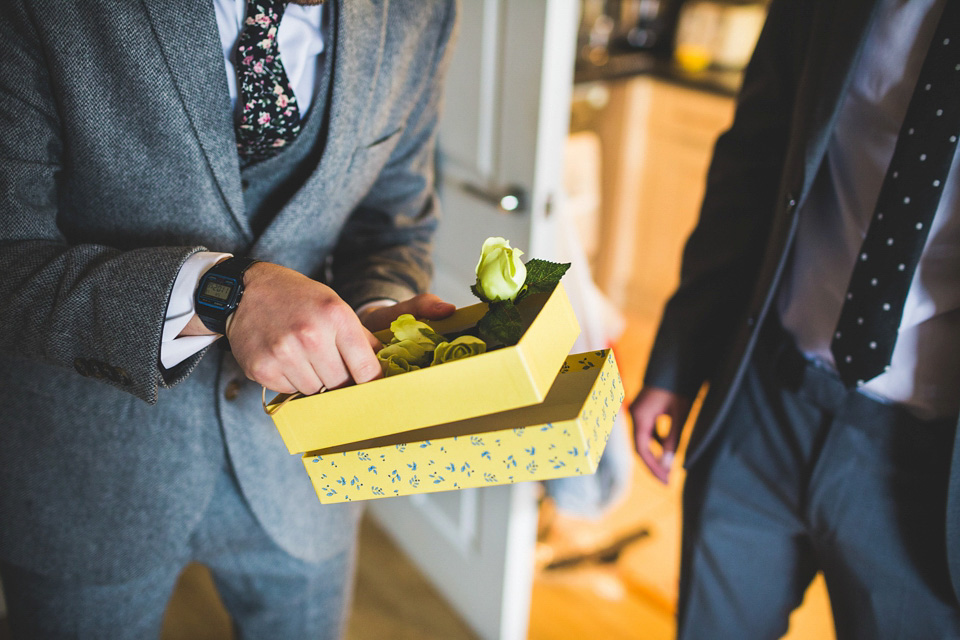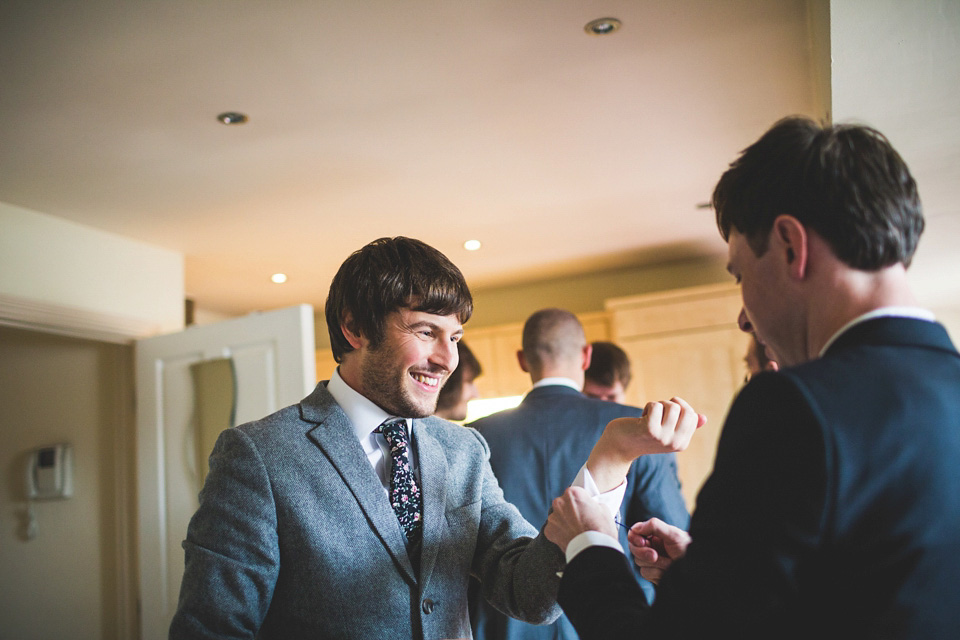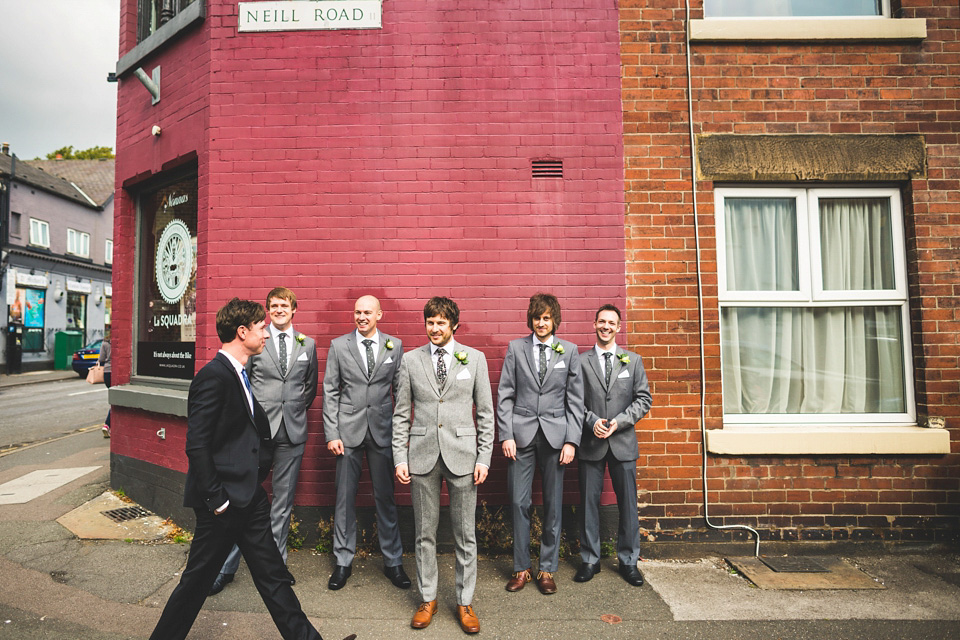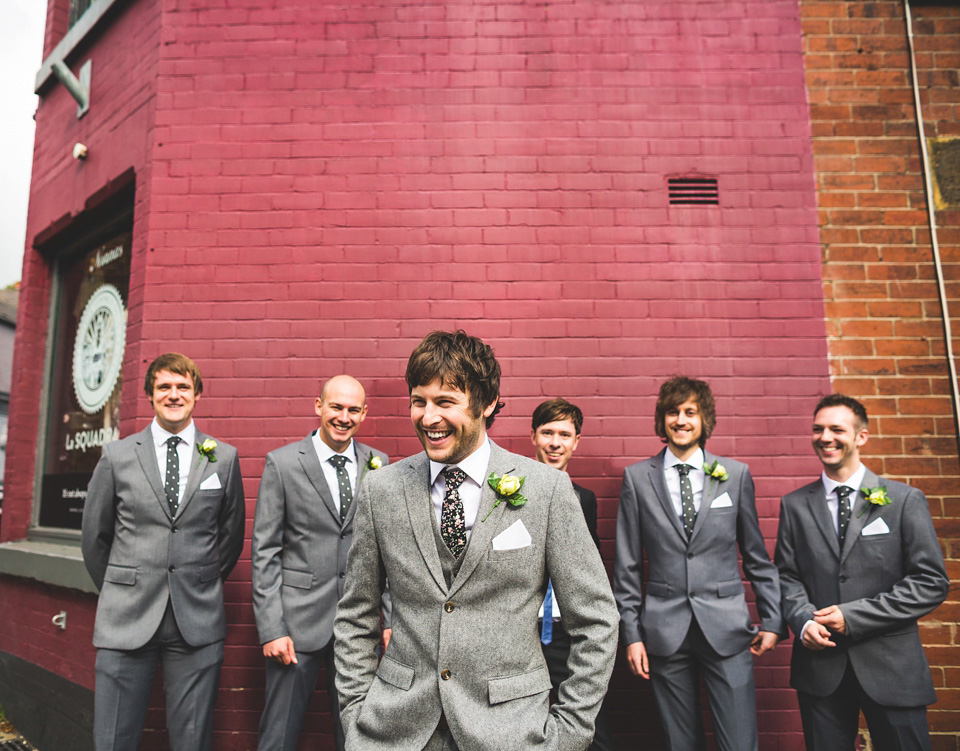 "I made the invitations, order of service, table plans and place cards, taking inspiration from vintage fairs, blogs and Pinterest. To make our wedding favours we wrapped tuck-shop sweets in parcel paper and tied them with jute string. We also hung 'Just Married' burlap bunting from the top table."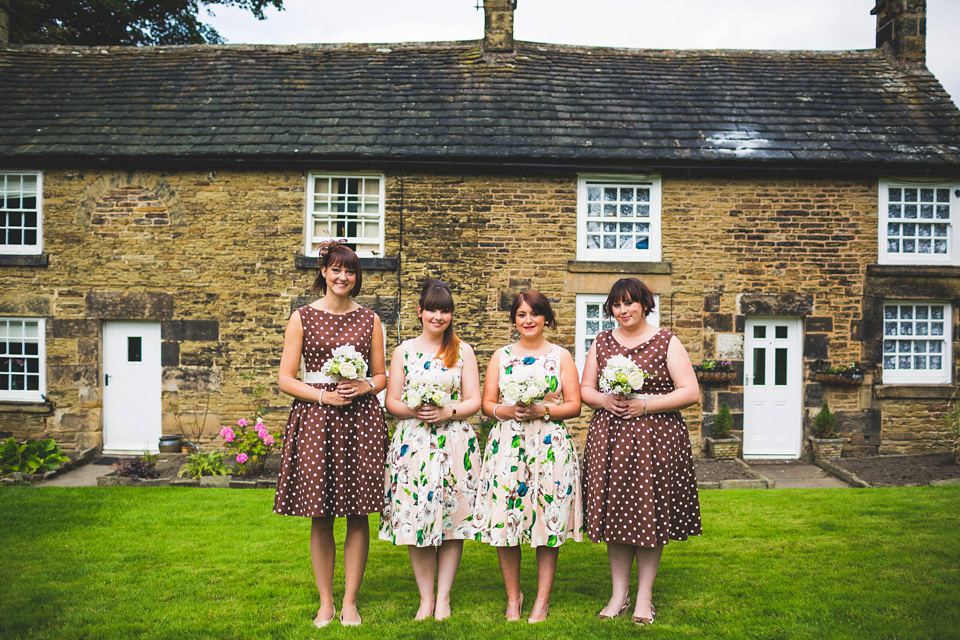 "My dad Keith walked me down the aisle to the bridal chorus. I will never forget the excitement and nerves as I got ready, then seeing Adam standing at the altar as I walked down the aisle. There were so many special parts of our wedding day it is hard to choose a favourite. I have never laughed as hard as I did at the speeches, or danced so hard to a band. But celebrating all of this with the people that mean the most to us made it our perfect day."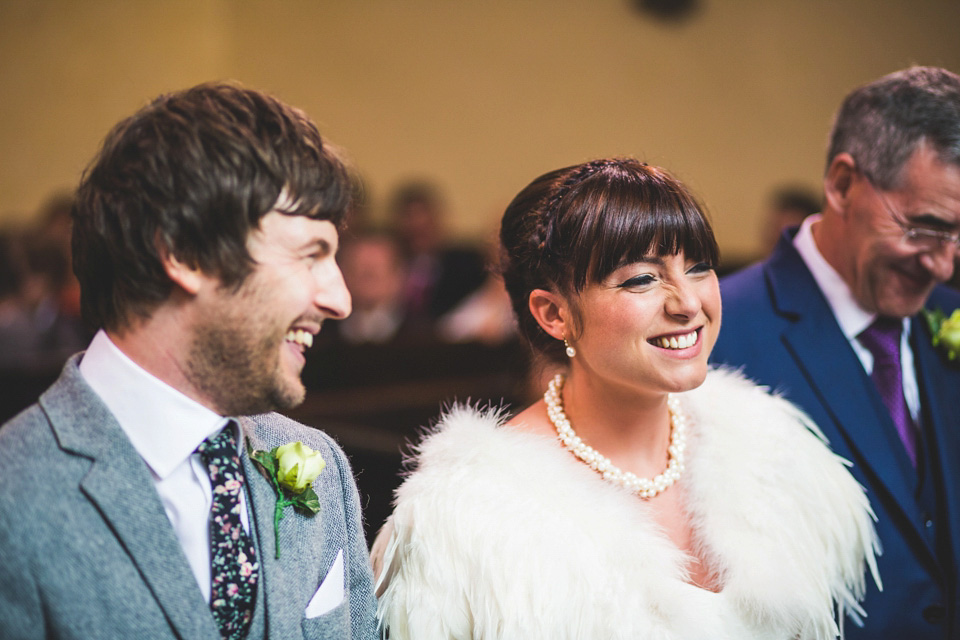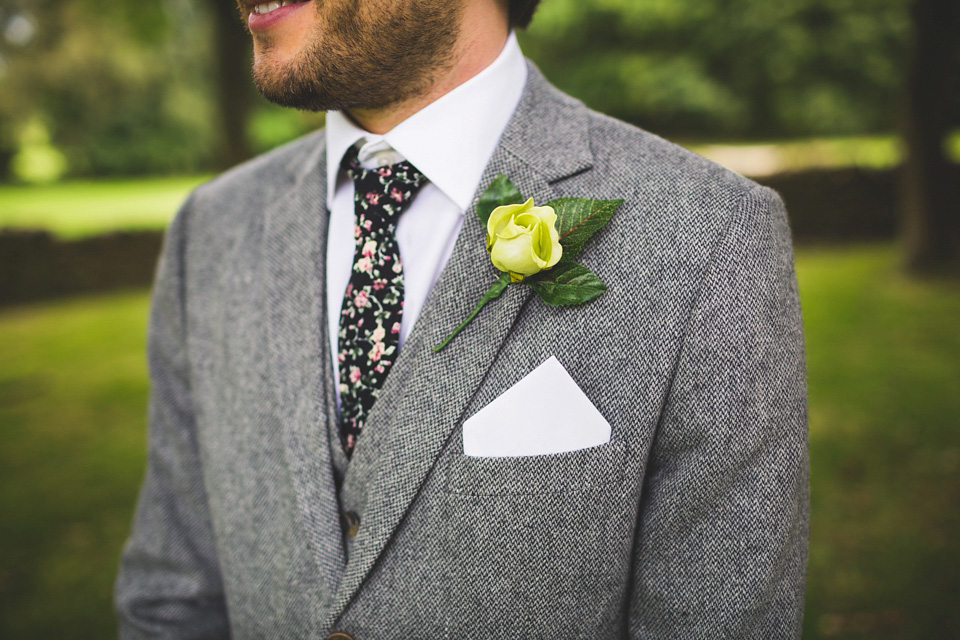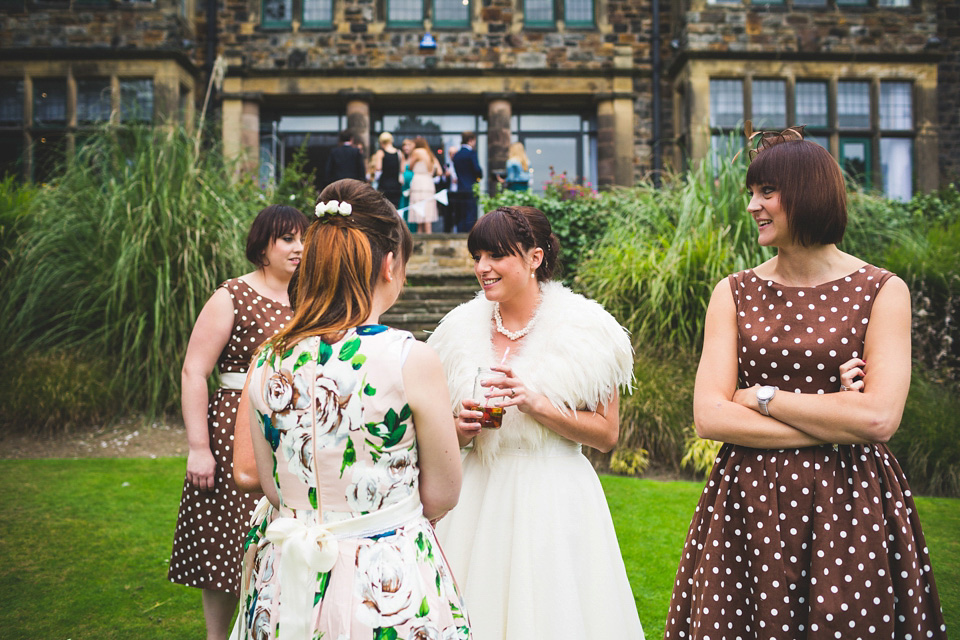 It was very important for the couple to marry local to the home they have made together.
"We've based our lives in Sheffield, having both originally lived elsewhere. We wanted our families and friends to come together in the city that we met, and that we now call home. Beauchief Abbey was always the place we wanted to marry, even before we were engaged, we'd drive by on our way out of the city and notice it among the trees. Whirlowbrook Hall was a wild card when we were looking for our reception venue. But when we visited it stole our hearts. It was perfect for the laid back feel we wanted for the evening part of our day."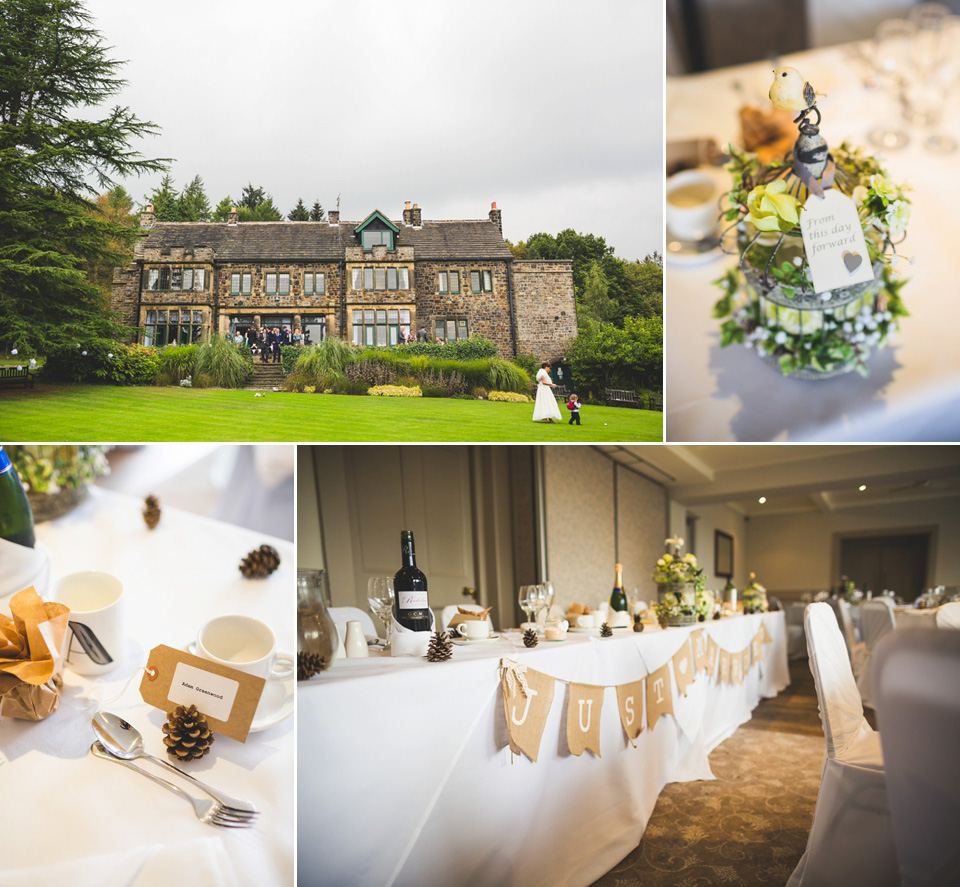 Victoria and Adam used bunting, tea lights, pompoms and fairy lights to personalise the space at Whirlowbrook Hall.
"Following our traditional church ceremony, we wanted to put our stamp on the wedding reception, with fun, rustic, vintage feel styling. Whirlowbrook Hall's rooms provided a perfect canvas. We didn't have a particular theme in mind, as long as it felt like 'us'.
We collected items and ideas along the way, and then picked the bits that went together. We had people collecting jam jars for months. Much of the table décor, our wedding invitations and seating plan were DIY, inspired by vintage fairs, blogs and Pinterest. Our beautiful bird cage centre pieces and flowers were styled by Adam's mum."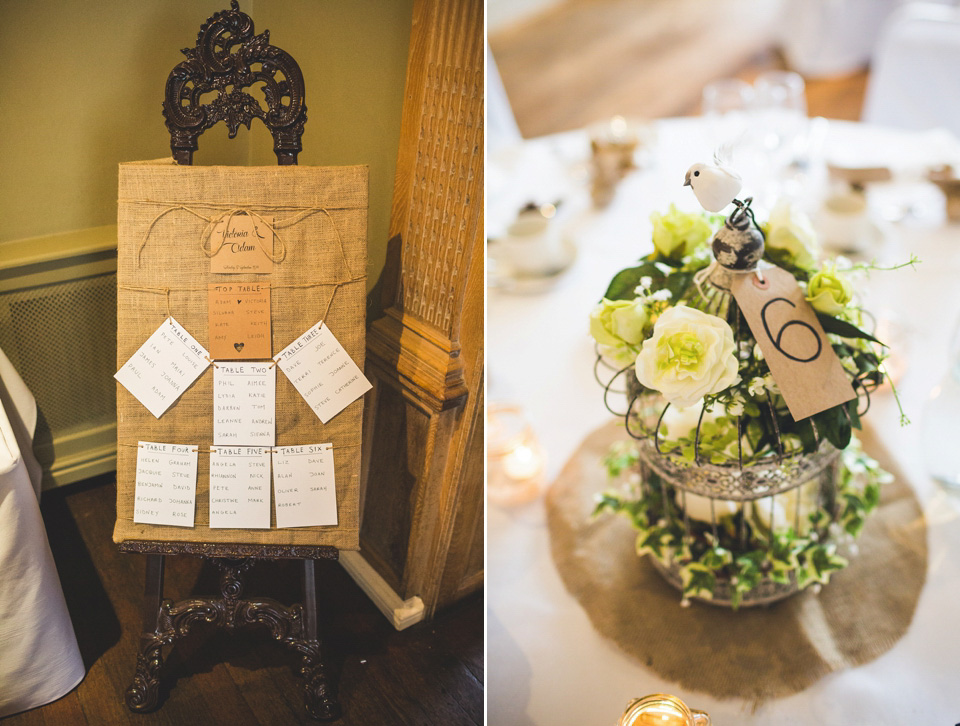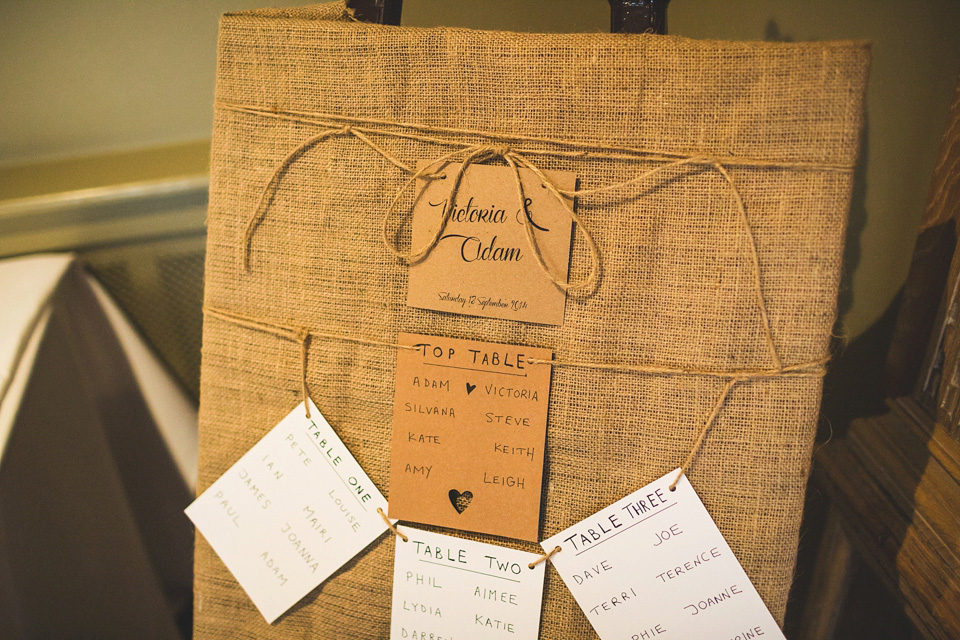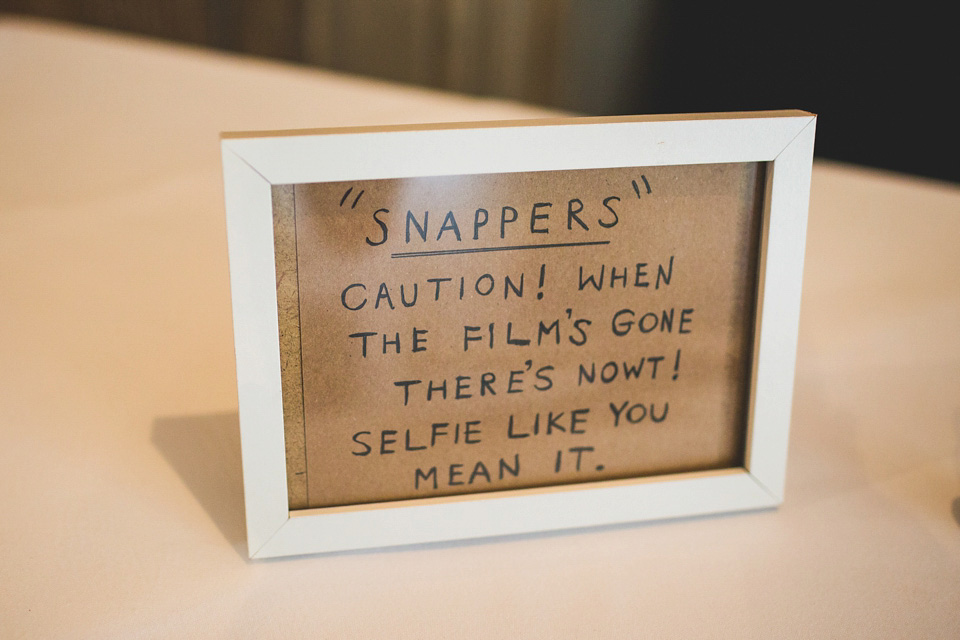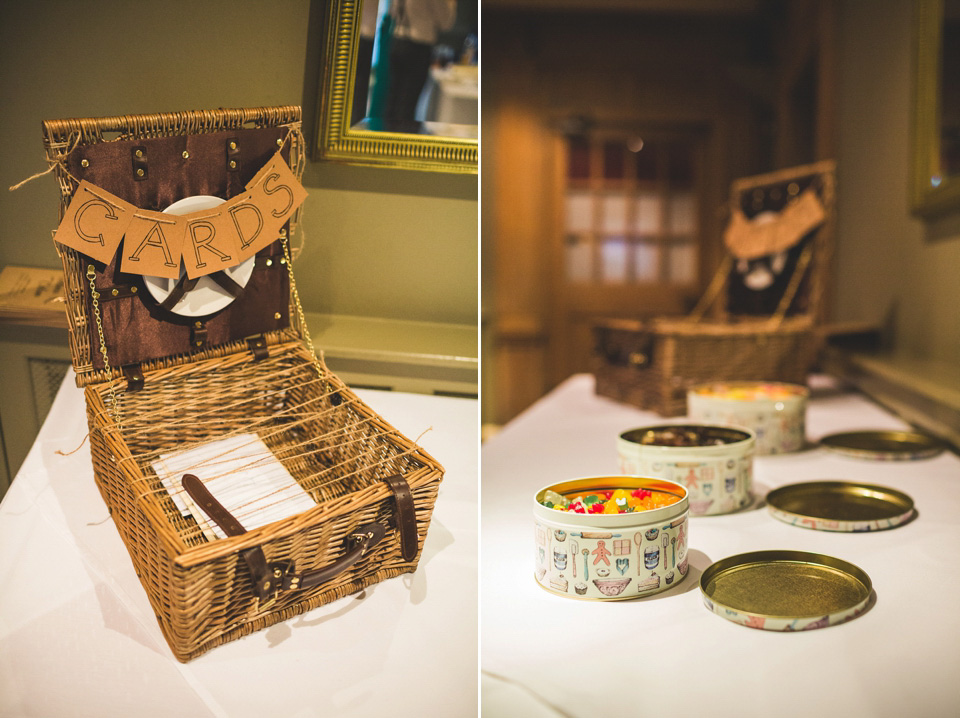 "Adam chose 'Reach a bit Further' by Wild Beasts for our first dance. We wanted a contemporary song that meant something to us, and the lyrics seemed to fit the commitment we were making: "I say yes I will do all the things that you ask of me; I say yes I will, come on darling, have no fear."
Words of Wedded Wisdom
"If you're planning a DIY wedding, give enough time to get things finished. Don't sweat the small stuff. It really doesn't make a difference on the day. Having a hessian meltdown the night before isn't fun!
Budget for the things that are most important to you. For us, this was our photographer and band. Finally, put your stamp on your day, and don't be swayed by other's ideas above your own. It's the biggest party you'll ever plan – be comfortable and be you."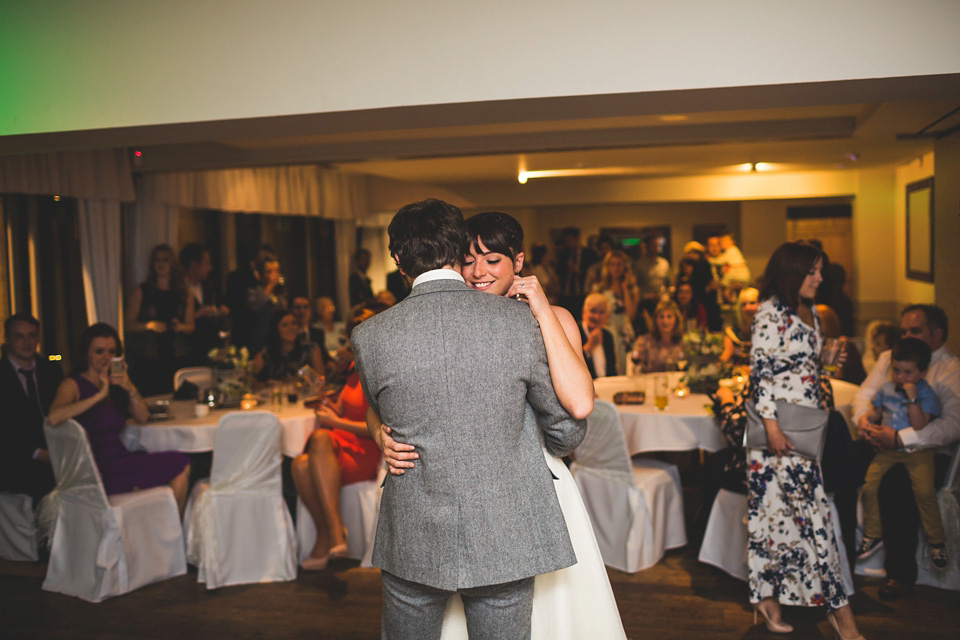 Congratulations to Victoria and Adam, thank you so much for allowing us a glimpse into your wonderful day. I love Victoria's words of wedded wisdom – the biggest party you will ever plan is spot-on, when you're drowning in a to-do list of wedmin it can be hard to focus on the end result being the day that you let go and enjoy the party with your nearest and dearest!
A huge thank you also, to Tony aka Photography34, for the awesome images of Victoria and Adam's day.
Love Caoimhe xx
Photographer – Photography34
Venue – Beauchief Abbey + Whirlowbrook Hall
Wedding Dress – 'Allie' short by Stephanie Allin from The White Room, Sheffield
Feather Cape – Biba + Sash Davie and Chiyo at Etsy
Hair Accessory – Not on the High Street
Accessories – River Pearls from Sharrowvale Market, Sheffield
Bride's Scent/perfume – Chanel No 5
Groom – Suit Topman + Shirt Next + Shoes TK Maxx
Bridesmaids – Floral dress from Jolie Moi + Polka dot dress from Tiger Milly + petticoat The Hand Made Petticoat Company @ Amazon
Groomsmen – Topman
Florist – Silvana, the groom's mother
Cake – Marks and Spencer + Topper The Haute Box Boutique at Etsy
Transport –Vintage Volxweddings
Entertainment – Ukebox
Rings – Ernest Jones
Stationery – Victoria the bride
Hair Stylist – Katie at Hair Kandi
Makeup Artist – Sarah at Flawless Makeup Artistry
Bunting – White Not on the High Street + Burlap Ginger Ray