Evening all! Interrupting our usual daily schedule to bring you a feature at this less common evening time. We're trying a few things out over here, so you might notice a few things looking different and notice a few more posts appearing in the evening too – we're keen to see how our readers interact with the blog at different times of the day. Anyway, without further delay, let's get on with sharing these colourful woodland and festival inspired nuptials.
Lighting Designer Susan married Advertising Manager Tom on 5th July last year at Hawthbush Farm in Gunhill, East Sussex. Their ceremony took place within a woodland clearing and photographer David of Modern Vintage Weddings was commissioned to document the wedding in images.
Photography by Modern Vintage Weddings
"We wanted a relaxed bohemian look to go with the style of our wedding I wasn't inspired by any one person just lots of looks on Pinterest, I had a clear vision for the whole wedding. We wanted a chilled out, beautiful and fun festival celebration."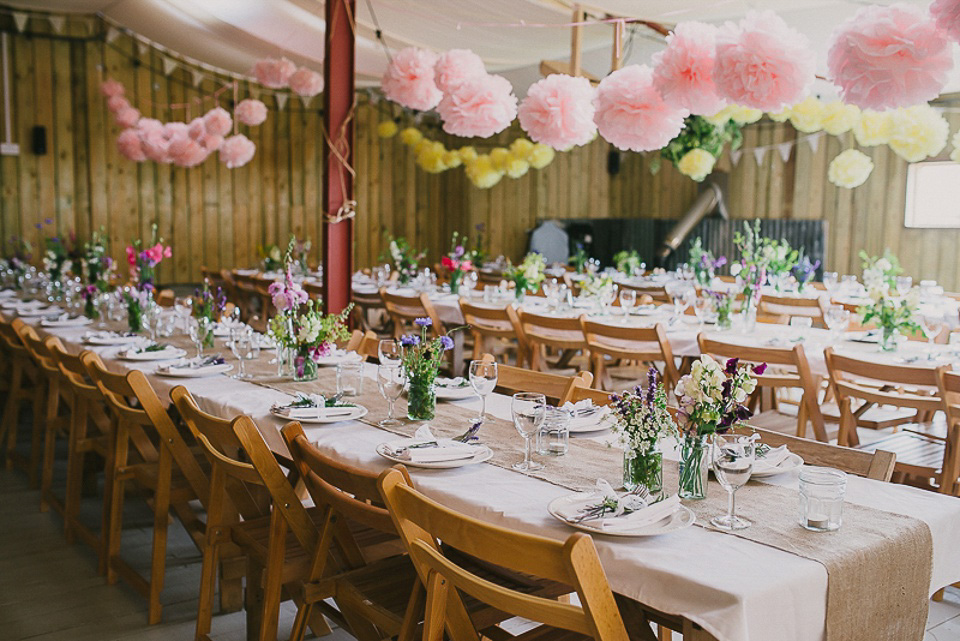 "We had an informal ceremony with a celebrant in the forest, non-religious and relaxed. Saying 'I do' in the forest was so special! As was going for secret walks in the forest with Tom before the reception."
"Hawthbush Farm is a glamping farm where all our friends were staying with us on Friday and Saturday night in safari tents, shepherds huts and belle tents. We booked out the whole farm so it was really great and felt exclusive and like a festival."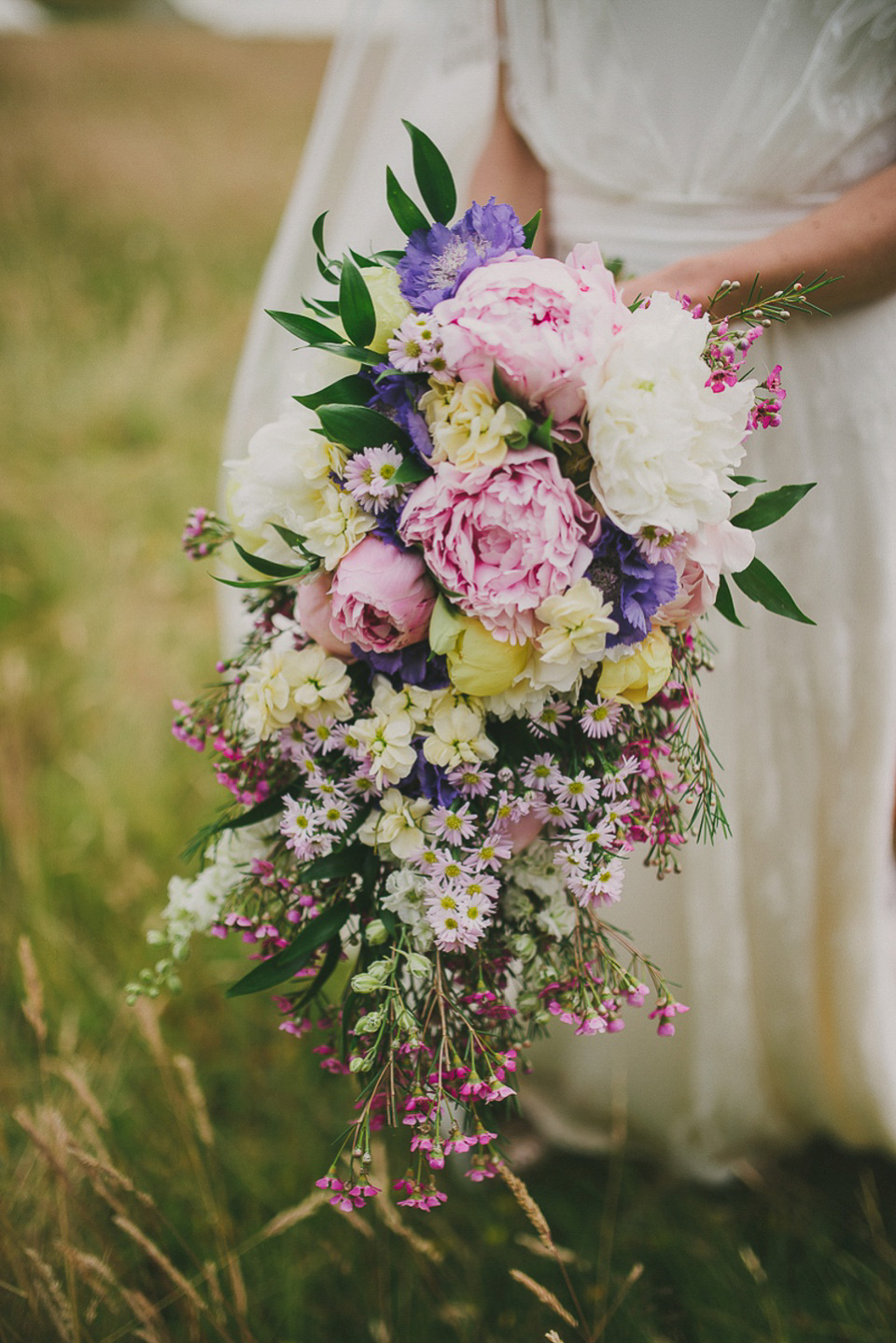 "Our photographer was David of Modern Vintage Weddings. David was completely on board with the style of our wedding I went through my Pinterest mood board and explained the concept and he delivered better than we imagined!"
"We met randomly at a Friendly Fires gig at Brixton Academy. We had both been out separately with our friends the night before the gig and were both really hungover and both nearly didn't go out! I didn't want to let my friend down who had bought the tickets so I forced myself out and Tom was going on a football team night out and forced himself also in a hungover state out to the gig! So it must've been fate!
We met on the dance floor and Tom asked me 'do you want to meet the band?' (his friend is the manager of Friendly Fires and Tom had backstage passes) So I said yes as long as my friend Lucy can come too! And we hit it off straight away, I knew as soon as I met him he was the one, it was love at first sight!"
"The proposal was a surprise! I was pregnant with our son Oscar and we were in Paris for a romantic weekend before Oscar arrived. I had described Monet's water lilies to Tom a long time before we went to Paris and said how amazing they were. So we went to De l'Orangerie to see the Water lilies and he asked me while we were looking at the water lilies.
It was so romantic and serene, I almost thought I was dreaming it was so calm and beautiful surrounded by the immersive artwork."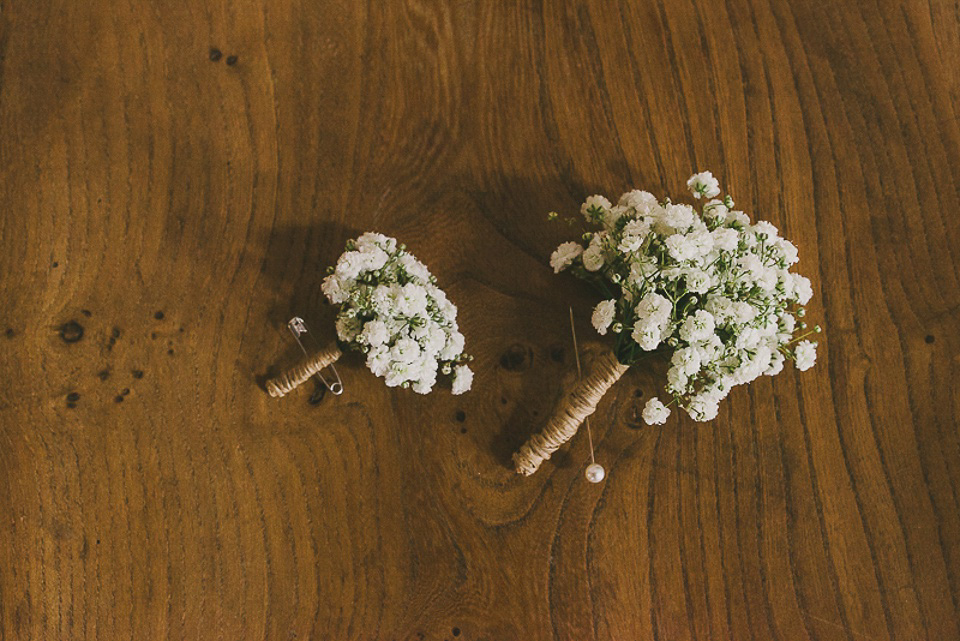 "My Bouquet was a mixture of wild flowers and peonies and bridesmaids and buttonholes were gypsophila. The florist we used for our bouquets and head crown was The Flower Workshop in Heathfield."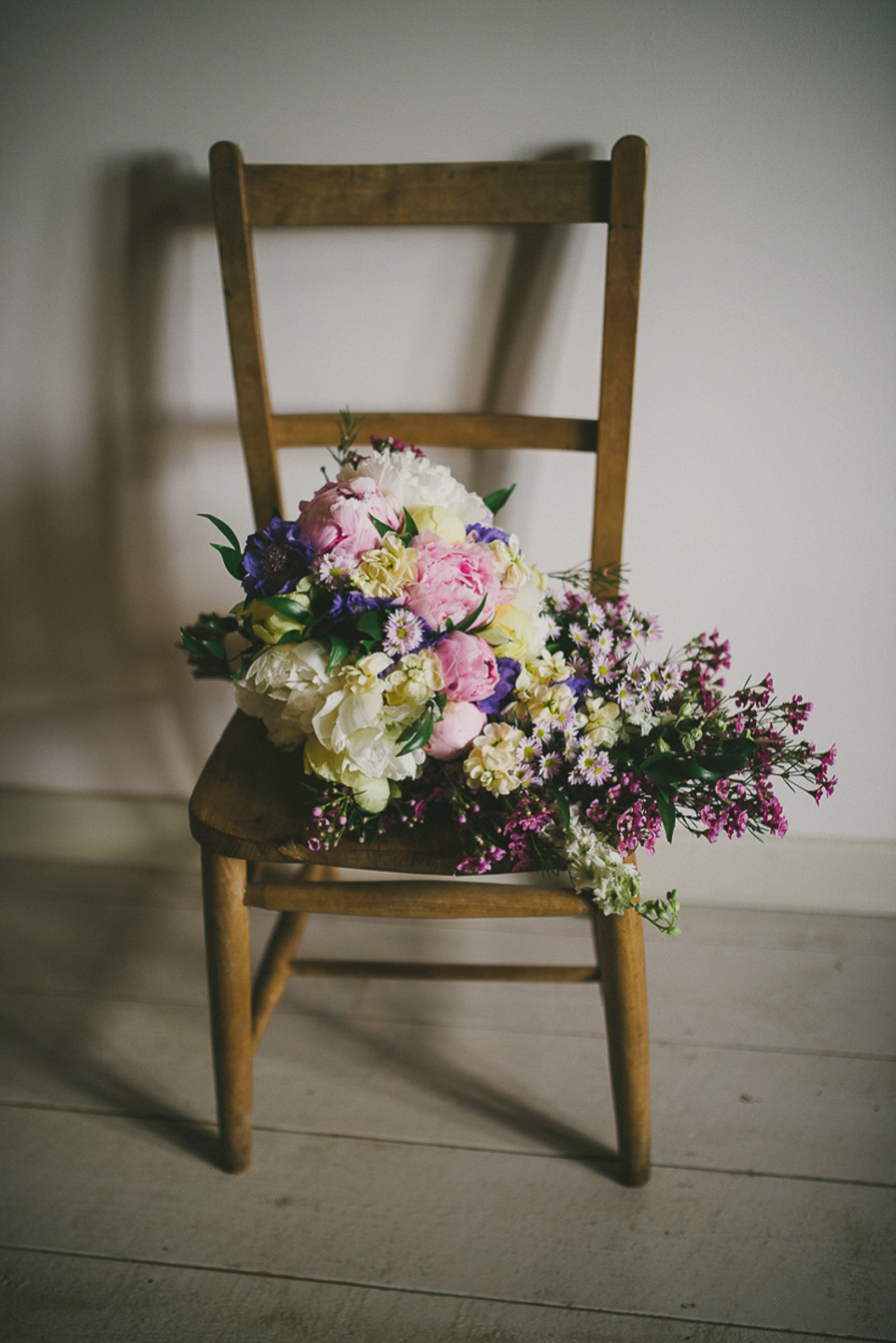 "I designed all my own invitations and thank you cards I'm a designer so I am a bit of a perfectionist. I got inspiration from Pinterest again and spent hours designing them in photoshop and doing several prints before choosing the right size and font and colour of card etc."
"My dress is from Charlie Brear – it's such a beautiful bridal boutique it's such an experience shopping there, I felt so special! I wanted a romantic vintage inspired style that was bohemian and floaty and I found the perfect dress for our festival wedding.
I loved the vintage bohemian style of my dress, and as soon as I tried it on I didn't want to take it off! It was the first dress I tried on and I didn't want to take it off! I tried on lots of others after it and kept compering them to it so I had to buy it!"
The bridesmaids wore coral coloured bohemian style floaty maxi dresses from ASOS and Jarlo London.  They also wore a side angle gold necklace from Anna Lou London which I bought them as a bridesmaid present.
In terms of accessories, Susan wore a simple gold Tiffany chain with a diamond borrowed from her mum and a pair of vintage diamond earrings.
"I had an Italian vintage style lace trim veil from Charlie Brear and after the ceremony I had a fresh flower crown for the reception."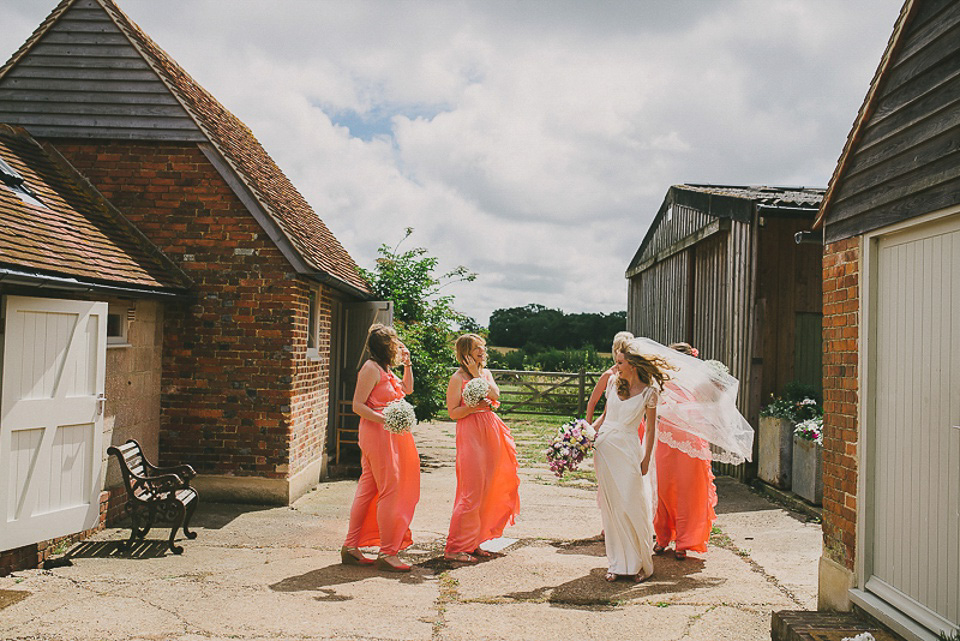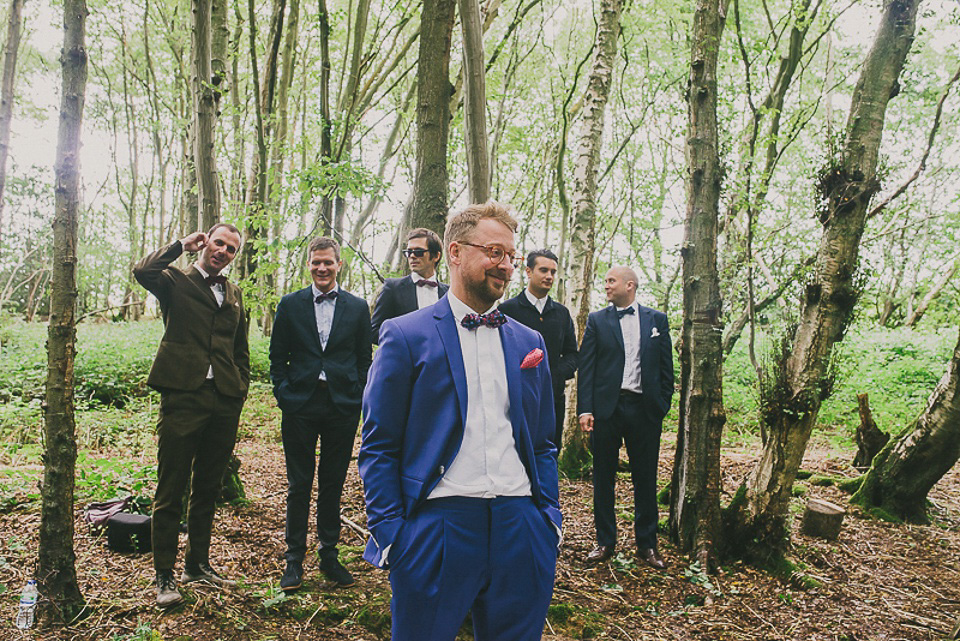 "My dad gave me away – we walked down the woodland aisle to the sound of the wind blowing in the trees.
Our vows were personal and written by the celebrant that were specific about Tom and I and our relationship and our life together."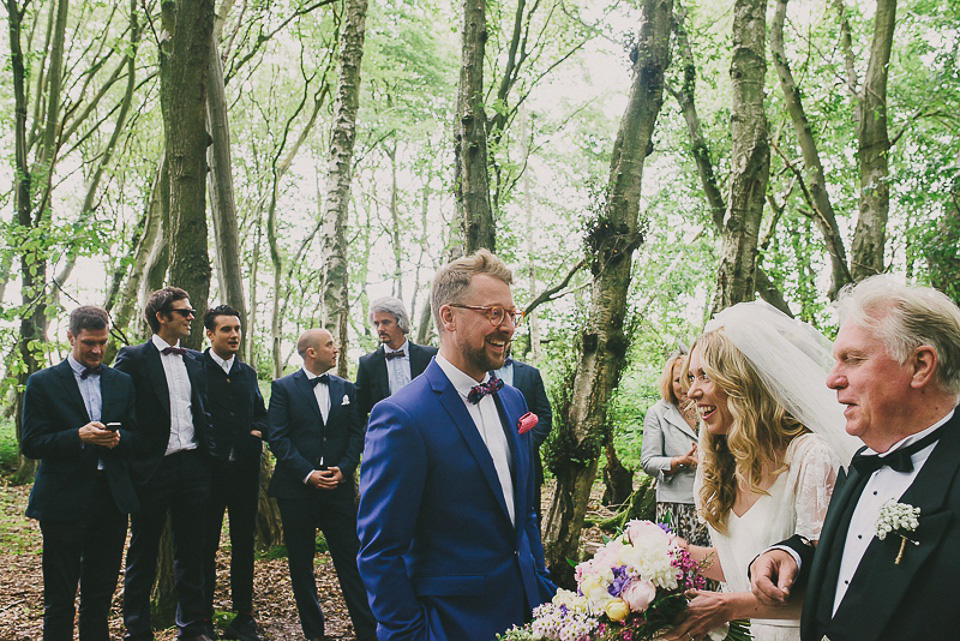 "Our readings included 'A Lovely Love Story', by Edward Monkton, read by my best friend Ross Drummond."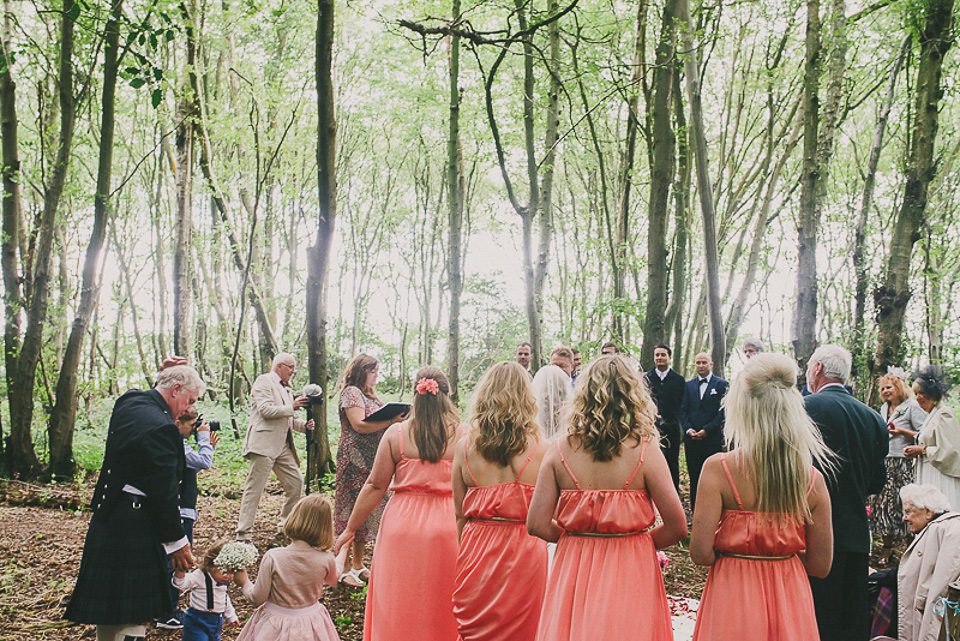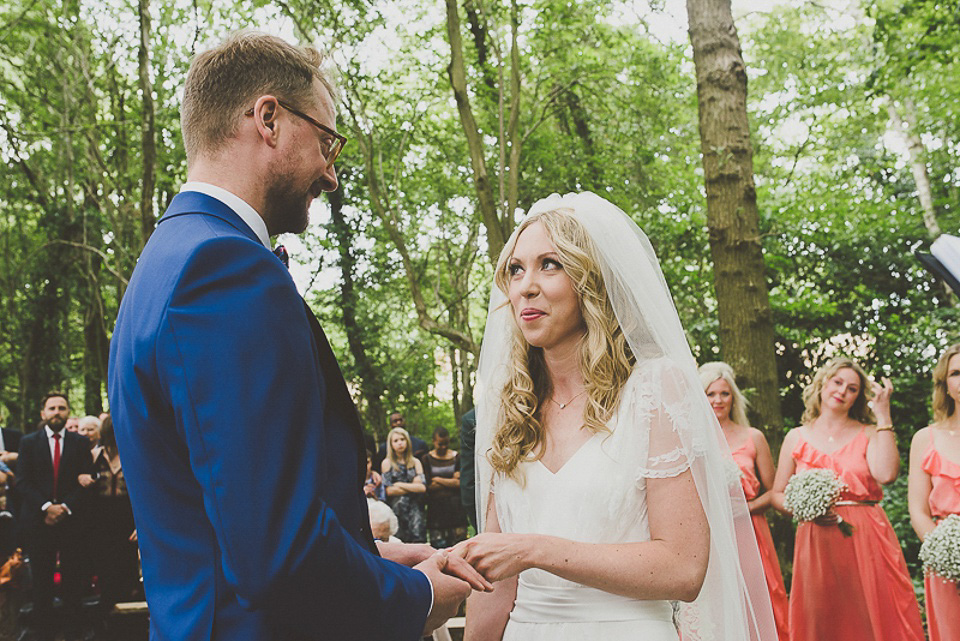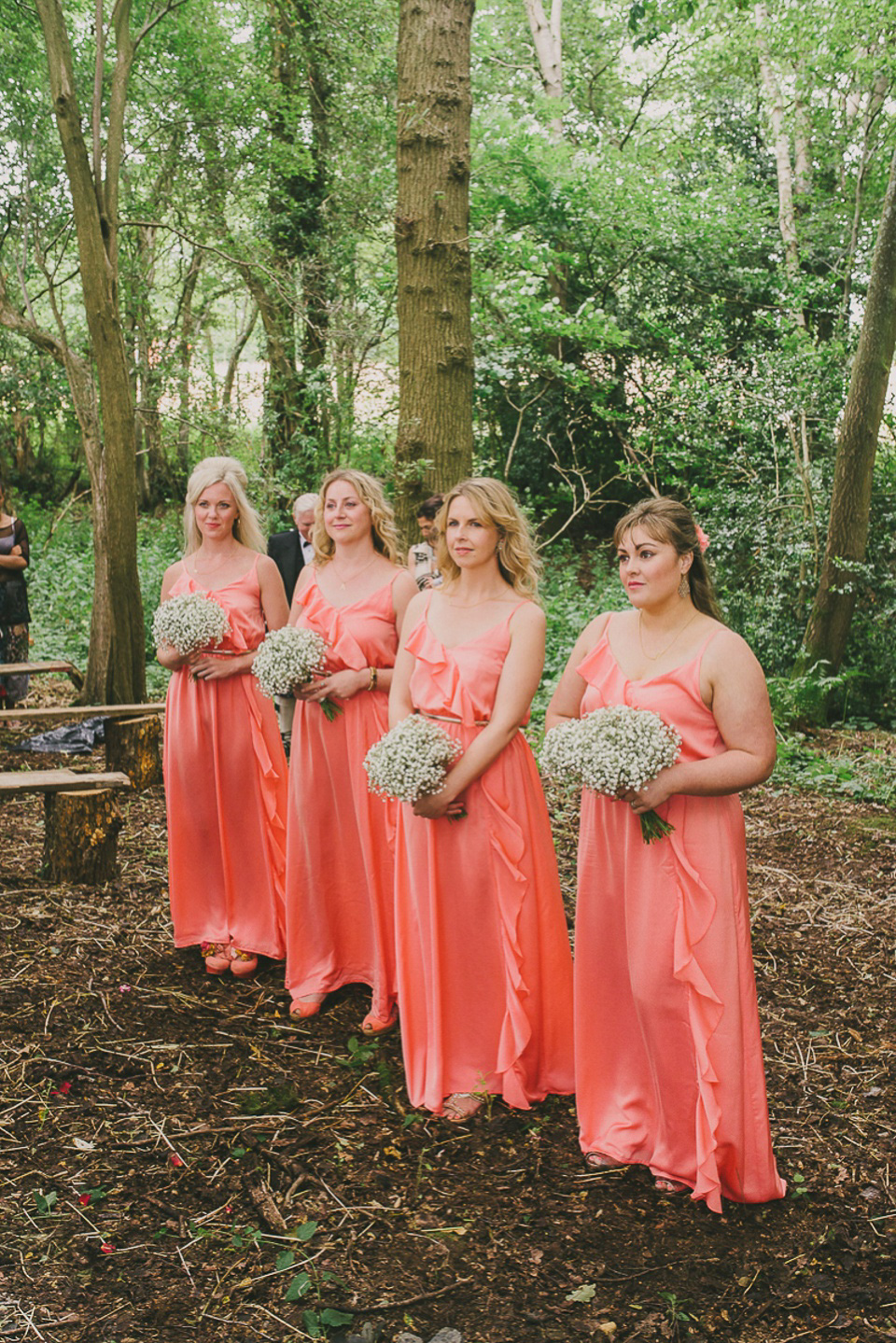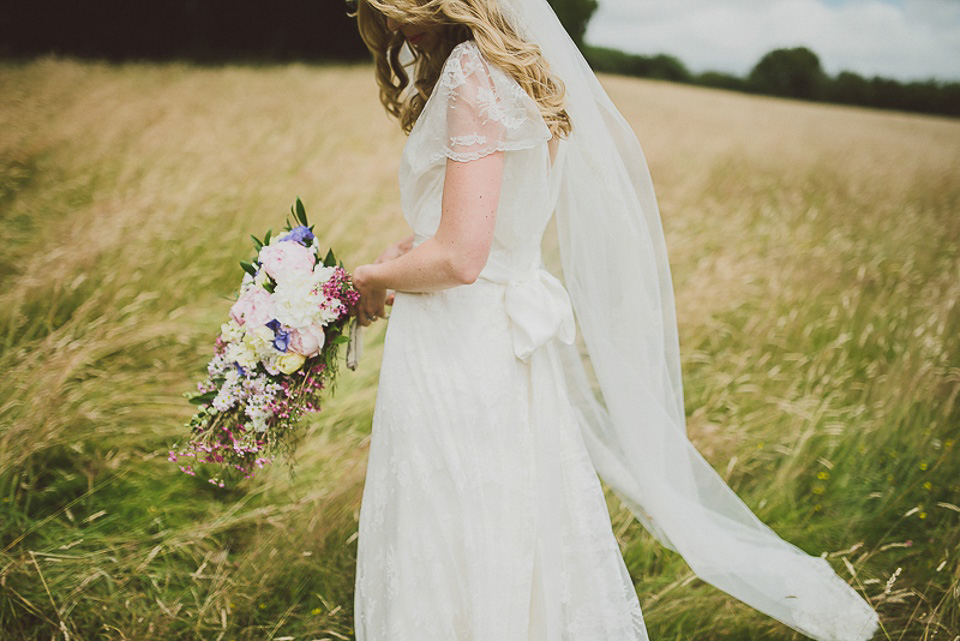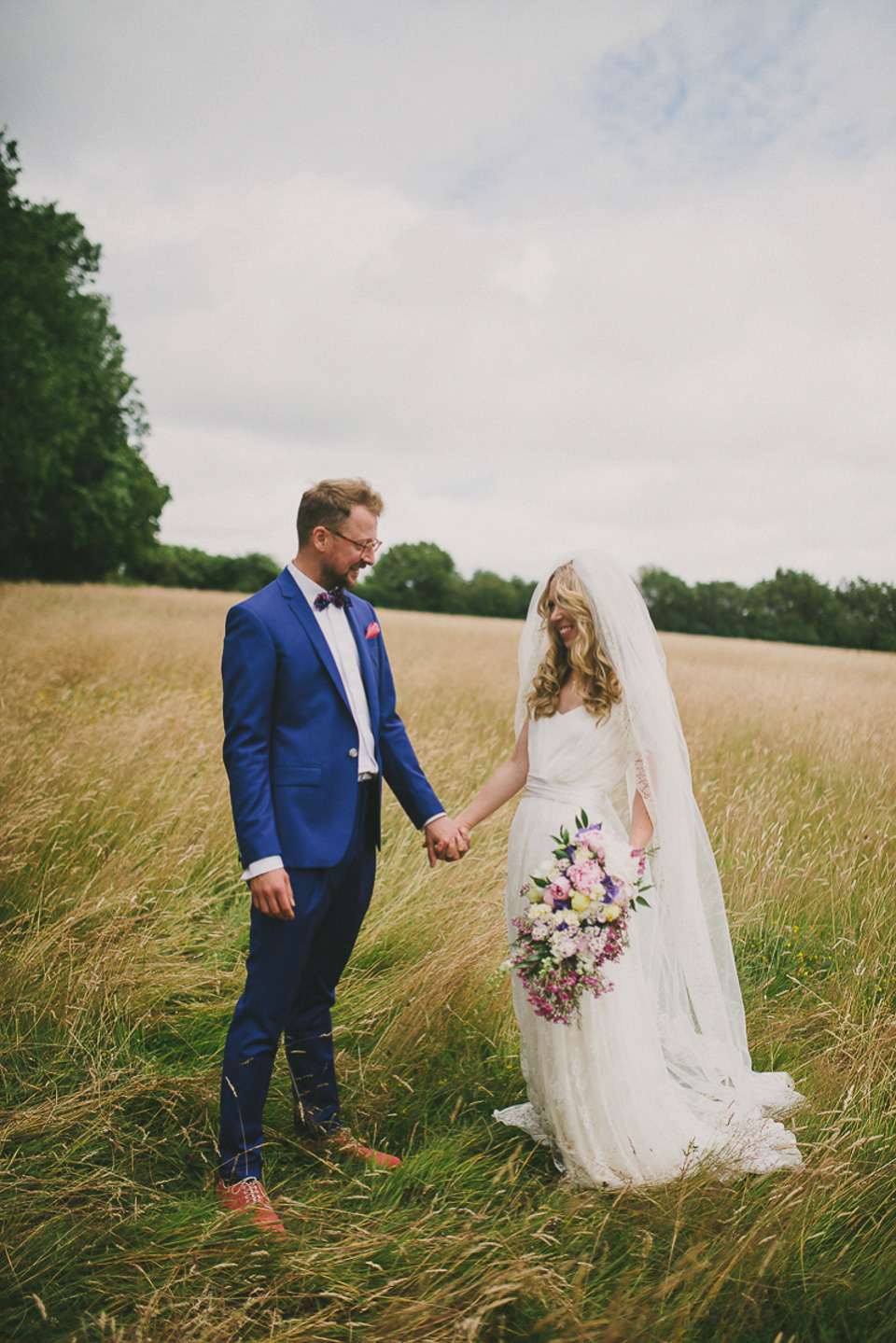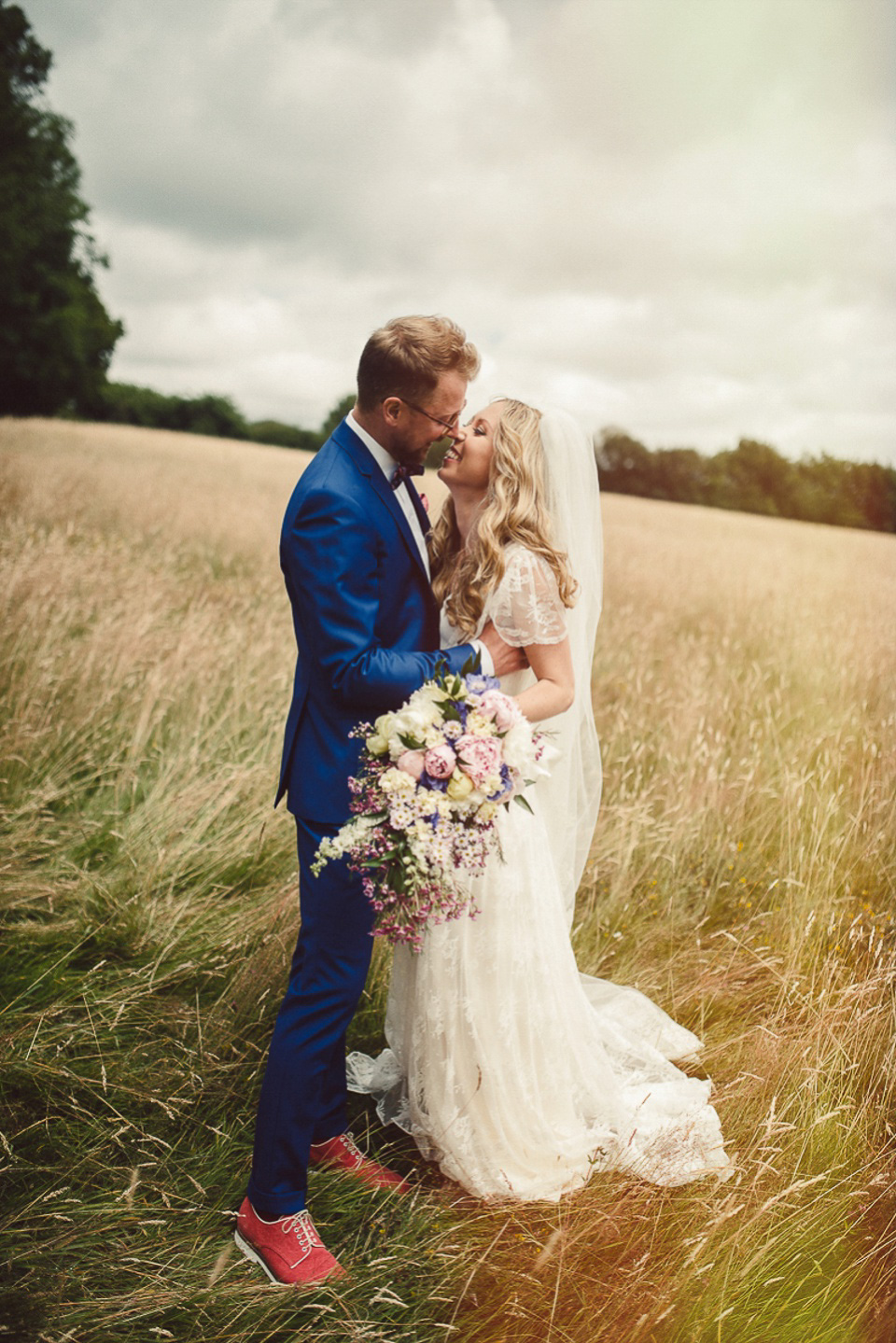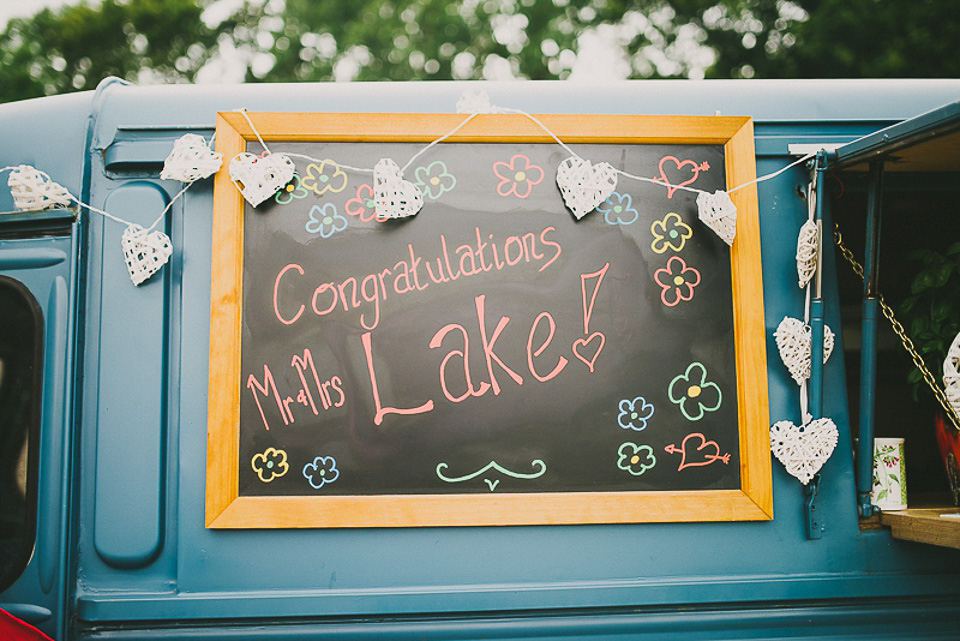 "Our wedding reception was completely DIY. We had no caterer so I organised everything and I pretty much everything too! I bought jam jars and stripy straws for reception arrival mojitos or vodka and rose lemonade with pink and white straws and yellow ribbon around that jam jar and yellow and white straws with pink ribbon around the top of those jam jars."
"My mum and my friends and family helped me make the tissue pom poms in white pink and yellow which were suspended in 3 long rows down the barn, I made a ribbon garland to go over the entrance to the kids tent, I made a ribbon garland to go around the cake table, I made a photo booth with instax mini cameras so people could take polaroid style photos with props on, I also had brown love heart shaped cards with lace ribbon that were meant to be tied to a tree as a wishing tree with nice messages but by that point the heavens opened so people tied them to the string of pom poms instead. I also suspended a mirror ball in the dance floor."
"We wanted it to be like a festival, fun for the adults and the kids with a kids entertainer Felicity Fairy who entertained the kids in the kids tent with party games and face painting, a ceilidh band to get everyone up dancing and to loosen inhibitions."
"We also had a hog roast buffet to provide an informal vibe and no seating plan so everyone can sit on the long tables wherever they want with their own mates not a forced approach, as we've been to so many weddings where you have to make small talk with people and your friends are all on another table! We had 3 big long tables where people could sit where they wanted.
I laid hessian on top of the table cloths and tied the cutlery together with lace ribbon and lavender and rosemary alternating down the tables. We also had a vintage pizza van for the evening. We had a ceilidh band as I'm Scottish and Tom's English."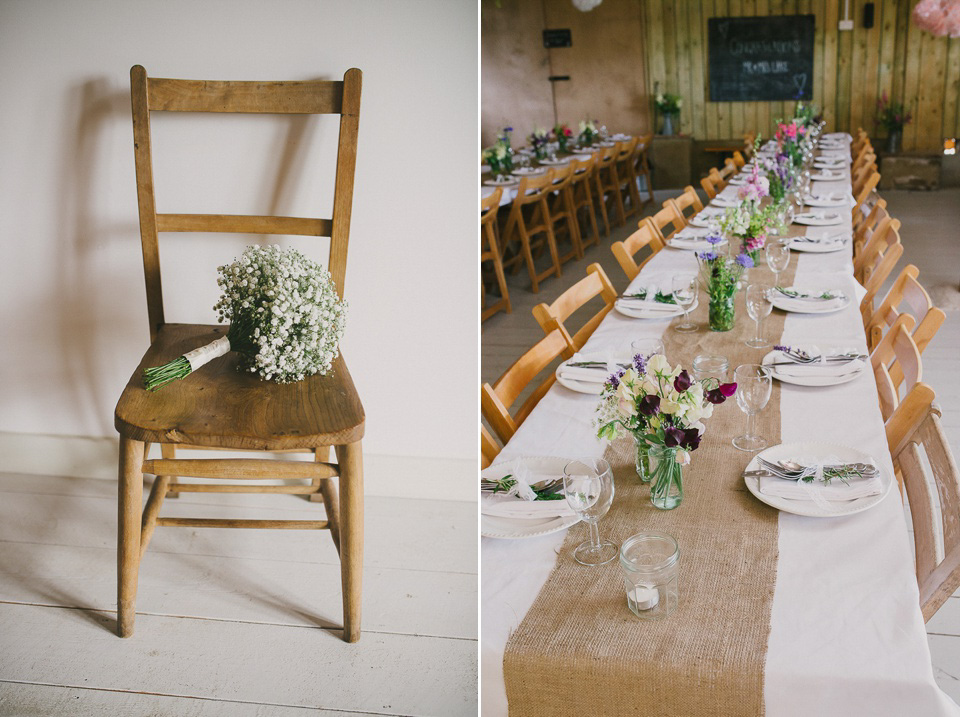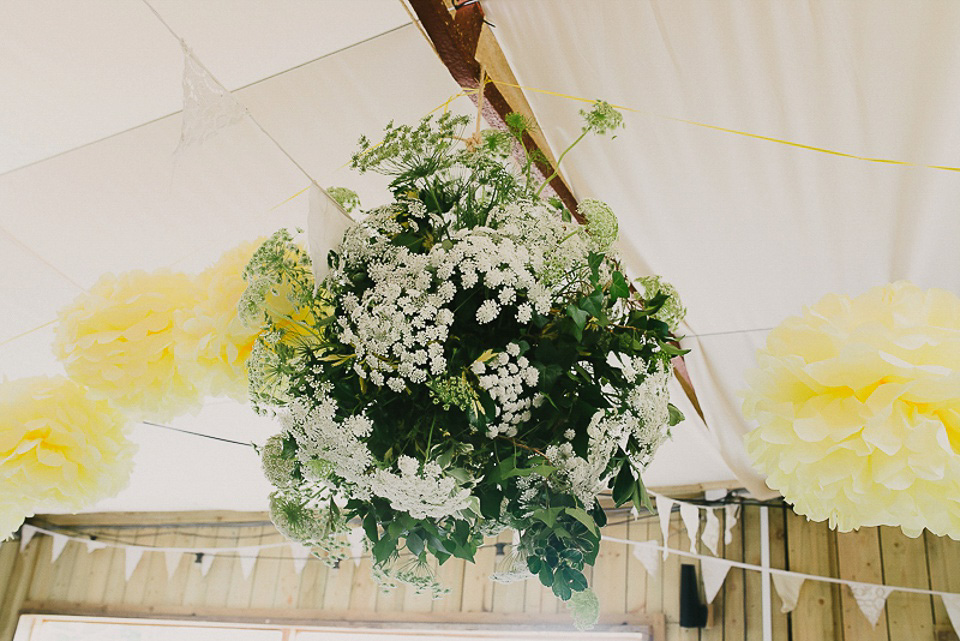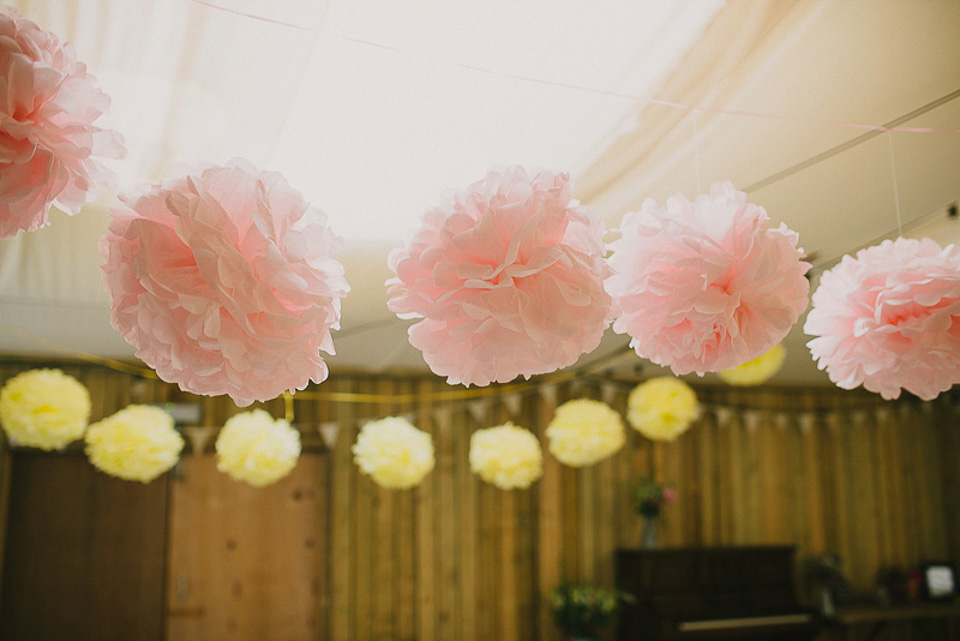 "We had three big long tables where people could sit where they wanted. I laid hessian table runners on top of the table cloths and tied the cutlery together with lace ribbon and lavender and rosemary alternating down the tables. Then we had different sized bunches of wild flowers in jars and jugs and jam jars with tea lights in them.
The colours were white, pale yellows and pale pinks, I wanted a relaxed colourful and elegant look with the use of wild flowers and tissue paper pom poms (about 200 of which me and my friends and family made thanks mum!)"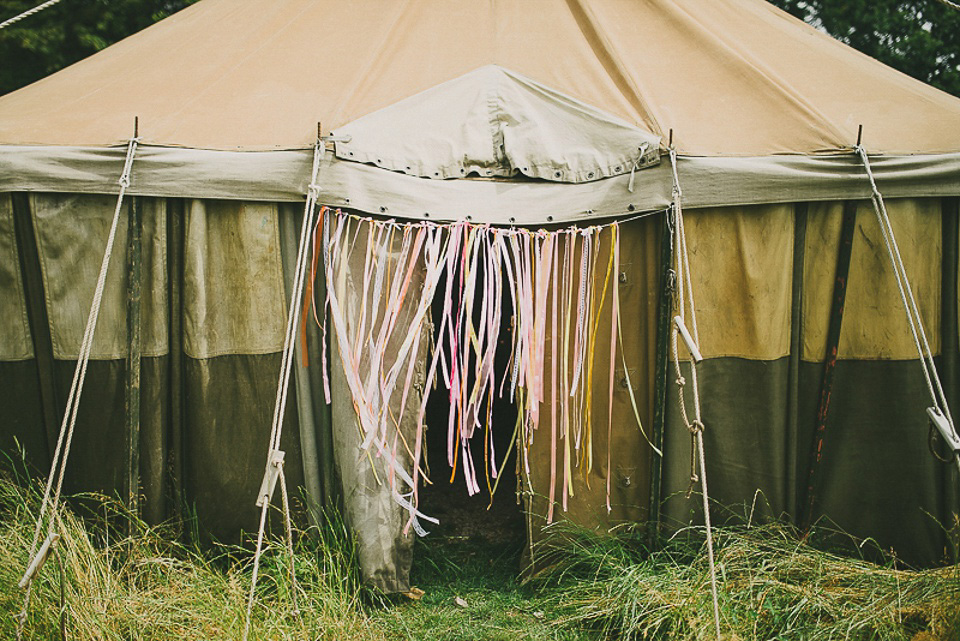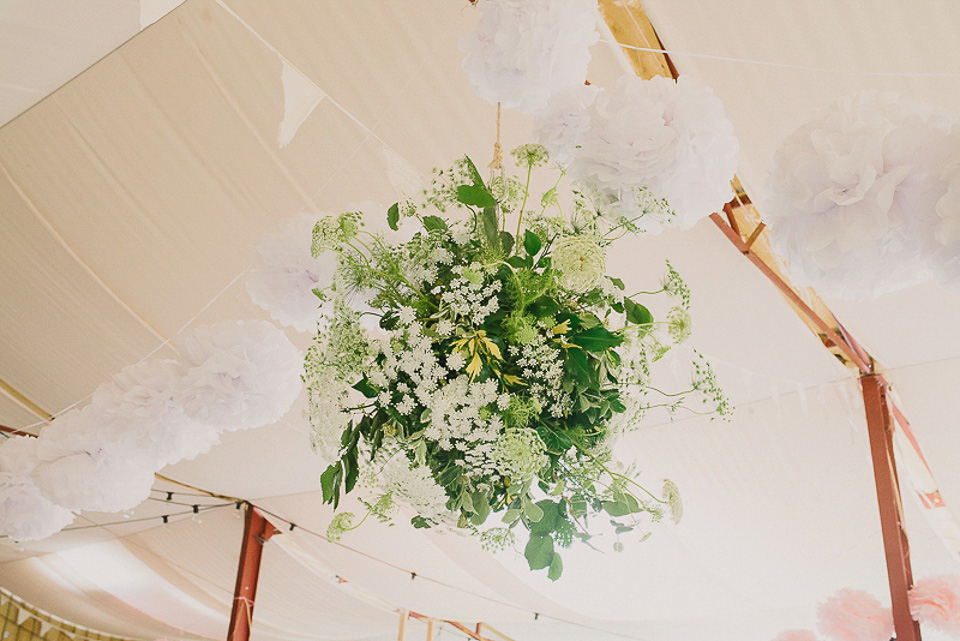 "The flowers in the barn were grown by my mother in law grew and arranged all the table displays and the flower globes suspended from the ceiling, she grew sweet peas, ammi major, fox gloves, corn flowers and larkspur and lots of different wild flowers mostly in pinks yellows and white. I wanted a wild bohemian informal look."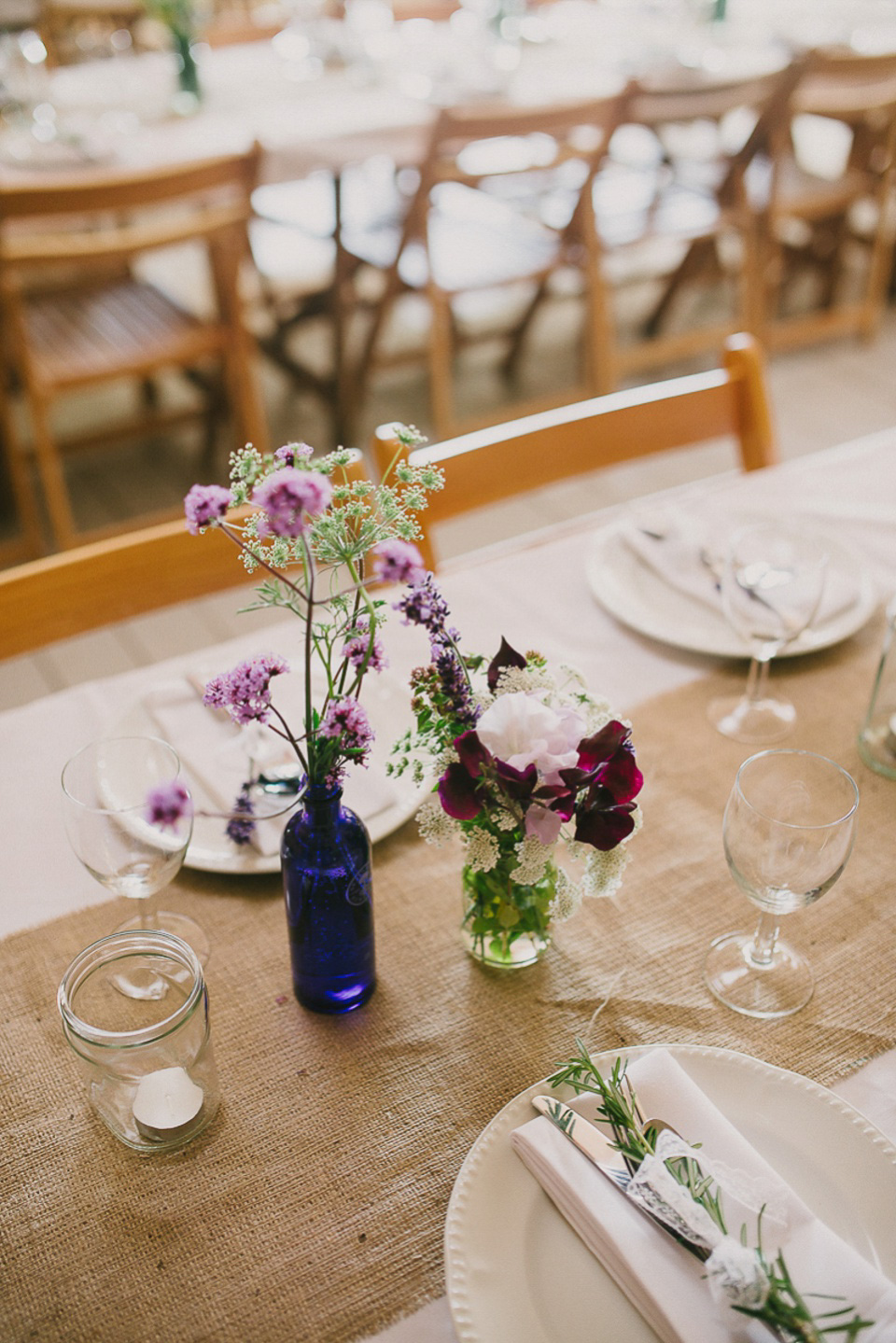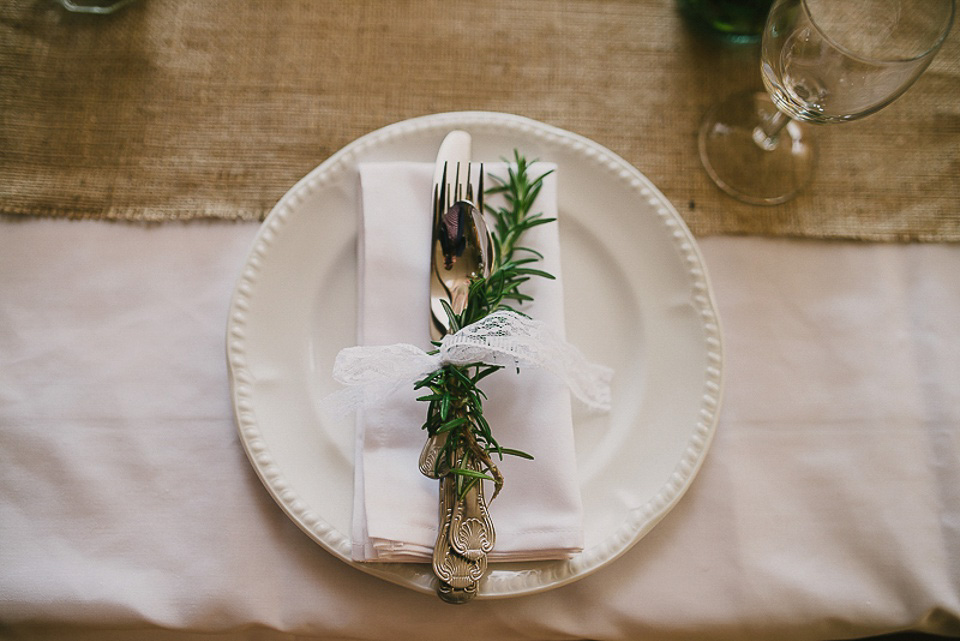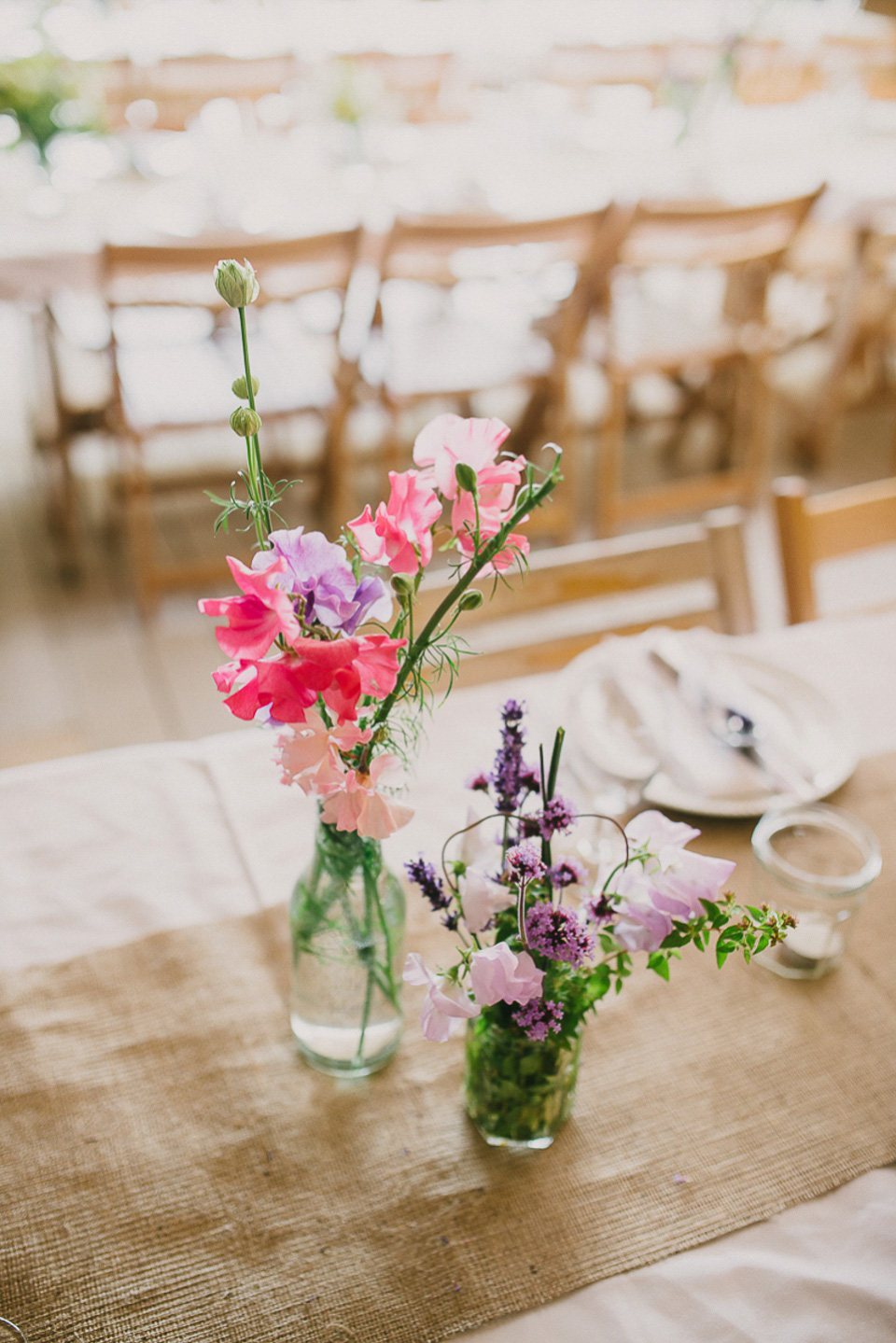 "We didn't have a catering company my friends who own are restaurant in Kailze Gardens in Peebles, Scotland  made an amazing buffet, to accompany the hog roast and we hired waiting staff and a bar for later in the evening. It was a lot of work but we had amazing food in the end and we had a vintage log fired pizza van for later in the evening."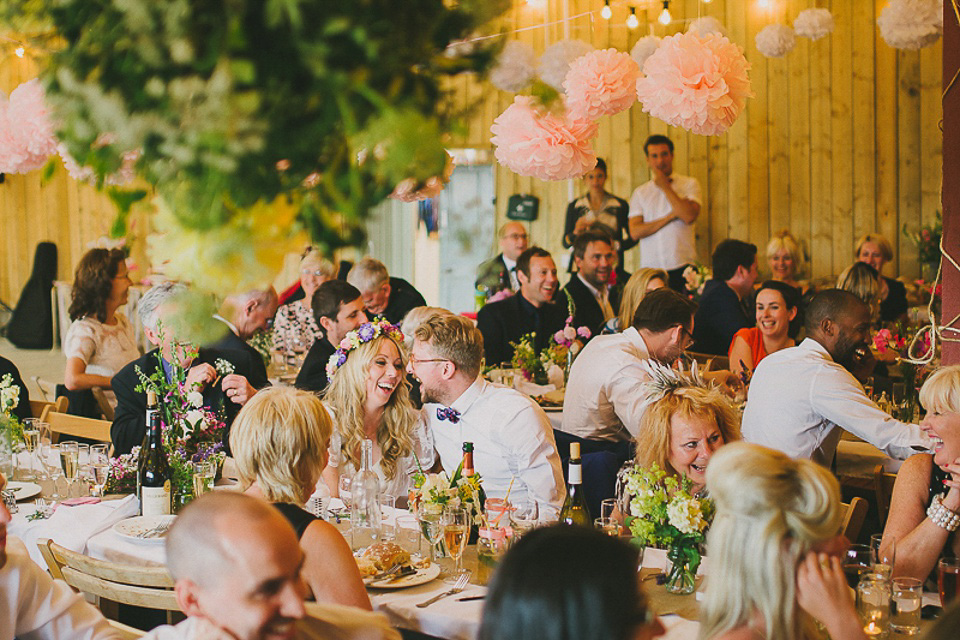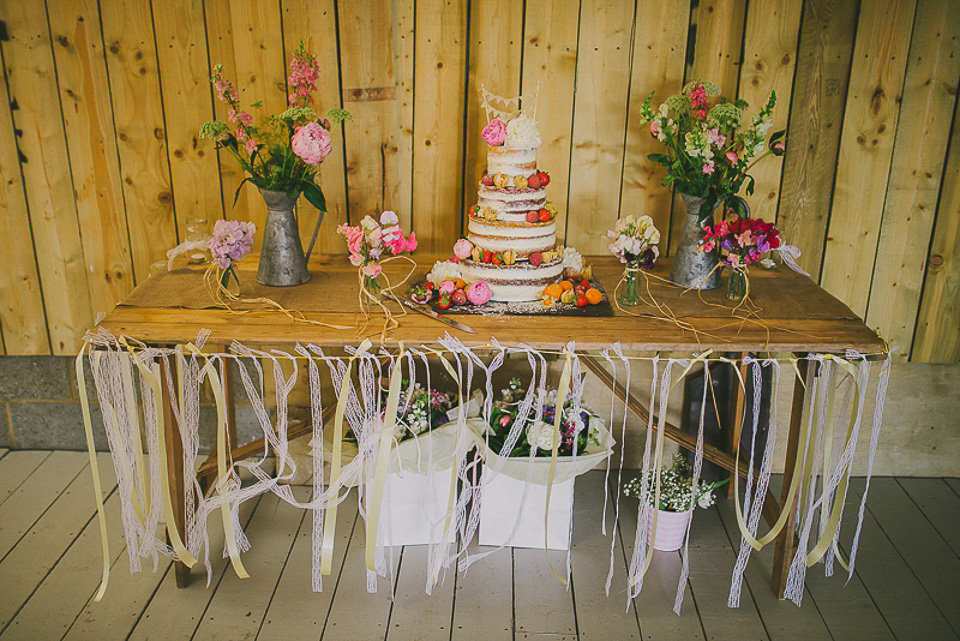 "Our cake was made by Little Boutique Bakery – she made an amazing naked cake in lemon and red velvet alternating teirs."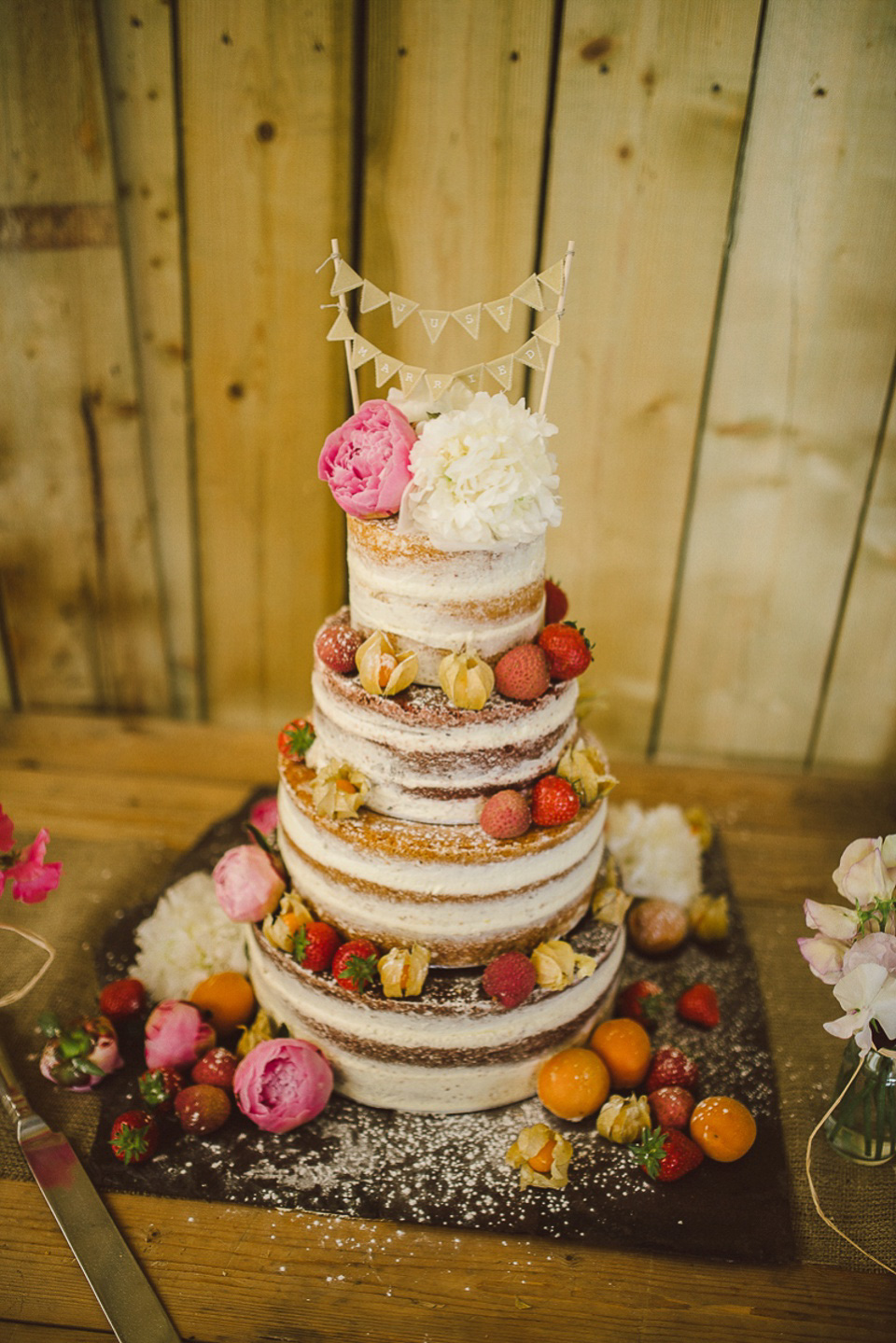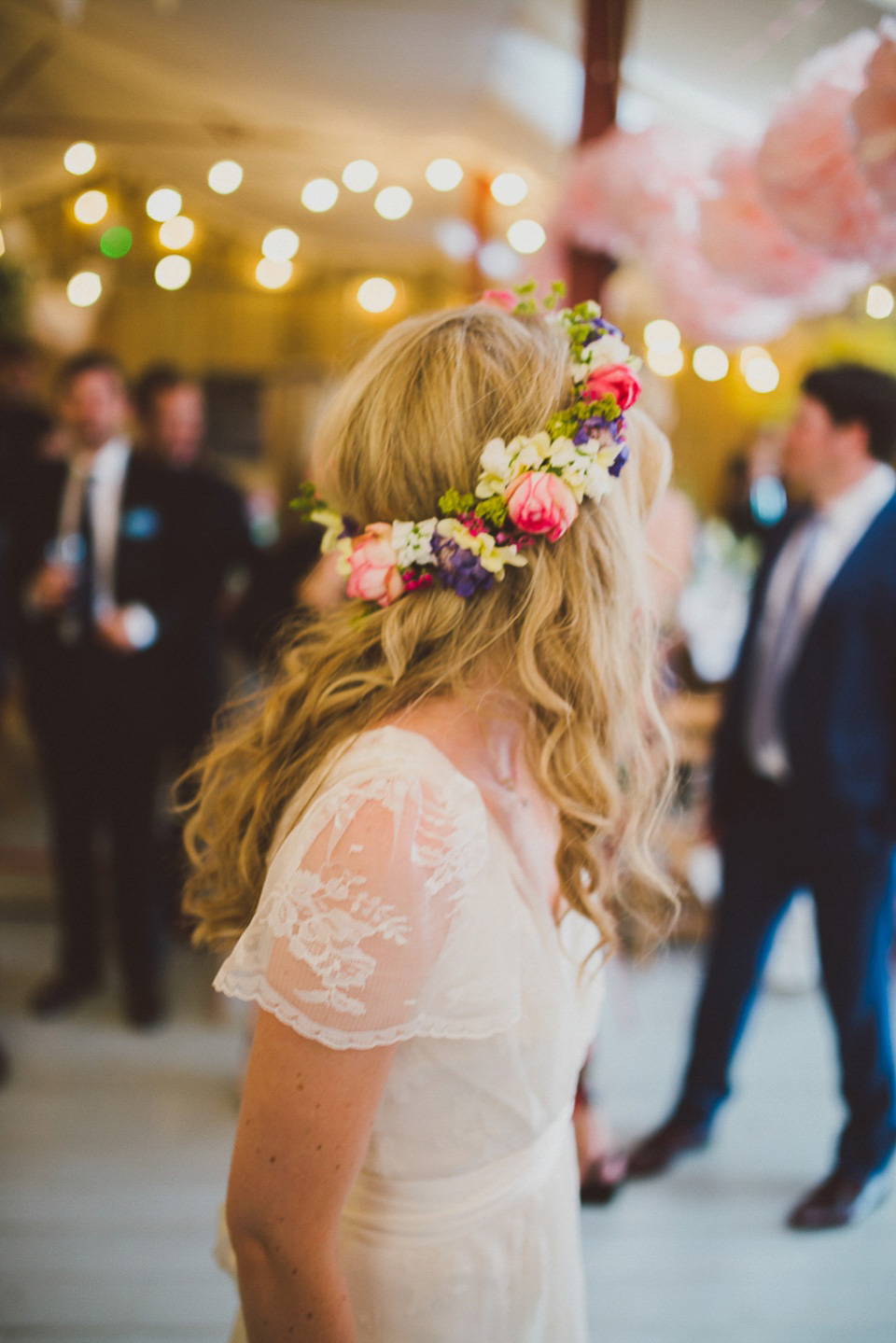 "We danced the first demonstration dance at the ceilidh we thought this was more informal and not so traditional and more suited to the wedding!"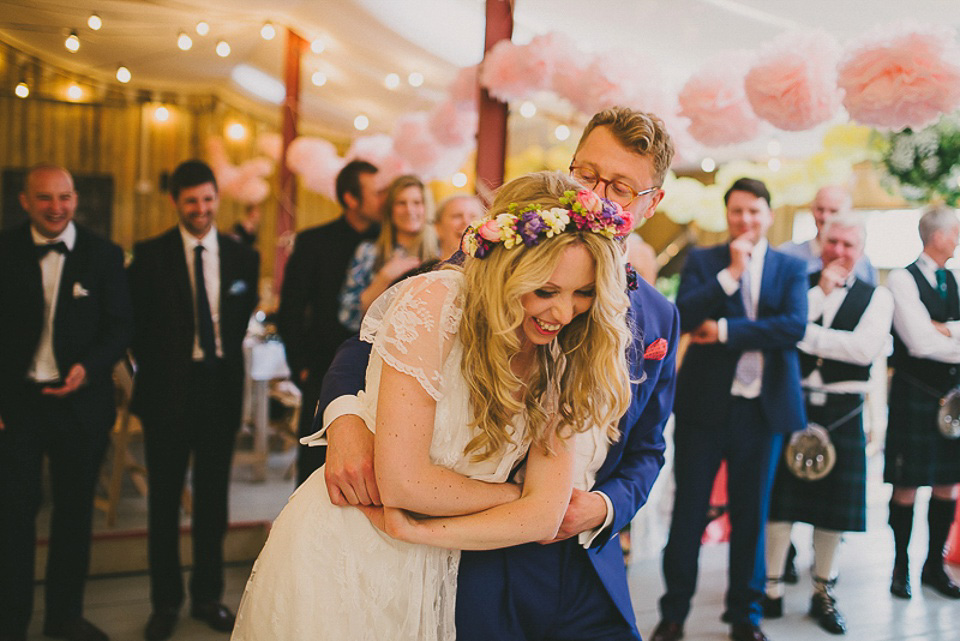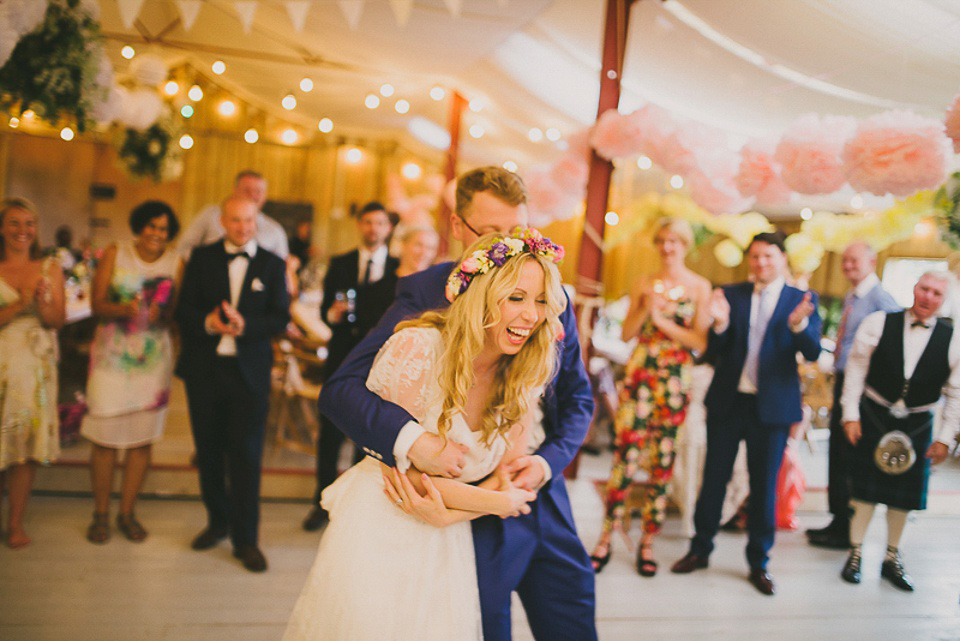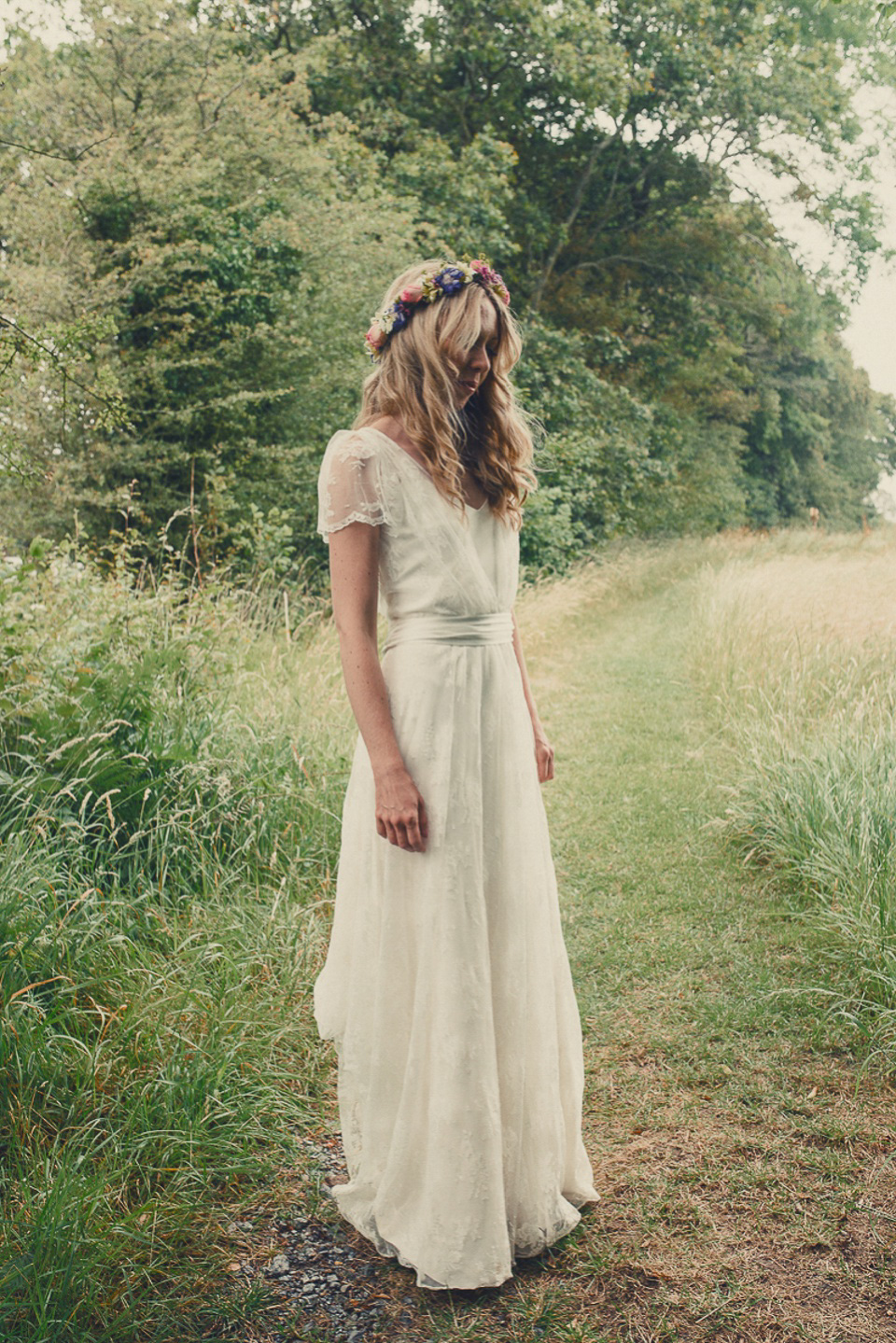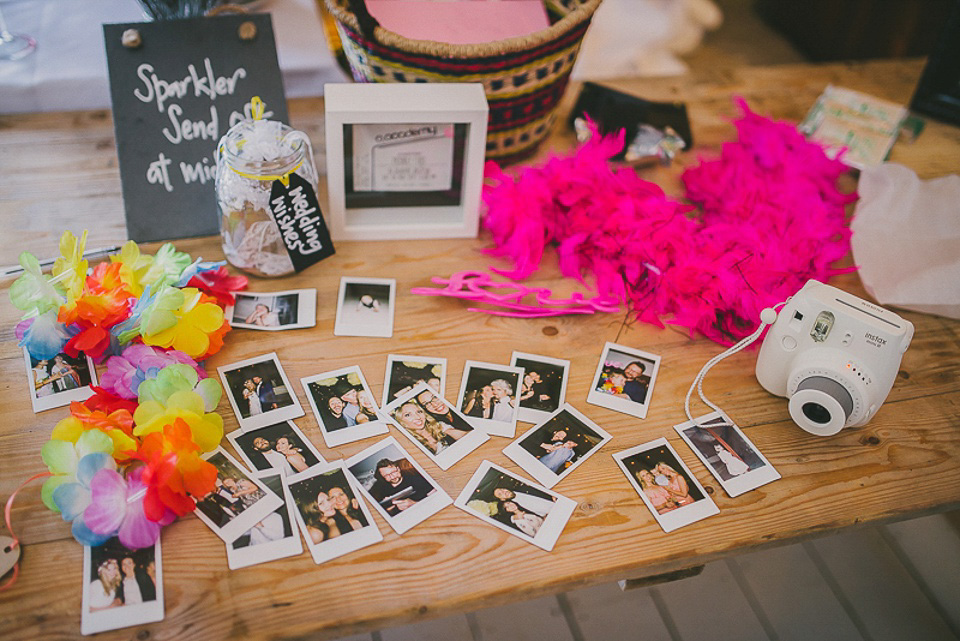 "It was a big party it went on in the barn till 12.30 but we took the party to the safari tents on the farm where our friends were staying after the barn closed at 12.30 and we partied late into the night!"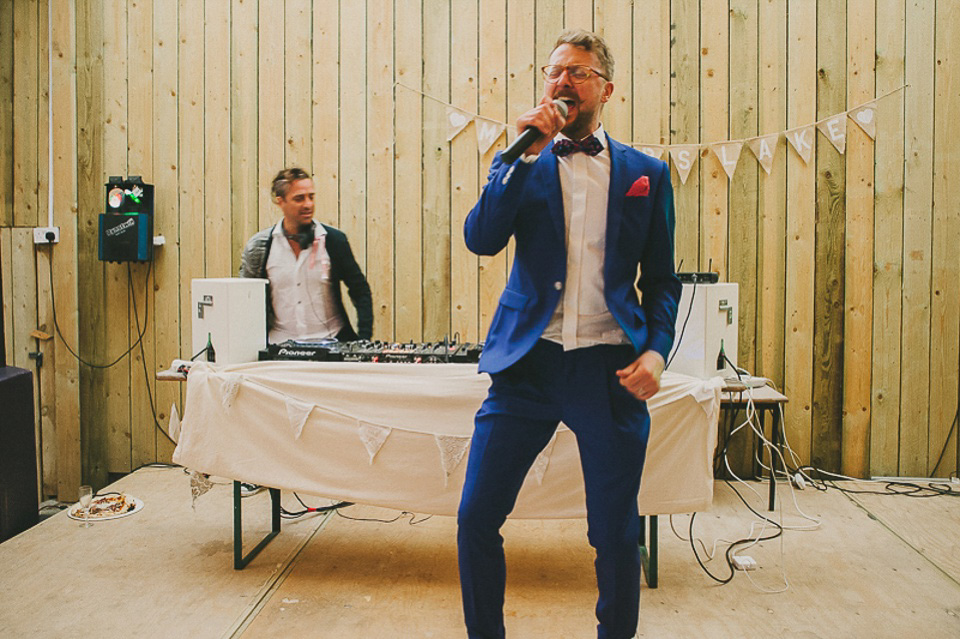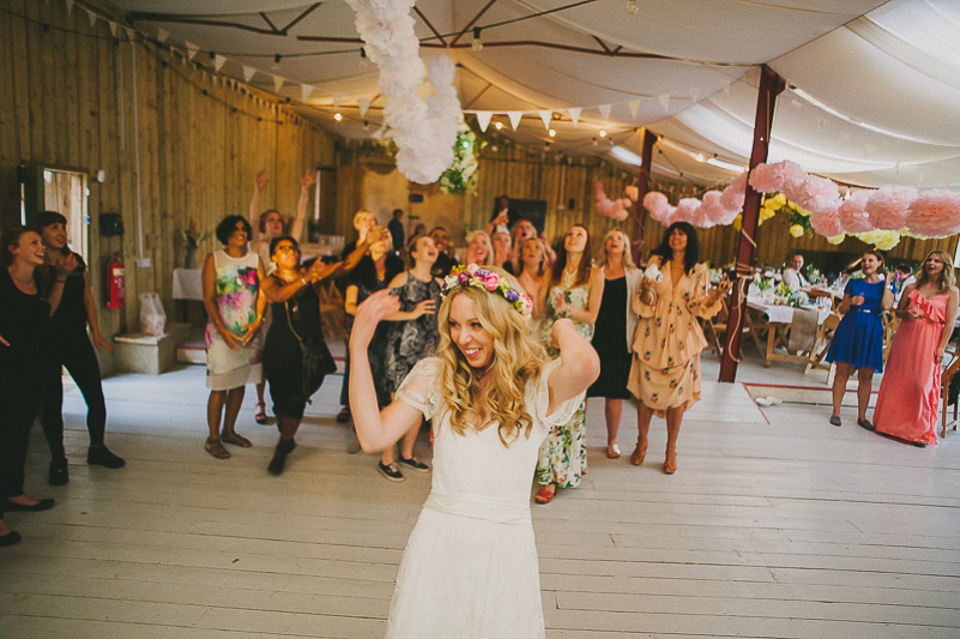 Words of Wedded Wisdom
"Take as much help as you can get and take some time to enjoy your day together as a couple, the day goes so fast it's good to take a few moments to enjoy it together."
What a truly beautiful wedding.  I do adore a lovely woodland wedding – the idea of exchanging your marriage vows amidst the trees and with nature surrounding you is such a romantic idea. Huge love and congratulations to you Susan and Tom – not far now until your first wedding anniversary, and I wish you the very best of days.
Our huge thank as always to photographer David from  Modern Vintage Weddings.  You can see more from this wonderful photographer here on Love My Dress – he is always spoken about highly by his clients. Take a look at his website and further work here.
I'd love to hear from readers who may be planning a festival inspired, or woodland wedding. Will you be having your ceremony on a farm too?
Love Annabel x
Photographer – Modern Vintage Weddings
Venue  – Hawthbush Farm in Gunhill, East Sussex
Wedding Dress + Veil – Charlie Brear
Shoes – Gold vintage style shoes from Dune
Perfume – Petite Cherie Annick Goutal Paris
Groom – tailor made blue suit from Mr Stark (no website)
Bridesmaids Dresses – ASOS, Jarlo London
Flowergirls – Monsoon
Florist + Flower Crown –  The Flower Workshop in Heathfield
Cake – Little Boutique Bakery
Entertainment – Ceilidh band + DJ (Tom's friend Dan) + Felicity Fairy Parties (children's event entertainer)
Rings – Andrew R. Ullmann Ltd + Hatton Garden vintage jewellers