Ciao tutti! I am a very happy lady today. In fact I am always very happy to open up my inbox to discover that Annabel has sent me an Italian wedding to share with you all and this one is troppo bello / a real beaut! To be fair, the couple are so gorgeous, and the colour popping décor so stylish, that you wouldn't be wrong in thinking that today's wedding is actually a styled shoot. It really made my heart sing looking at the stunning photos, shared with us by Giuli e Giordi.
I would like to present our lovely Italian bride and groom, Giulia and Andrea, who married on 21 June 2014 in the beyond stunning Palazzo Barbò, near Brescia in northern Italy.
Photography + Film by Giuli e Giordi
This is the first time that I've come across this married pair of photographers but I've just lost half an hour of my life looking at their portfolio. I like their style. It made me smile. A lot!
I especially like their 'stop motion' videos. Particularly this dancing couple. I'm most certainly looking forward to seeing more of their work in the future.
Love these pretty chairs?
Try our pretty DIY wedding chair tutorials  here, here +  here
"We live in Brescia and chose Palazzo Barbò in Torre Pallavicina (Bergamo) as the location for the party because it is a wonderful castle in the middle of countryside, not far from our city."
"We are a lively, understated and rather refined couple. We are Catholic as well, so we wanted a Catholic ceremony in an intimate church."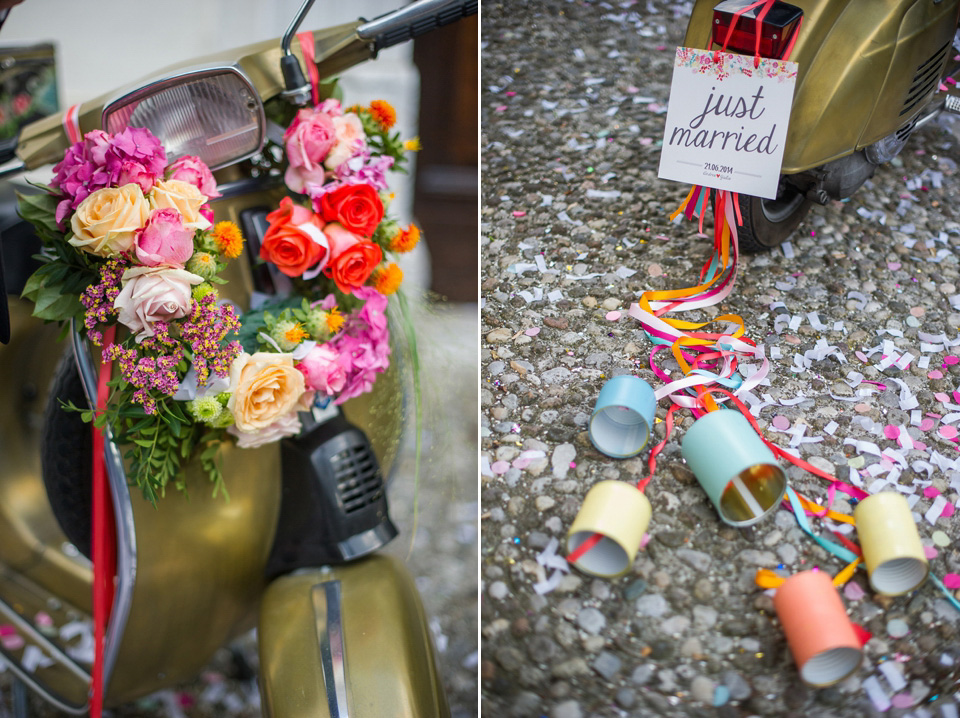 All of the co-ordinating wedding stationery for the day was designed by the wedding planner team of ila malù. I really love the vibrant colour theme contrasting against the white. Absolutely perfect for a summer wedding.
Love these beautiful sparkly shoes?
They're by British designer Harriet Wilde – we love her!
The fashion at this wedding is pretty sublime with the bride leading the way with her waist-cinching Comme des Garçons knee length dress with a flared, silk skirt and floral appliqué around the neckline. This was the first dress that Giulia tried on at bridal boutique, Penelope Sposa, and it was love at first sight. A sparkly pair of Harriet Wilde shoes completed her look.
The two eye-catching bridemaids' dresses, from designers Dolce & Gabbana, co-ordinate perfectly with the pink and coral colour-popping theme of the florals and ribbons that were designed and created by florist, Andrea at I Giardini di Giava in Bergamo. The table displays, with an abundance of stunning flowers crammed into various vases of all shapes and sizes, are simply divine.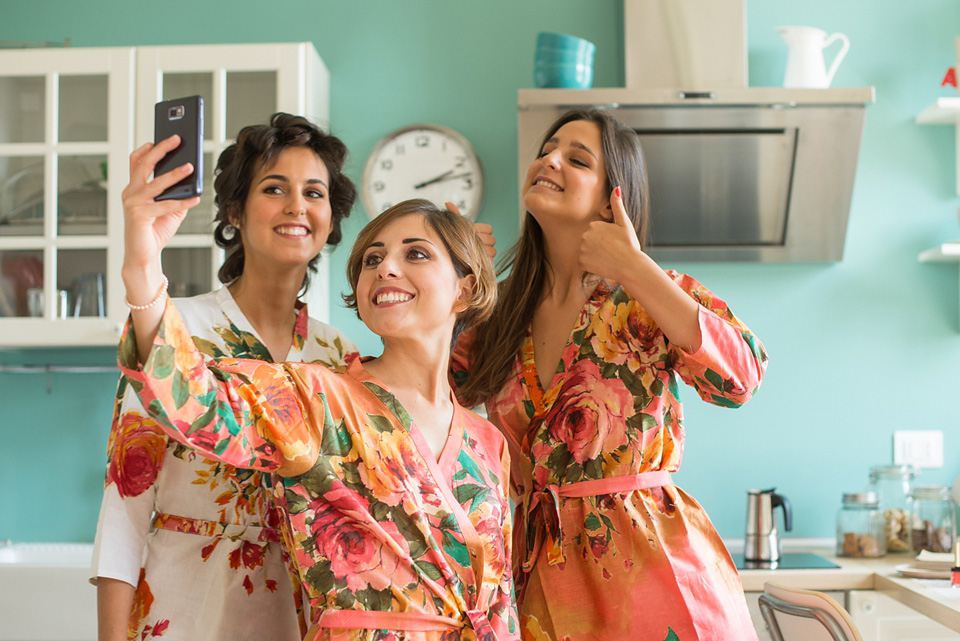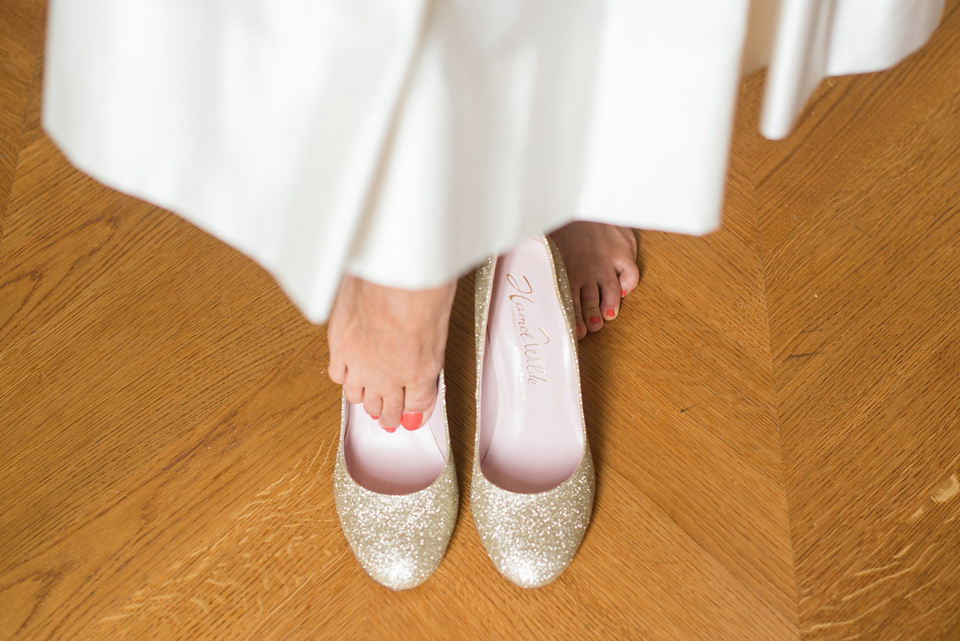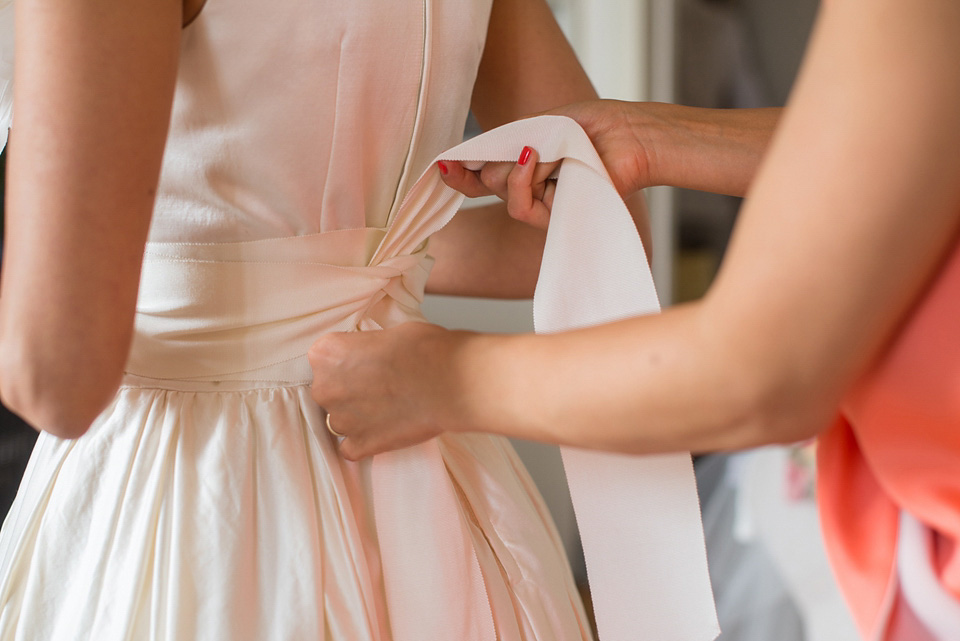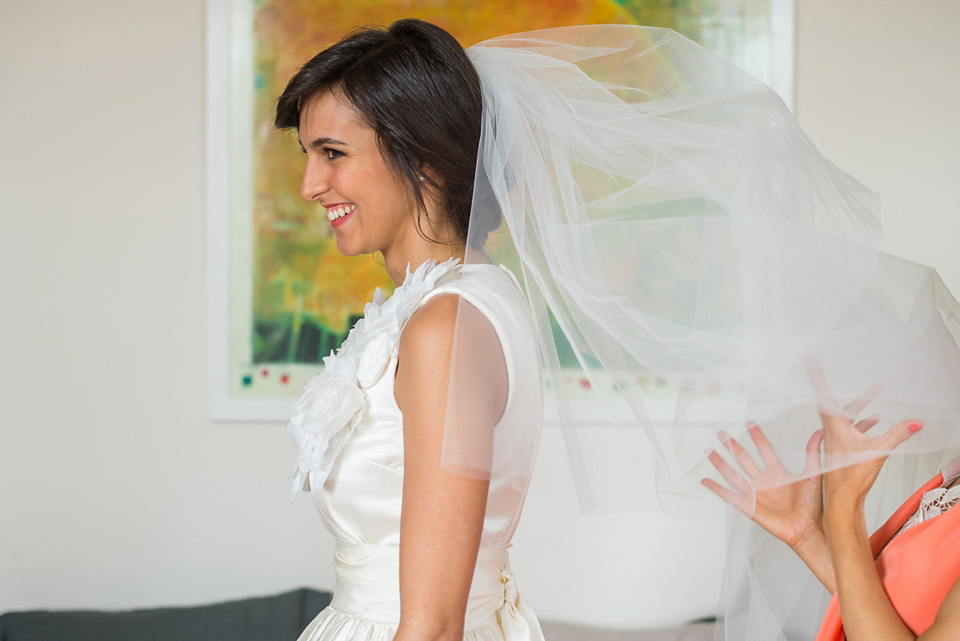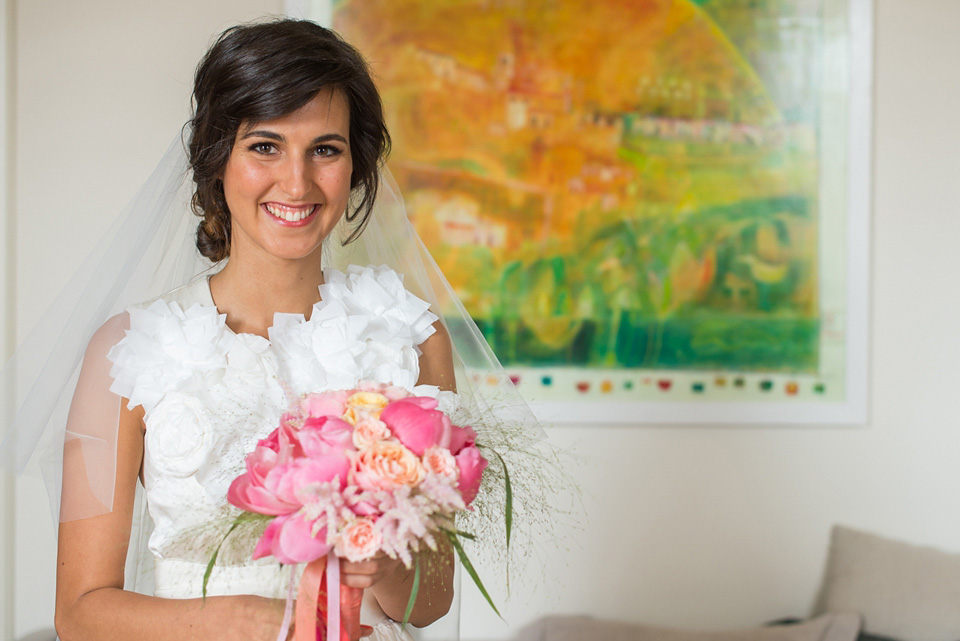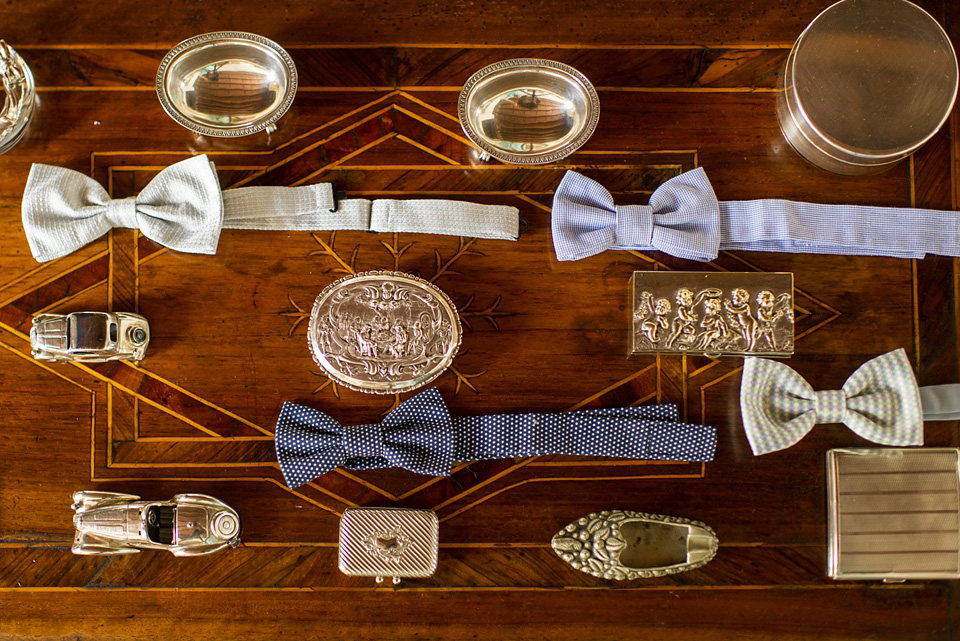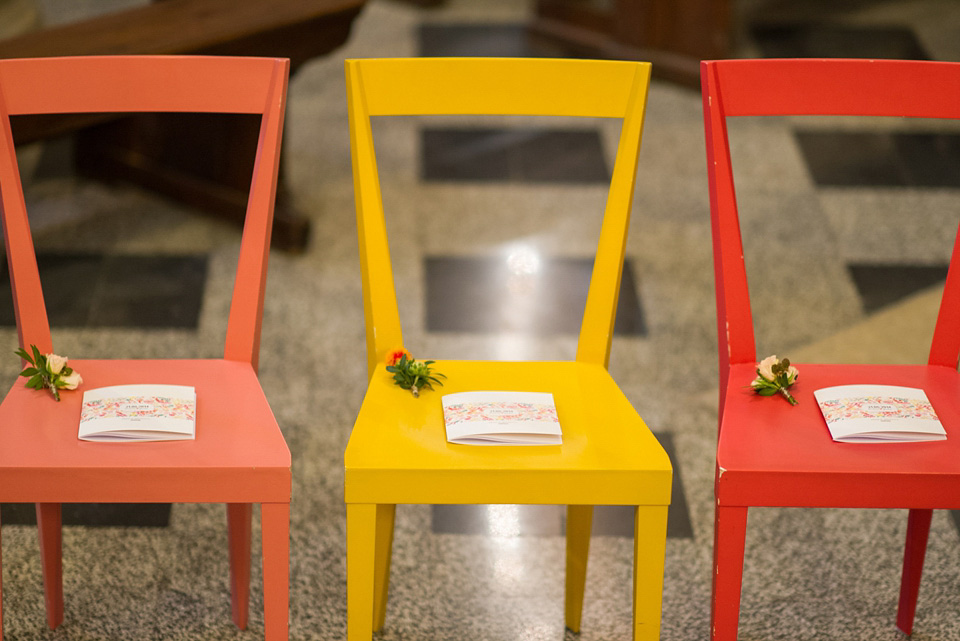 Giulia was accompanied down the aisle by her father to the pretty tune Beautiful That Way. I believe that it was originally on the soundtrack to the 1997 film 'La vita è bella.'
The palazzo itself has a number of beautiful rooms, full of original features and finely painted ceilings however the couple chose to dine al fresco into the night, in its wonderful grounds.
"To be honest, we didn't have to think too much about the style of our day, or what we wanted, neither did we have to explain anything to our wedding planners because they know us very well. One of them, Lucia (lu) is my sister. I just knew that my wedding would be amazing because, to me, she is the most creative events planner in the world. I totally entrusted her with all the decisions, in fact everything was a surprise except for the location, the guests and my dress."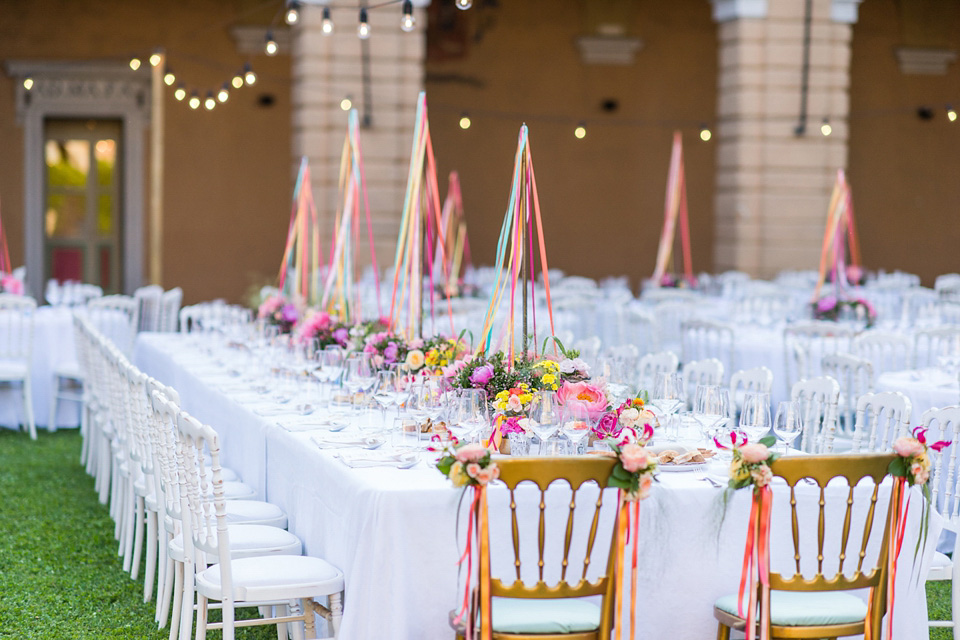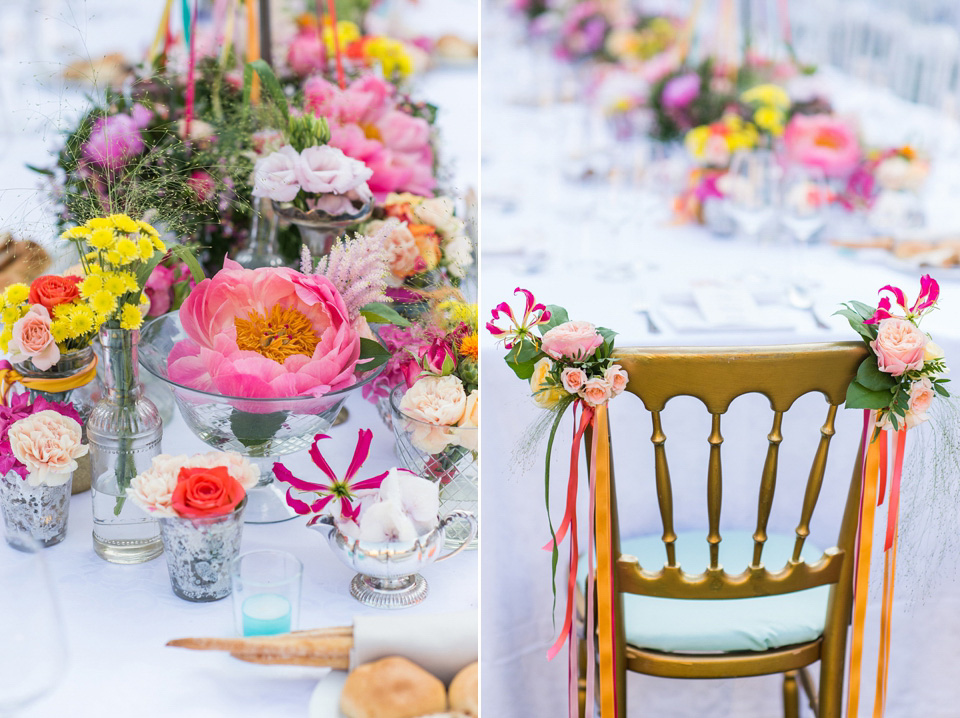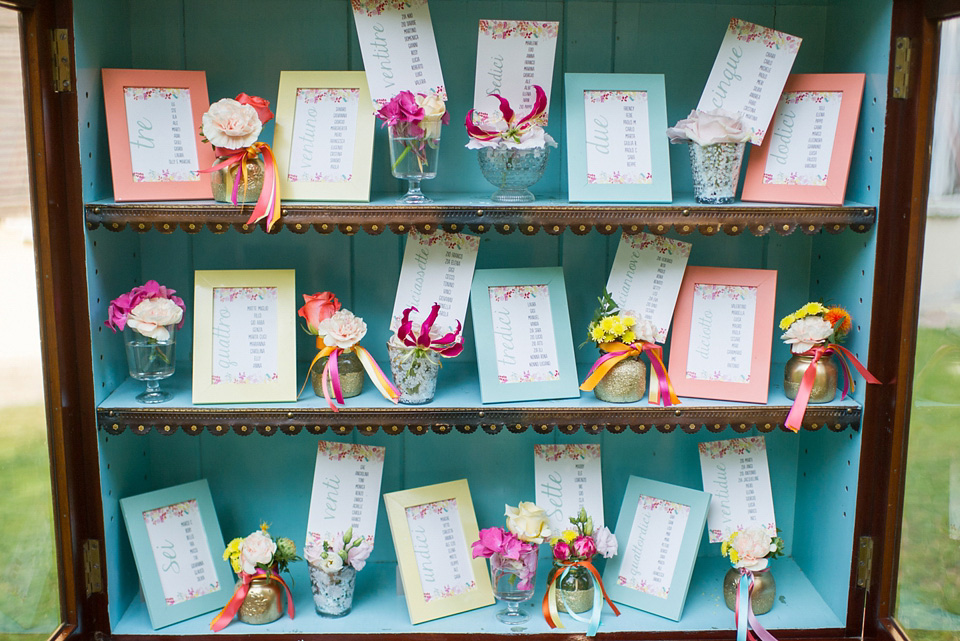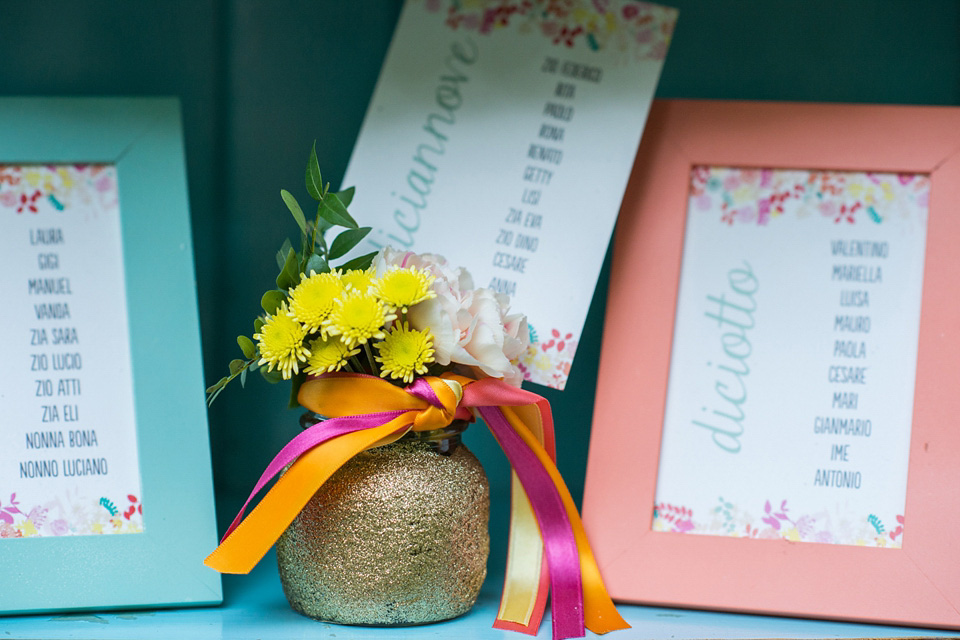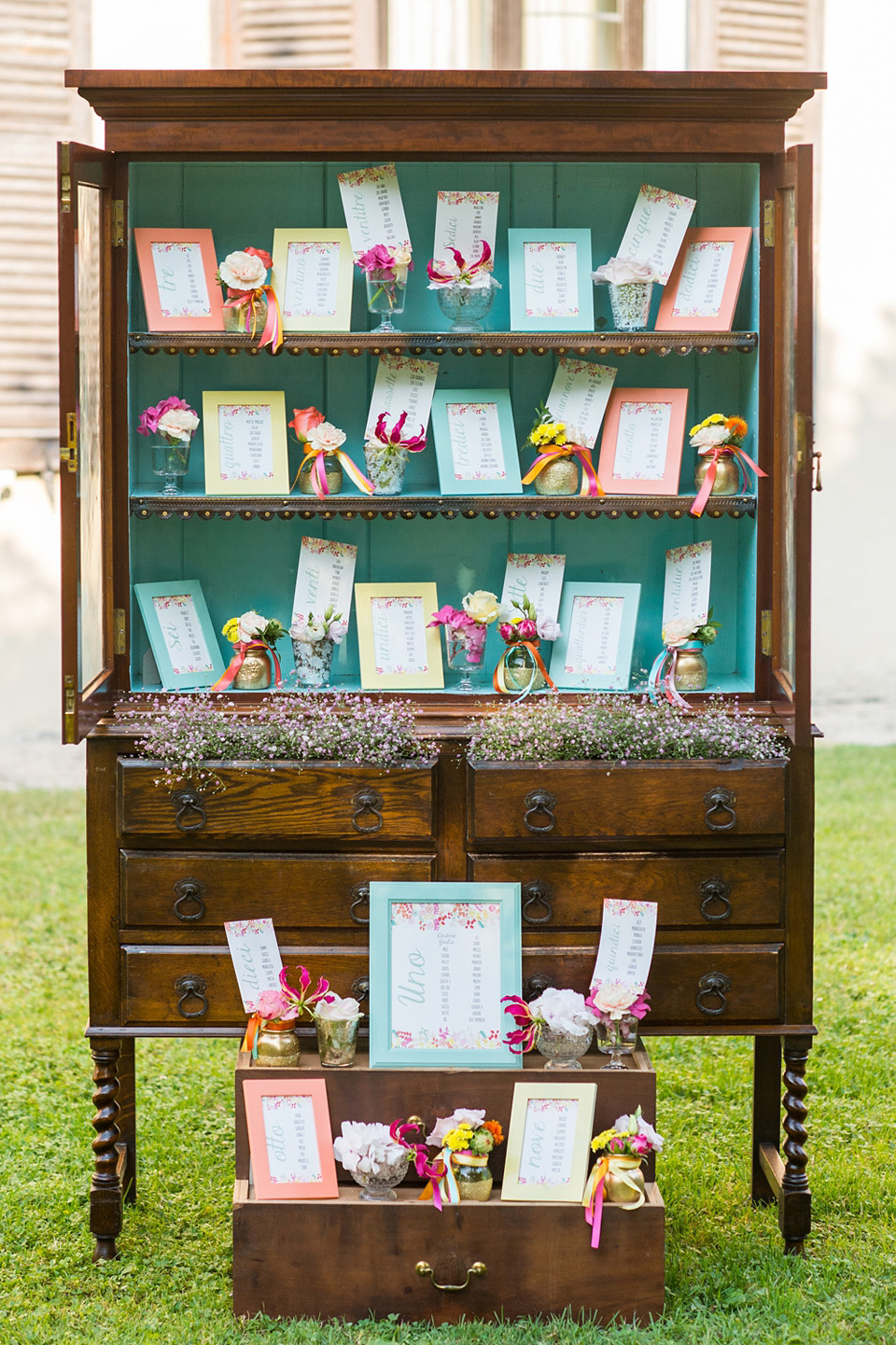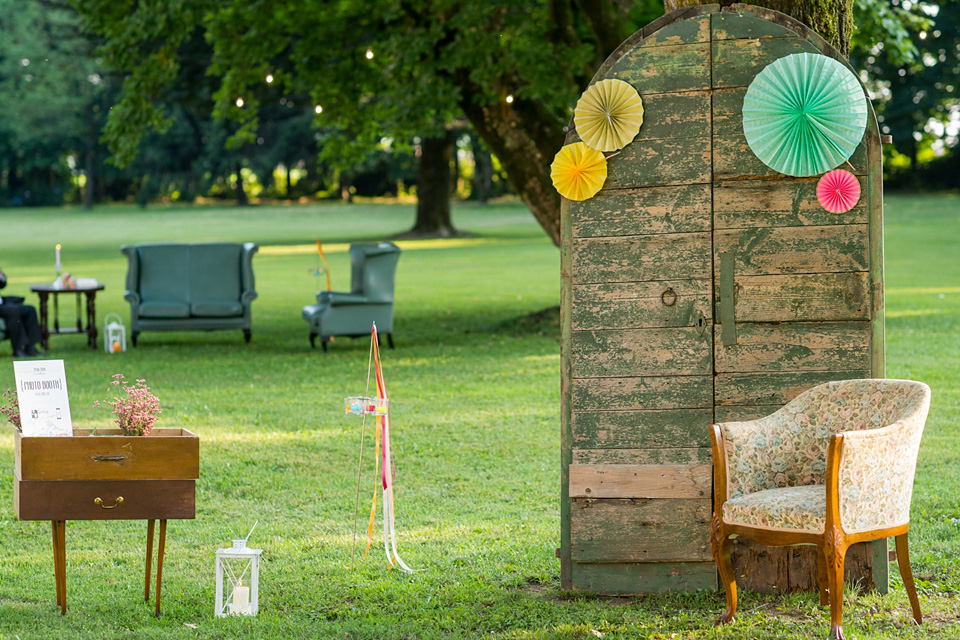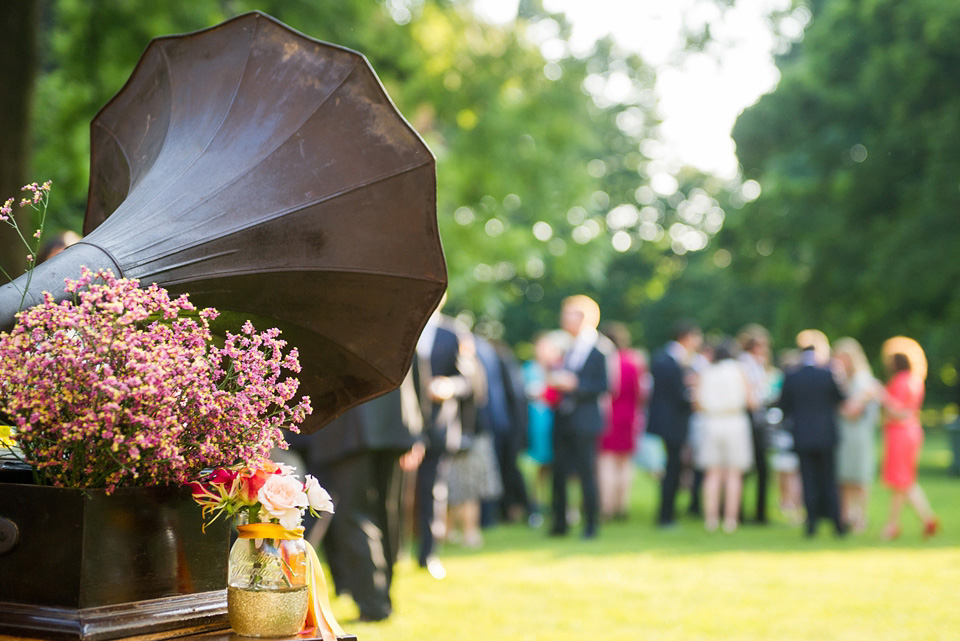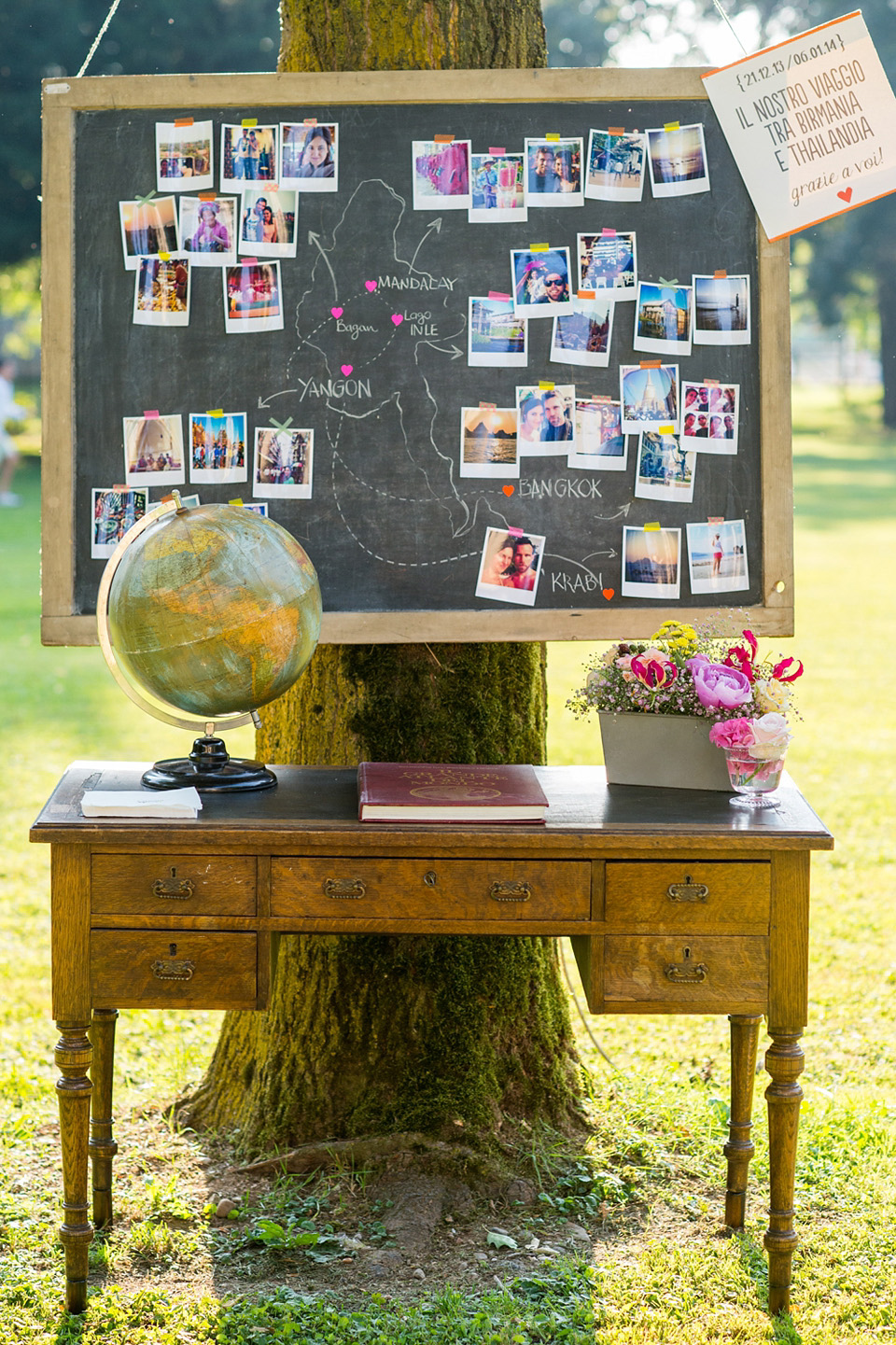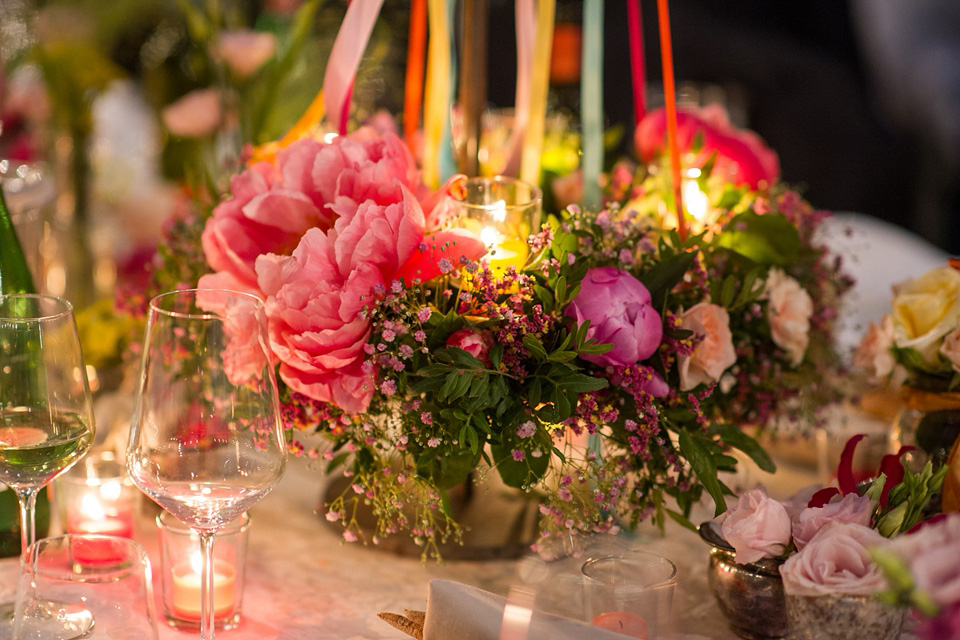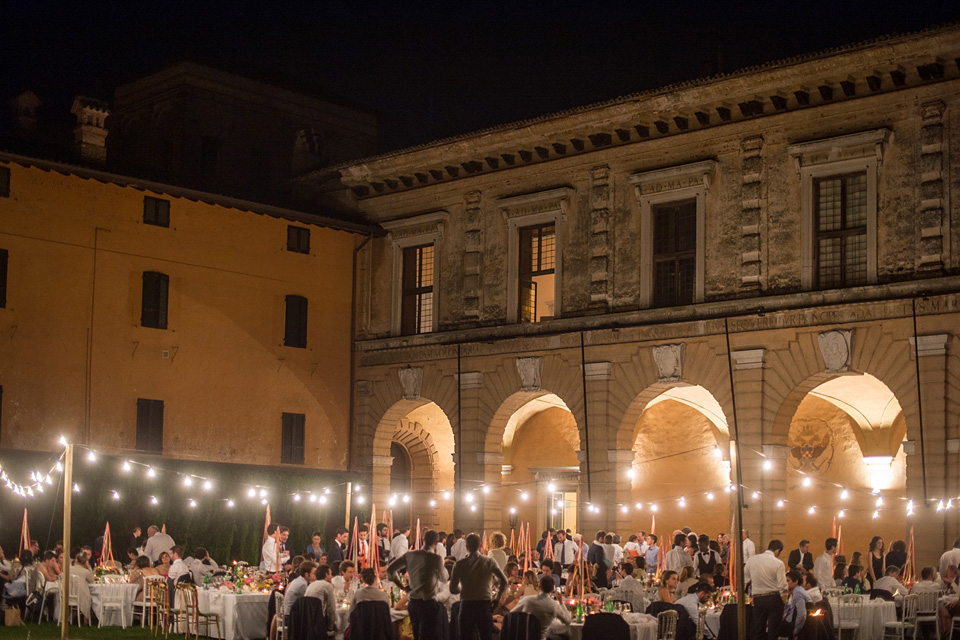 The food, as with every special celebration in Italy, was incredibly important and was provided by Alessandro from Lanzani catering. Don't you just love the look of all the juices and fruit in the glass urns? Watermelon, mint and lime would be my choice! As Italian is my favourite cuisine in the world, I suppose I am rather biased; however these photos with all the delicious treats are really making my mouth water. There isn't just a cheese board…there's a whole cheese table!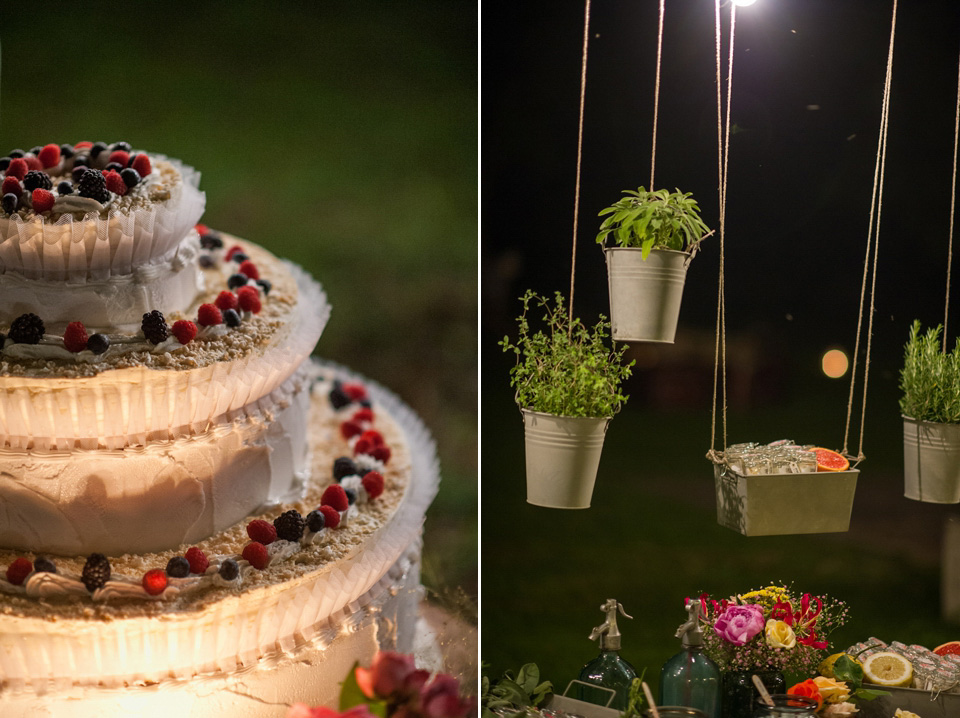 Giulia says that one of her favourite times during the day was during the meal. It was a time for her to finally sit down, take in and enjoy what was happening and be happy. However, she also loved returning home with her new husband once all the celebrations were over.
It gives me great pleasure to congratulate the lovely couple on their wedding and wish them a very happy first anniversary! I'd also like to say auguri to the wedding planners, ila malù for creating such a visually stunning occasion. I spot more and more detail each time I look at these photos. A big grazie mille goes to Giuli e Giordifor sharing the gorgeous, colour popping pictures with us today.
Bacioni / much love!
Katie xx
Photographer & videographer – Giuli e Giordi
Venue – Palazzo Barbò, Bergamo
Wedding planners – ila malù
Dress – Comme des Garçons from Penelope Sposa, Brescia
Shoes – Harriet Wilde
Bridesmaids – Dolce & Gabbana
Florist – I Giardini di Giava, Bergamo
Stationery – ila malù
Catering – Lanzani