Good afternoon ladies, I do so very much hope that you have had the chance to view this exceptionally beautiful wedding. It will be amongst my top 10 fave weddings of the whole year, I've absolutely no doubt whatsoever. This afternoon I'd like to introduce all you ladies looking for bridesmaids dresses to For Her and For Him, a New York based brand that has a pretty fabulous array of bridesmaid dresses.
For Her and For Him ship worldwide, but they currently only accept orders placed online orders.  This is a good thing for those of you seeking to save a few pennies because it completely cuts out 'the middle man' meaning that this cost saving can be passed on to you, the consumer. Which means more affordable gowns!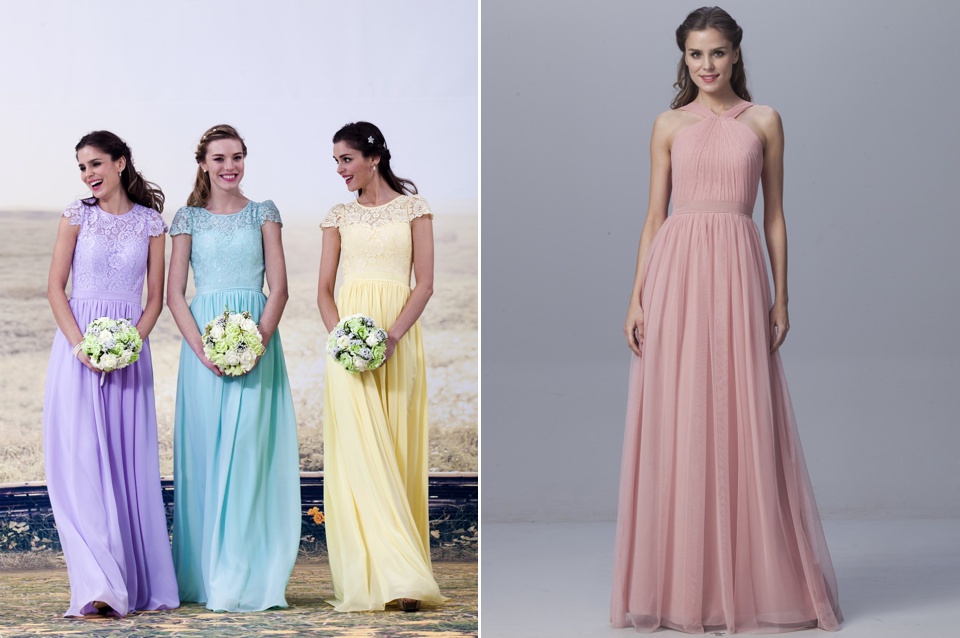 For Her and For Him have been in business for almost five years now providing well produced and affordable bridesmaids gowns in a rainbow array of colours and elegant styles.
We of course appreciate that it can always be a little nerve wracking purchasing products online when you haven't used a company before and especially if you might be ordering from overseas. Be reassured then by these small extracts from a bucket load of great feedback that For Her and For Him have amassed over the past five years from happy clients.
My dress was actually ordered online from For Her and For Him (initially seen on Love My Dress) and turned out to be amazing and a perfect fit, all for under £150 
Neil Thomas Douglas Photography
The bride above is Sally, she actually wore a dress herself from For Her and For Him having discovered them on Love My Dress.
The bridesmaids below are from this beautiful 1960's inspired real wedding feature on Love My Dress.
There are plenty more real weddings to enjoy where the bride and/or her maids wore For Here and For Him here and here.
So the big reason we're sharing this post today is to tell you about the For Her and For Him Crazy summer Sale.  The sale will take place between 1st and 30th June and during this time, you will be able to save up to 30% on all bridesmaids dresses purchased – with extra bulk order savings applied and FREE shipping worldwide.  Yes it does sound crazy, but it's true!
All sizes are catered for (you'll find a handy size guide here) and better still, For Her and For Him also offer a made to measure option, requiring just 10+ detailed measurements to guarantee a perfect fit for all shapes and sizes.  What an absolutely brilliant and reassuring online service.
For those of you still concerned at the idea of ordering online, For Her and For Him promise that if the dresses you receive are defective in any way, or not the same as advertised, you may return them for a full and immediate refund. The team are so confident in the quality and beautiful finish of their gowns however that they are quick to reassure you that this is unlikely to be required.   If you simply change your mind on receiving the dress, that's fine too – a return will guarantee you an 85% refund.  The company hold back the remaining 15% for restocking purposes. For Her and For Him have offices based in the UK, Australia and US that can accept returns so you needn't worry about expensive overseas shipping costs either.
Personally, I really appreciate the honest and transparent way that For Her and For Him operates their online business – it means there are no unpleasant surprises and plenty of reassurance to support you throughout the full buying process.
So ladies, my recommendation to you is to pop along to the sale page on The For Her and For Him website this afternoon and lose yourself in a good half hour of online shopping. I don't think the boss will mind. It's almost home time after all!
You will also find For Her and For Him on Instagram, Twitter and Facebook.
Happy afternoon ya'll,
Love Annabel
This is a sponsored post