Hello lovely readers. Today's wedding features a most beautiful bride wearing a Tatyana Merenyuk  gown, an equally stylish groom in black tie attire and a collection of impossibly glamorous, international guests. Sit back and take a few moments to enjoy all the most beautiful and inspirational of details, including a breathtaking array of peonies and garden roses supplied by Paula Rooney.
Film lovingly crafted by Clark and Palmer Wedding Films
https://vimeo.com/106291498
Marc and Alena, who both work in financial services, married on the 31st of May last year in the elegant surroundings of Fetcham Park, a beautiful Georgian manor house in Surrey.
Photography by Emma Sekhon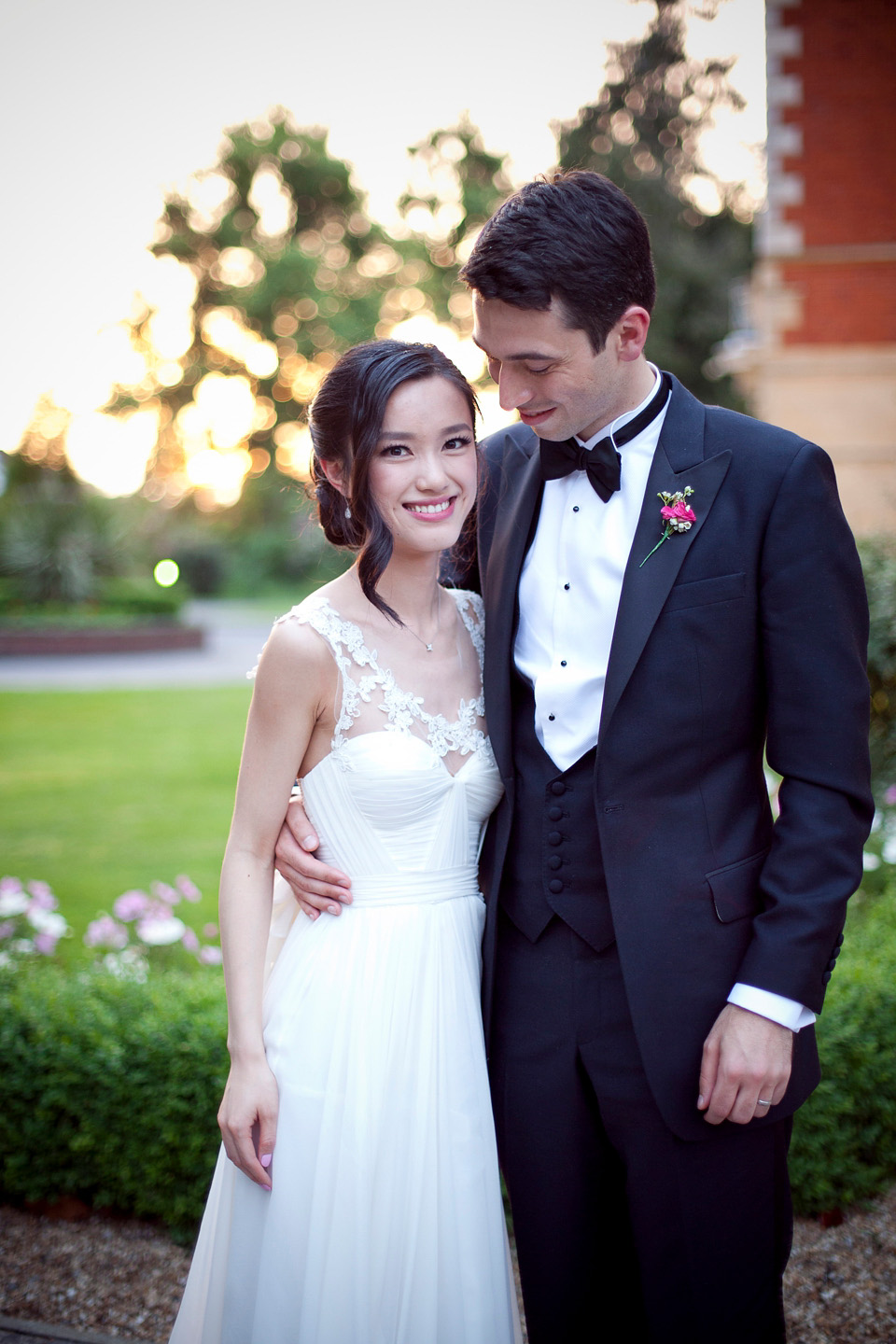 The whole day was captured in stunning detail by photographer Emma Sekhon and film makers Clark and Palmer Wedding Films.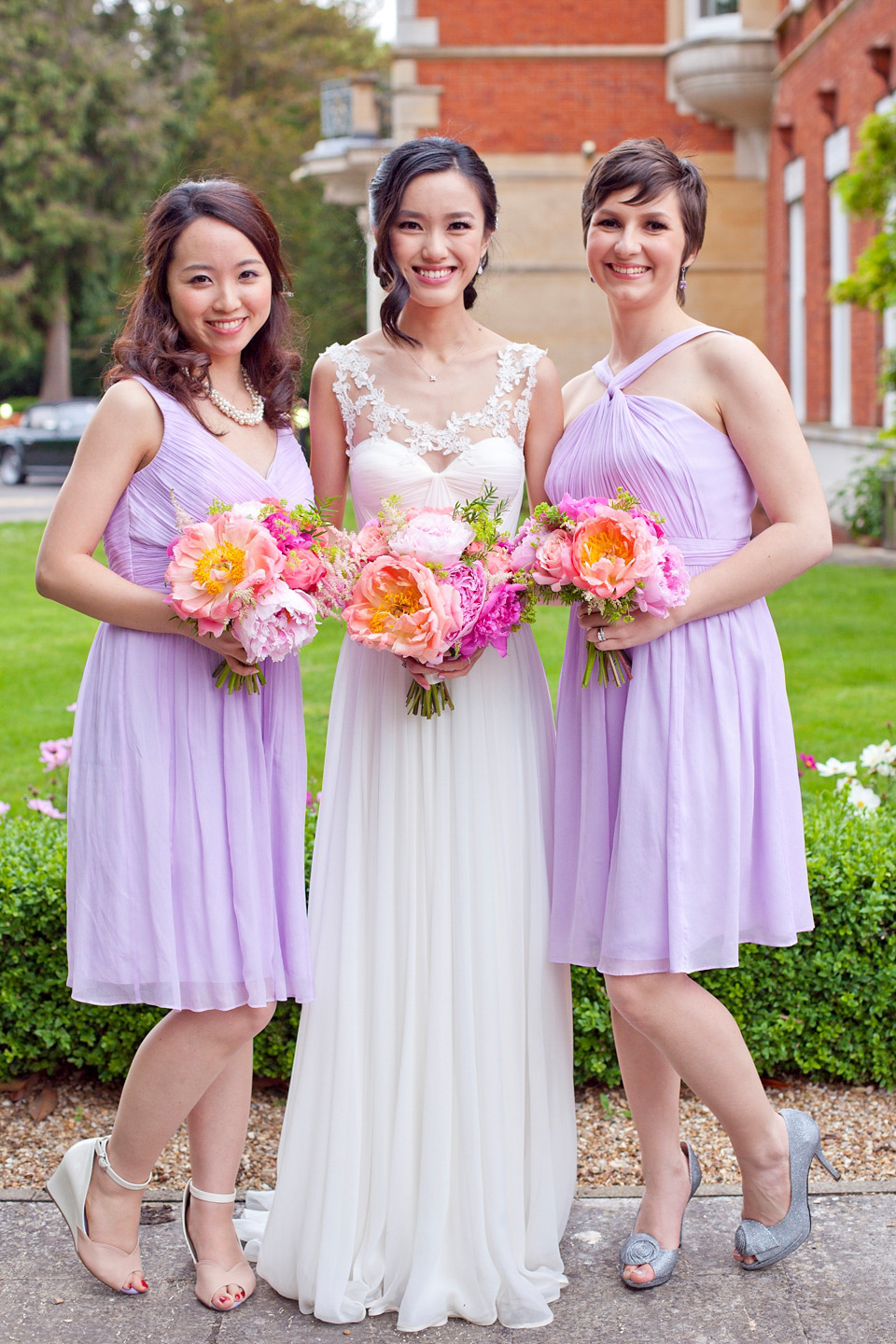 Our couple's big day was catered by Kalm Kitchen and their wedding cake was created by Zoe Clark. I adore the delicate, orange and pink ómbre sugar flower decorations!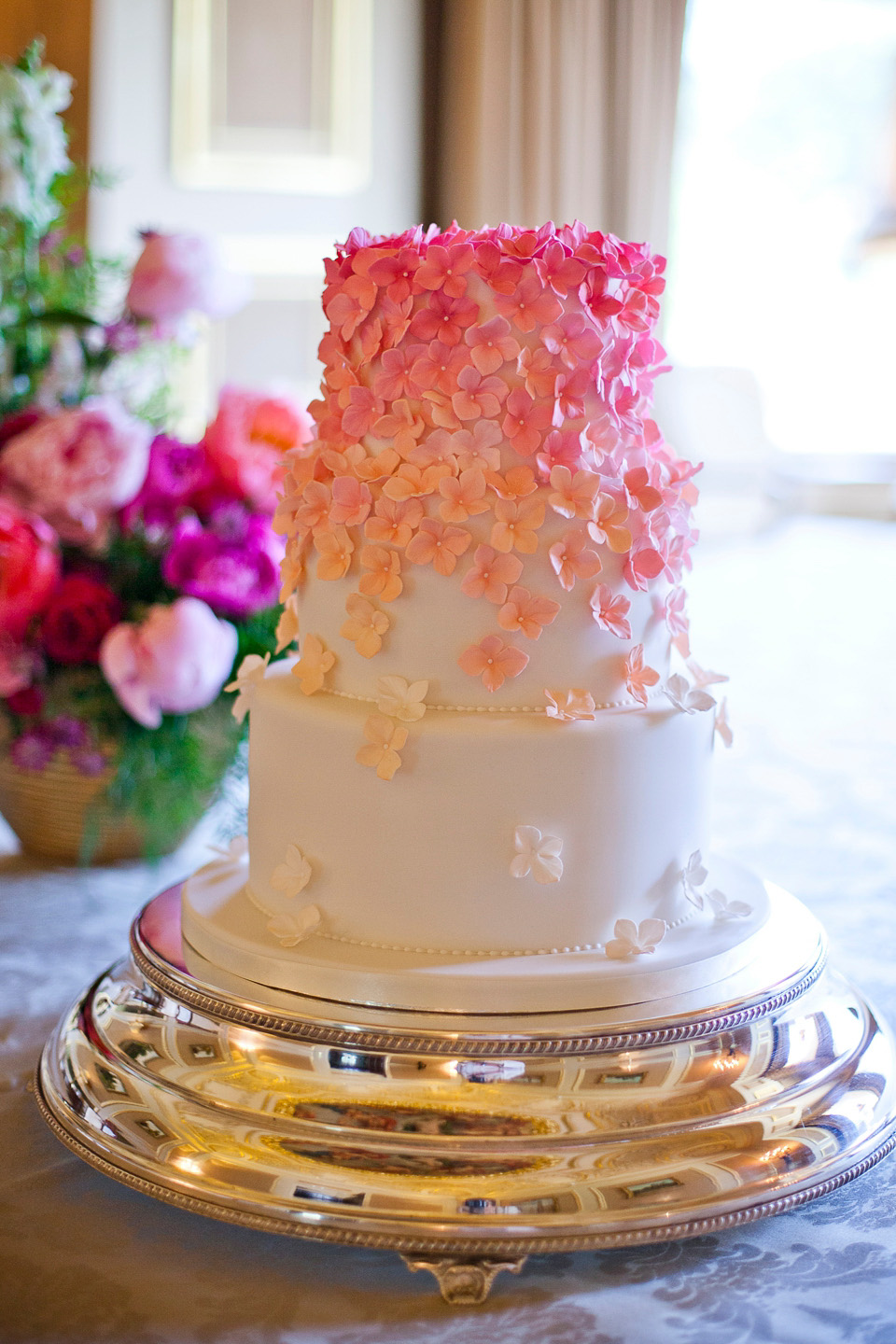 "We didn't want the day to be too formal, but we did want to retain a sense of occasion. What we really treasured about the day was that we had all our family and friends, from many walks of life, in one room together having travelled from all over the world just to be with us."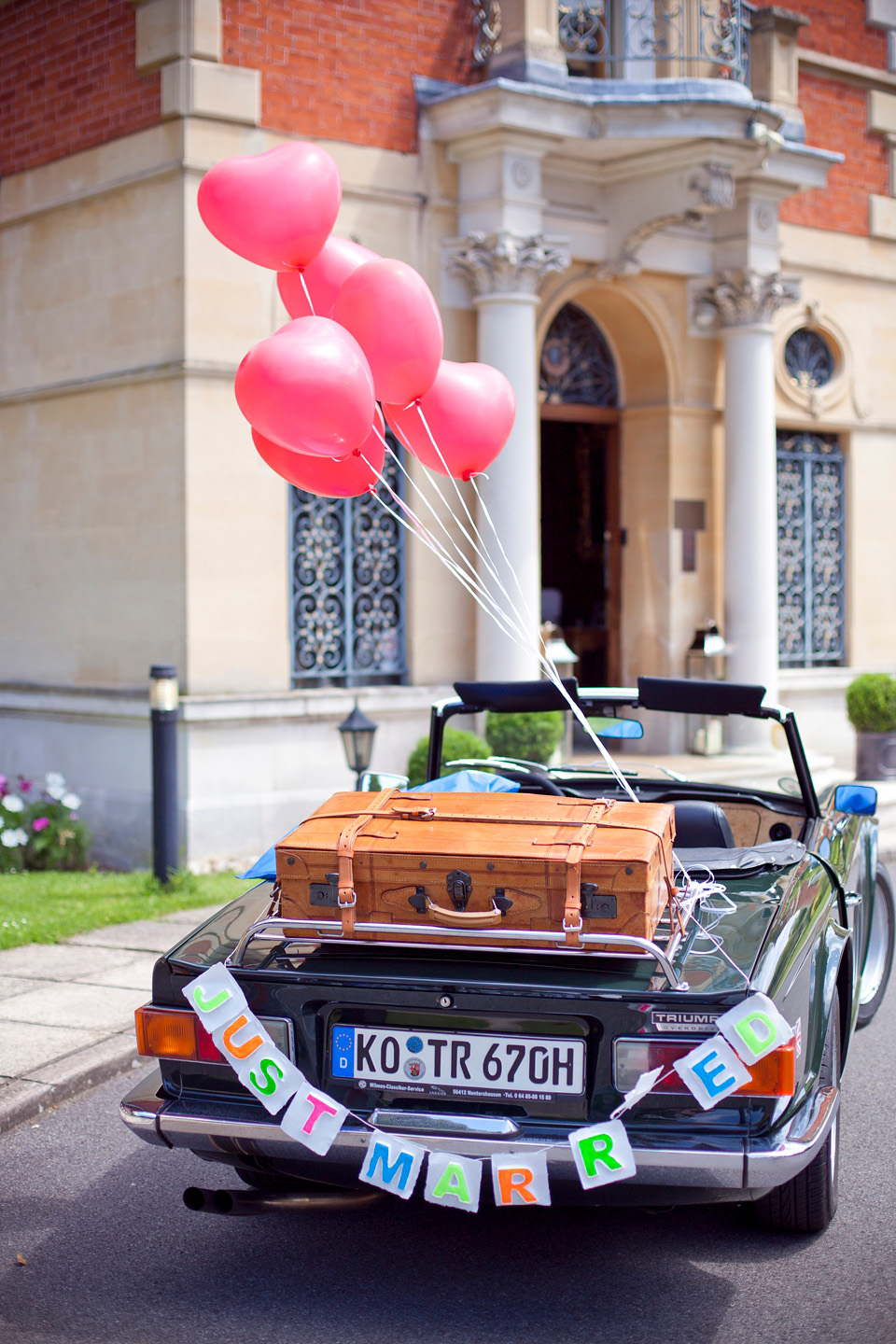 Alena and Marc chose to hold their wedding at one of our favourite and indeed award winning UK wedding venues,  Fetcham Park.  We've featured a series of really honest/no BS style wedding venue features by Fetcham Park hostess, Laura Caudery – you will find them here.  They cover such issues as corkage fee (don't put up with them readers!), catering costs, how to find your ideal wedding venue and wedding venue logistics which includes a super useful checklist.  You can also see other weddings held at this most elegant and superbly well managed spaces here.
"We initially had our hearts set on a venue in Central London, but decided to go and visit Fetcham Park on a whim. I still remember the first time we stepped into the house – it was love at fir-st sight!
We fell in love with the beautiful murals, the grand staircase and the fountains, but what really distinguished Fetcham Park apart from other venues was its sense of warmth; the house felt so welcoming despite all of its grand features."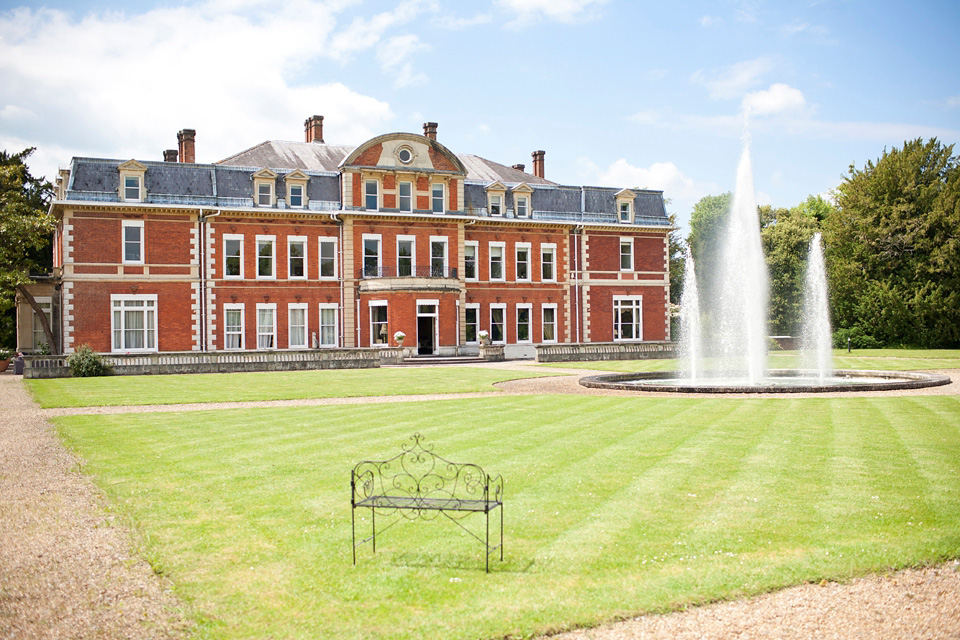 When Alena and Marc realised that they could not have legal ceremony at Fetcham Park at their preferred time (purely because the registrar was unavailable), they decided to have two wedding days! The day before their Fetcham Park wedding our couple held a legal ceremony at Islington Town Hall, with their closest friends and family present. Having dispensed with the legalities, Alena and Marc were free to craft the ceremony they wanted at Fetcham Park the following day.
"The day before our 'real' wedding at Fetcham Park, we got legally married at Islington Town Hall with our closest friends and family, followed by a lunch at a nearby restaurant and evening drinks for all the wedding guests."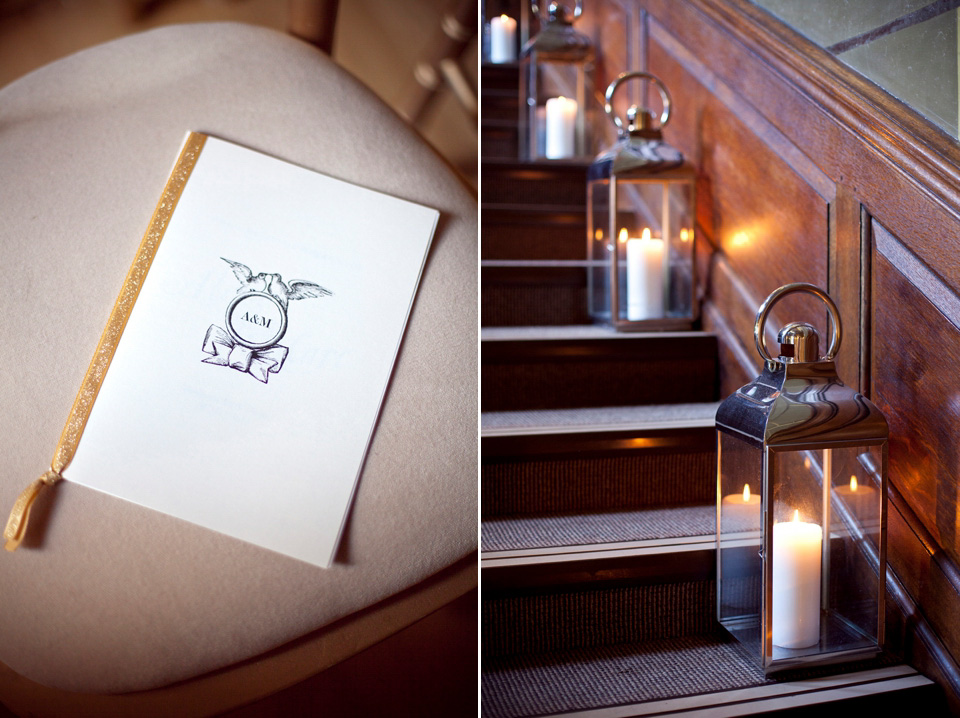 "It was nice because it gave our guests the opportunity to meet one another which really helped to kick-start the festivities. Our Fetcham Park ceremony was led by celebrant Christina Walker, who was absolutely brilliant. It was great being able to completely customise our ceremony; we wouldn't have done it any other way."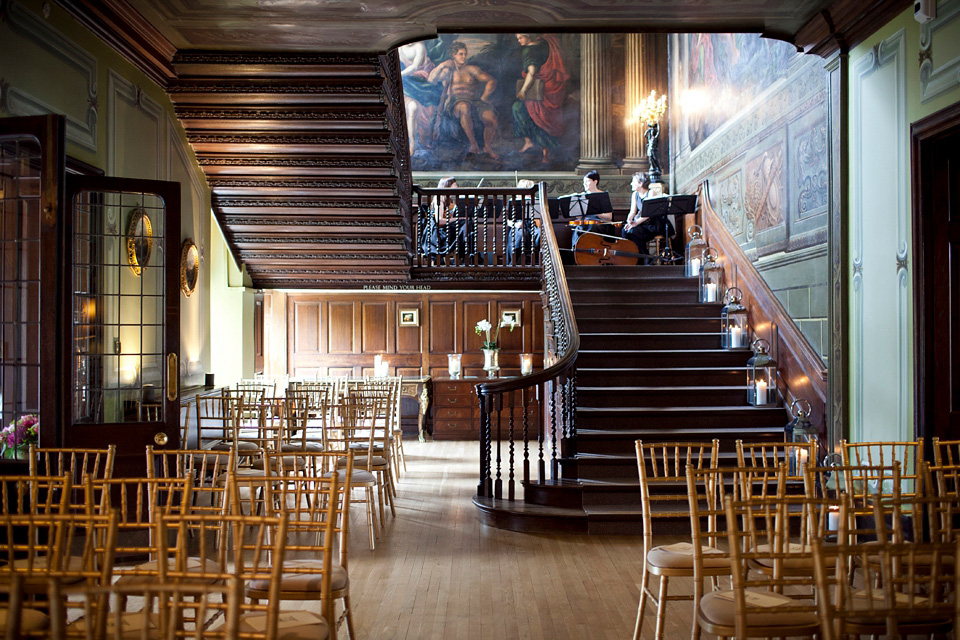 Marc and Alena's incredibly beautiful floral arrangements were created by Paula Rooney. Our couple opted for peonies and garden roses in shades of pinks and purples with bright green foliage. For their table decorations, Marc and Alena dotted golden tea light holders amongst the flower to great effect.
"Paula did an amazing job and somehow knew exactly what I wanted. I chose my favourite flowers; peonies and roses."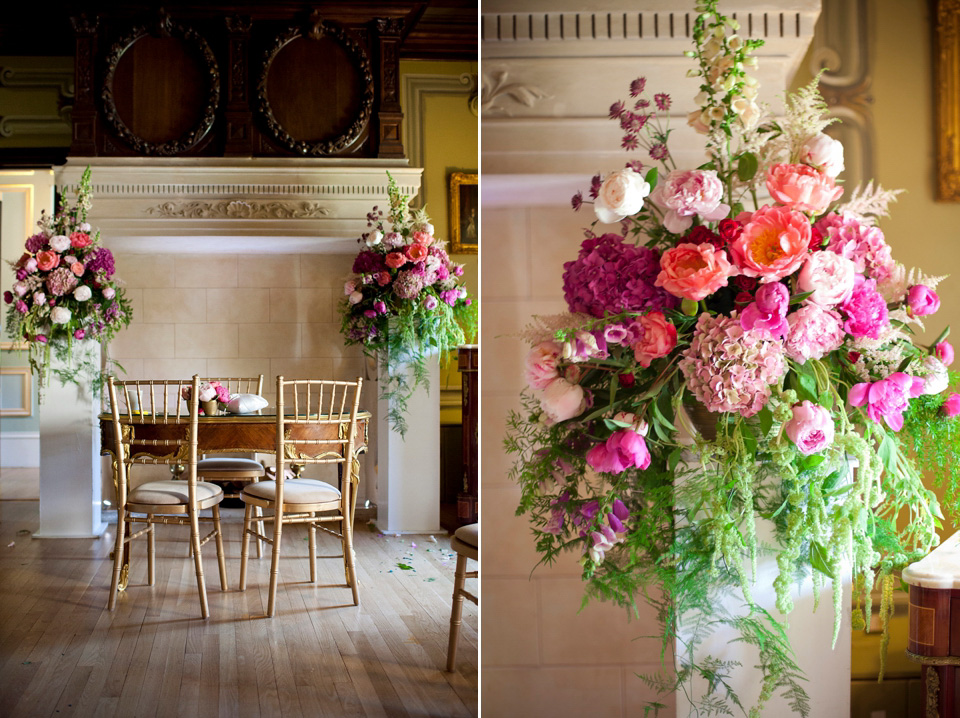 Alena wore a stunning gown by US based designer Tatyana Merenyuk and a pair of Jimmy Choos which she purchased on sale at Saks Fifth Avenue. British brides can find Tatyana Merenyuk's elegant designs at one of our favourite bridal boutiques, Coco and Kate Atelier.
"I found Tatyana Merenyuk online via a wedding blog and visited her Brooklyn studio when I was in New York.  I'd had a hard time finding exactly what I wanted in a dress, so I was very happy to come across Tatyana; she is super talented and has great taste! I couldn't be happier with my gown, I love the fit, how the skirt flows, the lace details – everything!"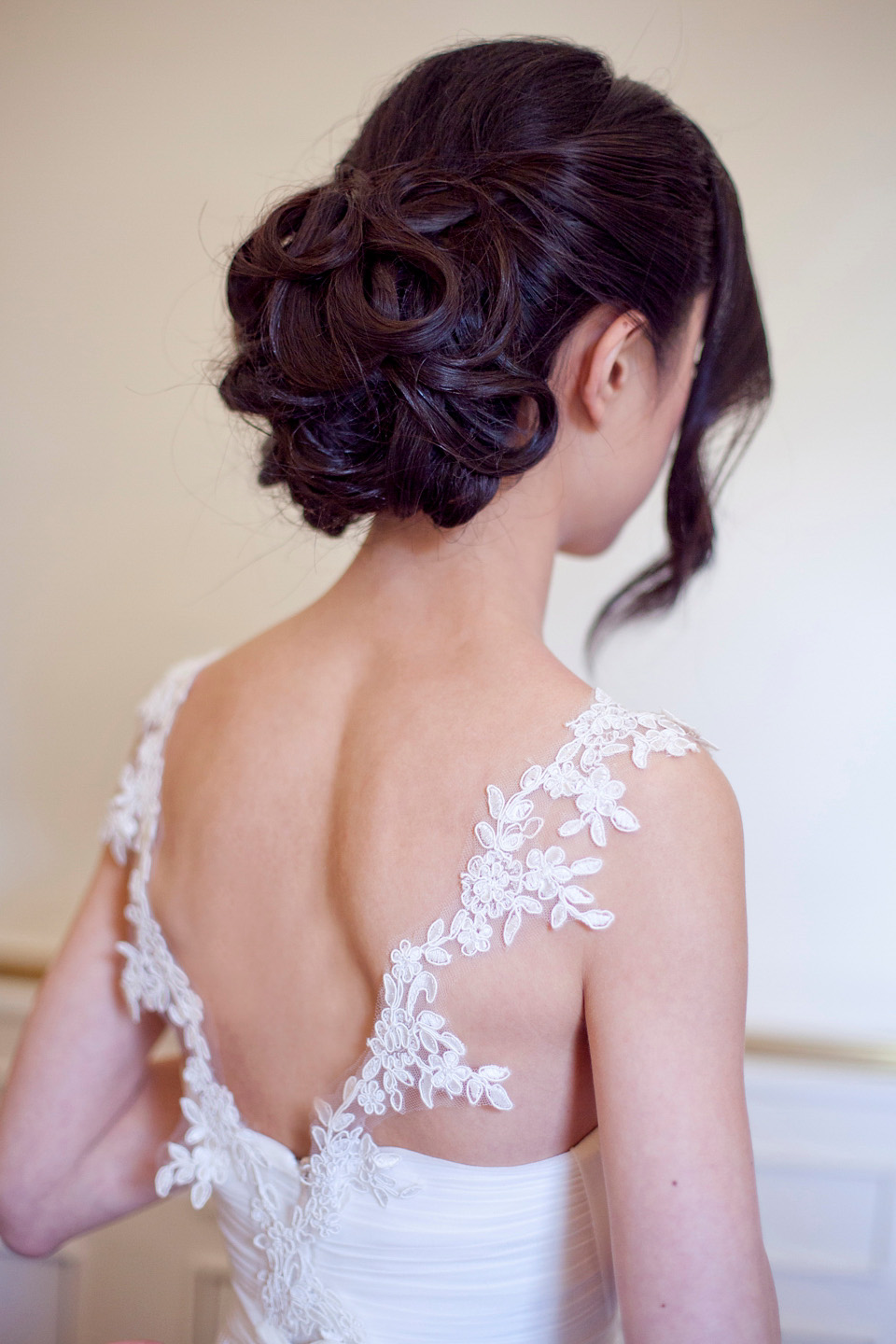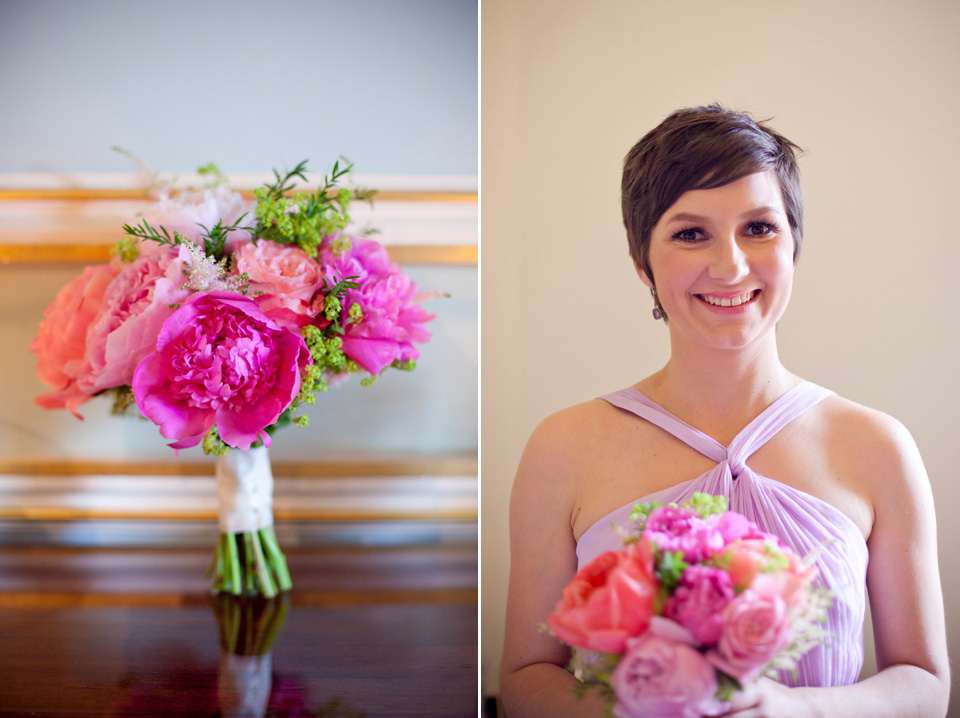 Alena accessorised with a necklace from Tiffany & Co, a wedding day gift from her groom, and a pair of diamond earrings from her father. Our bride adorned her lovely locks with a sparkly hair slide from Glitzy Secrets.
"Since the rest of my jewellery was very subtle, I wanted my hairpiece to have the 'wow' factor. At the same time I didn't want to spend a fortune on it since it's unlikely that there will be another occasion for me to wear it again."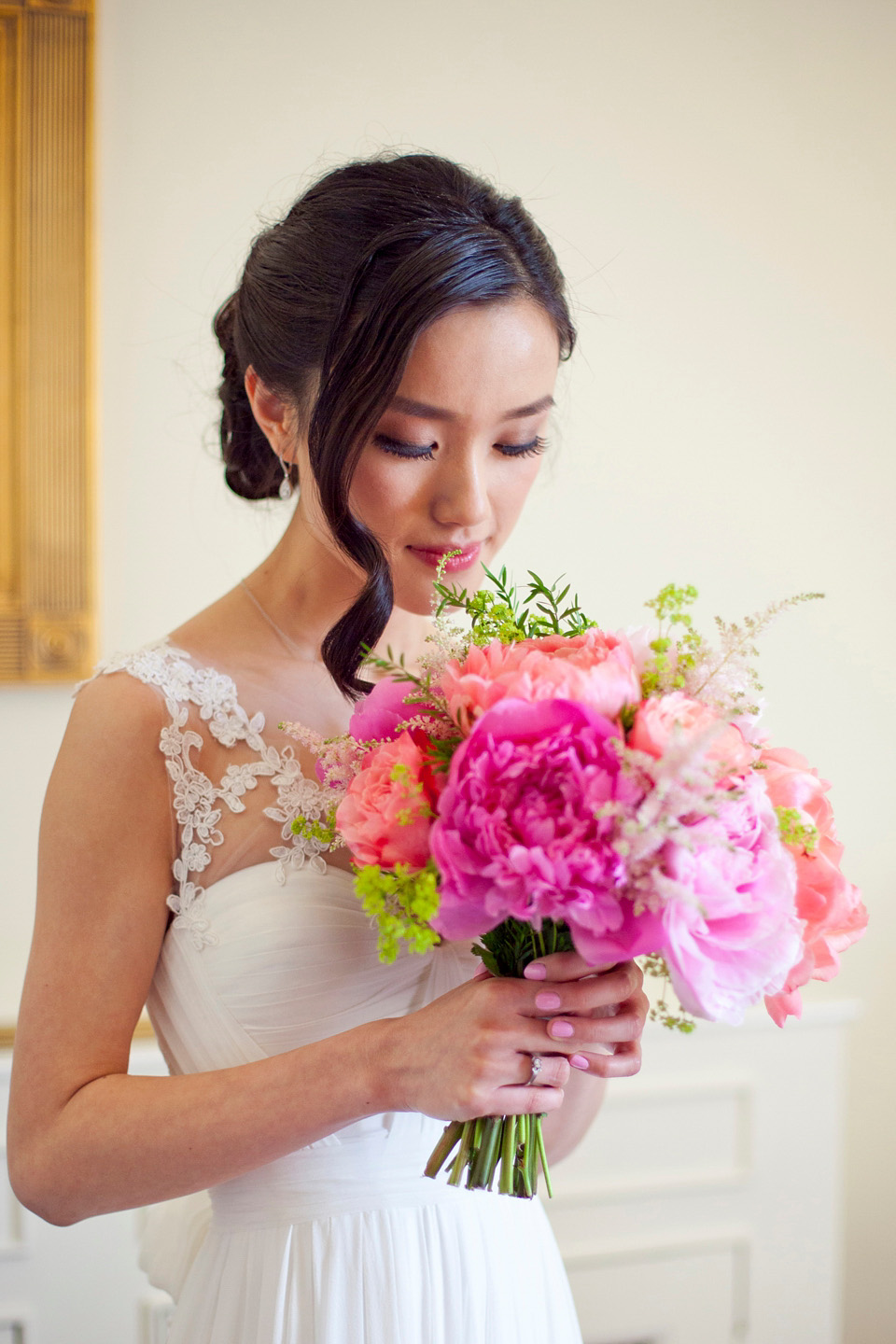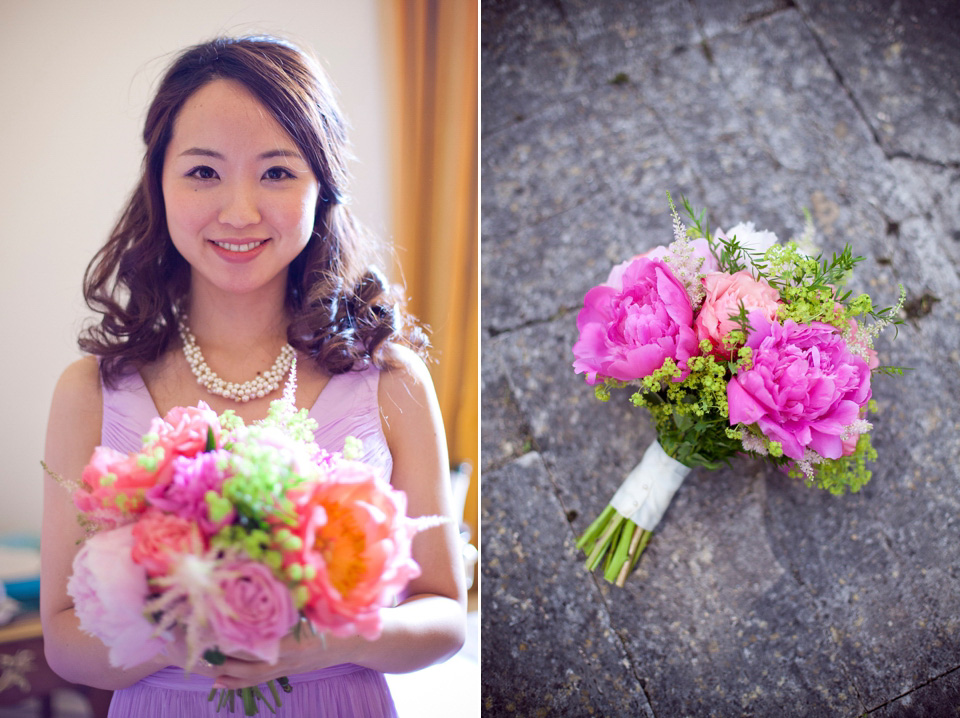 "Instead of perfume, I wore a scented body oil from Omorovicza, which not only smelled amazing but also gave my skin a nice glow."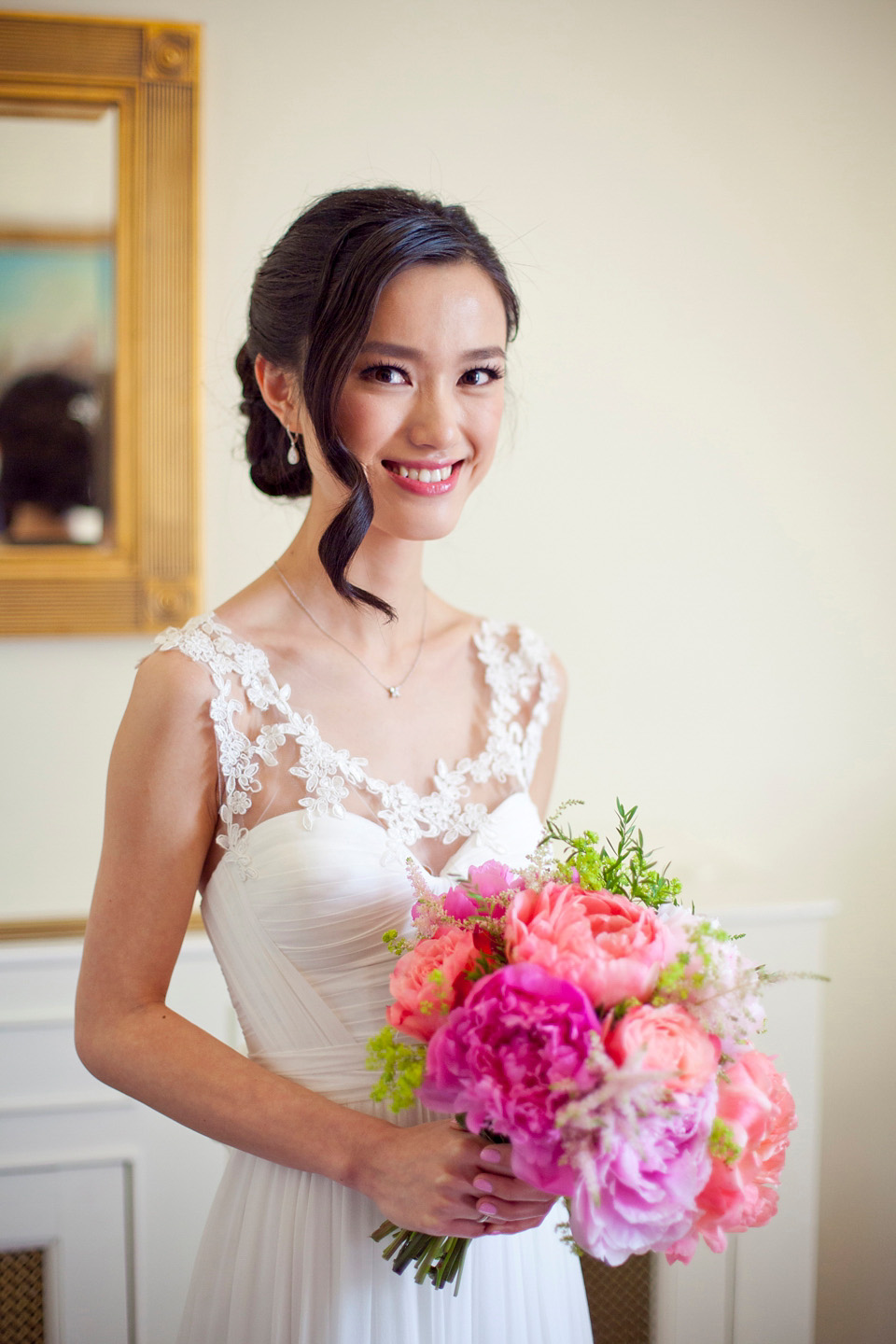 Marc looked very smart indeed in a tuxedo purchased from Norton & Townsend and a pair of Cartier cufflinks, which Alena gifted him on the day of the wedding. Marc's choice of black tie attire perfectly complemented his bride's glamorous gown.
"I'm Canadian and Marc is German and we met while on a six month exchange at a University in Beijing. We got together during a two week trip travelling around Europe and over the course of the next year we visited each other in Germany, Japan and Canada and, after we graduated, in New York and London.
After more than four years of traveling across continents, Marc proposed on New Year's Eve in London. I moved to London six months after that, and we were engaged for about two years before our wedding day."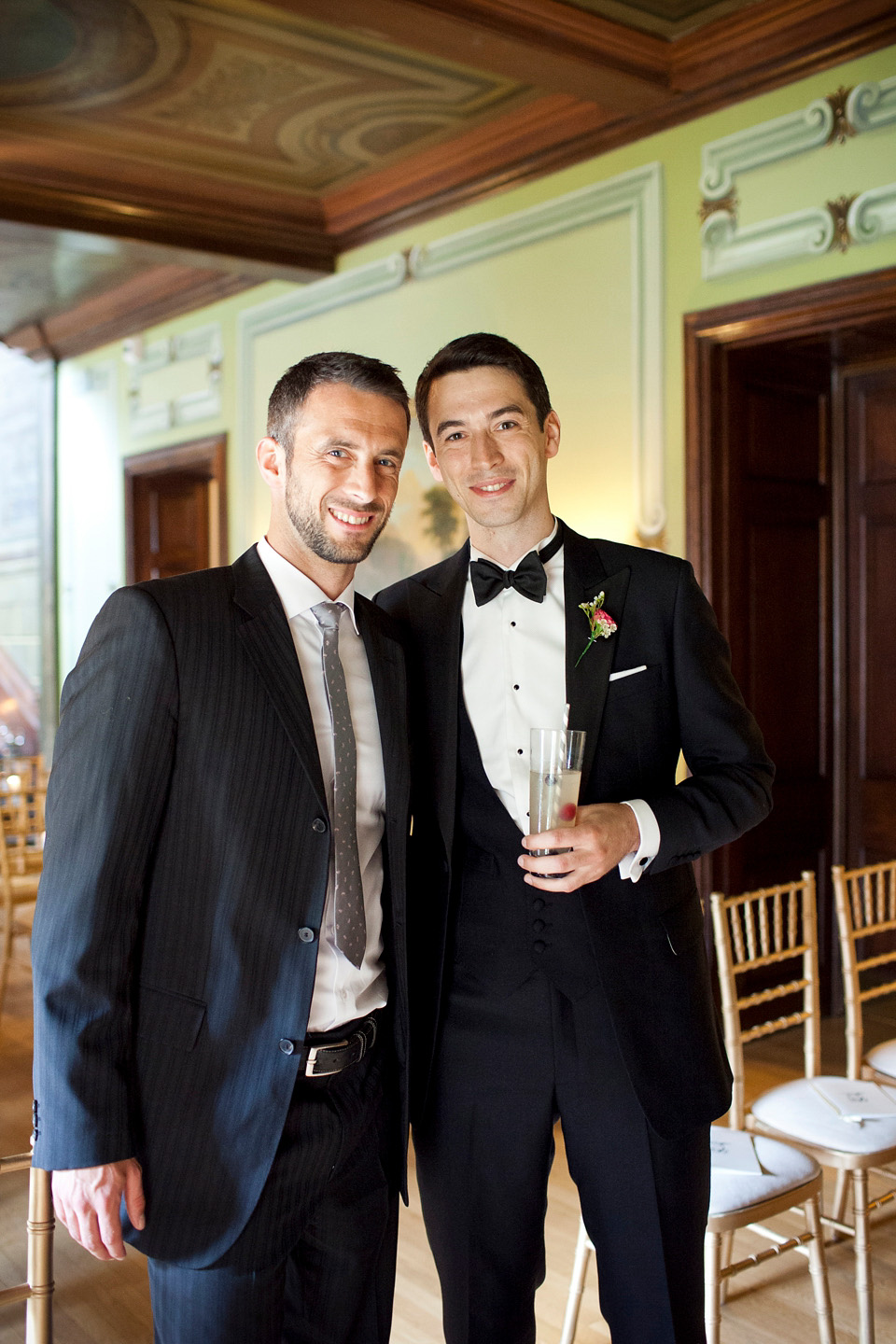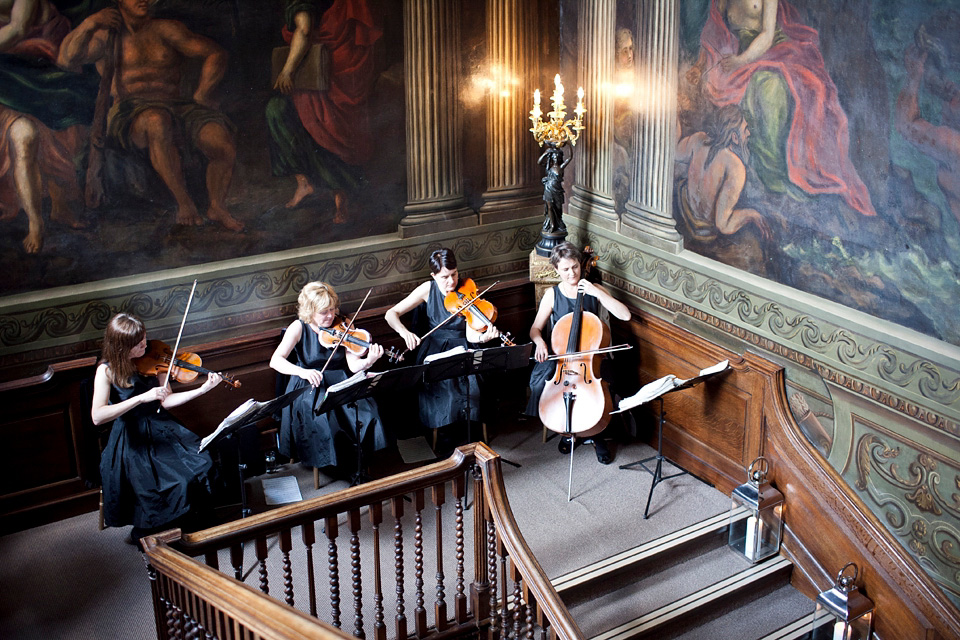 Alena walked down the aisle accompanied by her father to the sounds of Wagner's Wedding March, played by The Covent Garden String Quartet. Our couple wrote their own vows, with Alena writing hers somewhat at the last minute!
"I started writing my vows at 11pm, the night before the wedding, and finished at 4am. Tip: write your vows at least a few days before the big day!"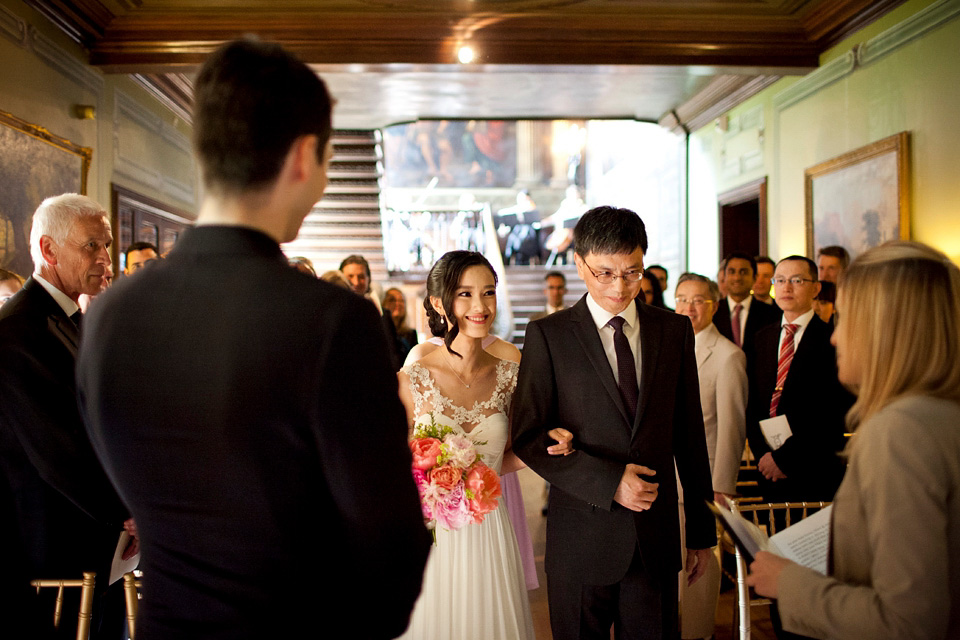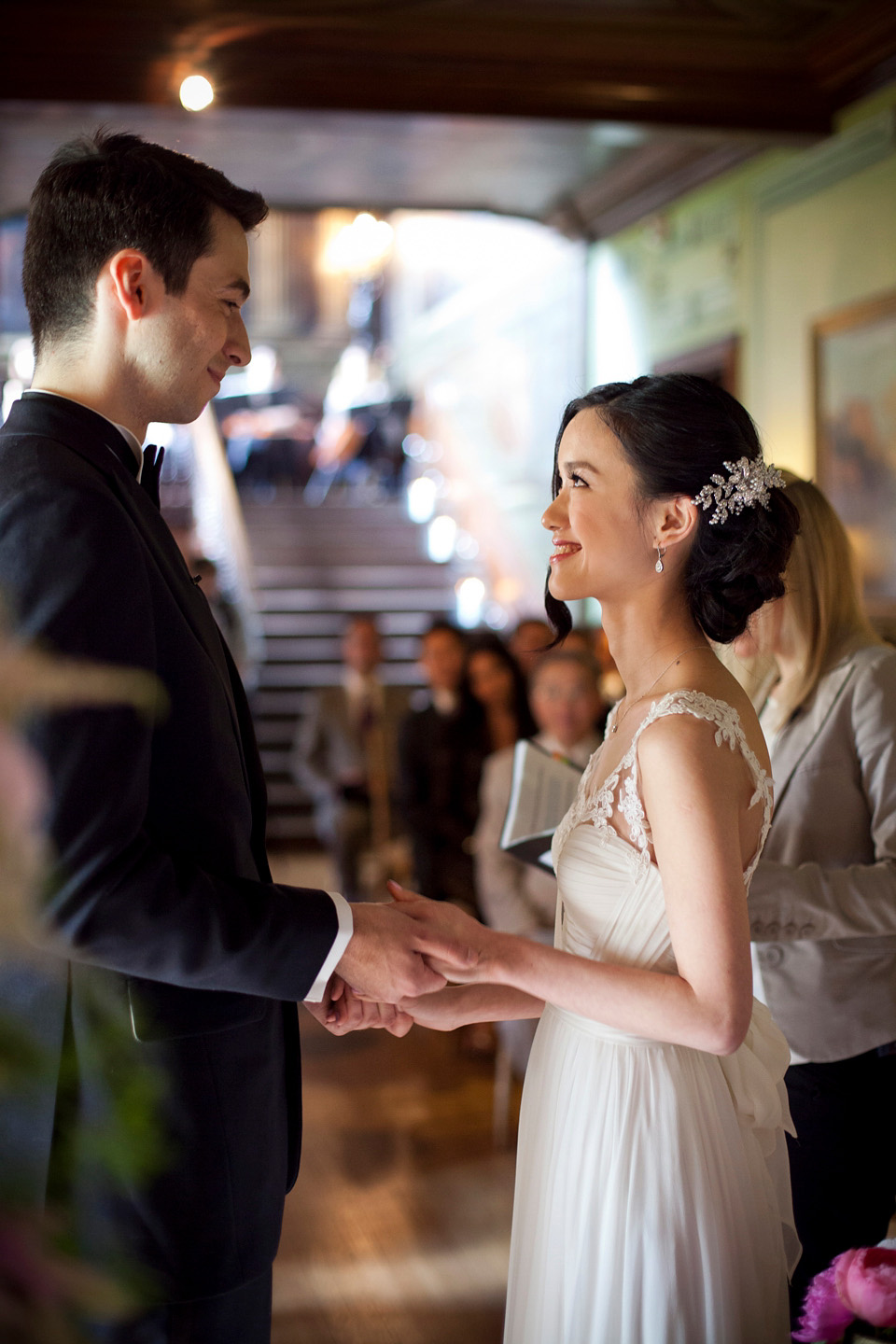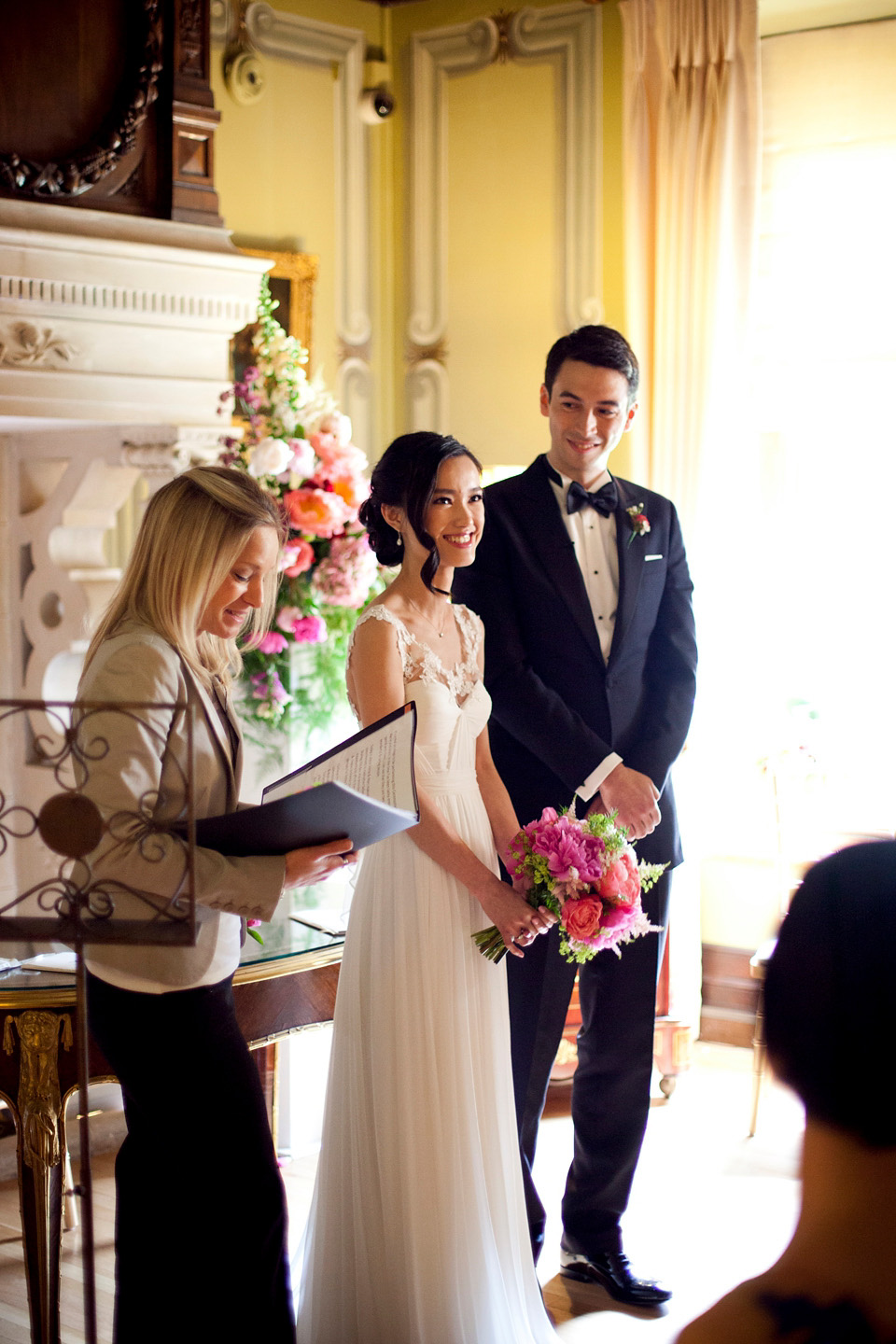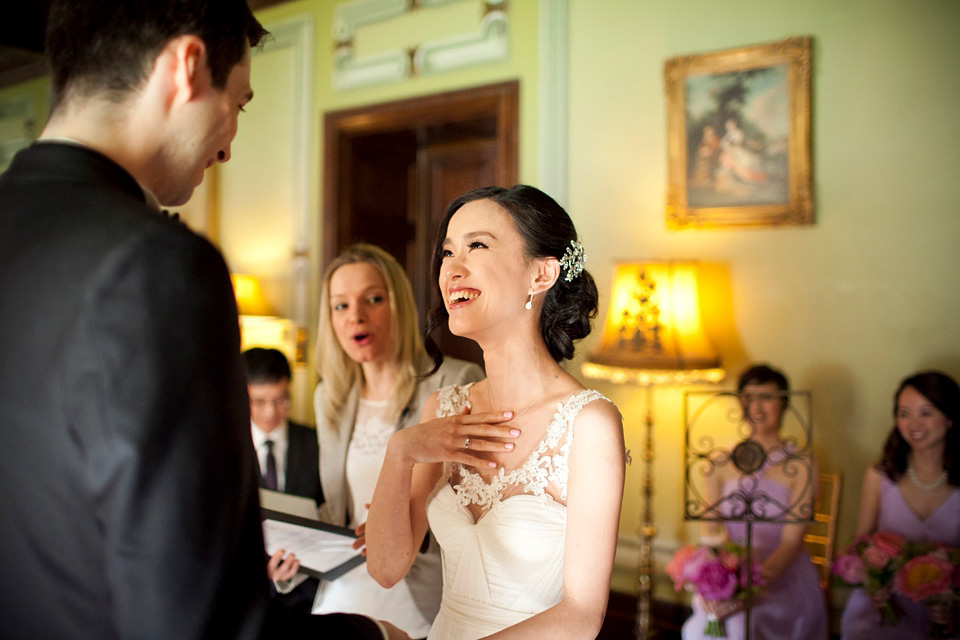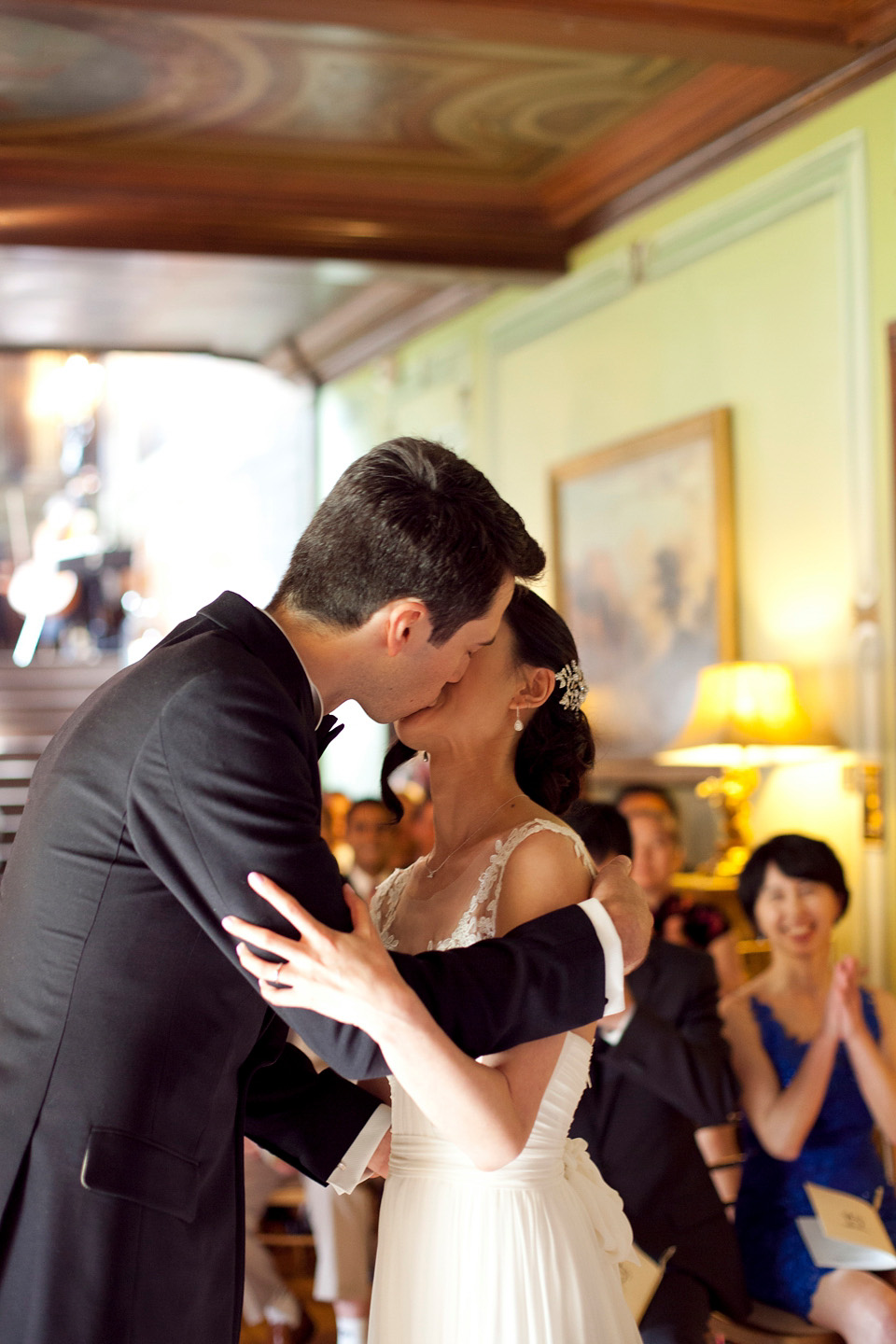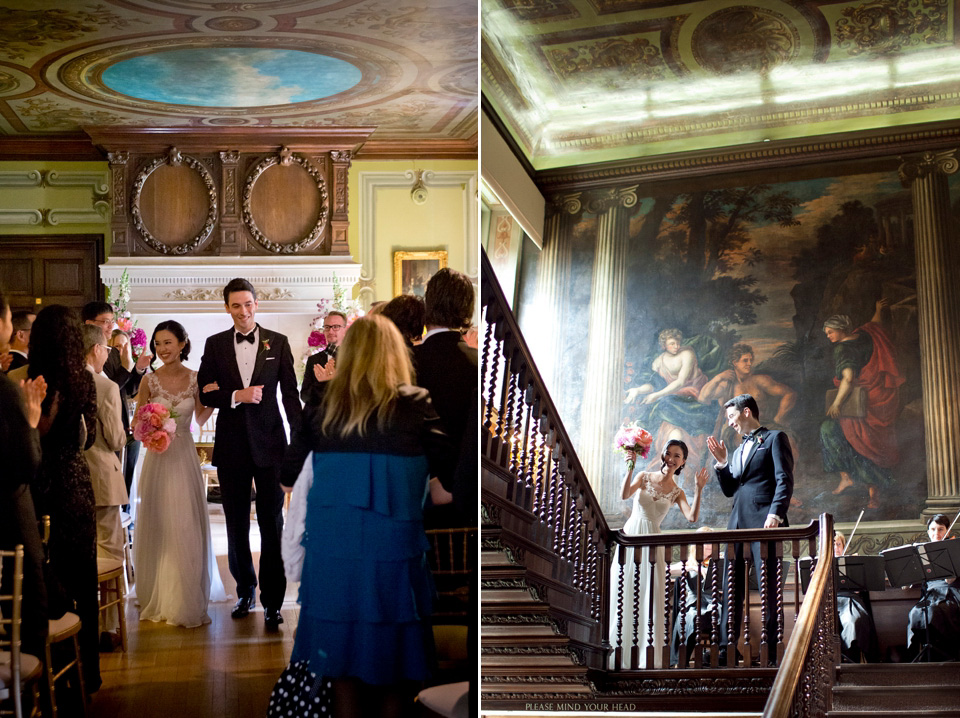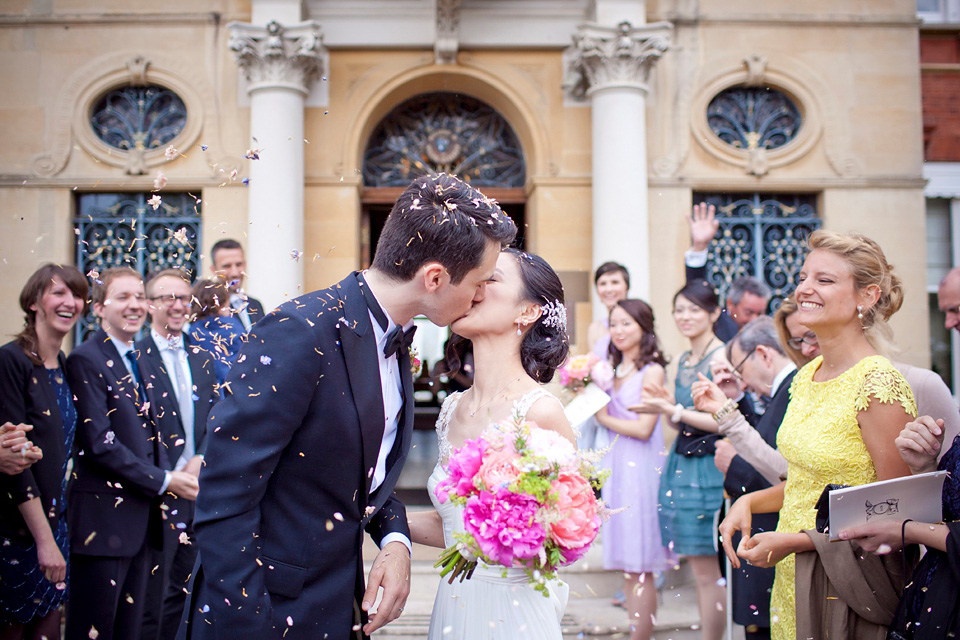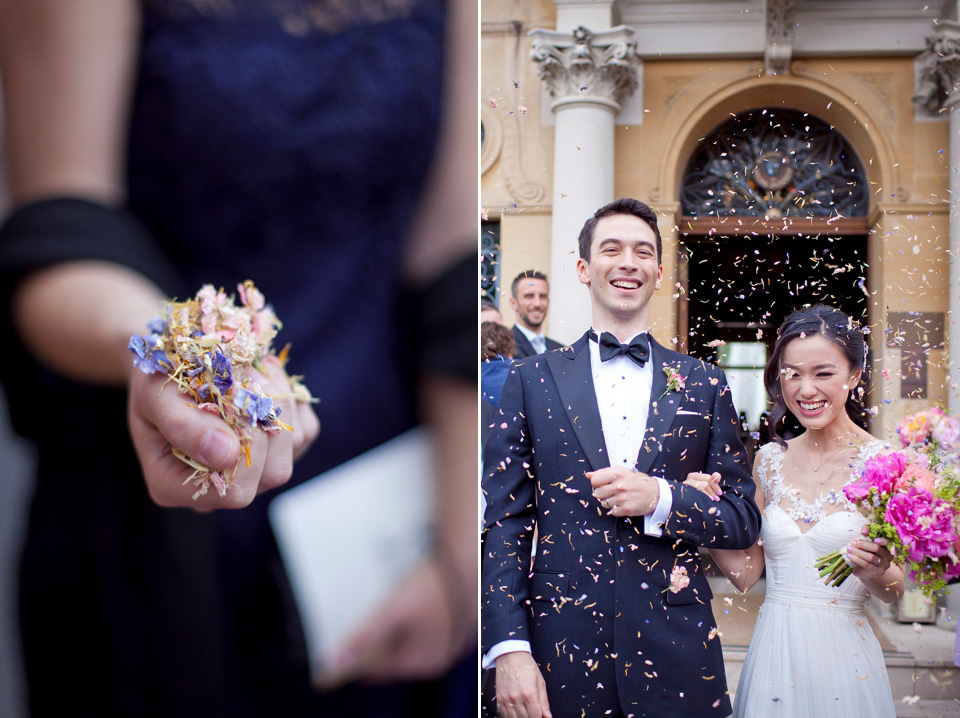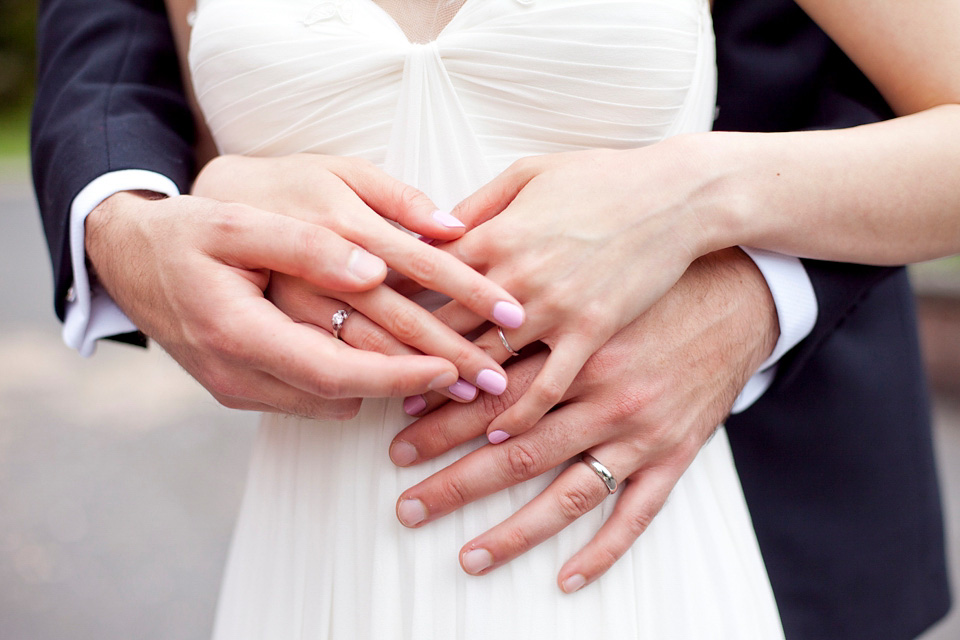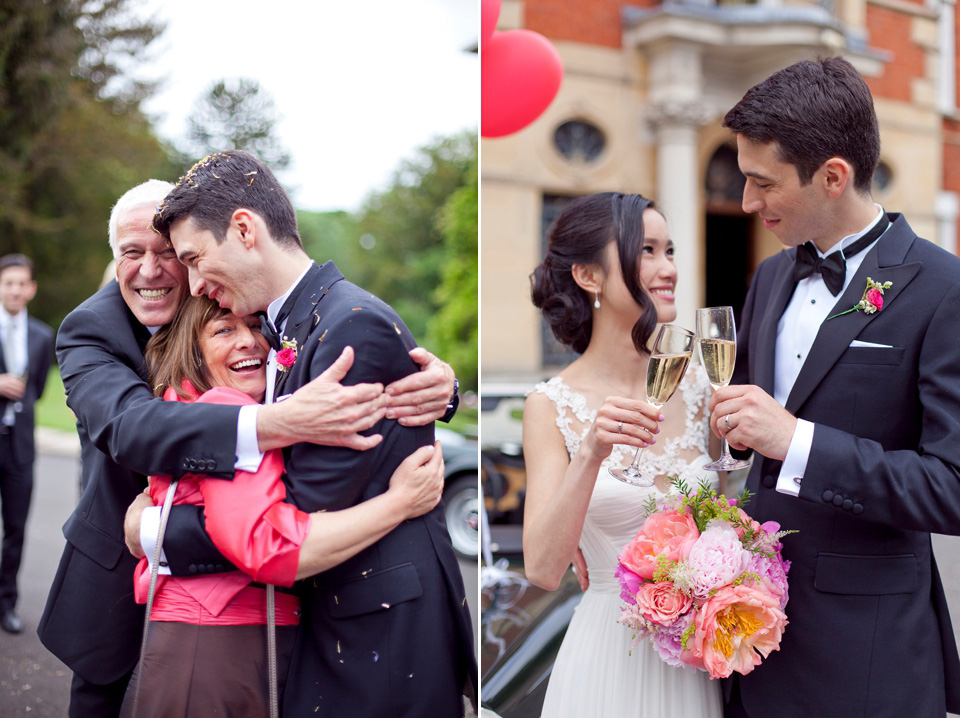 "For our wedding transport, friends of Marc's family drove a vintage car all the way from Germany and decorated it with red balloons – it was such a nice surprise!"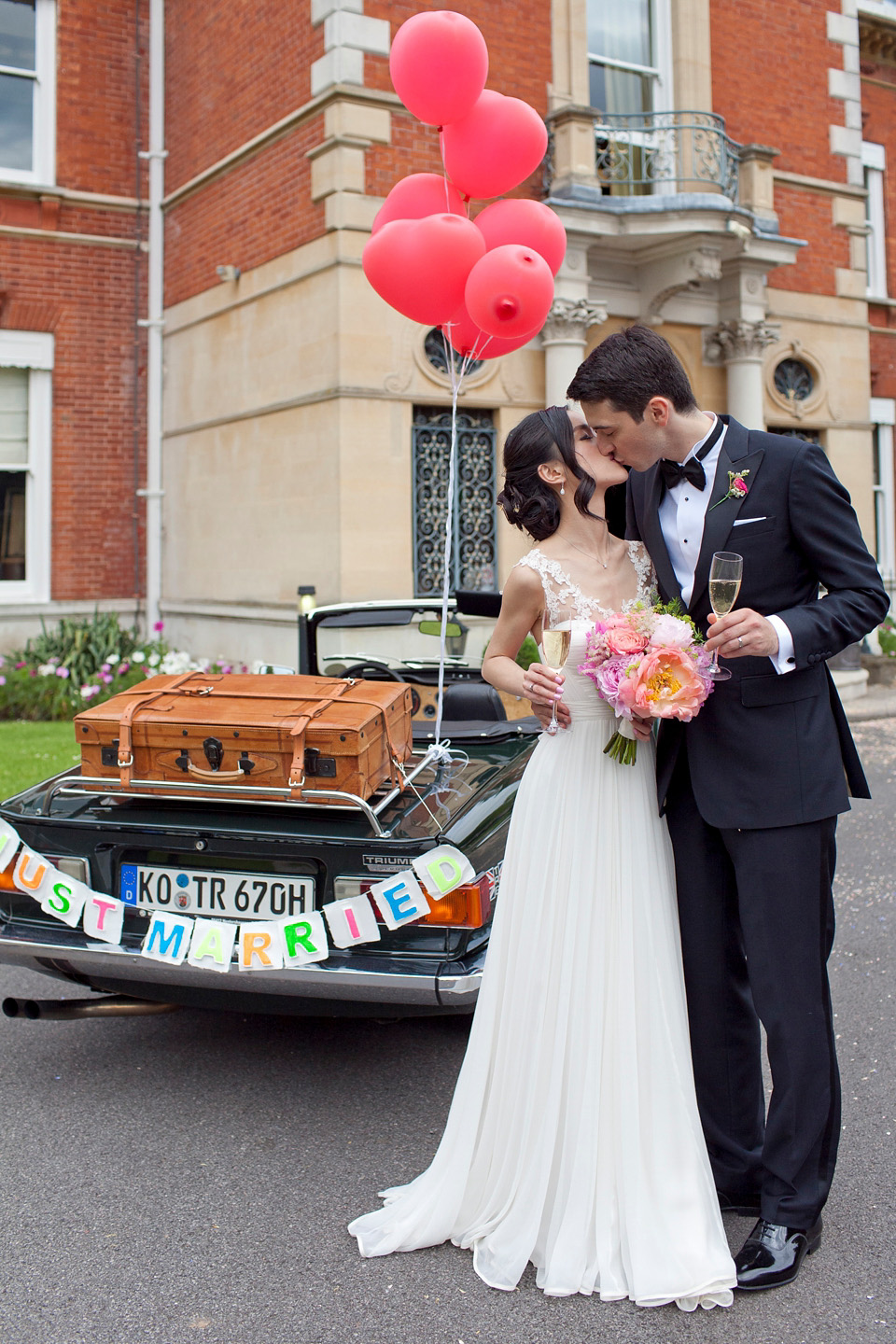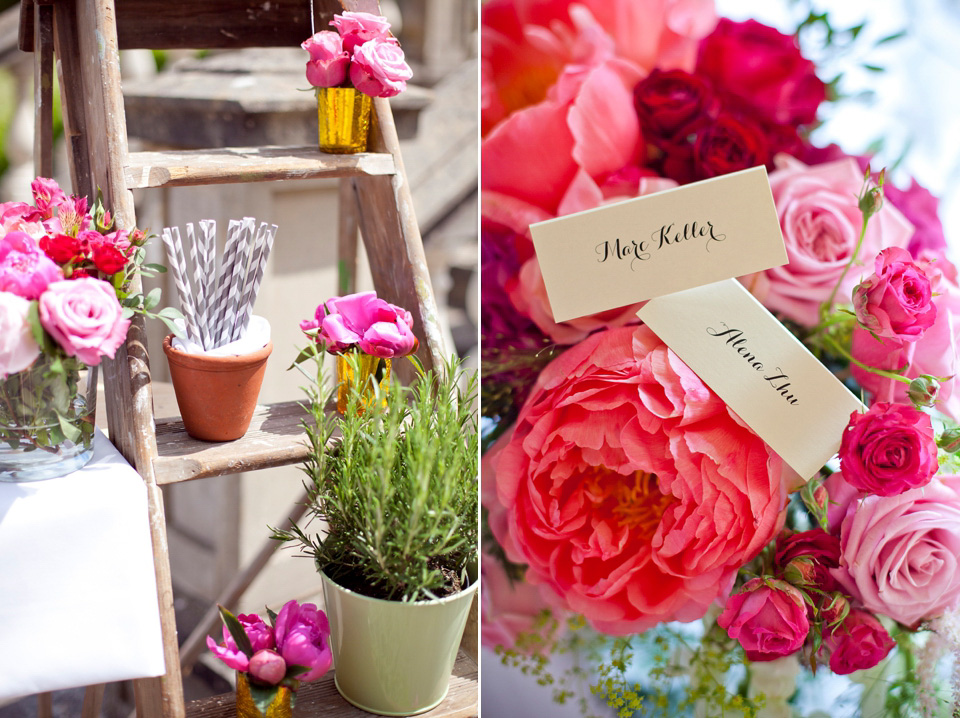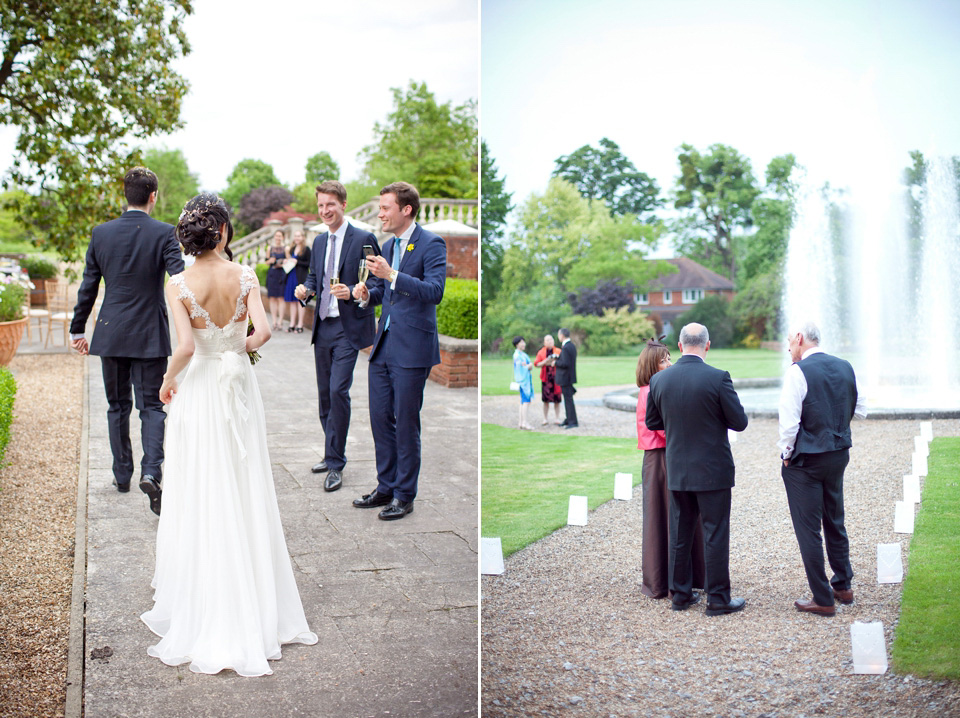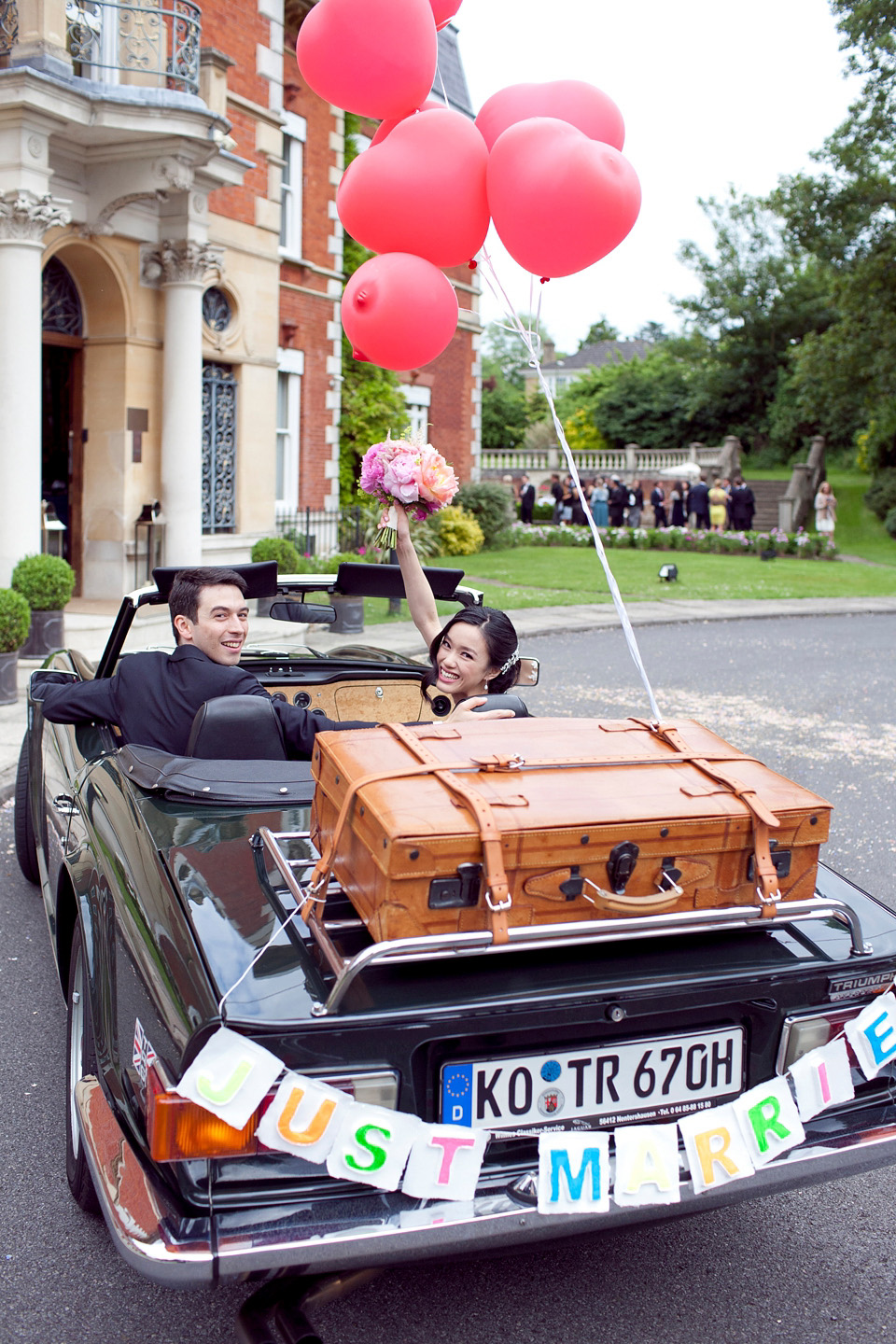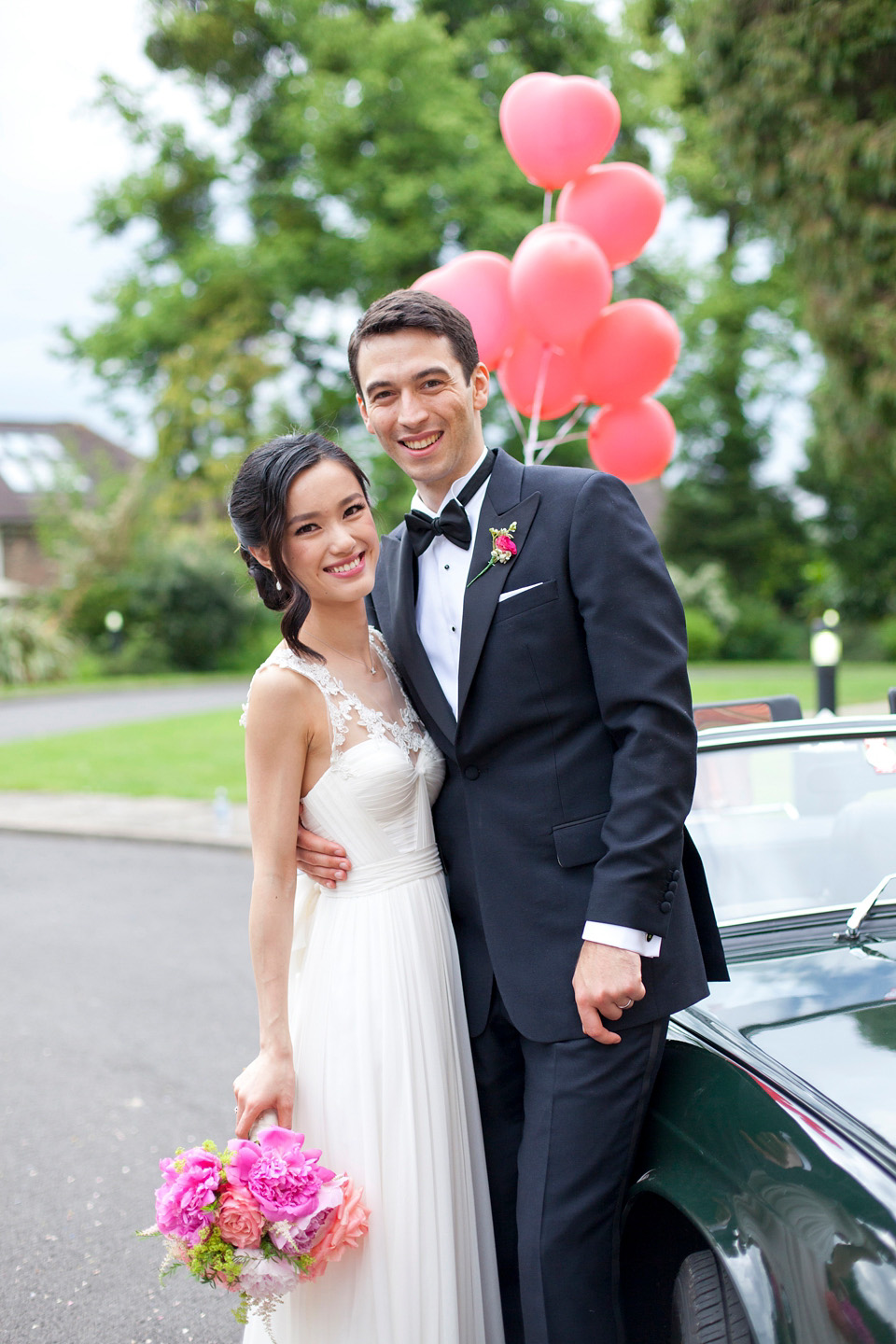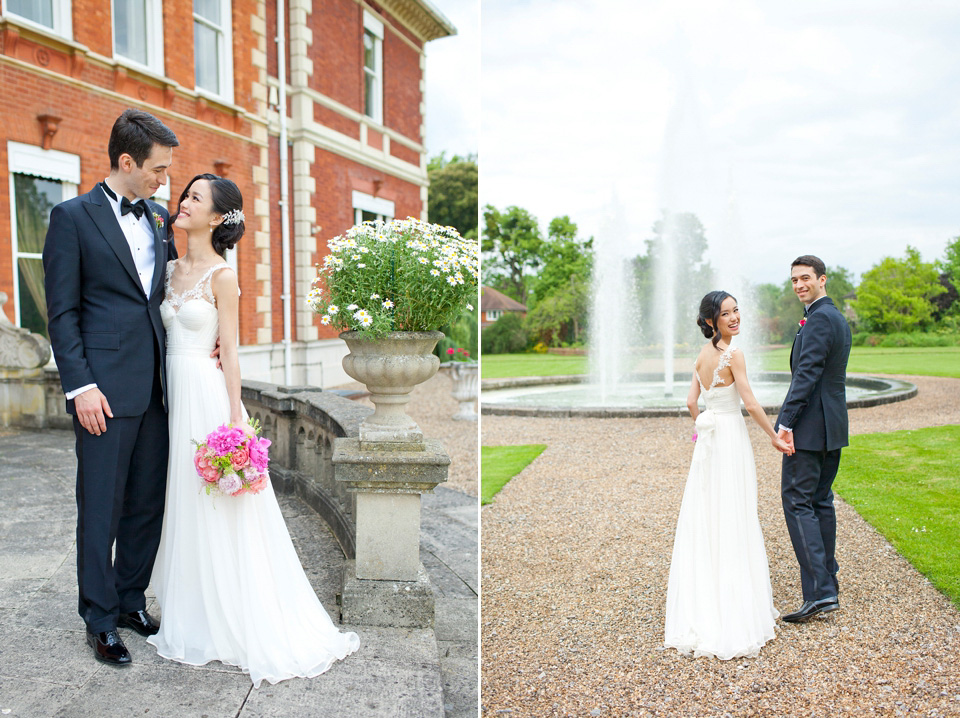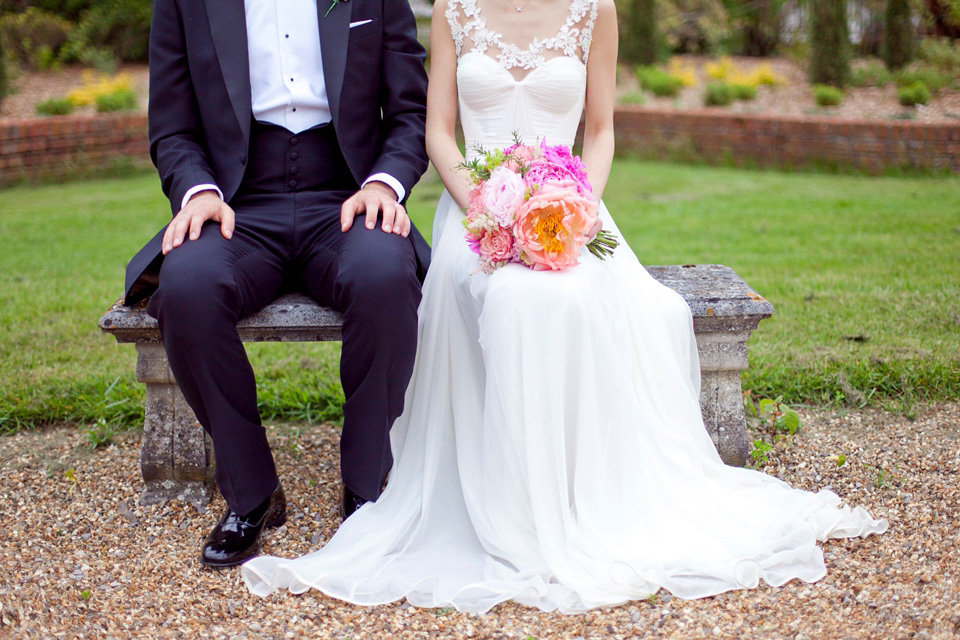 "Our photographer was Emma Sekhon. I love Emma's work, the way she uses light and the colours in her photos. Emma was very helpful during the planning process (setting the schedules and recommending suppliers) which made us realise how important it is to have an experienced wedding photographer.
On the day, Emma worked so hard to get the best shot – at one point she (literally) got on the ground to capture the boys in action during their group portrait session!Marc and I are usually quite camera shy, but Emma kept 'wooing' and 'ahhing' during our portrait session which really made us laugh and helped us to feel totally at ease!
Equally brilliant, were Tom and Rob of Clark & Palmer Wedding Films. I honestly think that they are the best wedding videographers in England; we love our film!"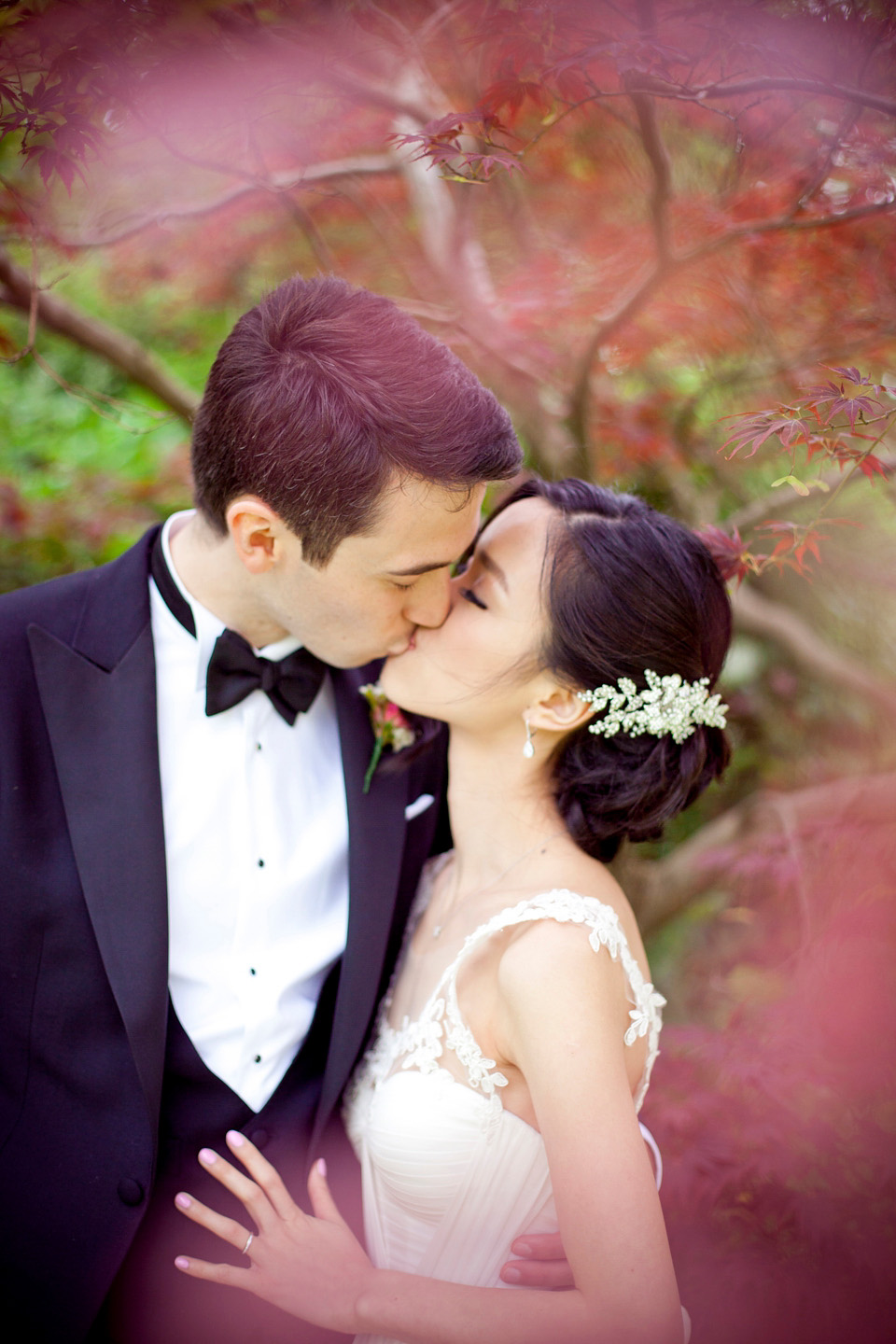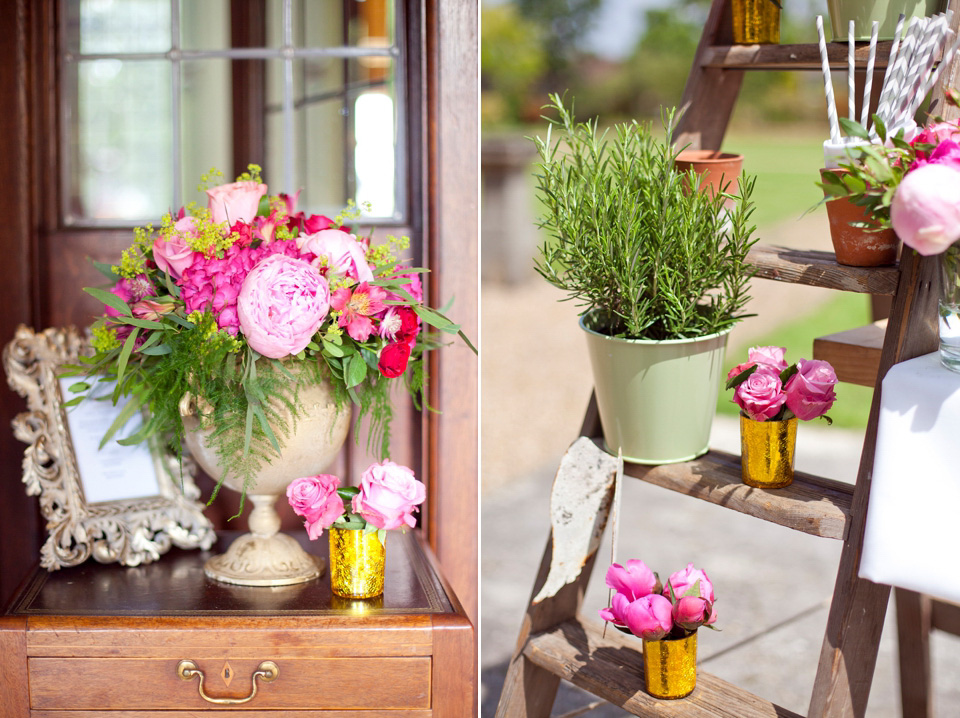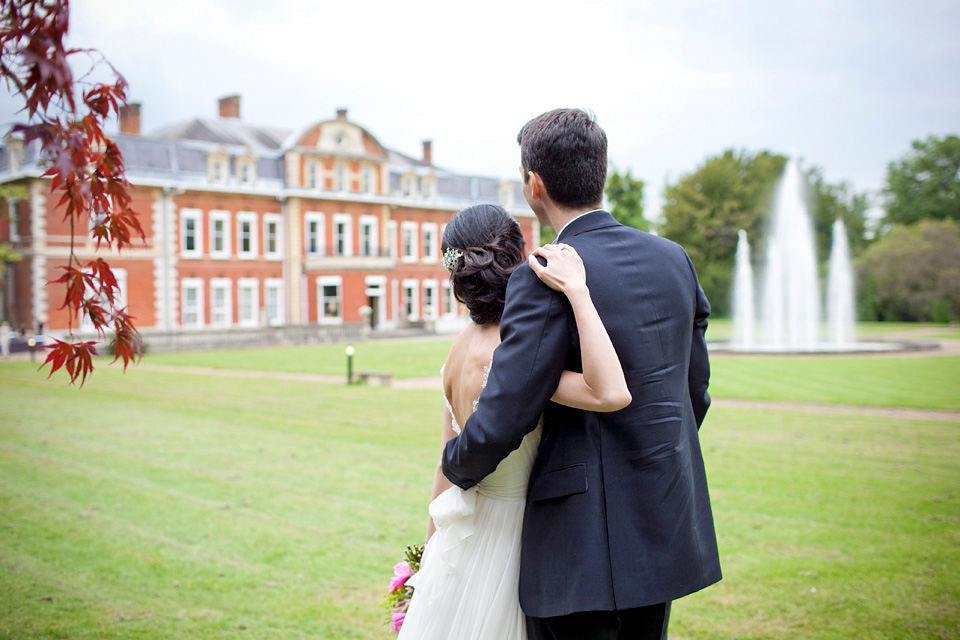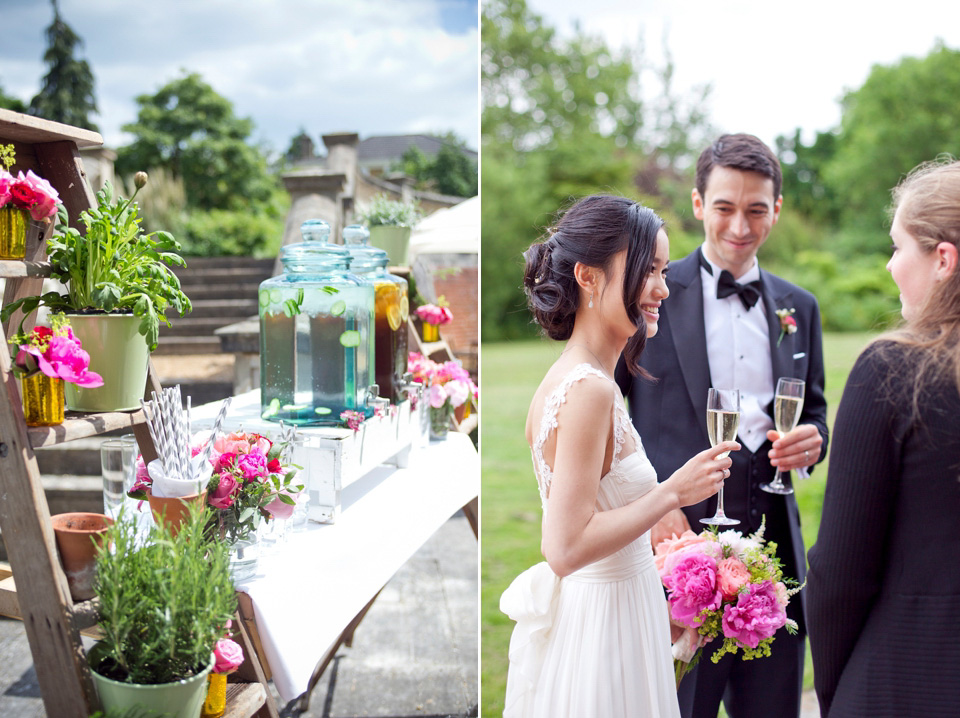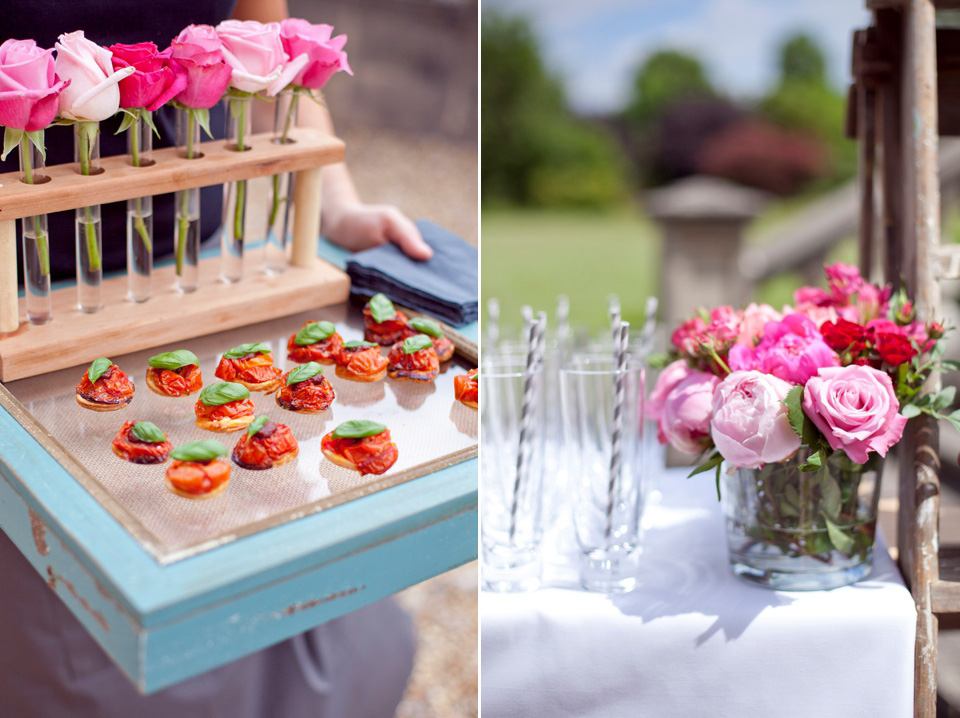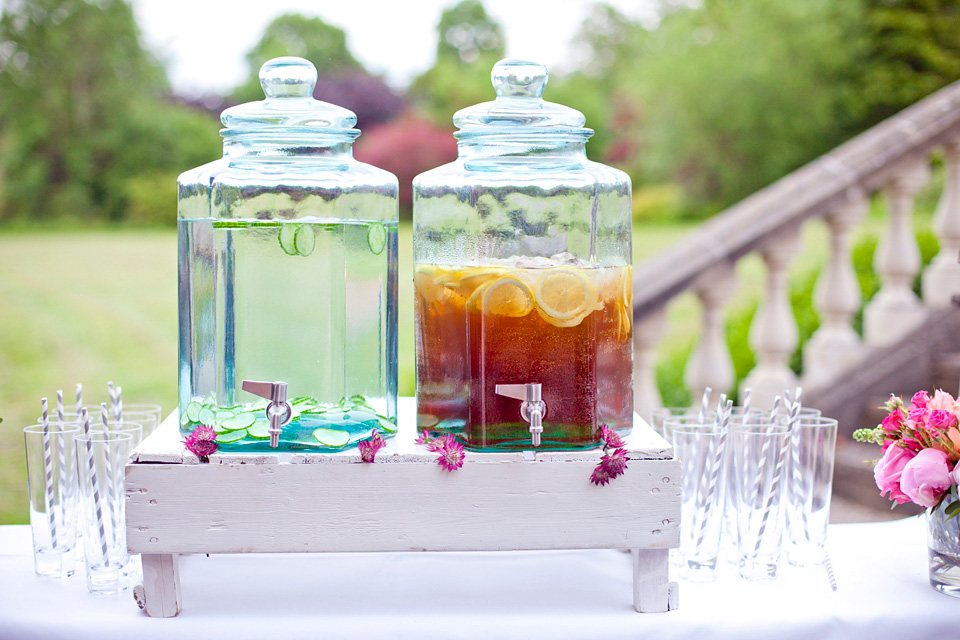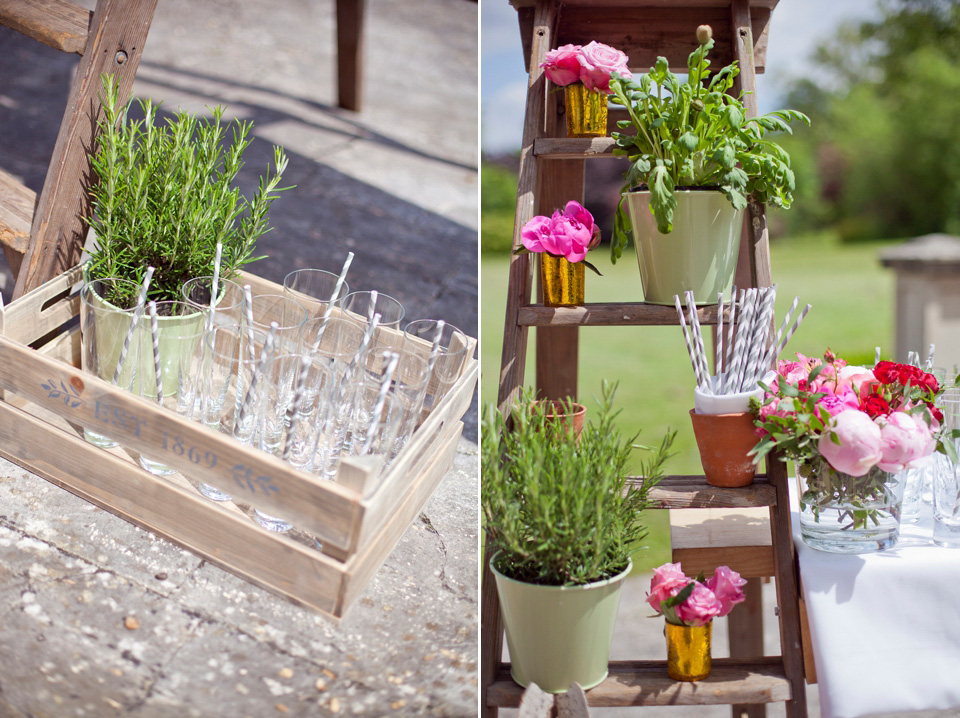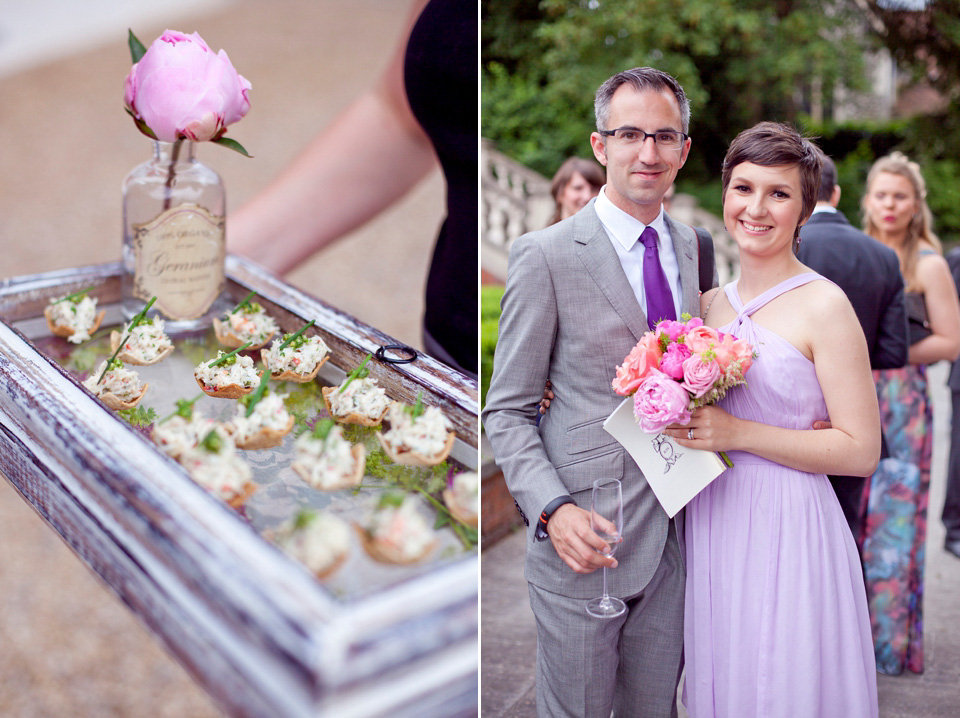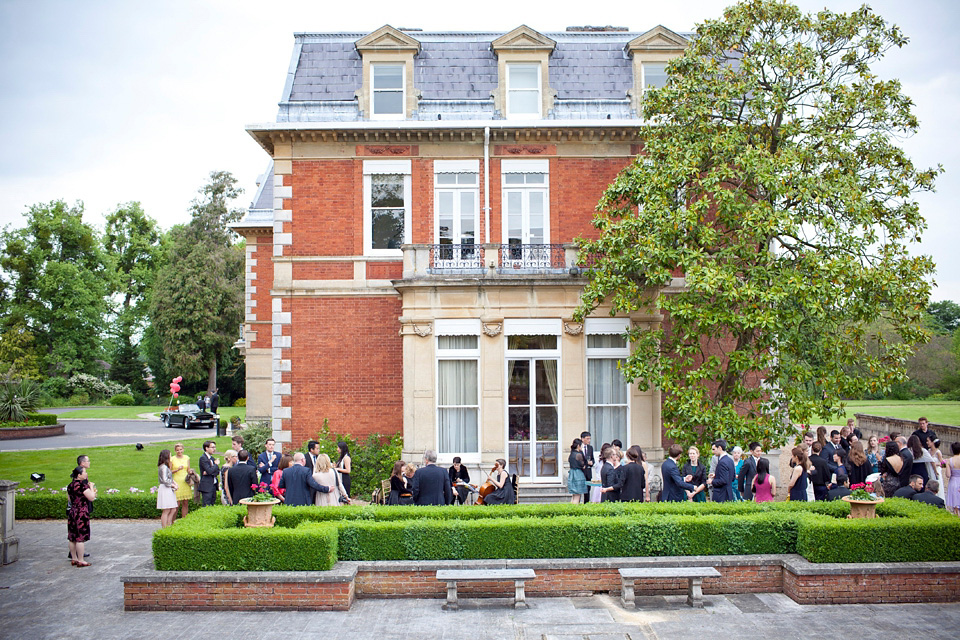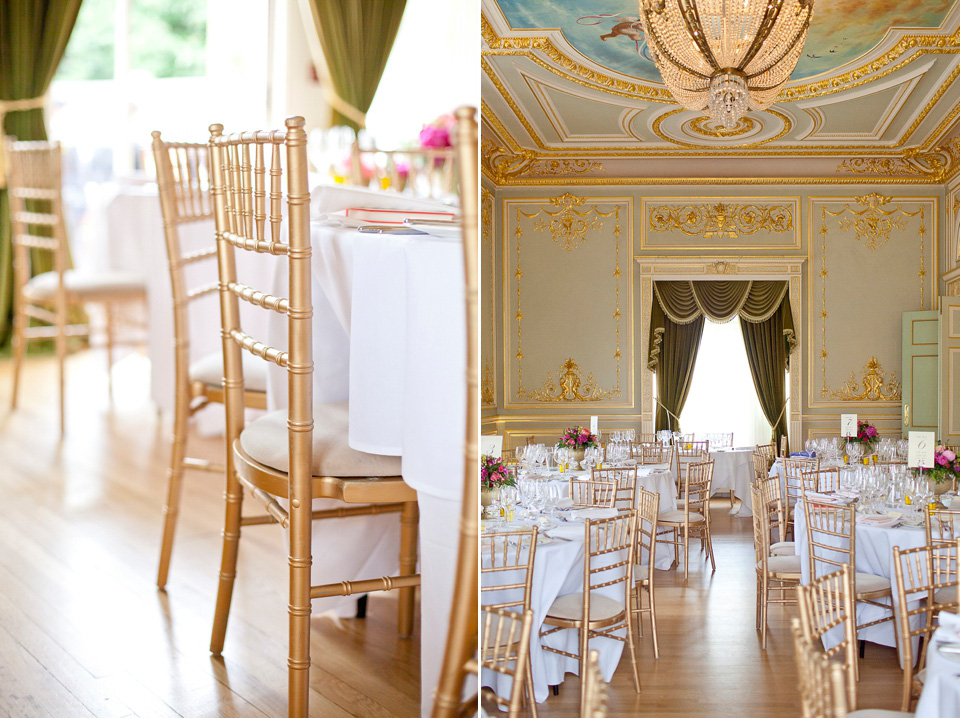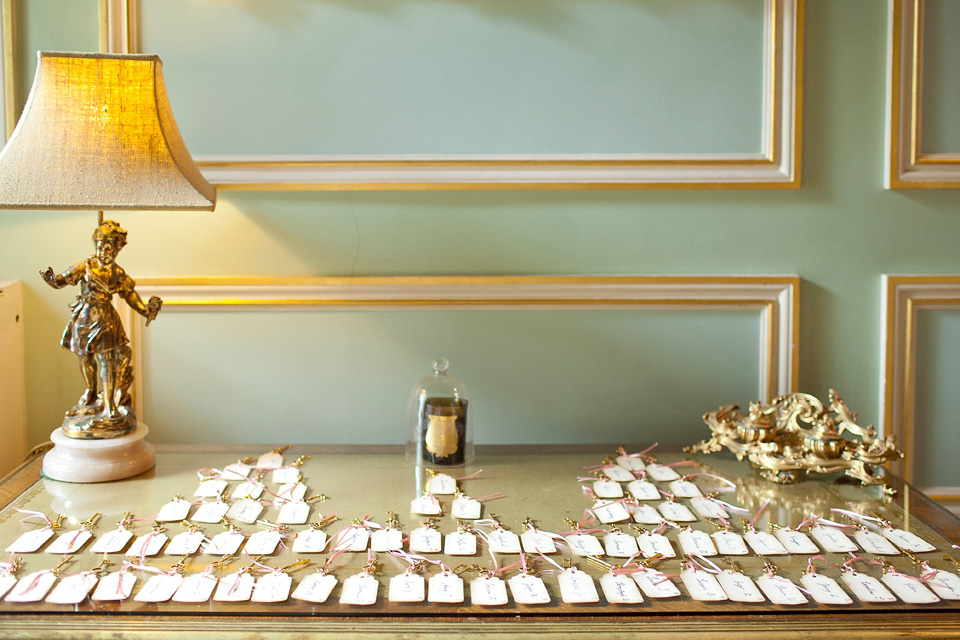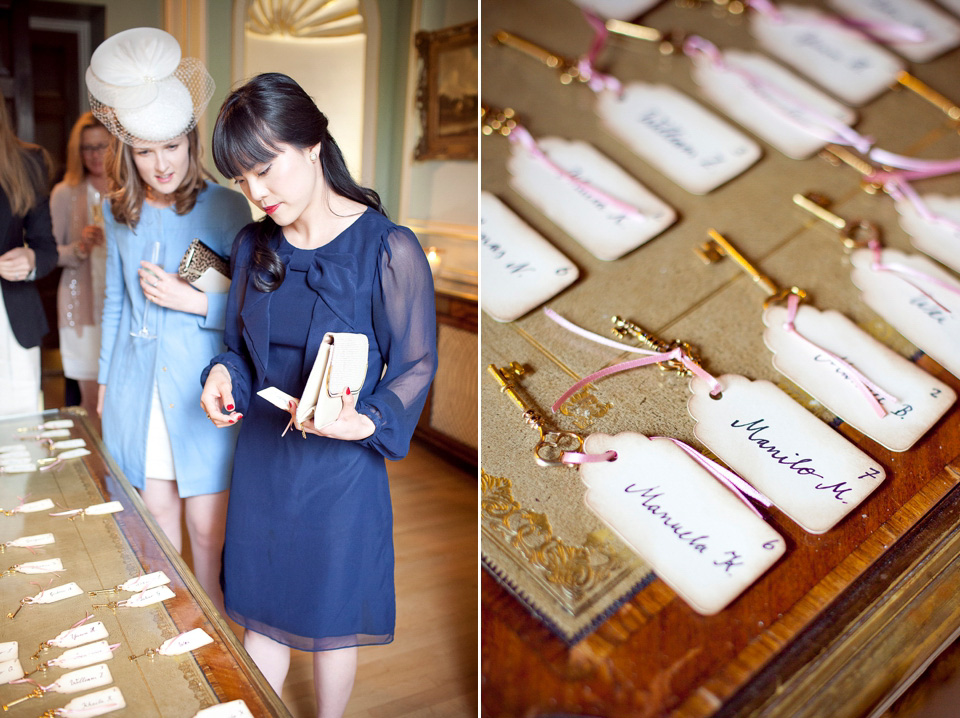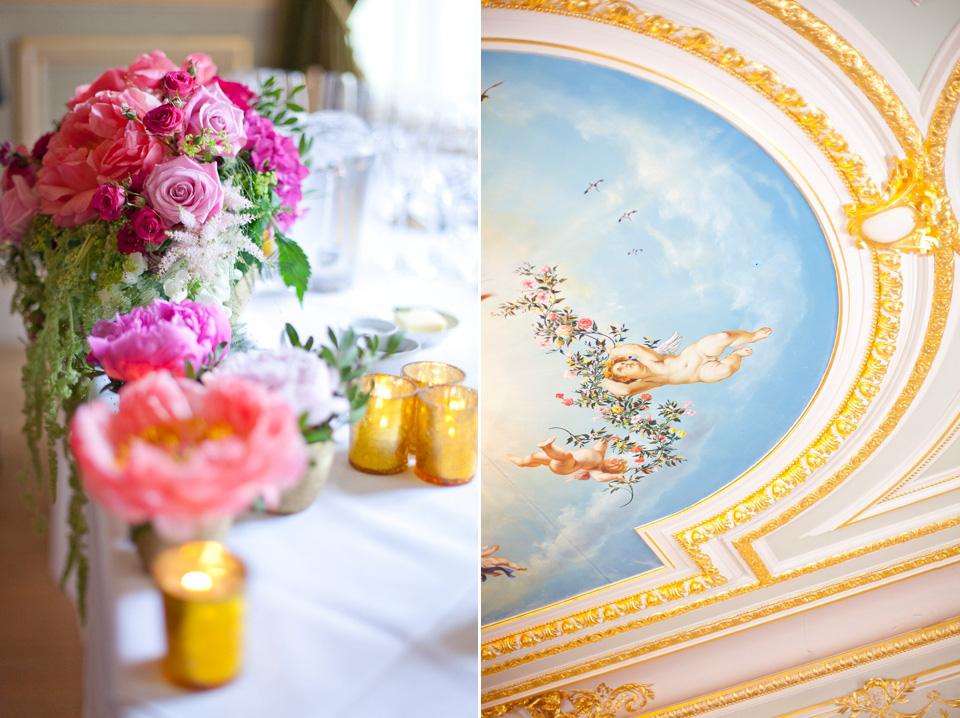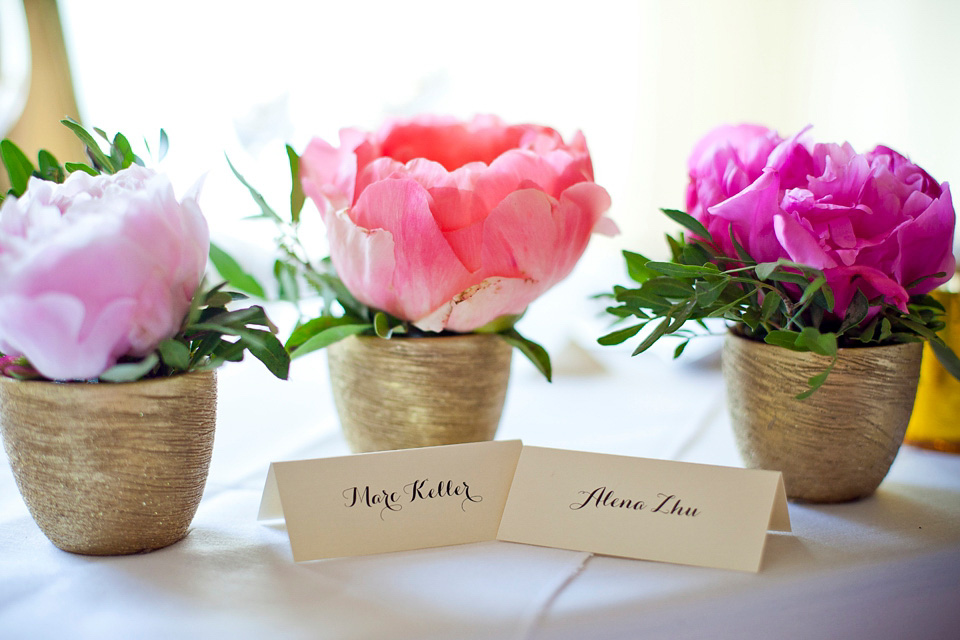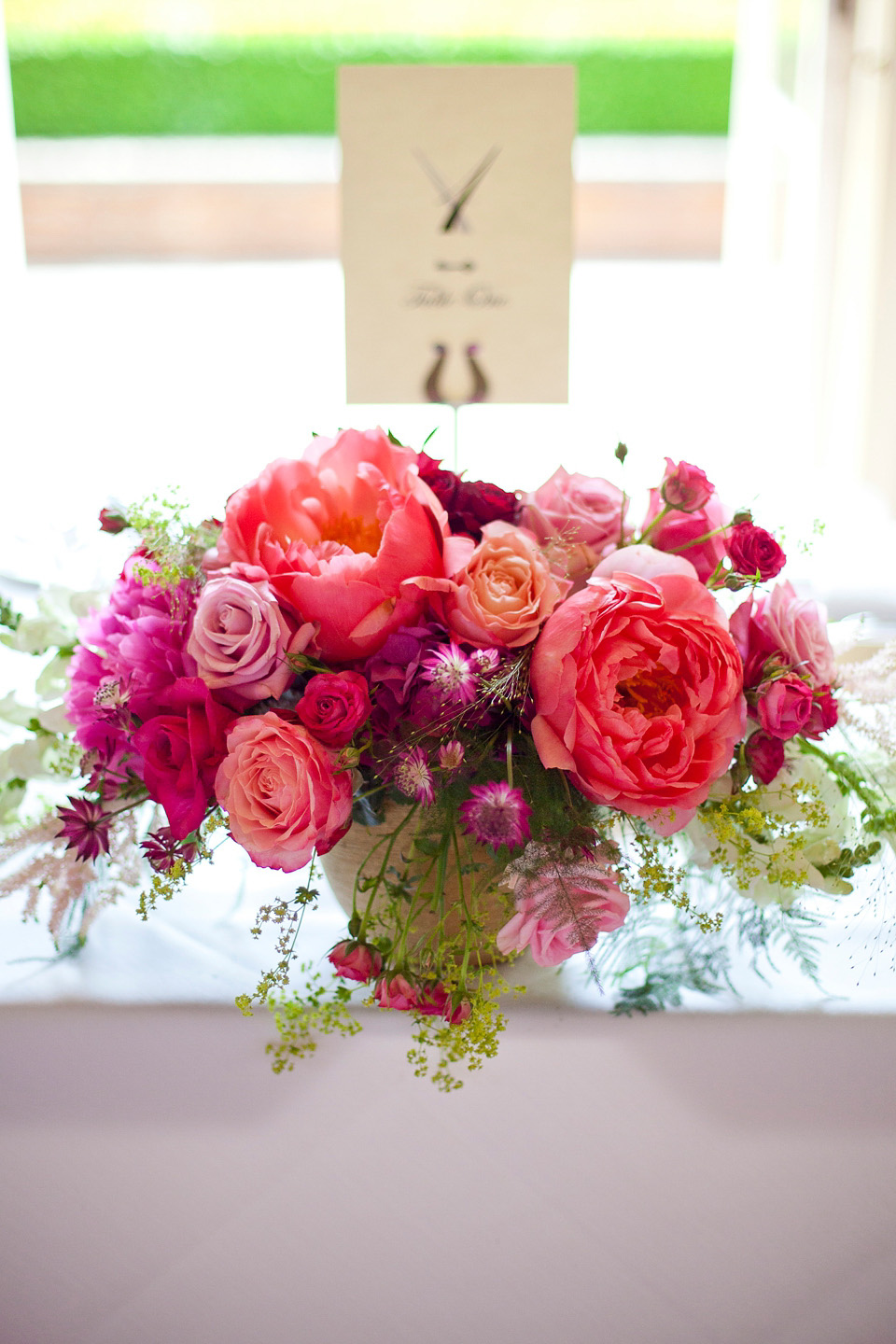 "For our favours we gave each guest 'Keep Calm and Carry On',  a book of quotes which we felt had just the right amount of kitsch and proved to be a great conversation starter."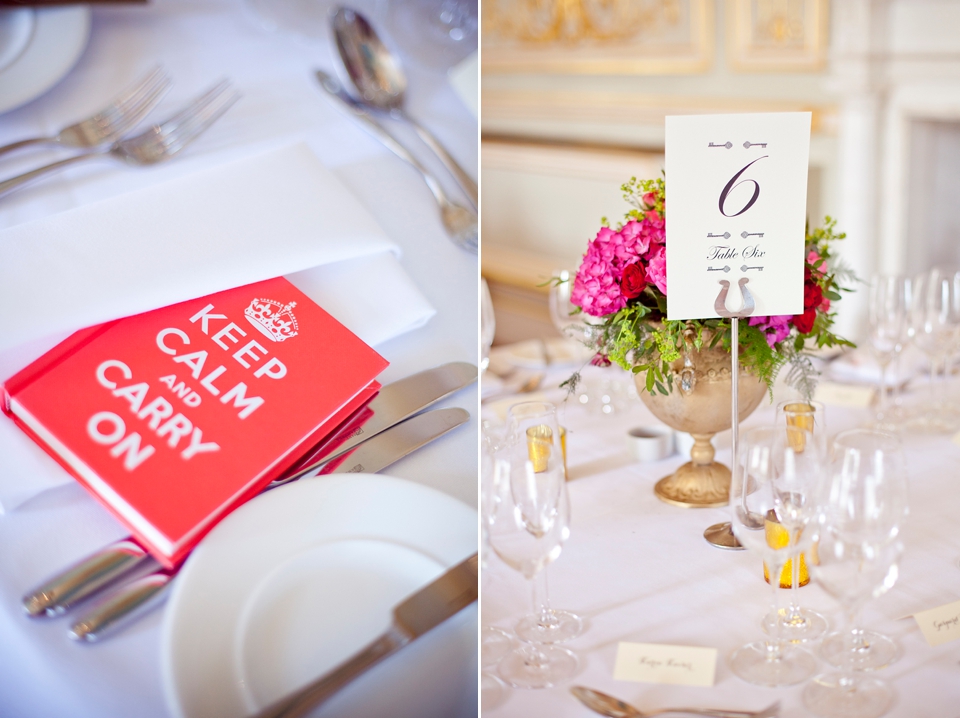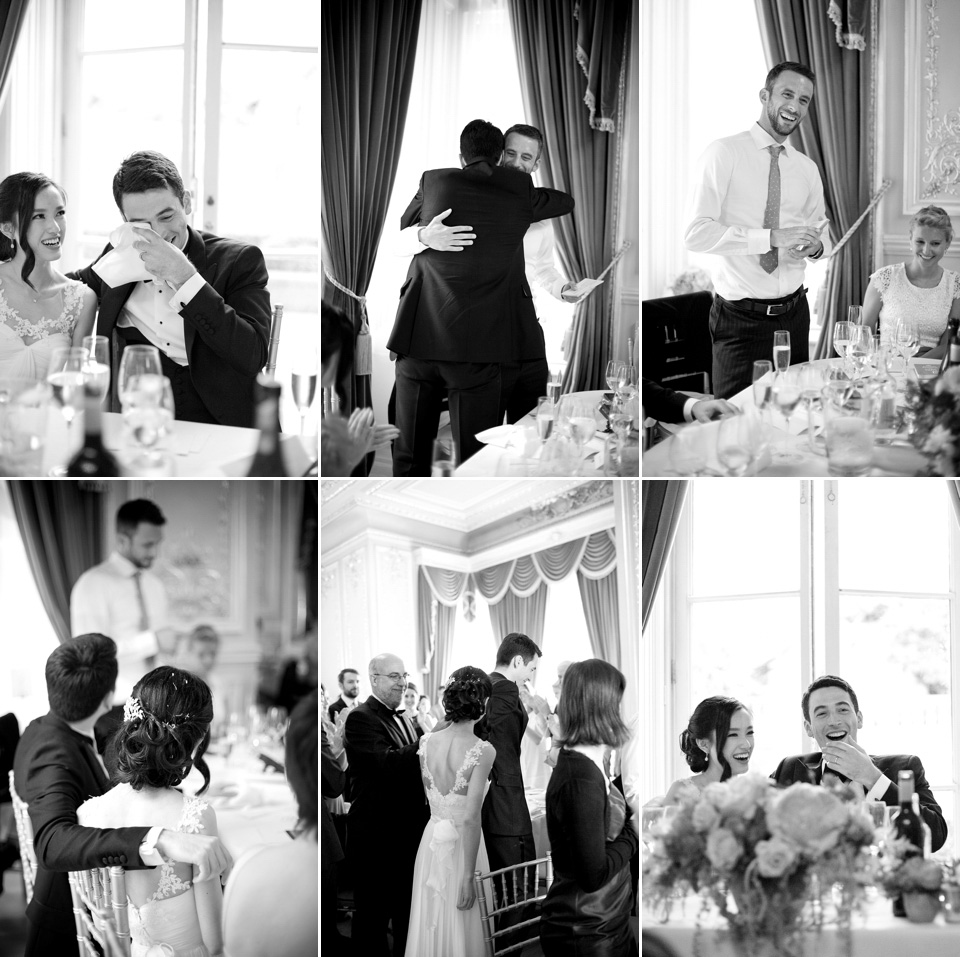 We love hearing about brides inspired by Love My Dress and Alena is no exception! Alena found our real wedding features particularly helpful during the planning process.
"I really enjoyed the real wedding posts on Love My Dress when I was planning the wedding, and I still do (I hadn't been to the site for a while since our wedding, but have just spent the past two hours swooning over all the beautiful weddings)!"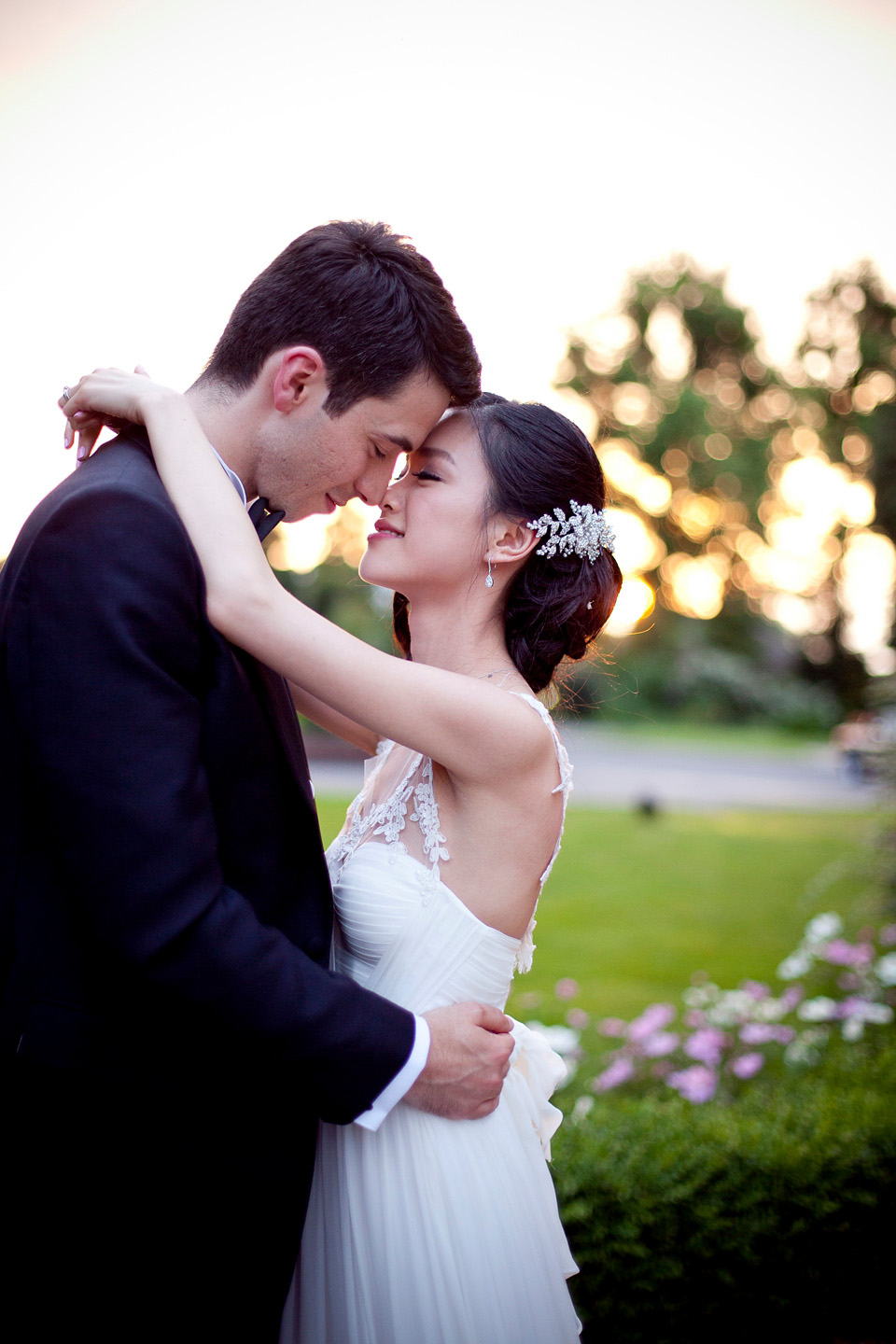 For their evening entertainment our couple opted for a band and DJ from entertainment agency The Band Boutique.
"Marc spent six months obsessing about whether to get a band or a DJ and in the end we found a band Bounce who came with DJ. They were PERFECT; there was not a single person at the wedding who was not dancing!
For our first dance we had Moon River from Breakfast at Tiffany's. We wanted to waltz (Marc is German, after all!) and it's one of my favourite films. Marc and I had a little moment when DJ Nick put the last song of the night on (A concert version of Jay Z's Young Forever featuring Beyoncé). We slow danced, and it felt like we were the only people in the room (which turned out to be somewhat accurate since we were the last ones on the dance floor!)"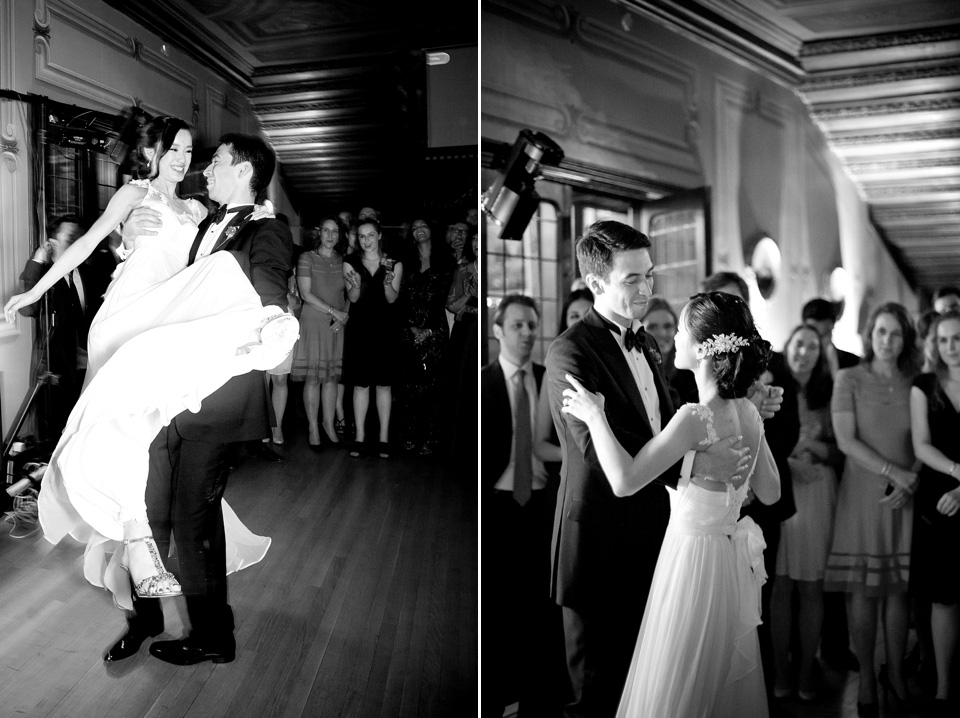 Words of Wedded Wisdom
"Don't overthink it – trust your instincts and don't forget to have fun!
It was so magical to see everyone laughing, crying and dancing all under one roof! Our main aim was to host the best party of our lives – mission accomplished!"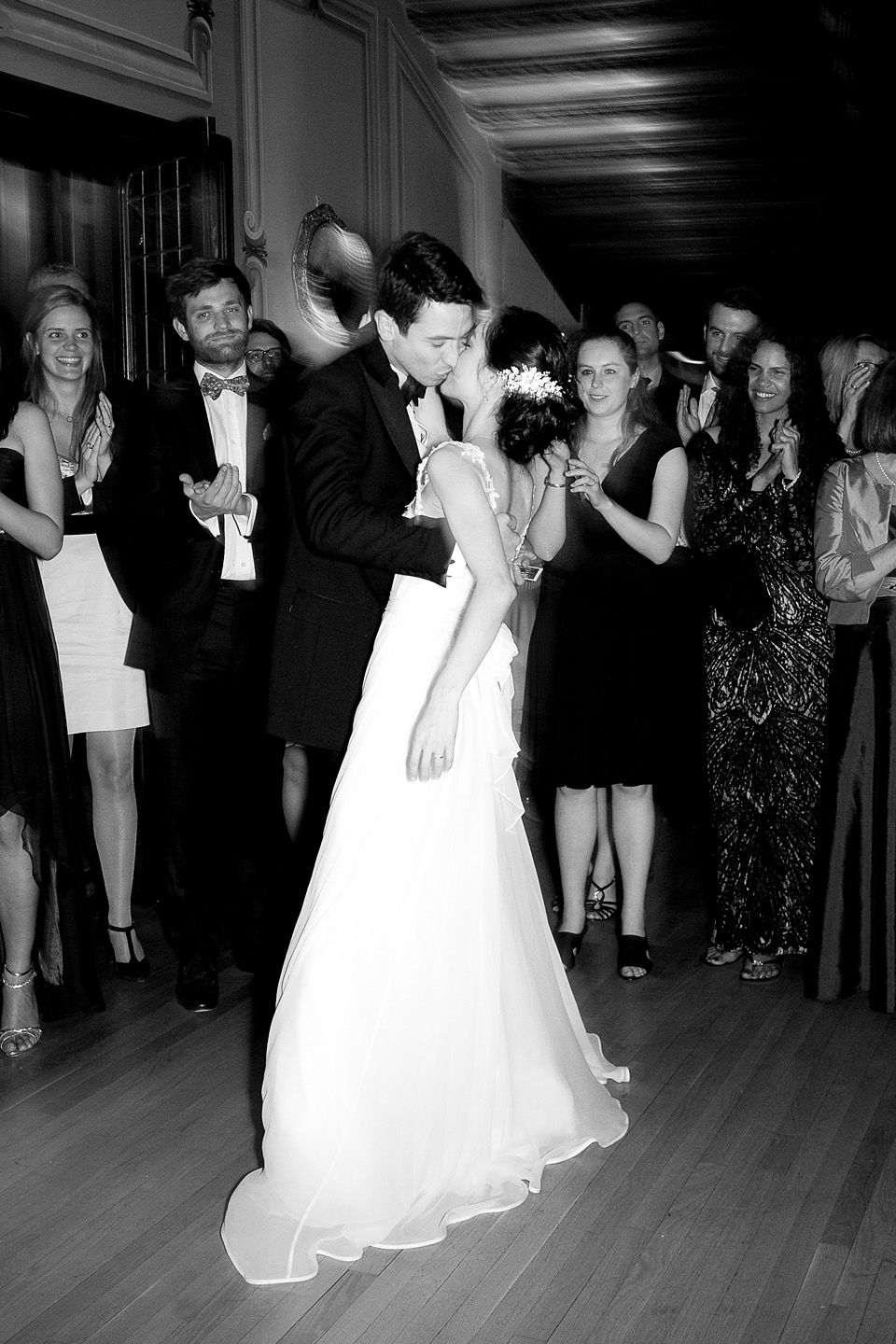 Thank you so much Alena and Marc for sharing and to Photographer Emma Sekhon and Clark and Palmer Wedding Films for capturing our couple's big day in such style. You can find other lovely black tie weddings on the blog here and you can also explore more beautiful weddings at Fetcham Park here.
Readers, I'd love to know if you're planning your own black tie wedding – what stage are you at in the planning process right now?
Annora x
Photographer – Emma Sekhon
Film – Clark & Palmer Wedding Films
Venue – Fetcham Park
Celebrant – Christina Walker
Wedding Dress – Tatyana Merenyuk
Headpiece – Glitzy Secrets hair slide
Shoes – Jimmy Choo
Accessories – Tiffany & Co necklace
Bride's Scent – Omorovicza Firming Body Oil
Groom – Norton & Townsend suit + cufflinks from Cartier
Bridesmaids – J Crew
Florist – Paula Rooney
Cake – Zoe Clark Cakes
Entertainment – The Covent Garden String Quartet + Bounce band + DJ Nick
Rings – Cartier + Tiffany & Co
Catering – Kalm Kitchen
Stationery – RSVP Candy
Hair and Makeup Artist – Sam Sham