Happy Tuesday afternoon everyone. It is said that it takes a village to raise a child but in the case of this heart-warming wedding, I think it takes a village to create a stunningly special day. The DIY florals are overwhelmingly gorgeous, the thoughtful touches and creative ideas are truly pinch-worthy and the fun, informal and romantic atmosphere of the day radiate out of these Joanna Brown photographs. The couple's portrait pictures are so lovely I'd hang them on my own wall!
Photography by Photographer – Joanna Brown
Arts Officer Zoey married her graphic designer husband Mark on 20 July 2013 in a religious ceremony at the small but beautiful, Hemingstone Village Church, near Ipswich, Suffolk. This was followed by celebrations in Zoey's parents' orchard in the same village.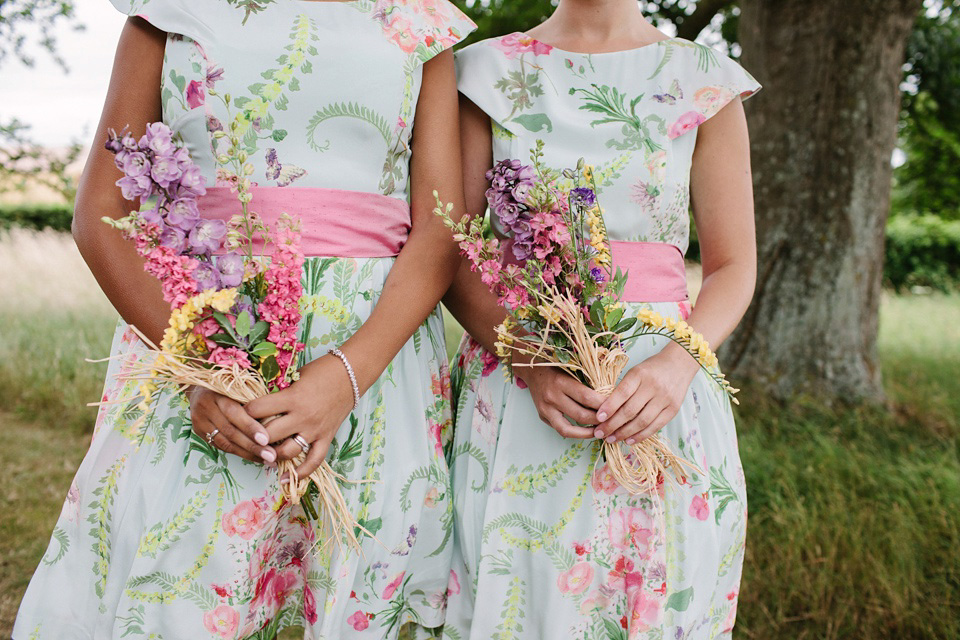 "Holding our reception in my parents' orchard was a no-brainer. We're not a 'top-hat and tails' kind of couple so hiring a grand old house would have been uncomfortable and strange for us."
"The orchard then dictated the theme. It needed to be informal, relaxed, romantic and rustic. We liked the idea of being able to control every element of it without feeling restricted or having to follow a strict set of rules and procedures."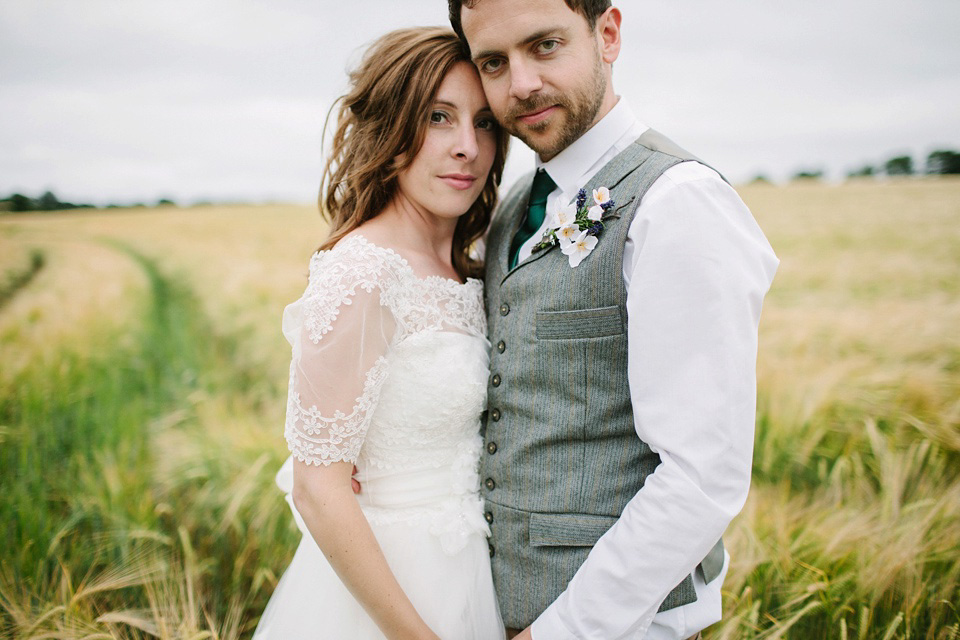 The couple first met back in 2007 after being set up on a blind date. Zoey spent the whole night talking to the wrong man (Mark's friend, Mike) until her friend put her straight in the loo and told her that she was talking to the wrong person! "The evening ended with lots of laughs and I thought straight away 'I think I may have met my future husband.' We became engaged on my 32nd birthday five years later and we married the following year. I couldn't wait to start planning the big day!"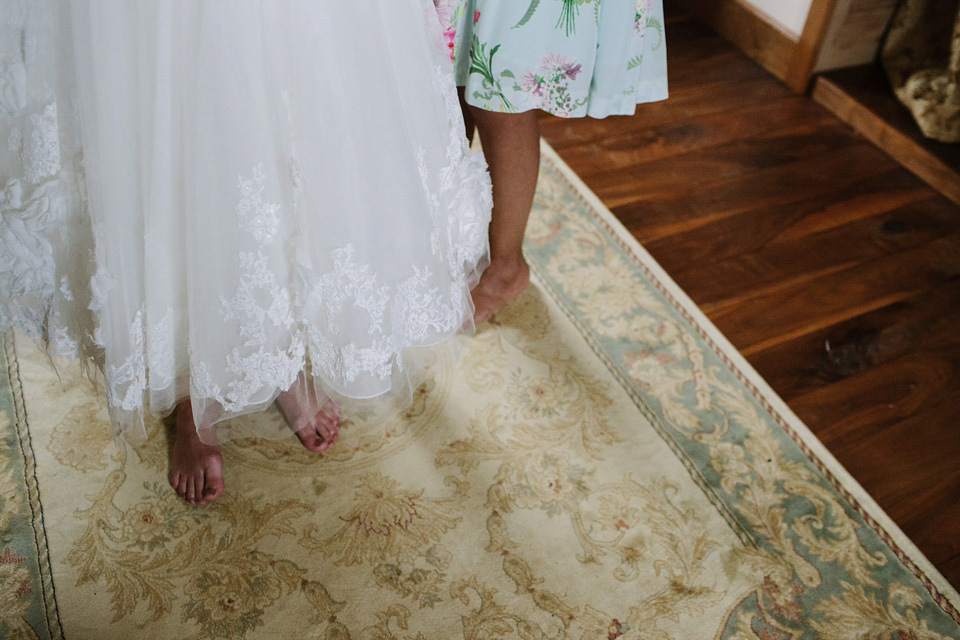 I love the bridesmaids' bold, floral Ted Baker dresses. I think that they tie in perfectly with one of my favourite elements of this big day – the copious amounts of country flowers.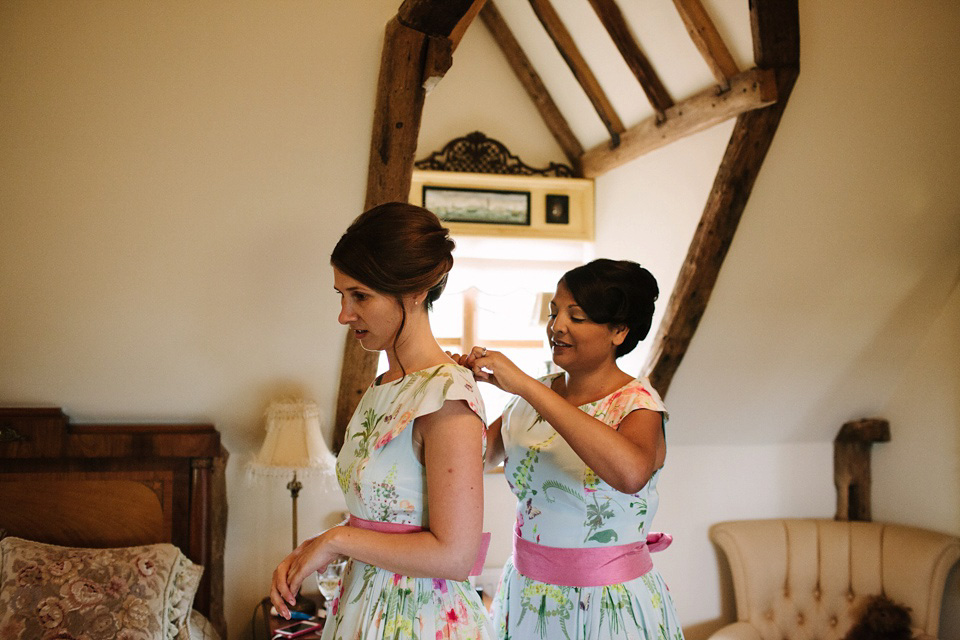 Zoey chose a lovely Maggie Sottero dress but wanted to cover up her arms and shoulders so added a bolero to it give it more of a vintage feel. Her dress was from Pure Brides in Norwich.
"At 5'3" on a good day, height has never been on my side so I always knew that I wouldn't suit a long dress. I also liked the idea of the freedom a short dress allows; room to dance and move naturally without the fear of constantly stepping on it. It was brave choice but I can honestly say that I'd never felt so amazing – even though we were still making alterations the day before!"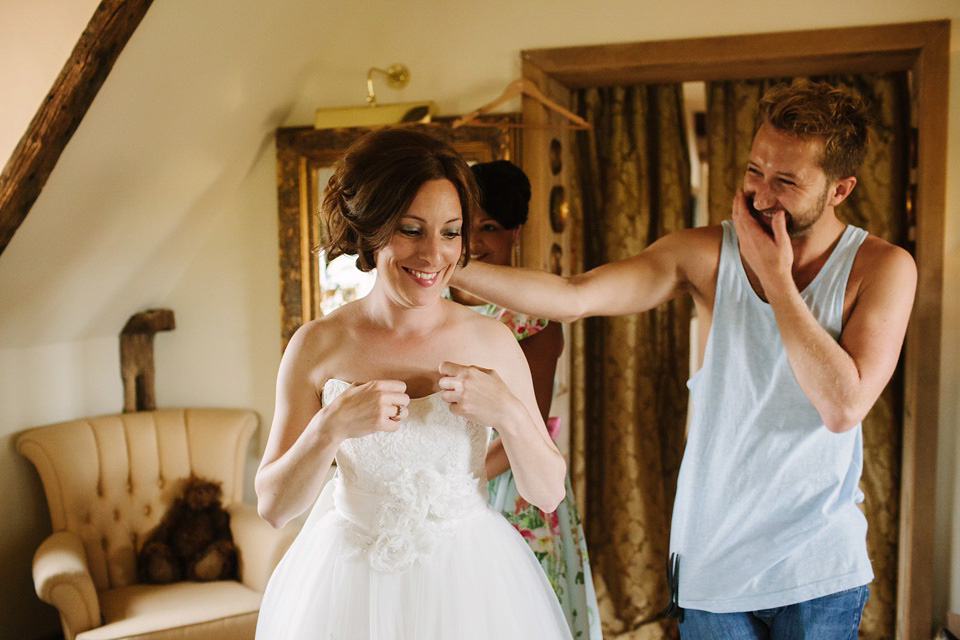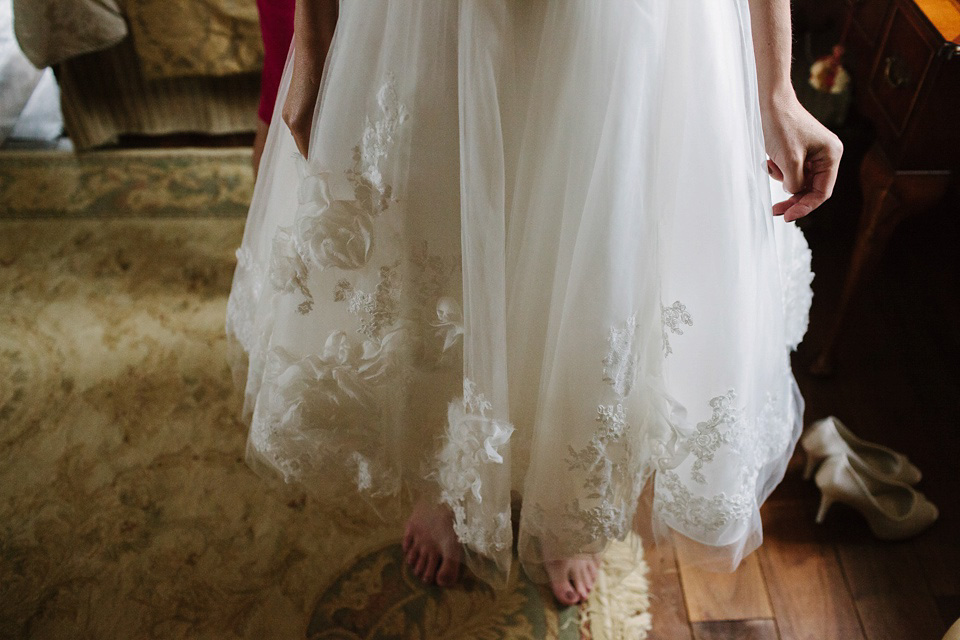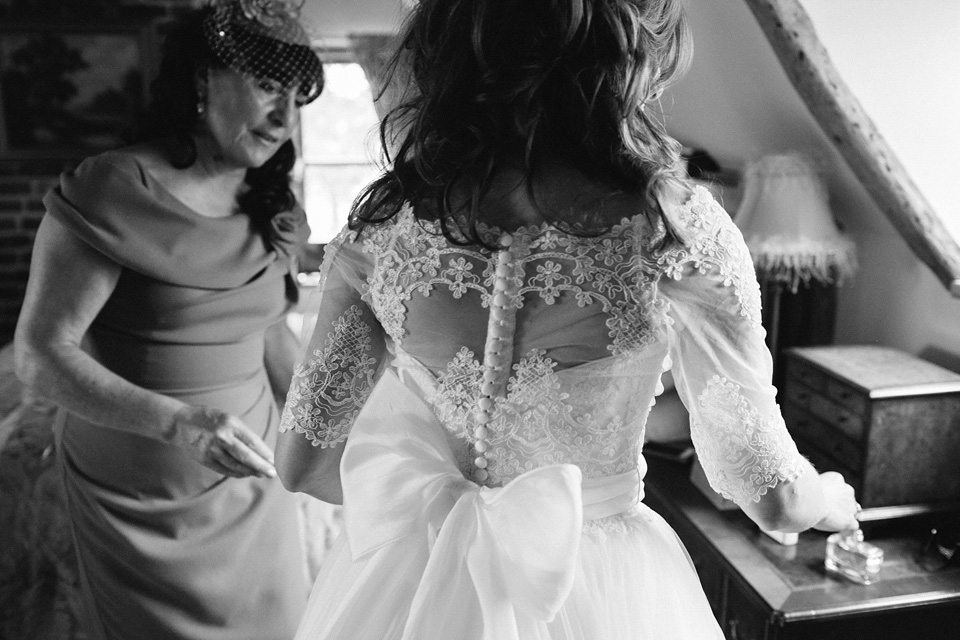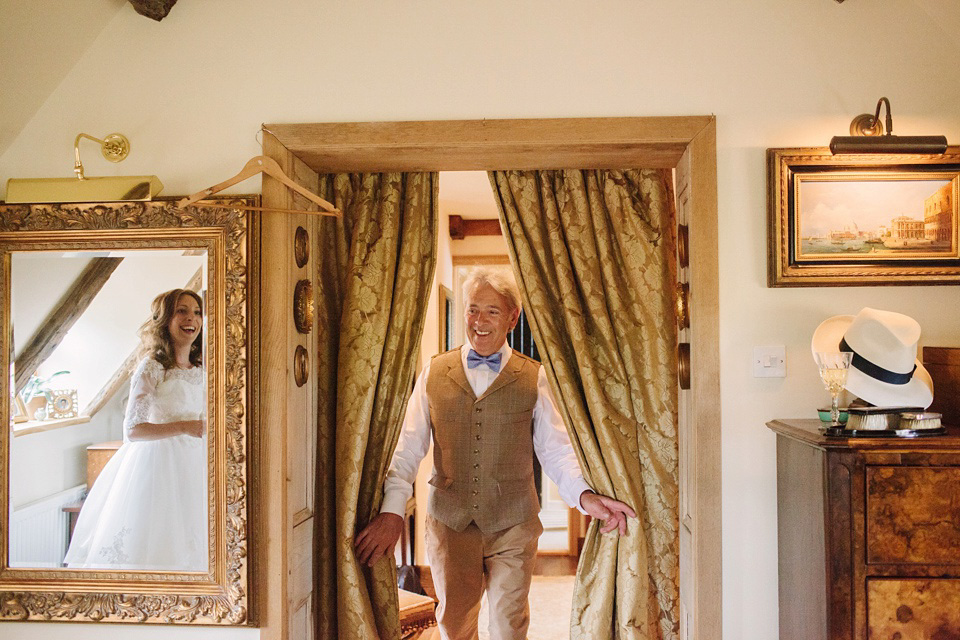 "Mark doesn't wear suits very often and, the theme of the day was very relaxed, so we decided all the guys would look better in waistcoats and chinos. Luckily mum's mother is a seamstress so she designed and made waistcoats for all the boys using different fabric and patterns. This helped differentiate the wedding party from other guests. Waistcoats were made for the groom, the two best men, the bride's brother as well as the fathers of the bride and groom."
How cute is the little flowergirl in her white BHS dress and divine flower crown?!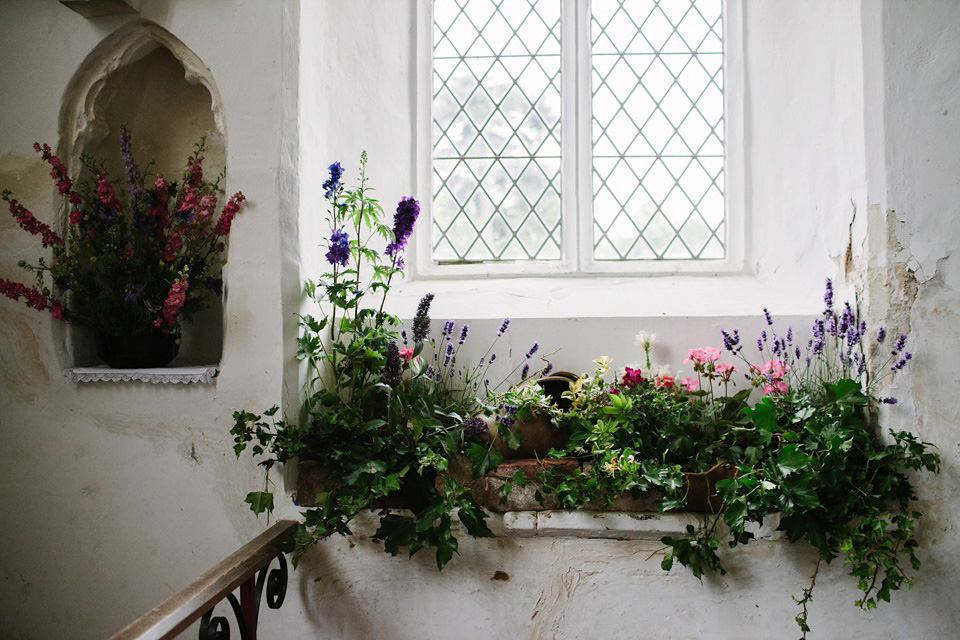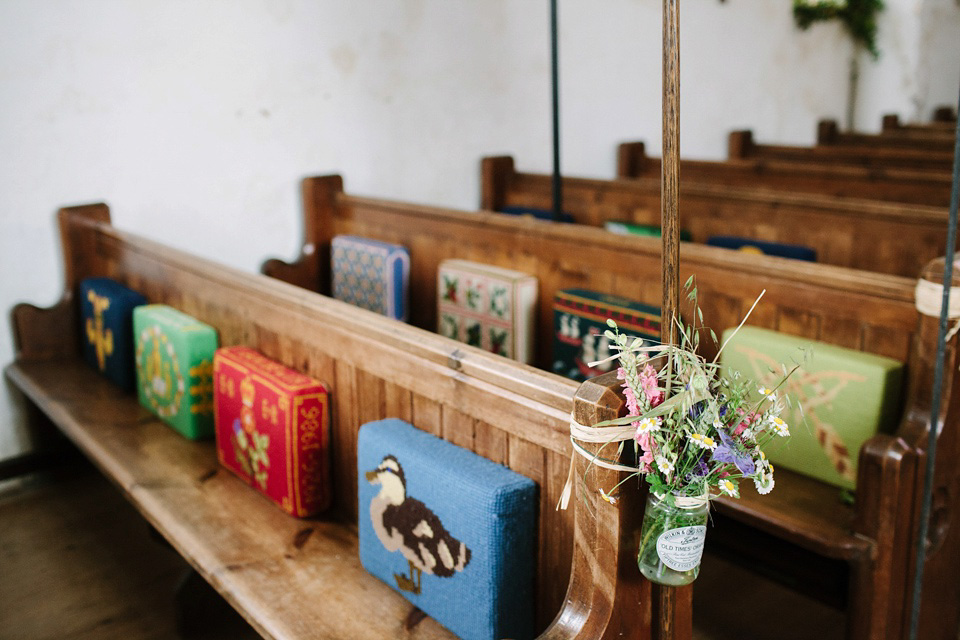 "I really loved the bus journey from the house to the church with my father. It was only three miles away but I remember the bus driver saying, as we were about to leave, 'Now it's time to ring the bell if you want to get married!' I gave the bell a big old tug and felt so excited about what was about to happen."
"I'd dreamed of walking down the aisle with my wonderful dad, all of my life and knowing that it was such a special moment for me, I asked one of my oldest and dearest friends if he could learn to play the wedding march on the church organ. He did it and was brilliant and he even went on to play the rest of the wedding hymns for us."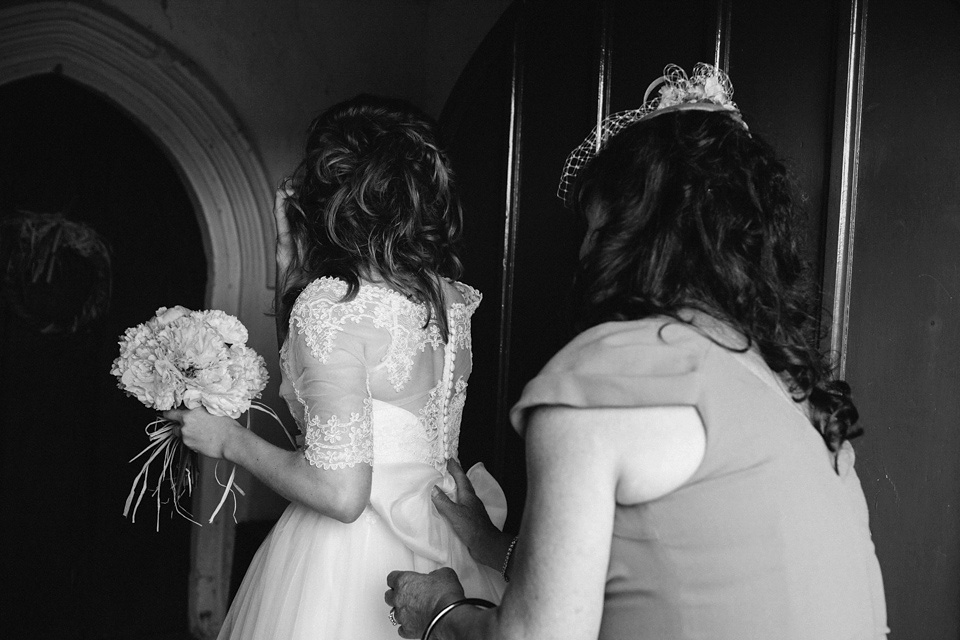 "As cliché as it sounds, walking into the church and seeing Mark waiting for me at the end of the aisle was one of my favourite moments. I loved every second of it and felt so proud of us and how far we'd come."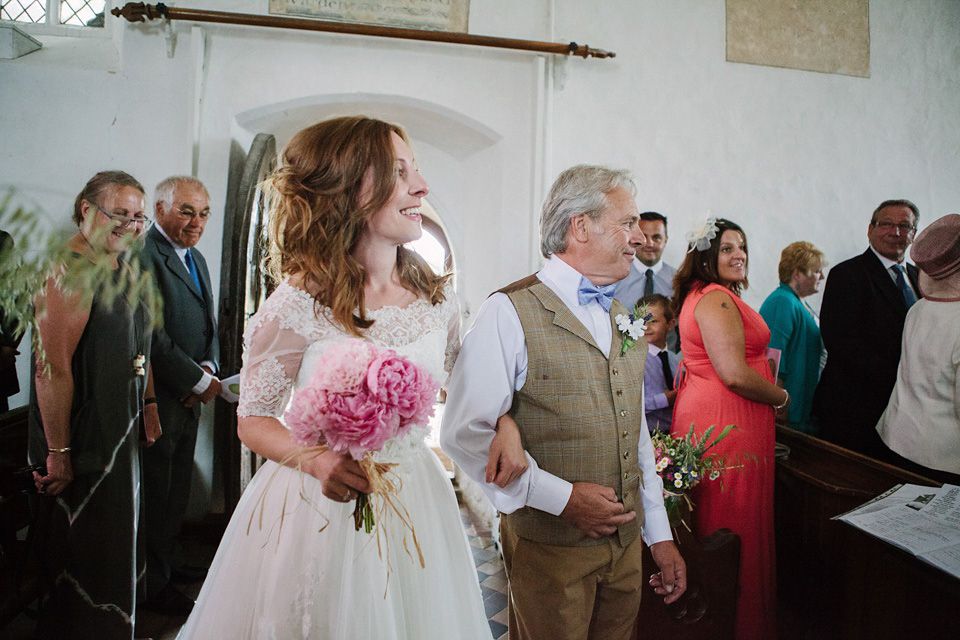 "I searched for ages to find the most appropriate reading for us. It felt like I read every poem, love song and reading for months and months beforehand. I then came across this little beauty from Tracey Emin and thought it suited us perfectly." 
For Now by Tracey Emin
Hurry, But do not hurry me,
Push, But do not push me,
Hold, But do not crush me'
Love, But do not change me
Let us stay the way we are
Devour, But do not consume me,
Thrill, But do not frighten me,
Excite, But do not scare me.
Teach, But do not change me
Let us learn from the way we are
Kiss, But do not smother me,
Embrace, But do not break me,
Adore, But do not suffocate me,
Love, Let me love you Just the way you are."
The order of service included this Albert Einstein quote:
'Gravitation cannot be held responsible for people falling in love. How on earth can you explain in terms of chemistry and physics so important a biological phenomenon as love? Put your hand on a stove for a minute and it seems like an hour. Sit with that special girl for an hour and it seems like a minute. That's relativity.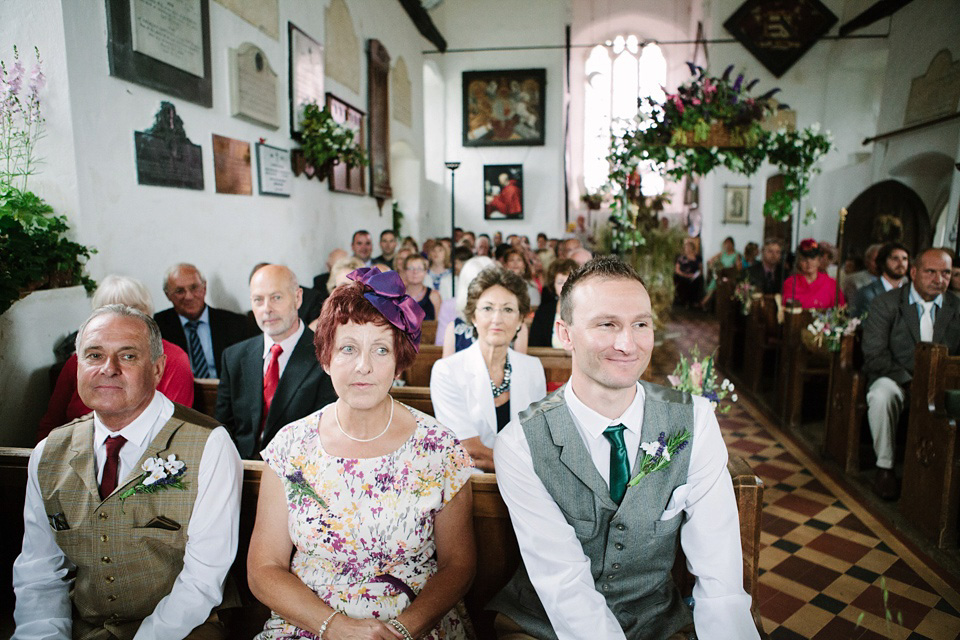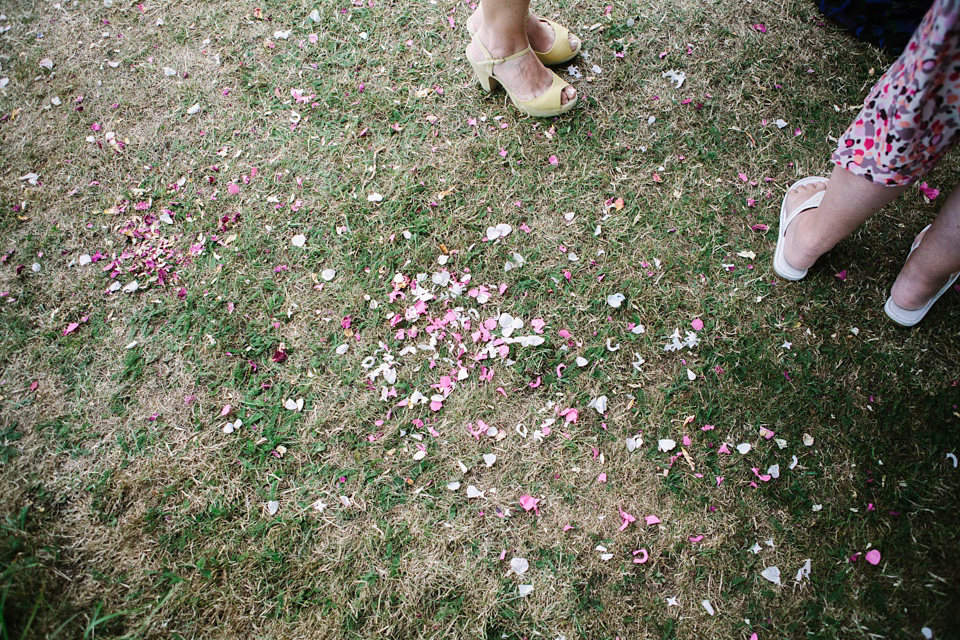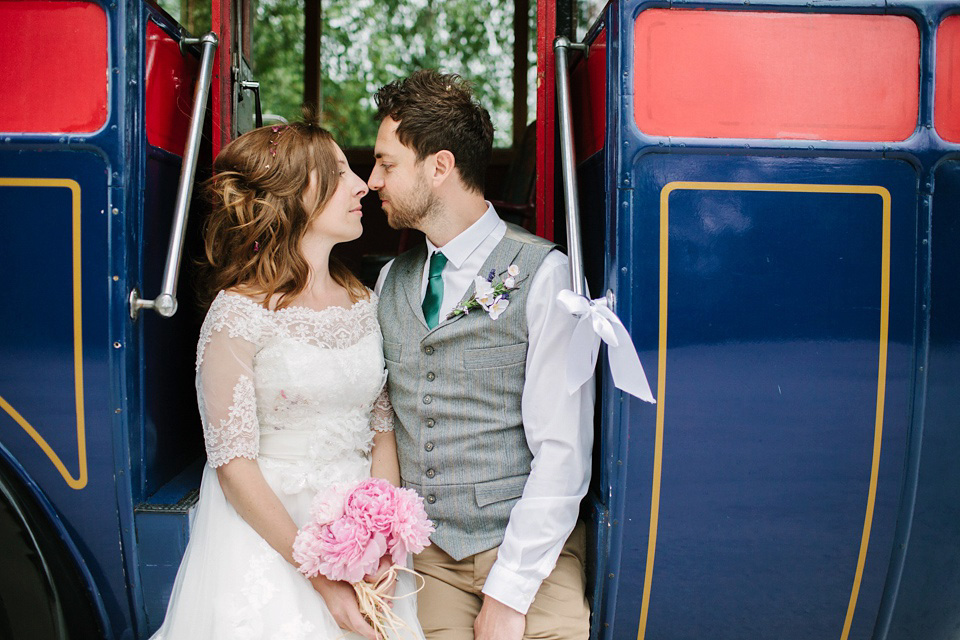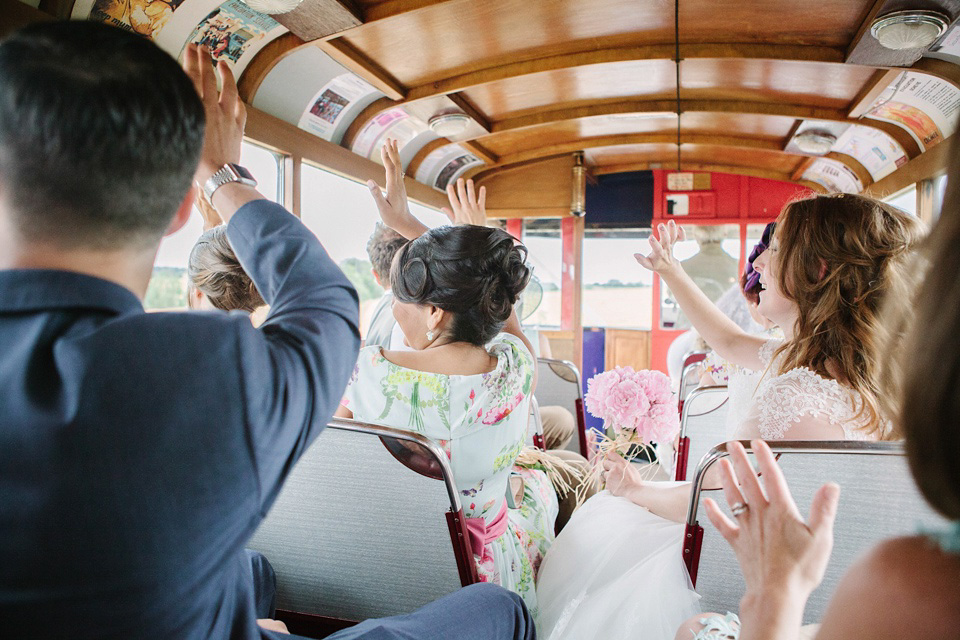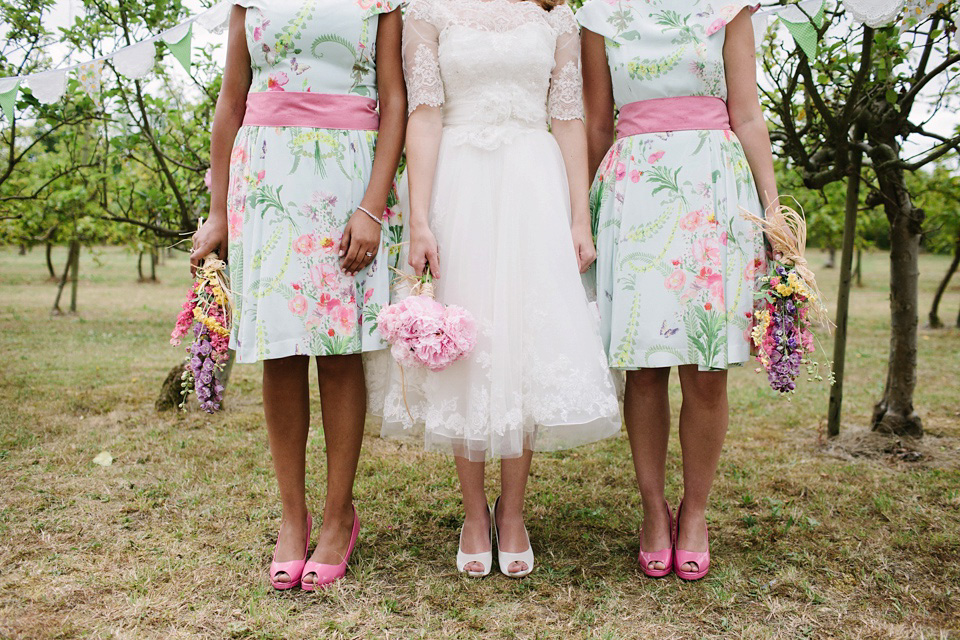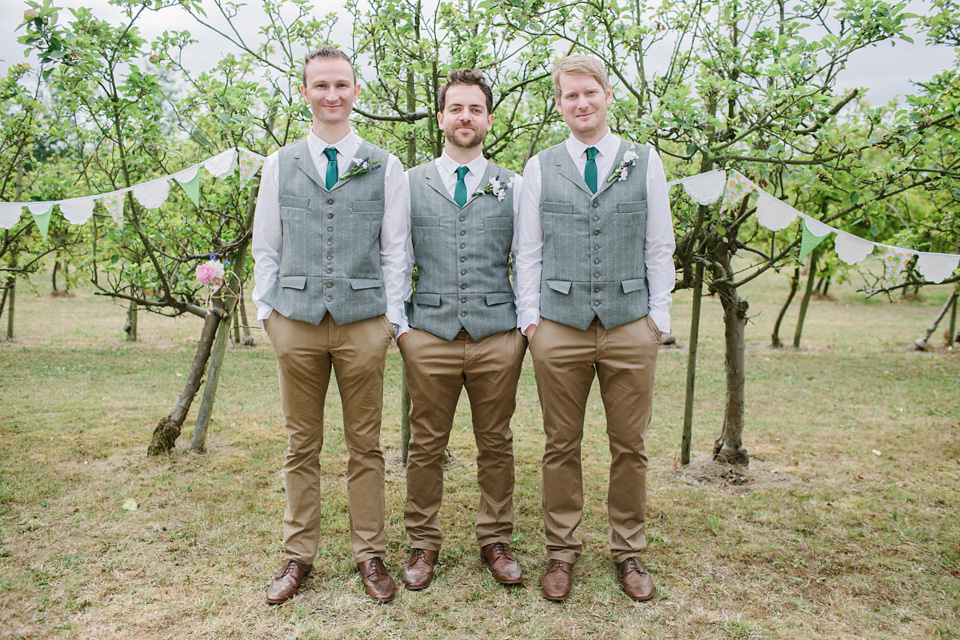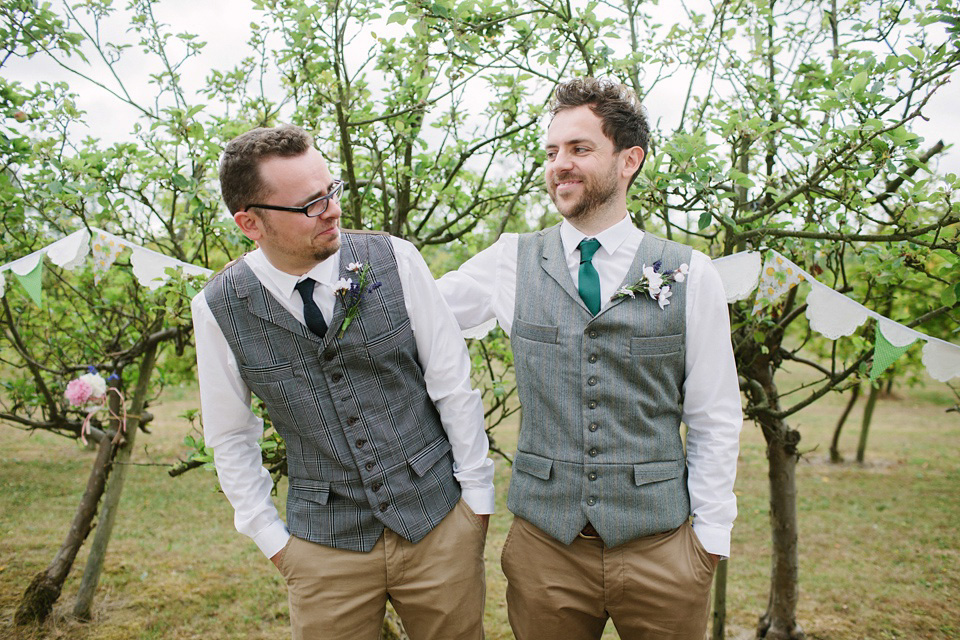 "Earlier in the day we had a guitarist at the church playing our favourite love songs as guests arrived. A few weeks before the wedding, we spotted a couple of great buskers and asked them if they could come and play some traditional folk tunes for when guests arrived at the orchard fresh from their vintage bus journey ride from the ceremony."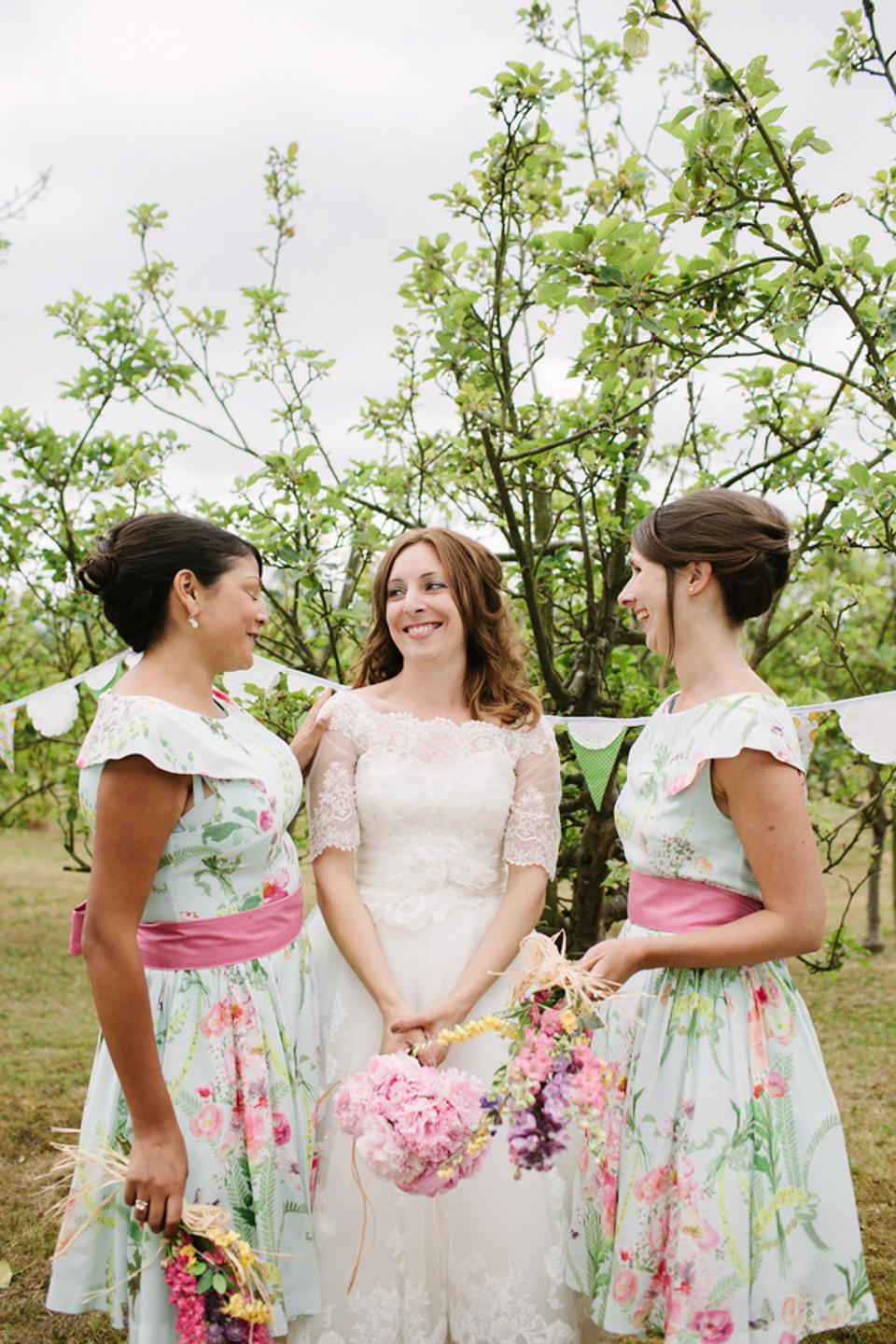 "Our wedding photographer was  Joanna Brown. Like so many other couples, photos were a big deal for us. We wanted a photographer who could capture the day in the style we liked. I spotted Jo in a wedding magazine and every other photographer we researched failed in comparison. Her style is creative, understated and romantic.
Having Jo there was like having a friend by your side; she made people laugh, feel at ease and was a joy to be around. She is an absolute professional and booking her was, by far, one of the best decisions of our entire wedding."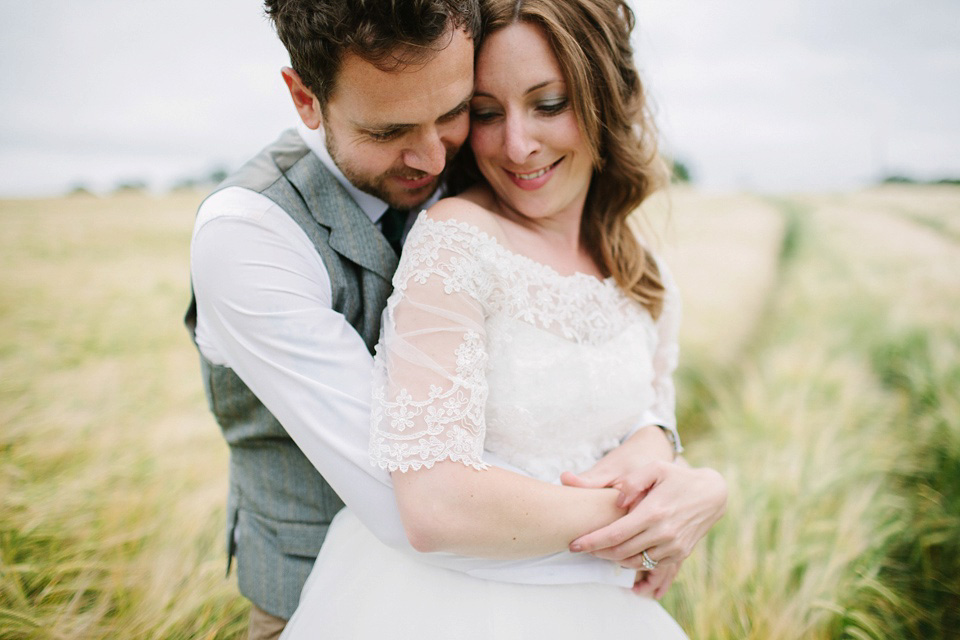 Guests were kept fed and happy on the day with sandwiches and scones for afternoon tea followed by a posh barbecue and a cheese feast in the evening that were provided by Seasons Catering. An amazing funkadelic funk band, called Primo Nelson, added to the atmosphere at the reception.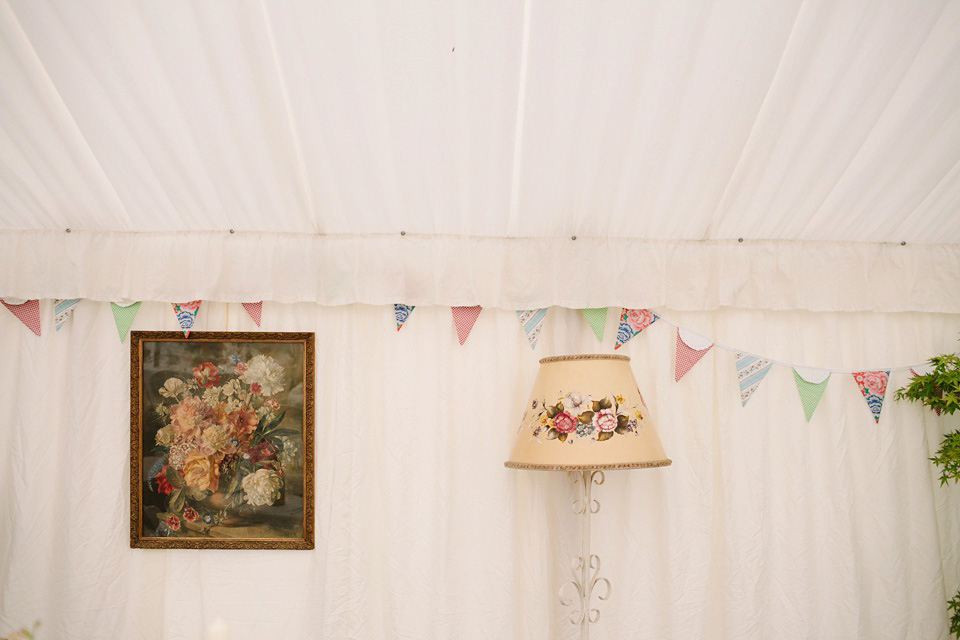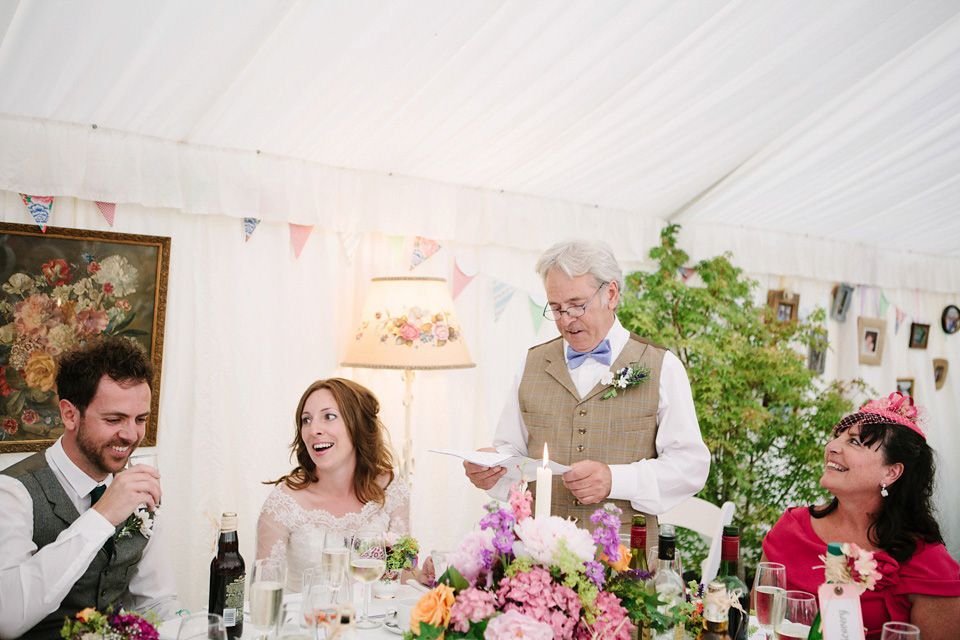 Contributions of freshly baked cakes were also made by guests to make up the delights on this giant cake table.
"Mark loves ale, so all the men received a bottle of ale as favours and my mother and I spent months buying vintage crockery (teapots, milk jugs, tea cups and saucers) and we filled them with fresh flowers for the girls to take home."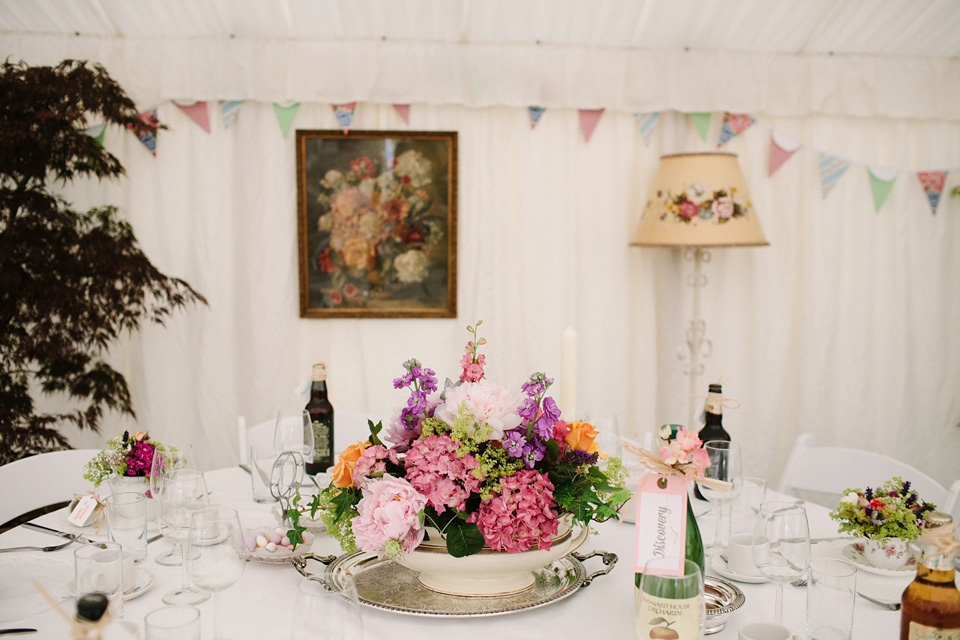 As Mark is a graphic designer he designed all the stationery including invitations, menus and an apple illustration table plan which was displayed on an old apple picking ladder. All the tables were named after varieties of apples. The rest of the décor included lots of fresh flowers, bunting, crates, beer barrels and a photo wall.
One of the first things I noticed about this day were the masses of beautiful, natural flowers that made me dizzy with delight. I then went on to discover the lovely story of how the village community came together to help create the wonderful arrangements.
"We sourced our own flowers and created each floral display ourselves. This was a HUGE task as we needed flowers for favours, reception dressing and an abundance for the church. We had lots of help. Members of the village collected and gifted us freshly cut roses, sweet peas and lavender from their gardens and it was lovely to think that they contributed to the day."
"A couple of days before the wedding a neighbour pulled up outside the orchard and offered a car boot full of the most gorgeous peonies. Luckily for me, they happen to be my favourite flower so they were used as my wedding bouquet. We are lucky enough to live in a house surrounded by fields so we cut straw from the field behind our house and added these to bouquets to make the decorations more personal to us."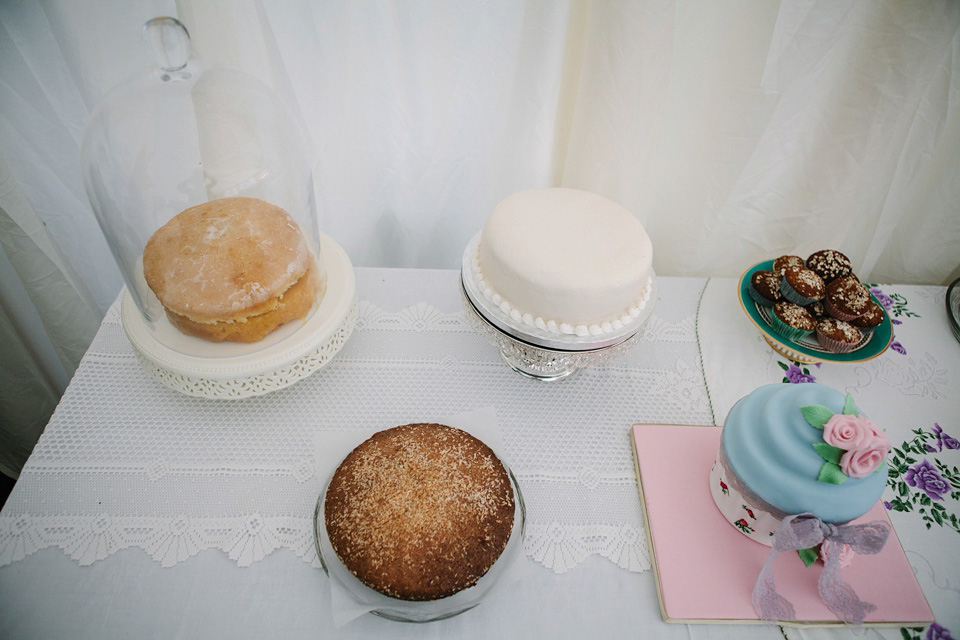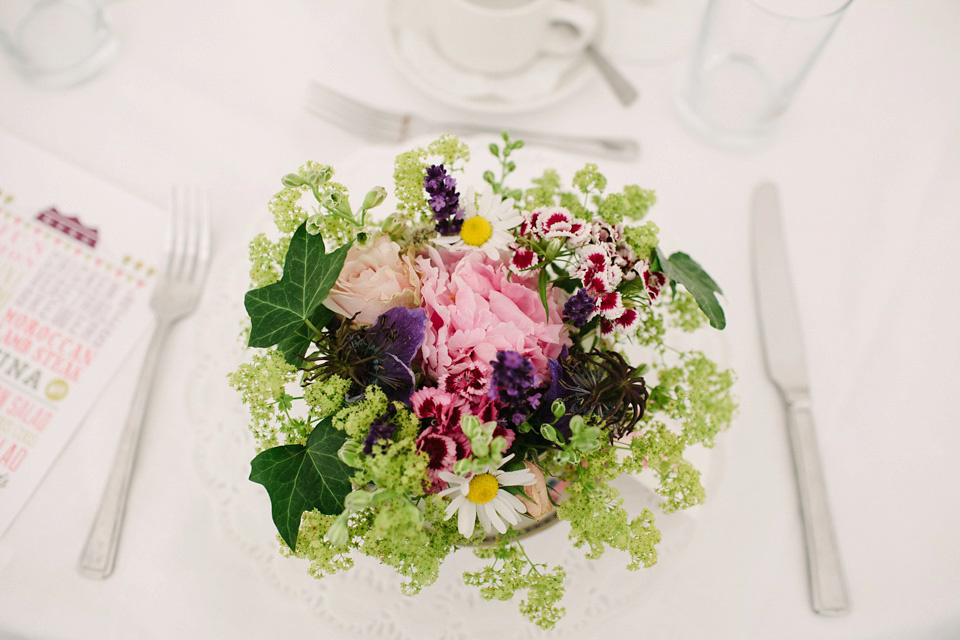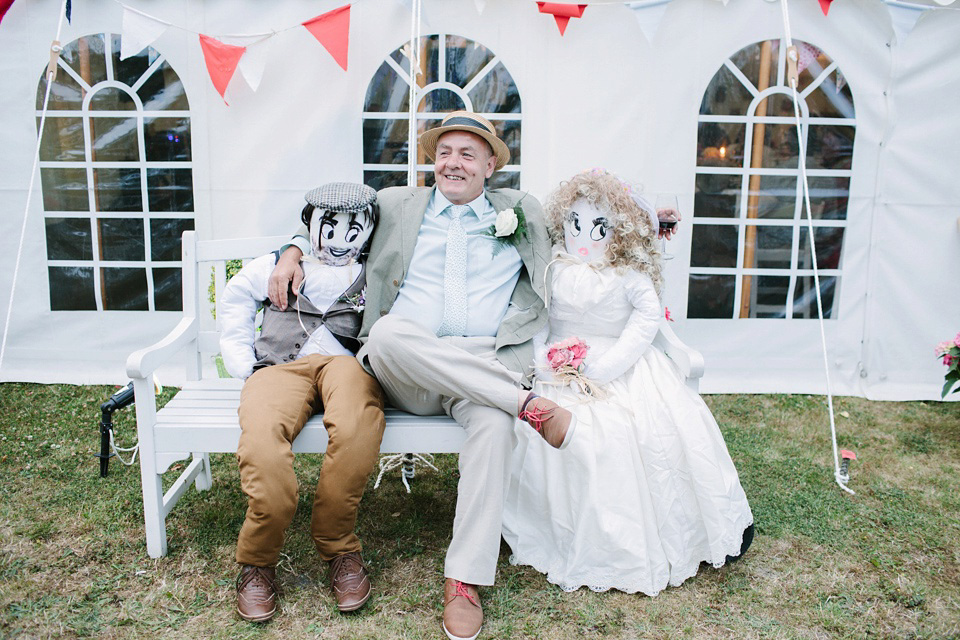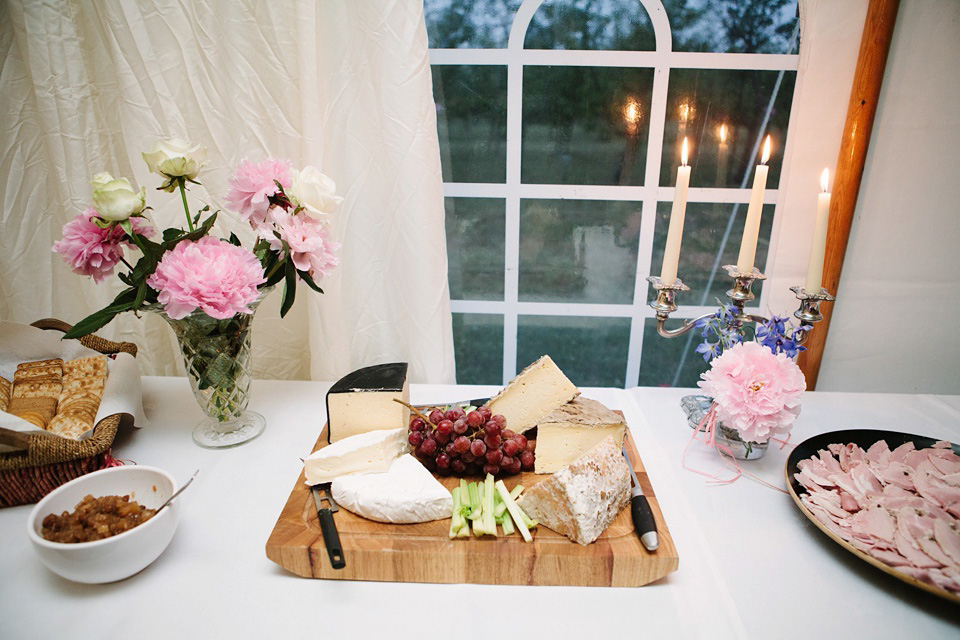 "We chose 'Louis Armstrong – We have all the time in the world' as our first dance because the song is about being surrounded by love and that's how we felt. Dancing with Mark to this song, as our loved ones looked on, was an incredible moment I'll never forget."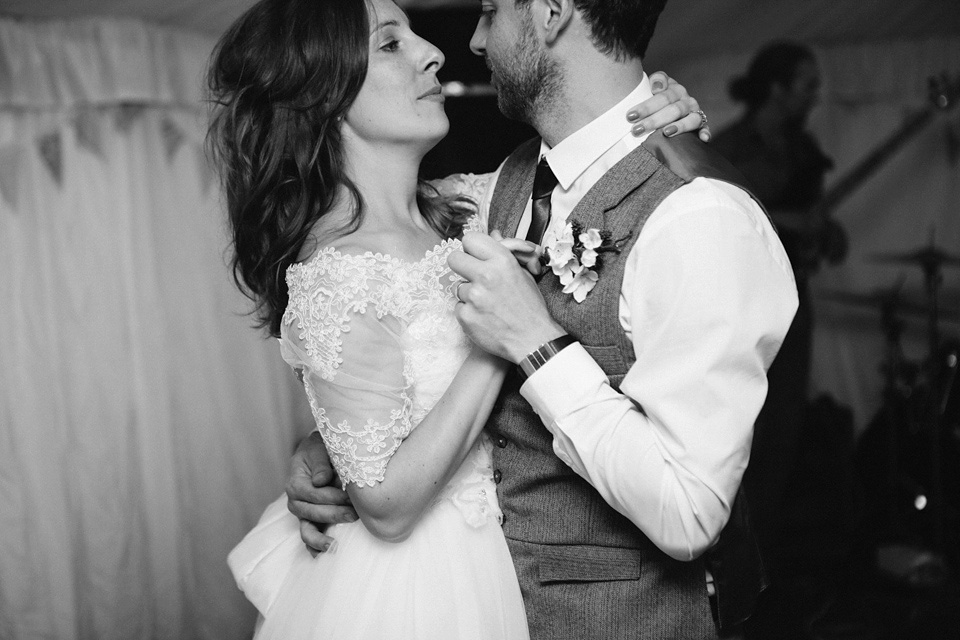 Words of Wedded Wisdom
"You'll probably lose your head in the run-up to the wedding but if you don't do anything else, spend a little time the night before the wedding just you and your husband-to-be. It's such a magical time and getting back to why, and how much, you love each other is important. 
Another mantra Mark and I followed was that 'we create our own rules' It's our wedding so we'll do it OUR way. No pressure and no drama. It didn't always work, but when things got a little too much we'd try to get back to that."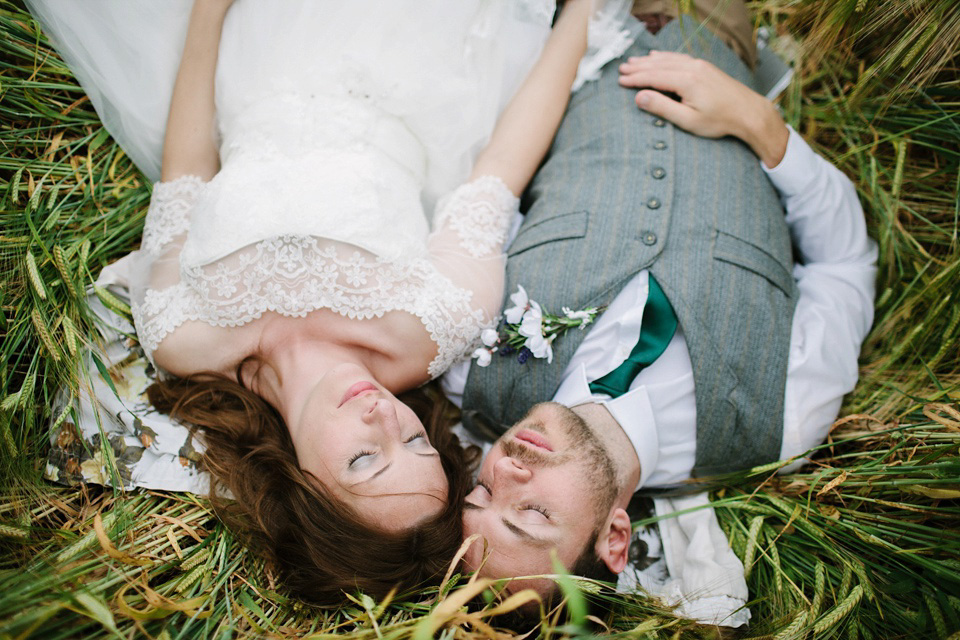 And I truly love your way Zoey and Mark! Lace dresses, stunning florals, heartfelt readings and loads of informal fun in a gorgeous setting. What's not to love? Best wishes for your life together. Love and thanks to Joanna Brown for sharing the beautiful story of their day with us – you can see more of Joanna's work here on Love My Dress.  She also happen to be the photographer who worked on Annabel's beautiful book, Style Me Vintage Weddings.
Much love,
Katie xx
Photographer – Joanna Brown
Venue – Bride's parents
Dress – Maggie Sottero from Pure Brides, Norwich
Groom & groomsmen – waistcoats – handmade, chinos – French Connection
Bridesmaids – Ted Baker
Flowergirl – BHS
Florist – DIY & village
Stationery – Groom
Cake – Guests
Catering – Seasons Catering
Vintage bus – Buckland Buses
Entertainment – Primo Nelson