Good morning all!  Am I the only one who just can't believe that it's June already?  Where is this year going?!  That said, we're now firmly into wedding season and I'm sure many of you will be/ will have been attending weddings this summer, even if your own is past or still a while away.  For those of you still in the planning stages, you're sure to pick up a few lovely ideas with this pretty wedding today, with a vintage floral theme and lots of pretty details, which took place just a few months ago.
Photography by Shutter Go Click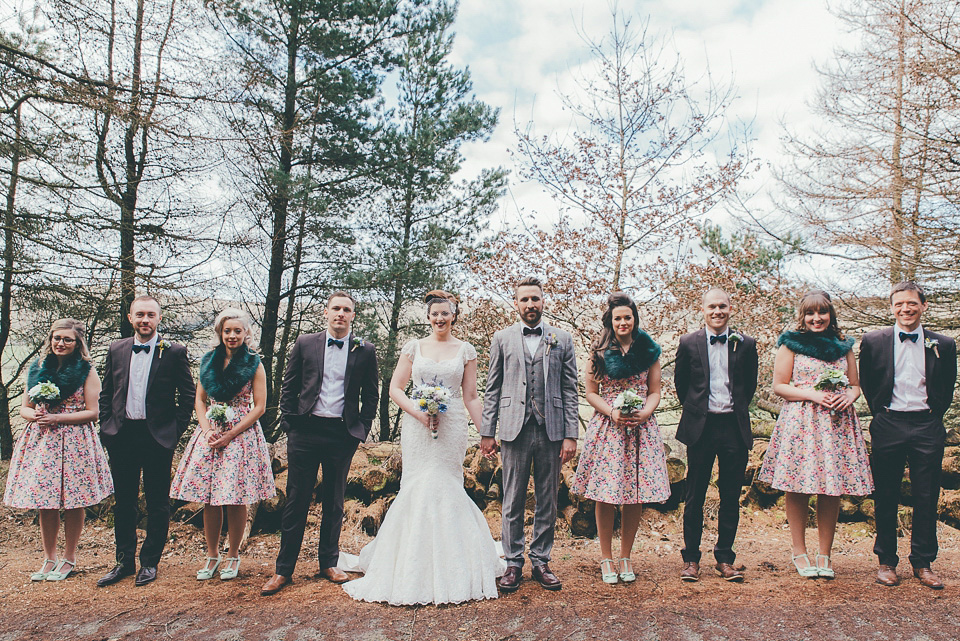 Let me introduce Amy, a nurse, and Matt, an accountant, who married on the 27th of March 2015, in a garden ceremony at the beautiful Saddleworth Hotel in Delph, Oldham.  The day was captured by the very talented Ryan Learoyd of Shutter go click photography and videographer Dave Spink (film available at the end of this feature).
"I am really into anything vintage so that led most of my ideas around the theme for the day.  A lot of the things used to decorate were from my home and I had just been collecting various things the year running up to the wedding."
"I made all the bouquets and guest flowers myself in advance using silk flowers.  I went for wild-looking flowers with thistles and white roses with some purple and yellow flowers as well."
Amy employed  Sam and Alison from Flossy and Leigh to do her hair and makeup on the morning of the wedding and create her pin-up inspired classic style.
"This company was fantastic from the word go. Sam in particular is like a wedding day angel…"
"For my wedding perfume, I wore Love story by Chloe which had not been out long. I wanted a new smell for the day and also used it for the honeymoon."
Amy accessorised with a glamorous birdcage veil, from Ophelia May, for her day time look, and a pretty headband, bought from Etsy, for the evening.  On her feet she sported a pair of rather fabulous shoes by Love Art Wear Art, purchased online from Liberty in Love, which Amy tells us were also incredibly comfortable!
"My earrings were my Grandma's pearls which were left to me in her will specifically for my wedding day – my something old- and I also wore a delicate bracelet which was a gift from a bridesmaid on the morning of the wedding and one of their rings as my something borrowed."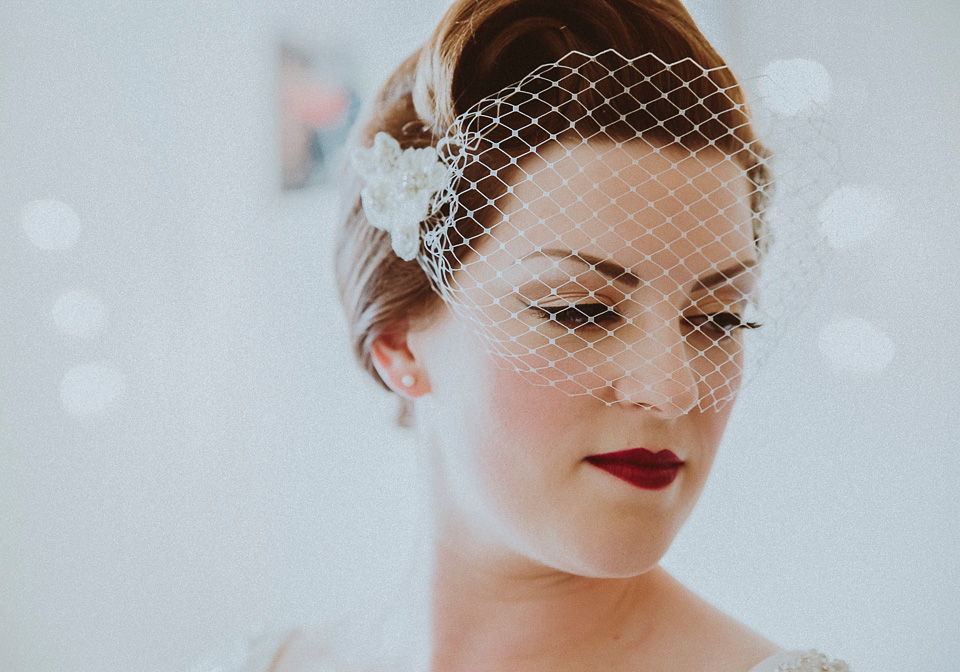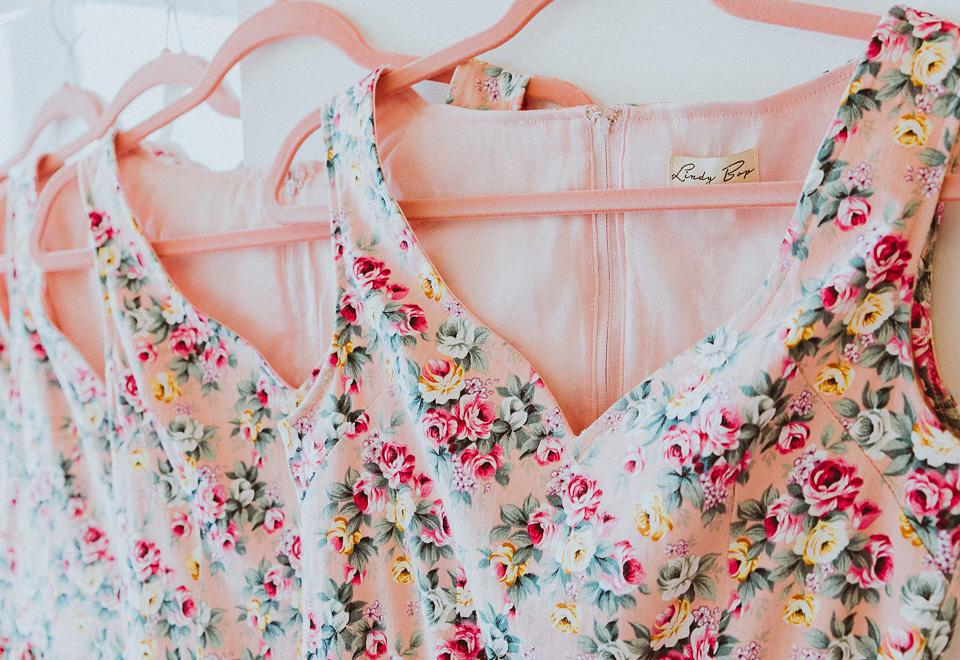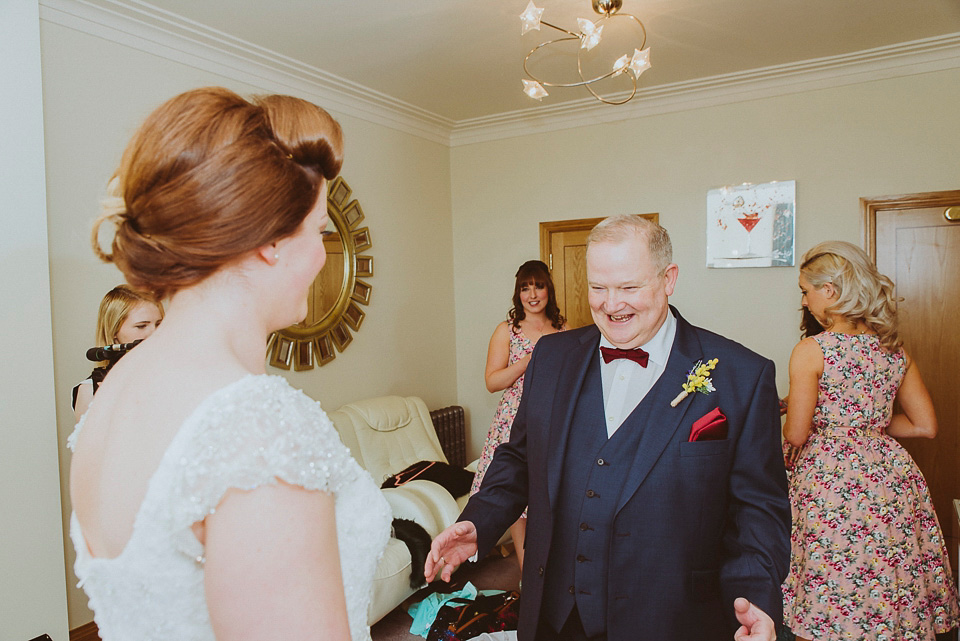 Amy's wonderful fishtail lace gown was the product of some hard shopping and her own imagination and works just perfectly on her figure, don't you agree?
"My dress was the Claire-Rose by Ellis Bridal and I bought it from a shop called Confetti and Lace in Farsley near Leeds.  I had the sleeves and belt altered to make the dress more 'me'. The sleeves were Maggie Sottero and I had the belt made to measure on Etsy."
"I loved the shape of the dress on my body and the subtle detailing of the material. When I first tried it on however I wasn't 100% because I knew I wanted sleeves and a belt of some kind. I started looking for another dress but then thought why not just alter this one?  I am so glad I did because it was absolutely perfect and exactly what I wanted – plus there's no other like it!"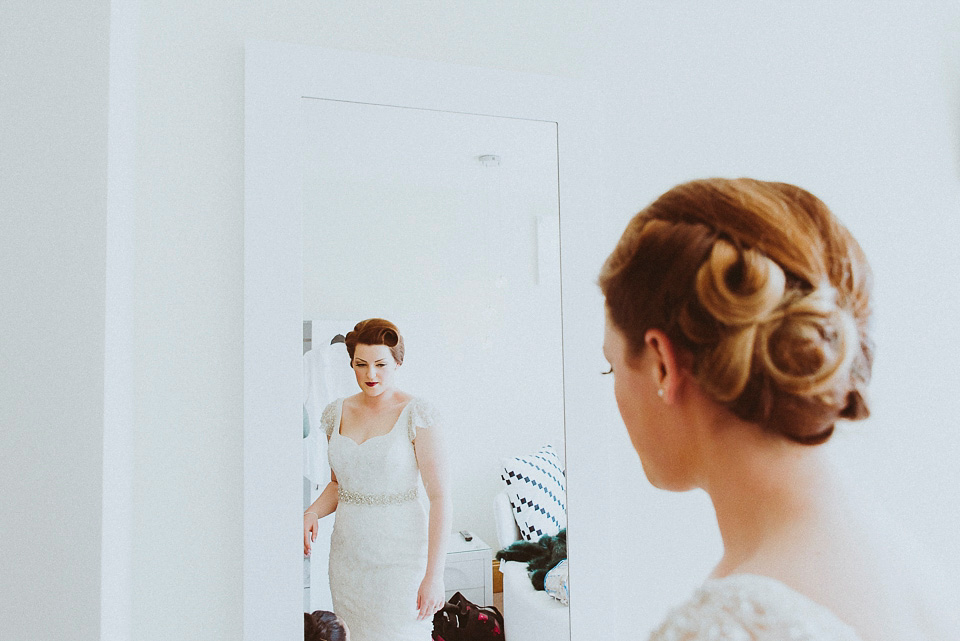 We've mentioned this before, but if you are having a hard time finding exactly what you are looking for in a dress, do consider having alterations made to an existing dress – it's less nerve-wracking than having a bespoke dress made (although this is a fantastic option if you have something specific in mind) but can make a dress you like into a dress you absolutely love.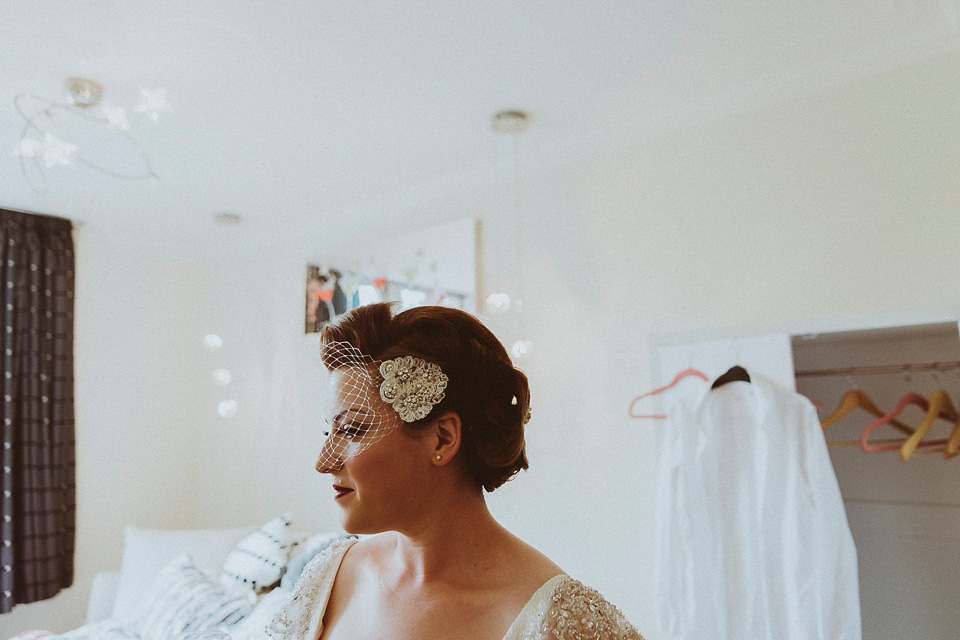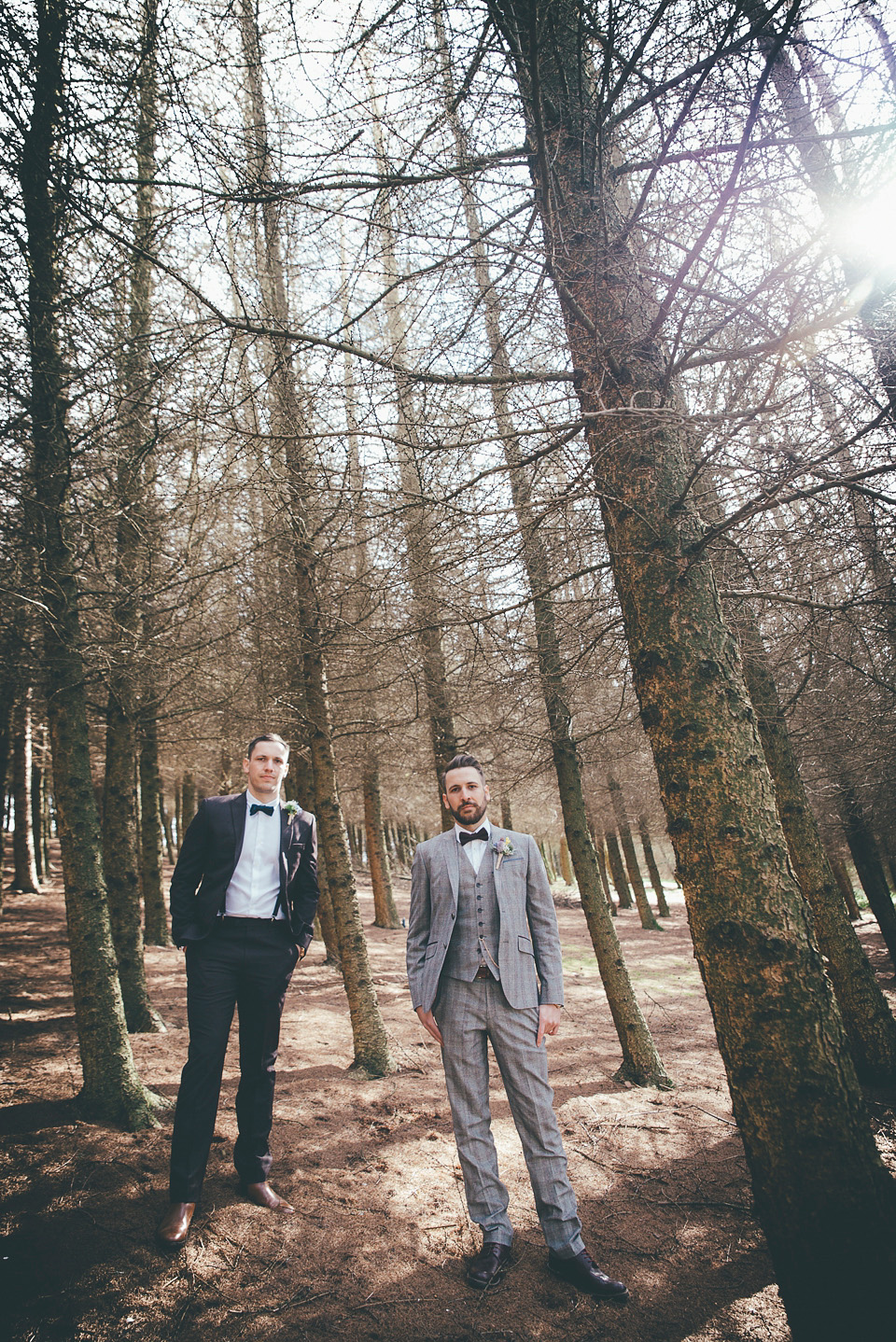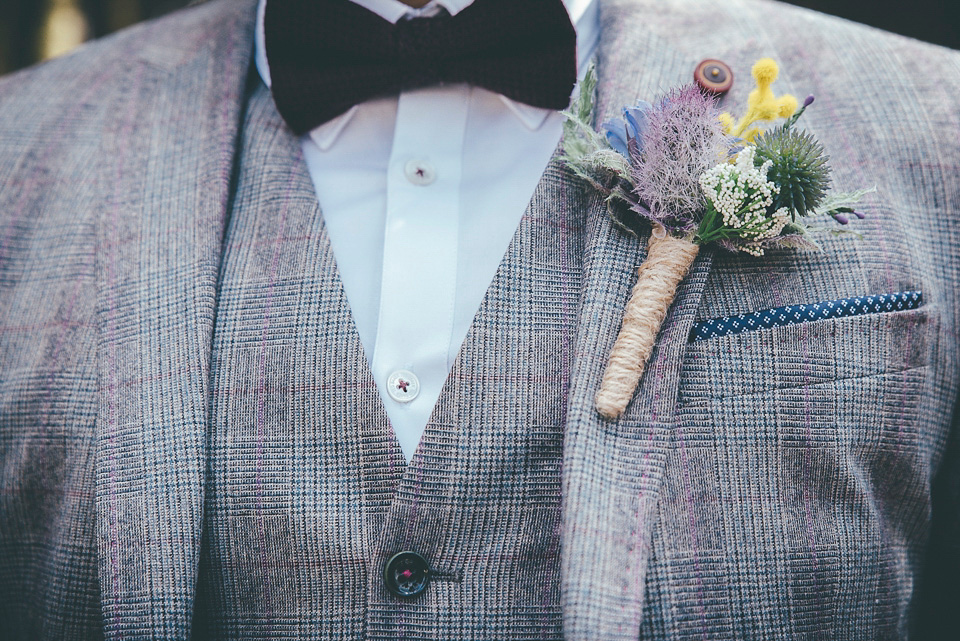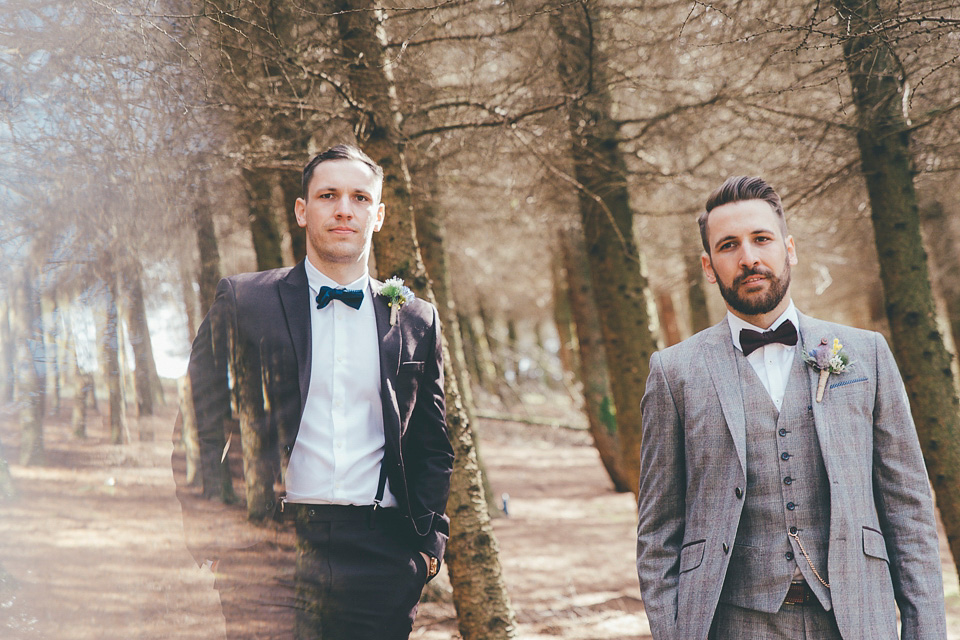 As so often with our lovely brides, Amy's favourite part of the day was walking down the aisle and seeing matt for the first time. So very sweet.
"I struggled to look up at anyone for fear of crying as I was so nervous! But when I finally saw him, and how he was looking at me I couldn't stop smiling – it was like everyone else had disappeared and it was just the two of us."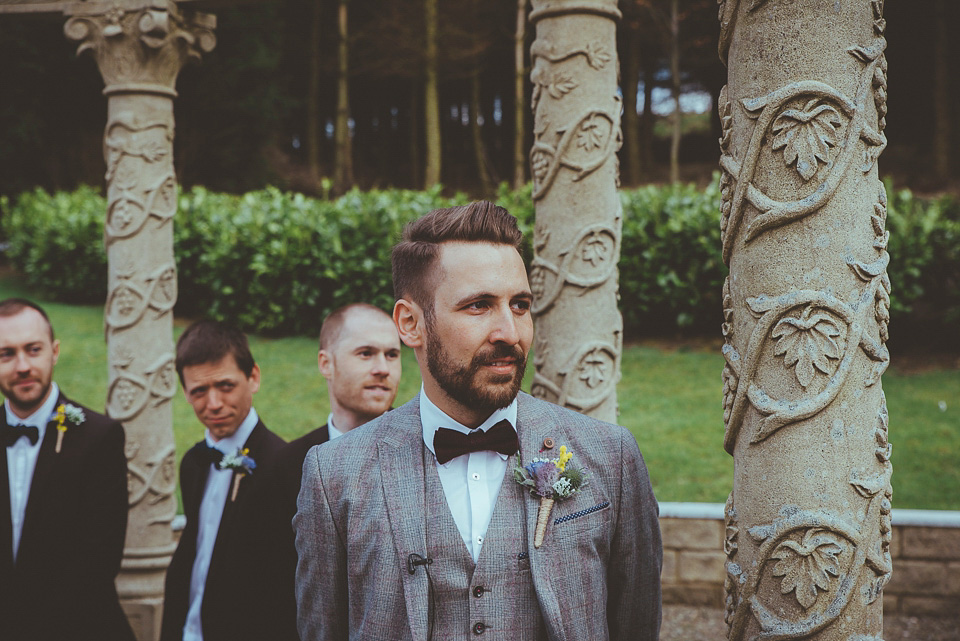 Amy was walked down the aisle by her Dad to a piano version of Christina Perris' 'A Thousand Years', by The Piano Guys.  It was particularly special for her Dad to do the honours as he had been diagnosed with cancer two years ago.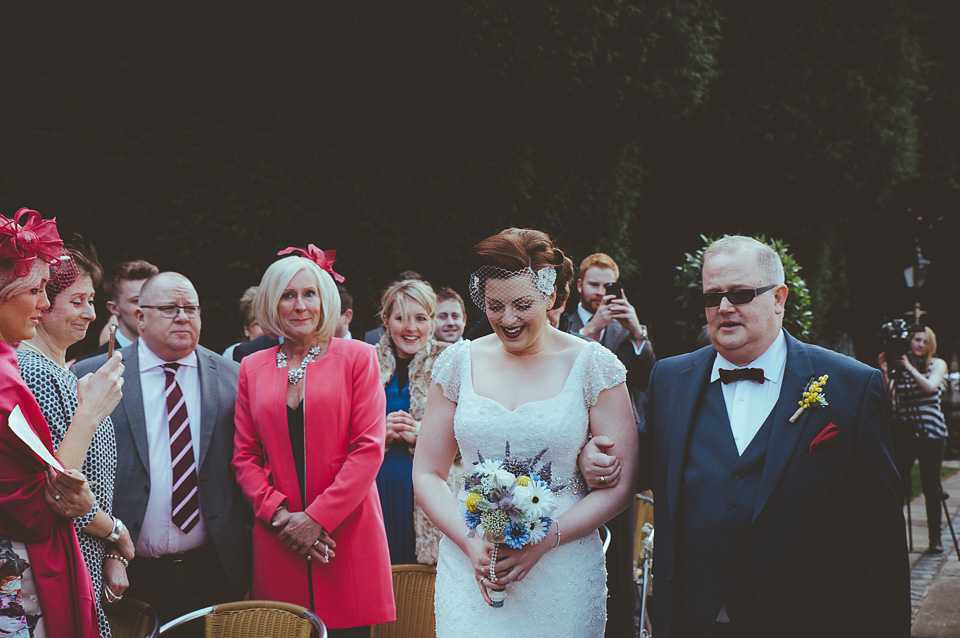 "We chose our vows from a selection provided by our registers which we repeated after them.  A nice touch was that one verse was said by both of us at the same time to each other."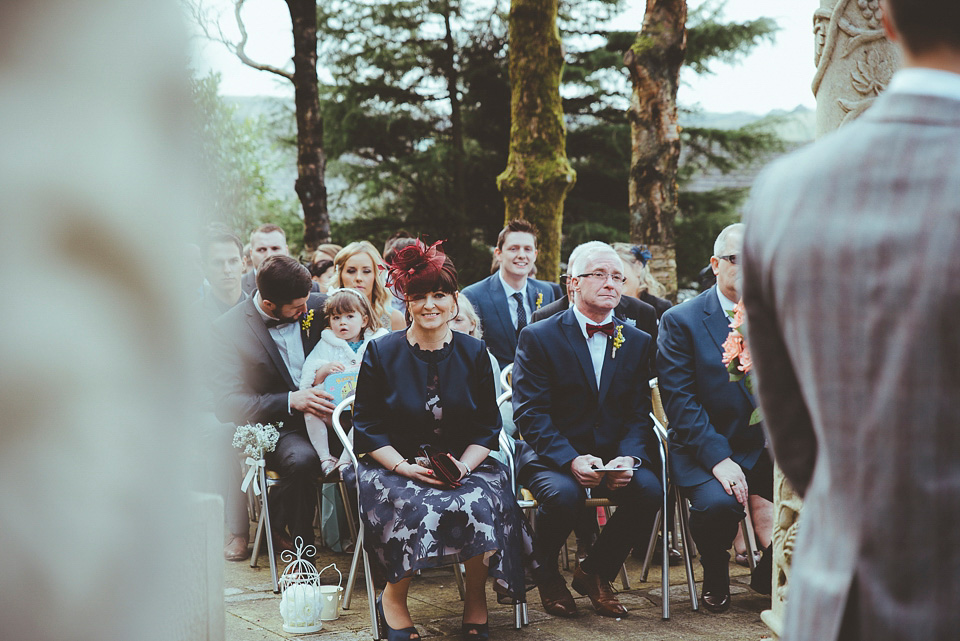 "We had a Bob Marley reading called 'He's not perfect', part of which goes- 'Because perfect guys don't exist, but there's always one guy that is perfect for you.' We also had an excerpt from 'Union' by Robert Fulghum.  I thought both of these were apt for us having been together for so long and I liked that they weren't too cheesy either."
The couple's photographer, and responsible for capturing the day on film, was Ryan of Shutter go click, whose work featured on Love My Dress for the first time just last week.  Amy and Matt were delighted with his work and we hope to see much more of him in future.
"Hands down the best photographer- such a pleasure to work with and we had so much fun. I love the pictures!"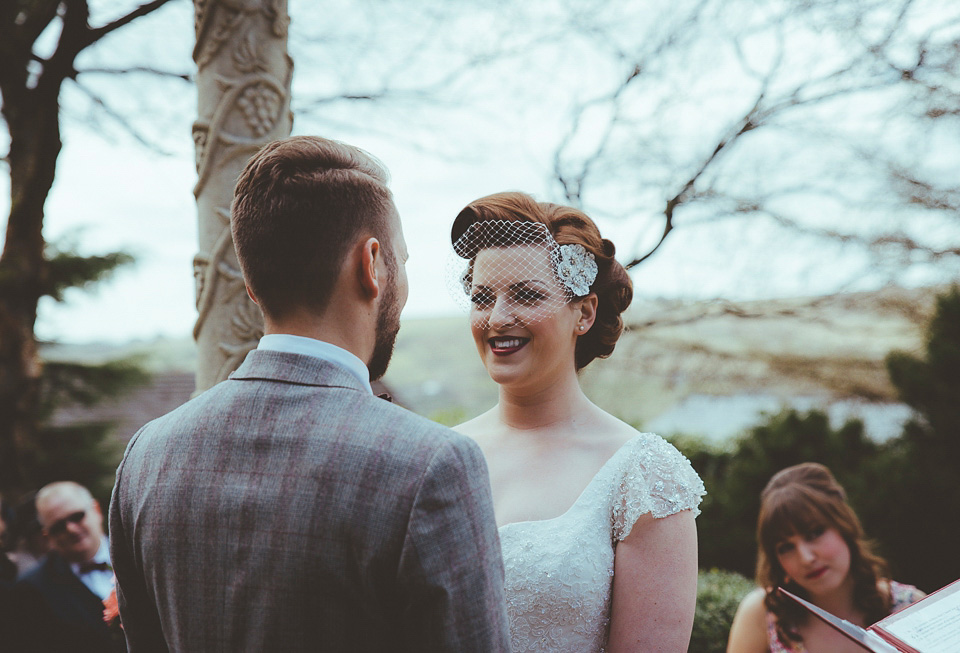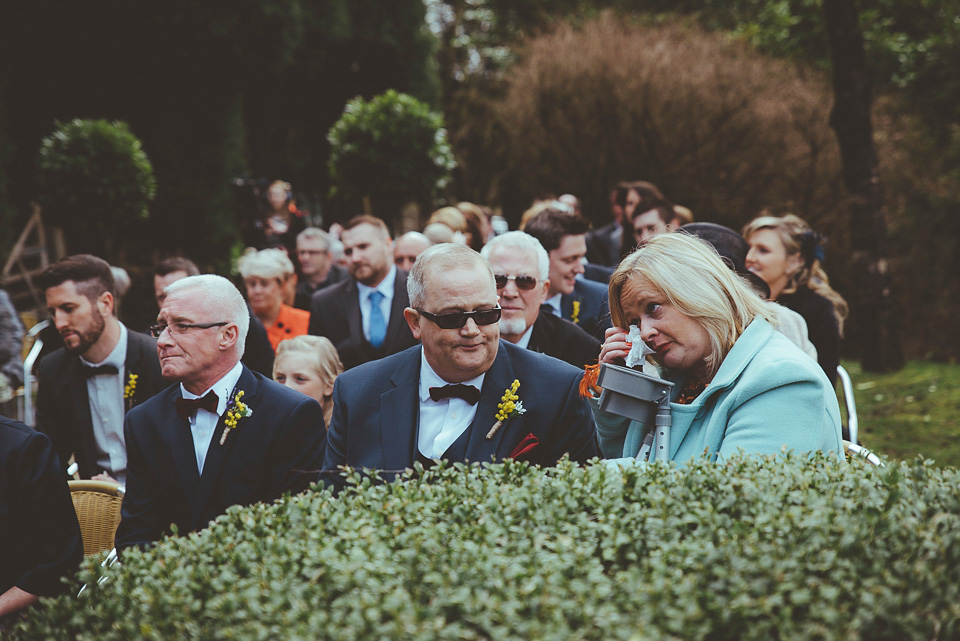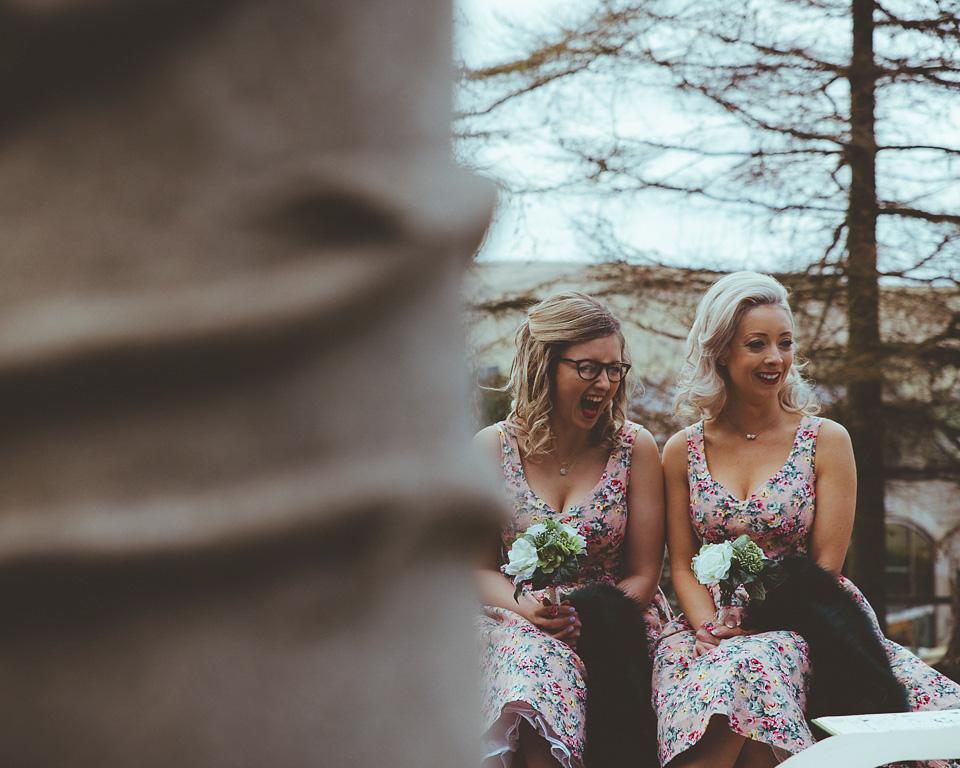 The couple used a locally based jeweller for the all important rings.
"Our rings were simple rose gold bands from Phillip Stoner."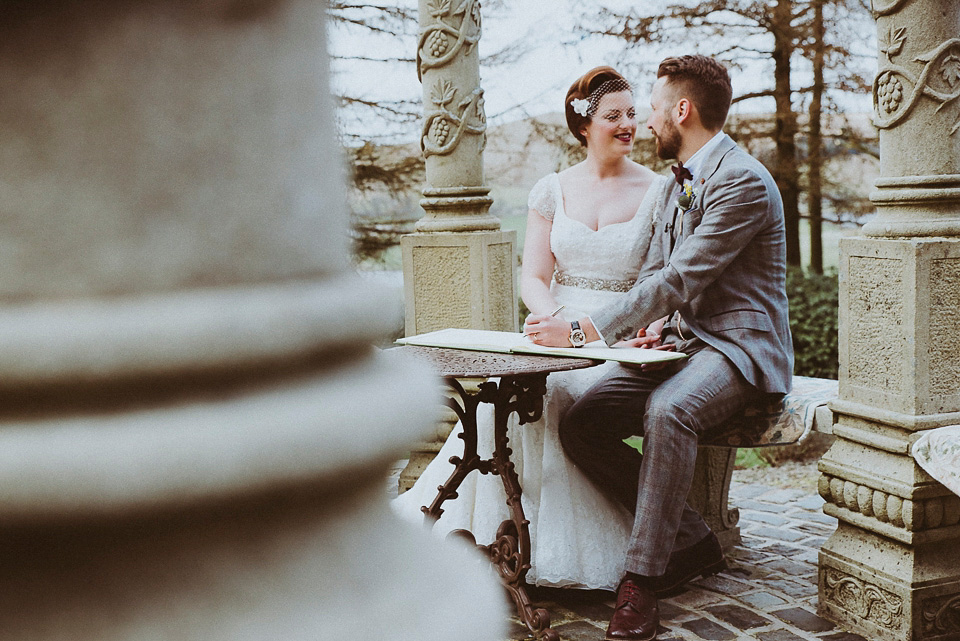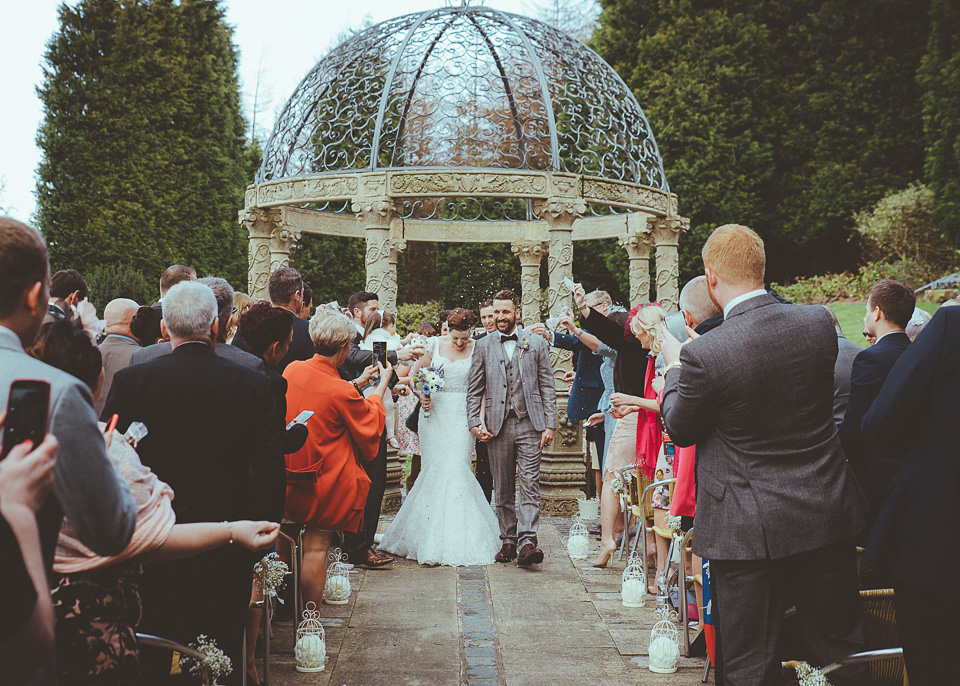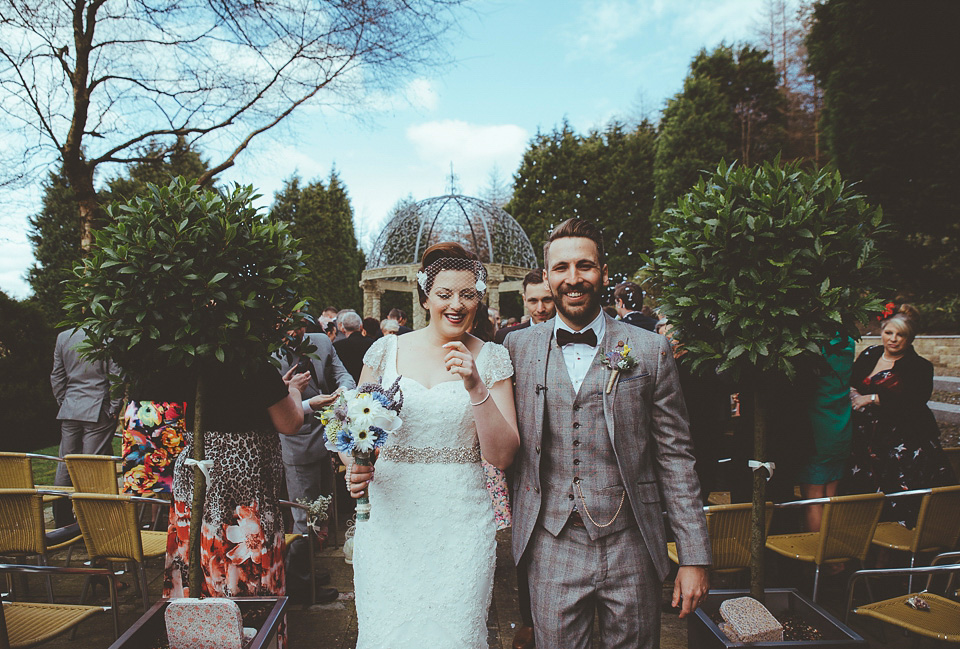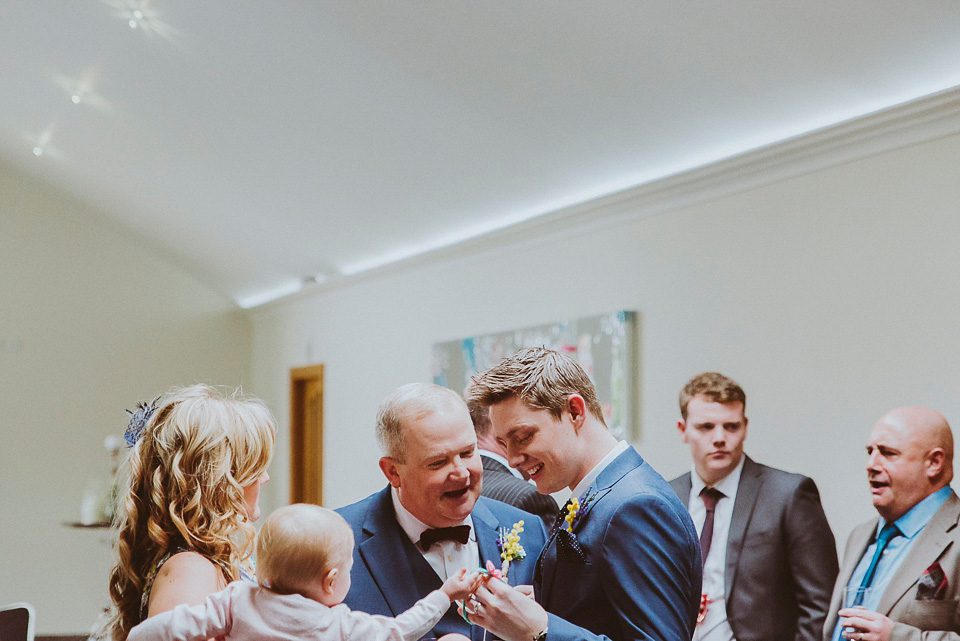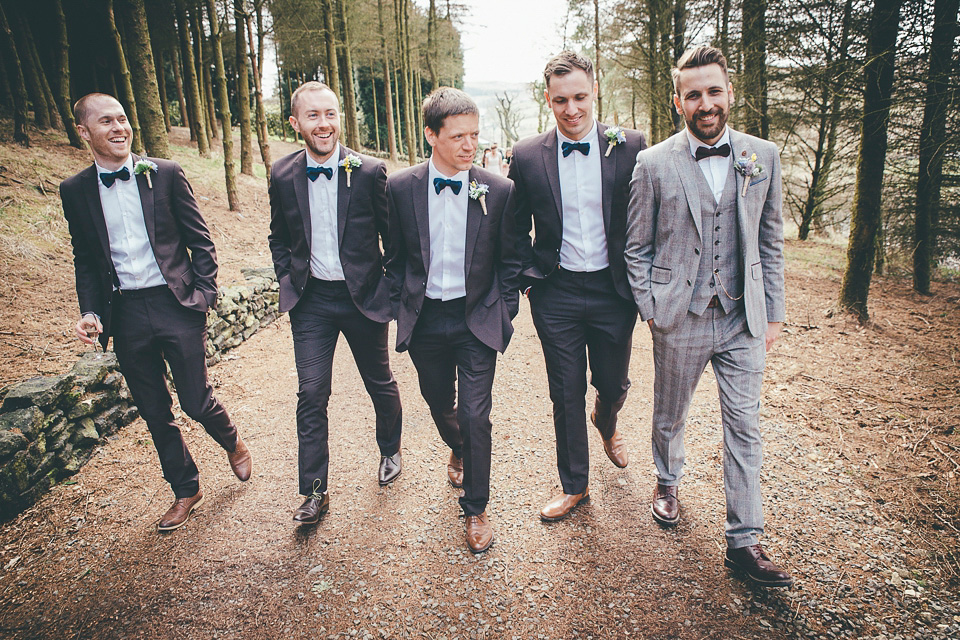 Amy's four bridesmaids dazzled in fabulous floral dresses from 1950's inspired dress shop Lindybop, with the necklines altered to match Amy's own, and accessorized with shoes bought online and necklaces from Next, which were a gift from Amy on the morning of the wedding.   I do love Lindybop dresses- go and take a peek if you haven't visited before!  The little flower girl's dress was purchased in Bulgaria, while visiting Amy's Grandad.
Matt looked very dapper in a smart grey three piece suit, with a white  shirt and black bow tie, all from Ted Baker, while his groomsmen were stylish in dark two piece suits from Next, worn with braces from River Island.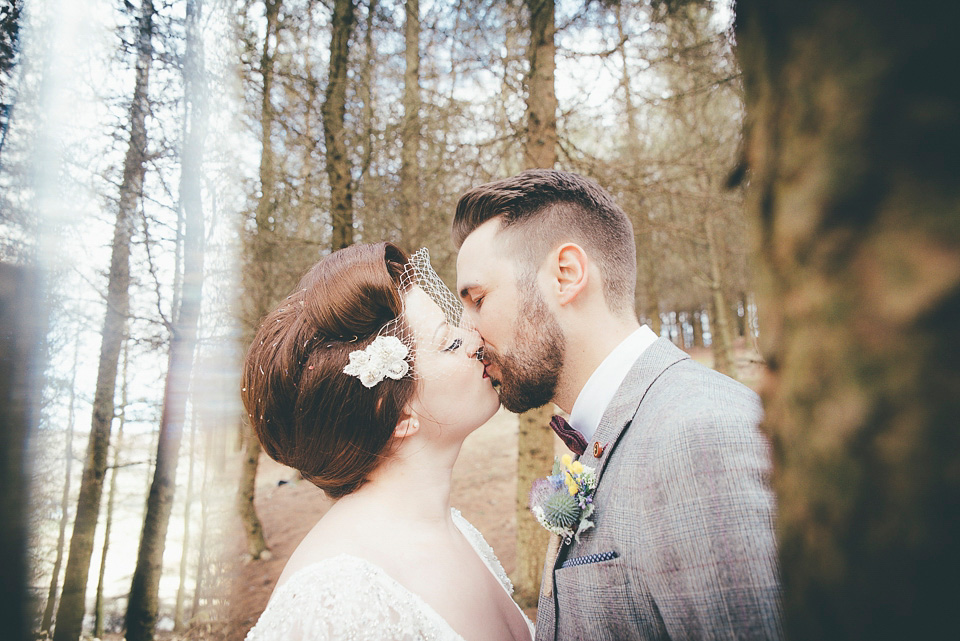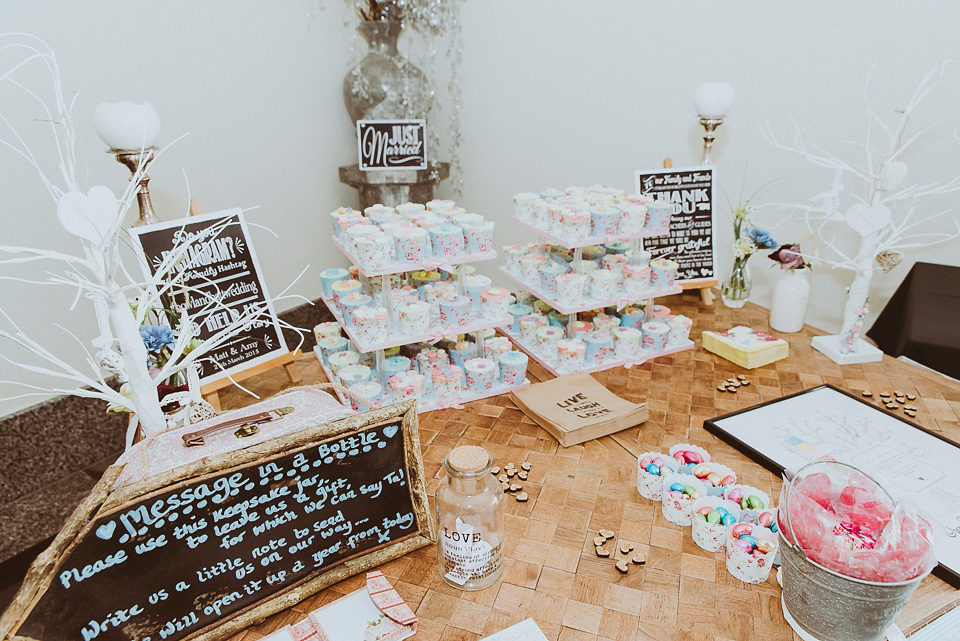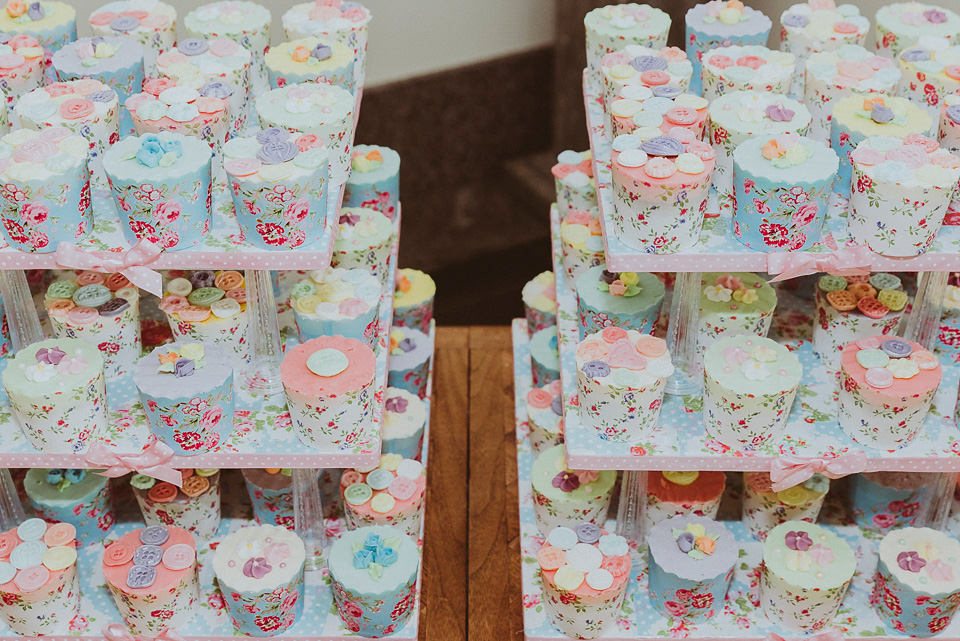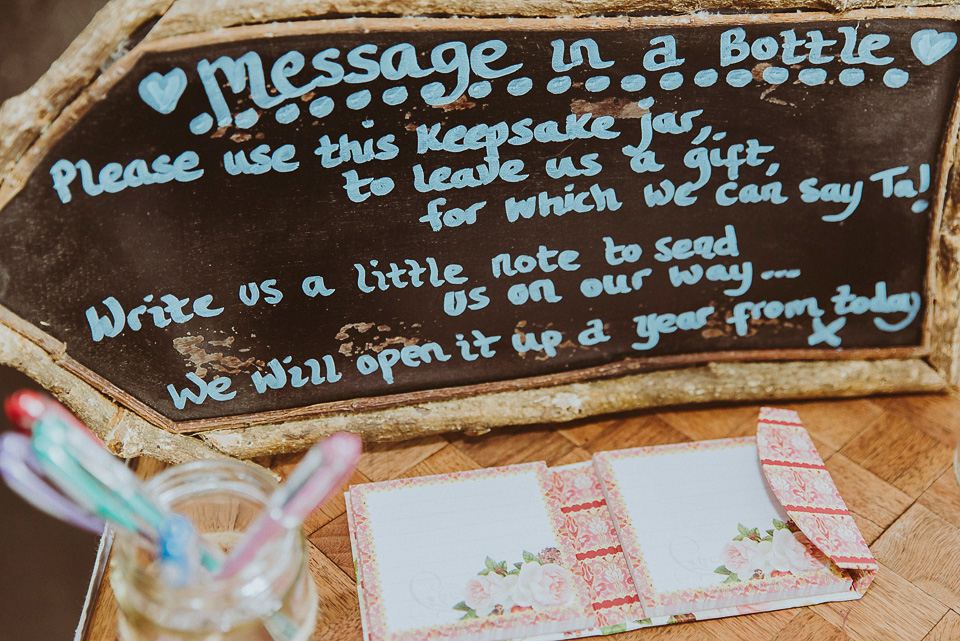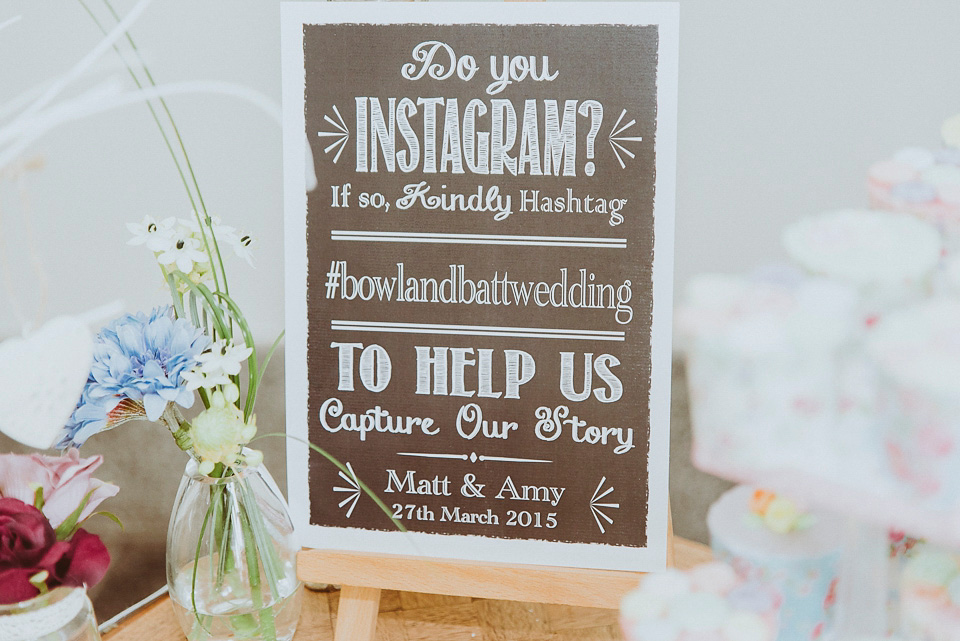 "I made wishing tree centre pieces with flowers and hanging hearts for the tables. These went with home decorated jars in various sizes which had either tea lights or fresh gypsophila in. The top table had similar jars with photo frames, vases and lots of our nicnaks from home along with some homemade paper machè letters. My mum made bunting for the chairs and other places and I used craft card to make patterned place mats."
Catering was provided by the team at the hotel, but the wedding cake was the hard work of Amy's own Mum.
"My mum made my cake which was a rainbow vanilla sponge with pastel rosette buttercream.  She also made two hundred red velvet cupcakes with matching buttercream and icing buttons and flowers."
The favours were also edible, as Amy created homemade jars of various sweets for the ladies and small brown bags for the men.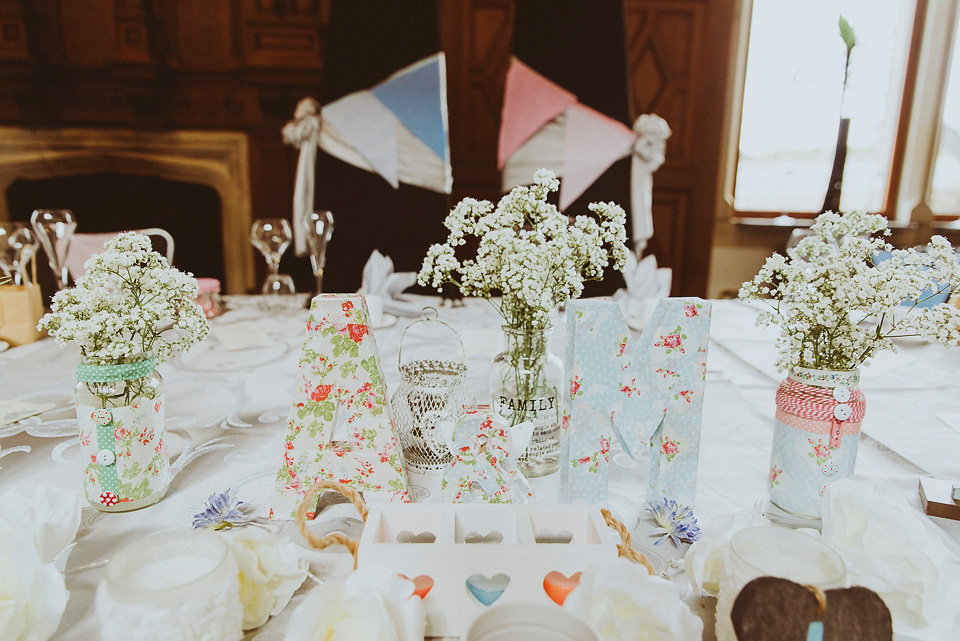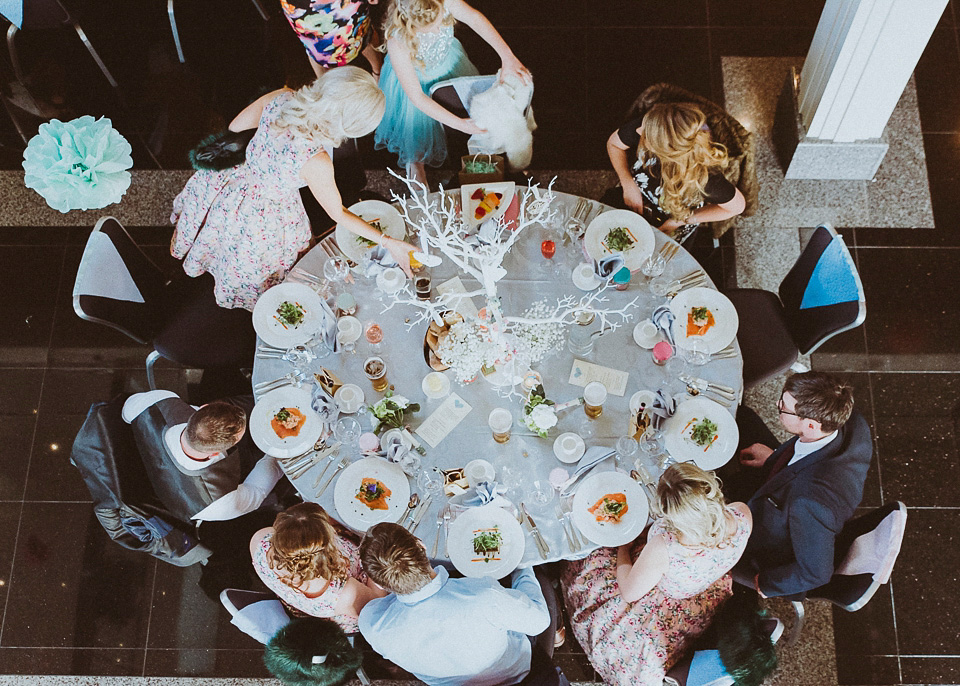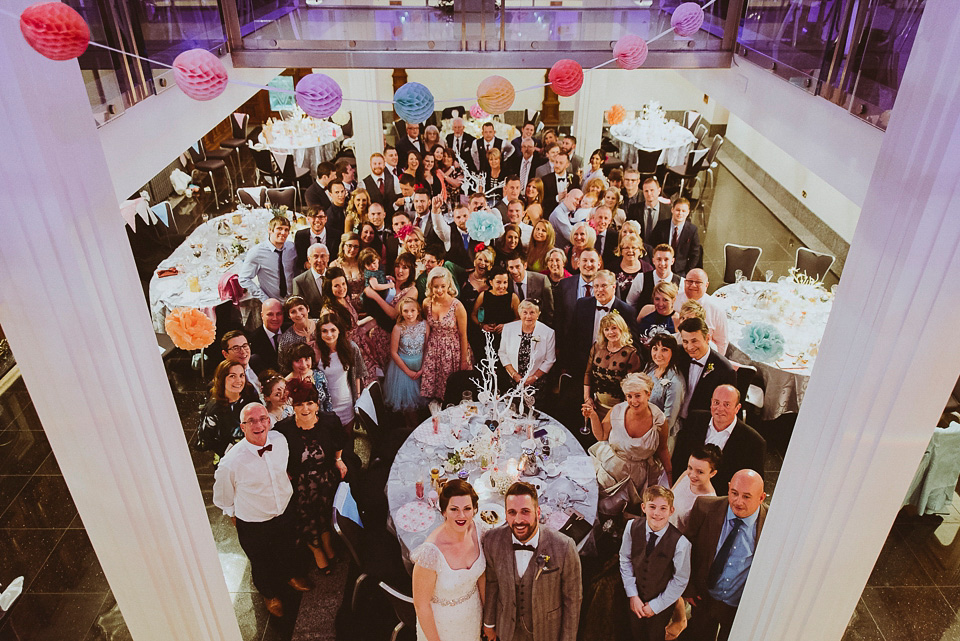 The couple began the evening celebrations with a first dance to Ed Sheeran's 'Kiss Me', a song which has been special to the couple for a long time, and the party danced the night away to the tunes of the in-house DJ, and took many happy memento photographs in the photobooth provided by Dave Spink.
Words of Wedded Wisdom
"If you are doing things yourself be organised so that you have a couple of weeks before the day where all jobs are done and you can just enjoy the excitement and build up.  On the day just let everything go and enjoy. Don't get involved in any problems or jobs going on.  Just let it be.
The whole day was perfection for us.  I want to be able to do it all over again… Exactly the same!"
Wise words indeed.  Thank you so much to Amy and Matt for sharing their special day with us all- huge congratulations Mr and Mrs Bowland!
Film lovingly crafted by Dave Spink
[fve]https://www.youtube.com/watch?v=06oz8KLBgQs[/fve]
Thank you also to Shutter go click Photography and Dave Spink videography for their fantastic work.  We hope to see more of both chap's work on Love My Dress in the future.
Happy Tuesday and much love,
Shona x
Photographer – Shutter Go Click
Videographer – Dave Spink
Venue – Saddleworth Hotel, Oldham
Wedding dress – Claire-Rose by Ellis Bridal
Headpiece – Ophelia May
Shoes – Love Art Wear Art, purchased online from Liberty in Love
Accessories – Family heirlooms and owned by friends
Fragrance – Love story by Chloe
Bridesmaid dresses – Lindybop
Bridesmaid shoes – EBay
Bridesmaid accessories – Necklaces from Next
Flowergirl – dress purchased in Bulgaria
Makeup and hair – Flossy and Leigh
Groom – Suit, shirt and bowtie by Ted Baker, shoes from Next
Groomsmen – Suits from Next, braces from River Island
Florist – Flowers done by Amy
Cake – Amy's Mum
Catering – In house by the Saddleworth Hotel
Entertainment – DJ provided by the hotel
Rings – Phillip Stoner
Stationery – By Amy
Transport – Provided by the hotel
Photobooth – Dave Spink