When it comes to being arty and crafty, I have a lot of enthusiasm but little talent. So it's weddings like Jeanie and David's homespun affair that fill me with admiration. Our couple were wed at a beautiful church in Bury, West Sussex, and held their reception at Jeanie's parents' farm, creating all the lovely details of their big day from scratch.
Photography by Eliza Claire
"We make a conscious decision to try and avoid buying in or hiring as much as we could. We wanted to "build" the wedding ourselves and get creative, with the help of friends and family."
"We wanted the wedding to feel natural, relaxed, colourful and comfortable. We also wanted to try and reuse / repurpose as many things as possible rather than buy new. Jeanie's parents' home was an ideal venue as we wished to do as much of the set up as independently as possible."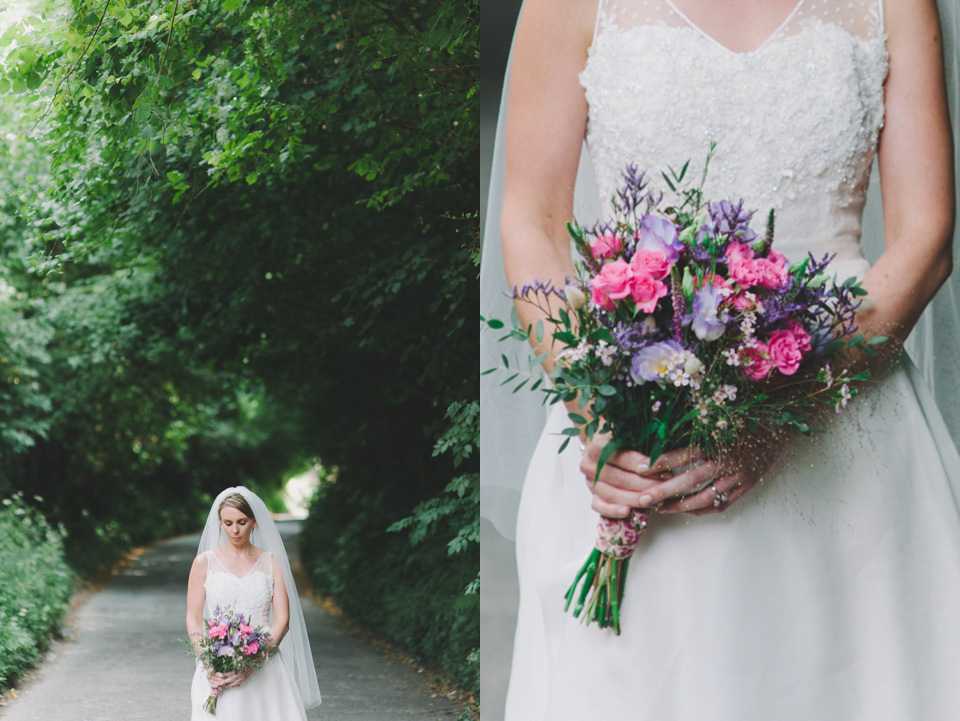 These beautiful blousey flowers were arranged by the groom's mother and a friend.
"The Grooms mother and friend did all of the flowers. We collected jam jars for these to go into on the tables. We wanted there no be no distinct colour theme – just colour in general. Most of the flowers were home grown for the occasion with a few exceptions."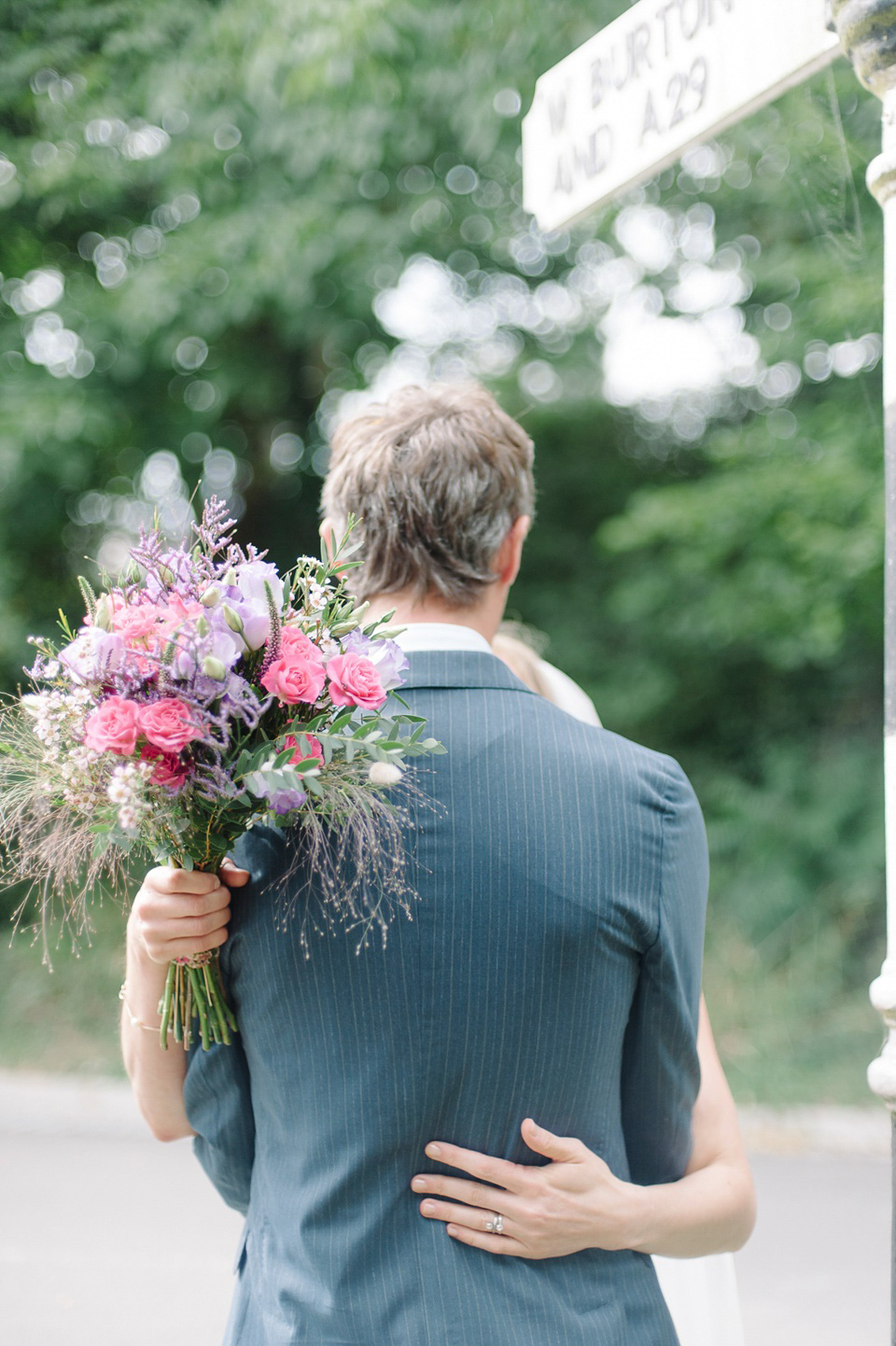 I love writing features when the photographer is the talented Eliza Claire, and luckily for Jeanie, Eliza is her cousin!
"My amazing cousin Eliza Claire was our photographer. I was extremely nervous about the photographs as I (Jeanie) am quite an awkward subject. Eliza was the only photographer I would have used. She knows exactly how to put you at ease and made the photographs really enjoyable. She absolutely captured the fun feeling of the day and totally respected our wishes (we wanted to limit the posed pictures as much as possible). She has such a talent at capturing a moment!"
As a longtime Ebay addict I was pretty excited to hear about Jeanie's dress story.
"The wedding dress was purchased from ebay – it was a sample of a dress by a designer called Monica Hadi. I never actually tried it on until it arrived. It fitted pretty well and was then adjusted by a great seamstress called Alisheas.
It was extremely lightweight – I didn't want to be dragging anything heavy around me on the day. I knew I wanted an A-line dress and I just fell in love with it when I saw it online."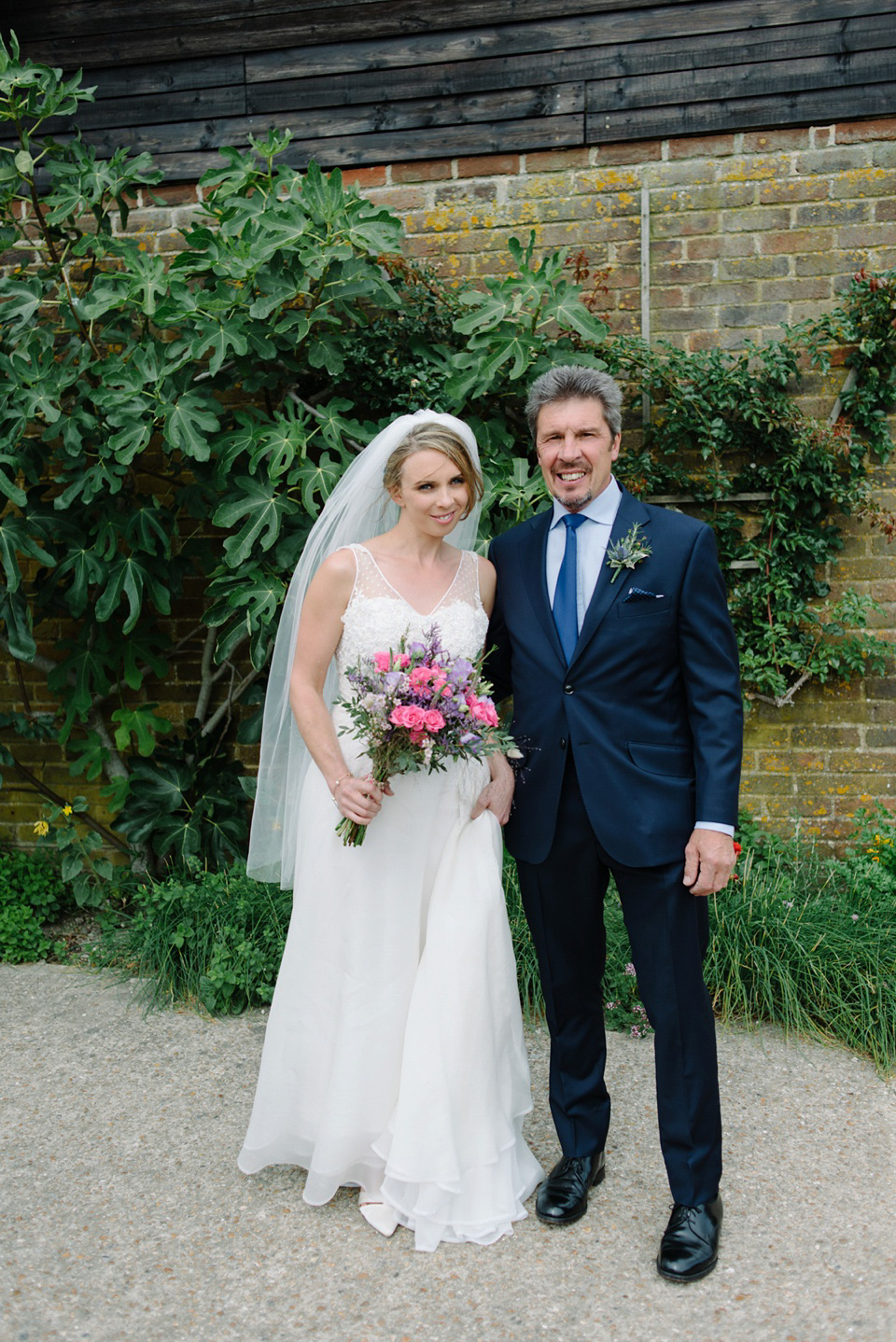 Jeanie's veil and shoes were also from Ebay, as were these pretty pearl hairslides.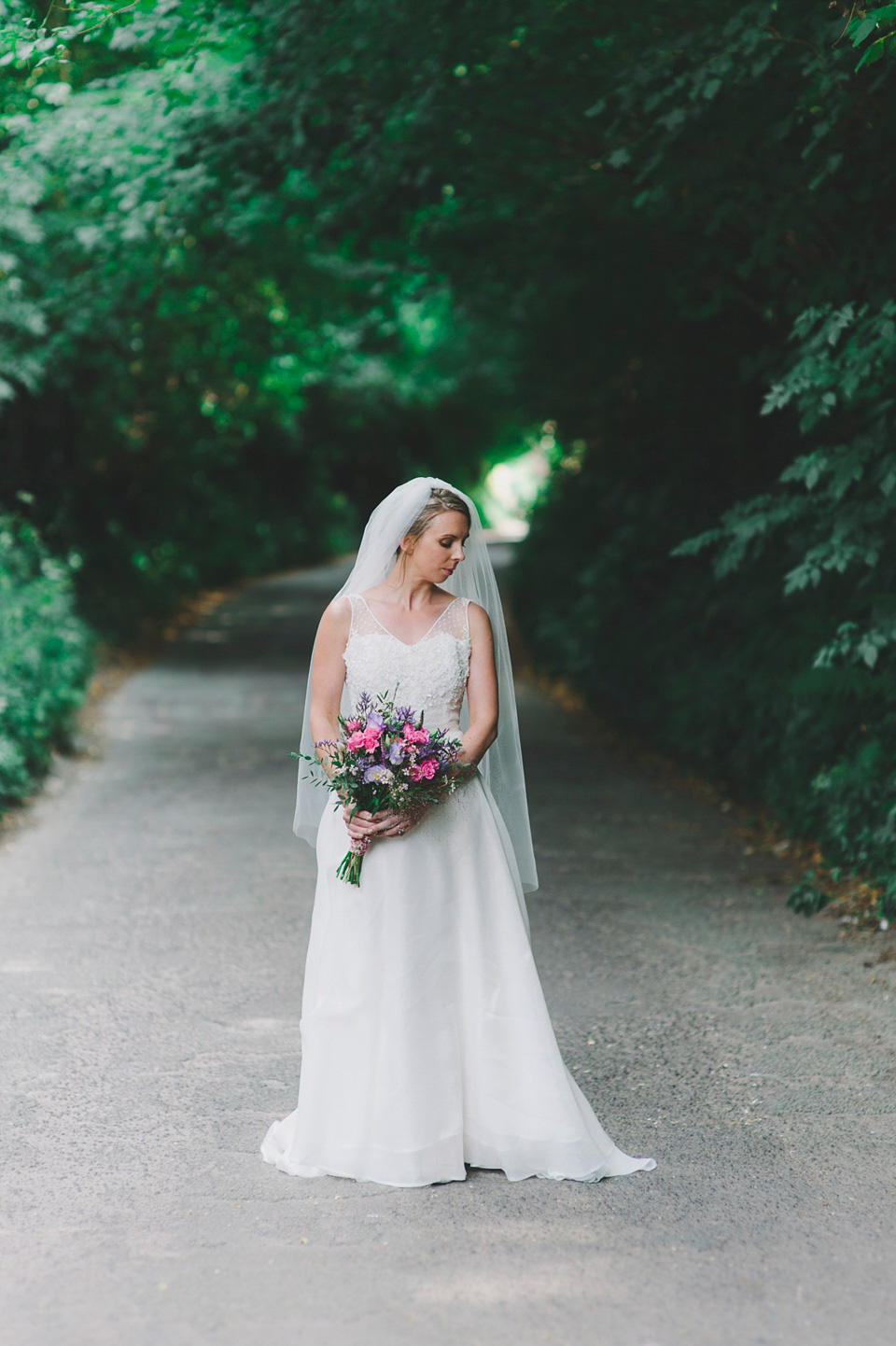 The couple chose to get married at St John the Evangelist Church in Bury, West Sussex.
"The church is very small and extremely old – we wanted the congregation to be packed in tight!"
"The secular reading was the words of Nature Boy by Nat King Cole – our friend Pete absolutely surprised us by singing it rather than reading it. It was amazing and really set the day as being totally unique."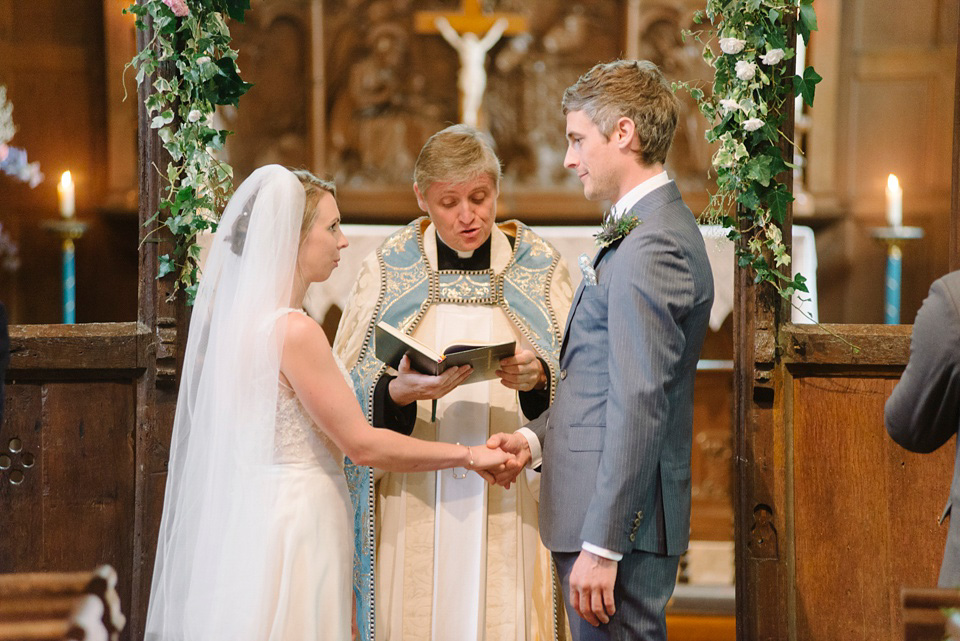 "The confetti was flower petals collected from the gardens of the mother of the bride and groom, and next door neighbour of the groom's mother. The holders of these were made by the bride's mother."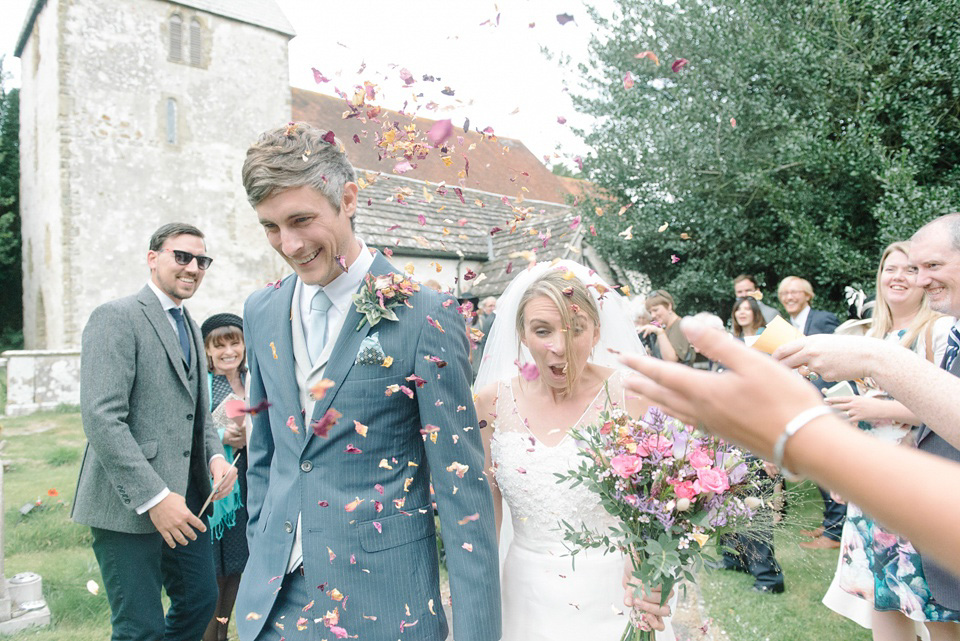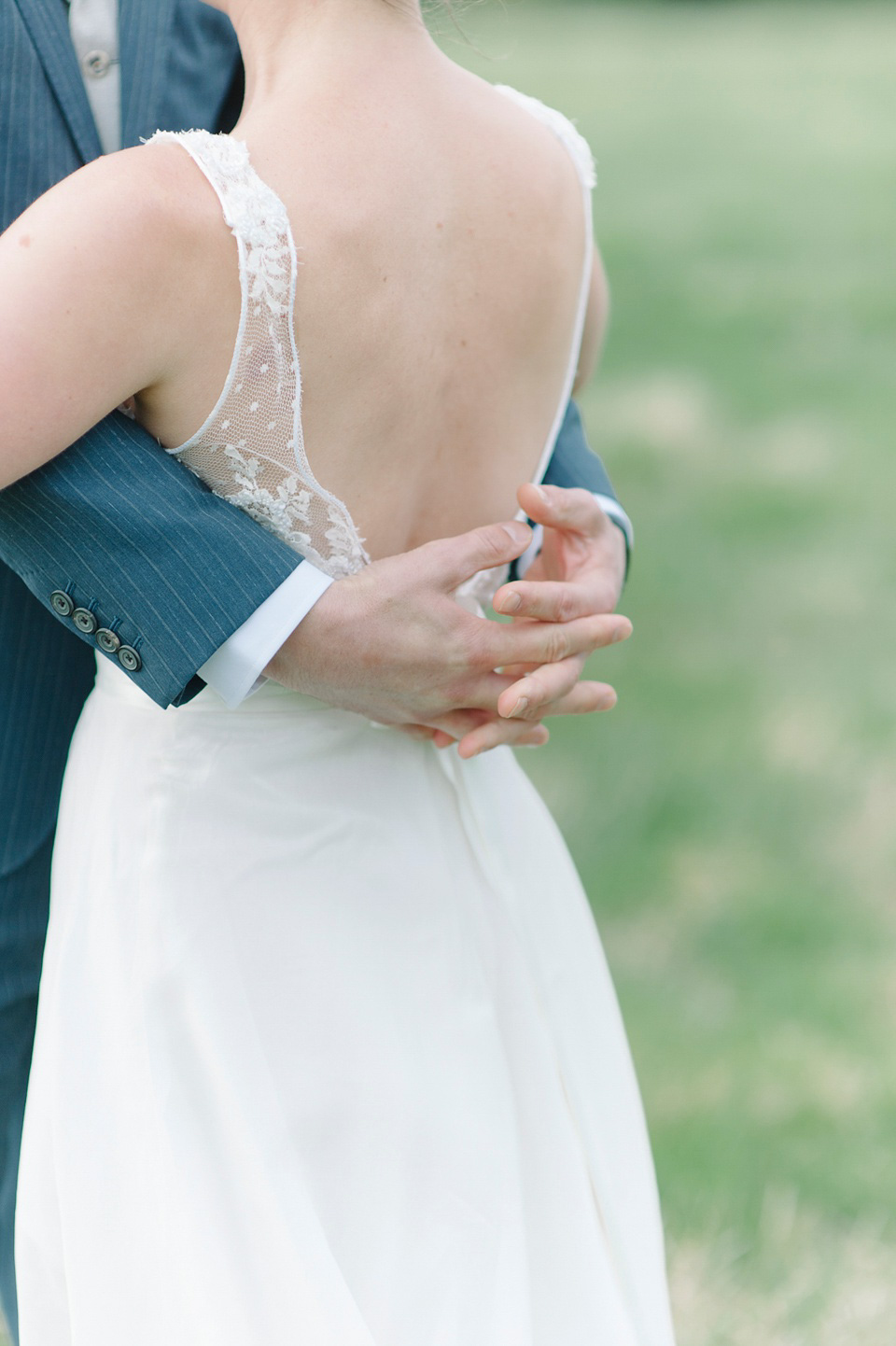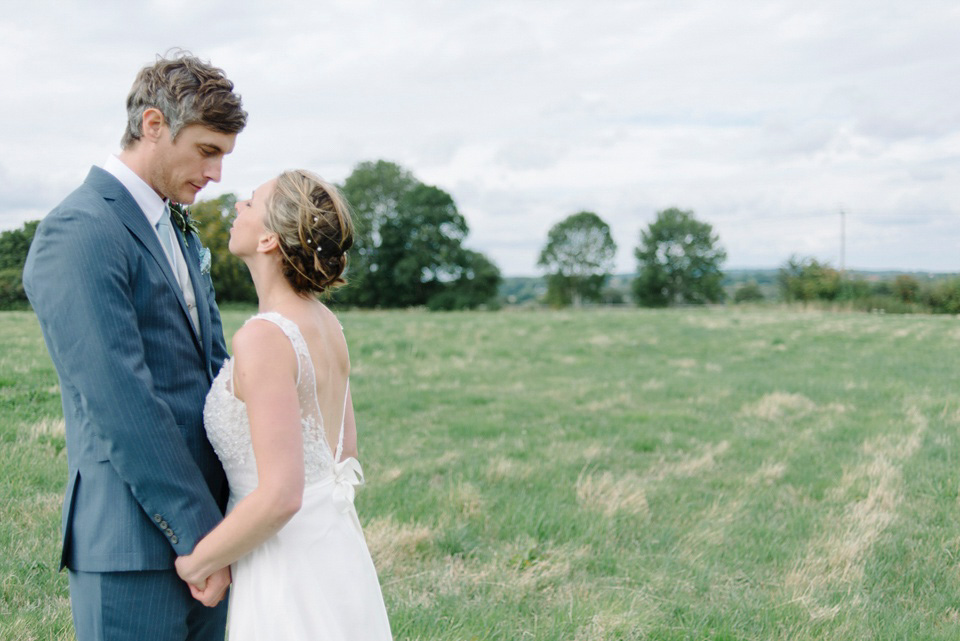 Jeanie's sister was her only bridesmaid and she wore a dress that had belonged to their Mum. The gorgeous flowergirls wore dresses by Monsoon.
The couple scoured the internet and flea markets to decorate Jeanie's parents' barn, managing to source the dance floor, carpet, tables, chairs and lighting themselves! I am so in-awe of the boundless home-made pretty!
"Bunting was made by the mother of the bride, stage and long tables were built by the Groom and Bride's father (from old pallets and scaffolding boards), tablecloths were provided by the catering company, the willow tree was decorated with crocheted hearts and animals (Bride's mother). The wooden rounds on the tables were from trees felled on the farm by the Bride's father.  A number of blankets were left out for the cooler evening – these were from flea markets.
Outside we had fire pits for people to sit round in the evening – the father of the bride had these sorted!"
"The Brides mum made and decorated the sweet cake – it was three tiers of fruit cake, red velvet and lemon (we hear it was tasty but never got a chance to eat any of it!). It was used as the dessert. We also bought wheels of cheese from Pallant of Arundel which we assembled into a cake"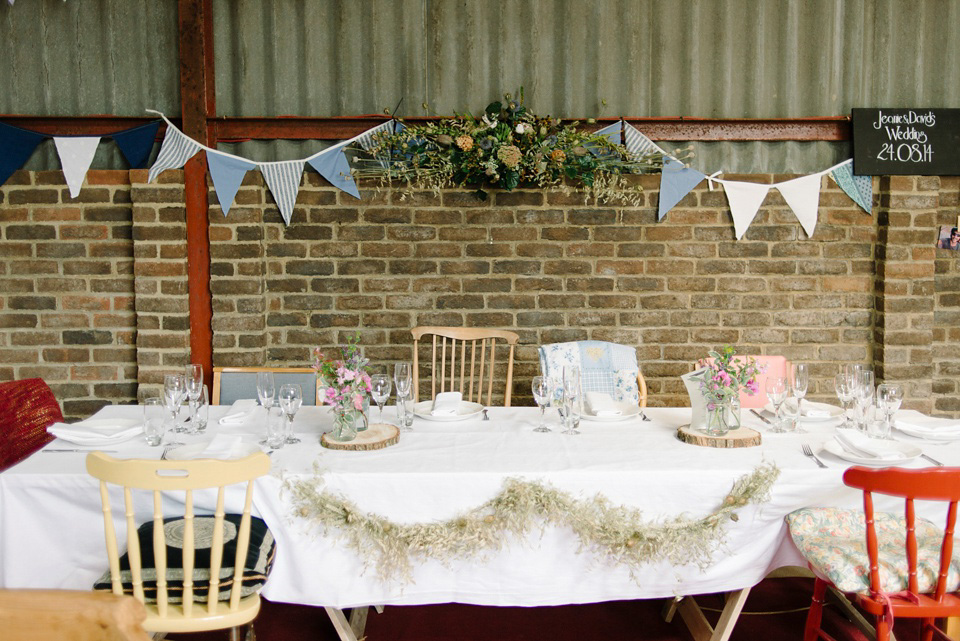 "Our catering company The Secret Restaurant was amazing. Nicola just got it and the menus looked amazing. They did a wonderful job with rustic, delicious and beautiful bbq food / salads etc. They ran the bar seamlessly and went along with the very laid back style of the day."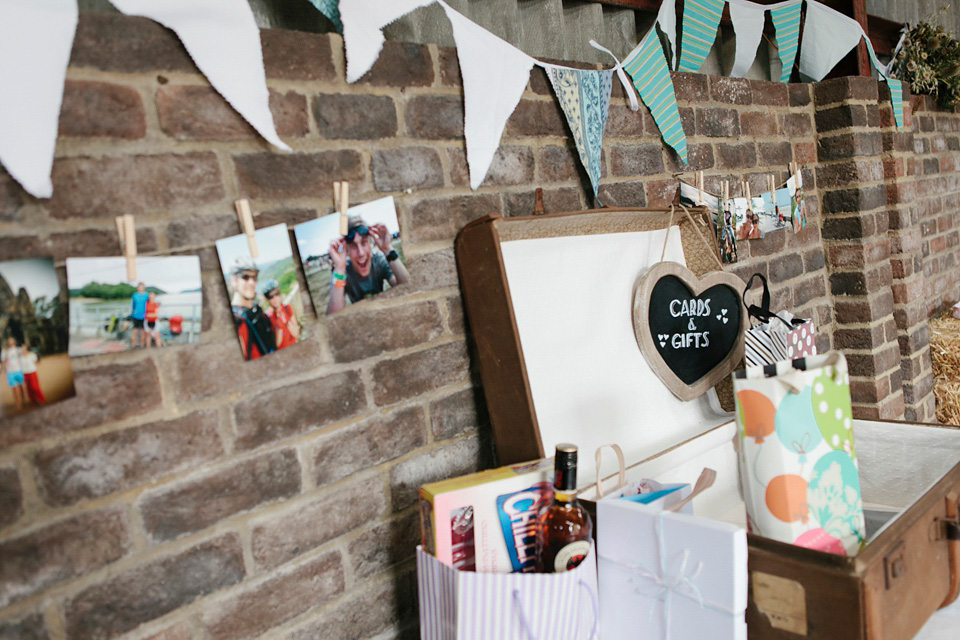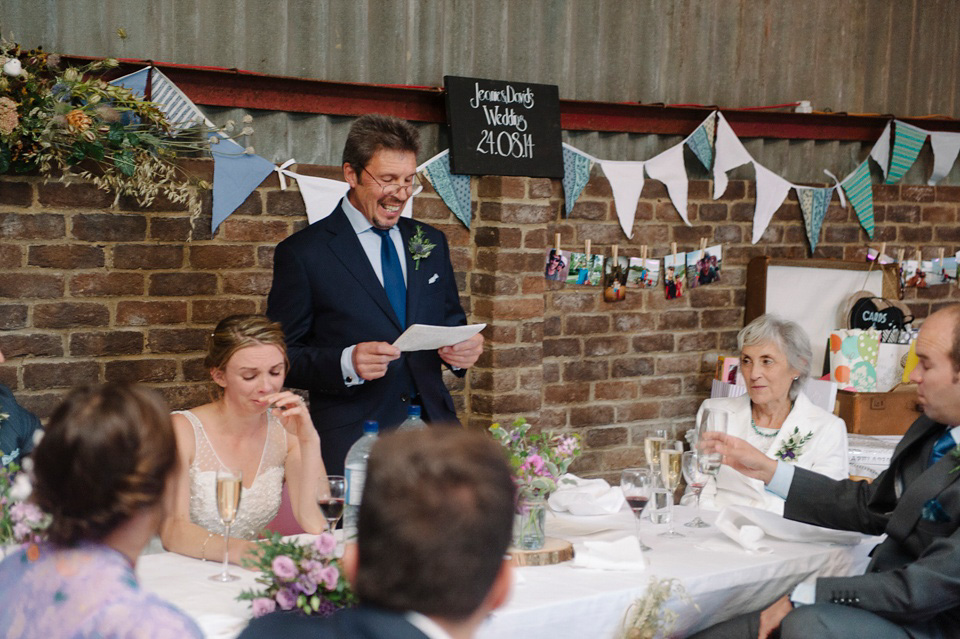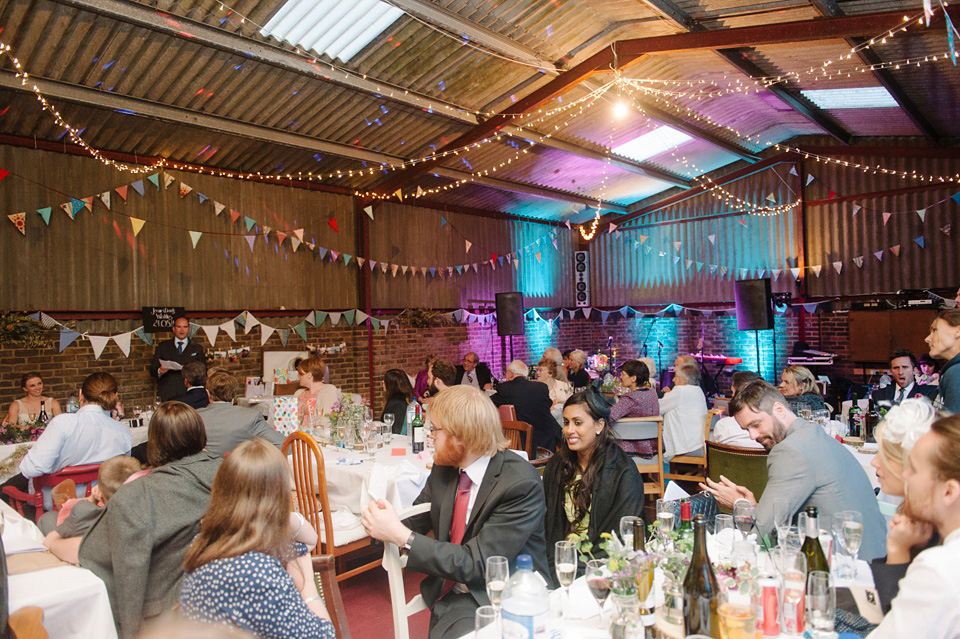 Murdoch's Crazy Eyes kept everyone dancing until the wee hours.
"Murdoch's Crazy Eyes are a local band who we saw back in 2010 in a local pub and always knew that we would hire them if we ever got married. We had the full 7 piece band (including the brass section) and they were so good!"
"We would do nothing differently – we were lucky with the weather as the barn was open…it wasn't hot but the following day there was a monsoon so we can't complain!"
Words of Wedded Wisdom
"We did so much ourselves and during the run-up it felt massive and at times a little stressful. However, in hindsight we wouldn't have done it any other way. There is a great deal of satisfaction and joy to us in knowing that we didn't buy in a package wedding. It isn't everyone's cup of tea but it was personal to us and it was amazing that our family and friends contributed in so many ways."
Wow, such a wonderfully home-made day, with lots of crafty inspiration. My favourite craft was the willow tree decorated with crocheted hearts – so pretty! Thank you Jeanie and David for sharing your wedding with us and to Eliza Claire for the beautiful images today. Have a wonderful weekend all.
Love Louisa xx
Photographer – Eliza Claire
Film – a friend of the bride and groom, see it here
Venue  – Bride's parents' home
Wedding Dress – Monica Hadi via Ebay altered by alisheas
Veil – Monica Hadi via Ebay
Shoes – Ebay
Accessories – via Ebay
Groom – Hardy Amies
Bridesmaid – dress belonging to bride's mother
Flowergirls – Monsoon
Florist – Groom's mother
Cake – Bride's mother and cheese cake by Pallant of Arundel
Entertainment – Murdoch's Crazy Eyes
Rings – flea market
Catering – The Secret Restaurant
Stationery – Bride
Hair and make-up – Bride's sister