Happy Friday everybody! I hope you've had a jolly week and getting excited that the weekend is just around the corner. I'm sitting here at my local cafe by the beach with a steaming hot cup of tea to warm up, as winter is now upon us over-the-seas here in Australia (and trust me, we don't know how to do central heating in this part of the world!).
Photography by The Campbells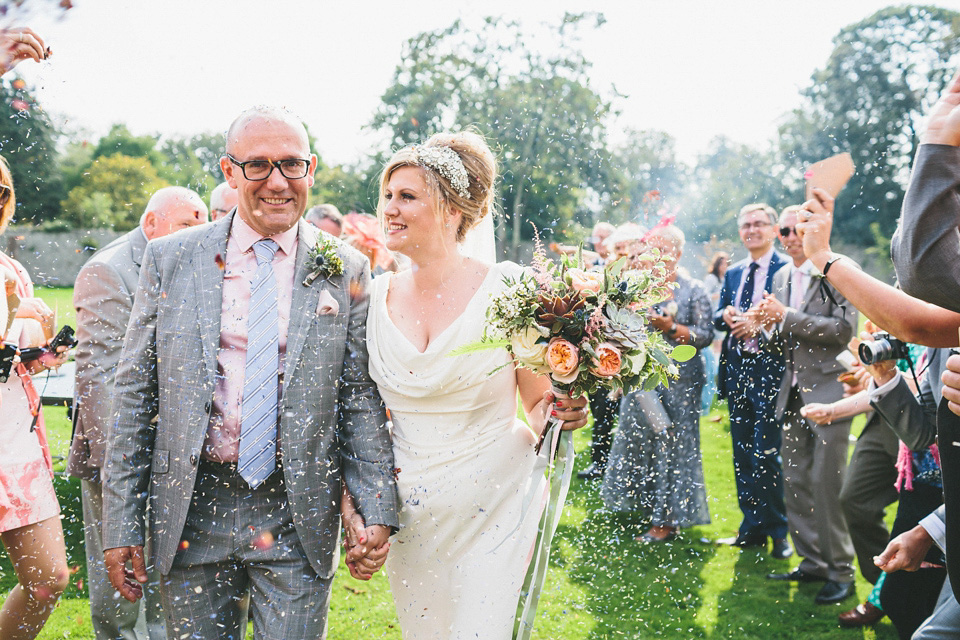 Today's late summer's wedding will help keep us all toasty and I'm very excited to be sharing it with you. It's one of the most beautifully crafted and natural weddings I've seen – with a range of flowers freshly hand-picked from the garden, a stylish silky Vivienne Westwood creation, wonderful pictures by The Campbells, and all set in an idyllic location in Ireland.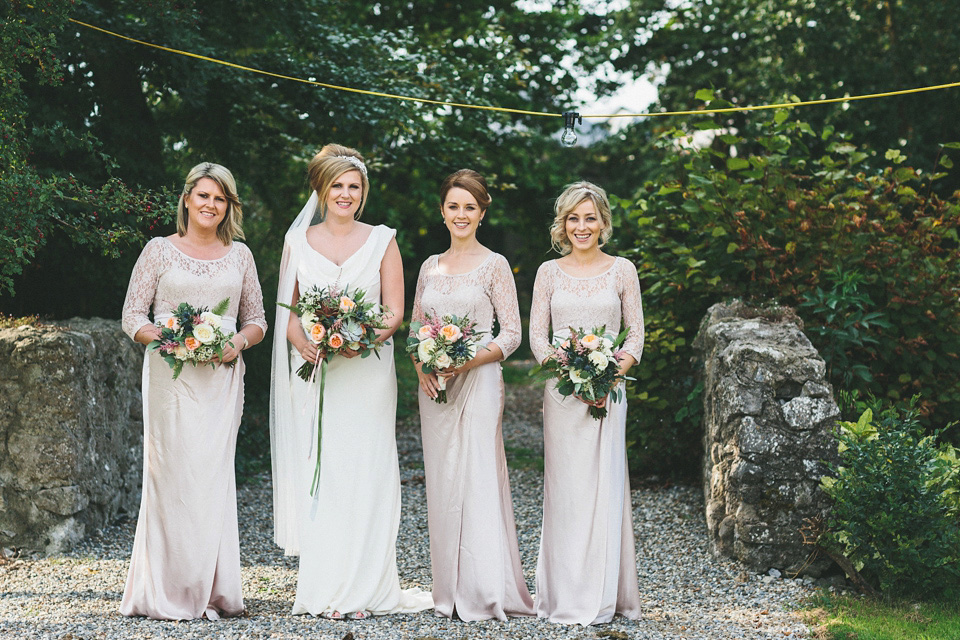 Meet Stacey, a lecturer in fashion design and Nick, founder of Cycle Training Wales, who married on 6 September 2014 at Cloughjordan House in Tipperary, Ireland.  The couple's inspiration was a natural, flower-filled country garden.
"We didn't want a very formal stuffy kind of wedding, a romantic and soft feel I guess was important in terms of colours, flowers, and that type of thing. Natural was a word we used a lot.  We just tried to  work with the space, bringing out its charm and personality."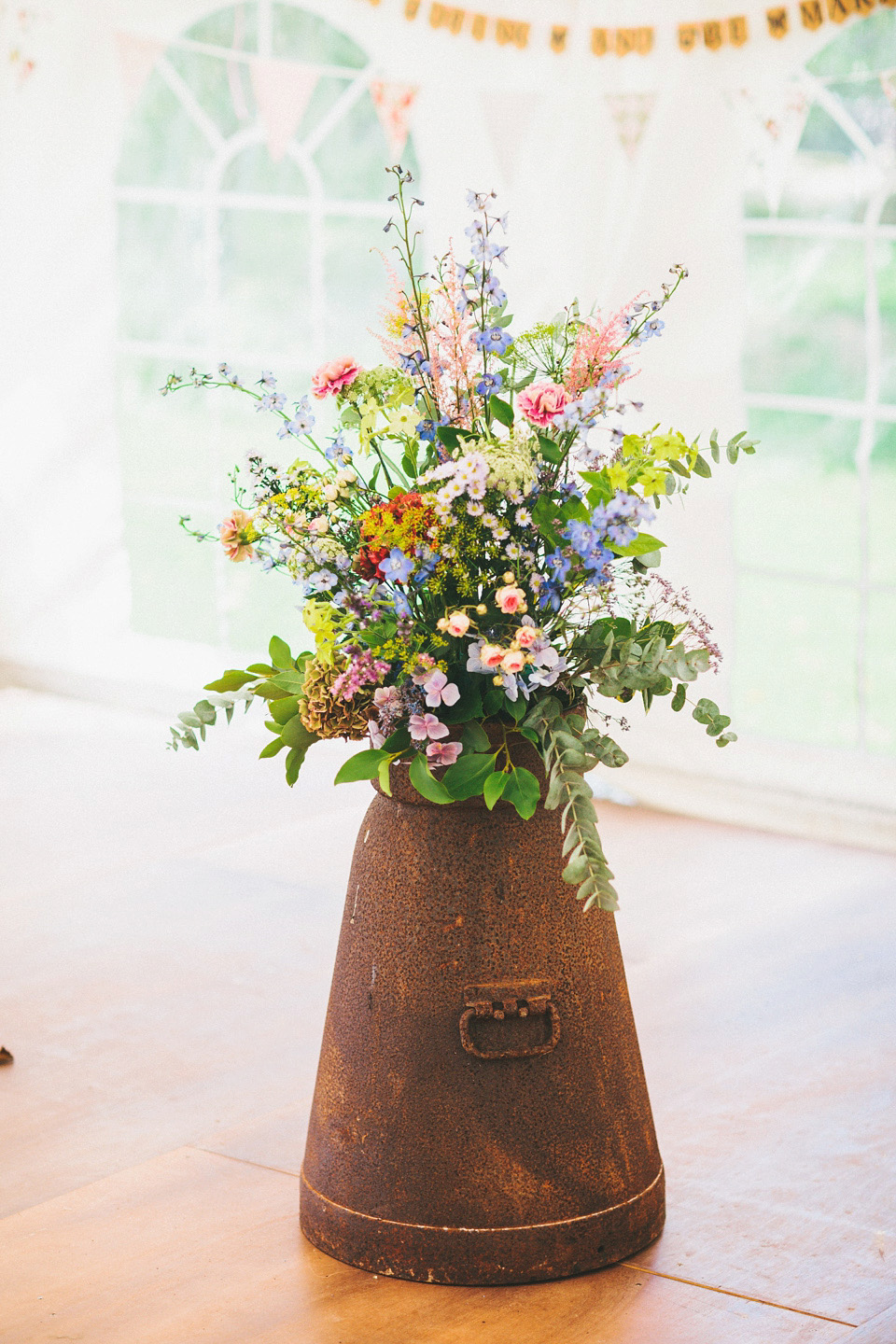 "I really liked the idea of a country garden, and we have lots of milk churns with flowers in, crates and olive tins, jam jars and hanging bottles all stuffed with flowers. The flowers were really important to me, I think they provided a wonderful atmosphere and scent and arranging them brought together family and friends."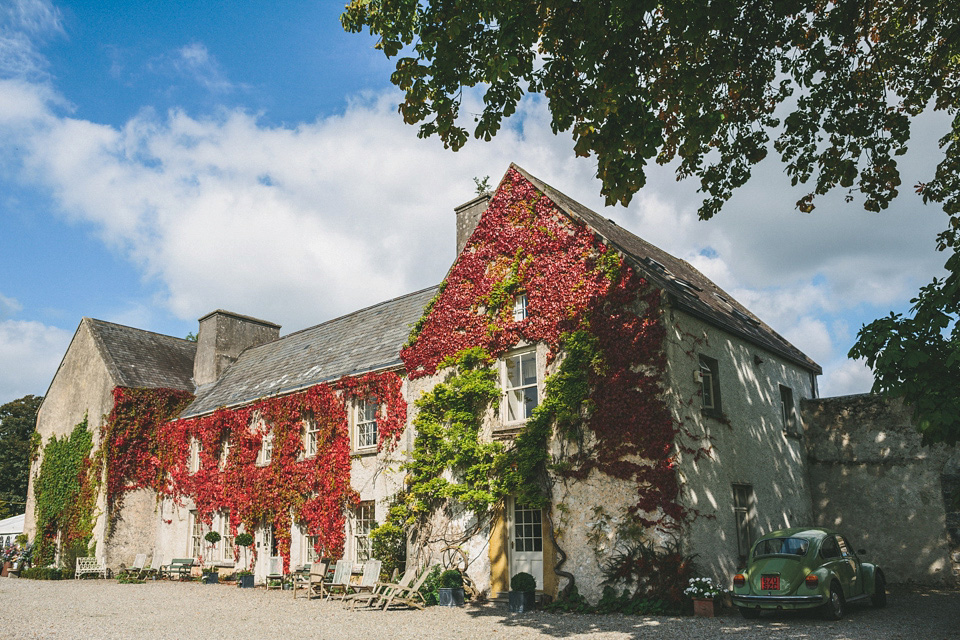 "We loved our photographers, The Campbells.  We selected them on the recommendation from a friend, and they were so professional and fun. The engagement shoot was actually really really useful as I was very nervous, I learnt that on the day the results would be crap if I didn't just relax and I'm happy I got over all the awkwardness in advance.
I think they captured some lovely candid moments and we were really happy with our wedding photos."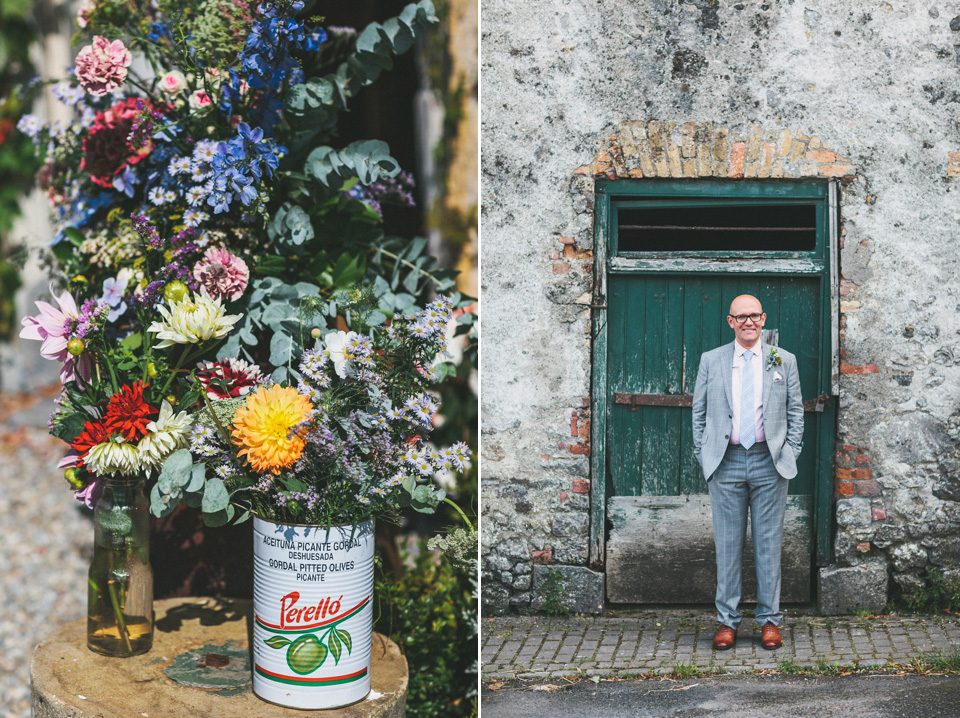 "We picked Cloughjordan House because we wanted character, and it had the possibility to make it personal to us. It was very important that we found a venue with a special space for our wedding ceremony. We struggled with the business-style suites in hotels for the humanist marriage and felt, although we were not religious, we still expected the space for the ceremony to have some solemnity and gravitas."
We also loved the style of food offered by Cloughjordan House. Eating vegetables from the garden and meat produced on the small holding meant the food was local, sustainable and delicious. We felt having the wedding in Ireland would offer our British friends the chance to enjoy the 'craic agus ceoil' that Ireland is famous for – in other words, a good party!" 
Stacey found the most gorgeous silky Vivienne Westwood dress that suits her to a tee. I love how the dress moves and it looks so comfy to wear, it's incredibly stunning!
"What I loved about the dress was that it was quite classic but still a little fashion forward. I loved the cut of Westwood's clothes for my figure anyway, and knew it would be worth trying on some pieces for ideas. After trying on the dress, nothing else felt the same. It was very secure to wear and the silk fabric was breathable and soft. It was really important to me that it was a natural cloth such as silk as I hate the idea of spending all that money on polyester!"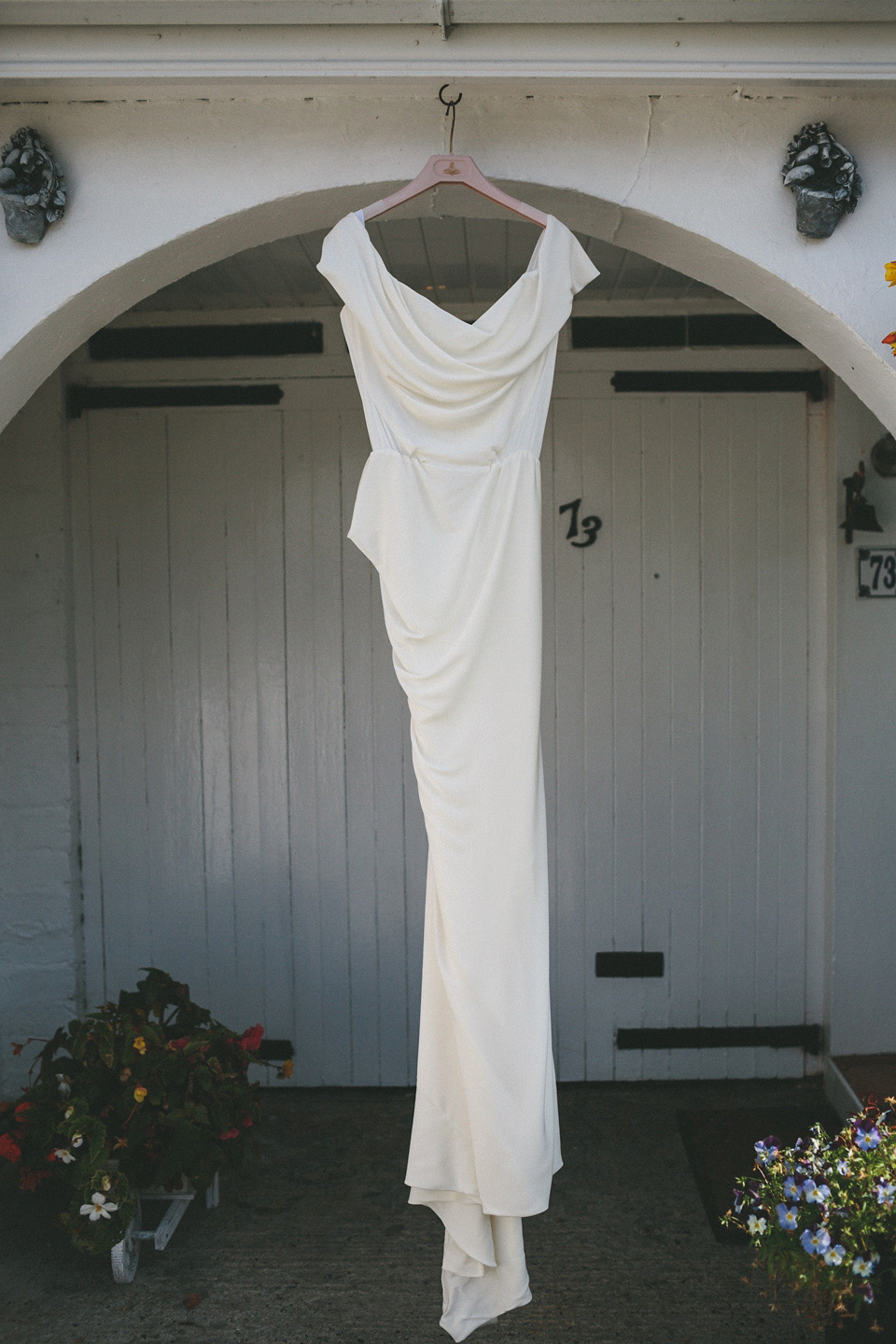 Rachel Simpson 'Ginger' silver shoes, a silk tulle hand-made veil (by Stacey and a friend), House of Fraser earrings and the 'Ceadaux' Jenny Packham hair accessory, hired from To Have and To Hire, completed Stacey's stylish look.
"I also wore Jo Malone 'Oud and Bergamot'. It's the first perfume Nick bought me and I think its quite a strong yet feminine fragrance."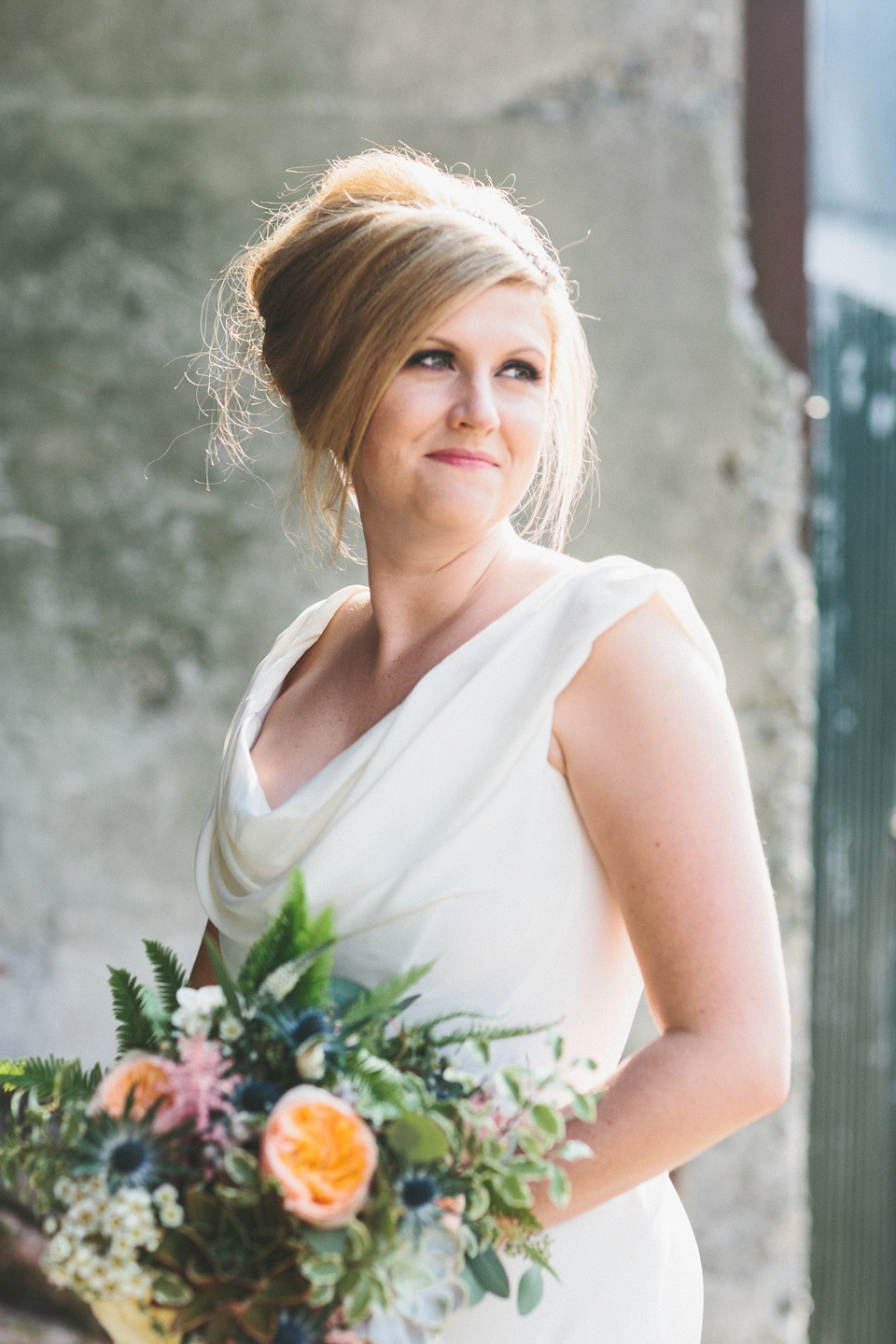 "We met via the ukulele! I had moved to Cardiff for work and, in an effort to meet people, took up the uke and went to some jams etc, I was at an event with a friend and Nick's band were playing, so I went to ask him could he recommend a brand for a ukulele as I wanted to buy one. After that we sort of  followed each other on Twitter I think and then months later he asked me if I wanted perform at a cabaret he was putting on via Facebook. I could barely play so declined but I went along, and we got chatting.
After that he asked me out for a drink… and then he kept asking! We had a lot of lovely dates. We've been together almost 3 years now. Nick proposed while camping in West Wales, we were watching the perseid meteor shower and making wishes. It was perfect. He used a costume jewellery ring, and when we came back to Cardiff we had a bit of a house-warming planned, which then turned into an engagement party also! We then went to Grey's Antiques in London to select a lovely Art Deco antique ring. We were engaged for a year before our wedding."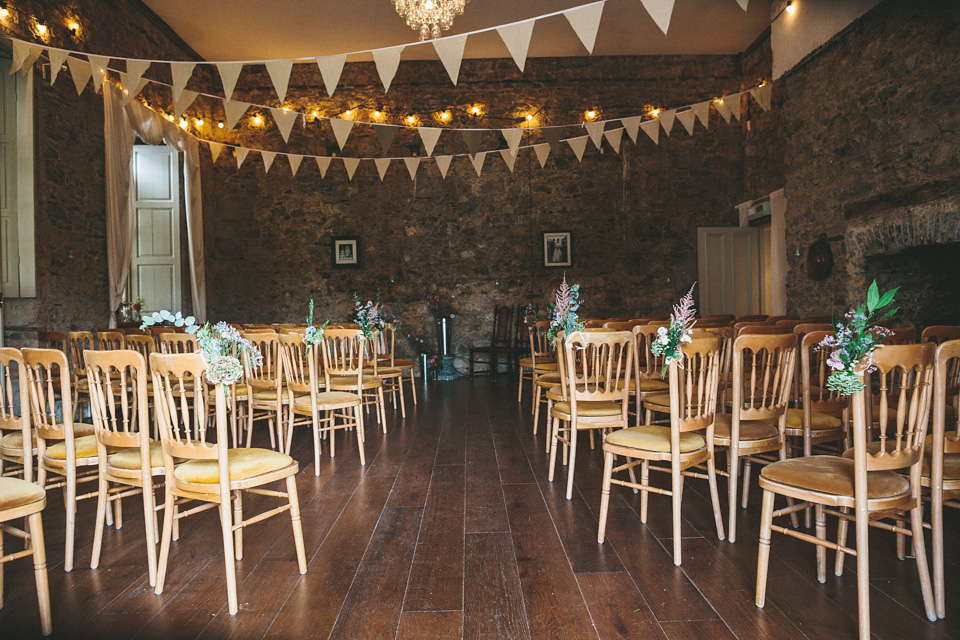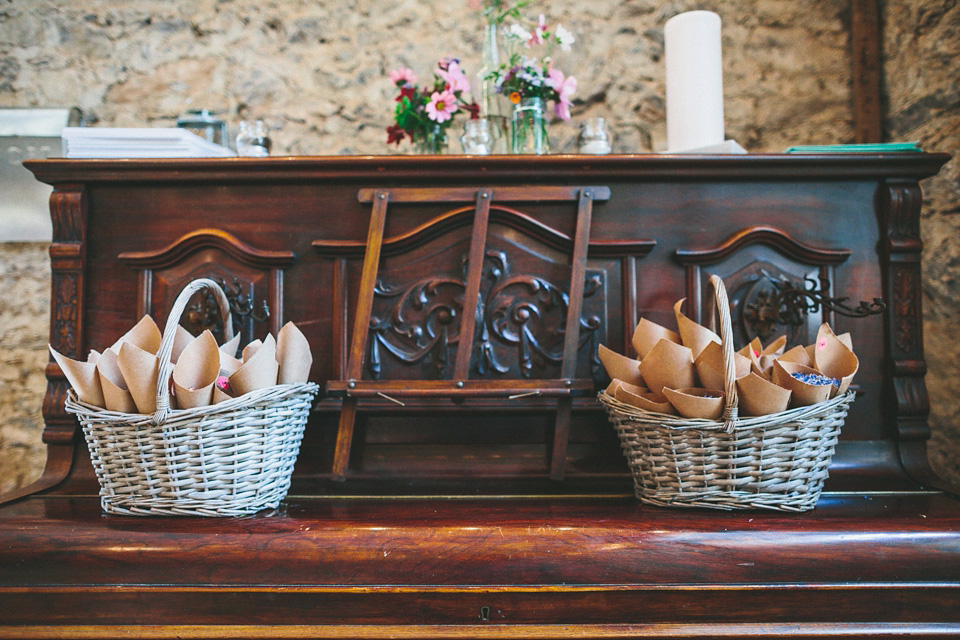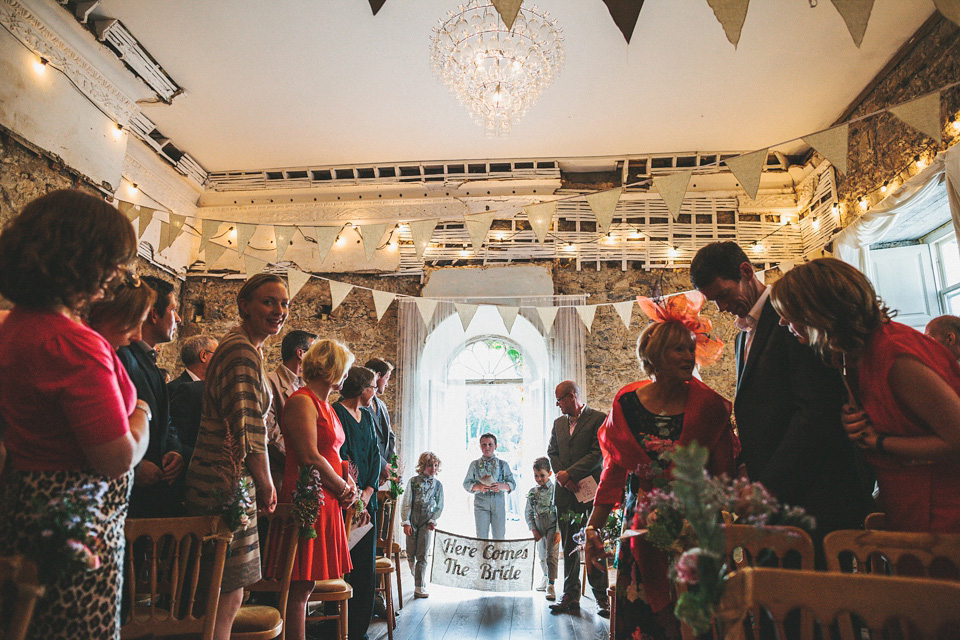 The couple's friend James drove Stacey and her father to the ceremony in his flash Mercedes. Simple platinum bands were chosen from Wedding Rings Direct, as the couple opted to keep these classic and symbolic.
"My dad gave me away and I walked down the aisle to 'At Last' by Etta James which resulted in quite a few giggles as I was pretty late!"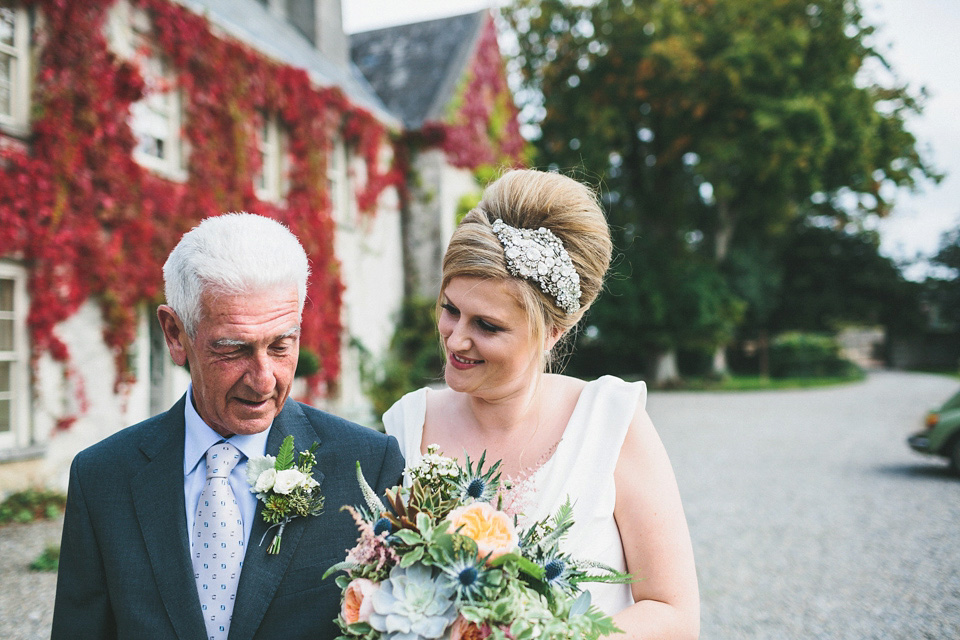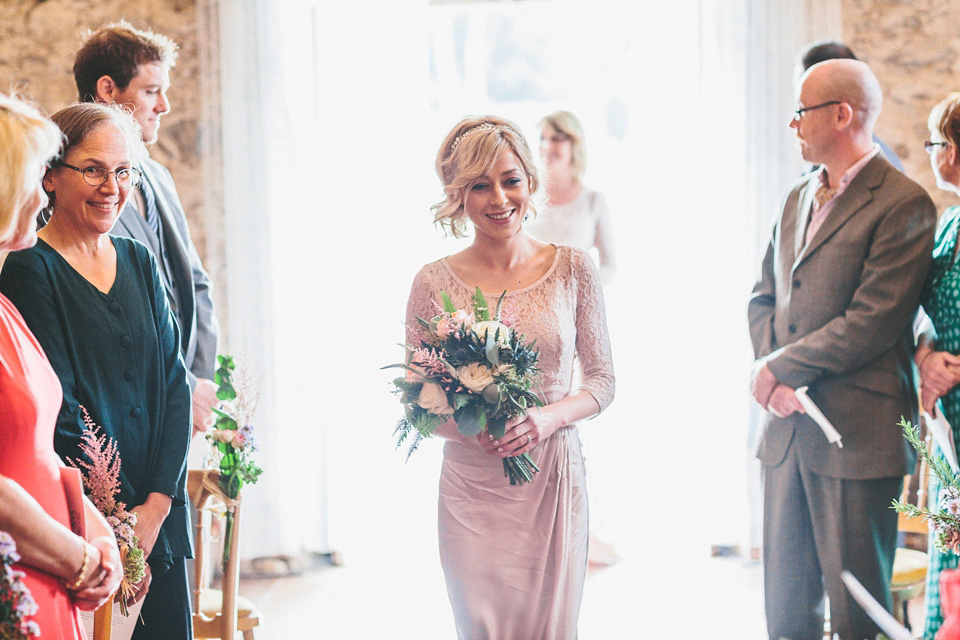 "We also had music performed by our friends Hannah and Cai, they played 'It Must Be Love' by Labbi Siffri and the words were printed on the order of service so we all sang along. It was lush! They also played 'Everywhere' by Fleetwood Mac for our exit from the ceremony, it was so good I wanted to stay and listen!" 
Stacey and Nick chose to have a humanist ceremony – and as this part of the day meant a lot to them they put a lot of effort into the planning, the readings and the poetry. Such a beautiful, heartfelt touch.
"We chose a selection of poetry which was meanful us. We felt they represented different aspects to our relationship and life together. 'Yes I A Pleasant Country' by E.E. Cummings is a poem Nick emailed me at one point in our relationship, so it has special meaning. Sonnet Seventeen by Pablo Neruda comes from a book I bought Nick when we were in the states and we are both big Seamus Heaney fans, in a way both growing up with his poetry, so 'Scaffolding' was fairly perfect.  I shed a tear when Andrew read it.
'Sonnet Seventeen' by Pablo Neruda
I don't love you as if you were the salt-rose, topaz
Or arrow of carnations that propagate fire:
I love you as certain dark things are loved,
Therefore, between the shadow and the soul.
I love you as the plant that doesn't bloom and carries
Hidden within itself the light of those flowers,
And thanks to your love, darkly in my body
Lives the dense fragrance that rises from the earth.
I love you without knowing how, or when or from where
I love you simply, without problems or pride:
I love you in this way because I don't know another way of loving
But this, in which there is no I or you,
So intimate that your hand upon my chest is my hand:
So intimate that when I fall asleep it is your eyes that close.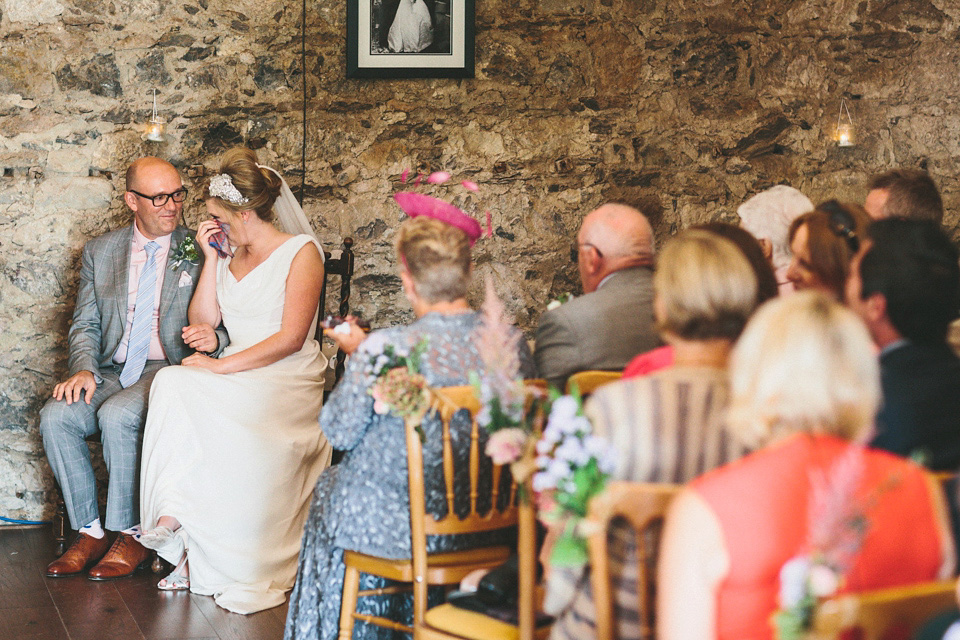 'Scaffolding' by Seamus Heany
Masons, when they start upon a building,
Are careful to test out the scaffolding;
Make sure that planks won't slip at busy points,
Secure all ladders, tighten bolted joints.
And yet all this comes down when the job's done
Showing off walls of sure and solid stone.
So if, my dear, there sometimes seem to be
Old bridges breaking between you and me
Never fear. We may let the scaffolds fall
Confident that we have built our wall.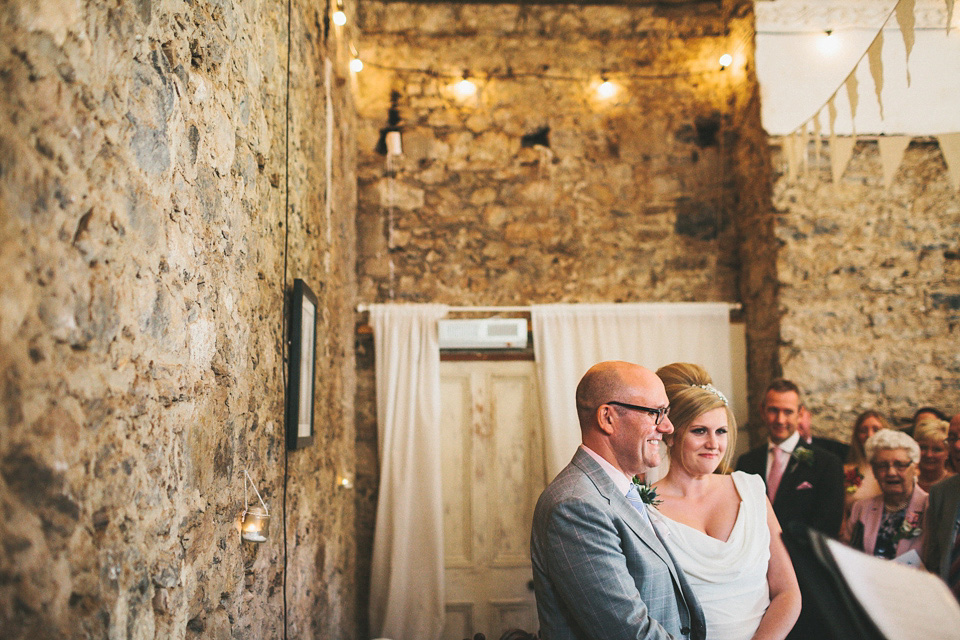 "We both agree our favourite part of the day was the ceremony. I felt so excited about actually seeing Nick, the anticipation was massive (I would recommend spending the night apart it creates a real sense of excitement!). When I walked into the room and saw everyone we care about in one place, rooting for us, it felt very powerful and I think we both felt so loved not just by each other but by our family and friends in that space. I felt the humanist approach really represented us in an authentic way, being able to co-create the structure and words was lovely and hearing our friends play music, and sing to us was fantastic.
I would suggest that people definitely spend time choosing their readings or poetry it's worth it to get it right, also Nick was adamant that we had a bit of music much like a hymn that people could get stuck into singing. This was great fun and I'm happy we did print the words and get a bit of audience participation."
The groom's suit, shirt, tie and socks were via Paul Smith, shoes from Gieves and Hawkes and a pair of groovy Tom Ford glasses topped off Nick's stylish look. His groomsmen donned their own suits, with ties and pocket squares in a funky Liberty print.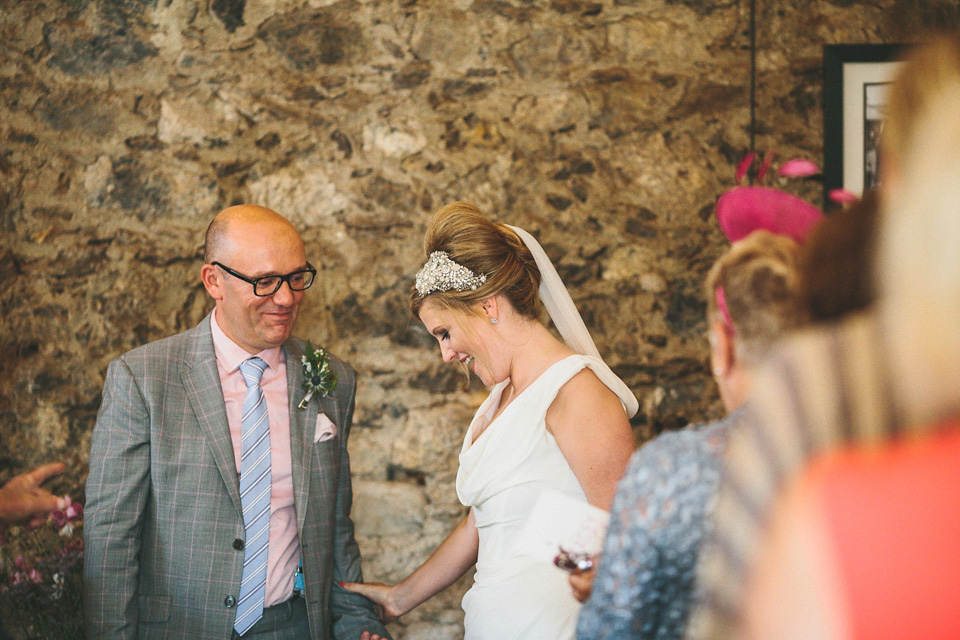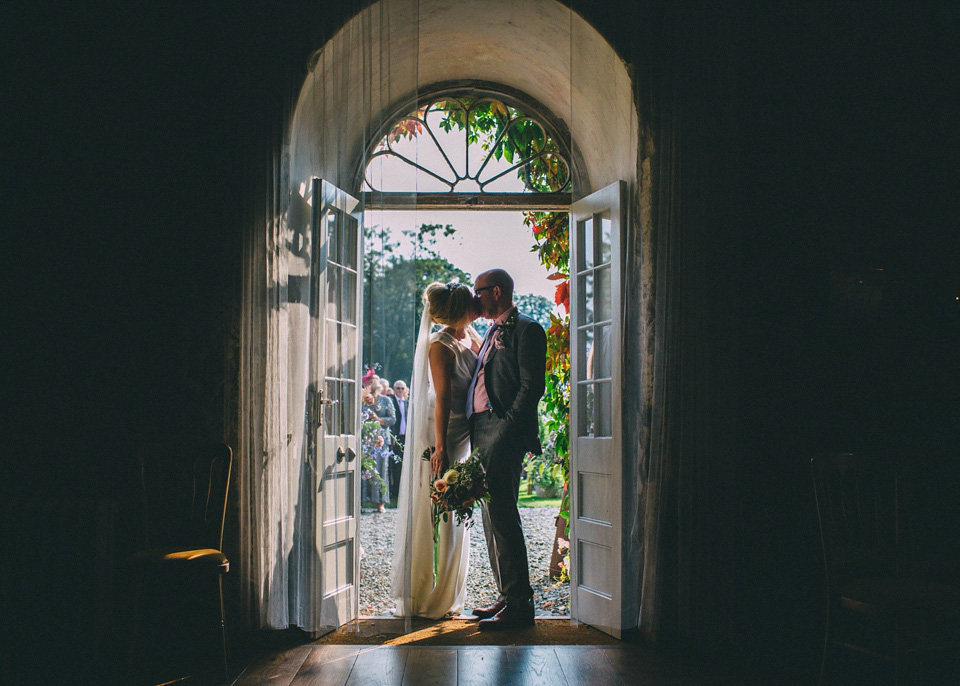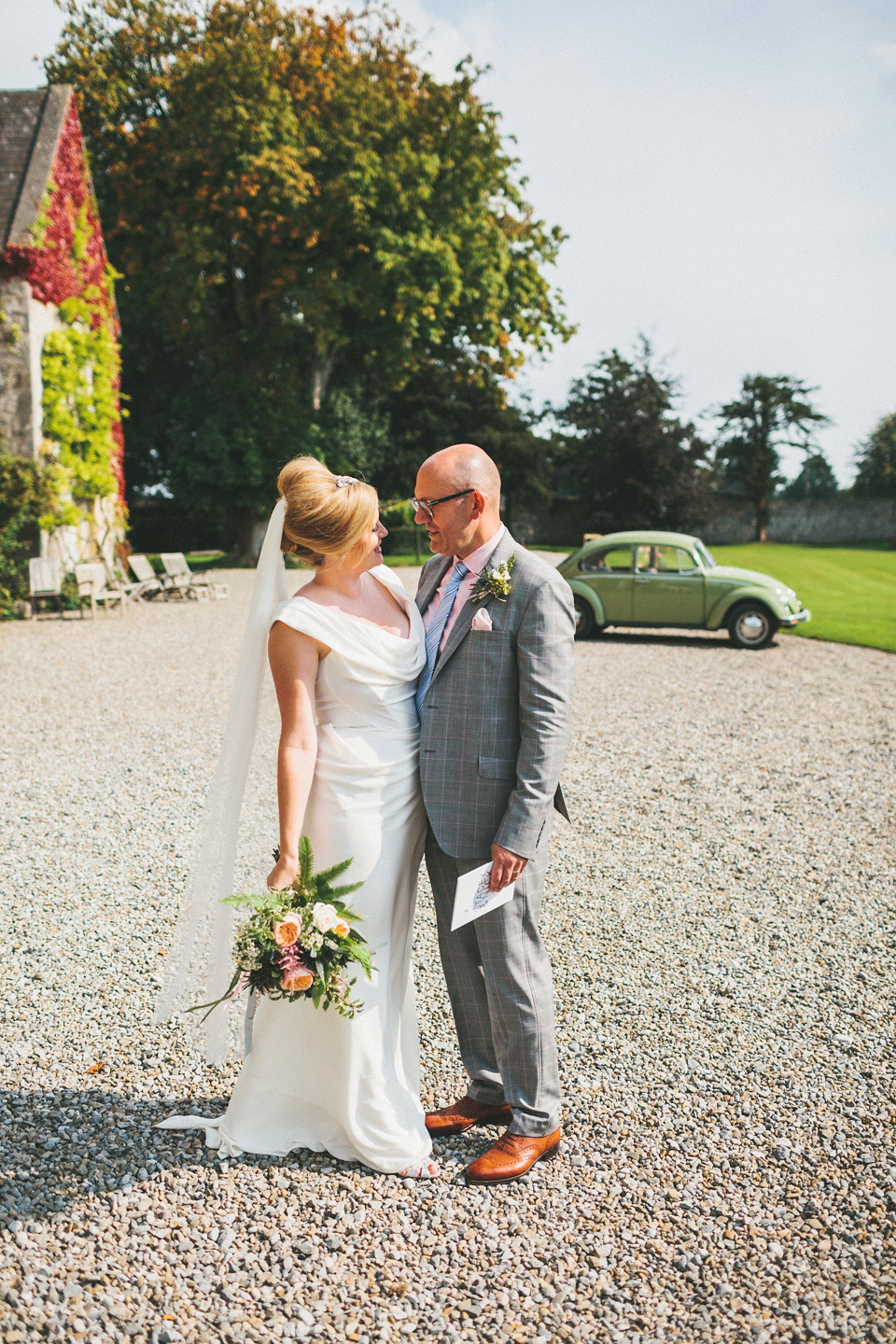 The flower girls looked pretty as a picture in sweet Monsoon dresses and the young male helpers wore shirts by Kin from John Lewis, Next chinos, Gap sneakers, braces from Ebay and cute bow ties made by Stacey. Look at this picture of the "Here Comes the Bride" sign carried by the little ones, how very adorable!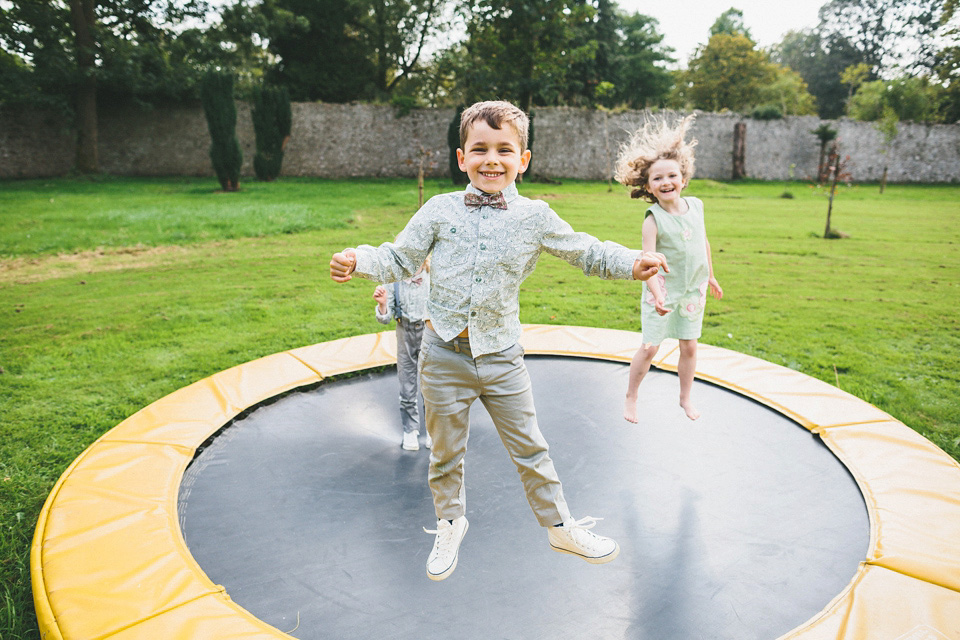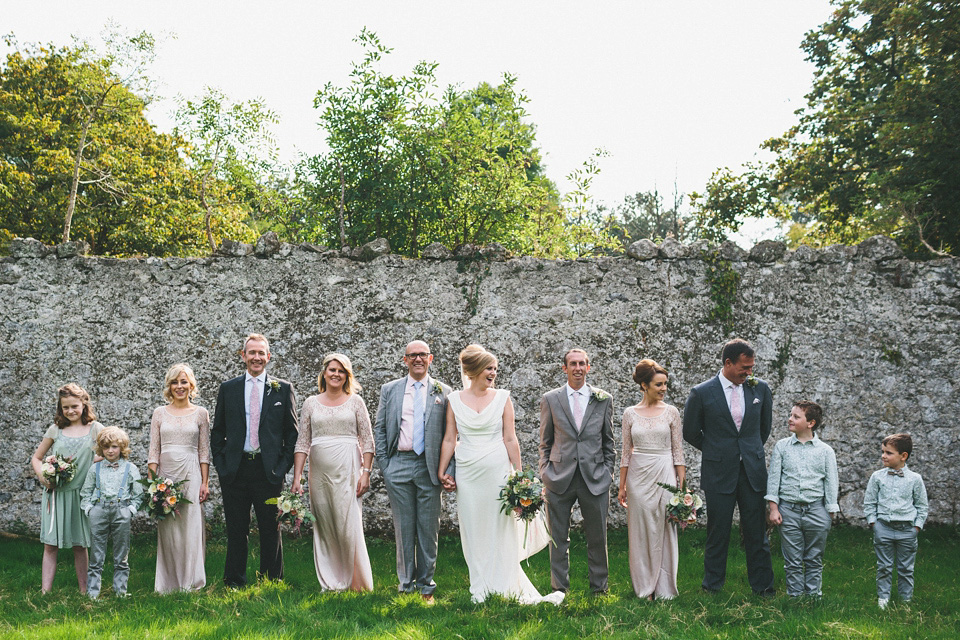 Stacey's maids donned pretty Ghost gowns, vintage hair accessories and their own shoes, with make-up by MAC at Brown Thomas and hair by Fox and Bow. Take a look at the bride's fabulous bee-hive hairstyle, it's fabulous!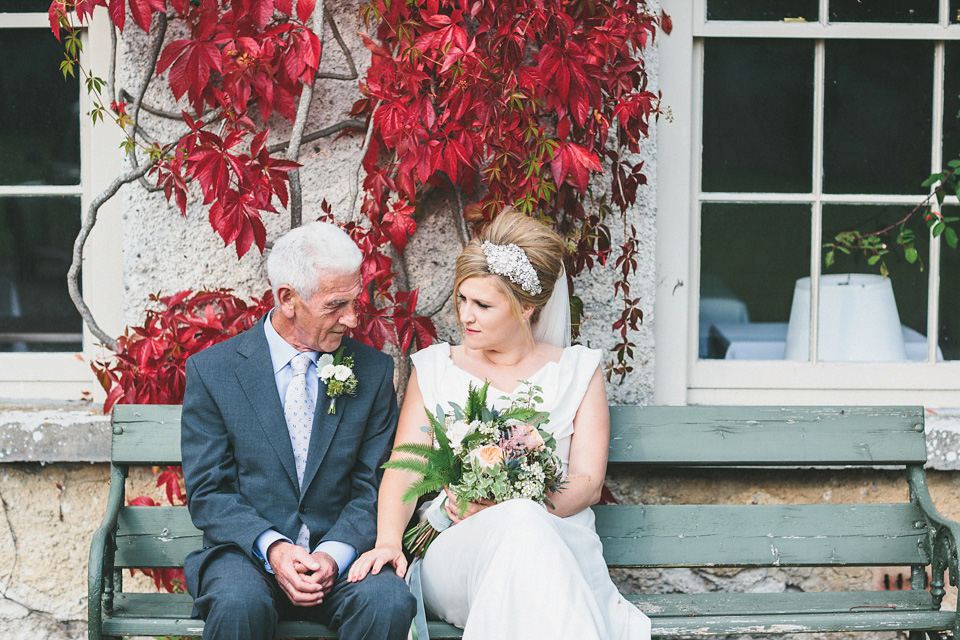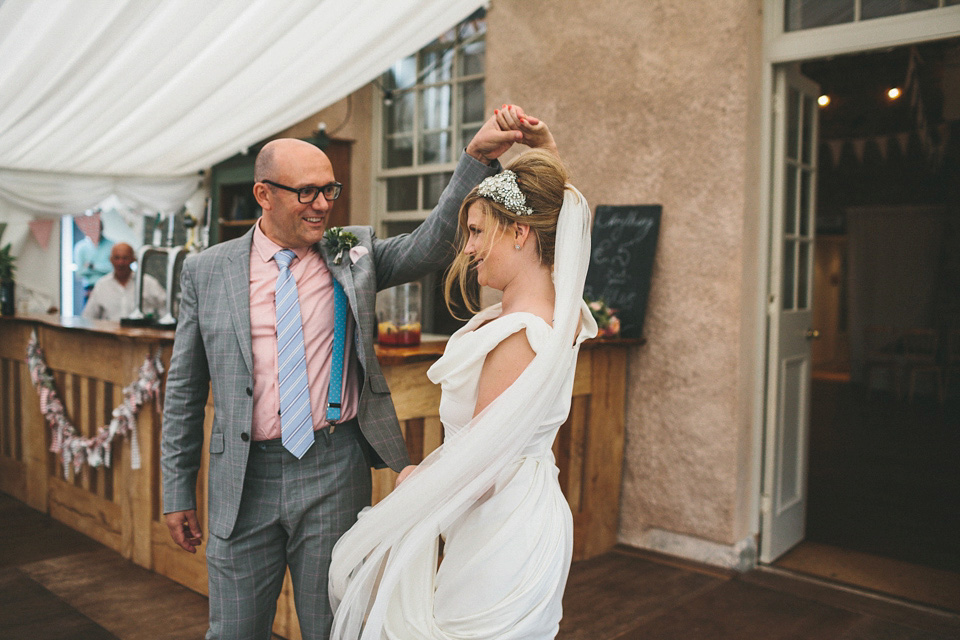 Now, I absolutely love the next detail. The couple had a ton of help from family, friends, neighbours and the wedding venue with the majority of their flowers to create their natural country garden look, just divine…
"I selected Carrie and Best of Buds Florists to do the bouquets and buttonholes using succulents, David Austen roses and thistles.  All the other flowers were done by myself, bridesmaids, mother in law and my friend Meg who grew and tended many of the flowers at her cottage. We ordered from Holland a car boot loads of Astilbe, spray roses, eucalyptus and also my neighbour donated tons of hydrangeas.
We used garden flowers such as Love in the Mist and herbs too. I would have loved to have used local growers but I couldn't find any. Cloughjordan House also gave us flowers from their garden. We did about six milk churns (pulled from a field by my pal Dan!)  and filled with blooms thanks to my mother-in-law, 80 jam jars, a dozen or more pew ends tied on with natural raffia and lots more containers and tins."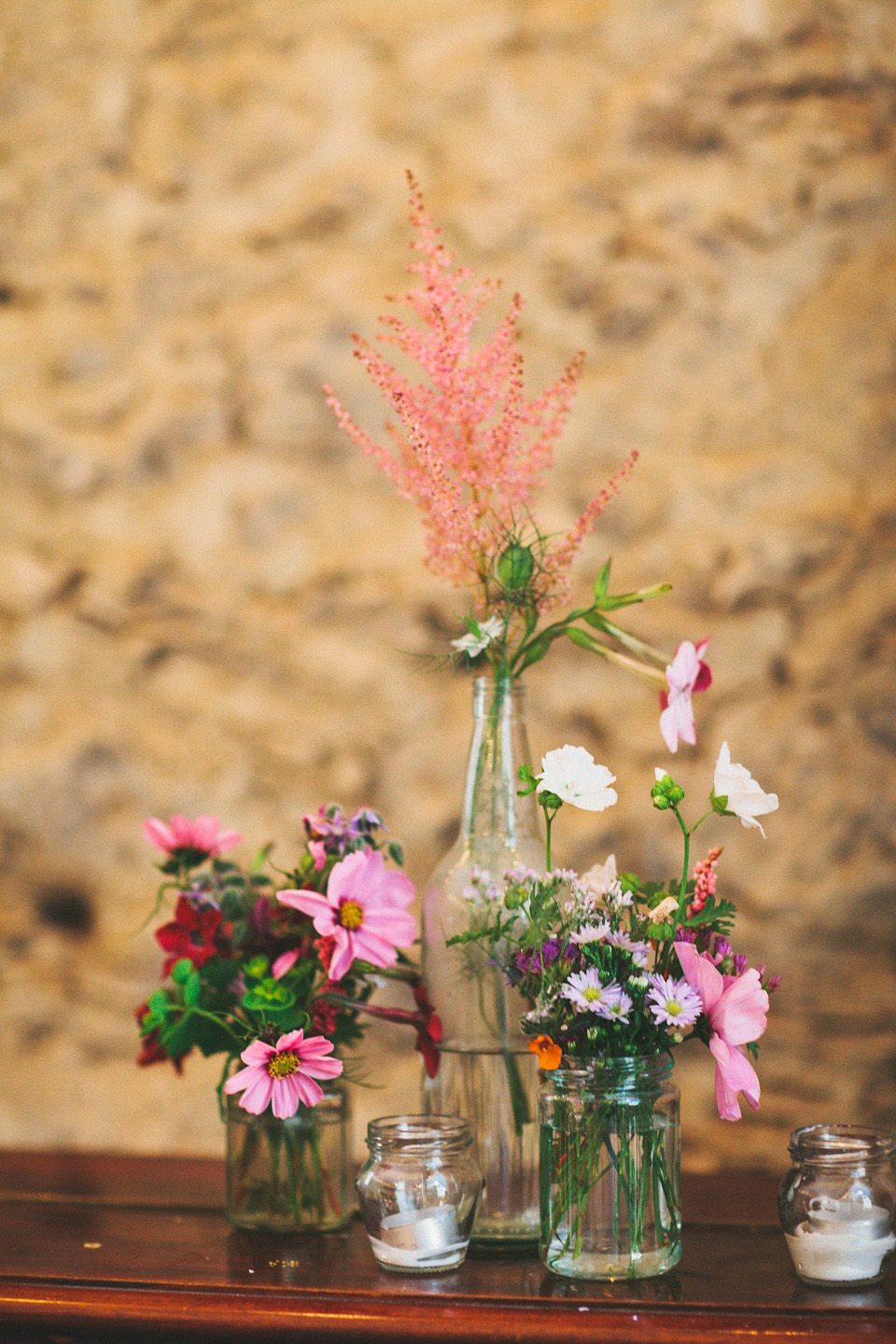 The couple had help from a friend with the stationery design – then Stacey got stuck in and crafted a lot of the décor to give the day a handmade feel.
"My friend David Wrenne, graphic designer and lecturer, designed the invites and order of service. These included a lovely detachable post card which I loved getting through the mail. They were risograph printed using fluoro colours!
I did the seating plan and place cards myself using a dip pen and teal ink." 
"For the favours we made wild flower seed packets which I hand stamped with a liberty print. And painstakingly weighed out seeds for!
I made about 200 meters of bunting using floral and printed cottons in sage greens, floral print and pinks and this as well as lots of tissue paper and tulle poms filled the marquee. This added atmosphere and softness. I really enjoyed making all the bits and pieces and got lots of help, though it took quite a while setting everything up!  Nick's dad made lovely wooden stands for the place names, and I hand wrote them with dip pen and ink. I also made floral table runners and wooden signs with Nick's dad, we had fun painting and hand lettering them."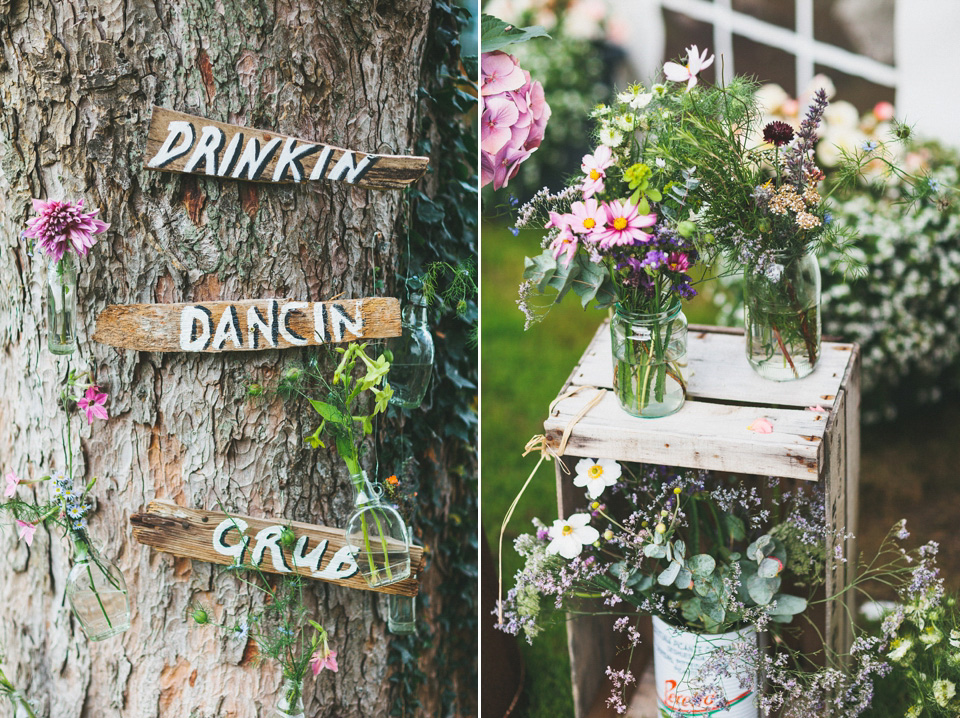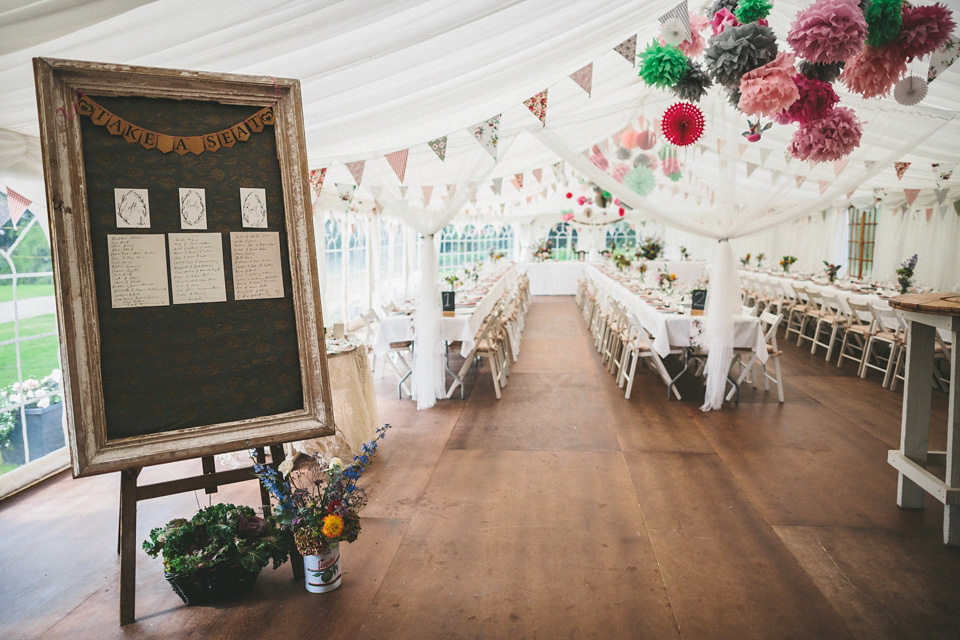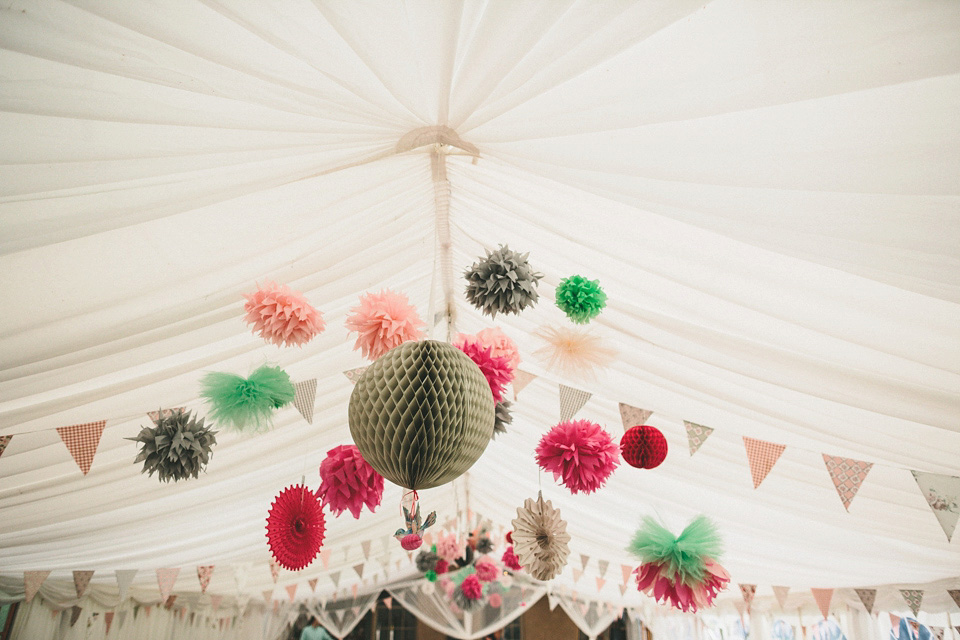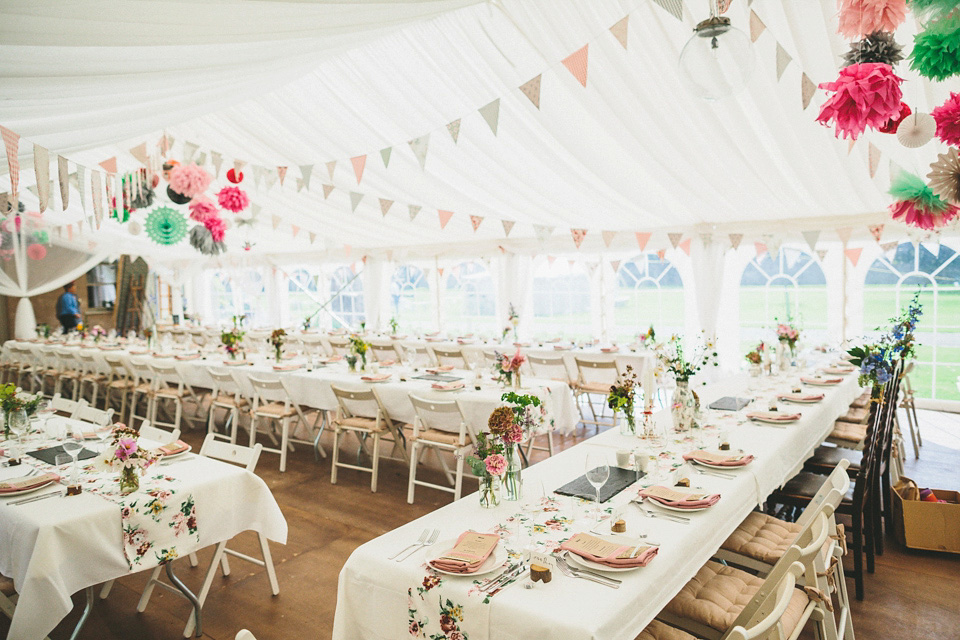 "We opted to have a cheese cake with a selection of
Irish farmhouse cheeses supplied by Sheridan's Cheese Mongers in Galway. I made mice 'bride and groom' for the toppers. We served this with glasses of Port late into the evening."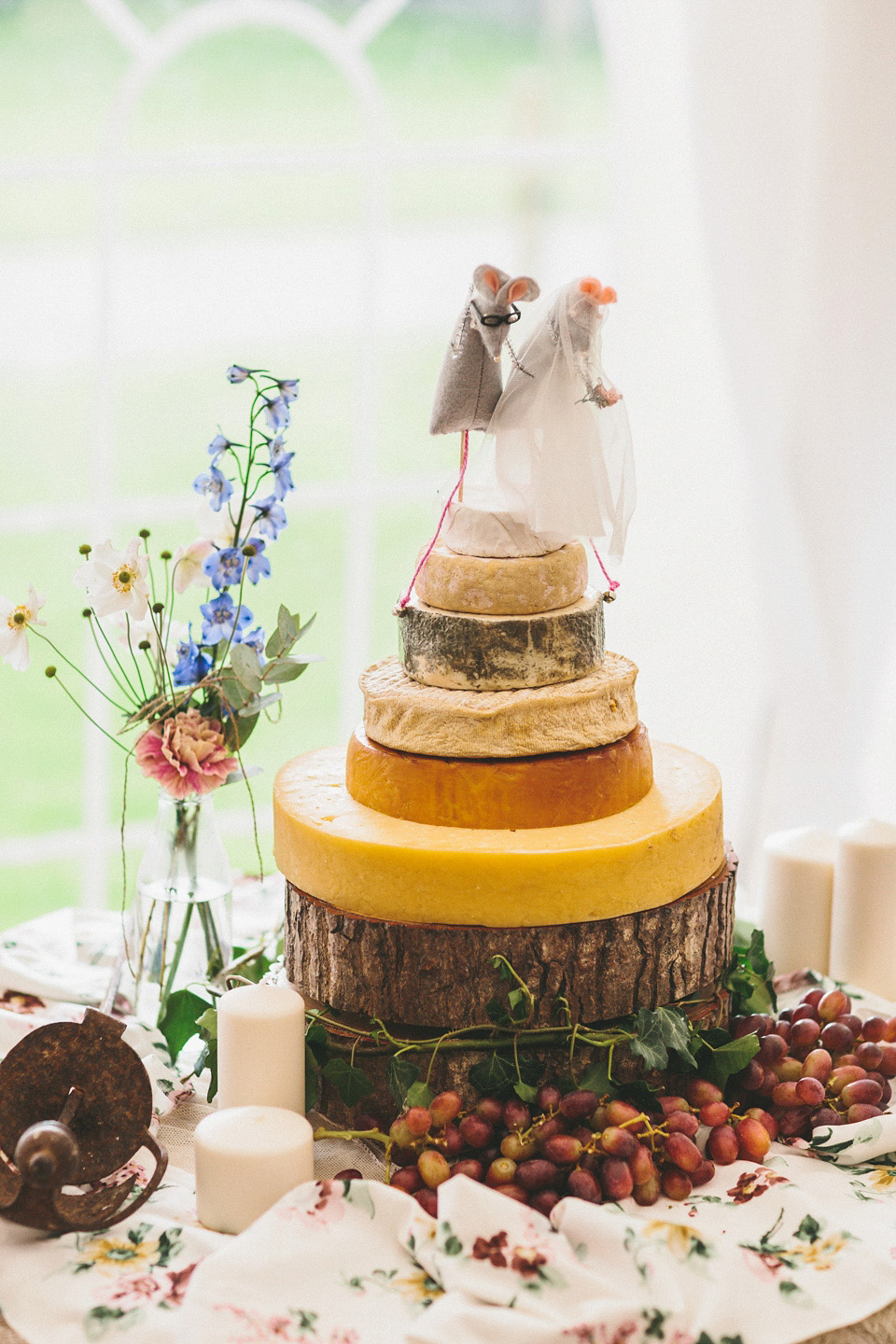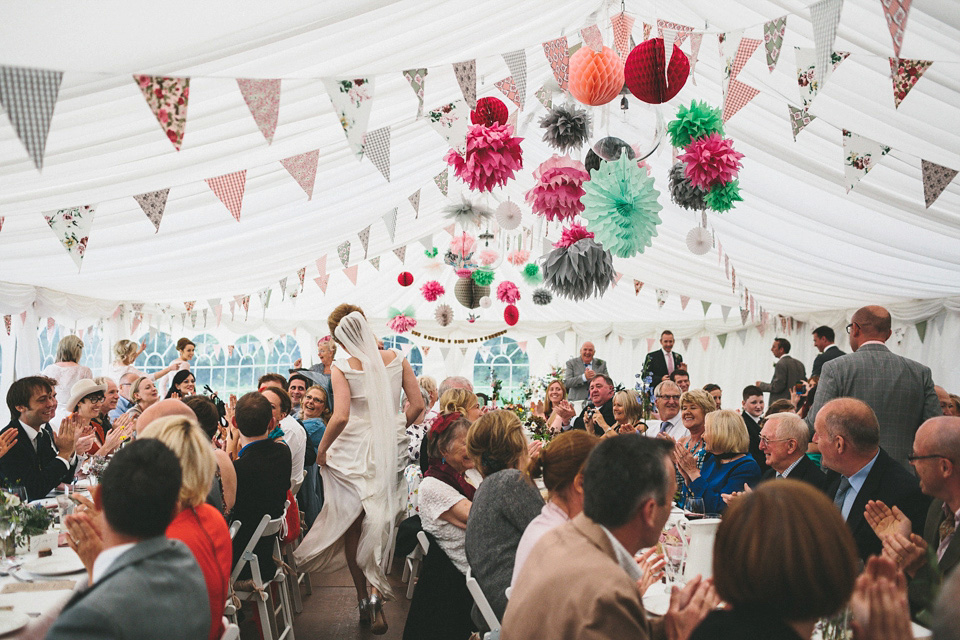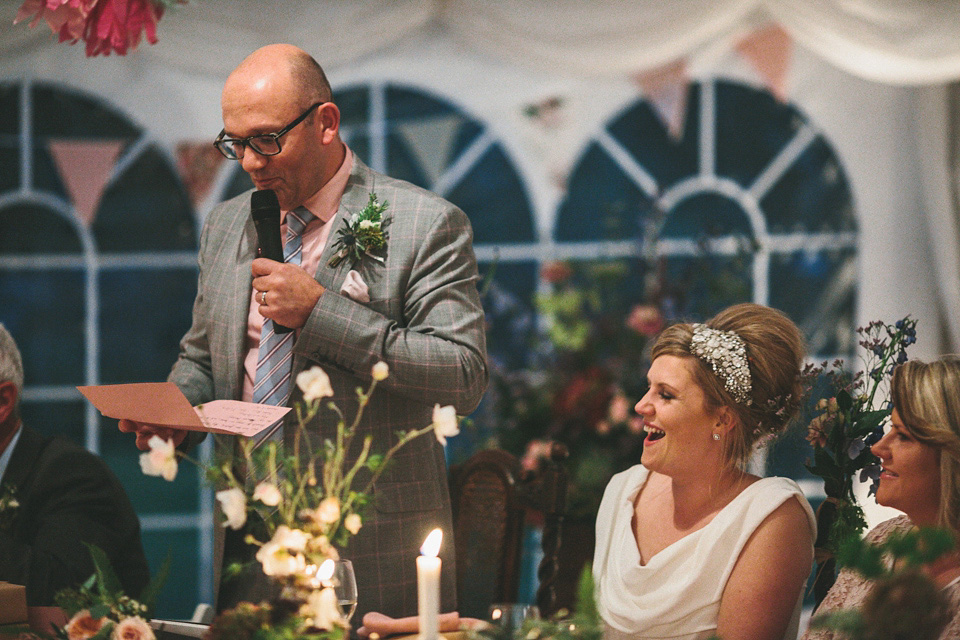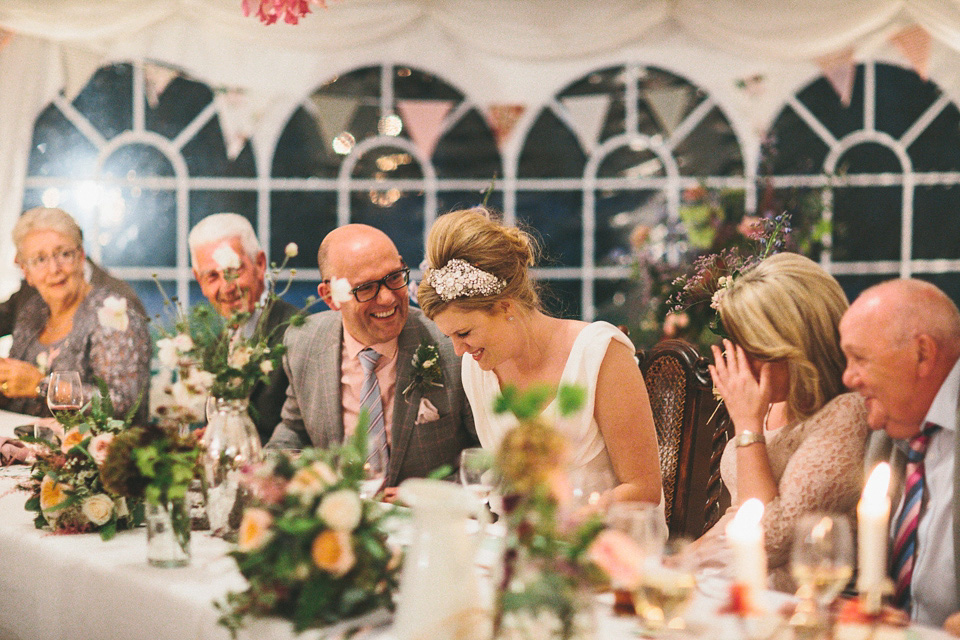 "For our first dance song we picked 'I Wanna Stay With You' by Gallagher and Lyle. We actually love the Lemonjelly version but didn't think we could pull off a dance to that one, and Stacey heard the original driving to work one day and thought it would really work."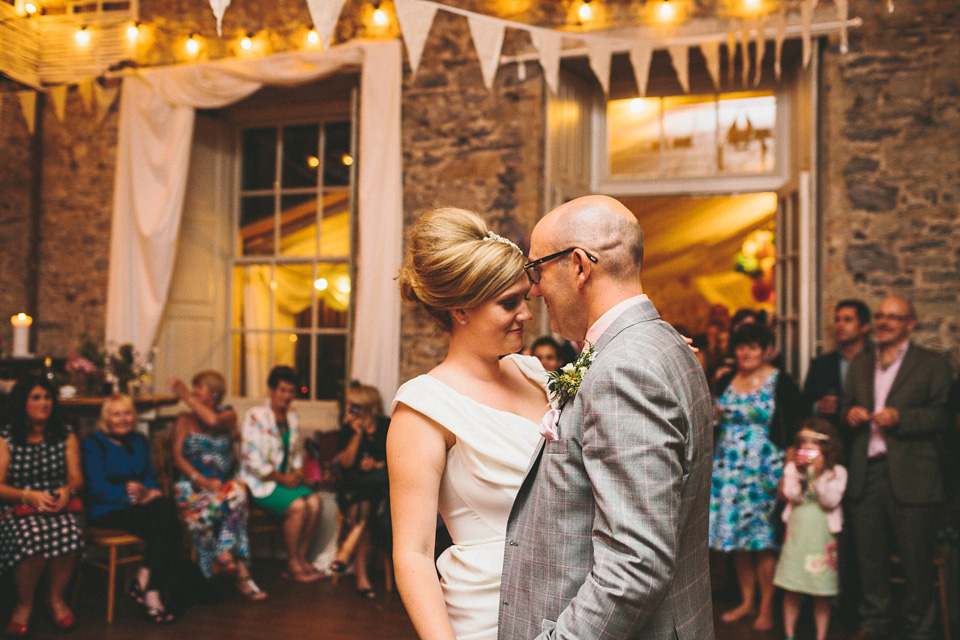 "The Papa Zitas were our eleven-piece band with a brass section, they blew us away from the conga line around the marquee following a trombone player to the musicians learning our first dance song just for us. They were amazing!
We also had a trio of traditional Irish musicians to play while we had drinks post ceremony on the lawn."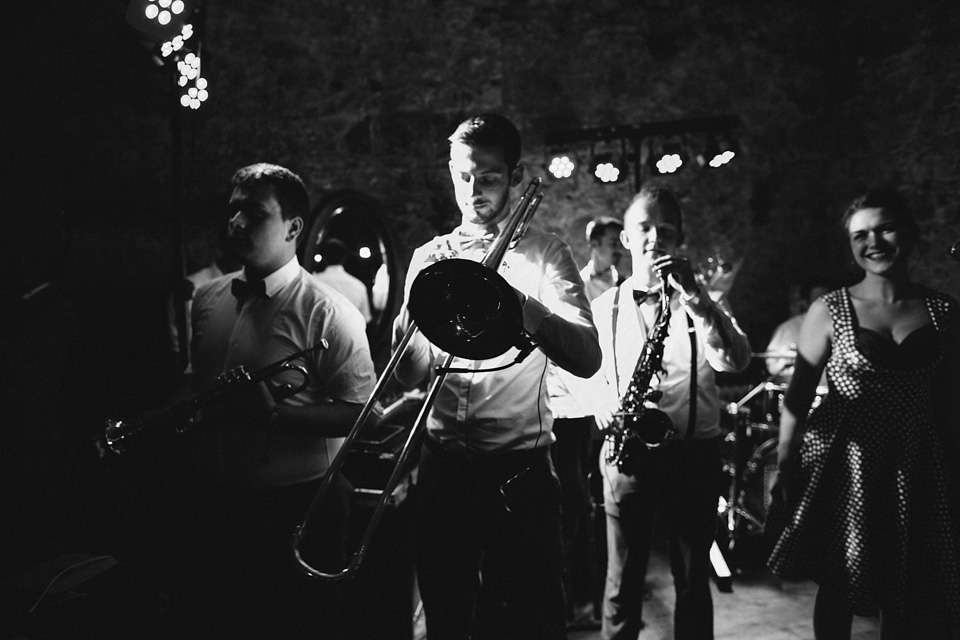 Words of Wedded Wisdom
"Don't forget what its really all about, no one will notice or care that you hand  stamped every seed packets so only do it if it makes YOU happy, not for any other reason! Spend a lot of time looking at the music, poetry and readings as these are just for you and your husband to be. They should be really meaningful to you. We had some lovely books we had purchased over the years to flick through and it was lovely to go back to this when the house was covered in fabric and string!
Nick left me a note the night before which was so lovely, weddings are about  making memories too and I love that I can show that note to our kids one day. I bought him a watch and had his best man give it to him in the morning, it was pretty funny as I was very late. The next day we were booked into a lush hotel and spent the day reading cards and the guest book while sipping champagne and eating room service before heading out for a few drinks with those who were still in town. I would highly recommend budgeting for this as it was just perfect.
I visited Love my Dress A LOT. It feels the most honest and authentic than other wedding blogs, in particular I loved the more unusual features, brides in dresses from ASOS and elopements etc.
The only thing I would have done differently was not to have used tiny blue cornflower petals as confetti! They stuck to my hair and were not coming out! Small detail…."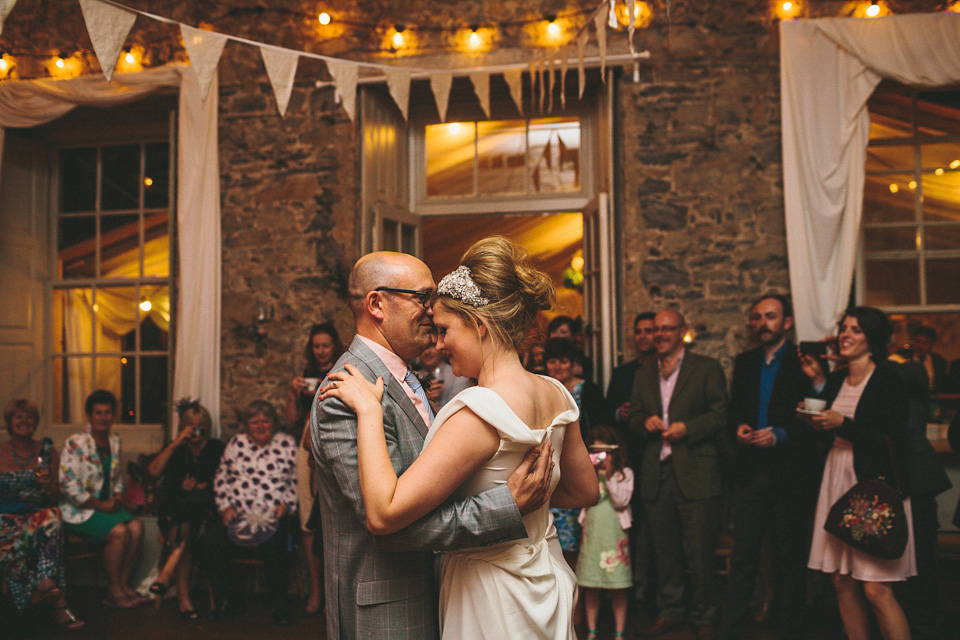 We do love to share the fabulous ideas from our real couples on the blog, so thank you lovely Stacey and Nick for these comments. I've loved sharing your special day – all the little details and the careful planning and thought you put into the ceremony is just beautiful. And a big thank you to The Campbells for such pretty pictures.
If you've been inspired by the beautiful bride's stunning silky dress, click here for more Vivienne Westwood inspo of styles we've previously featured on Love My Dress.
Have a chillaxing weekend lovely readers!
Love Jo –xxx-
Photographer –The Campbells
Venue + Catering – Cloughjordan House, Cloughjordan, Tipperary, Ireland
Dress – Vivienne Westwood, London
Shoes – 'Ginger' by Rachel Simpson
Veil – Handmade by Stacey and a friend
Hair Accessory – Jenny Packham's 'Ceadaux', hired from To Have and To Hire
Jewellery – Earrings via House of Fraser
Scent/Perfume –'Oud and Bergamot' by Jo Malone
Bridesmaid's Dresses –Ghost
Groom–Paul Smith + Gieves and Hawkes
Flower girls– Monsoon dresses
Page boys– shirts by Kin from John Lewis, Next chinos, Gap sneakers, braces from Ebay and bow ties made by Stacey
Florist – Best of Buds Florist and a variety of homegrown and handpicked flowers from family, friends and the venue
Rings – Wedding Rings Direct
Cake – Sheridan's Cheese Mongers
Stationery– Designed by friend David Wrenne
Makeup Artist – MAC at Brown Thomas
Hair Artist – Fox and Bow
Entertainment – Papa Zitas