Morning everyone! What you been up to this weekend? Just a little reminder if you didn't a chance to spoil yourselves with some Love My Dress reading over Saturday and Sunday that you we blogged about the natural cook Tom Hunt and his take on waste-free weddings – as well as interviewed bridal fashion designer Charlotte Balbier.
Photography by  Lee Garland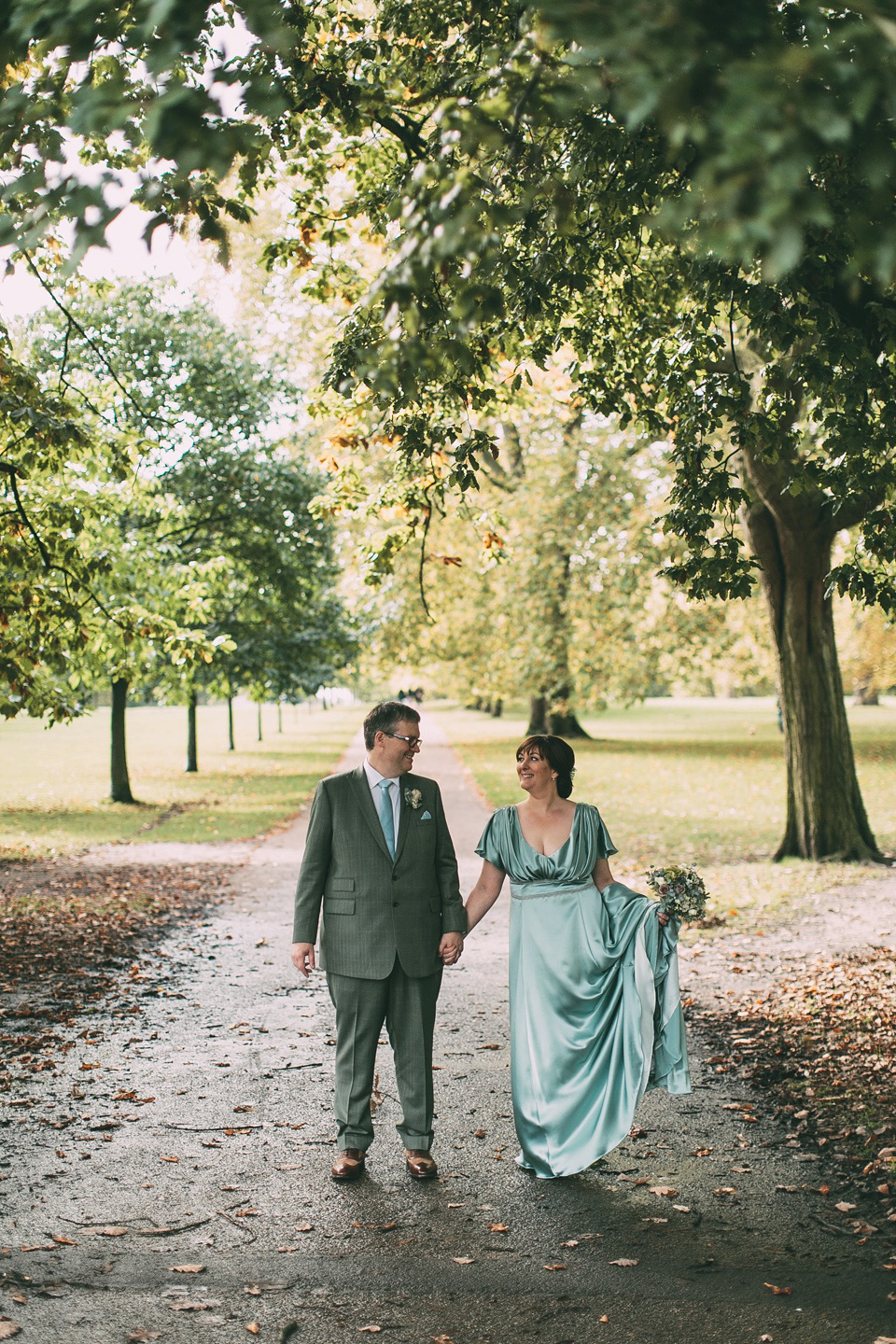 Doesn't the bride look spectacular in that pale green silky gown by The State of Grace?  Fiona, a Brand Director in the Wine and Spirits industry, married Matt, who runs a digital consulting business on Friday 17th October 2014 – which also happened to be Fiona's 40th Birthday – what a very special double celebration!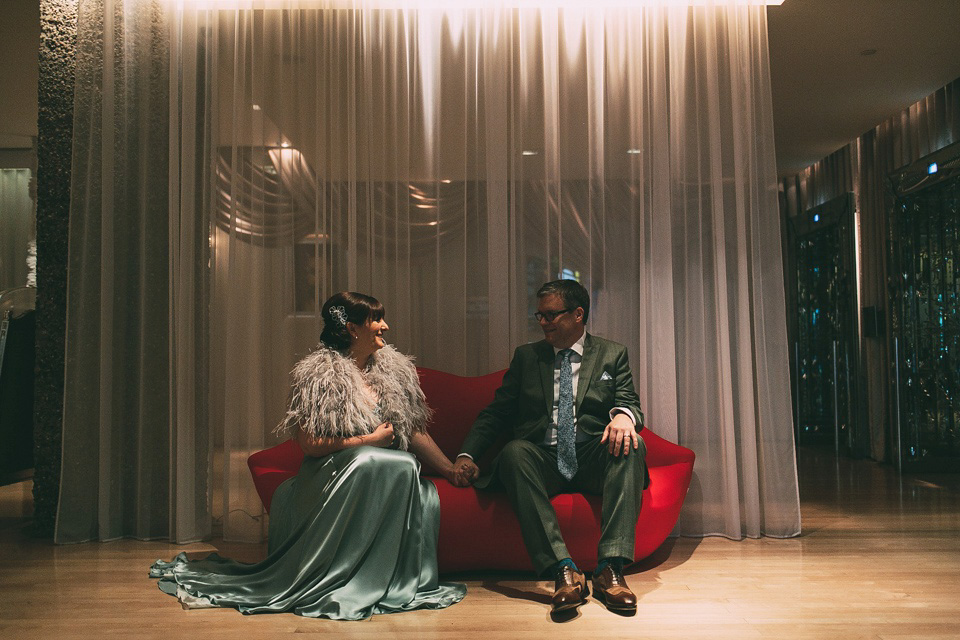 These beautiful wedding photographs were submitted by photographer Lee Garland, who Fiona says she discovered during one of her many sessions reading Love My Dress over her breakfast.
Colourful macarons by The Meringue Girls
The couple's two day wedding celebrations commenced on Friday with a formal wedding ceremony held at Mayfair Library in Westminster, followed by a wedding lunch at a private dining room at Hush, Mayfair, chosen for it\s natural light and ability to accommodate a table large enough to host key family and friends.
A day later, the couple went on to party at The Tokenhouse on Moorgate.
"We loved the Tokenhouse as soon as we saw it and hired the entire venue for our party on the Sat night. The staff were amazing and allowed us to do exactly what we wanted."
"My friend from work designed a special icon which ran through all of our stationary – it included a heart (for love), a star (our lucky star) and an anchor (we both love the sea)."
"My bouquet was created by Brian Kirkby. Brian was recommended to us by Lucia as I had shown her my ideas and she thought he would be perfect; he was. The flowers were stunning and just what I had hoped for."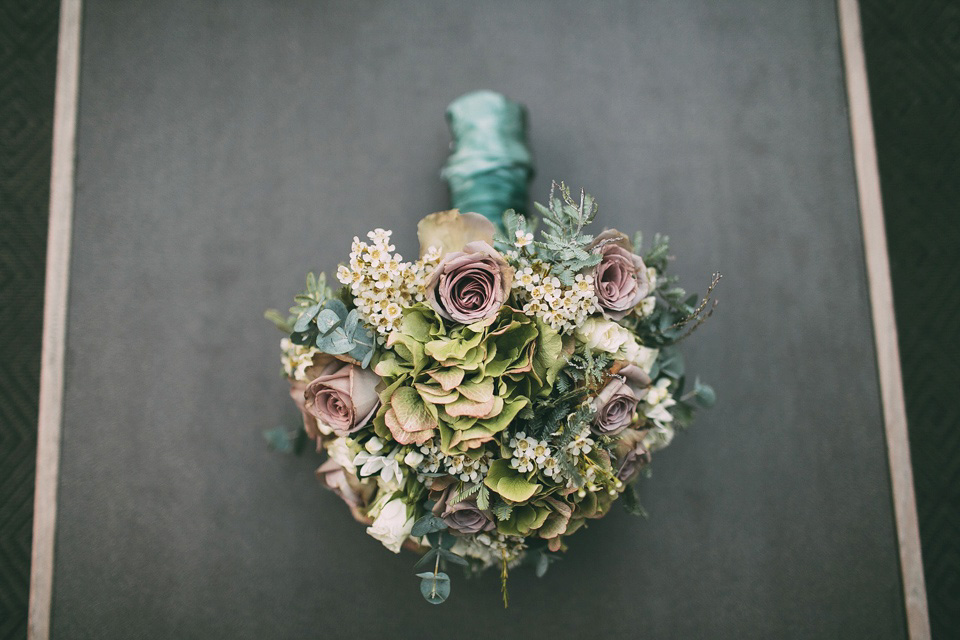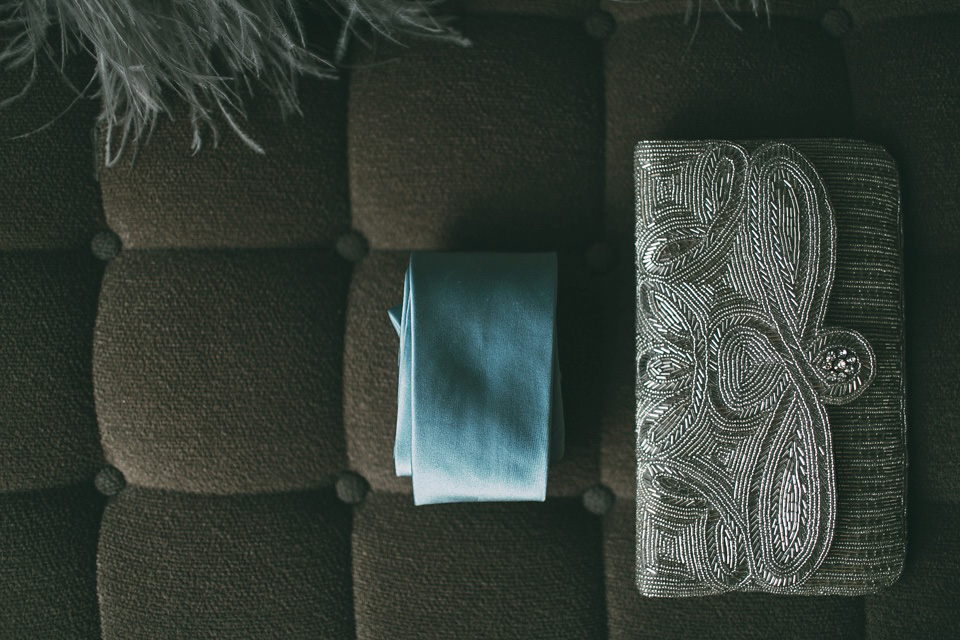 "As soon as we were engaged, we both knew instinctively that we wanted a London wedding. We had both lived in London for over 15 years and first met here during the summer of 2012. Having made the big decision to relocate to Edinburgh shortly after the wedding we wanted to create a fitting celebration of the city we both loved. We decided to split the celebrations over two days with an intimate ceremony for immediate family and close friends on Friday and a big party on Saturday night. We also knew by doing it this way it would be relaxed and fun for our guests.
We stayed at The Sanderson Hotel for the duration of the celebrations and were lucky enough to be upgraded to an amazing top floor suite. It was the perfect base for the weekend and combined a central location, iconic design and fantastic service."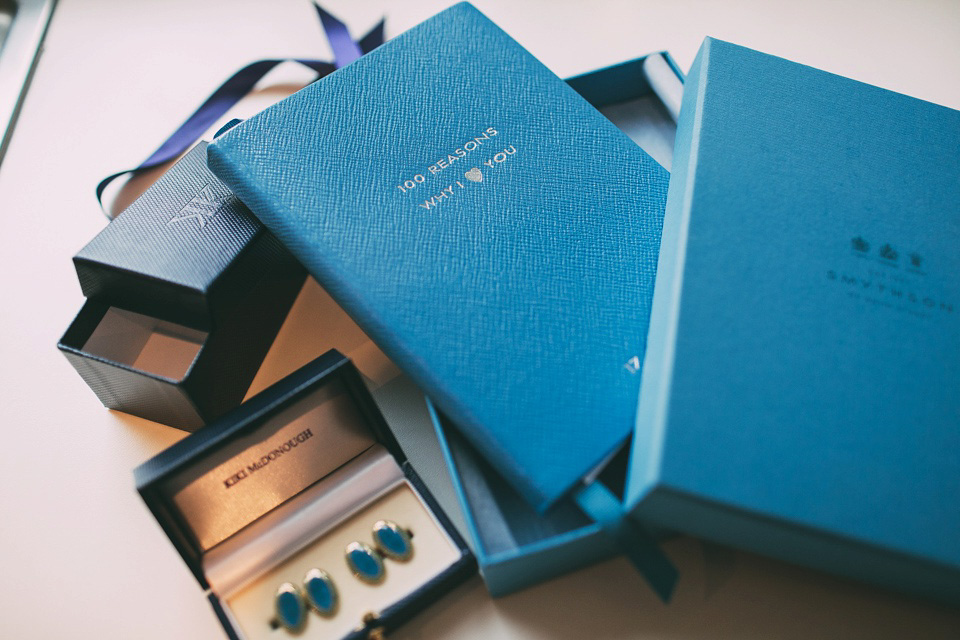 Fiona's divine pale green gown was made by Lucia and Claire at The State of Grace.
"I only went to one dress shop. The State of Grace had a showroom that was conveniently located next to the café where we often had brunch on a Sunday. I had always been intrigued by the wonderful dresses in the window and after speaking to Lucia I knew I had found the perfect person to create my wedding dress – it was fate.
As Lucia and Claire had made my perfect dress I really wanted to be able to wear it on both days but to be safe I did buy a back up dress from Tadashi Shoji in case of any red wine accidents on the Friday!"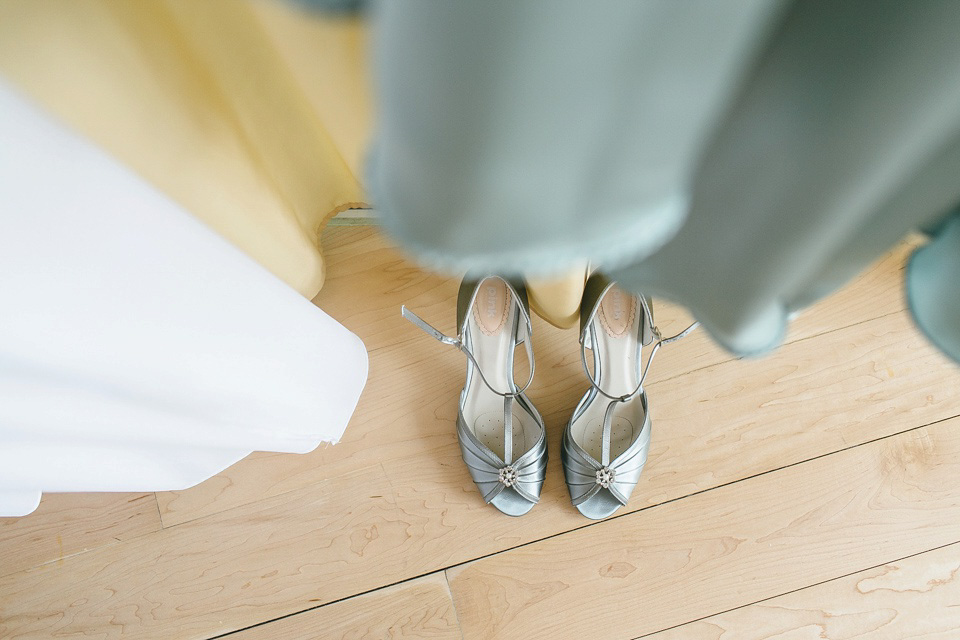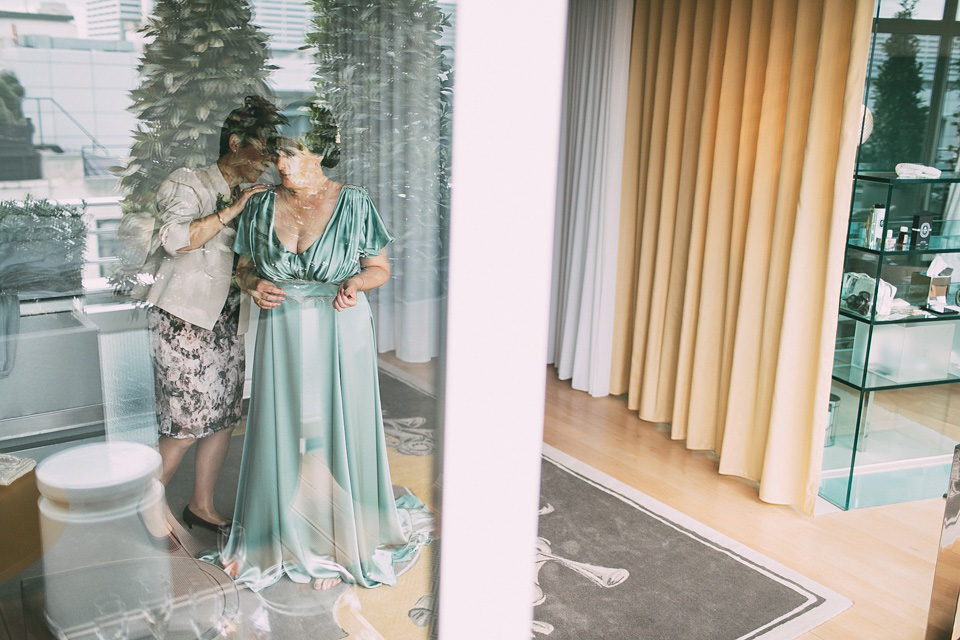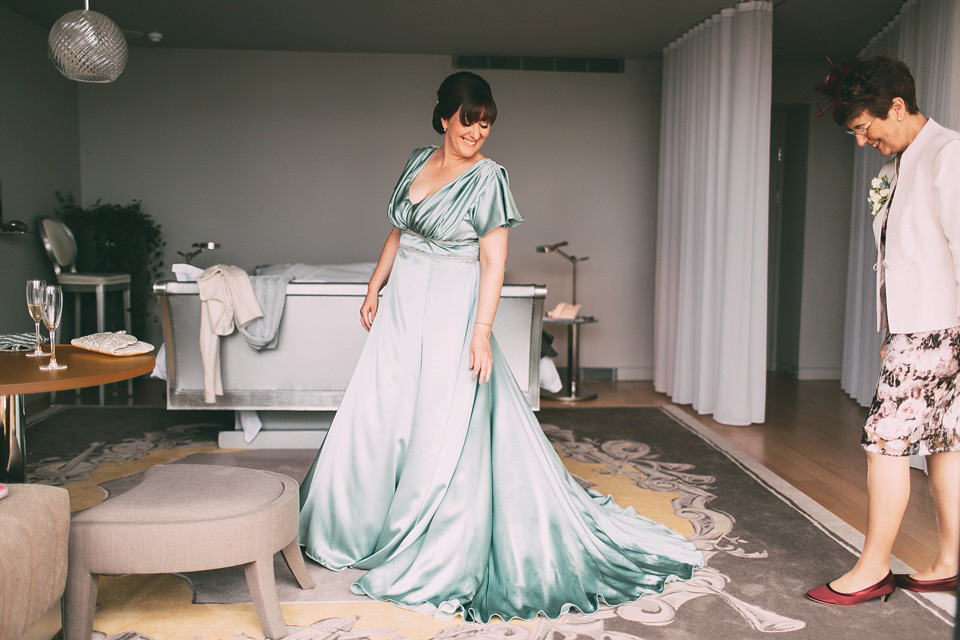 "My family is Scottish and I wanted them to wear tartan. Instead of kilts we chose very cool trews, braces and bow ties. The trousers and bow ties made to order by The Scotland Shop who have hundreds of different tartans to choose from!"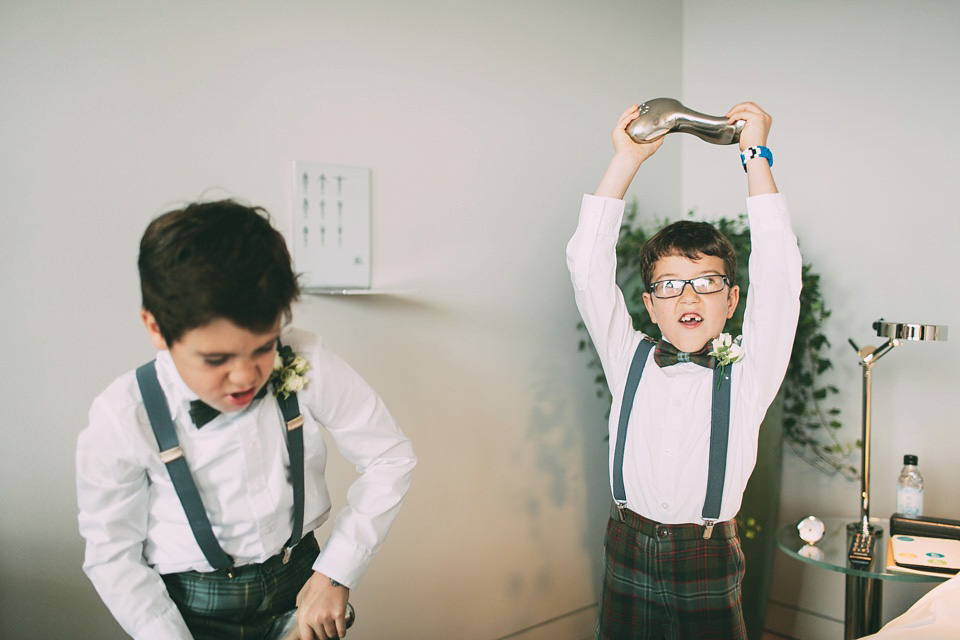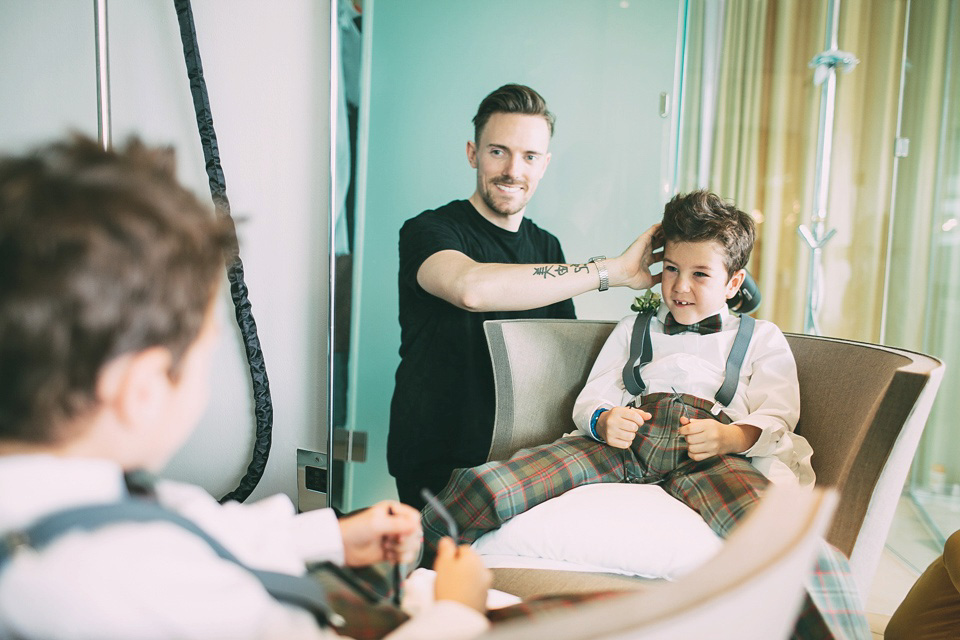 "My sister was my bridesmaid and I wanted her to have something she could wear again. She chose a Sylvia dress by Ghost London dress was dyed to order in 'silver lake'."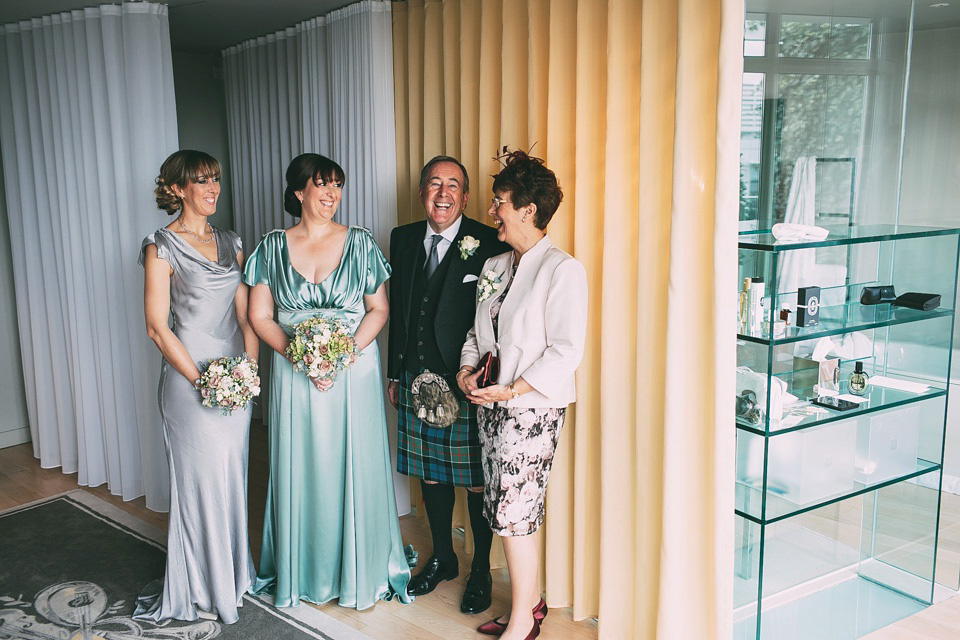 "Our photographer was Lee Garland.  As soon as we met Lee we knew he would be the perfect photographer for us. We loved the fact that he didn't just do weddings and his portfolio is filled with brilliant editorial work that made him stand out from the sea of other wedding photographers out there. On top of that, he is one of the nicest blokes you will ever meet and his calm and creative influence will be remembered for years to come."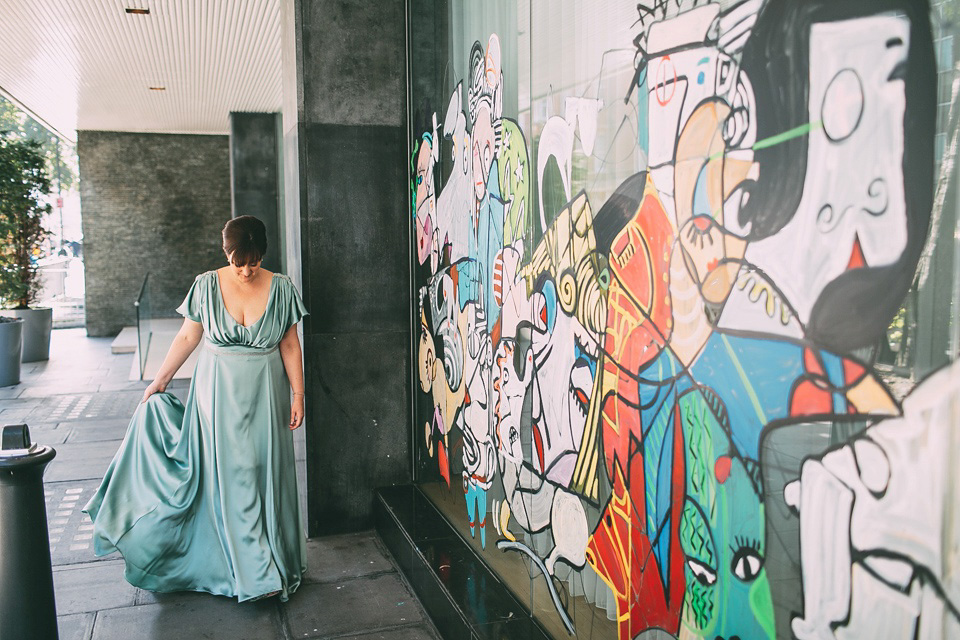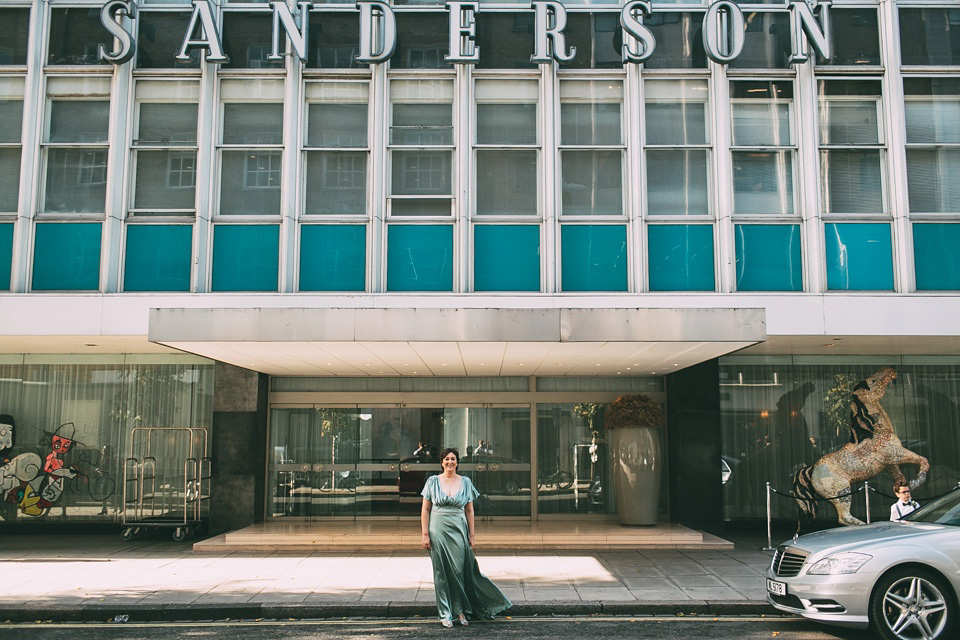 "Graham of Butler & Moss had been making Matt's suits for six years and was the obvious choice to make the wedding suit. He outdid himself and we loved it!"
"Matt and I met on-line in the summer of 2012 and got engaged in December 2013. By huge coincidence, many of our friends decided to tie the knot in 2014 so we decided to wait until the Autumn and get married in October on my 40th birthday. We didn't really have a theme and found that it came together as we chose each of the elements – I think it worked!"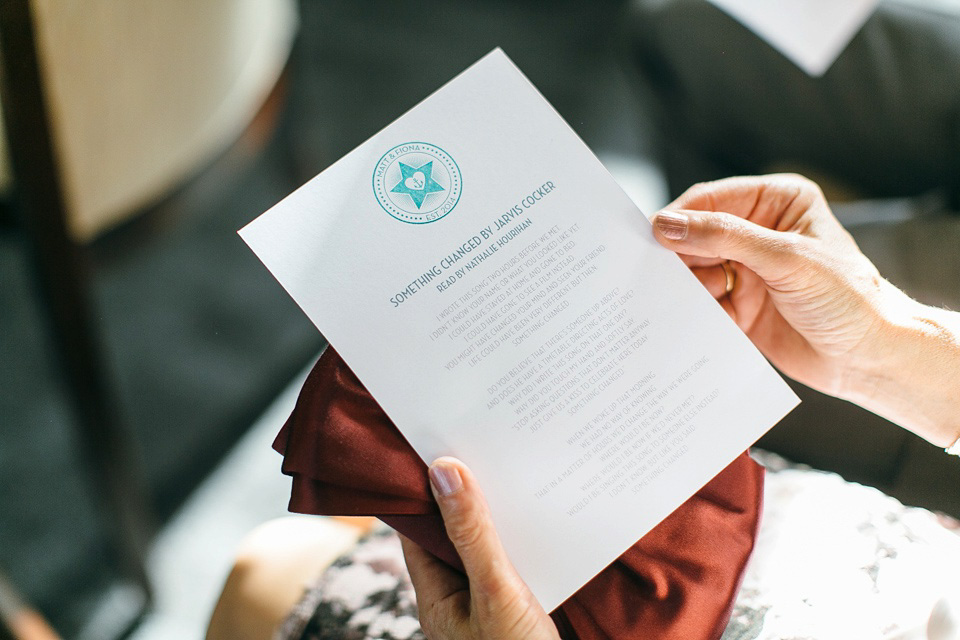 "My Dad walked me down the aisle.  For our ceremony, we both wrote our own vows, which were incredibly emotional. They really reflected our personalities and how well we knew each other.  We genuinely loved the whole two days but both agree that our vows were very special."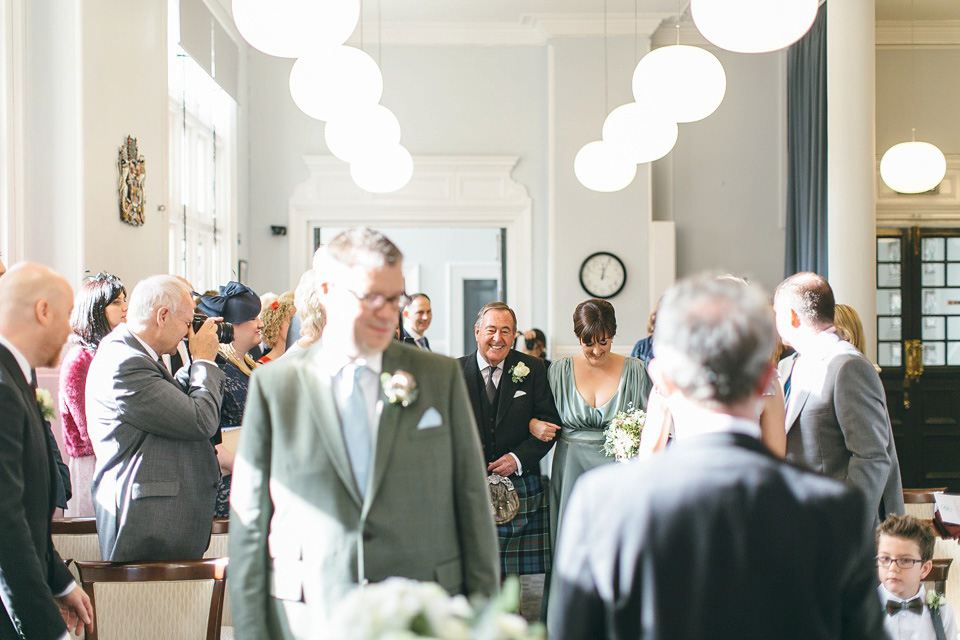 "We wanted to have one classic reading which was 'Love's Philosophy' written by Matt's favourite poet Percy Bysshe Shelley. For the second reading we chose a more contemporary option, the lyrics to Something Changed by Jarvis Cocker."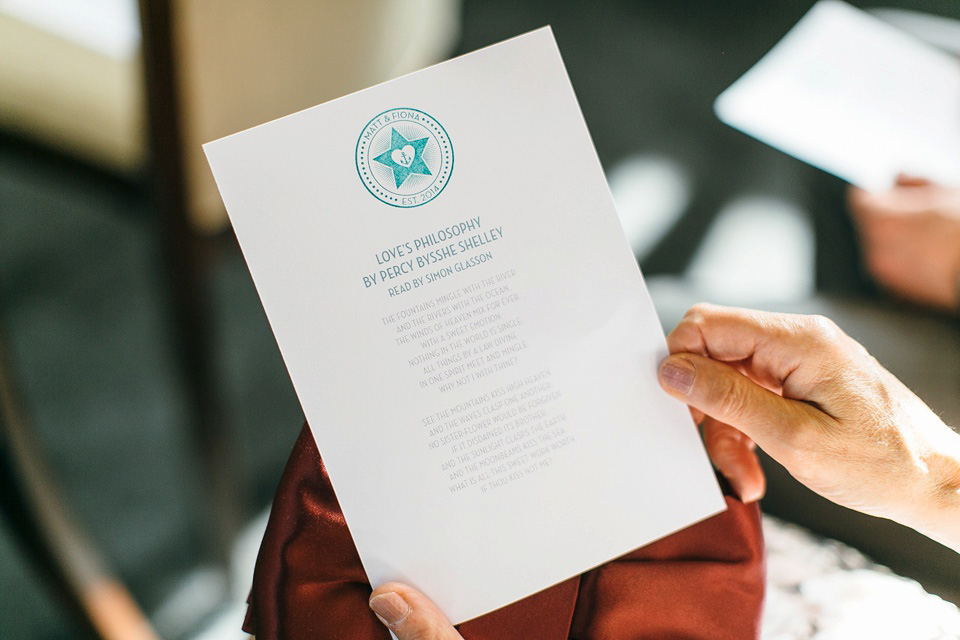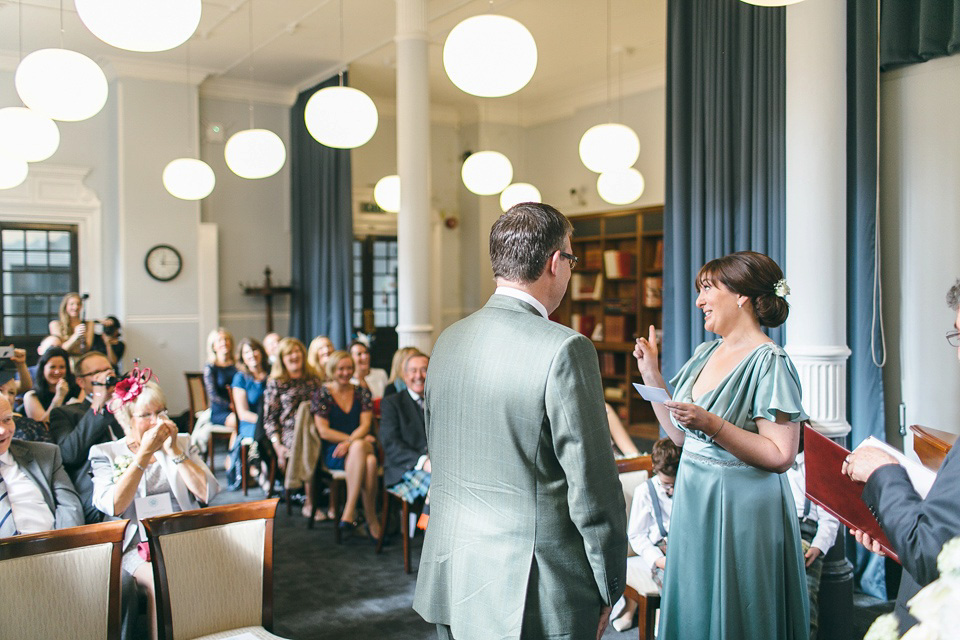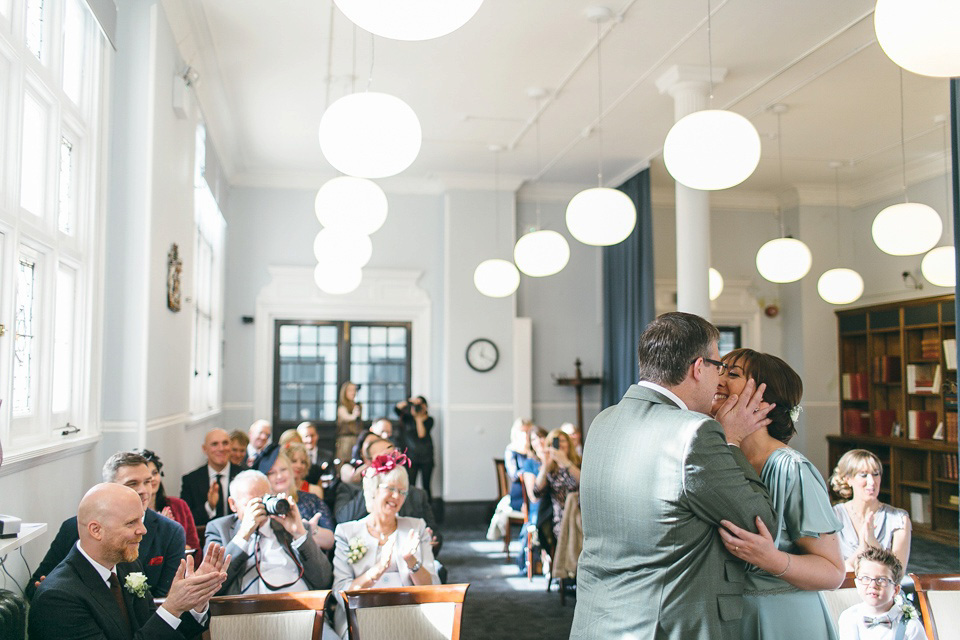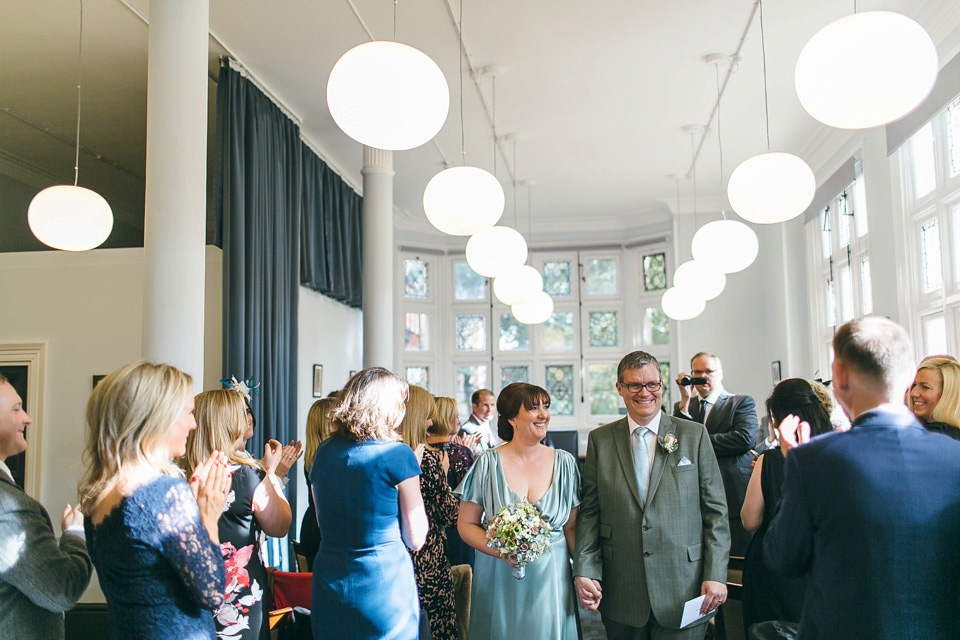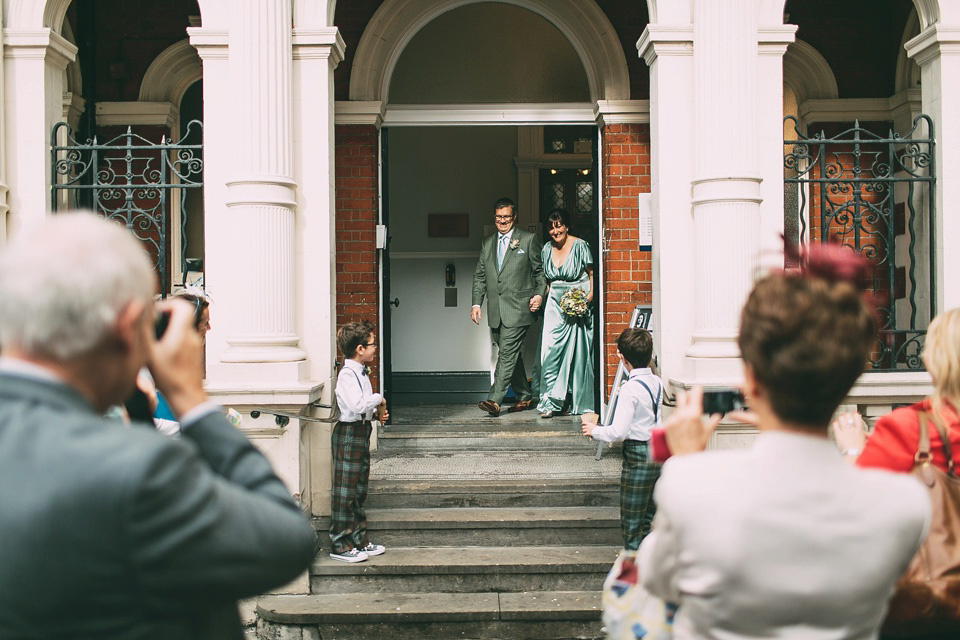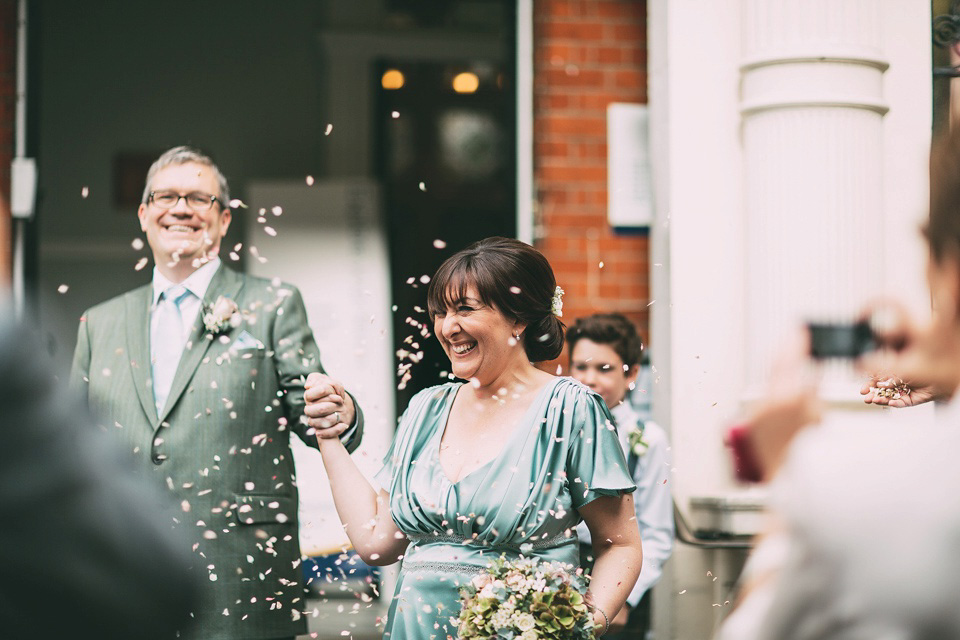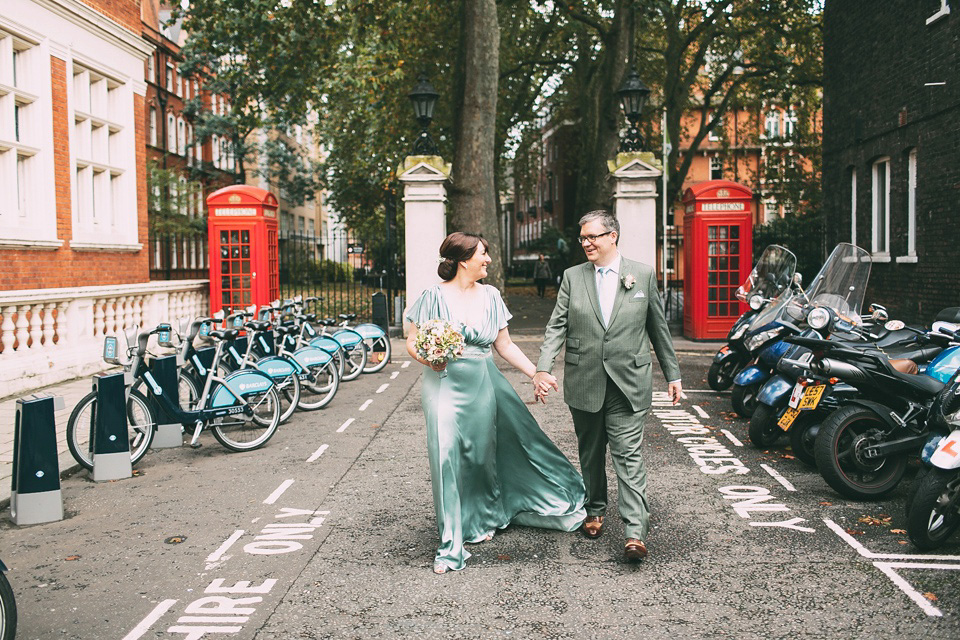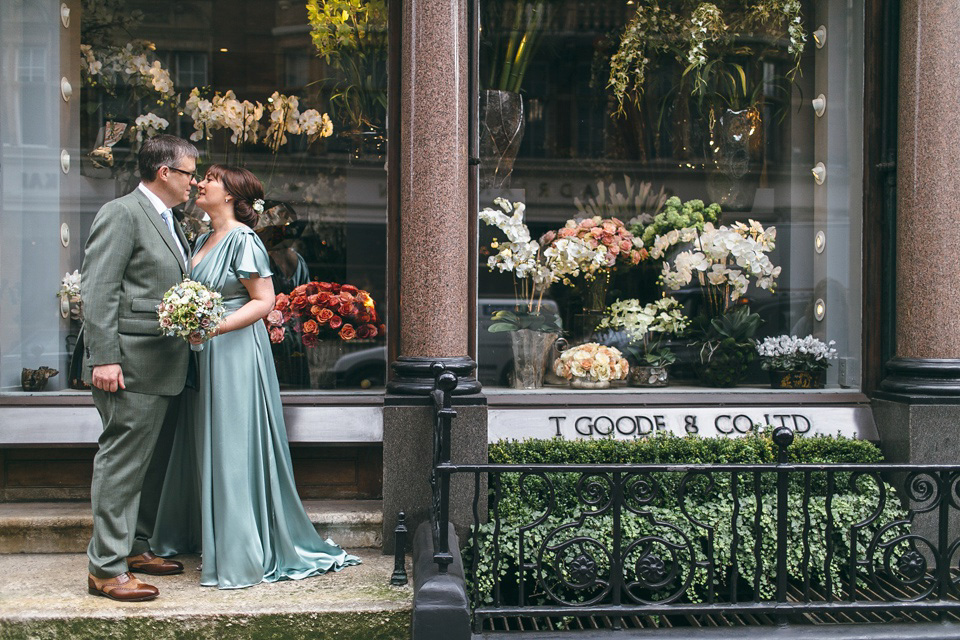 "I had a couple of different make up trials and none of them felt right until I met the wonderful Ausra who is one of the team at Kristina Gasperas. She made me feel amazing but importantly still look like me!"
"Marc Trinder at Charles Worthington has been my hairdresser for years and it wouldn't have felt right to have anyone else do my hair. He had actually cut my hair just before my first date with Matt so was a witness to our whole story! Both Marc and Ausra did my hair and make up on Friday and Saturday – I was very lucky to be pampered twice!"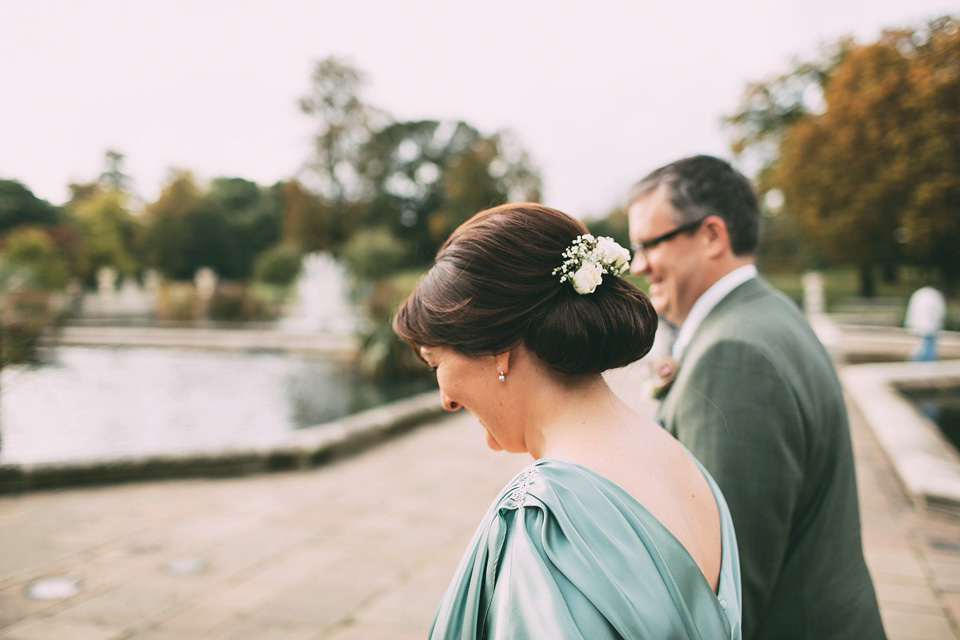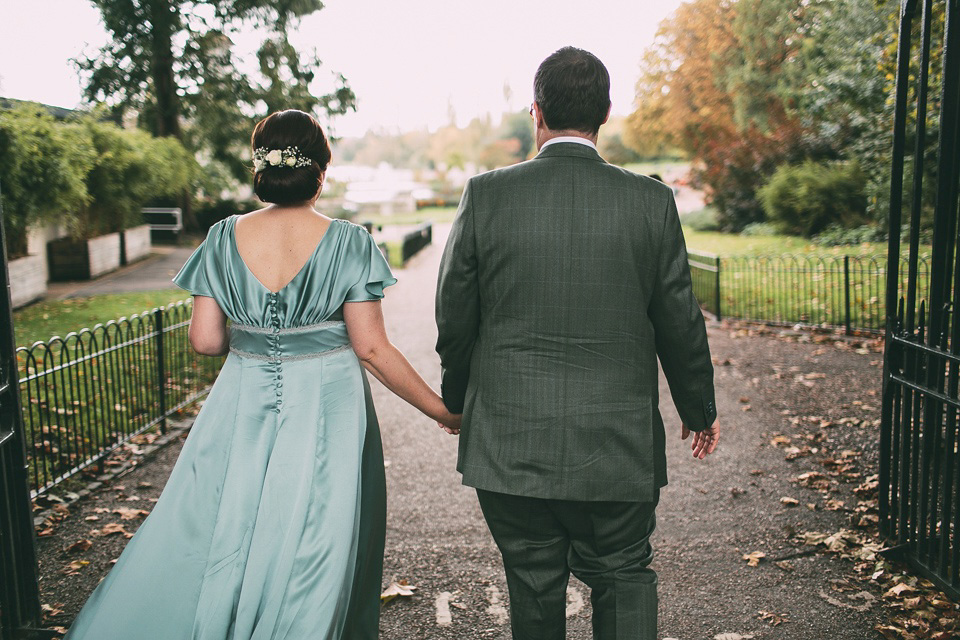 The Bessie headpiece by Jo Barnes Vintage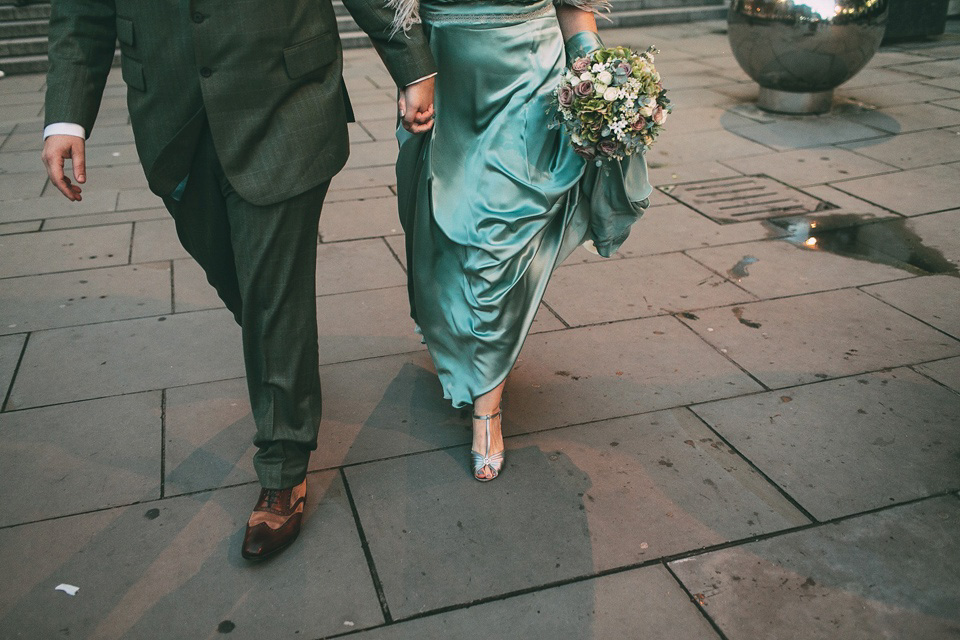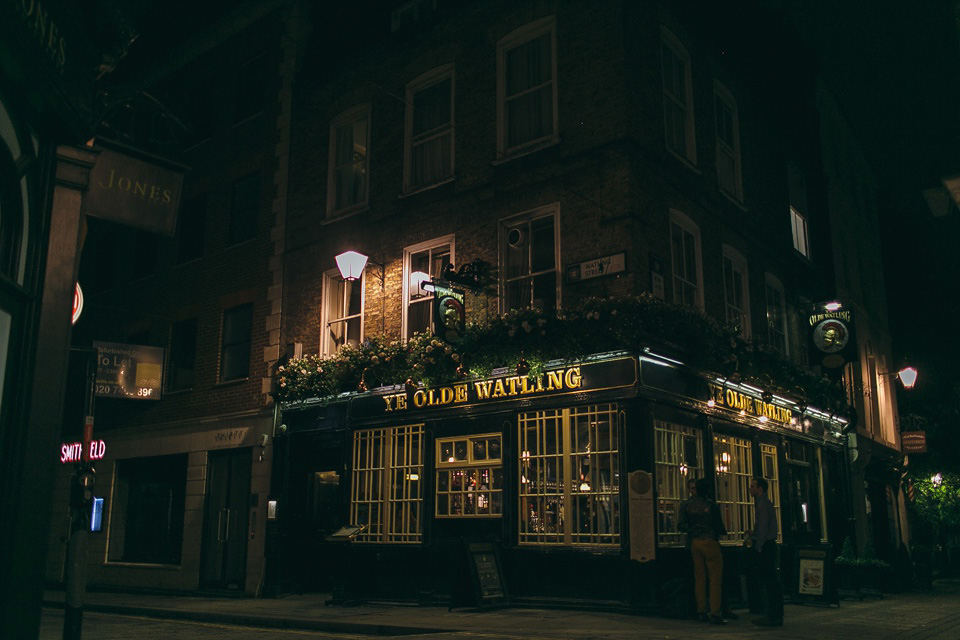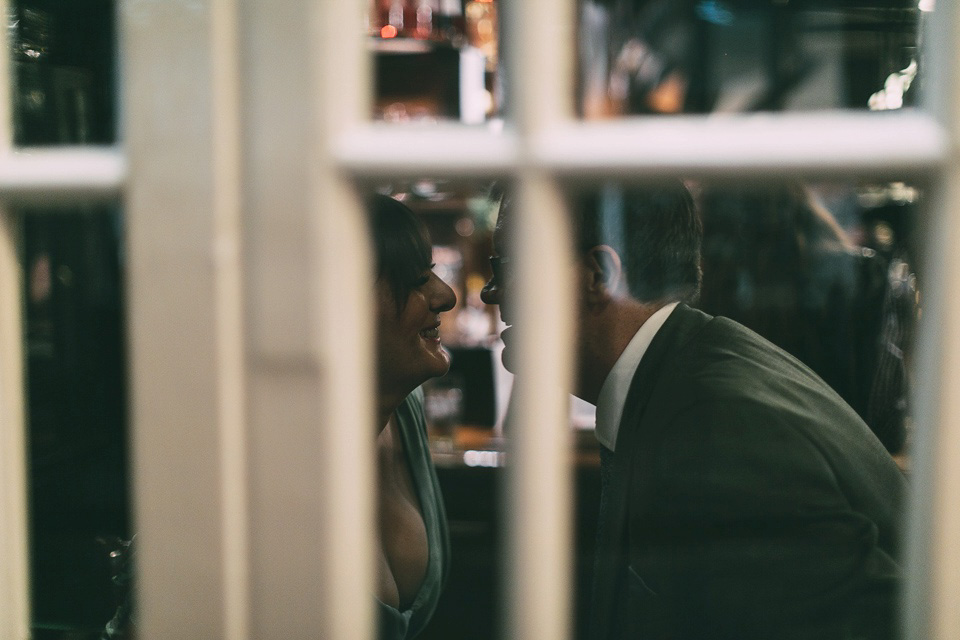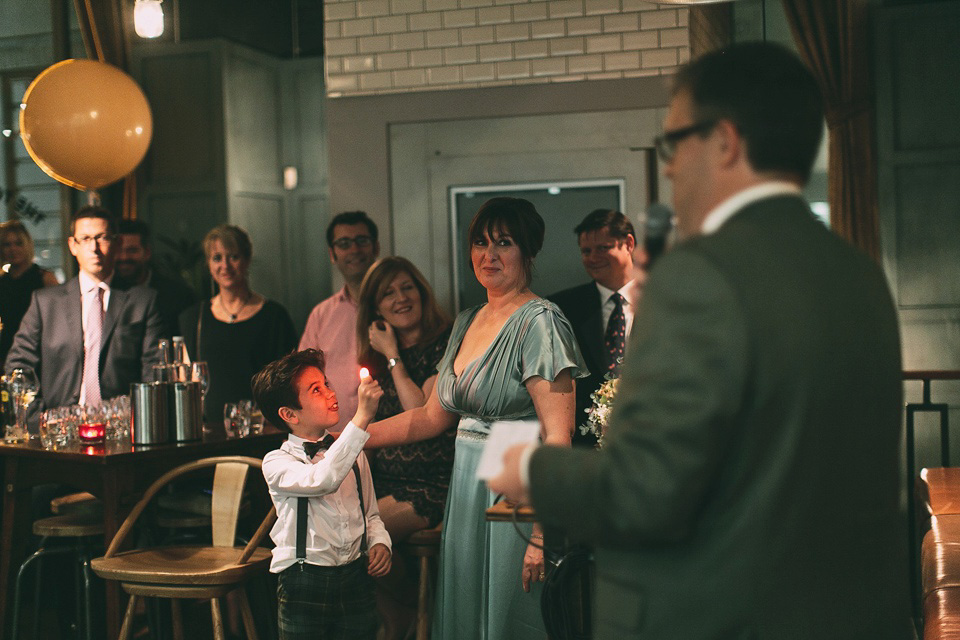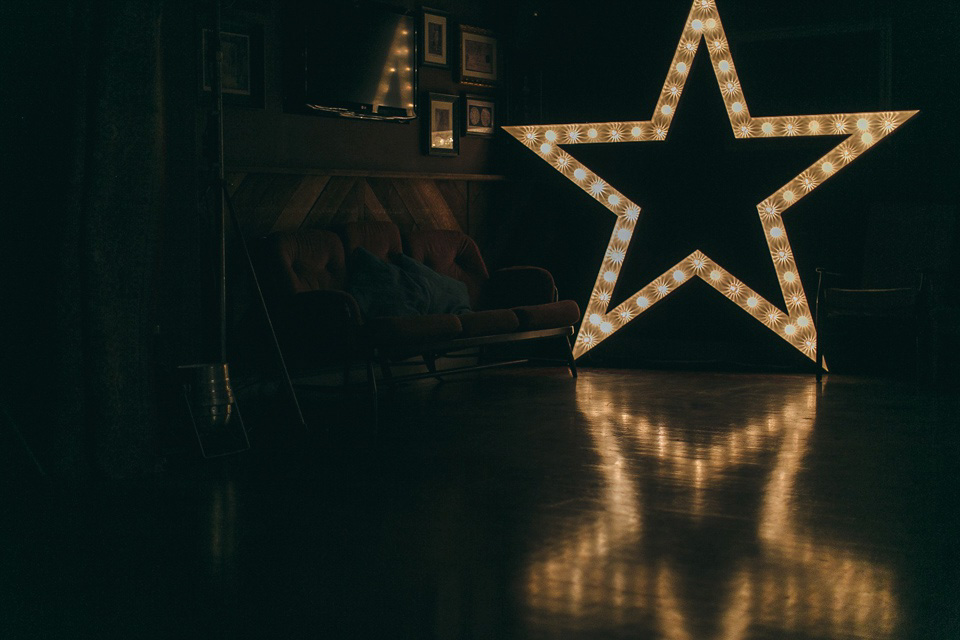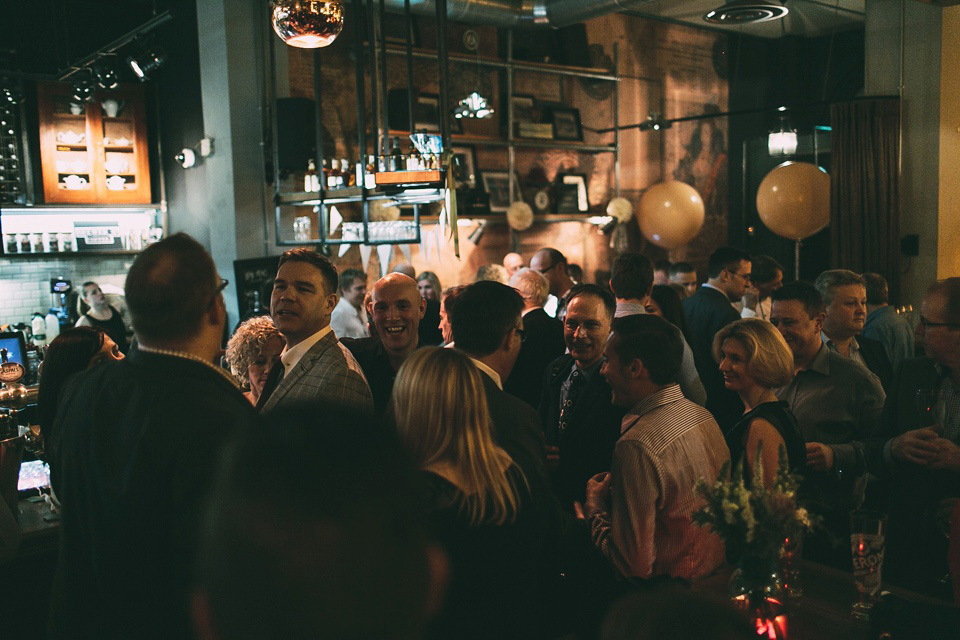 "We wanted to create some theatre and a suitable backdrop for our amazing DJ so hired some giant stars from Vowed and Amazed. We also used giant balloons from Bubblegum Balloons to dress the space and make it feel like a party!"
"Catering organised in conjunction with each venue. As I work in the wine trade the wines had to be perfect and we matched each course with a special wine which she supplied.
We both love cheese and one of our good friends runs an amazing dairy in Islington called Pistachio & Pickle. He very generously gave us the 'cheese cake' as a wedding present, which we had at the party on Saturday night. Choosing the 5 different layers was one of our favourite wedding jobs and our guests devoured the results!"
"We decided to complement the cheese at the party with a sweet option and ordered meringue kisses from The Meringue Girls. They not only looked amazing but made the perfect help yourself dessert when paired with fresh fruit and cream. We ordered two vintage apple crates each with 170 meringues in eleven different flavours."
"We wanted to kick off the dancing with a 'routine' but didn't want to take ourselves too seriously! The very lovely Michelle from Start the Dance came over to the house for four 1 hour sessions prior to the wedding and helped us choreograph our dance. We chose 'Life with you', by The Proclaimers. It was the perfect balance of sentimental, Scottish and fun."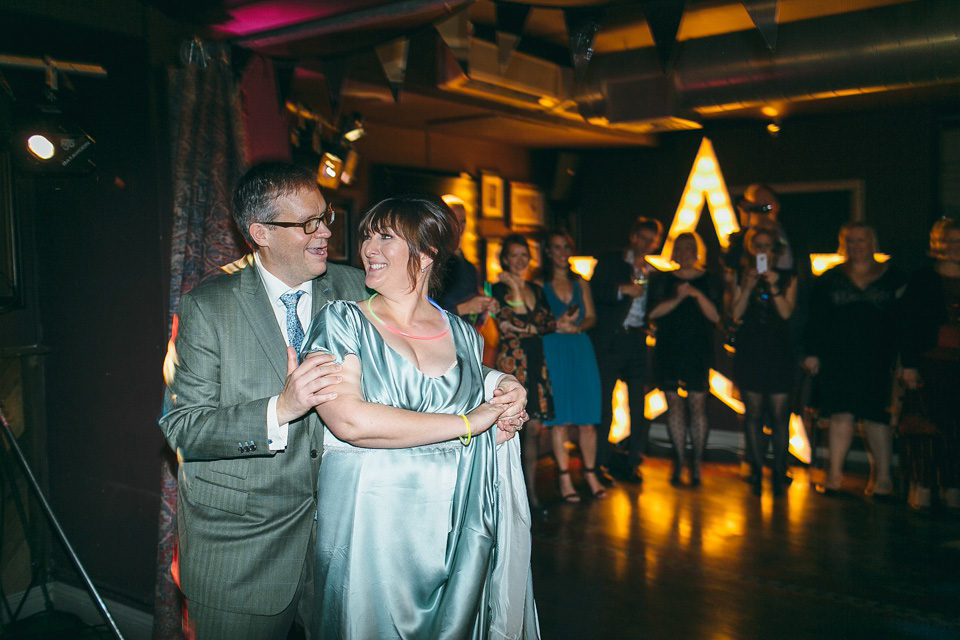 "Sean Rowley of Guilty Pleasures fame is one of Matt's favourite DJ's and as soon as we set the date we crossed our fingers that he would be free. Luckily he was and he totally rocked it! His set of classic anthems had our friends and family up on the dance floor all night." 
Words of Wedded Wisdom
"To create a very special gift and record events surrounding the build up to our big day I decided to write a secret journal for Matt, which I gave him on the morning of our wedding. I started it exactly 100 days before our wedding day and I engraved it with "100 reasons why I love you". I wrote about the many highs, the lows, the people we met and the decisions we made along the way and most importantly one reason each day why I loved him and was so excited to be marrying him. We will always have this to look back on and for me it cemented the real reason we were getting married. The various decisions on ribbons, canapés and family fascinators faded into the background!"
What an incredibly gorgeous wedding!  I so love it when a bride breaks with tradition and makes such a fabulous statement with her gown. Just beautiful. Thank you so much Fiona and Matt for allowing us the pleasure of sharing your very lovely wedding on the blog today.
For a similar knock-out pale green gown, also created by Lucia at The State of Grace, take a look at this art deco inspired seaside wedding. You can also view more photography by Lee Garland here on Love My Dress.
What say you readers – are you toying with the idea of a non-white wedding dress? See more coloured wedding dress inspiration on our blog and via our coloured wedding dresses Pinterest board if so.
Have a lovely Monday morning all,
Love Annabel xx
Photographer –  Lee Garland
Venue – Mayfair Library + Hush, Mayfair + The Tokenhouse on Moorgate
Wedding Dress – The State of Grace
Headpiece – Bessie by Jo Barnes Vintage
Accessories – Pearl earrings
Perfume/Scent – Philosykos (him) + L'Ombre dans l'Eau both by Diptique
Grooms Suit – Butler & Moss + Liberty print tie
Bridesmaids – Ghost
Page Boys – Trousers, braces + bow ties via The Scotland Shop
Florist – Flowers by Brian Kirkby
Cheese Cake – Pistachio & Pickle
Entertainment – Guilty Pleasures (DJ)
Rings – Engagement ring via Joseph Bonnar + wedding rings via Hatton Garden
Hair Stylist – Marc Trinder at Charles Worthington
Makeup Artist – Ausra via Kristina Gasperas
Photobooth hire – Say Fromage
First Dance Lessons – Start the Dance