Good morning all, did you have a good weekend? I spent it at a festival and got both rained on and sunburnt – perfect English summer weather. To keep the seasonal mood on our best, most beautiful wedding blog this morning,  we have a very pretty seaside wedding to share, one which took place on the North Yorkshire coast in Scarborough with the reception located just a few miles inland on the edge of the North Yorkshire Moors.
Jess, a primary school teacher, and Jaz, a graphic designer, met ten years ago as students, got together living in London five years later and finally tied the knot on Saturday the 9th of August 2014, with the ceremony at St Mary's Church Scarborough, where Jez was baptized, and the reception at the award winning Danby Castle.
Photography by James Melia
The couple took their wedding inspiration for the day from the amazing scenery surrounding their two venues, and chose a lovely soft colour scheme which beautifully complements the gentle dreamlike style of photographer James Melia, and his wife Jo.
Danby Castle, North Yorkshire
Wedding décor took the form of vintage glass vases, decanters, table cloths and lampshades all collected from second hand shops, as well as masses of bunting.
Eden by Jenny Packham
"We were inspired by the stunning surroundings of the North Yorkshire coastline and the moors. We wanted to create a relaxed vintage-come-rustic feel and used a delicate colour palette of soft pastels and grey"
Twobirds Bridesmaids dresses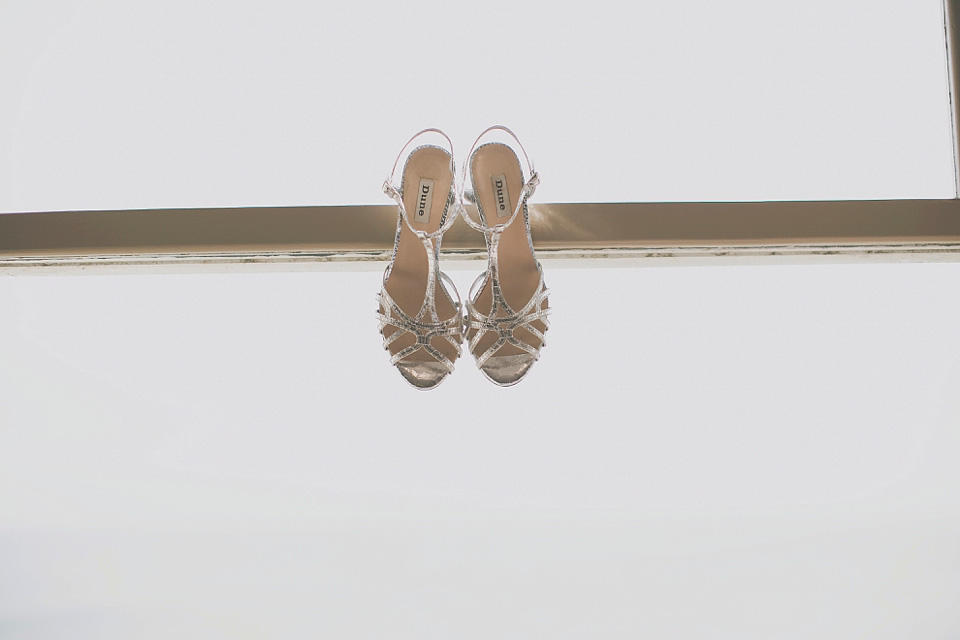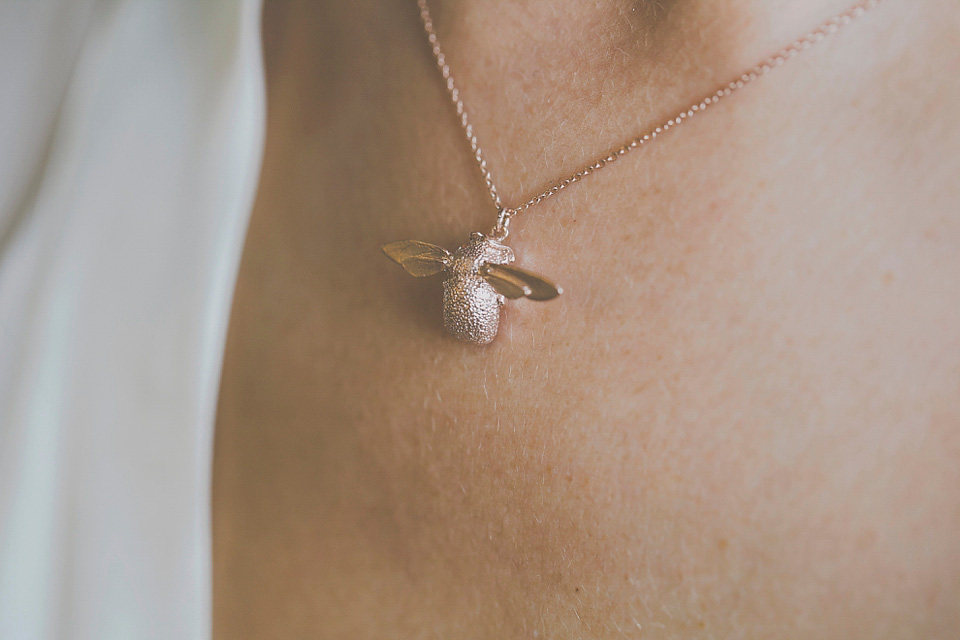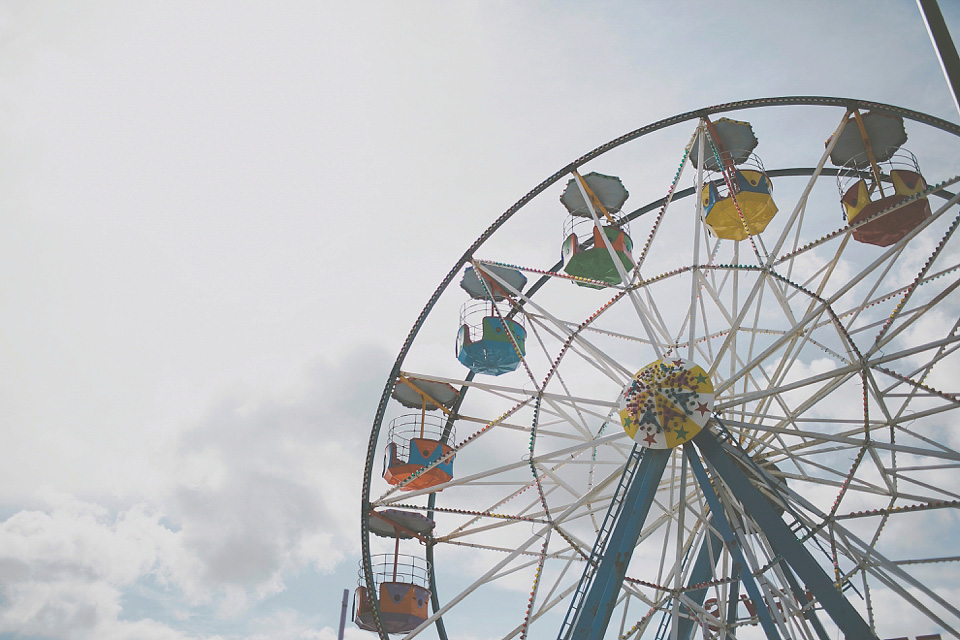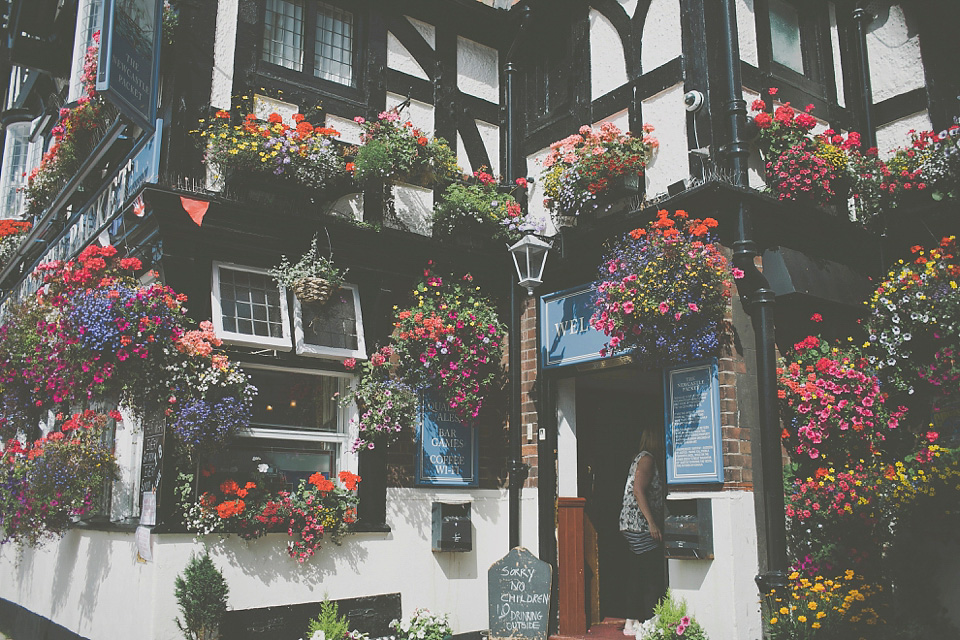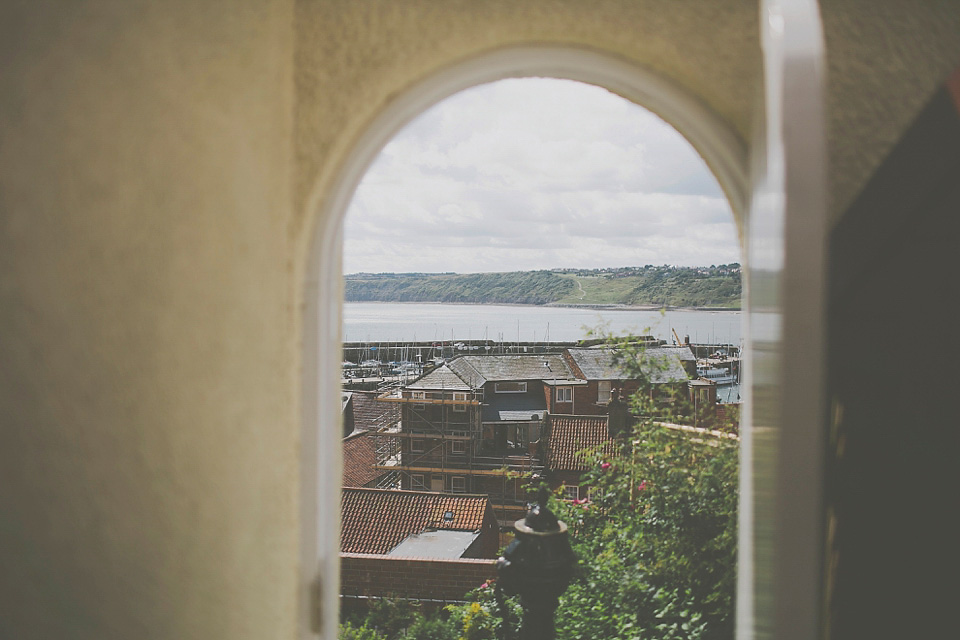 Jess wore the highly coveted 'Eden' by Jenny Packham– a designer who is frequently chosen by our brides. It's not at all hard to see why Jenny's designs are so loved, and 'Eden' is a consistent favourite- with its stunning beading, pretty sleeves and its simple yet stunning shape it ticks all the bridal boxes, but also looks different on everyone, which gives it its wonderful individuality. Jess' dress was purchased from Morgan Davies Bridal in Clerkenwell, London.
"I knew it was the one as soon as I tried it on…plus the faces of my bridesmaids said it all when I came out the fitting room! I loved the detail on the dress, particularly the sleeves and how it sparkled when it captured the light. I thought it was so very elegant and very 1920s, an era of fashion which I absolutely love."
To compliment her ethereal frock, Jess chose delicate silver sandals from Dune and accessorised with a gorgeous headpiece from designer Karin Andreasson, who has a stall on Broadway Market in Hackney. As a gift on the morning of the wedding, Jess bought her bridesmaids necklaces from the same designer, while Jez bought Jess Black Orchid by Tom Ford, as her wedding day scent.
Jess finished the look with earrings loaned by from her bridesmaid Hannah as her 'something borrowed' and a bracelet which is now her Mum's, but which originally belonged to her Gran.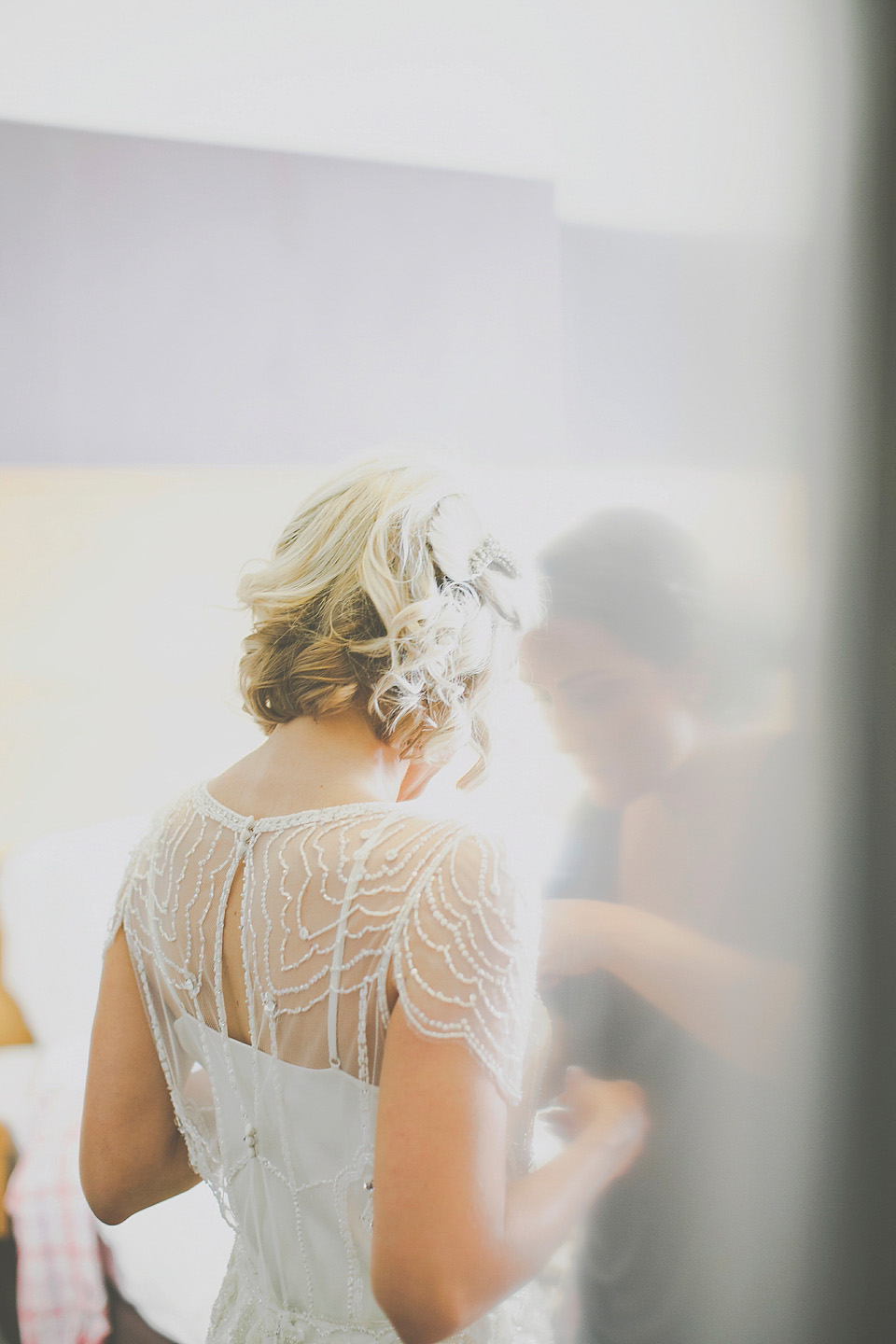 The beautiful bridesmaids wore dresses by Twobirds – a company I just adore for their gorgeous colours and incredible style flexibility – one dress design can be worn in over twenty different ways! Over the shoulder, off the shoulder, shoulderless – whatever takes your fancy.
Take a look at their gorgeous new tulle collection on Love My Dress – a selection of images all beautifully captured by photographer Naomi Kenton for Love My Dress.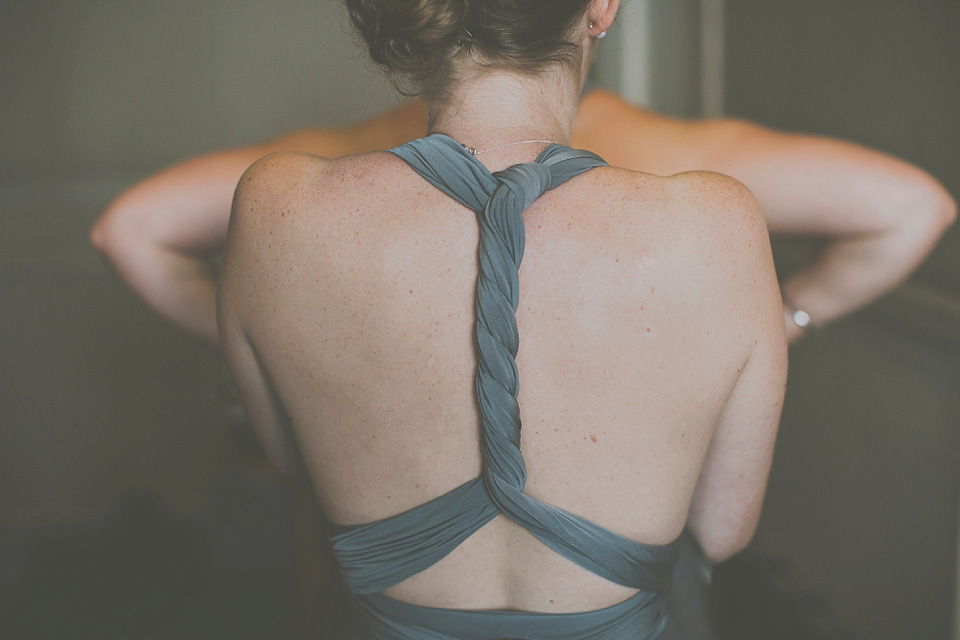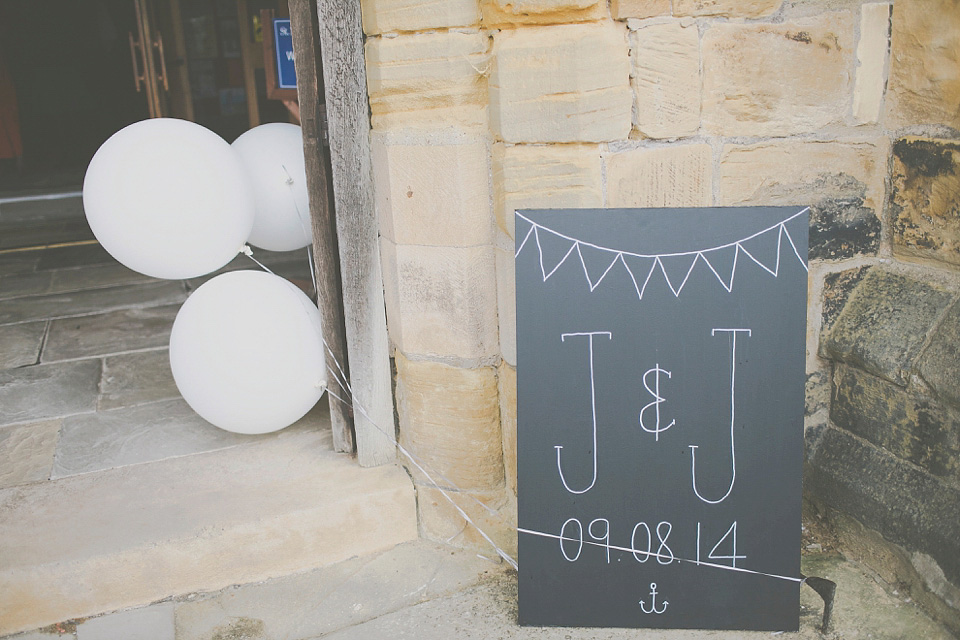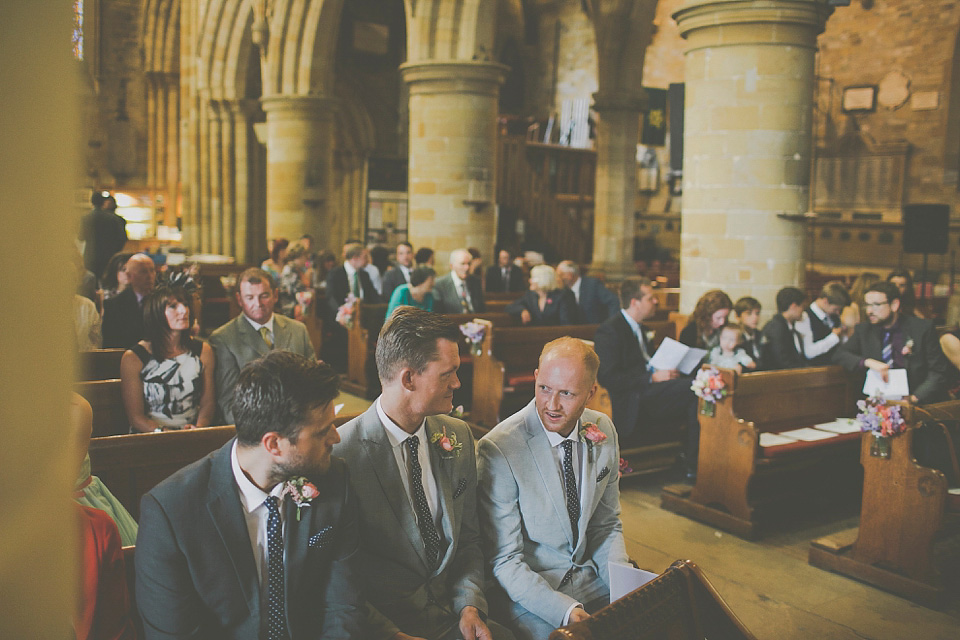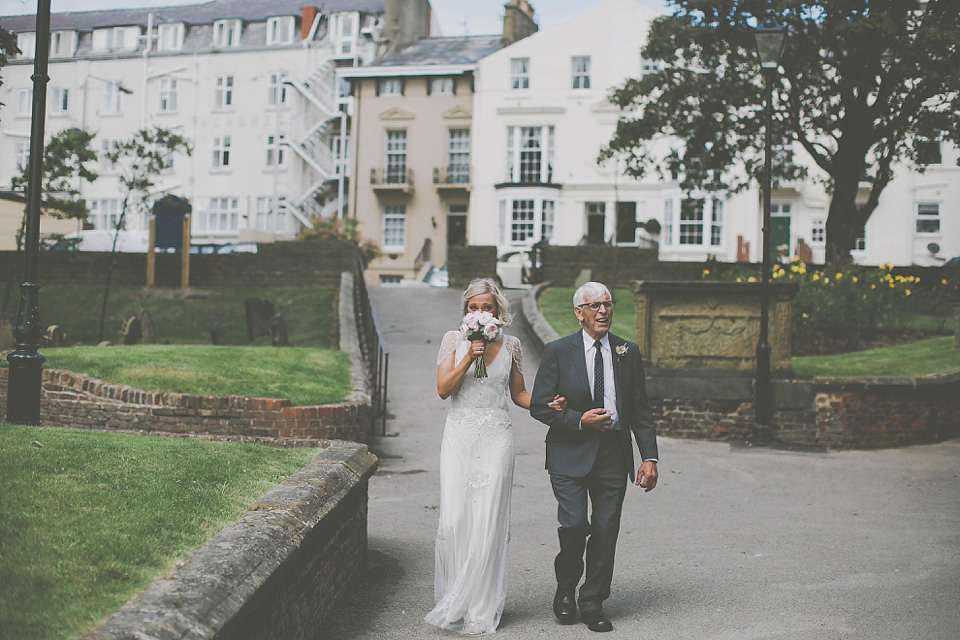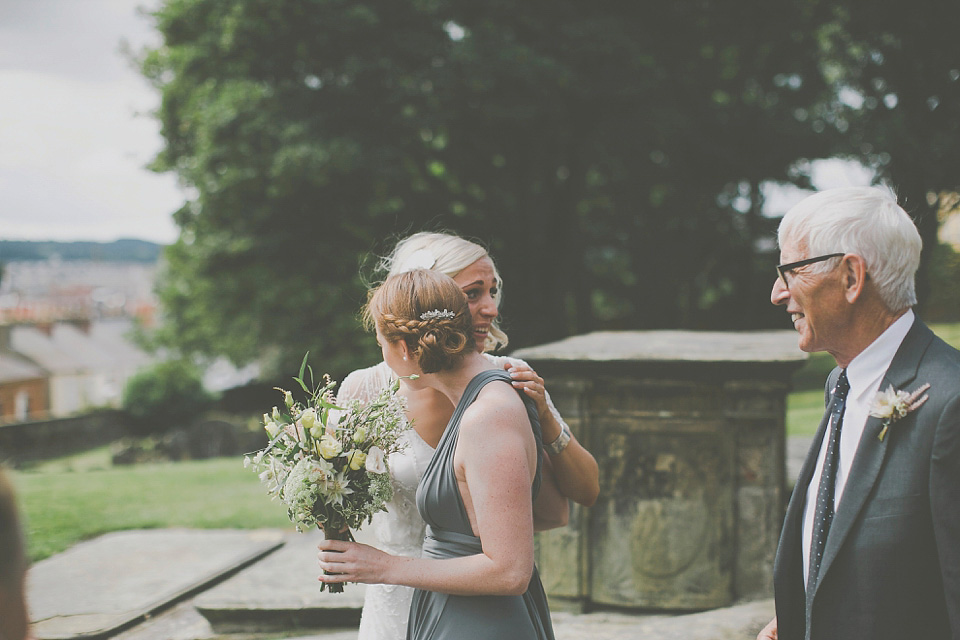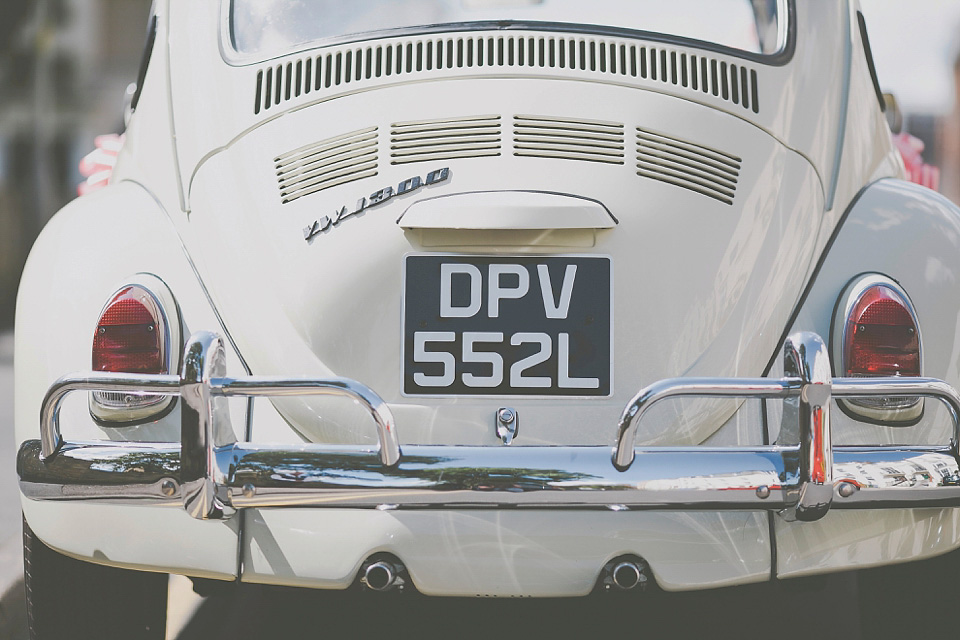 Jess travelled to the ceremony in a fabulous white vintage VW Beatle with her Dad, who then walked her down the aisle to an instrumental version of Des'Ree's 'Kissing You' from Romeo and Juliet – one of Jess' all-time favourite films.
Jez says his favourite moment of the way was during the ceremony.
"I really enjoyed the ceremony and felt a real personal connection with the church and setting, which made it that bit more special."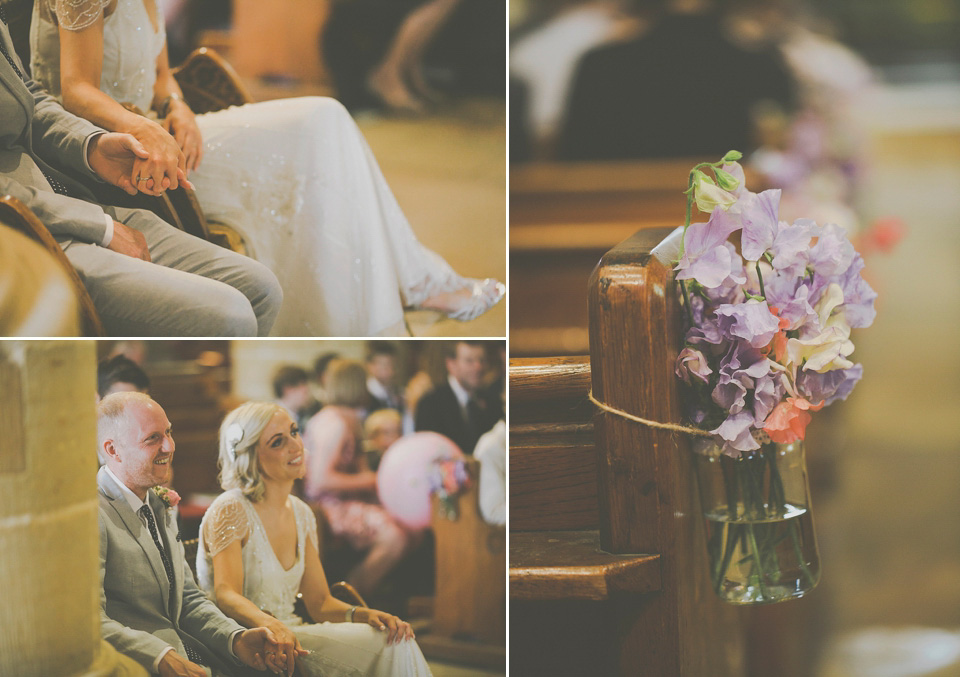 The couple chose to keep to the traditional vows, and had two readings- one by Jess' brother Richard, who read a poem he had written himself, and one by their friend Joe, who read from Corinthians 13. Their rings were purchased from Ruberg, who can be found on Camden Passage, Angel, London.
"My favourite part of the day was Walking out of the church into the sunshine as a married couple and photos on the moors as the sun was going down. I really enjoyed the drive in the wedding car from the church to the wedding venue as well, as it gave us time to be alone and take it all in."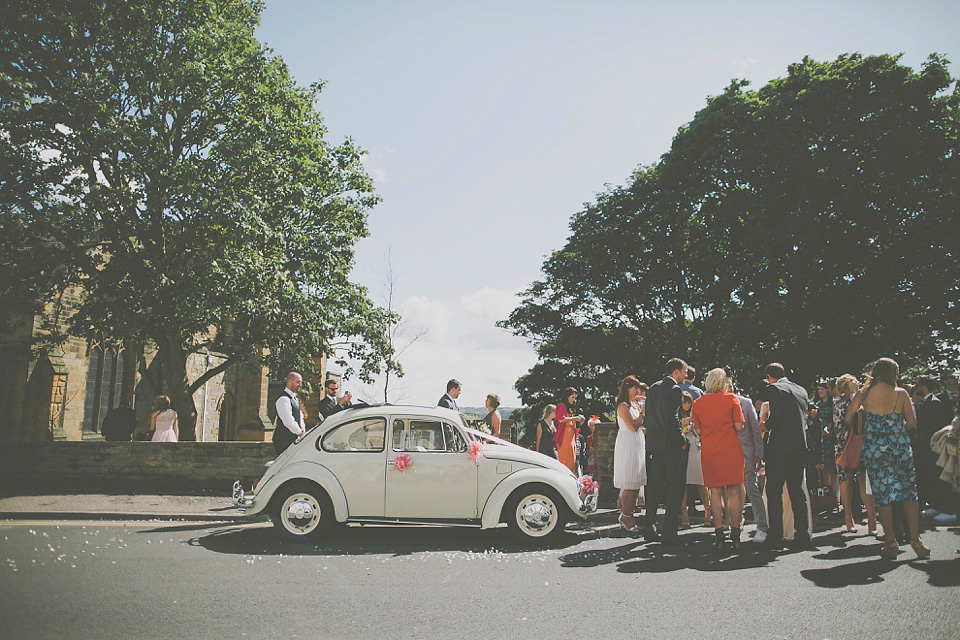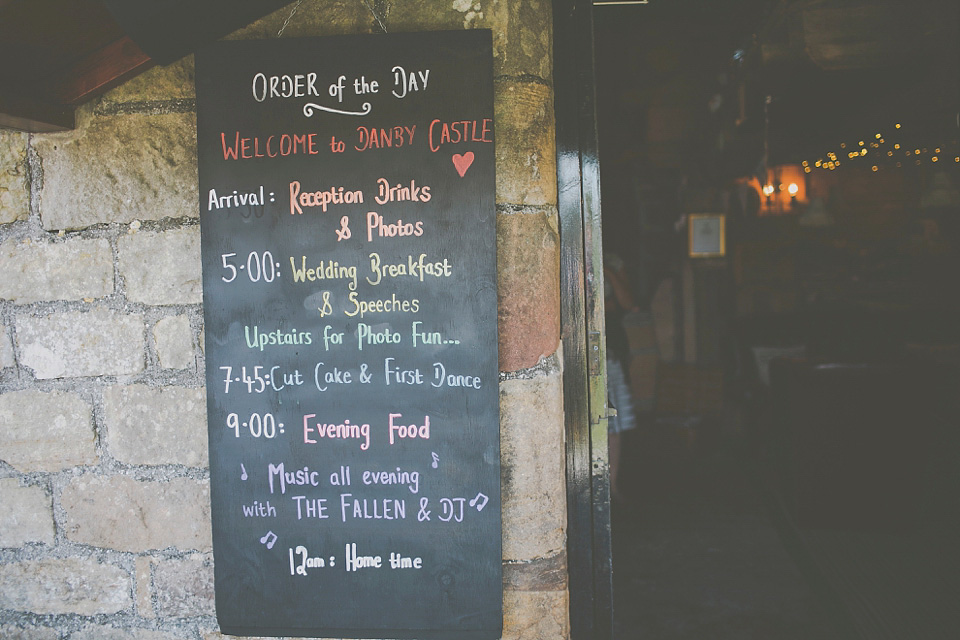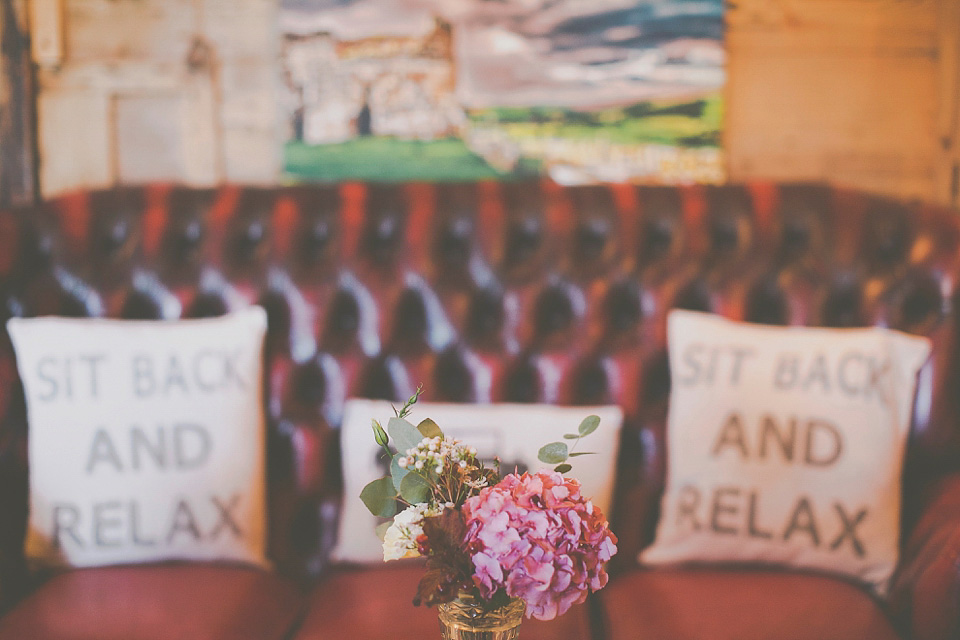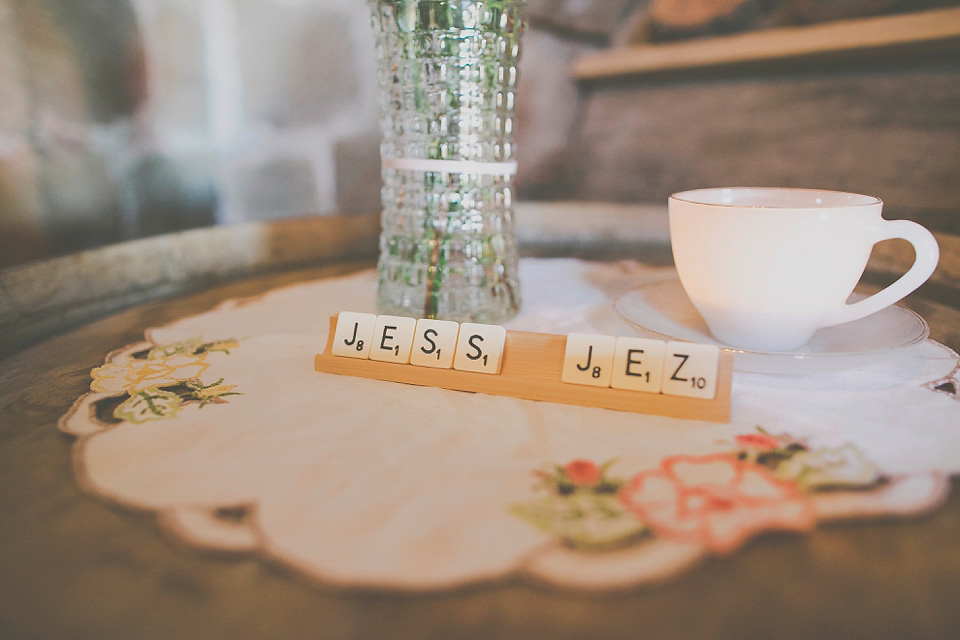 The buttercream iced, two tier cake was the work of Sonia Peirson of Cupcake Delight. I love the simple elegance of the plain white icing and simple flower decoration, and the fact that behind the sophisticated exterior lies a two tier rainbow sponge!
"We also had cupcakes topped with pastel icing and some J&J cake flags which Jez made. We wanted something simple and tasty!"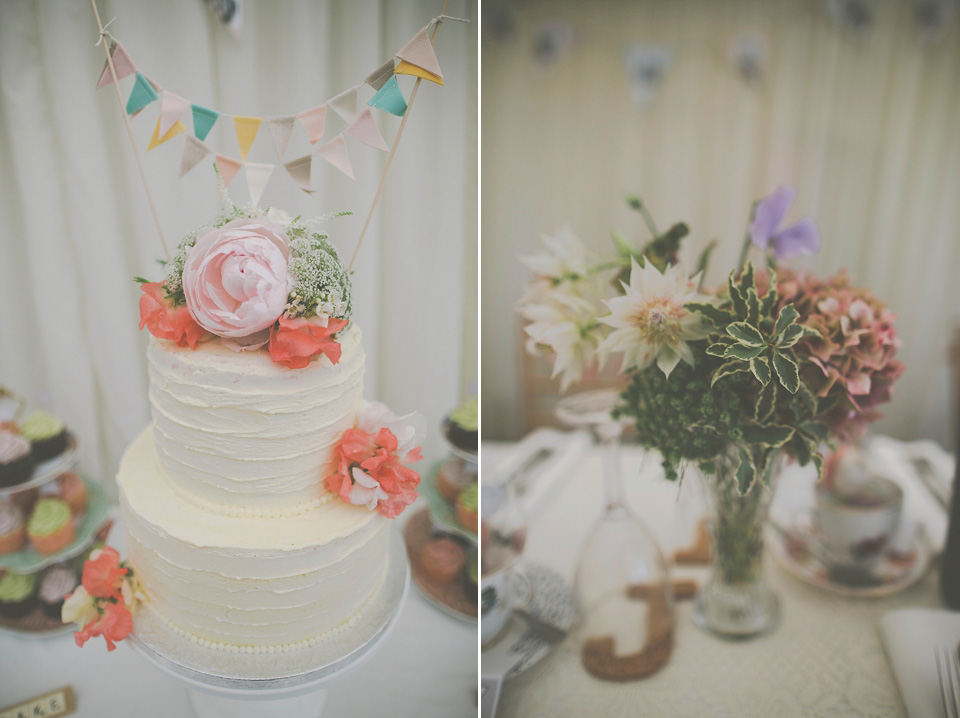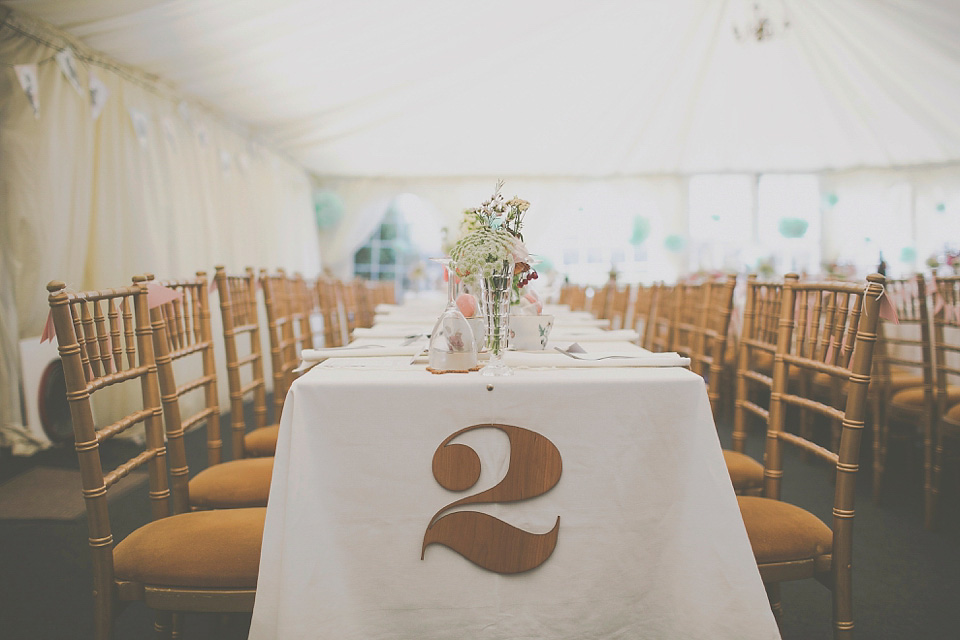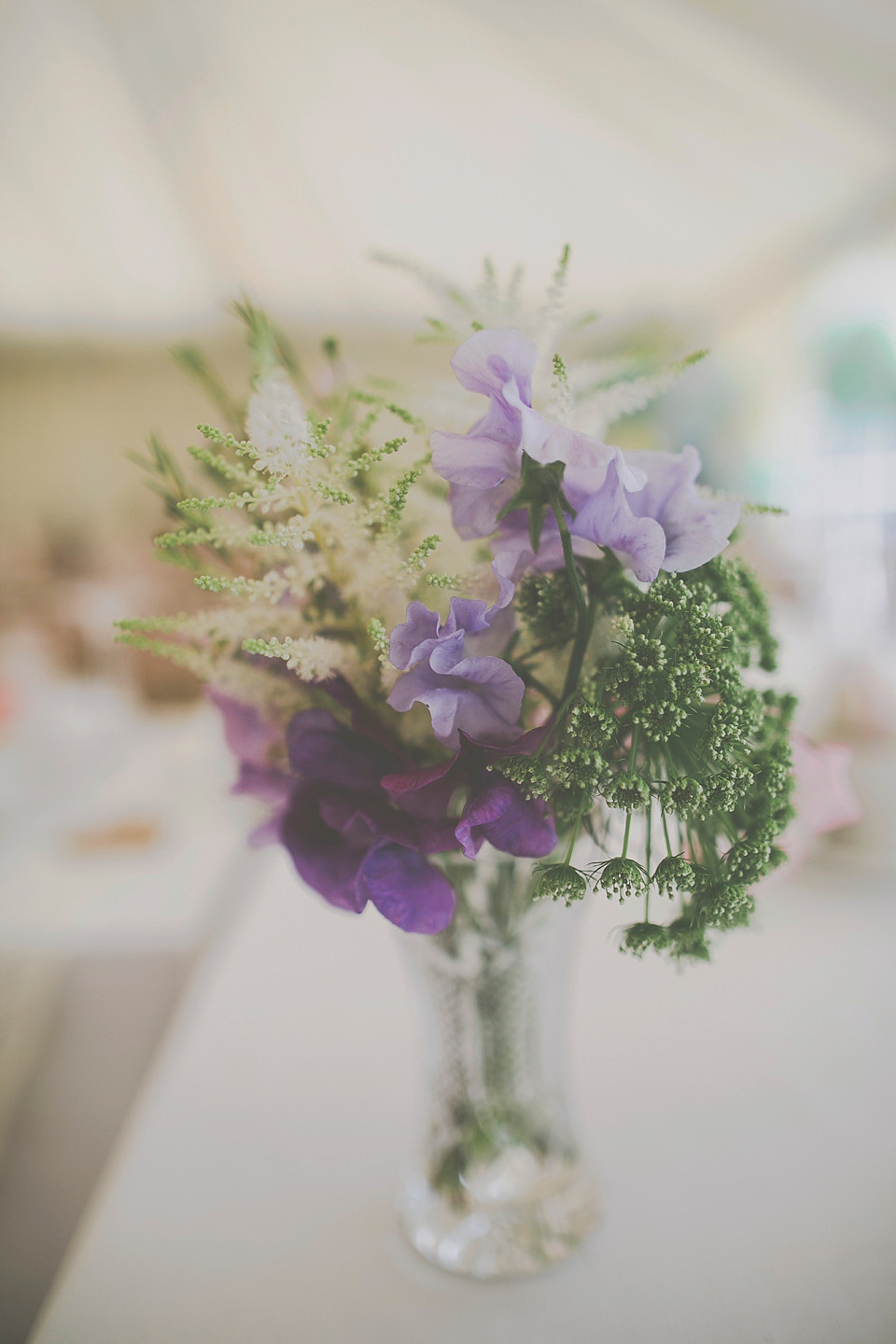 "We found James and Jo through a friend's recommendation and once we had seen their photos we knew they were the ones for us. Their attention to detail and eye for that special unique shot stood out a mile to us and really set them apart from the other photographers. We couldn't recommend them enough! They were also kind enough to include an engagement shoot, which really helped us to get a feel for how they worked before the big day."
If you're wavering about having an engagement, or 'pre-wedding' shoot, perhaps this glowing recommendation might help you decide to go for it.
I would personally highly recommend doing it – it lets you get to know your photographer before the big day and gets you used to posing in front of the camera, so on the day of your wedding you're so much more relaxed about being photographed- meaning you can get back to your guests nice and speedily and not miss out on the drinks.
Groom Jez looked very dapper in a suit from Selected Homme, worn with a tie and pocket square from ASOS and white Vans, which were also worn by all the groomsmen.
"Jez lives in trainers, he has over 30 pairs, some never even worn! We thought this would be nice personal touch."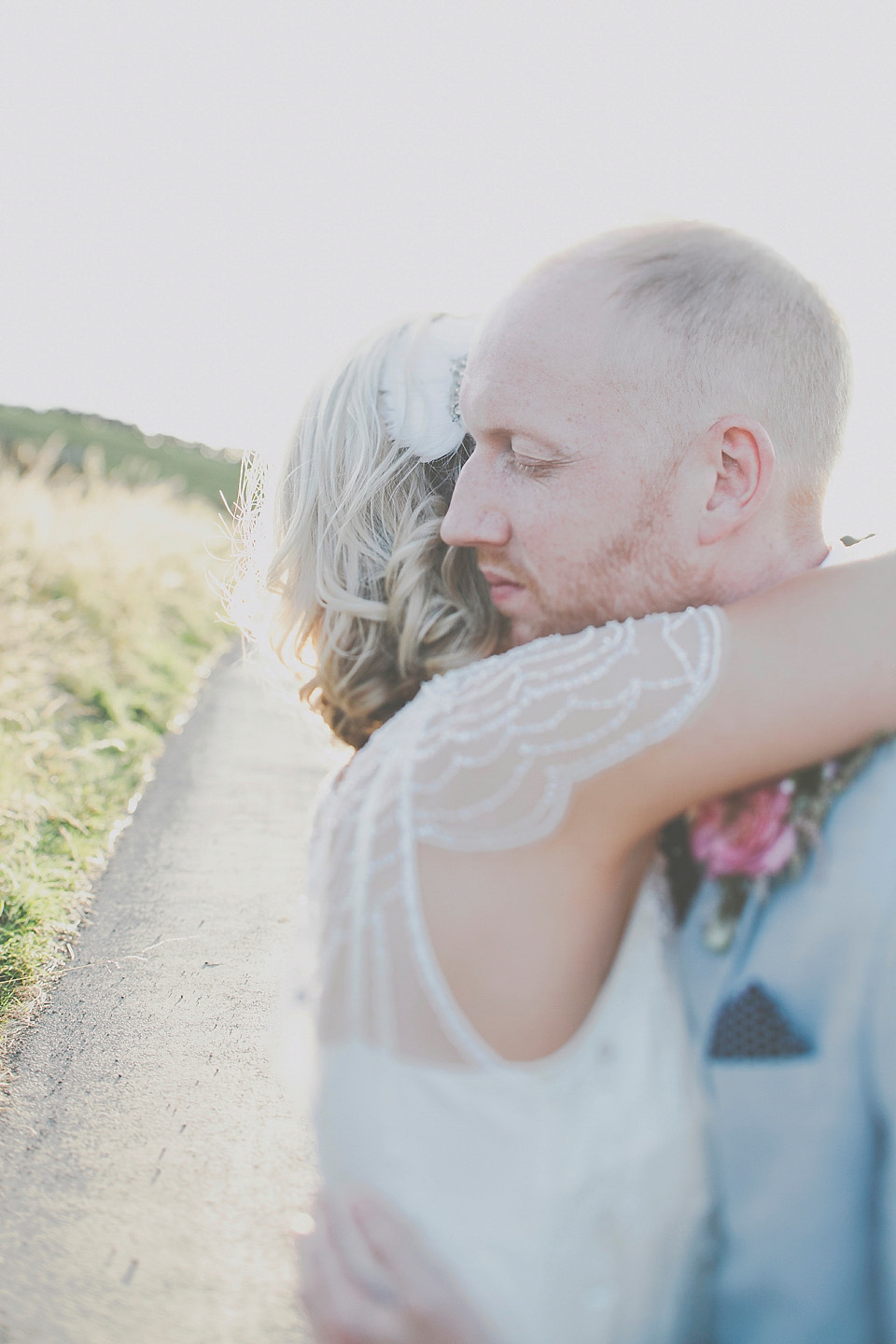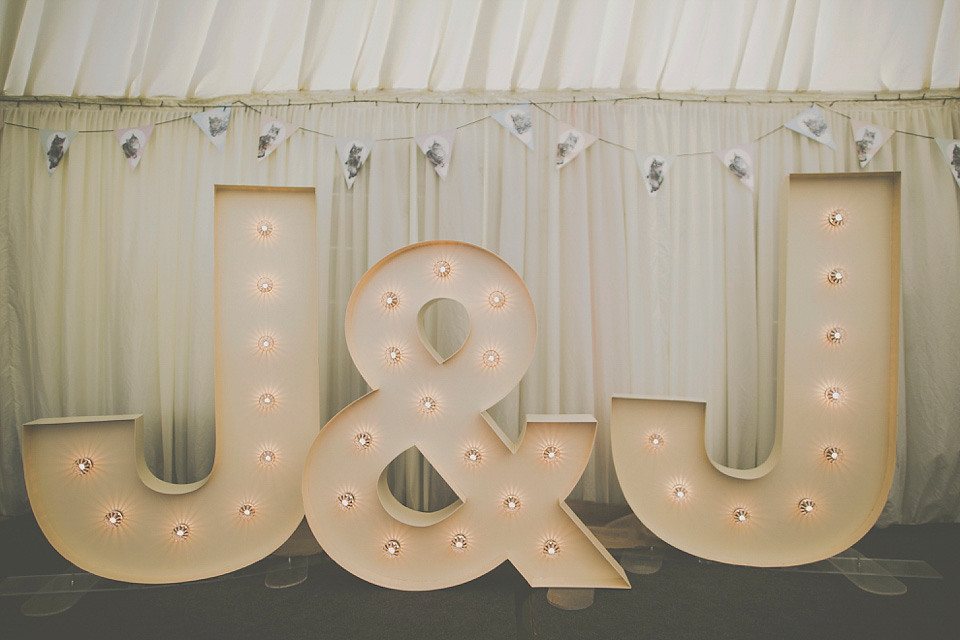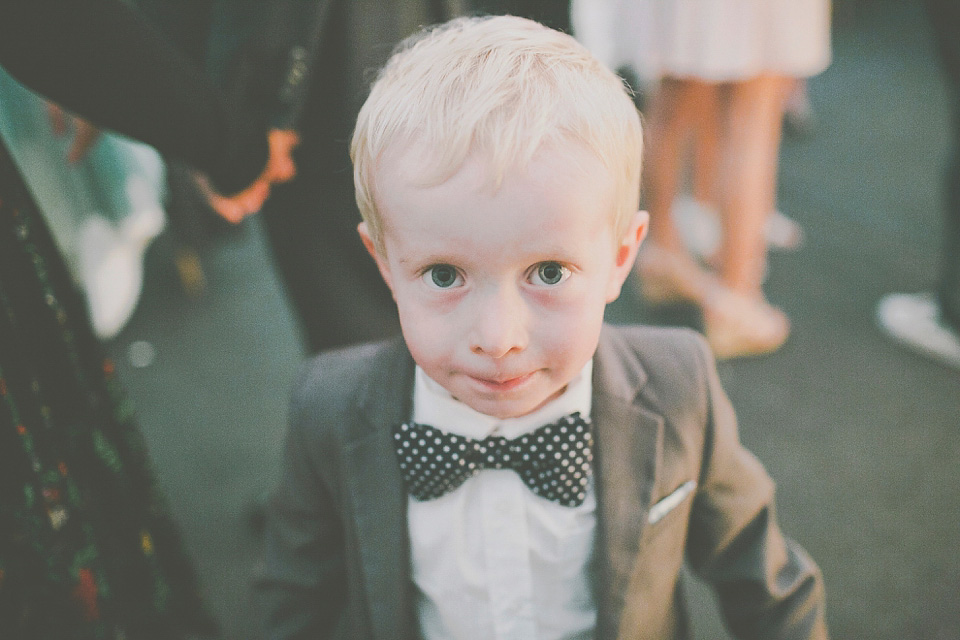 Words of Wedded Wisdom
"Be organised. Book suppliers as soon as possible to get what you want and set up a spreadsheet with budget, timeframe etc. This really helped us to keep on top of everything, prioritise and not panic!
Have a clear vision of what you want. There is so much choice out there, don't be swayed or settle.
Don't compromise on what you want to make others happy- it's your big day!"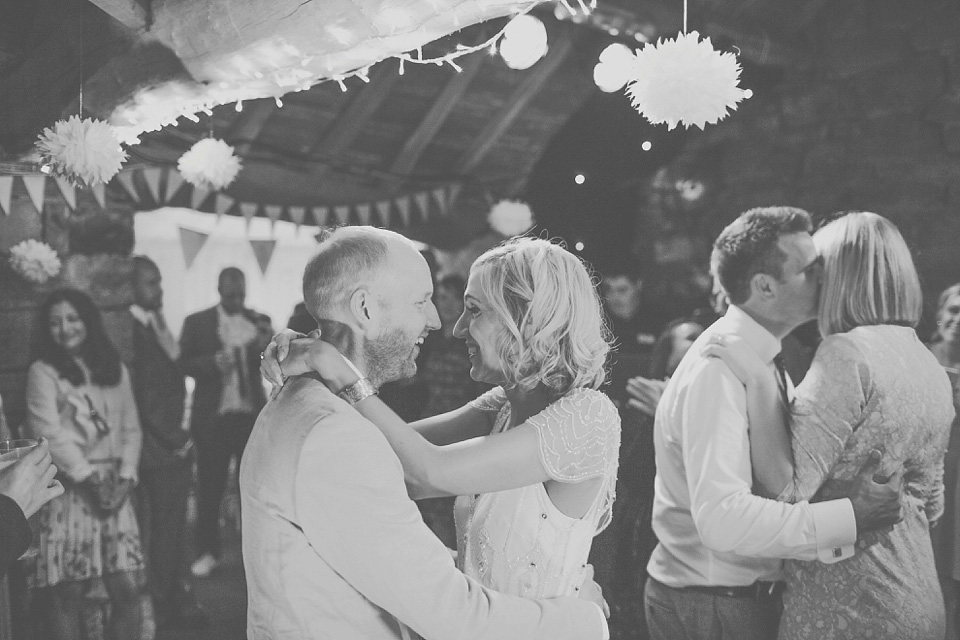 A huge thank you to Jess, Jez, Jo and James (the J team!) for sharing their big day and images with us, and a huge congratulations to the happy couple, who will soon be celebrating their first anniversary!
If you have a spare few moment over lunchtime, have a look here for more Jenny Packham- wearing brides, and here for more lovely Danby Castle weddings. Is anyone else planning to use this lovely venue? I'm off to have another look through these gorgeous summery photos.
Much love as always,
Shona x
Photographer – James Melia
Venue – Danby Castle
Wedding dress – Eden by Jenny Packham, purchased from Morgan Davies Bridal
Hair accessories – Karin Andreasson
Shoes – Dune
Perfume – Black Orchid, by Tom Ford
Bridesmaid dresses – Twobirds
Groom – Suit from Selected Homme, trainers from Vans, tie and pocket square ASOS
Groomsmen – Suits from M&S, bowties from Etsy
Florist – Boom Blooms
Cake – Cupcake Delight by Sonia, Whitby
Catering – In house by Danby Castle
Entertainment – The Fallen
Rings – Ruberg
Stationery – Done by Jez
Hair stylist – Hayley at Paul's of Bar Street, Scarborough
Transport – Vintage VW Beatle, from Bronte Wedding Hire
Illuminated letters – Coco Luminaire
Cat bunting – The Kat and Monocle
Macaron Favours – Alice's Bakery"