Good morning to you, I hope this finds you well today.  I'm still basking in the after-glow of a truly wonderful weekend – so much precious time spent with family and friends creating beautiful memories at a family wedding. Happily for me, returning to work on a Monday morning is something I enjoy very much, so I'm hoping I can sprinkle some of my weekend positivity throughout this post as a pick-me-up for any of you needing it today.
Rhi, an Executive Assistant, married Graphic Designer Ollie on 24th May this year at Maunsel House, in Somerset, a beautiful wedding venue already known to Love My Dress.  Rhi and Ollie's wedding felt like the perfect celebration to open up a new week with on our beautiful wedding blog, starting with this sweet film created by Storycatchers, who are also the creative couple behind wedding photography business McKinley Rodgers. Enjoy…
"Pen and Cam of McKinley Rodgers were the first thing we booked after finding a venue and setting a date. I'd stalked them online for a while and knew they were the ones for us. Their energy on the day was amazing and we found they were instrumental in it all running so smoothly."
Film by Storycatchers Wedding Films
"They completely take the awkwardness out of having your picture taken. I think that a large number of our guests (ourselves included) might have fallen a wee bit in love with them both on the day. We also chose to have one of their amazing videos. We very nearly didn't as were running out of budget pretty quickly, but I'm so glad we did it, it was worth every penny."
Photography by McKinley Rodgers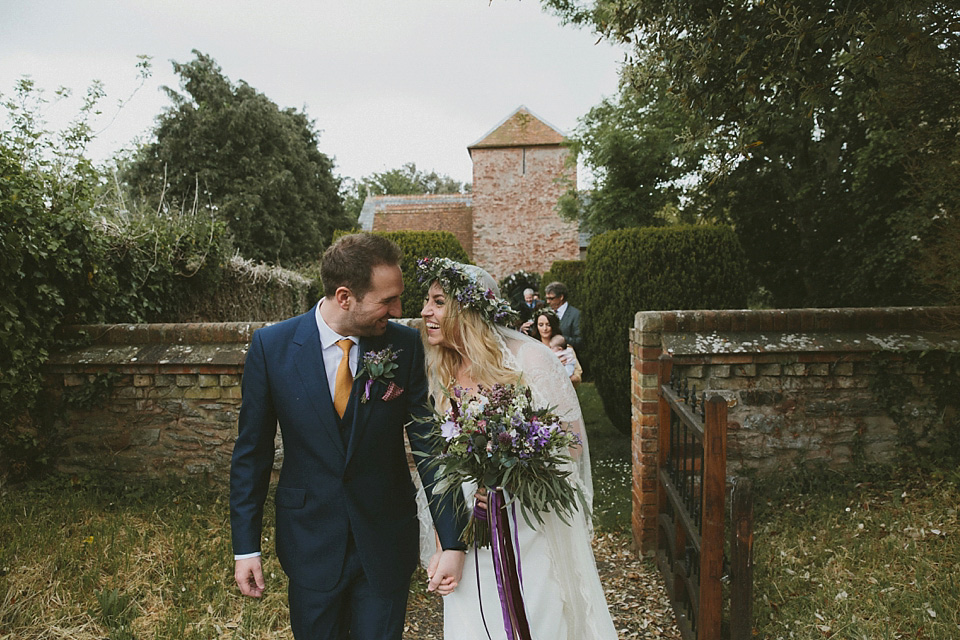 "Maunsel House itself was really inspiring – quirky and full of character and it lent itself to a bit of old school glamour. But everything else was just a culmination of things we liked that thankfully came together. We also had lots of scent on the day with Diptyque candles burning and we had lots of lavender in the flowers. Mum even spritzed our confetti with lavender spray!"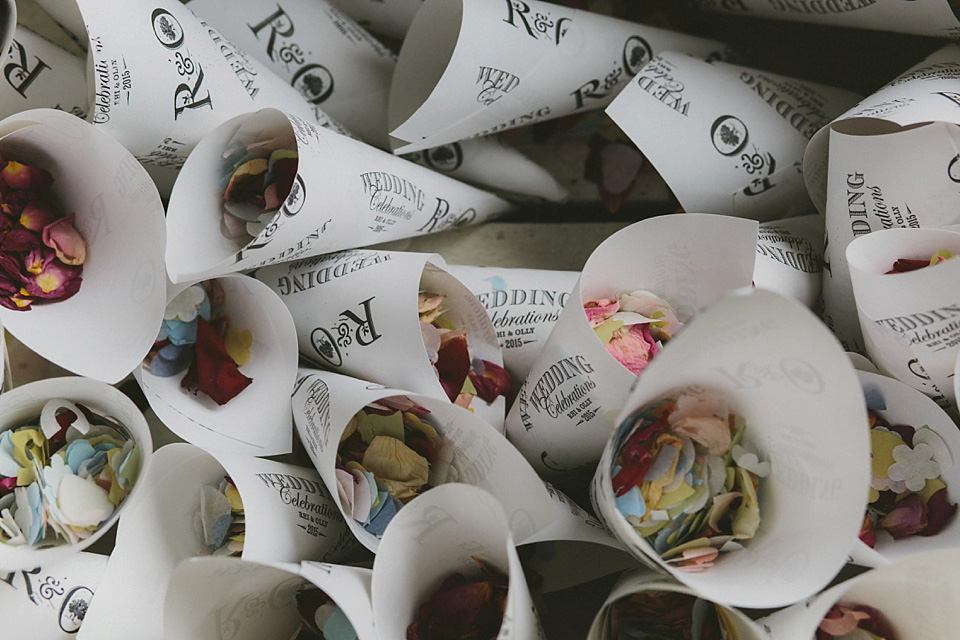 "I had five bridesmaids – living throughout the UK – and Asia!  Luckily I found their dresses in Zara early on and bulk bought various sizes – shipped them off for them to try and they all loved them.  I struggled to find a beaded cover up, so we eventually went with a simple gold pashmina purchased from a market in Singapore thanks to one of the girls.  They all wore their own gold shoes."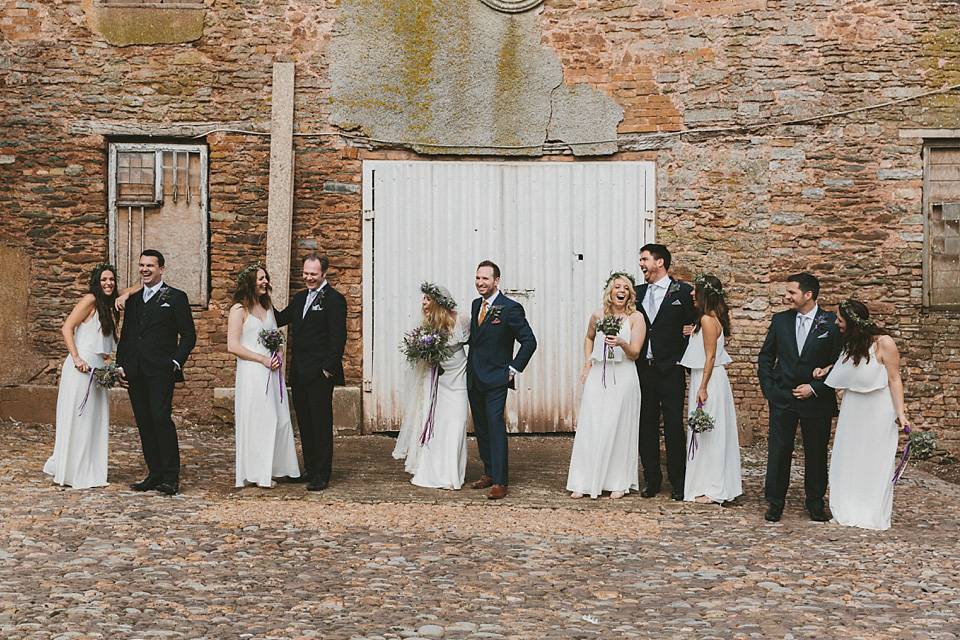 "From the moment we got engaged I knew I wanted to wear a flower crown – and my florist produced a complete stunner! I loved it and like to think it went well with the veil that I had especially designed by Gillian Million."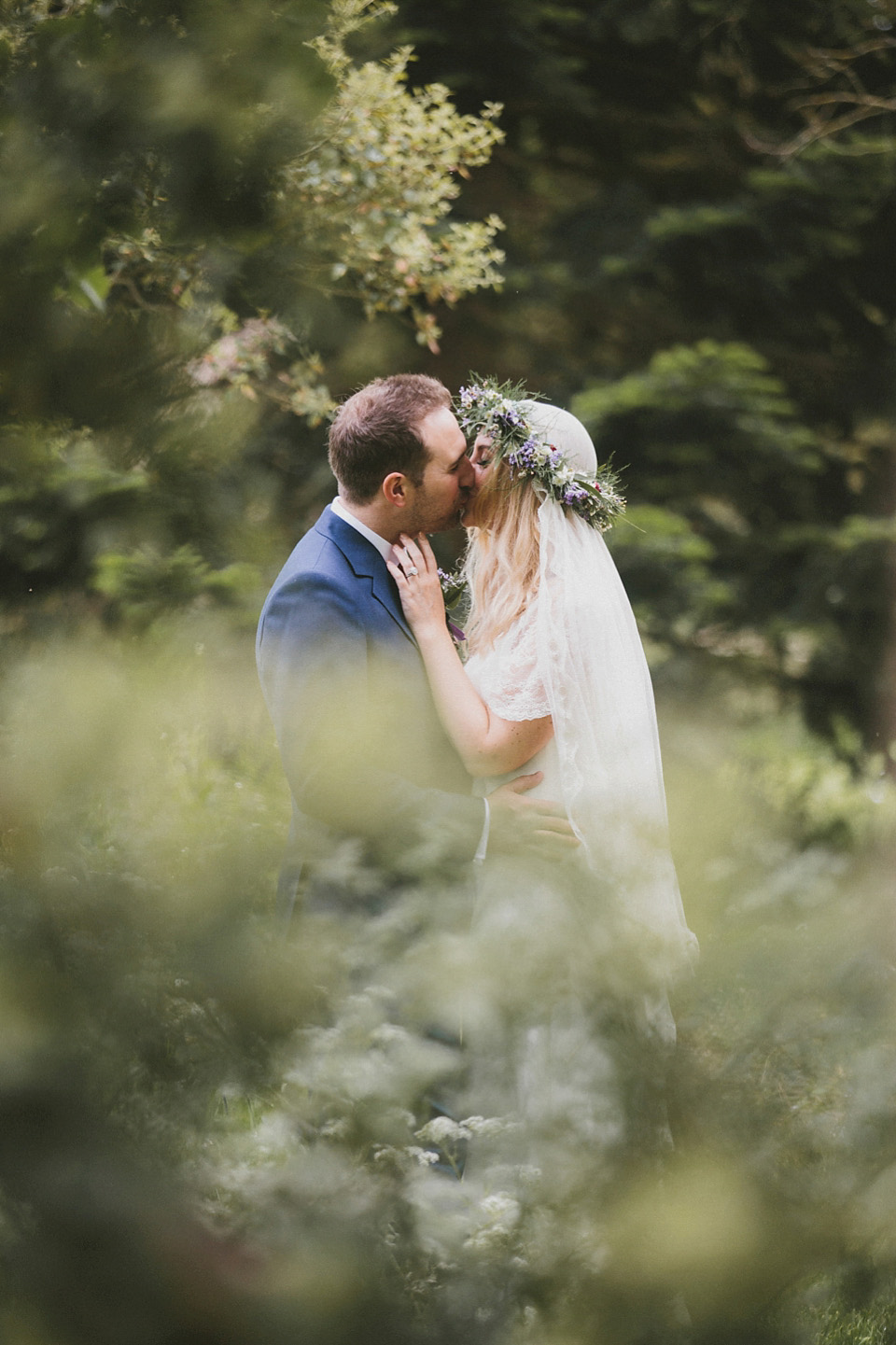 "We were engaged for three and a half years in total and although we didn't spend that time planning the wedding, I was always keeping an eye out for venues and spaces that might work for us.We searched and searched for the right venue, we spent hours on it. Our heart was set on a London wedding – it's where we met, where we currently love living and where we bought our first home together so it seemed like the right place to celebrate. But we struggled to find somewhere that offered us the blank canvas and flexibility we were looking for without costing a complete arm and a leg – nothing we looked at felt quite right."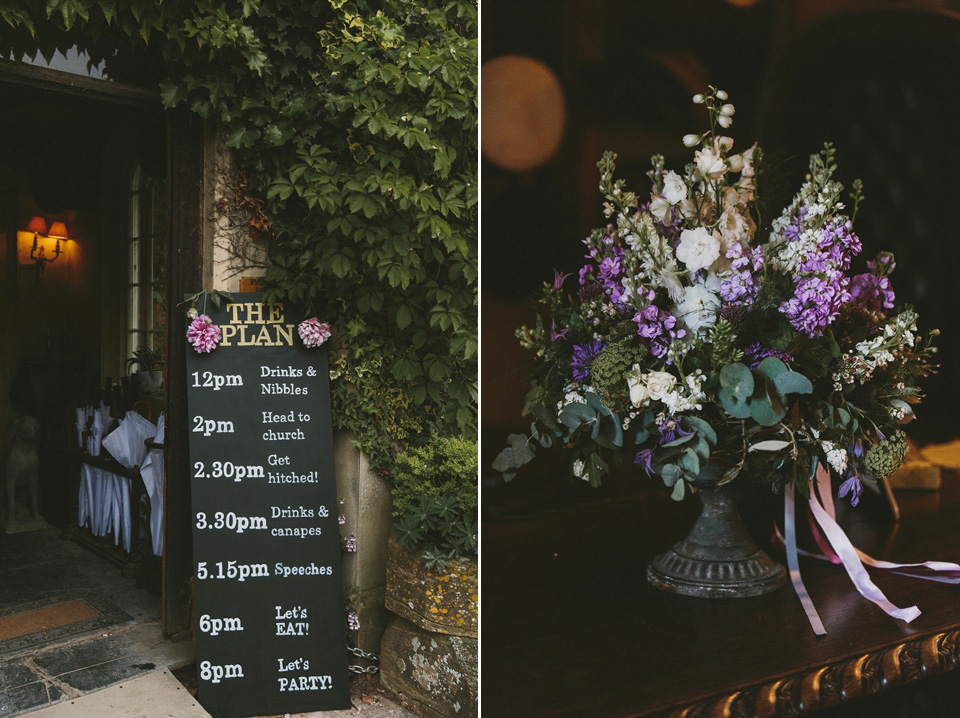 "Then we found Maunsel House. It had incredible character and personality and a great outdoor pagoda area for dinner – and it was so wonderfully eccentric without being pompous or try-hard. It's been in the same family for hundreds of years, so is filled with amazing (and hilarious) artefacts, including an enormous antique gun collection (which would explain some of the more eclectic wedding pics!) It's fundamentally a party house – the best party house you will ever find! It meant spending more of the budget on the venue than we originally thought we would, but we were happy cutting back on other things.
We hired the house for the Bank Holiday weekend, with most of our guests staying onsite in the house or surrounding cottages, and we kicked the weekend off with a welcome supper.
I'm so glad we went for it as the house became the focus for everything. I think we will always have a love affair with that place. We did all the planning ourselves, but Naomi at Maunsel worked with us to plan the weekend. She was great – extremely patient – and we loved how excited she got about the wedding and all the detail we wanted to put into the day."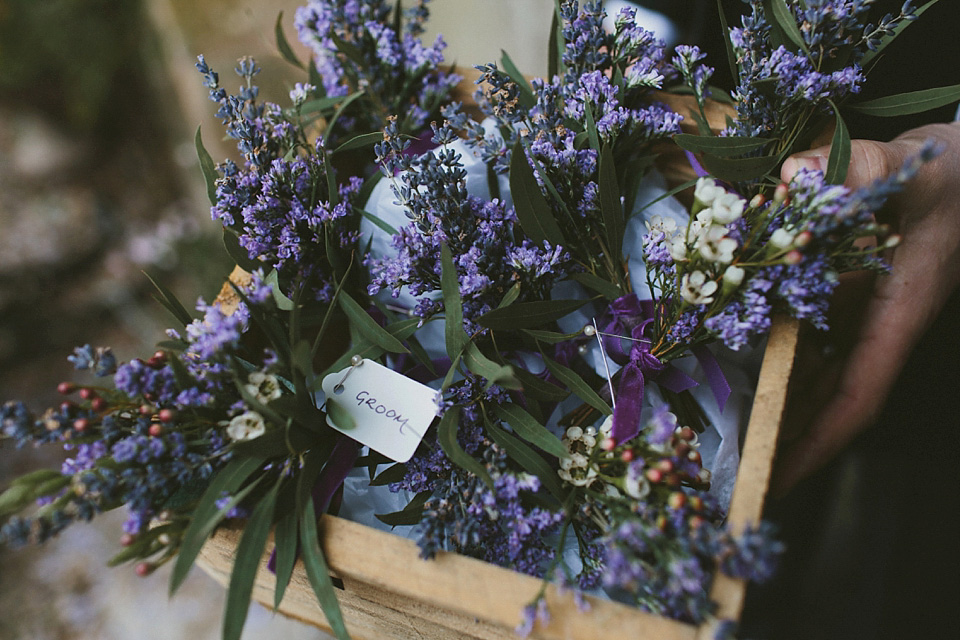 "Being a designer, Olls produced every element of stationary. He worked so hard on them and used the house and all it's quirkiness for inspiration. We kept all the designs in black and white with copper edging on our invites and save the dates. It was a labour of love for him but he did us proud. Our table plan was signed by all our guests and is now hanging in our hallway as a momento."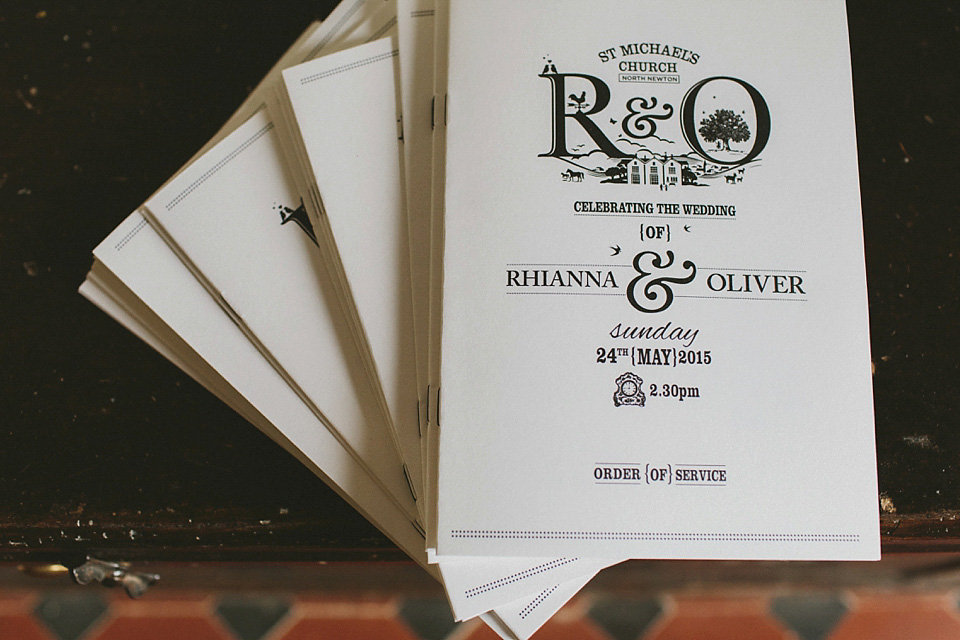 "For the day, I wanted a statement cap veil to go with my beautiful flower crown. I couldn't find what I wanted in the bridal shops so commissioned the lovely Gillian Million to make me a bespoke silk two tiered veil. She was amazing to work with – she also has the patience of a saint! I hope the veil is something I can pass down through generations as it's so classic and beautiful."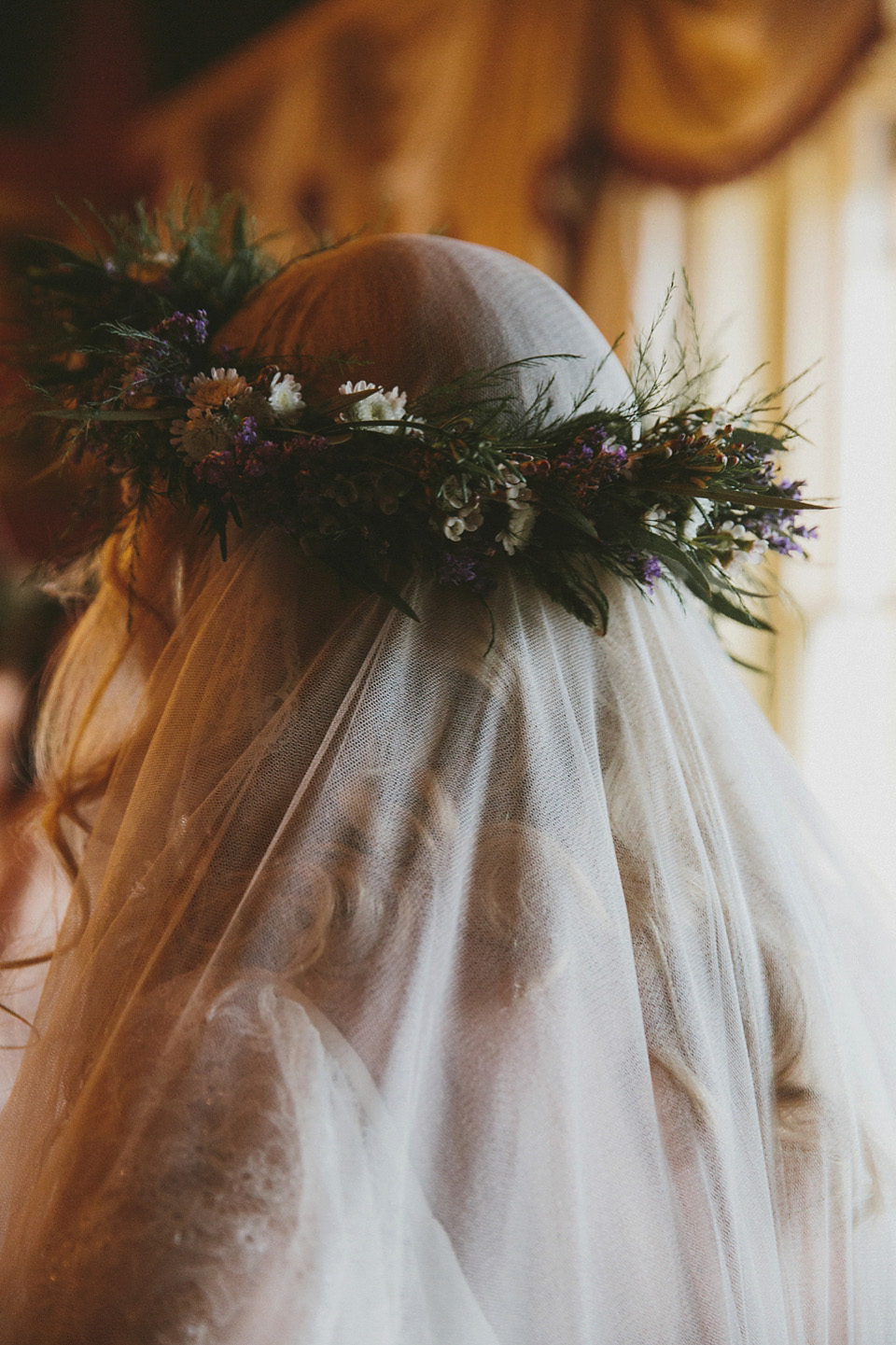 "I've grown up with Ange so I was very lucky to have her their all weekend as a guest. She worked tirelessly to do a countless number of people's hair. She also did my makeup which lasted all day – and that's unheard of for me! Olls loves it when I wear smoky eyes, so I went for something soft and a little sixties for the day then vamped it up in the evening with the red lipstick."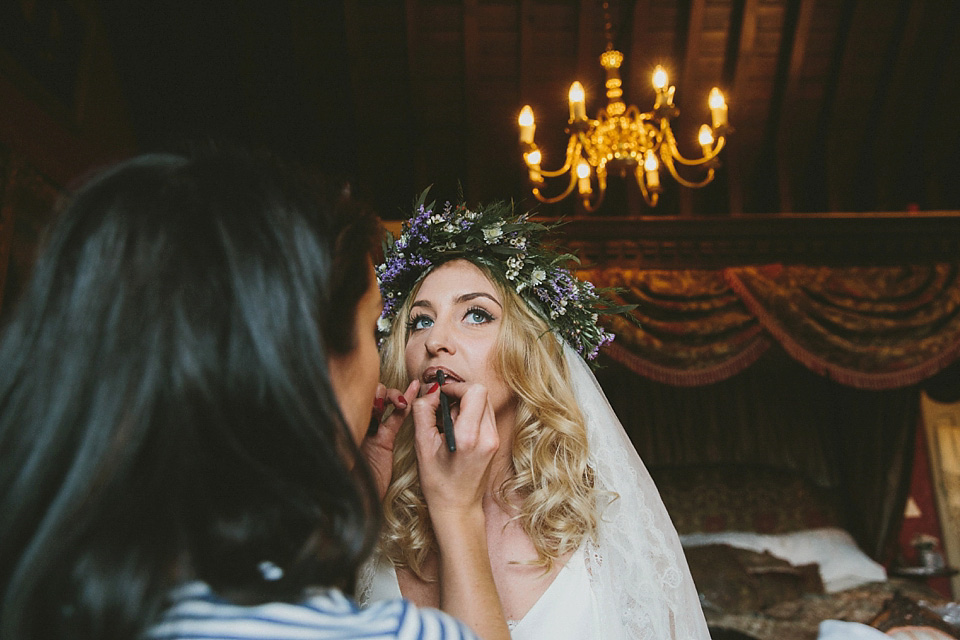 "Our florist Dinah Taylor works a lot with Maunsel House and her husband is the head groundsman there. So it was a natural choice – especially after meeting her and seeing how she just completely 'got' what we were trying to achieve. I gave her an idea of the shape and style and colour but apart from that left it to her!
I was adamant I wanted the flowers to be heavily scented…and she most definitely achieved that! Dinah also produced the most gorgeous arch over the church entrance, with fresh clipped wisteria . This was then placed around our cake table in the pagoda which made a real spectacle.
Dinah provided all the flowers for the tables, but my auntie led a team of guests the day before the wedding filling vases and bottles, hanging things from the roof, and generally turning the pagoda into something out of Midsummer Nights Dream! The weather was amazing, we had the music going and everyone got stuck in."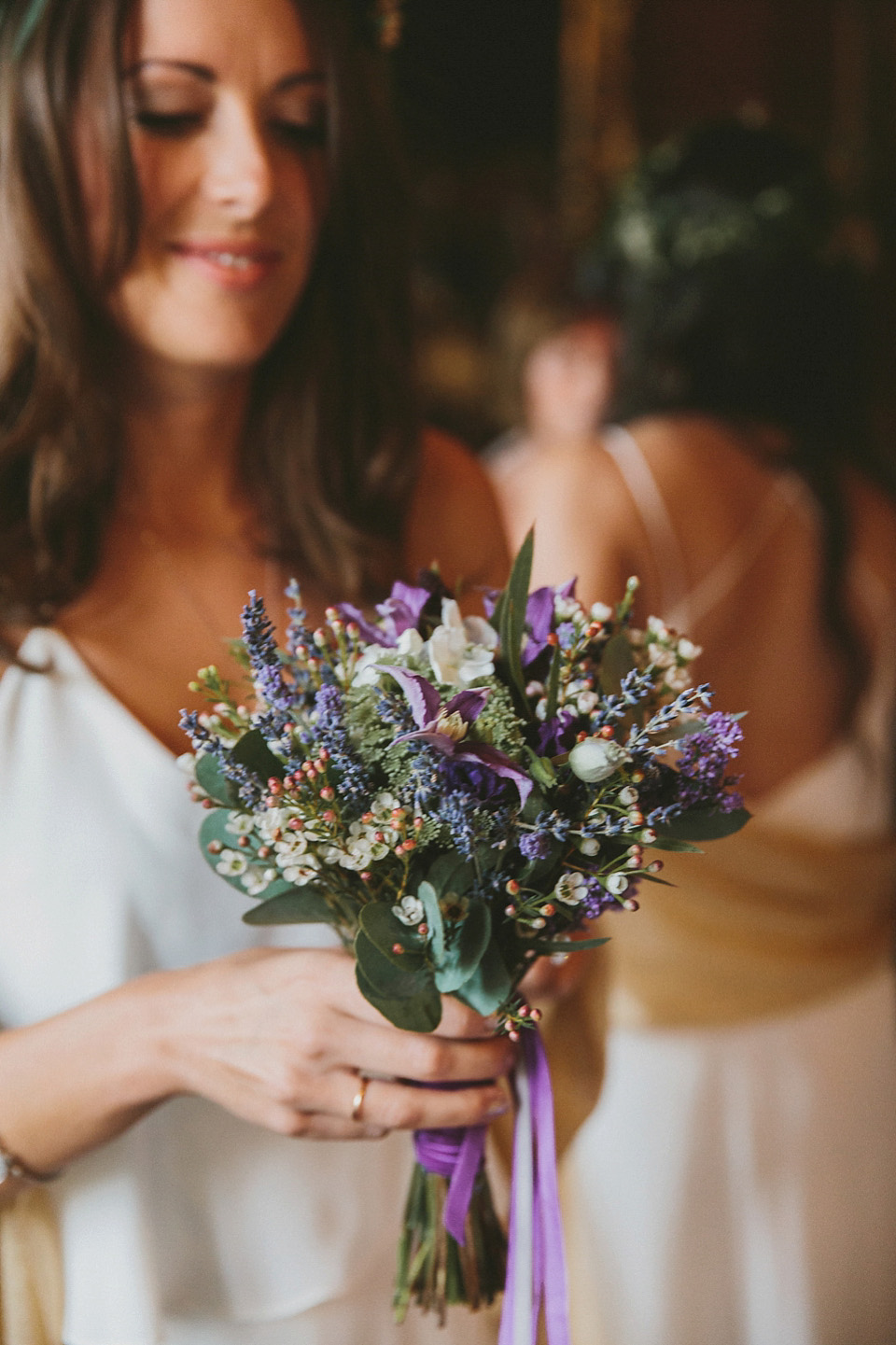 "I wore a Charlie Brear slip that was purchased in a sample sale from her London boutique. I then worked with a seamstress to add sleeves, lower the back and add extra detail. I love a bit of boho styling – always have – but I also really dislike tight clothing and look terrible in any kind of bodice, so I knew I would probably go with something relaxed and unstructured. I was drawn to designers like Johanna Johnson, Rime Arodaky, Rue de Seine and Delphine Manivet – their fabrics and designs were amazing. But I quickly realised they were sadly out of my budget. I'm also a girl with curves, and not necessarily in the right places for some of the slinky style dresses I was rapidly falling in love with. So unless I was planning on showing an inappropriate amount of boobage and a rather unflattering muffin top (which wasn't quite the look I was going for) I knew I'd need to find an alternative!
I discovered Charlie Brear had a sample sale coming up – and having always loved her dresses and designs, thought it was definitely worth a visit. After I'd got over the fact I was standing in a room surrounded by other women in nothing but a pair of ugly flesh coloured spanx, I had a great time and left with one of her gorgeous slip dresses. The girls that work in the studio were so great and even though it was a sample sale they went out of their way to make everyone still feel very special."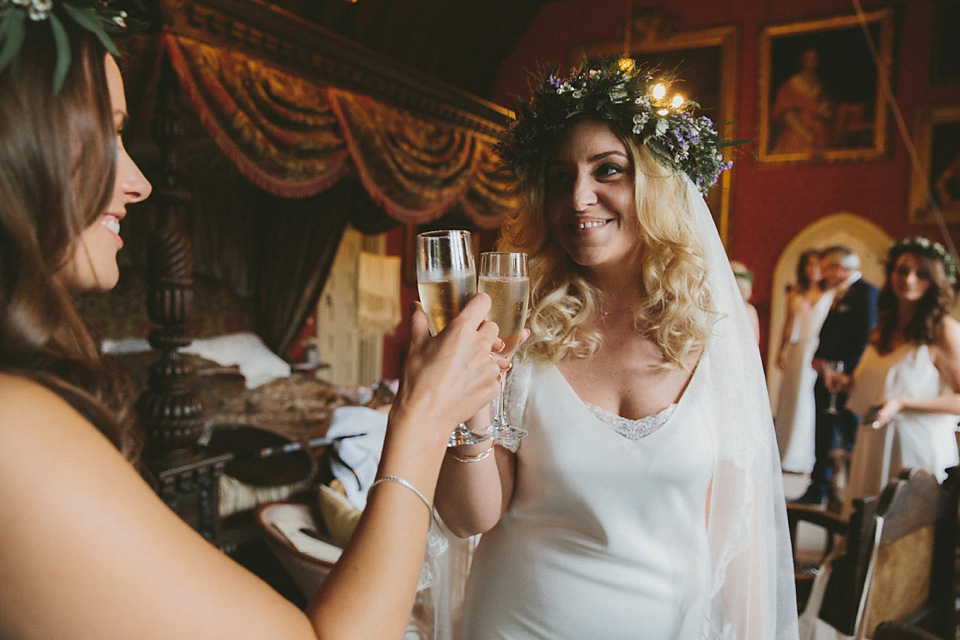 I then worked with a seamstress to add sleeves and some extra detail. I managed to buy an off-cut of Chantilly lace from Berwick Silks in Soho which later became the sleeves and it all came in under budget.
I then spent the next six months questioning my decision (as I think so many girls do!). The final dress didn't look anything like how I'd envisaged, but I loved it on the day and was pleased with the 'look' (thankfully as I didn't try everything on all together until the actual wedding morning!).'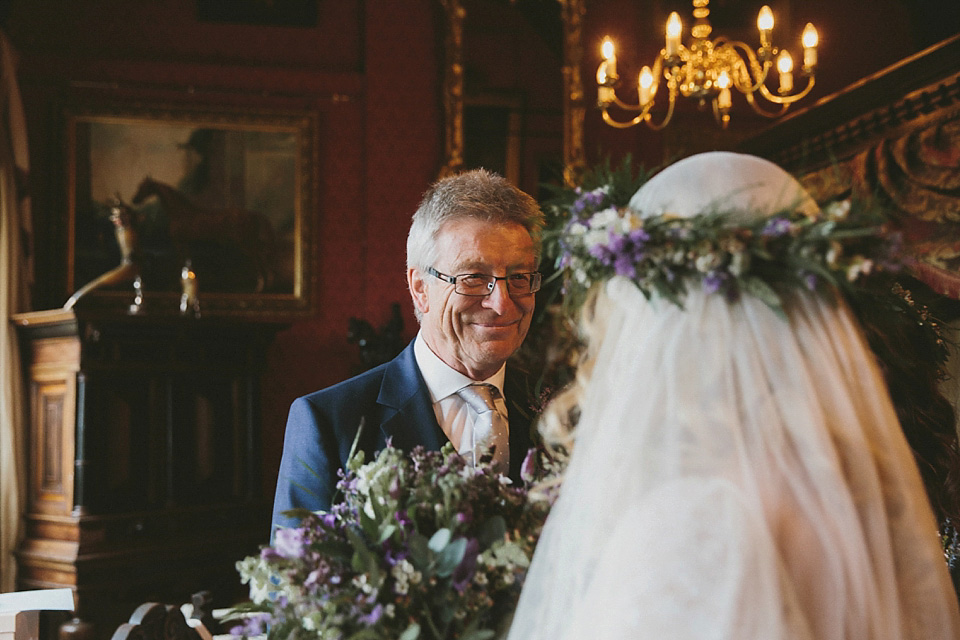 "My shoes were a pair of gold Dune peep toes which I found in TKMaxx – a bit of a bargain which gave me the justification to purchase an amazing gold glitter Anya Hindmarch clutch to use on the day.
I kept the jewellery simple as there was already quite a lot going on with the flower crown, veil etc. I had a simple Tiffany diamond necklace that my parents gave me for my 30th and a blue quartz cocktail ring (as my something blue) that I bought years ago from Portobello Market. I also wore a few rose gold and silver bangles (that I already had) and I pinned a brooch on my bouquet that belonged to my Nan, which my sister had also used for her wedding (my something old). In the evening I added some art deco style earrings one of the girls had given to me on my hen night – they just fitted the look really well (and they were my something new)."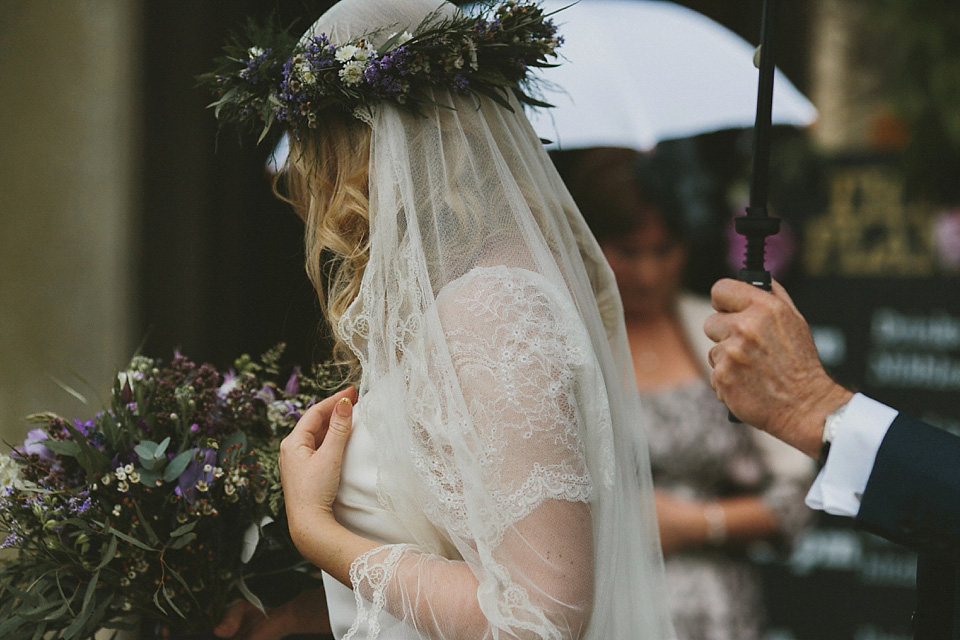 "I purchased a simple broderie anglaise dress from Gap for my baby niece and a really simple pin tuck dress from Mini Lunn for Leyla my flower girl (our other niece), which she wore with cream tights and simple satin ballet shoes. And of course her flower crown! I wanted something very simple – so was really pleased."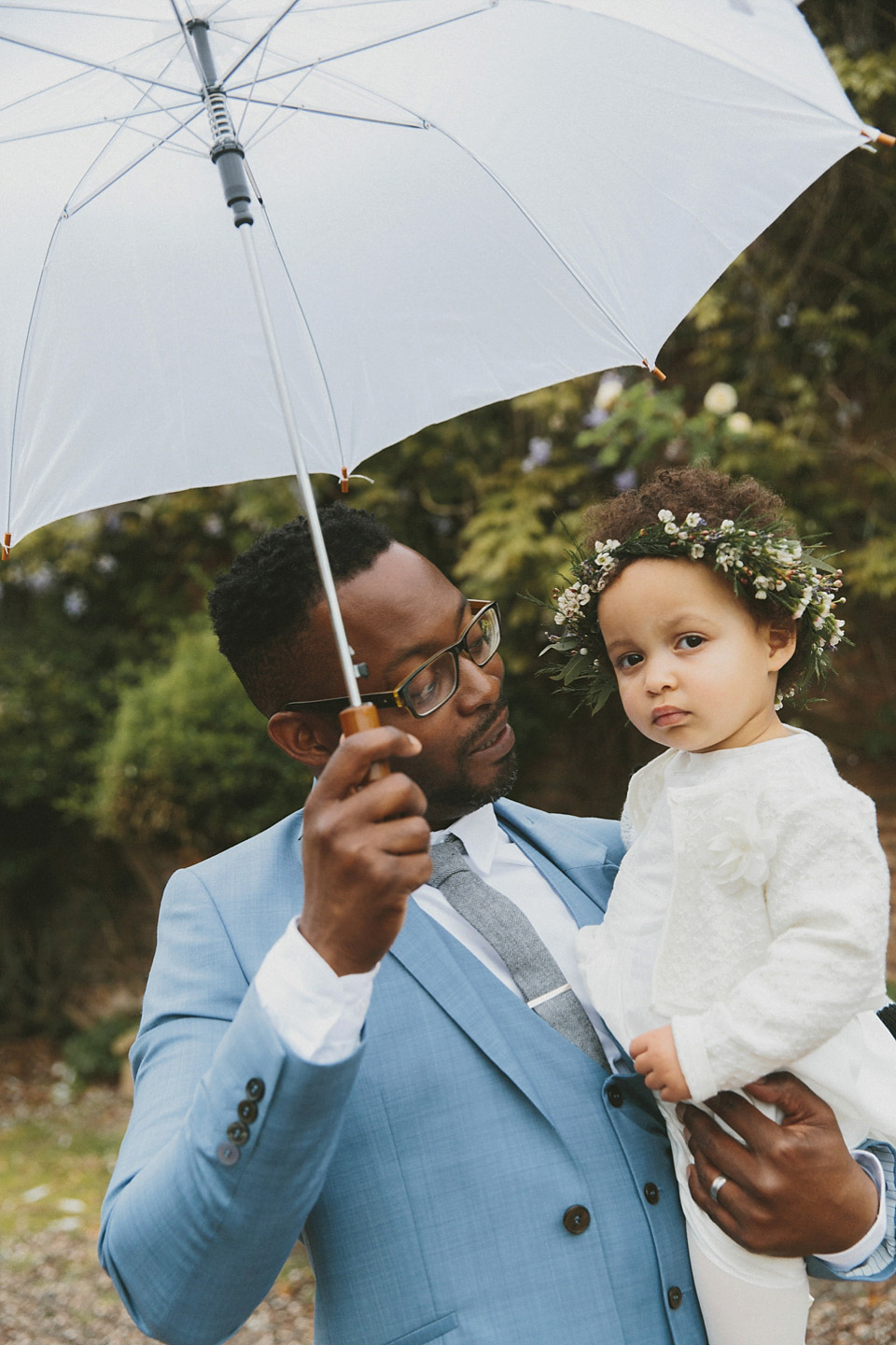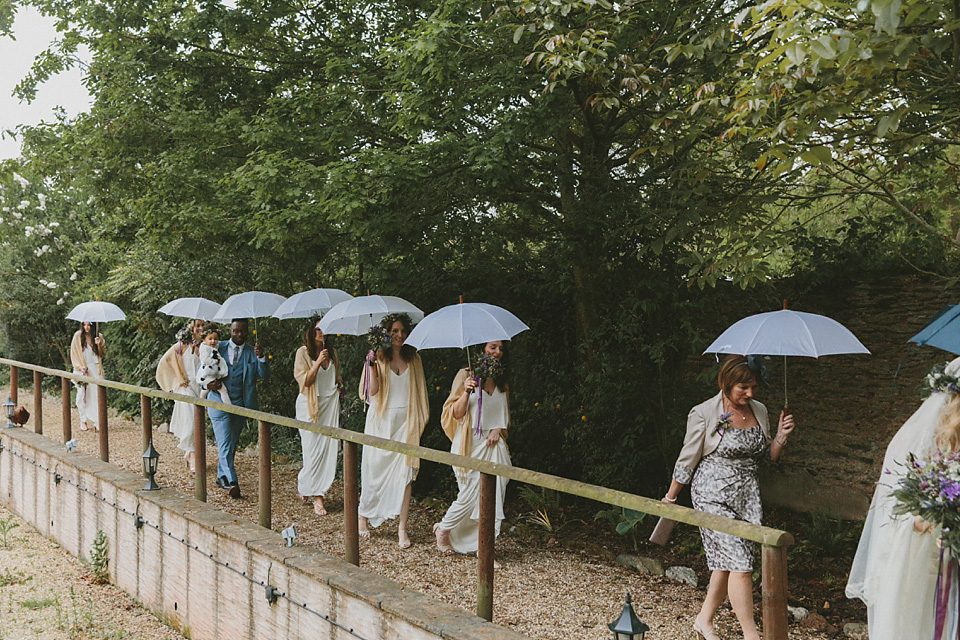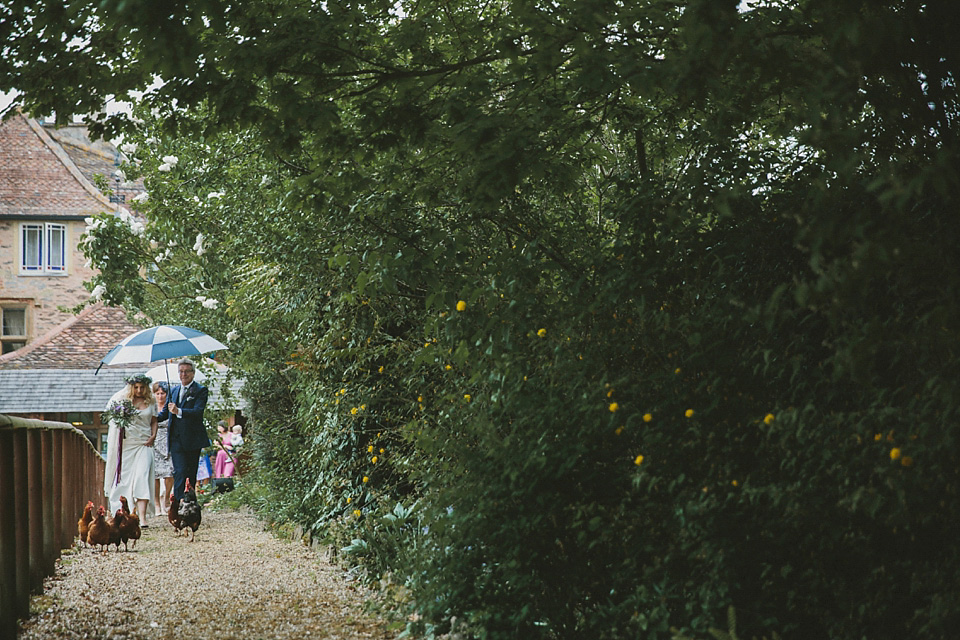 "Olls wears shorts and t-shirts every day to work – so relishes the opportunity to wear a suit and get smarted up whenever he can. He also loves the high street shop Reiss, so there was always a high likelihood that's where his suit would come from (and my dad also got his there too). The guys in there are great and Olls looked darn hot on the day – but knowing he felt as special as I did meant a lot. He decided to wear a copper tie and pocket square that he already owned. He couldn't find anything he liked as much and it went well with the other metallic elements we had as well as the groomsmen's ties, so we just went with that. His brown brogues were a sale purchase from Jones.
Olls also wore a dress watch I gave to him the night before the wedding."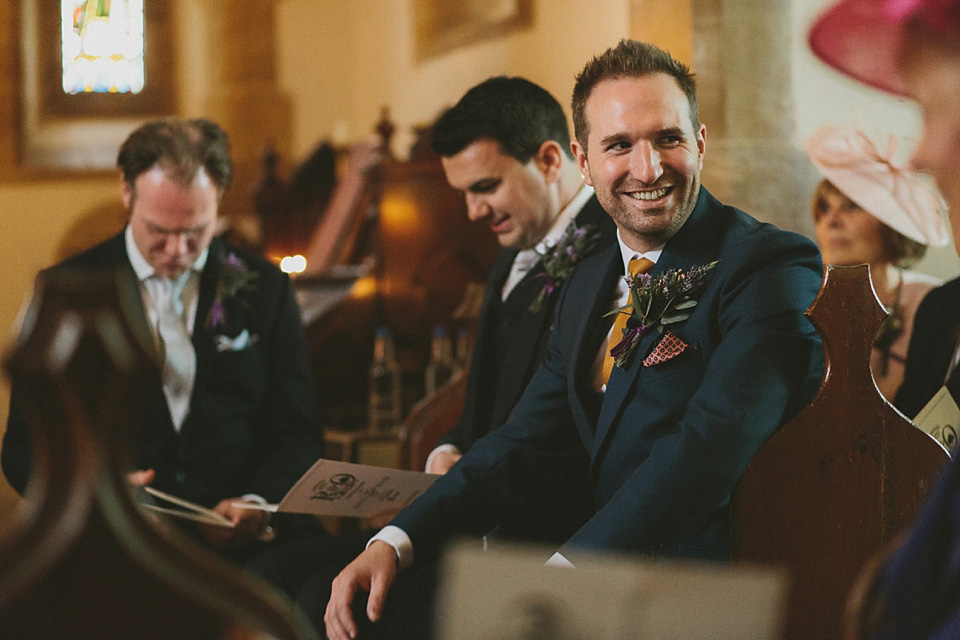 "I gave each of my five bridesmaids a raw amethyst necklace and a rose gold bangle to say thank you for being my girls. I've always loved raw amethyst and it's said to have calming qualities – which seemed pretty appropriate as a bridesmaid gift."
"I wanted Sammy (my godson) to be comfortable – and it didn't seem right putting him in a grown up style suit! So he wore navy chinos, with a white shirt, braces and converse style trainers. I found his little bow tie online via NAFEstudio on Etsy and it matched the groomsmen's ties perfectly. I hear he insisted on wearing his outfit to nursery every day the following week – so I think he liked it!"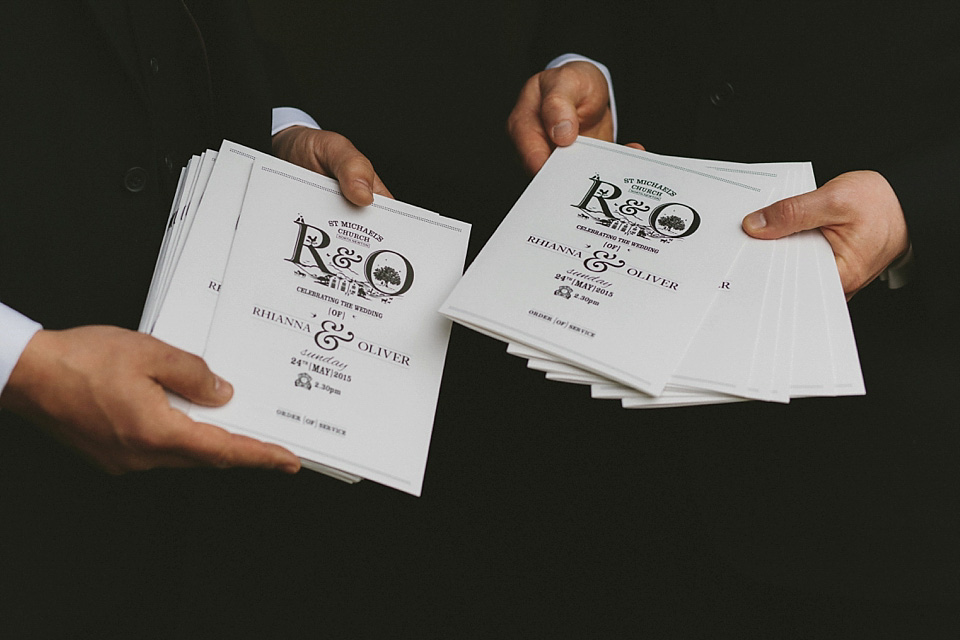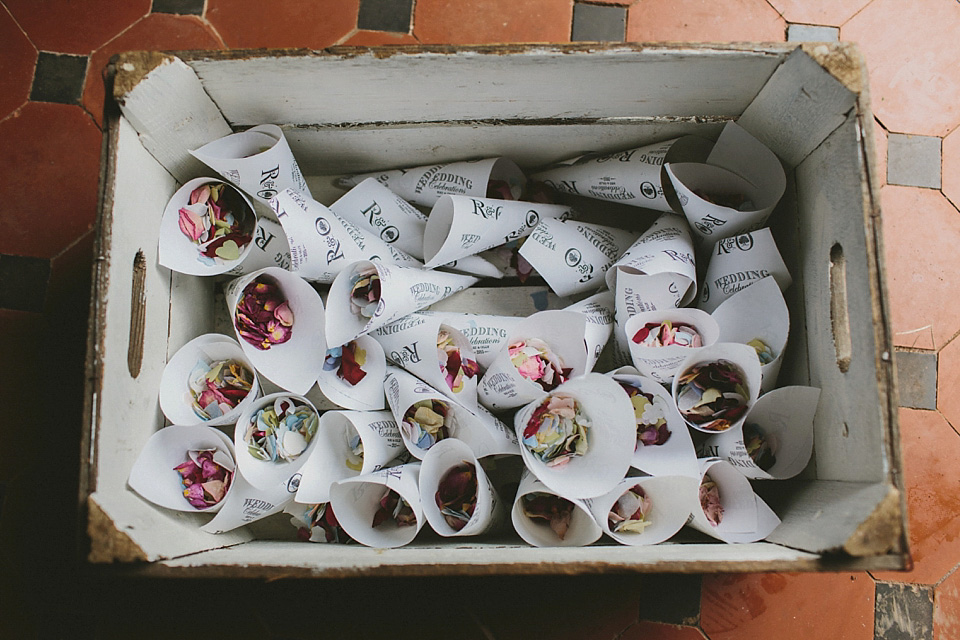 "My lovely dad walked me down the aisle. As the chapel was so small the walk could have only lasted 10 seconds – so we had to walk reeeaaallllyyyy slow! But it is one of my loveliest memories of the day.
We struggled to find a piece of music for me to walk down the aisle to – the chapel was so intimate that some of the big traditional pieces just didn't seem to be right. In the end we went with the very classic Pachelbel's Canon in D."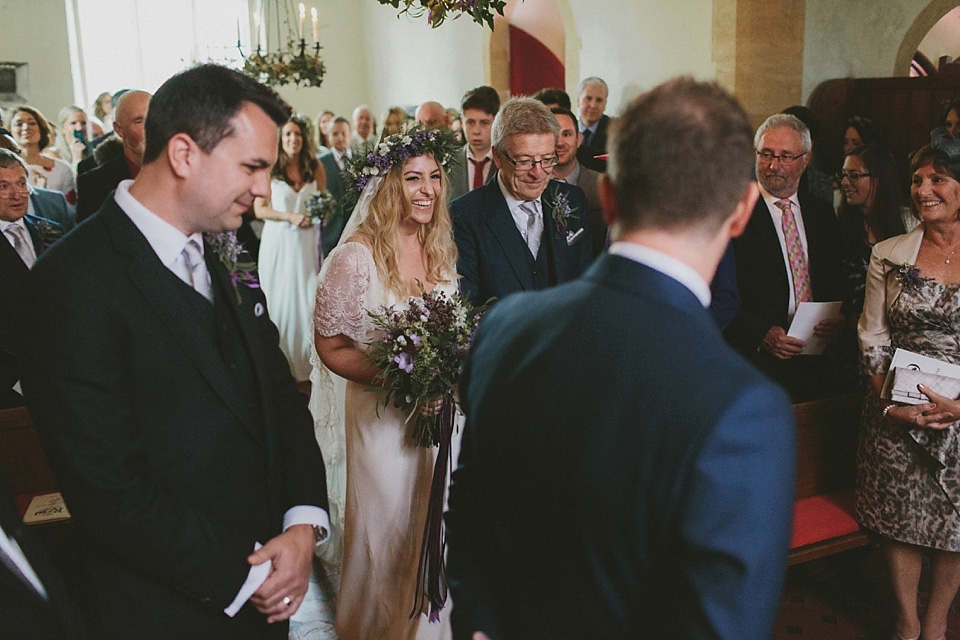 "We kept to the traditional vows – we loved how simple and traditional they are. But I think Olls and I were taken aback by how much we loved the ceremony. We always knew how it important it was, but our wonderful Reverend made it very personal and our friends delivered some beautiful readings."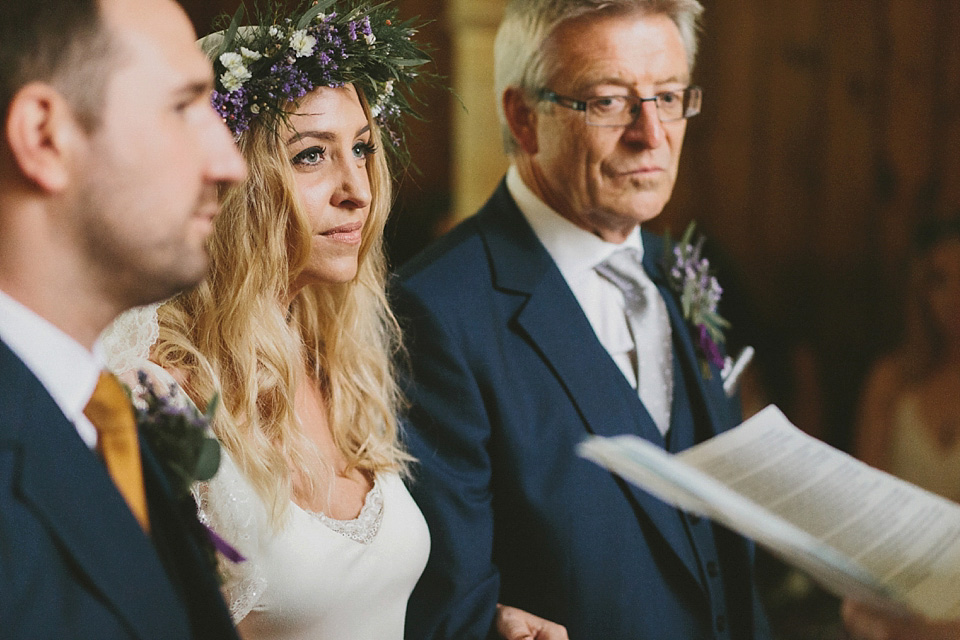 "For me, walking down the aisle with dad, seeing everyone beaming at me and then seeing Olls was just magic. The fact the chapel comfortably sat 45 people…and we were almost double that definitely added to the ambiance!
Our readings included 1 Corinthians 13:4-8 (a classic but so lovely). We also had a funny and humorous wedding reading. As soon as I read it online I knew we had to have it – it's exactly how I imagine Olls and I to be when we're old and knackered!"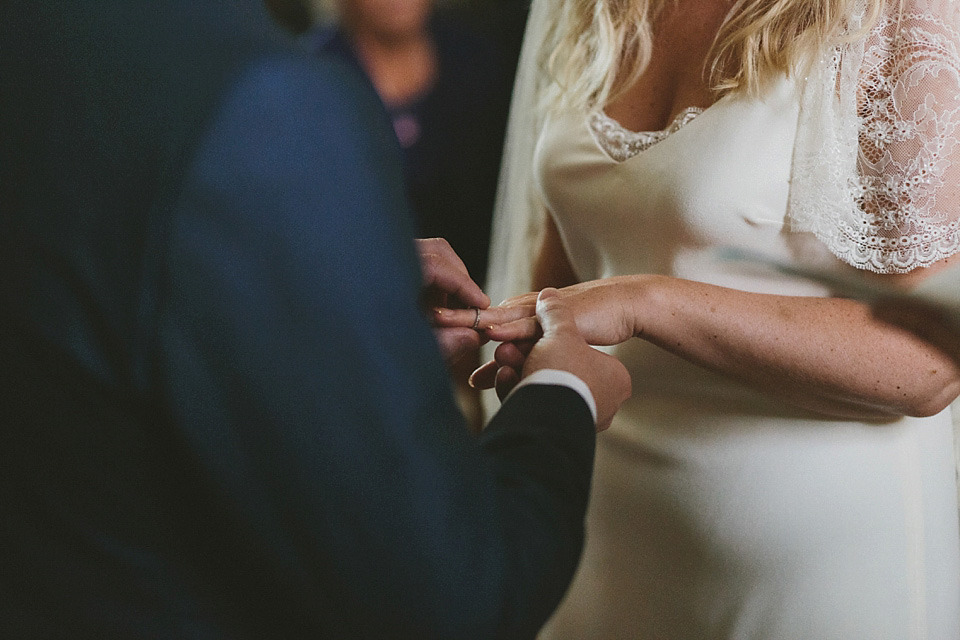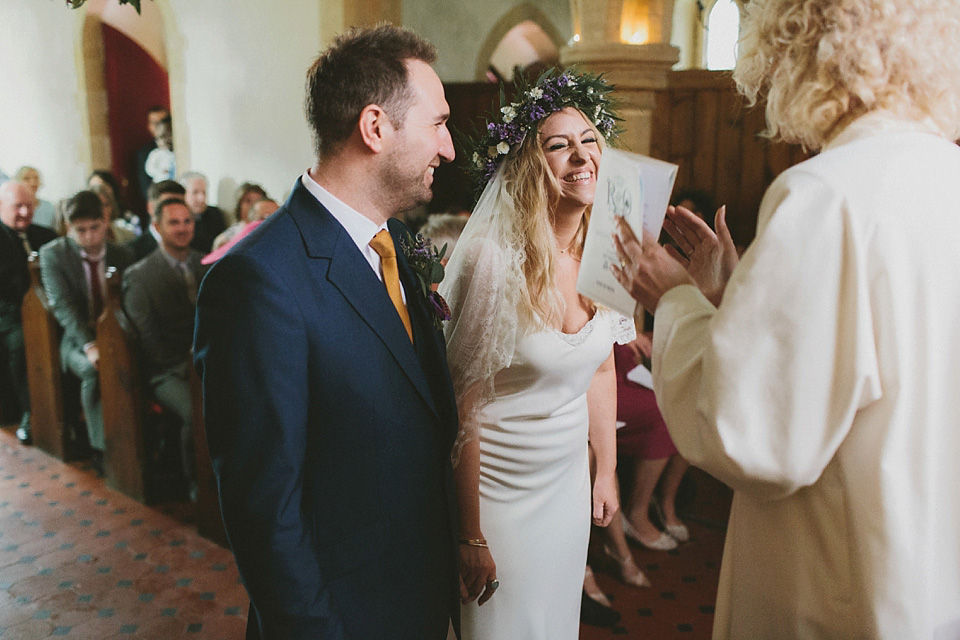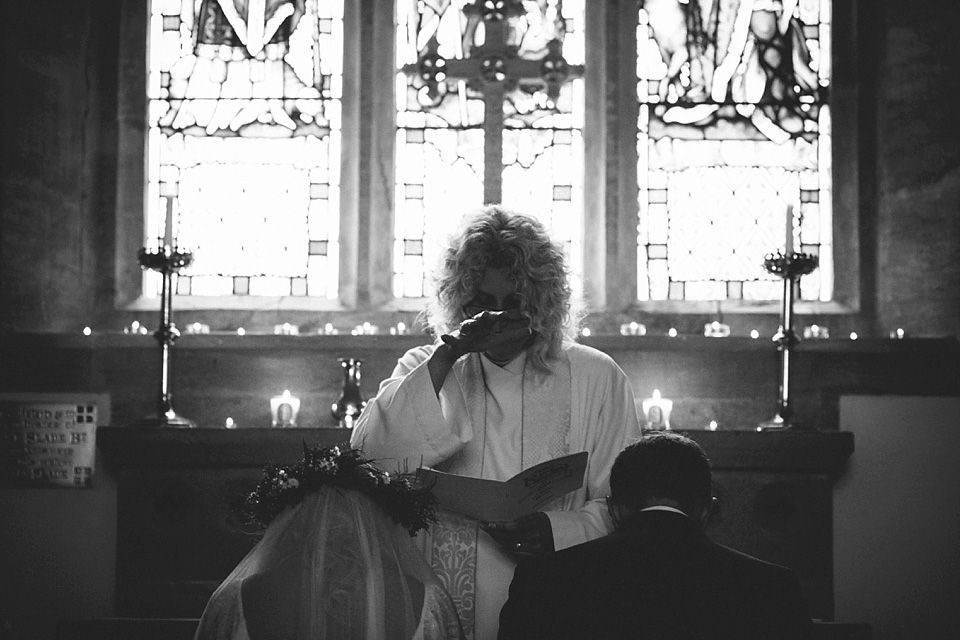 "Our rings were from Lionel J. Wiffen – a brilliant man whose business is located at Hatton Garden. He was recommended to us by a friend. We went for platinum band with mill grain edges for Olls and an engraved thin platinum band for me. We had both inscribed on the inside."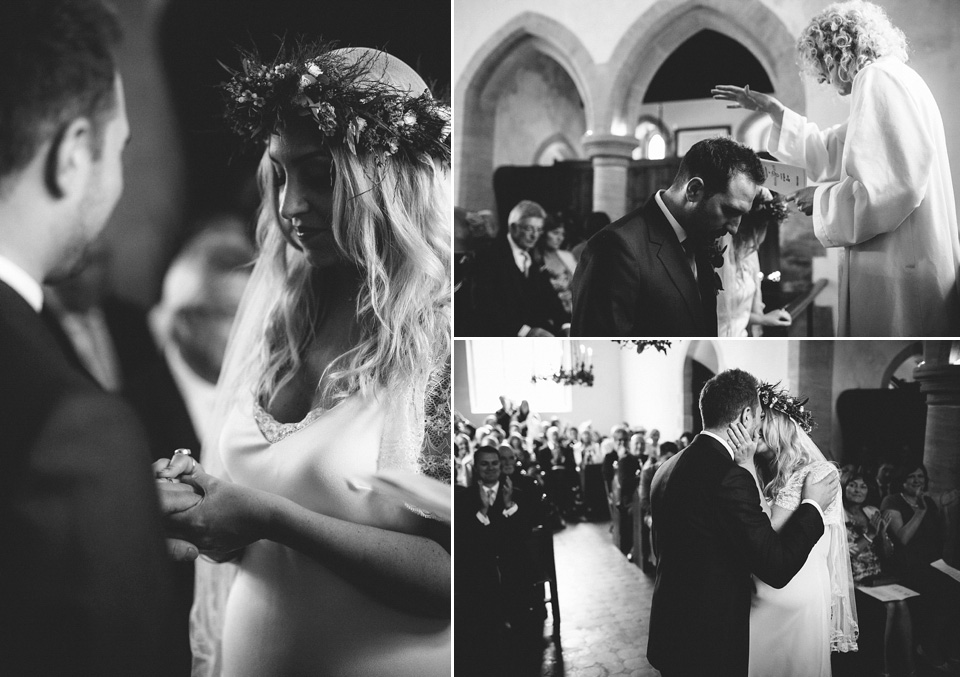 "Our guests burst into an impromptu performance of 'All You Need Is Love' as they were leaving the church. Pen and Cam of our photographers McKinley Rodgers, had hidden Olls and I in a cupboard to the side of the chapel before doing the confetti shot, so we heard it all and it was definitely one of our favourite moments."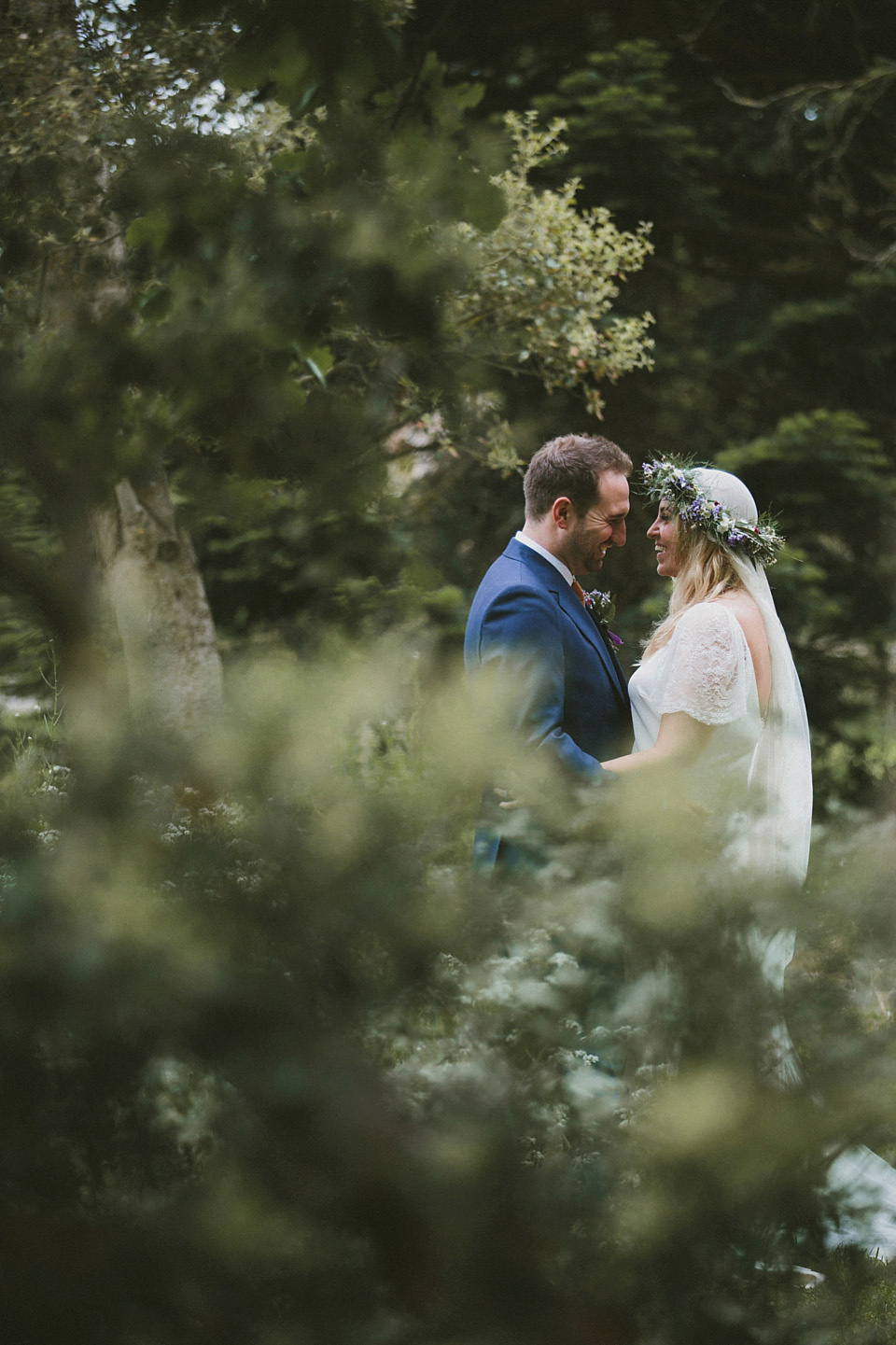 "The house itself needed very little decorating, so we focused our attention (and budget) on the pagoda, where we had dinner and the other outdoor areas.
We had a real thing about bringing the 'outdoor in', and keeping it really green. The pagoda was perfect for this as already has wisteria, roses and foliage throughout. We then used Ikea lace drapes on the lattice ceilings and my mum and aunt made us flower rings to hang from the roof. Fairy lights finished off the look as the sun started to drop and we had a lot of candles!"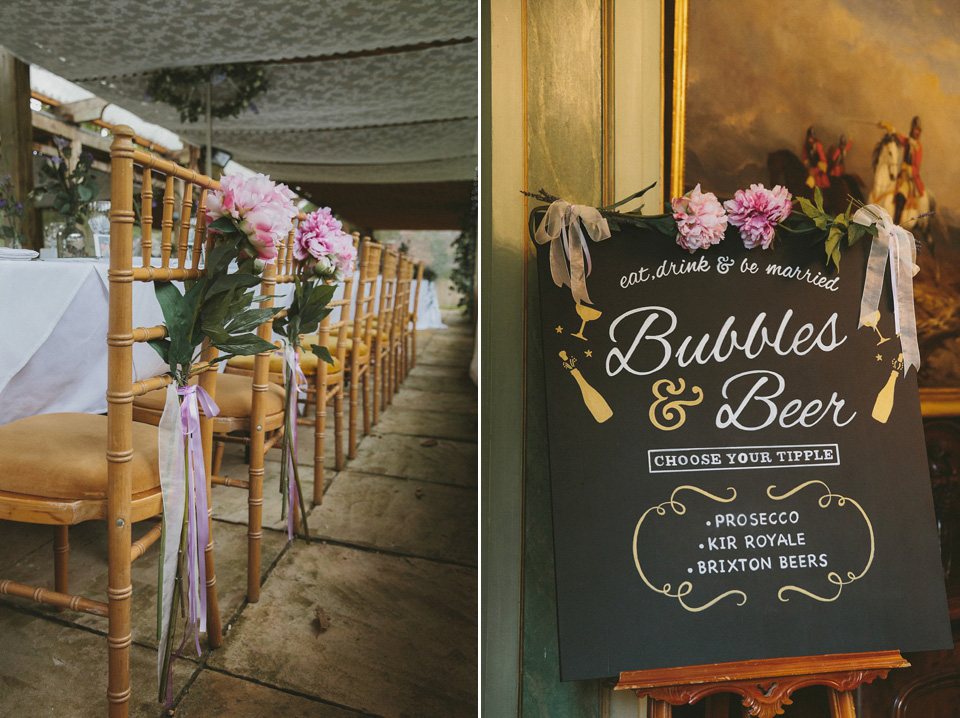 "Lots of our plans for the garden had to be put on hold until it had stopped drizzling, and our canapes and drinks were held in the ballroom of the house. But by 5pm we had perfect blue skies and sunshine, so Naomi and the team were able to bring our plans to life for the evening. Olls really wanted a whiskey and cigar table, so we used a wooden bureau from our flat (which Ollie had made in his GSCE woodwork class!) and Naomi set this up with chesterfield sofa's and other furniture from the house."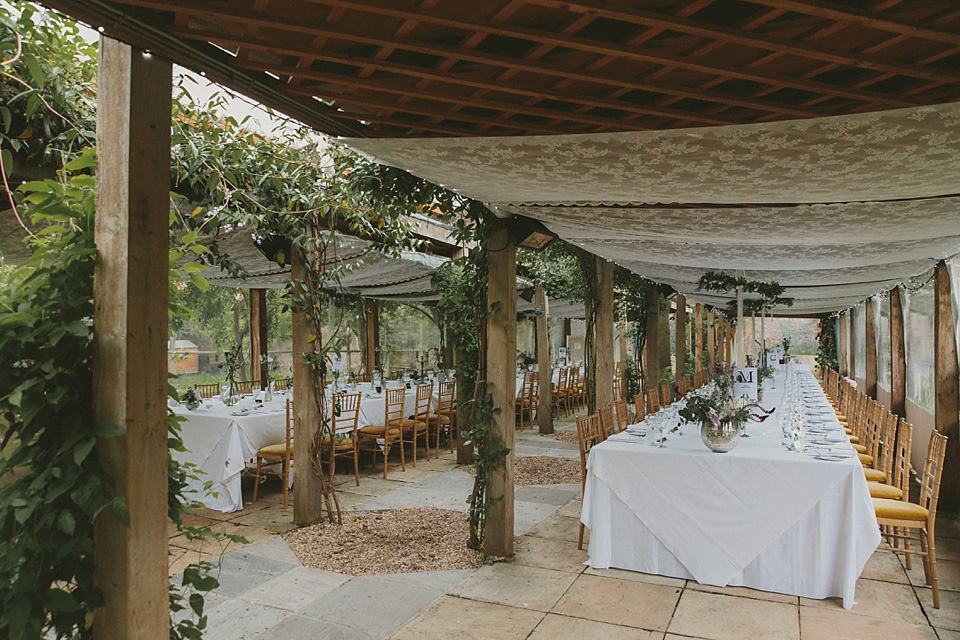 "We hired a 'LOVE' and 'R&O' sign from Doris Loves, which looked brilliant. They were battery powered which meant we could move them from one part of the house to the other with ease and get the most out of them."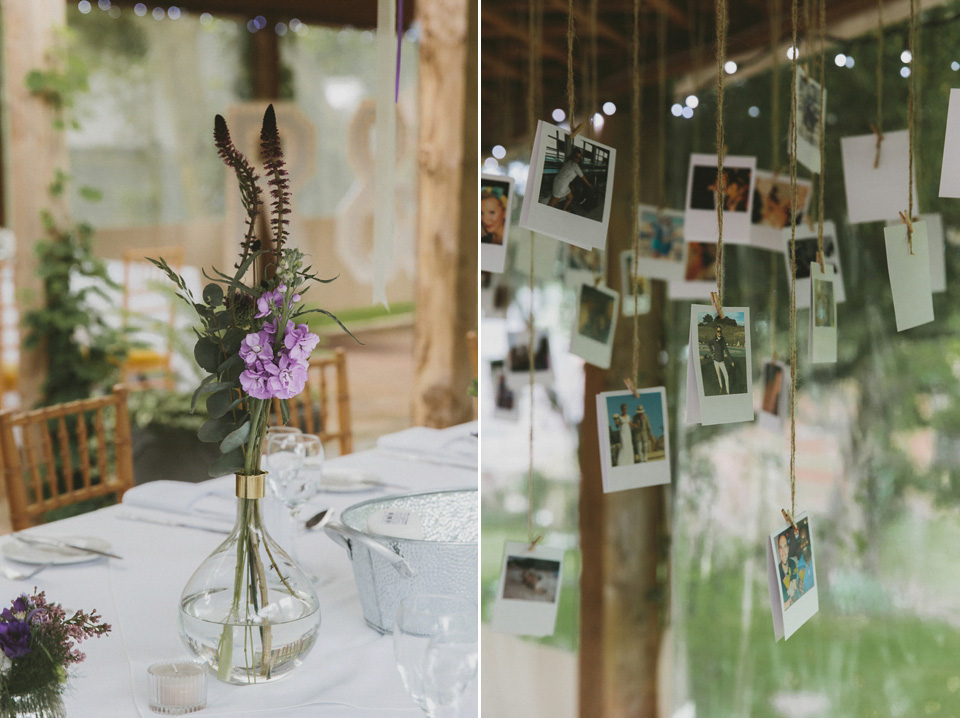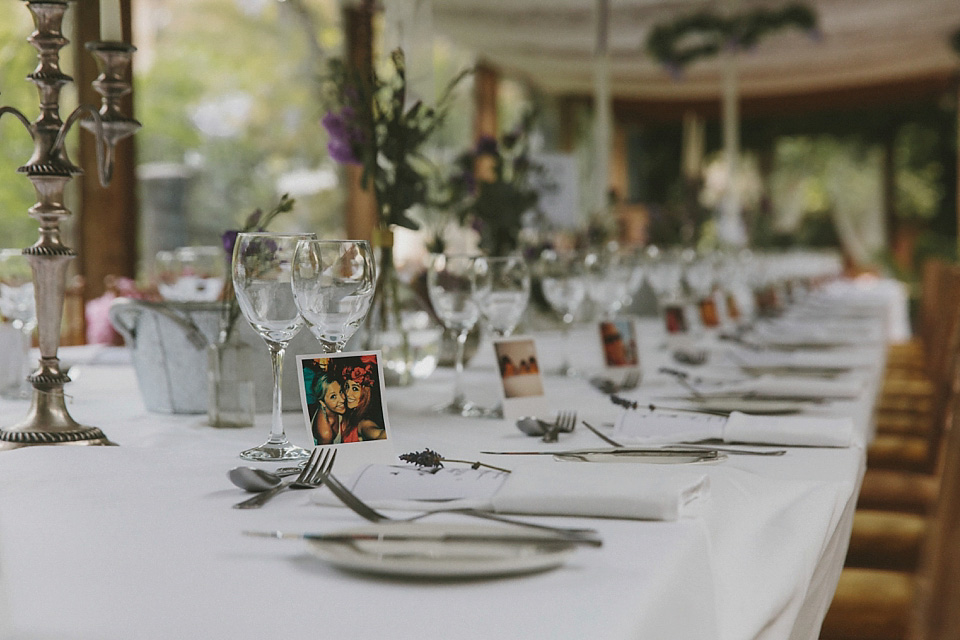 "One of my bridesmaids owns Devon Vintage China with her mum – and they kindly let us have lots of things – we had crates, champagne saucers, and little medicine bottles for the flowers."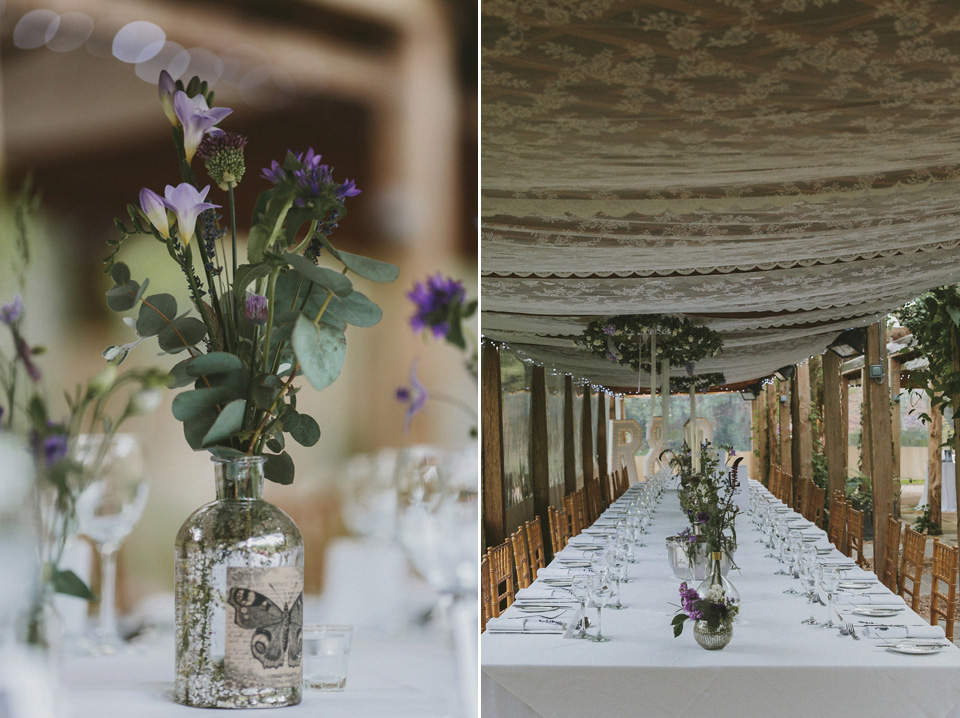 "Food was big on our agenda. Our caterers were Bon Appetite (part of the key team at Maunsel) and they were really flexible and easy going. They even dealt with my irrational phobia of white china ramekins and kindly sourced different butter dishes for the table!
We had lots of rustic canapes after the ceremony instead of a starter and served these with Kir Royals, Prosecco, Brixton Beers (from our local brewery) and Ginger Honey Fiz with edible flowers for decoration. We then had breads with dipping oils during speeches, followed by sharing boards of beef and vegetarian wellington, roasted baby potatoes and green beans tossed with butter and shallots.  Ollie was adamant he wanted to serve a trio of puddings (?!), so we had sharing boards of chocolate torte, mini meringues and fresh strawberries all served with more edible flowers. Maunsel allowed us to bring all out own alcohol, so we were able to serve our favourite wines and magnums of rose and put these in large champagne buckets along the tables so that people could help themselves.
Shamefully I barely ate any of it – a mixture of adrenaline and excitement saw me lose my appetite for the first time in history!"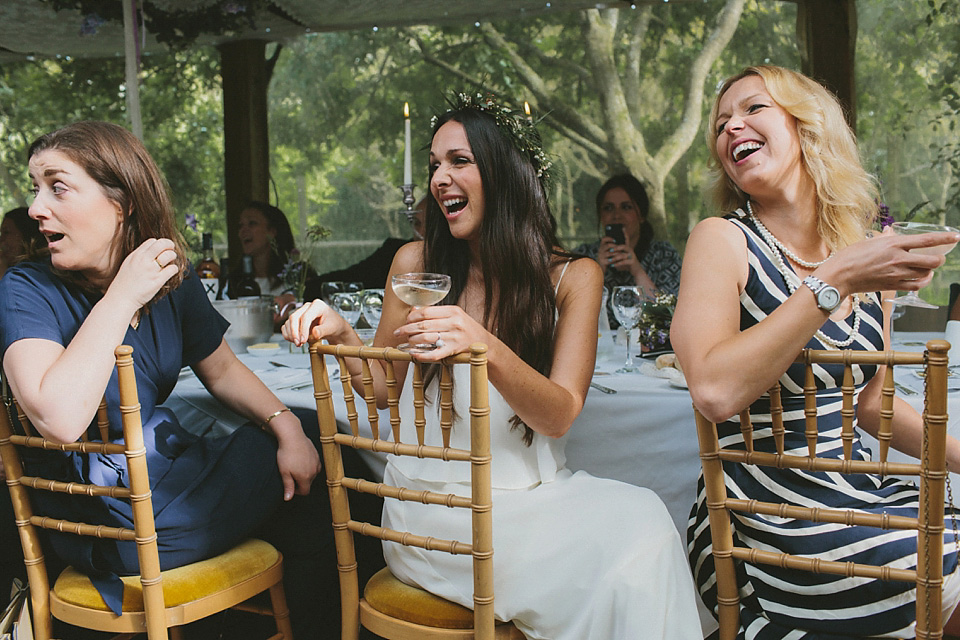 "For the evening food we sourced our own favourite cheeses from nearby Pynes Delicatessen  (who were great) and Pong (also great). We also had Ginger Pig sausage rolls, pork pies and scotch eggs and a friend supplied an amazing selection of chutneys. The cheese stank out the whole house and we all stuffed our faces in between hitting the dancefloor. It was epic."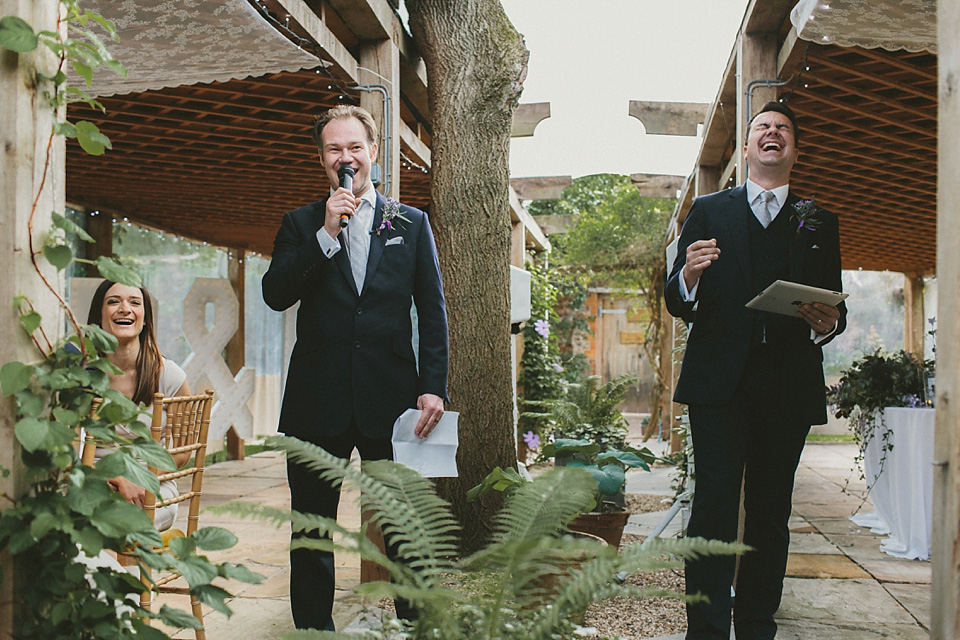 "We weren't sure we even wanted a wedding cake, but the week before the wedding we decided to go for it. Cutter & Squidge based in Soho were brilliant and helped us pick three different cakes – chocolate and salted caramel, lychee and rose and a gluten free lemon meringue. All three were then driven in the footwell of my friends car from London to Somerset and amazingly made it in one piece!"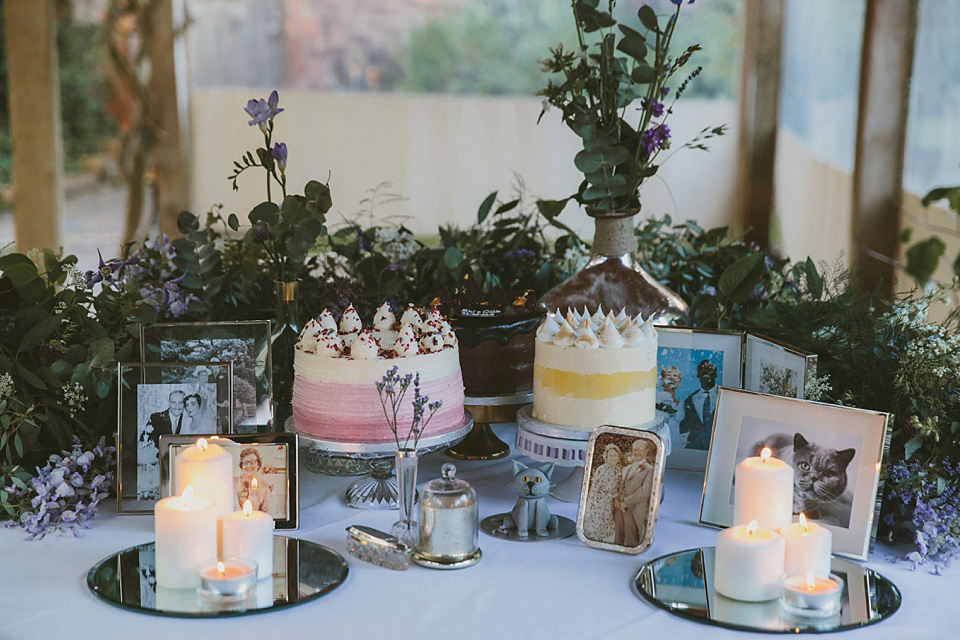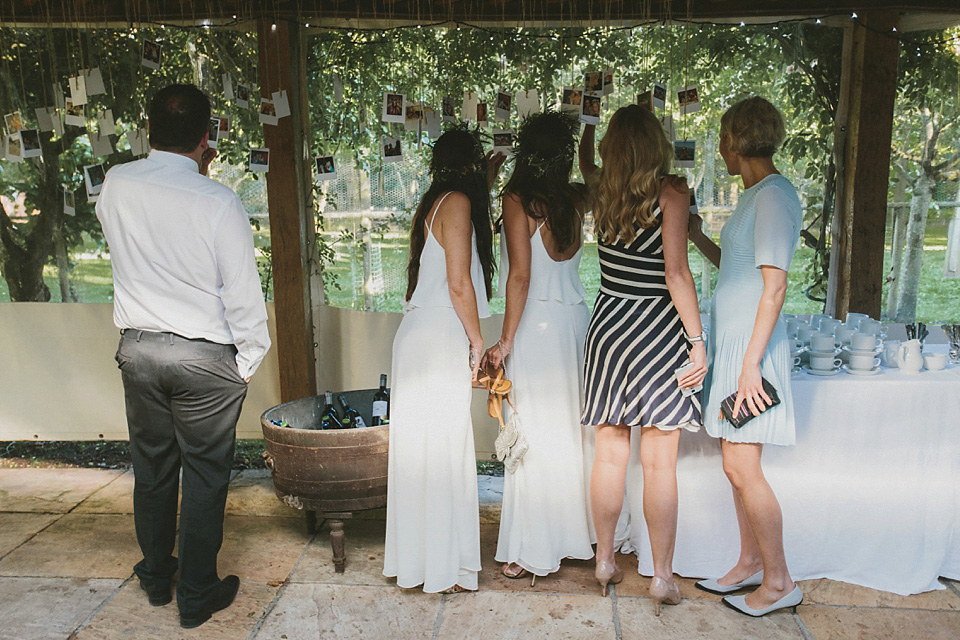 "We printed polaroid style photos of each guests for the tables (by Polargram who were great) – but I quickly realised we had so many great photos of all our guests I couldn't pick just one! So we also printed extra for a hanging polaroid gallery (lots of 80's perms and incriminating party pics!) We'd wanted a photo booth but decided we didn't have the budget for it, so instead we bought a polaroid camera which did the rounds throughout the day."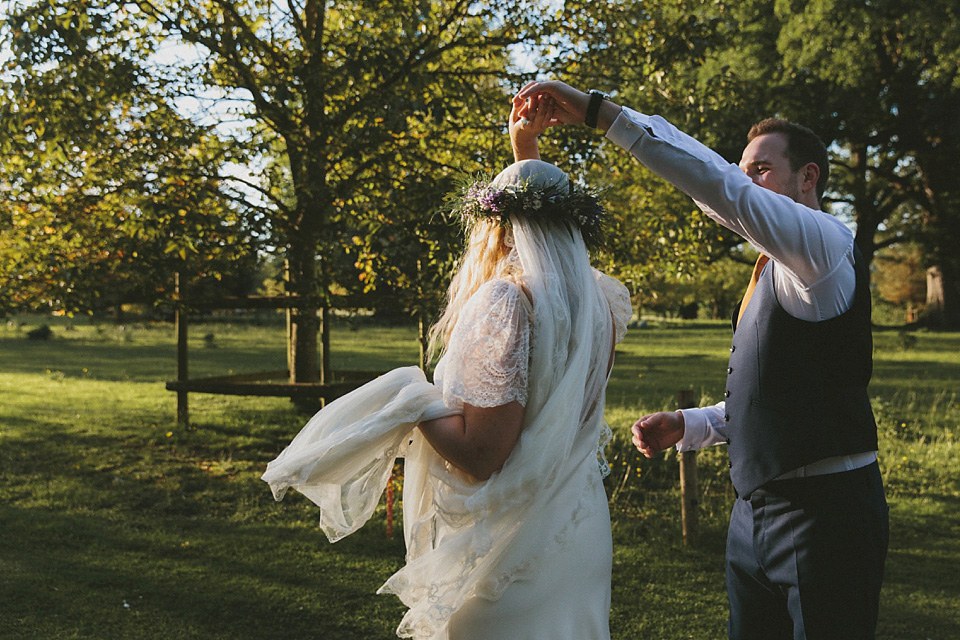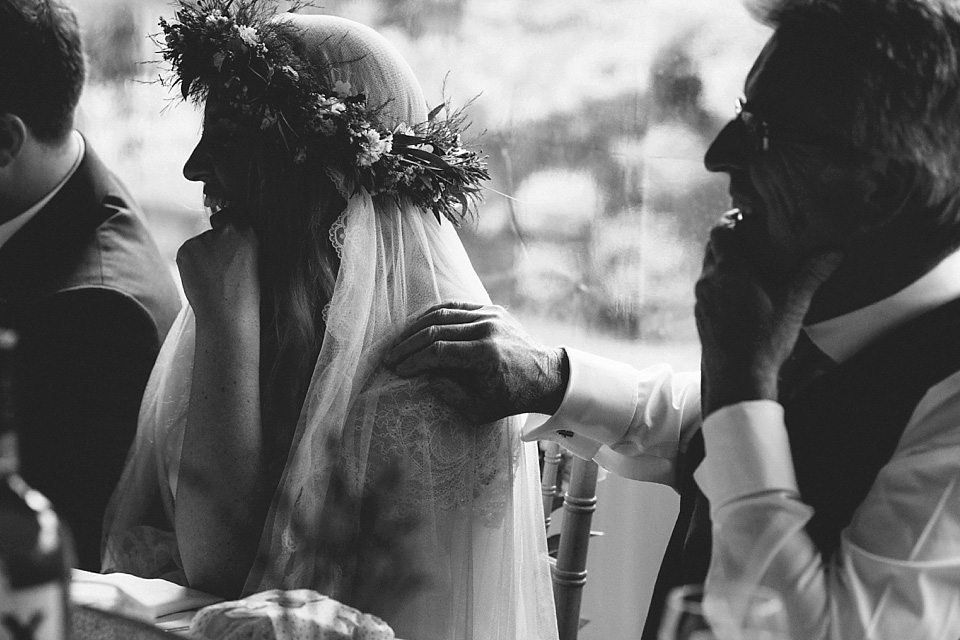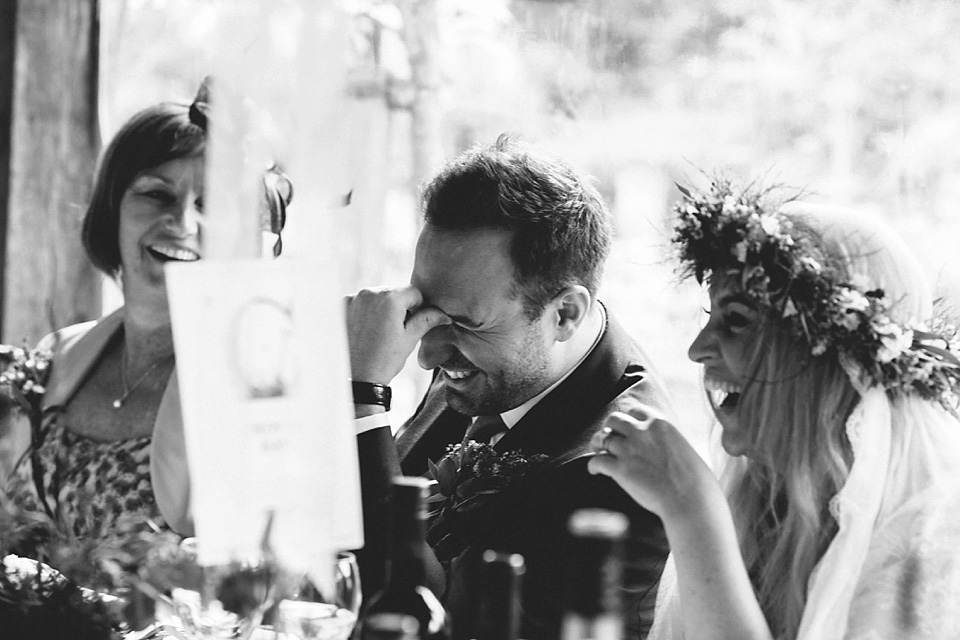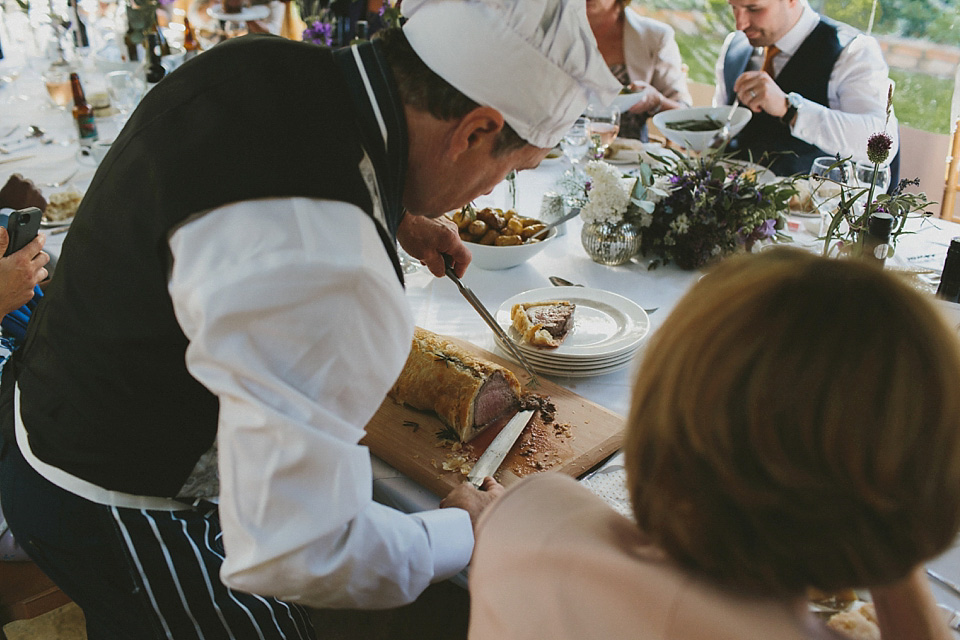 "We don't really have a favourite slushy song, so we went with an acoustic version of Candi Statton's 'You've got the Love' for our first dance.  It reminds me of when Olls used to pick me up for dates when we first started going out, and he'd always have some 90's dance music playing in the car! My parents taught us some simple dance moves as they are amazing jive dancers – but I feel we didn't really do their teaching any justice as we forgot most of the steps in all the excitement!"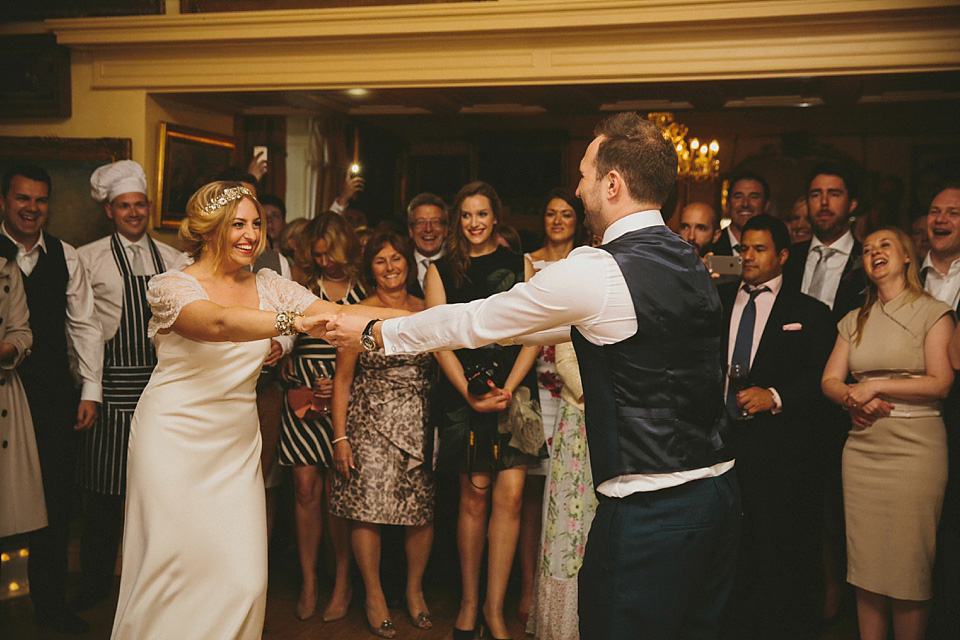 "In the evening, I switched my floral crown for a Jenny Packham headpiece and matching cuff for the evening – another sample sale bargain that I adore. Ange loosely hooked my hair around the band and I whacked on some red lippie. Hey presto – a whole new look for 'party mode'."
"For our evening entertainment, we really wanted a live band, and ideally one with a sax player. We eventually found The Aviators via Function Central. We found the process a little nerve wracking as so many good bands who play at weddings don't seem to do gigs! So we had to go on a few sound clips and videos and hope for the best – but we were delighted. They were amazing!"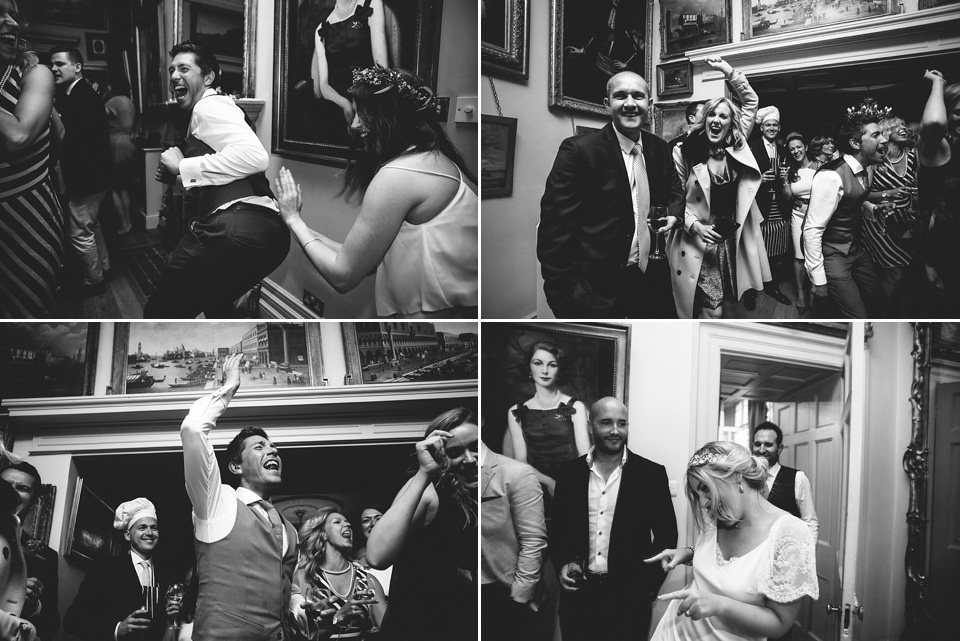 "As the guests were waiting for Olls and I to join the dancefloor for our first dance the band broke into an impromptu performance of the White Stripes' 'Seven Nations Army' and a couple of the guests said the atmosphere was electric. I'm gutted we missed it!"
One of the best men brought his decks and DJ'd at our 'after party' in the library at the house…that was a lot of fun…and we danced like nutters until the wee hours."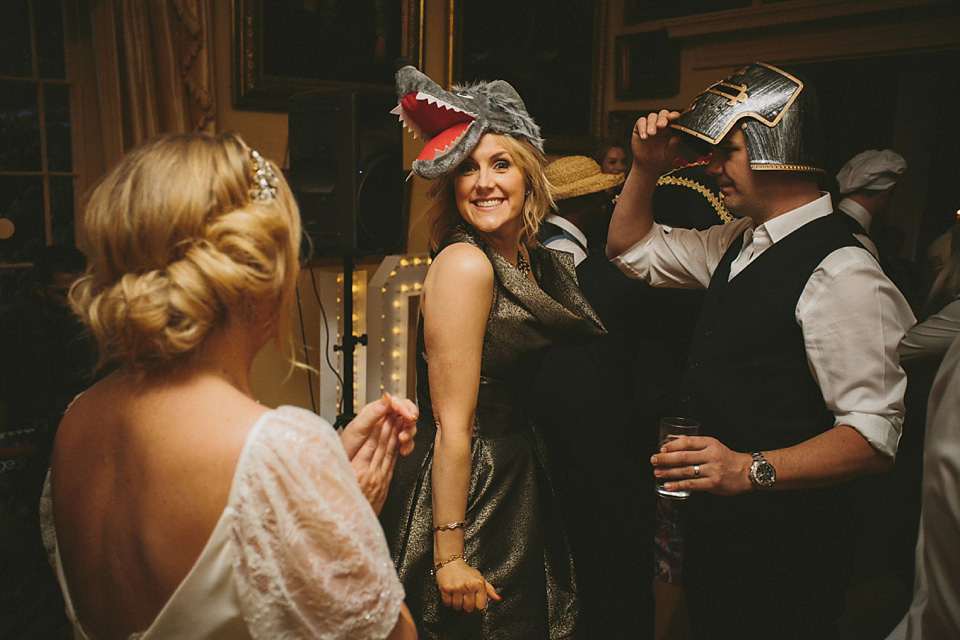 Words of Wedded Wisdom
"Finding Love My Dress was a blessing.  What I love the most is how it celebrates everyone's differing tastes, personalities, styles and budgets.  I loved the fact you could read about a £200 elopement on the way to work, and then in the evening a big budget, bells and whistles wedding! I think Love My Dress encourages people to be bold and brave with their decisions – and it's wonderfully addictive – so thanks Annabel and team!
I know I can be a control freak – and I struggled to let go a bit on the day when I saw things that weren't exactly right. If I could go back in time I would tell myself to chill out and eat some beef wellington…!
Delegation is not my strong point. I admit that now. But I tried really hard and it paid off as people were amazing and it meant there were some lovely surprises on the day. Also, we lead pretty frantic, busy lives so made a decision early on that we didn't want to sacrifice our social life for wedding DIY. We were quite strict with ourselves and I think managed to get the balance right for us."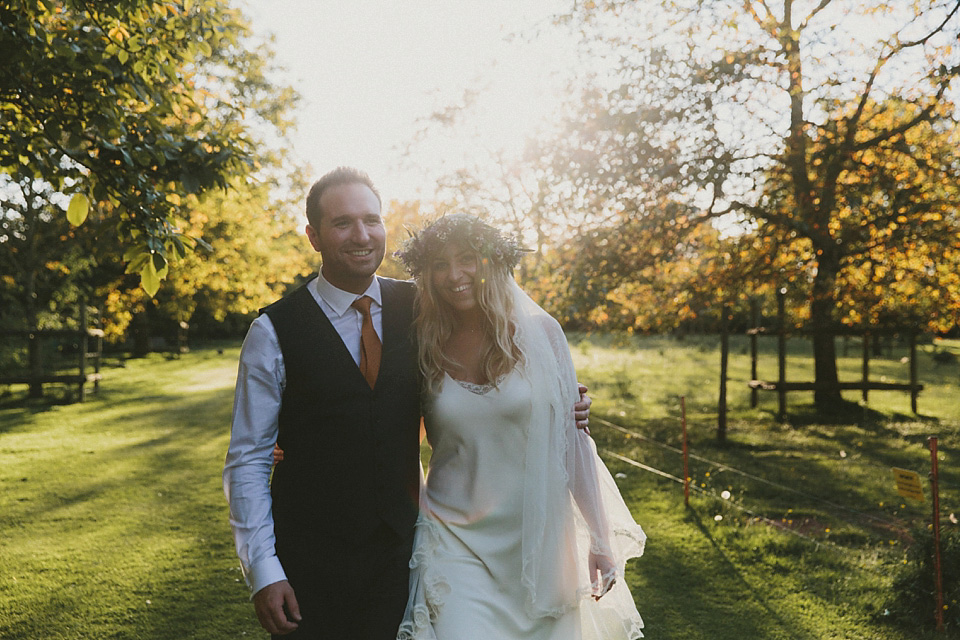 "We did run out of time on a few things – blackboard signs were our nemesis and even led to me having a total meltdown in Staples Superstore two nights before the wedding. Yes really. All because they had sold out of gold chalk pens. But was anyone's day worse off because the 'Welcome to our Wedding' blackboard wasn't designed to perfection? I very much doubt it. And actually, penning it the day before the wedding after too many G&T's with a couple of friends was quite a lot of fun. Even if the wording was a bit squiffy.
Don't feel bad if you just become 'a bit over it all' and you don't feel you've made the most of every joyful experience. Quite frankly, life gets in the way – dress appointments have to be crammed in after long days at work and it can all get very overwhelming.
But I bet I'm not the only bride who wishes we could have done an entire 'dress rehearsal' of the day?! Seriously, that would have been super useful! The ceremony was amazing, the speeches were hilarious, and we loved seeing our amazing friends and family throwing themselves into the day. I just remember grinning like a Cheshire cat."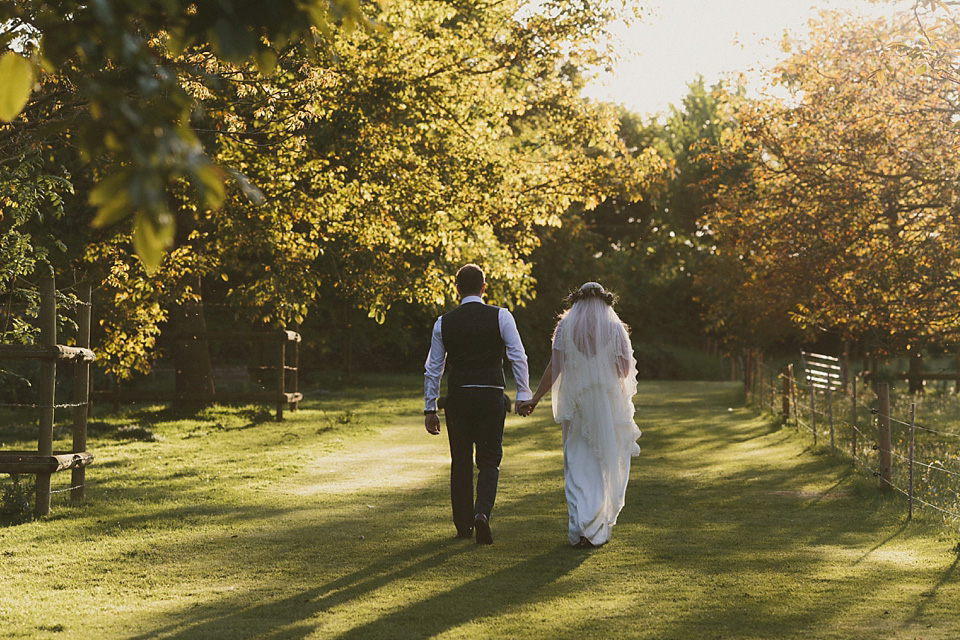 What a fabulous and most beautiful wedding to open up the week with.  I can only imagine the sea of love, joy, fun and happiness that surrounded the couple on this day back in May. Huge congratulations to you both Rhi and Olli – thank you from the bottom of my heart for letting us share your wedding and inspire so many of our readers.
Ladies and gents – I'd like to give an extra special shout out to Penny and Cam, the creative couple behind the film and photographs you see on this page. They are BRILLIANT. Book them today if you are still in need of a photographer and/or film maker. You will not be disappointed.
Have the loveliest of starts to the week,
Love Annabel x
Photographer – McKinley Rodgers
Film – Storycatchers Wedding Films
Venue – Maunsel House, Somerset
Wedding Dress – Charlie Brear
Veil – Gillian Million
Shoes – TKMaxx
Perfume – Jo Malone Blue Agava & Cacao Cologne
Groom's suit – Reiss
Bridesmaids – Zara
Flowergirls – Gap + Mini Lunn
Floral Crown + Flowers  – Dinah Taylor
Cake – Cutter & Squidge based in Soho
Entertainment – The Aviators via Function Central
Rings – Lionel J. Wiffen
Catering – Bon Appetite + Pynes Delicatessen + Pong + Ginger Pig
Stationery – The Groom
Hair + Makeup – Angela Wright
Giant Letter Signs/Props – Doris Loves
Vintage China Hire – Devon Vintage China