I was delighted when Annabel asked me to prepare this particular wedding feature for our lovely wedding blog – it's always a pleasure to get to look through lots of gorgeous wedding photos, but The Kitcheners are one of my favourite photography duos, so I was very much looking forward to spending some time poring over their work. They took these incredible photographs from the natural world inspired wedding of our very own Lovettes member Lindsay afterall.
James and Steph married in a super-cool, colour-filled ceremony on the 20th of June this year at West Brewery in Glasgow. The couple, who work other jobs during the day, run a Charity called Get-Well Gamers, which donates old video games and consoles to hospitals for sick children to play with. Steph makes it very clear that she didn't immediately have any particular 'vision' of her wedding day, which will hopefully make all those of you feeling the same way feel a lot better.
"I had a lot of trouble deciding on anything – I hated it when people asked me for a colour scheme, because I love all the colours, and I wanted our wedding to be a reflection of things that we liked rather than things that were on Pinterest or typical wedding themes. I was also conscious of things being too girly because then it wouldn't be a fair reflection of James."
Photography by The Kitcheners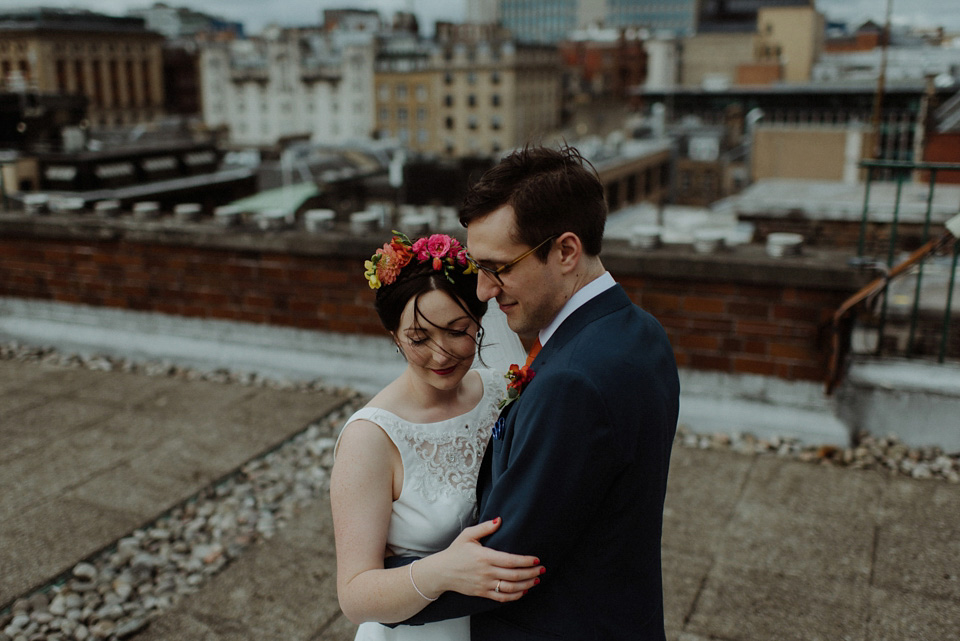 "Eventually I settled on using my David Bowie 'Aladdin Sane' print as inspiration, because I love the combination of orangey-red and blue on his zig-zag make-up. I didn't want to go completely red/orange and blue, but we picked out elements of it to use throughout the day. A short time later, we saw 'The Life Aquatic' (which we both loved – we are huge Wes Anderson fans) where they wear light blue tracksuits and reddish-orange hats, and where the soundtrack is all David Bowie but sung in Portuguese. Everything just seemed to come together!"
The couple chose the ever fabulous Kitcheners to capture their big day. These images really do show that a city wedding can be just as beautiful as one in the countryside. I love the use of the architecture to get some really stunning shots.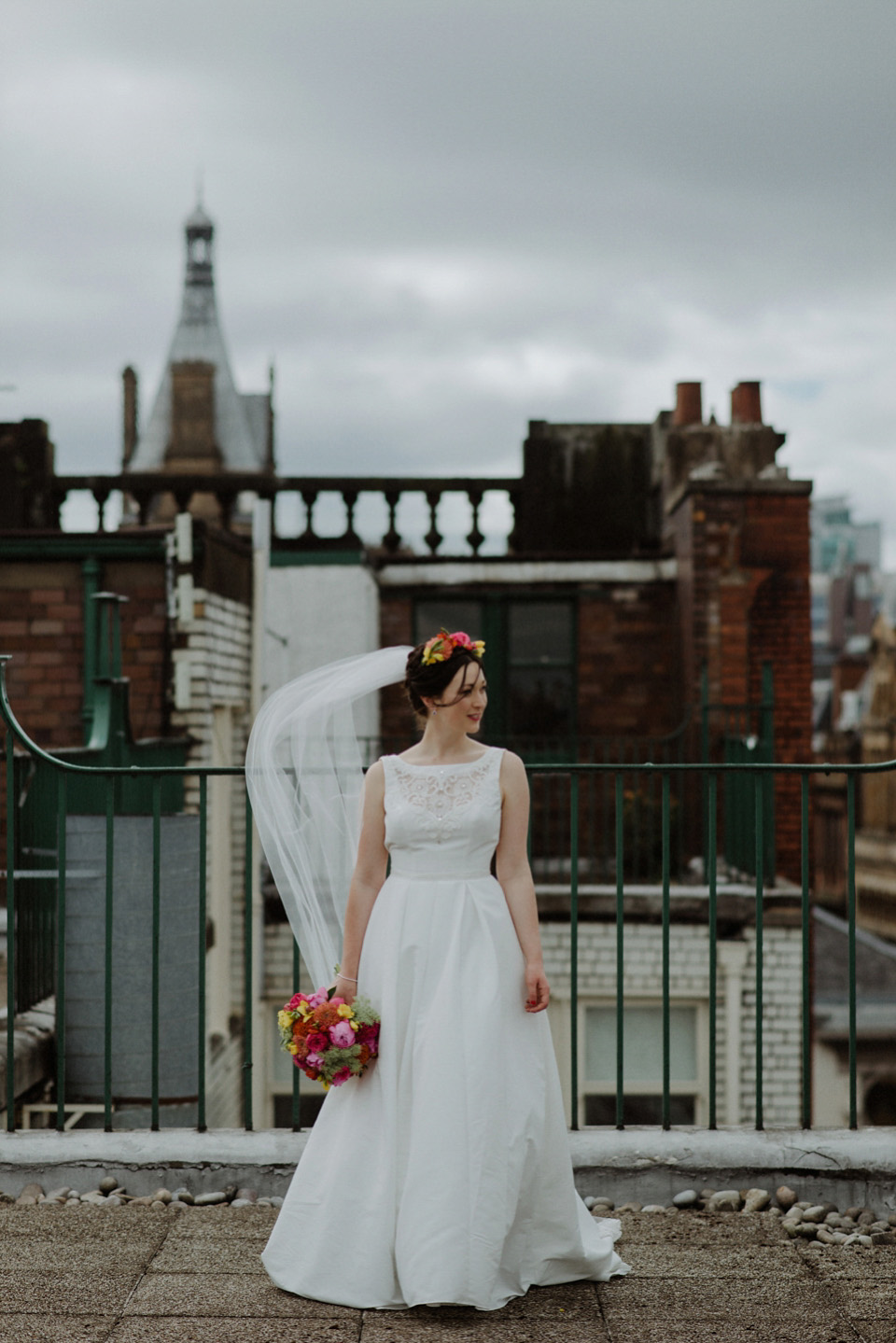 "We absolutely loved working with The Kitcheners, and we are so glad we chose them. All of our guests said how nice they were, and the photographs are perfect. They even managed to arrange for us to sneak up on to a roof to get photographs, and they came out brilliantly."
Cakes by Bakery 47
Steph's dress of choice was a beautiful beaded number from David's Bridal. As so often happens, it wasn't at all what she had visualized herself in, but is a perfect example of why asking the sales assistant for help can be a brilliant plan. I just love the combination of high neckline and open back and the fact it has pockets- marvelous!
"The shop assistant actually picked my dress out for me! I had pictured something with more tulle, more of a ballerina style, or something in a bright colour, but when I tried this one on, I just loved the shape of it. It felt comfortable and classic but formal, and better still it had pockets! I didn't want a dress that was overly fussy or that wore me."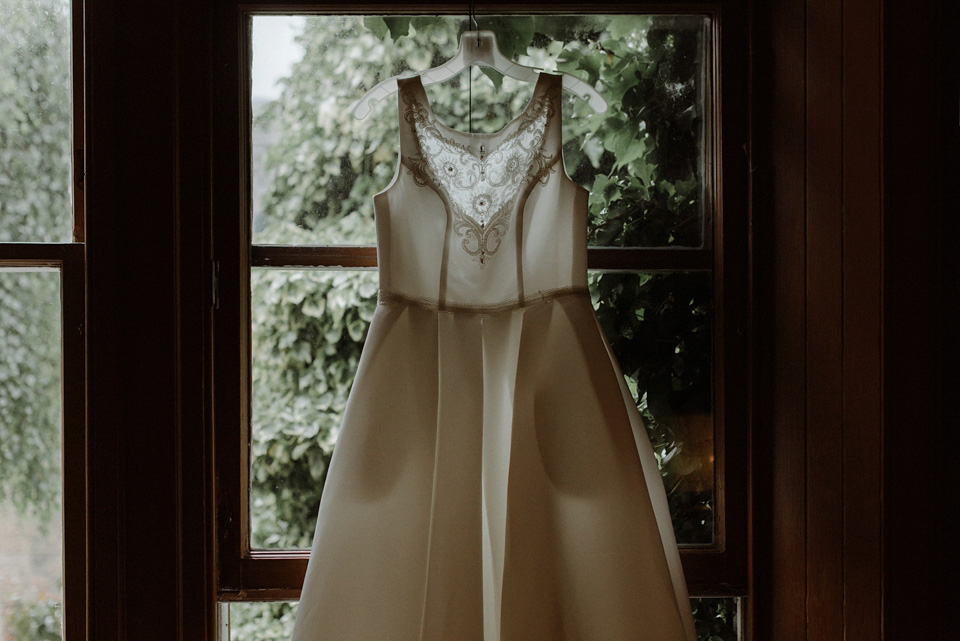 To complete her look, Steph added a long simple veil from SignatureBash Couture via Etsy, a pair of fabulous sandals by Charlotte Olympia, a Tiffany necklace, silver bracelet and her Gran's engagement ring. Her hair was styled by her best friend from school, Anna Wade, who she describes as 'a hair wizard' and her makeup by university friend Caoimhe O'Brien.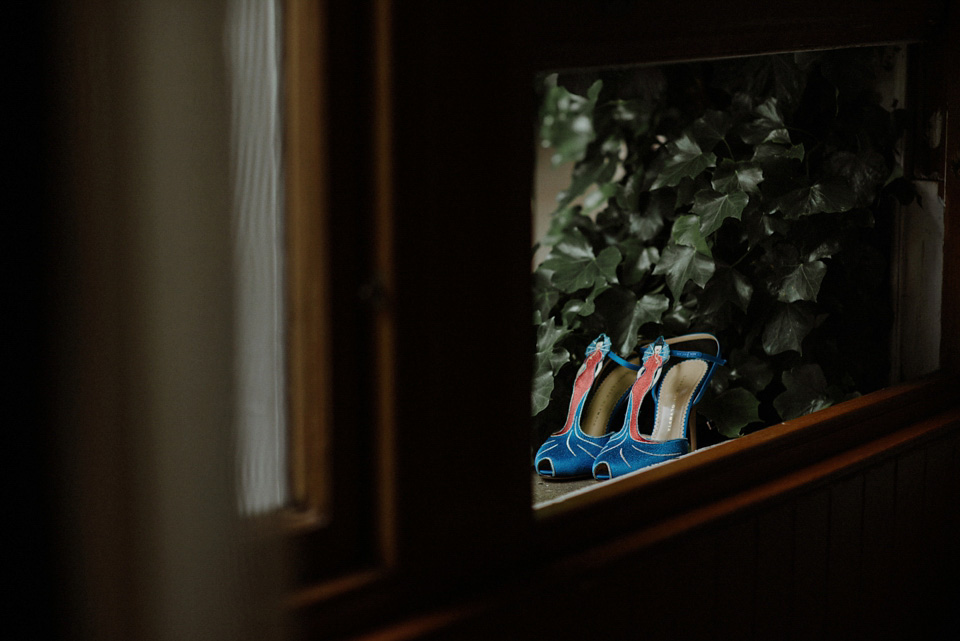 Charlotte Olympia 'Anna May Wong' sandals
Caoimhe O'Brien was Steph's makeup artist and winged eye liner expert for the day.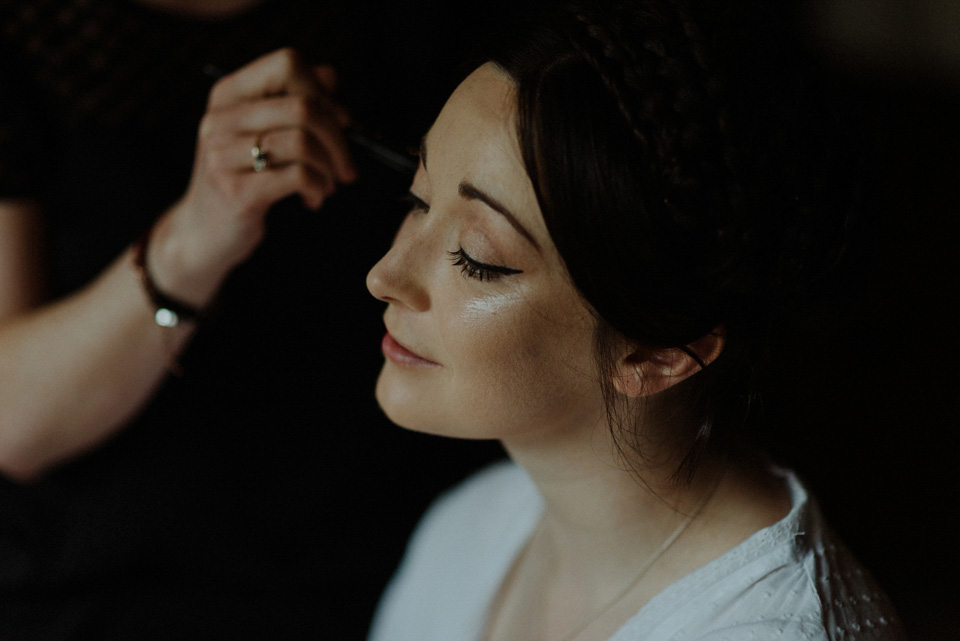 I adore the attention to detail which James put into his outfit. He wore a teal three piece suit from Slaters, teamed with an orange tie, a goldfish pocket square (James loves fish and fishing), boat propeller cufflinks and tan brogues to set it all off. Very dashing indeed.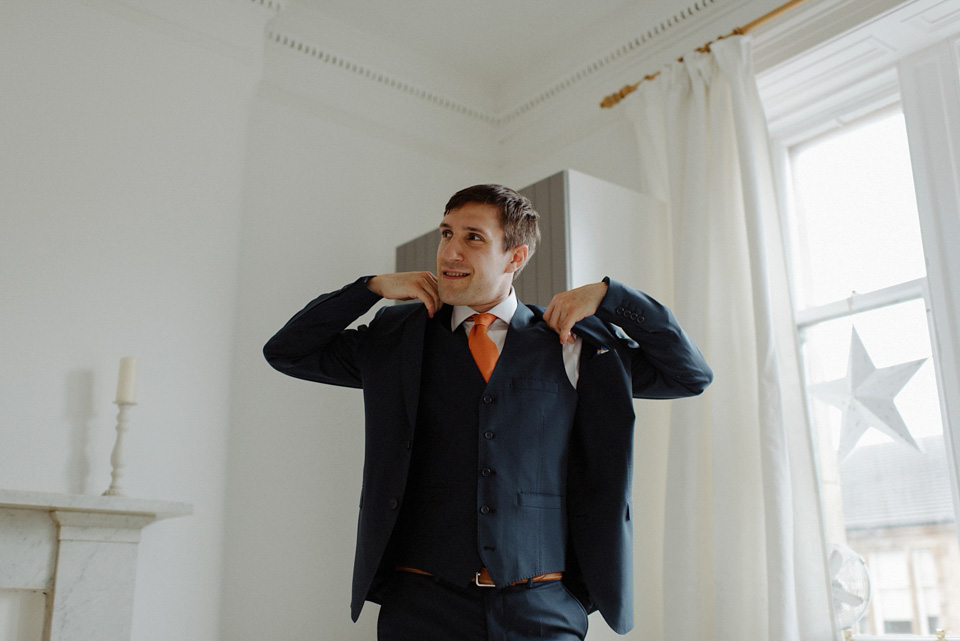 "We were living in London when we chose West Brewery in Glasgow as our venue (though we moved to Glasgow before the wedding) and it was about finding somewhere convenient for everyone coming from Shetland (James' family), people coming up from London and all those in between – we also wanted somewhere in the city, not too formal and with great food. We loved the fact that our guests could go for a brewery tour while we were getting our pictures taken too!"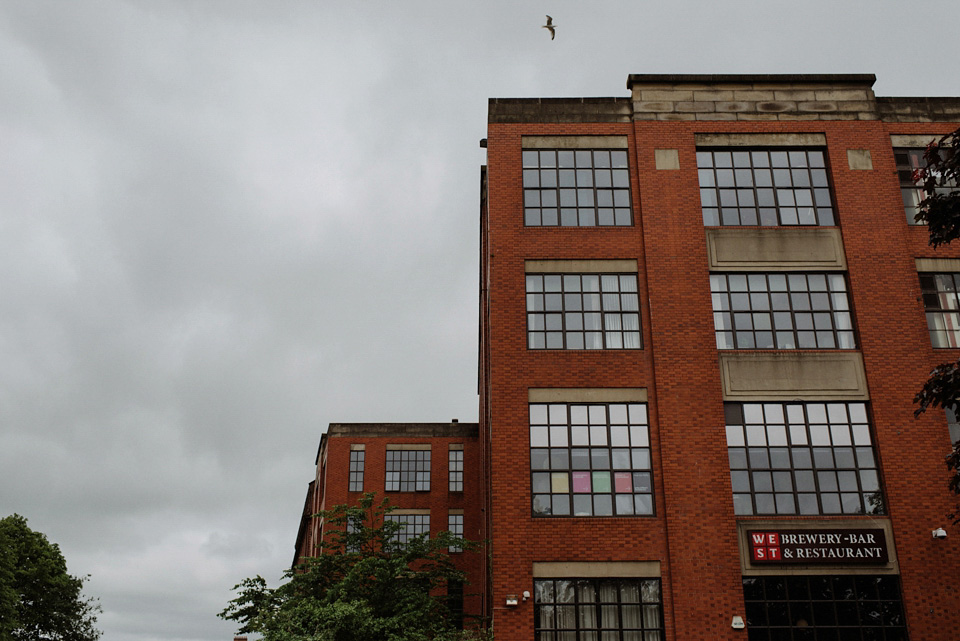 The happy couple met online, via dating site Tinder.
"We agreed to meet on the day that we started talking to each other because I didn't want to bother with any time-wasters. Apparently girls who ask you out first on Tinder are "normally a bit strange" but James agreed to meet me because I was Scottish too! He moved in a week later and we've been together ever since."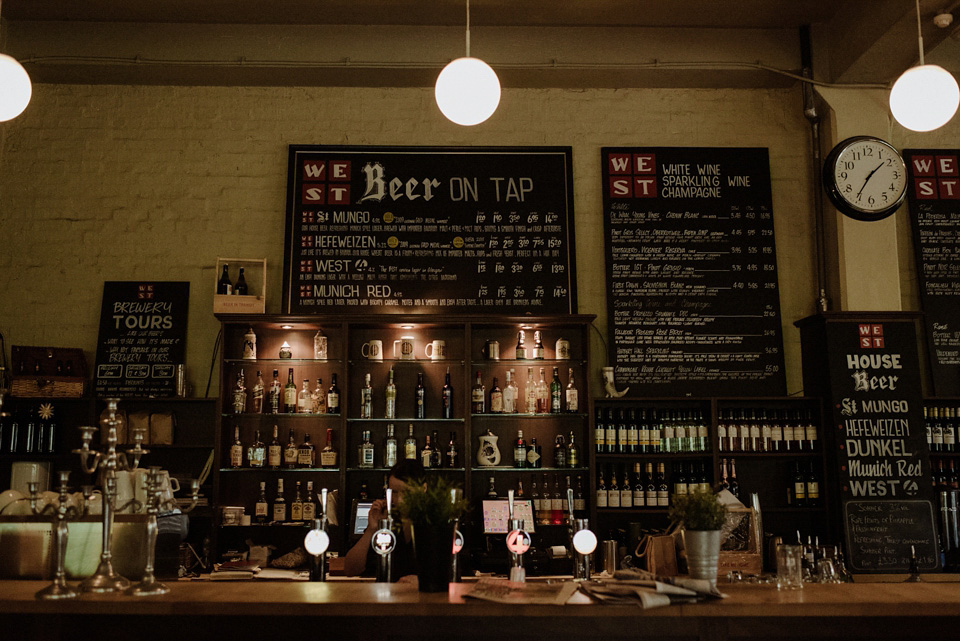 "We got engaged last year on the 27th of November in Hudson, New York. We went for Thanksgiving Dinner at James' friends' house and after dinner we went for a walk in the deserted, snowy main street of Hudson which was lined with fairy lights. James proposed in a little square next to big Mexican-themed mural. I loved the fact that there was nobody else around.
He got me the engagement ring I'd always wanted (from Catbird jewellers in Brooklyn – it looks like a constellation with a small diamond in the middle) and I got him a bike, because we're all about equality and it didn't seem fair to me that only I got a present."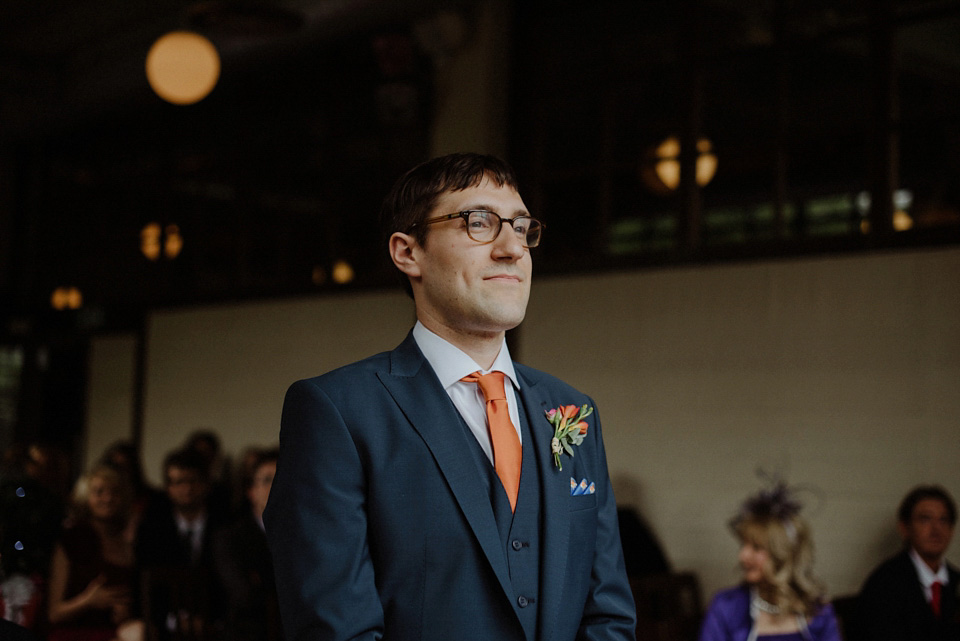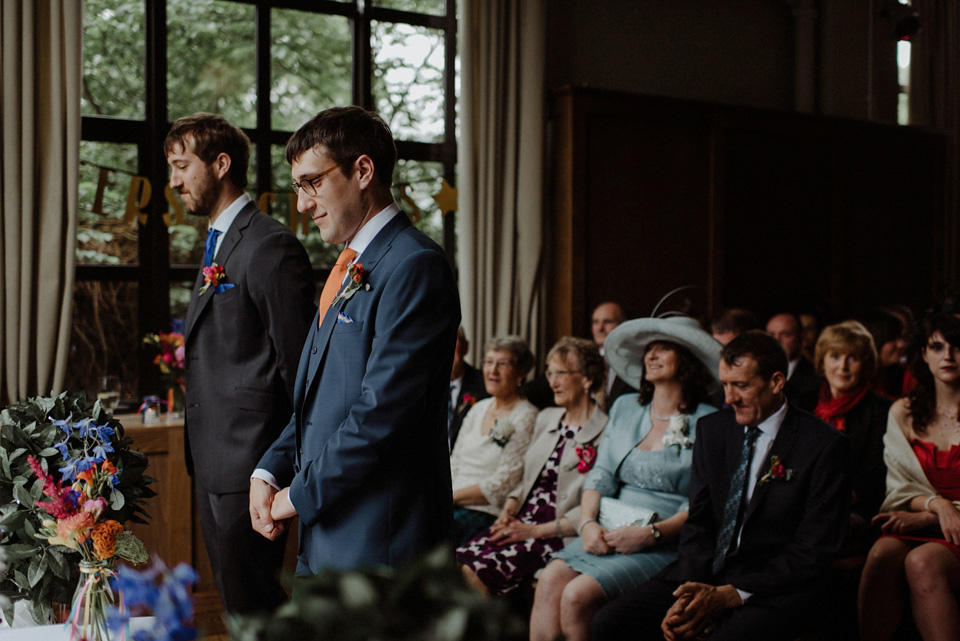 Steph was walked down the aisle by her dad, to 'Staralfur' by Sigur Ros, which is also played at the most poignant moment in 'The Life Aquatic'.
The couple wrote their own vows, which I would love to share with you, as I think they are absolutely wonderful, and might help some of you who have chosen to do the same. As readings, they chose Shakespeare's 'Sonnet 116' and an excerpt from 'Oh, The Places You'll Go' by Dr Seuss.
"We wanted to find a balance between romance and laughter with the readings, but we liked that the Dr Seuss one had a serious edge too – life isn't always perfect, and like it says, sometimes "you'll be in a slump", and "unslumping yourself is not easily done". It's a very forward-looking sort of poem, and we love the sense of anticipation it gives. We chose Sonnet 116 because I don't think anyone has ever described the nature of love better than Shakespeare does there."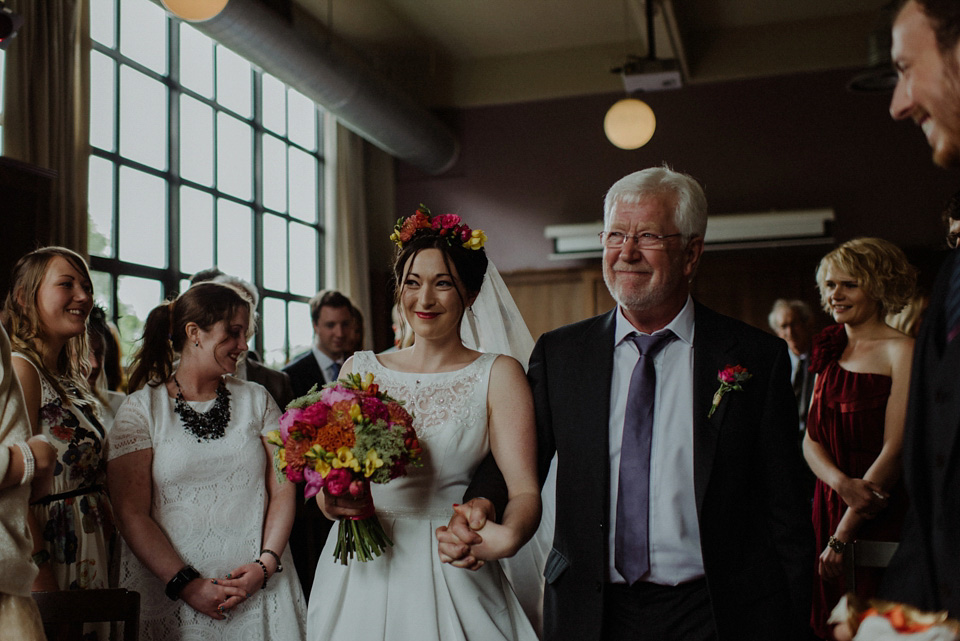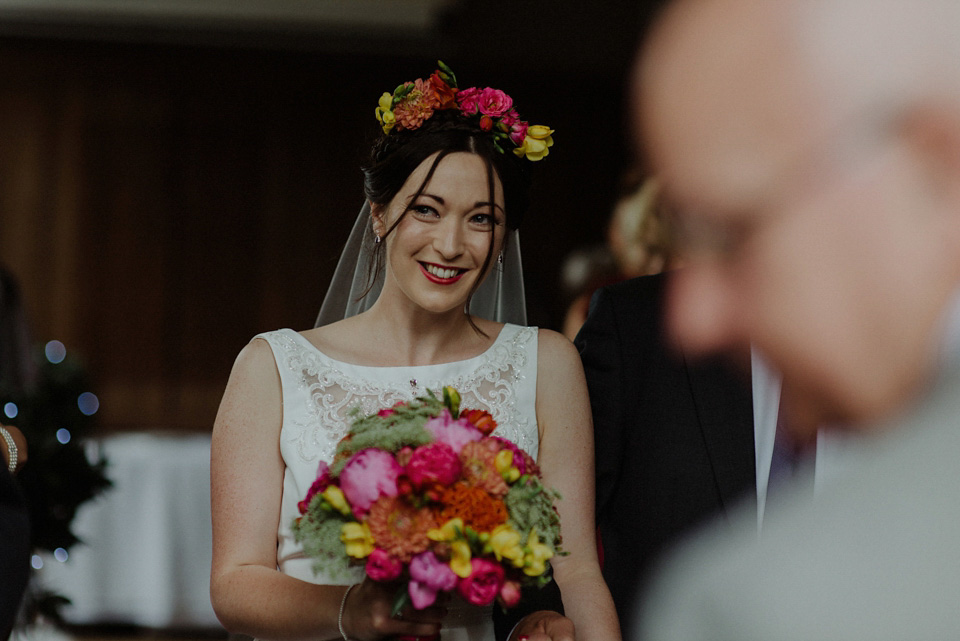 I promise to love you even if you leave socks everywhere.
I promise to always treat your ideas with the enthusiasm they deserve, and support you to succeed in whatever you chose to do.
I will love you when you play the Playstation in your pants, and when you accidentally put instant coffee in the espresso machine, and when we are tired and stressed and lost on our honeymoon. I will love you through the good times, and especially through the bad.
I promise to do anything I can to help you, and to make you feel like the most important person in the world.
I promise I will always try my best for you, and that I will never stop trying.
You make my life brighter, funnier and more fulfilling than I ever thought it would be, and for that I love you. (Steph to James)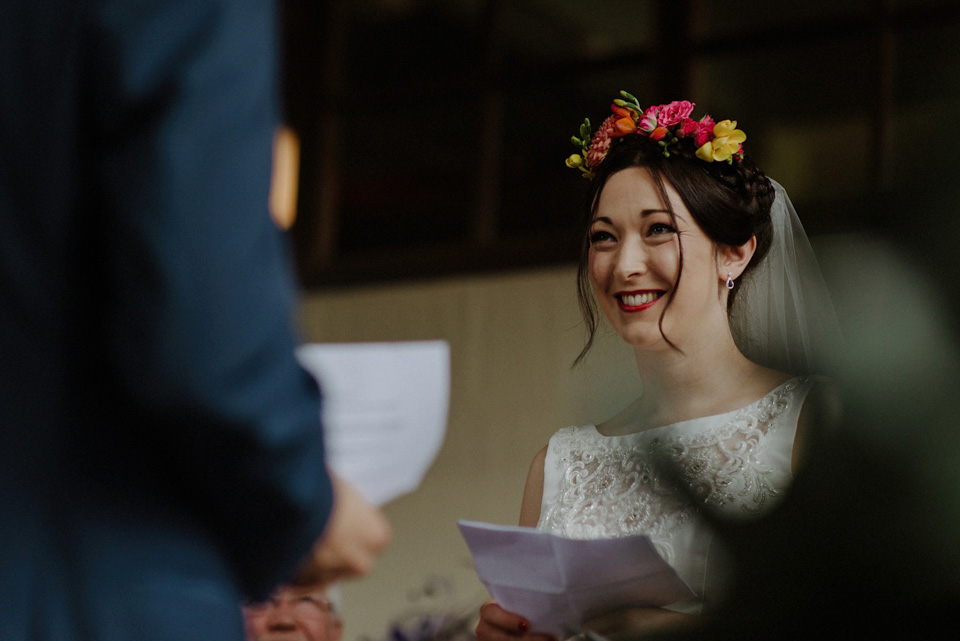 When I'm with you, nothing is a challenge. Life just makes sense.
I promise to love you forever, even if it means waking up early to make you your breakfast & coffee.
I promise to support you in whatever you choose to do in life. You're the most intelligent and hardworking person I know, and I have no doubt that together we can achieve so much in life.
I will love you when you take me clothes shopping and when you make me eat my vegetables. I will love you through the good times and bad times.
I will cherish and honour you for the rest of our lives.
Nothing would make me happier than to be your husband. And now you're here, and we can start the next chapter of our amazing life. (James to Steph)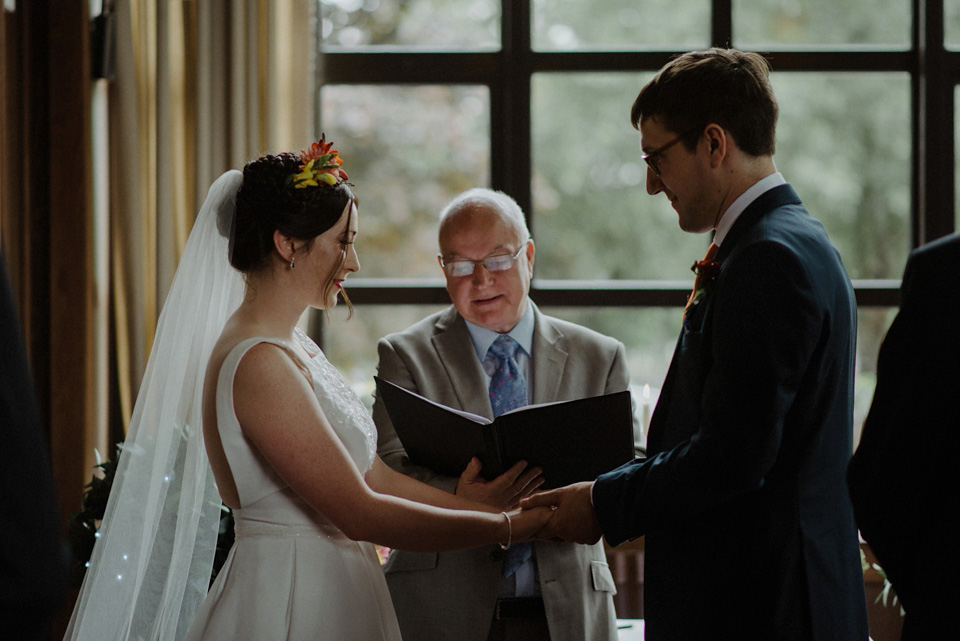 "We got our rings from James Porter and Sons in the Argyle Arcade. Simon who runs it is a family friend and helped us find some simple rings. Following family tradition set by my sister, we got them engraved with lyrics from our first dance."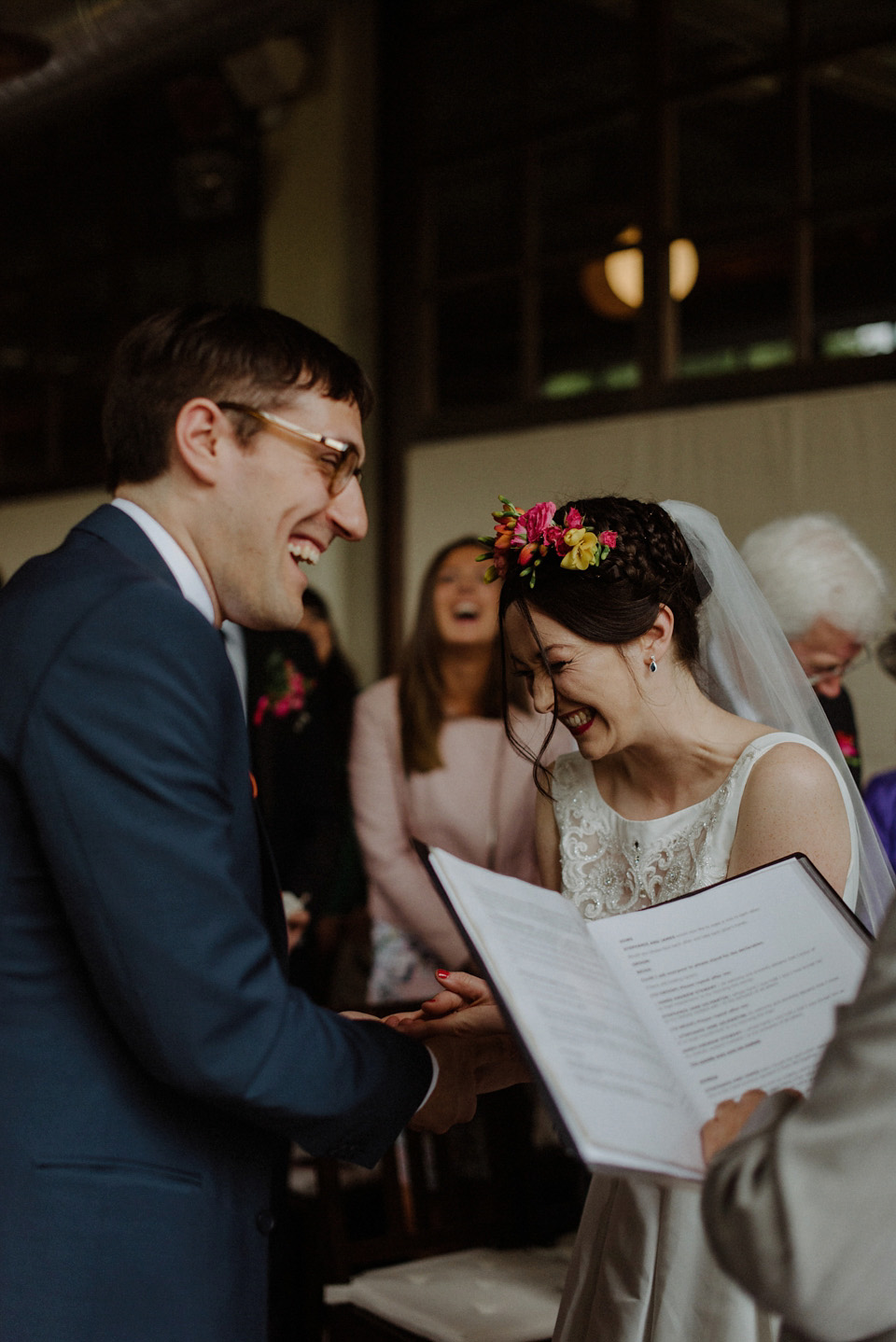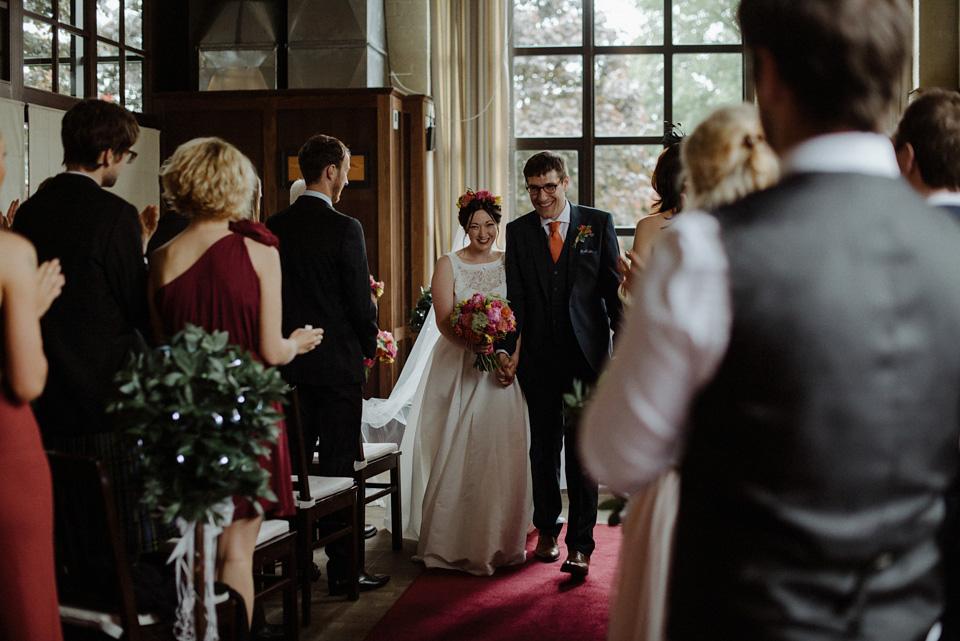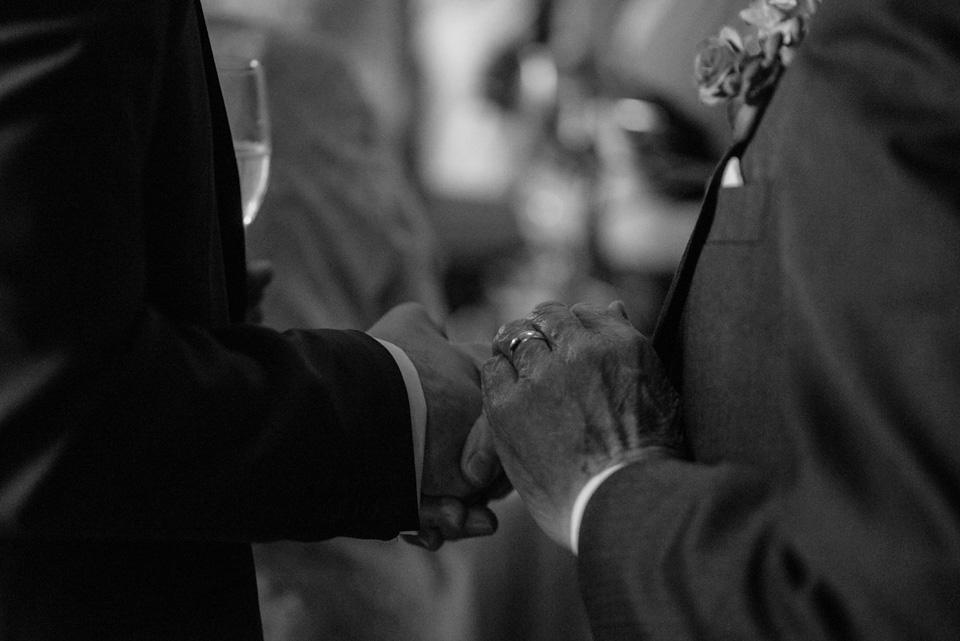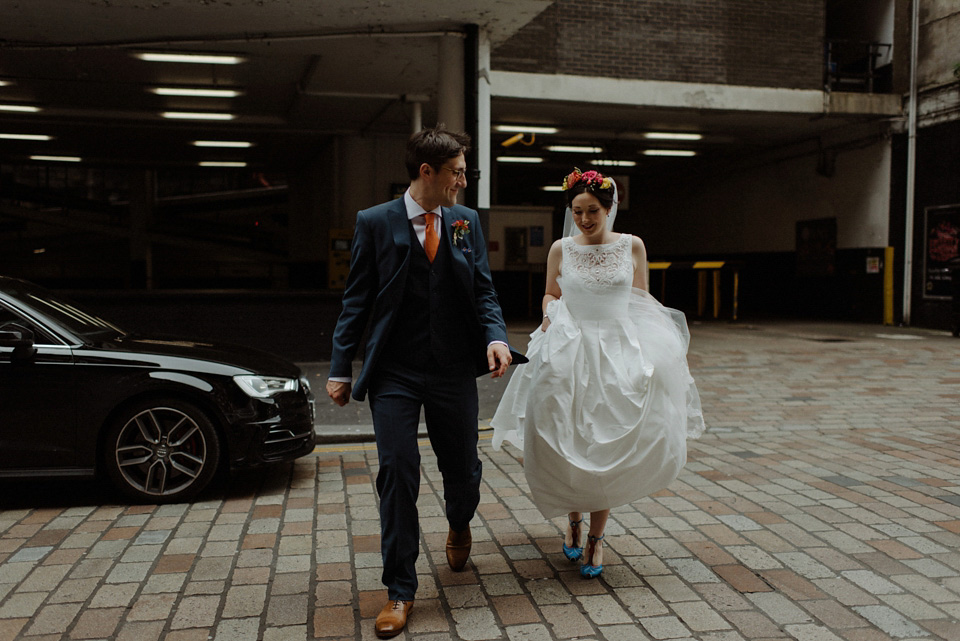 "James' mum took care of all the flowers and she managed to find Flowers by Cherry Blossom online. I asked her for them to be very colourful and quite wild-looking. We wanted something informal for the tables so we opted for jam jars with ribbon and wildflowers, and for my bouquet I had all sorts of things I'd never heard of mixed with peonies, including celosia, which looks a bit like a brain."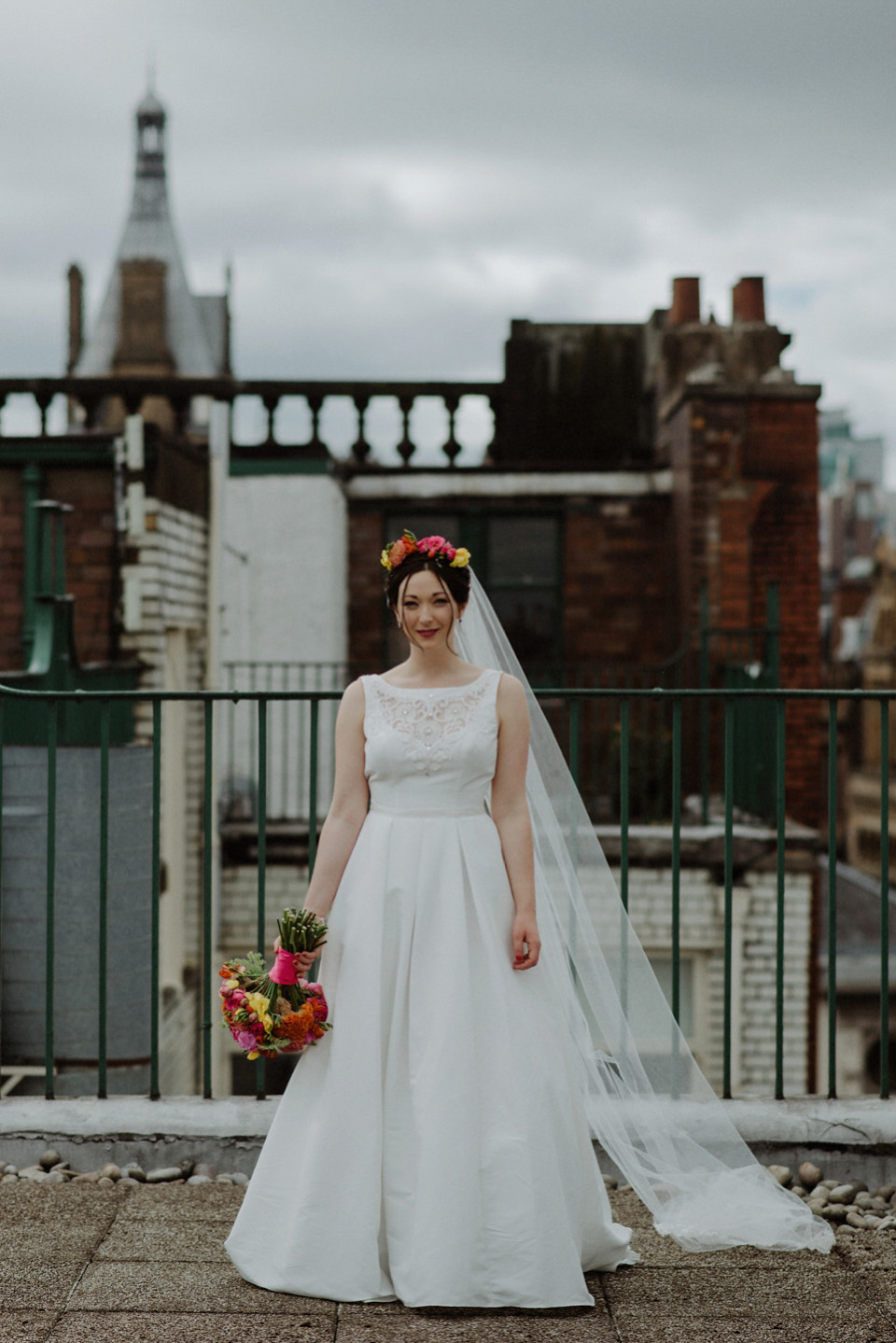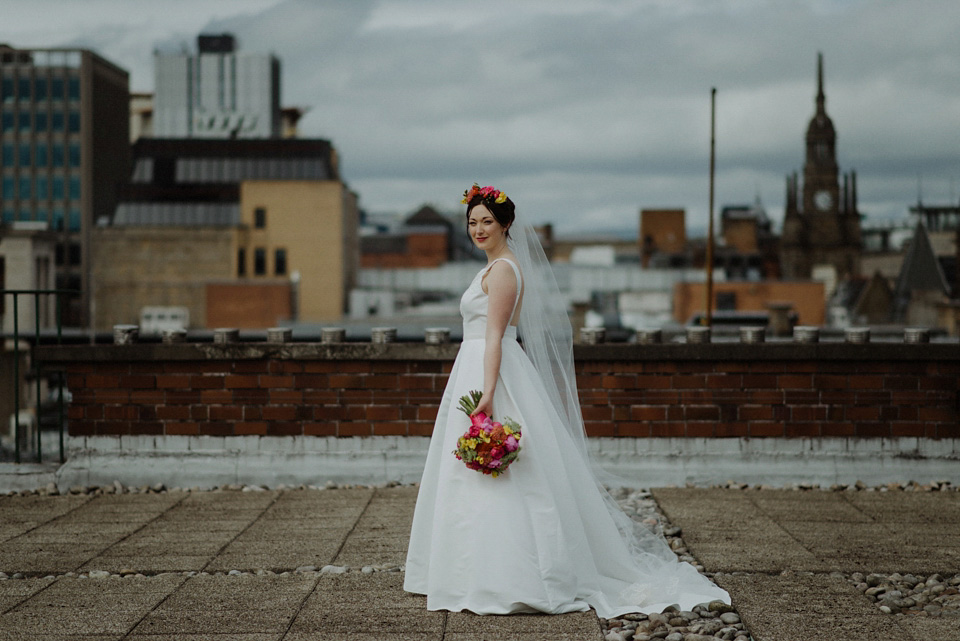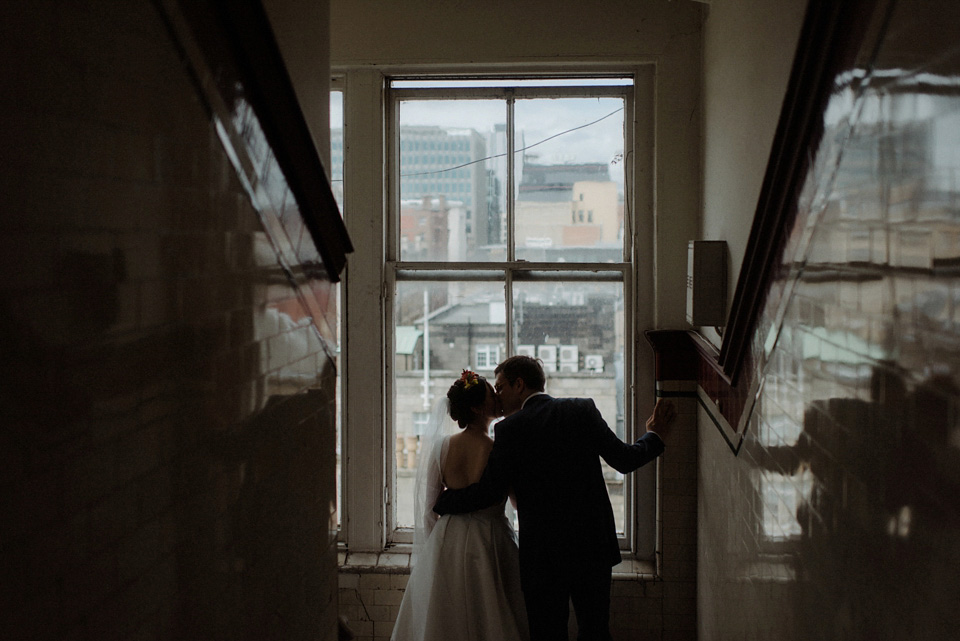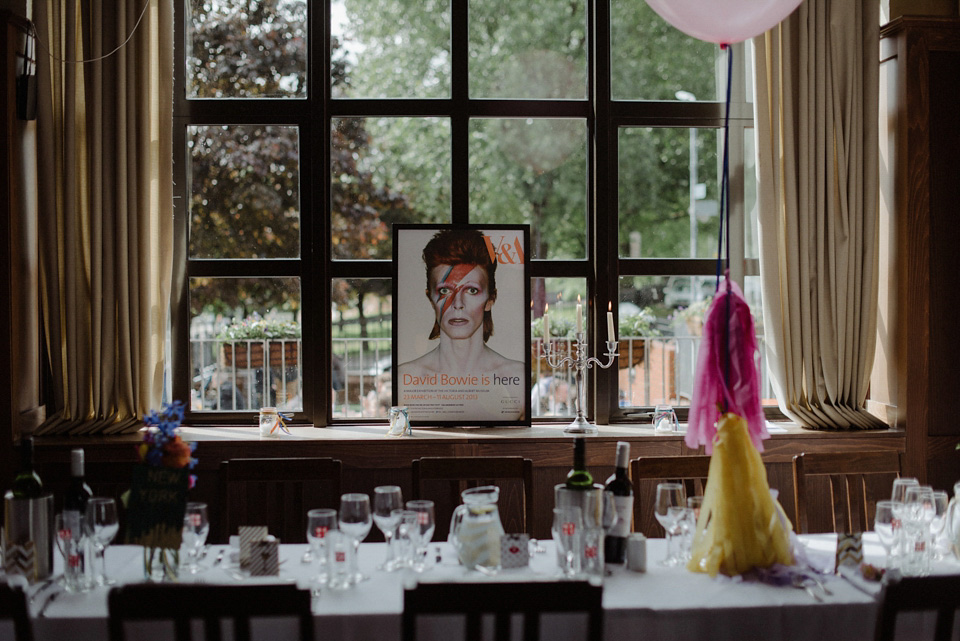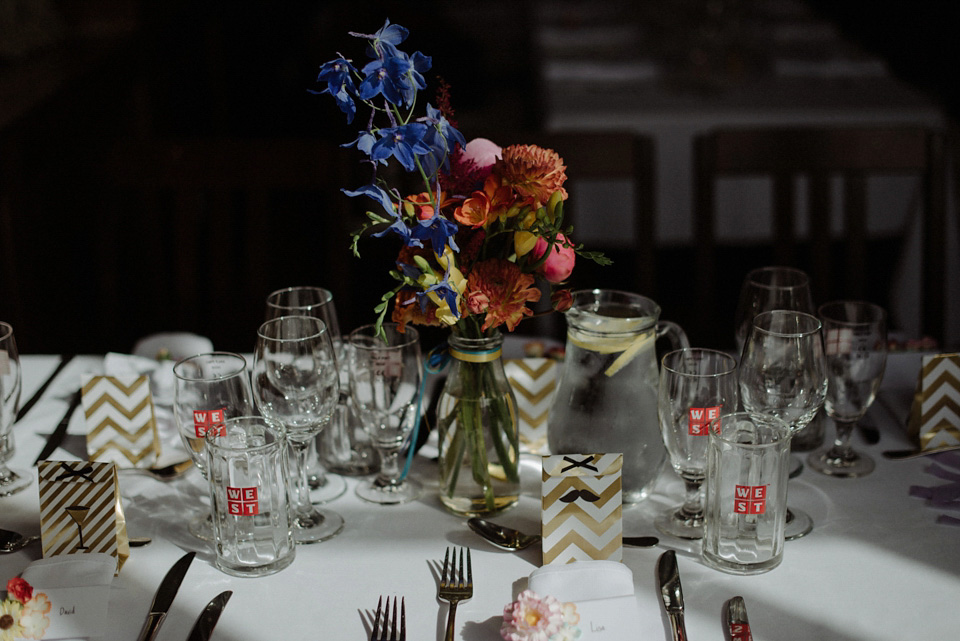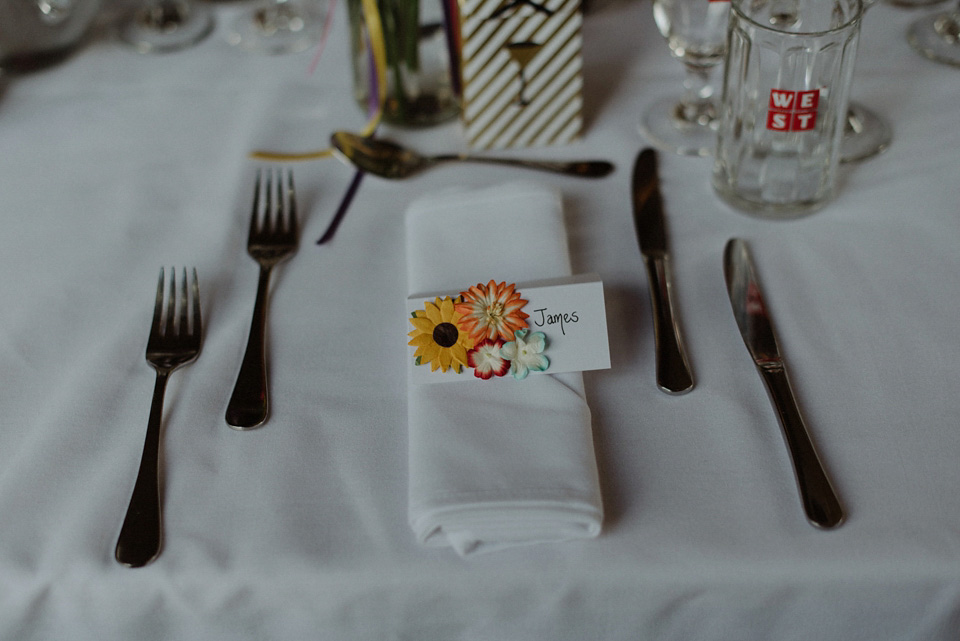 "I was very much against buying things that would take up much space afterwards, so we had giant helium balloons with tissue paper tassel tails which I made. We had my David Bowie print in the room too, because my mum asked when she didn't 'get' my Pinterest board if David Bowie was coming to the wedding – so he did! We also had a LookLook photo booth for the evening, which all of our guests loved."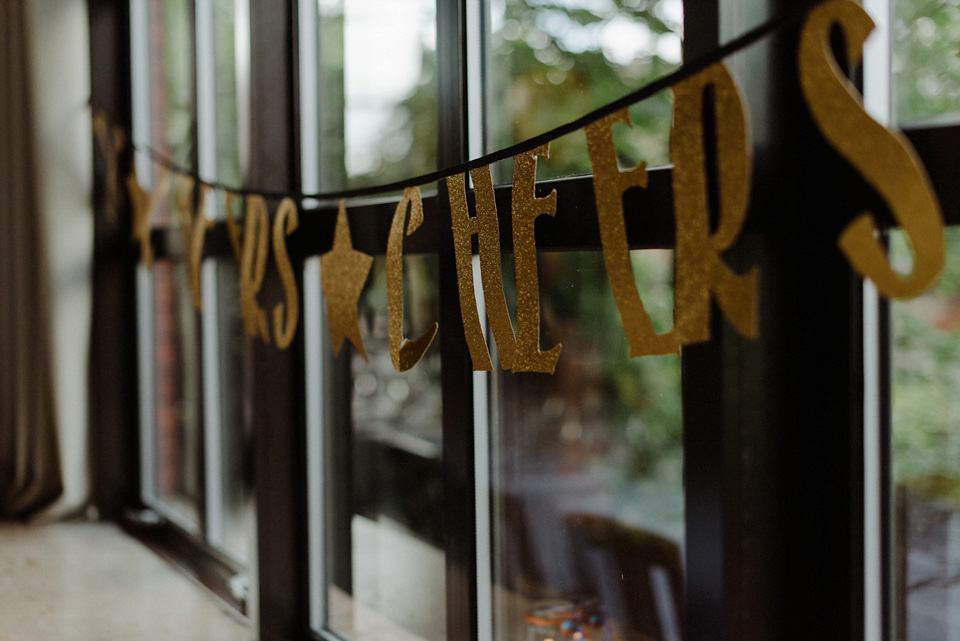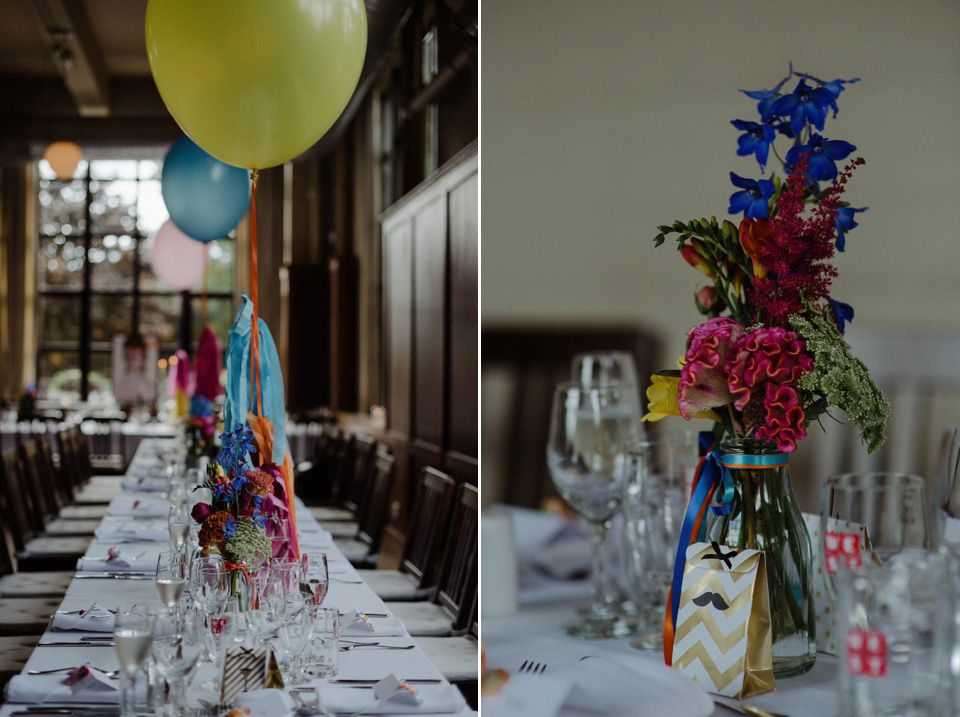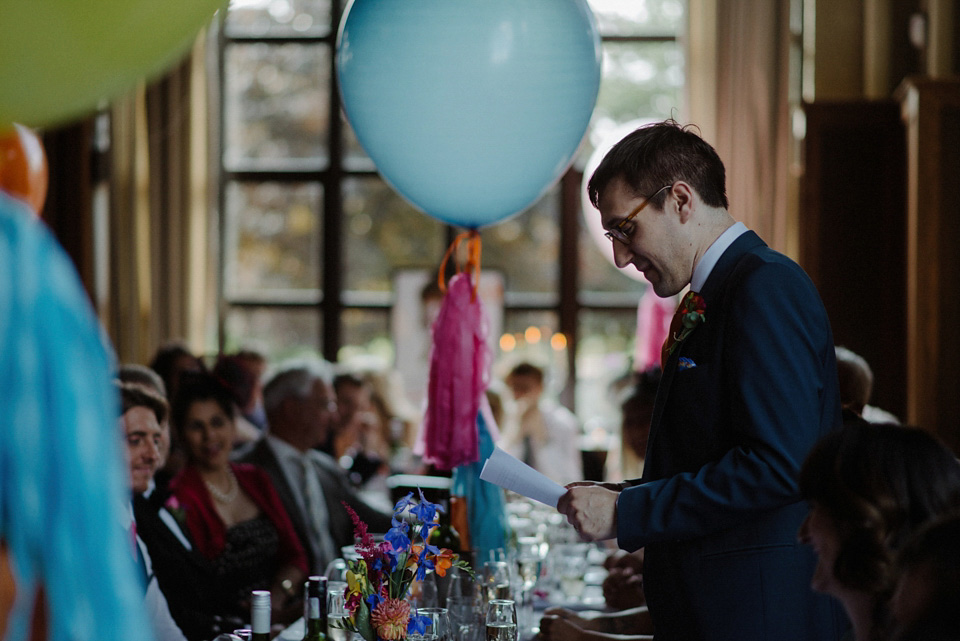 "There is a small artisan bakery near us called Bakery 47 and we frequently get breakfast from them on weekends (think chocolate almond croissants with fresh almond butter, or lemon meringue croissants… really delicious). I love their cake decoration with fresh flowers, and we're both really keen on supporting small local businesses.
We had ten different flavours of cakes including ginger tablet shortbread, white chocolate and cardamom and a specially-created-for-us flavour, chocolate-peanut butter-salted caramel decorated with specially commissioned handmade chocolates."
"They were really receptive to our ideas and made us an amazing Aladdin Sane cake and even one that had the same pattern as the jaguar shark from The Life Aquatic! I loved how Anna decorated them all and our guests were amazed and very excited when they got to take leftover cake home in boxes."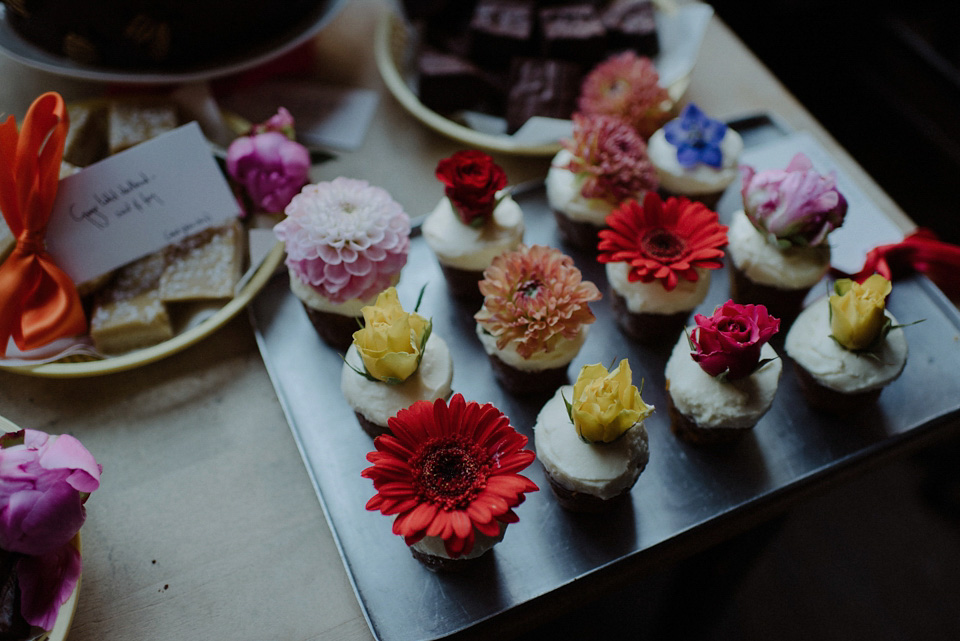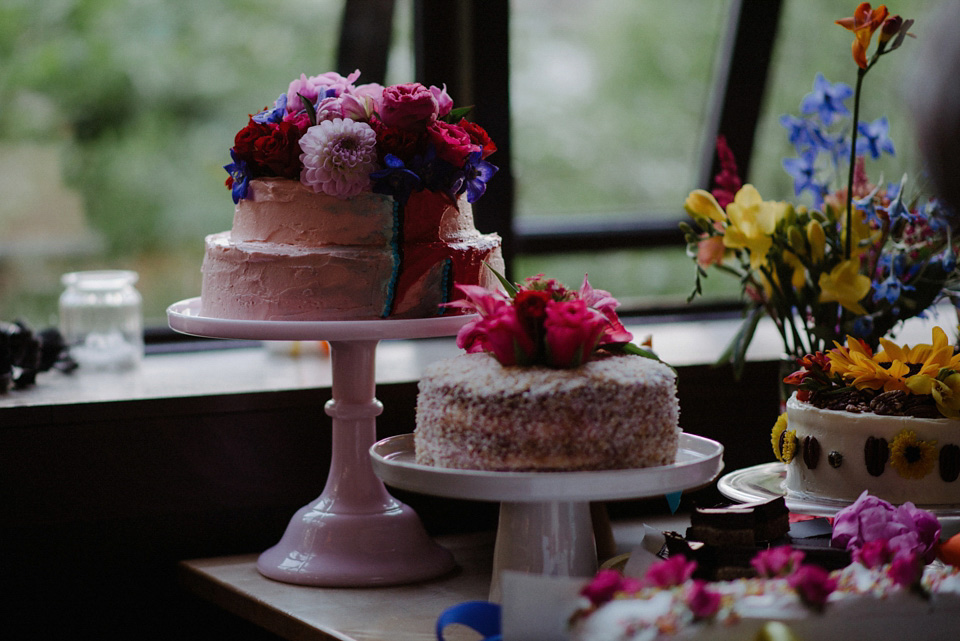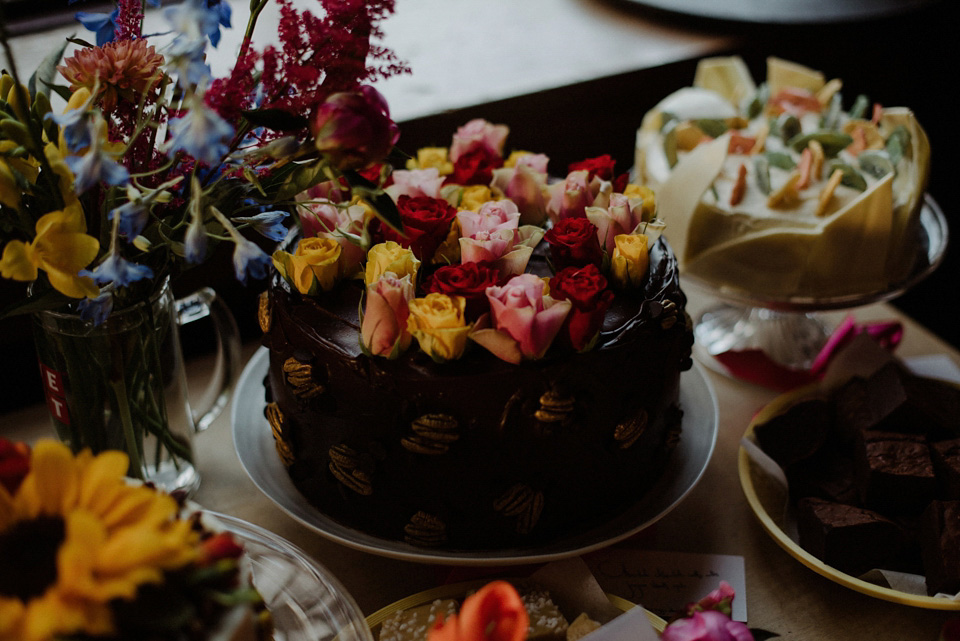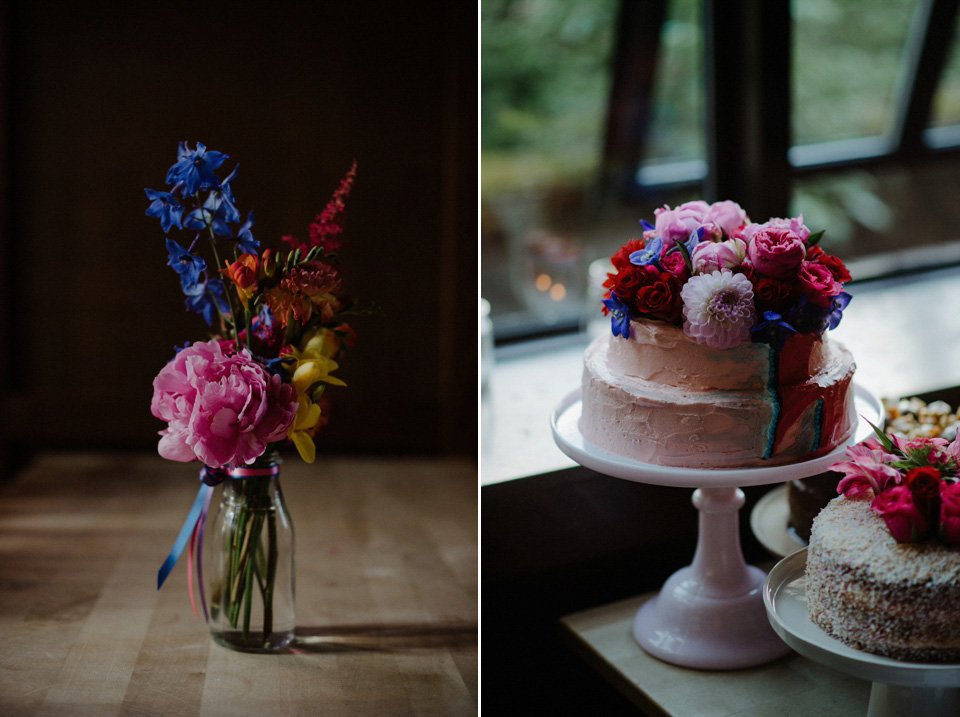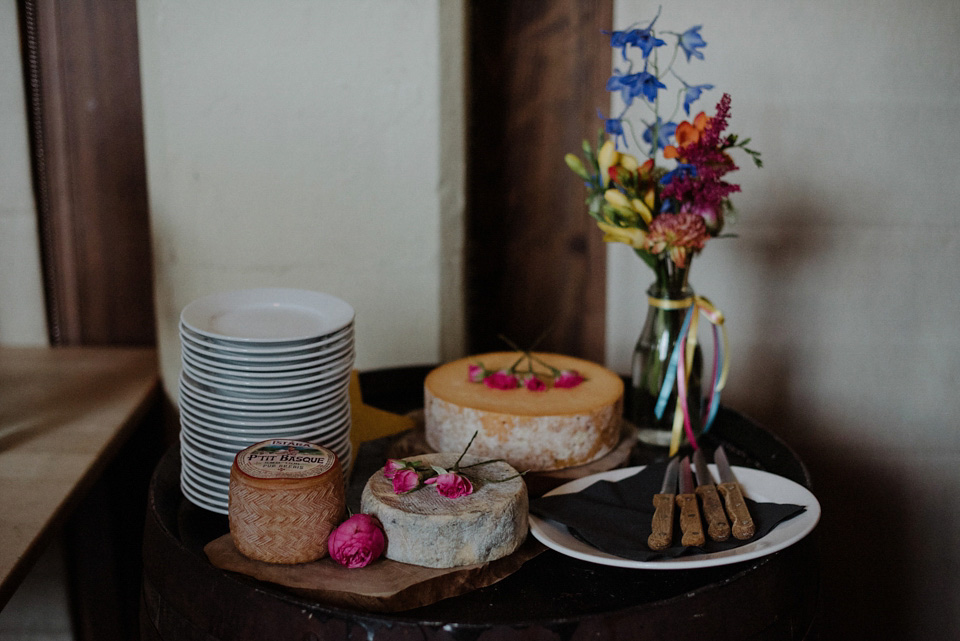 Favourite part of the day
"Our favourite part of the day was the ceremony – James joked about saying "I take thee Rachael" (like the line from Friends) that morning, and then the registrar accidentally said my sister's name instead of mine! There was also a man dressed as a mouse who walked in front of the window during the ceremony – we didn't notice him, but he might account for some of the laughter in the photographs! It was the most nerve-wracking thing I've ever done, and I couldn't remember anything I'd said, but I'm pretty sure we are married anyway!"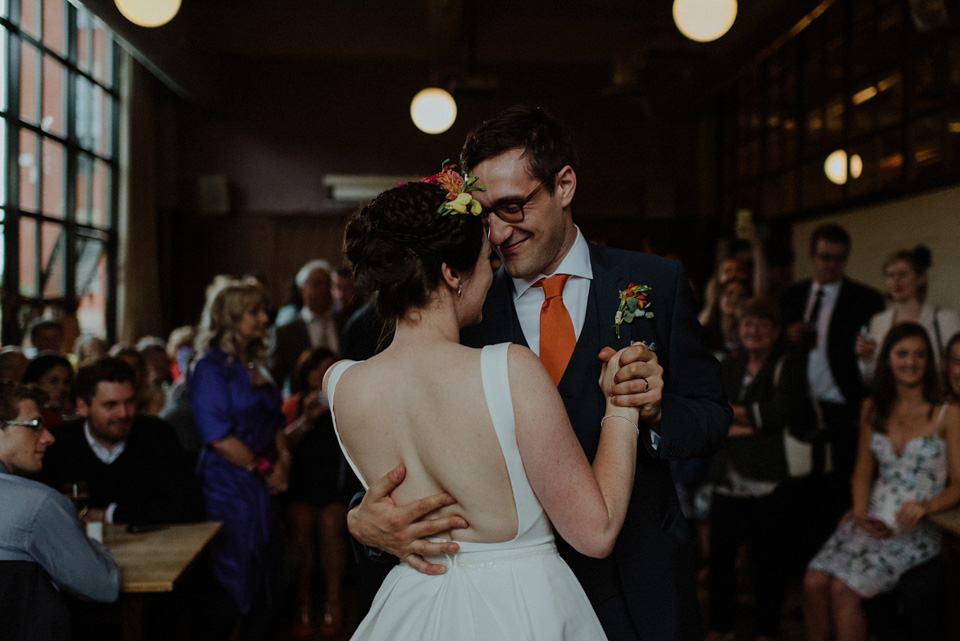 Words of Wedded Wisdom
"If you have the opportunity to get friends or local businesses to help you with putting the wedding together, take it! We loved how personal and informal everything felt, and everyone did such an amazing job – I felt so lucky to have so many talented people around me to help with everything. My other advice would be, don't be afraid to push back on any traditions you think are pointless or outdated – if someone can't explain to you why you MUST do something, other than because it's traditional, then it's really your call whether you do it or not!"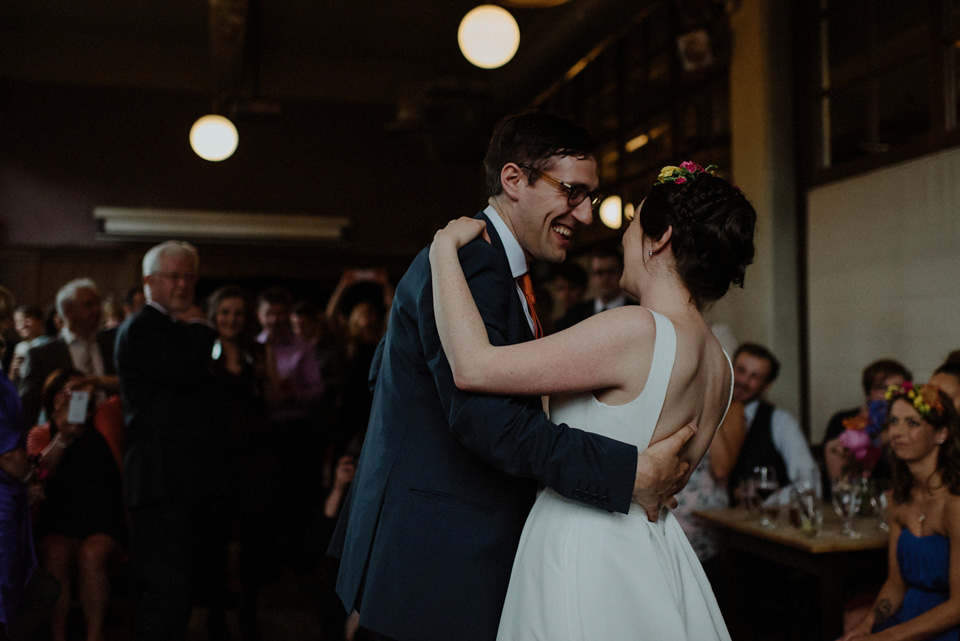 Thank you so much to Steph and James for sharing their beautiful city wedding with us, and to The Kitcheners for their beautiful images. Do we have any other brewery brides? I just love the idea of guests having a brewery tour while the bride and groom have their portraits taken!
Love as always,
Shona x
Photographer – The Kitcheners
Venue – West Brewery, Glasgow
Wedding dress – David's Bridal
Veil – SignatureBash Couture via Etsy
Shoes – Charlotte Olympia 'Anna May Wong' sandals
Accessories – Tiffany necklace, silver bracelet and her Gran's engagement ring
Hair Stylist – Hair Creations by Anna
Makeup artist – Caoimhe O'Brien
Bridesmaid dresses – House of Fraser
Groom – Suit– Slaters, Tie– John Lewis, Pocket square– Mrs Bowtie, Cufflinks– John Lewis, Shoes- M&S
Florist – Flowers by Cherry Blossom
Catering – West Brewery, Glasgow
Cake – Bakery 47
Entertainment – DJ Bobby Wilson, a friend of Steph's
Rings – James Porter and Sons
Stationery – Hand painted by Steph
Transport – Glasgow taxis
Photobooth – Looklook