Lovely readers, you know that moment when you see wedding pictures and wish so very much that you had been on the invitation list? Well, this wonderful wedding I'm sharing with you all is a prime example. It's a little bit quirky and alternative, filled with metres of bunting and groovy blue disco lights and features a very important member of the happy couple's family – their very sweet pooch. I'm in a state of complete and utter wedding blog love!
Our bride Kirsty is a project co-ordinator at a pharmaceuticals company and the groom Dave is a self-employed IT consultant. They married on 9 May earlier this year at the most incredible venue, the Victoria Baths in Manchester. It's time to take a break and check out these brilliant pictures, captured beautifully by Lucie and Bruce Wedding Photography. The majority of Kirsty and Dave's inspiration for their day came purely from the quirky venue.
"The venue itself was the biggest inspiration. The soft blue tones of the changing rooms helped me pick the colour of the bridesmaid dresses and flowers. The big balcony sweeping around the reception area enabled us to hang two hundred metres of colourful and patterned bunting. After seeing a HOME production of Romeo and Juliet staggered across the different pools, I saw how incredibly the lighting worked in the venue, and I started looking at how we could bring out the best of the venue with colourful lights."
Photography by Lucie and Bruce Wedding Photography
The bridesmaids chose their own shoes to wear and their fabulous cornflower blue dresses were found from Etsy designer, Luminia, after the bride's search for a fun and casual style. A smaller version of the adult bridesmaid dresses, with an added tulle flower sash, was also made for the couple's three-year-old niece Eliza. How adorable!
"I initially struggled with bridesmaid dresses, as I found the ones in shops were a bit too formal and generic and I was looking for something casual and fun. Etsy was always going to be the best place to visit in finding this kind of dress!
Dresses by Luminia
For the table plan and table names, we wanted to bring in our love of travelling. Each table was named after a state in the US that we have visited. This was created by Printable Quirks on Etsy, which I then got printed locally."
Kirsty discovered Charlotte Balbier via this beautiful blog and the 'Nora' dress, spied through the window of her local boutique, The White Closet, was the first dress she tried on and definitely 'the one'.
"I knew from the very start I wanted a tea-length lace dress with sleeves. That eliminated a lot of dresses, so it was simply finding the right one in that style. I knew about Charlotte Balbier through Love My Dress, and I had pinned the 'Nora' dress onto my Pinterest board."
I do love a good meeting story and Kirsty and Dave's mutual love of indie bands was where it all began … and an integral part of their wedding plans.
"We met through an indie club night that Dave used to run in Manchester. I went to it every time it was on and he used to play all my requests (I wonder why!). I attended the New Year's Eve 2008/09 club night and in my somewhat drunken state, I dragged him onto the dance floor to dance to one of my favourite songs (which we chose to be the first song we danced to at our wedding) and through our mutual love of obscure indie bands and football, it took off from there.
After meeting Dave, we joined forces and built up a fairly successful bi-weekly indie club night. We got to put on bands and play all of our favourite songs in a fun and happy environment. We wanted to emulate that into our wedding!
We got engaged during a five-year anniversary trip, on a terrace in Brussels. We love to visit a European city over the Christmas/New Year break so I wasn't expecting anything to happen as these trips were a yearly tradition. Dave managed to remain calm when Ryanair made us abandon our luggage (with the ring hidden inside) on the runway to put in the hold as the overhead compartments were full! We were engaged for 17 months before the big day."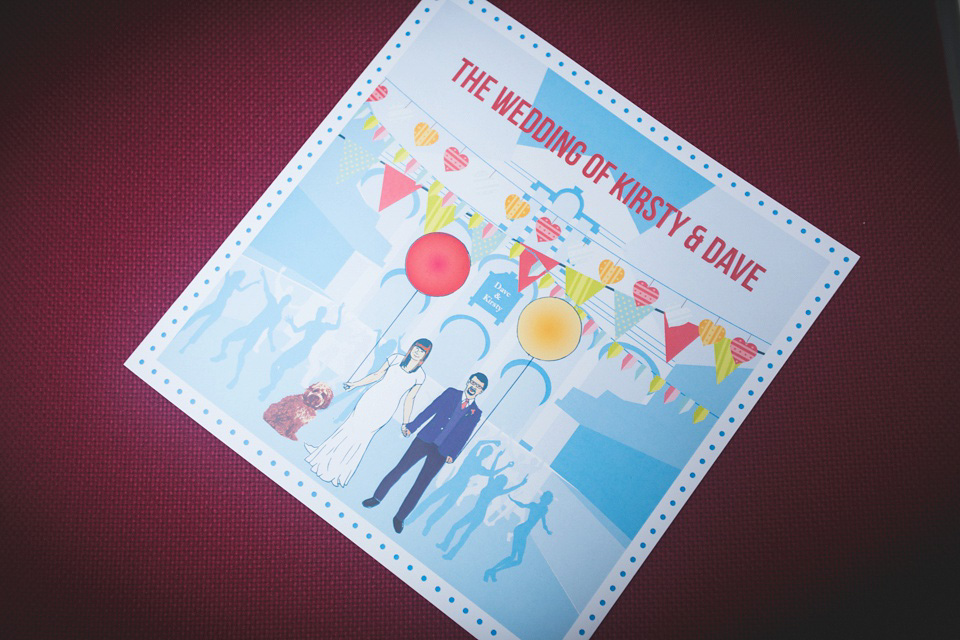 "We knew we wanted to get married in Manchester, as it is where we met and live. We'd attended a wedding, a fantastic beer festival and a theatre production previously at the Baths, so we were familiar with its beauty and scope. Plus it is a ten-minute drive from our house, very convenient! The people that run Victoria Baths do it for the love of the building, and knowing that we would be helping with restoring the building was a massive plus for us. It was also a blank canvas in that we were able to bring in our own decorations, catering and lighting."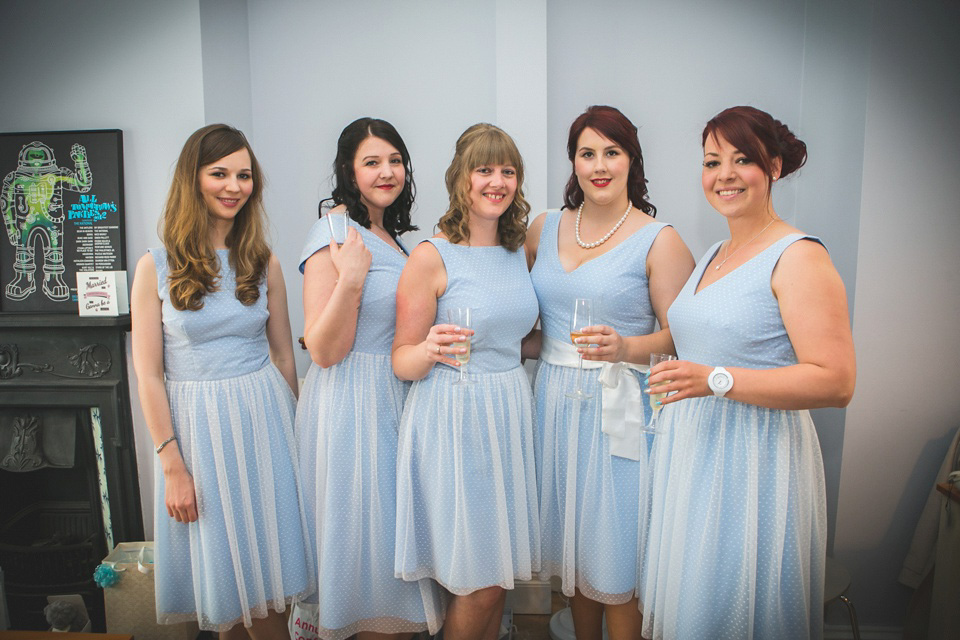 "My bridesmaid and I were walking through West Didsbury one evening which is near to where we live and we had a peek through the window of The White Closet, and there was the lovely Nora by Charlotte Balbier at the back of the shop hung up! I thought it was a bit too early to be looking for a dress, however I booked an appointment immediately, and it was the first dress I tried on. I feel so lucky to have found my dress not only in the first instance but also in my local boutique.
It was exactly what I was looking for and it felt amazing when I tried it on. The detail in the lace is so delicate, and the back of the dress provided the glamour. The dress had a mixture of classic bridal charm but also informality, in that I had the freedom to move around with its length."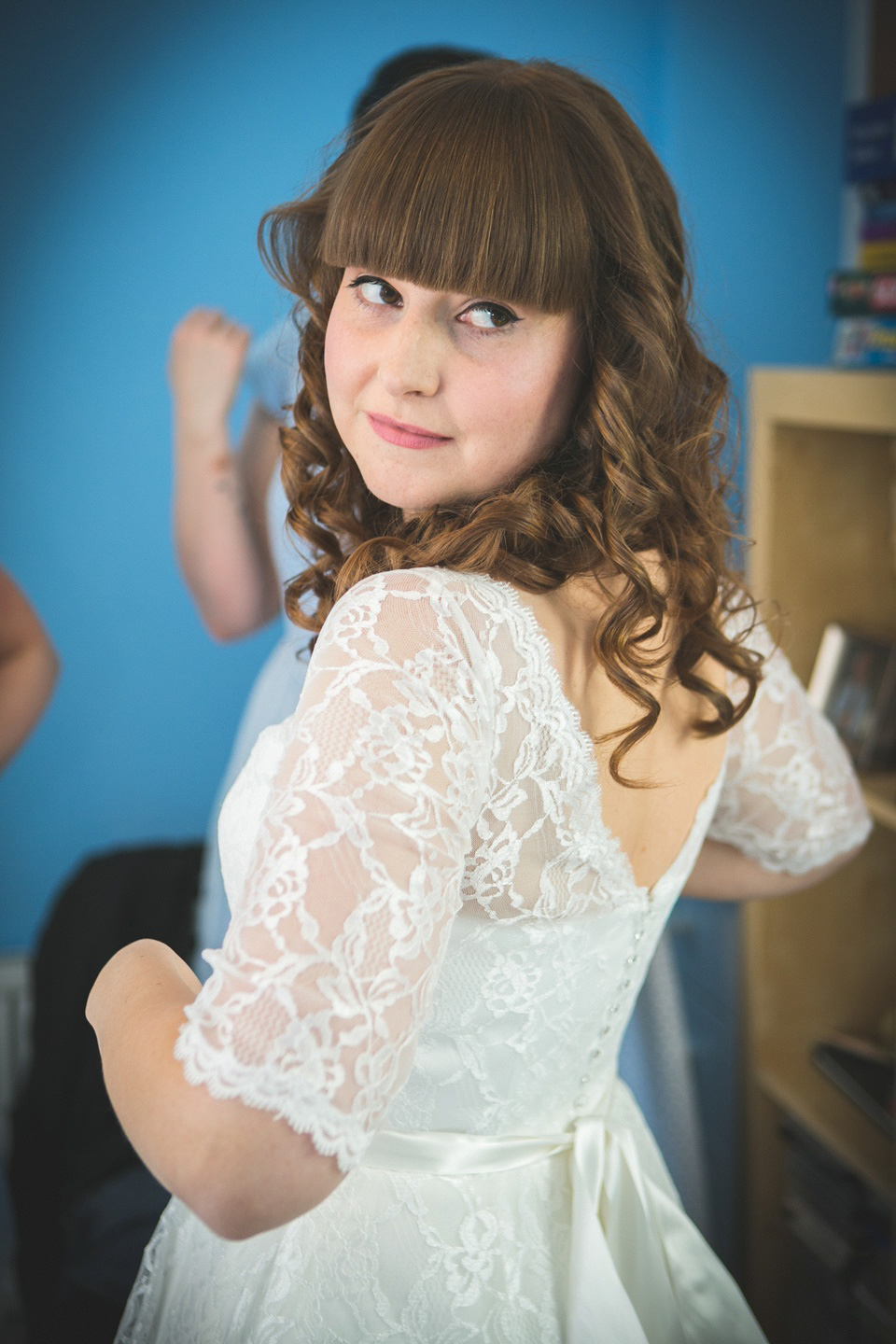 Manchester based Rebecca Anderton did Kirsty's hair and make-up, and also the hair for her bridesmaids and the results were amazing.
"We had several hair trials due to me being indecisive and not believing that my long super sleek and naturally straight hair would ever be able to hold soft and gentle curls. However on the day, Rebecca got my hair exactly how I had imagined and it lasted until the very end of the wedding.
I don't usually wear a lot of make-up, mainly because I'm terrible at putting it on. My make up on the day was enough to highlight that I was wearing it, and the pink colours/tones Rebecca used on my lips and rosy red cheeks brought out the perfect eyeliner flick!"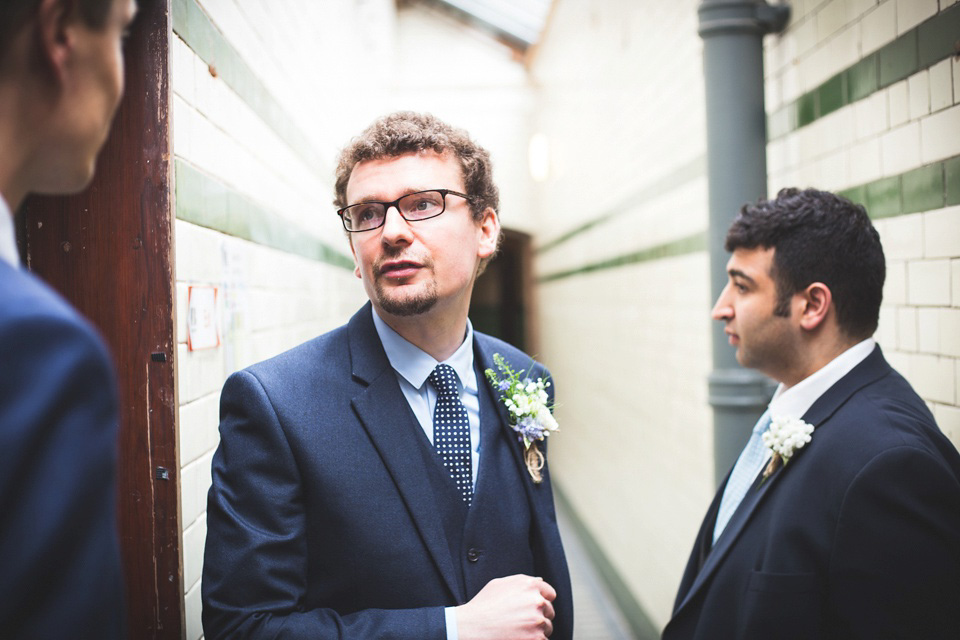 The best man and ushers all wore light blue ties from Mrs Bow Tie, which were a gift from the couple, and matched the colour scheme perfectly. The groom had an experience that is normally felt by the bride, when he struggled to find 'the one'.
"Dave's three piece suit was from Slaters in Manchester, his blue shirt was from ASOS, his brown brogues were from Next and his navy tie and pocket square were from Mrs Bow Tie. Whilst my dress shopping process was relatively easy, Dave found it difficult finding the perfect suit! He'd originally bought another suit but in his heart knew it wasn't 'the one'. Thankfully on his lunch break one day, he popped into Slaters and received excellent service from a kind gentleman who worked there, and managed to find a great suit."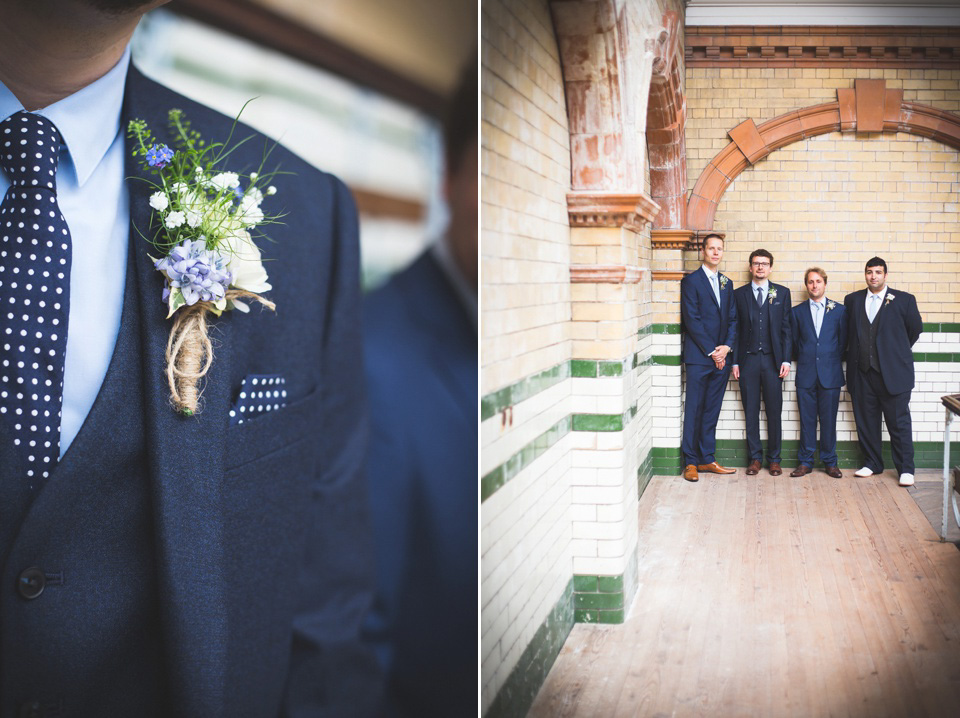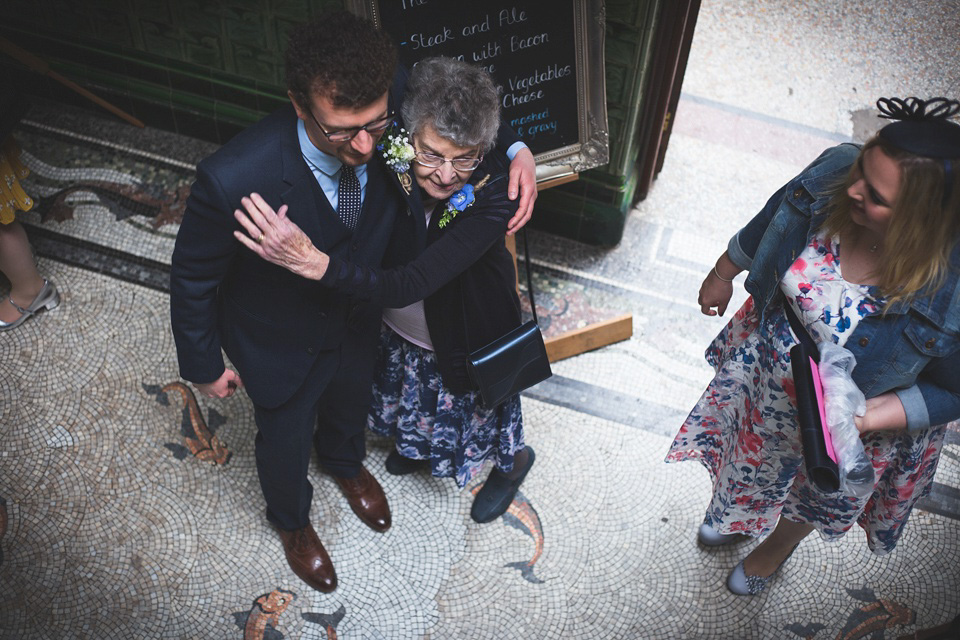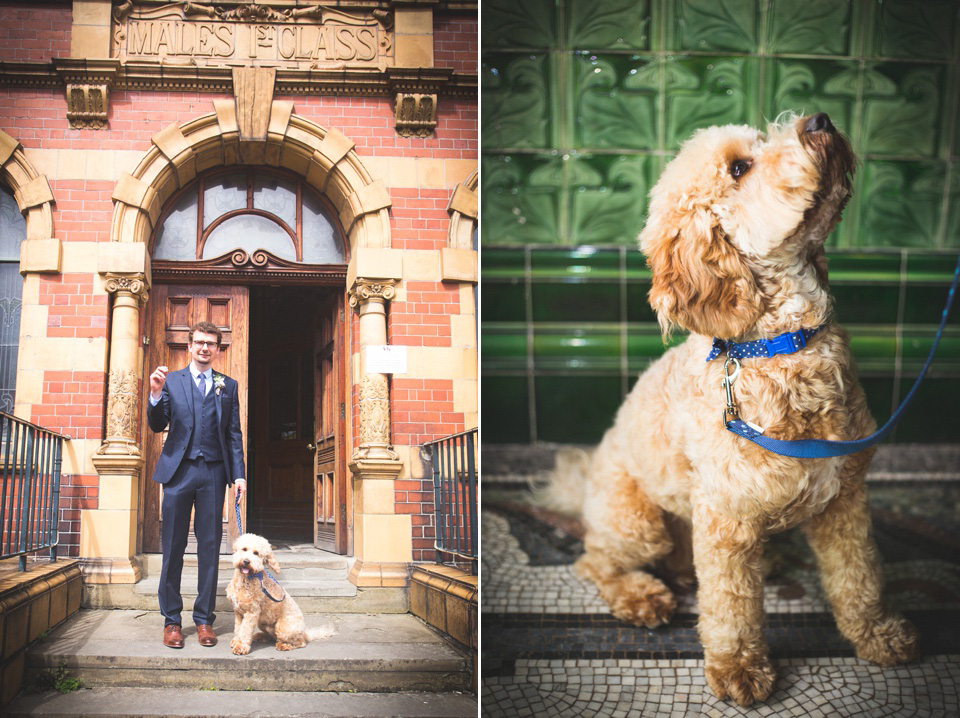 "Isobel Hind Couture created a version of her beautiful Briar Rose Headband design into the colours to fit in with the wedding. I met Samantha (the owner) at a vintage wedding fair in Manchester and I tried on several hairpieces. She was really helpful and followed up with me immediately to discuss what I wanted. My headpiece was a mixture of white rose and platinum pearl beads.
I didn't wear too much jewellery, other than my engagement ring and my Nana's wedding ring. She sadly passed away a year before the wedding, so it was important to have her included that way. My bridesmaid also bought me a beautiful pair of pearl earrings as a gift."
"I was in contact with Ellie, the owner of Luminia, for several months in the lead up to the wedding, sending me samples and giving me excellent advice. She offered the flexibility that I needed, as my sister had a baby a couple of months before the wedding, and Ellie was able to make her a dress in two weeks! The dresses were all the same colour, cornflower blue with white polka dot tulle, and they were designed to the shape and taste of each bridesmaid."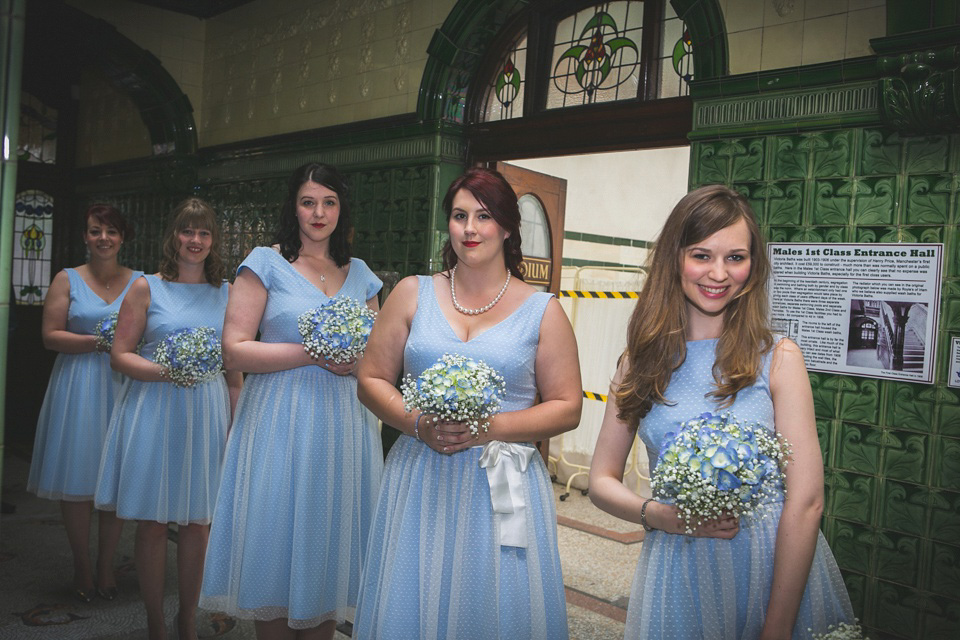 Kirsty walked down the aisle with her father Trevor to 'Fake Empire' by The National. With music playing a big part in their lives, the couple wanted very special songs for the ceremony.
"They are a special band to us, and we've seen them several times all over the world. We heard from guests afterwards who were brought to tears when they head the piano introduction to the song. As big music fans, this part was very important to us. We created a playlist of favourite songs to be played before the ceremony started. We signed the registrar to 'Just Like Honey' by The Jesus & Mary Chain, and walked back out to 'Ageless Beauty' by Stars."
The ceremony included two readings, the lyrics to Pelle Carlberg's 'I Love You, You Imbecile', read out by their friend Hannah, and a poem written and read by Dave's Nan, Mary, called 'Loving and Sharing'…
Marriage is a commitment, a promise that you will share your lives. You already share so much, your passion for football; Life isn't always "Back of the net", you will encounter problems, share them, half a burden is so much lighter, half a problem more easily solved. This is love at home. Your knowledge and love of music, you share not only with each other but with so many friends, a lot of them here today to share your special moment. This is love at leisure. You enjoy travel, and have a fondness for places off the beaten track. Never stop wondering what lies around the next corner and continue to respect the different cultures you meet on the way. Love at large in the world. You have the same sense of humour, quirky and quick to spot the pretentious and ridiculous. As you grow old together you will stay young together if you can always see the funny side of life. Above all share laughter. Laughter is love rejoicing.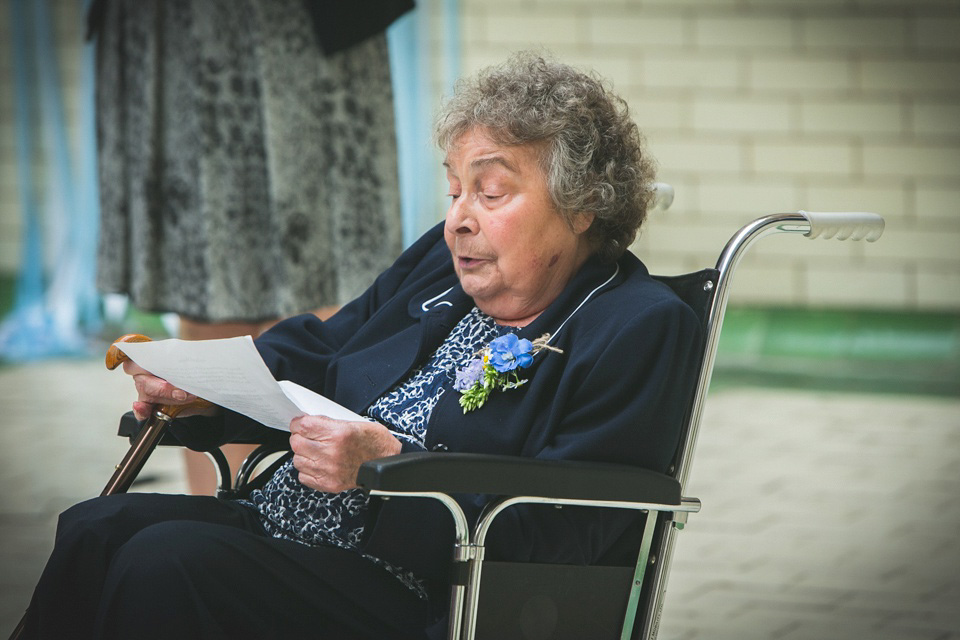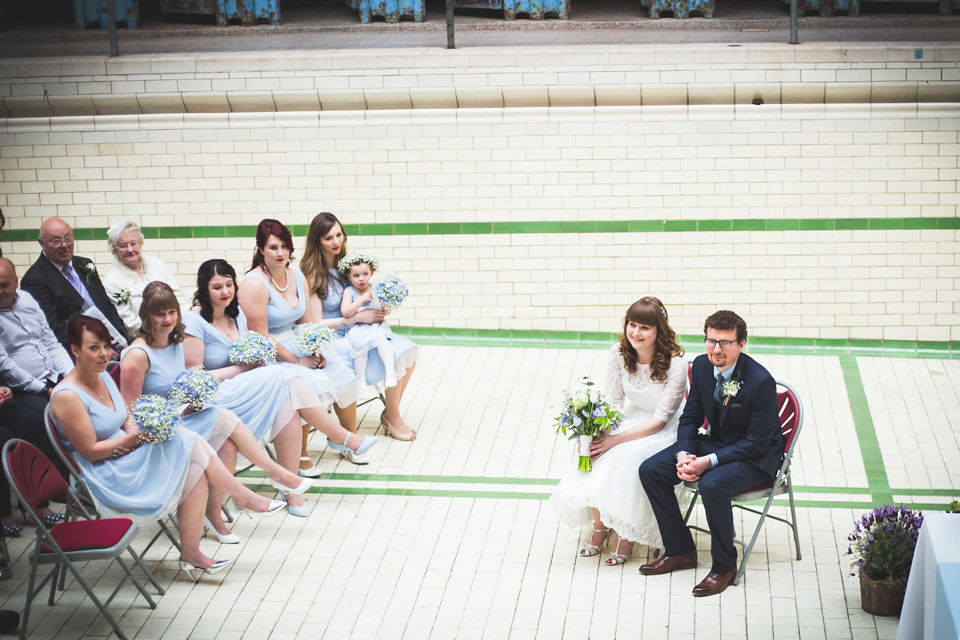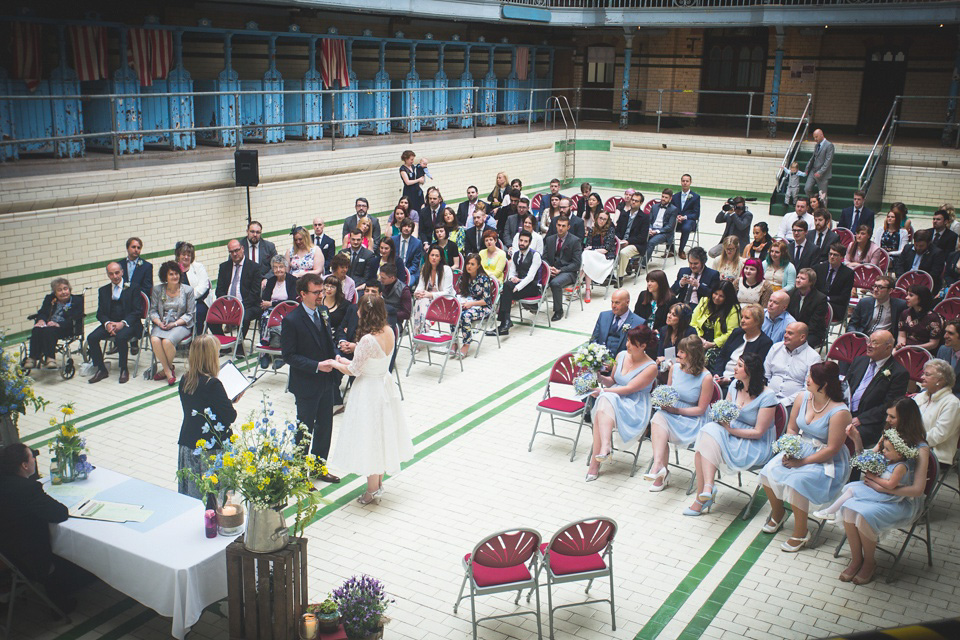 "My mother in law came across Wild and Wondrous Flowers on the web and we were instantly impressed with their eco-florist notion, use of locally grown flowers and the beautiful wild flowers in the images on their website.
Nicola came up with the idea of a ceremony back drop of staggered crates built up, filled with flowers, and then topped with vintage tea urns beaming of flowers and was very open to the idea of using our massive collection of craft and imported beers, particularly those with interesting and colourful labels, as flower vases for the tables. This was one of Dave's major contributions to the wedding planning – drinking nice beer so we could have a vase! The flowers used during the ceremony and for the tables were pale blue delphiniums, bright yellow fritillaries, blue hydrangea, amaranths and cow parsley.
For my beautiful bouquet, Nicola used white tulips, ranunculus, narcissus, freesia and solomon's seal with cornish bluebells and her very own home grown forget-me-nots. Dave's boutonniere was made using a single ranunculus, forget-me-nots and the first love-in-a-mist from her garden.
Nicola also created a gypsophila head dress for our adorable flower girl Eliza."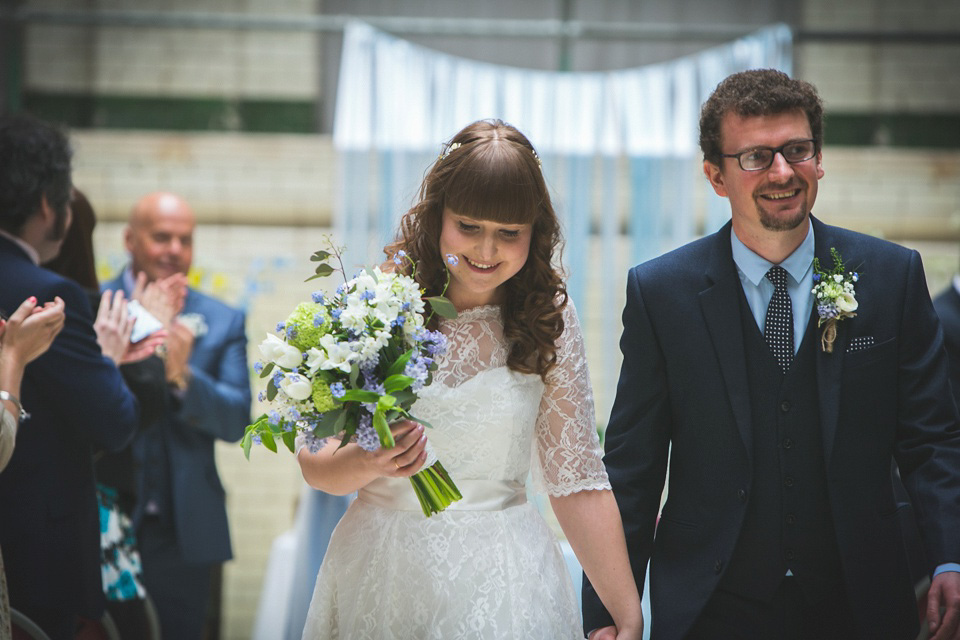 One special guest in attendance was Kirsty and Dave's beloved dog, Jarvis the cockapoo. How absolutely sweet does he look in his blue polka-dot bow tie from eBay?
"Jarvis has become the apple of our eye and ruler of the household. We had to have included at the wedding, and Victoria Baths were more than happy to accommodate him. Our dog walker Georgia took him to the groomers on the morning of the wedding, so he could have his own pampering session, and then brought him along to the wedding and he did a meet-and-greet with Dave as guests were arriving. He stayed around for several photos, and as you can see, posed for the majority of them. We were so happy to have them there."
Kirsty donned a pretty pair of silver 'Ginger' Rachel Simpson shoes, then changed into flats in the evening.
"I tried on a pair in gold at The White Closet, and then visited the Rachel Simpson showroom in Birmingham to buy them in silver. As someone who never wears heels, I was concerned about the height, however they were very comfortable and I was able to float around in them for a good eight hours until I switched to my flat silver strap shoes from ASOS."
"We were lucky to have the excellent Kate Lucie and Mark Bruce from Lucie and Bruce Wedding Photography capture our wedding day. Dave has known Mark for several years, and when we got engaged, they were one of the first bookings we made. When discussing our wedding ideas with them, we wanted them to stay and capture the evening reception, as we knew they would be the most memorable photos. We've seen a few weddings where the photographer leaves after the first dance, and we definitely didn't want that – that's when the party starts!"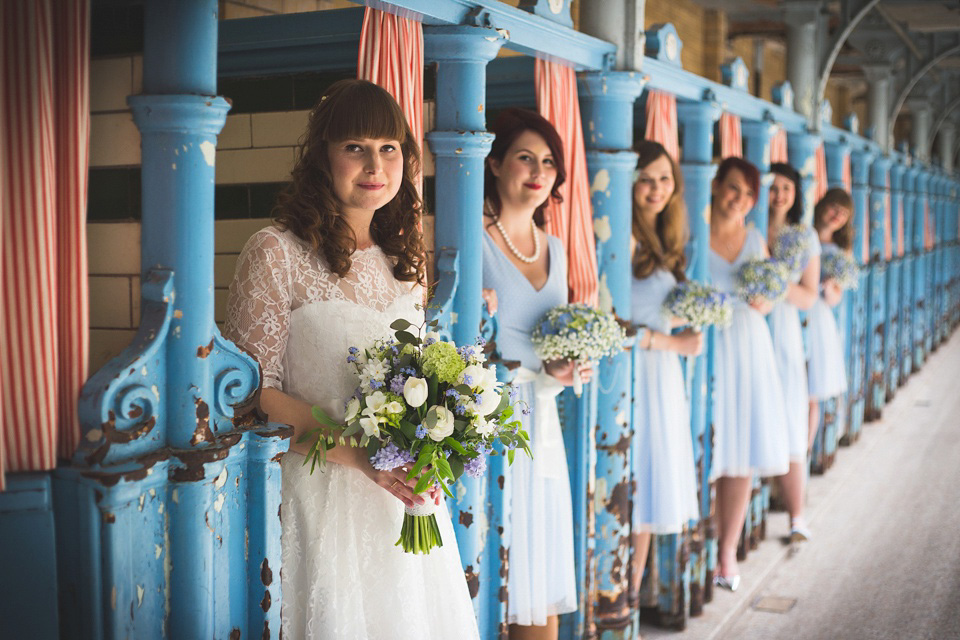 "They both worked hard throughout the day, starting at our house, and then late into the evening. There were times when I didn't even notice them, and they were constantly taking photos of our family and friends, which is also what we wanted. They were both very excited about shooting at Victoria Baths, and they were finding nooks and crannies in the building to get the perfect shot.
They also made use of the changing room cubicles by setting up a photo booth. These are some of my favourite photos, with the mixture of the blue background and the red and white striped curtains, plus our very colourful guests! They also captured Dave's Nans' posing, with comedy glasses and a blow up air guitar, which we didn't know about until we got the photos back. Absolutely brilliant!"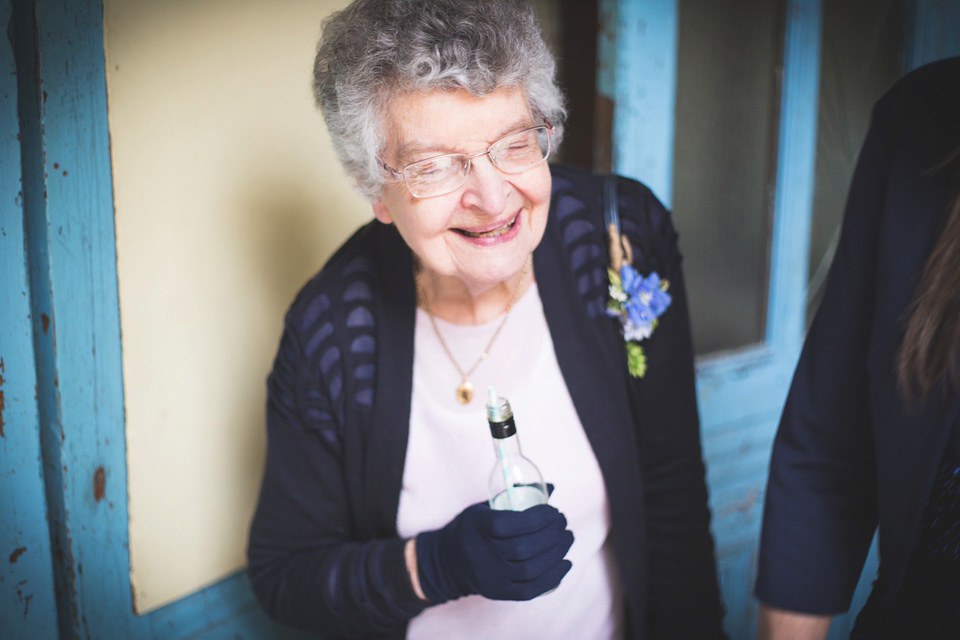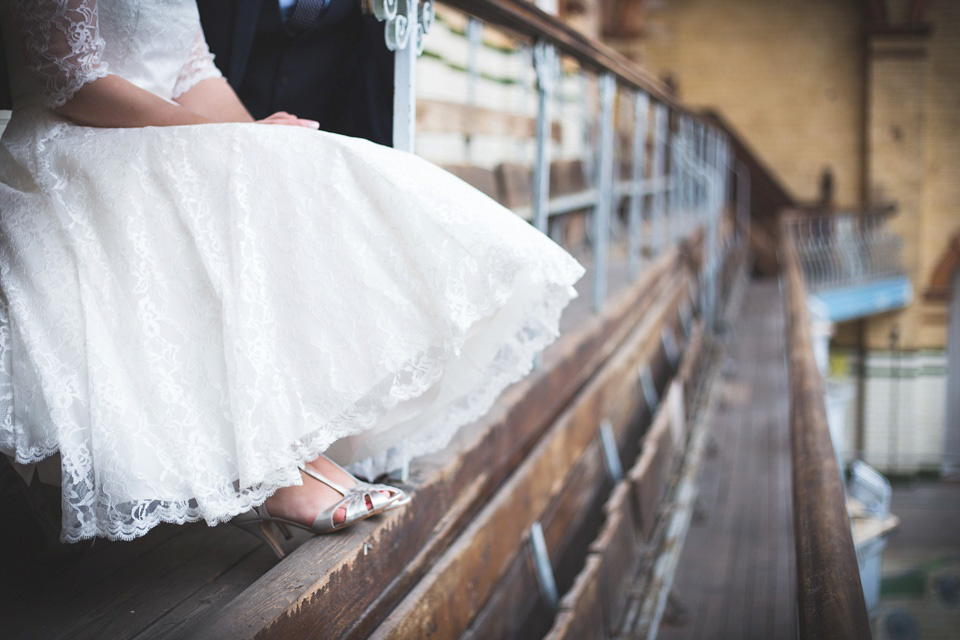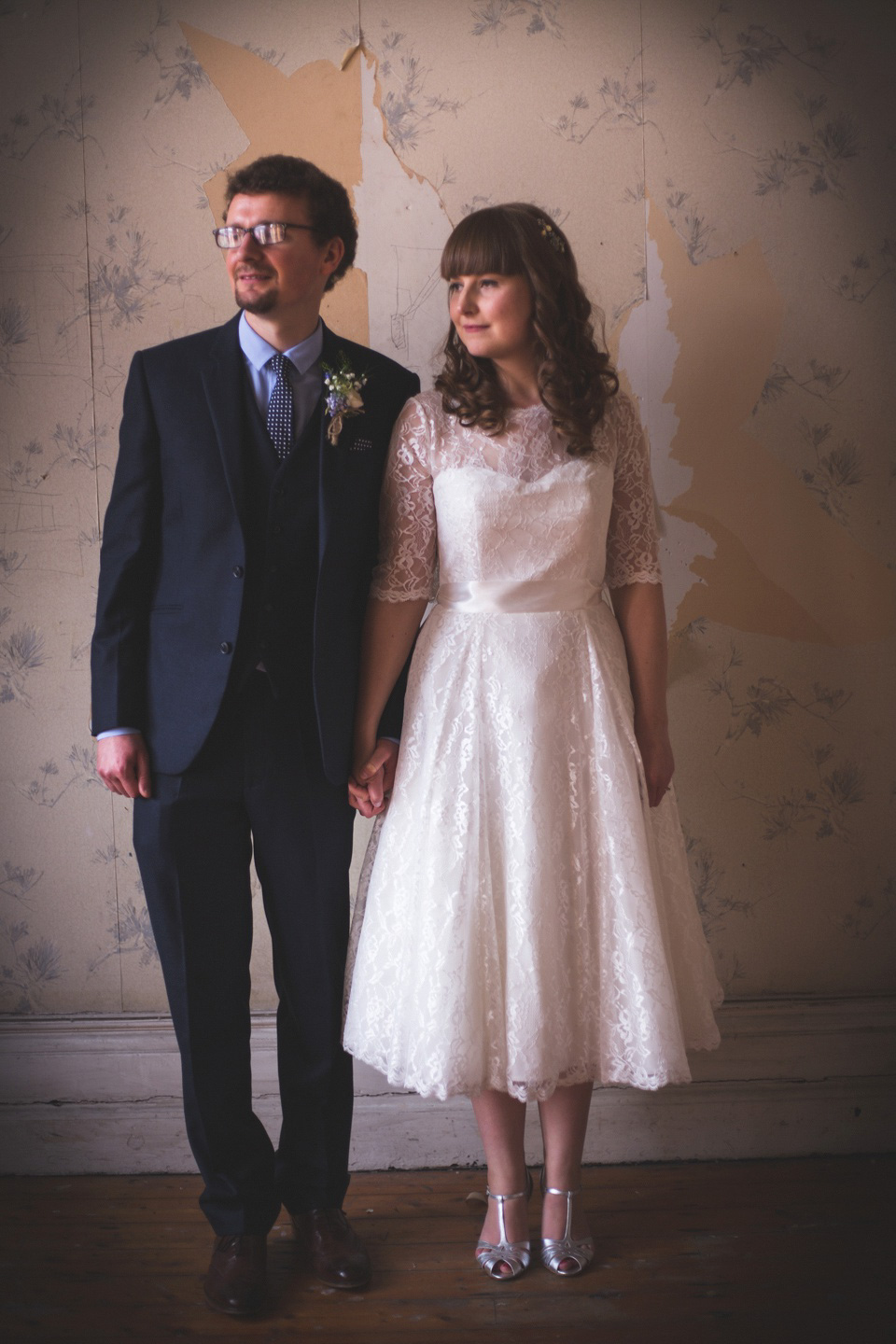 "We combined wedding favours with place names. We had polaroids from Polagram printed for each guest, with funny or meaningful photos on them. It was a good talking point when guests arrived at their seats."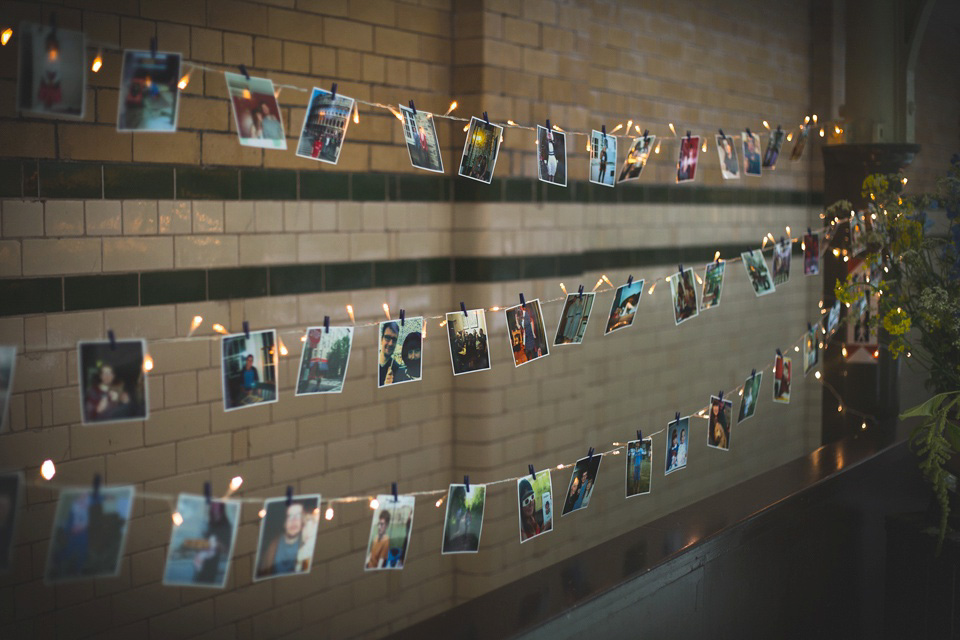 "Our friend Toby, who used to design the flyers and posters for our club night, designed our wedding invites, which were created into seven-inch records and covers. The front cover of the invite was then used as our order of service. Toby also created a poster for our wedding, with Victoria Baths as the backdrop. This was positioned just near the dance floor area and featured cartoon versions of use DJ'ing."
"Food was a big deal to us for the wedding, and whilst we would have loved to have served a Mexican feast (our favourite food), we went with a crowd pleaser in classic pie, mash and peas. We found an excellent award-winning caterer from Macclesfield, The Treacle Town Pie Company. Just after booking them, their steak and ale pie was crowned 'best pie' at the British Pie Awards! As well as serving pie, they also served canapés and a selection of our favourite desserts. They also provided the cheese and served it with crudités and chutneys in the evening."
"Along with the beautiful flower stage created by our florist for the ceremony, I also put together a blue and white lace ribbon backdrop to drape the side of the pool. I also bought 200 metres of bunting from eBay (I had dreams of making it myself, but in reality, that was never going to happen!). My Grandma had some bunting specially made with our names on it from a shop based near to where I am from, Saltburn-by-the-Sea.
We hired several items from a friend Louise, who was starting up her wedding vintage hire business, called Sid & Olive Vintage Wedding and Event Hire. She sourced frames for our wedding club night poster, provided giant games, vintage suitcases, tiered cake stands and a trolley full of milk bottles, straw and pimms & lemonade dispensers! Whatever I struggled to find, she was about to provide for us!"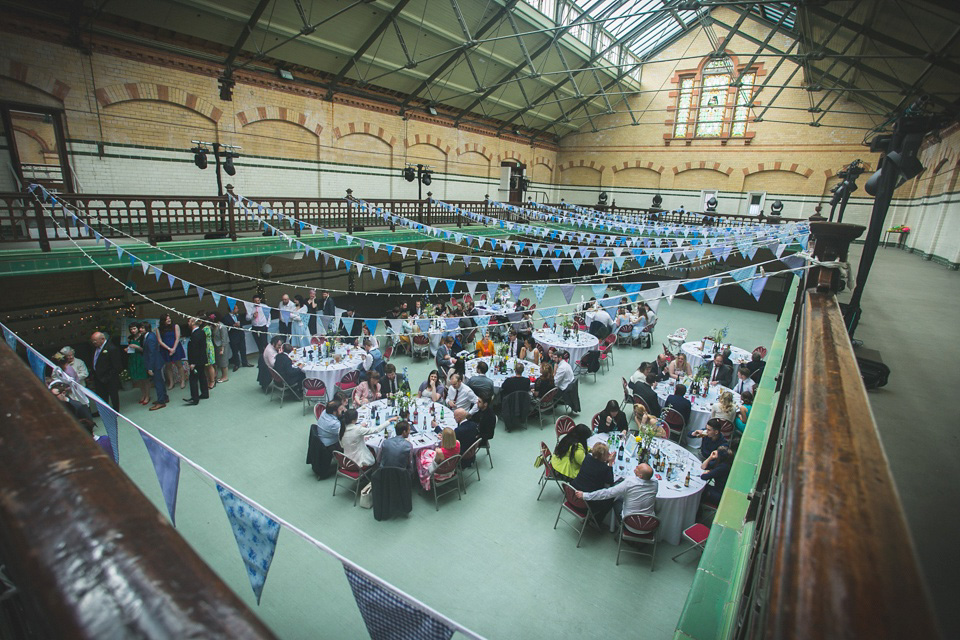 "Without a doubt, the most entertaining moment of the day was the quiz, provided by our comedic friend, Richard. With questions loosely related to Dave and I, he had everyone engaged. With the quiz finishing as a draw, the big tie-break round was "who can blow up a balloon until it pops the quickest". Because every wedding needs a balloon blowing up competition! Richard also brought tea towels with our faces on as winners of the prizes. Everybody wanted one of those!"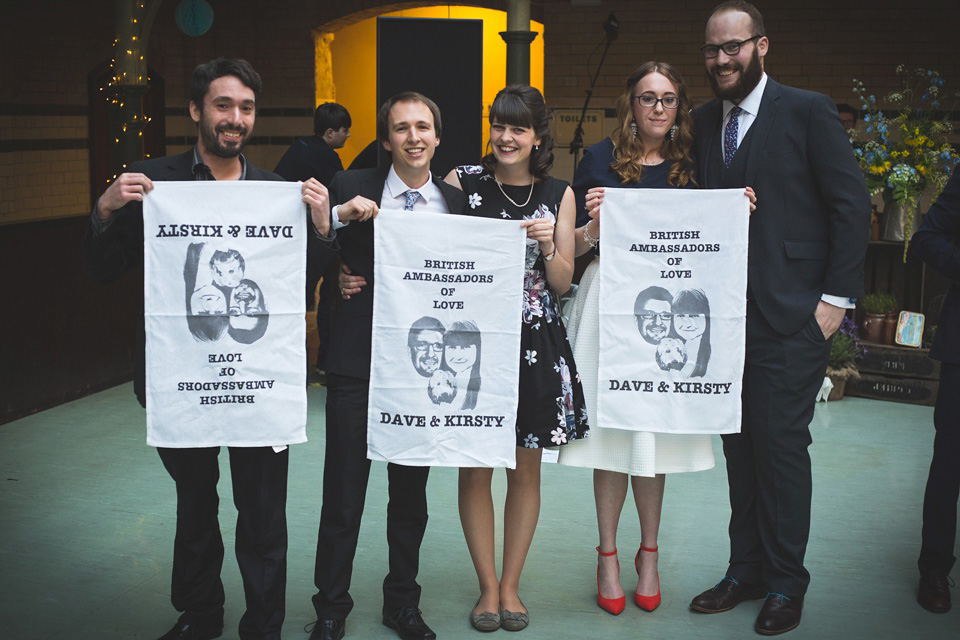 "I've read on many Love My Dress posts in the past that they can't pick their favourite part, and I agree! Every moment was so special, from the lovely moments getting ready with my bridesmaids, to walking into the swimming pool hearing one of my favourite songs surrounded by my favourite people, to having those precious moments walking around Victoria Baths with my new husband and dancing late into the evening."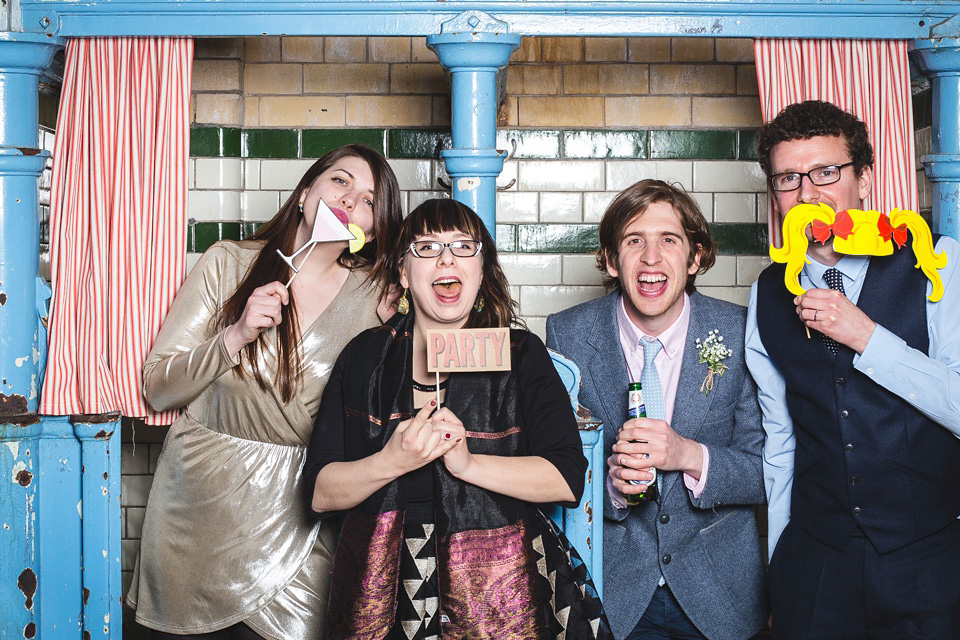 Words of Wedded Wisdom
"It really does help having some sort of project plan and timeframes. I felt like we had ages and then the last six months flew by. I tried to make sure I did one small thing every day, whether it was just an email to the caterer, or check the wedding website we created to see if we had any further RSVPs, or add another song to our playlist. Small steps towards the bigger picture.
I felt amazingly calm after we'd spent the day before the wedding setting up, as there was nothing more I could do and everything was planned. As the stress was taking away, I had a great night's sleep just before the wedding.
Also, do not start to renovate your house three months before the wedding, as living on a small building site whilst looking at paint samples as well as bridesmaid dress samples can get a little stressful!"
Take small steps towards the big goal – these are very wise words. I'm so inspired to have a party or event at a quirky venue like the Victoria Baths after seeing these fabulous pictures by Lucie and Bruce Wedding Photography. Many thanks to the lovely couple for sharing your wonderful day with us and it looks like a very fun time was had by everyone, including Jarvis!
For more divine Charlotte Balbier inspo see here and if you're thinking of a venue that's a little bit different, be sure to take a look at weddings we've previously featured at Victoria Baths.
Have a brilliant weekend lovely readers.
Love Jo -xxx-
Photographer – Lucie and Bruce Wedding Photography
Venue – Victoria Baths, Manchester
Dress – Charlotte Balbier via The White Closet, Manchester
Shoes – Rachel Simpson heels and flats from ASOS
Hair accessory – Isobel Hind Couture
Jewellery – Nana's wedding ring and earrings from bridesmaids
Scent/Perfume – Chanel No. 5
Bridesmaid Dresses – Luminia via Etsy
Bridesmaid Shoes – Own shoes
Groom – Slaters suit, ASOS shirt, brogues via Next, and tie and pocket square from Mrs Bowtie
Groomsmen and Ushers – Ties from Mrs Bowtie
Flower girl dress – Luminia via Etsy
Jarvis the cockapoo's outfit – blue polka-dot bow tie from eBay
Florist – Wild and Wondrous Flowers
Rings – P.R. Jones
Catering – The Treacle Town Pie Company
Cake – A cake of cheese supplied by the caterers and cupcakes from Airy Fairy Cupcakes
Stationery – Designed by the couple's friend Toby
Favours – Polaroids from Polagram
Décor – Printable Quirks on Etsy + eBay + Sid & Olive Vintage Wedding and Event Hire
Lighting/Sound – New Image Lighting
Hair & Makeup Artist – Rebecca Anderton
Entertainment – The couple's own playlist of their favourite music