Happy Friday lovelies! How has your week been? Did you see the wonderful news that our wonderful wedding blog has a brand new social media manager? It's very exciting to welcome Emily to the team.  For those of you who are looking forward to your winter nuptials, today's wedding makes for the perfect break – a January wedding in a traditional Music Hall, featuring the most incredibly elegant lace dress and possibly the most beautiful cake I have ever seen.  The stage is set (quite literally) for a most beautiful wedding.  Bride Vanessa and groom Brendan are an editor and voice-over artist and an actor and magician respectively, so it is not at all surprising that they wanted a theatrical venue for their big day.
Their wedding took place on the 31st of January this year at the fabulous Wilton's Music Hall, London, a venue which always takes my breath away with its faded beauty and old-school style. Wilton's is the oldest Music Hall in the world and I just love the romantic images it conjures up- just imagine how many stories those walls must have to tell!  Vanessa sported an absolute stunner of a frock from Temperley London, which suited her slim frame perfectly, and really evoked that old Hollywood glamour – very fitting considering her own profession.
Photography by Razia Jukes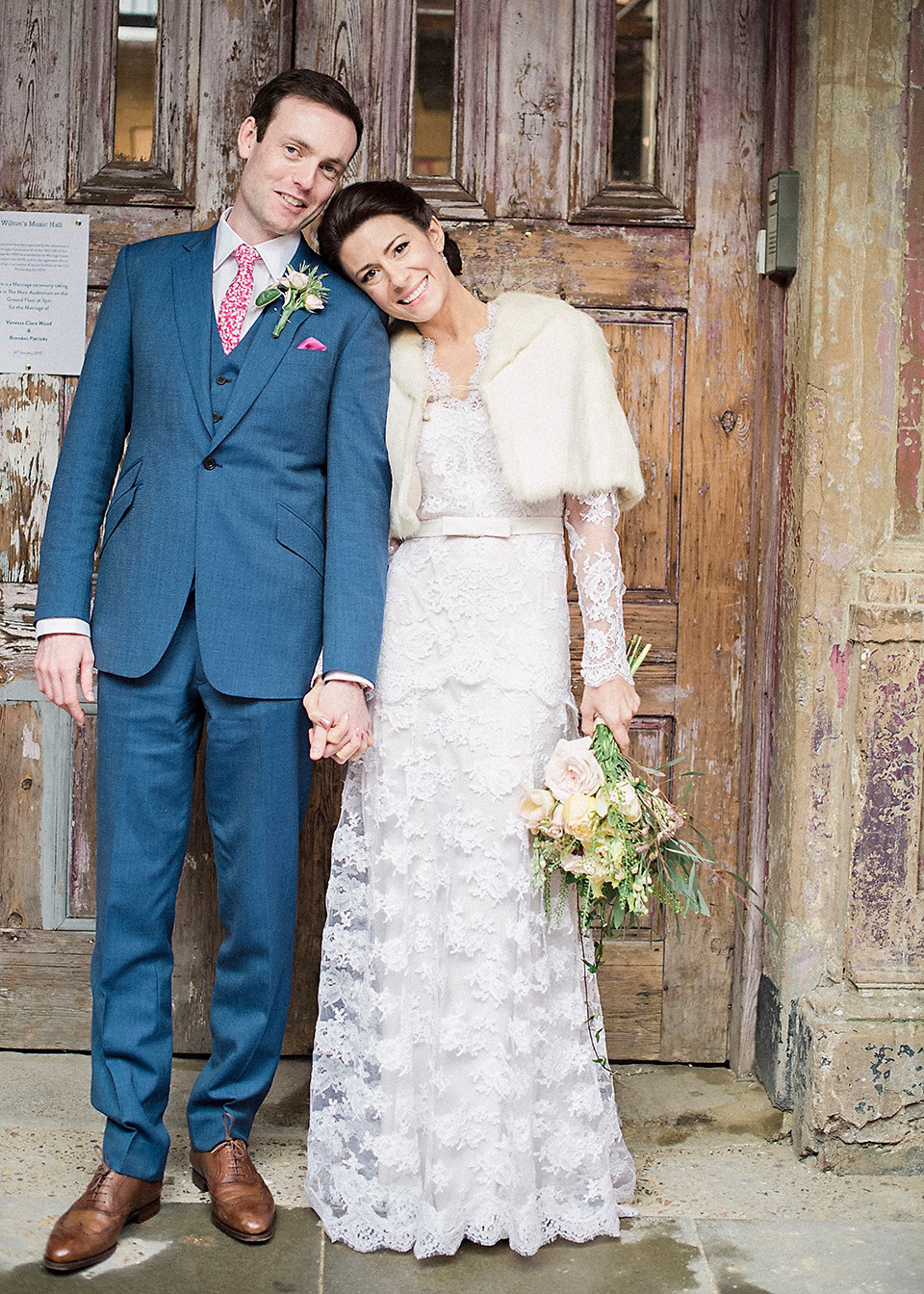 Gown by Temperley London
"Everything about the styling of the day was inspired by Wilton's itself. The auditorium is so beautiful and it has such a warm feel when you walk in- we wanted to keep things simple and elegant to compliment it."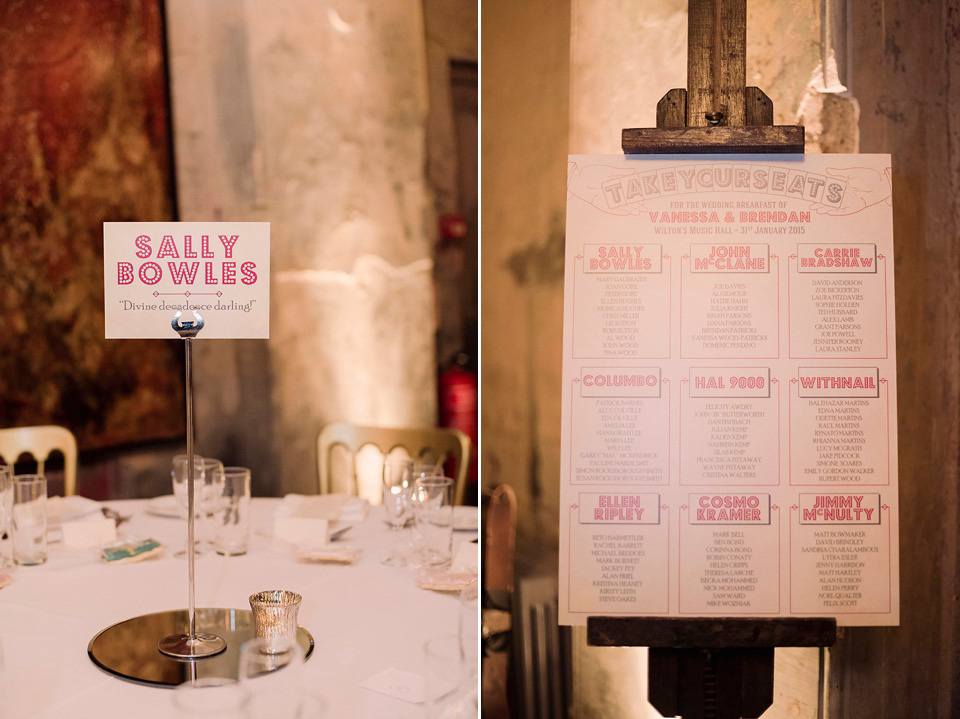 "On the balcony the gold paint is flaking off with green showing through. We tried to reflect the green and gold in the bridesmaid's dresses and groomsmen's ties."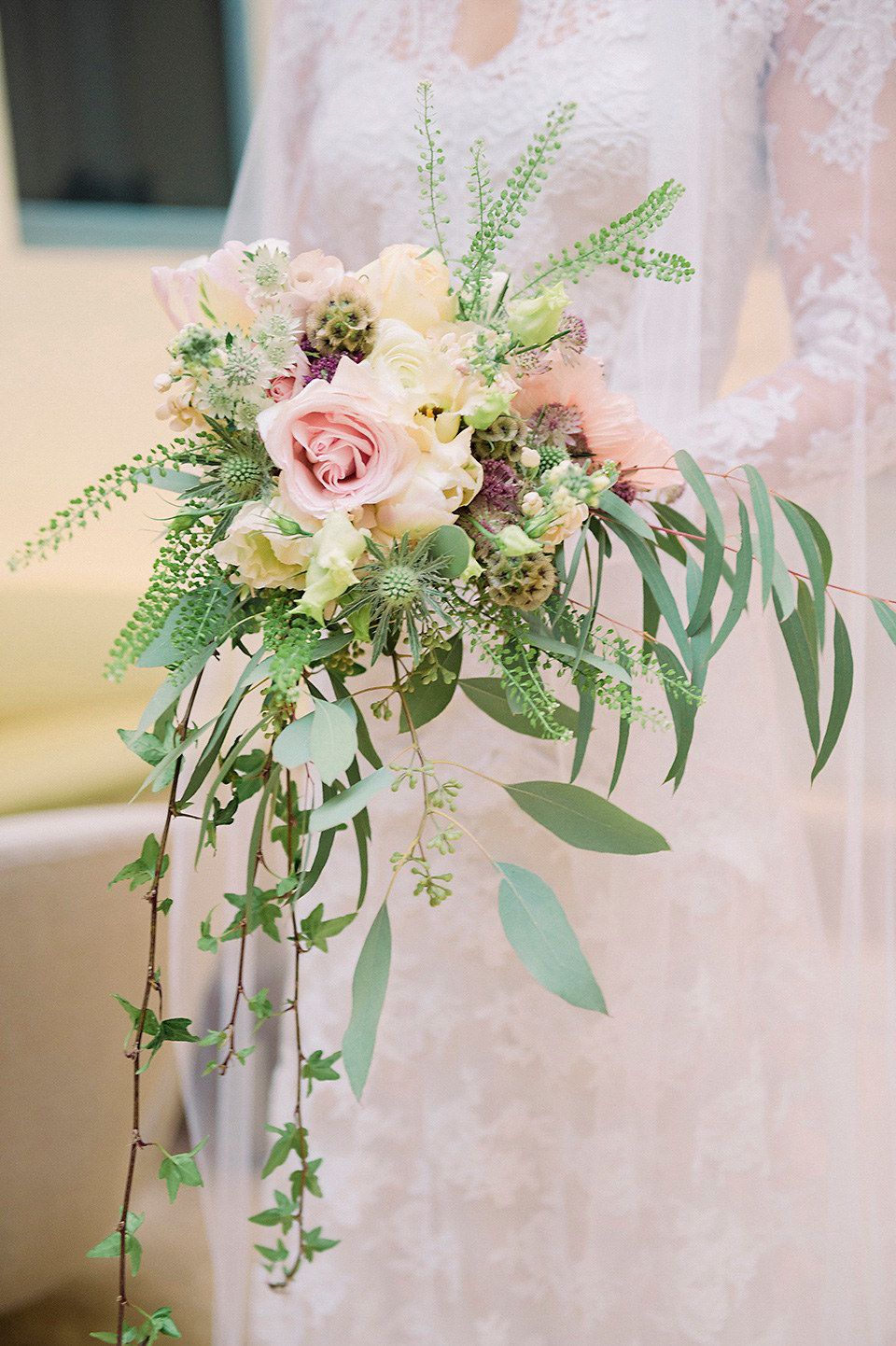 Flowers by The Flower Appreciation Society
Vanessa's three maids stepped out in floral printed dresses purchased from Ted Baker, paired with grey faux fur jackets to beat the January chill.
"After booking the venue, the bridesmaid's dresses were the first thing I bought. I loved the digital floral print and because there were lots of colours, I felt like it wasn't going to tie me to one particular colour for anything else we needed to get."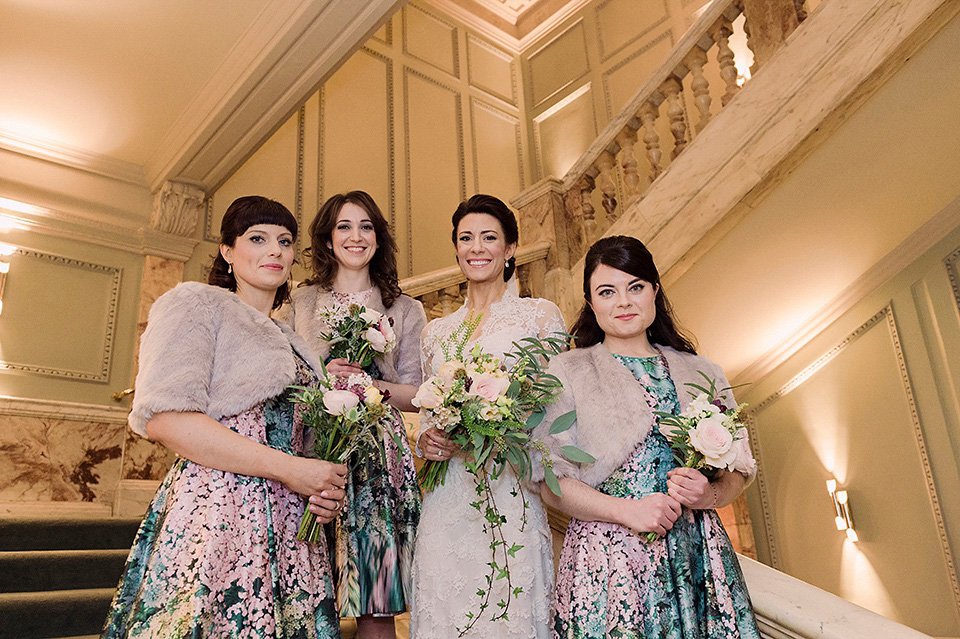 "I knew I wanted a dress with long sleeves because we were having a winter wedding and didn't want to feel too exposed. I also knew that I didn't want a full skirt. Having been brought up on old Hollywood movies thanks to my Mum, I'd always loved the way the likes of Joan Crawford and Bette Davies carried themselves in what they wore. When I saw the Temperley dress it reminded me of that era but without being too specific or seeming old fashioned and I loved the lace and the elegant cut. On the day I felt so confident and comfortable in it. I wish I could wear it every day!
My bridesmaid Julia lent me a little vintage white fur cape that was perfect for my dress. It was also my something borrowed"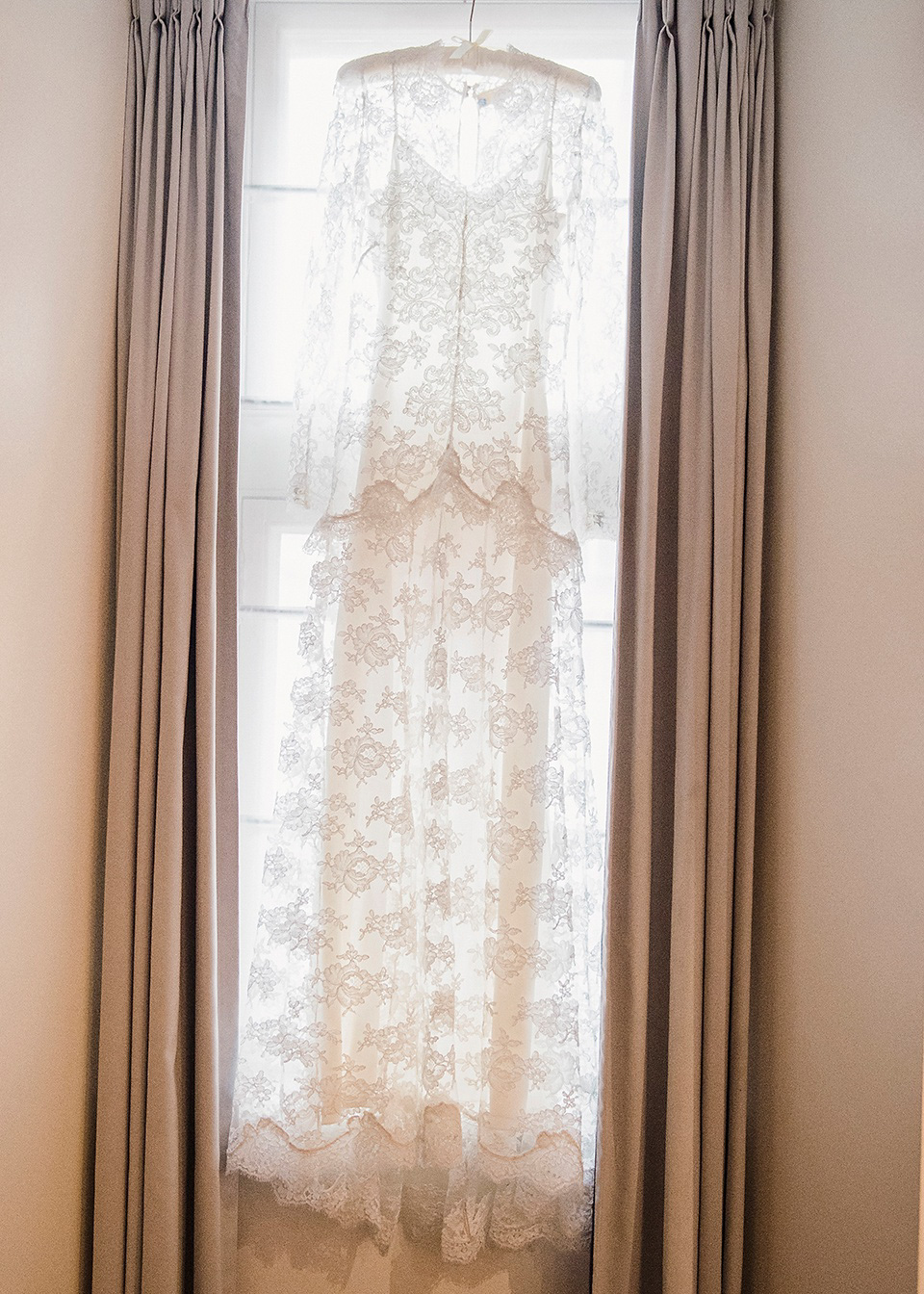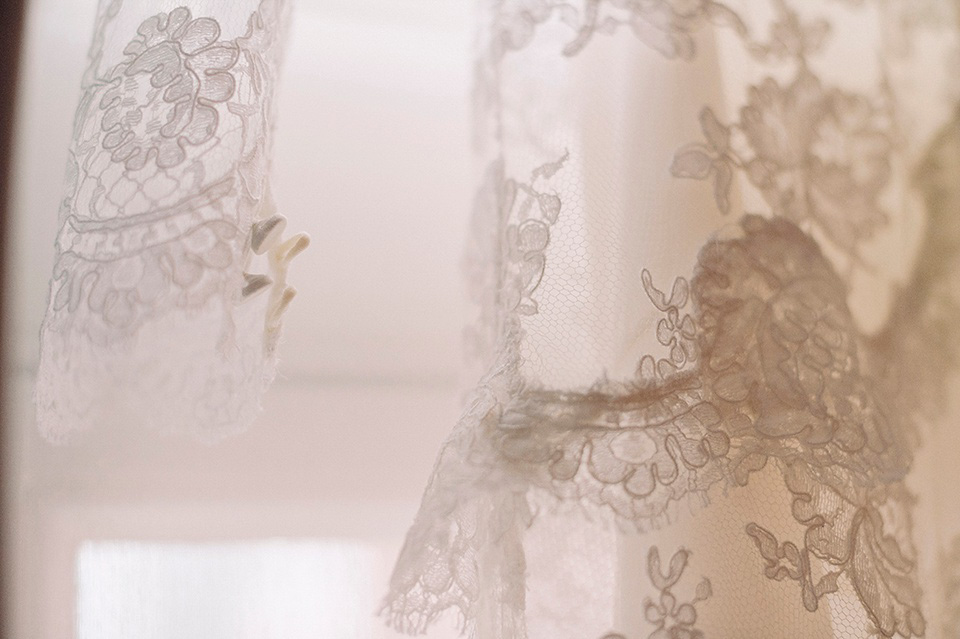 Those of you who love their shoes (I'm looking at Annabel especially here) will be very impressed that Vanessa had three pairs of beautiful shoes for her big day!
"I am pretty crazy about shoes, so getting married was a great excuse to 'invest'. I bought three pairs for the day, decreasing in height as the day progressed! I had "Luna" Jimmy Choos to start, Freed dance shoes for our first dance, then some glitter Charlotte Olympia Kitty Flats for the evening!"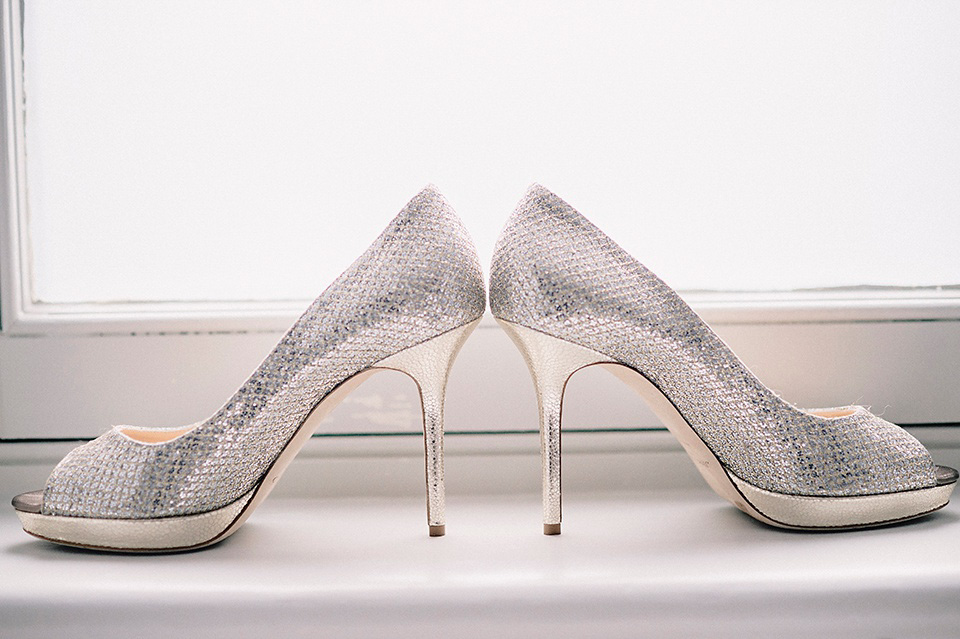 I honestly think these are some of the most beautiful flower arrangements I have ever seen. I love the colours and textures, and the fact that they are based on the flowers on the bridesmaid's dresses is just fantastic.
"The Flower Appreciation Society did our flowers. I loved their natural style, as I didn't want anything too structured. They have a beautiful collection of cut glass vintage vases that were perfect for the venue. After meeting with Ellie at their studio we decided to have a few random sized vases and tea lights on each table, on a mirror plate."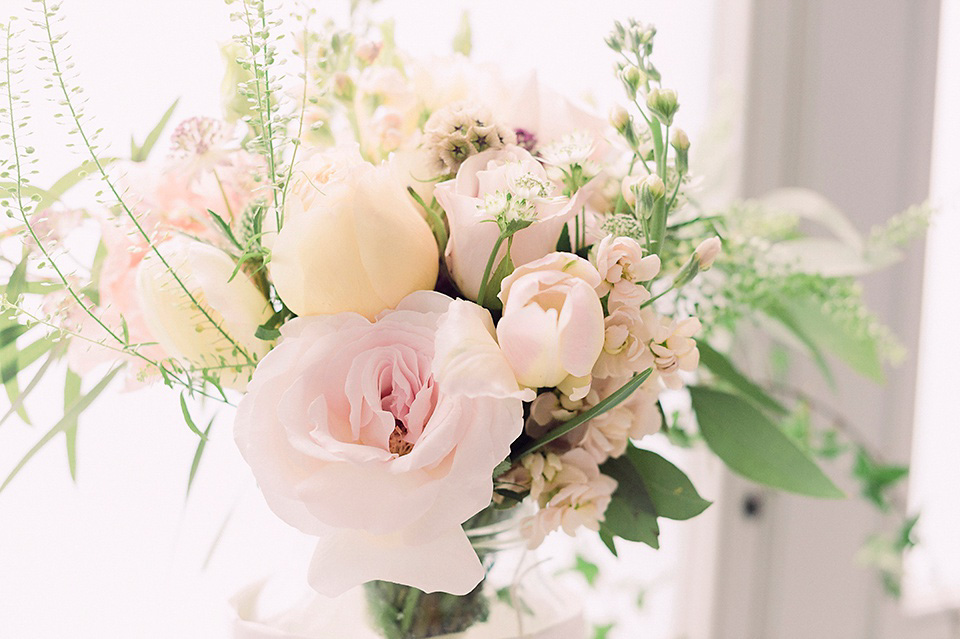 "Ellie gave us the idea of setting the vases and tea lights along the front of the stage for the ceremony, which were then moved to the tables for the meal. I showed Ellie the bridesmaid's dresses and she was able to incorporate some of the flowers in the digital print on the fabric into the arrangements and bouquets and buttonholes."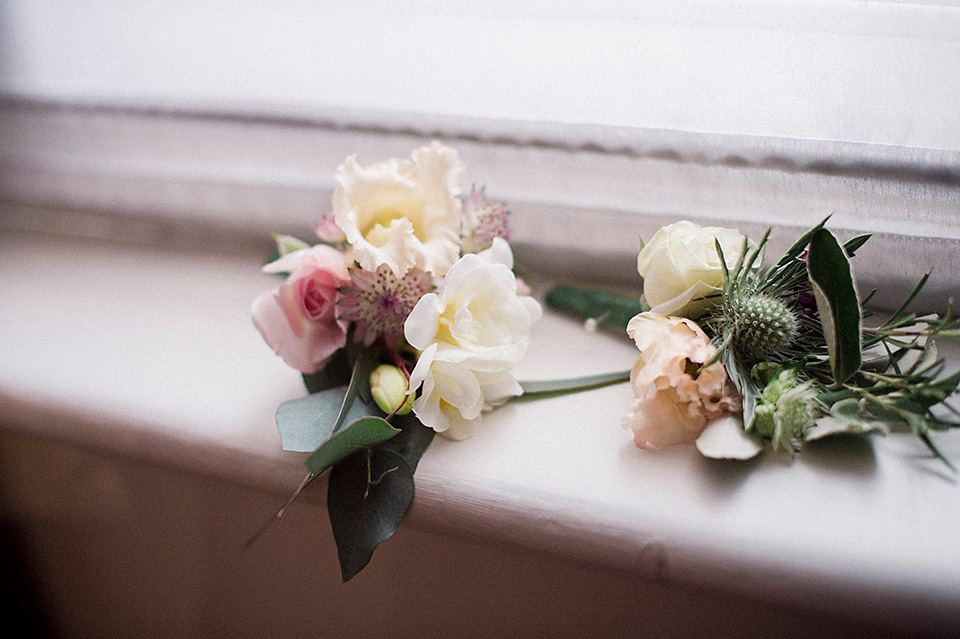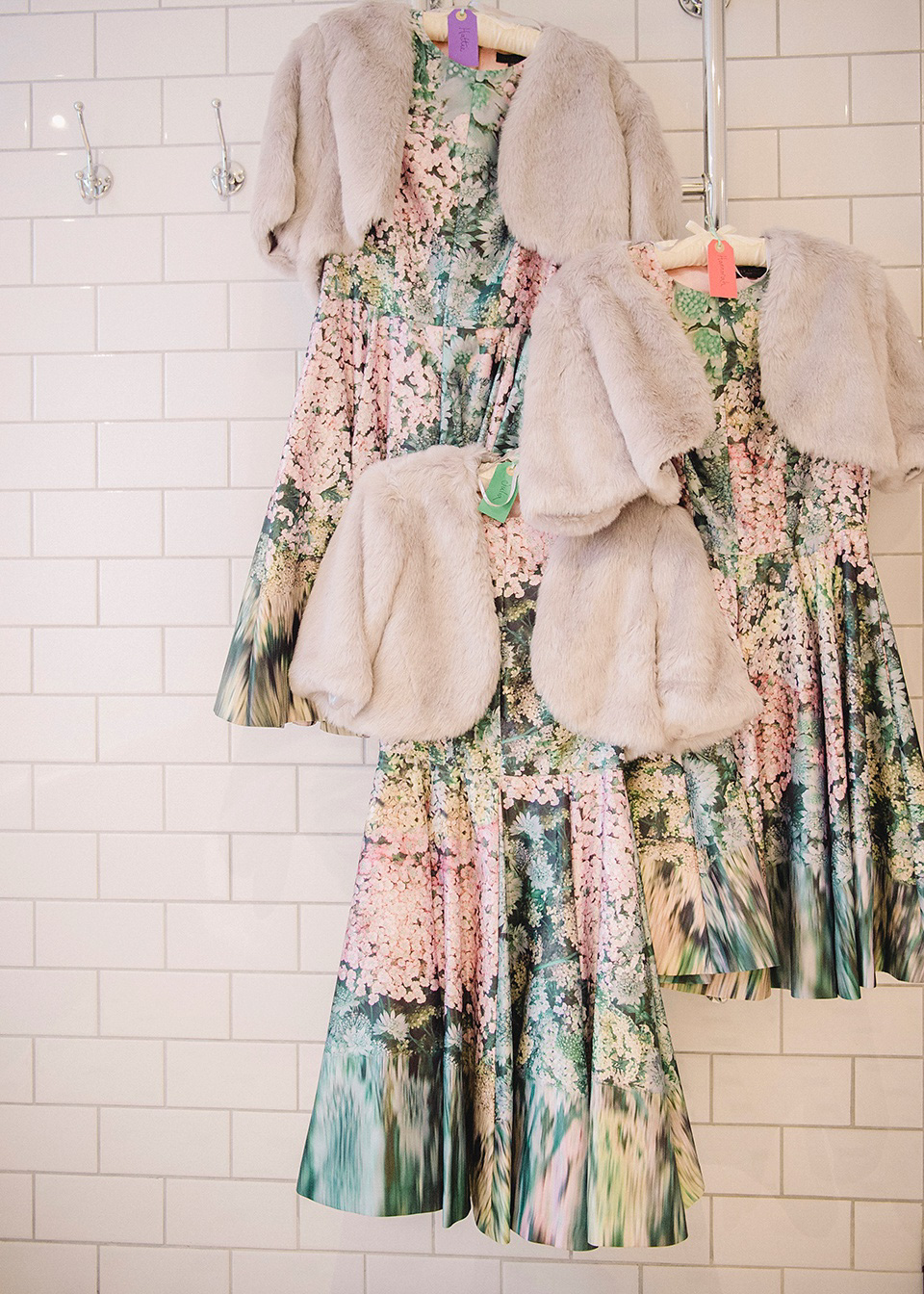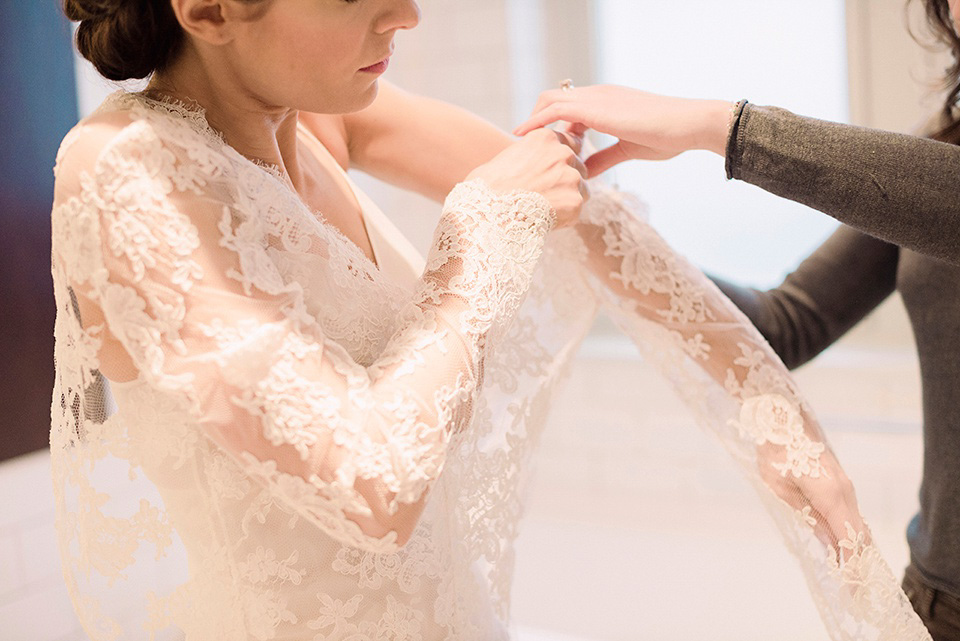 "Justina Sullivan at Beautiful Brides did my hair and the hair and make-up of the bridesmaids. Justina and her assistant were absolutely fantastic- they were such lovely people to have there on the day, brilliant at what they did and extremely calm and quick."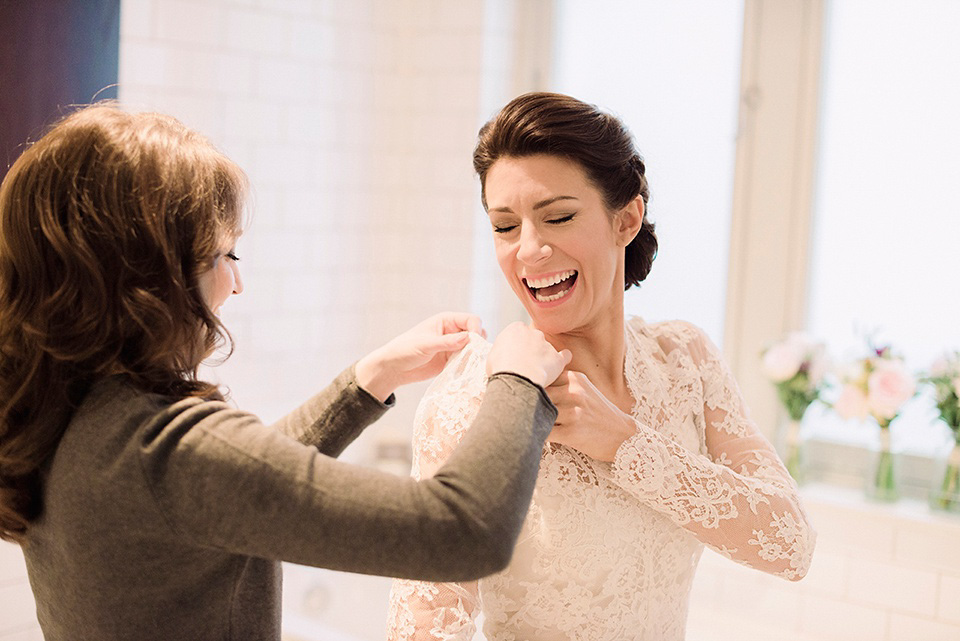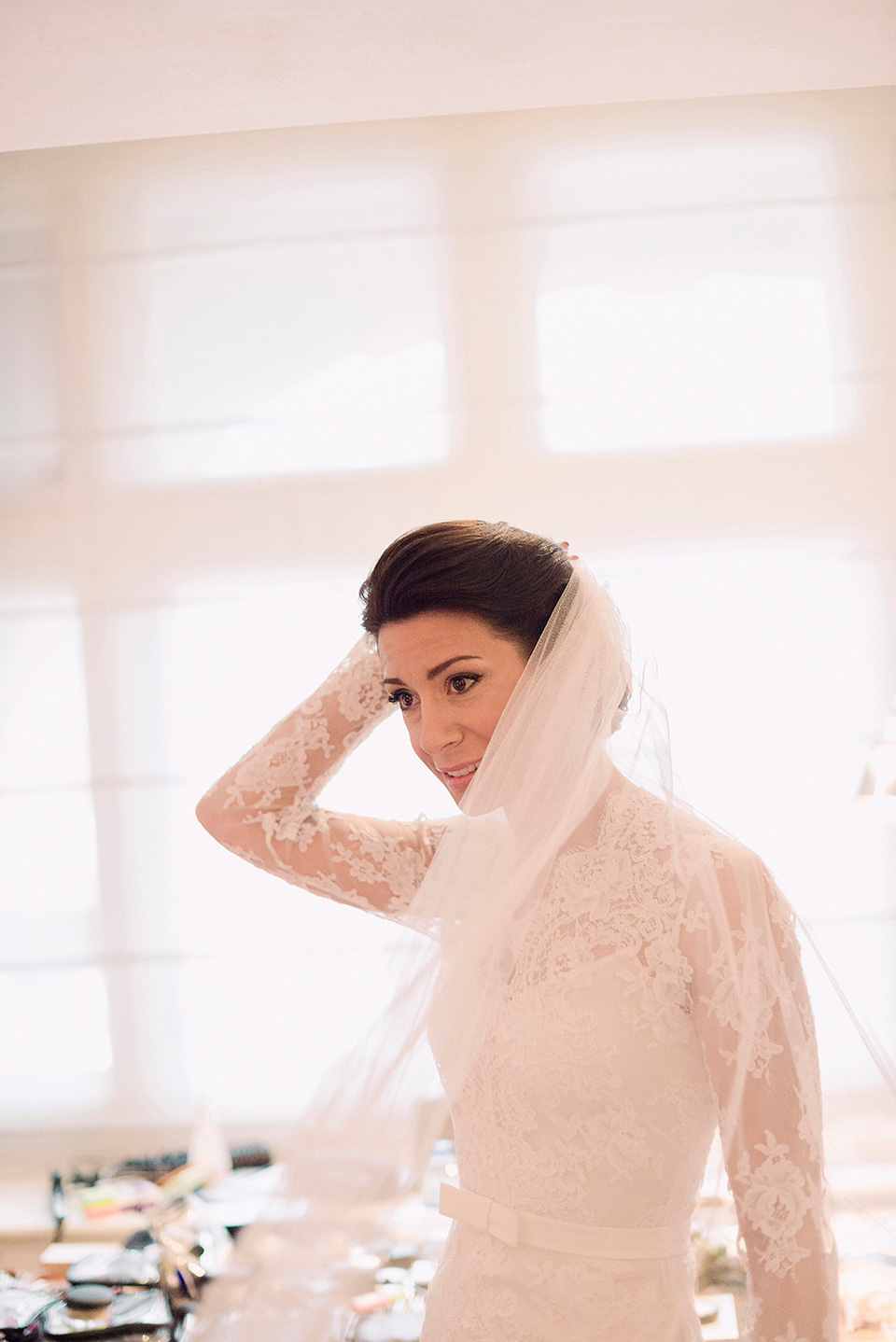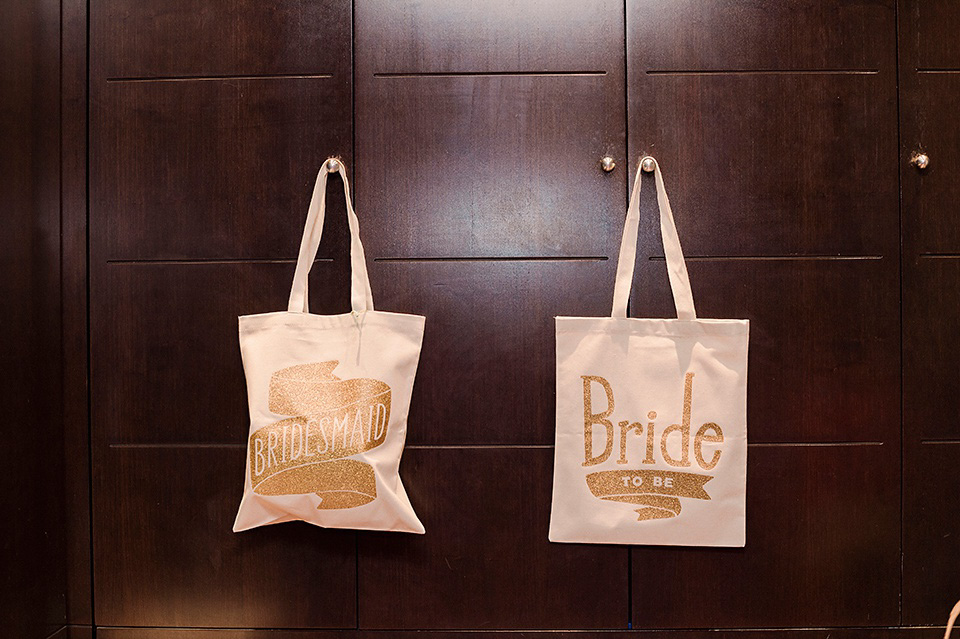 Today's images are the work of the talented Razia, of Razia Jukes Photography, another new photographer to Love My Dress, and a very welcome addition.
"I found Razia online after a whole afternoon checking out photographer's websites with my friend Dana who is a wedding photographer in the USA. We both really loved Razia's style. She manages to really capture the joy and love in the weddings she photographs and she was such a lovely person to have there on the day."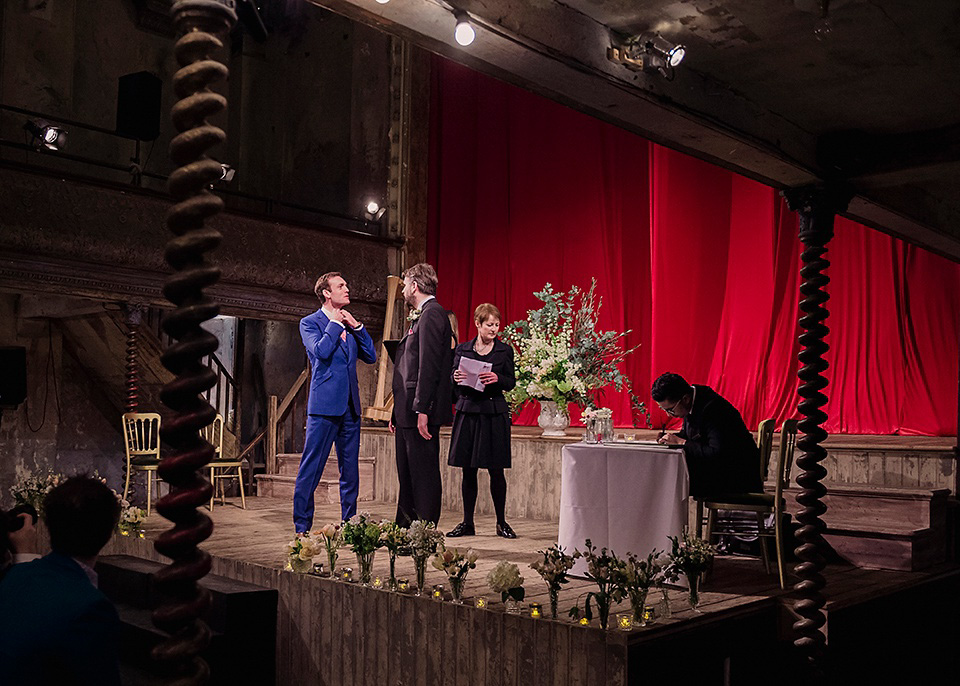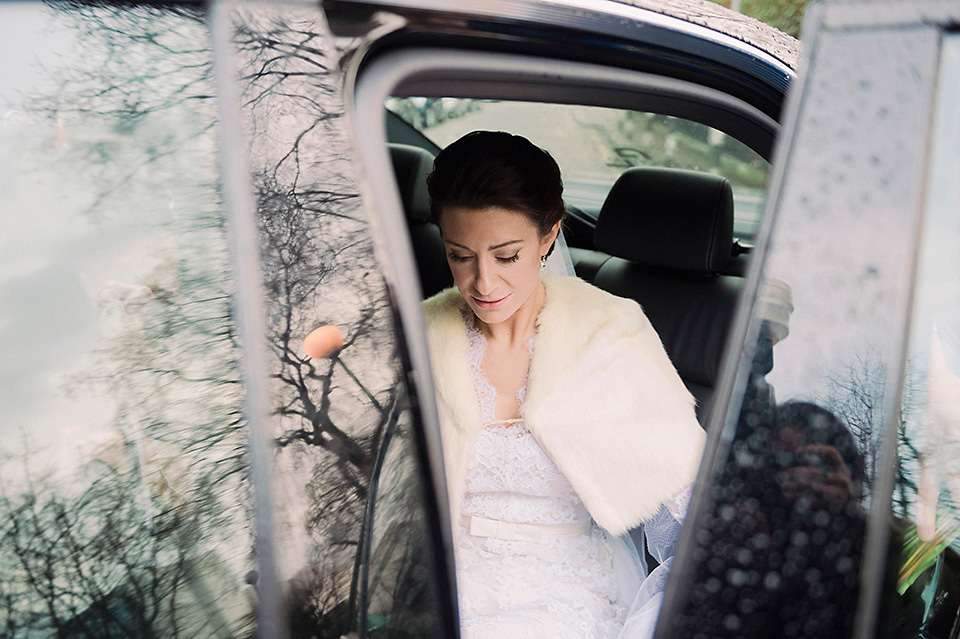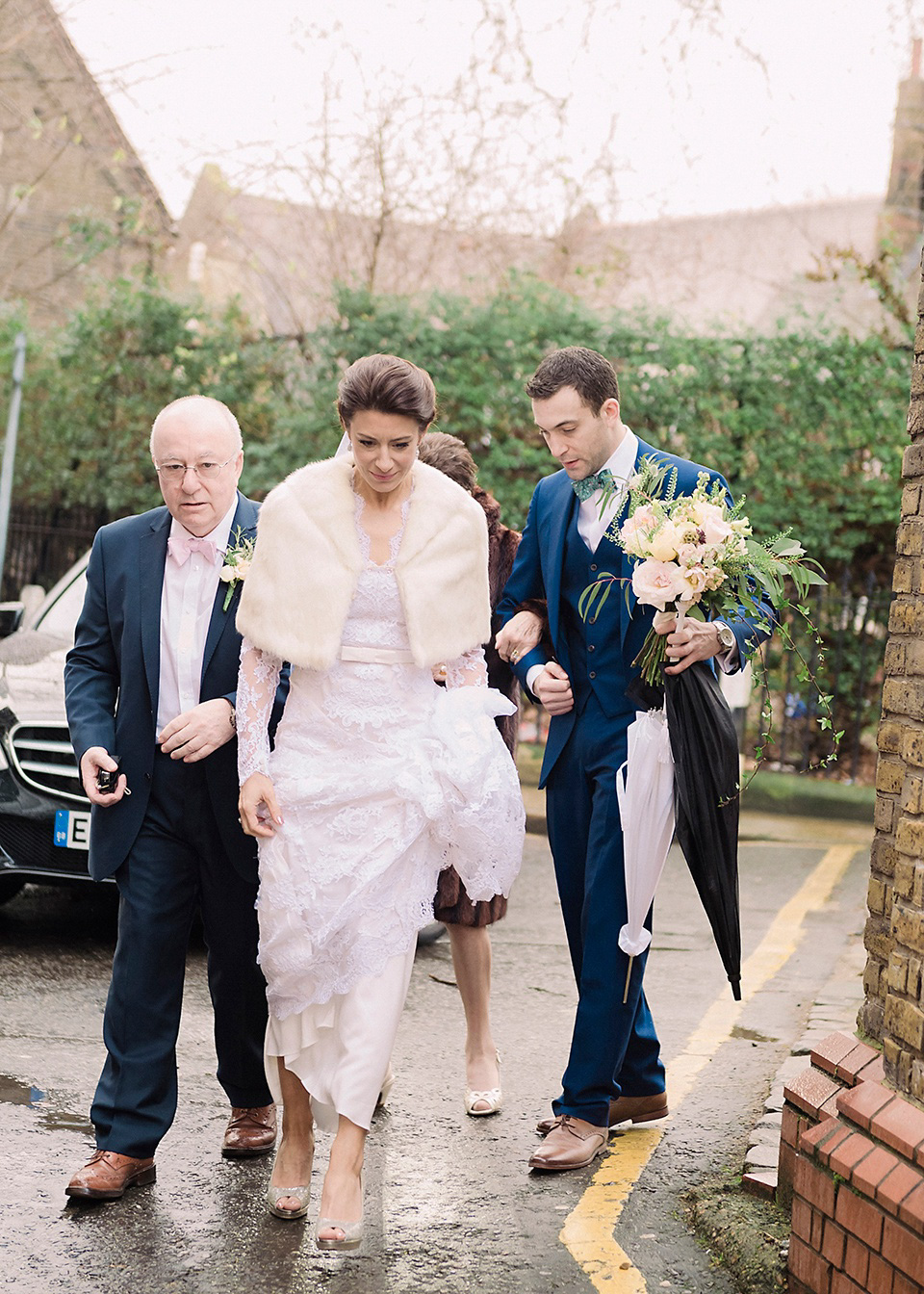 As is fitting for two actors and a venue such as this, Vanessa and Brendan exchanged their vows on the stage of the auditorium, which suits this wedding down to the ground.
"We had a harpist for the ceremony called Tori Handsley. She played a selection of modern songs and jazz as the guests arrived and during the signing of the register. It was really magical!"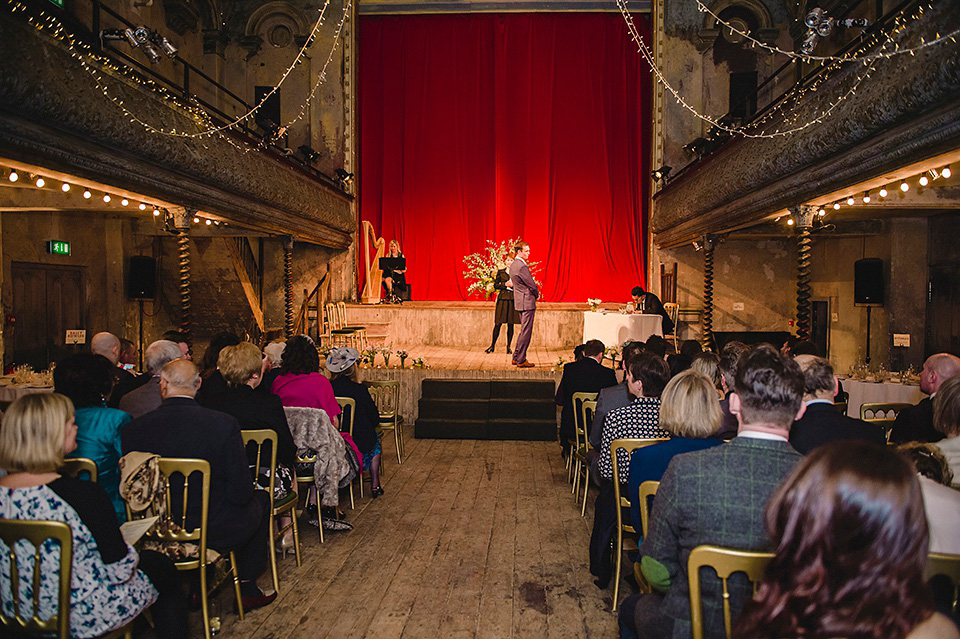 Vanessa walked down the aisle accompanied by both her Mum and Dad (which I love), to "One Hand, One Heart" from West Side Story, played by Tori on her harp. If you don't know the song then do go and listen to it- it's beautiful and I imagine it's even more lovely played live.
"We had our friend Joe read 'I Wanna Be Yours' by John Cooper Clarke. We wanted something funny and we love John Cooper Clarke, so it was just perfect. Joe did a brilliant 'performance' of it and I think it really set the tone for the day!"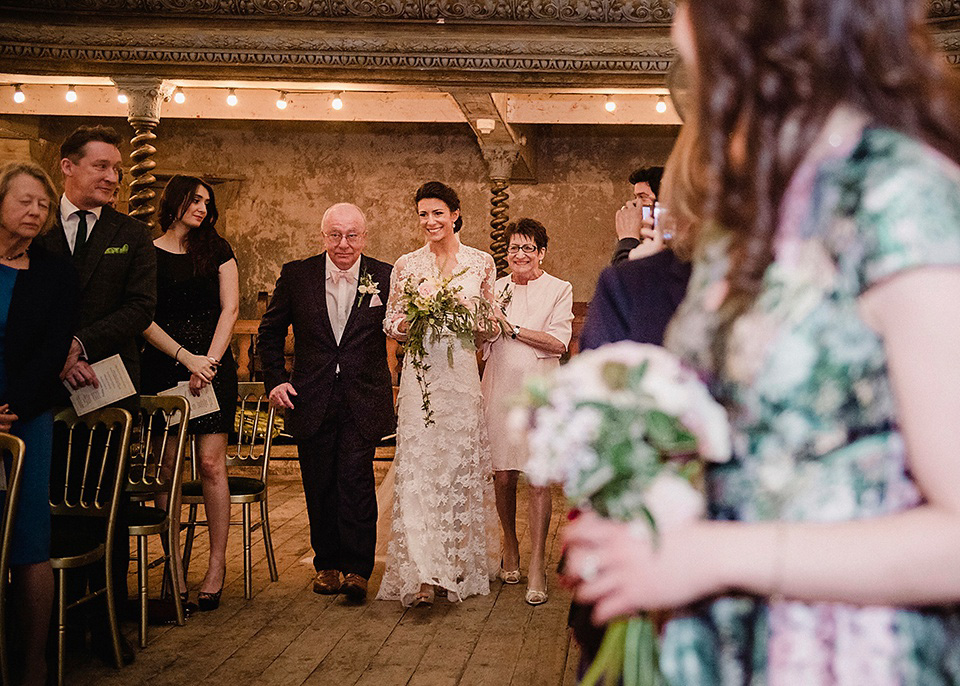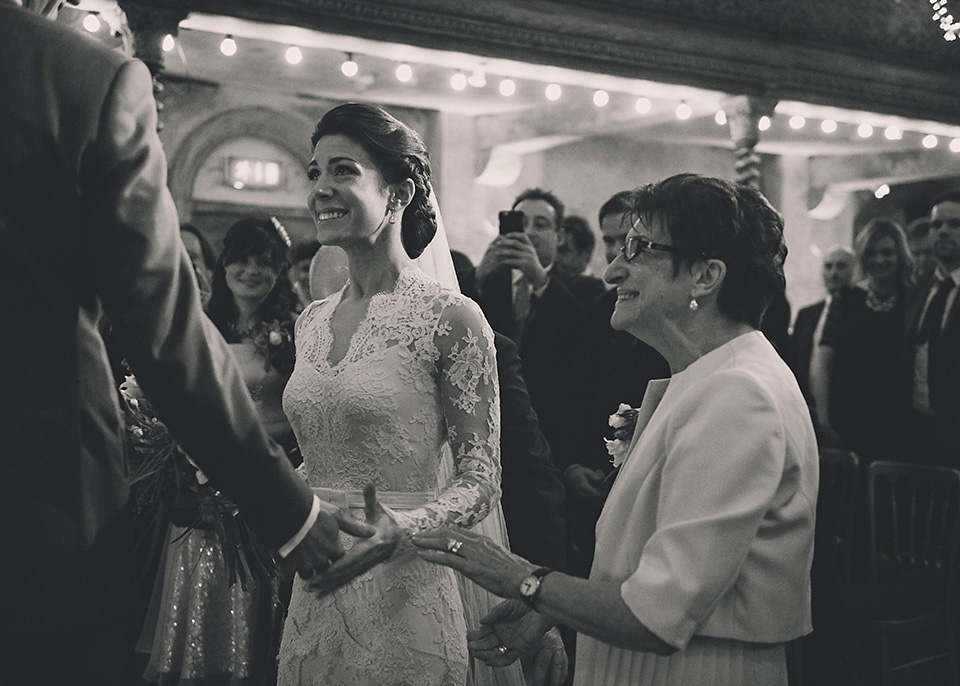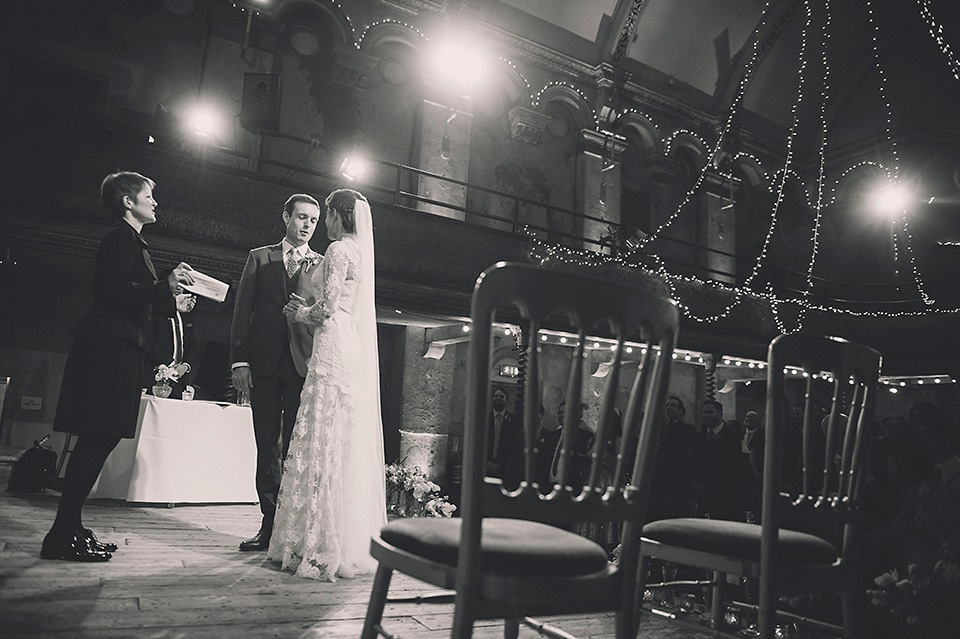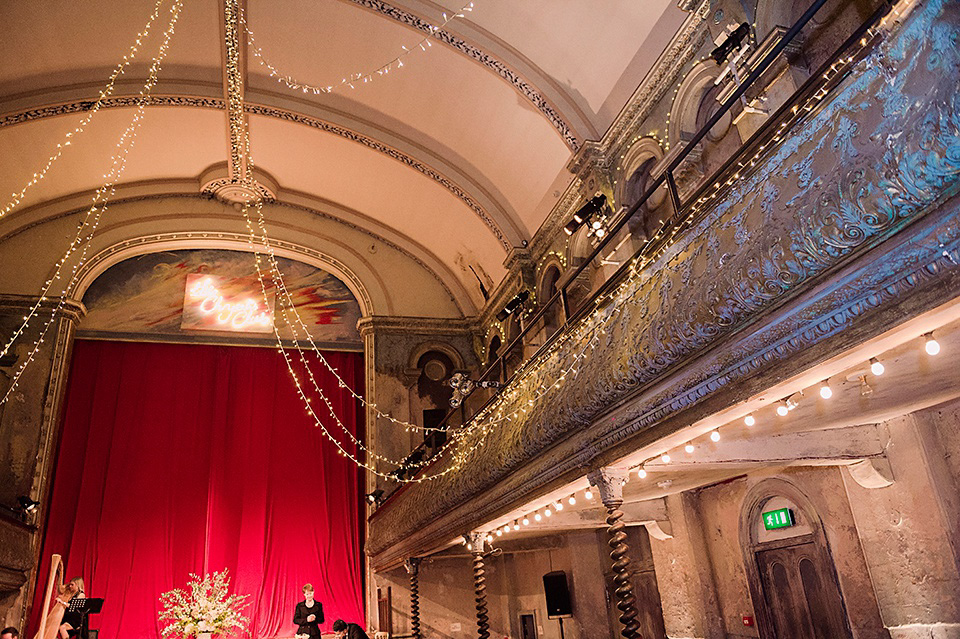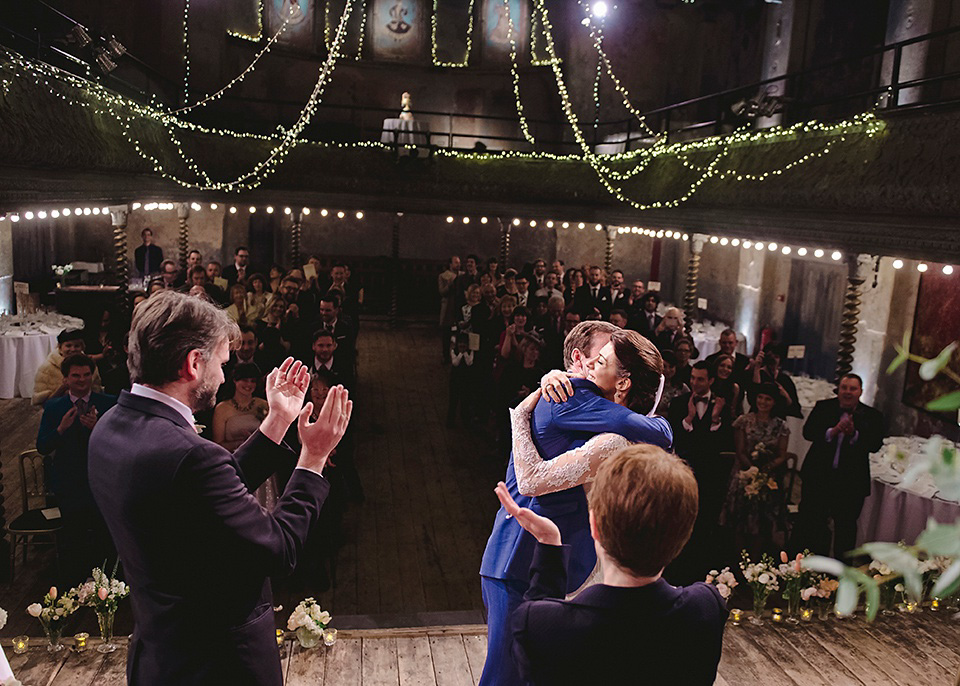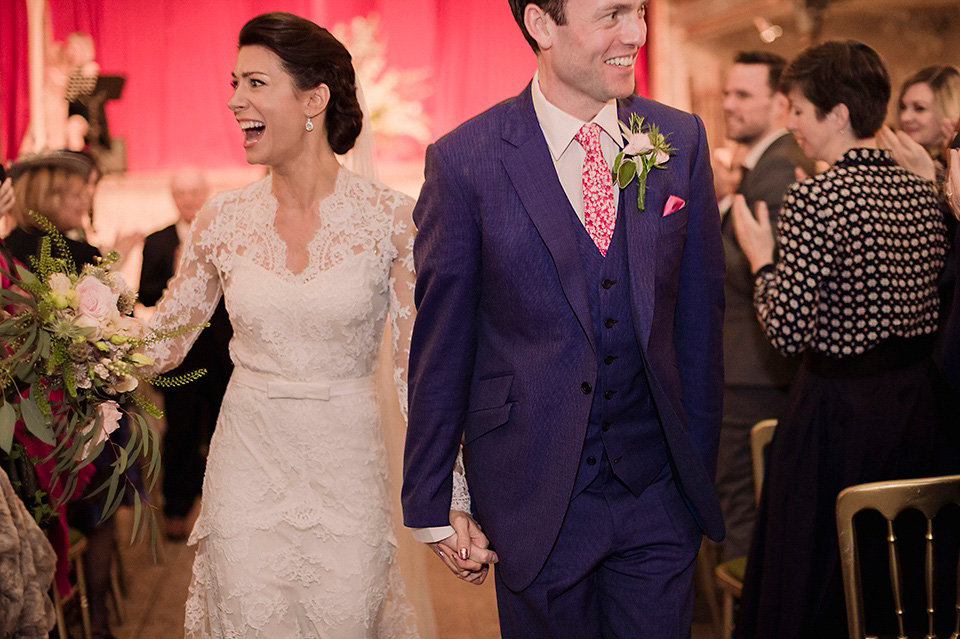 Brendan looked sharp in a bright blue bespoke suit from Chris Kerr, worn with a rather excellent patterned tie.
"Brendan and his best man had matching ties. I had 3 Bridesmen who all wore bowties with matching pocket squares and Brendan's Groomsmen had skinny ties in the same material as the Bridesmen, all from Mrs Bowtie."
The couple's wedding stationery (designed by Kate Gale at Kate Ruth Romey) incorporated Brendan's magical tendencies, which of course, beautifully matched the feel of the venue itself.
"We gave Kate pictures of the venue and also some illustrations from some of Brendan's magic books for inspiration. Kate created some beautiful designs using her own interpretations of the magic illustrations as a feature."
"I bought lots of cut glass and mercury glass tea light holders for the tables. We bought some top hats to tie in with the magic theme which we filled with toiletries and put the in the toilets. People were wearing them by the end of the night! The venue didn't really need much decor though because it's so beautiful anyway!"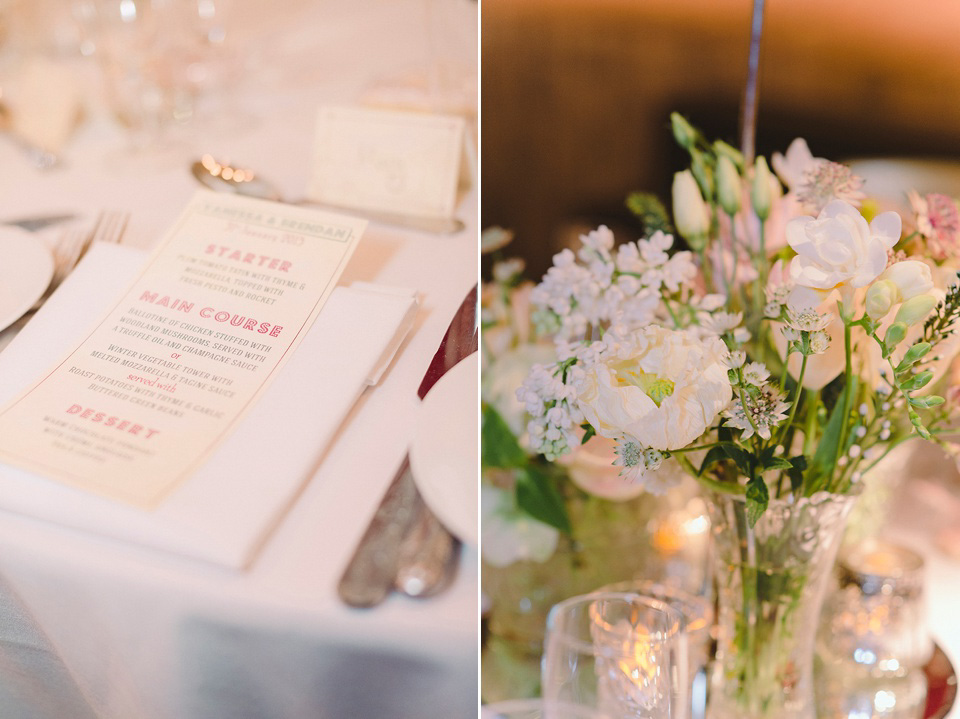 "Our caterers were Easy Gourmet Catering. They were incredible! There wasn't a working kitchen at the venue at the time so Marie-Laure and her team had to bring in everything! They were so organised and professional and the food was delicious. Marie-Laure helped us work out the schedule for the day, which was invaluable.
Our cake was made by the amazing Cynthia and her team at The Pretty Gorgeous Cake Company. We showed Cynthia pictures of Wilton's, the bridesmaid's dresses and the kind of flowers we were going to have and Cynthia came up with the design there and then. When we first saw the cake, it really did take our breath away- such beautiful work and it tasted amazing! We also got Cynthia to do our favours which were cookies, iced to tie in with the cake."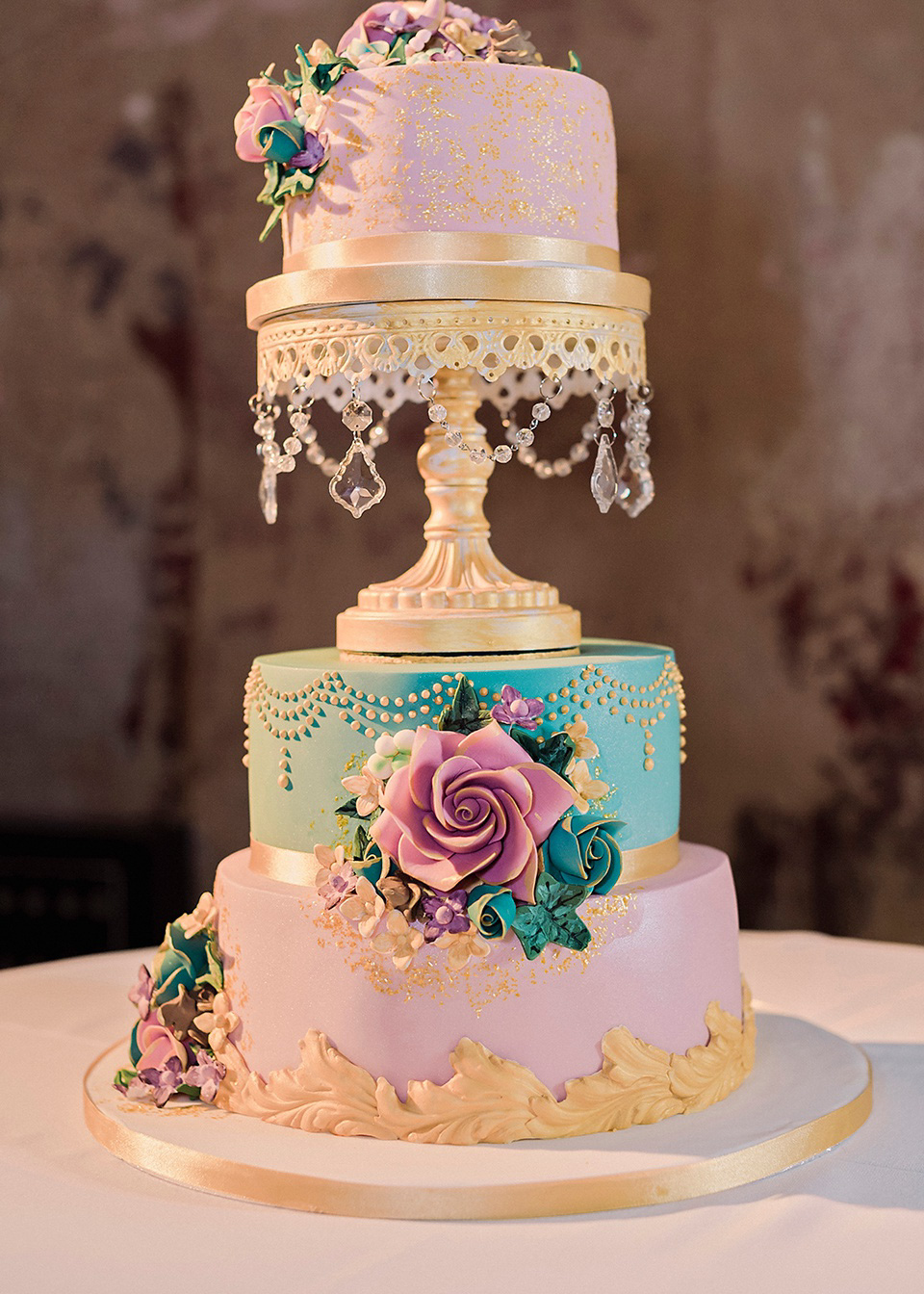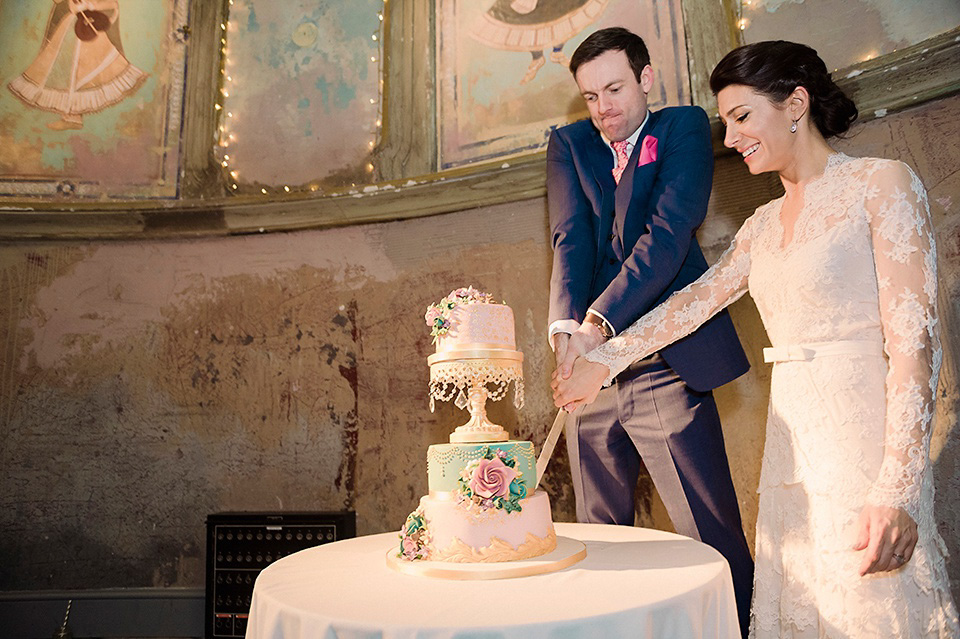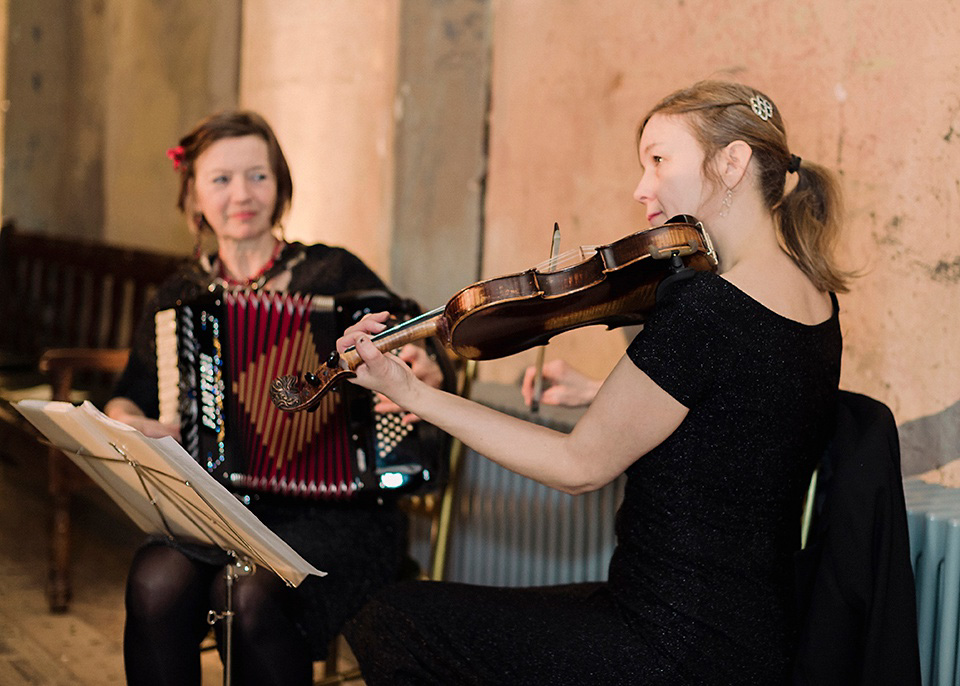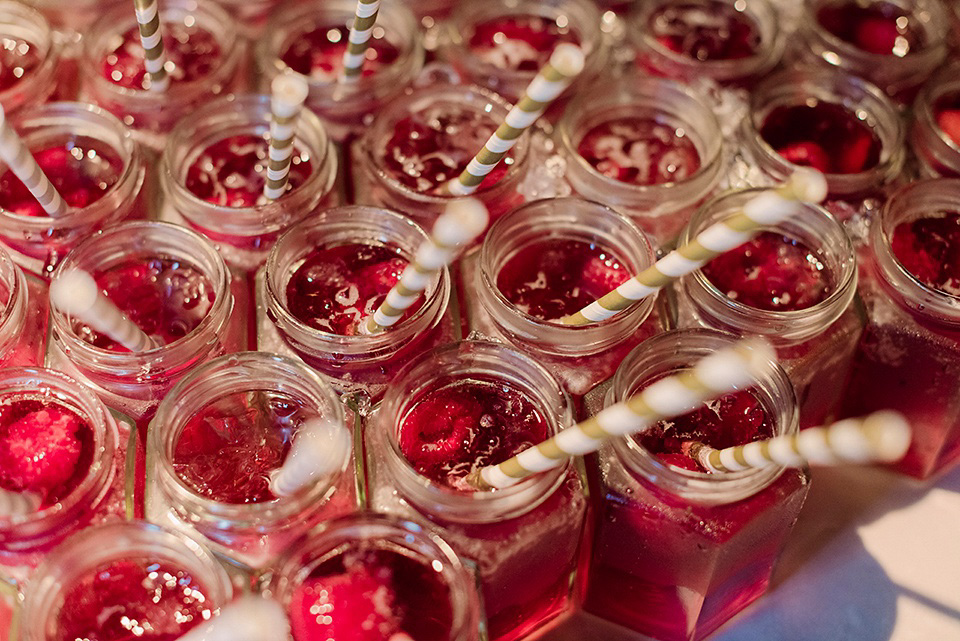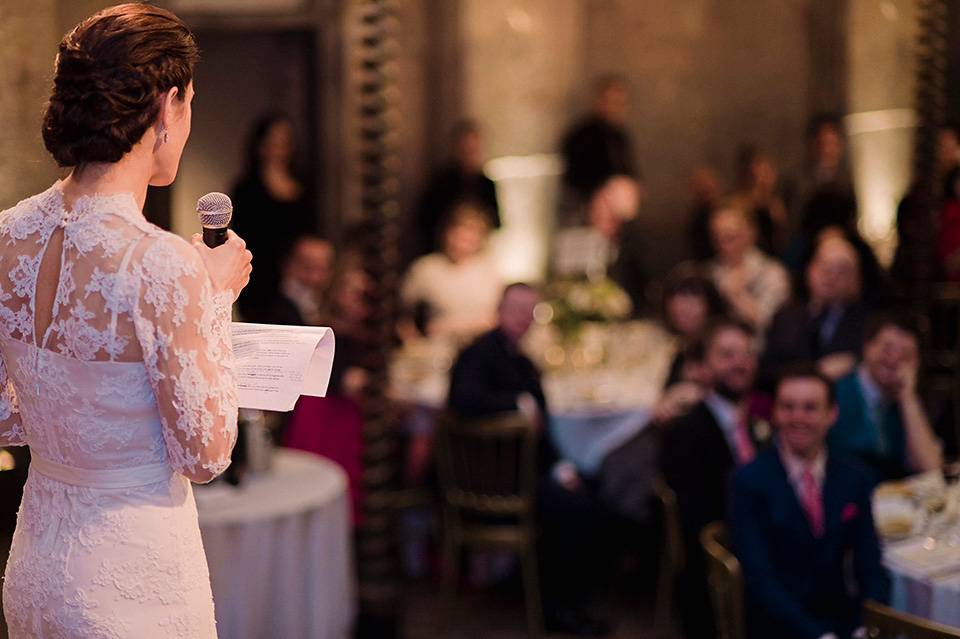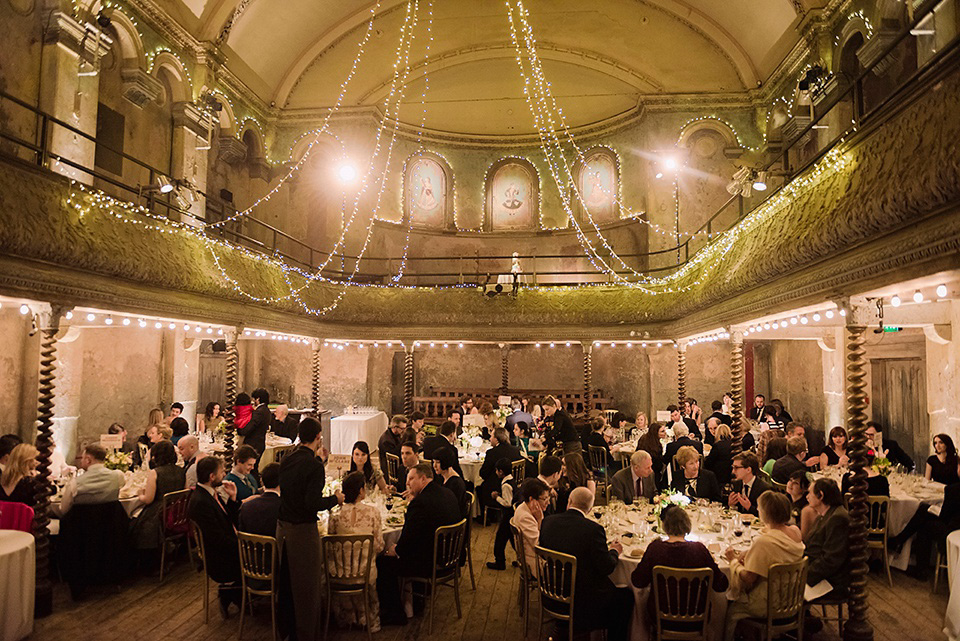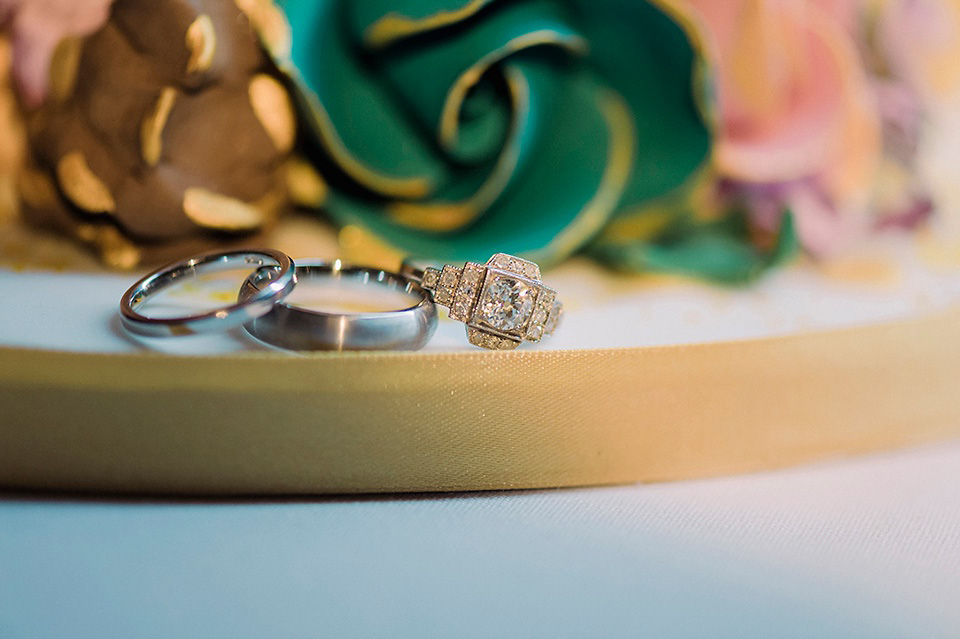 "There were so many wonderful moments throughout the day I can't really pick one. I do really remember getting up on the stage with Brendan, looking at him and feeling so happy that we were about to be married, that it was actually happening. I surprised myself, as someone who cries at Masterchef, that I didn't cry during the ceremony – we were both so happy and excited, we were laughing quite a bit.
I don't think there is anything I would have changed but I would have tried to worry less in the run-up if I could!"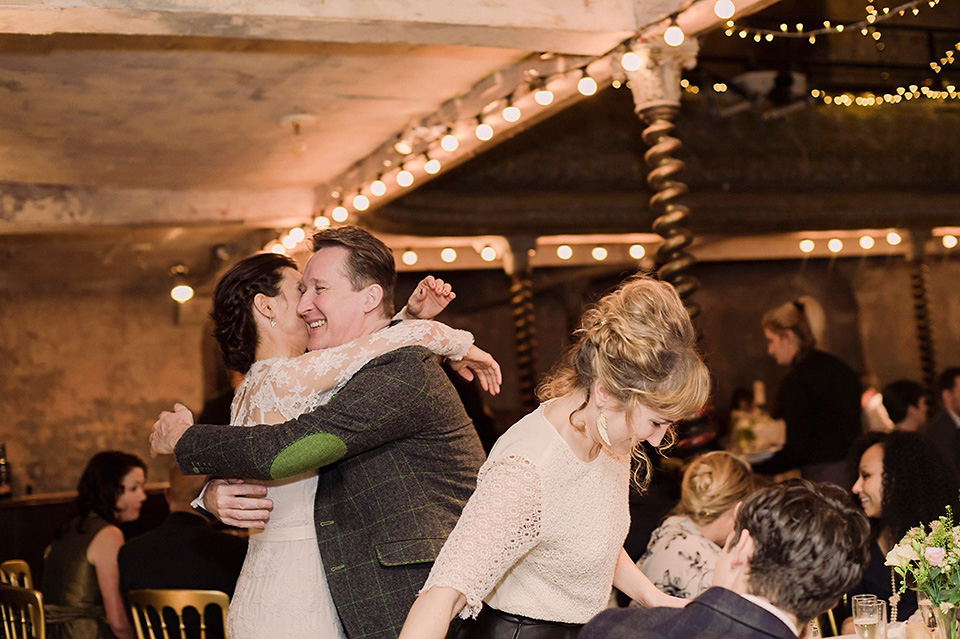 "Seduce Bands played for us in the evening. They had everyone up dancing- it was fantastic!"
"We didn't want anything schmaltzy because it just isn't us, so we danced to the theme from The Wire. Not very romantic but it was definitely fun. I edited the music so it was nice and short and our amazing friend Jennifer Rooney who's a choreographer taught us a routine."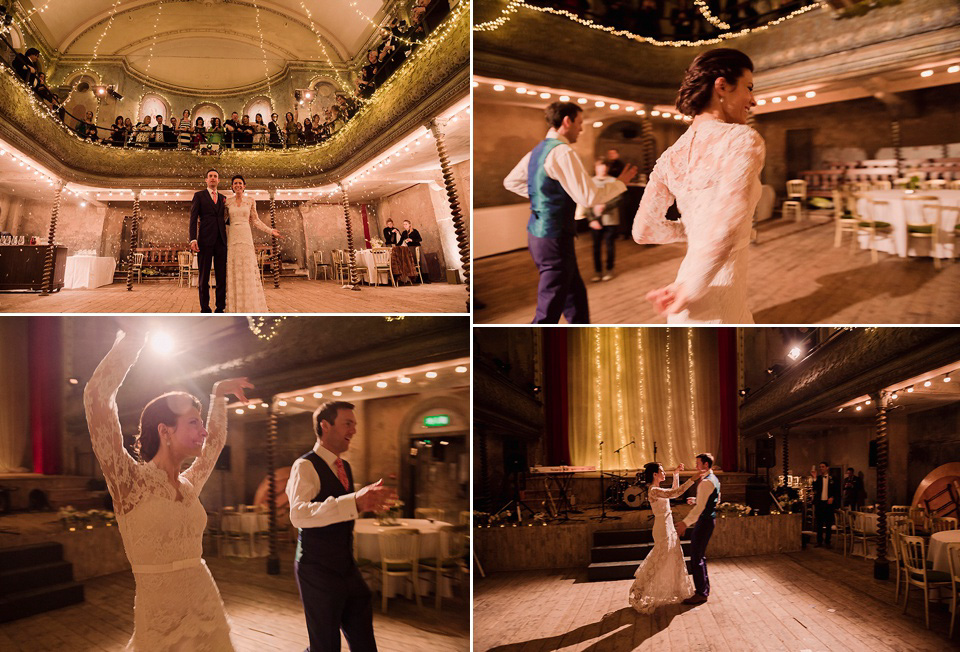 Words of Wedded Wisdom
"Trust your gut when you are meeting suppliers. Work with people you feel comfortable with, trust and like.
Make a running order schedule for the day: Speak to your caterer and get their advice about how long things take and work from that. Give your schedule to your bridal party so on the day everyone knows what they are doing and when – you shouldn't have to think about anything other than having a lovely time. It takes the stress out of it.
Share the planning with your groom and split the jobs, you can't do everything on your own.
Do a speech. It might be scary, but you might regret it if you don't. For me I wanted to thank all the lovely people in my life and talk a bit about Brendan. It was a lot of fun! I read it out loud to my bridesmaid Hattie the night before so I knew I could get through it, which really helped my nerves.
Pick a good bridal party. I was very lucky to have 3 brilliant bridesmaids and three bridesmen who not only were fabulous friends but each had their own special skills and strengths. I gave them all jobs on the day which I knew they would be good at, and they were so wonderful, I didn't have to worry about anything.
Don't worry about sticking to tradition too much if you don't feel it's for you. We had traditional elements but also changed things to suit us as well. You can do whatever you like. I had bridesmen and bridesmaids, my Dad and my Mum walked me down the aisle and I gave the first speech. You must do what is right for you.
Remind yourself that the people there on the day love and care about you, they aren't there to give a critique, they are there to celebrate with you – so don't worry if things aren't perfect."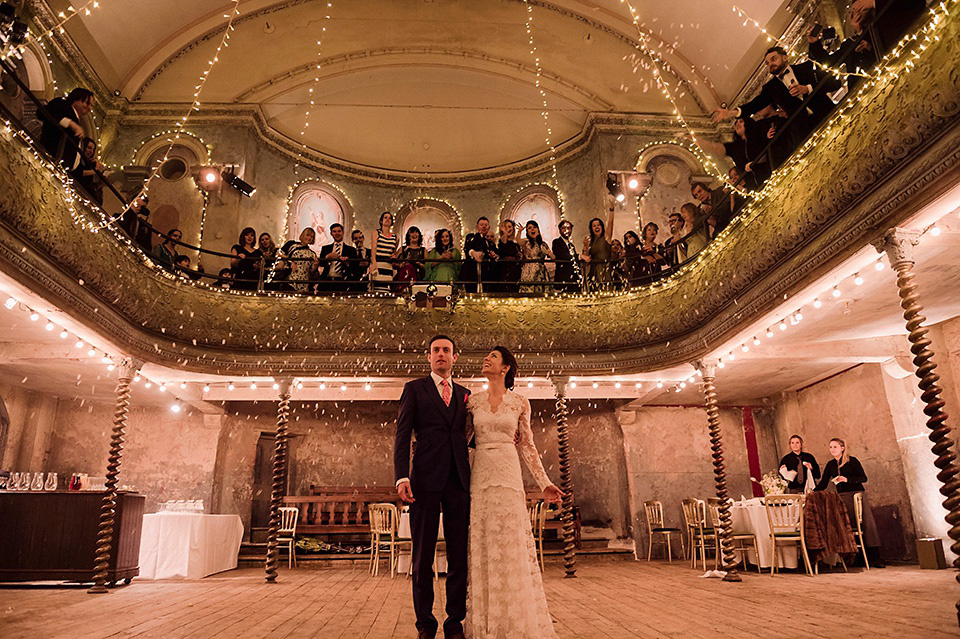 Thank you so much to Vanessa and Brendan for their advice and for sharing their magnificent day with us, and or course to Razia for her beautiful images.   If you have a moment, why not have a quick peek at another gorgeous wedding which took place at Wilton's last year or this wonderful film at the same venue.
Much love,
Shona x
Photographer – Razia Jukes Photography
Venue – Wilton's Music Hall
Wedding dress – Temperley London
Shoes – Jimmy Choo, Freed, + Charlotte Olympia
Veil – Love You Bride Design, Etsy
Accessories – Cape borrowed from a friend
Perfume – Chanel Allure
Makeup and hair – Justina Sullivan at Beautiful Brides
Bridesmaid's dresses – Ted Baker
Bridesmaid's shoes – Coast
Groom – Chris Kerr suit + George Cleverley shoes
Groomsmen/ bestmen – All ties/bow ties for the wedding party came from Mrs Bowtie
Florist – The Flower Appreciation Society
Cake – The Pretty Gorgeous Cake Company
Rings – Hatton Garden + Alfie's Antique Market
Stationery – Kate Gale at Kate Ruth Romey
Entertainment – Seduce Bands
Harpist – Tori Handsley
Favours – Cookies from The Pretty Gorgeous Cake Company
Catering – Easy Gourmet Catering