Good morning my loves, I hope this beautiful new blog post finds you well and that you feel rested and refreshed after the weekend. We had such a lovely adventure across the North Yorkshire moors yesterday afternoon, picking blackberries and having our own little Sunday afternoon adventure. I adore this time of year – Autumn is my favourite season for so many different reasons.
The wedding I'm going to open up this week with is one of those beautiful, organic, laid back kind of celebrations that I so love sharing on my blog.  Annabel, who works for an arts and disability organisation, married her architect husband Euan on 2nd July this year at the 'The Secret Herb Garden' just outside Edinburgh.  The name of their venue alone evokes a sense of charm, but the bride also happened to wear completely fuss-free and laid back gown with a gentle boho-vibe from one of my favourite independent designers, Minna.
"We just wanted a very natural, relaxed and rustic feel to the day. The Secret Herb Garden is such a beautiful venue and we were just inspired by the place itself. Our invites, place names and favours all featured drawings we'd made of the flowers and herbs from the garden itself. We thought a Humanist ceremony was right for us and allowed us to create a ceremony just how we wanted."
Photography by Caro Weiss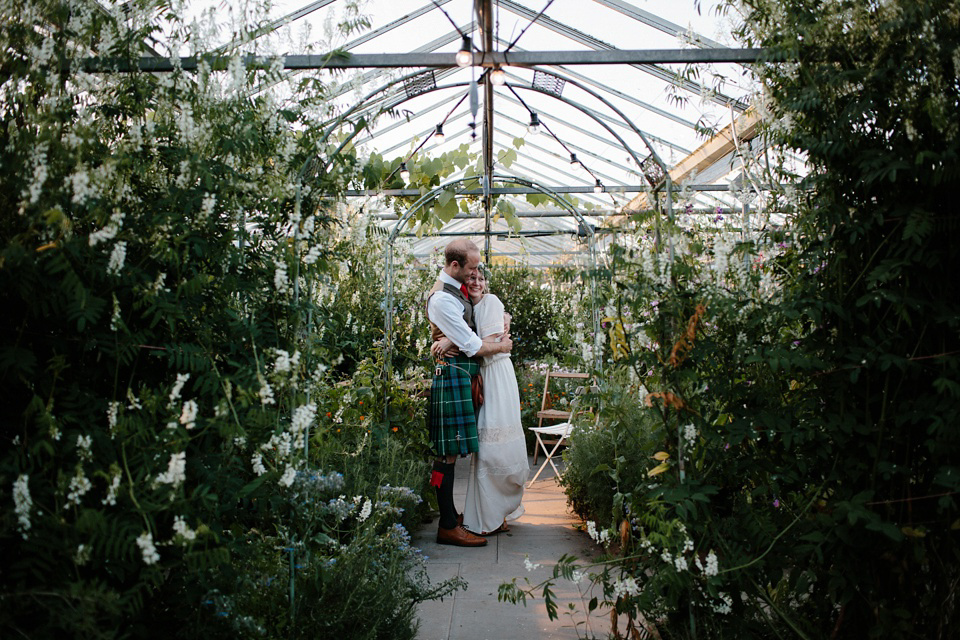 "We choose the The Secret Herb Garden because we had always thought how beautiful it would be to get married in a garden. We love the venue's informal and rustic setting and the beautiful old glasshouse arranged with lovely vintage furniture. We originally saw the glasshouse in November, so we could only imagine how it would transform itself in the summer, promising bursts of colour and wonderful floral and herbal scent, which was really magical."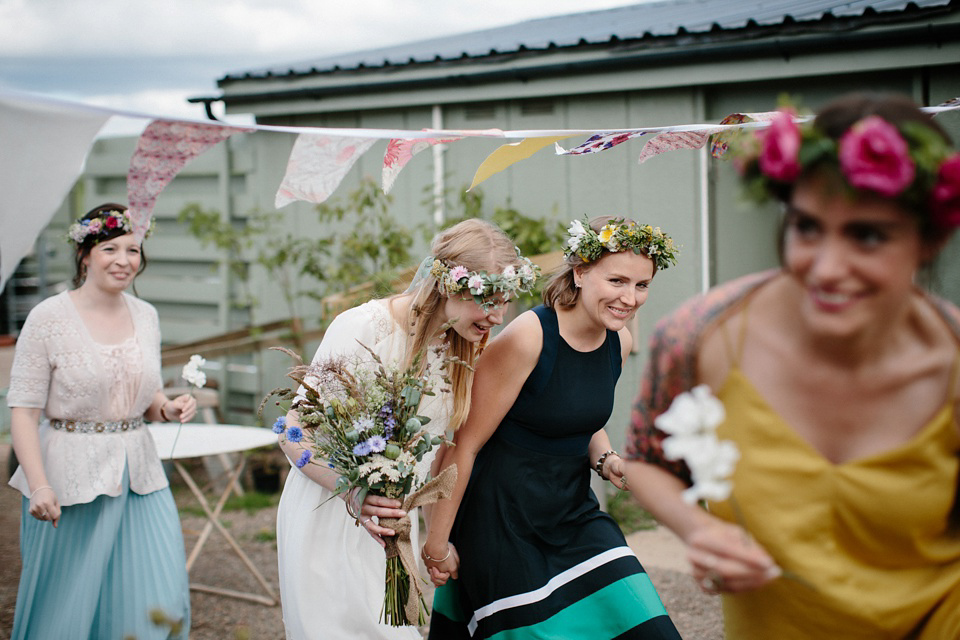 "My Dress was by Finnish designer Minna Hepburn in London. I loved the relaxed look and feel of the dress and loved the vintage lace. It was so comfortable and lovely to wear."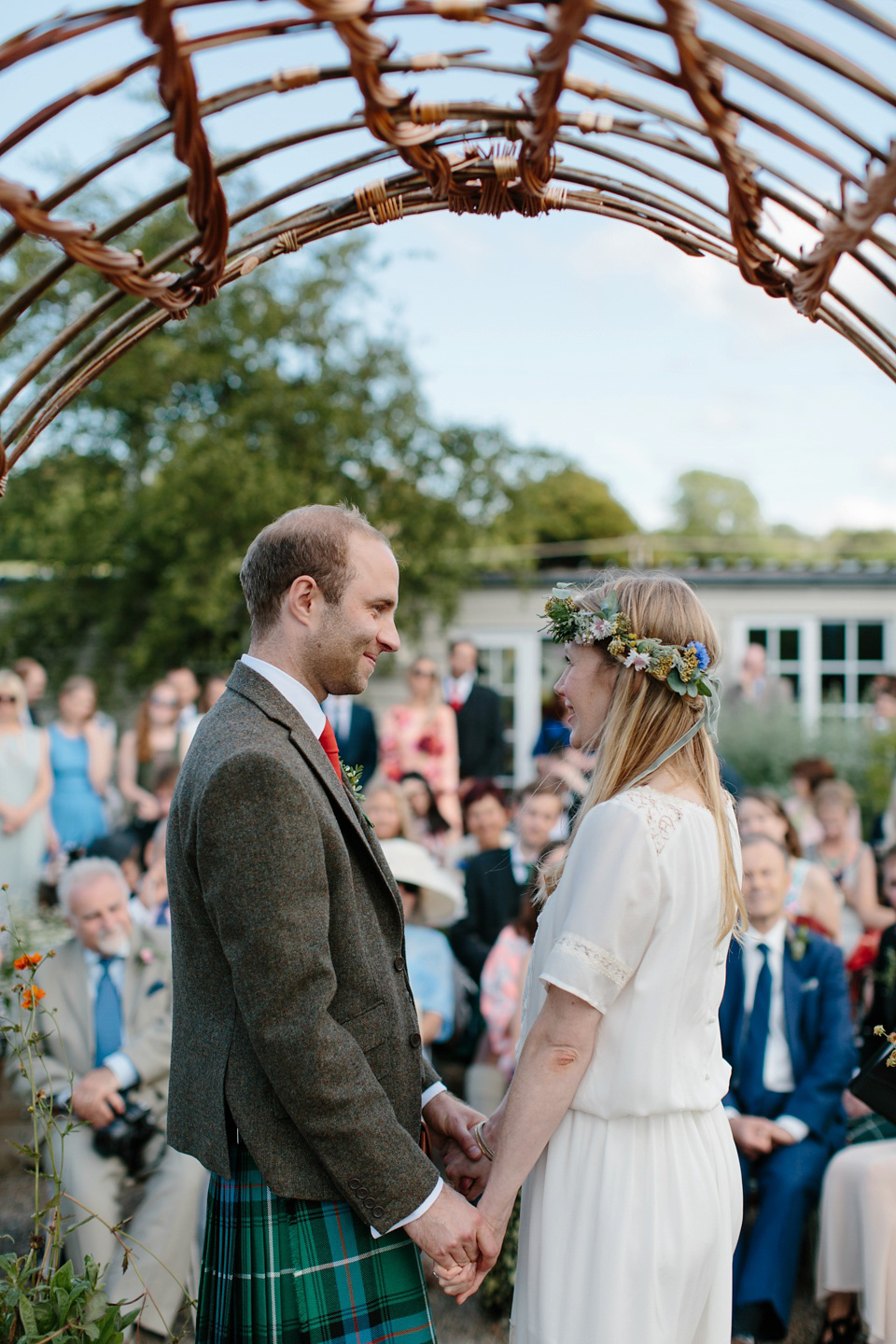 "I knew of Caro Weiss Photography and love her informal, relaxed and creative approach. She is an incredibly talented photographer, a lovely person and was a joy to be with that day. We didn't want to be dragged away for hours to be photographed and wanted to enjoy the day with our friends and family, she completely understood and  captured everything happening naturally. We think Caro is the best and are delighted with her images – she truly has told the story of our wedding day beautifully."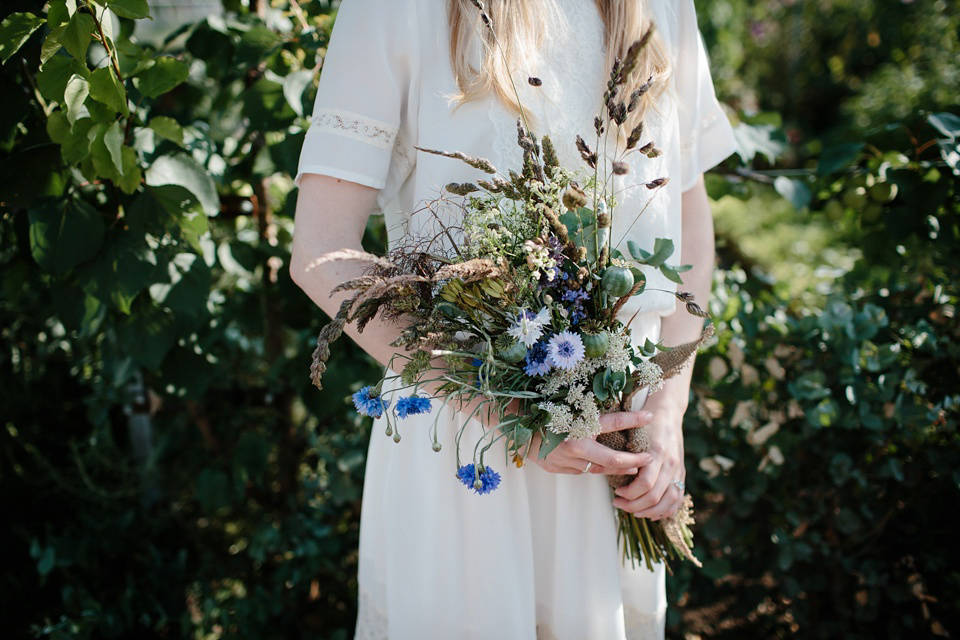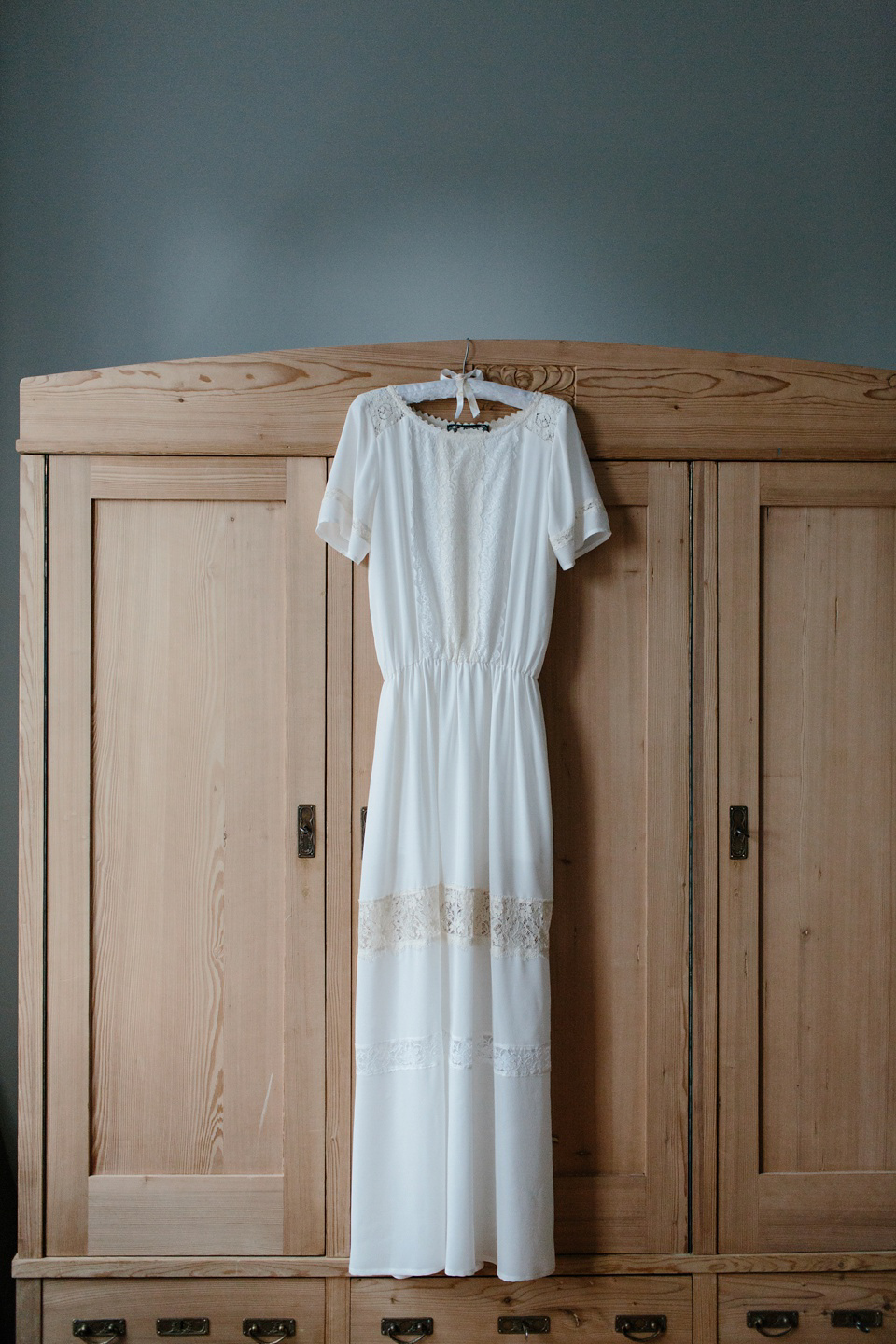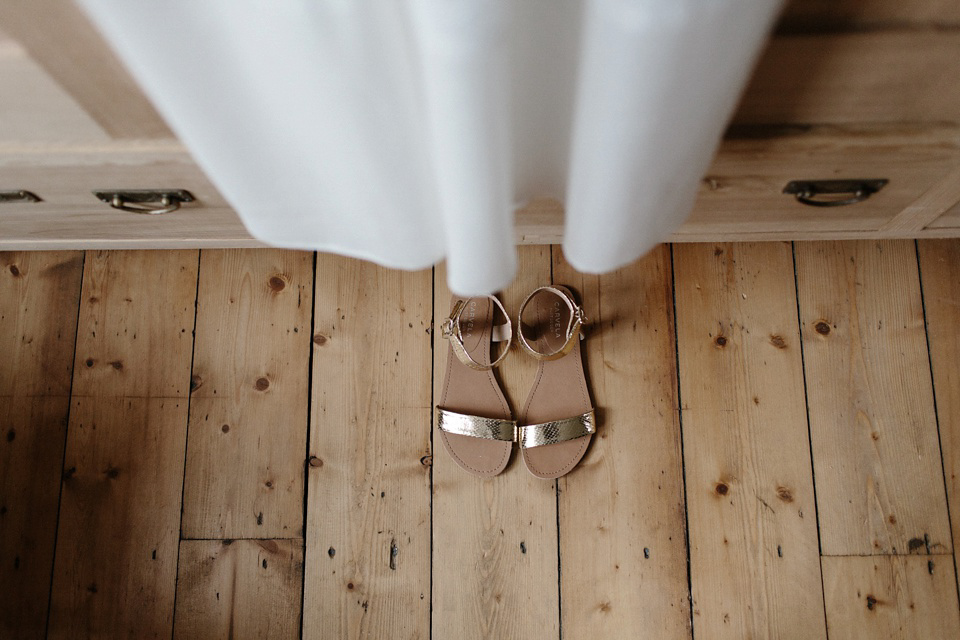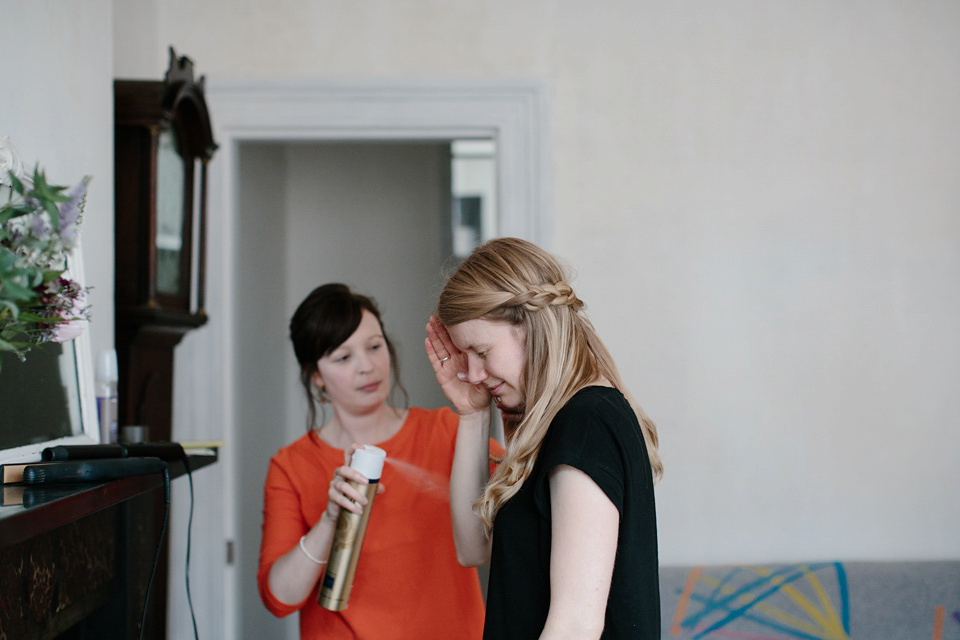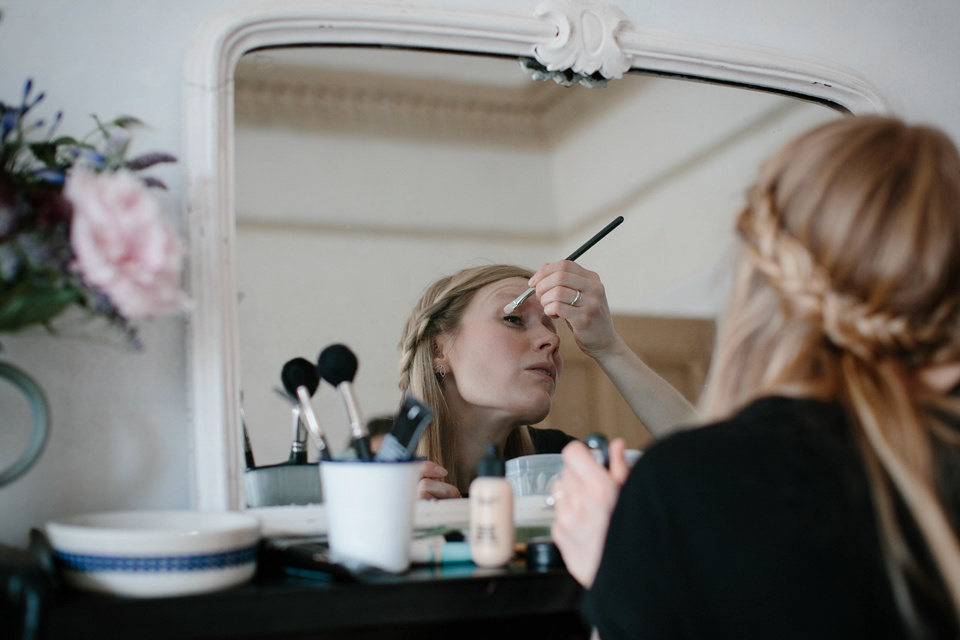 "A jeweller friend Maike Browning made my earrings that I'd bought a few years ago, I love them and wear them all the time.
I was also wearing a couple of bracelets that friends had given me years ago that I also love to wear."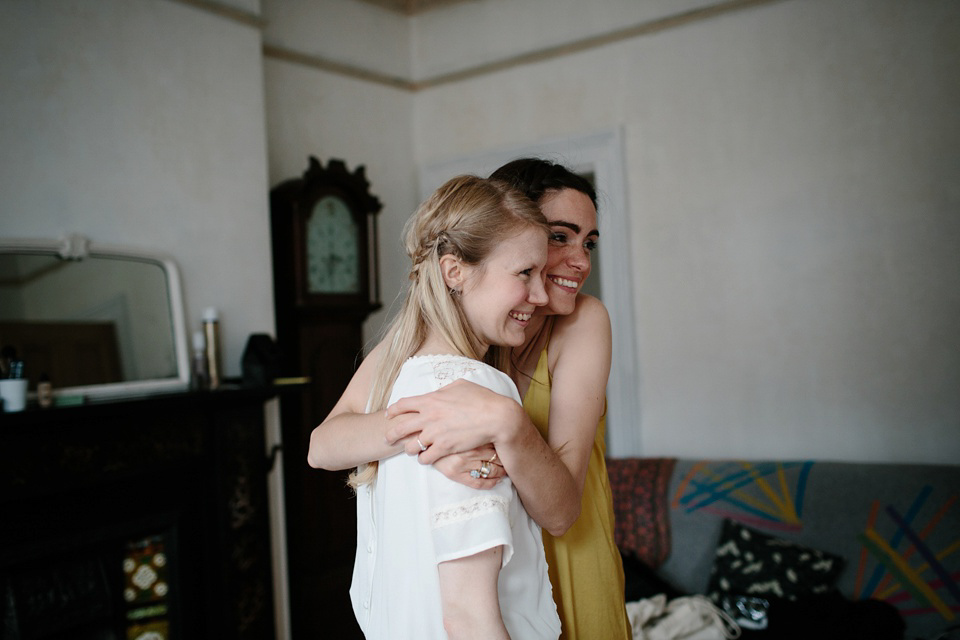 The bridesmaids wore a mix of a mustard jumpsuit from Zara, a maxi skirt, lace top and cardigan from Anthropologie and a navy blue dress with white and green stripes from Selfridges.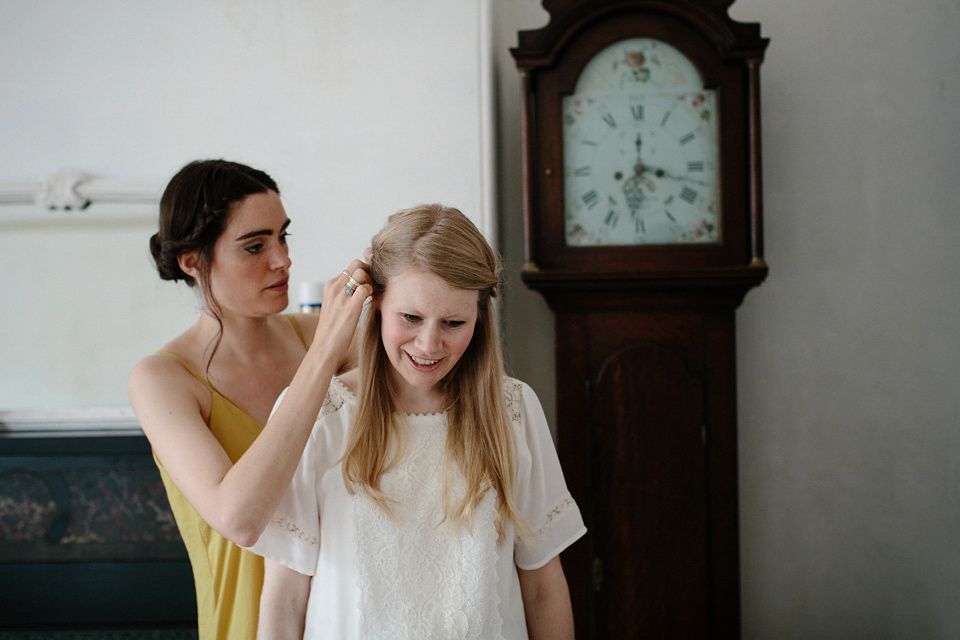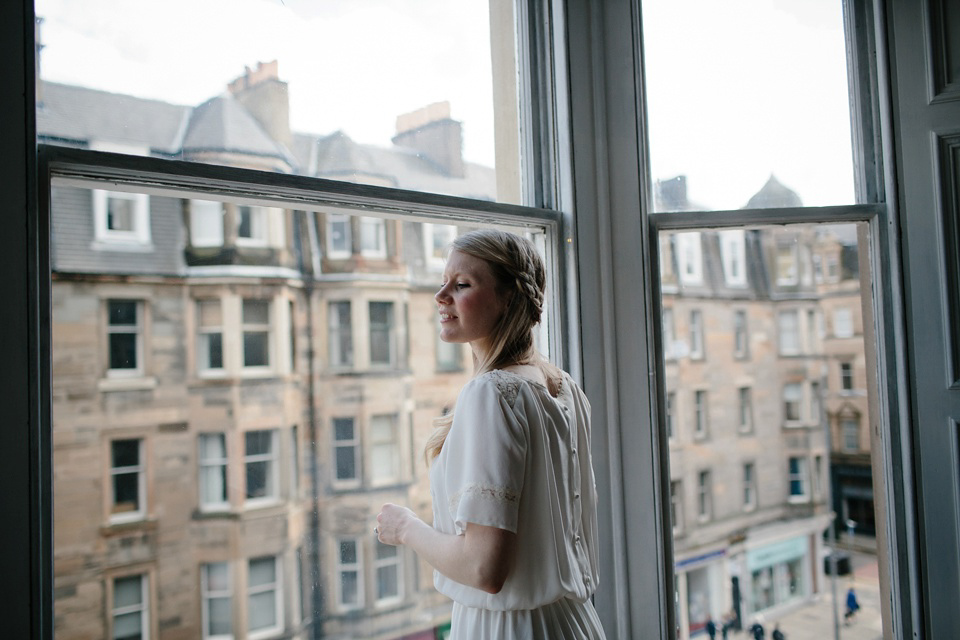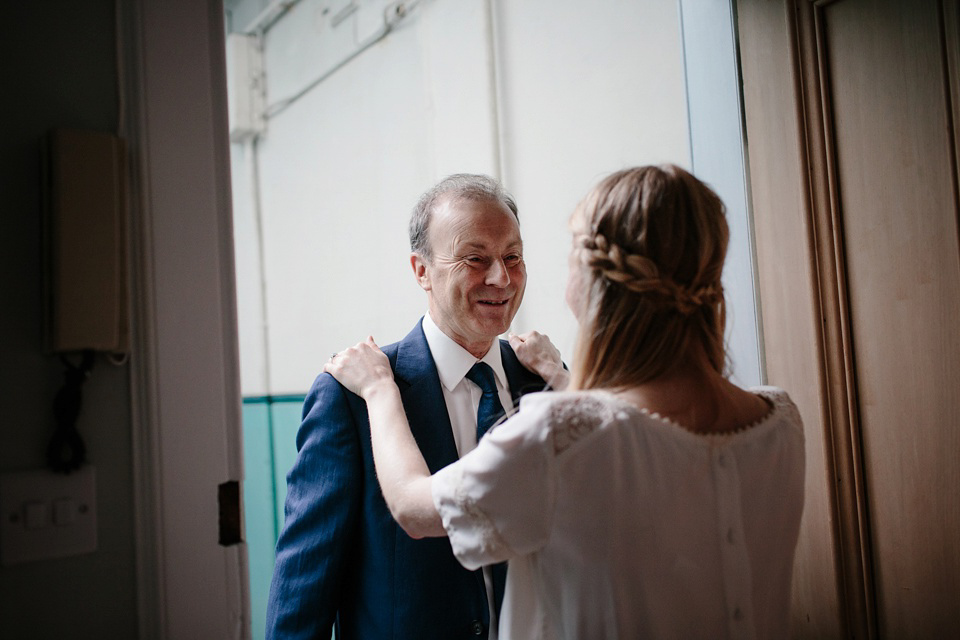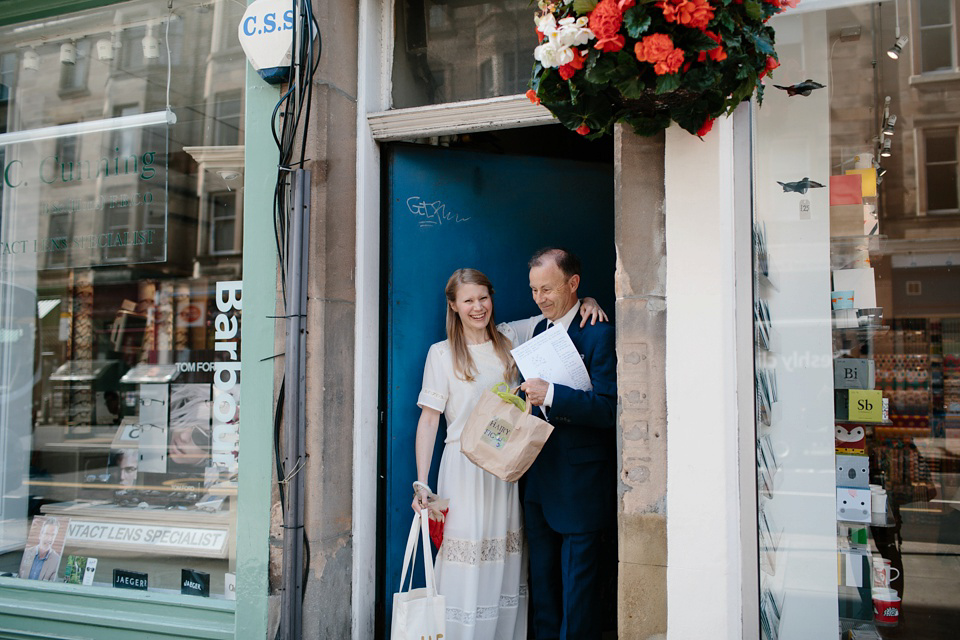 Annabel and her bridesmaids made their flower garlands the morning of the wedding with help from the Secret Herb Garden florists Anna and Lou.  Annabel had also gifted her friends earrings from Maike Browning Jewellery collection.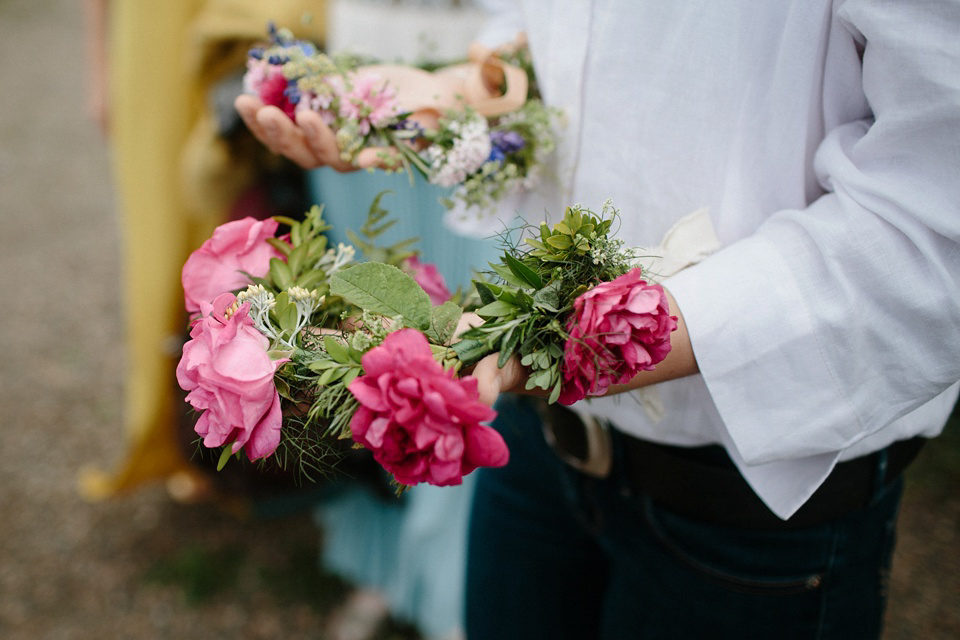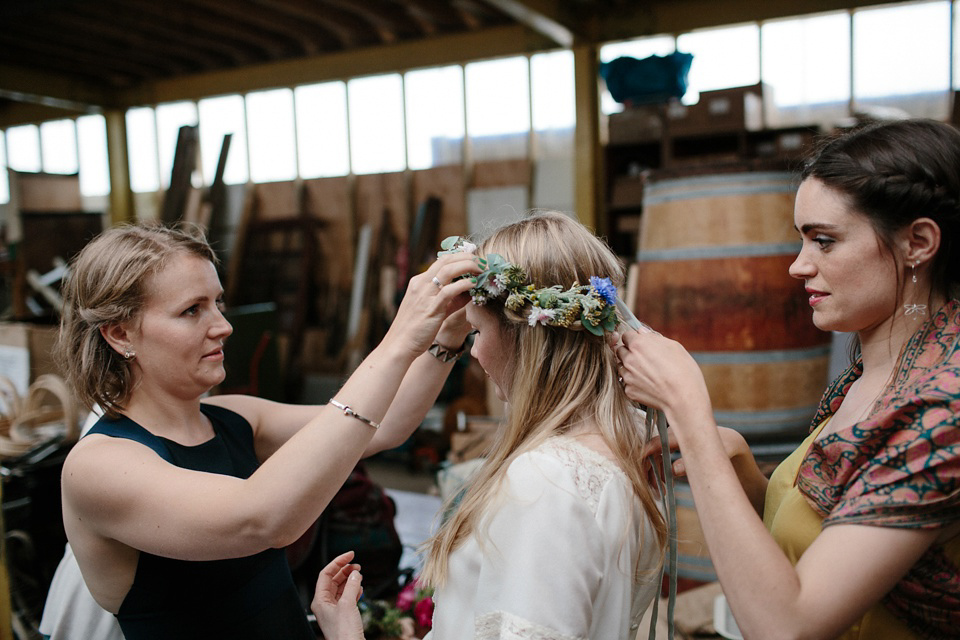 "We wanted to try and do as much of the planning and organising ourselves. The Secret Herb Garden has not been open all that long, and our wedding is one of the few weddings they have had there so far. The owners Liberty and Hamish are amazing; they have a very relaxed approach to weddings, which made us feel right at ease and were definitely on the same wavelength! They really listened to us, and worked with us to create a day that felt right for the two of us."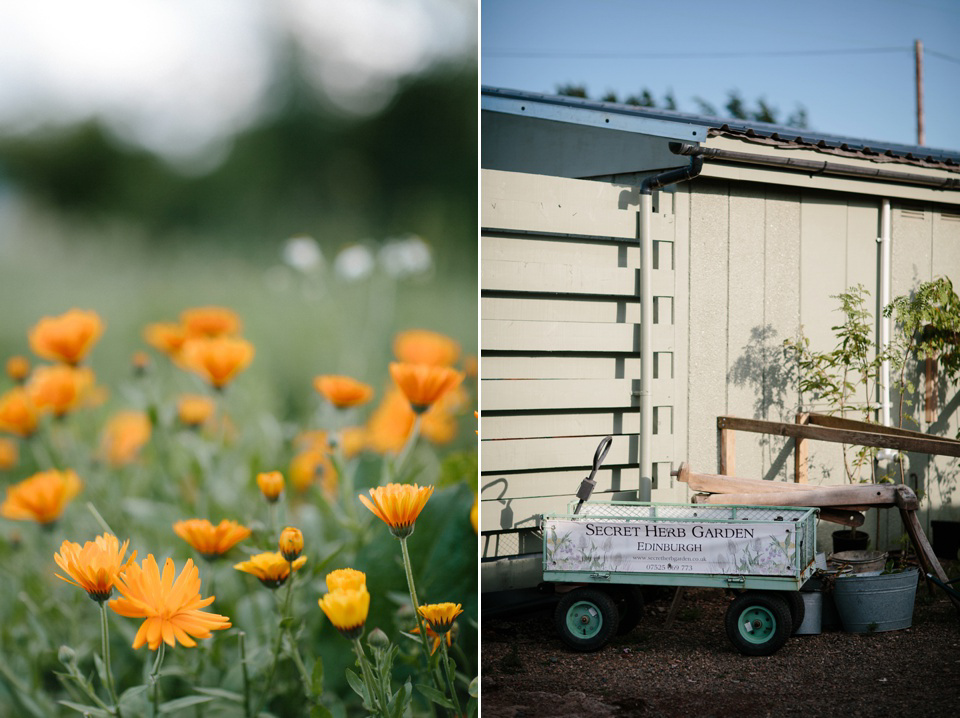 "Euan used to work at the same theatre bar as my best friend when we were at art college. We were just friends for a few years and so it took some courage to admit our feelings for each other, before we began dating in secret as we didn't want our friends to find out straight away!
We have been together for seven years and I had always thought we might decide to get engaged on a Scottish island, up a hill or on a deserted beach, but Euan took me by complete surprise last summer when we travelled to Paris for a short break.
It was our last night, sipping pastis, chatting and leaning out of a balcony overlooking the Parisian rooftops, and Euan just asked me and popped a ring out of his pocket. I honestly had no idea that was coming and was incredibly surprised. We got engaged in September 2014 and got married 9 months later in July 2015."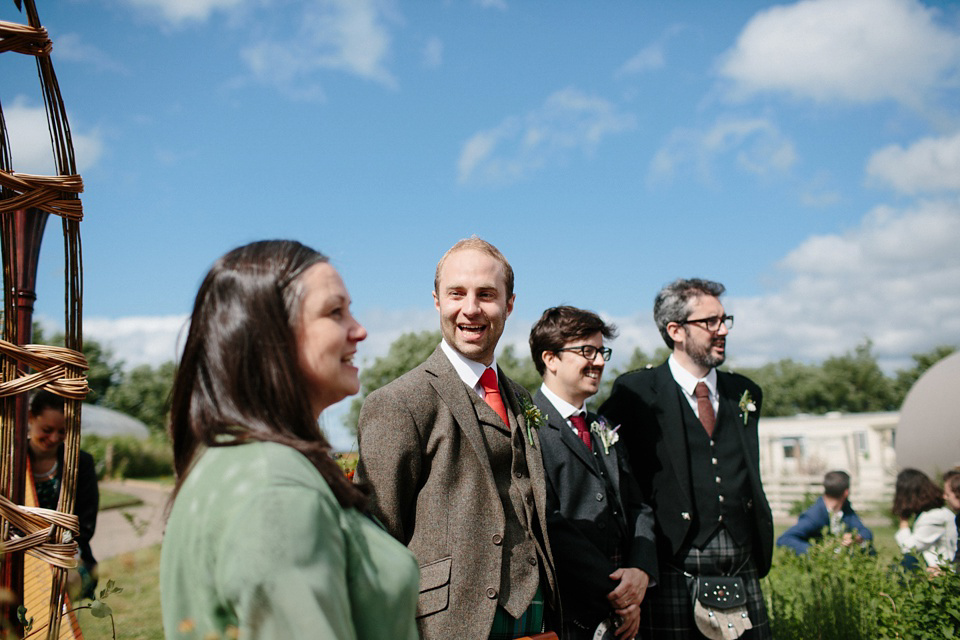 "We picked wild flowers and herbs grown in the Secret Herb Garden for the bouquet, button-holes and flower hair garlands that Annabel and her bridesmaids made on the morning of the wedding with amazing assistance and guidance from Secret Herb Garden florists Anna and Lou."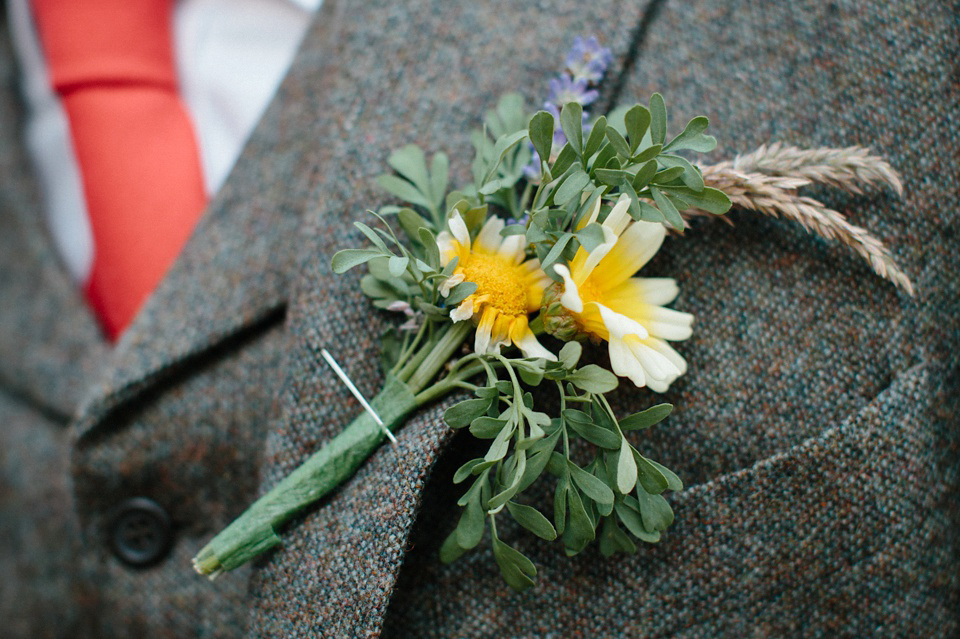 "My lovely Dad walked me to the outdoor ceremony.  We walked up the garden path to the wonderful harpist Esther Swift playing a cover version of one of the Yeah Yeah Yeah's songs."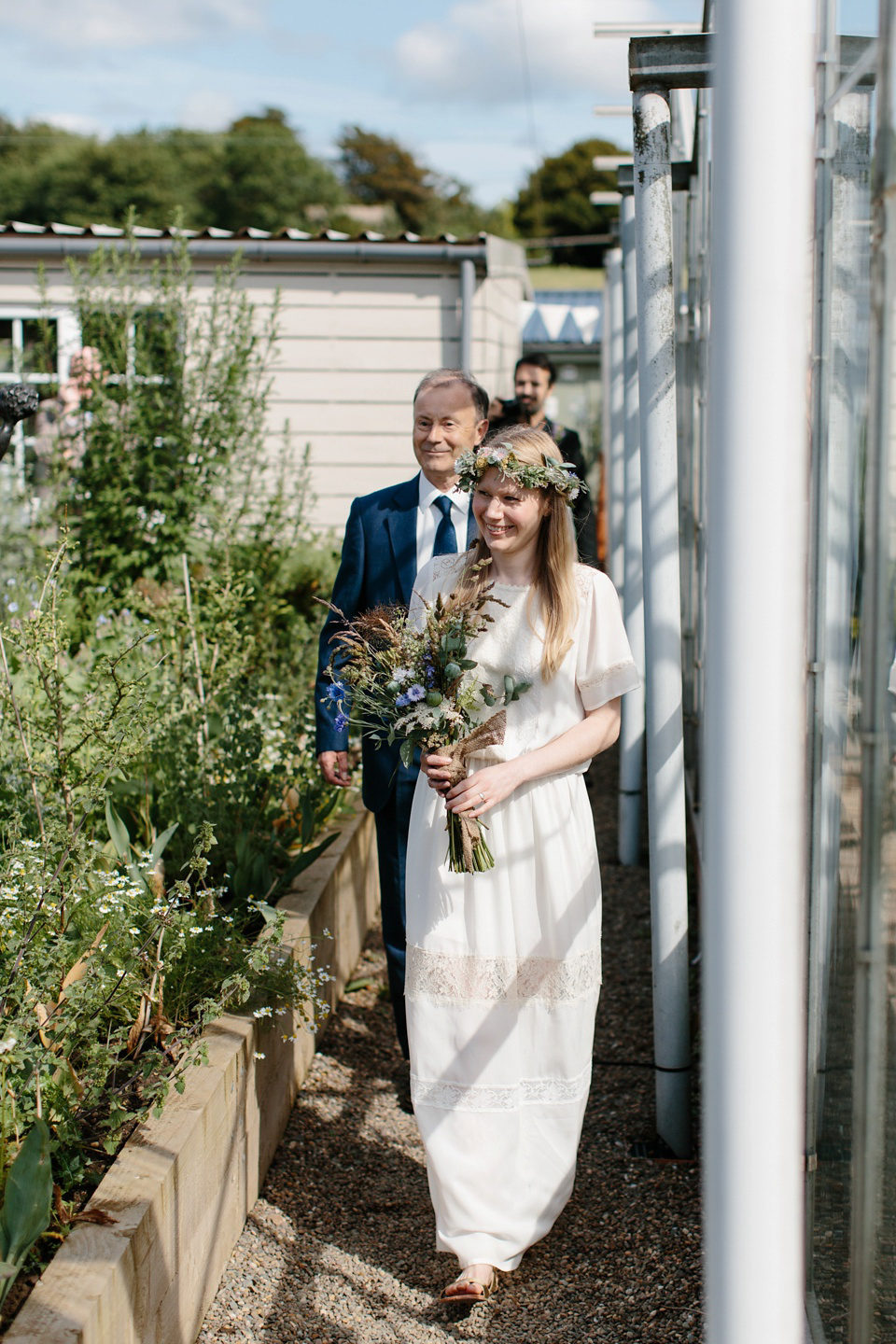 Euan's wore his own family tartan kilt, Donegal tweed jacket and waistcoat from Walker Slater.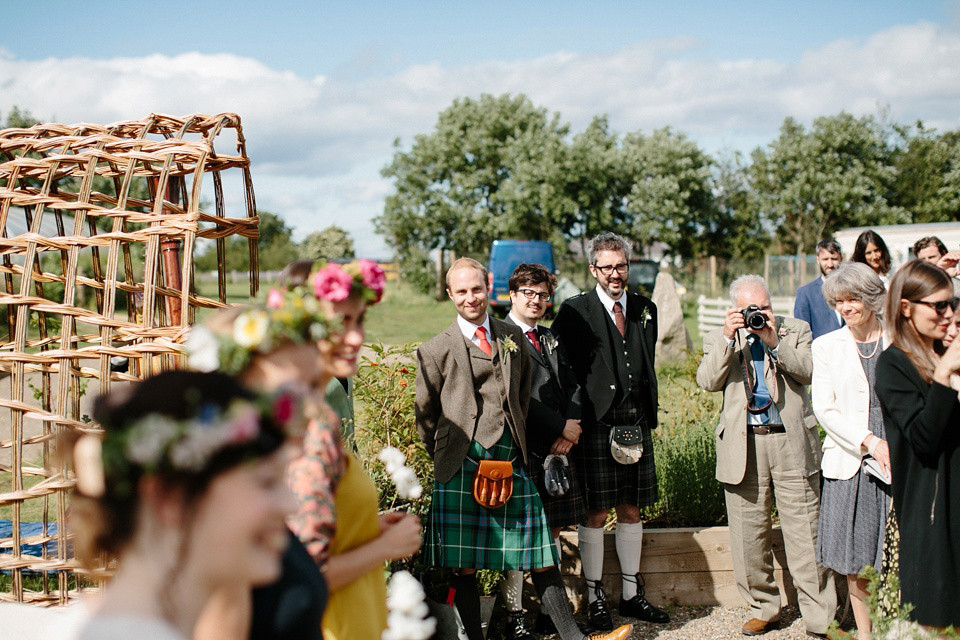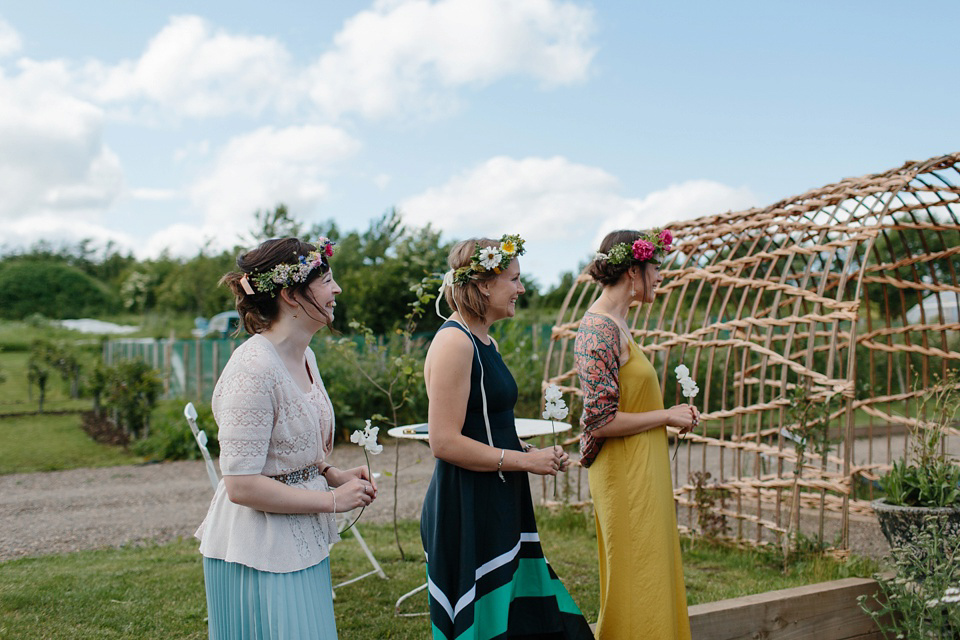 "We made up our own vows to say to each other. The words we decided to say made sense for us and felt like the right way to talk about our relationship together, what we meant to each other and our promises to each other now and in the future.
Our good friend Daisy is a writer and she wrote some incredible words that described in a thoughtful, kind and humorous way how she thought of us, both independently and together as a couple. Our other good friend Liam read the poem 'These Are The Hands'."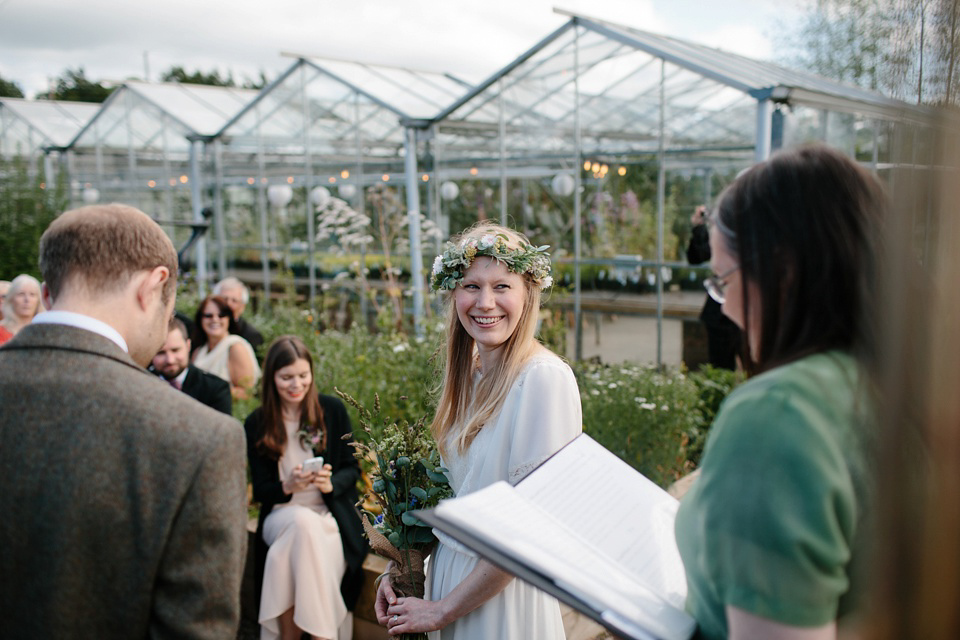 "We wanted our friend and jeweller Maike Browning to make the both my engagement and our wedding rings. Maike is an incredibly talented and wonderful jeweller. Her work is inspired by nature, intricate patterns and textiles, and we love her work. Maike really took the time to talk through design ideas with us – we wanted something simple, with a delicate pattern and texture, and Maike created a beautiful set of rings for us that feel incredible to wear."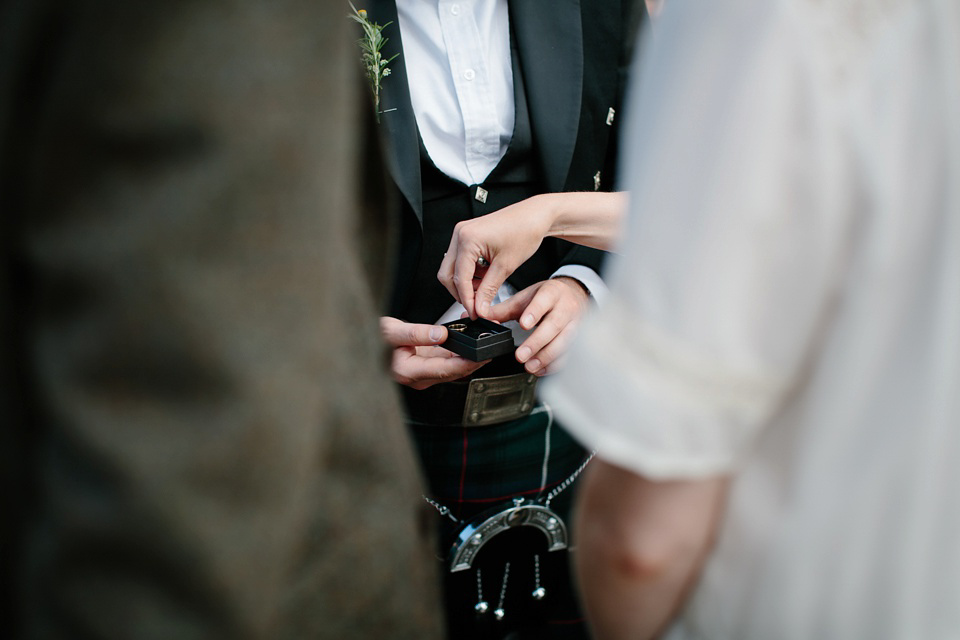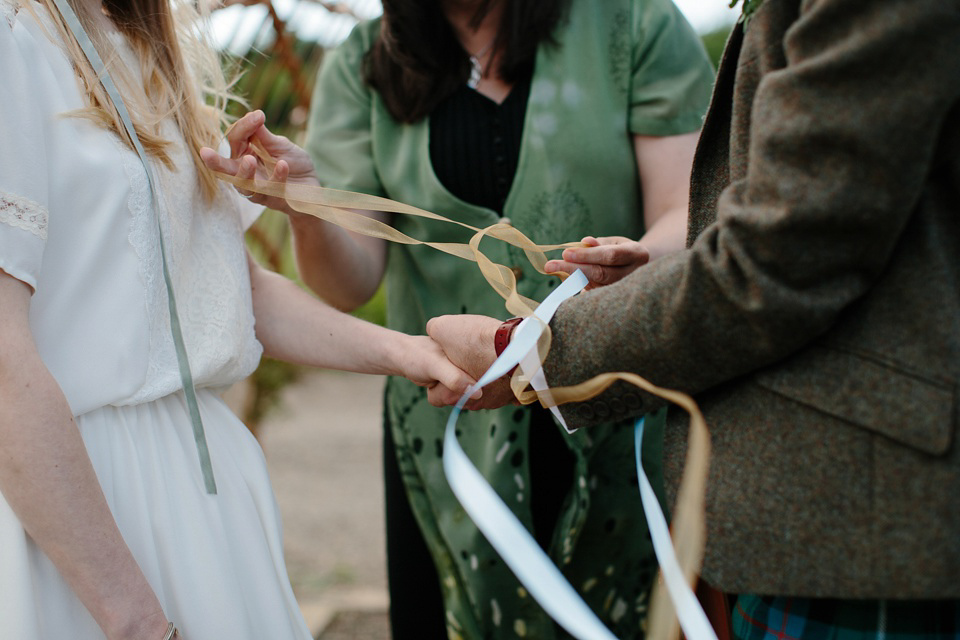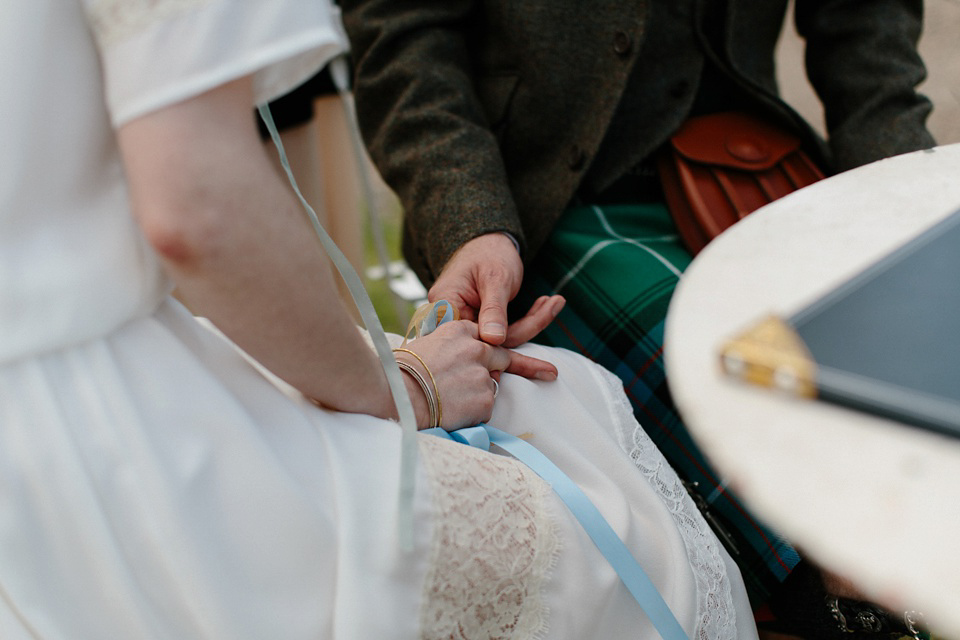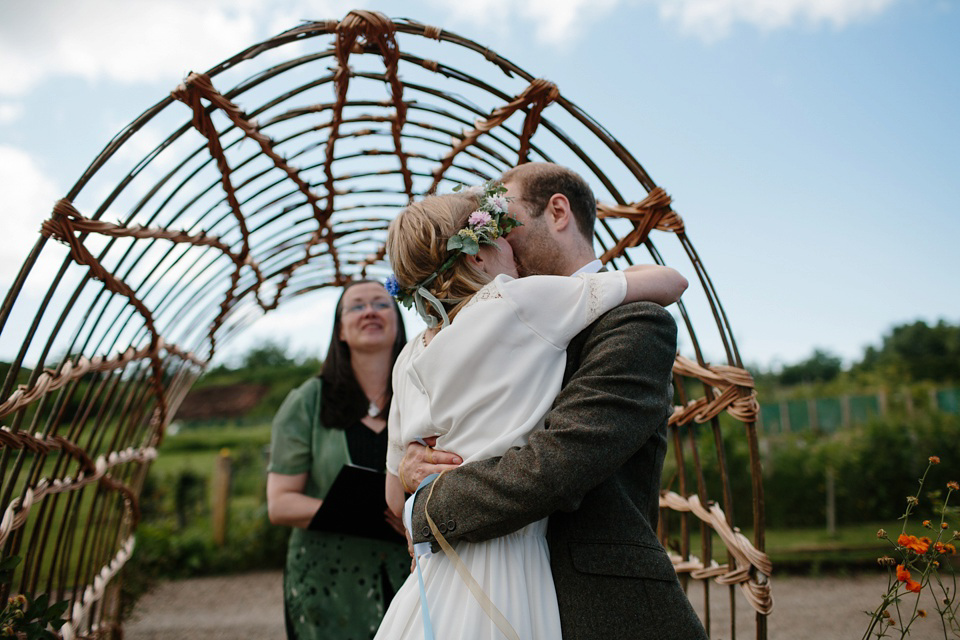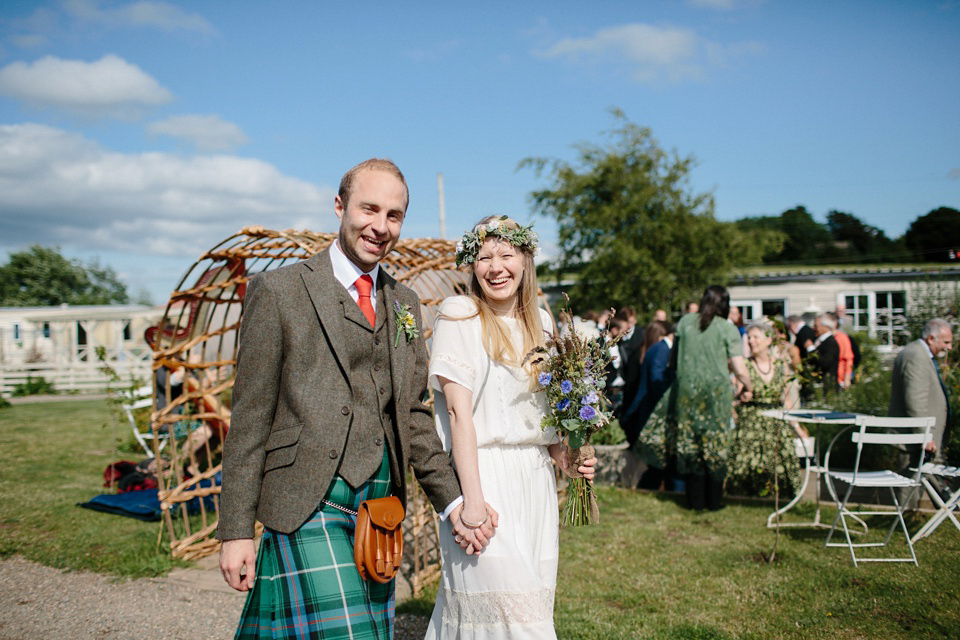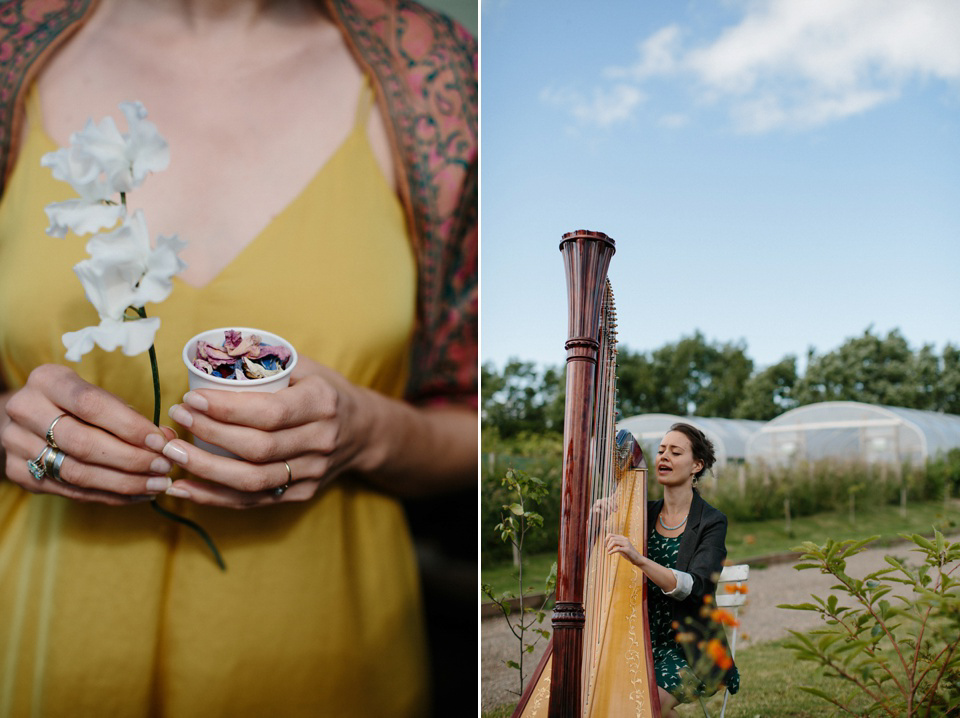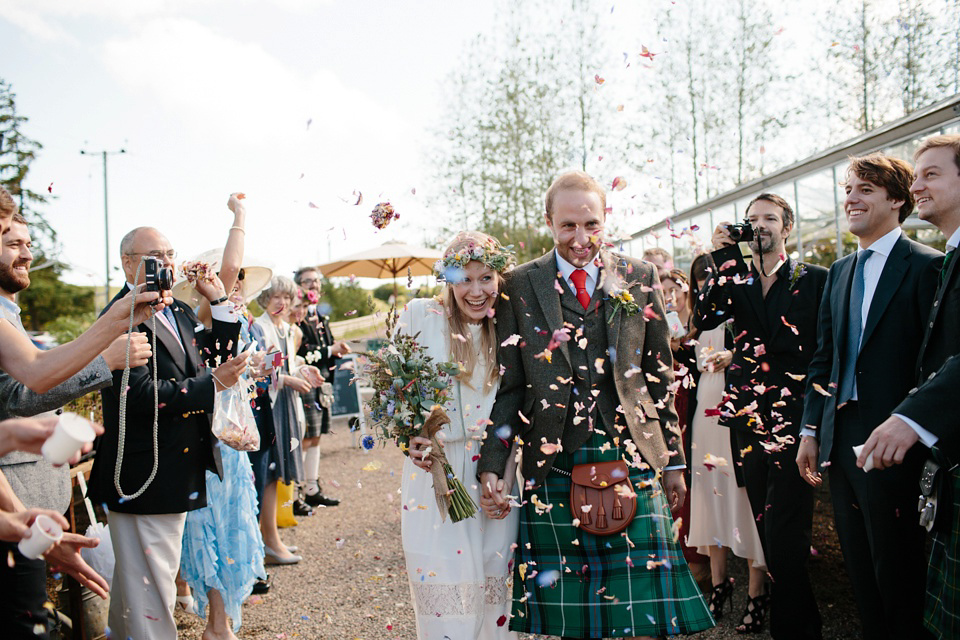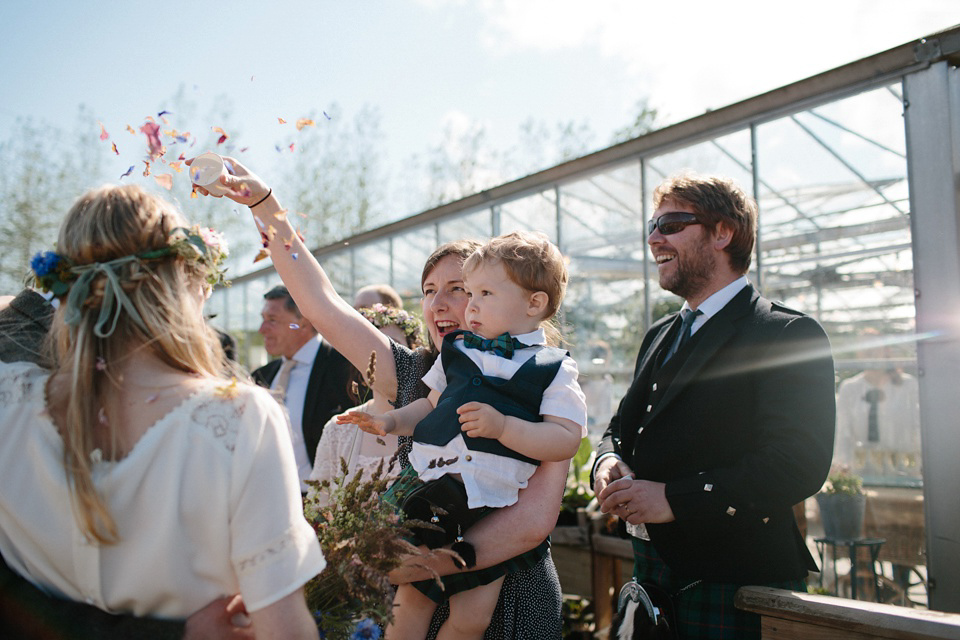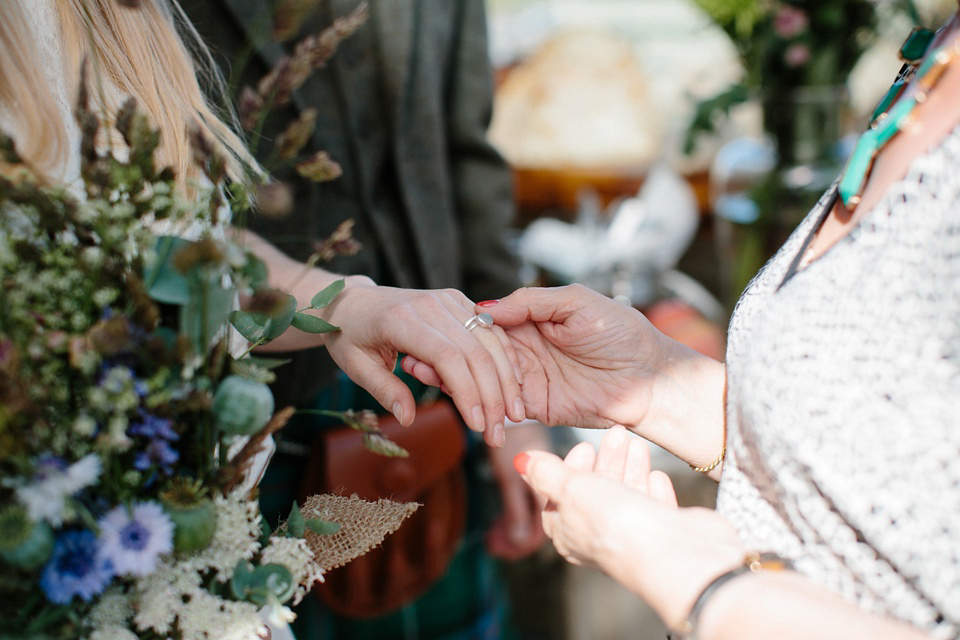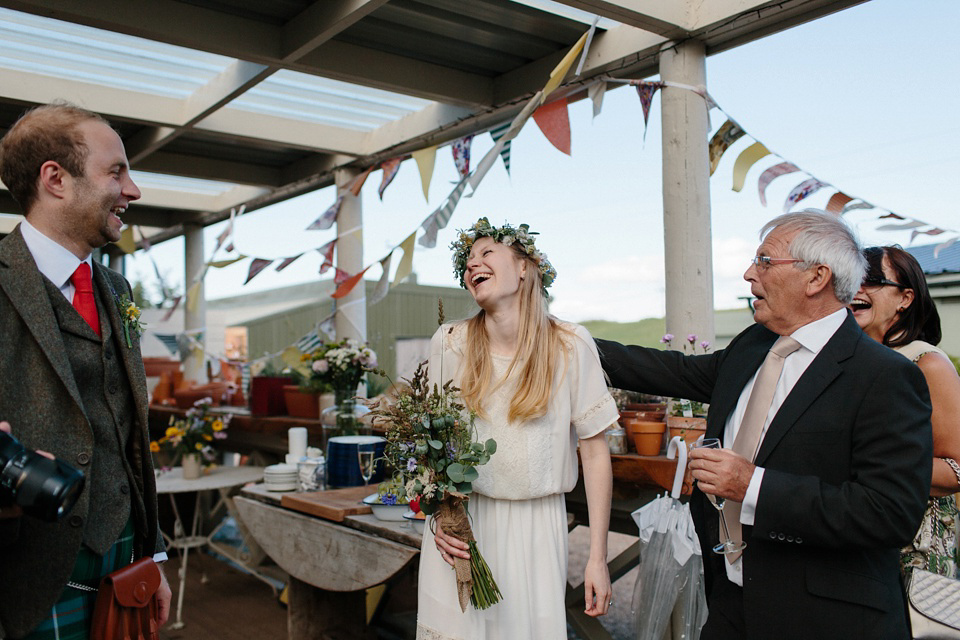 "Euan and I made the invites, table plans and place cards ourselves. We printed our drawings of wild flowers onto envelopes with wild flower seeds inside."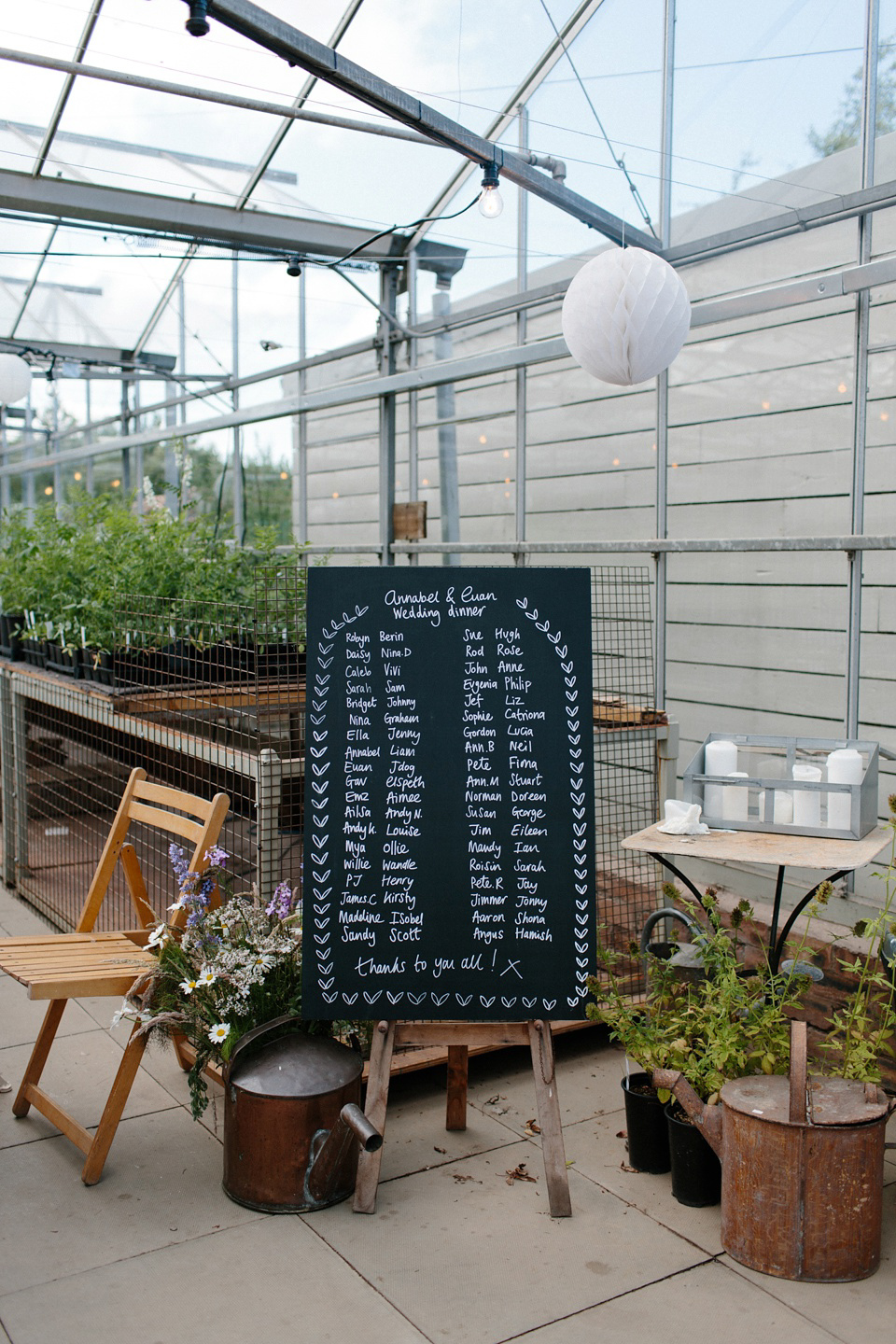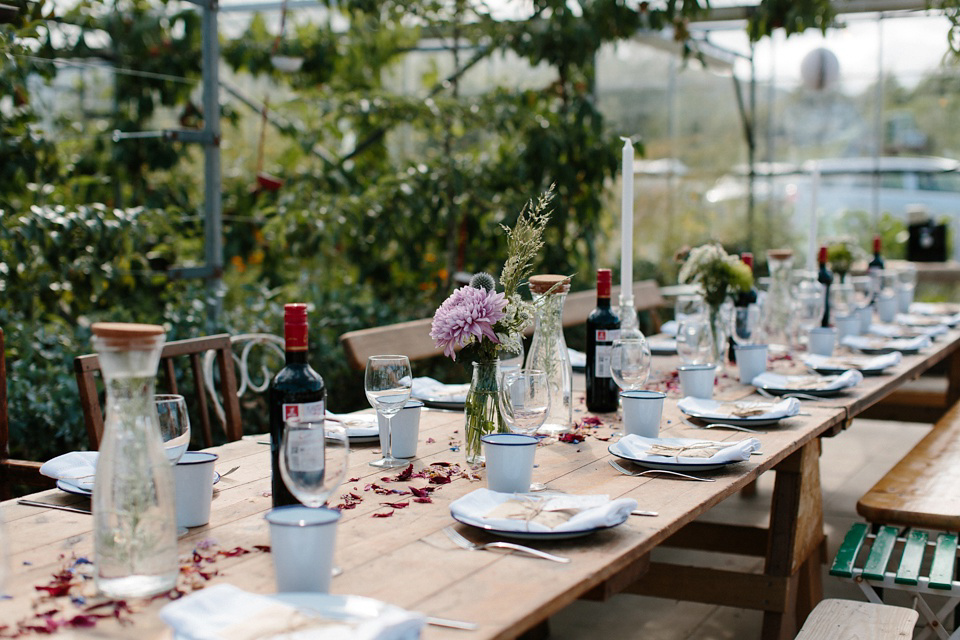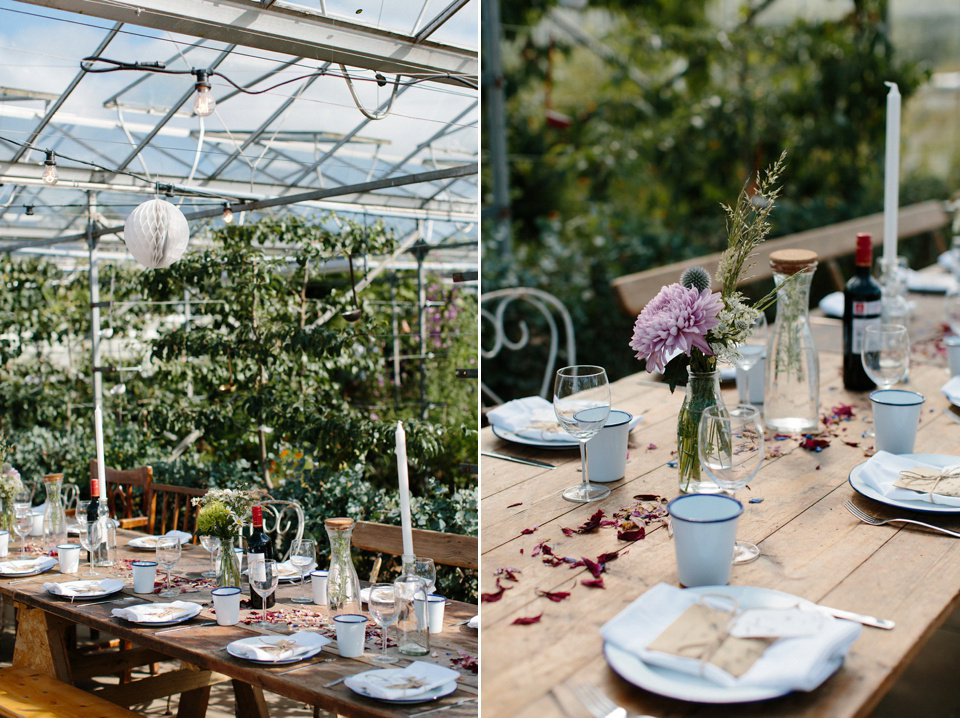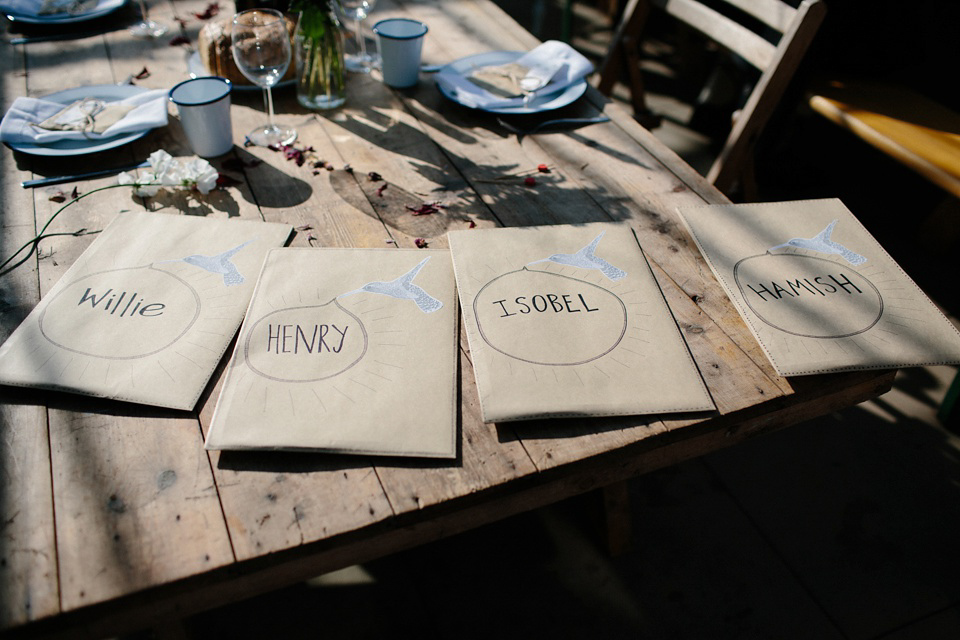 "Amazing chef Wendy from Inside Out Chef made absolutely delicious food, served family style, that everyone shared on the table."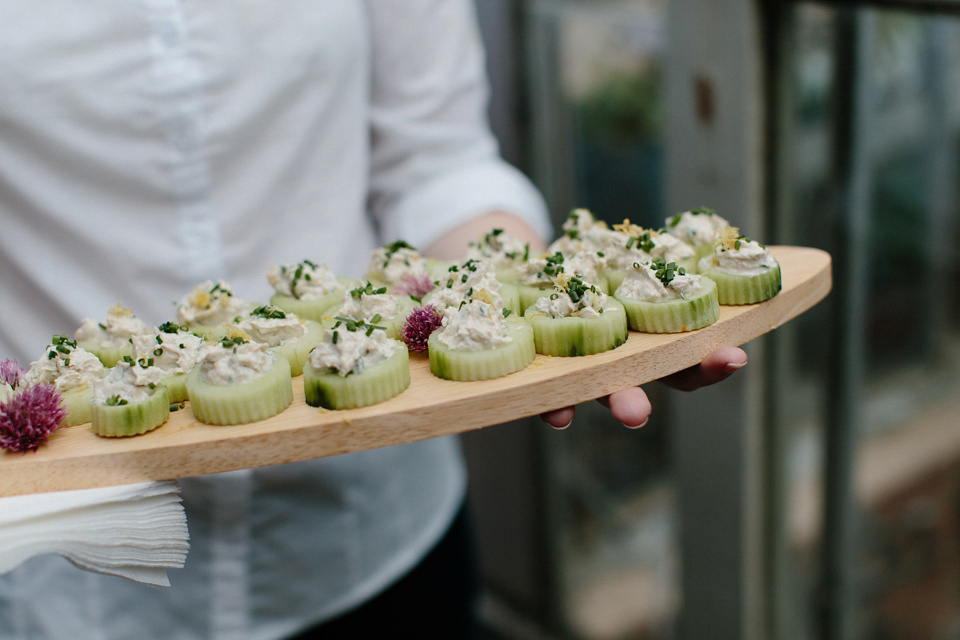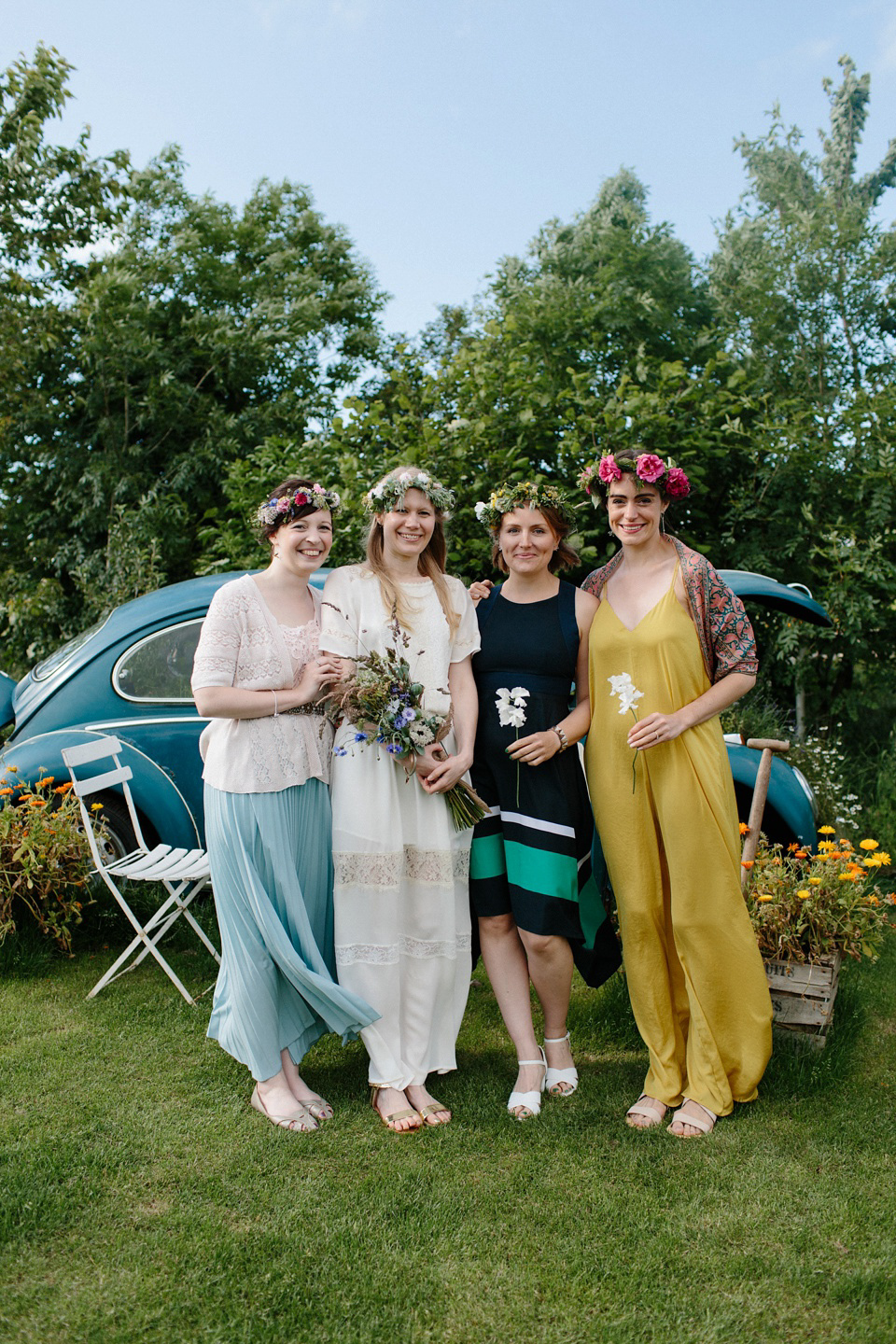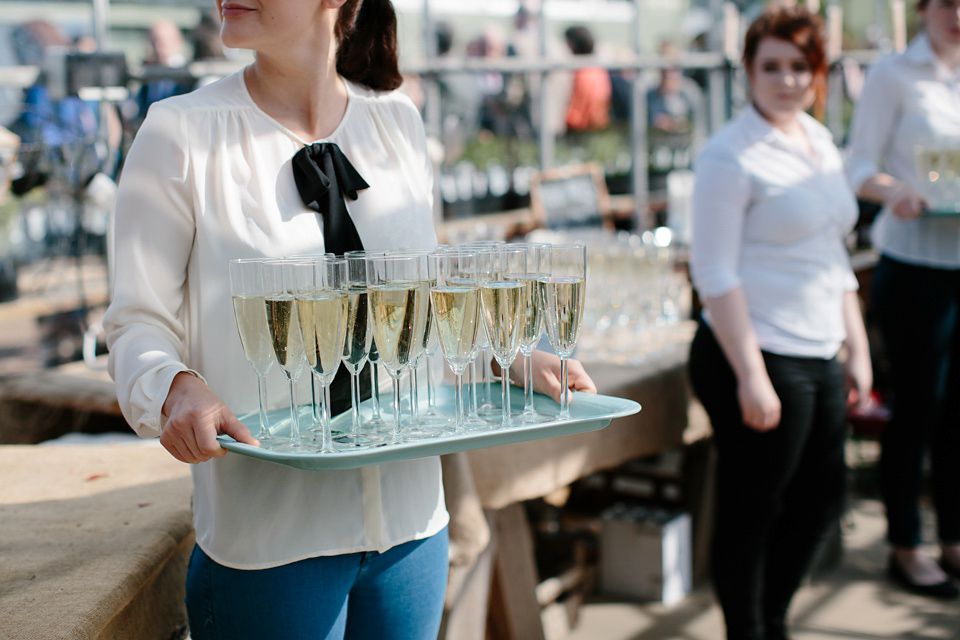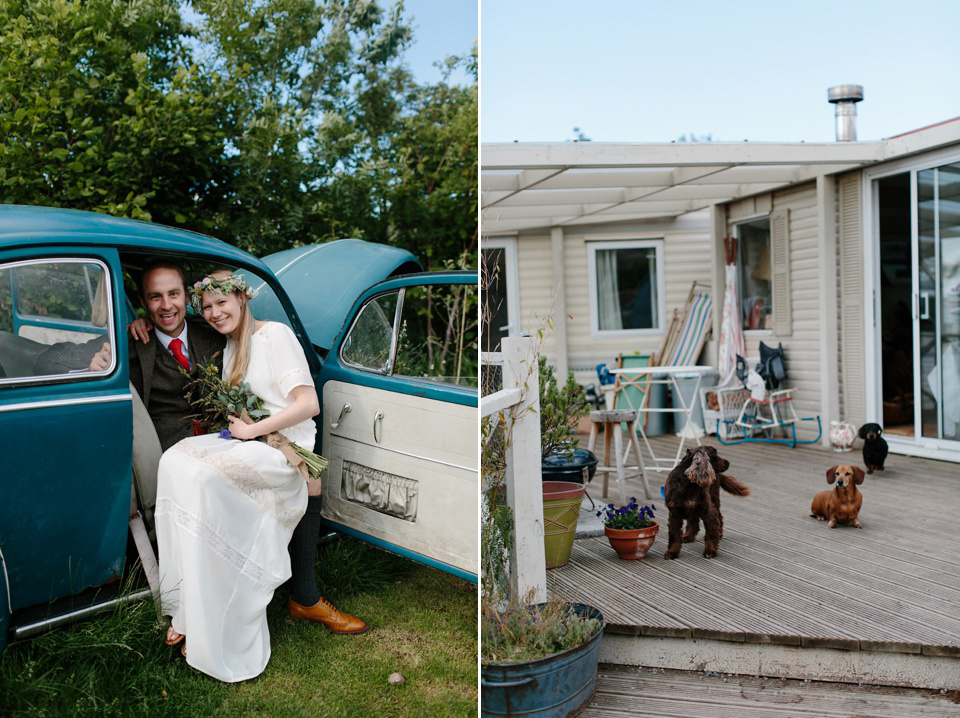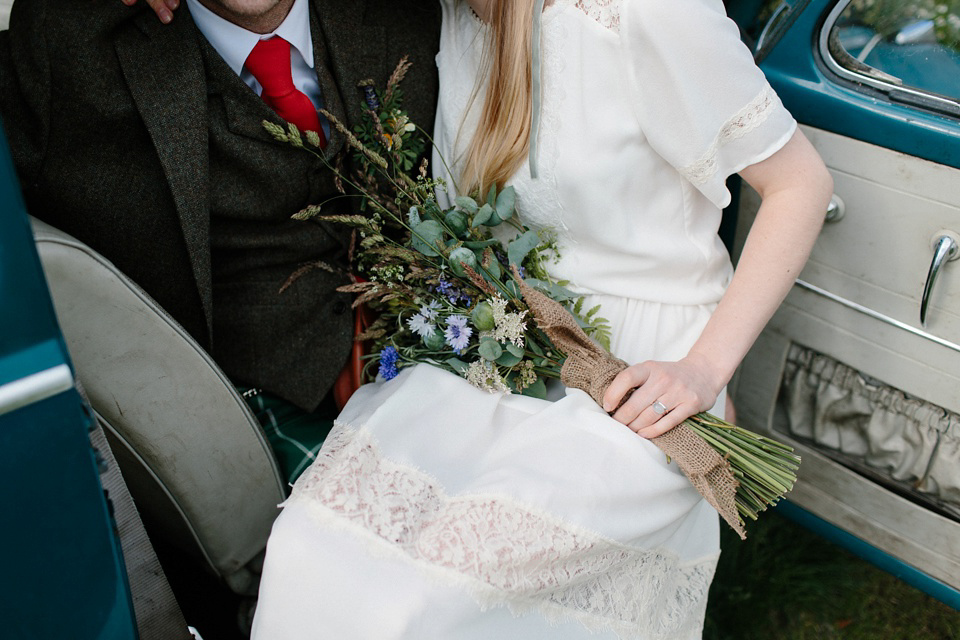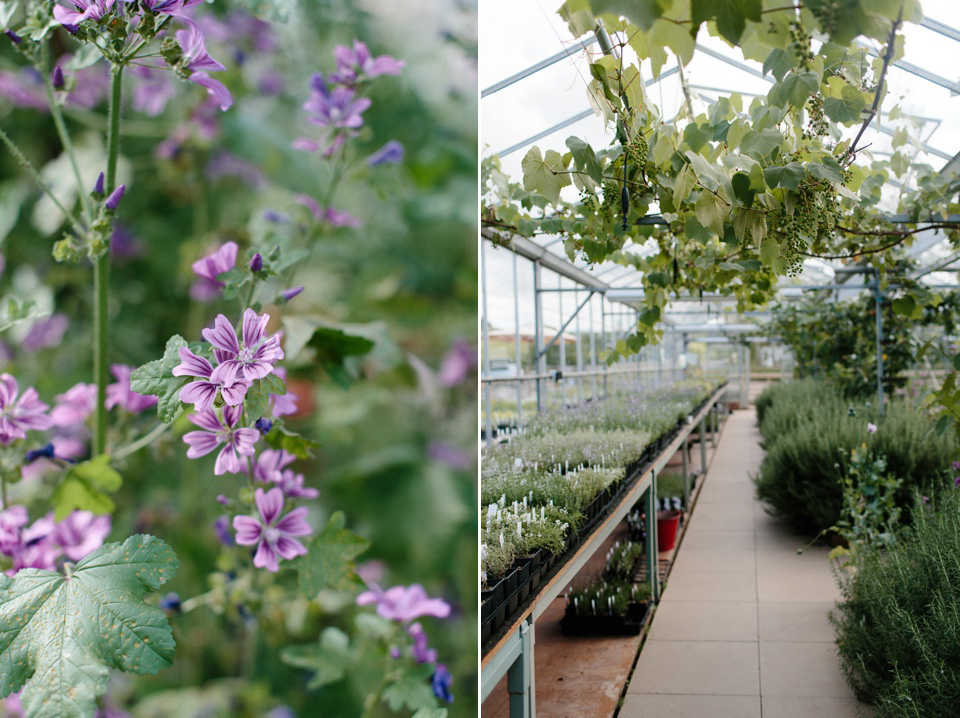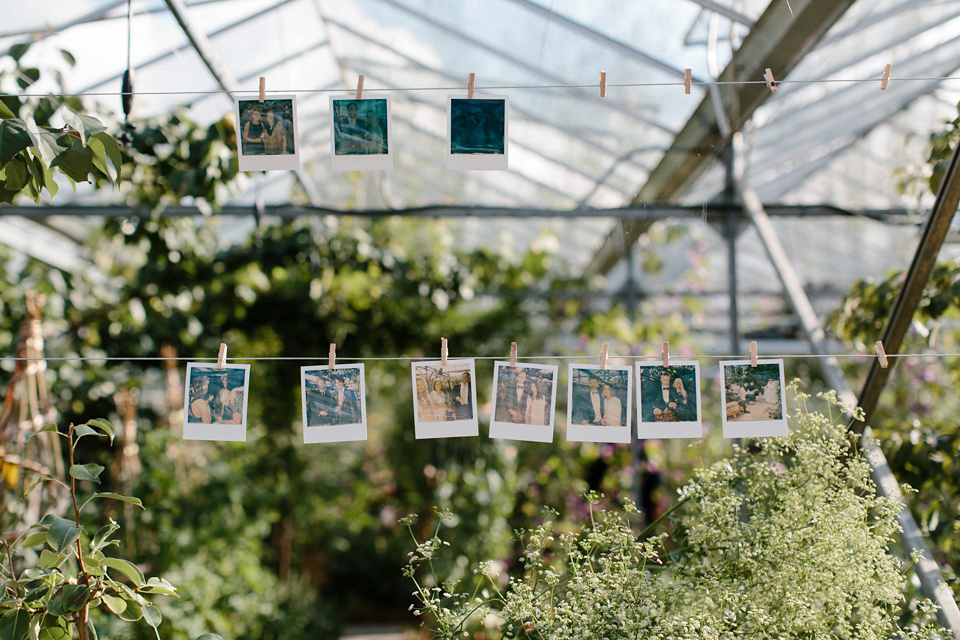 "My best friend Ella, my fabulous Mum and I made bunting from fabric I've collected from our travels and trips to charity shops. My Mum and Dad also collected rose petals from their allotment and dried these to use as confetti and for table decorations. The colours were soft pinks, yellows, cream and blues and smelt absolutely wonderful."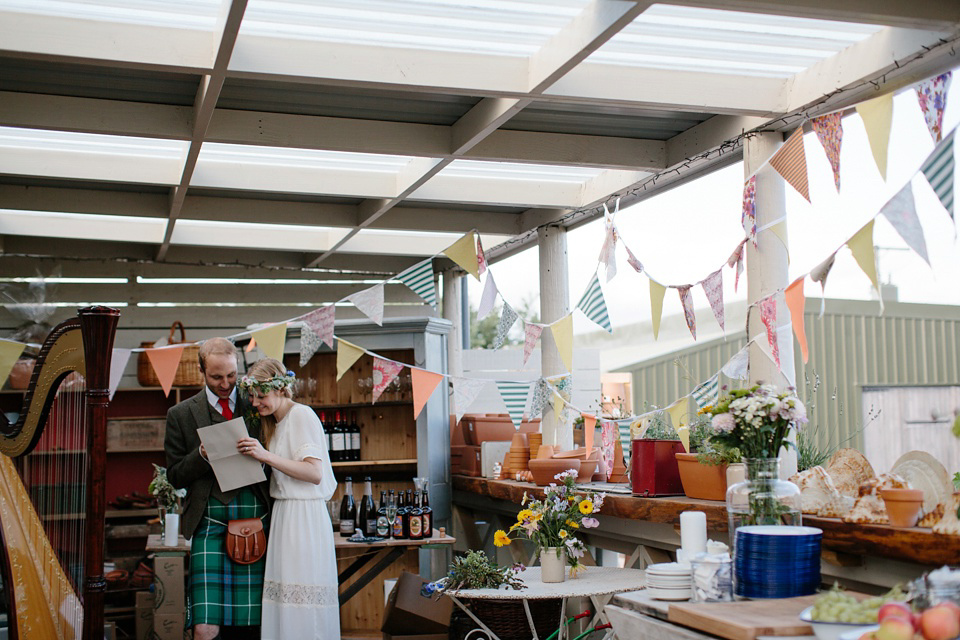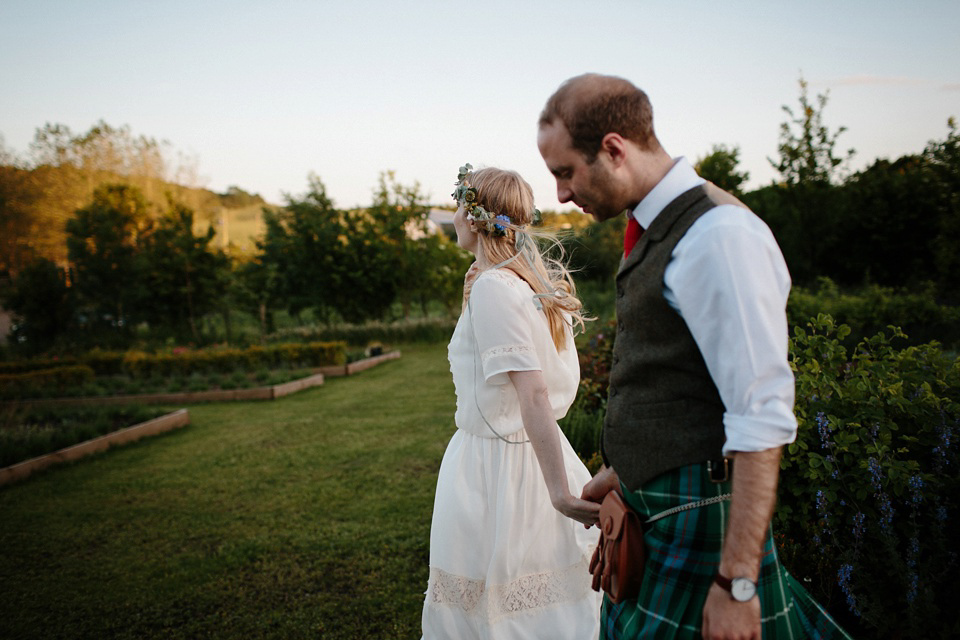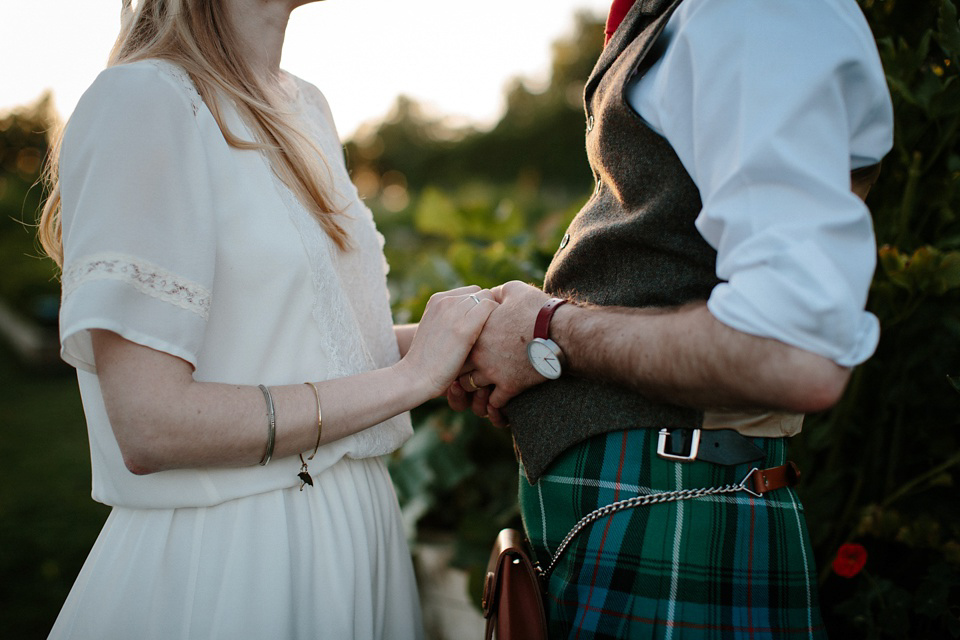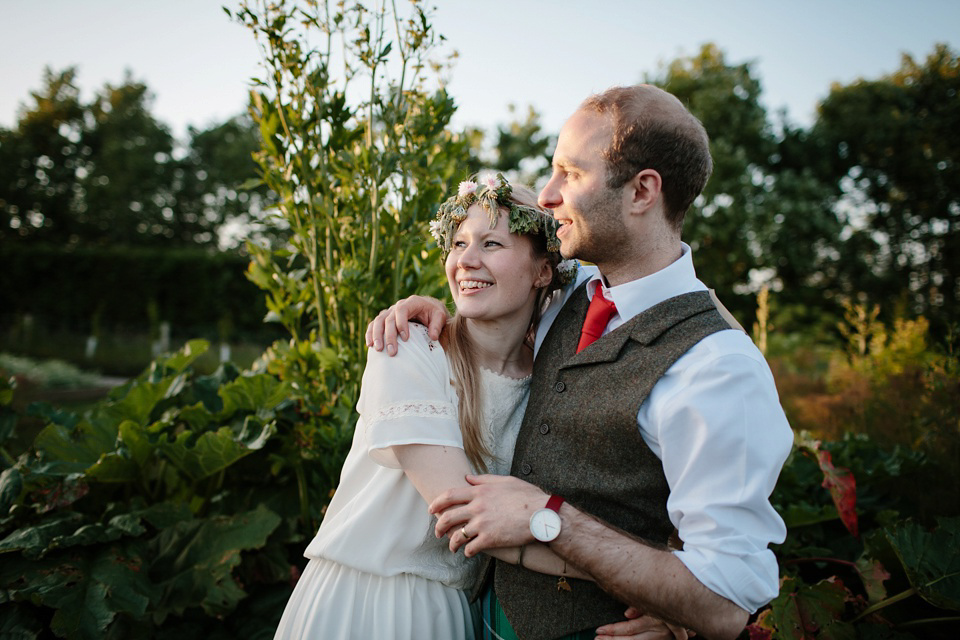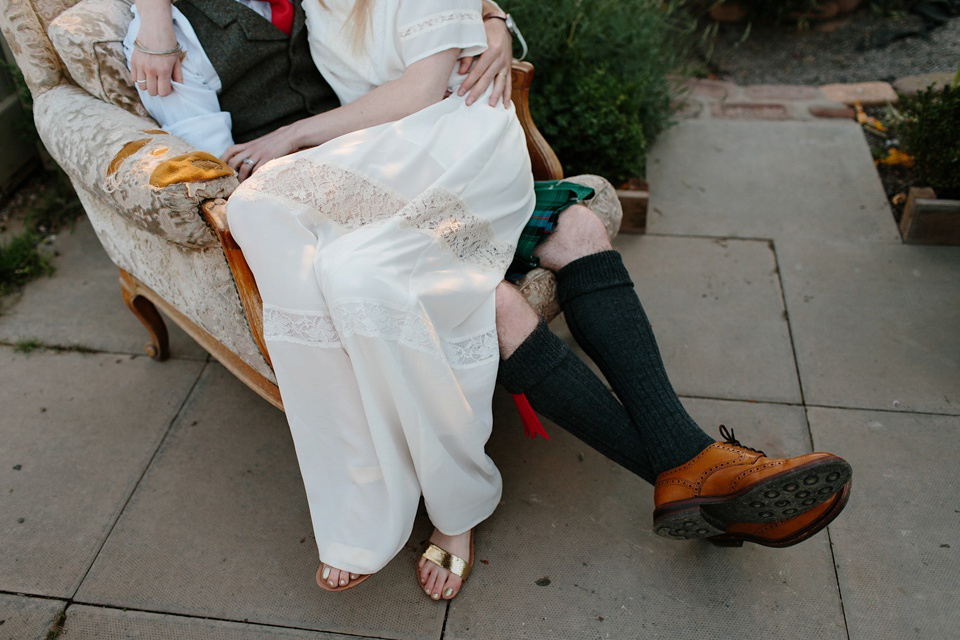 "Our amazing friend Alisa who works as a DJ helped us to compile the music for dancing, it was the best – non-stop dancing all night long!
It really was all magical, we loved every moment, it was just how we had imagined and more; relaxed, beautiful, almost dreamlike to have everyone you love altogether in one space, having so much fun, feeling so loved and happy. I know it sounds so cheesy but it really was such a wonderful magical day, I don't think there's anything we would have done differently."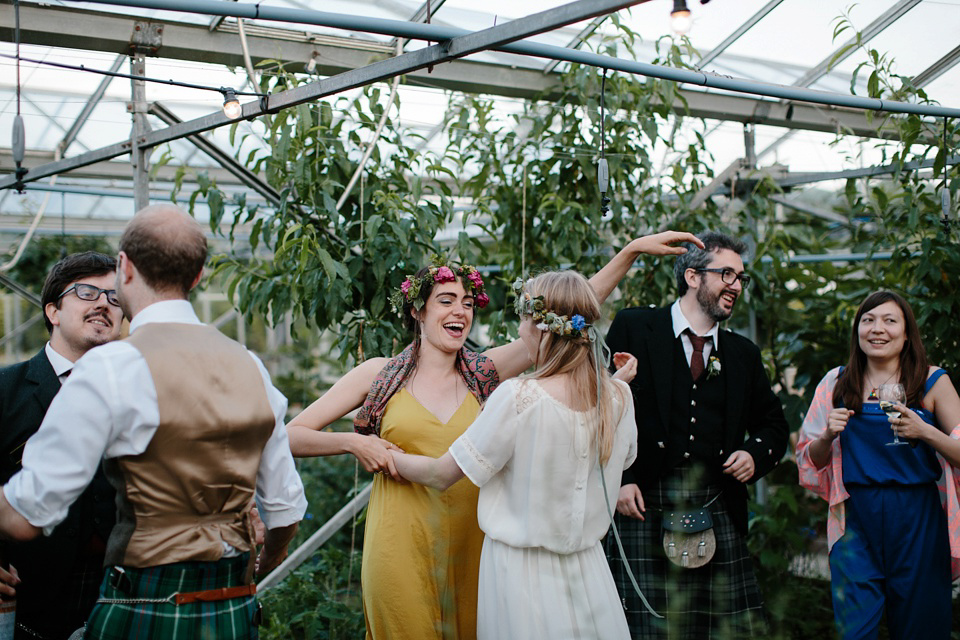 Words of Wedded Wisdom
"Try not to let things worry you, if you need help don't be afraid to ask, you are loved and people want to help you make an unforgettable memory with you. And enjoy yourself – if you are having a great time, chances are everyone else will be too!"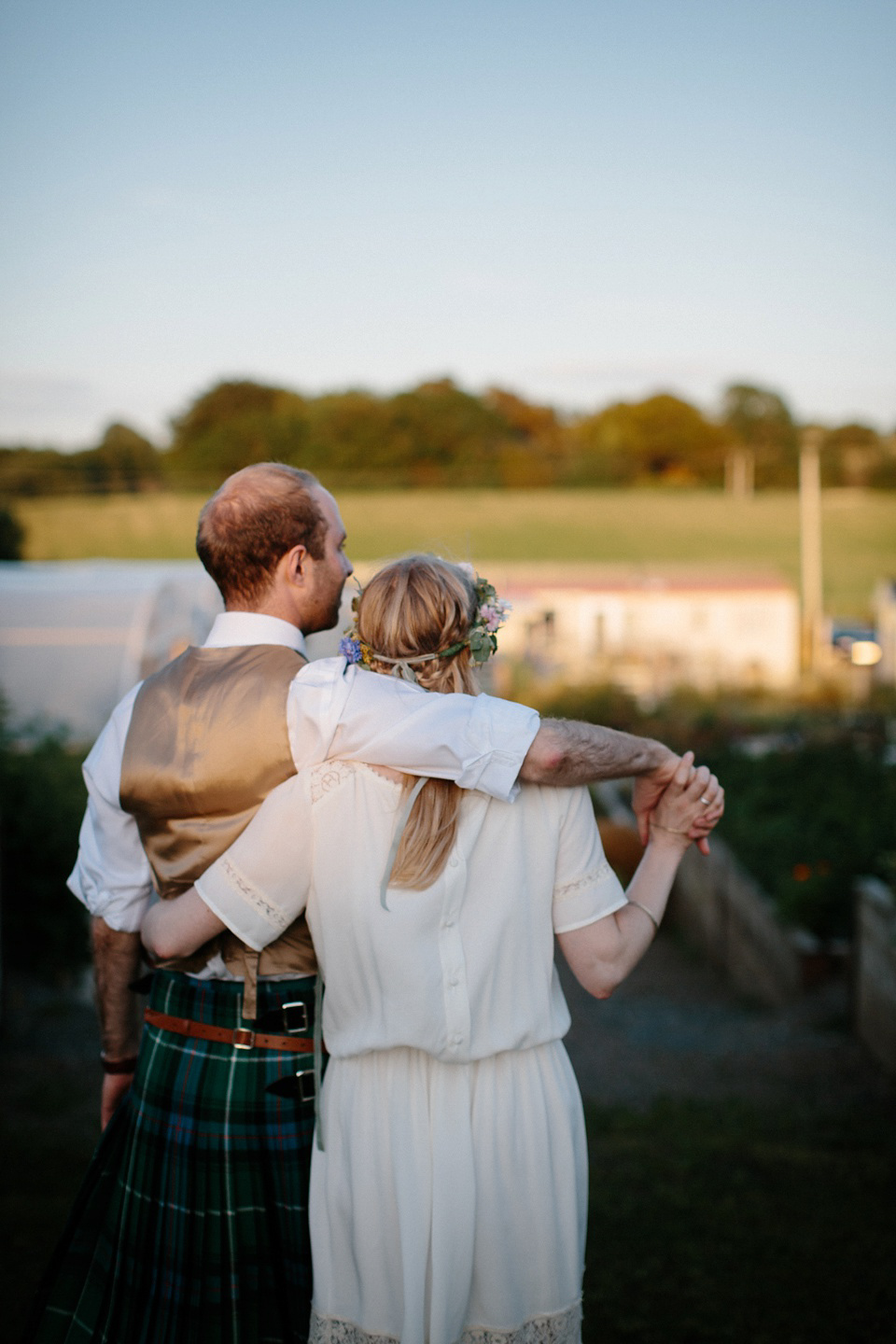 The loveliest occasion, I think you'll agree – such a sweet and beautiful way to help you kick start your week.
Our love, congratulations and thanks to you both Annabel and Euan, I'm so delighted that we have had the privilege of being able to share your wedding with our readers today – thank you both so very much.
Love and thanks to the utterly wonderful Caro Weiss too. Basically, I cannot rave about this woman and her photography superpowers enough. Go visit her website now! And enjoy the rest of your morning.
Love Annabel xx
Photographer – Caro Weiss
Venue – The Secret Herb Garden (just outside Edinburgh)
Wedding Dress – Minna
Brides Shoes – Gold sandals by Carvella Kurt Geiger
Accessories, Jewellery + Rings – Maike Browning
Grooms Suit – Walker Slater
Bridesmaids – Zara + Anthropologie + Selfridges
Flowers + Floral Crowns – The Secret Herb Garden florists Anna and Lou
Cake – The Secret Herb Garden Kitchen
Transport – Hunters Coaches
Entertainment – Harpist Esther Swift +
Catering – Inside Out Chef
PA System + Speaker Hire – Banana Row