Did you know that Love My Dress has been nominated for four awards in the Wedding Magazine & Blog Awards? We are absolutely thrilled to be up for nomination once again and would be ever so grateful if you take a few moments to vote for us here. We all know that it doesn't really matter if you win an award or not, but it's pretty special when you do, and particularly when you know the community you're working for have voted for you.  So we really are immensely grateful to all of you who take the time out of your busy day to show us some love – thank you so very much.
We have a very elegant Scottish and Japanese inspired English country wedding for you to peruse at your leisure this afternoon. On the 21st of May of this year, Erin and Alex tied the knot at Babington House, an 18th century luxury hotel and members' club in the heart of the Somerset countryside.
Photography by Ria Mishaal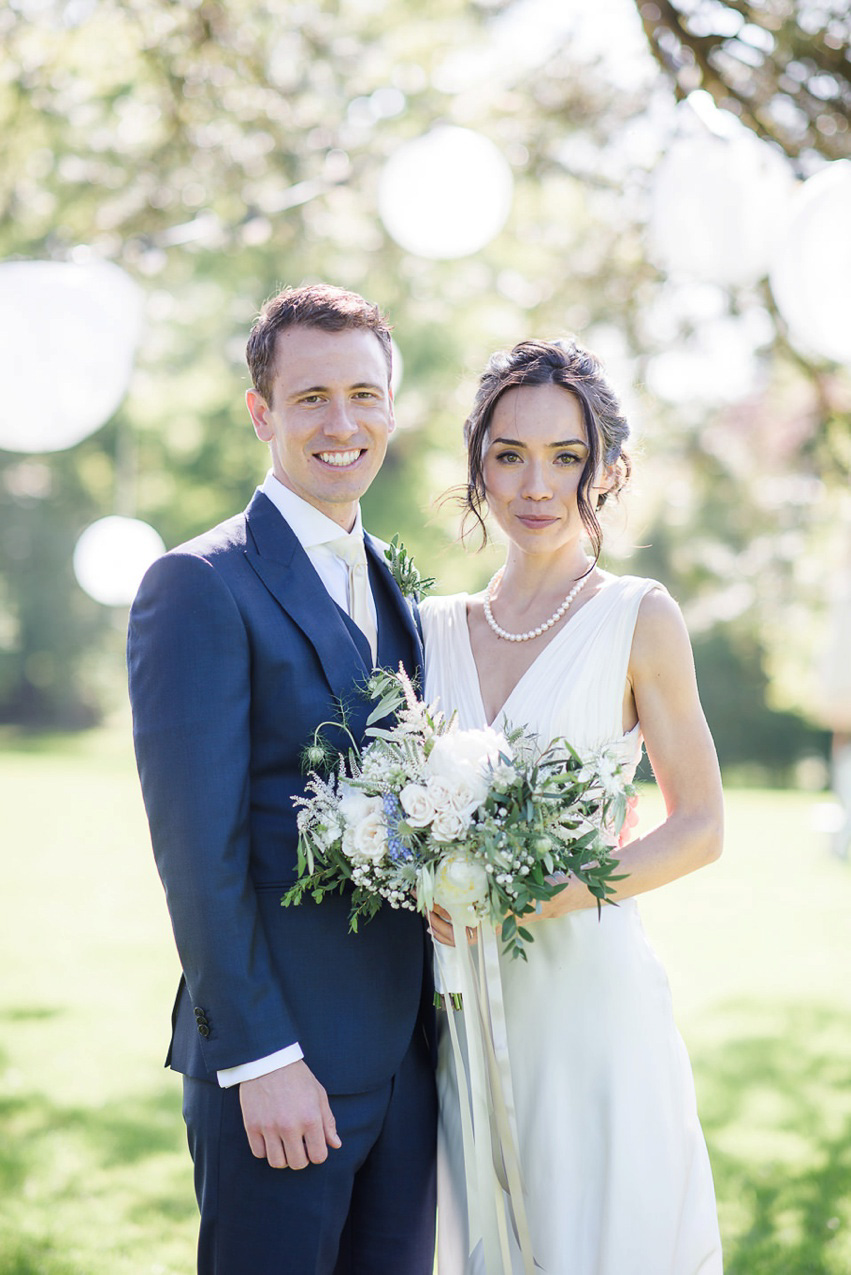 "I am half Japanese, and we both grew up in Scotland, so we had subtle nods to these elements in the form of thistles in my bouquet, a bagpiper, Scottish culinary treats and some Japanese canapés."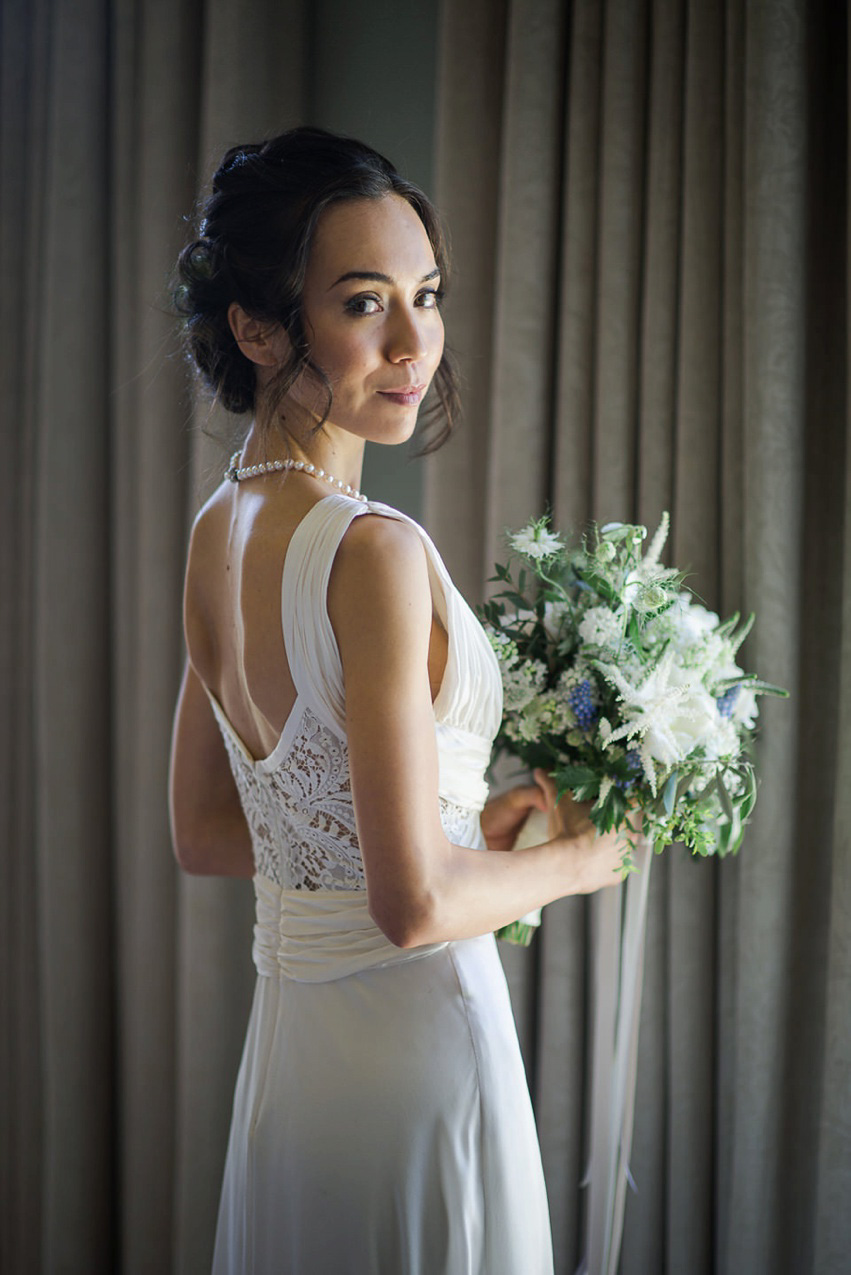 Erin and Alex's wedding was captured in stunning detail by Ria Mishaal and her husband Jake. Take a peek at our Erin and Alex's lovely engagement shoot here.
"Finding Ria and Jake was one of the most exciting parts in the whole wedding planning process for us. We warmed to them instantly, and we cannot praise them both enough."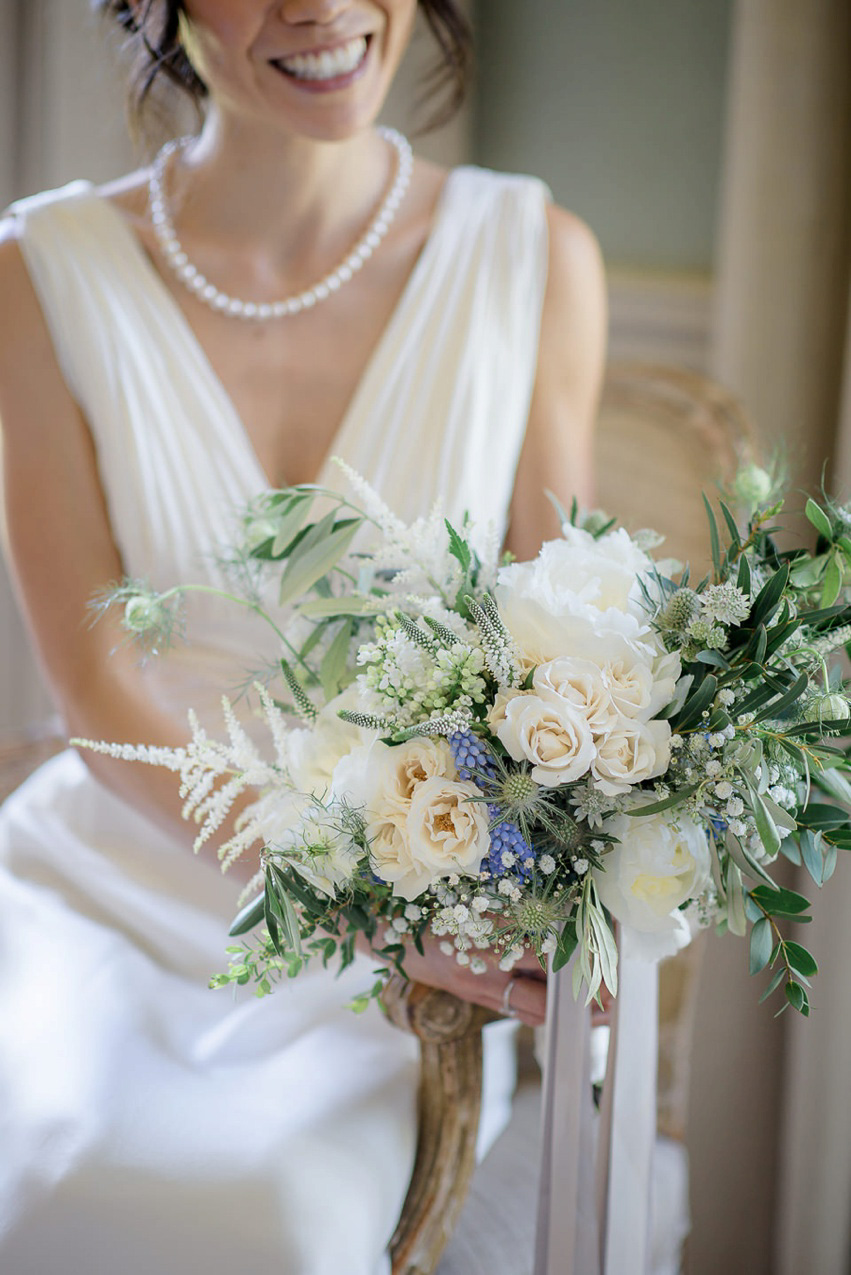 "Ria braved the cold and took a few snap shots of us in Regent's Park – it was freezing, but she managed to make us feel relaxed and happy and in the end we forgot about the cold. I could go on with superlatives but I think the pictures do show everything that is good and warm about them."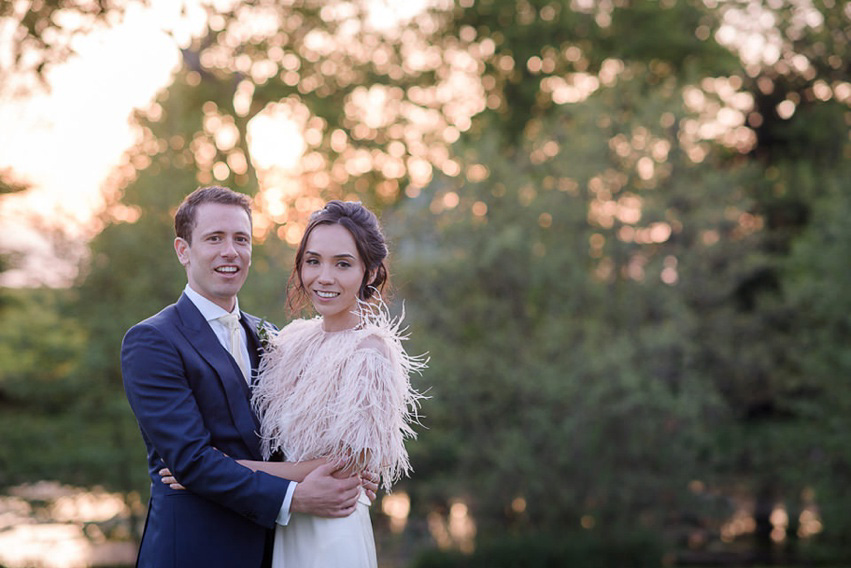 Our couple fell in love with Babington House after Alex treated Erin to a surprise minibreak at the beautiful country house hotel.
"Alex took me to Babington House on a surprise weekend trip back in 2011. We instantly fell in love with the place. When we got engaged in Hong Kong, both of us knew we really wanted a country wedding back home and it was my dream to get married at Babington House."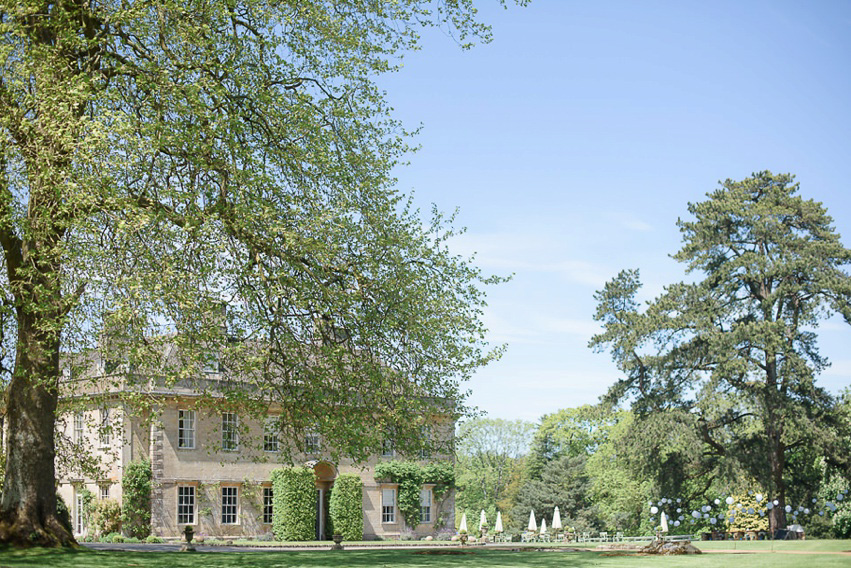 I love Erin's elegant gown from Theia Couture. In Greek mythology, Theia is the goddess of light and our bride looks every bit a Grecian goddess in her stunning dress.
"I bought my gown at a lovely bridal shop in Singapore called Belle and Tulle. I didn't know what I was looking for when I went in and I was surprised when I left my first shopping trip to a bridal shop with a dress. I chose a simple gown, comfortable and playful, that I knew I would be able to run around and dance in! It is very feminine and ethereal but also quite sexy with the lace back and sides; I felt good as soon as I tried it on."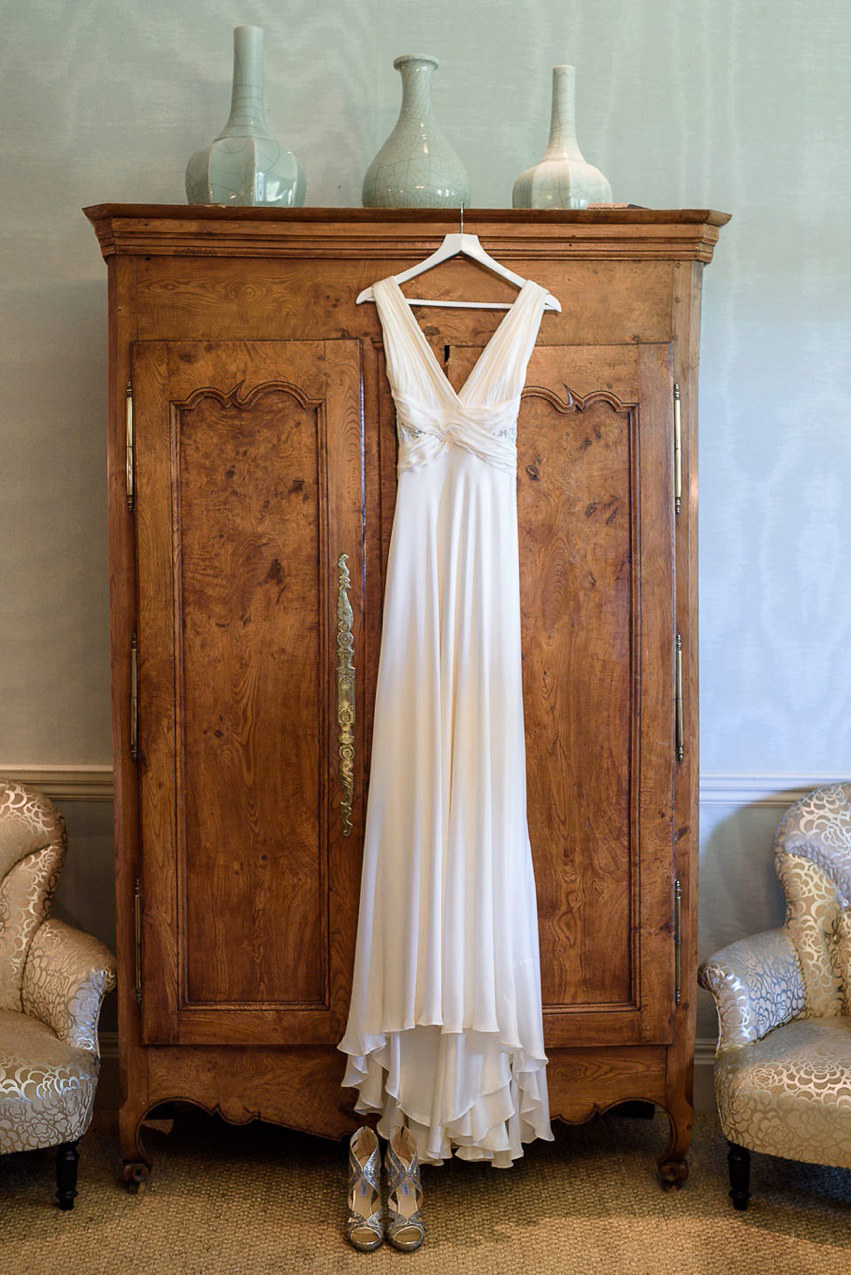 Erin's maid of honour wore a gorgeous minty green, silk maxi dress from iconic British brand, Ghost. Meanwhile, her page boys looked very sweet in grey three piece suits and white trainers from Next.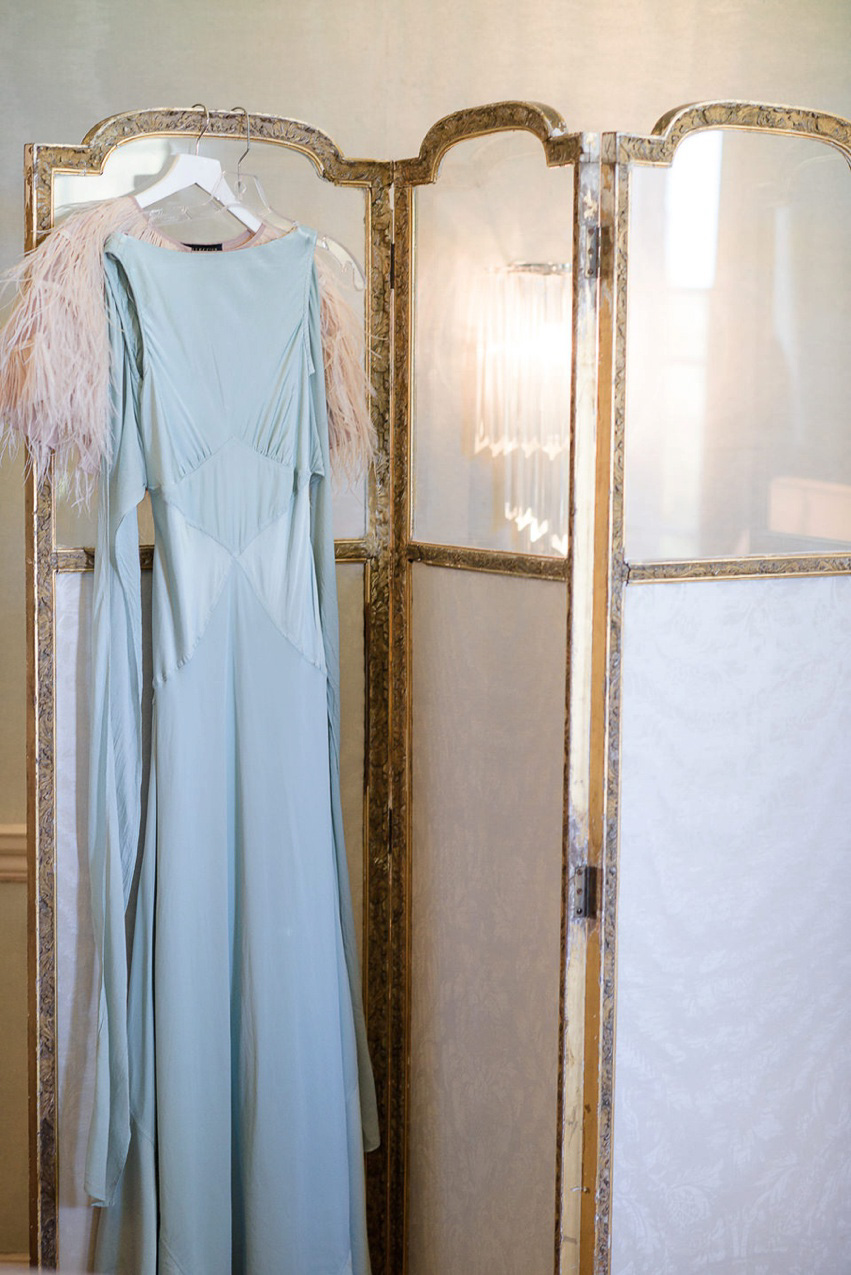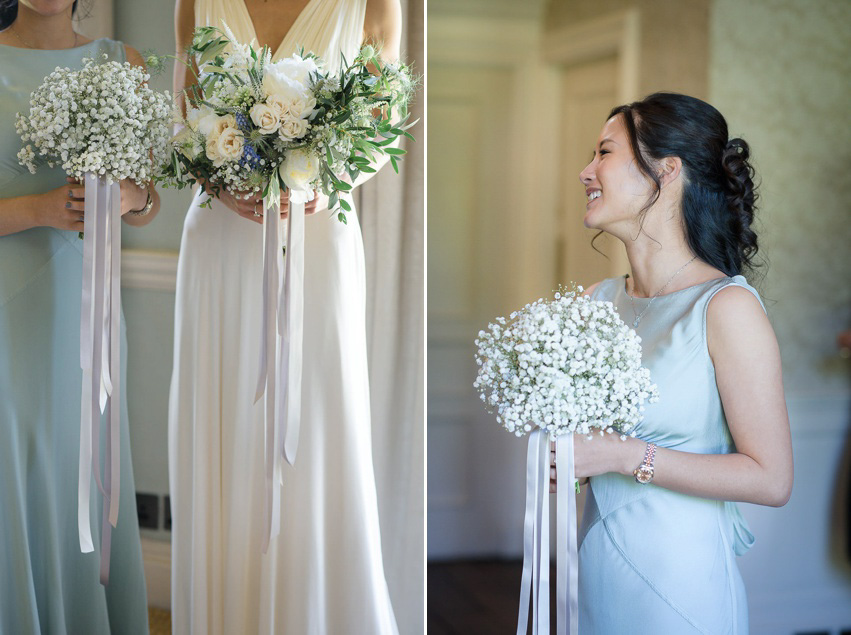 Erin wore a pair of super glam diamond encrusted Jimmy Choos and a string of her grandmother's pale pink pearls.
"I wore my grandmother's pink pearl necklace (which she brought from Japan) which both of my sisters wore on their own wedding days. Other than this and my wedding rings, I didn't wear any other accessories as I wanted to keep things quite simple."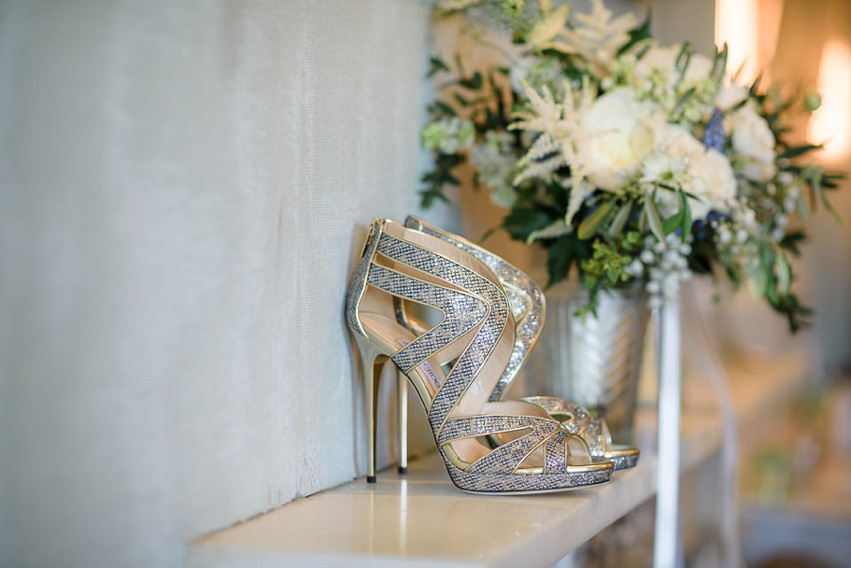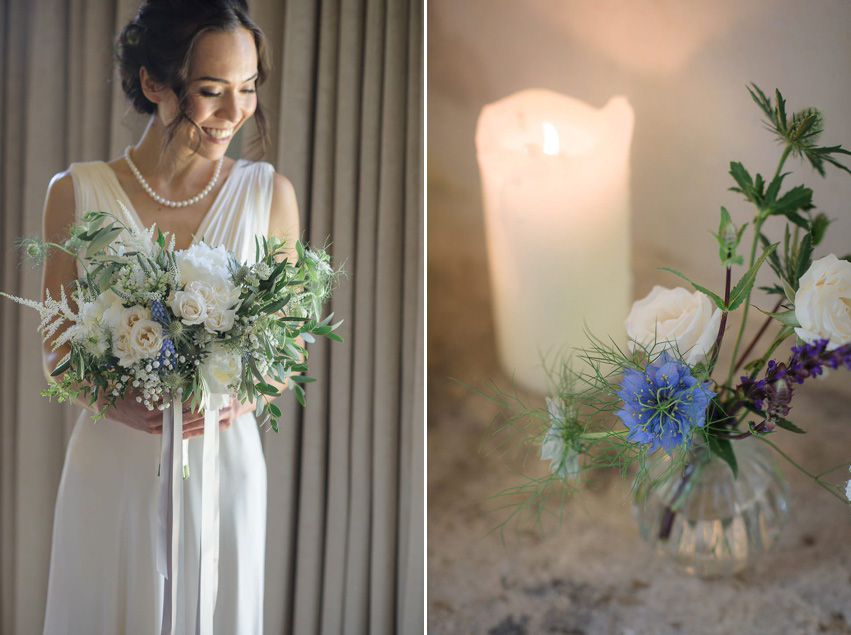 Our bride chose Jo Malone's English Pear and Freesia Cologne as her scent, at a surprise gathering:
"The week before our wedding, my best friend arranged a surprise mini-hen, to create my signature scent at Jo Malone. I had a huge shock when my sister coaxed me into Jo Malone in Sloane Square and I found all my friends and my Mum sitting at the counter, champagne in hand. It was an amazing, smelly day and such a good idea. I'll always remember that and the wedding day, every time I spritz."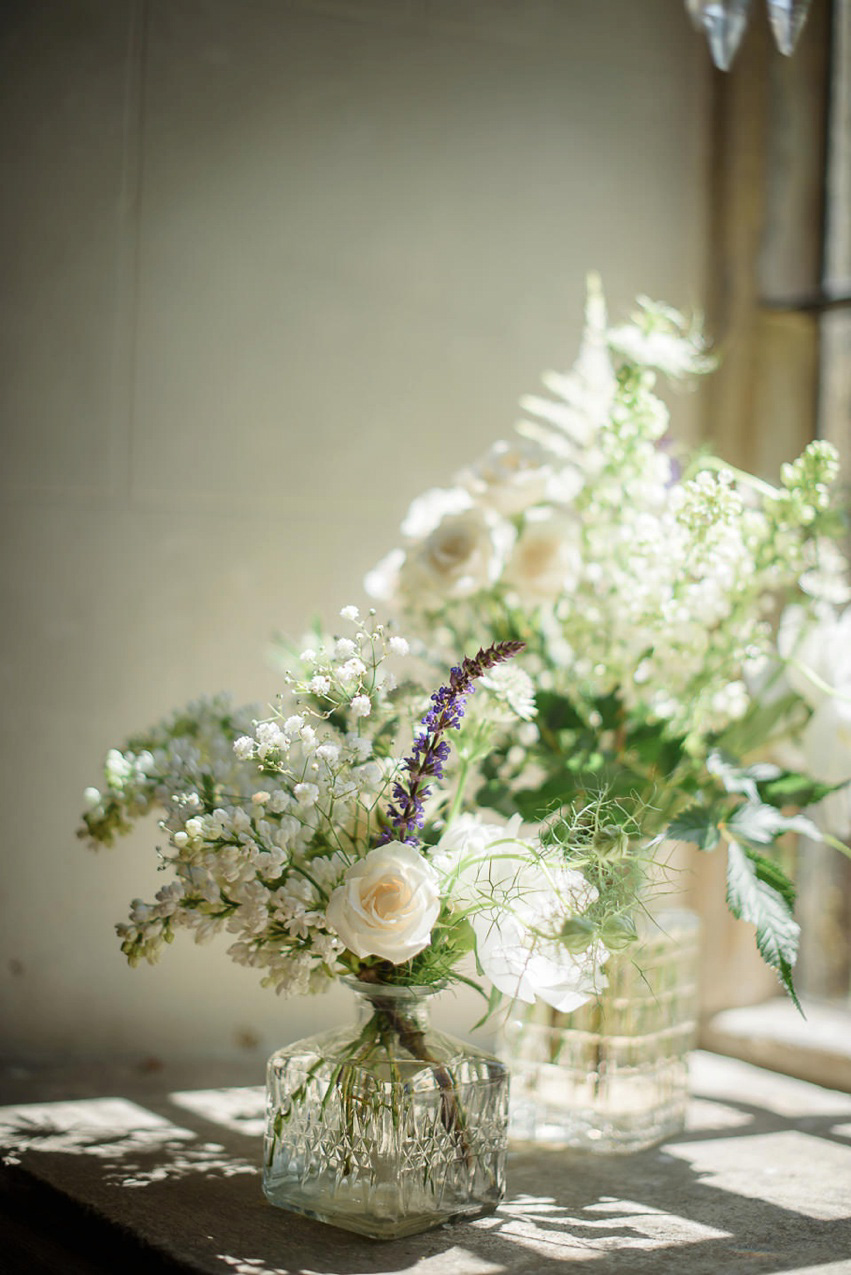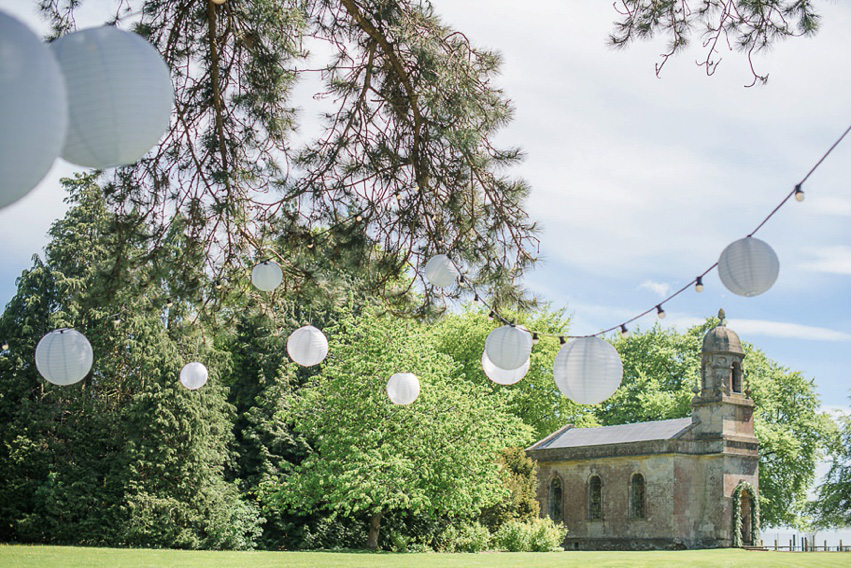 "Alex and I met across a crowded bar in 2003 (actually, we were both working behind the bar!) whilst studying at St. Andrews University. We started dating a year after that and have been together ever since. We spent several years in Edinburgh, followed by London and then Hong Kong where we got engaged in 2013. We moved to Singapore shortly after, so we were engaged for about two years before we managed to juggle wedding planning with our relocation."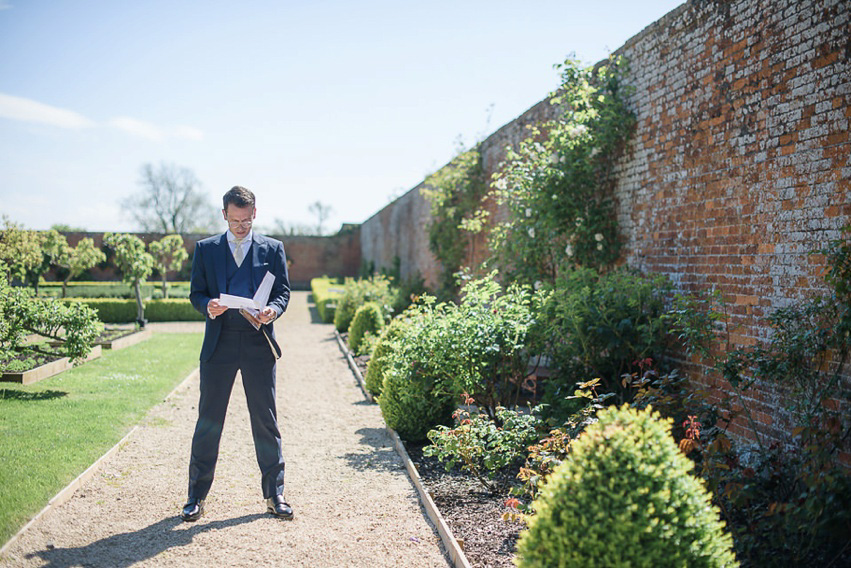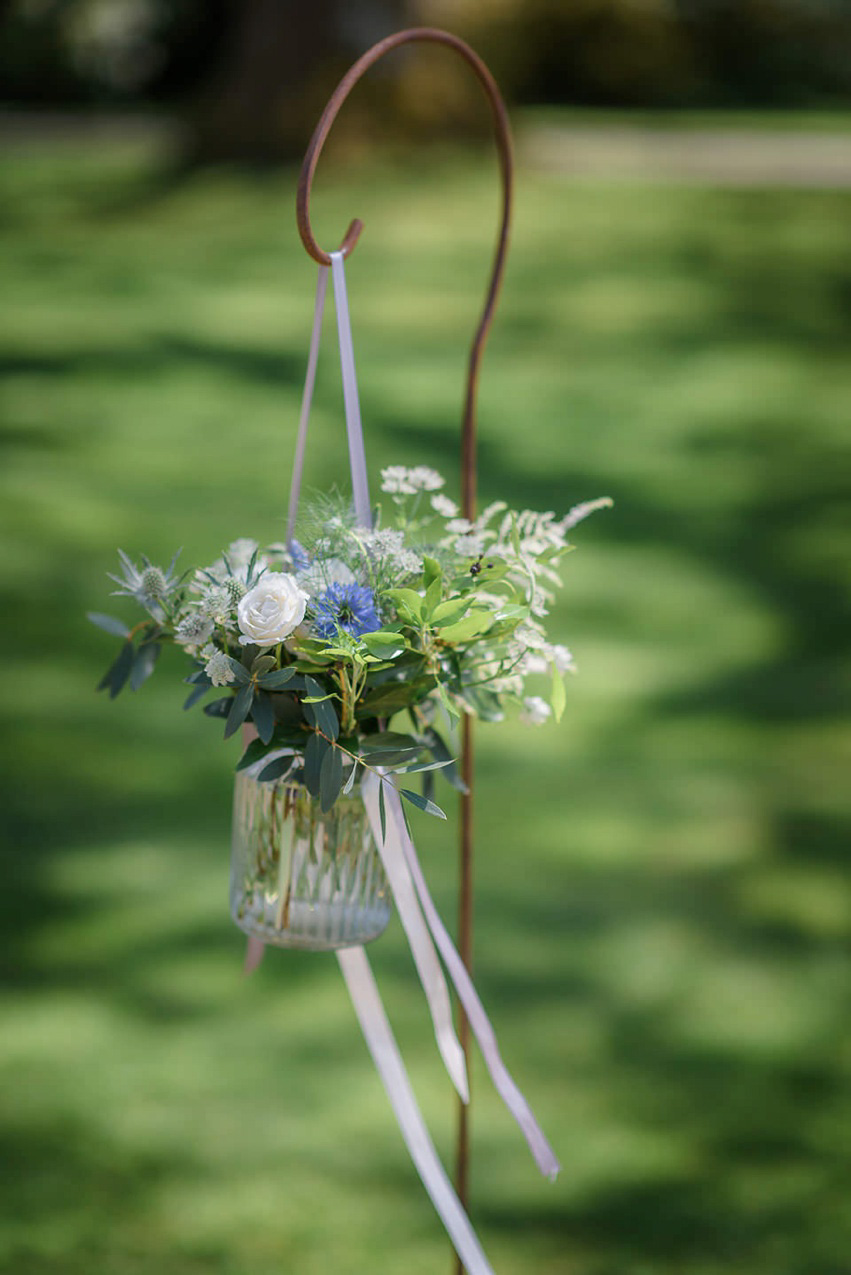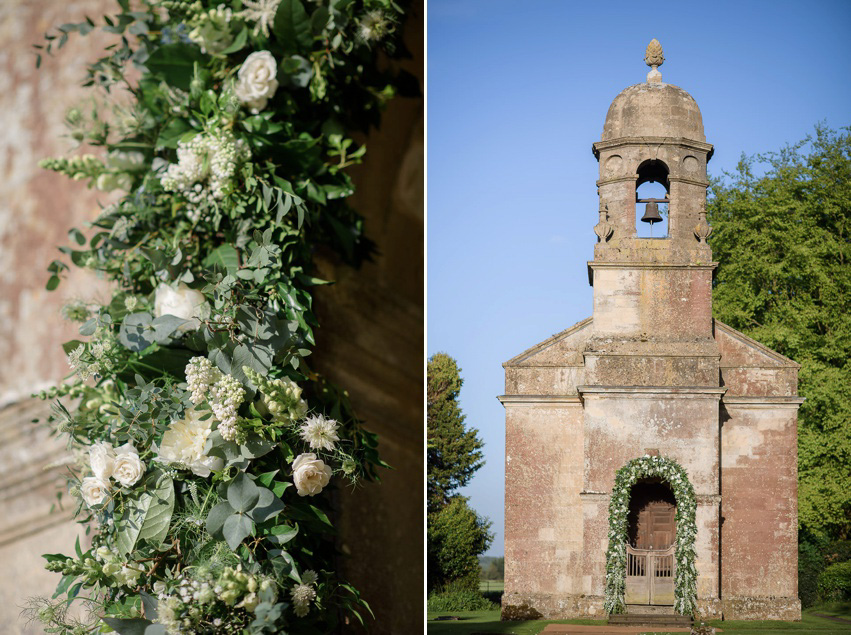 Our groom, Alex, paired his cream silk tie with a very smart midnight blue suit made by Verdi, his local tailor in Singapore. I love that Alex had his and Erin's initials and wedding date sewed onto to the inside of his jacket – what a lovely touch!
"Alex got his suit made by his local tailor in Singapore, called Verdi. Bobbi, the tailor, also made Alex a pair of tartan 'troos' (trousers), which he whipped on for the party! It was actually Bobbi's idea to make the troos as well, as a wee nod to our Scottish connections."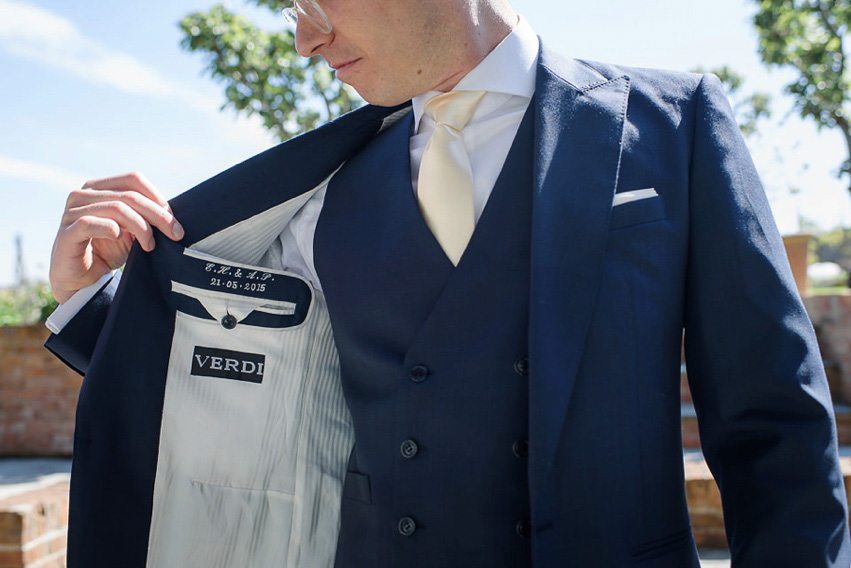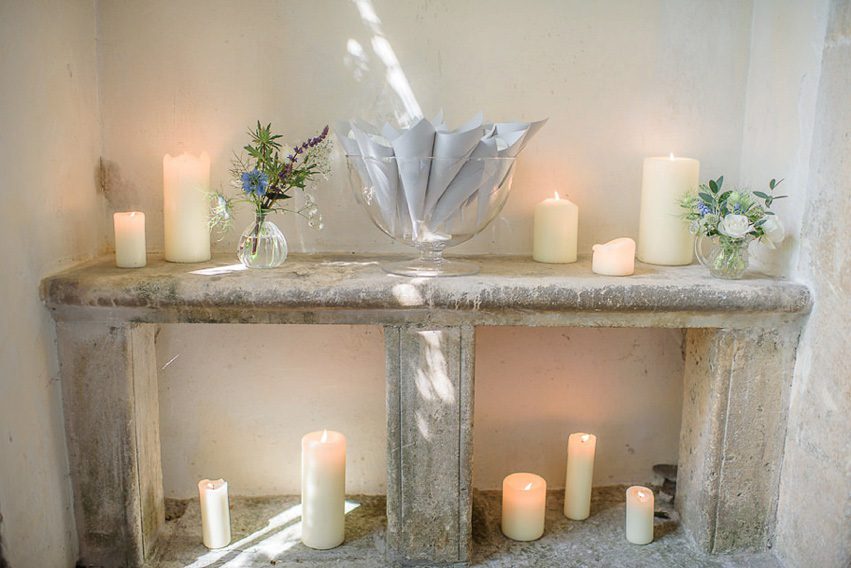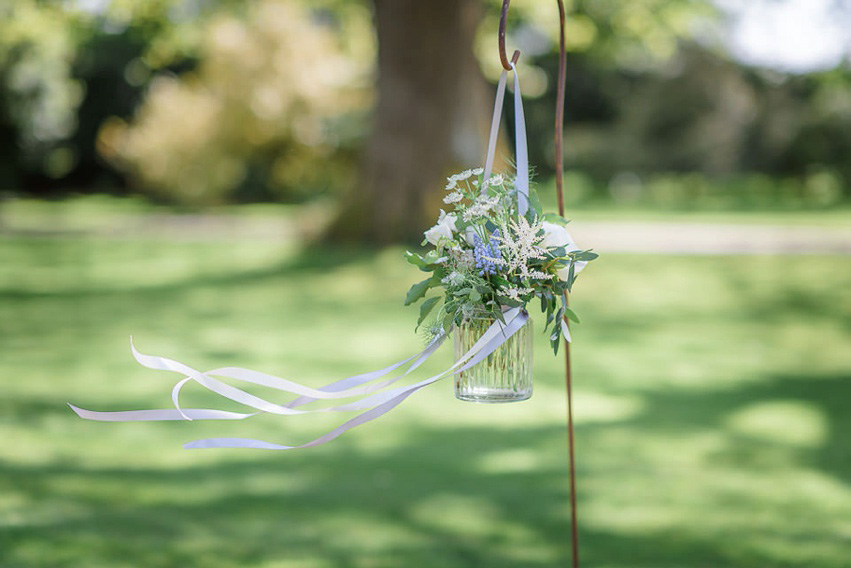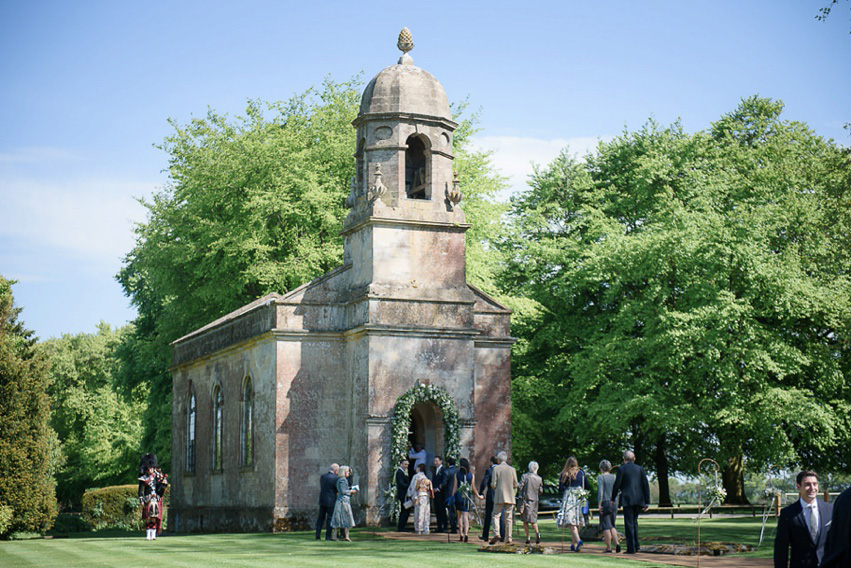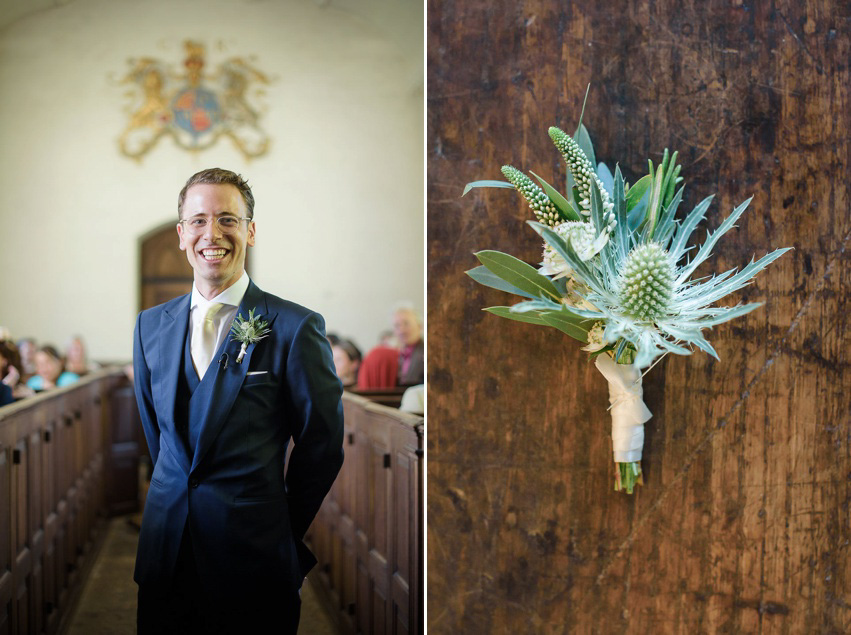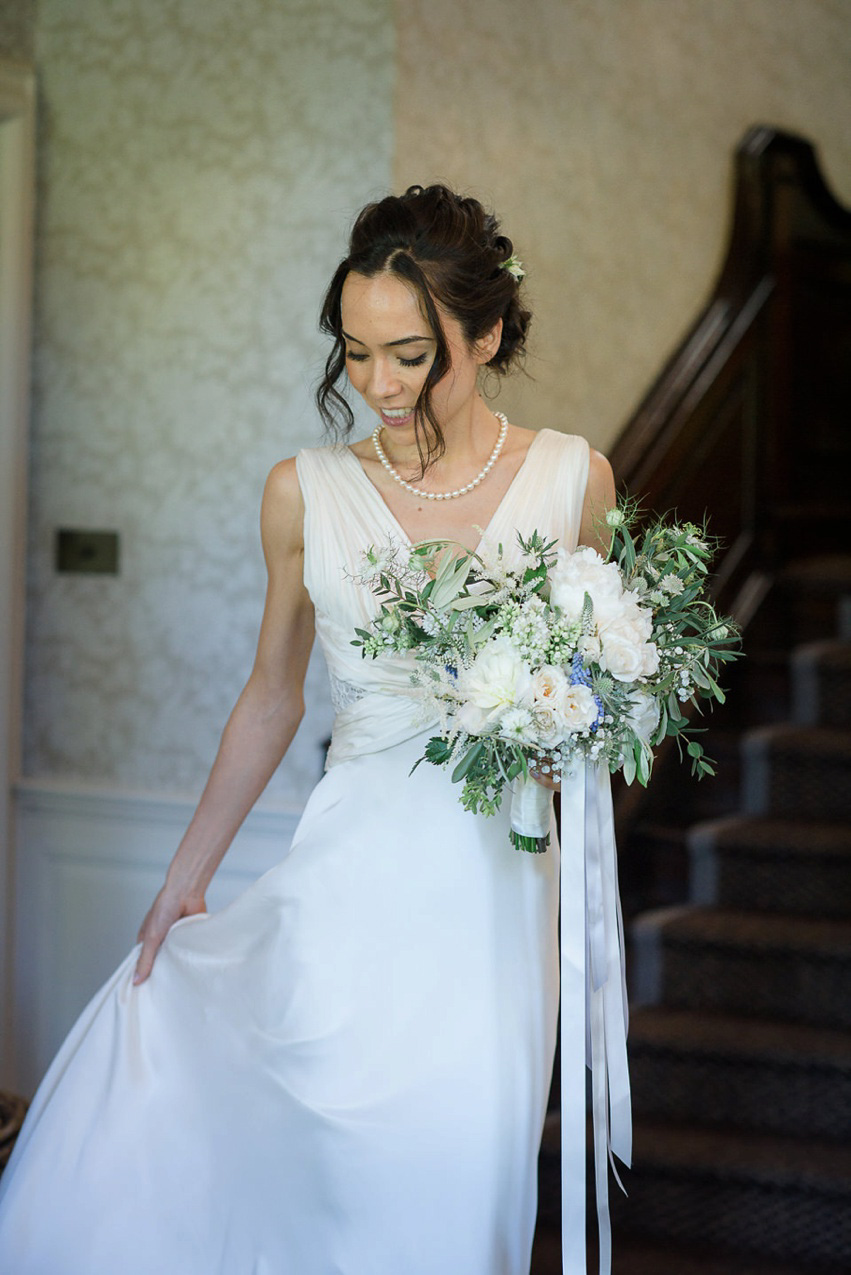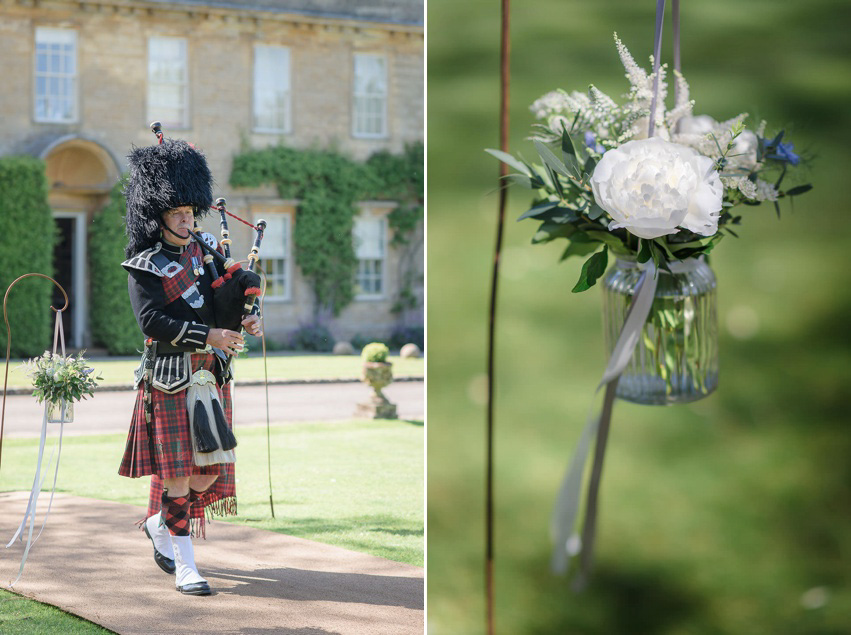 Our couple held their ceremony in St Margaret, a beautiful eighteenth century chapel situated in the grounds of Babington House.
"My Dad walked me down the aisle – I am the youngest of 3 girls, his very last to walk down the aisle so it was quite a special moment for us both, I think."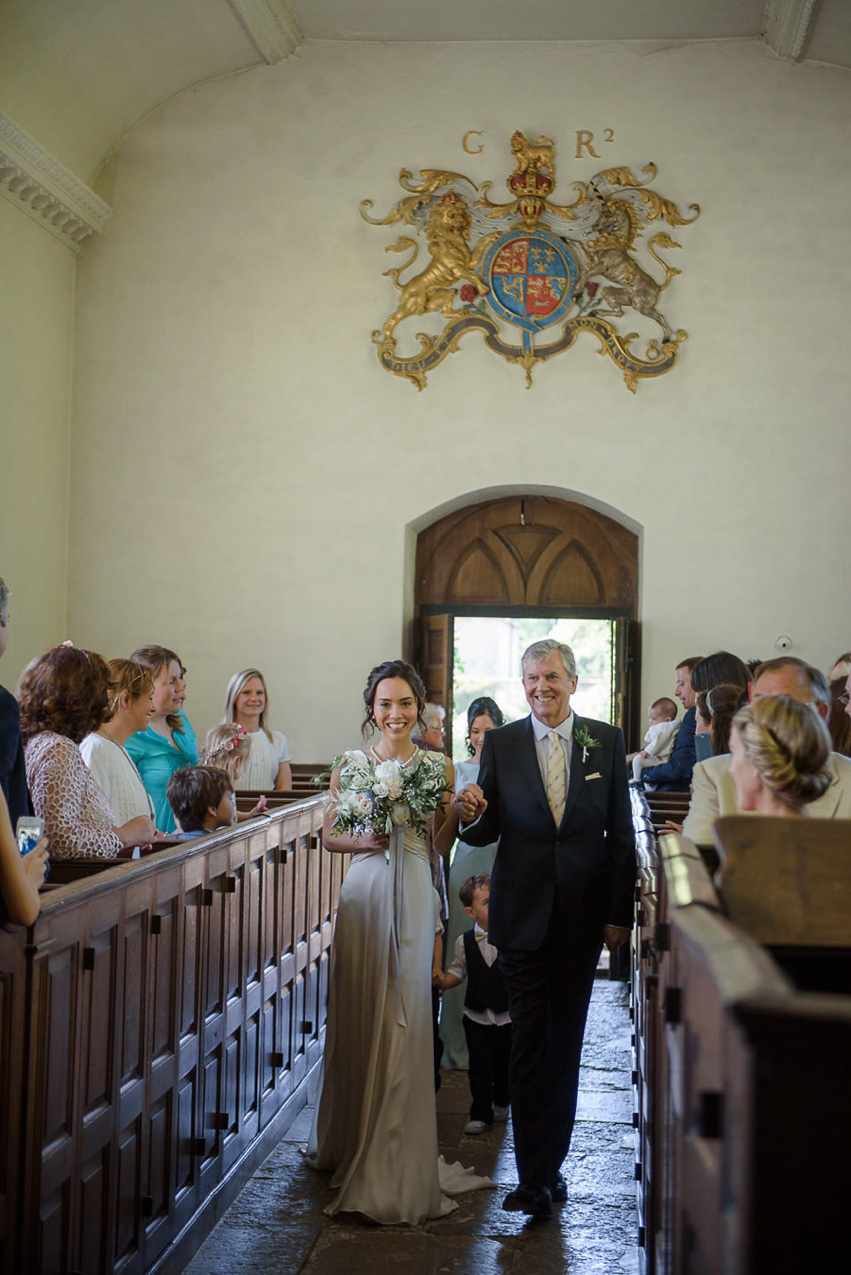 Erin and Alex opted for four readings; Corinthians 13:1-13, an extract from Captain Corelli's Mandolin, Blessing of the Hands and The Apache Wedding Blessing.
"Babington House's in-house wedding co-ordinator/extraordinaire, Becky, handles every wedding at the House and is absolutely wonderful. We cannot thank her and the team there enough."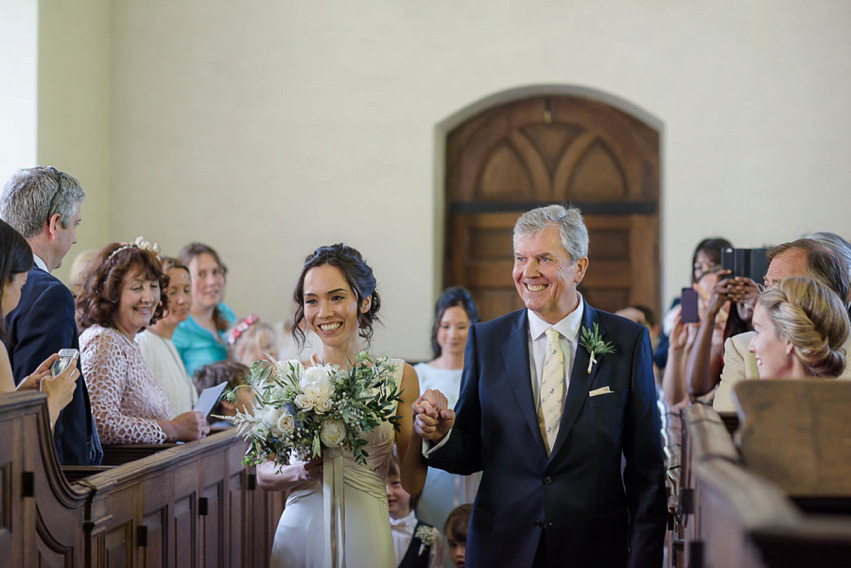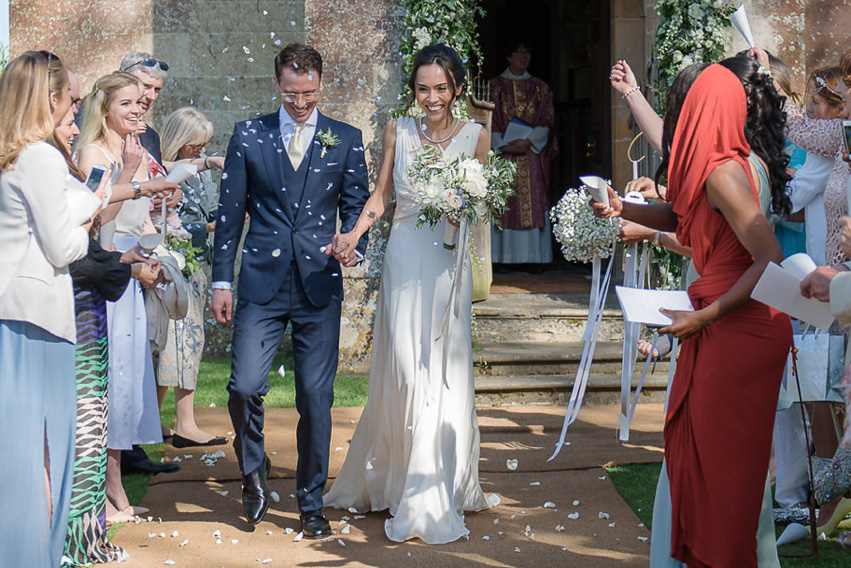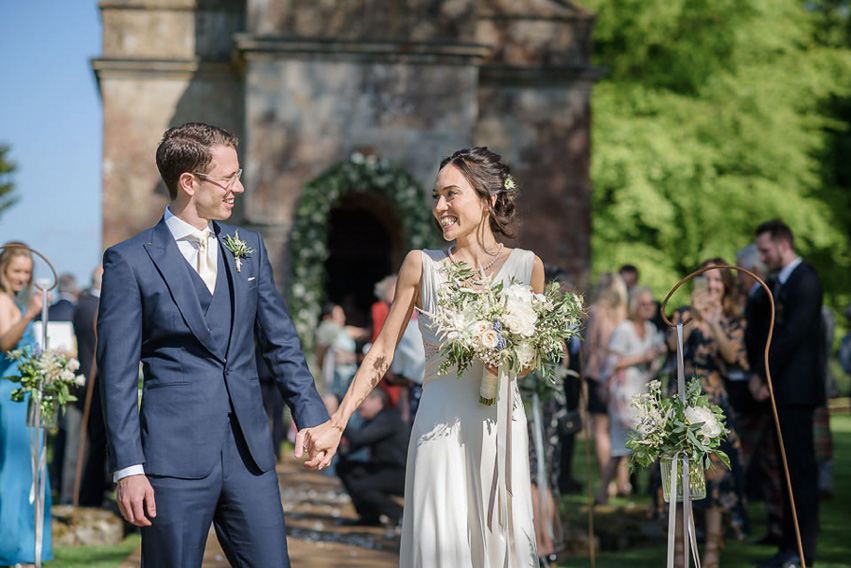 My mum, grandmother and cousin all wore kimonos, and we had a few men in kilts so that was a great photo op! We didn't have a colour scheme, nor did we think that was important."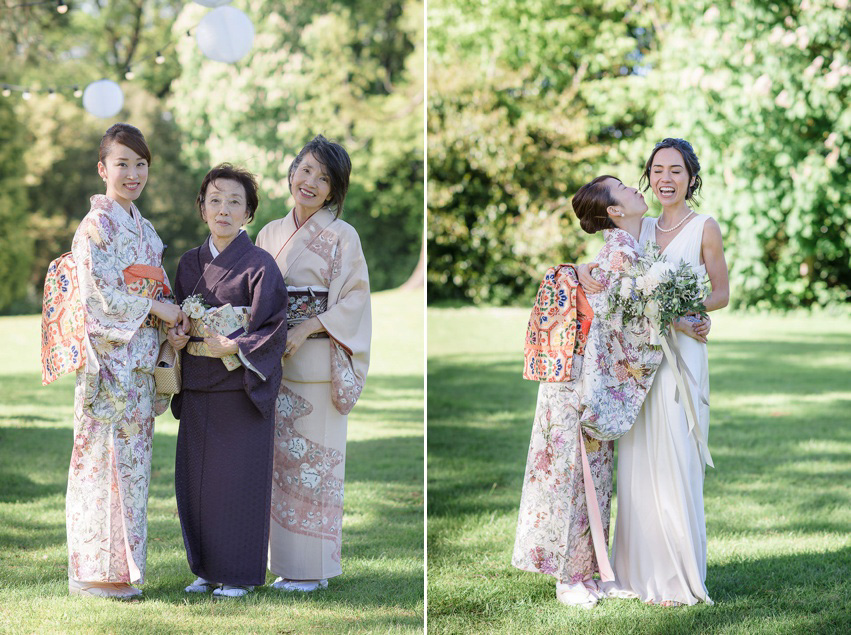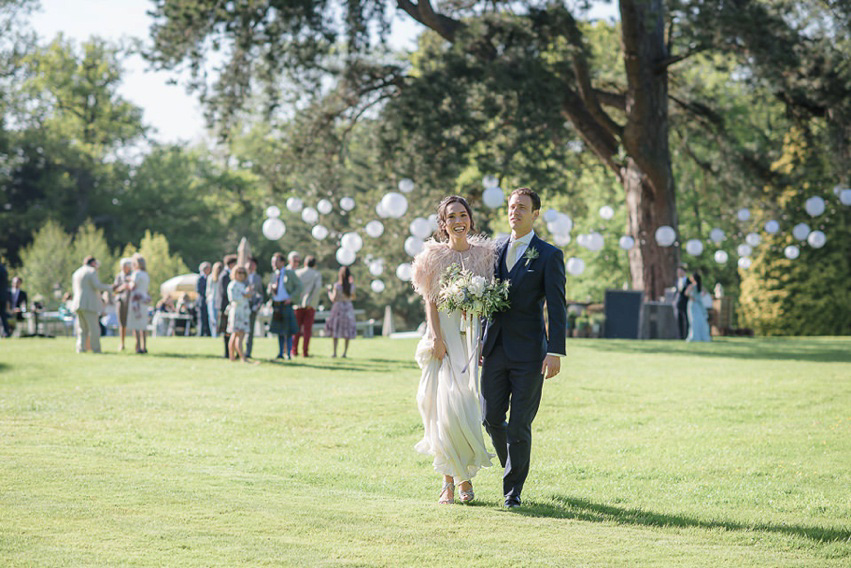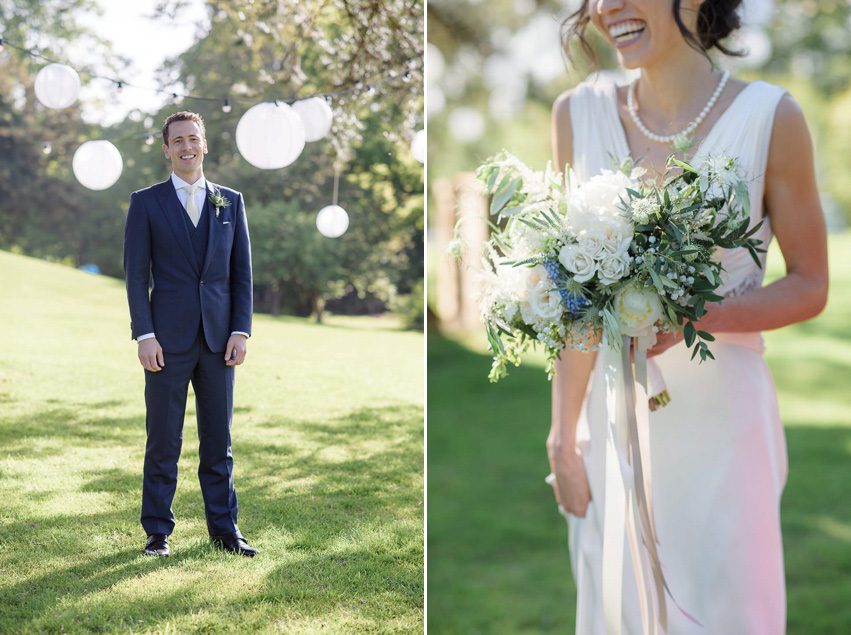 Erin and Alex decorated the grounds of the venue with strings of paper lanterns and festoon lights and the most beautiful seasonal flowers, created by Babington House's florist, Passion. Just look at that stunning floral archway: Wow!
"In the end we decided on gypsophila for its playful, dainty qualities and eryngium thistles to pay homage to Scotland (and it sort of sounds like my name!). Instead of a colour scheme we chose various flowers which complimented each other. I cannot take any credit for the finish though – I was blown away by the arch to the church and the table arrangements they had set – everyone agreed it was magical. Erin and the team from Passion did an amazing job!"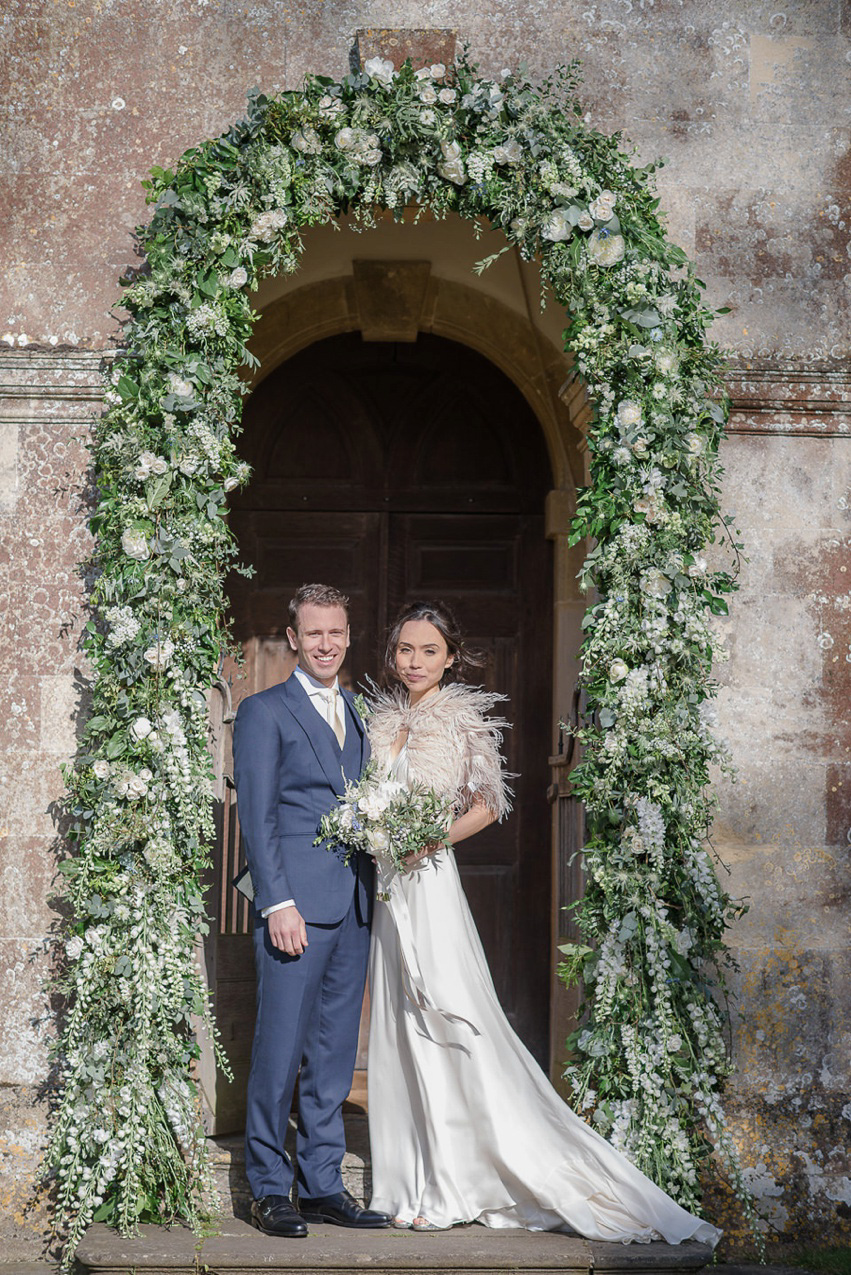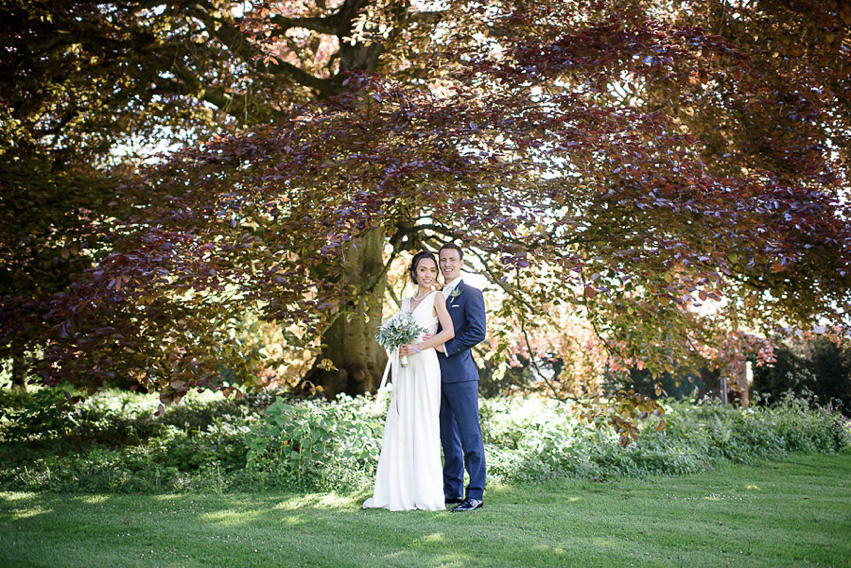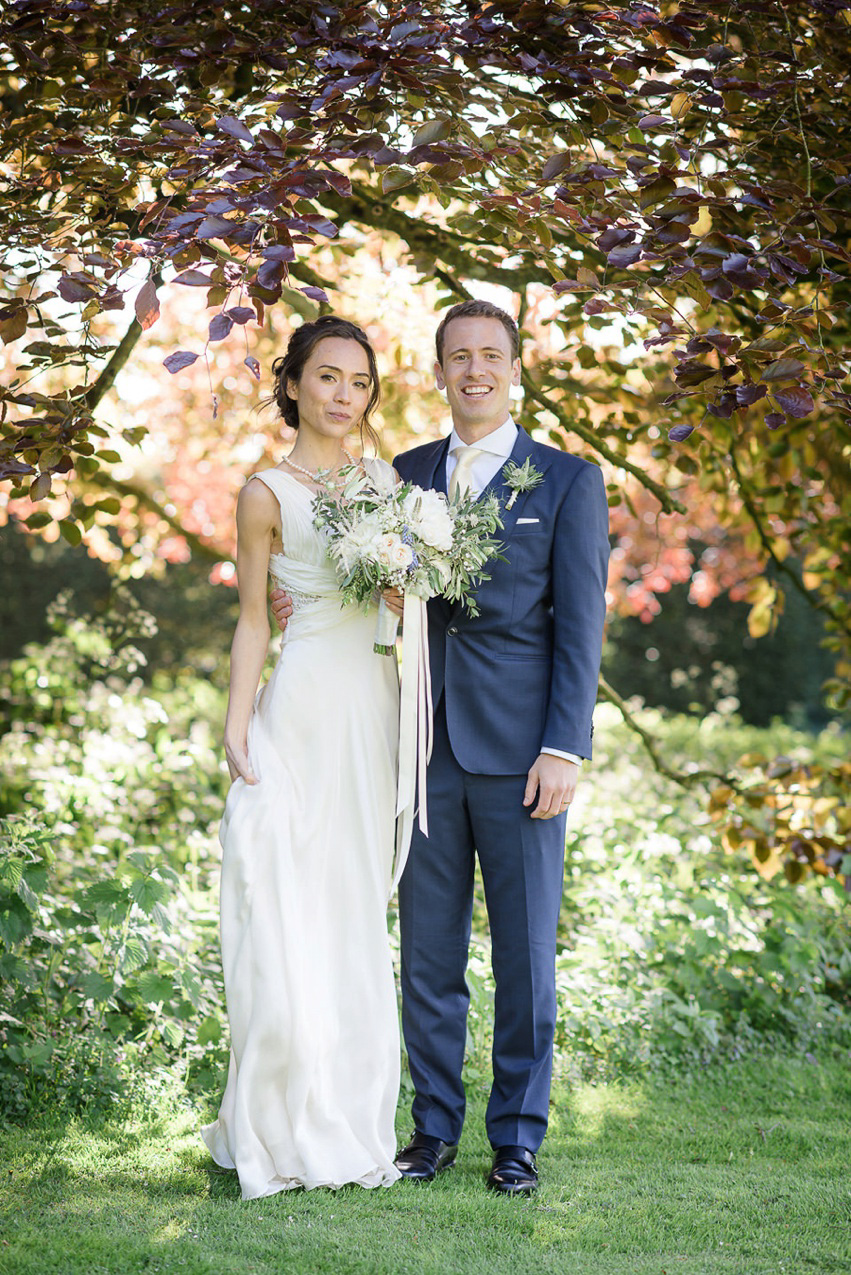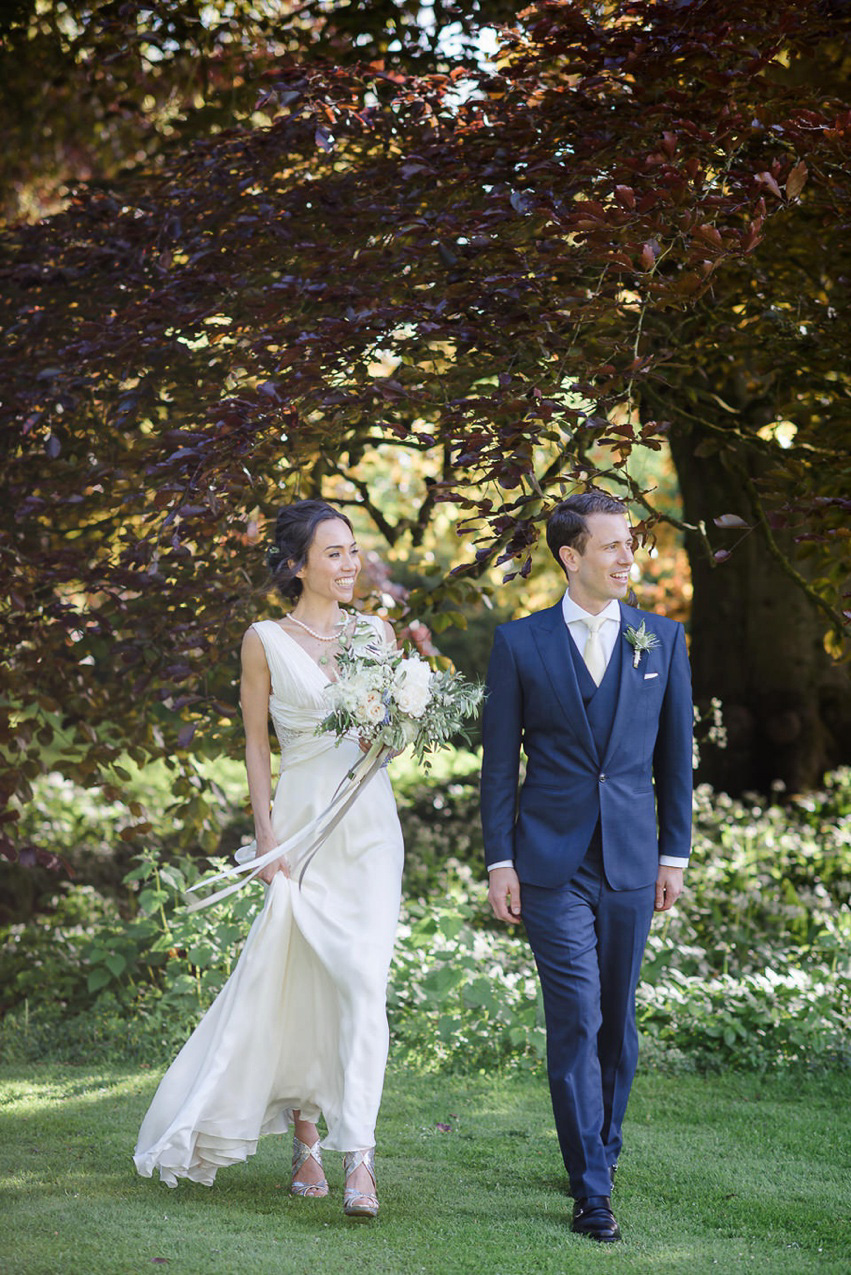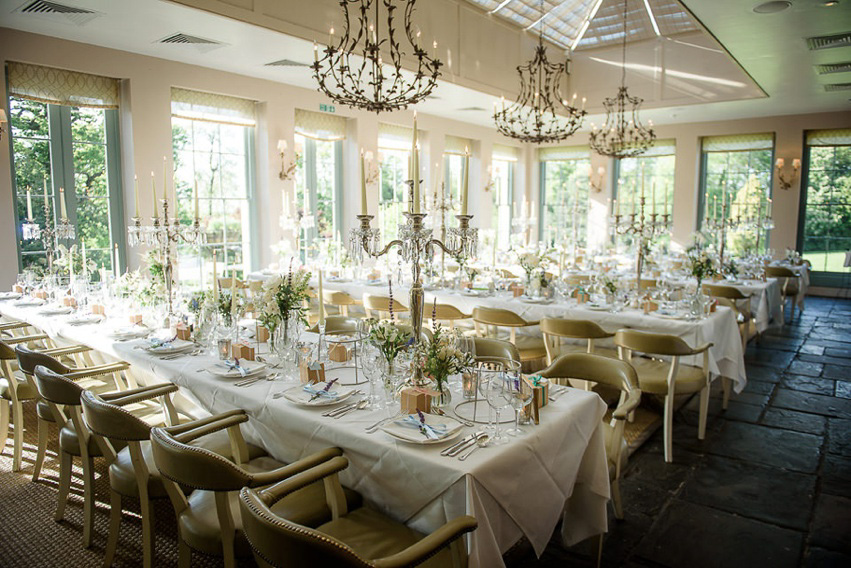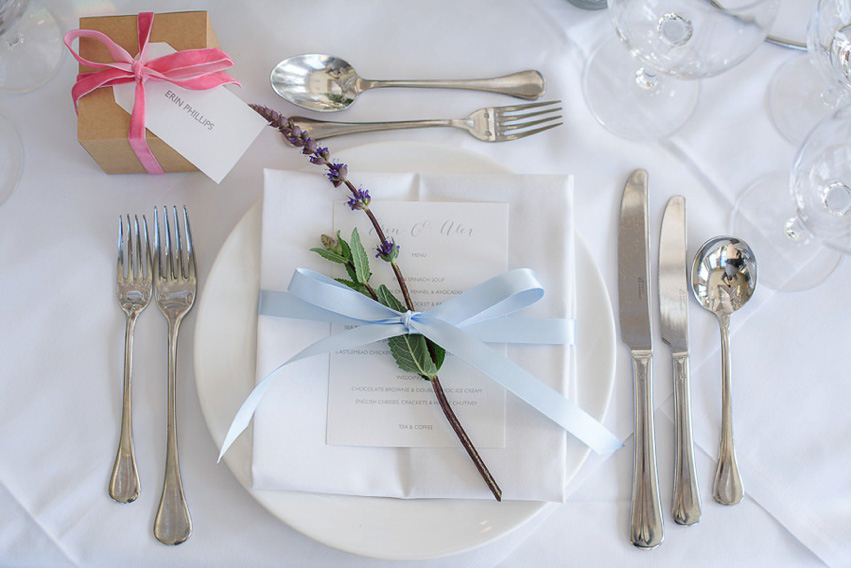 I am super impressed by Erin and Alex's mini fruit cake favours which were an international, collaborative effort!
"Alex's Mum, Jill, kindly offered to make our wedding favours with the help of Alex's sister Jessica. Each guest received an individual mini fruit cake which had been beautifully iced and intricately laced with sugar petals. The cakes were made in Edinburgh and driven down to Babington House, meanwhile Alex and I printed the name cards in Singapore and attached them to the ribbons used to tie the boxes, so it really was a masterful global operation! They went down a treat."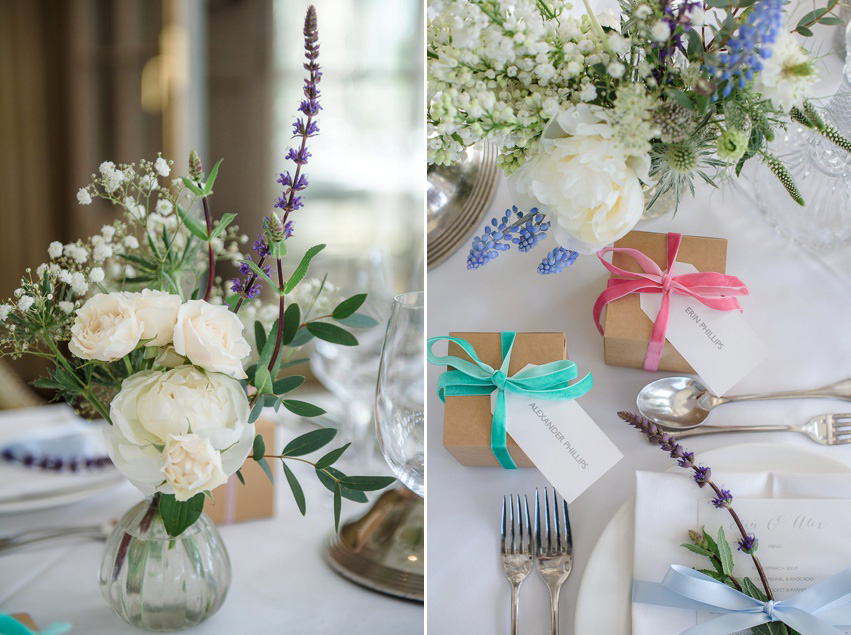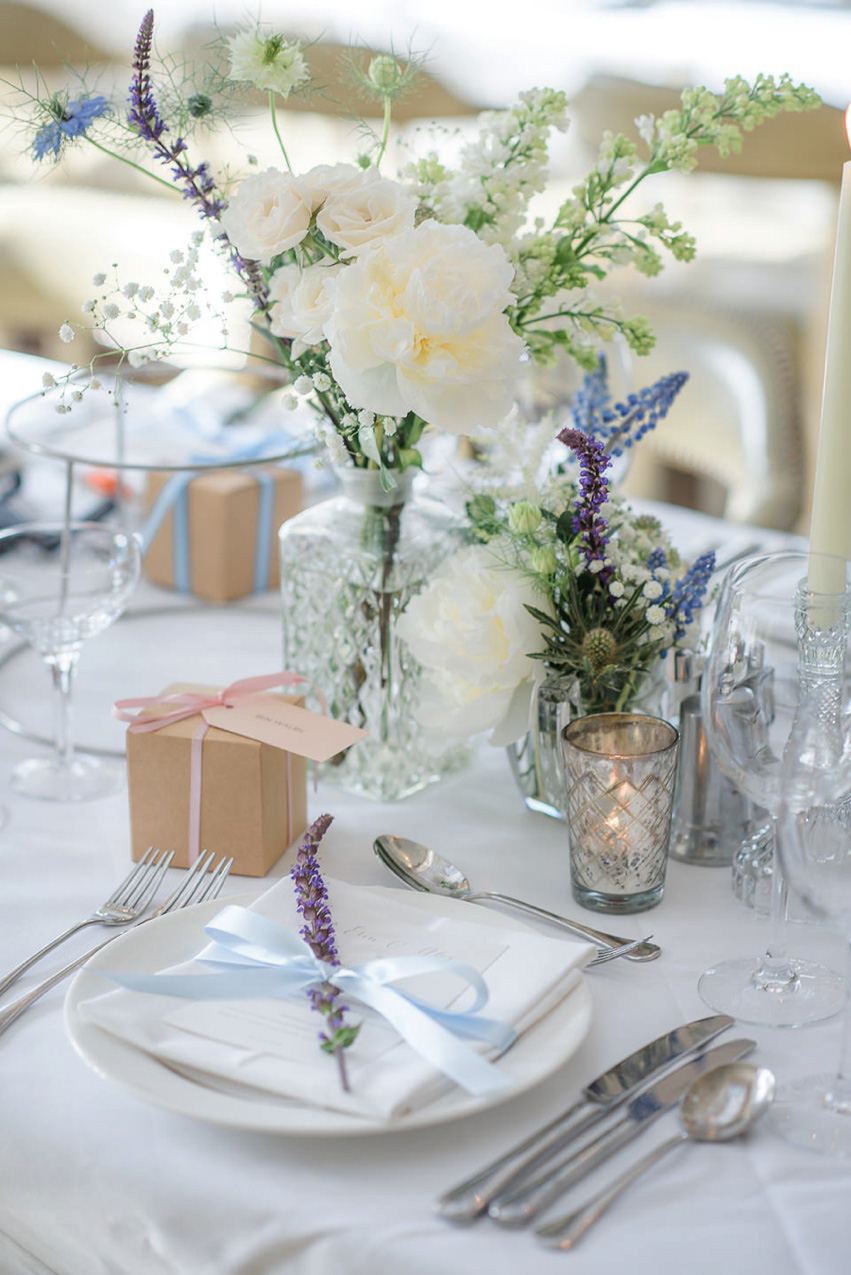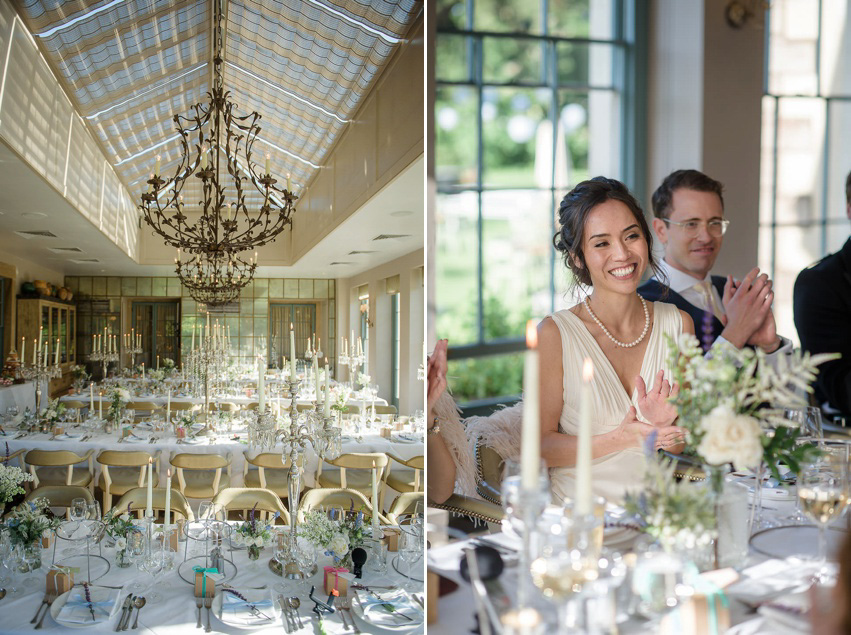 "The Babington House Kitchen prepared our fantastic feast and fabulous naked cake, both of which were praised by all! The cake was a simple Victoria sponge and summer berry combo and rested on a huge wood log which added to the playful, relaxed nature of the whole day. It was delicious – I must have eaten the whole top tier!"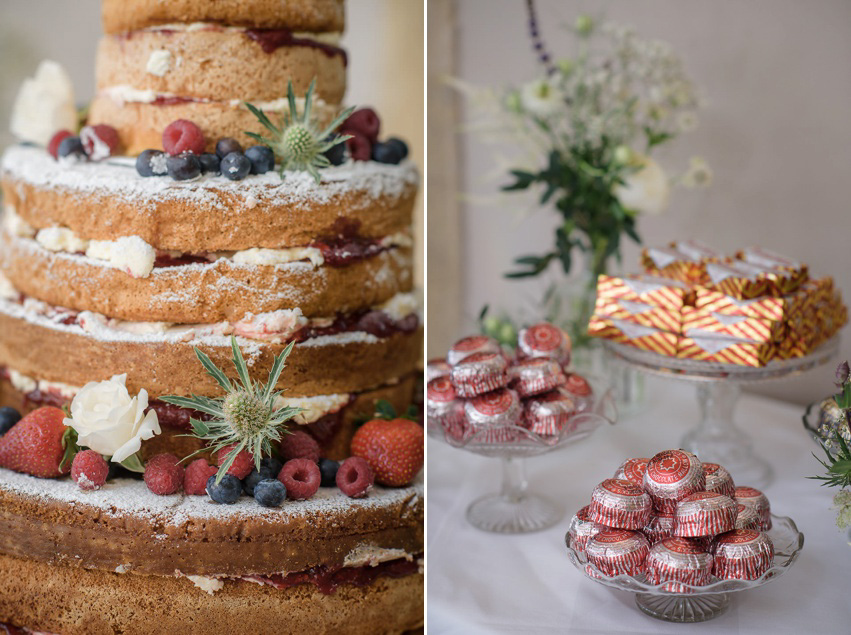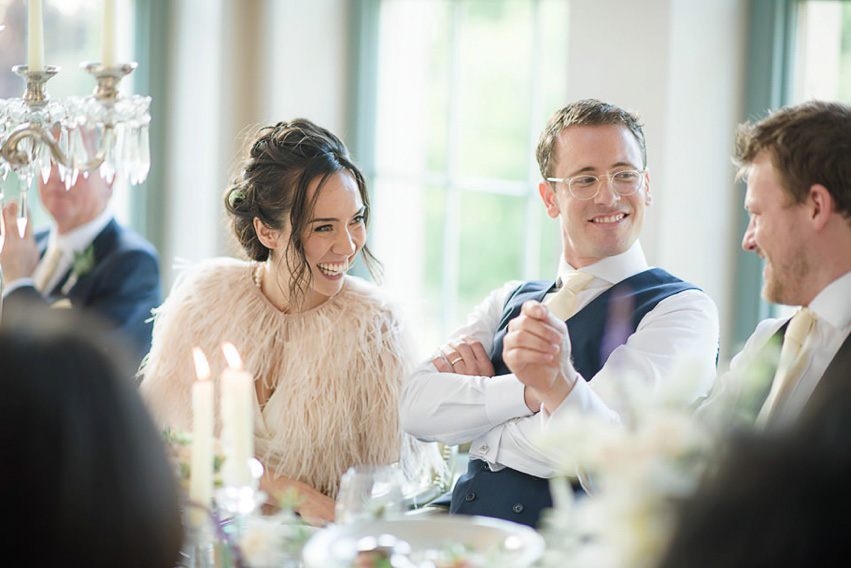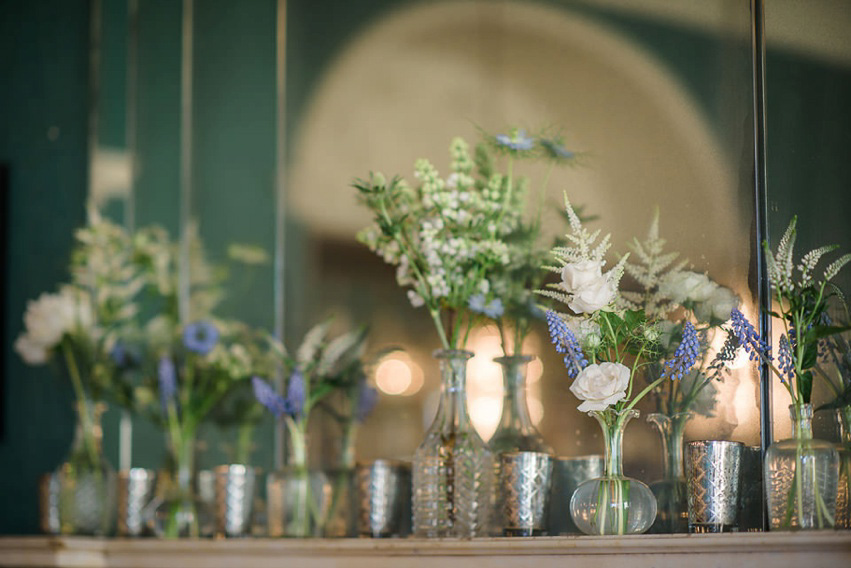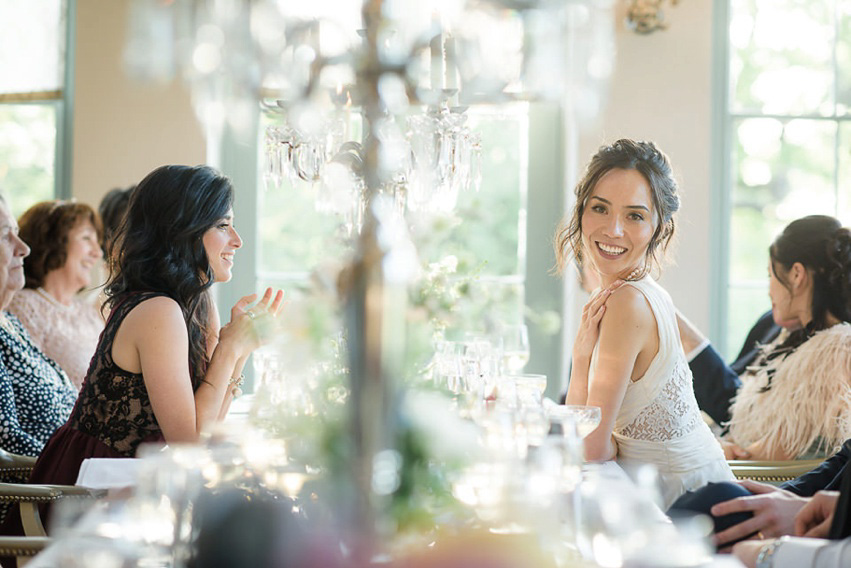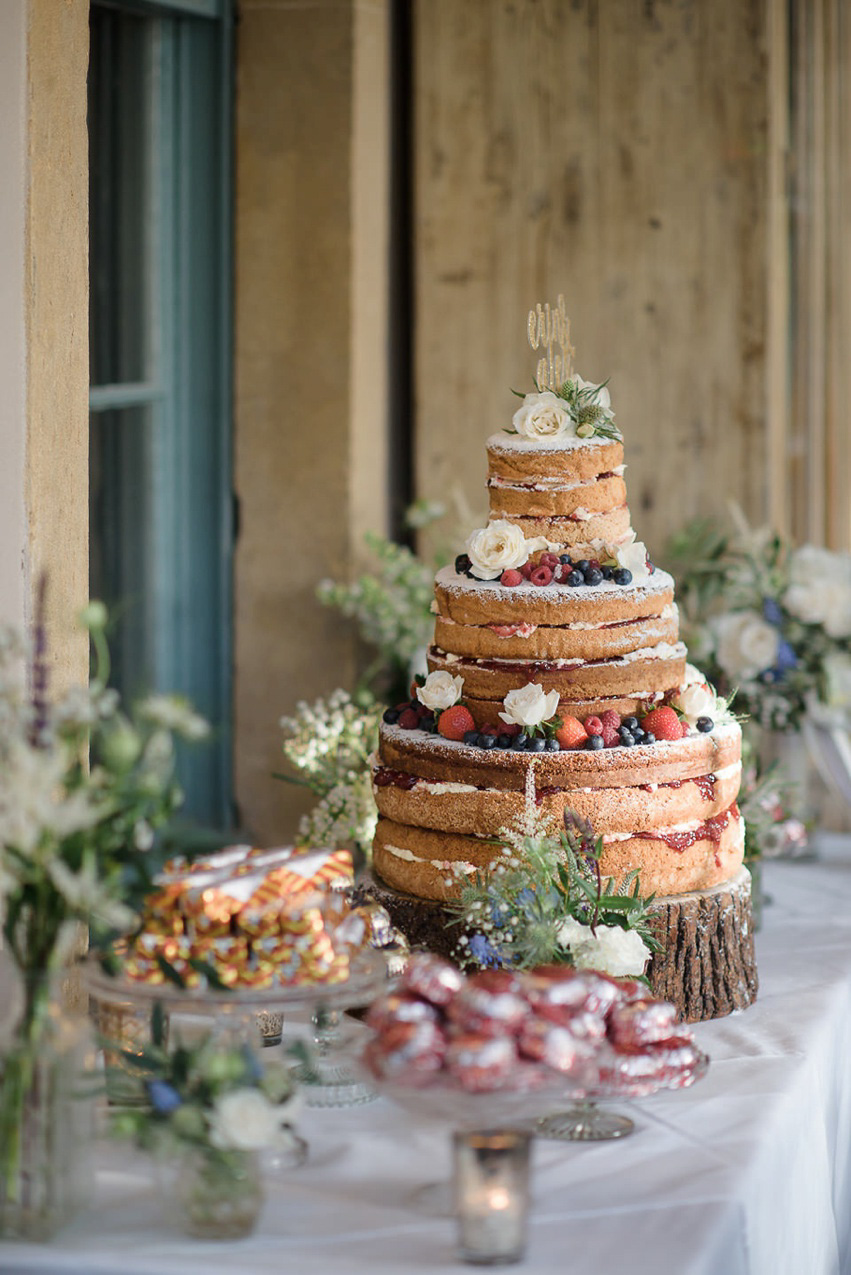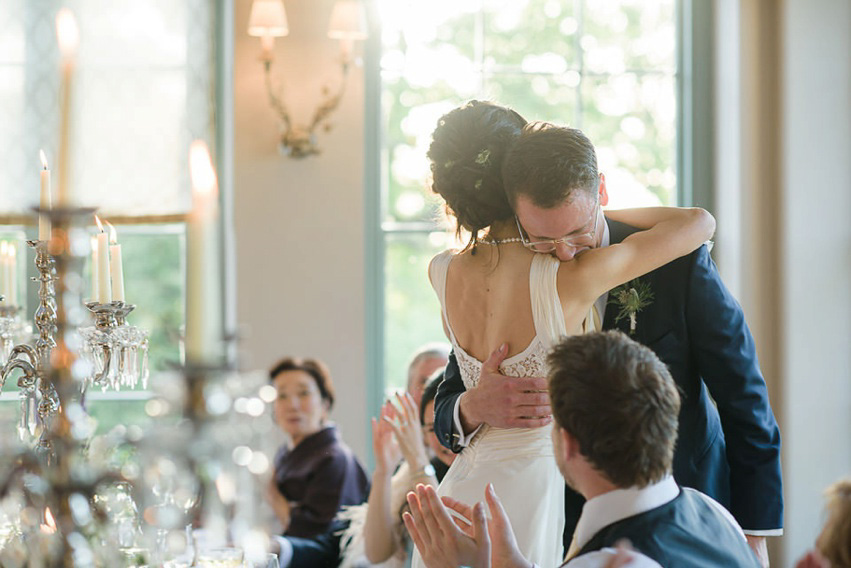 Erin and Alex held their wedding breakfast in The Orangery, overlooking Babington's fabulous gardens and lake. Our couple decorated the tables with ivory candles in elegant holders and dozens of crystal ware vases filled with beautiful flowers arranged by Passion.
"I rented an easel from Passion and hung hundreds of photos of mine and Alex's adventures together as well as pictures of friends and family who couldn't be there from a piece of string attached to the frame. I also laid out a guest book and a polaroid Instamax camera so that guests could take a few snaps and write a message in our book – it was really good fun reading through the messages afterwards!"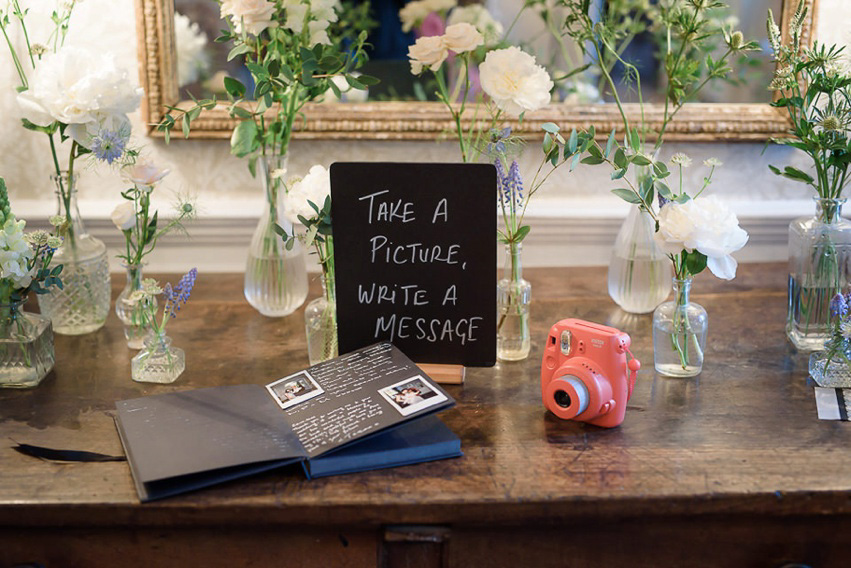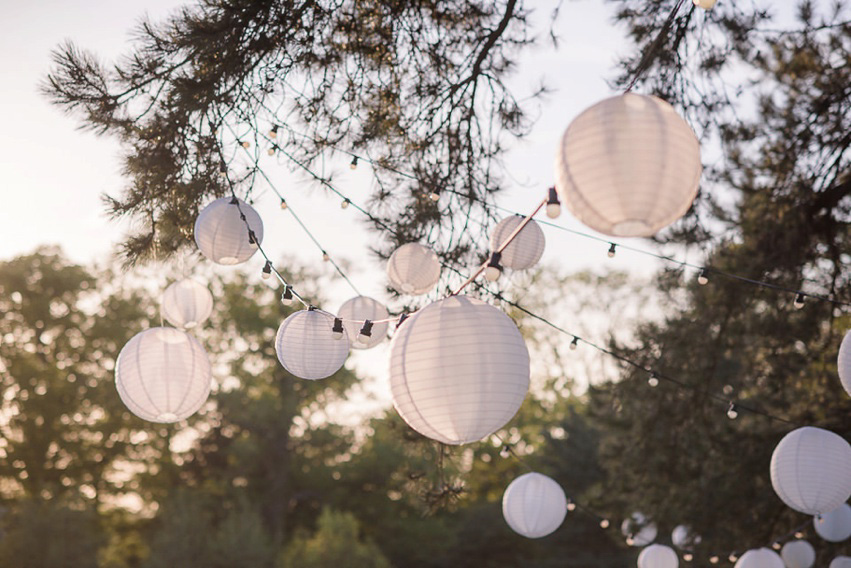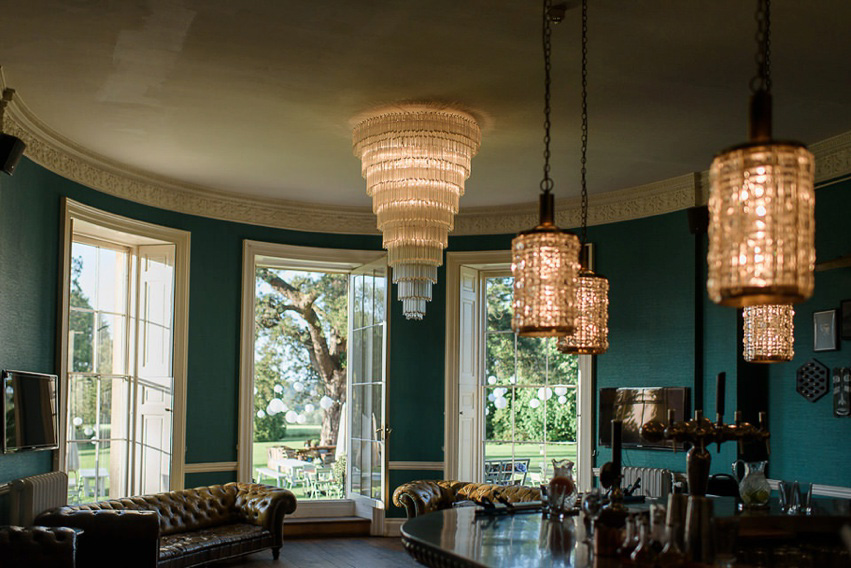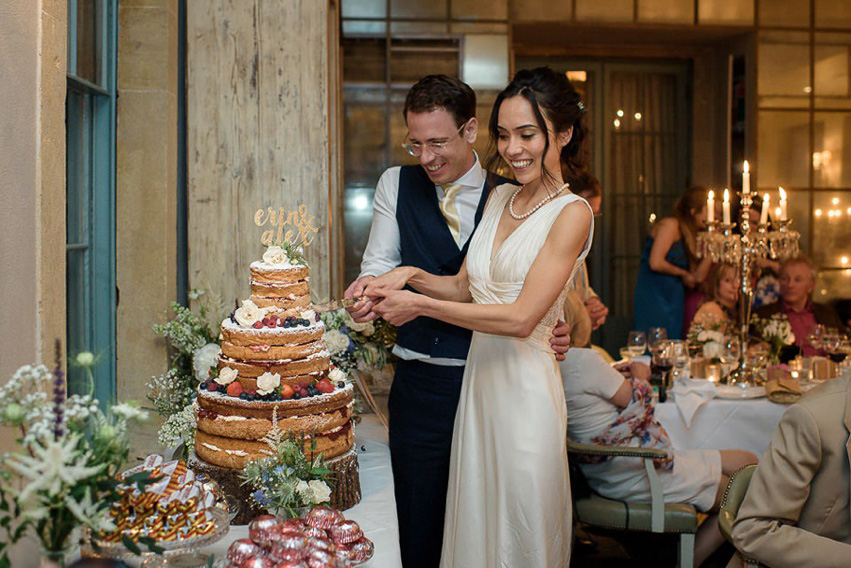 For their evening party, our couple enlisted the skills of Babington House's resident DJ, Nigel, from Stylish Entertainment. After much debate over whether to have a first dance at all, Erin and Alex took a last minute class a few days before the wedding and learned to waltz to the Etta James classic, 'At Last'.
"Neither of us are great dancers and we didn't like the thought of shuffling on the dance floor like we were at a high school prom! However, we loved Etta James' 'At Last', especially as we had been together for a decade before we got engaged so most people's reactions went along the lines of 'finally!' and 'at last!'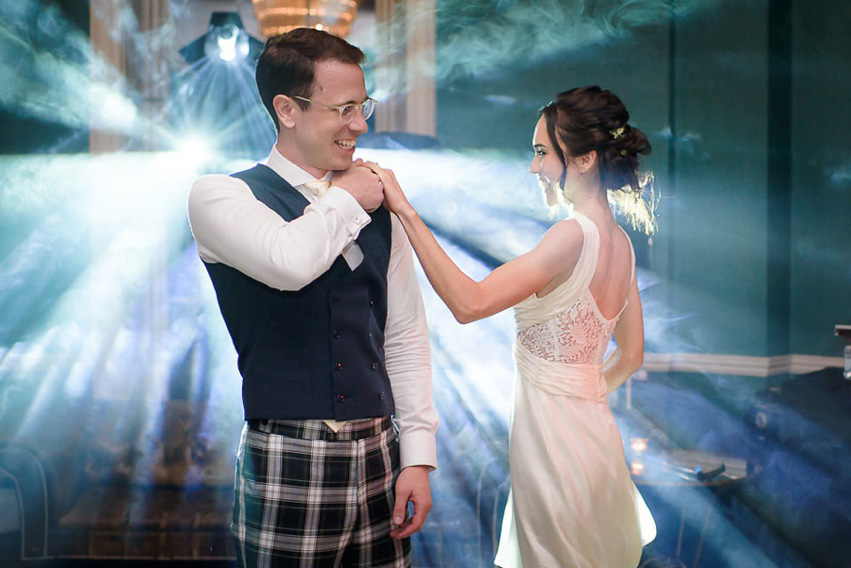 "Five days before the wedding, we had a spare afternoon so I booked a last minute dance class at the YMCA in London. An instructor called Paulius showed us a few moves and it was so much fun! I had never practiced with the dress or shoes though, so on the day we had to improvise on a few occasions, but I think we pulled it off…just!"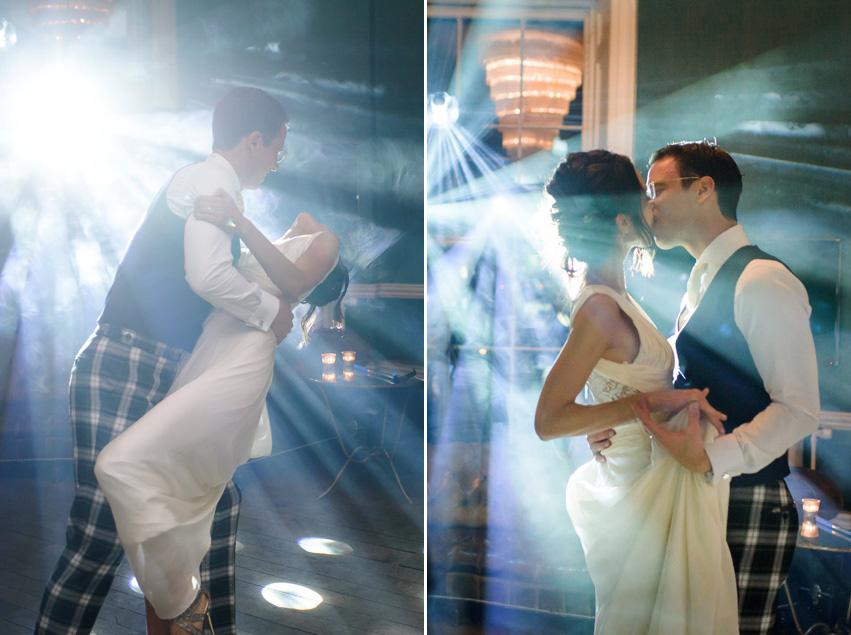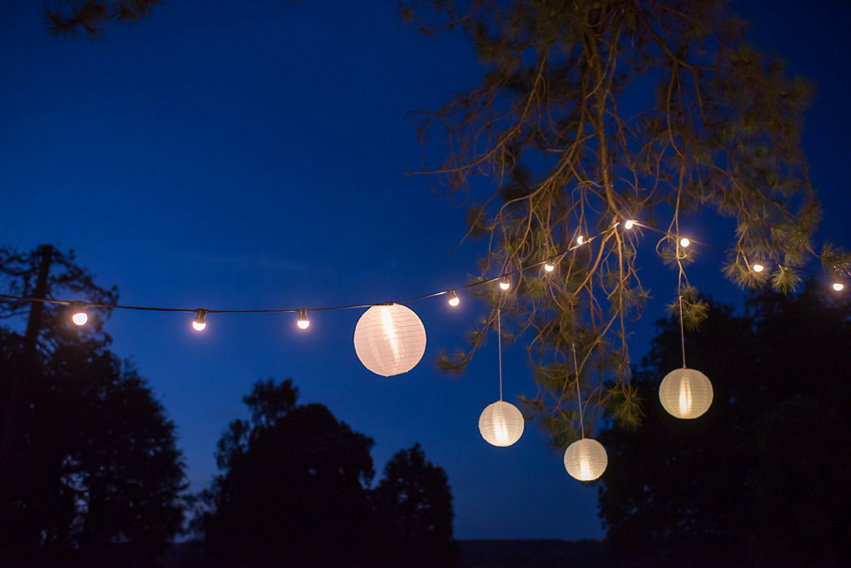 "One of my favourite moments of the day was when Alex and I retreated outside for more photos whilst the guests were still eating and we looked through the windows at them all – it was a quiet but really special moment."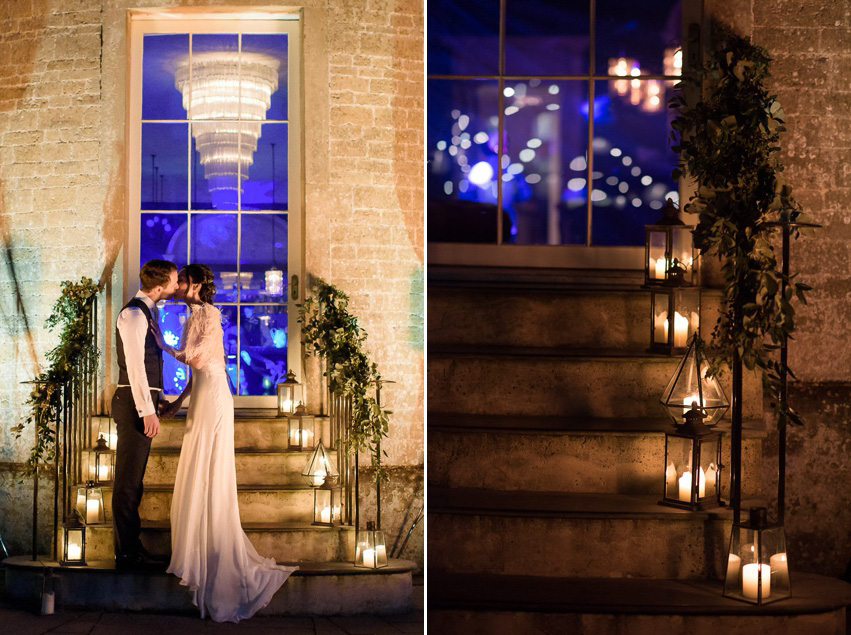 Words of Wedded Wisdom
"Don't fret about the small stuff, make the day what you and your fiancé want it to be, don't be pressured by what you think is expected of you.
I would really recommend taking a quiet moment on your own on the day of the wedding. I had an hour in the morning to myself, which sounds a bit sad, but it was great…I watched all the guests arrive from my window and told myself to take a mental note on everything!"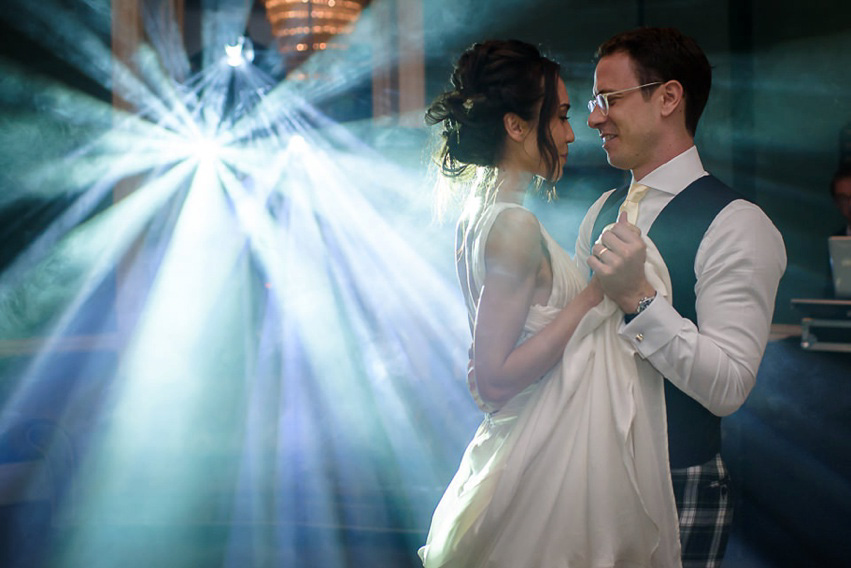 A huge thank you to Erin and Alex for allowing us to share their wedding and to Ria Mishaal for the beautiful images. If you'd like to see more lovely English country weddings, please click here.
Have a great rest of your week!
Annora x
Photographer – Ria Mishaal
Film – Gorgeous Films
Venue + Catering – Babington House
Wedding Dress – Theia Couture purchased from Belle and Tulle
Headpiece – Fresh flowers from Passion
Shoes – Jimmy Choo
Accessories – The bride's grandmother's pink pearls
Bride's Scent – English Pear and Freesia Cologne by Jo Malone
Groom – Suit + tartan trousers from the groom's tailor, Verdi, in Singapore
Bridesmaids – Ghost
Page Boys – Next
Florist – Flowers by Passion
Cake – Babington House Kitchen
Entertainment – DJ Nigel of Stylish Entertainment
Rings – Engagement ring from Ryder Diamonds, Hong Kong + wedding bands from Vivo Diamonds, Singapore
Stationery – Invites by Emily & Jo, table plans, menus and order of service designed by the groom
Hair Stylist – Melanie Giles
Makeup Artist – Vicky Draper