Are any of you lovelies feeling the stress of wedding planning is getting all too much and surely getting married should not make you this tetchy or teary? Well I'd like you all to take a deep breath in and be transported off to the stunning Isle of Skye for a few minutes to be calmed by how beautiful a simple day can be.
While most crave a gorgeous, sunny day, I think these Capyture images are all the more special due to their dramatic and stormy nature. They look like they've been taken for some arty, fashion magazine to me.
"Once we decided to elope, we knew that we wanted to go somewhere neither of us had been before.  We also wanted it to be simple and elegant where the natural beauty of the location would speak for itself.  We stumbled on some wedding photos from other couples who eloped to Scotland and we instantly fell in love with Skye."
Photography by Capyture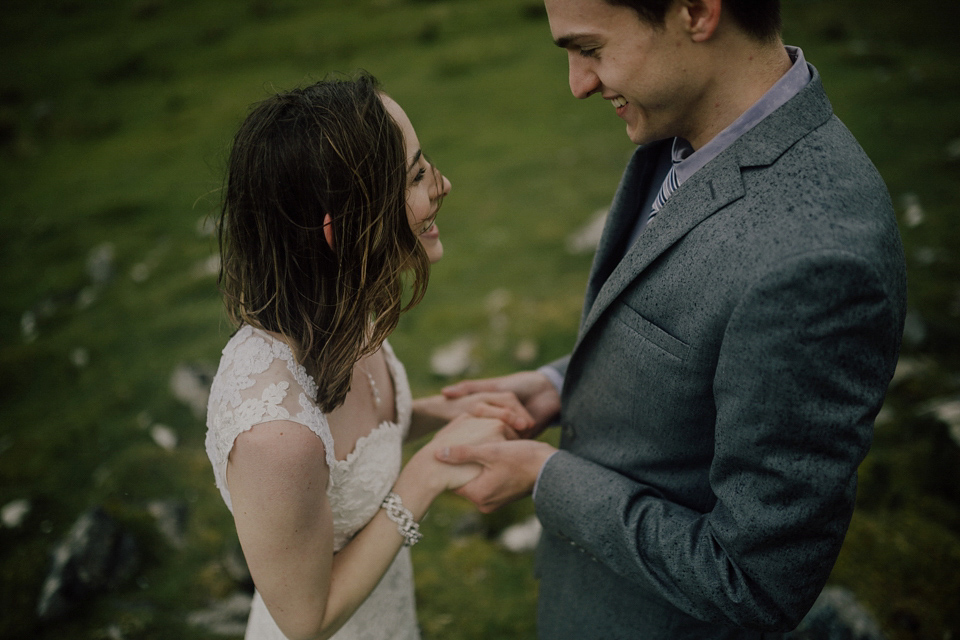 Our lovely American couple, Lauren, who is a wine laboratory technician, and Theodore, an aerospace tooling design engineer decided to elope to Elgol on the Isle of Skye and married in an incredibly intimate, outdoor ceremony on 7 June 2015.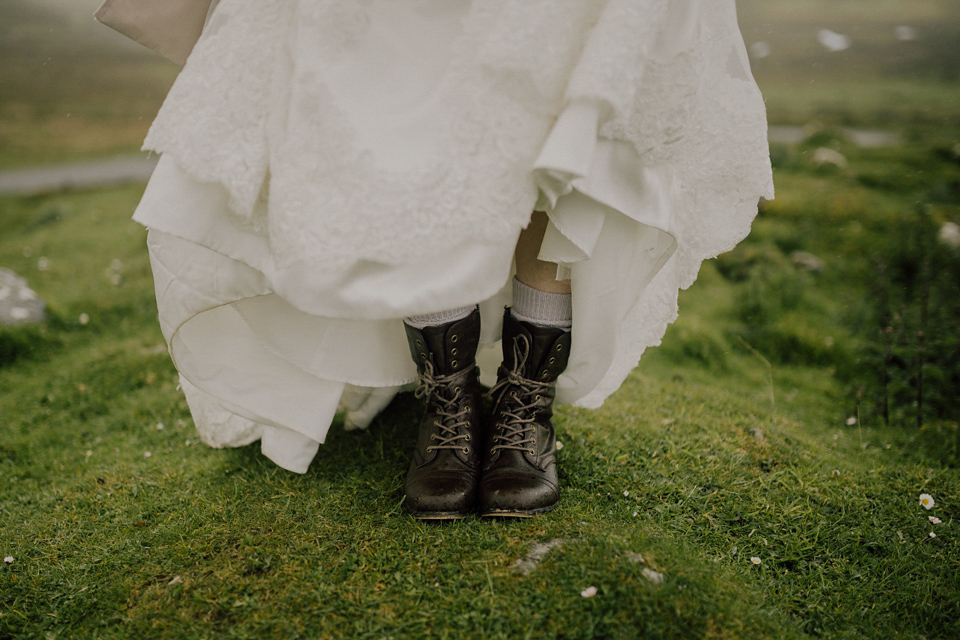 "The weather that day was windy and extremely cold.  We spent a lot of the time just hugging each other close, bracing against the wind.  It was charming in a way, because we got to spend so much time just holding each other, sharing all the special moments together. Despite the weather, everything about that day was perfect in its own way.  I don't think we would change it for the world."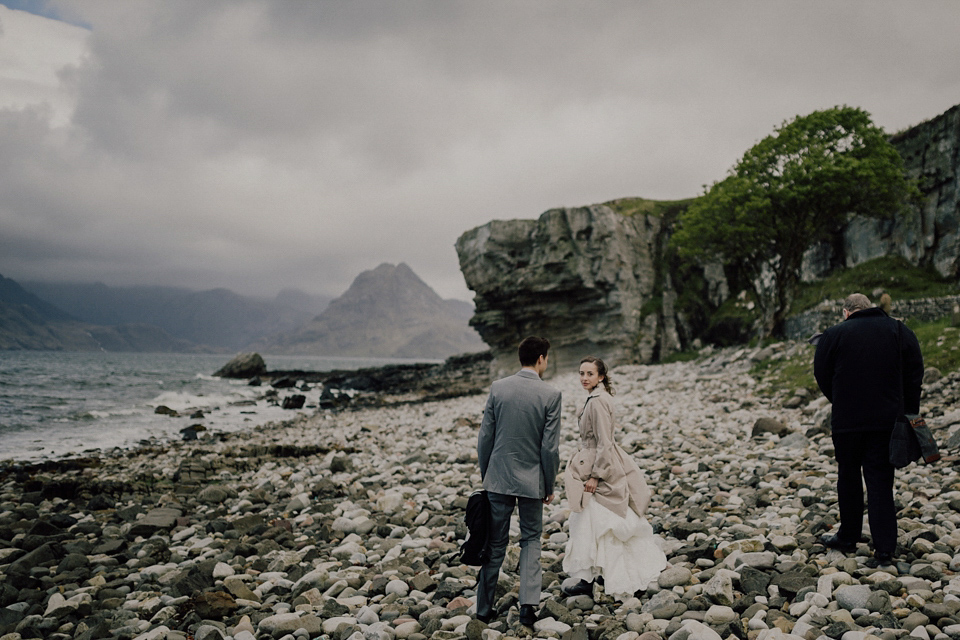 "Then we started fantasising about all the beautiful places we could go, like Greece, Iceland, Italy…and then the decision was made.  So I suppose, we were inspired by our desire to make the day our own; to be true to ourselves.  We are both simple, practical people, and we wanted our day to be about us, not about the flowers or the food."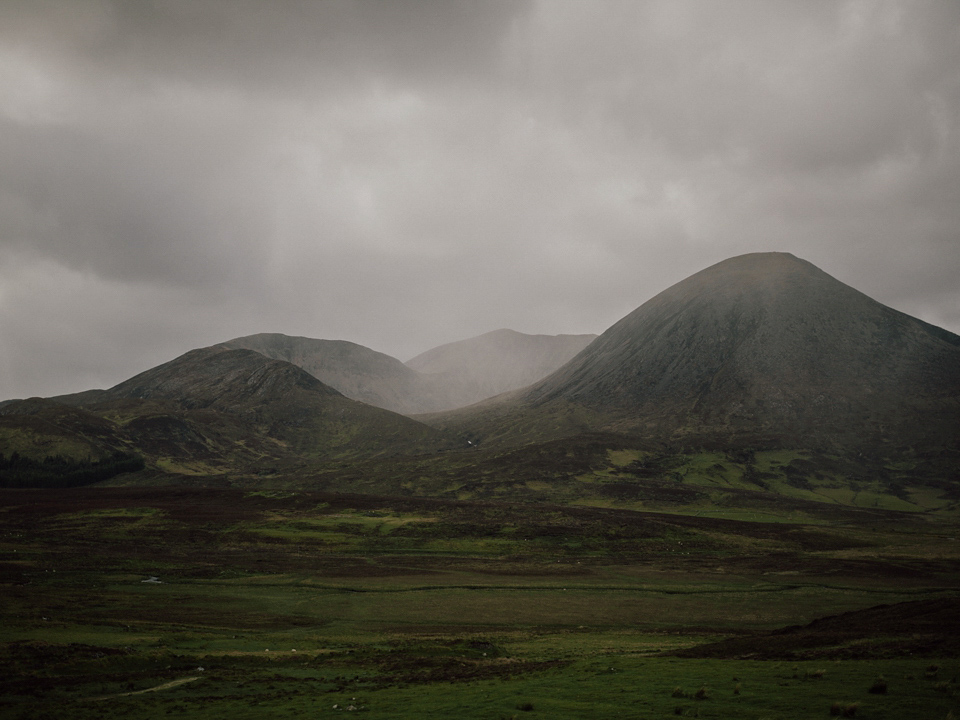 "With that in mind, after doing more research and discovering the beauty of Skye, we decided Scotland would be the perfect place for us to get married.  The paperwork required wasn't too difficult to complete and the scenery was incredible.  We knew it would be the best place to have a simple and elegant outdoor ceremony."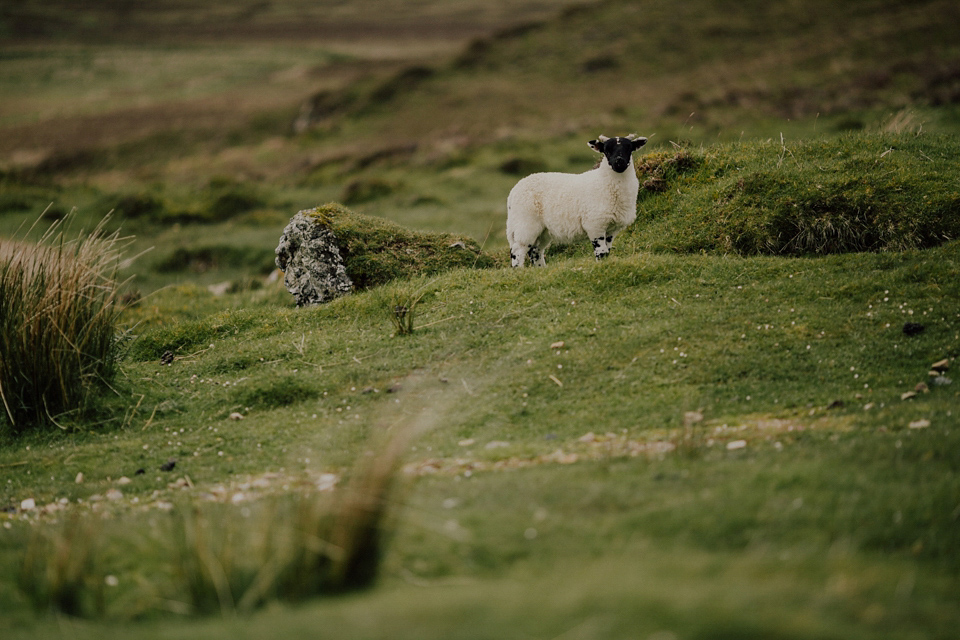 "We discovered our photographers Robby and Marina of Capyture through Kitchener Photography.  They were so charming and accommodating.  When the day finally arrived, they made us feel so comfortable.  It was also fun getting to know them and making new friends in the process.  And the photos turned out beautifully! 
They were able to capture all the raw beauty of day and our surroundings.  They have a great eye for detail, and they know how to capture even the smallest special moments.  Friends and family saw the photos and said that it felt like they were there with us."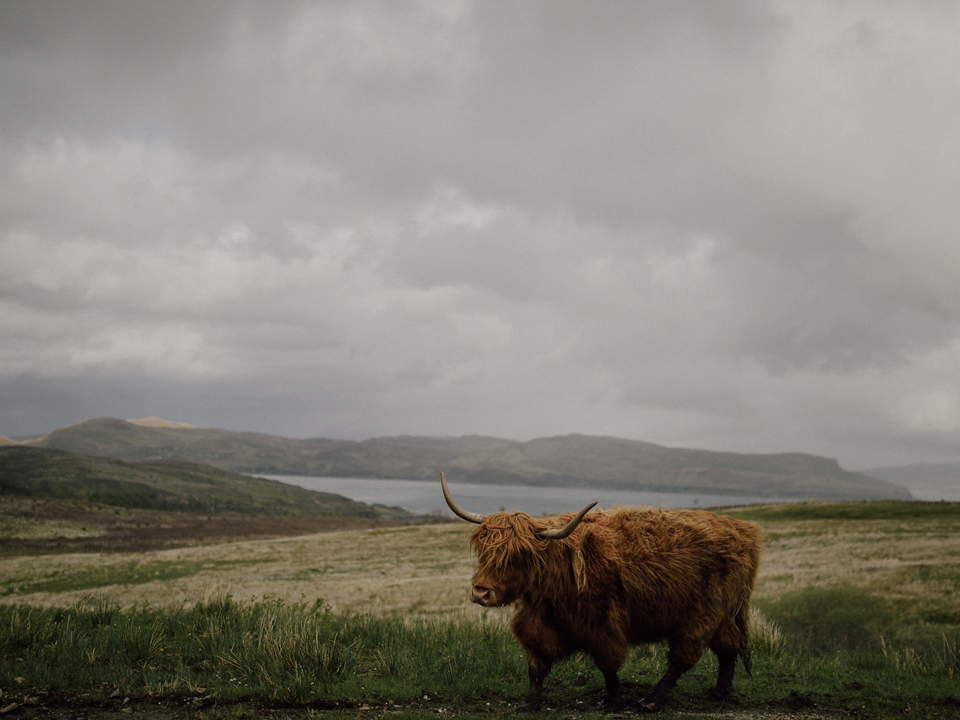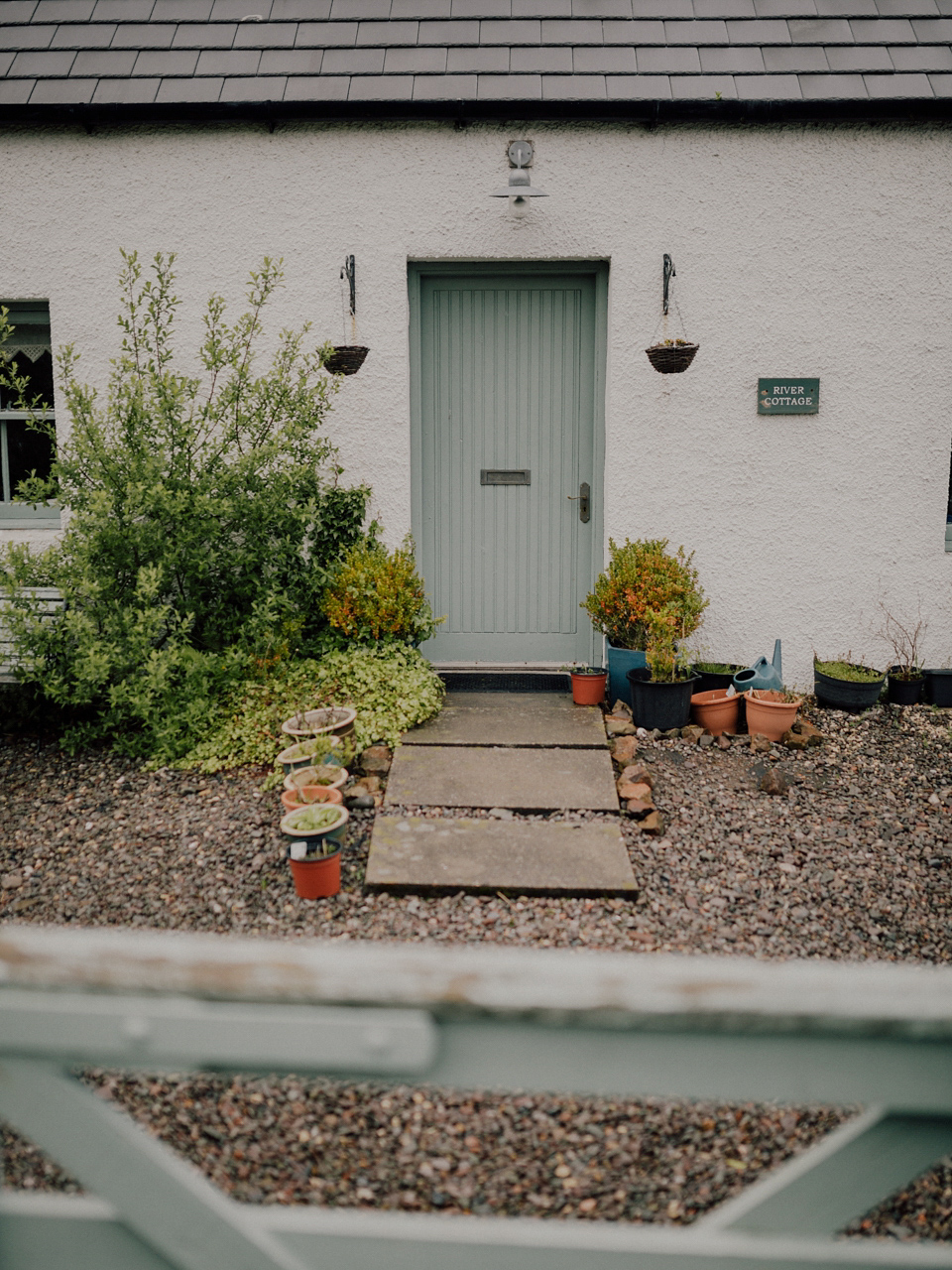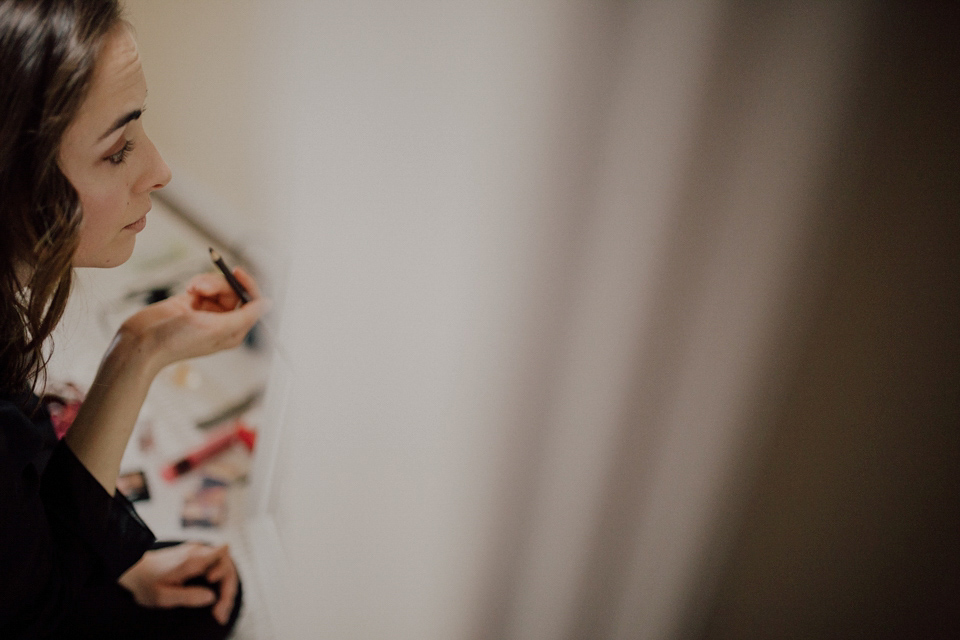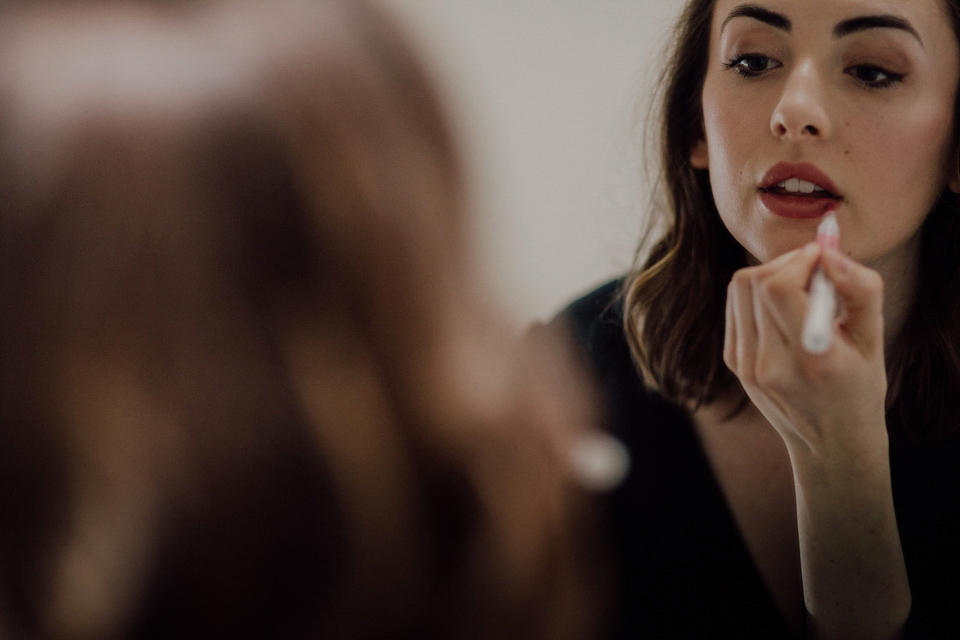 As a pair of heels was not an option in this wild landscape, our lovely bride chose a pair of sensible Steve Madden lace-up boots. I don't know about you, but the contrast of a delicate wedding dress teamed with sturdy footwear always puts a smile on my face.
Lauren bought her pretty dress from The White Flower boutique in San Diego and had a seamstress redesign the top to create more of a Queen Anne neckline that was made from tulle topped with lace appliqués taken from the bottom of the dress after it was hemmed.
"I knew this was the dress for me, because I didn't want to take it off.  Since I'm petite, I wanted a gown that would flatter my small frame with just enough lace, but not too much to make the dress look heavy."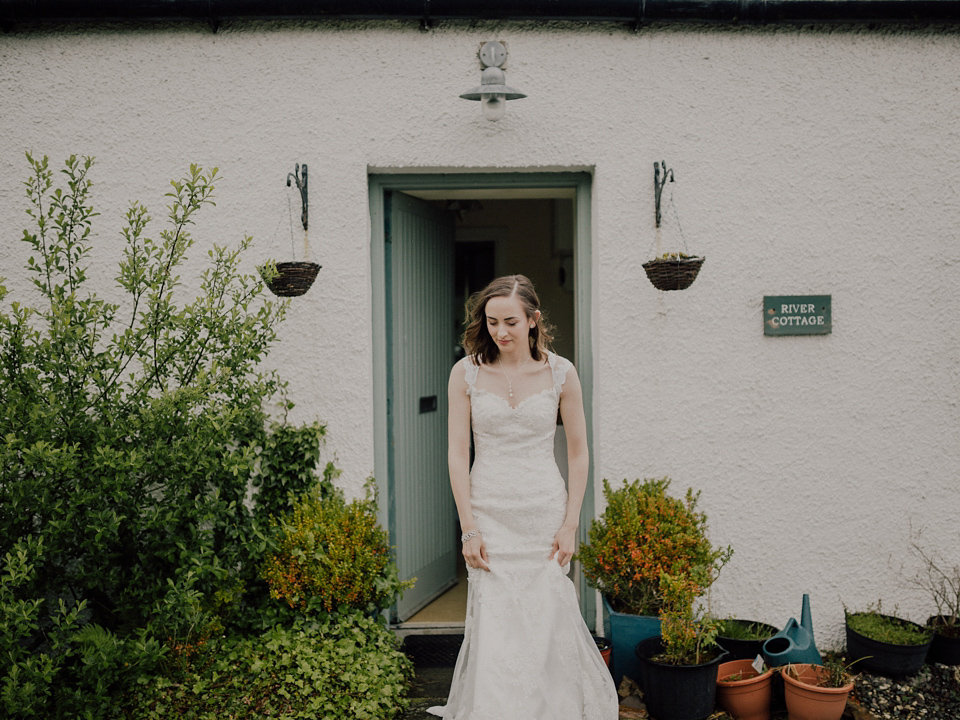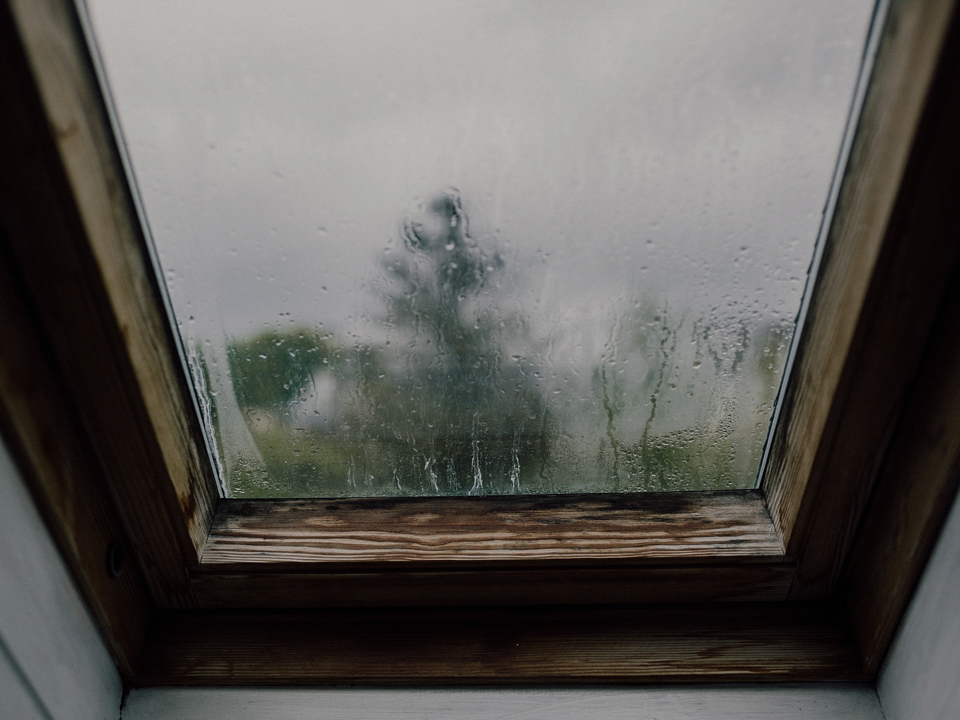 "Theodore and I met at Seattle University in the spring of 2011.  We both worked with the campus safety office and Theo supervised my on-the-job training sessions.  The long night shifts gave us plenty of time to get to know one-another.  It seemed we could talk for hours, like we had known each other forever."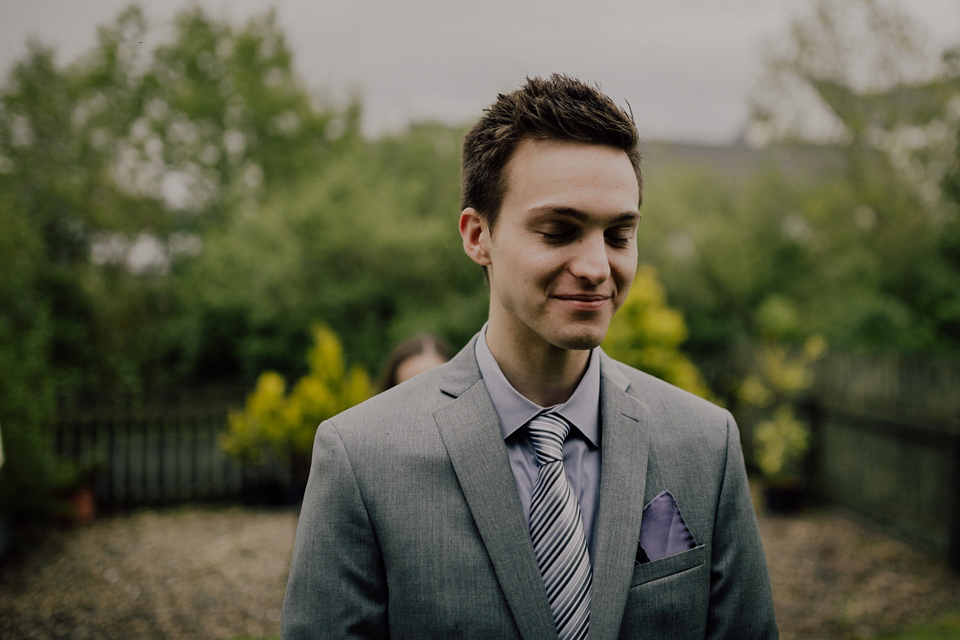 "For both of us, falling in love was like coming home.  We got engaged in Spain, Christmas of 2013, so our engagement lasted about a year-and-a-half.  We planned to have our wedding in January 2016, but with all the stress of planning, in February 2015 we decided to elope instead."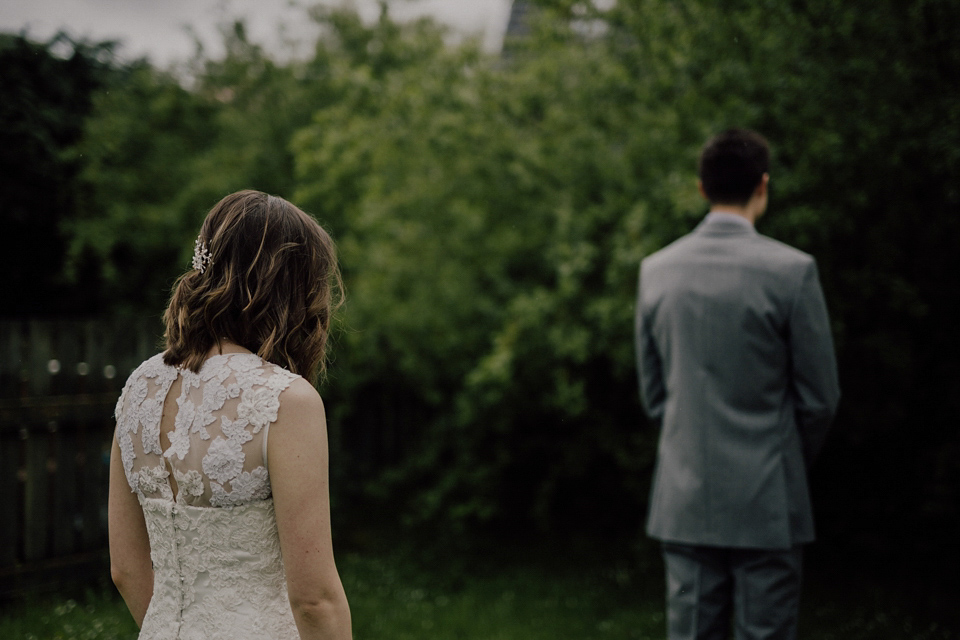 "As we were planning our traditional wedding, it seemed every decision we made was less about celebrating our marriage and more about satisfying everyone else.  We couldn't justify the expense if it wasn't going to make us happy.  So one day, we were on the phone discussing wedding plans and I said to Theo, 'Honey, why don't we just elope?'. 'Okay….', he said. 'No, I'm serious.'  I said. 'Me too' – he replied."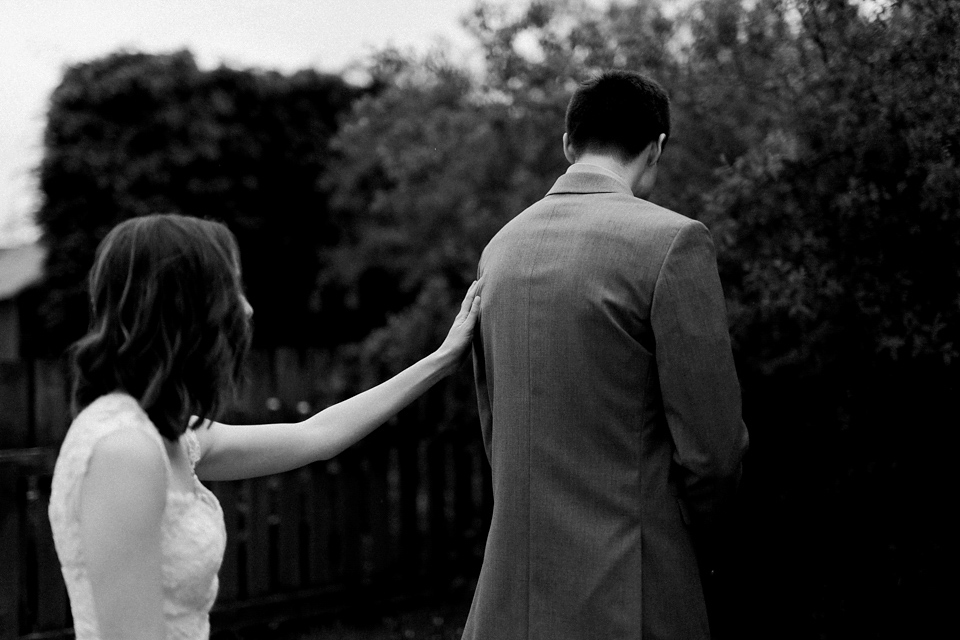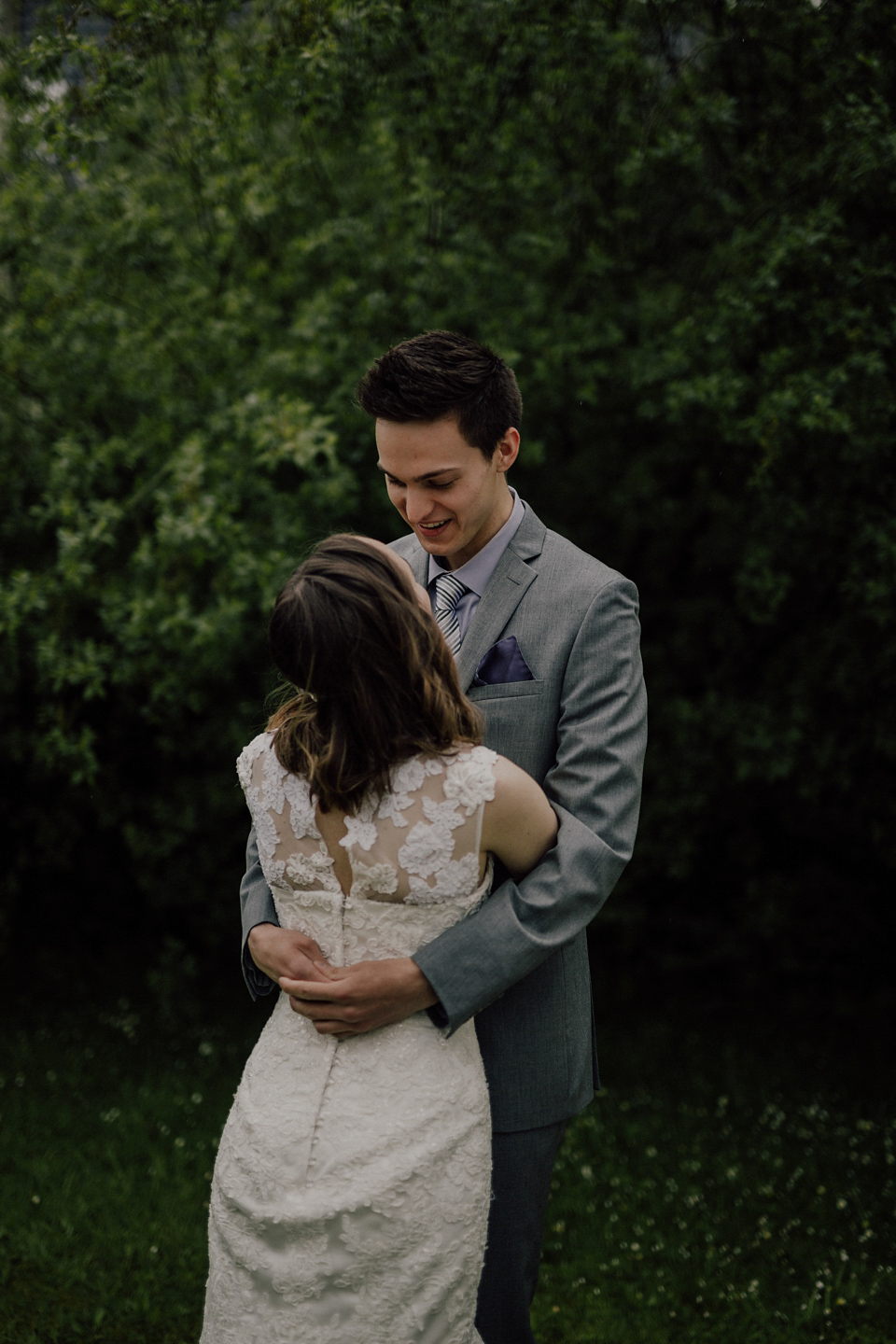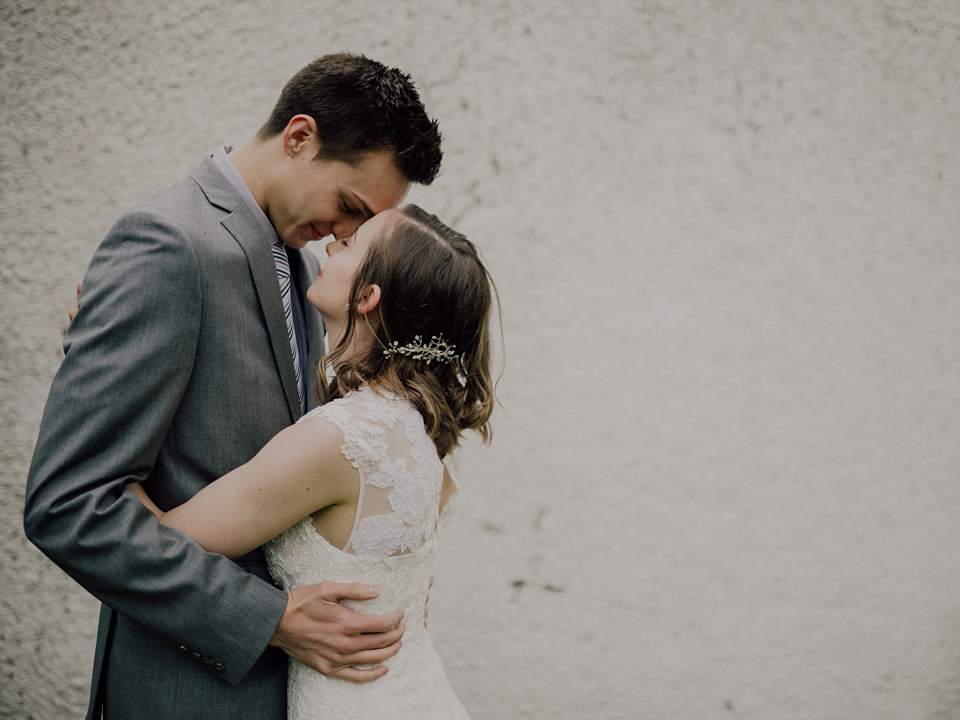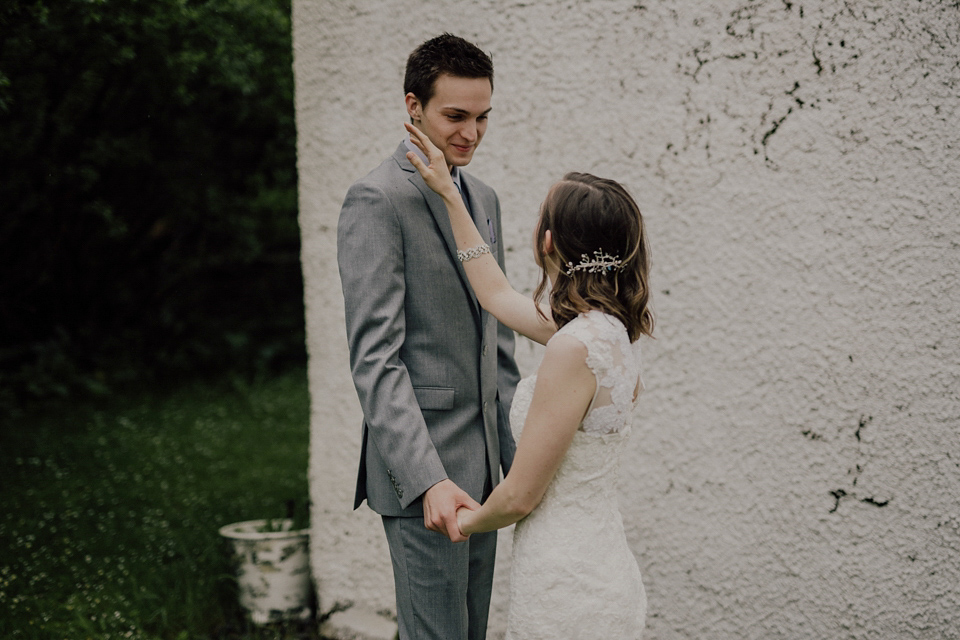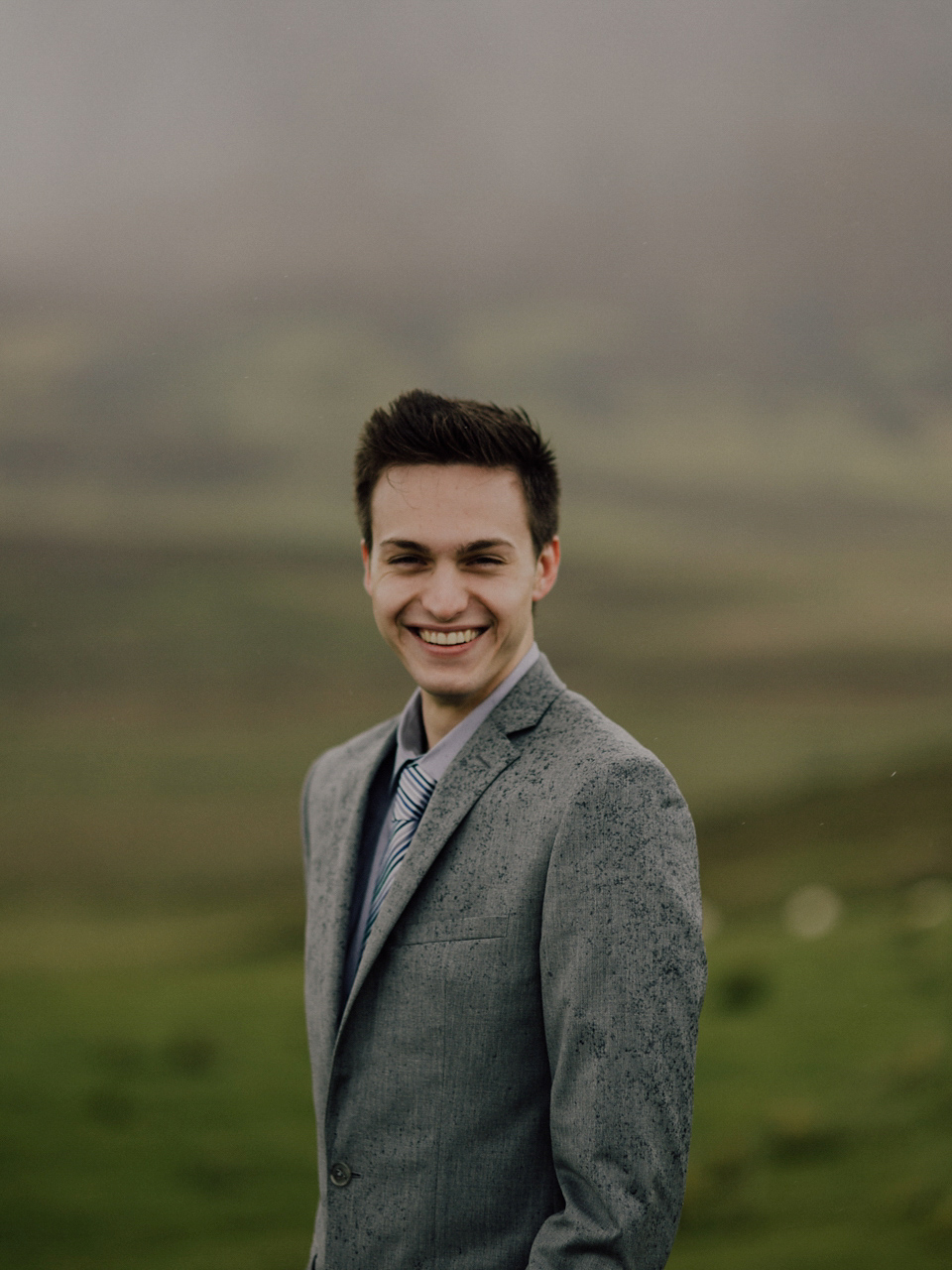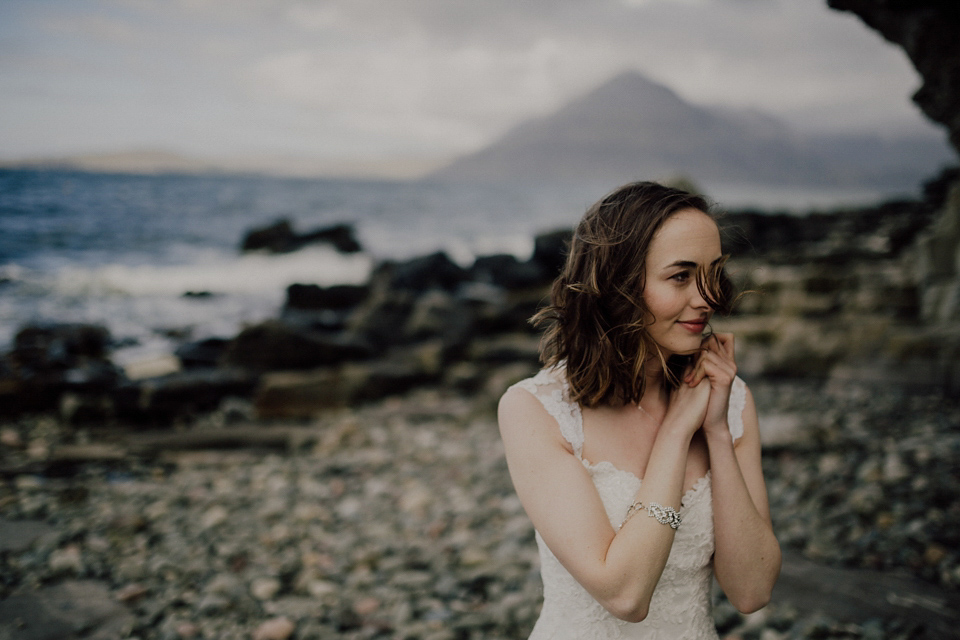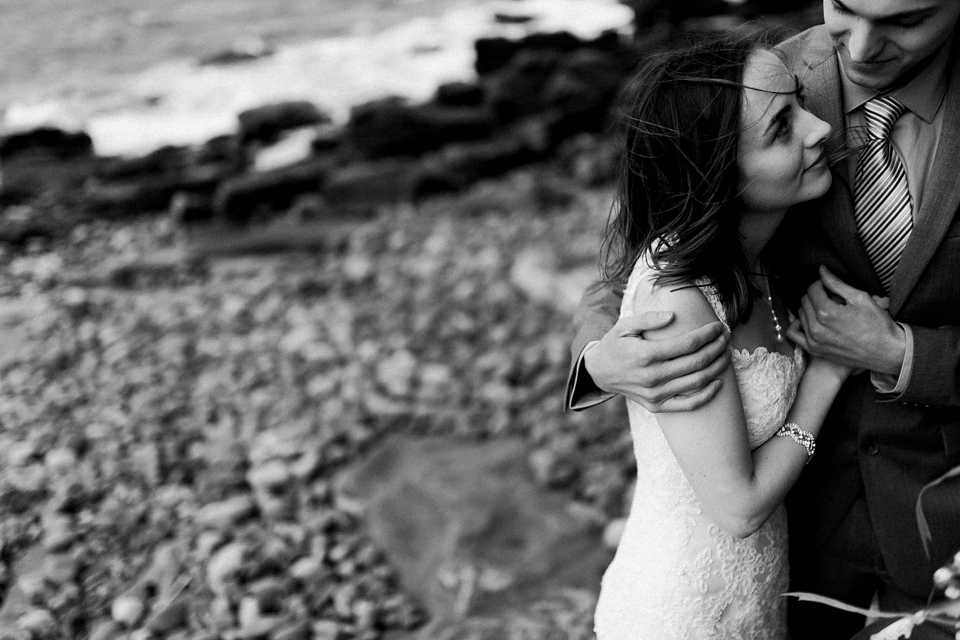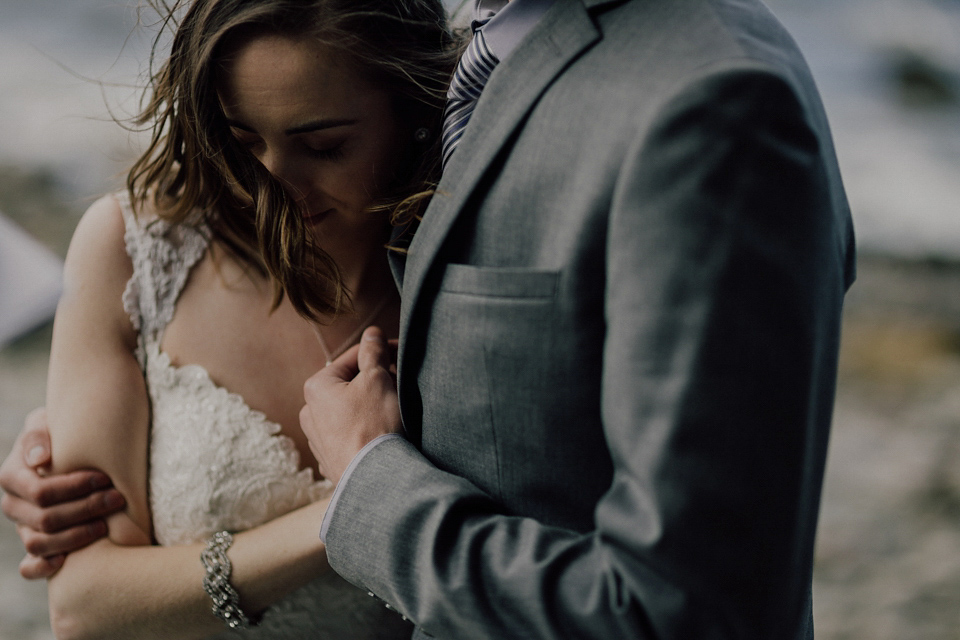 "We chose to have a non-denominational ceremony, since I am a practicing Christian, and Theo was raised Unitarian but is no longer practicing.  We wanted to incorporate spiritual elements that would speak to each of our beliefs, as well as a traditional Scottish hand fasting ceremony.  Together, these elements made for a perfect, simple ceremony."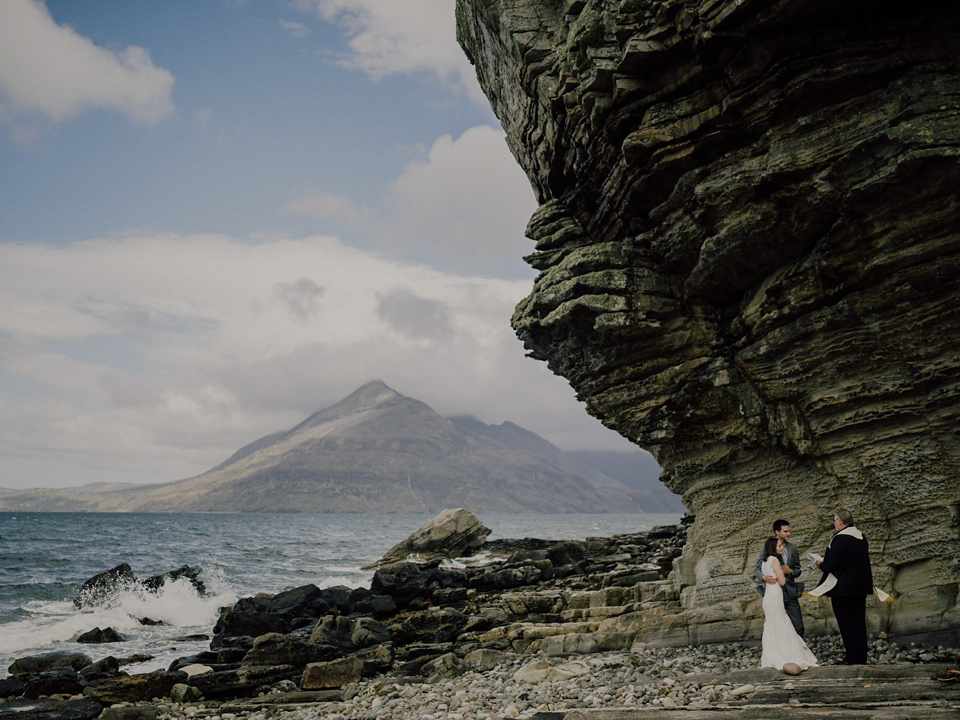 The couple decided to write their own vows. They've kindly shared a couple of excerpts with us.
From Lauren to Theo: "You have taught me more about love than anyone else.  It was through your love that I learned how to love myself […] I cannot remember what my life was like before you, and I cannot imagine a world without you by my side.  My greatest aspiration in life is to grow old with you.  It would make me the happiest woman in the world if we spent the evening together, making dinner, watching movies, and falling asleep on the couch, every night for the rest of our lives."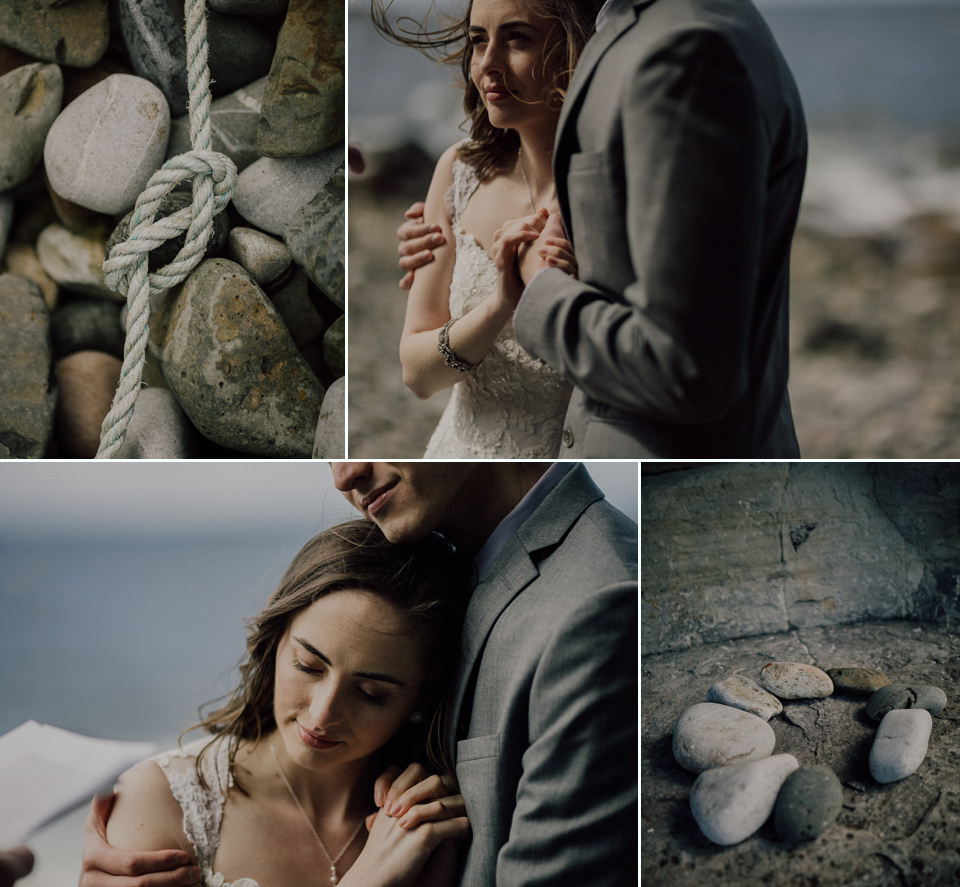 From Theo to Lauren:  "I didn't think love like ours existed before I met you. I have never been one for religious sentiments, but I have realised that you are my miracle. The astronomical odds that you and I were born, and that out of 7 billion people we met, it can't be coincidence. It's a miracle. I just know that we were born to be together forever."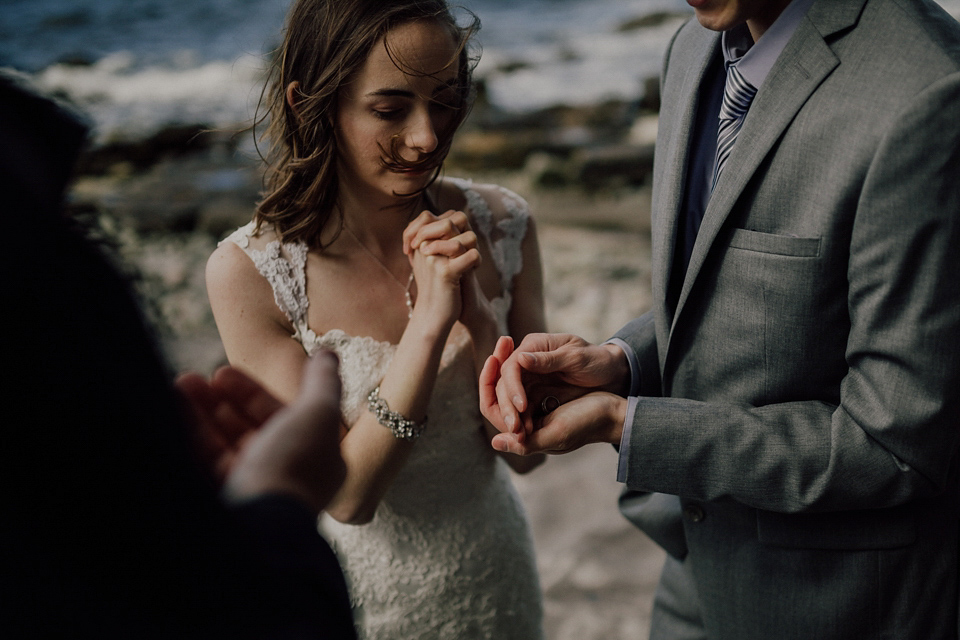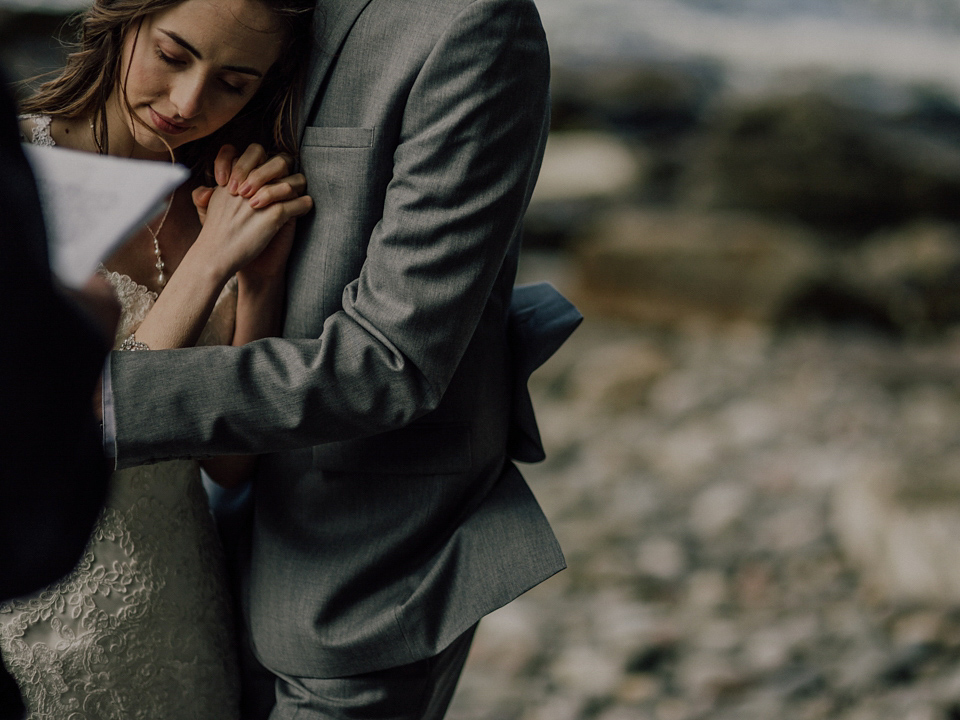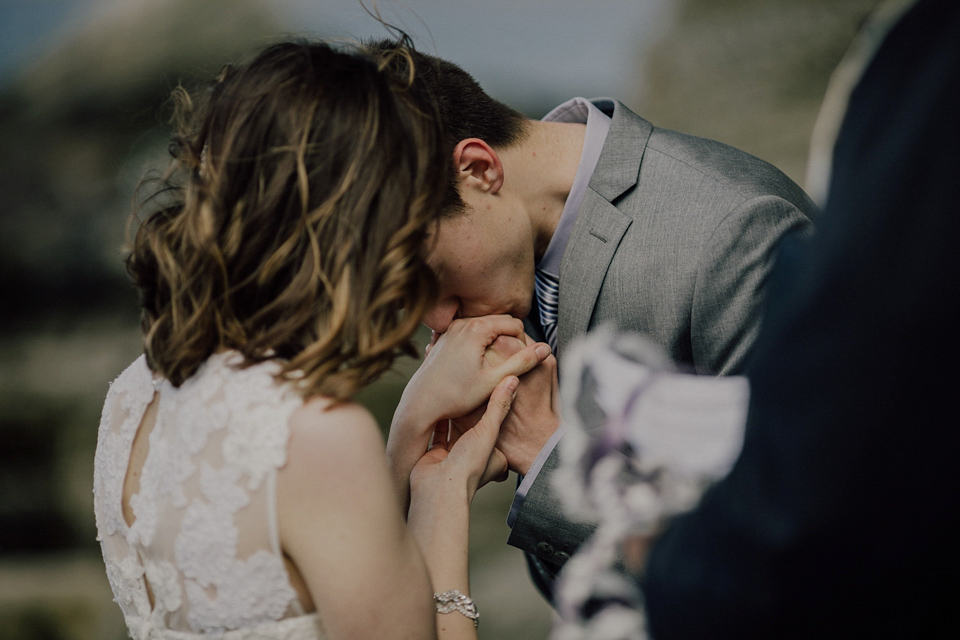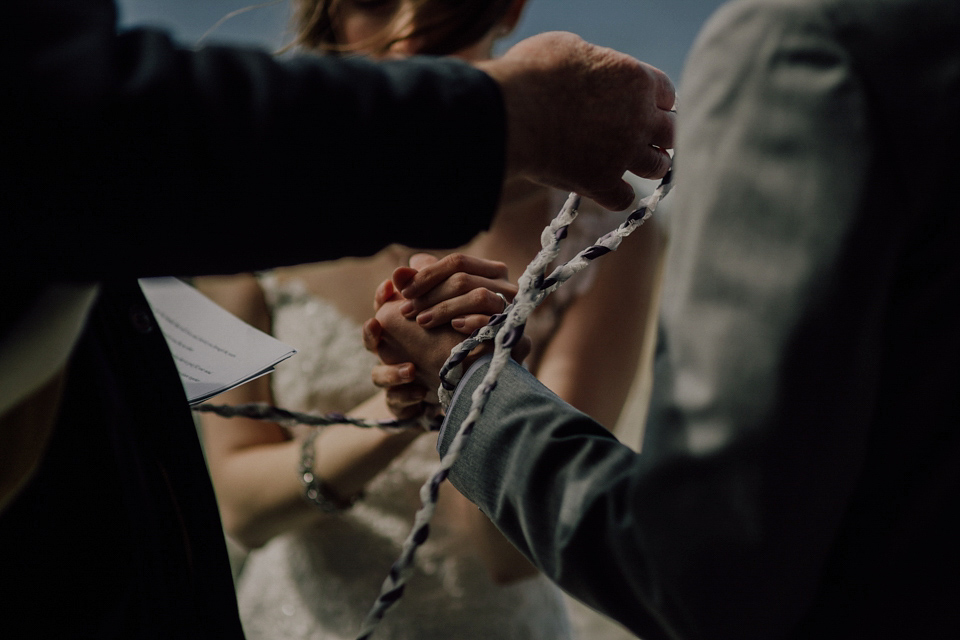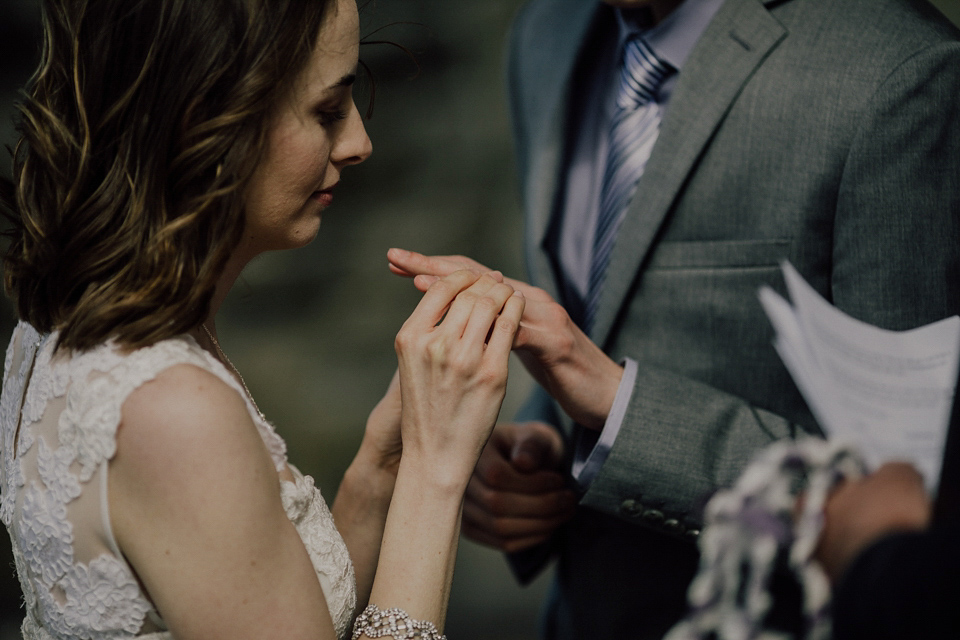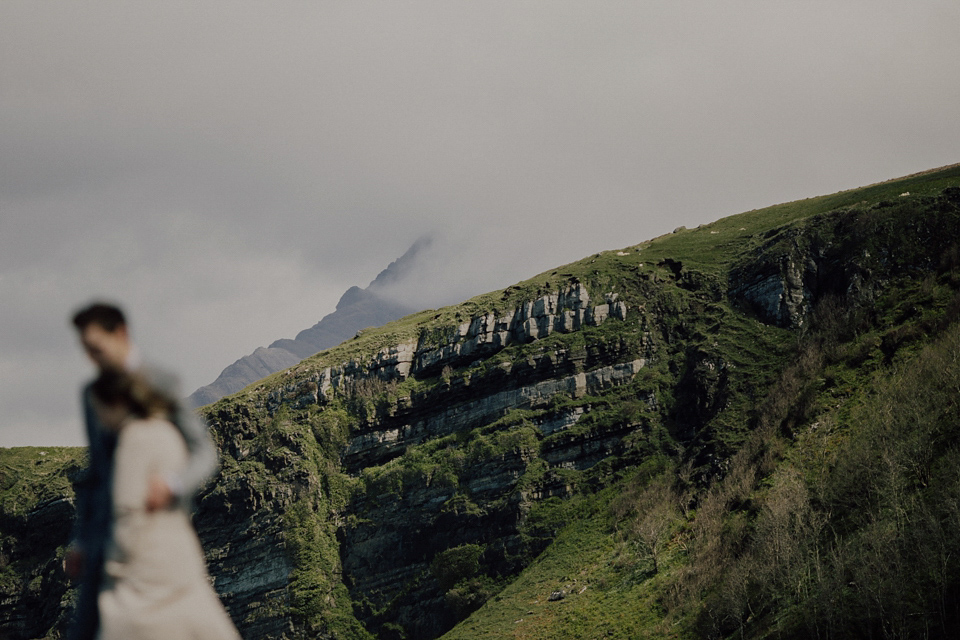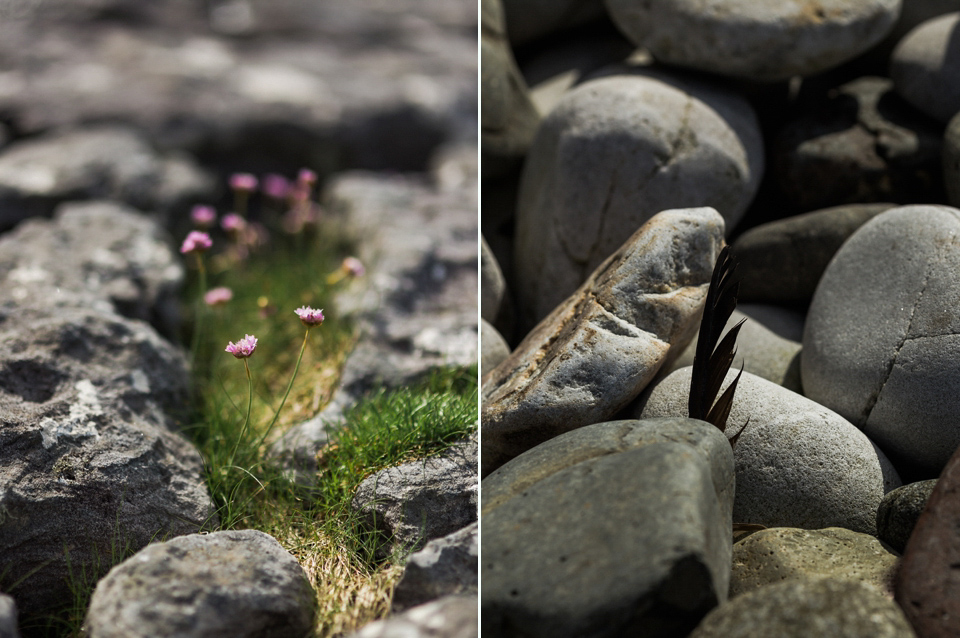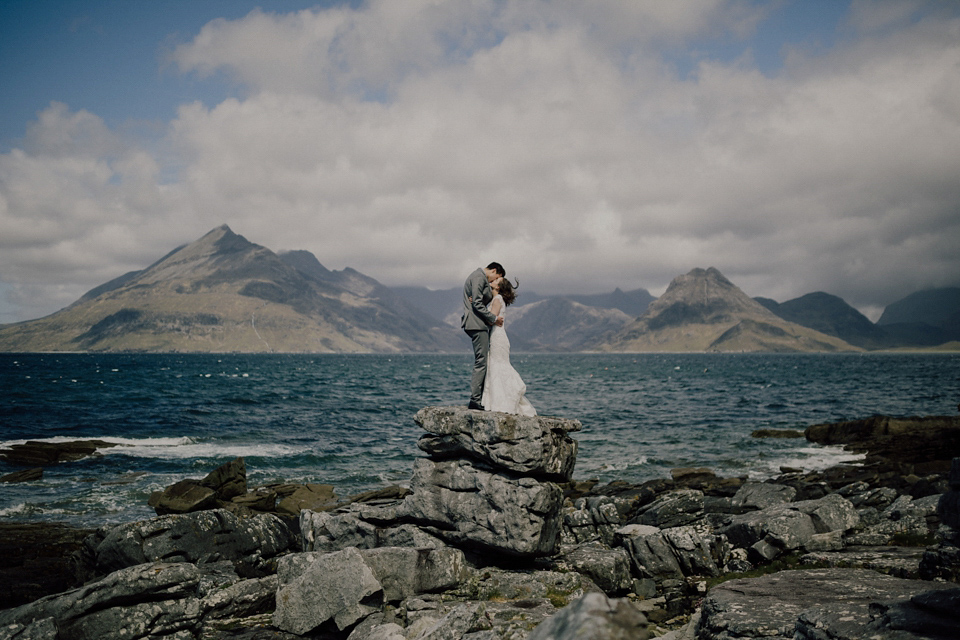 Lauren opted not to wear a veil and kept it simple with a wire wrapped headpiece that she made with freshwater pearls.
"I wore Miss Dior Cherie, a perfume that Theo bought for me.  We picked it out together, and I knew I had to wear it on our wedding day. My mother bought me this beautiful pearl necklace from Lizardi Bridal on Etsy."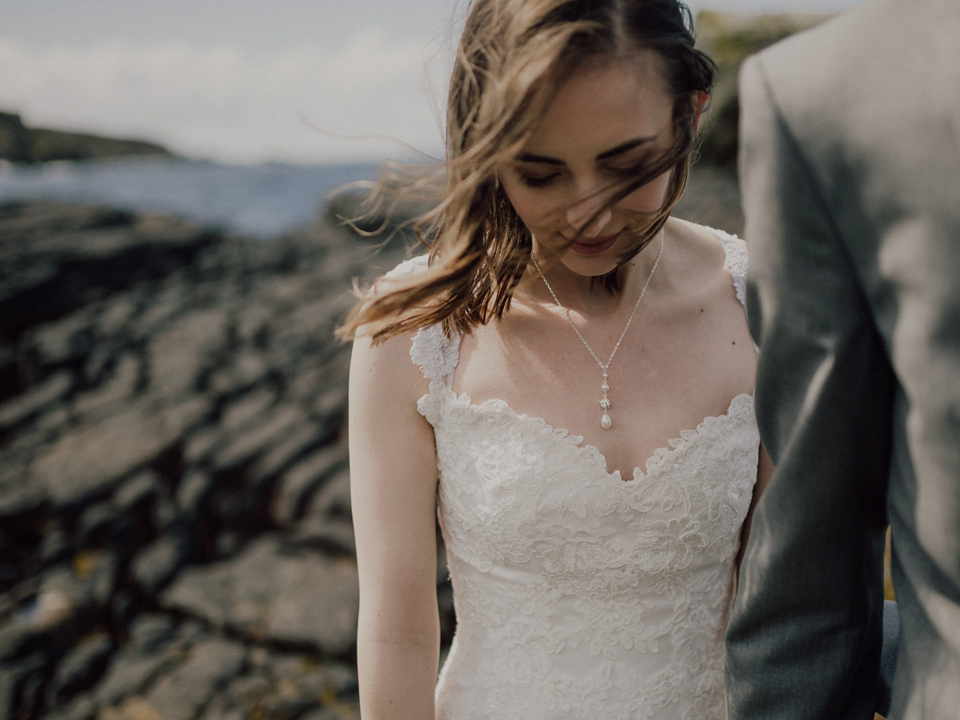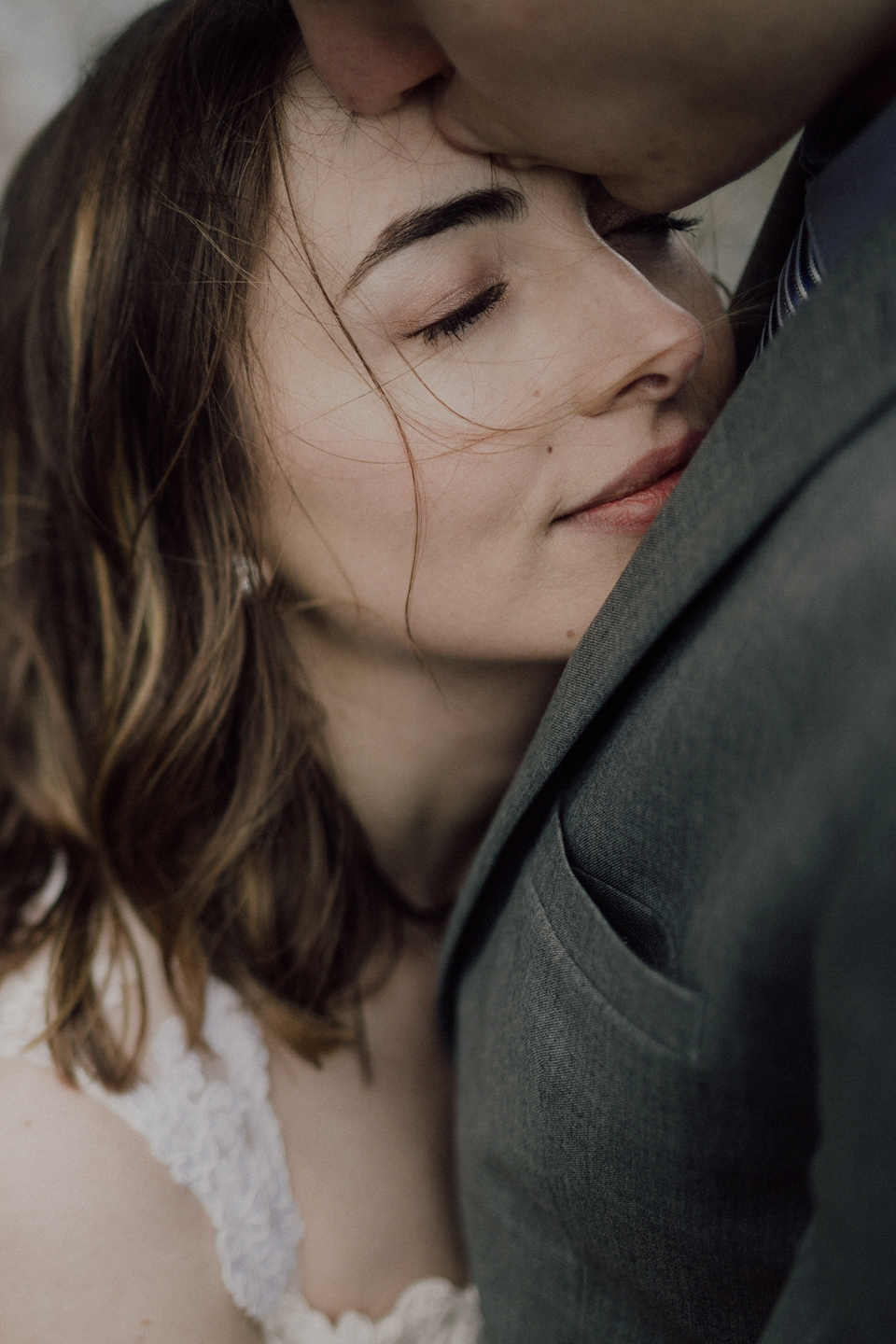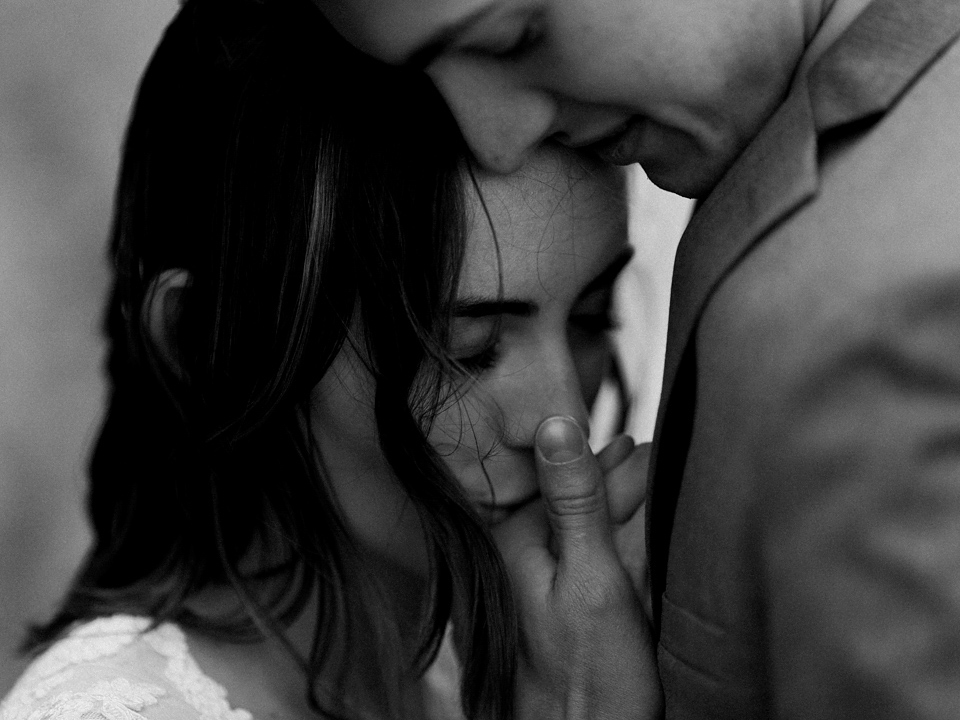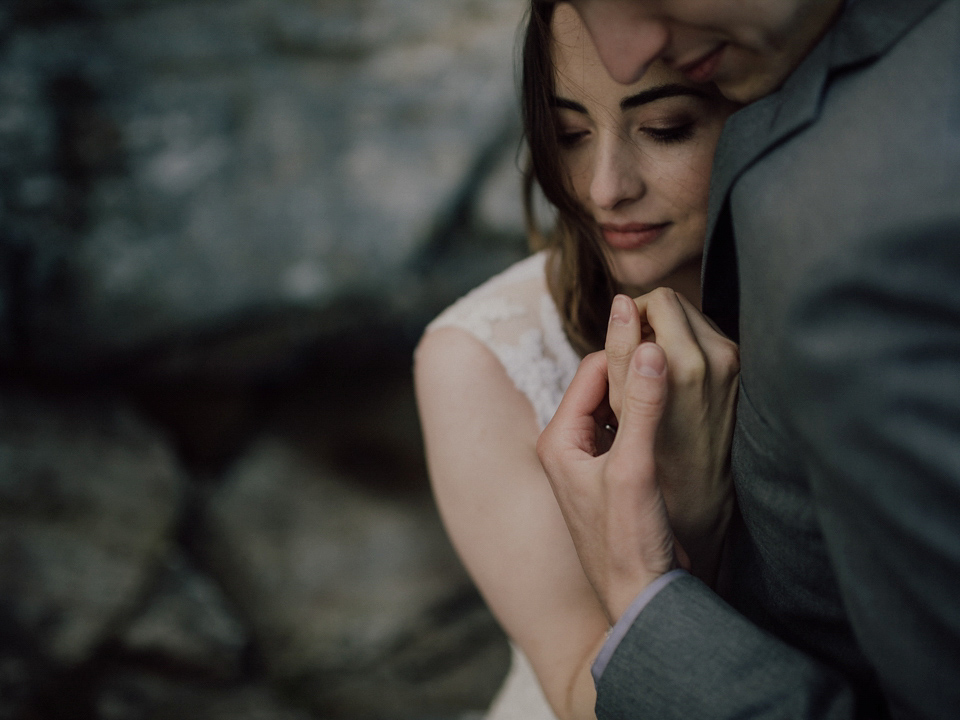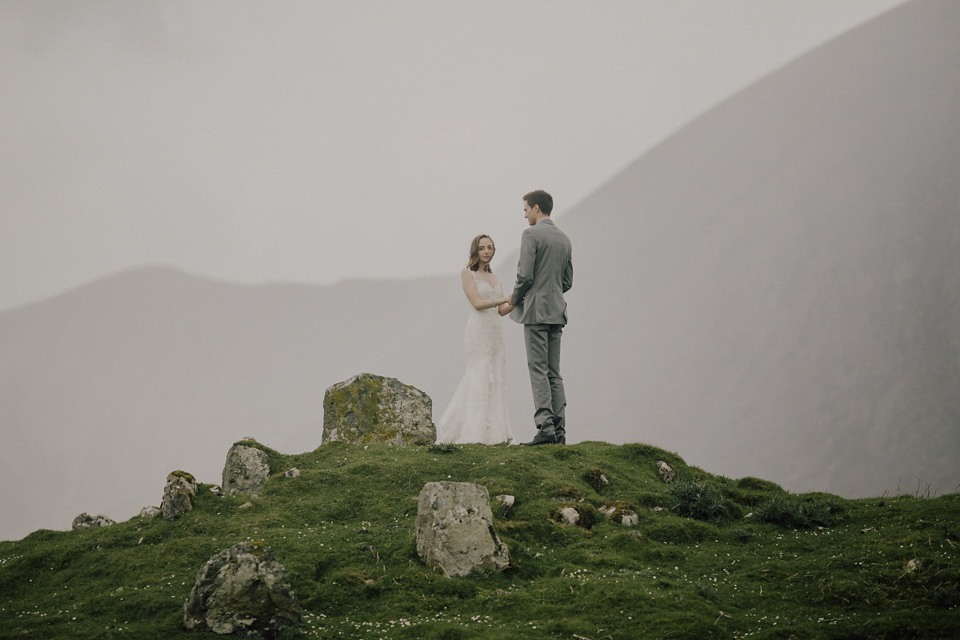 How romantic to simply spend your day cuddled up close to the one you love! While eloping may not be for all of us, I do think that it is essential to keep in mind what actually is important and why you are doing it. Whether you're going for it big time or keeping it small, it's your day and hopefully you're doing it your way.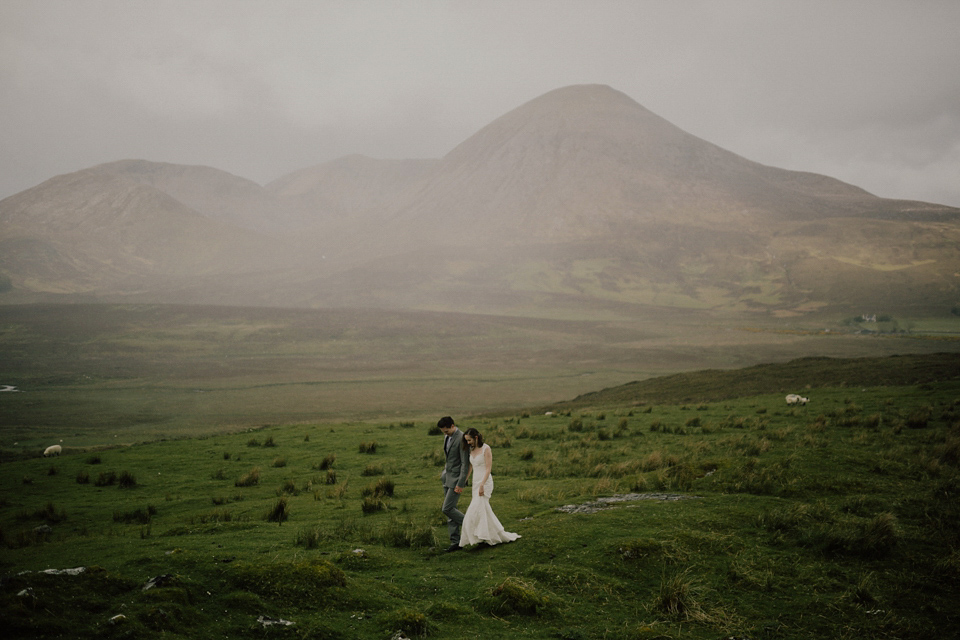 "We had our wedding dinner at Coruisk House. The food was amazing and Clare was kind enough to offer their beautiful space as an alternate venue in case of poor weather!"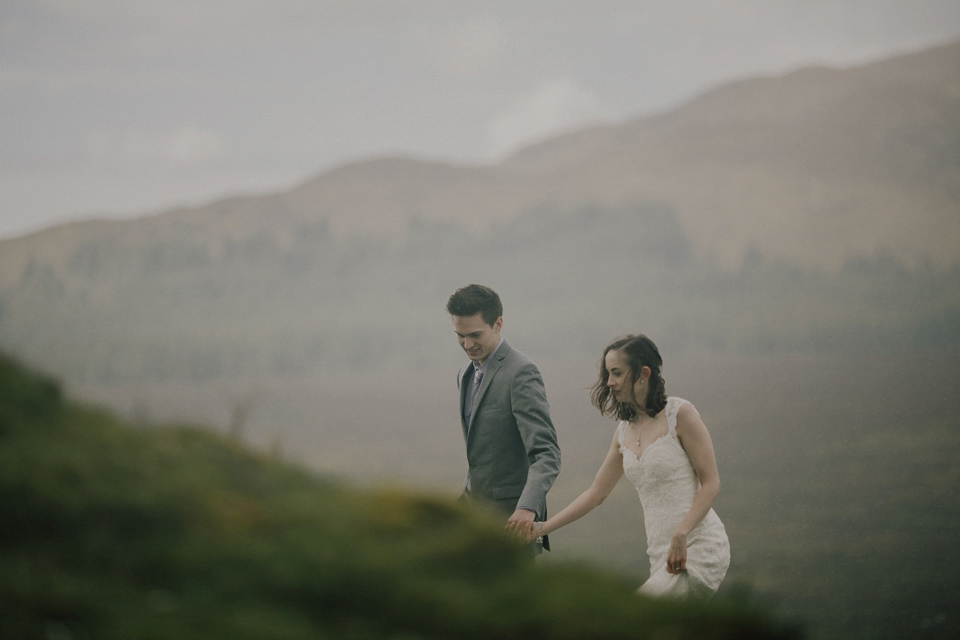 Words of Wedded Wisdom
"Be true to yourself. If we had moved forward with the traditional American wedding, I would have been disappointed.  All that money and time spent…but you hear so many stories about couples that don't even get to enjoy their day because they are too busy dealing with stress, planning and family.  When we realised what we really wanted, we knew it would disappoint some of our family and friends, but it was the best decision for us.  This day is supposed to be about the two of you together and you should celebrate in a way that makes you happy."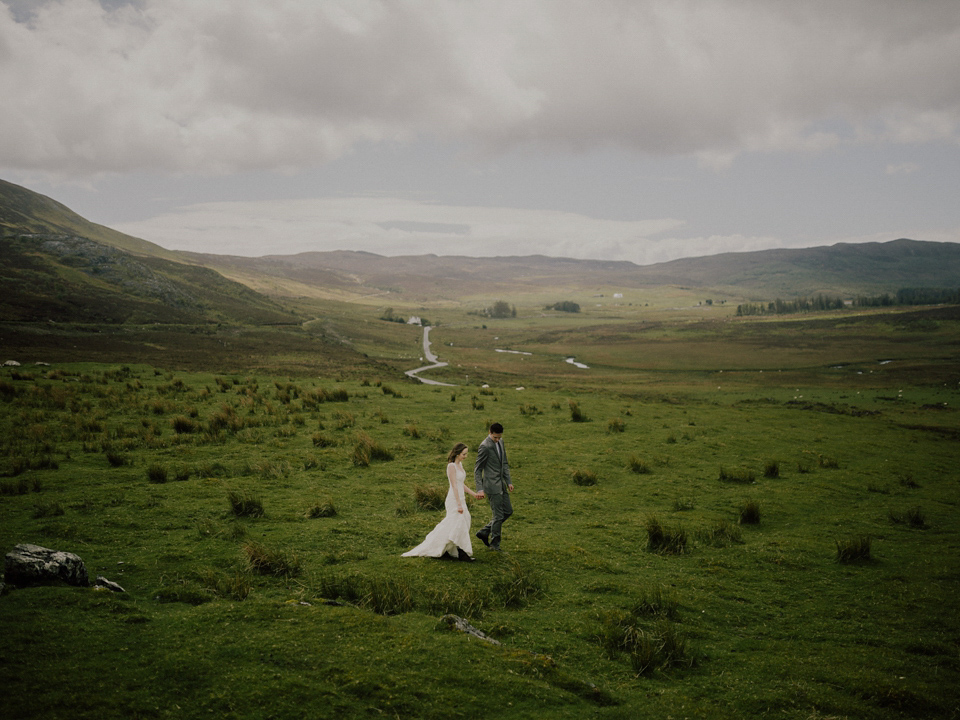 Thanks to Capyture for sharing the images with us. I think that they are absolutely breathtaking, so atmospheric!
If the wedding planning really is getting all too much but an elopement is not quite right for you, perhaps you'll find our piece on letting go a useful read?
Much love.
Katie xx
Photographer – Capyture
Dress – Essense of Australia from The White Flower, San Diego
Boots – Steve Madden
Necklace – Lizardi Bridal
Earrings & bracelet – Charming Charlie
Coat – London Fog
Ring – Ritani
Suit – Bar III from Macy's, tie – Geoffrey Beene
Groom's ring – Blue Nile
Hotel – Coruisk House