Good morning all! Hoping this mid-week wedding finds you well. Have you had time to visit our beautiful new supplier/vendor directory, Little Book For Brides yet? Or checked out our latest competition to win £675 of wedding stationery with letterpress printer Phylecia Sutherland that ends at midnight tonight?
Today's wedding is full of fun and colour – a completely and utterly laid back and fuss-free affair. Just the kind we love. Elspeth, a designer and illustrator, and architect Jonny were married by the bride's father, who is a minister, on 5 June 2015. With such a creative pair you can guarantee that there are a few unique touches to this day. Just wait until you check out the cake – an exact replica of New York's Museum of Contemporary Art!
"We wanted a joyful day, celebrating our connection to our families and friends. We used a rainbow of bright colours throughout, from fresh green bouquets and red petal confetti to the groomsmen's yellow socks."
100 ISO Photography are a member of Little Book For Brides®
"We wanted joyful, bright, wild and exuberant flowers for our wedding. We asked Village Green, an Edinburgh-based company run by flower enthusiast Jo Sansom, to create all of our arrangements on the day."
"Our cake was an exact scale replica of the new museum building in New York. No detail was too small, down to the 1:100 model figurines of the bride and groom, and an edible 'Hell Yes!' replica of the iconic artwork by Ugo Rondinone. Each layer has a different flavour including red velvet, classic Victoria sponge and chocolate orange. The cake was designed, baked and iced by Edinburgh-based wedding cakemaker Sujatha Amarnath."
All seven bridesmaids, flower girl and flower baby looked great in their mismatched dresses of their own choosing. The chosen theme was gold. Dresses were bought from different places and the full list of suppliers are detailed below.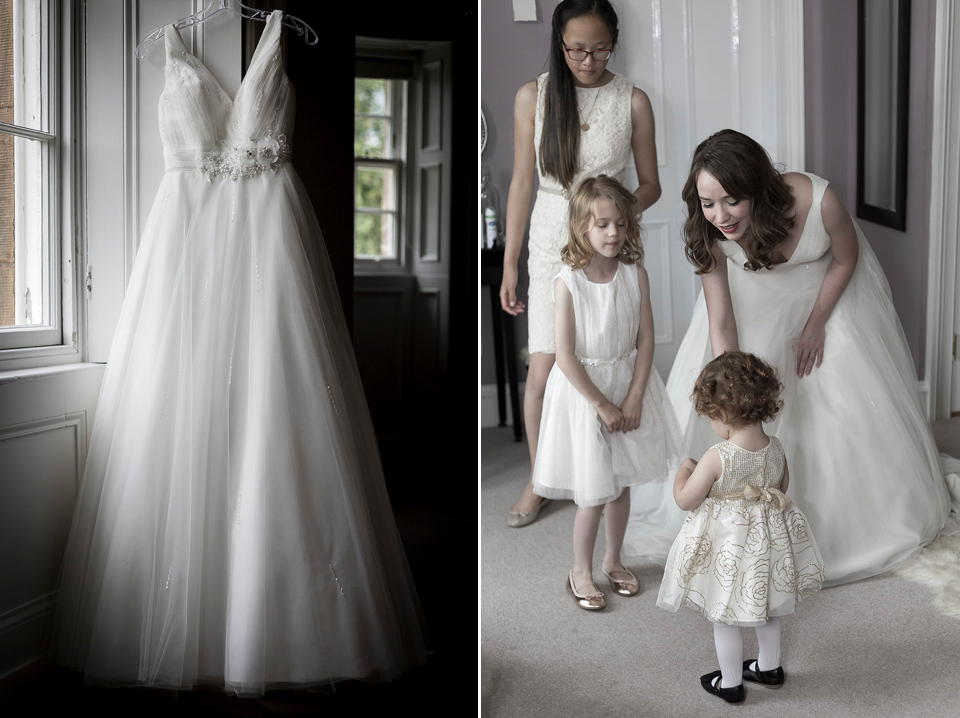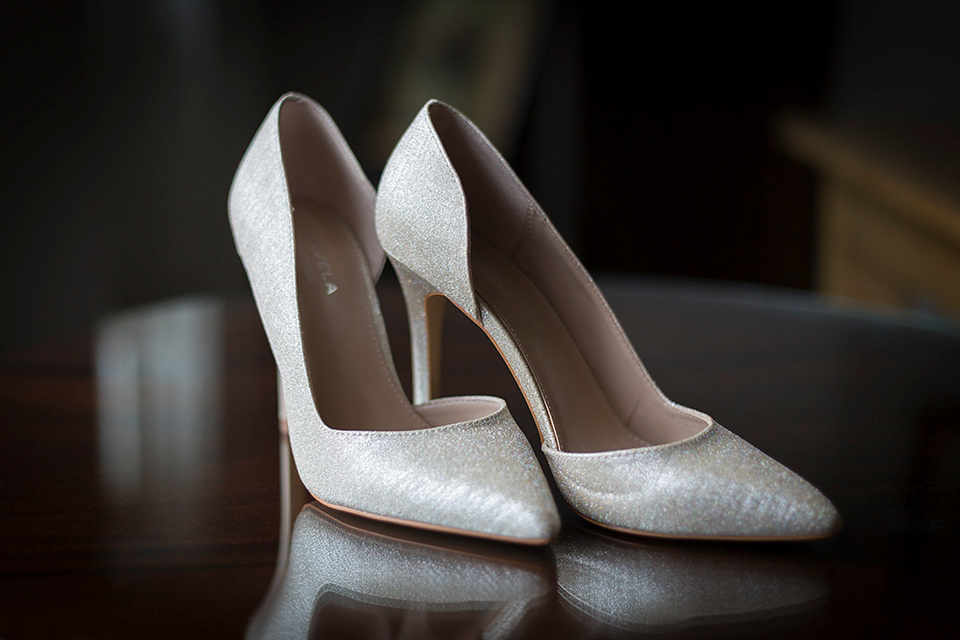 "With only three months until the wedding, Jo at Kudos Couture picked off-the-shelf gowns that she thought might suit me (she coined the term 'ivory haze' for that feeling when they all seem lovely and you can't decide which style to go with). So I actually tried this True Bride one on for fun, imagining that it'd be a bit too 'princessy' for me. Once on though, it was fun and swishy to wear. It seemed like the kind of dress I could dance in or even climb trees in… I ended up doing both on the day!"
To complete her bridal look Elspeth added a classic cord-edge veil by Richard Designs, Kurt Geiger champagne heels, as well as a spritz of Brigitte by Tocca fragrance.
Our couple met a decade ago in Edinburgh, Scotland. Elspeth had just graduated from art college and Jonny had finished his architectural postgraduate degree. They knew from the start that it was something special, and three months into their relationship they moved to New York together.
"We spent a year in Manhattan and six years in Williamsburg, Brooklyn. During that time we made some of the best friends we could ask for and considered living and working in America for the next few decades. But we're both lucky enough to have fantastic and close-knit families and friends in the UK, and we just couldn't imagine putting down roots so far away from them"
"We moved back to Scotland and renovated a flat in the city where we host family birthdays, Christmas celebrations and the like. In 2014 we had Christmas dinner with both our families, and in the evening when it was just the two of us, Jonny proposed. It felt just right. Later, I was honoured to find out how much support Jonny's family gave him by providing his mother Margaret's engagement ring for the proposal. I wear it alongside my wedding ring.
We were engaged for just six short months. Being engaged is a wonderful feeling, but we were ready to be married!"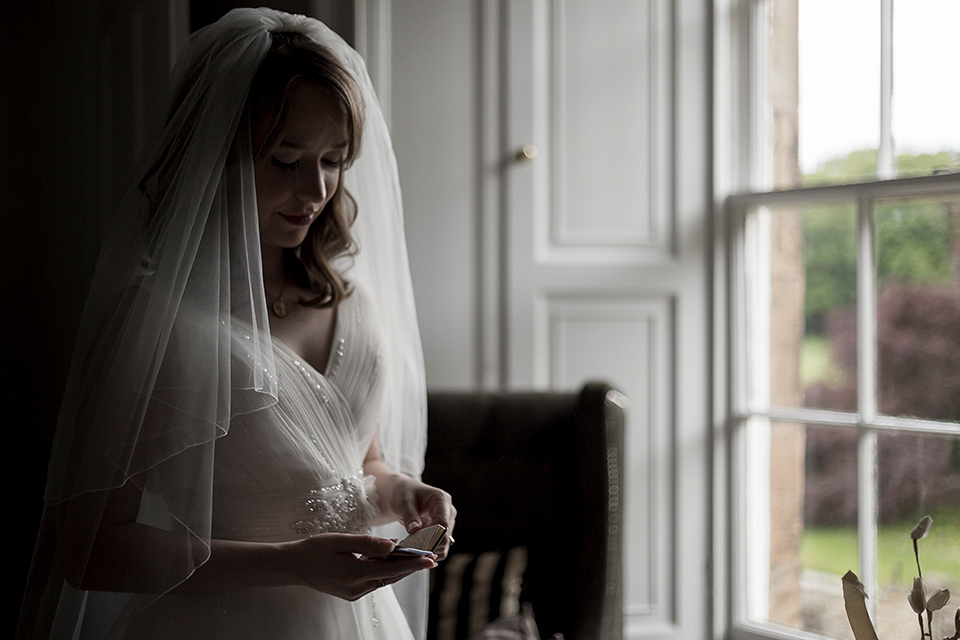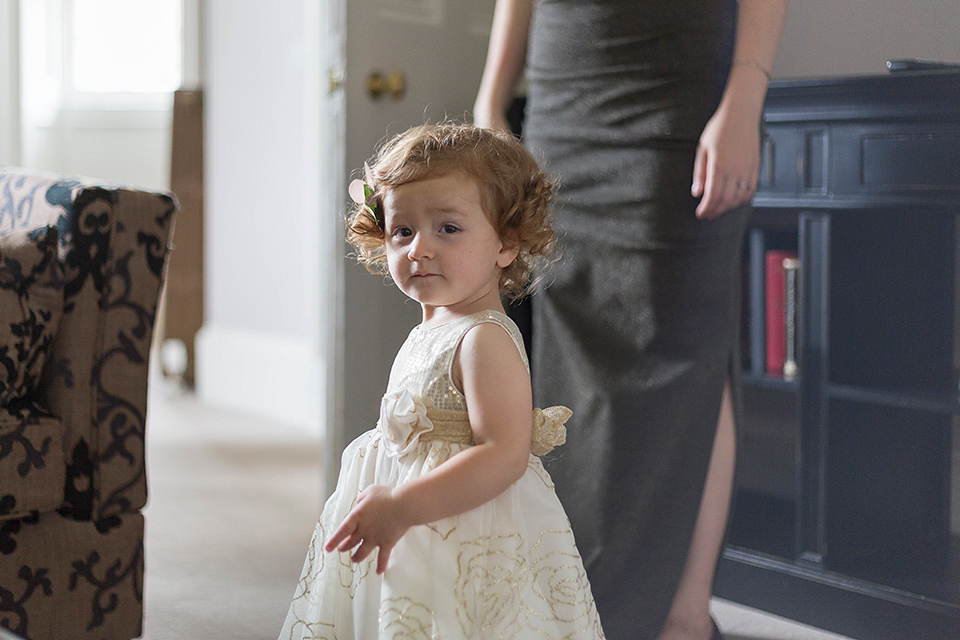 Our talented bride made necklaces for herself and her maids using a antique coins on a vintage chains.
In a similar vein to the bride and her maids, Jonny and his 'team' all wore their own outfits. His black suit was from Banana Republic and he made his bow tie along with his groomsmen.
"Since our bridesmaids' and groomsmens' outfits were mismatched, each groomsman wore a boutonniere wound with red ribbon, and each bridesmaids had a single-stemmed white rose tied off with the same red ribbon. This was Village Green's suggestion, and it made everyone's roles as members of the wedding party unmistakable. Jo arrived at the venue on the morning of the wedding with a beautiful presentation box full of fresh blooms and even helped pin, snip and arrange them before we headed to the chapel, where a sprinkling of blossoms were arranged in vintage glassware around the venue.
In retrospect, not only were Village Green's flowers exceptionally beautiful, they were essential to the smooth running of the day."
"We were married in a little chapel looking out onto the back garden of the house I grew up in. The minister was my father, and the chapel is the same one where my little sister was christened many years ago. The woods surrounding the chapel are full of hiding-places from my childhood and I even had my twelfth birthday party at Carberry Tower, the 18th-century castle on the grounds where we held the reception.
It's a place full of wonderful memories for my friends and family, so I wanted to create new memories and make it just as special a place for Jonny and his family."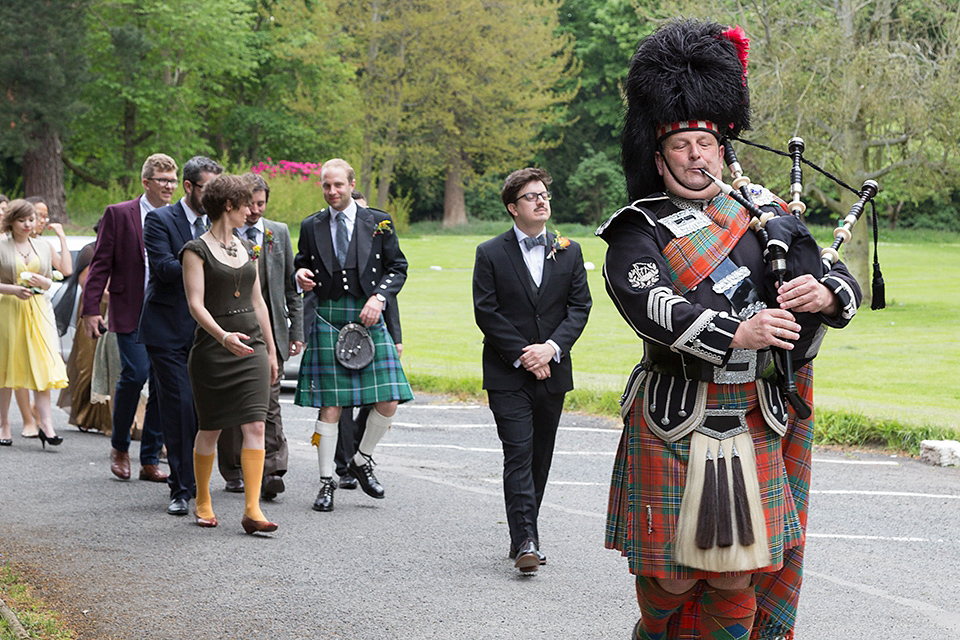 Elspeth and her father walked down the aisle to 'Pastorale in F' by Bach, a tribute to her dad who loves the piece and played it when returning home from the hospital on the day she was born.
"My dad is a minister for the Church of Scotland, so he walked me down the aisle and then turned round and conducted the wedding service. I don't think anyone at the venue or in the congregation had heard of anything like it, which made it feel pretty special! It also meant that I spent time with dad prior to the service and I didn't feel nervous at all. Everything about the day felt just right."
There are so many touching and emotional elements to this wedding, you can see the full range across these images: smiles, tears, laughter and love. However, my favourite photo has to be this one where the bride and groom only have eyes for each other. What a beautiful #sharethehonestlove image.  I then read that Elspeth said that 'looking into each other's eyes as we made our vows surrounded by friends and family' was her favourite part of the day.
"Chris McCluskie of 100 ISO Photography was our first choice for our wedding photographer. He captured our wedding perfectly. The photos are spontaneous, bright and joyful, capturing the atmosphere, and the people we love, with warmth and sincerity."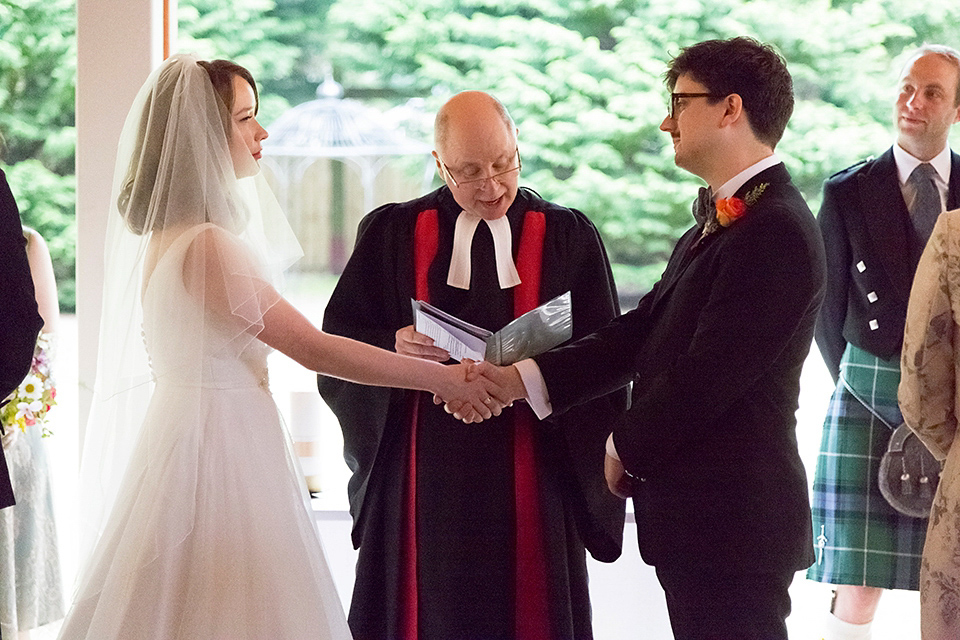 Both of their wedding rings are vintage, chosen because they wanted to create a new story with jewellery that already has its own history. Jonny's ring was circa 1915, from D.L Cavanagh Antiques & Curios and Elspeth's dates from circa 1939, from Alistir Wood Tait.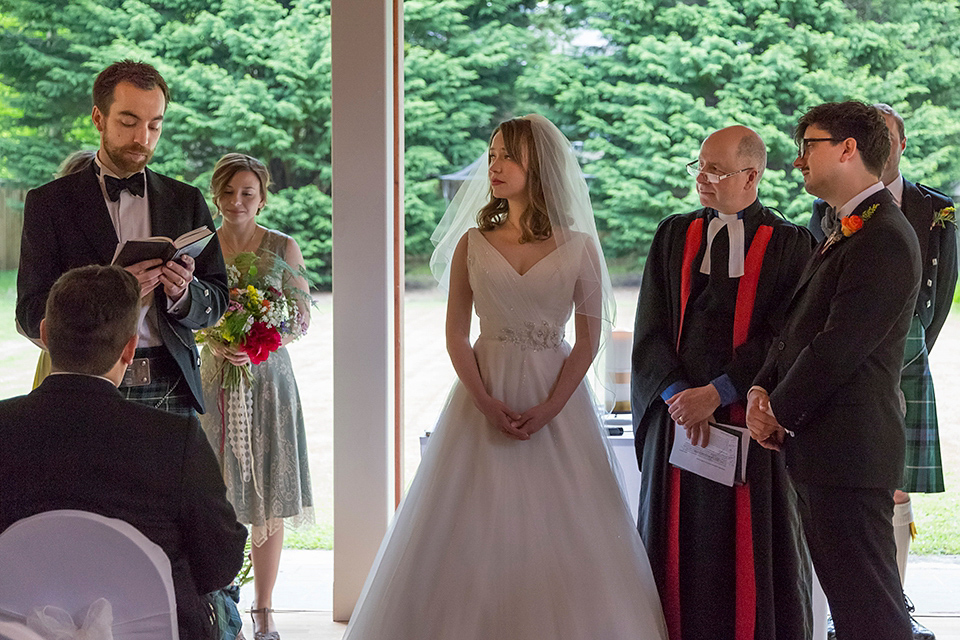 "My bridal bouquet featured fresh green leaves, soft blossom sprays, yellow daisies and a burst of gorgeous red petals. My bridesmaids each wore gold, so Jo finished off my bouquet with gold ribbon and antique lace that she sourced herself – a beautiful touch that looked incredible in every photo."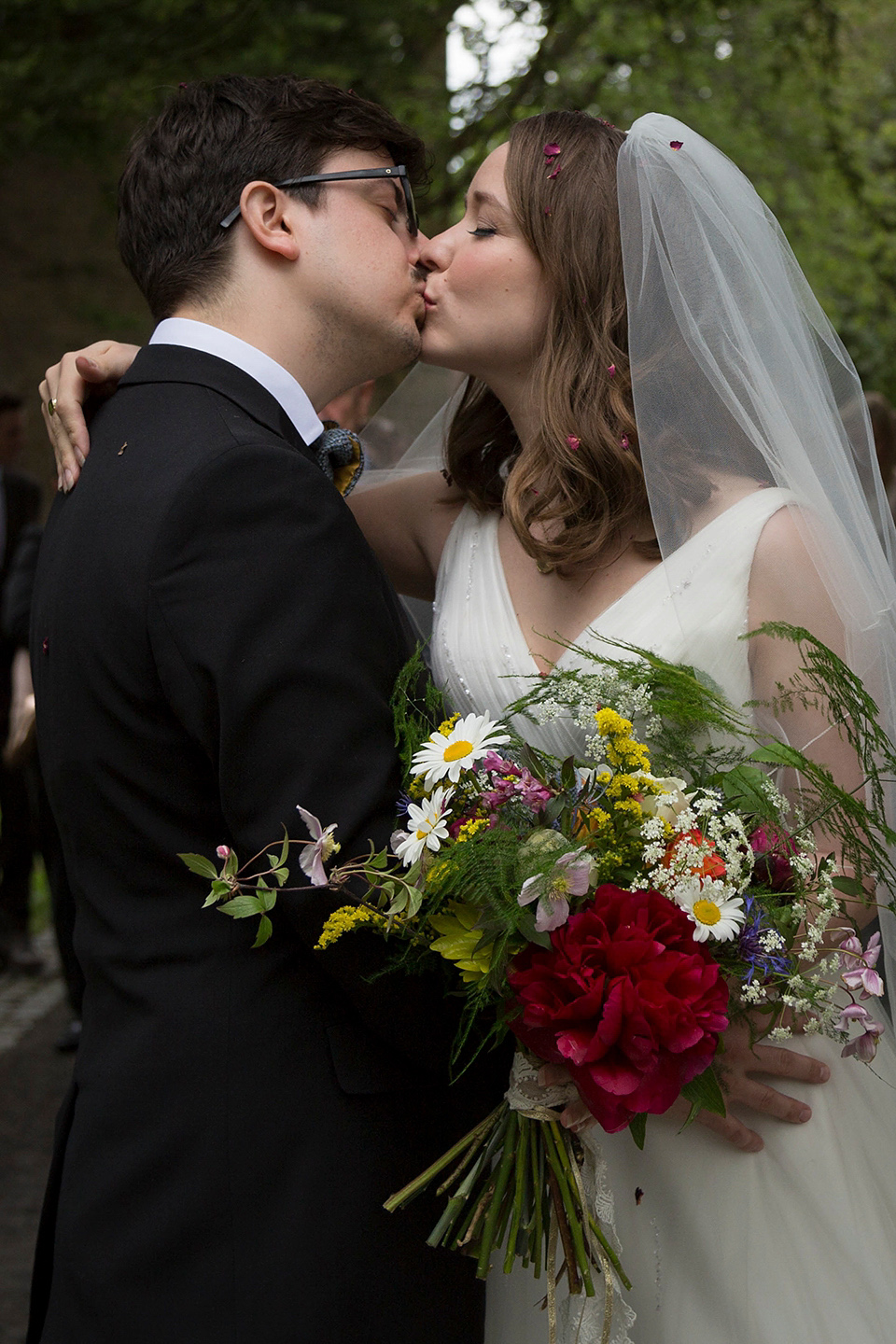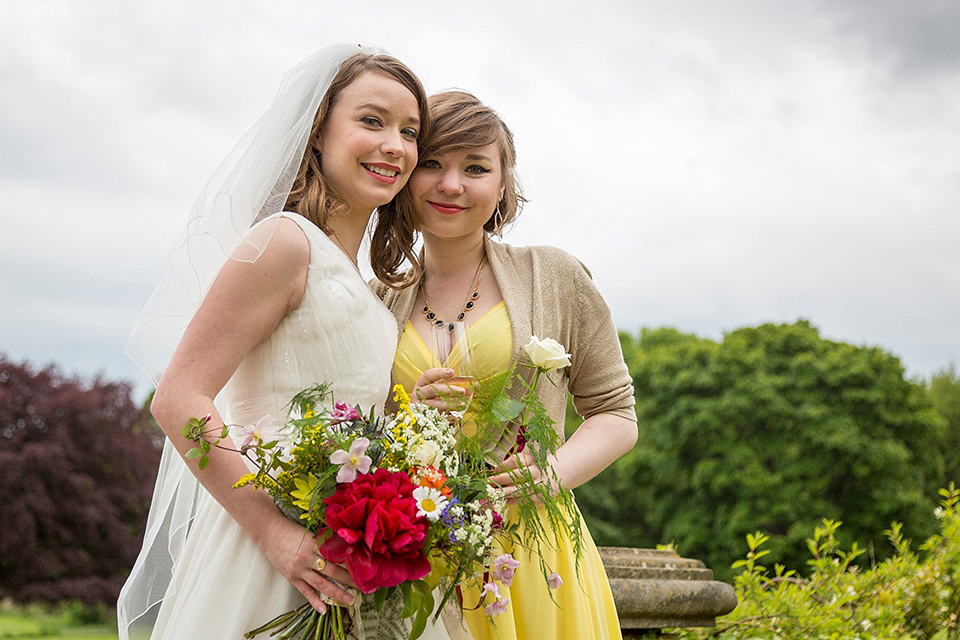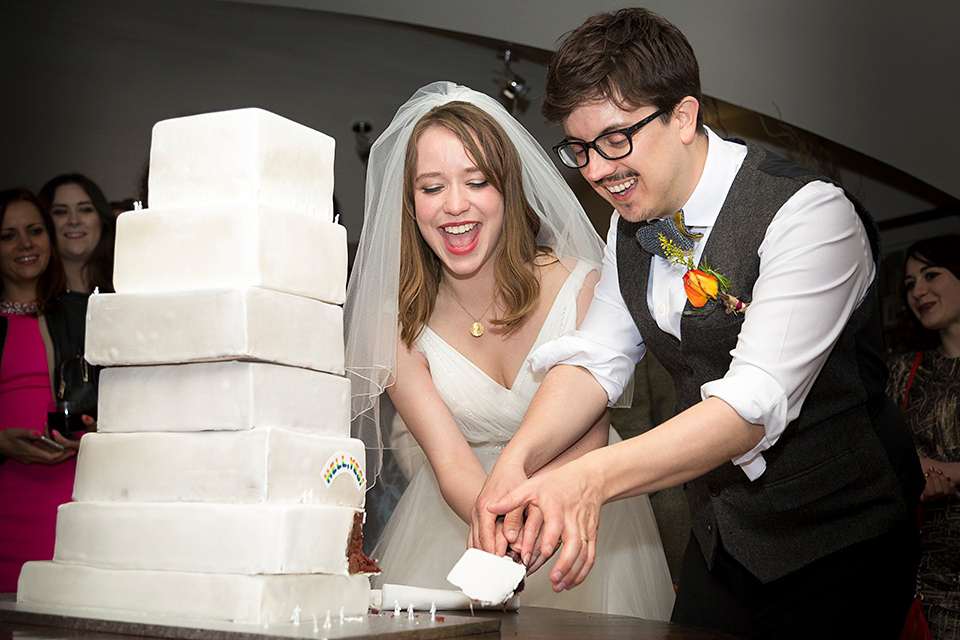 The couple asked Suzanne Butler and the Homecoming String Band to play PJ Harvey's 'You Said Something,' a song they both love and with special meaning for them, as their first dance. The band then went on to provide the entertainment for the evening in the form of a cèilidh.
Words of Wedded Wisdom
"We used IFTTT to collect photos tagged #elsandjonny on Instagram in real time and send them to our wedding Flickr account. This allowed us to see everything that happened when we weren't there; a bonus 'behind-the-scenes' feed of journeys, new friendships and the ceremony itself. It can be a bit fiddly, but a technologically-minded friend might enjoy setting this up for you because it's free and functions as a sweet little wedding gift.
It's been said before: you'll be surrounded by so many people that you love all at once, and you won't get to hang out with each person as much as you want. This was certainly the case for me since we had people travelling from all over the world, but it's really just a natural part of being at the centre of such a large event.
If you're looking for vintage wedding rings, ask in old antique shops. In our experience, some places have many behind the counter that you can try on until you find one that feels right. For us this was a really memorable and enjoyable experience.
If your dress is long and tulle like mine, sticks and even pinecones will get stuck in it during outdoor photo shoots and then it'll get stomped on during the cèilidh. I adore stilettos, but my husband ended up giving me a piggyback across the lawn to the reception (it made for some unexpectedly fantastic photos, thanks to our photographer). Everything is fixable, wear what you like, roll with it!"
The joy sure does pour out of this little stop-motion video by Rob and Mary Ng. The shots were taken during the evening and caught all the photo booth silliness. I love how they become a little more raucous as the evening goes on!
[fve]https://player.vimeo.com/video/130354097[/fve]
When I first looked at these images, I felt that there was such a homely feeling to them and a real warmth to the whole day. On hearing more of the story, surely nothing can be as homely as being married by your dad in a ceremony overlooking your back garden! Our congratulations go to Elspeth and Jonny on your recent marriage. While our thanks goes to Chris at 100 ISO Photography for providing us with the pictures of their day.
For more Love My Dress summer wedding inspiration have a look here.
Much love
Katie xx
Photographer – 100 ISO Photography
Venue – Carberry Tower, Edinburgh
Dress – True Bride from Kudos Couture
Veil – Richard Designs
Shoes – Kurt Geiger
Fragrance – Brigitte by Tocca
Bridesmaids – Trouble at Mill, Isabel Marant pour H&M, Rock My Vintage, Biba, Nancy Mac, Rent-the-Runway, Debenhams, TK Maxx and Macy's.
Hair & make-up – Emma Motion
Groom – suit – Banana Republic, bow tie – made by groom & groomsmen
Rings – groom – D.L Cavanagh Antiques & Curios, bride – Alistir Wood Tait
Groomsmen & woman – own suits, dresses and kilts
Florist – Village Green
Cake – Sujatha Amarnath
Entertainment – Cèilidh – Homecoming String Band
Stationery – DIY