Yippeeee, it's Friday! I hope you've had a jolly week everyone. I've been spoilt by my wonderful friends and family for my birthday and fully embraced turning another year older (I'm even thankful for the wrinkles; nothing a little cream or potion can't fix). The celebration I'm sharing today is so very bittersweet, and features a gorgeous Ghost gown and lovely pictures by Julie Anne Images Photography.
Architect Christian and Sarah, who works as an economist in the civil service, married on 30th May 2015 at Cross Street Baptist Church in Islington, followed by a reception at the historic and beautiful Ironmongers Hall, to illustrate their love of the city of London. The couple worked out a set of guiding principles that helped decisions with planning their big day. We've shared many tales of couples meeting online and Sarah and Christian are another success story, with an extra special happy ending. Sarah found love for a second time, after sadly losing her first husband James in 2007.
"Christian and I met through the online dating site Christian Connections. Our first date was an exhibition at Tate Modern and we very quickly worked out that not only did we share a deep faith in Jesus, but we connected on an emotional level, made each other laugh and agreed that steak and chips was our perfect meal!"
Photography by Julie Anne Images Photography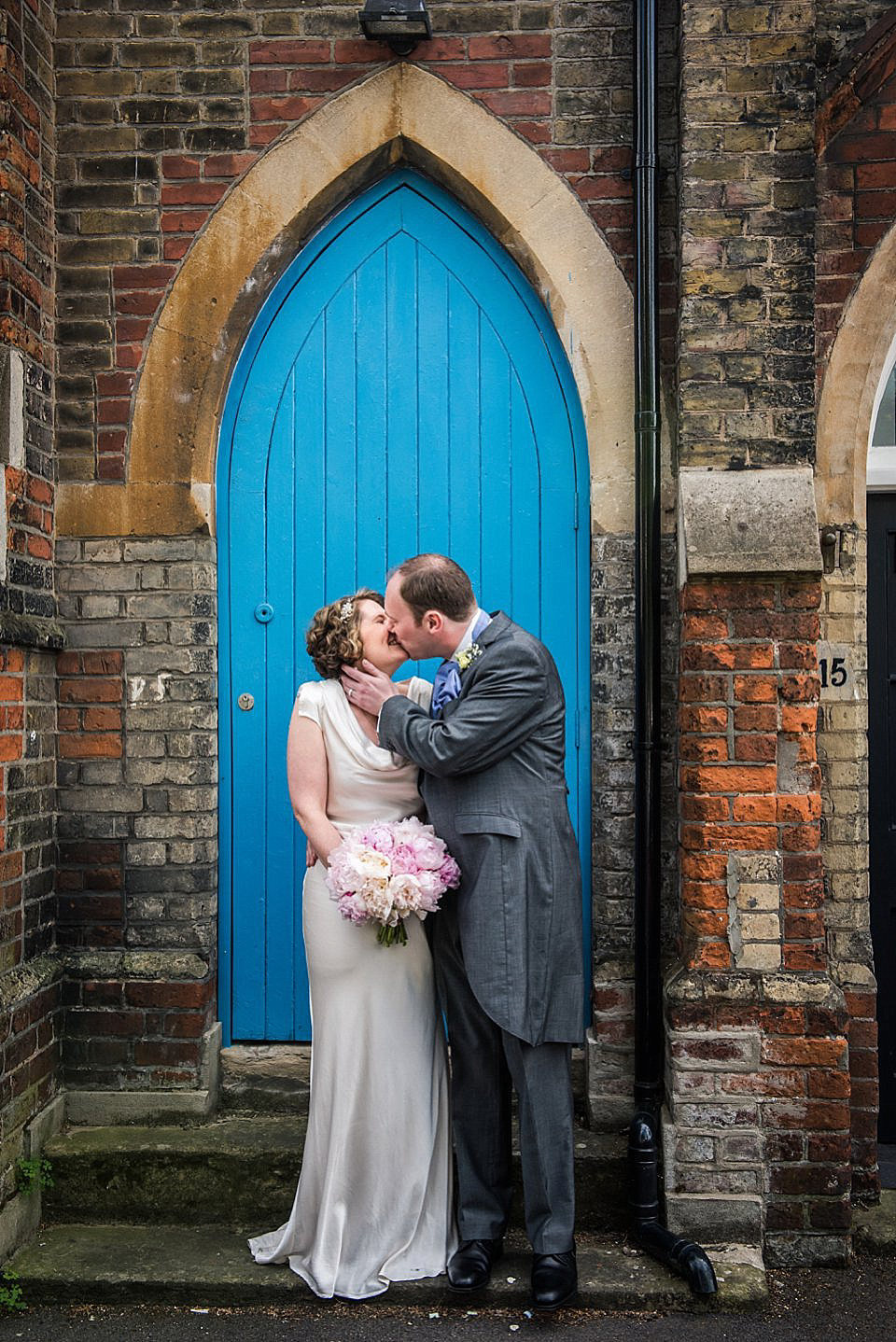 "We got engaged six months after our first date – on the Palladian Bridge in Prior Park Landscape Gardens in Bath, as Christian wanted to propose in a beautiful, and architecturally significant spot – and once we had the bridge to ourselves, he made a beautiful speech and produced a gorgeous ring. I was so surprised, delighted and overwhelmed that I forgot to actually say 'yes' for a couple of minutes!"
"I was happily married for six-and-a-half-years to James, who died of cancer in 2007. To get married a second time involved a huge range of emotions, of huge joy to have found the 'love of my life' for the second time, and deep sadness to remember the grief of James' death. I am hugely privileged to have had the support of James' family in getting married again and some of them were at the wedding."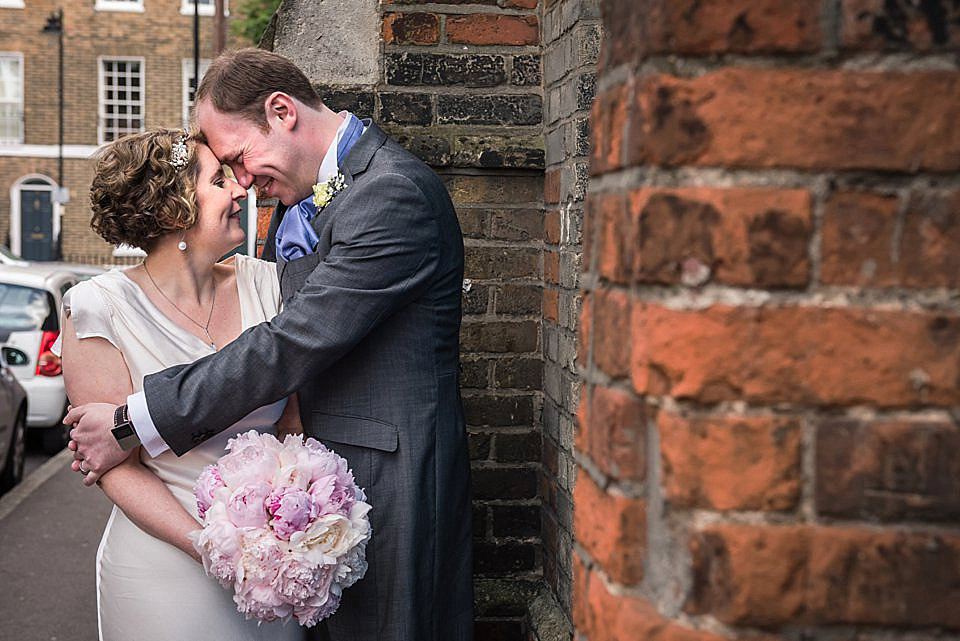 "The wedding day all took place in London – as this is the city we live in, work in, met in and love. We didn't have any specific inspirations for the day. But a few weeks after we got engaged we had a day for project planning the wedding, involving lots of different coloured post-it notes! We started by sharing the words we wanted to describe our day, which became the guiding principles for how the day came together. Some of the principles were: it's not all about us – be thankful and glorify God; be elegant, beautiful, timeless and relaxed (yet organised), and be a day for sharing our joy with the people who matter, our family and friends."
The couple had an engagement shoot with their chosen photographer, Julie Anne Images Photography (you can view Julie Anne's listing in our Little Book for Brides here), which greatly helped with getting to know each other and resulted in relaxed pictures.
"Julie Anne Images Photography was recommended by my mum and as soon as we reviewed the photos on our blog we were impressed by her photos. I knew some of the people in the photos and loved how she had brought out the best in them."
"We had a huge amount of fun on our engagement shoot. It was such a great experience that we felt much more relaxed about the idea of having her as such a central part of our day. During the service she took great photos discreetly, but most people didn't notice her taking the photos and I loved seeing her walk around joining in the singing of the hymn in the service. The time we had straight after the service to take some photos was wonderful as it gave us some time out from the throng of people.
We have no hesitation to highly recommend Julie to anyone – for her calmness, fun and amazing photography skills. She also was hugely helpful when I asked lots of questions about timings of the day to make sure that we had allowed enough time for photos and for hanging out with everyone. It was great to have her on the wedding team!"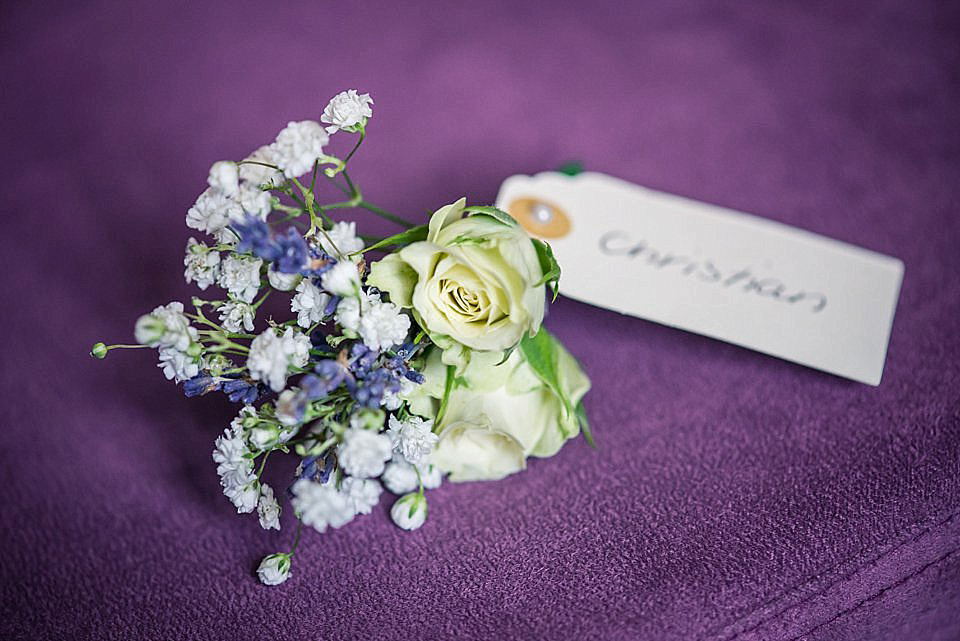 "As a thirty-something bride getting married for the second time, I wanted an elegant simple dress in which I could feel like 'me' and have freedom of movement (to hug Christian, pick up small children, and walk about). So after lots of research on this beautiful blog and several wedding magazines, I knew I didn't want to go to a traditional wedding boutique. Instead, I gathered a team of reviewers (my mum, sister, sister-in-law and one of my best friends) for a day trying on lots of high-street wedding dresses.
The 'Sylvia' Ghost dress in Ivory was perfect: elegantly bridal, yet simple, although I had a little panic about the dress being too clingy and shiny, but this previous post in which the bride wore the same dress and looked wonderful provided brilliant reassurance!"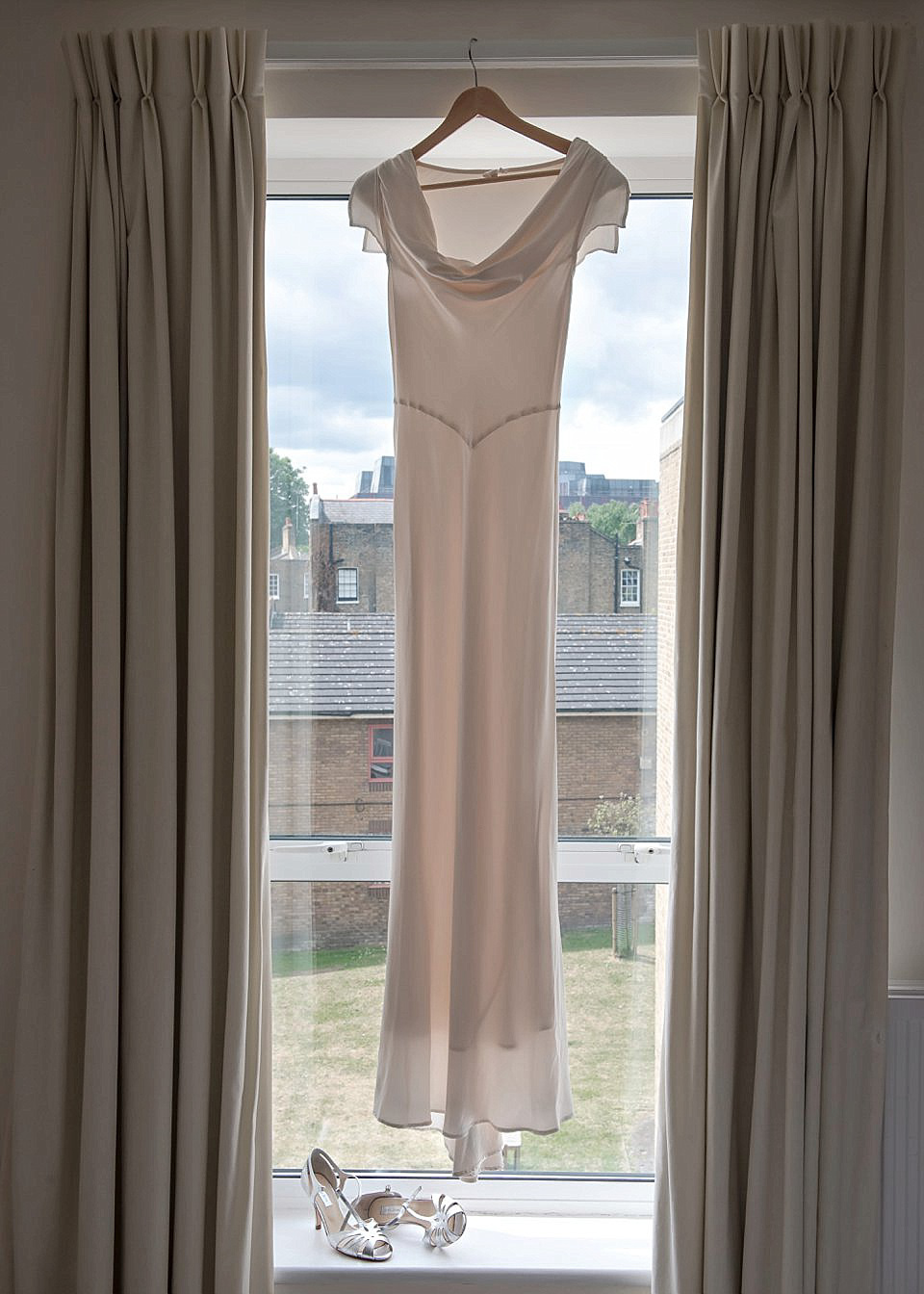 "I was keen to have someone come to the apartment to do my hair and make-up and also to do the bridesmaids as a treat for them (and for their mums). After some internet searching, I found Isabell Böttcher via The Bridal Stylists. I hugely enjoyed being confined to the chair, as I just had to relax and stop worrying whether the remaining jobs were going to get done. Once my hair and make-up was completed, I wasn't going anywhere!
I spent lots of time looking on Etsy for a hairband style of headpiece, after advice from my hairdresser, but really struggled to imagine what they would look like on my head, so when my friend Lucie offered me the loan of her gorgeous Gillian Million headpiece, I was delighted to accept. It fitted well with the other accessories and it was wonderful to wear something with happy memories of another wedding."
To complete her elegant look, Sarah added a pair of Rachel Simpson shoes, 'Ginger' in Silver, found via Mirror Mirror, a spritz of Chanel's Allure, her own Georg Jensen dew-drop pendant and pearl and silver bracelet and Dower and Hall pearl drop earrings. The stunning headpiece was loaned from a lovely friend.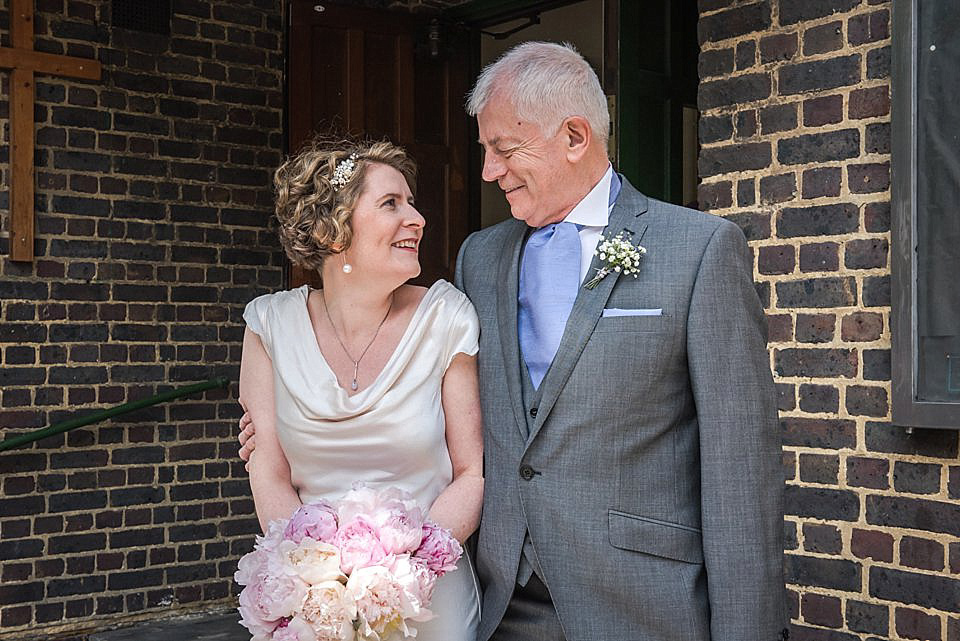 "My father walked me down the aisle. It was wonderful to have him by my side as a visible demonstration of my parent's love and support as I entered into marriage. We walked down the aisle to a string quartet playing Borodin's 'String Quartet Number 2 in D Minor', which is a beautiful piece of music."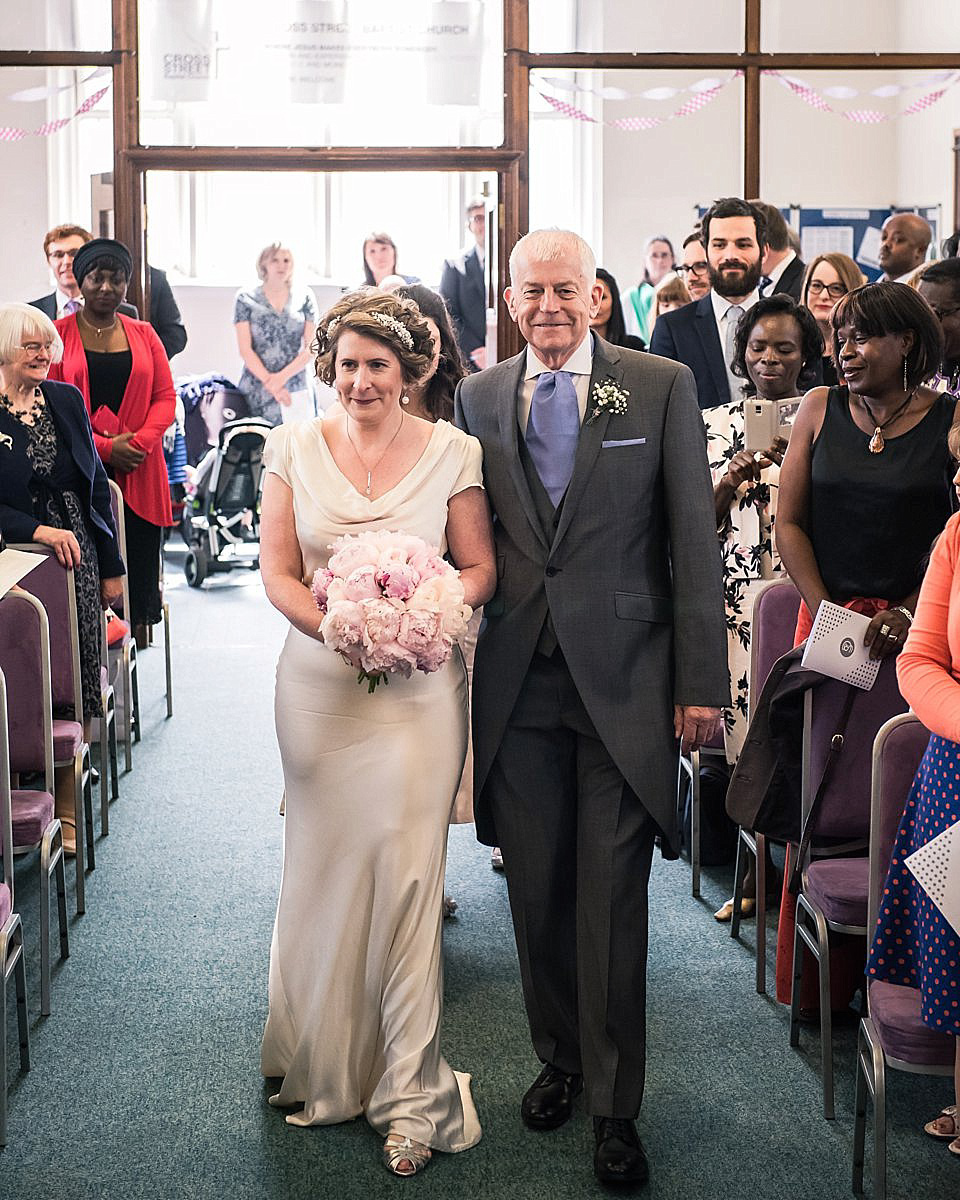 As we were making our vows in a church, we used the standard set which wonderfully capture what marriage is all about – self-sacrificially loving and supporting each other through whatever life brings. It was hugely resonant to say those vows knowing that many in the congregation had said them before us, and that others would soon be making them. As part of the declarations, the whole congregation was asked if they would support us in our marriage, and there was a rousing positive response.
We had two Bible readings as part of the service. Psalm 23, which speaks of God's care for his people even in the hard times, was read by one of Sarah's best friends Audrey. We chose this to be read before we did our vows, as we wanted to start by making clear that this is the truth that our married life together would be based on."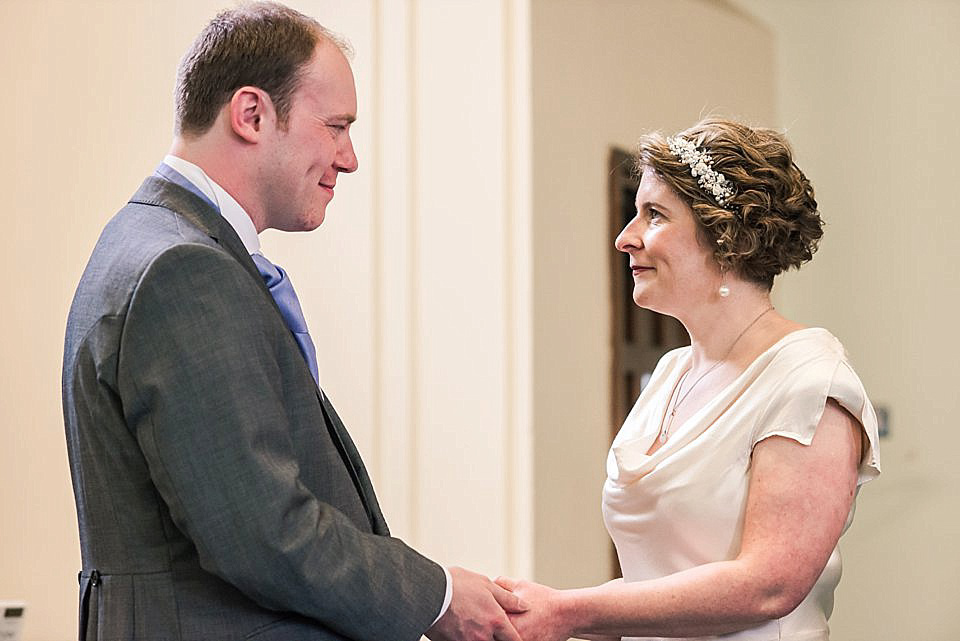 "Our second reading, given by Christian's godmother Joy, was from Paul's letter to the Ephesians 4 v 1-6 which talks of how Christians are to live, including this wonderful instruction, 'I urge you to live a life worthy of the calling you have received. Be completely humble and gentle; be patient, bearing with one another in love.' While this is not a passage about marriage, the principles that it sets out for how to live seemed very appropriate as we started out in marriage."
"Our Christian faith is central to our relationship and is the foundation of our marriage. It was essential for us to get married before God and in front of all our family and friends. Cross Street Baptist Church in Islington was perfect to fit in all the family and friends we wanted to be there to witness our vows and for an informal afternoon tea after the service to celebrate and the church that Christian had been a part of for almost a decade."
"I found Nicola from Flowers by Eve online, and 'auditioned' her along with a few other florists I was quite nervous about the flowers as I knew that I wanted beautiful flowers, but floral arrangements is not something I know much about. Making the decision to go with Nicola was easy, as she understood my slightly inarticulate explanations of the kind of flowers I wanted. She also showed a personal interest in our wedding, which made me feel special, not just one wedding on a 'conveyor belt' of floral arrangements for the weekend.
I wanted to have a simple bouquet of one flower and was delighted to discover we were getting married in peak peony season, so I was able to have a bouquet of peonies. Nicola persuaded me to have a range of colours to make it prettier and the overall effect was glorious."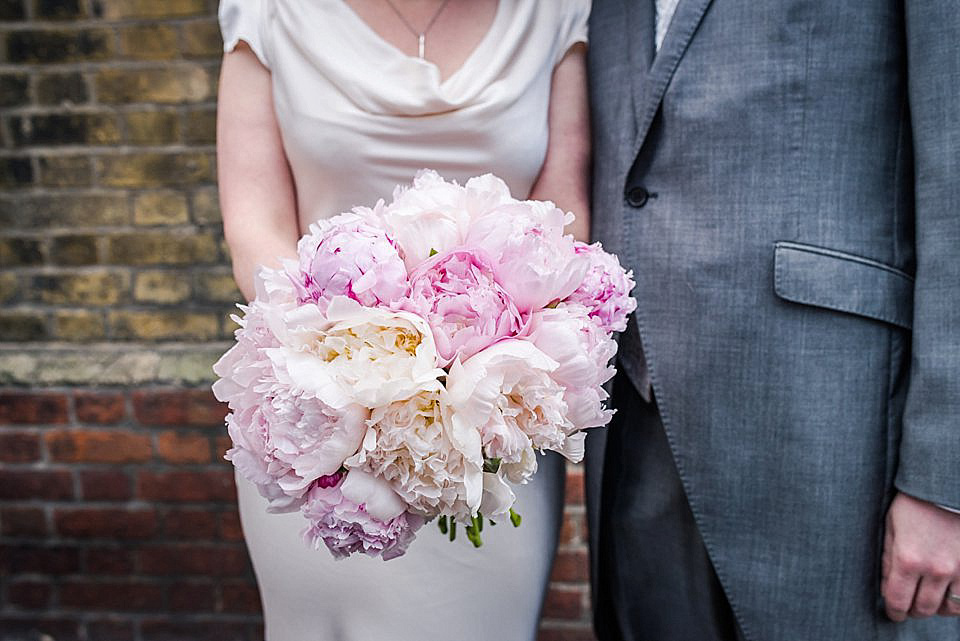 Sarah had six bridesmaids ranging in age from eighteen months to fourteen years old; a mix of their nieces and god-daughters, and they had a jolly girly day trying on dresses. For the colour scheme, the bride settled on lilac (with a bit of pale pink) and touches of silver and grey. The girls wore sparkly hair clips from Accessorize and customised freshwater pearl bracelets from BeauHannah on Etsy, a thank-you present from the bride.
"The four bridesmaids in the middle of the age spectrum all wore the same dresses from Monsoon. We had a fun day out in Westfield trying on lots of dresses, checking for their 'swish-ability' and whether they made the girls feel beautiful, and while we hadn't managed to try the dress in the right colour, it was the clear winner. 
We shopped separately for the oldest bridesmaid and found a silver prom style dress designed by Coast for Debenhams. It was so perfect, and made her smile so that we bought it without having decided on the younger girls dresses. The smallest bridesmaid also wore a dress from Monsoon, also in silver, which was glittery with silver sequins."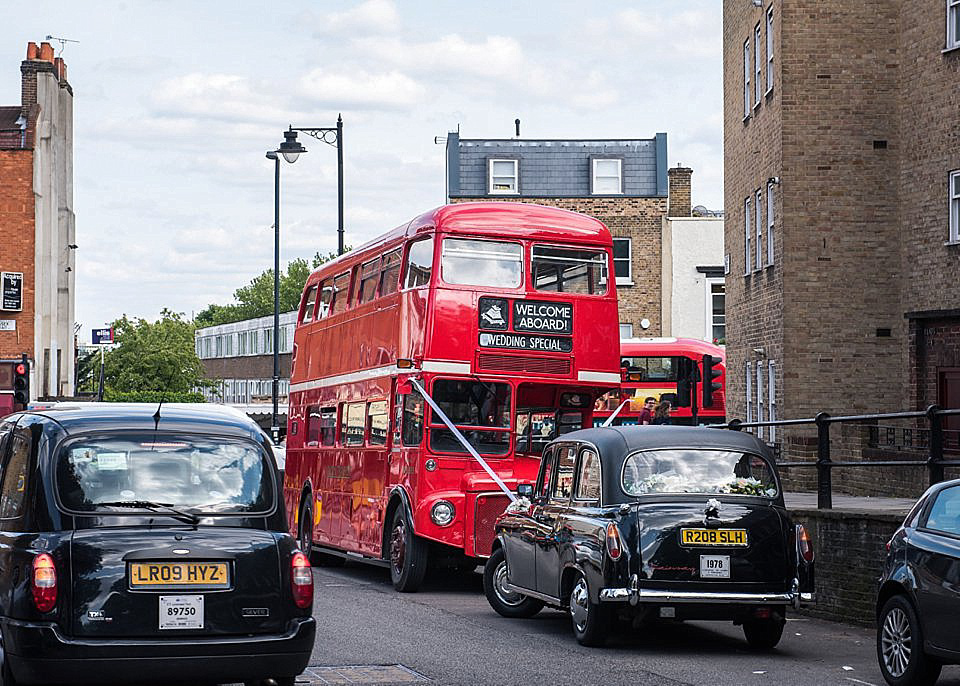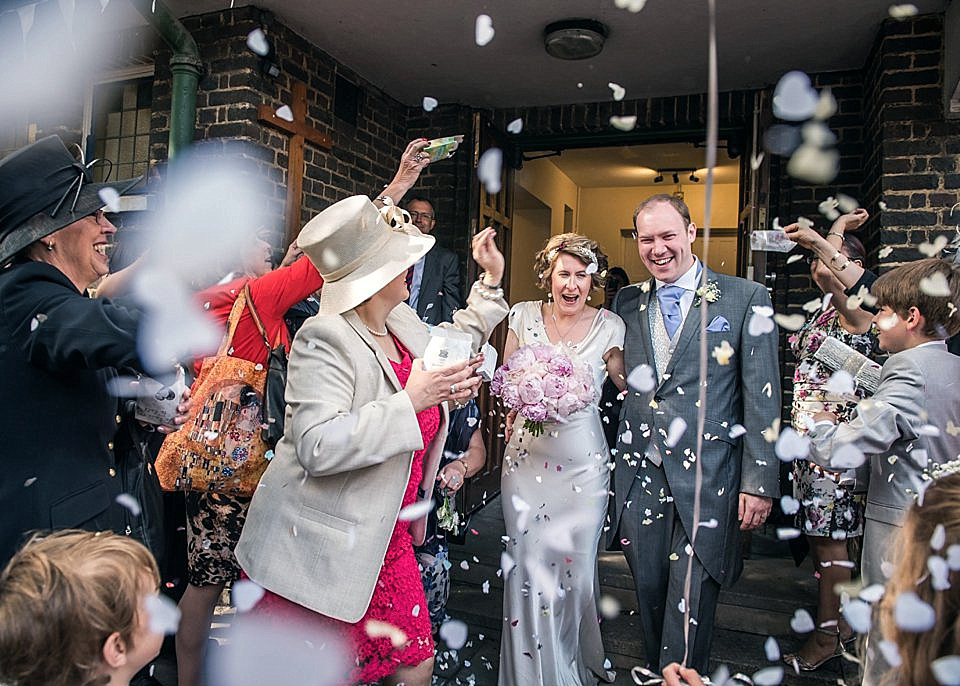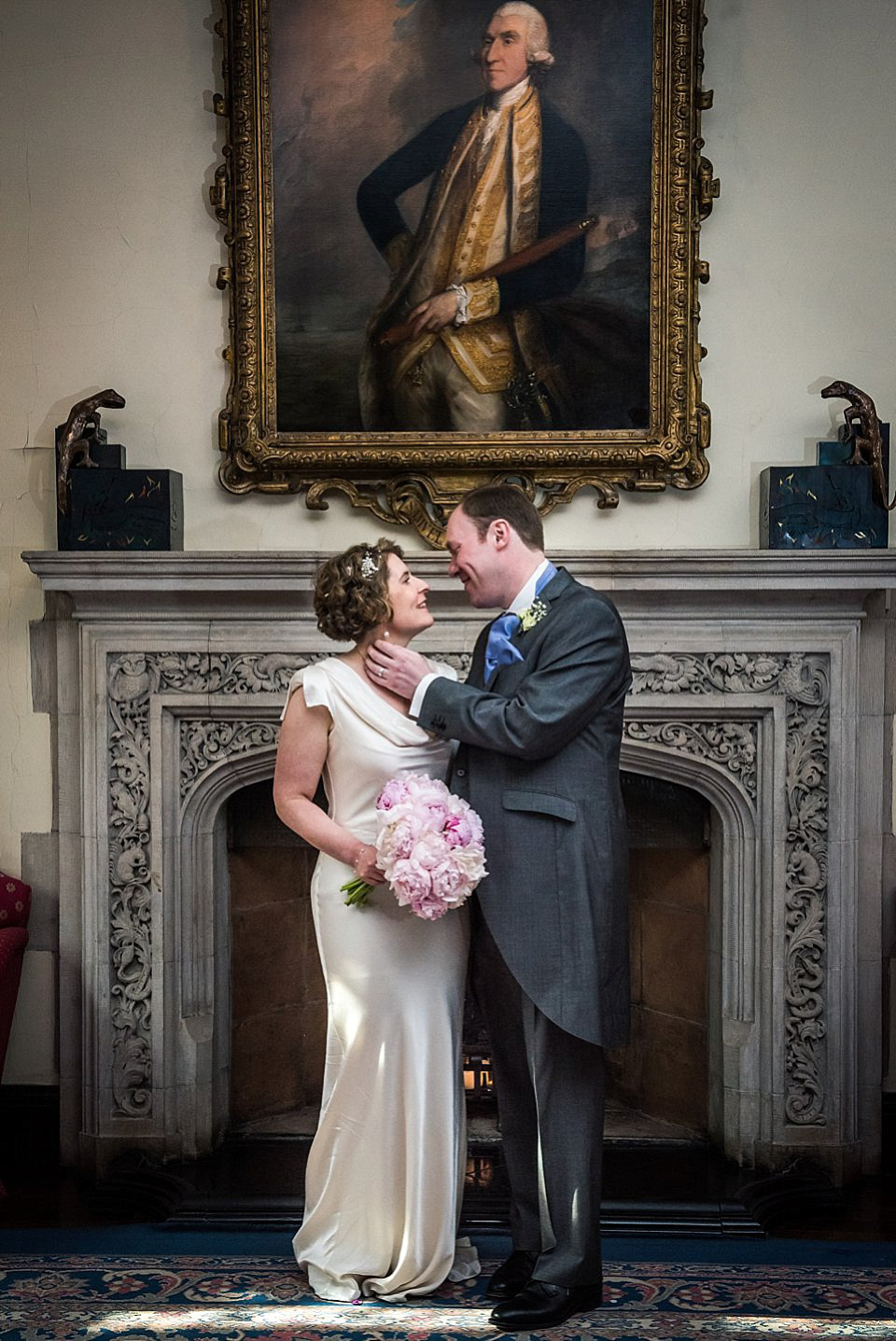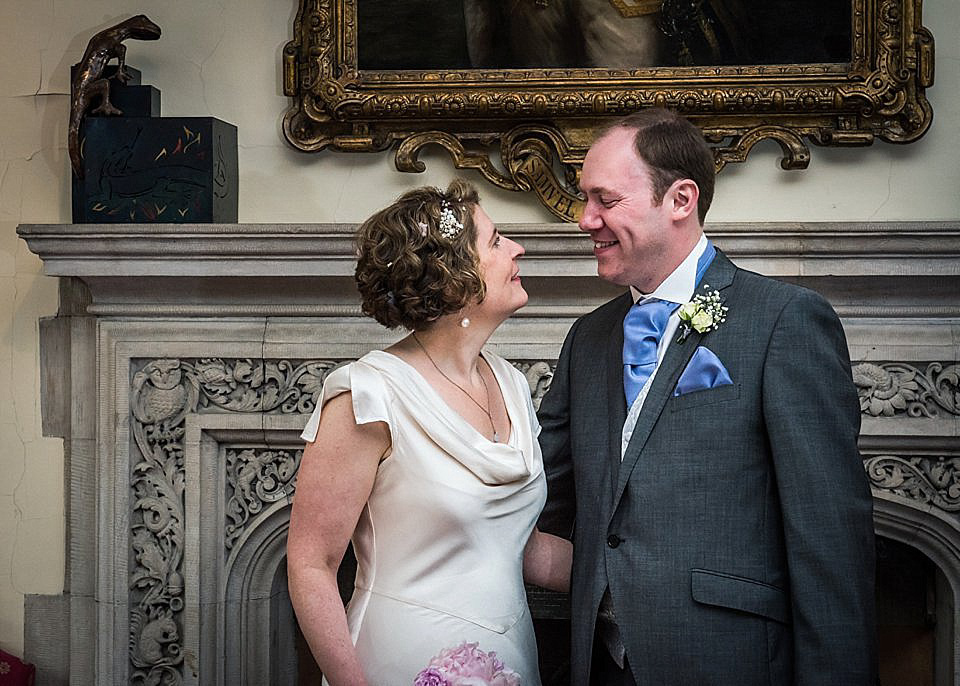 The bride got a little creative, making the table plan using a map of London, and held 'crafternoons' with helpers to make crepe paper banners and garland decorations for the hall where their afternoon tea was held, adding pops of colour with a range of balloons. And a friend of the couple turned their stationery ideas into reality. 
"The formal wedding reception was at Ironmongers Hall right next to the Barbican Centre. It was the first reception venue we visited (we saw a number of wonderful buildings in London, it was great fun!). We were instantly impressed by the warm professionalism of Paulina, the events co-ordinator, the beautiful rooms – the stunning drawing room has original William Morris and Co wallpaper – and a fantastic Great Hall with panelled walls, a minstrels gallery, and plenty of light from big windows and fabulous chandeliers (the glamorous loos were a bonus!). As an architect, Christian wanted the reception to be in an interesting building, and Ironmongers Hall definitely ticked all the boxes."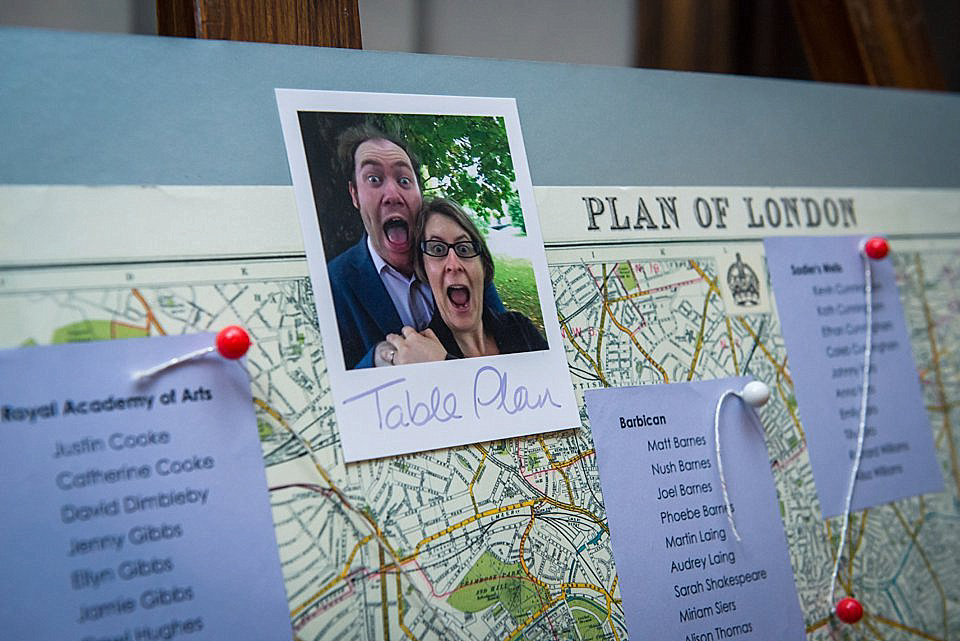 "We didn't need to do anything to decorate, as the place was already beautiful. The Great Hall full of tables with wonderful table settings and candelabras looked amazing. Nicola the florist complemented this with an arrangement of small pots around the base of the candelabra with more hydrangea, roses, peonies and gypsophila.
We named all the tables at dinner after places in London and were generally locations that had featured in dates over the previous year. Along with the name of the table, we added a selfie of the two of us at that place, which was great fun in the run up to the wedding making sure we re-visited a few special places to get the right photos."
We often discuss tricky wedding topics on the blog and one such topic is the issue of including children at weddings. The couple explains how they overcame this potentially thorny issue.
"We definitely didn't want to exclude any children, but instead allowed parents to decide whether the day would be more enjoyable with or without their children. Some brought their children to the service and handed them over to others for the evening."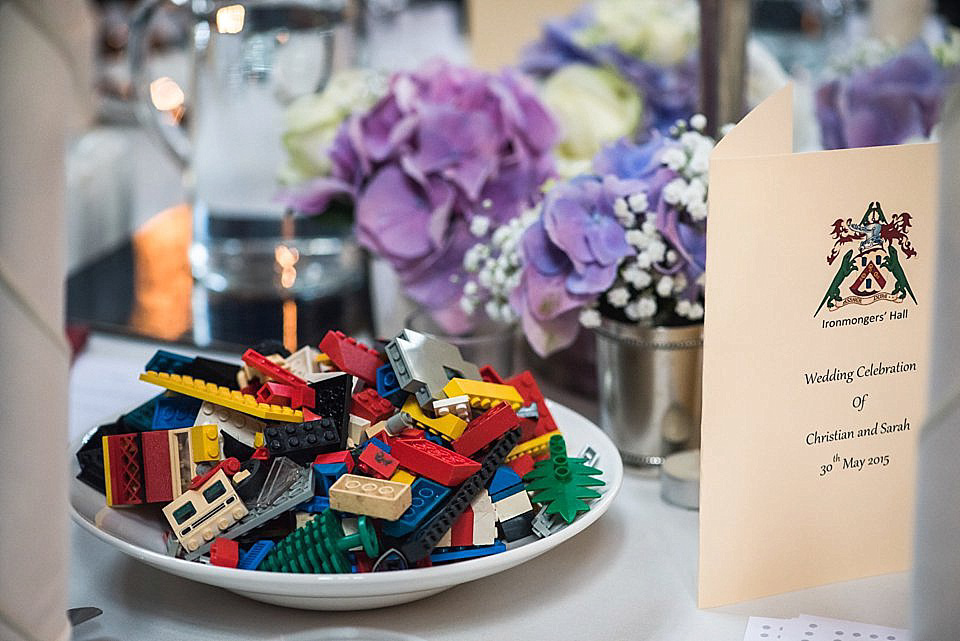 "We tried to make sure we had accommodated the needs of friends with children (such as making sure there were enough high chairs at dinner). We provided a bit of entertainment on the tables during dinner – bowls of Lego for children, large and small to play with – it was great to see the range of creations. My mum also created a range of activity books for children to complete during the dinner."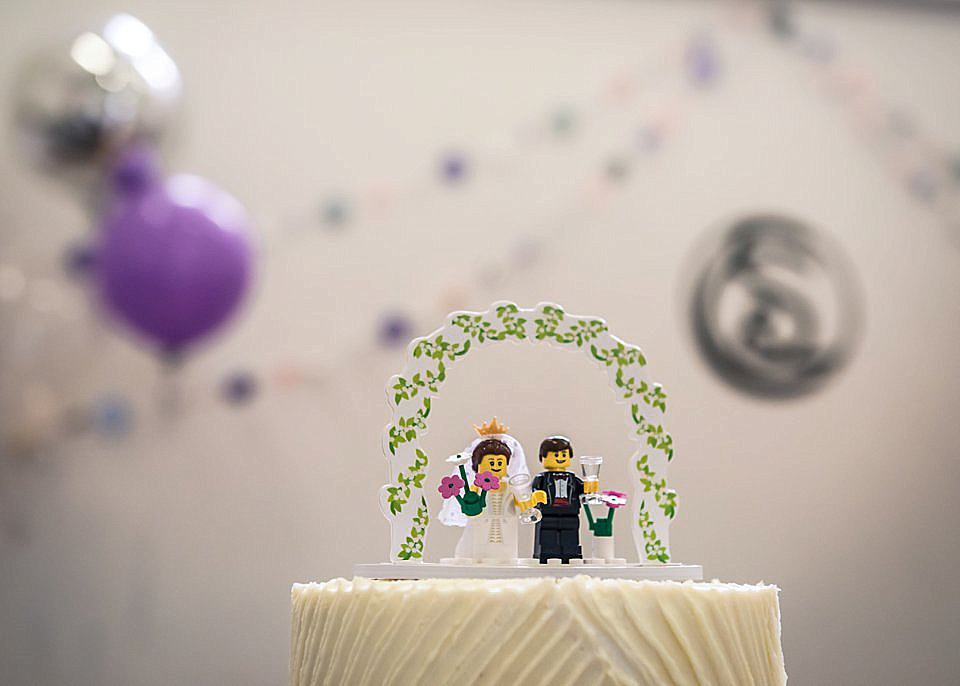 The couple's cake looks divine, and to represent their love of London architecture they also cut into a replica of St Paul's Cathedral … made entirely out of jelly! 
"The cake was important to us as this was to be served at the afternoon tea immediately after the wedding. Nicola recommended her friend Elle from Designer Cakes by Elle and we had a wonderful morning tasting the different options for chocolate cake. We settled on the most chocolate-y option to be iced in white buttercream. The cake was utterly delicious – the best man's son was still talking about it eight weeks later – and we included Lego mini-figures as our cake-topper!"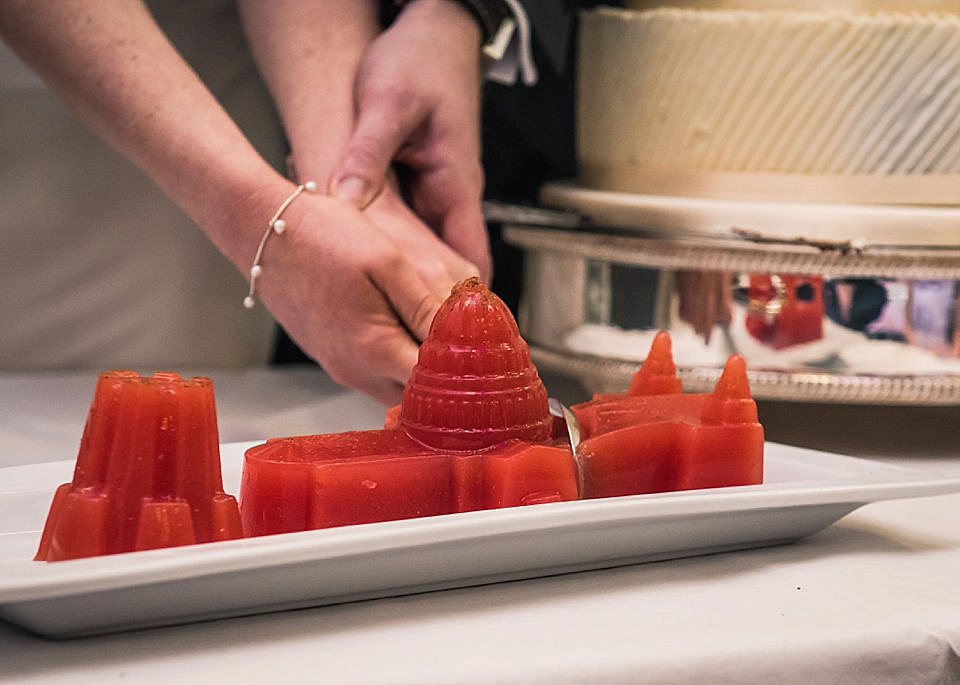 "After dinner we had a disco with a DJ provided by the venue, and he did a brilliant job of interpreting our brief: cheesy music to get all ages on the dance floor. The dance floor was packed all night and it was great to see everyone showing off their best moves.
We chose 'Love Me Do' by The Beatles for our first dance song, because it was fun but also expressed the feelings of the day. Neither of us are skilled dancers (and the only practice we did was in the courtyard of the hall before dinner), so we wanted something that other people would join in quickly and then kick off an evening of dancing to a wide selection of cheesy tunes."
Words of Wedded Wisdom
"In the run up to the wedding, it is important to take time to invest in the relationship, work through the big questions of how to do life together. We were privileged to be able to meet with a couple from church to have four evenings of 'marriage preparation' which was a great investment in thinking through issues and challenges that we might face in married life and how we could build good foundations to help us weather the storms."
"There is also a balance to be had in having the wedding day you want and making sure that others enjoy it too. This meant that when we were working on what to spend money on, our assessment of 'value for money' was based on the happiness it would bring, so we tried to spend money on the things that we thought would be appreciated by others. It was fun to put little elements into the day that we knew others would enjoy.
On the practical end of the spectrum – be organised! I was better able to relax and not think about the wedding when I knew things were under control and what the deadlines and decision points were going to be. Other practical bits of advice are: allow contingency time in the plan for getting stuff done, allow plenty of time for chasing up RSVP's and sorting out the table plan takes longer than you imagine."
Thank you so very much to Julie Anne Images Photography for sharing the couple's special day with us – your pictures capture the vibe beautifully. And a big thank you Sarah and Christian, I've just adored sharing your beautiful love story today and I wish you both a very happy future.
Be sure to click here for more beautiful Ghost gowns we have previously featured.
Wishing you all a wonderful weekend lovelies!
Love Jo -x-
Photographer – Julie Anne Images Photography
Venue + Catering – Ironmongers Hall, London
Ceremony – Cross Street Baptist Church, Islington
Dress – Ghost
Hair accessory – Gillian Million headpiece, loaned by a friend
Shoes – Rachel Simpson 'Ginger' style via Mirror Mirror
Jewellery – Georg Jensen pendant and pearl and silver bracelet and pearl drop earrings via Dower and Hall
Perfume – Chanel's 'Allure'
Groom – Ted Baker for Moss Bros suit, Georg Jensen infinity cufflinks, and shoes from Church's
Groomsmen ­– Ted Baker for Moss Bros
Bridesmaid's Dresses – Monsoon and Coast for Debenhams
Bridesmaid's Accessories – Hairclips from Accessorize and freshwater pearl bracelet via BeauHannah on Etsy
Florist – Flowers by Eve
Transport – Vintage taxi and vintage London bus via London Legend
Rings – McCaul's Goldsmiths
Cake – Designer Cakes by Elle and jelly from Bompass and Parr
Stationery – Designed by Type Function and printing by printed.com
Makeup + Hair – Isabell Bottcher via The Bridal Stylists