Good morning lovely ones. Did you have a nice, relaxing weekend? A chance to kick-back maybe and enjoy the extra hour in bed, or get outdoors and enjoy the rich Autumnal colours on a Sunday afternoon walk? I got to do both this weekend, so I'm feeling pretty good.  Today's wedding is one of those utterly beautiful, honest occasions that I feel so proud to be sharing. The photographs were taken by a friend of mine – someone I first in person a year ago when I was asked to attend and present at a workshop for professional photographers being hosted by Nordica Photography in Reykjvik. His name is Haydn Rydings and I adore his work.
Haydn was commissioned to shoot the beautiful wedding of Jen and James on 7th February this year at Iscoyd Park in Shropshire – a celebration you could say was Love My Dress style glamour through and through. But then the bride did buy her gown and veil at one of our very favourite UK bridal boutiques, the wonderful Agape Bridal.
"I'd originally fallen in love with a country rustic style for the day, I grew up in the country and wanted to achieve a soft relaxed style for the day. However the first suit that James tried on was a midnight blue tuxedo, which was gorgeous and he loved it, so for the next few weeks I scanned magazines and Pinterest to work out how we could mix my theme with a little more glamour."
Photographer Haydn Rydings is a member of Little Book For Brides®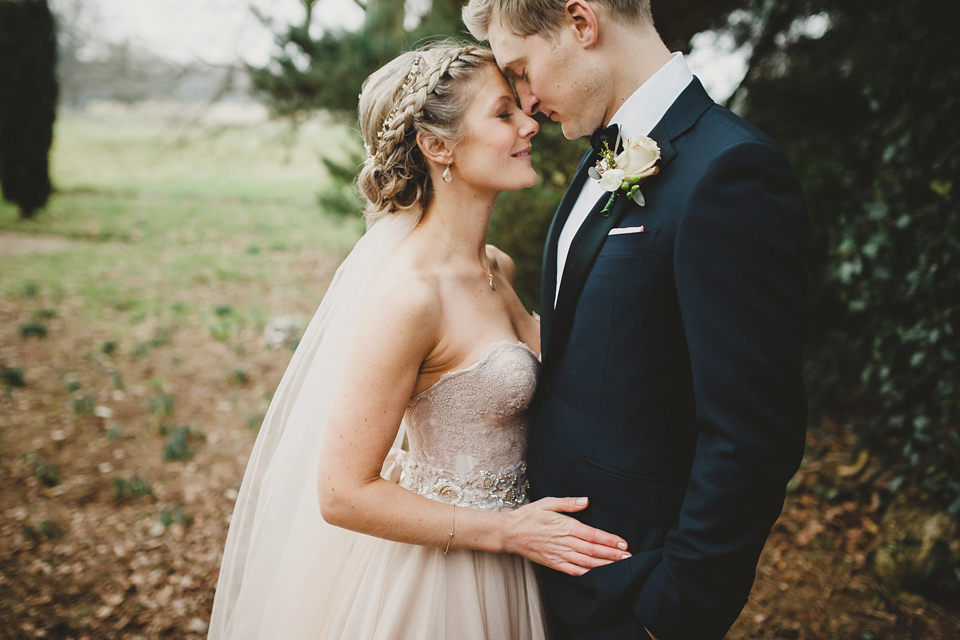 Dress by Watters, via Agape Bridal Boutique
"In essence I wanted the venue to place to sparkle and feel warm and relaxed. The soft pink tomes of my dress were carried through the flowers, favours and decor with splashes of silver and gold and lots and lots of candles."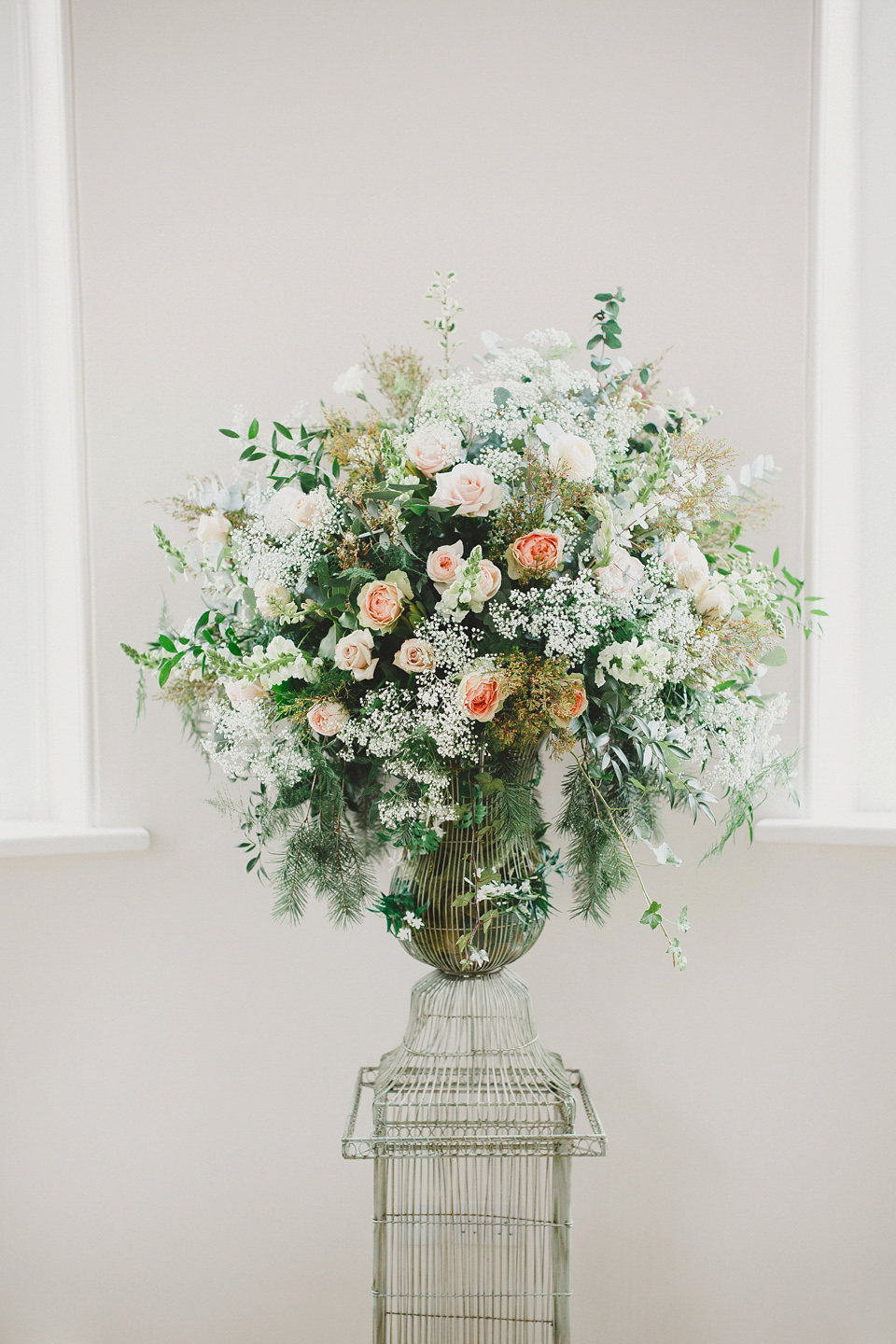 Flowers by Selina Godsal
"Our photographer Haydn Rydings was amazing. James was quite apprehensive about being photographed but Haydn put us both a ease and captured some beautiful everlasting memories for us of our day."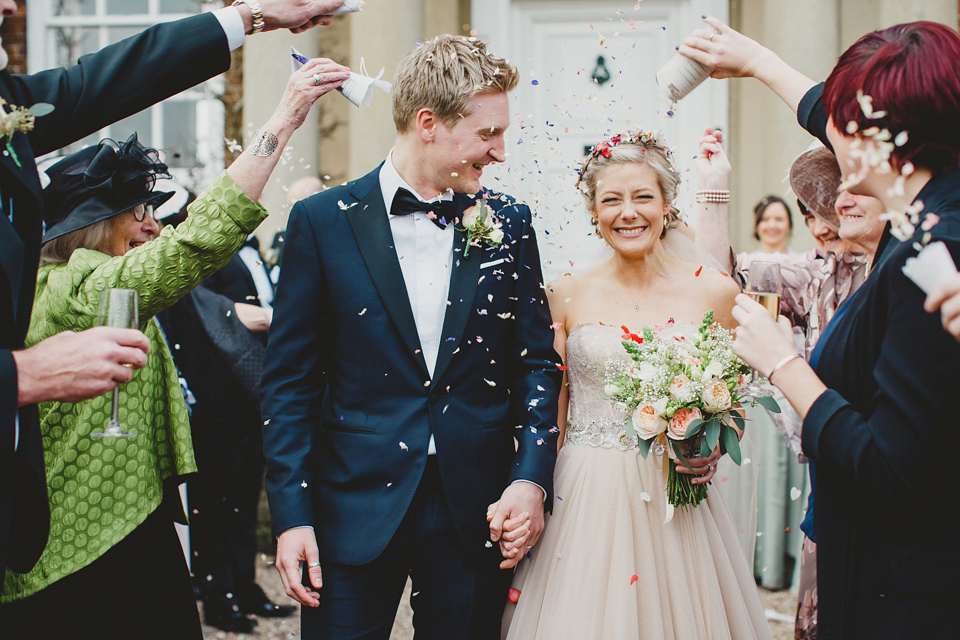 "My hair and makeup artist Nicola Jewsbury was brilliant. We clicked the moment we met and she knew exactly what I was trying to achieve. She was great fun on the morning of the wedding and kept everyone calm and collected and on time. I wouldn't hesitate to recommend her to any bride to be!"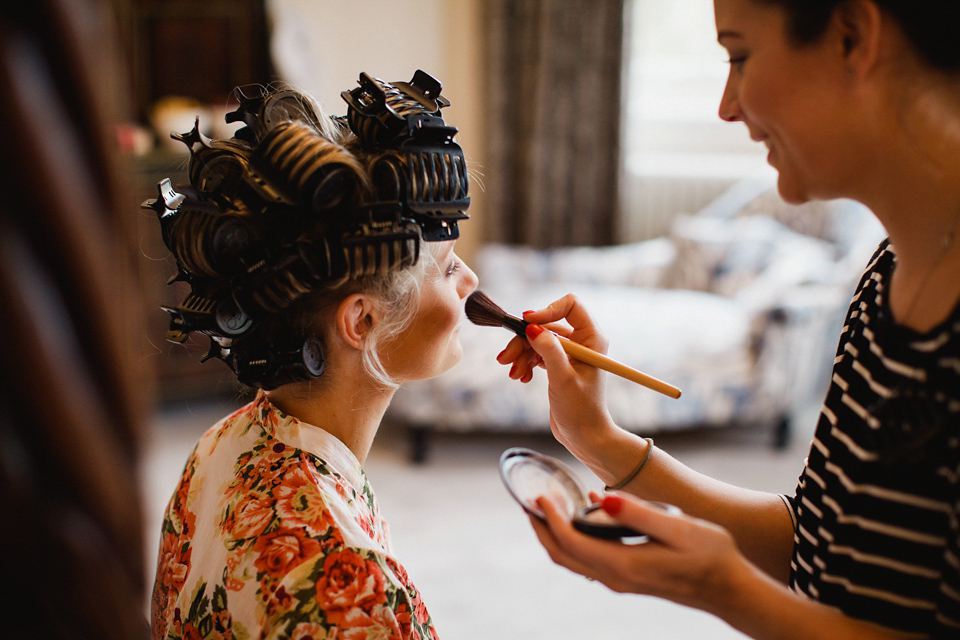 "Our florist was Selina Godsal. We included David Austin roses into the flowers, as this was the first bunch of roses that James bought for me and included grey green foliage along with eucalyptus to make reference to our Australian adventures together."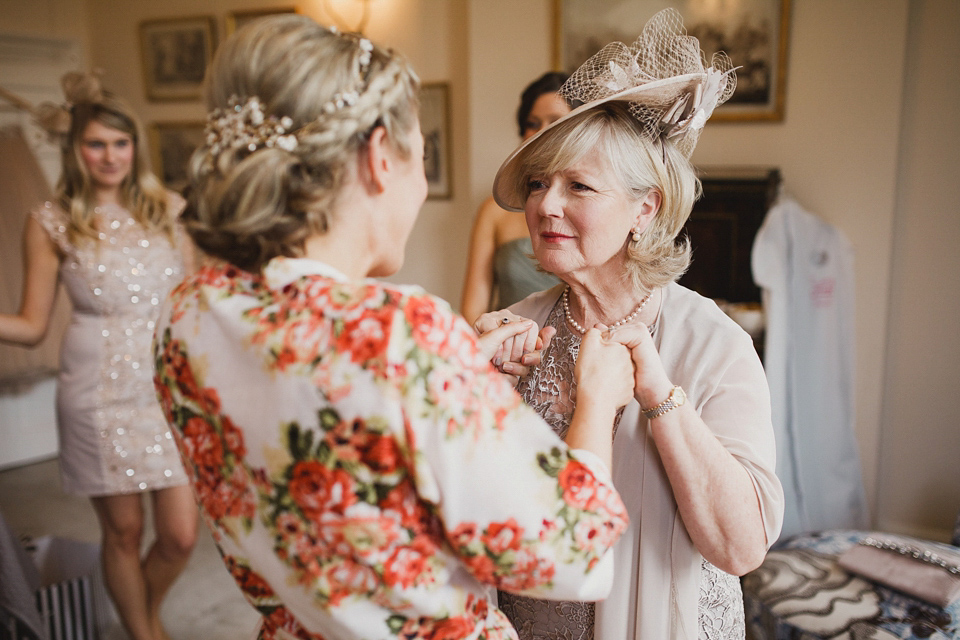 Jen's utterly beautiful blush pink wedding dress was a Watters design, that she purchased from the wonderful Agape Bridal Boutique (who we cannot recommend highly enough dear readers!)
"I really wanted a dress which was a bit unusual. I had tried on a couture dress in Australia in blush which I loved, but couldn't come to terms with buying a wedding dress without my mum being with me, so I waited until I got back to the UK. I found an alternative Watters dress from Agape and whilst mulling it over, came across the Ahsan Skirt and Corina Corset on the Watters website."
I contacted Agape and asked if it was something that they could order in for me, as they didn't stock it at the time and they said yes. I had had a poor experience at a previous bridal boutique, but Sarah and the girls at Agape Bridal Boutique made the experience enjoyable from the moment I walked into the store, nothing was too much trouble and they were enthusiastic and excited as I was about my dress."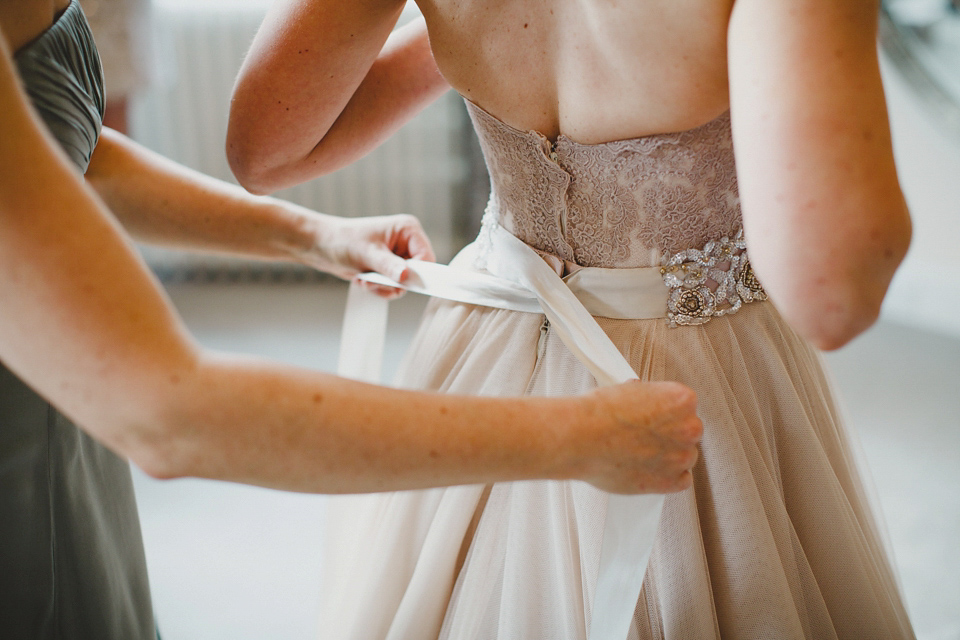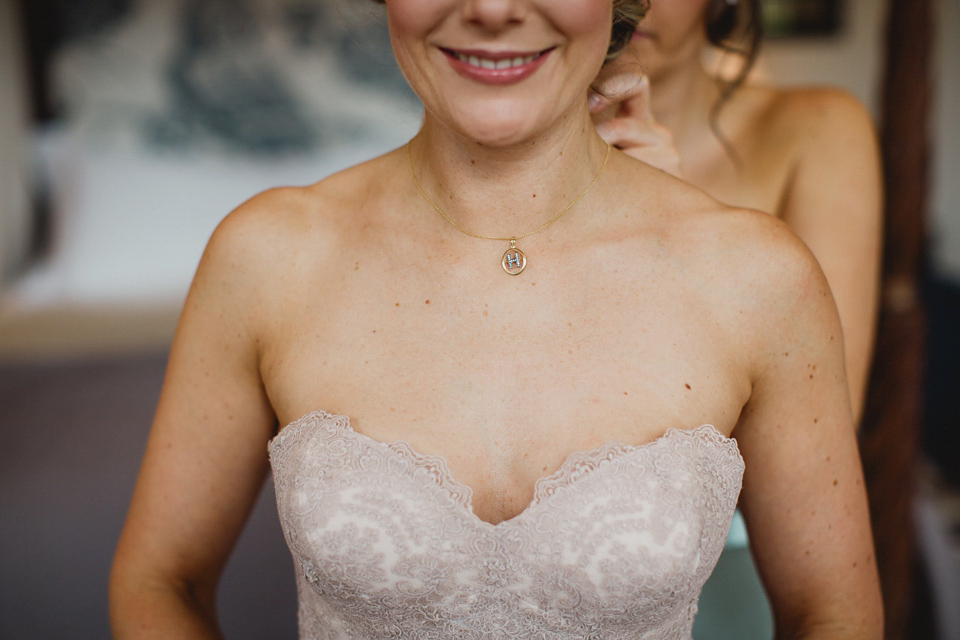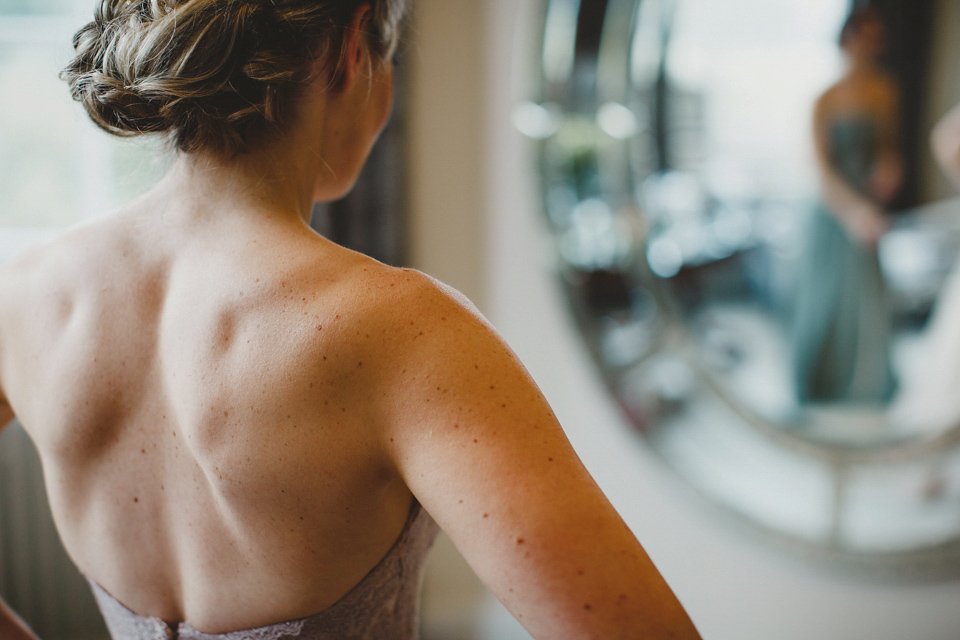 "I wore a beaded belt by Annoushka. This was originally doused in silver beads. I loved the design but wanted a gold belt which was much softer looking. The girls at Agape, painstakingly rebeaded the belt with gold tones and it was absolutely the element that made the dress for me."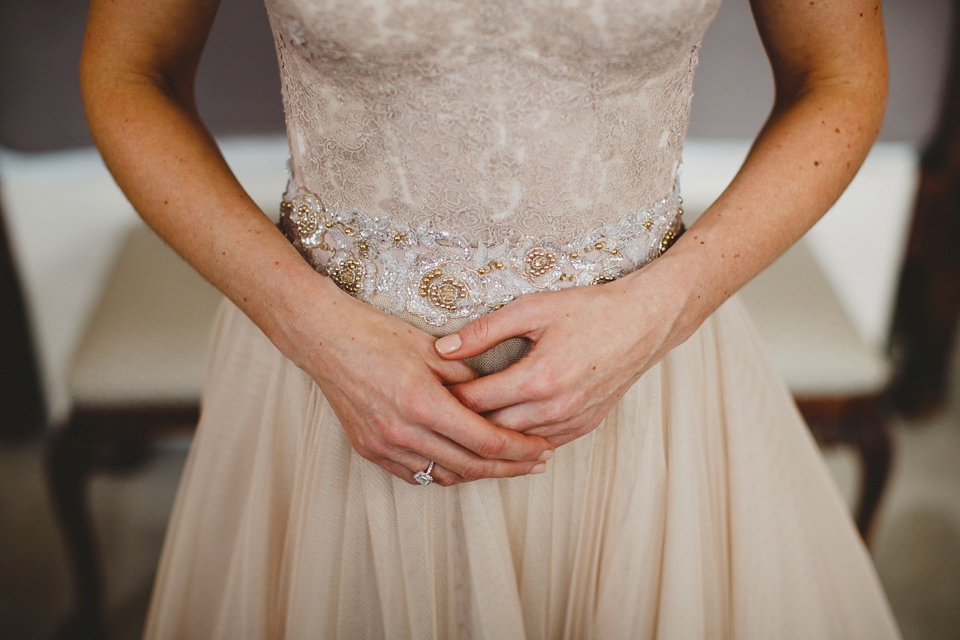 What precious moments captured on camera. Haydn Rydings my friend, you are exceptional…
"My mum and I search high and low for a veil to match my dress and finally found some fabric on Amazon, that the girls at Agape Bridal Boutique kindly made into a veil for me."
"James and I got engaged on holiday in New Zealand whilst we were living in Melbourne, Australia. Trying to find a venue from the other side of the world which fit our criteria was a bit of a challenge to say the least."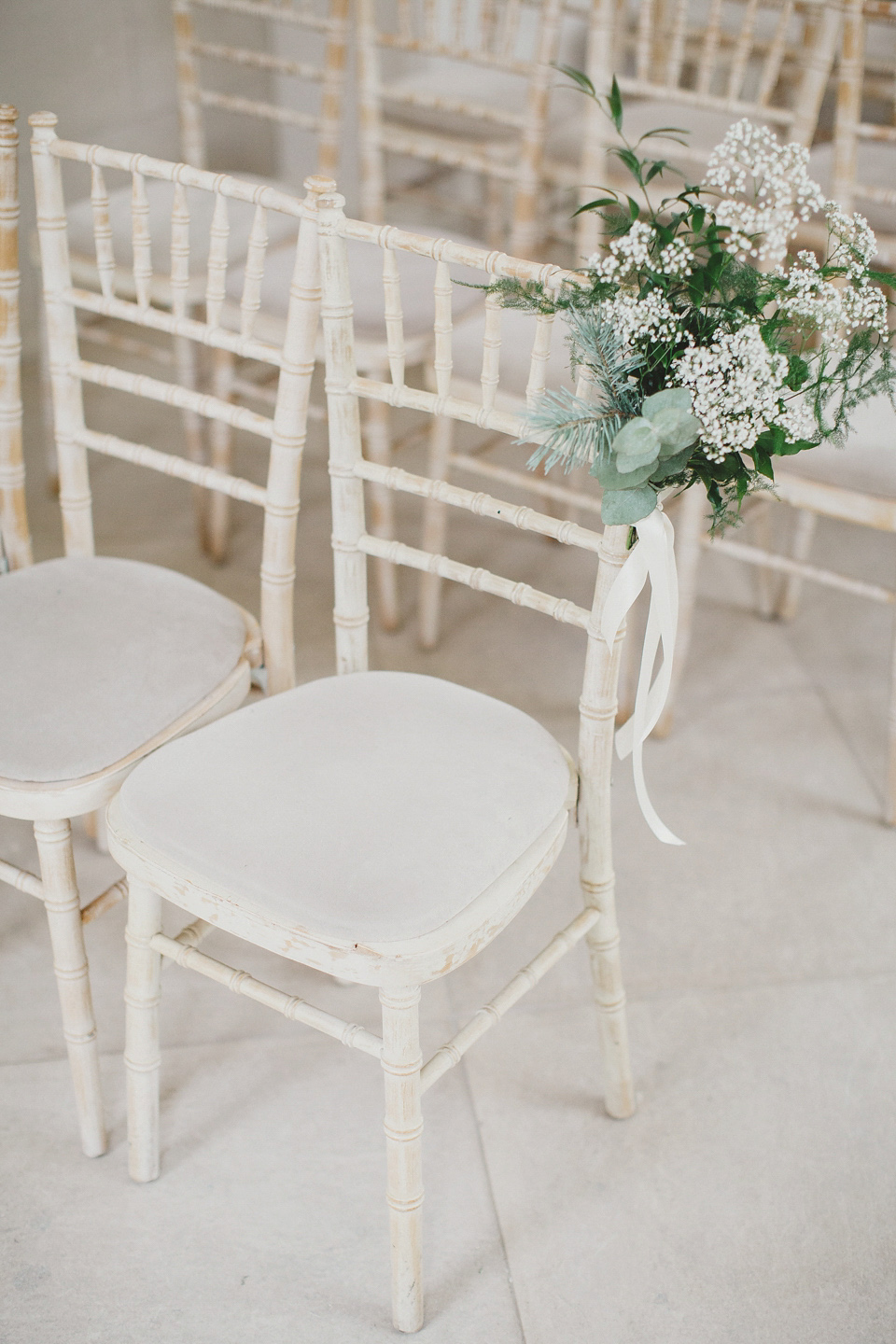 "In essence we wanted a venue that suited a winter wedding, with the UK weather so unpredictable we thought we'd plan a winter wedding to save any disappointment if it wasn't glorious sunshine on our wedding day. Iscoyd Park was perfect; the house was so warm and inviting and with a beautiful bright garden room as the location of the ceremony and roaring fires in the drawing rooms, it certainly ticked all of the winter venue boxes.
We also wanted a venue which had enough accommodation for the wedding party."
"We chose to maximise the full weekend of the wedding and and the wedding party arrived on the Friday afternoon, with the girls booking into the Secret Spa at Iscoyd and the boys heading off for some clay pigeon shooting and a quick drink at the local pub, it was a great way to start the weekend of celebrations.
I was also keen to dress the marquee and tables, after months of collecting trinkets, antique tea light holders, dressing jam jars with lace and making silk and lace table cloths (thanks mum!) so arriving on the Friday gave us ample time to settle my creative control freak nerves and get everything organised."
We all had dinner at Iscoyd on the Friday night, which was probably one of most enjoyable parts to the weekend. It was so special to have our closest friends and family gathered around one table in a stunning drawing room ahead of our big day."
"James and I met at an awards ceremony, whilst working for the same retailer. I in marketing and James in buying. After a year of being together, James was approached to join a company in Australia and twelve weeks later, we had moved to Melbourne, Australia. Mid way through our second year in Aus, we took a road trip holiday in a camper van through New Zealand over the Christmas holidays.
James had been to New Zealand previously whilst travelling and had commented it was one of his favourite places he had been to, so I had a feeling (I hoped with all of my fingers and toes crossed) he would pop the question whilst we were there. But after two weeks of out of this world experiences, such a glacier trekking, helicopter rides, kayaking with seals there was still not an inkling and I had to have a quiet word with myself to accept that maybe it wasn't going to happen this holiday."
"On Christmas eve we stopped in Queenstown, and popped to the deli to pick up Christmas treat rations to keep us going on Christmas day, with the weather turning a bit wet, our plan was hunker down for the day and eat cheese and biscuits whilst watching cheesy Christmas movies like Home Alone. I woke on Christmas morning to an envelope as my present.
Upon opening, I found out that James had booked an exclusive private hotel lodge overlooking the lake and we were to spend our Christmas day and night there. I was thrilled!"
"Whilst I was thoroughly enjoying our camper van, some home luxuries certainly wouldn't go a miss. The lodge was stunning. With phenomenal views and champagne and strawberries on arrival, as well as an open fire, it was just perfect. James and I had the Christmas music on and I was settled on the sofa reading a book, when James walked over and asked me to marry him.
It was 14 months from that day to our wedding day."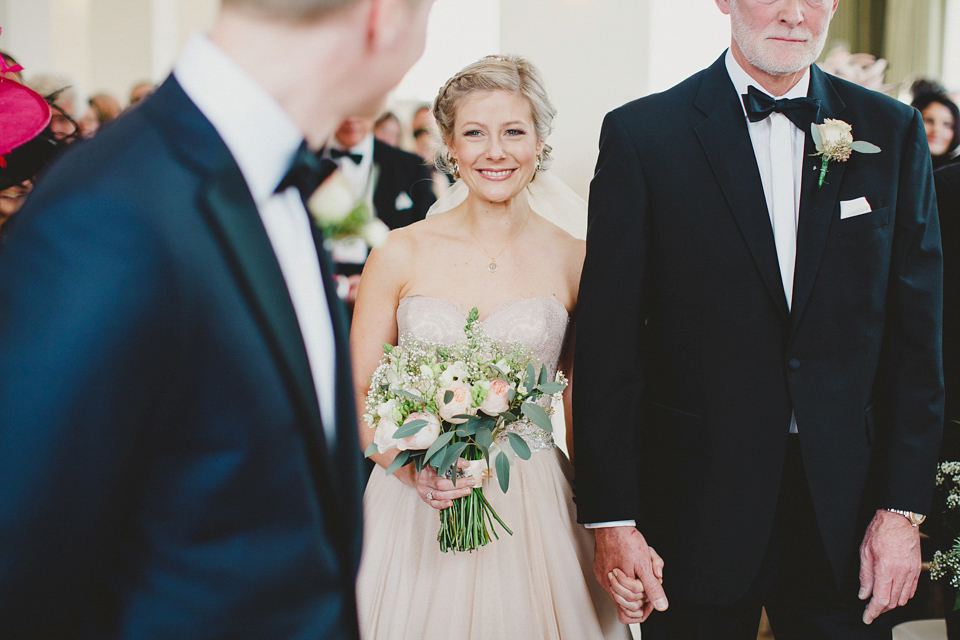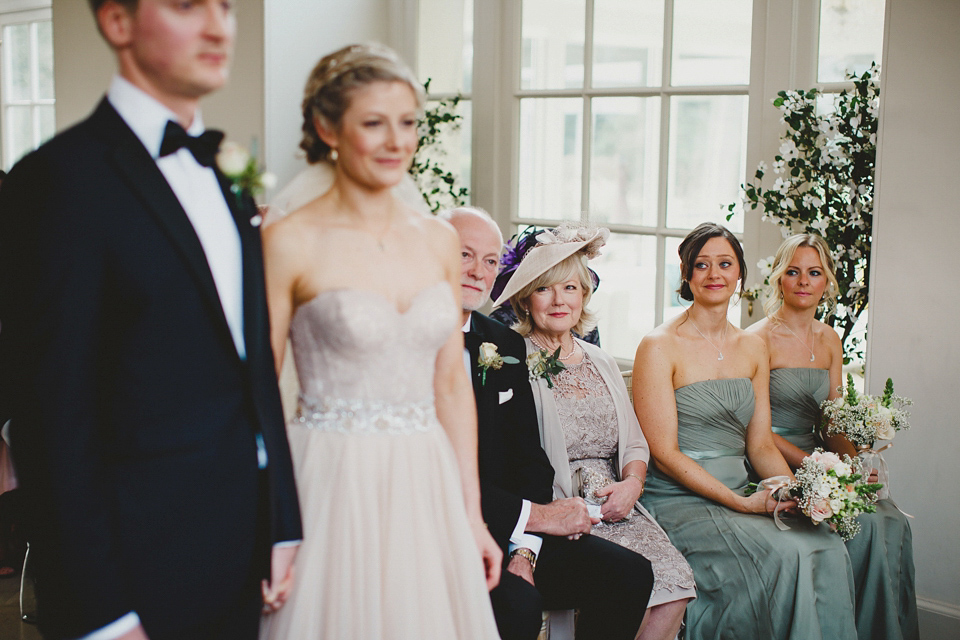 "We wanted traditional vows, to reflect the vows that our parents had made when they had got married."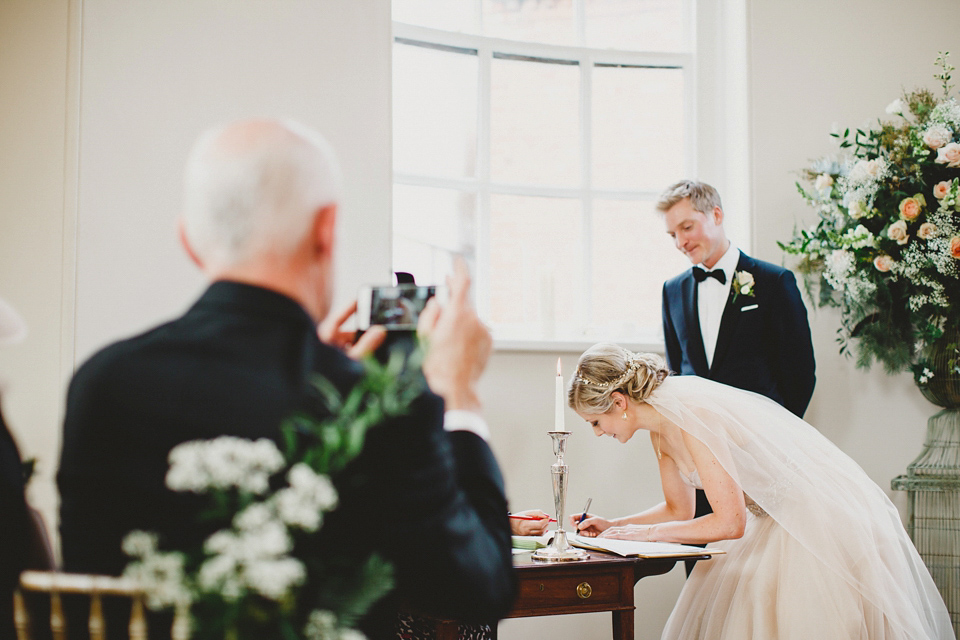 "My dad walked me down the aisle and gave me away, which was a very special moment for us both that no one really prepares you for emotionally. I walked down the aisle to Maestro by Hans Zimmer (we walked back down aisle together to Feel the love by Rudimental, eager to get the celebrations started!"
"My 'H' necklace was my wedding present from James – the first letter of my new surname!" 
"We had Charbonnel and Walker heart boxed truffles, sourced from John Lewis as favours (everyone likes a little something sweet!)"
"I scoured charity shops and car boot sales for the months leading up to the wedding, looking for trinkets and tea light holders and gold gilt framed mirrors and picture frames for messages. I also soured antique hankies for the ladies upon their arrival to the ceremony, pre-empting a few happy tears.
We even made confetti holders from paper doilies, I'm sure my dad thought we had gone a bit crazy by that point. But Mum and I had great fun sourcing everything together in the lead up to the wedding, it made everything there very personal and hand picked, as well as being a special time for us to share."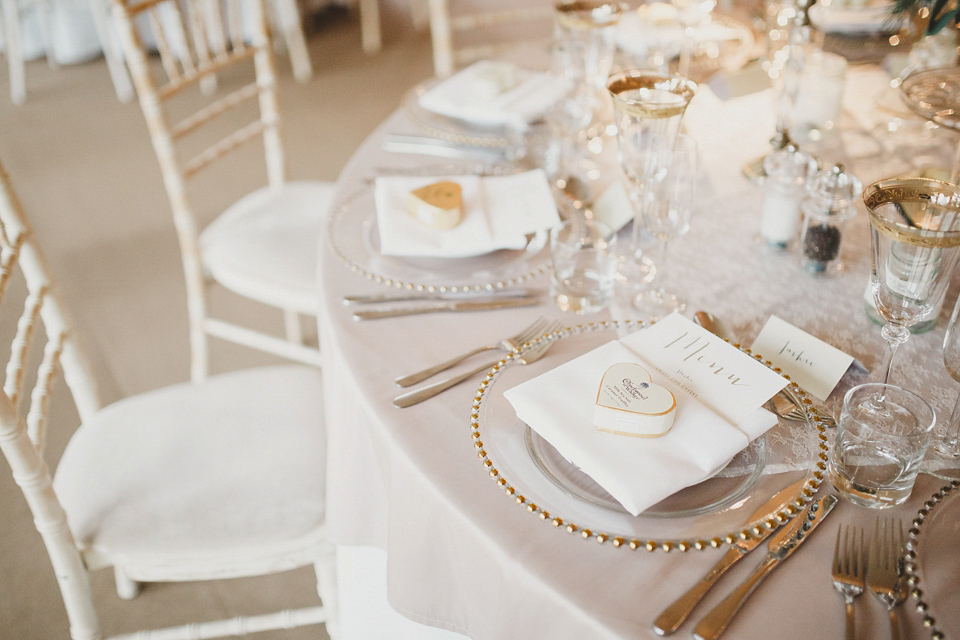 "We ordered our invitations from Etsy but designed and produced all of the other stationery (place cards, menus, orders of the day) ourselves. I created the table plan using an old gold gilt picture frame, blackboard paint and used gold chalk pens to replicate the font used on our invitations."
"Our cake by Bloomsbury Wedding Cakes was a two-tier wedding cake with butter cream icing. We had two tiers on show and one in the kitchen for cutting. There were three flavours' cherry bakewell' (mine and my dad's favourite), double chocolate and lemon sponge. We wanted quite a simple cake, nothing too fussy that would suite in with our style of the day."
"Our first dance was to 'Ordinary People' by John Legend as this was the album James played when he first cooked dinner for me on our second date."
Lovely bride Jen says she has a few favourite moments from the day overall…
"Standing at the alter holding both my dads hand and James' was a very special moment. We walked back down aisle together to Feel the love by Rudimental, eager to get the celebrations started. Our friends were dancing in their places and I remember feeling that it was the happiest and luckiest I had ever felt. I'll remember that feeling for ever."
"A number of my close girlfriends couldn't make the wedding as they lived in Australia or had just had babies (my best friend gave birth on our wedding day), so James and the best men (Rory and Mike) had secretly organised video messages from them all to play as part of the speeches, which was a complete surprise and meant the world to me."
Words of Wedded Wisdom…
"If I could give any advise for brides to be, it would be to enjoy the planning experience and to listen to your gut instinct about decisions. I fretted for months about all of the various elements of the decor I was creating and if would they all sit well together. I should have believed in my instinct and capabilities, it would have been far less stressful!   
I adore 'love my dress', it provided me with inspiration and provoked thoughts and ideas."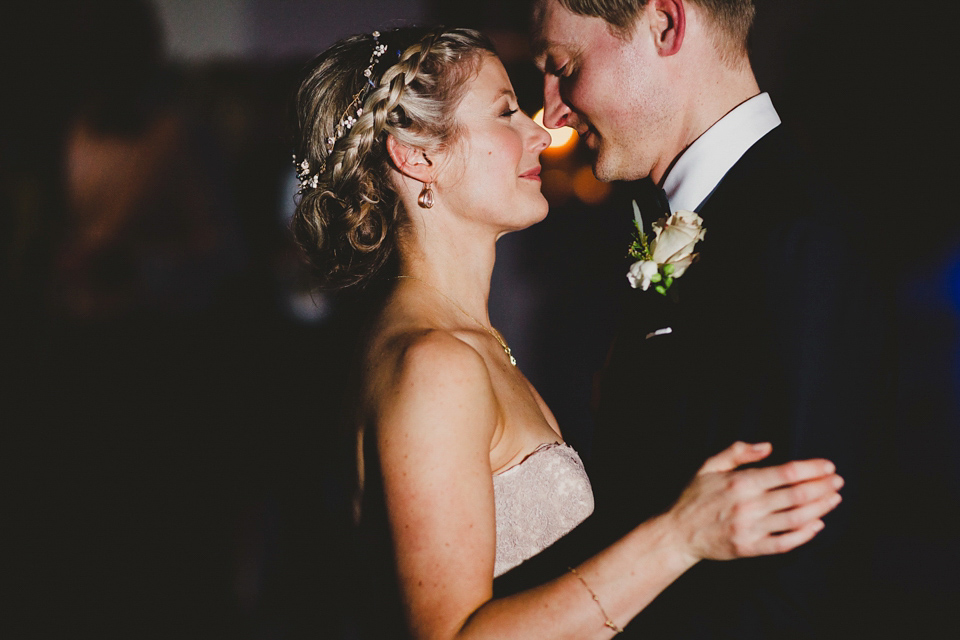 I never ever tire of sharing weddings and love stories – and finding new ways to celebrate and appreciate love.  But how could I, when my job involves immersing myself in beautiful imagery and stories like this one? Huge huge thanks to the talented image maker Haydn Rydings and of course to bride Jen for inspiring so many of our readers.
May your Monday be good to you lovelies – if you are busy planning your own wedding, why not take time to explore our Little Book For Brides sometime today?
Love Annabel xx
Photographer – Haydn Rydings
Venue – Iscoyd Park in Shropshire
Bride's Dress – Watters (The Ahsan Skirt + Corina Corset in Blush/Rose Gold via Agape Bridal Boutique
Veil – Made at Agape Bridal Boutique
Feather necklace by Alex Monroe
Bride's Shoes – Addison in Gold by Jimmy Choo
Bride's Hair Accessories – Donna Crain
Perfume – Jo Malone's Peony and Blush Suede
Grooms Suit – Canali
Bridesmaid's Dresses – Coast + feather necklace by Alex Monroe
Florist – Selina Godsal
Cake – Bloomsbury Wedding Cakes
Entertainment – Casinos 4 Fun
Catering Company – The fine Dining Company
Stationery – Etsy
Hair and make-up Artist – Nicola Jewsbury
Feather necklace by Alex Monroe