Welcome to another of our Sunday advice features and can I just say a huge thank you to you for your wonderful reaction to this new series. I'm thrilled that the advice we're sharing from Little Book for Brides members is proving so helpful. If you've enjoyed our previous features then I'm sure you're going to love today's piece because we're looking at the brilliant world of bridal accessories and talking to some of the best designers of jewellery, headpieces and more to find out everything you need to know about choosing the right accessories for your wedding day.
All designers on this page are listed in Little Book For Brides®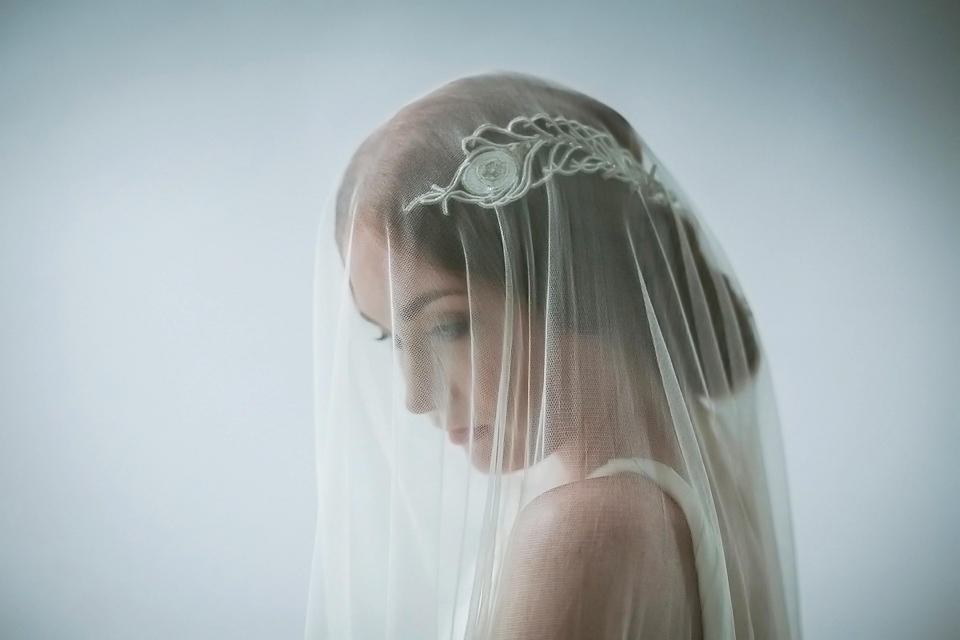 Emmy London headpiece, Kelly Spence veil
Firstly, where and when should you start searching for those perfect finishing touches? Well, the talented experts from Little Book for Brides have some words of wisdom for you:
"In our experience, it's always best to leave choosing your hair accessories and jewellery until you've chosen your wedding gown," says Hannah from the award-winning Vivien J. "This way you'll know what detail you would like to match in your accessories and what style you want to achieve for your overall look."
One of our favourite designers, Hermione Harbutt, agrees and offers this advice:
"After you have the dress, there is no time too early to start looking for your accessories. It's not essential to have decided your hair style prior to choosing your hair accessories, as often choosing your design can help guide you with your hair styling. However, if you already have a firm idea of how you'll wear your hair then this can be helpful in guiding your designer in the style of piece to suggest for you."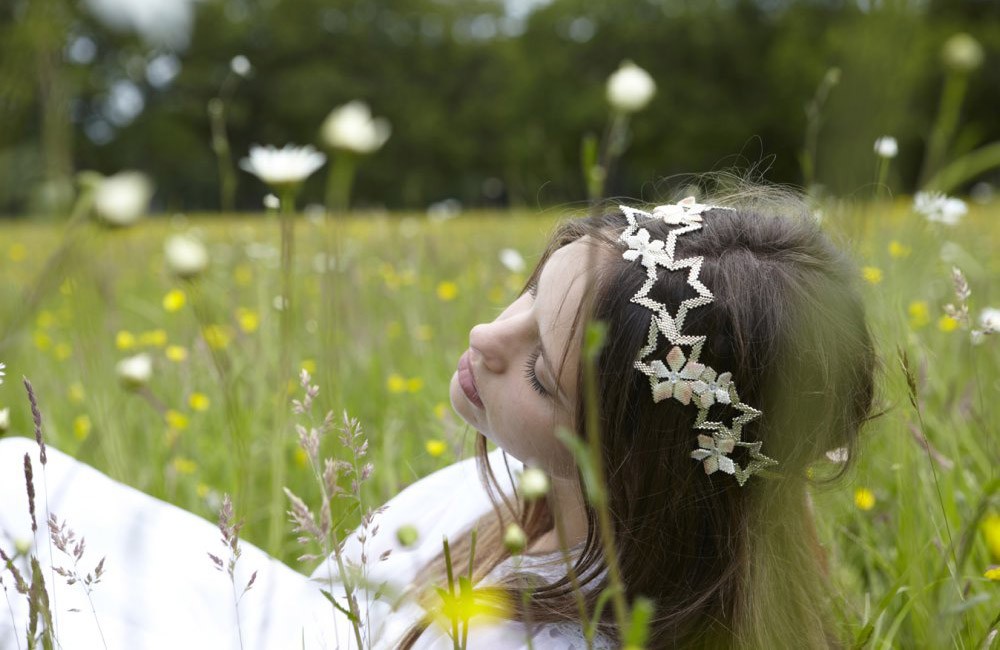 "Wedding accessories help you individualise your look and make it 'yours'" says Abby of Cherished. "I'd suggest that before shopping for your accessories, have a clear idea of what you're looking for. As a general rule, limit your accessories to just one statement piece to be complemented by a couple more understated pieces. That said, rules are there to be broken. With jewellery for instance, don't be afraid to bend the rule of having only one statement piece if that suits your personality and bridal style."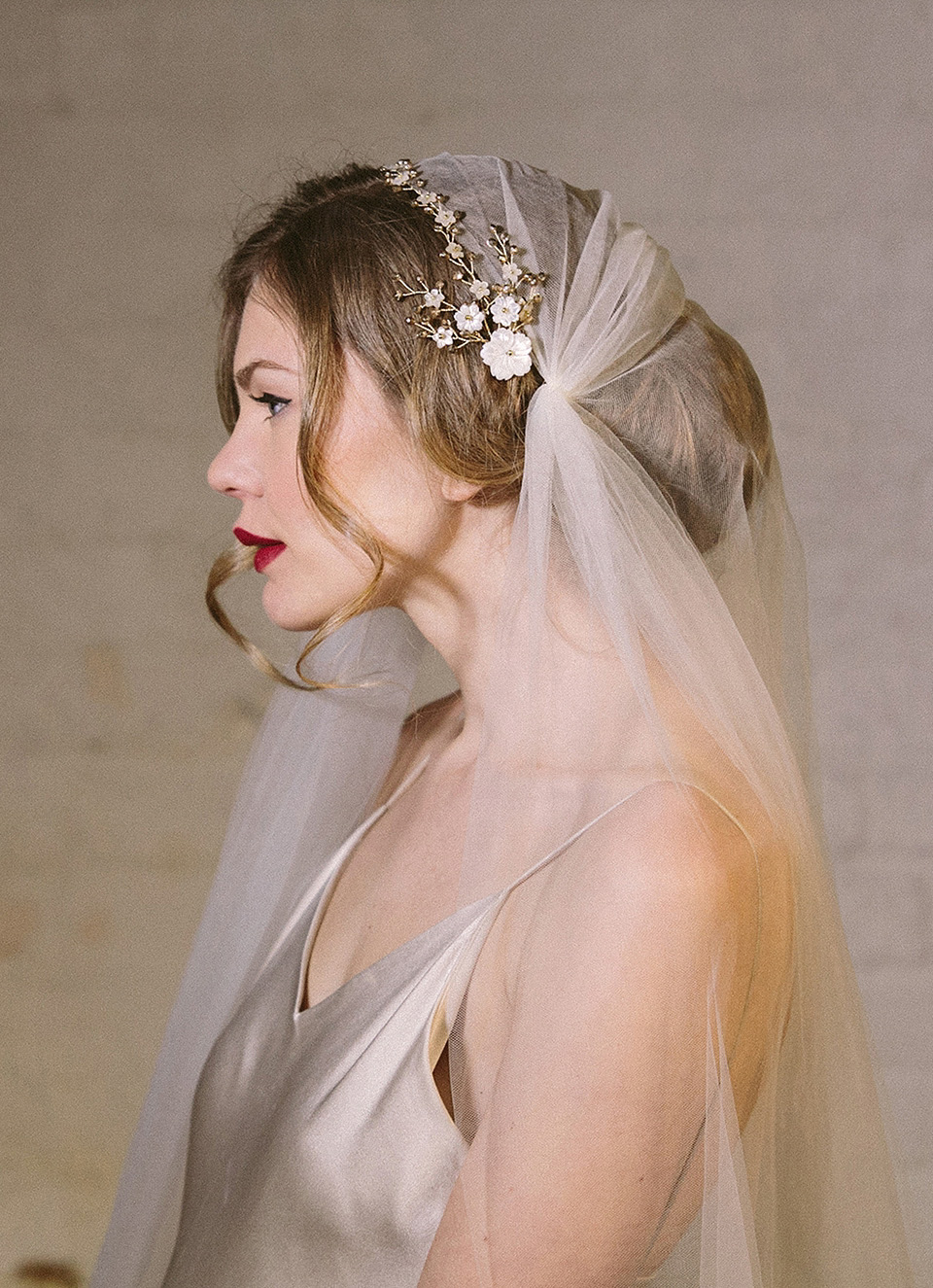 "The right accessories should make you feel special," explains award-winning designer Harriet Head of By Harriet. "They should also be in keeping with your personality as well as complimenting your dress style. Increasingly, brides are opting for fashion led designs so I would urge you to make sure that if you're making a fashion led choice, it's for something that really suits you as these styles date quite quickly and, if they aren't a natural fit for your personality then they will really stick out in photographs in time to come."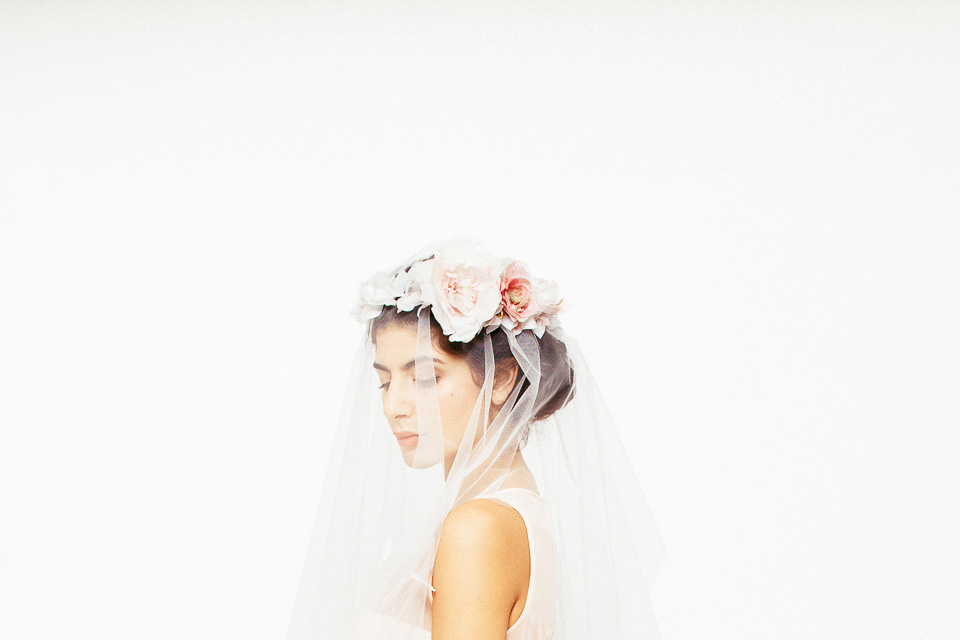 Before we look at all of the delightful accessories that are available to you, let's have one final piece of shopping advice from the fantastic Victoria Fergusson:
"Don't leave choosing your accessories until the last minute as it's not just about having accessories in time for your wedding but for hair trials and dress fittings too. Mostly, have fun trying on different styles and types of accessories – be opened minded. Much like dresses, they can look so different once they're actually being worn and you may end up choosing something quite different to what you had expected. As long as what you choose reflects your personal style and personality, you won't go far wrong."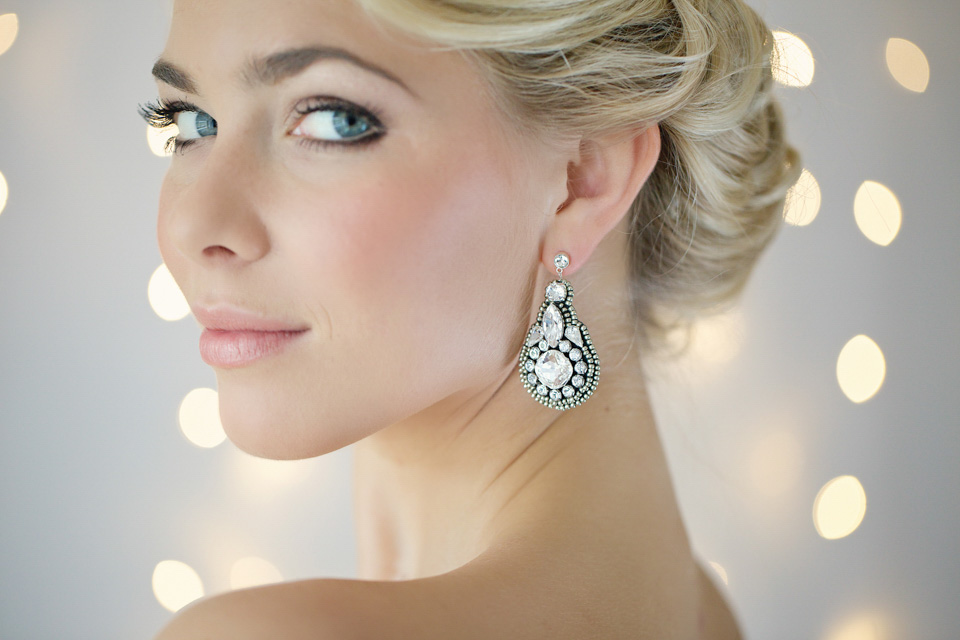 Victoria Fergusson
See this full collection here on Love My Dress
Photography by Lydia Stamps
And, with so many stunning accessories available for brides, from bespoke, handcrafted headpieces to intricate jewellery, silk veils and more you're sure to find the perfect piece. So, exactly what are your options? Donna Crain is here to guide us through the language of accessories:
"Hair vines are great for both a laid back, tousled up-do and wearing your hair naturally down. Inspired by the boho trend, they give a romantic feel to your bridal style. Combs come in all shapes and sizes and different combs can suit different hair styles. Small, free moving pins can complement a sleek bun and create more height and some focus with a little sparkle. For something a bit more dramatic, an ornate comb is best combined with a simpler dress and natural look hair, completely transforming your look and giving a little bit of a modern twist to a traditional style."
"The simplest type of hair accessory would be a clip," says Beth from Madam B's Boutique. "Or if you want to keep it minimal, a few well place hairpins will add a splash of sparkle or a flash of colour without taking away from the rest of your look. A birdcage veil is a short style of veil that can cover part of all of your face or you could opt for a flower crown. These are very popular at the moment and look gorgeous with a softer, bohemian style of wedding dress. Alice bands or tiaras can vary from the traditional diamante or pearl style to a more unusual or geometric piece but always try them on beforehand."
Britten Wedding Accessories, who we adore being able to recommend to our readers suggest the following…
"If choosing a heavily detailed dress go for a simpler veil, probably with a cut edge. Cut edge veils go well with most dresses so are a safe bet. Veils really finish your look and make you feel super bridal – don't dismiss it if you aren't sure – you only get to wear a veil once! I still regret not wearing one.
"For garden weddings choose a shorter veil, fingertip is best, as you'll be able to to wear it for longer without damaging it. Drop veils can go with any style but are particularly great if your dress is detailed as the sheer nature will really show it off.  If your dress is heavily structured go for a traditional stiffer tulle. If your dress is a more silky affair then a silk style tulle may suit better. Also, always buy veil samples!.
If your dress isn't very 'sparkly' then choose accessories with pearls or silk flowers rather than crystals. Warmer toned wedding dresses can work really well with gold accessories. For hair accessories don't be scared to choose something a little bigger than you would normally wear. They will look better in photos and be more visible in church. For Autumn and winter weddings in grand venues chose opulent accessories. For summer and spring outdoor weddings go for something more relaxed with a boho vibe."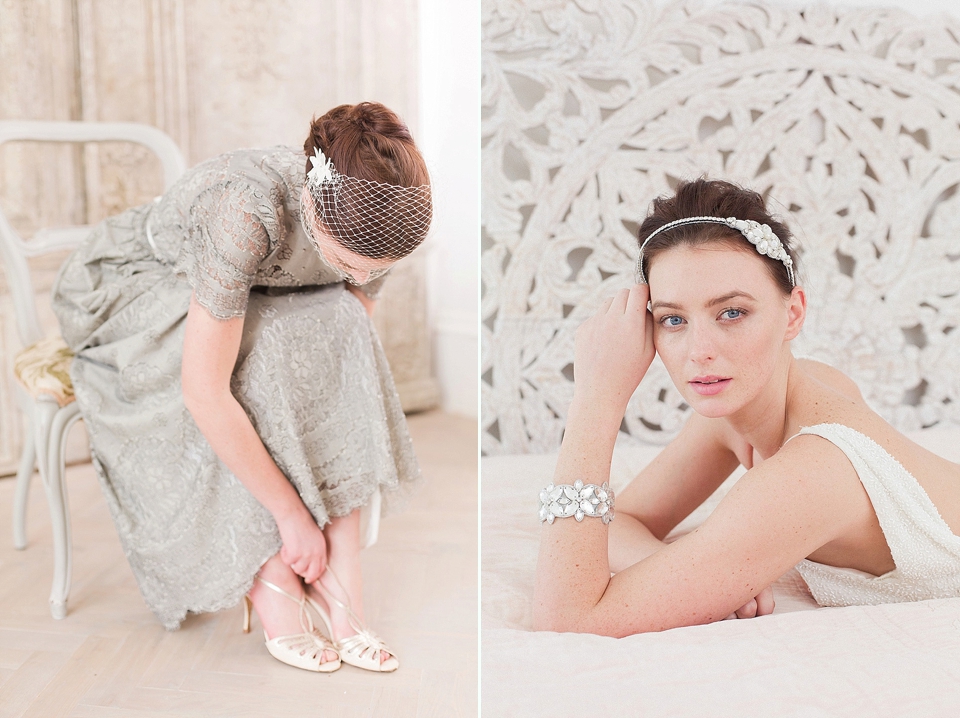 All our designers are agreed that trying your accessories on is super important and this isn't just so you can check the look of your accessories. Oh no, it's for something far more important:
"Generally the right headpiece chooses itself," explains Harriet of By Harriet. "It's a good sign when it's in place and you don't keep tinkering with it. If your instant reaction is to fidget with it then it will drive you nuts on the day. It either needs adapting, which most designers will do, or you need to keep looking."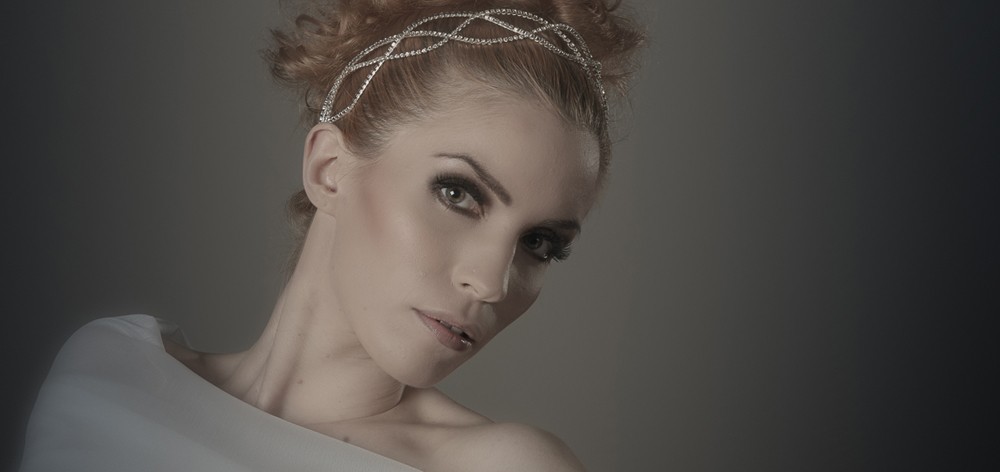 "The last thing you want to be worrying about on your wedding day is whether your headpiece is going to stay in place or hurt your head," says Debbie Carlisle. "If you have very fine, soft or short hair, you may want to consider a headband or ribbon tie headband if you feel a comb might slip out of your hair. Or, if you've found fixed headbands have given you headaches in the past, you might prefer to go for a comb or even a ribbon tie headband which will be so light and comfortable, you'll forget you're even wearing it."
So those are the styles available but what about colours and materials? The choice has certainly increased over recent years and now designers work with many more materials which in turn gives you even more choice.
"Don't be afraid to use colour," says Gail from Glass Oyster. "We've all loved the trend of brides wearing pops of colour either with a pretty pair of shoes or a flirty petticoat peeking out from below the dress. If you want colour to be a bigger part of your day, a floral or woodland crown in stunning contrasting colourways will add some jewel like brights and can really complement a more muted colour of dress whether ivory, silver or blush."
"As for the 'silver or gold' question, don't feel you have to stick to the rules," says Debbi from Vintage Headdresses. "Both together, done correctly, can look amazing. Mixed metallic can look gorgeous when fashion in the right way.  Multi-tonal hair vines using mixed metal vintage pieces pull everything together wonderfully."
"Be creative with your choices," says Cherished's Abby Gadd. "But it's equally important to consider what metal tones will suit your dress and your skin and hair tones best and most headpiece and accessory designers should be able to accommodate this in their designs or ranges."
"Many brides want to be different and in 2016, rose and yellow gold will be very popular. If your dress is on the cream side of ivory then yellow gold will be perfectly," says Louise Graham of LHG Designs. "Alternatively, if it's on the pale side of ivory then beautiful subtle tones of rose gold will work best but silver will always remain in the mainstream."
"I've increasingly found that brides are wanting to bring colour into their accessories," says Laura Rhodes. "A colourful statement belt can be added for an evening reception for a bride who wishes to style her gown differently."
In addition to the sparkling varieties of accessories, there are, of course, the charming veils and the often unseen garter. Ann Guise, a true veil expert who works only with 100% silk, explains a little bit more about this romantic accessory:
"Once a veil is added, it changes the whole look of your outfit. Wedding veils are usually made of tulle which can be made of polyester or silk. Polyester is less expensive than silk but, once you try on a silk veil, you'll feel and notice the difference in texture and drape. Tulle is a very sheer, ethereal fabric and drapes beautifully and it won't obscure the detail of your gown."
"Vintage veils are also stunning and can make quite a statement," says Shelley from Luxe Bridal Exclusive Vintage Wedding Accessories. "Juliet veils are long and flowing and make a stunning entrance and, of course, with a veil you always have the option to remove it later on the day, changing your look again."
"When you're choosing a bridal garter, keep in mind the look it will create once you've put on your wedding dress," says Charlotte from Atelier Rousseau. "If you've opted for a slinky, figure hutting dress, choose a garter style that is sleek with minimal 3d embellishment. If you've decided on a more of an A-line style wedding dress, almost any garter will be invisible so you can choose from all the designs!"
Now we know what's available, what do we need to know in terms of matching styles to gowns?
"As a general rule, I would usually suggest a fairly delicate or small hair accessory if you're wearing a very heavily beaded or embellished gown," says Debbie Carlisle. "On the other hand, a simple classic satin gown can take a larger statement headpiece."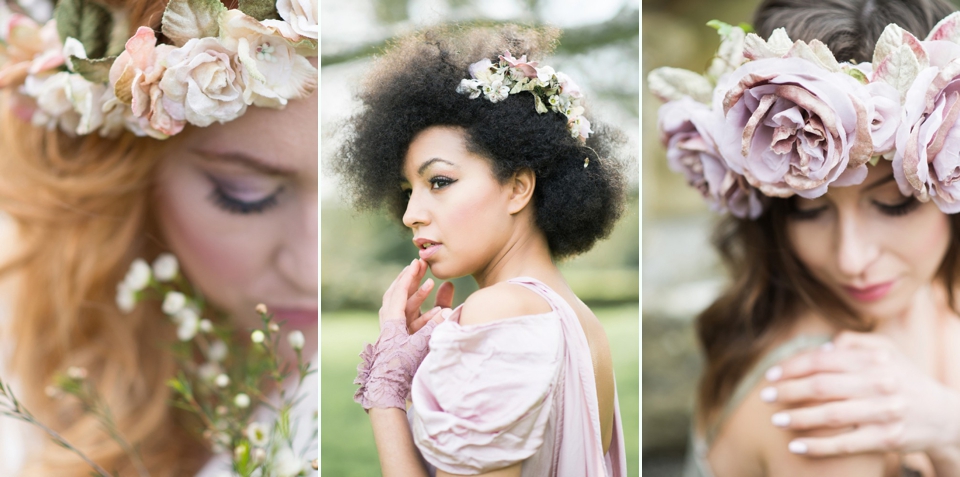 "Don't forget the back of your head and remember your congregation will be looking at it for a while so make sure the back looks as good as the front," says Lucy from All Things Lucy. "Pins are great for adding a subtle amount of sparkle through your hair, even underneath a veil, and can be grouped together for the evening to make more of a statement."
Luxe Bridal Vintage Wedding Accessories
"Bohemian style headpieces like forehead bands tend to work better with straight or fish tail gowns," continues Debbie. "A tea-length prom style gown tends to work well with a side tiara, comb or small birdcage veil. A-line full length gowns can take quite a variety of styles but you might want to bear in mind any embellishment to ensure the headpiece you choose will work with it."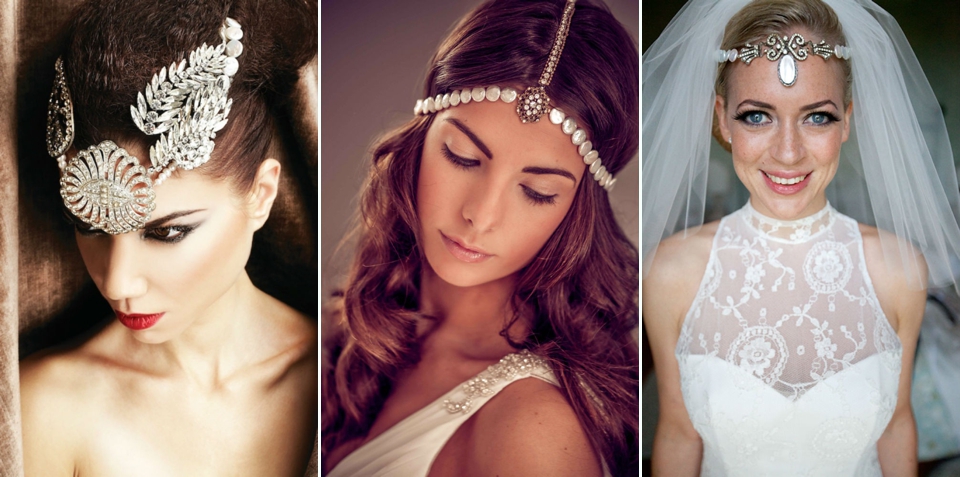 However, the placement of the embellishment on the gown is not as closely related to how you wear your headpiece as you might have thought:
"A lot of brides come to us quite confused as they've been told by someone or read somewhere that they should wear the piece on the opposite side to the main detail on the dress," says Victoria from Glitzy Secrets. "In truth, there really are no rules or insider secrets. Sometimes the actual design of the headpiece will dictate whether it should be worn on the right or left and the designer or retailer will be able to advise you if this is the case. However, in general, we always tell our brides to simply try on their headpiece on both sides at their hair trial and dress fitting because they will know what not only looks best but feels right too."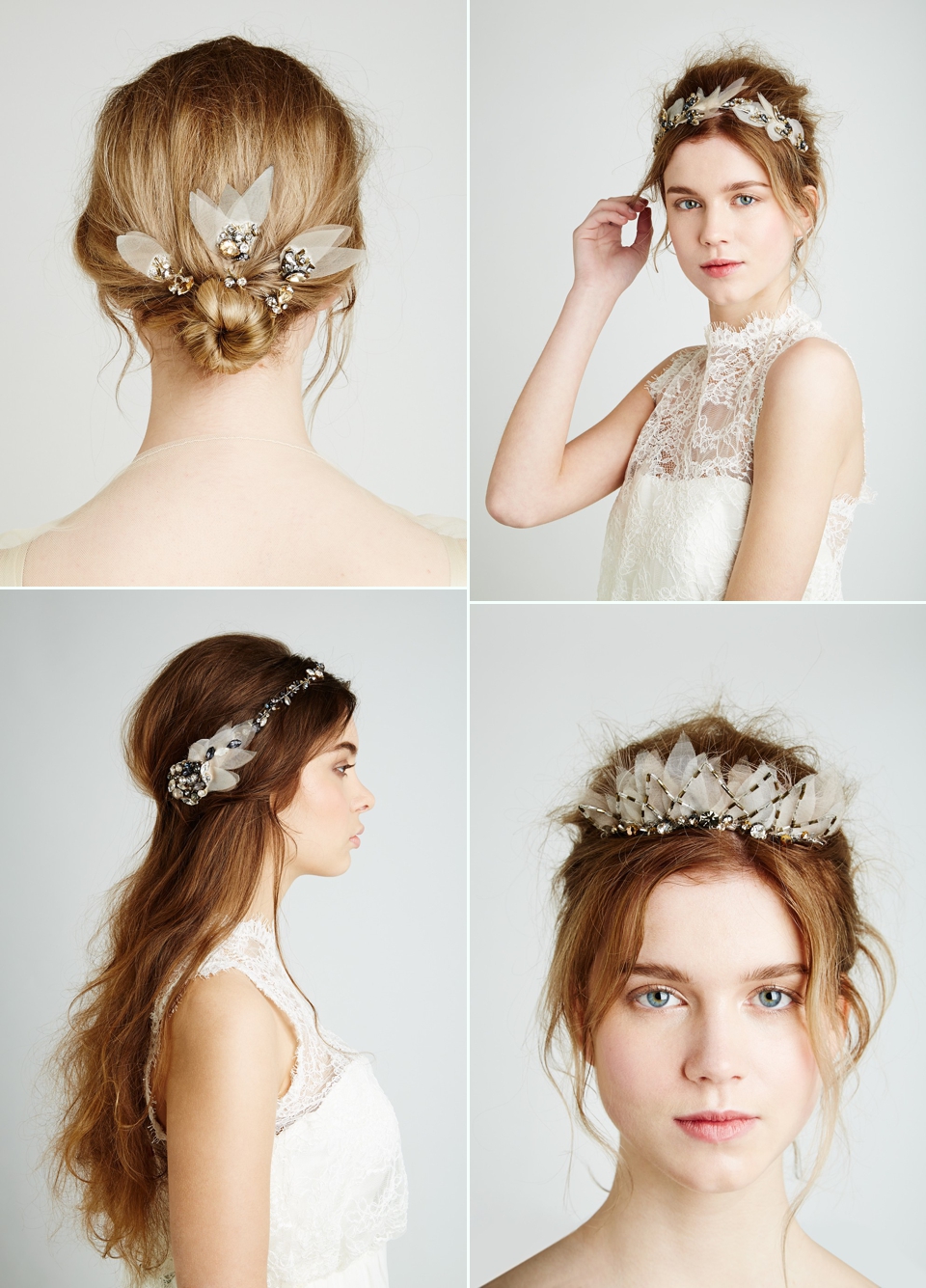 As you might have noticed from my little photo at the top of this feature, I've got super short hair and I know from my own experience and from emails from fellow short-haired brides that it can be hard to know if the same options are open to you. Again, our fabulous designers are here with some reassuring advice:
"Many brides with shorter hair feel they have limited options when it comes to choosing hair accessories," says Hermione Harbutt. "The truth is that our bobbed beauties or pixie crop brides can still wear the majority of hair accessory styles including those larger statement pieces. Pieces that sit on a band are so easy to wear even with the shortest crop and garland styles work beautifully too."
Victoria Fergusson agrees that you don't need tumbling tresses for your wedding day:
"Don't assume that you must grow your hair long to wear hair accessories. They look equally fabulous in short hair, you simply need the embellishment set on the appropriate grip or band. Hairpins, for example, don't work in very short hair."
"Brides with short hair can often feel very comfortable in something different," says Jurgita from Lavender by Jurgita. "You could choose a flattering full circlet headpiece or beautiful vines attached with ribbons at the ends."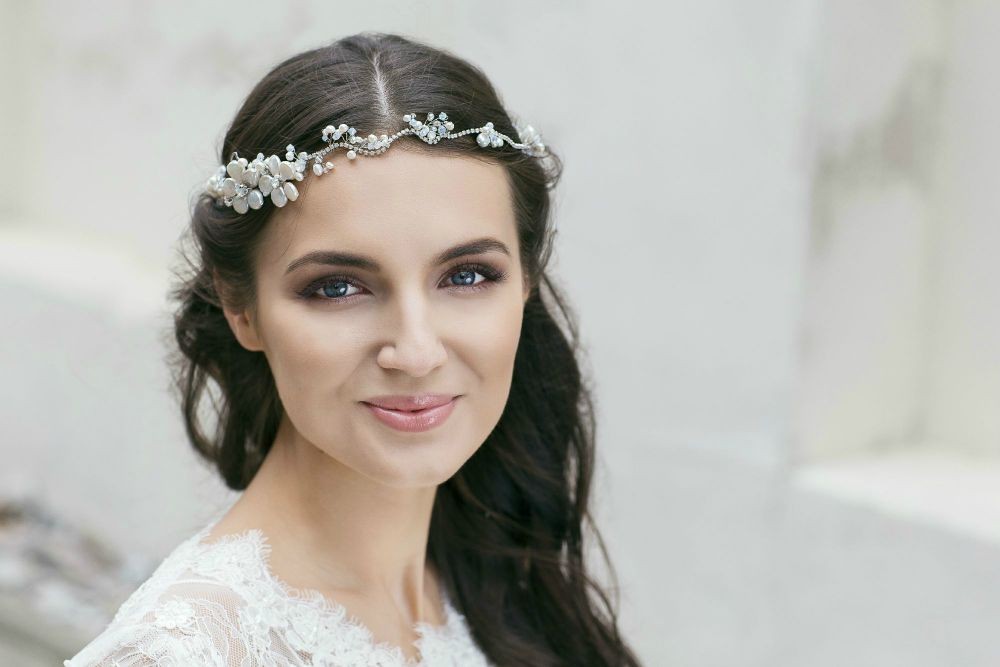 Whatever hair length you have, it's quite useful to have an idea of how you'll be wearing your hair before you choose your accessories:
"If you're planning to have your hair styled specially on the day, ideally you'll have spoken to your stylist about what kind of headpiece will work before you come to us," says Abby from Cherished. "That way we can recommend the best style and attachment to ensure that the accessory will stay in place all day."
"A hair trial is a good idea to see how you want your hair styling on the day and to make sure you're comfortable with how the headpiece will work and fit," says Helena from HT Headwear. "Your wedding day will be a busy day so everything you can do to prepare beforehand will ensure that your day runs smoothly so that you can relax and enjoy the day."
Should you want an accessory that you just can't find, there's always the option of commissioning a bespoke piece that can be designed and made to meet your exact specifications or to incorporate an heirloom piece of jewellery.
"Bespoke designs can incorporate your own jewellery or other materials of sentimental value such as the lace from your gown or even that of a family member," says Lucy from All Things Lucy. "But for some, most importantly, it can end the search for your perfect accessories."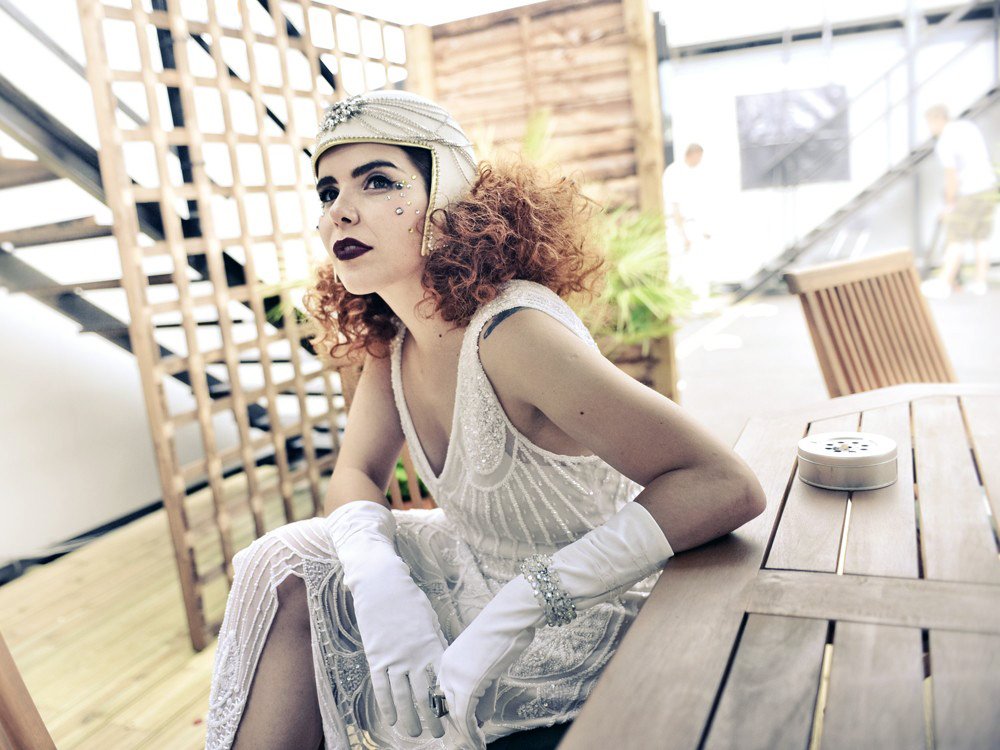 "Bespoke options allow you to perfectly match your pieces to your dress, the theme of your wedding or your personal style," explains Hermione Harbutt (buy the way, did you see Hermione's absolutely heavenly new collection on Love My Dress recently?). "They can also include an important family heirloom. Having something that is unique to you will make you cherish your accessories all the more."
You might also need to consider accessories for your bridesmaids and again, our experts have some valuable tips to pass on. Firstly, they all agree that you and your bridesmaids don't need to wear matching jewels:
"Often a range of complementing accessories can look better than being too 'matchy'," says Debbi from Vintage Headdresses. "You could opt for a selection of vintage combs for their bridesmaids, all with similar shaping and styles but each one uniquely different, just like the bridesmaids themselves."
"Some bridesmaids like to choose accessories for their bridesmaids that coordinate with their own and some have chosen different but complimentary designs," says Donna Crain . "Don't feel that you have to confirm and have all their accessories matching. If your bridesmaids choose something they really like, they're likely to wear it again."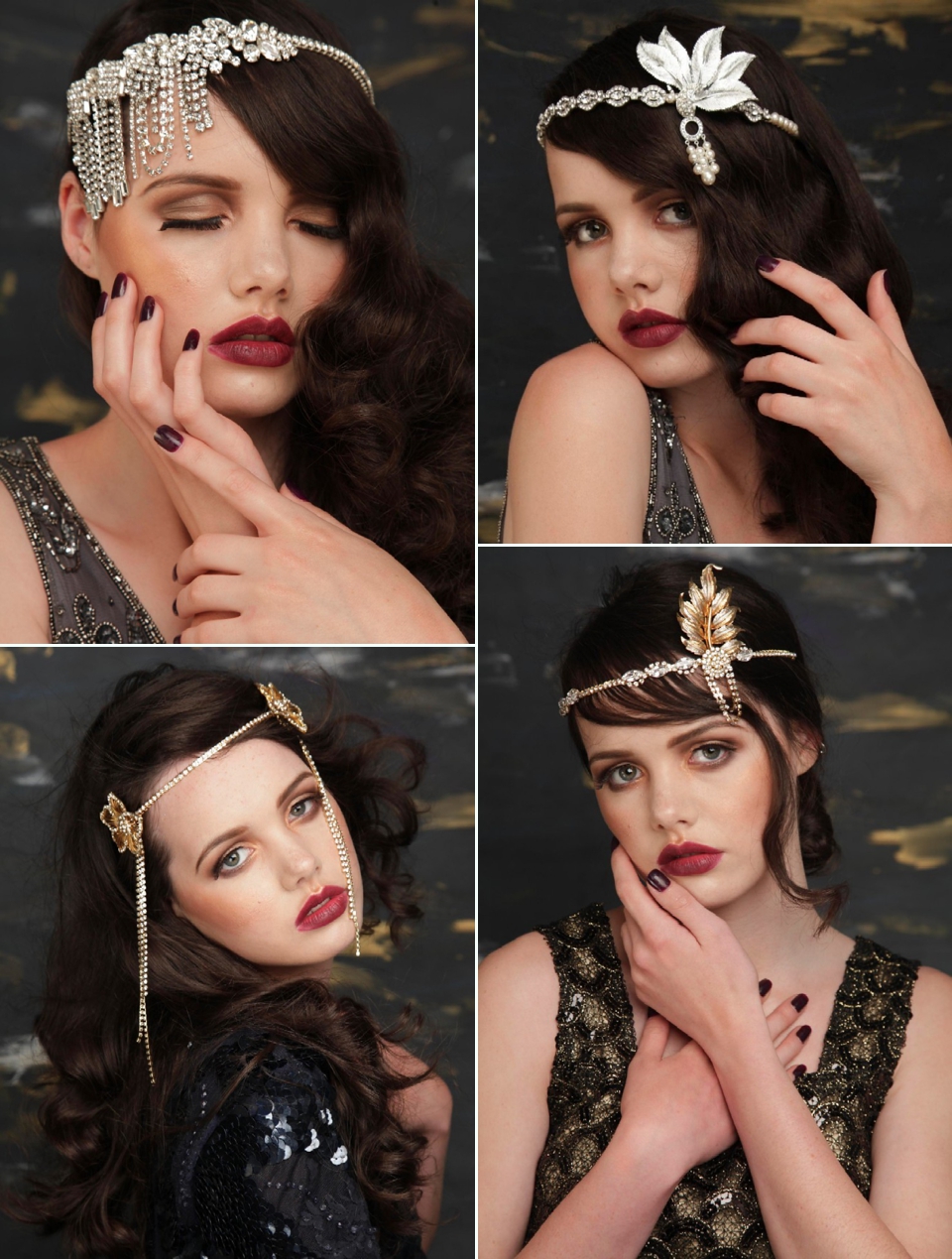 We're drawing to the end of this Sunday's whistle-stop tour through the world of bridal accessories and I have to say that this feature could have been four times as long thanks to all of the outstanding advice that our Little Book for Brides suppliers contributed and I'd like to thank them personally for being so incredibly generous with their knowledge.
I'll leave you with a final few pieces of invaluable information from these talented designers and share some words that if you keep in mind, will see you arrive at your wedding day accessorised to perfection:
"The most important advice I give to my brides is to choose accessories that transcend time," says Renee from Ambrosia Bridal. "You should look back at your wedding photos many years from now and still look timeless, glamorous and effortlessly flawless."
"Keep it real!" says Helen from HT Headwear. "Stay true to yourself and work within your own style and tastes. When your partner turns around for that sneaky peek at your walking towards them, they want to see a beautiful 'you', not somebody else."
"Think about whether you will want to do something different for your hairpiece once your veil comes off or for the evening entertainment," advises Beverley from Beverley Edmondson Millinery. "Many brides will have a different accessory to 'change into' later for the dancefloor."
"Seek inspiration from blogs, magazines and Pinterest and see what styles and shapes you keep returning to," says Abby from Cherished. "You should then be able to find a designer whose style fits well with your preferred ideas and don't be afraid to get in touch with the company or designer at this point and even a brief conversation can be the start of something fabulous."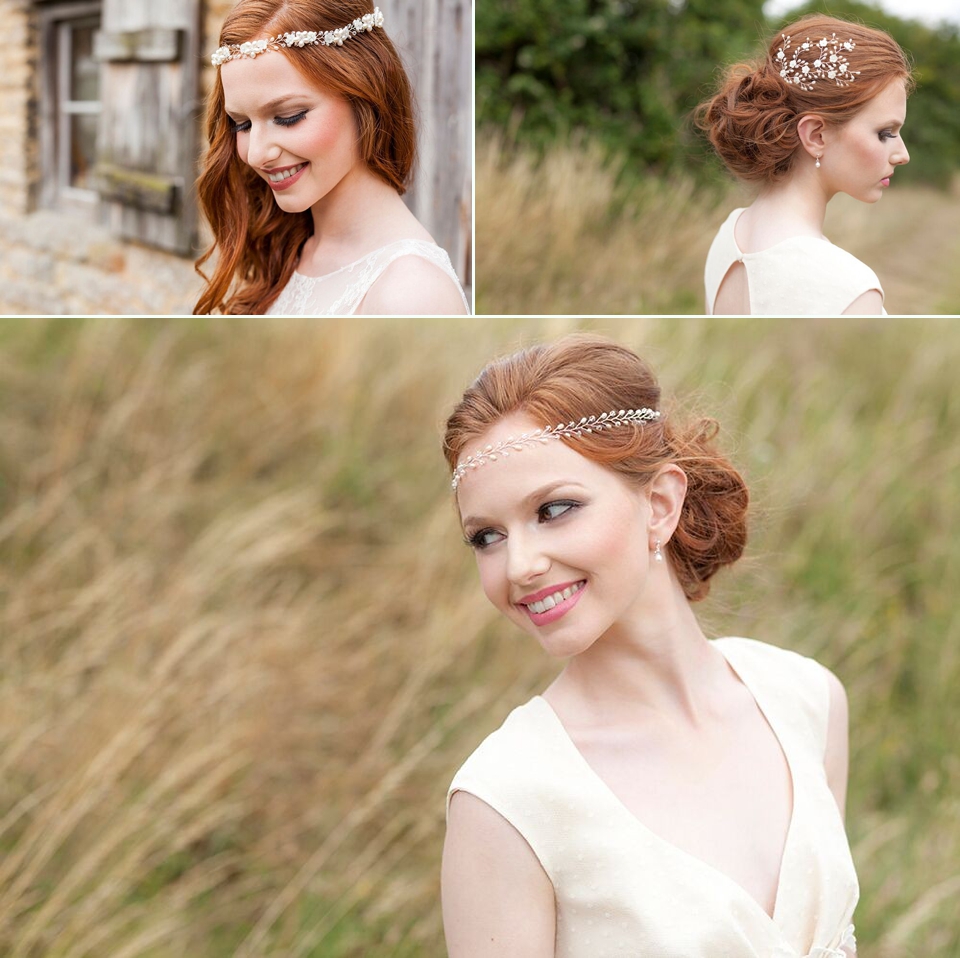 Fabulous might well be an understatement.
Love Tamryn x
You can find details of all of these accessory designers and more in Little Book for Brides.