Hello there lovely ones. A little evening treat for you this lovely late Autumn Wednesday evening. Isn't it getting cold now? That beautiful low Autumn light that fills the view from my office window is appearing that little bit earlier every day. The trees are almost entirely bare of their leaves and that sense that winter is only just around the corner is becoming ever more present as each day passes. I can't believe it's only one calendar month until Christmas today. Where has this year flown?
Preparing lovely features like this one helps me be more present and in the moment – and also provides little moments of happiness and smiles. Bride Charlie, who works in Cancer research married Google employee Ed on 16th August at the beautiful Cornish coastal retreat Polhawn Fort. The couple were supported by on-the-day Co-ordinator, Nat Haxton of Jolly Good Wedding.
"We knew we wanted a relaxed, Cornish beach feel to the day. We translated this into a colour scheme of pastels such as light blues, corals and pearls."
Photography by Helen Lisk Photography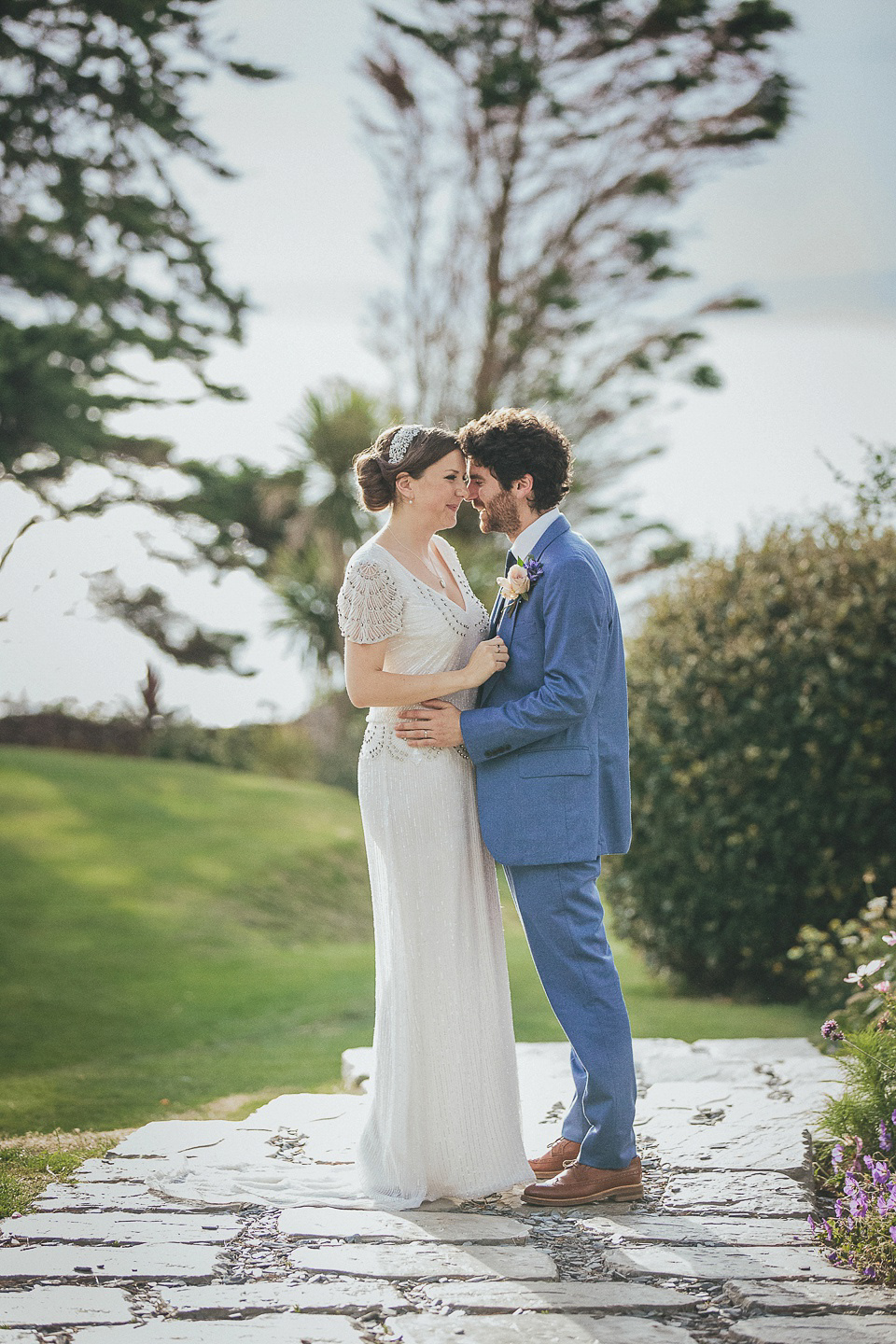 "I was always drawn to Jenny Packham dresses, and the beading on those dresses. I went to Morgan Davies in London, and they gave me some Eliza Jane Howell dresses to try on. As soon as I saw the level of detail in the dresses, I knew I had found what I was looking for. It was the one dress I tried on that made my mum speechless – which is when I knew! It was so comfortable, and I knew it would suit the coastal location of our wedding perfectly."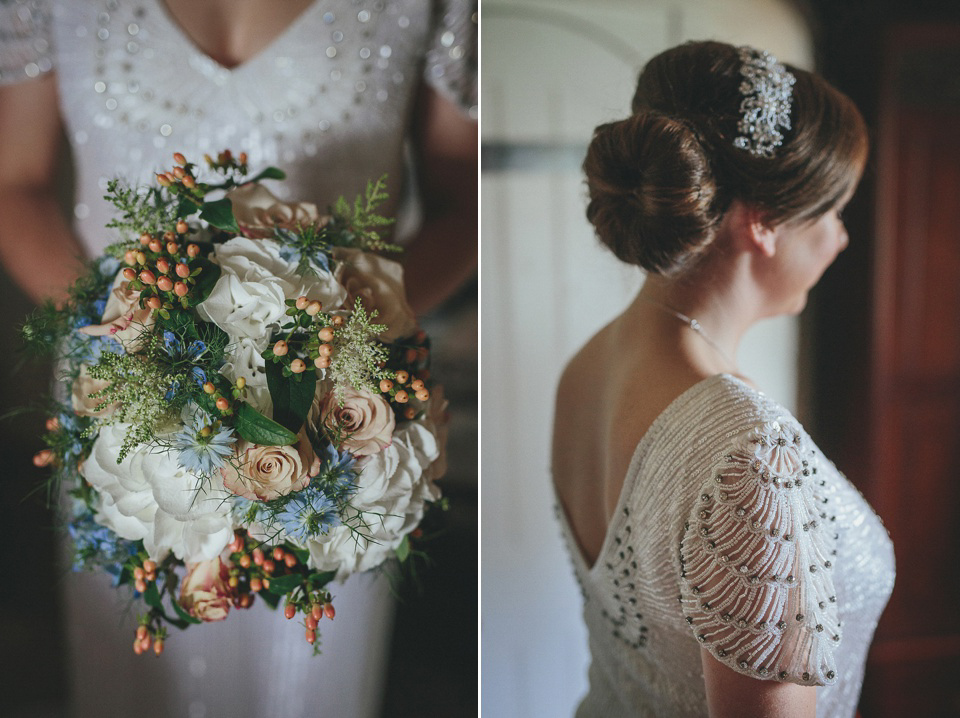 Flowers by Ruth Andrew
Charlie's bridesmaids wore the beautiful silver Raina Maxi dress by Virgos Lounge.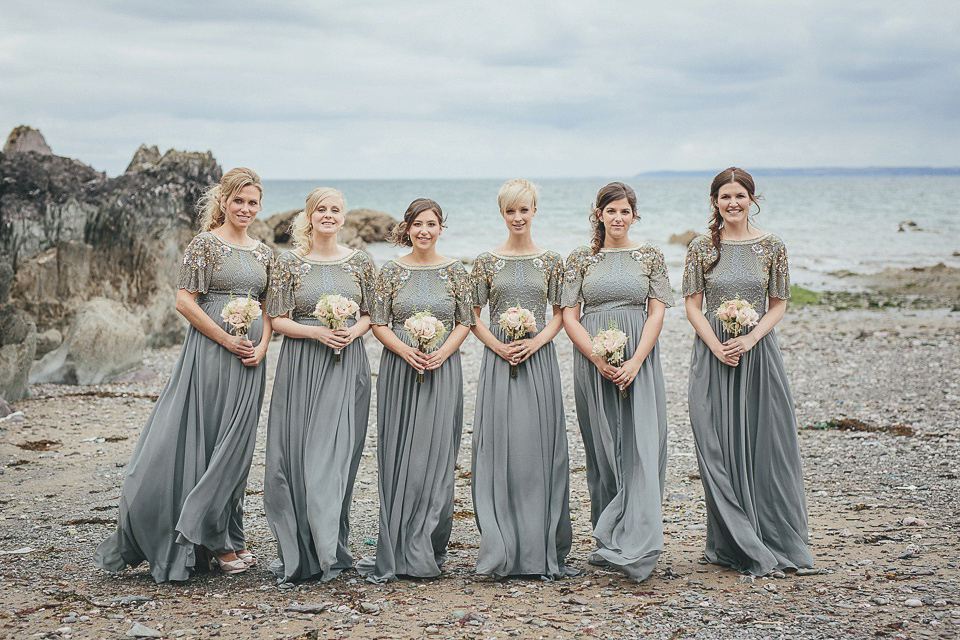 "Ed and I met through mutual friends and got engaged on our 5 year anniversary. We were in Cornwall for the weekend and Ed had surprised me by booking a room at the Driftwood Hotel, rather than staying at my mum's house as usual. We went for a walk along the coast and Ed proposed on a secluded beach near our hotel. We were engaged for just over a year before our wedding."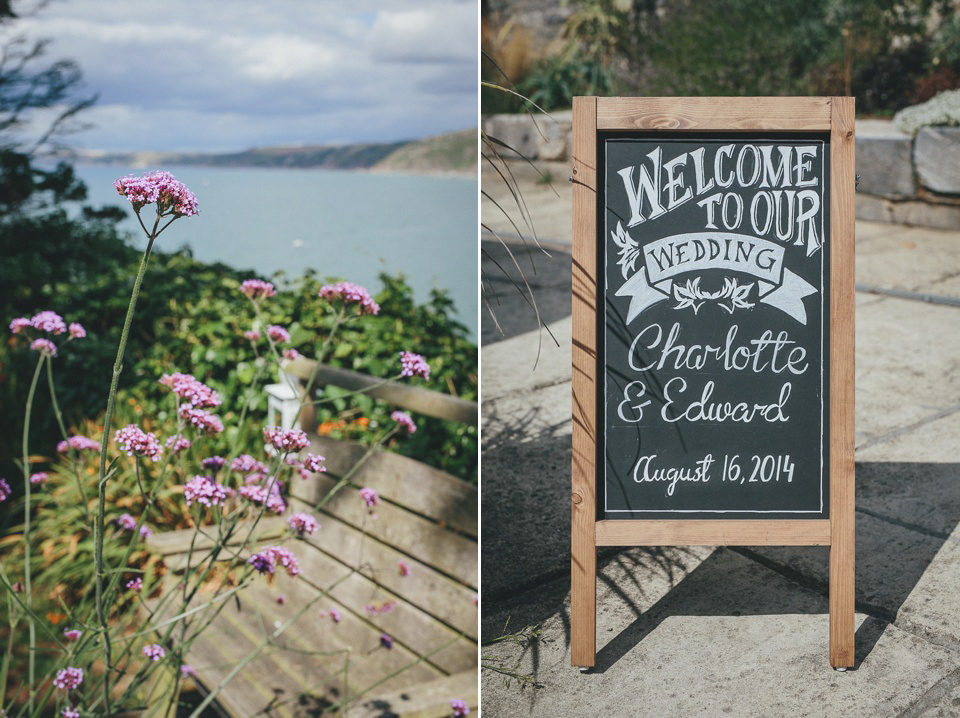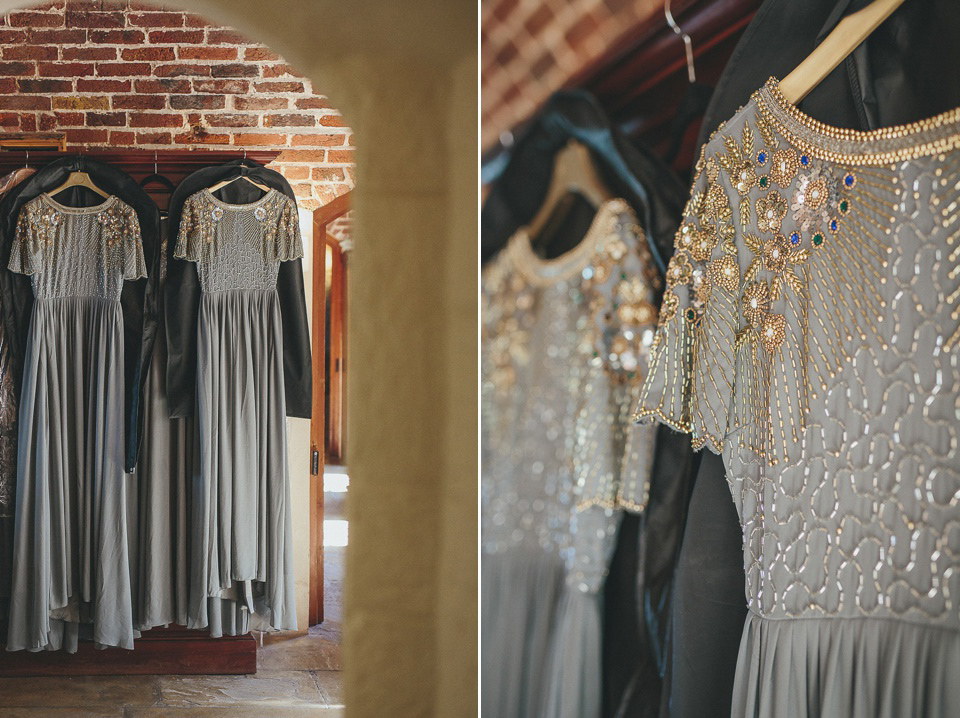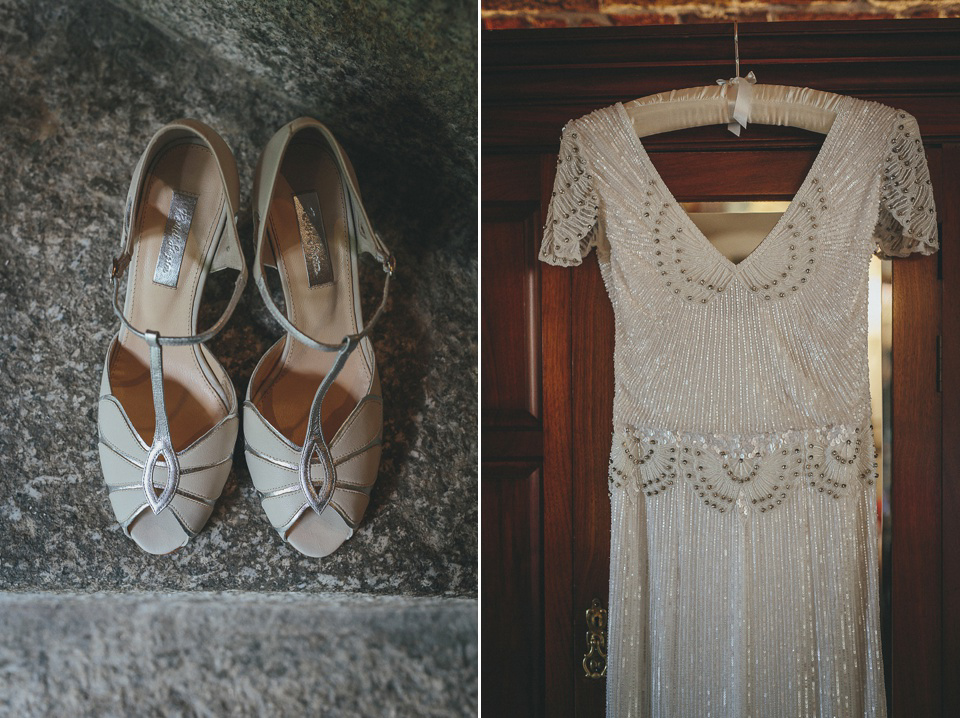 "I always knew I didn't want a big traditional dress, as that didn't feel very 'me'. However, I did try on many different styles of dresses to be sure. I also knew I couldn't have a dress with a big skirt, as I wanted to go down to the beach for photos, which involved some steep stairs down the cliffside so I thought it was best to go for a comfortable, smaller skirt! This did help when narrowing down the choices to try on, and after a few trips to bridal shops I became very confident in only looking at the styles I wanted."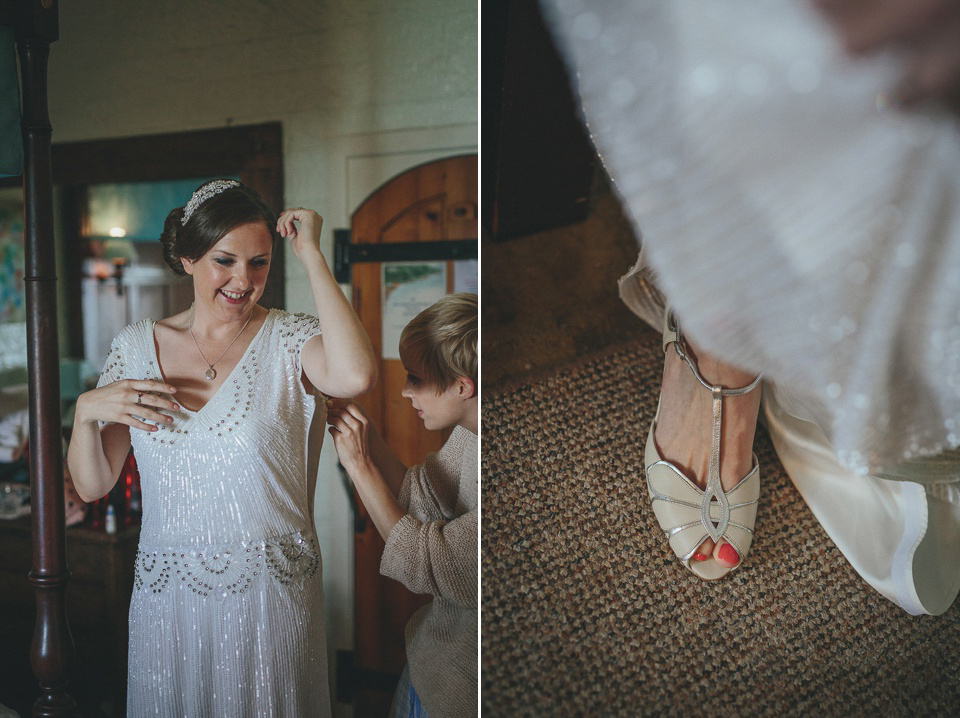 "Our florist Ruth Andrew works at Polhawn Fort and this knowledge of the venue was invaluable. I confessed to knowing nothing about flowers and all I gave was an instruction for the pastel colours we wanted for a coastal feel. I think the flowers in my bouquet end up being one of my favourite things when I look back at the photos. They were prettier than I could have ever imagined. I loved them."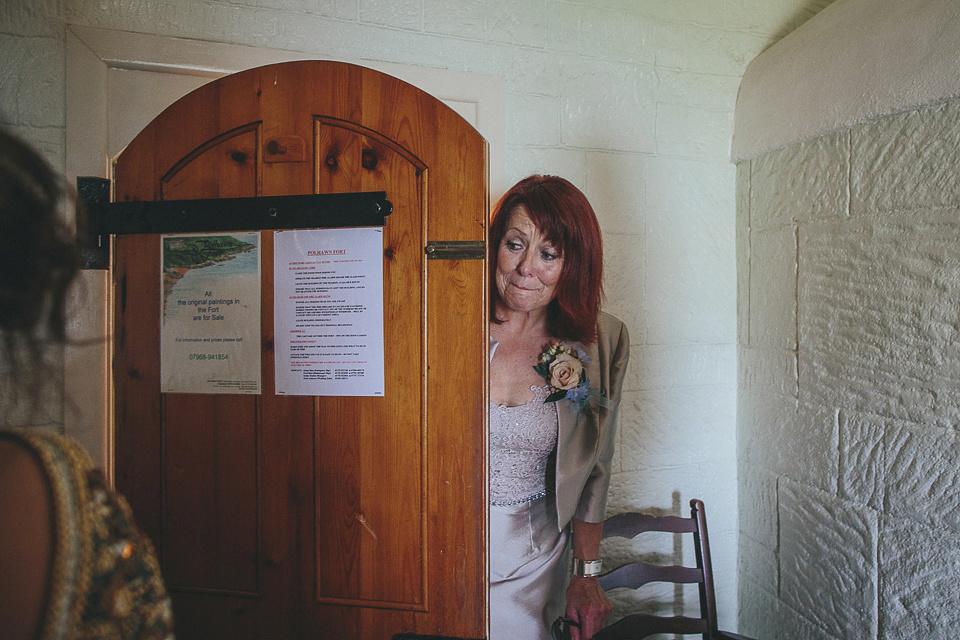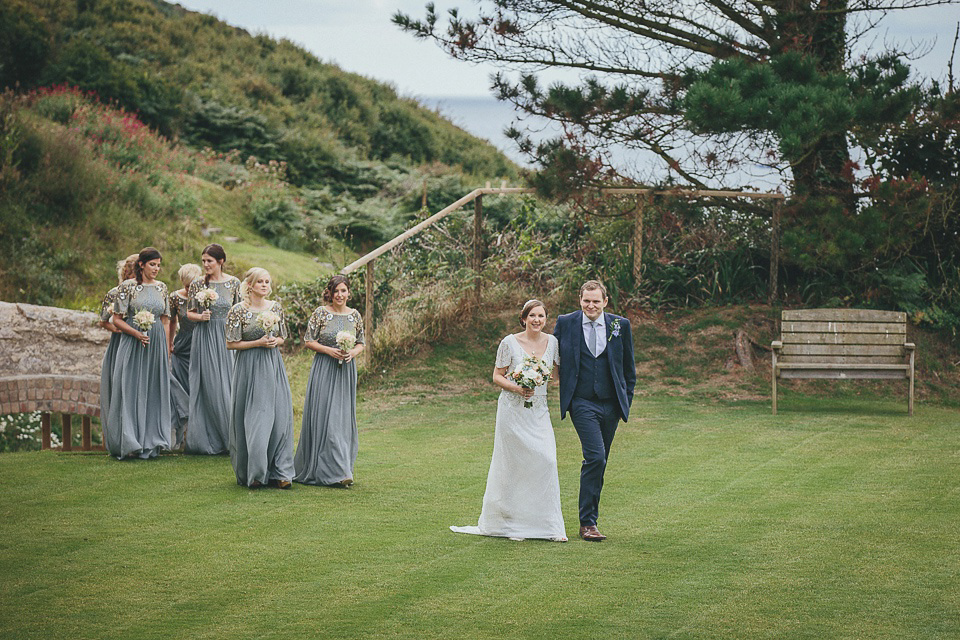 "My brother gave me away which was a very emotional but lovely part of the day. Our dad passed away when we were younger and I felt very lucky that my lovely brother agreed to walk me down the aisle. I had a really long walk along the grass to where the guests were seated."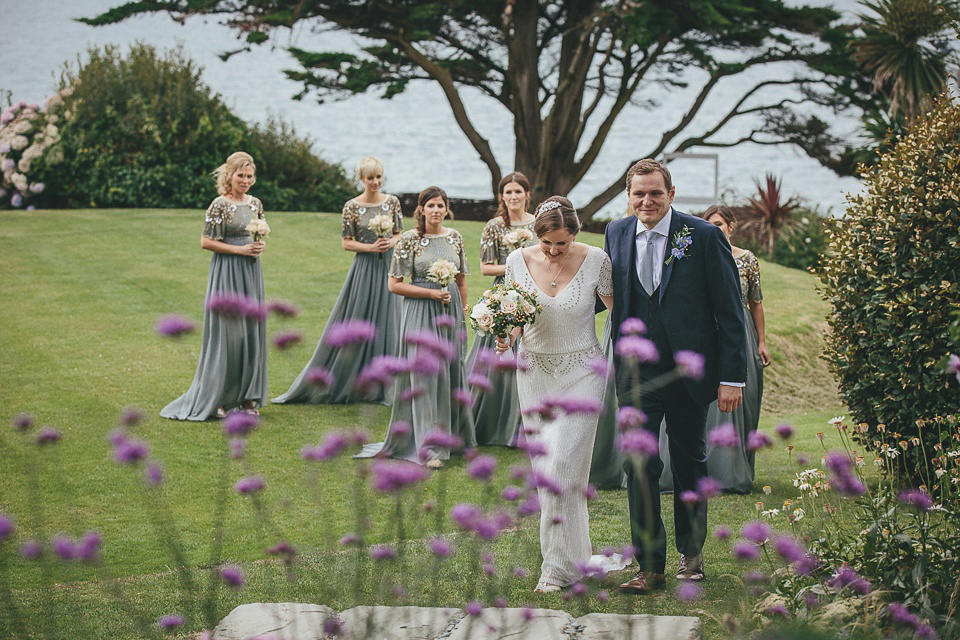 "We didn't tailor our own vows, but had a lovely relaxed civil ceremony. We had two readings, one by Hilary T. Smith that we just felt was a beautiful paragraph. The other reading took us a long long time to find. We eventually came across a letter by Charles Darwin that was very unusual but we both loved.
Notes on Marriage (Made When Deciding Whether or Not to Marry) by Charles Darwin
Not Marry?
• Freedom to go where one liked.
• Choice of society and little of it.
• Conversation of clever men at clubs.
• Not forced to visit relatives, and to bend to every trifle.
• To have the expense and anxiety of children – perhaps quarreling.
• Loss of time – cannot read in the evenings.
• Fatness and idleness.
• Anxiety and responsibility.
• Less money for books.
• If many children, forced to gain one's bread (but then it is very bad for one's health to work too much).
• Perhaps my wife won't like London, then the sentence is banishment and degradation with indolent, idle fool.

Marry?
• Constant companion, who will feel interested in one (a friend in old age).
• Object to be beloved and played with – better than a dog anyhow.
• Home, and someone to take care of house.
• Charms of music and female chit chat – these things good for ones health but terrible loss of time.
• It is unthinkable to think of spending one's whole life, like a neuter bee, working, working, and nothing after all.
• No, no, won't do.
• Imagine living all one's days solitarily in smoky dirty London House.
• Only picture to yourself a nice soft wife on a sofa with good fire, and books, and music perhaps – compare this vision with dingy reality.
• Marry! Marry! Marry!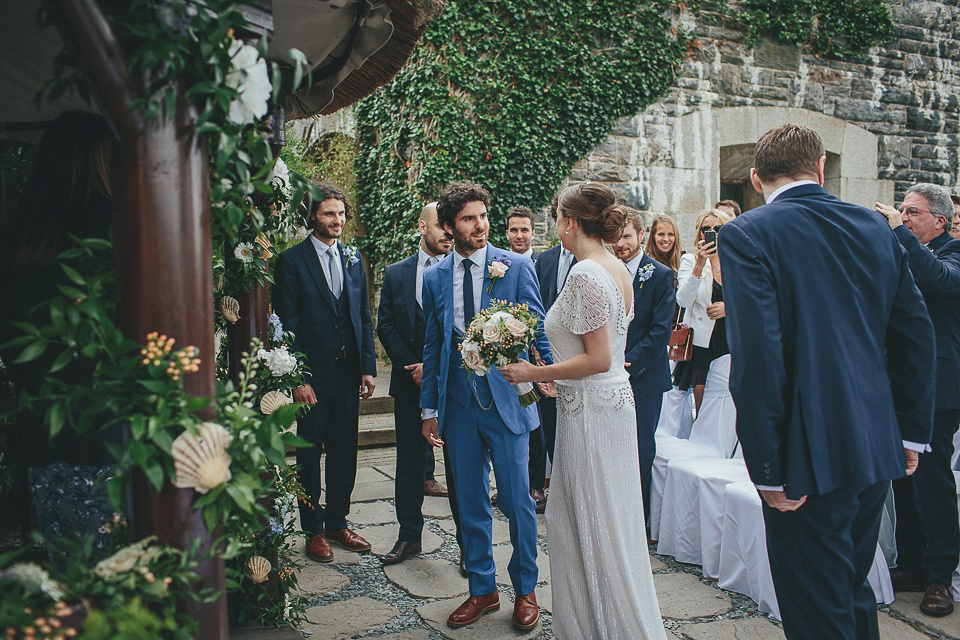 "We were lucky enough to hold the ceremony outside in the gardens that overlook the sea at Polhawn Fort. We then moved inside the fort for the reception. We knew we wanted to get married in Cornwall as we both love the county and go there regularly. We got engaged in Cornwall and it felt like the obvious choice for our wedding."
"We booked appointments with five wedding venues across the county. Polhawn Fort was the first venue we saw and we immediately loved it. We knew we wanted a venue on the coast, and the private beach and secluded location really appealed. It is a magical place with a dramatic coastline. You take over the whole venue during your wedding stay and can bring in all the suppliers yourself. This made it more relaxed than some of the hotels we visited and we think our guests appreciated this on the big day."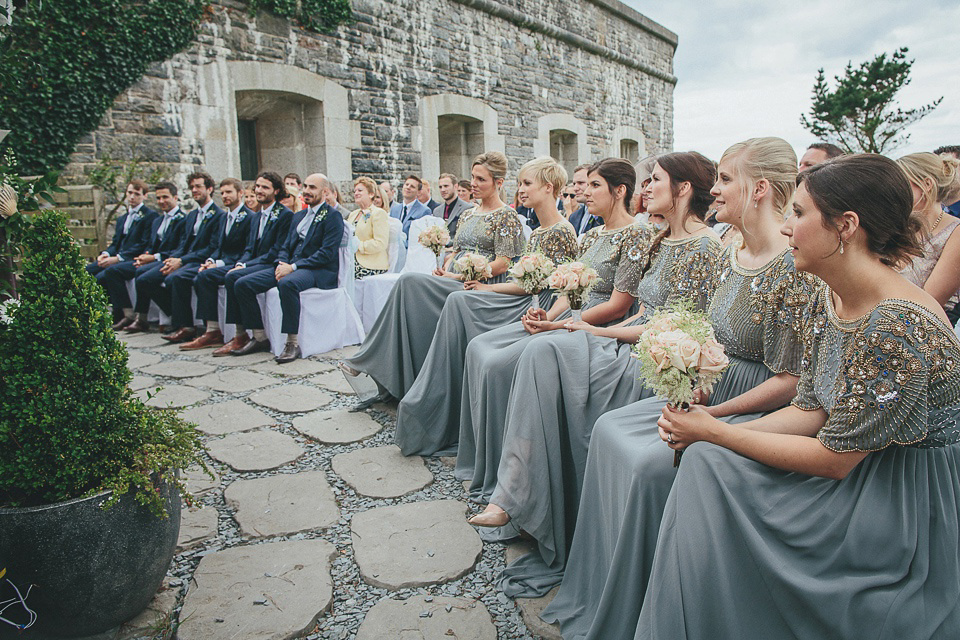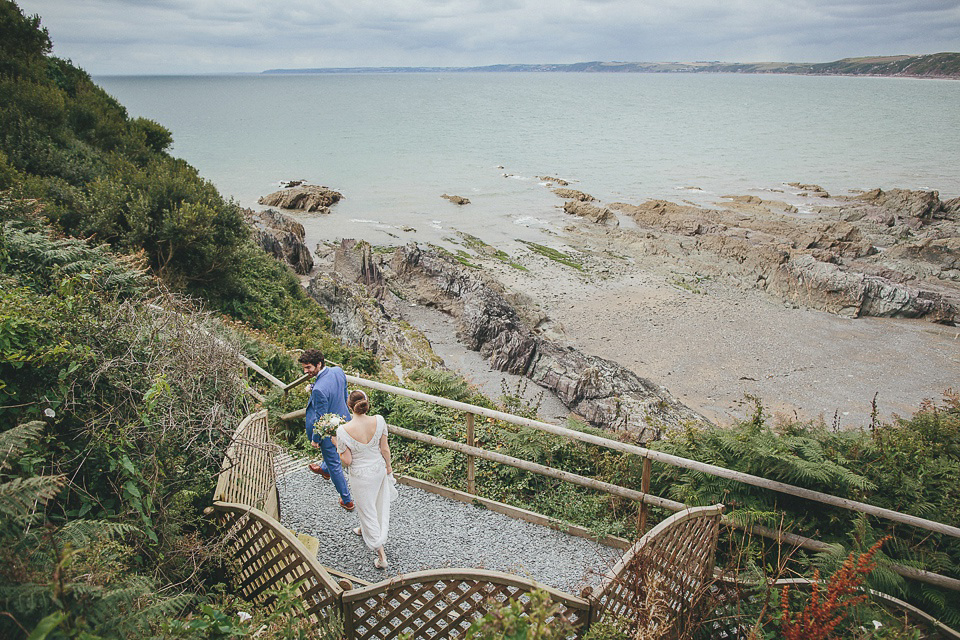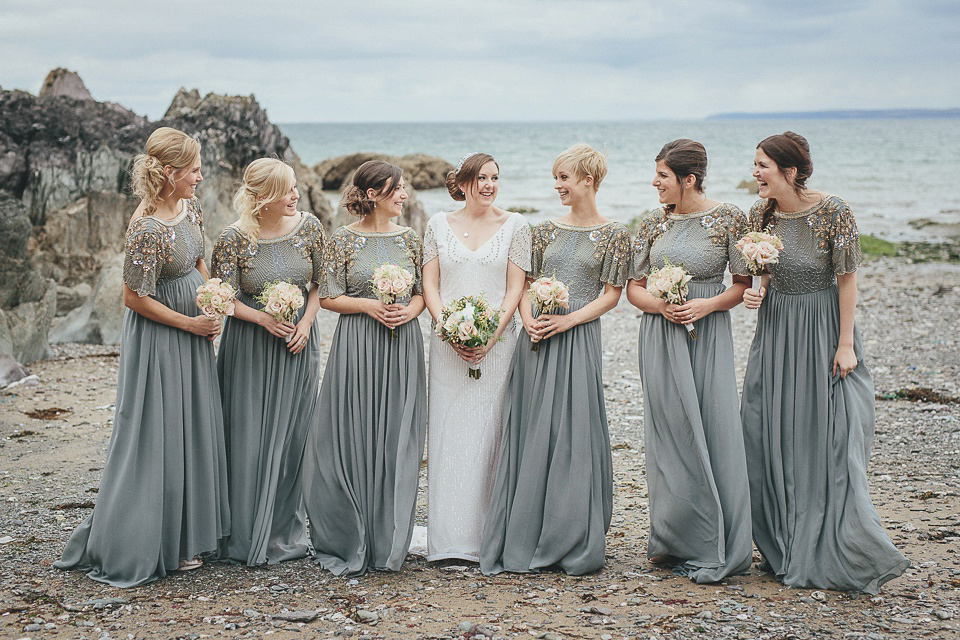 "Our photographer was the lovely Helen Lisk Photography who is based in Exeter. Our photos, without a doubt, are fantastic. We have had so many comments on our photos, which only goes to show how wonderful Helen is as it is not just our biased view! Our main criteria for the day was that the day was reflected in a very natural way and this could not be more accurate with our photos.
Also, crucially, Helen is a very calming presence to be around and I loved having her there. Having my photo taken is certainly not something I usually enjoy, but Helen makes you very relaxed, and we really loved getting to know her. We also had a pre-wedding shoot which really helped to feel comfortable in front of a camera. We have recommended Helen to many people and actually wish we knew more people that would be getting married in the South West so they would hire her!"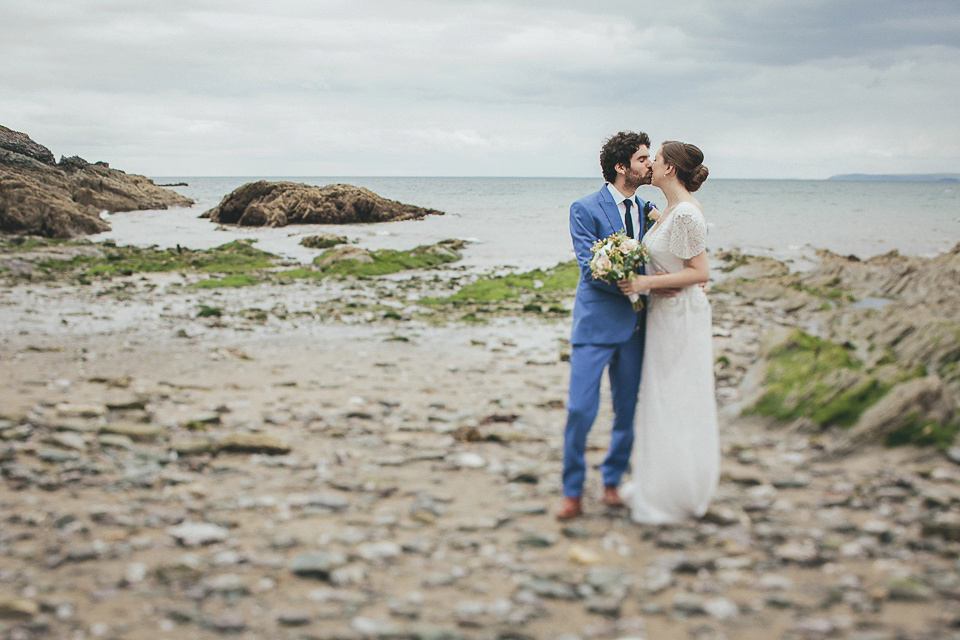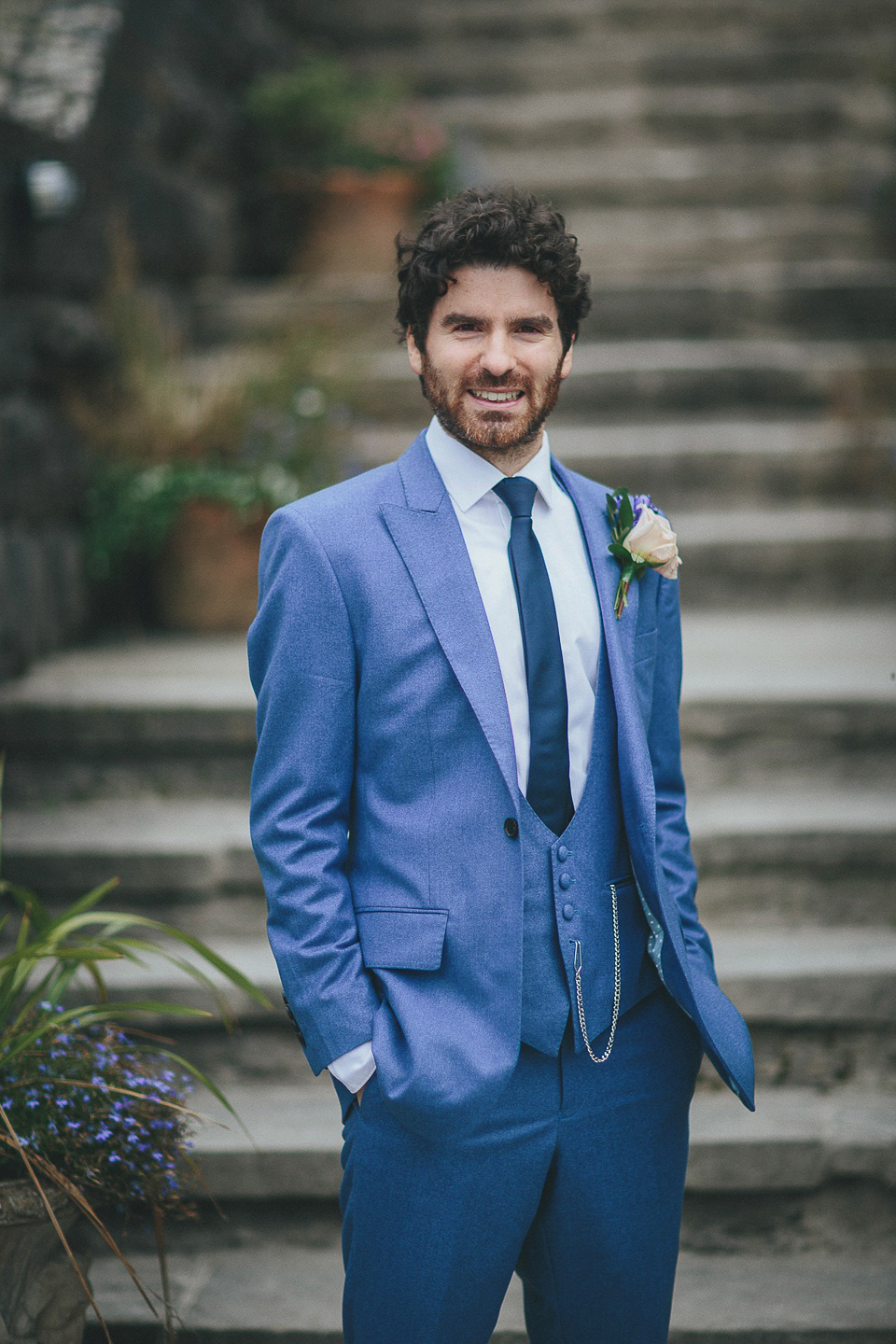 "We took advice from our friends who had married before us who had told us to ensure that you take a step back and try and take some time to reflect with each other. I'm pleased that we did get a chance to do this, and I really felt that the day didn't seem rushed."
"Polhawn Fort doesn't need a huge amount of decor. We had vases of quicksand coloured roses scattered around the venue, as well as candles and tea lights to ensure the fort was kept lit. We also decided, rather than a guestbook, to have messages in a bottle. During the dinner, we told our guests to write messages and put them in bottles placed on each table. We then opened them on our first anniversary and read the messages."
"We had a cheese tower for our main cake supplied by Couch's Catering, and a cupcake tower from Sarah Griffin at Baked of Bournemouth. Neither of us particularly like cake, but we really like cheese! Before we were even engaged, the one thing I've always known was that I would like a cheese tower for my cake! We also had a Monty Python quote 'Blessed Are the Cheesemakers' on a sign next to our cake.
We also decided to have cupcakes for guests who didn't like cheese! Sarah came up with an amazing idea to encorporate our wedding logo of seahorses. After ordering stencils especially for us, we had different cupcakes with either a stencil of our logo or handmade flowers that were based on our wedding flowers."
"Our favour was our main DIY item. Ed had this amazing idea to create an old primary school-style tea towel adorned with each of our guests' faces. I thought this was a brilliant idea until I realised it meant that I would need to draw the faces of 120 people!
Many evenings and weekends later (over six months in total), I had drawn the faces of all of our guests and the tea towel was ready to be printed. It was the one part of our wedding that we kept completely secret, even from our families. It made for a fun surprise – we loved seeing our guests' faces as they opened them. It was definitely worth the effort."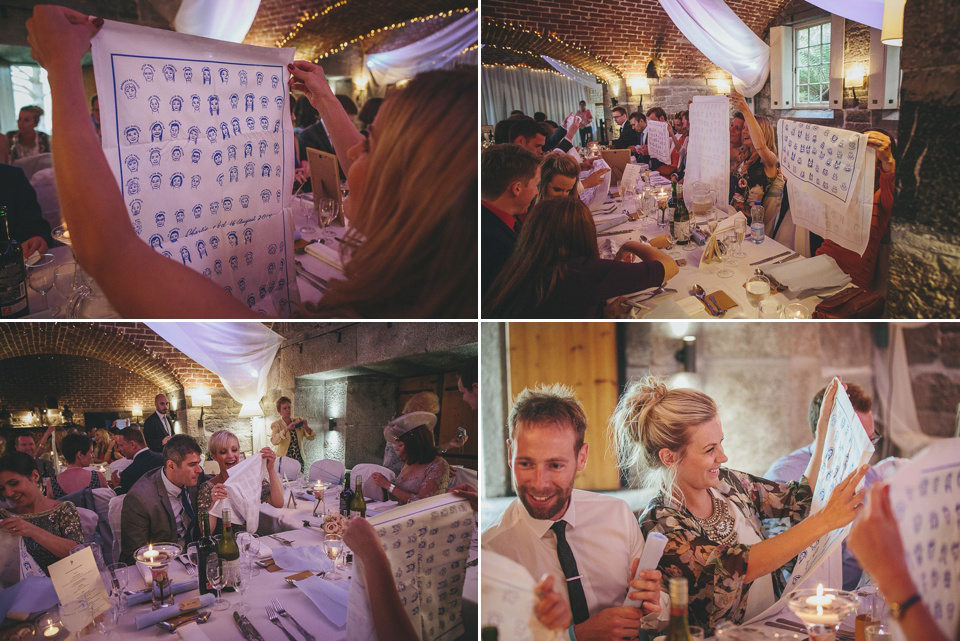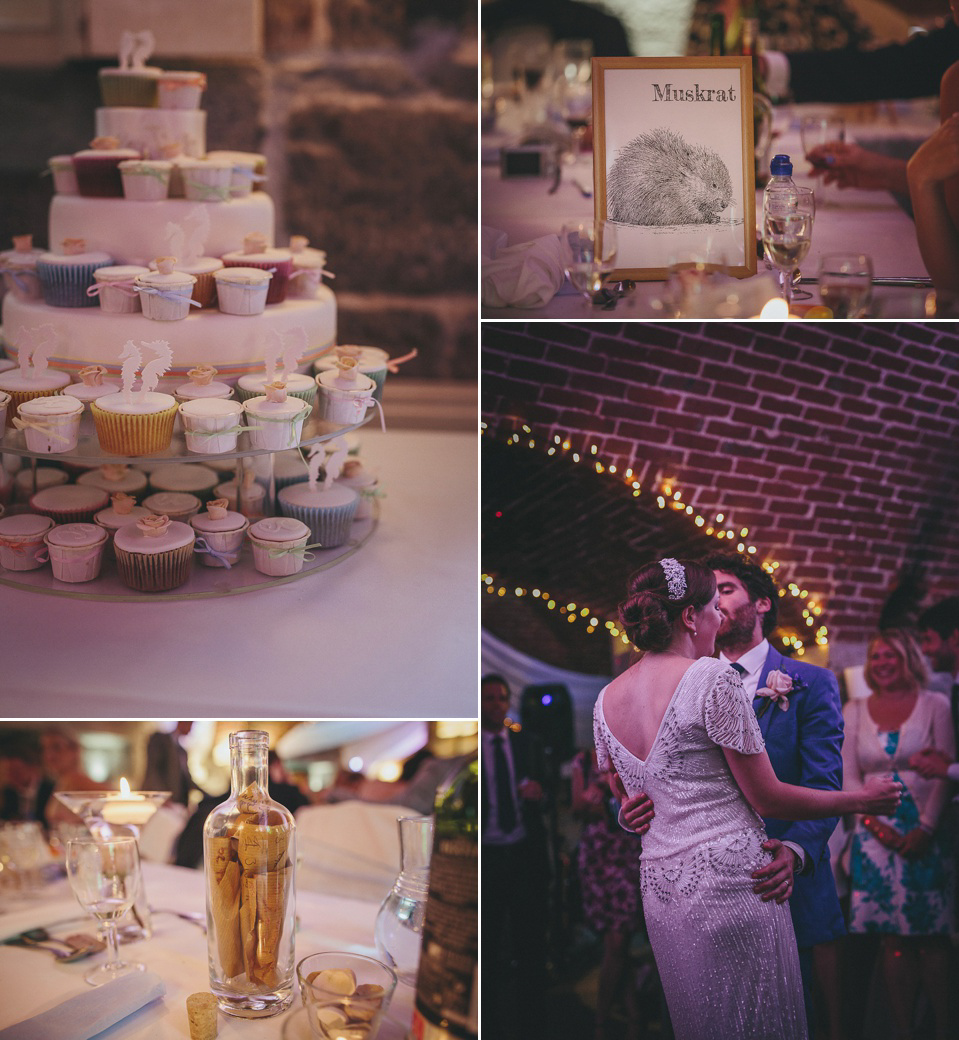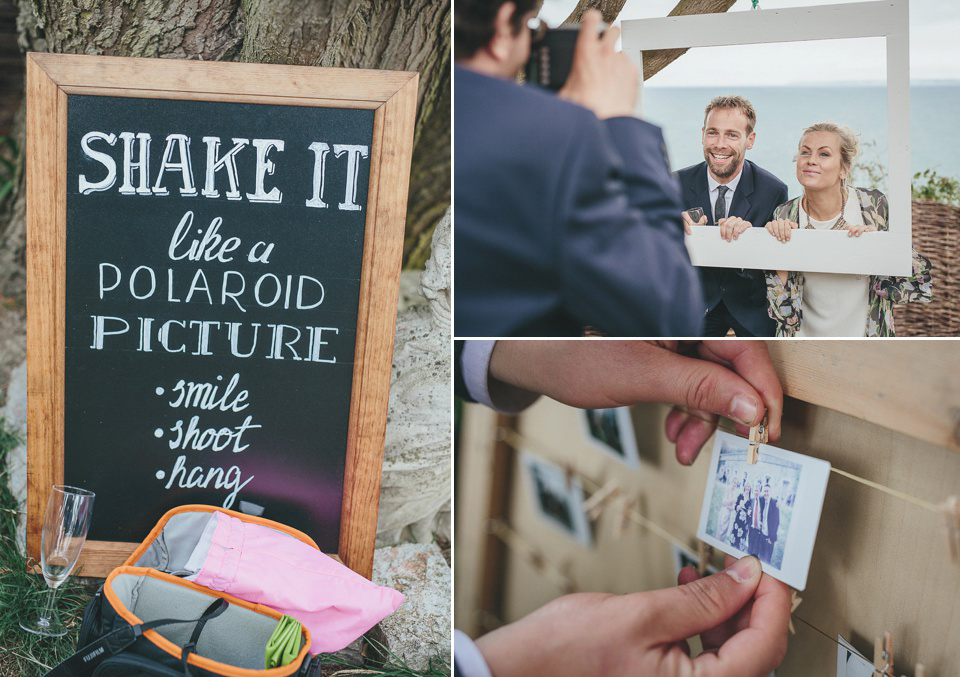 "It's difficult to pinpoint any one aspect of the day as our favourite. Definitely the ceremony, it is just as overwhelming and wonderful as you would care to imagine. I think we both would also say the evening with the band and dancing for hours with all of our friends around us was another highlight, and exactly how we wanted to end the day."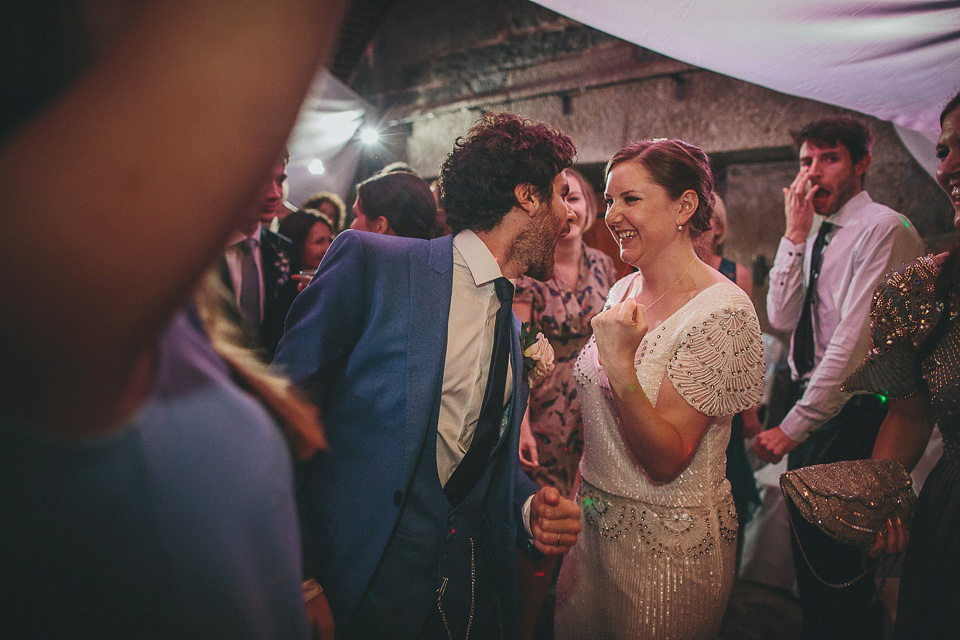 Words of Wedded Wisdom
"It's a cliché, but take time out to yourselves, even if it's just for 5 minutes. Also, mainly don't stress about the little things. If things are going wrong, don't worry, you won't notice it or certainly remember it. Make sure your bridesmaids are there to subtly distract from any dramas! Also, do not compromise on a photographer, the photos are the one thing you have to look back on the day once it's all over and they are so important.
Apart from that, I would say our biggest tip during the planning was to keep everything organised. We used Google's free All-In-One Wedding Spreadsheet template. It was a lifesaver and helped us with every aspect, but the budget planner was the most useful tool.
Finally, Love My Dress stood out very early on when I was starting to research my wedding and very quickly got addicted! The style of weddings, with a vintage flare was something that did not seem to be represented as well anywhere else. I also really liked the personal approach of the blog posts, especially with the introduction of The Lovettes. The only thing I think was missing when I was researching, was a thorough supplier list that was recommended. However I know this is something that has changed recently!"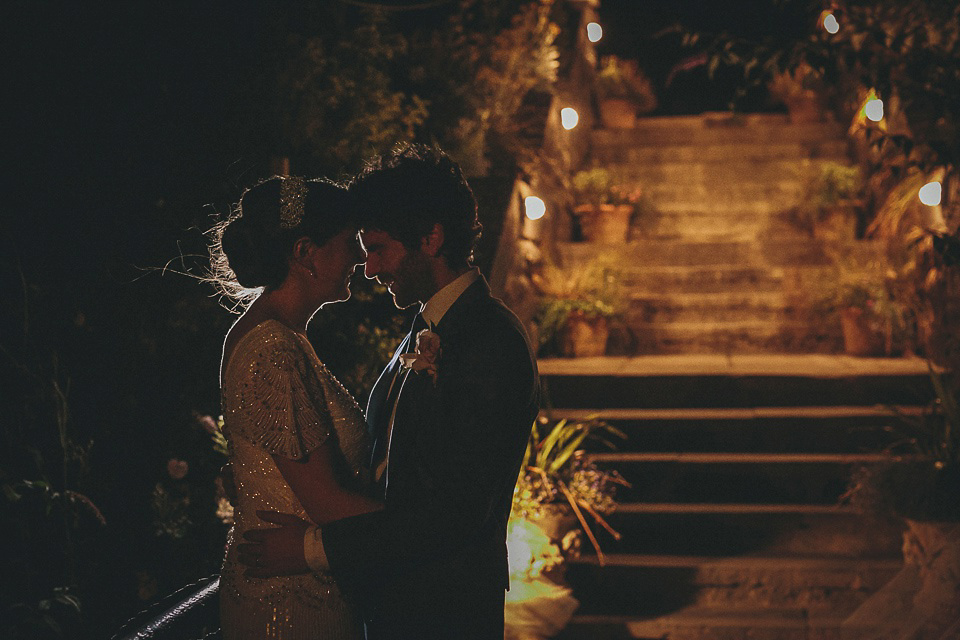 Yes, yes it absolutely has changed Charlie! It was this and similar feedback from many, many other brides that led us to establishing our wedding directory, Little Book For Brides!
Ladies and gents, if you enjoyed this wedding as much as I have, you can see more brides wearing Eliza Jane Howell here on Love My Dress. And you can explore more seaside and coastal weddings here too.
Have a lovely Wednesday evening everyone,
Love Annabel xx
Photographer – Helen Lisk Photography
On the day Co-ordinator – Jolly Good Wedding
Venue – Polhawn Fort
Bride's Dress – Lauren by Eliza Jane Howell via Morgan Davies in London
Bride's Shoes – Mimosa by Rachel Simpson
Bride's Hair Accessories – Olivier Laudus
Perfume – Romance by Ralph Lauren
Grooms Suit – Gresham Blake
Bridesmaid's Dresses  – Silver Raina Maxi Dress by Virgos Lounge
Florist – Ruth Andrew
Cake – Couch's Catering + Baked of Bournemouth
Entertainment – Coverbeat
Rings – John Heath
Catering – Couch's Catering
Hair and make-up Artist – Chantelle Hill at BeDelicious Bridal