Hello lovelies and I hope you're having the jolliest of weeks. As soon as I saw these incredible pictures in my inbox by Sophie Duckworth Photography, I did a little happy dance. This wedding highlights two of our Surrey-based favourites and a number of our Little Book For Brides members.  The bride found her beautiful gown with help from the amazing team at Miss Bush Bridal and their venue was the magical Fetcham Park – and both feature in Little Book for Brides, our recently launched exciting wedding resource (you can view their listings here and here).
Lottie, a doctor, and builder Russell, married on 25th July this year.  Lt us begin with their most delightful wedding video by Skinny Boy Films that stars Lottie's lovely smile centre stage. Enjoy!
"We fell in love with Fetcham Park as soon as we saw it, especially the Salon, which is such an incredibly beautiful room. We looked at several venues before we came across FP but as soon as we had seen it we knew it was the one for us. We didn't want somewhere with a package as we wanted to be able to choose individual elements of our day and they allowed us to do this and to create a day that was truly ours. When you walk into the venue you can't help but marvel at its beauty and we love that our friends and family on our wedding day loved it just as much as we did!"
See Skinny Boy Films in our wedding directory, Little Book For Brides
Lottie chose a stunning strapless Jesús Peiró dress, plus matching veil, from Miss Bush Bridal.
"I chose the opposite of what I thought I would choose, but when I tried it on I just loved it! The simple, clean style of the dress with its straight-across strapless neckline and box pleats in the skirt, made that little bit different by the most wonderful striped fabric. I had a matching veil with the same appliqué flowers that adorned the waist of my dress and it finished the look off perfectly."
See Jesus Peiro in Little Book For Brides
See Miss Bush Bridal in Little Book for Brides
"The team at Miss Bush Bridal was fabulous and I couldn't have found a better dress shop. I also bought a simple white dress to wear in the taxi after the wedding, but I loved my dress so much that I didn't want to get changed at the end of the night – so that became my honeymoon dress instead!"
"Finding bridesmaid dresses was one of the most difficult tasks, but in the end the dresses that we found were absolutely perfect and they all looked truly stunning. They wore floor length Kelsey Rose dresses from Miss Bush Bridal and were a lovely dusky green."
"Our make-up was done by the lovely Carolanne Armstrong and it was actually after seeing a photo from Carolanne's beautiful wedding in a magazine that I first came across Fetcham Park!
The talented Sharon Roberts from Wonderful Wedding Hair did my hair and all the bridesmaids' hairstyles. She created perfect styles for us that stayed in all day and she was so helpful in getting us all ready the morning of the wedding."
"Russell and I met at a gig almost seven years ago. Our younger brothers were in a band together and it was at one of their gigs that we were introduced – we were both super-fans! I was at university so Russell would visit me on the weekends in Cambridge, so much so that many thought he was a student too. After graduation we both moved into a little flat in London together.
We got engaged at Ashdown Park Hotel on a weekend away for our fifth anniversary. We were talking about things that we were excited for in our future together and Russell got down on one knee and proposed. It was such an exciting moment – we rang our families that night to tell them and I remember my brother just saying 'breathe Charlotte!' It was lovely to go back to Ashdown Park for our engagement shoot. We were engaged for just over a year before our wedding day."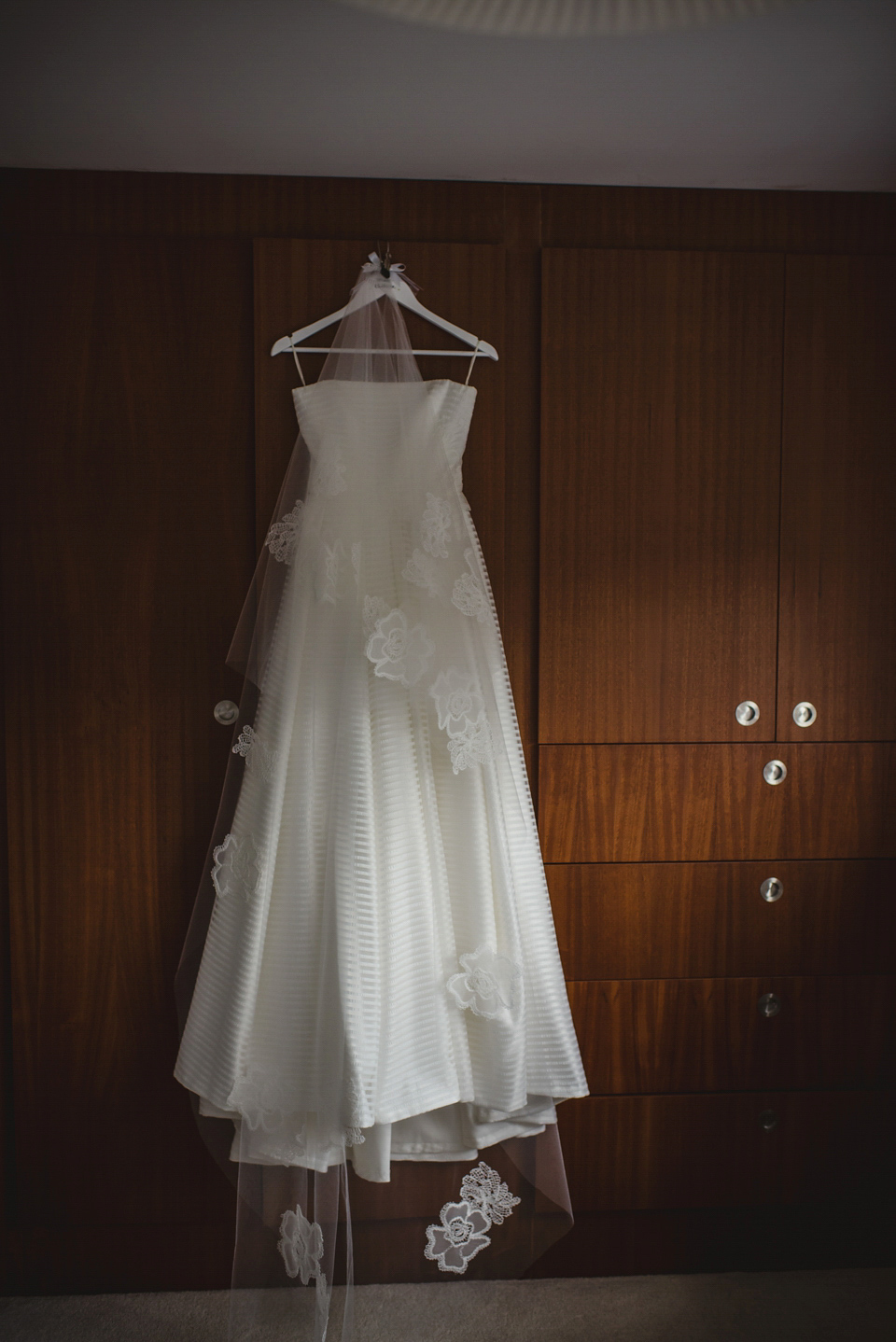 To compliment her amazing dress, Lottie donned the most fabulous pair of Red or Dead heels in sparkly green.
"I knew straight away that I wanted green wedding shoes. I wore a pair of red glittery heels to my graduation and then again for our engagement shoot and when I found the same pair in green glitter, I knew they were perfect."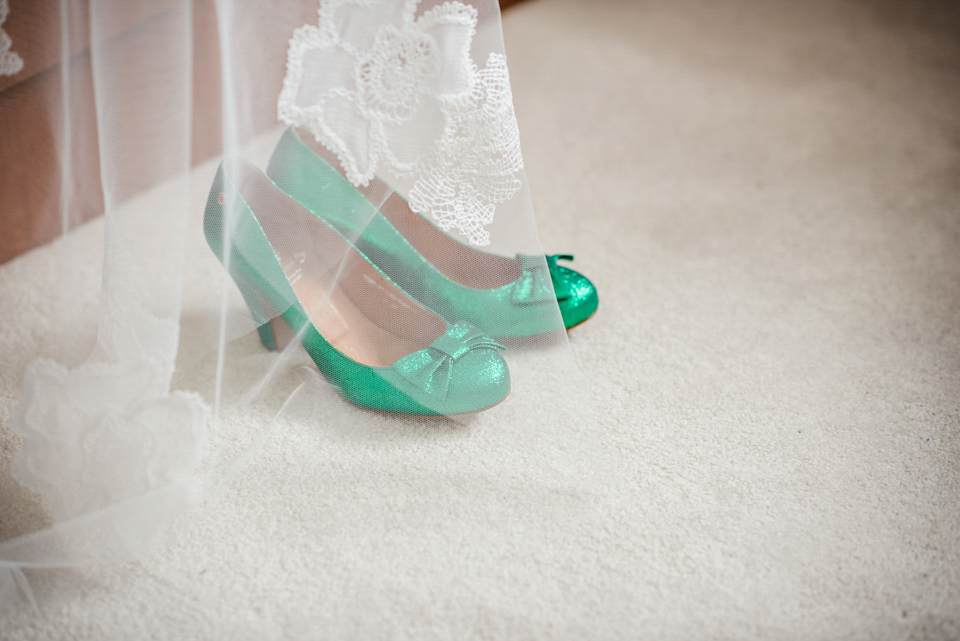 The bride wore a pretty flower hair slide by Cat Allison in her hair during the day and in the evening changed this to one of her own sparkly hair slides. She added the beautiful scent of Chanel's 'Coco Mademoiselle', and accessorised with sentimental jewellery that belonged to her grandmother – a necklace and engagement ring – and Tiffany and Co. earrings from Russell. And her sister gave her an extra special gift.
"My lovely, talented sister made me the most beautiful 'Something Old, New, Borrowed and Blue' gift. There was a box for each of them. In the box for something old was my grandmother's engagement ring, in the something new was a swatch of my dress fabric, in the borrowed box was my Mum's garter and in the blue box was a beautiful Tiffany and Co. bracelet with an aquamarine stone (my birthstone)."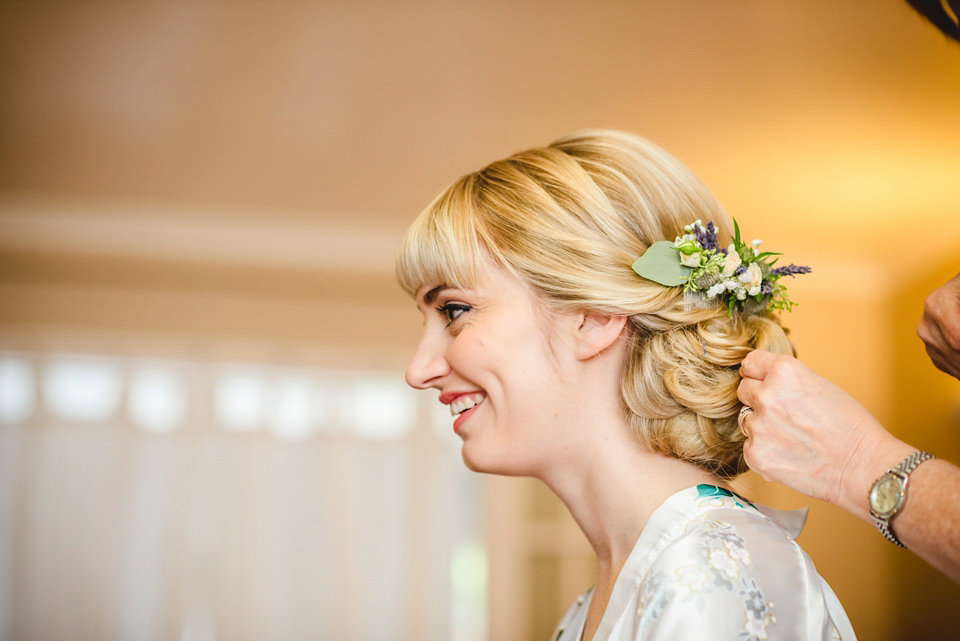 "The maids wore Red or Dead white heels covered in hundreds of tiny white pearly beads. To accessorise, they wore little wired flowers in their hair by Cat Allison and simple pearl pendant necklaces by Penelope Red Jewellers in Reigate."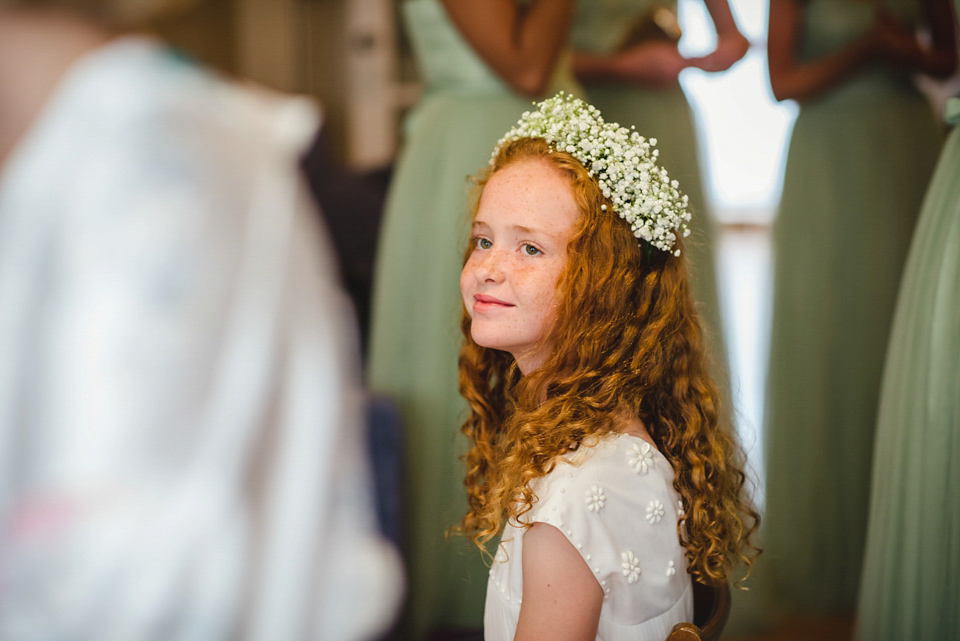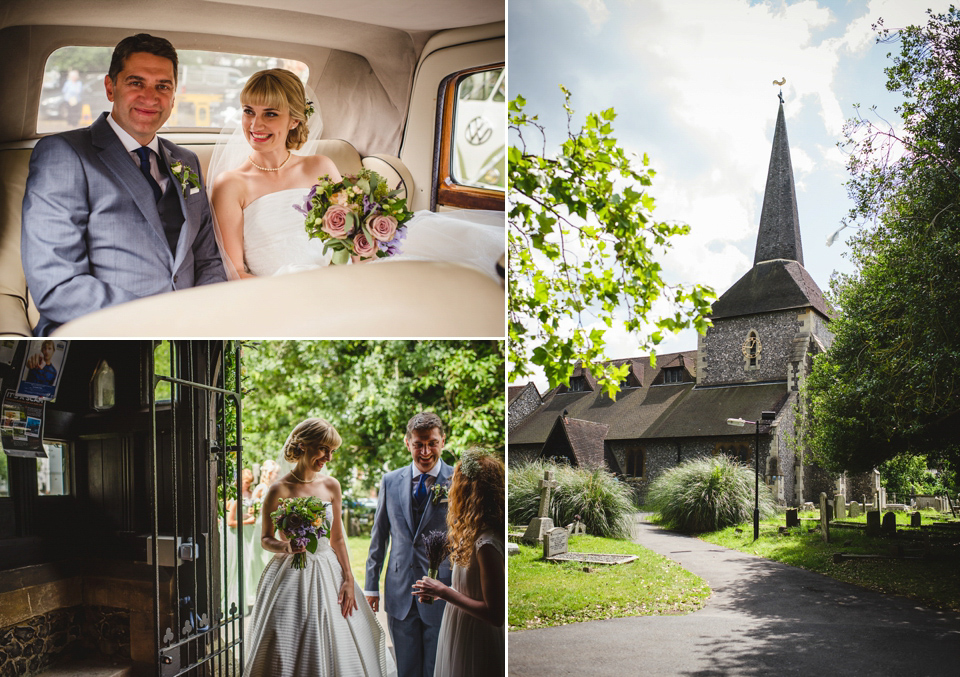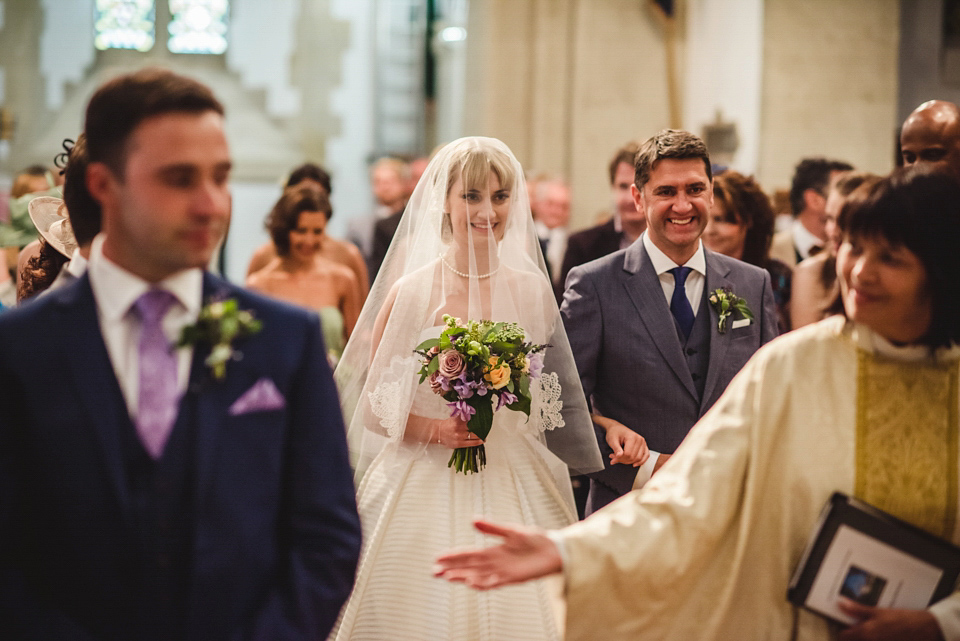 The groom and his groomsmen wore stylish Ted Baker for Moss Bros suits.
"Russell's three-piece suit was in blue and he looked ridiculously handsome in it! He teamed it with a white shirt and a purple paisley tie and pocket square that complemented the lining of the suit.
The groomsmen wore the same suit as Russell, but with a peacock lining. They wore white shirts and green ties and pocket squares to match the colour of the bridesmaid dresses."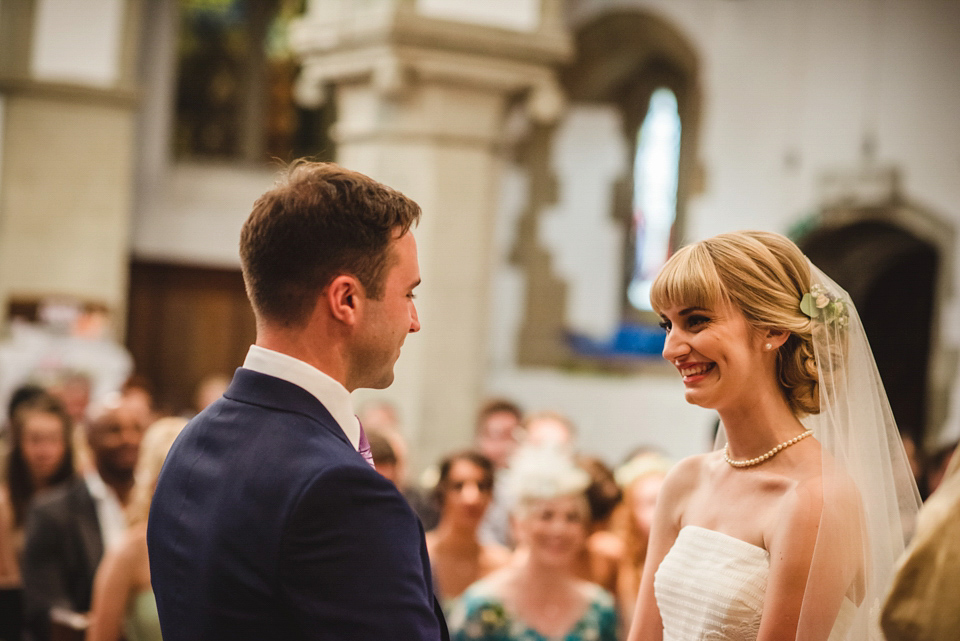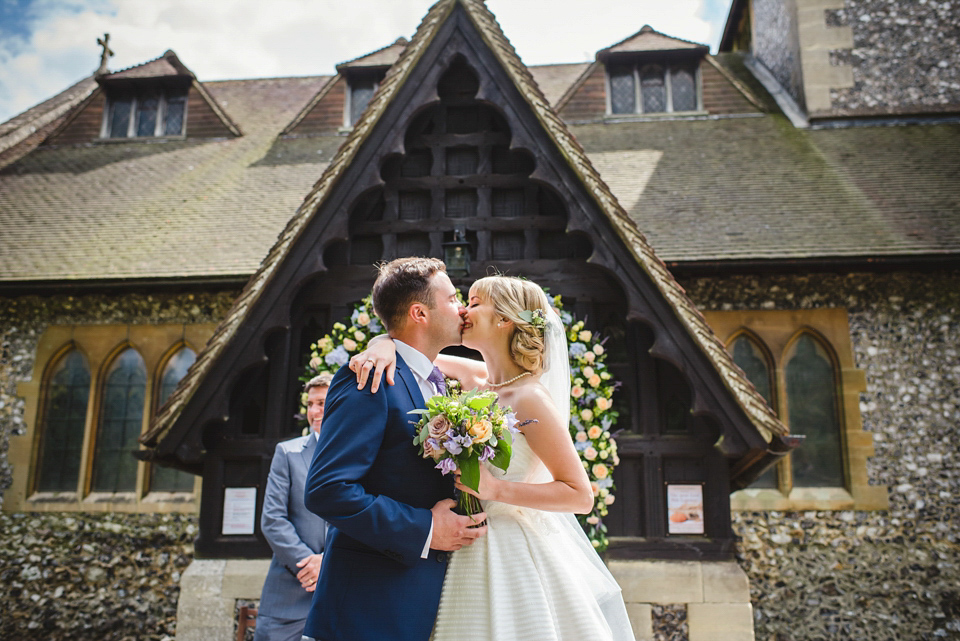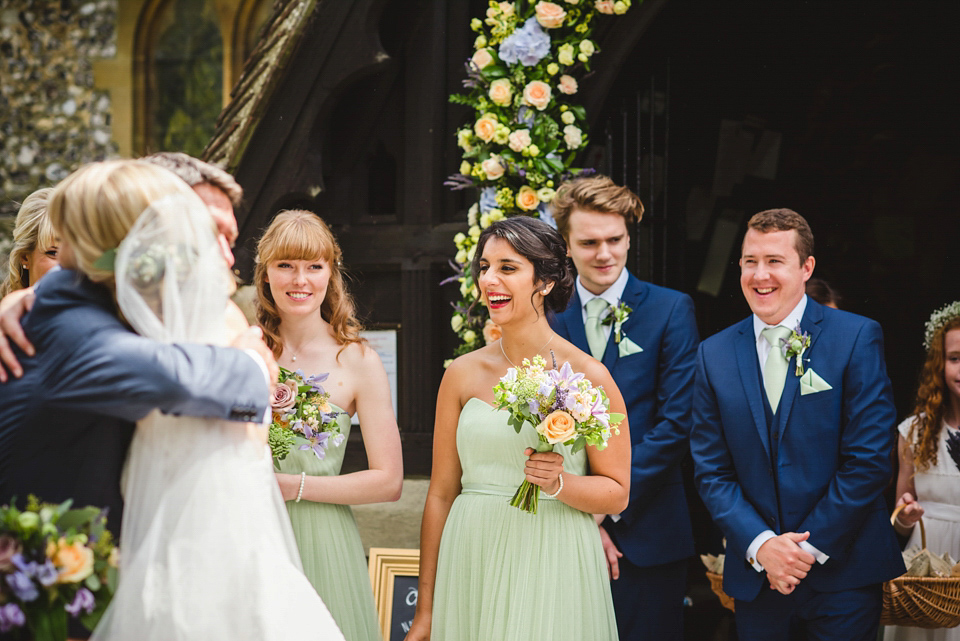 Cat Allison, a friend of Lottie and Russell, created the flowers and the result is simply stunning.
"Our fabulous florist was our super talented friend Cat Allison who did the most incredible job. We talked about the style and colour of flowers that we wanted and what she created looked wonderful. We had beautiful bouquets of purple, peaches and dusky pinks and stunning table decorations. The lavender in everything smelt divine.
The beautiful flower arch at the church was made by the church's florist."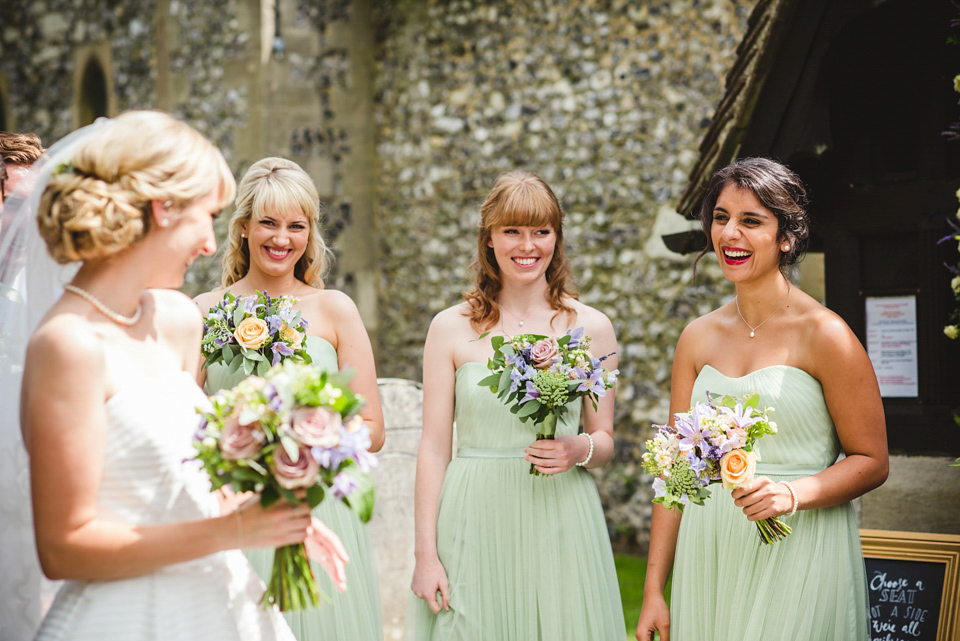 For their transportation, a variety of styles were chosen. I'm a little bit in love with the method of transport for the guests – a vintage green (of course!) double-decker bus.
"Our wedding car was a White Bentley from DS Wedding Cars and the bridesmaids travelled in a beautiful pistachio green VW Campervan from
VW Weddings. A family friend drove my family in style in his Bentley and the guests travelled from the church to Fetcham Park in a fabulous vintage green double-decker bus from The London Bus Company."
"Having our wedding at Fetcham Park meant we had access to 'Laura Loves', which was so incredibly useful in helping us choose the right suppliers. It is so nice to have recommendations you can trust. 
Louise Grace was our Wedding Co-ordinator and was an absolute star! She put together our wedding just as we had imagined it."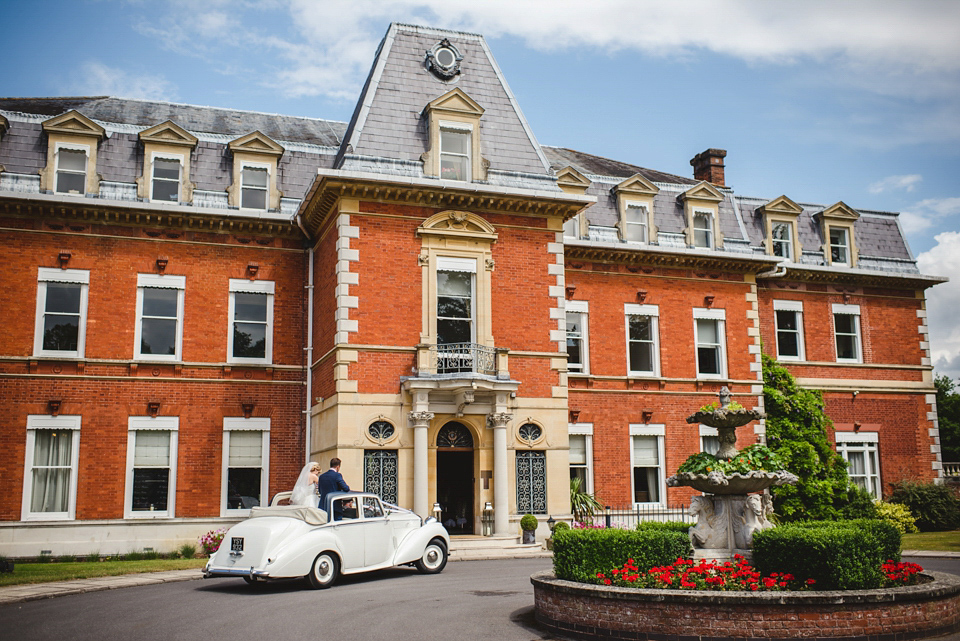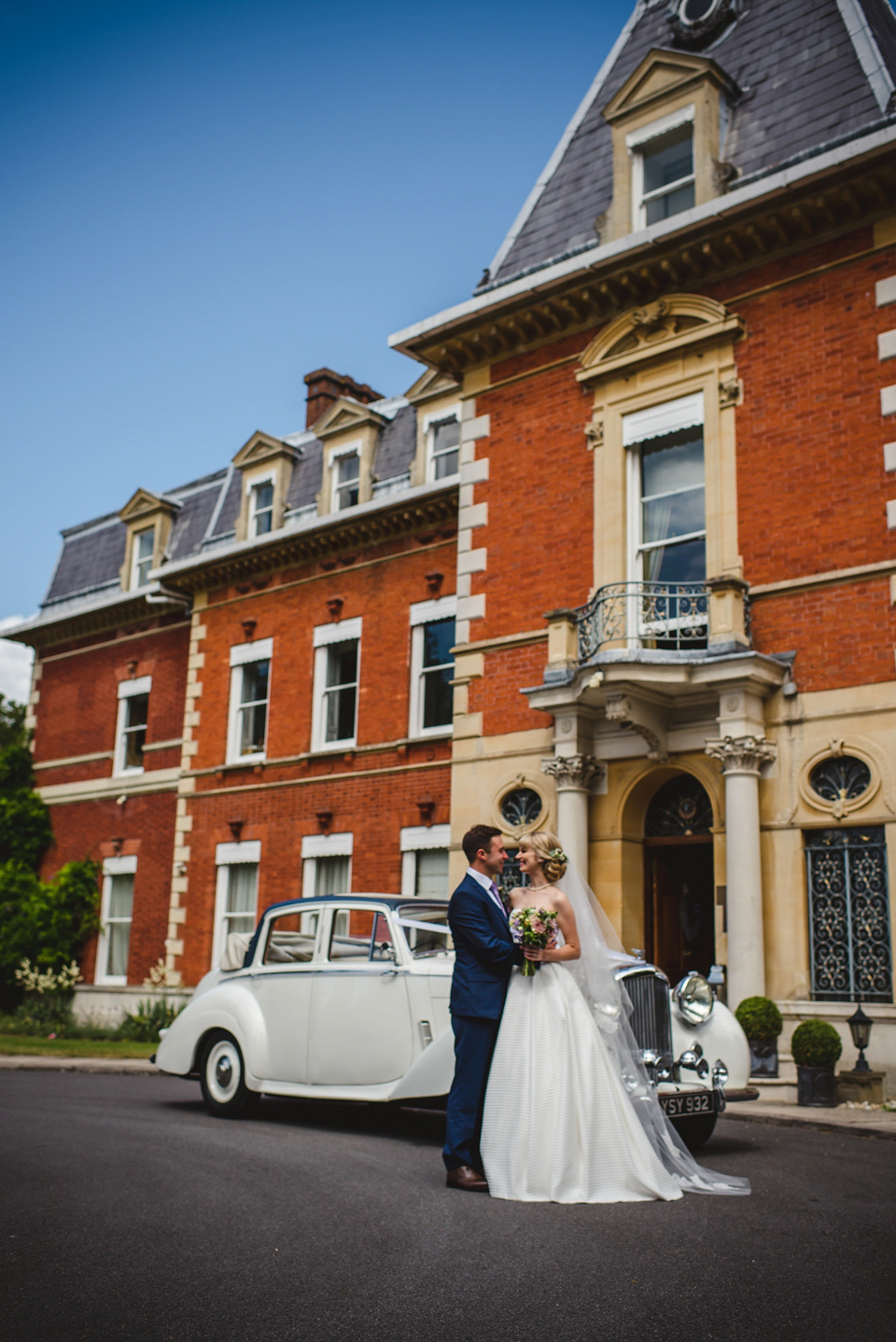 The couple chose Sophie Duckworth Photography for their stills photography and incredibly impressed with the results.
"We loved Sophie's style of photography when we looked on her website and when we met up we loved her enthusiasm for her work. We chose to do an engagement shoot with Sophie at Ashdown Park, the hotel where we got engaged, which was really helpful in making sure we were relaxed in front of the camera on the big day and meant we had some beautiful photos to remember the moment."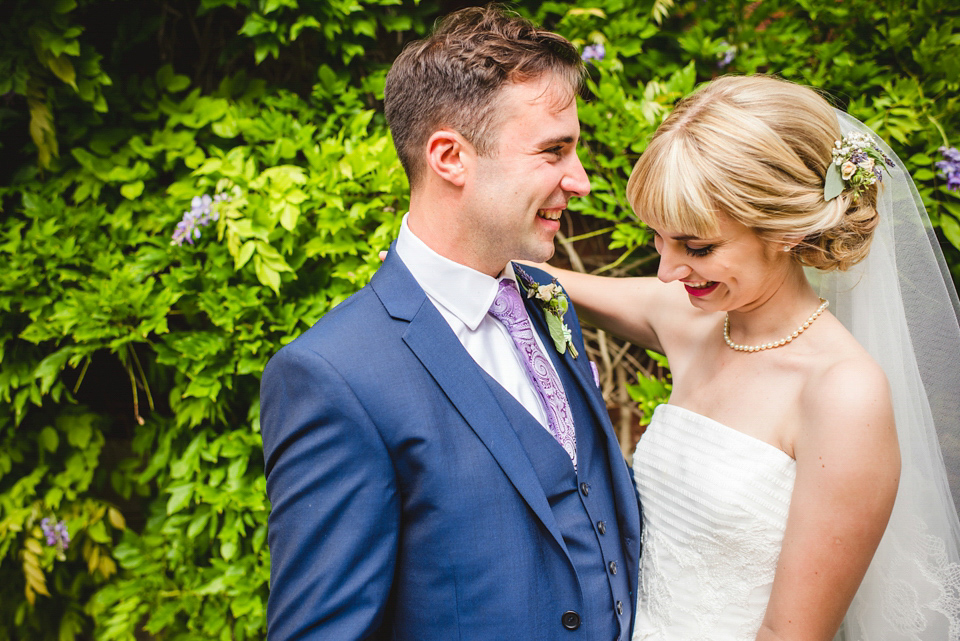 "Sophie was so friendly and professional on our wedding day; she blended in so well and worked tirelessly. She captured so much emotion throughout the day and caught so many moments so perfectly. I couldn't recommend her highly enough. Our friends and family love the photos just as much as we do and people have even said they are the best wedding photos they have seen!"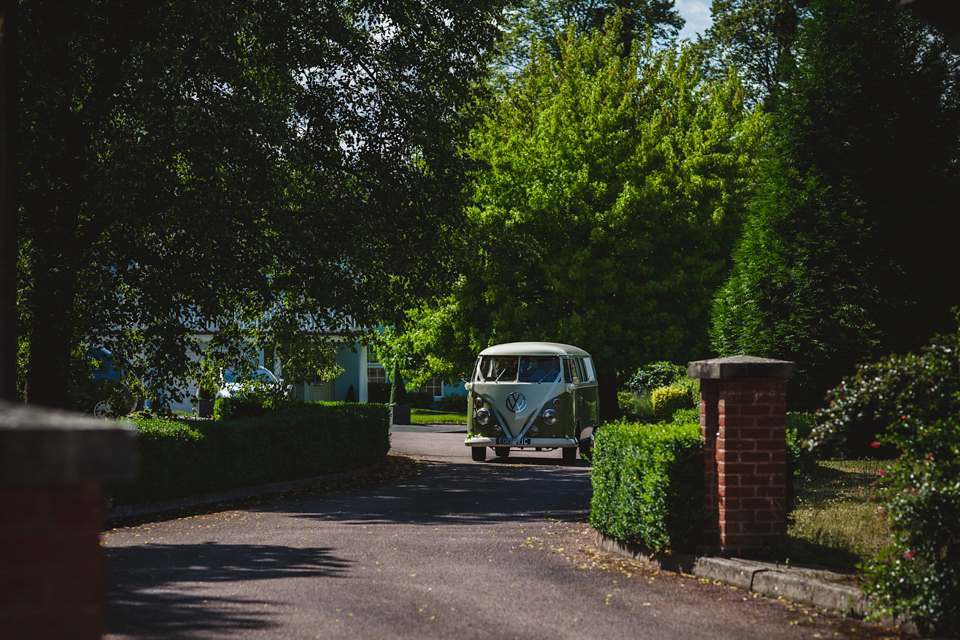 Kalm Kitchen catered and provided delicious, tasty treats for everyone, the bar was well stocked by The Vineking and Daisy Cakes created a four-tiered (and very yummy looking!) masterpiece.
"We booked Kalm Kitchen as our caterers and they were fabulous. The food was exquisite and the service they provided was brilliant. We loved the flair that they used in presenting their food. They worked so hard throughout the day and they all had a smile on their face at all times. They also made us a beautiful patisserie bar in the evening along side the cake, which went down a treat, as well as looking fabulous.
We stocked our bar from The Vineking in Reigate, where Frank made sure we had the perfect drinks for the day."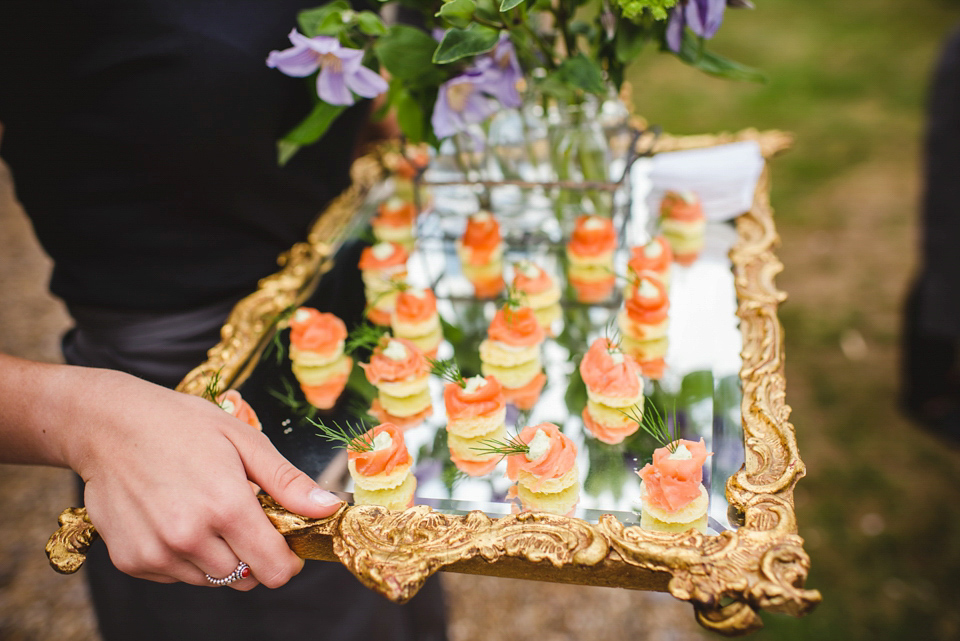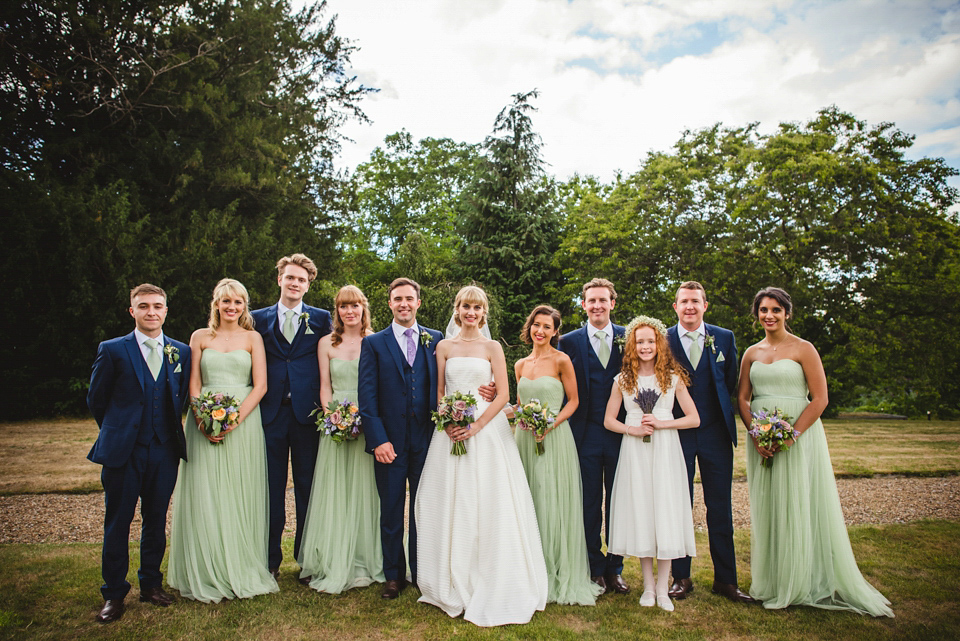 The venue's decor largely determined the style of the day, with the addition of a few of their favourite things.
 "The décor in Fetcham Park influenced the way we styled our day, and the fact that my absolute favourite colours are green and turquoise! We wanted a bit of a vintage feel and we really wanted to incorporate 'us' into the day.
Our colour scheme was green, gold and purple, with a burst of colour in the flowers. We love to travel, so we incorporated this theme throughout the day, and we used old sheet music for the confetti cones and name places and had lots of music during the day, as music is something we both love. And we both love to read, so my sister made beautiful folded books for our table centrepieces."
The bride and groom and friends and family got creative when it came to the stationery and decor. Be prepared to be inspired by this eclectic mix folks!
"Russell and I made our save the dates and had great fun making vintage style photo strips for them. We also used personalised stamps from the English Stamp Company and had one made with our wedding website on. We designed and made our order of services, table plan and place cards. We used the photo strips we did for our save the dates on our order of service booklets too. Our letterpress invitations and details card were from Strawberry Sorbet.
Russell made gold framed blackboards which we used for the order of the day, a seating sign for the church and the bar menu."
"My Mum folded up squares of beautiful floral fabrics into a basket for guests to use as handkerchiefs at the church. I made vintage style bus tickets for guests travelling on the double-decker bus. We both used vintage music sheets to make confetti cones that we filled with colourful petal confetti, which the bridesmaids handed out outside the church.
We both love to travel, so our table plan was a map of the world with the names written on luggage tags. We then framed photos from our travels and used these as the table names. We used vintage sheet music tied to sprigs of lavender to make our place names and my Mum wrote out all the names in a lovely script."
"We found an old vintage suitcase at a market that I lined with a polka dot fabric and we used it as a case for guests to leave cards in. We bought a little green wooden suitcase from Oliver Bonas and provided lots of postcards for guests to write messages on and leave in the suitcase. Again, because of our love of travel, we bought a vintage style globe for guests to sign."
"I collected lots of photos of us from babies to now and had them printed as polaroids. I used mini wooden pegs and hung the photos inside a big gold frame. We framed old family photos and wedding photos in silver frames, which we displayed with a print of a quote from a song by The Lumineers – 'I belong with you, you belong with me, you're my sweetheart'."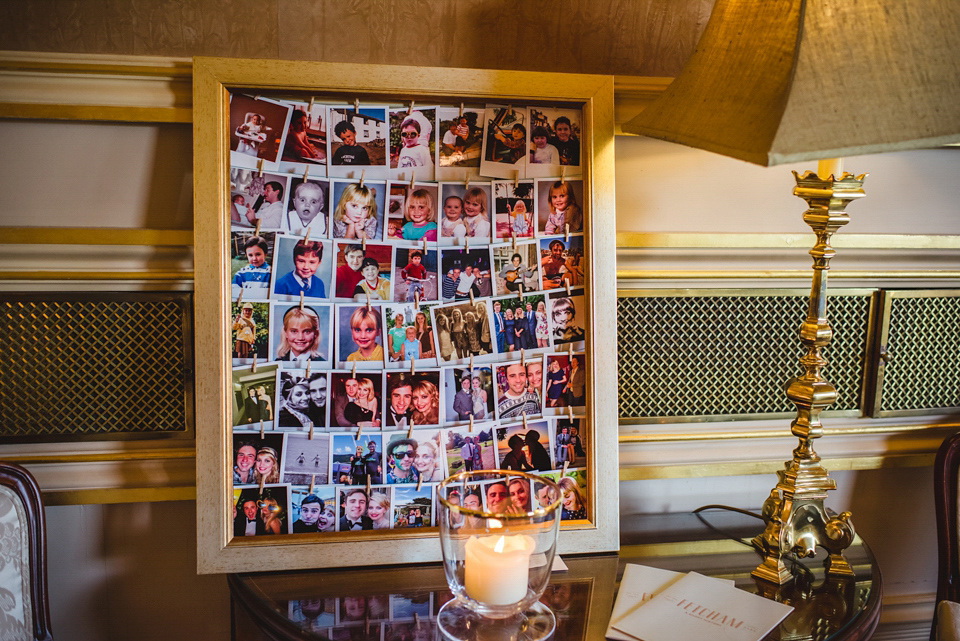 "We left a polaroid camera out with a basket of props and a big frame and guests stuck their photos into a little guestbook. We made decoupage letters for the bar and the cake table and my super talented and lovely sister made beautiful folded books for the table centerpieces. After dinner we served tea and coffee in vintage china teacups from A Cup of Vintage."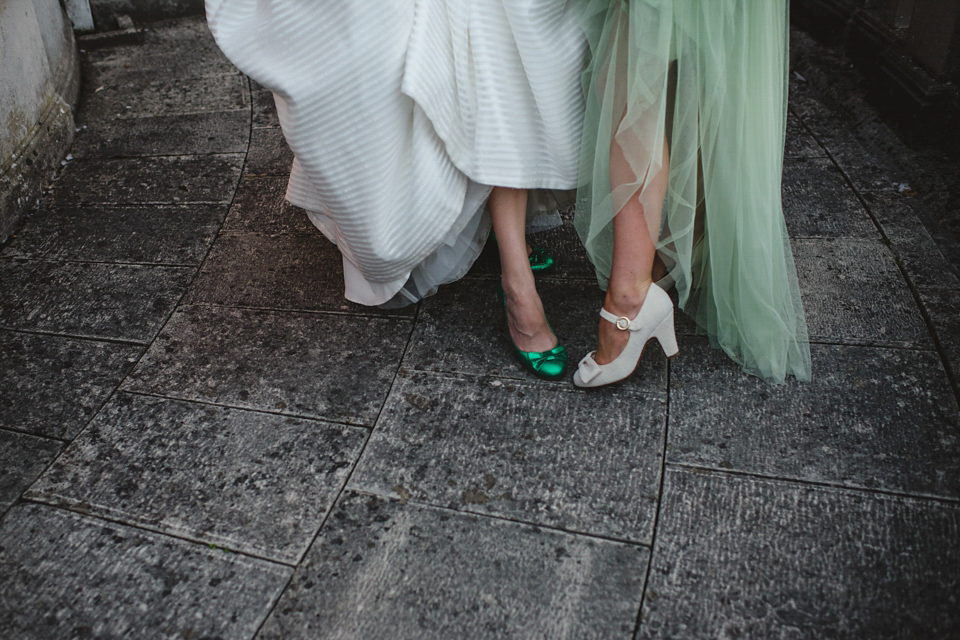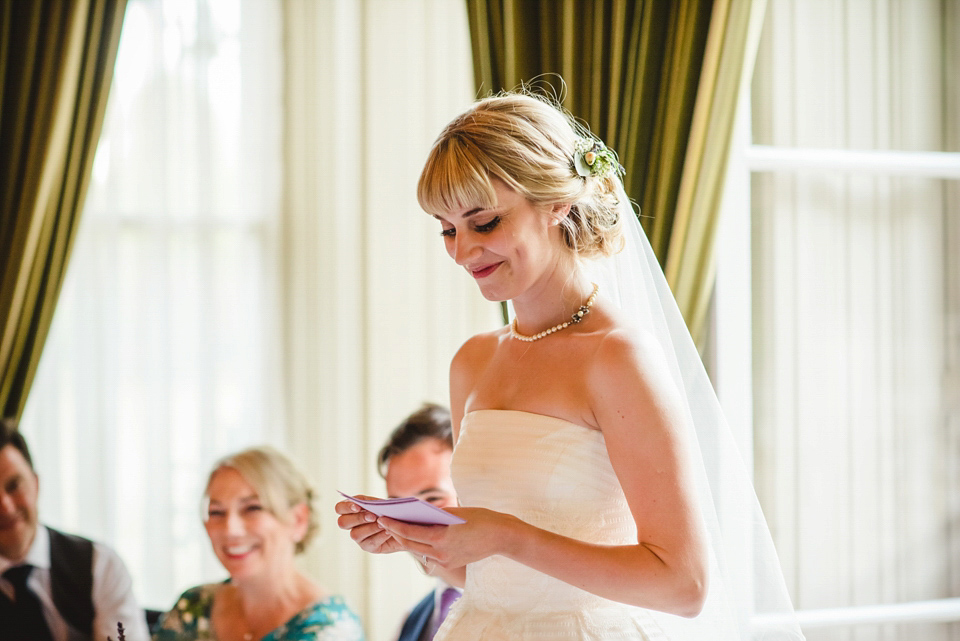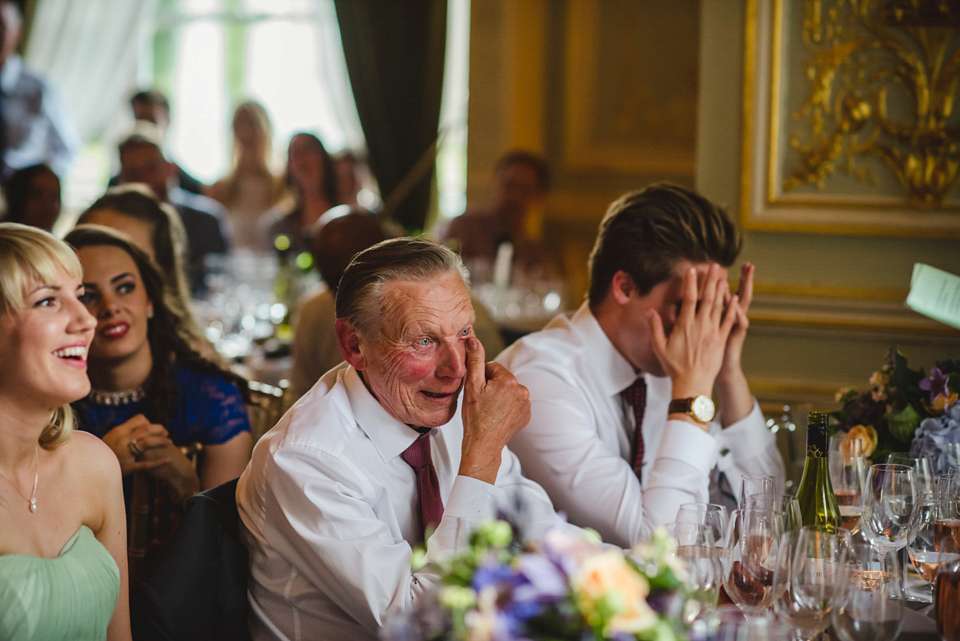 "We found Daisy Cakes at Brides the Show and when we saw her magnificent gold striped cake with the most incredible sugar flowers, we knew we had found our cake. We had four tiers – raspberry and white chocolate, chocolate fudge, carrot cake and fruit cake."
"We had beautiful lanterns light up the stairway by Couvert and Vowed and Amazed provided our big light up letters that decorated the dance floor – they looked fabulous!"
Lottie and Russell were keen to have loads of music peppered through the day and so had a variety of styles to keep the guests highly entertained, as well as a magician and games on the lawn.
"We both love music and dancing, so having lots of music throughout the day was important to us. A friend of ours sings in a Barbershop Quartet and they sang at the drinks reception. They created the perfect atmosphere and everybody loved them (especially my Grandpa who kept trying to join in!).
My talented younger brother Scott is a singer who performs under the name Kyko. He sang our first dance song, 'Thinking Out Loud' by Ed Sheeran, which made it even more special to us. He got the party started with a short set before our evening entertainment, Smith and Sons, took to the stage. They were fantastic and got everyone on their feet dancing."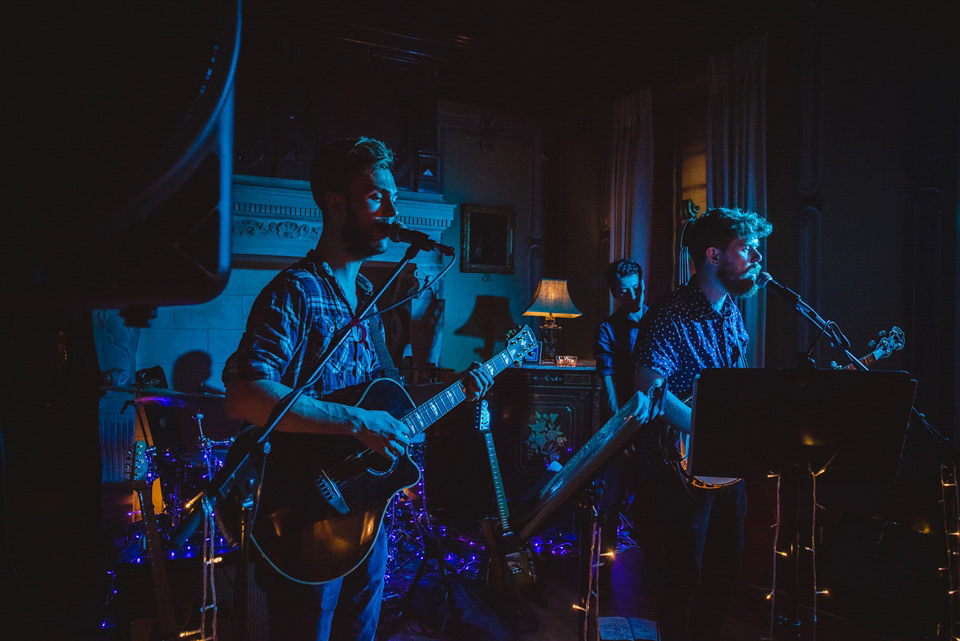 "We also booked magician Jared Gale, who was brilliant, and lawn games outside were provided by Sweetpea Vintage – the Jenga was very popular! We put a basket of blankets outside for people to use when it got a bit chilly in the evening and handed out purple ribbon wands to guests when we left at the end of the night and as we walked down the stairs it was a beautiful sight to see everyone waving them!"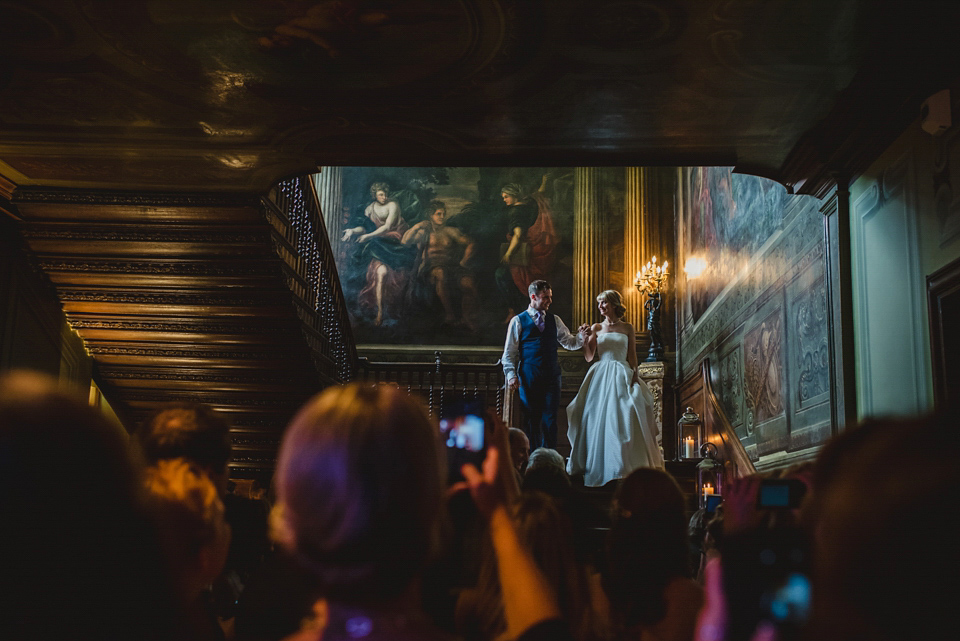 "I loved the whole day, every single minute of it! We both had the biggest grins on our faces the whole day – it was such a magical day. I have so many favourite parts of the day for so many reasons, but if I had to pick one then I would have to say the ceremony itself; that moment when we were actually married was just the most amazing feeling!
We didn't want to feel stressed on our wedding day, so we just went with it and let the day flow! It meant we got to enjoy every moment of it without worrying. I wouldn't change anything about the day because we loved it so much.
 In retrospect I would say it isn't worth stressing or worrying over little details, guests won't notice lots of things, so if something doesn't get done it doesn't matter, just enjoy the planning and enjoy the day!"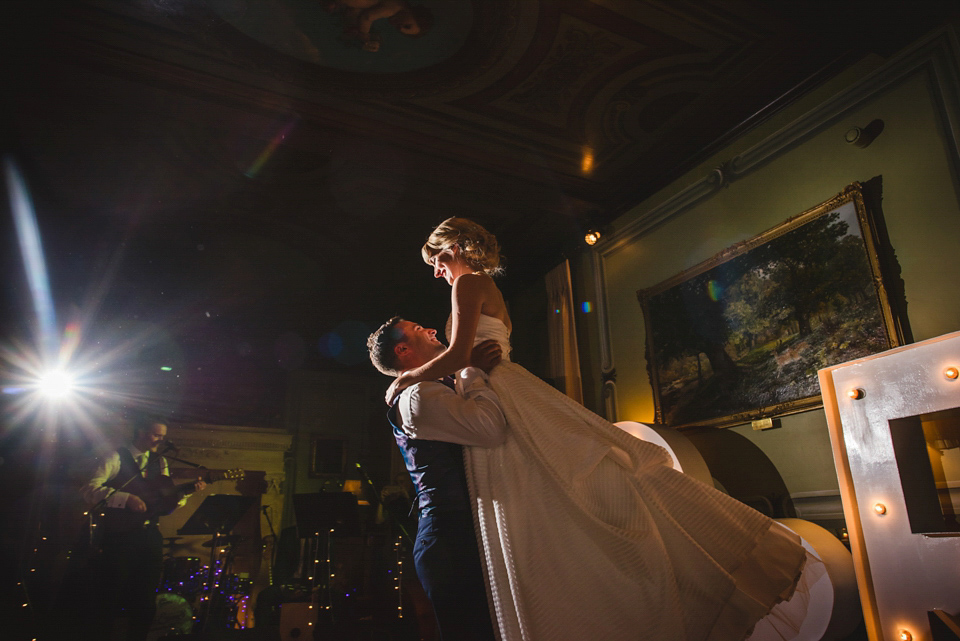 Words of Wedded Wisdom
"We found that the day went so quickly – we got married at one o'clock and thought that gave us plenty of time, but the day just disappeared! Before we knew it, it was already time for the wedding breakfast. Make sure you enjoy every moment, because you will wish the day would last forever.
I found Love My Dress incredibly useful and inspiring in our wedding planning. I loved reading about other couple's weddings and getting lots of inspiration. I particularly liked reading about weddings with a similar style to ours and about local weddings and seeing their recommended suppliers."
I don't know about you, but after viewing all the sweet little moments, captured beautifully by Sophie Duckworth Photography, I'd quite like to get hitched again tomorrow! Thank you so very much to Lottie and Russell for sharing your gorgeous day with us all and keep on smiling and dancing to beautiful music together.
Be sure to see here for more Fetcham Park weddings and you can view more Jesus Peiro loveliness here.
Have a wonderful rest of week everyone!
Love Jo -x-
Photographer – Sophie Duckworth Photography
Videographer – Skinny Boy Films
Venue – Fetcham Park
Planner – Louise Grace
Dress + Veil – Jesús Peiró via Miss Bush Bridal
Shoes – Red or Dead
Hair Accessory – Flower hair slide by Cat Allison
Jewellery – Grandmother's necklace and engagement ring and Tiffany and Co. earrings and bracelet
Perfume – 'Coco Mademoiselle' by Chanel
Bridesmaid's Dresses – Kelsey Rose via Miss Bush Bridal
Bridesmaid's Shoes – Red or Dead
Bridesmaid's Accessories – Wired flowers in hair by Cat Allison and pearl pendant necklaces by Penelope Red Jewellers
Groom + Groomsmen – Ted Baker for Moss Bros
Flower girl – John Lewis
Florist – Cat Allison
Entertainment – A barbershop quartet + Kyko + Smith and Sons + magician Jared Gale + outdoor games by Sweetpea Vintage
Rings – Daniel's Jewellers
Catering – Kalm Kitchen + The Vineking
Cake – Daisy Cakes
Stationery + Decor – English Stamp Company + Strawberry Sorbet + Vowed and Amazed + A Cup of Vintage + Couvert + Oliver Bonas
Favours – Charbonnel et Walker
Make up – Carolanne Armstrong
Hair – Wonderful Wedding Hair
Transport – Bentley from DS Wedding Cars, VW Campervan via
VW Weddings and vintage green double-decker bus from The London Bus Company