Lovely readers, I have a positively delightful Summer wedding to share with you all today. The relaxed vibe completely comes across in the beautiful images by James and Lianne Wedding Photography and after viewing them, I so wish I had been lucky enough to be on the guest list. Meet Lucy and Mike, who tied the knot at Taitlands in The Yorkshire Dales on 27th June 2015. This utterly picturesque setting even had its own meadow of daisies, which fulfilled one of the three elements of the couple's planning brief.
"Our buzzwords were 'Yorkshire', 'meadowy', and 'glamour', and I think we managed to achieve this! We wanted a relaxed day with the focus to be on the important bits: family, friends, food, and dancing."
Photography by James and Lianne Wedding Photography
Lucy chose the very glamorous 'Lauren' gown by Eliza Jane Howell and the detail, I'm sure you'll agree, is absolutely exquisite. Together with her 'something new', the beautiful bride added a simple veil, blue heels, her favourite necklace, diamond accessories, and pretty flowers in her hair.
"This was one of the first dresses that I tried on and absolutely fell in love with it. I loved the delicate beading on the capped sleeves and the beautiful detail around the drop waist. It flowed beautifully and was so comfortable to wear on the day. I found it in a bridal shop near home to show my Mum and when we went to try it on, the shop was having a closing down sale with every dress half price – decision made!"
"We both knew that we wanted to get married in the Yorkshire Dales. We loved the feel of Taitlands with its stunning décor, mosaic floor tiles and beautiful views, complete with dry-stone walls and sheep. Emma and Martin who own the venue were brilliant and we spent many an afternoon in the run up to the wedding sitting around the Aga with a cuppa and planning bits of the day."
"We wanted a self-contained wedding weekend and that's exactly what we got. Close friends and family arriving on the Friday to get stuck in and set the wedding up, lasagna and homebrew by the fire pit in the evening, a perfect wedding day on the Saturday and then a wedding walk around the local area on the Sunday, topped off with a curry!"
"For my hair, I had a mix of fresh white flowers and rosemary prepared by Erica Berry Flowers in Ilkley."
"I asked my hairdressers Sadie and Hannah at Verve Hair Design in Ilkley to do our hair. They were fantastic and it was a really fun relaxed atmosphere with us all getting ready together looking out onto the beautiful views. I went for a relaxed up-do with plaits and fresh flowers.
And for my make up, I asked my good friend Lida to help. We went to Harvey Nichols prior to the wedding and had an afternoon of trying on make up and drinking champagne. I chose Laura Mercier products for a natural light look. It was so much fun sharing my morning getting ready with her and I bought her a leather tool belt as a thank you to complete her professional look!"
"Mike's three-piece suit was from Reiss – he knew straight away what he was after and bought it in the January sales. His silk knit tie from John Lewis was amazing value and just the 'wineberry' colour he was after. His shoes were by Poste and didn't have pointy ends, which was important to Mike!"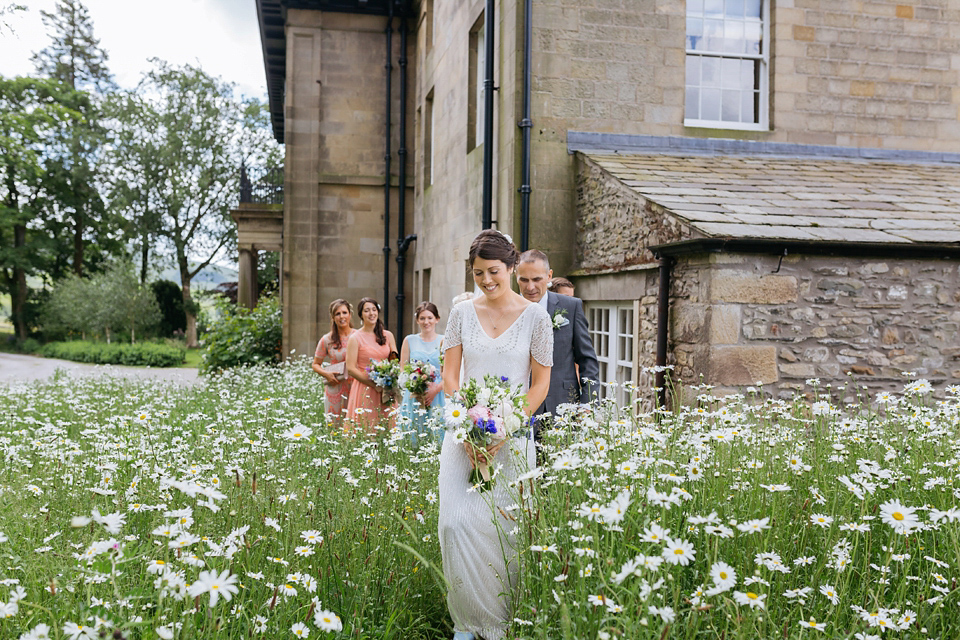 "I walked down the aisle with my Dad to Fleetwood Mac's 'Songbird'. It is the most amazing feeling in the world – walking in to a room full of your favourite people, with your Dad by your side and walking towards your love."
"We met via mutual friends at a barbecue back home in Yorkshire. Our first date was in Leeds, the second date London, and the third in Italy! We'd been together for seven years when Mike popped the question on a dog walk by the river at Appletreewick."
"We sang 'Here Comes the Sun' with all our guests as part of the ceremony, which was such a happy memory of the day.
We asked Mike's sister to do a reading for us. She put together extracts from love letters their grandparents had written to each other whilst they were apart during the war. They were beautiful and a real tribute to the strength, resilience and durability of love."
Lucy and Mike had help from a jeweller friend when choosing their rings and during the ceremony sang an uplifting song with all of their guests. The reading was extracts from love letters written by Mike's grandparents during the war – what a beautiful touch. And the photographers caught several incredible share the honest love moments, particularly during the ceremony.
"Lister Horsfall Jewellers supplied our rings – Nick is a good friend of ours and made the whole process so relaxed and enjoyable. It's always nice to have a glass of champagne when you're choosing the wedding bands; it greatly helps with the decision making!"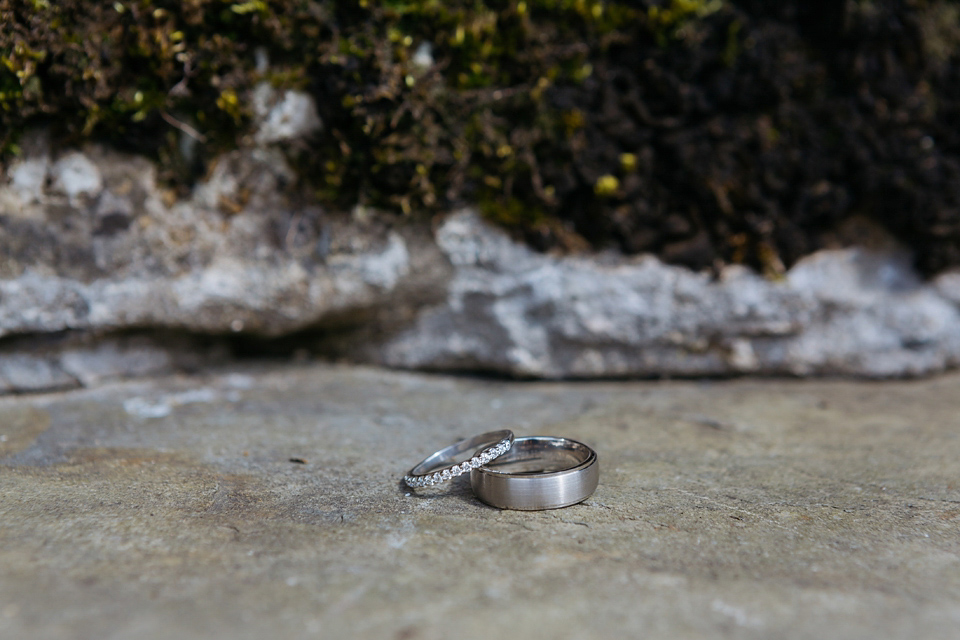 "My veil was 'off the peg' from The Bridal Gown in Otley – a simple, soft tulle veil and my shoes were my 'something blue' from Marks and Spencer.
I wore my favourite hummingbird necklace, which was the first piece of jewellery Mike bought for me and was my 'something old'. I also wore a pair of diamond earrings and a stunning diamond line bracelet as my 'something borrowed', which were very generously lent to me by my bridesmaid's husband who owns Lister Horsfall Jewellers."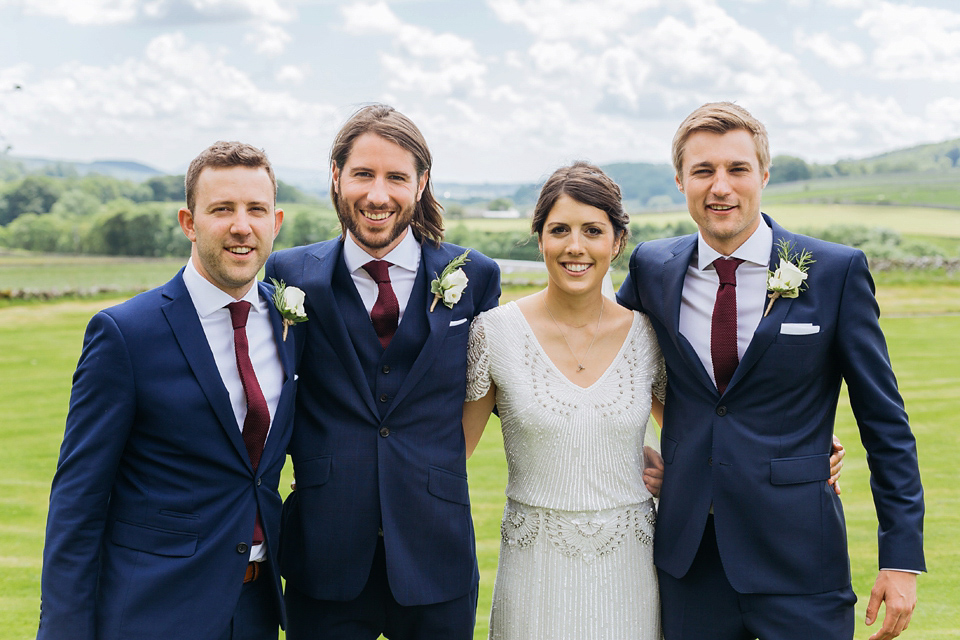 Lucy's five maids donned gorgeous pastel dresses, with their own choice of comfortable shoes in a neutral colour.
"We got the bridesmaid dresses from forherandforhim.com. We went for the same dress in different pastel shades. I was a tad worried about ordering them online, but it worked out surprisingly well! They were delivered on time and we did the custom measurements, so they fit the girls perfectly. I loved the colours and thought all my bridesmaids looked gorgeous. My bridesmaids all chose their own shoes and were given the criteria of being neutral and comfy for dancing.
The flower girl dresses were from BHS and they looked so sweet with their matching floral headbands and little metal buckets of homemade confetti."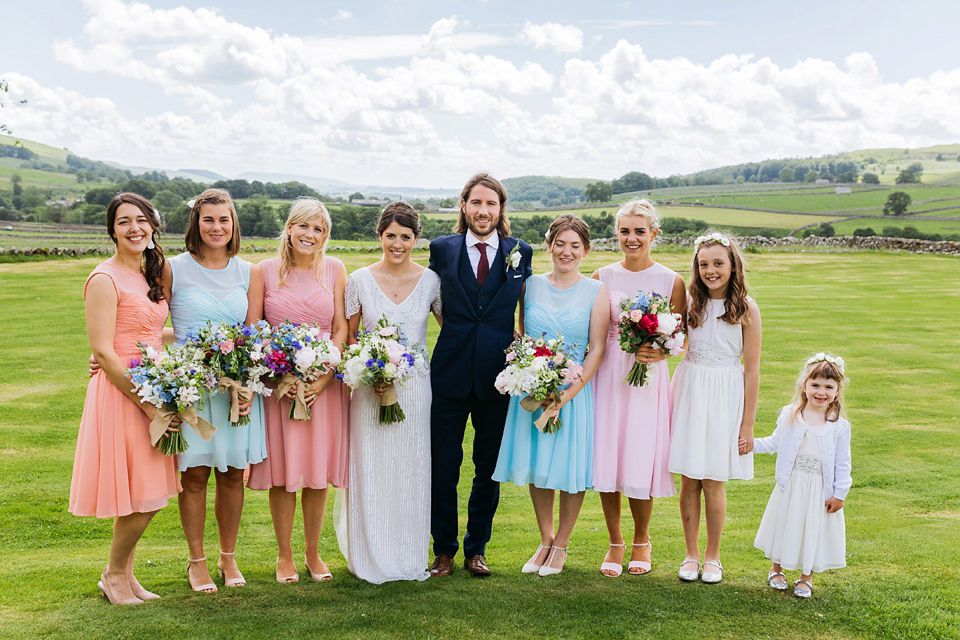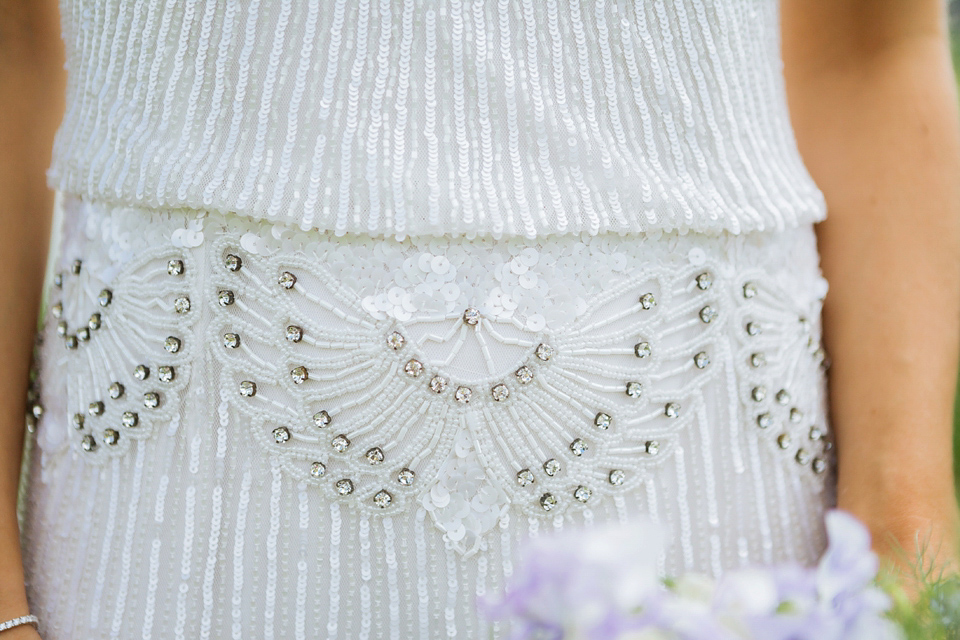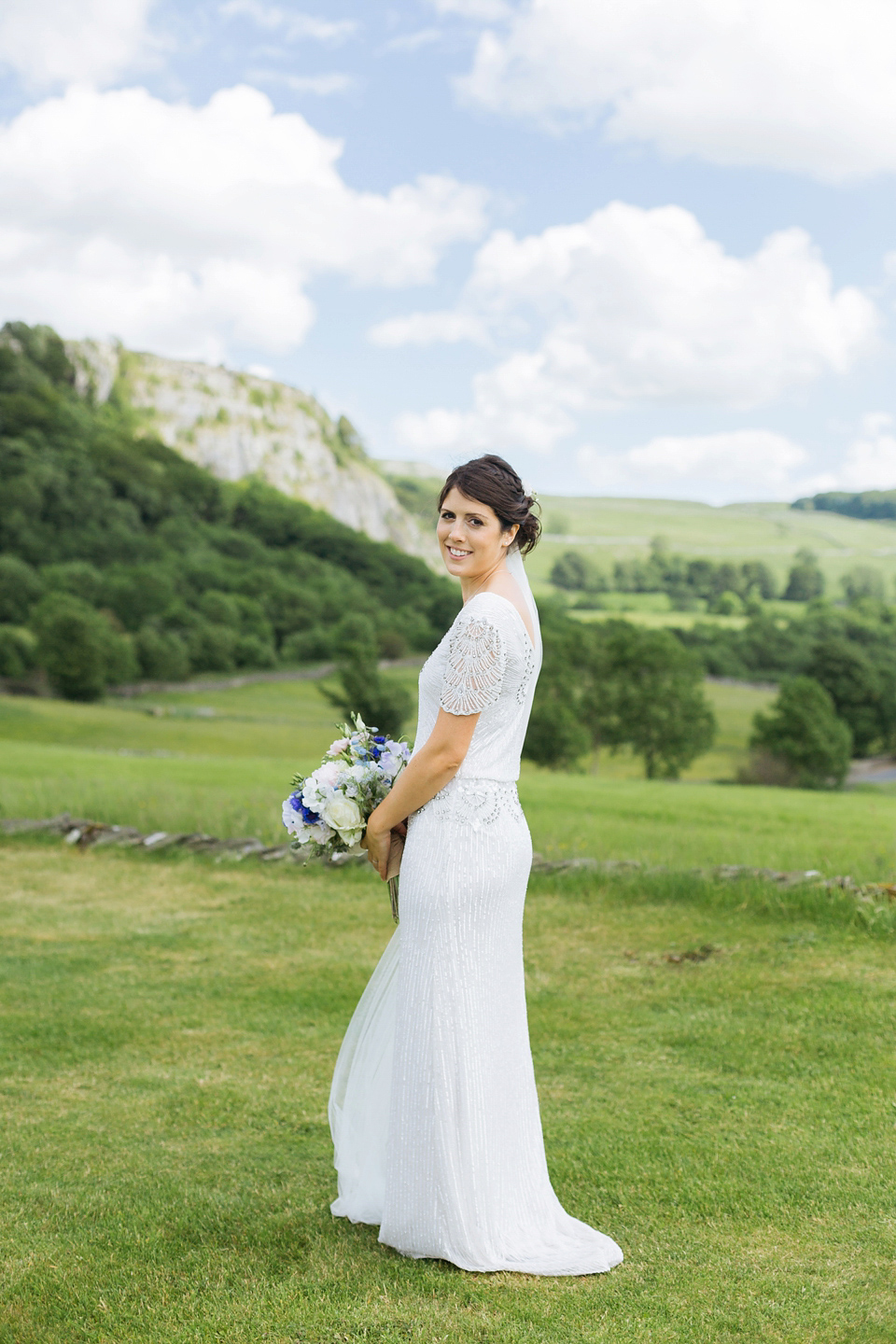 The huge range of flowers were bought at market and arranged by the groom's Mum and Aunt, then placed all around the venue. Being a little bit hippy, I love how they were also able to pick daisies from the meadow. And Lucy and her maids had extra special help with their bouquets from Emma, one of the owners.
"Mike's Mum and I went to a flower market on the Thursday before the wedding. We wanted a mix of blousey, English flowers and bought literally bucket loads of roses, peonies, lisianthus, cornflowers, and sweet peas. I also had rosemary and lavender from my garden and we picked daisies and greenery from the garden at the venue. Mike's Mum and Auntie then spent a day arranging all the flowers in to milk bottles and kilner jars to make the most beautiful arrangements. We had flowers everywhere!
Emma at Taitlands is a trained florist and she made our bouquets, which were beautiful. I've pressed some of the flowers from mine and framed them as a memoir."
"Food was supplied by Yvonne and Eric. We had a wedding barbecue, which was an absolute feast – I've had so many comments about the cheesy peas! They were lovely to work with, really flexible with the menu and gave us fab food.
We hired a pizza van in the evening, which served up amazing wood fires pizzas in Claude, their 1967 Citroen H van. Miles and Helen from PizzaFella were great and we would highly recommend them."
James and Lianne Wedding Photography captured these lovely light-filled, relaxed and intimate shots of the couple perfectly.
"We were so impressed with James and Lianne. They came to our house a few weeks before the wedding for a cuppa and we felt instantly chilled that they both had the same relaxed approach to wedding photography. They captured the essence of our day and we absolutely love all our photos. Looking back through the photos they captured moments where we had no idea they were there and caught some amazing intimate moments. Ninja photographers indeed!"
My favourite feature of Lucy and Mike's big day are the fabulous, colourful hanging paper lanterns. And the couple had help from clever and crafty friends and family for other decor ideas (I love the idea of the wedding quilt Lucy's planning to make!), and for the favours and their cake.
"We decorated with flowers everywhere, plus amazing multi-coloured paper lanterns from The Hanging Lantern Company. They absolutely transformed the marquee!
 I asked each guest to RSVP with a piece of fabric, which I am going to make into a wedding quilt. We pegged this out on a line and it made great bunting!"
"We went for a 'naked cake' and had three layers of a carrot cake, chocolate cake and Victoria sponge made by Mike's Mum and Auntie. It had all been eaten by the time I went to try it but I heard it was very good. One of my bridesmaid's Reb made us bride and groom wooden cake toppers which were uncanny and she'd even done one of Betsy our dog!"
"We added collections of wedding photos of our parents and grandparents in vintage frames. 
My brother Ed made us a cracking homebrew with personalised labels for our favours. The best thing was he had lots of bottle left over which we had on the Friday night. My bridesmaid Ruth's Mum made elderflower cordial as a non-alcoholic alternative."
The table names were special places that Mike and I had been to and loved. I took photographs we had taken and made them in to vintage-style travel postcards for the table names … 'our favourite people in our favourite places'."
"It was our photographers, James and Lianne, who persuaded us to go with a first dance. We had decided not to do it as we thought it would be too awkward. But they convinced us that we should embrace the awkwardness and just do everything, as we were only going to have this day once. So we went with George Ezra 'Listen to Man', which had been poignant to us at the time and a fun, upbeat song which everyone could join us in dancing to."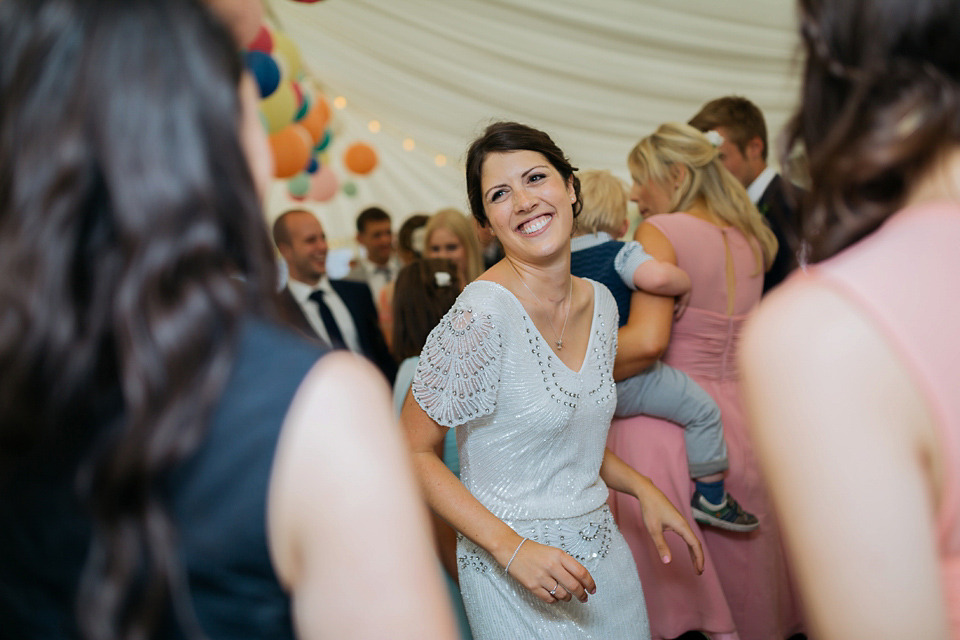 "We had a friend's funk/soul band called The Isotones play in the evening. The dance floor was filled from start to finish. My bridesmaid Ruth played the trumpet alongside them for their first few songs and absolutely nailed it – 'Superstition' was one of our highlights of the day!"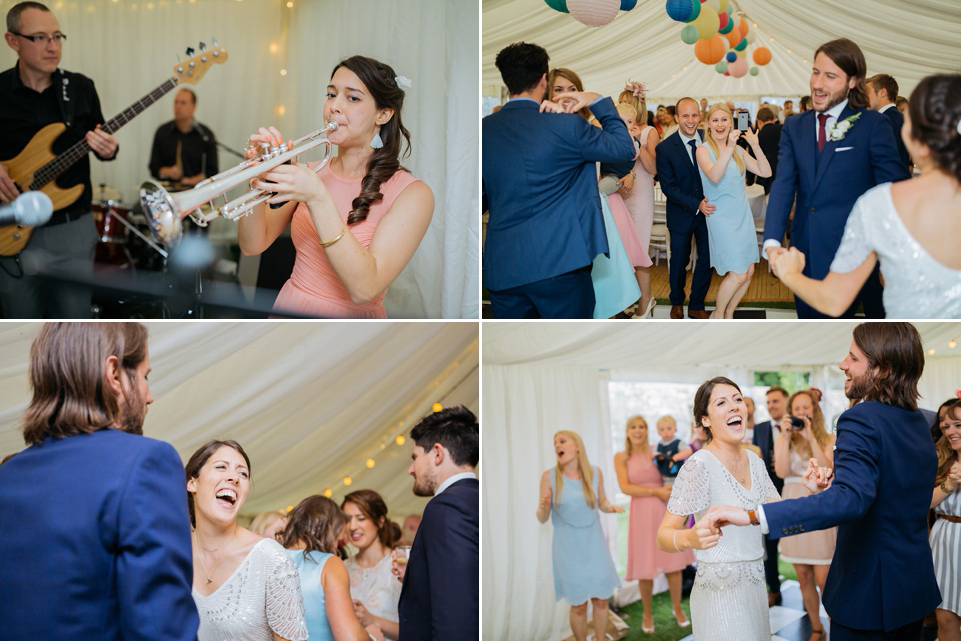 Words of Wedded Wisdom
"Delegation is key! Friends and family want to help out and loved being involved, so use them. I enjoyed the months building up to it just as much as the wedding day itself. We had our parents round for a rather drunken night of wine tasting to chose the wedding wine, afternoon tea sessions choosing flower girl dresses and evenings spent in a conveyor-belt of folding and stamping.
It was the best feeling seeing all our ideas come to life with the help of everyone around us!"
I'm so thrilled I could share this beautiful wedding with you lovely readers and I'd like to send a very big thank you to James and Lianne Wedding Photography for capturing such pretty pics of Lucy and Mike's day. And to the happy couple, you definitely achieved your buzzwords! Wishing you both lots of love and fun-filled adventures together.
And I urge you to check out this wonderful feature by Tamryn on hanging lanterns decor – I'm off to order some pronto for my next party.
Here's to a brill rest of week lovelies!
Love Jo -x-
Photographer – James and Lianne Wedding Photography
Venue – Taitlands, North Yorkshire
Dress – Eliza Jane Howell
Veil – The Bridal Gown
Hair accessory – Fresh flowers and rosemary by Erica Berry Flowers
Shoes – Marks and Spencer
Jewellery – Bride's own hummingbird necklace + diamond earrings and diamond bracelet lent by Lister Horsfall Jewellers
Bridesmaid's Dresses – forherandforhim.com
Bridesmaid's Shoes – Own shoes
Groom – Reiss suit + silk knit tie from John Lewis + shoes by Poste
Flower girl – BHS
Flowers – Bought at a flower market and assembled by family, with bouquets arranged by Emma from Taitlands
Rings – Lister Horsfall Jewellers
Catering – Wedding barbeque by Yvonne and Eric + pizza van in evening by PizzaFella
Cake – Handmade by groom's Mum and Auntie + wooden cake-toppers by bridesmaid Reb
Decor – Paper lanterns via The Hanging Lantern Company
Hair Artist – Verve Hair Design
Makeup Artist – Bride's friend Lina
Entertainment – Funk/soul band 'The Isotones'