Good morning lovely ones. Today's first real wedding celebrates the nuptials of couple Katy and James, both Lawyers, who tied the knot on 4 July 2015 at East Meon in Hampshire – the village where Katy's parents live. The reception was held in a marquee in a field right next to Katy's parents' house. This is one of those charming Summer weddings I close my eyes and dream of being a guest at. I adore the summer fete inspired vibe, the handmade and DIY element and Katy's huge, joyous smile.
These lovely photographs were submitted by photographer Simon Fazackarley.
"The one thing we immediately agreed on after getting engaged was that our wedding should be fun. We wanted the day to be a celebration, with a party feel, and for our guests to relax and enjoy themselves. The idea of a festival/fete type wedding – with games, camping, outdoor music and sharing platters – seemed to be the perfect fit."
Photography by Fazackarley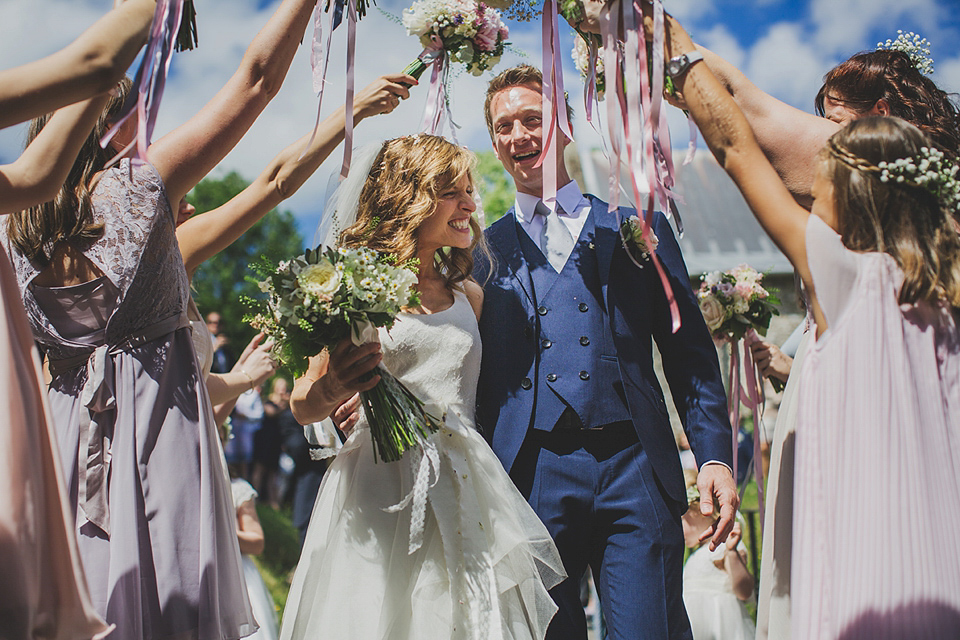 Gown by Jesus Peiro via Miss Bush Bridal
Find both suppliers in our wedding directory, Little Book For Brides
"We also wanted the day to be personal, with lots of DIY touches. Having busy jobs in the city, we would never have been able to do this alone. So, we decided to ask our family and friends to help out, assigning specific tasks to each individual."
Katy wore a gown that truly epitomises the laid back elegance of the Jesus Peiro brand. She purchased her dress from Miss Bush Bridal in Ripley.
"My Jesus Peiro wedding dress was the complete opposite of what I thought I would end up choosing! I imagined a very fitted dress, with lots of lace. But, when I tried those kinds of dresses on, they all felt very 'samey'. It was also difficult to imagine myself traipsing around a field and playing fete games in them. My sister persuaded me to try this dress on and, when I walked out of the dressing room wearing it, both she and my mum cried. I also found myself swishing around in it, loving how light and comfortable it felt."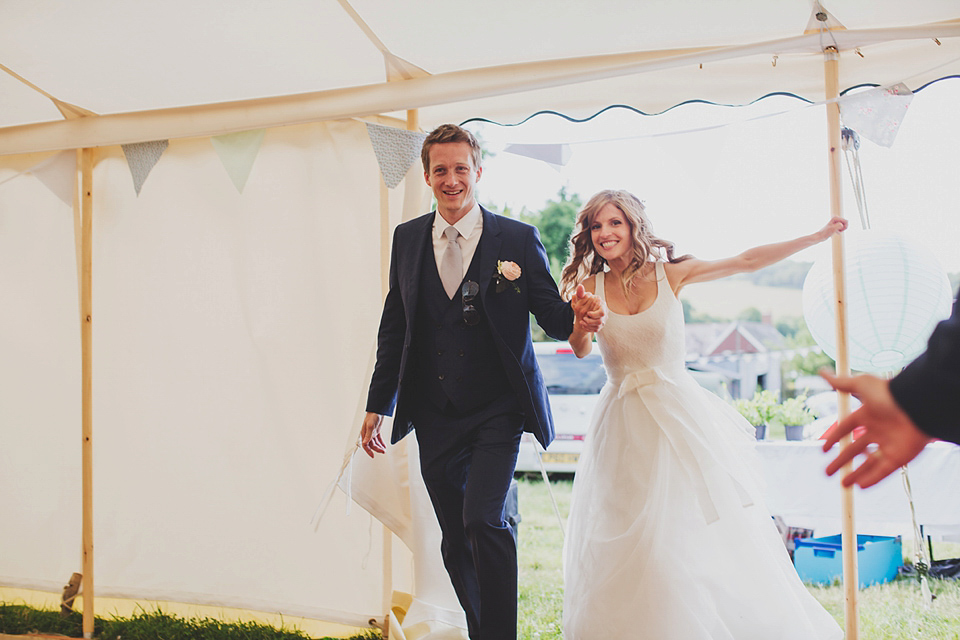 "James and I met at Law School and were friends for three years before realising how we felt about each other. After four wonderful years of dating, James proposed on a surprise weekend away to the Cotswolds in June 2014. We knew we wanted an outdoor, summer time wedding, so we decided to wait until the following July for our big day.
James proposed to me with a beautiful antique sapphire ring from Berganza in Hatton Garden. I went back to Berganza to have my wedding custom made, to fit with my engagement ring. James (surprisingly sentimentally!) chose a sand-cast ring, which he had made in Cornwall using the sand from his favourite childhood beach, Holywell Bay."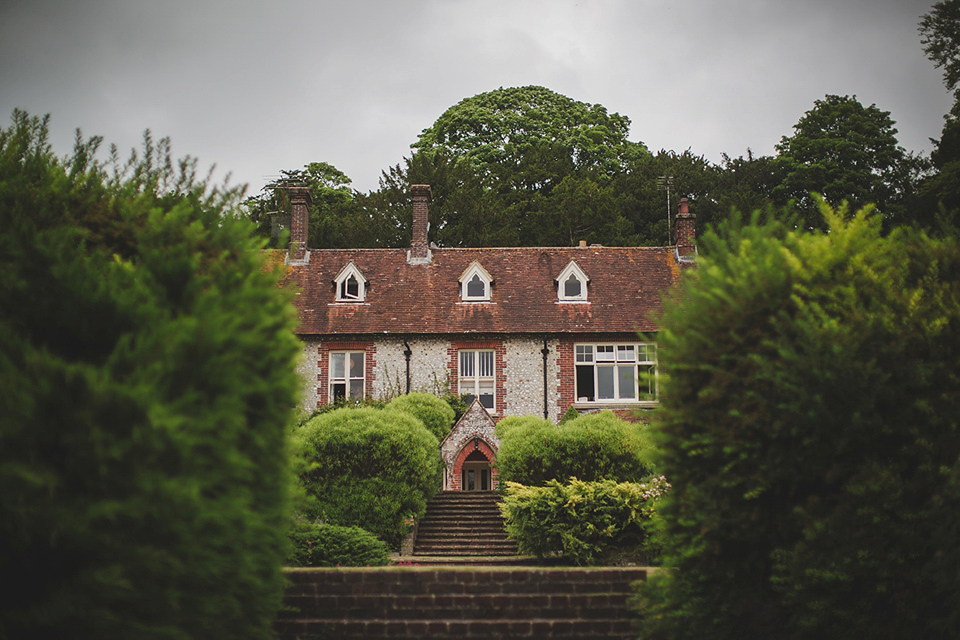 "I didn't want typical 'bridal' shoes, which I would spend a lot of money on and never wear again. So I decided, instead, to choose some beautiful shoes which I could wear on our honeymoon and to lots of other events. When I found some nude, open-toed Jimmy Choo heals it was love at first sight!"
"I was nervous about hiring a hair and make-up artist, as I didn't want to look too done up. However, I had a trial with Natalie from Natasha Wiggins Hair and Make Up and was delighted with how well it went. Natalie seemed to understand exactly what I had in mind, keeping my hair and make-up very simple. She was also really fun and bubbly, getting along well with everyone on the wedding morning.
I wanted to wear my hair mainly down, in a natural and relaxed style. I did, however, put a little bit of hair up, with some white gypsophila, to hold my veil."
"I wanted to keep my accessories to a minimum, as I felt that excess jewellery would detract from the simple design of my dress. I wore some small pearl drop earrings which I found online, but no necklace or bracelets."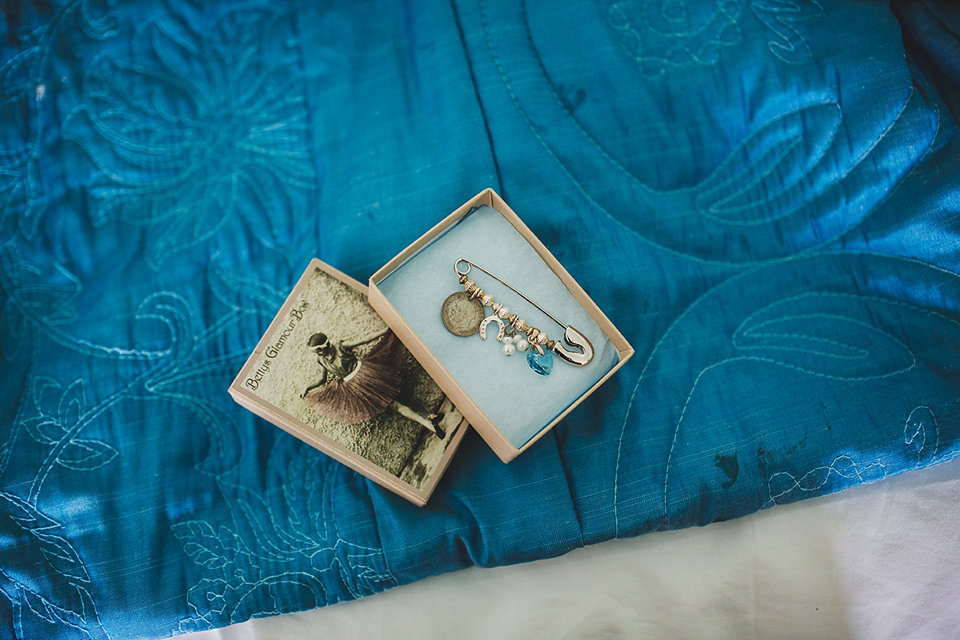 "I was surprised how, despite having a bow on the front and a fuller skirt, the dress didn't feel princessy. The simplicity of the design, as well as the rough materials and jagged cuts, made it feel quite modern, playful and relaxed."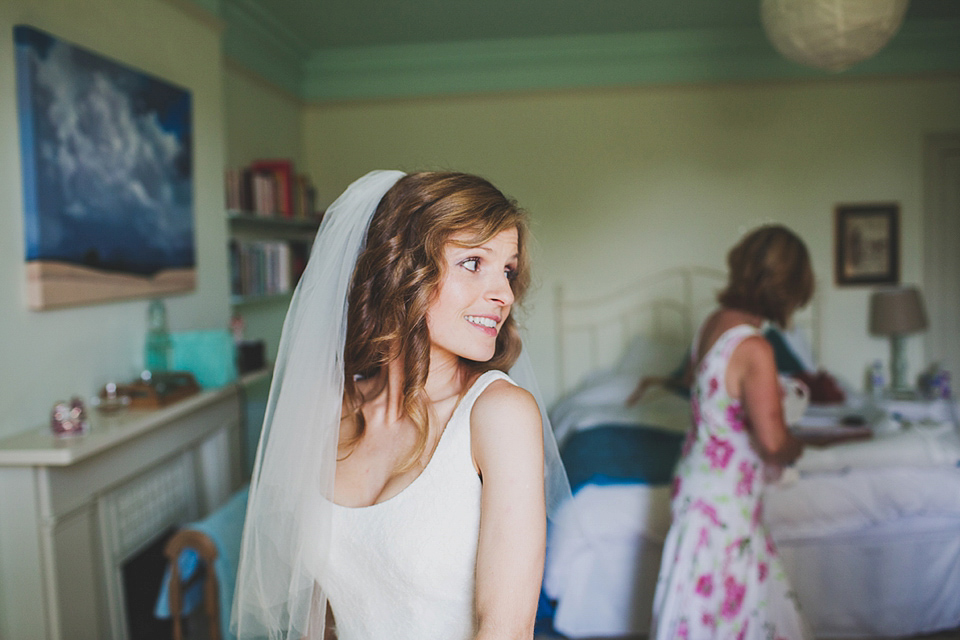 "As I had a lot of bridesmaids (who were all different shapes, sizes and ages!), I decided that it would be easiest to let them choose their own dresses. I asked them to pick a dress which was neutral and knee length. Most of the girls bought something new but, in fact, two of the girls wore dresses that they already owned! In order to tie the girls' dresses in, I asked the florist to use a range of soft pastel ribbons in pinks, purples and greys on their flowers. We were amazed how well they matched on the day!
The bridesmaids chose their own shoes in a range of neutral tones."
"The two flower girls (my nieces) wore simple white dresses with lace sleeves from John Lewis. The dresses did originally have beaded sequin belts on them, which didn't look quite right. However, my mum cleverly suggested ordering some extra fabric from Jesus Peiro (who very kindly obliged), which she then sewed on as a new belt. The dresses looked fab and had a designer edge to them."
James chose a navy blue, three-piece suit from Hugo Boss.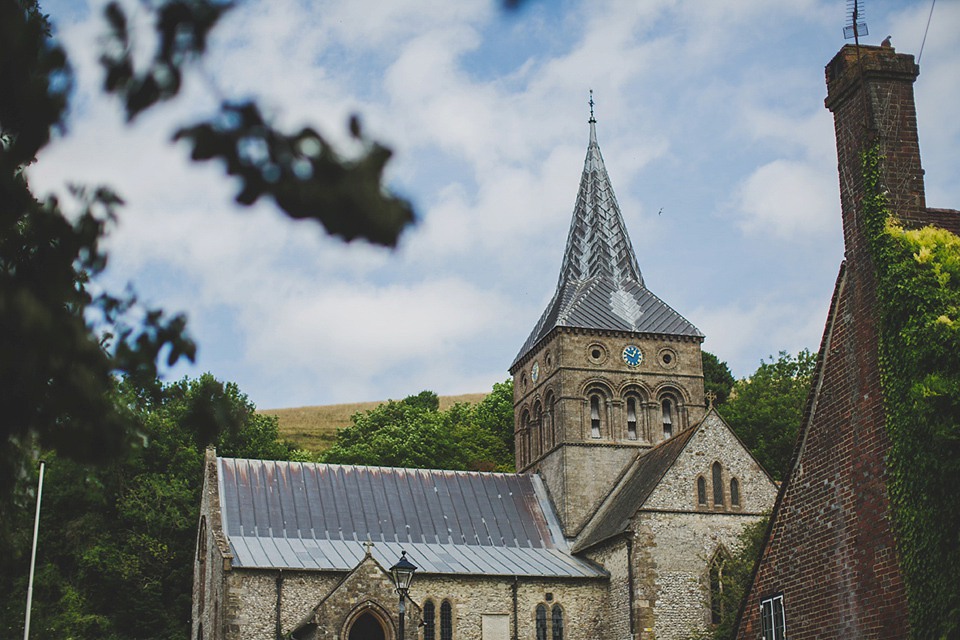 "We were very fortunate that the village we got married in had a local flower arranging group. We got in touch with them and they agreed to do our flowers at cost in exchange for a small donation to the church. The flower arranging group took me on a visit to the Dutch Masters flower market in Winchester, where we discussed ideas and colours.
I said that I wanted soft summery pastels, with gypsophila, wild flowers and daisies. We then left it to the flower ladies to buy and arrange all of the flowers themselves. On the day we were completely blown away by how incredible the flowers looked. The church was filled with amazing colours and smells. The flowers in the marquee also looked stunning, with dozens of jars of wild flowers."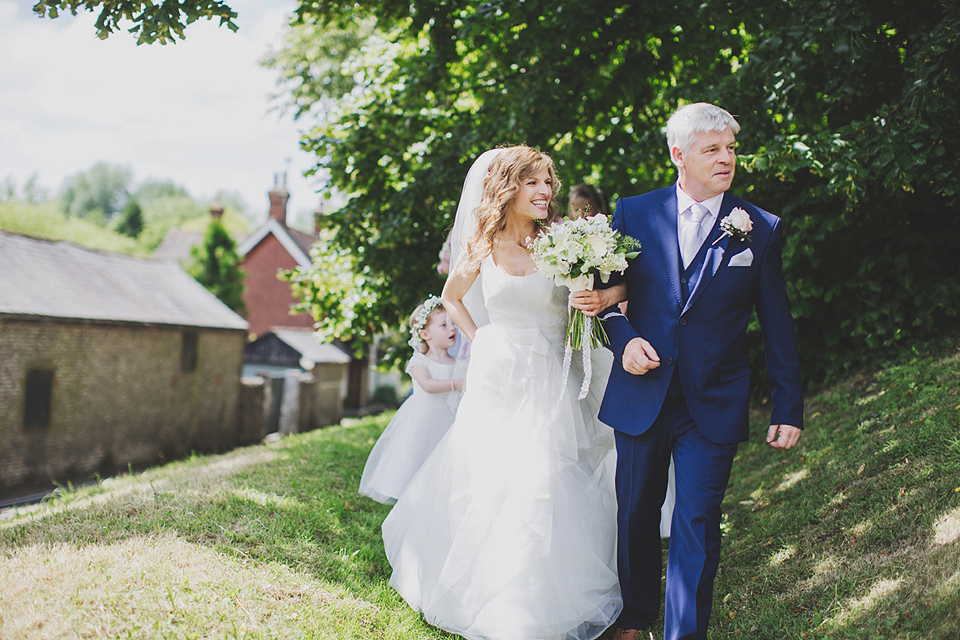 "My dad walked me down the aisle to 'The First Day of My Life' by Bright Eyes. At the end of the service we then skipped down the aisle together to 'All I want Is You' by Barry Louis Polisar!"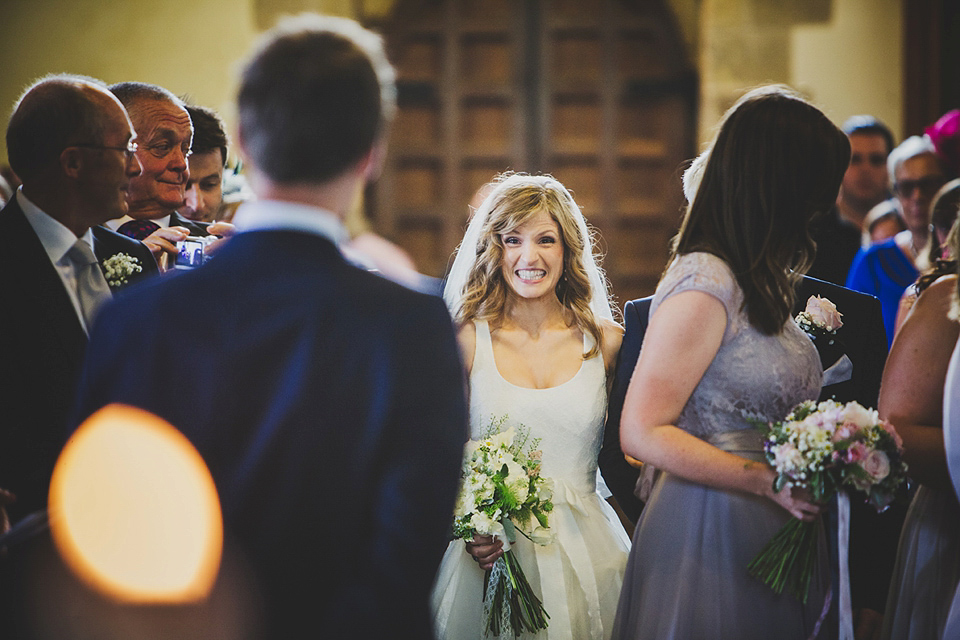 "For our wedding readings, we chose the Song of Solomon and an extract from Captain Correlli's Mandolin and the Song of Solomon. Whilst we were signing our vows, my brother played two pieces of classical music (Bach's Cello suite) on the bass guitar."
"A lovely local farmer agreed to let us use his tractor and trailer to transport our guests from the church to the reception. James and I then hired a white vintage car for own transport from Solent Bug and Bus, as we wanted to have a few photos taken after the ceremony (at the top of a giant hill behind the church!)."
"We wanted a photographer that would capture our wedding in a natural, un-posed way, and would bring out the personal touches we had put into our day. We found Simon Fazackarley through a wedding blog and immediately knew he was the right person. We couldn't have been happier with our decision, as Simon did a fantastic job from start to finish.
He was a breeze to work with and produced truly beautiful, fun and natural photographs of our day which we will treasure forever."
"Arriving at the reception, with my wonderful new husband, and seeing all of our friends and family standing outside the marquee in the sunshine was one of my favourite memories from the day. People were happily drinking cocktails, dancing to the jazz band and playing fete games. It was the culmination of months of hard work (not only by us but by so many of our friends and family) and the day had come together exactly as we'd envisaged. I just remember smiling and thinking, 'we did it!'"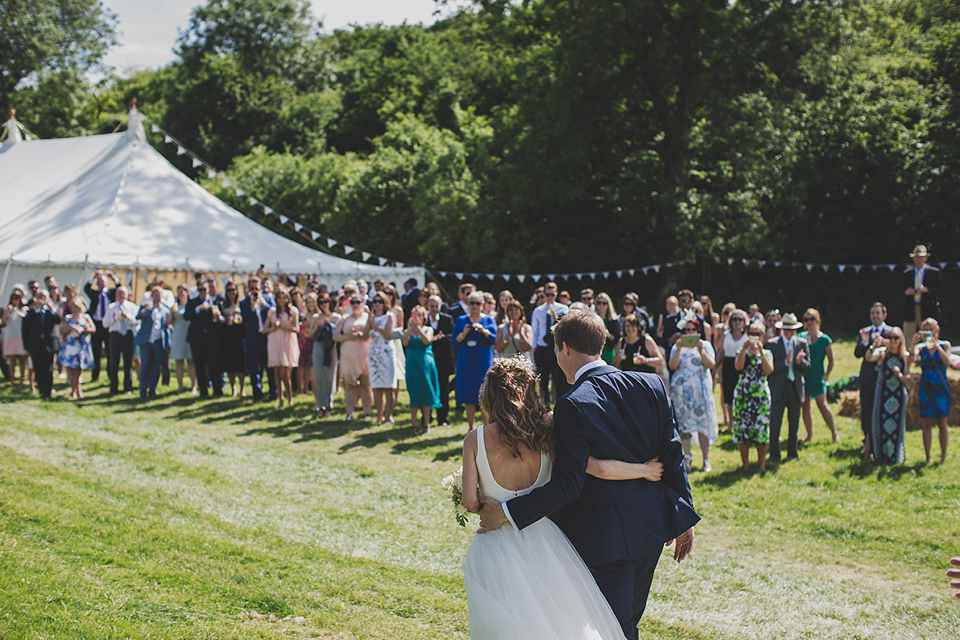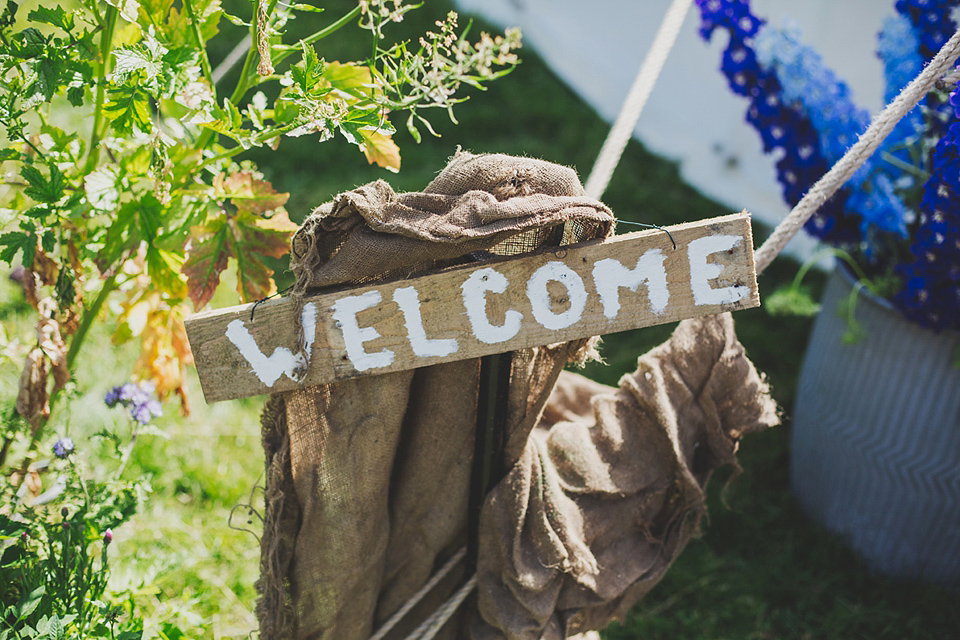 "We made all of our own stationery including the invitations and orders of service. We kept the design very simple, with a green and white leaf theme and natural string bindings."
We asked our mums to make bunting, my sisters to make fete games, my dad to grow flowers, my nanna to collect vintage crockery, my granddad to make wooden signs, a friend to make chutney and the hen-party to make pom-poms."
"This turned out have been the best decision ever, as people leapt at the chance to get involved – we even had people ringing us asking why they hadn't yet been assigned a task!. Everyone told us how much they enjoyed helping out and our day felt that much more special knowing that it had been a real team effort."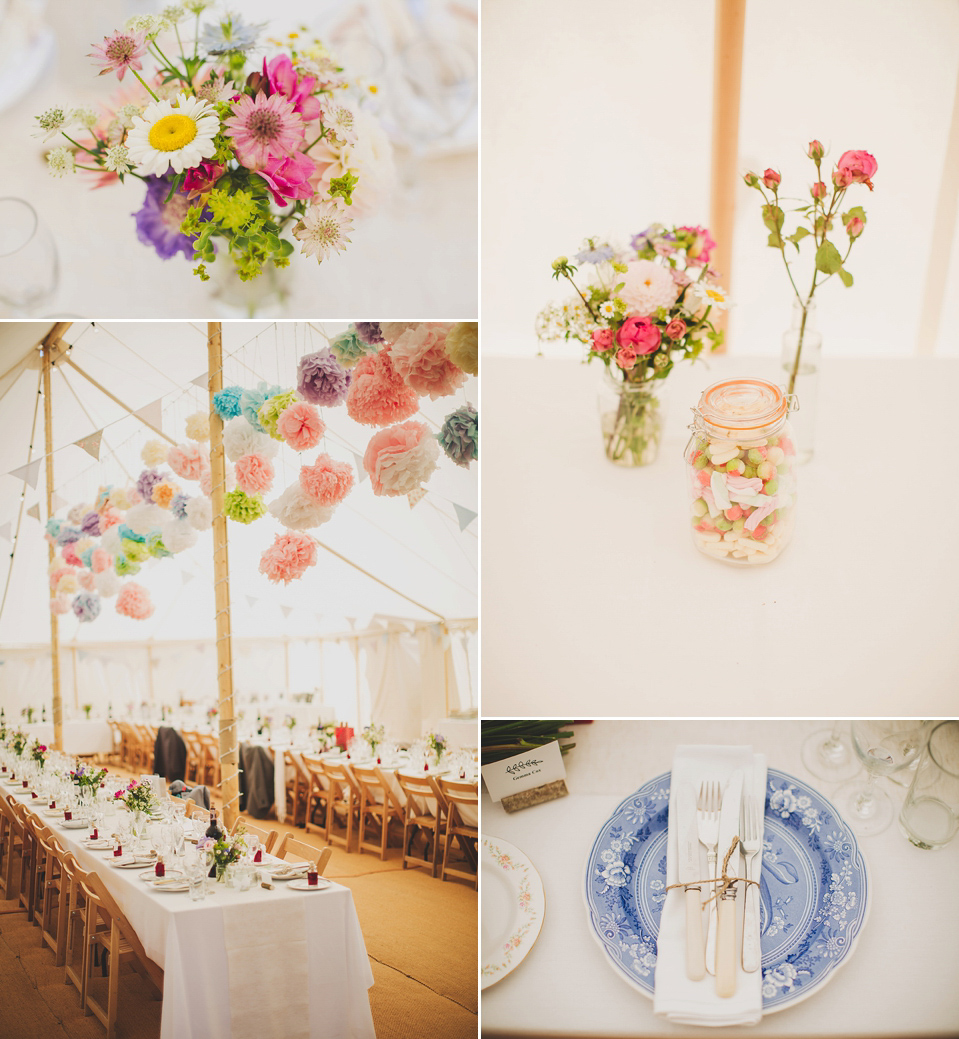 "The marquee was decorated with pastel coloured bunting and pom-poms which were both homemade. The bunting was made by ours mothers and the pom-poms by my hen party. We also bought a few pastel coloured lanterns with LED lights in them (to go over the dancefloor and outside) from The Hanging Lantern Company."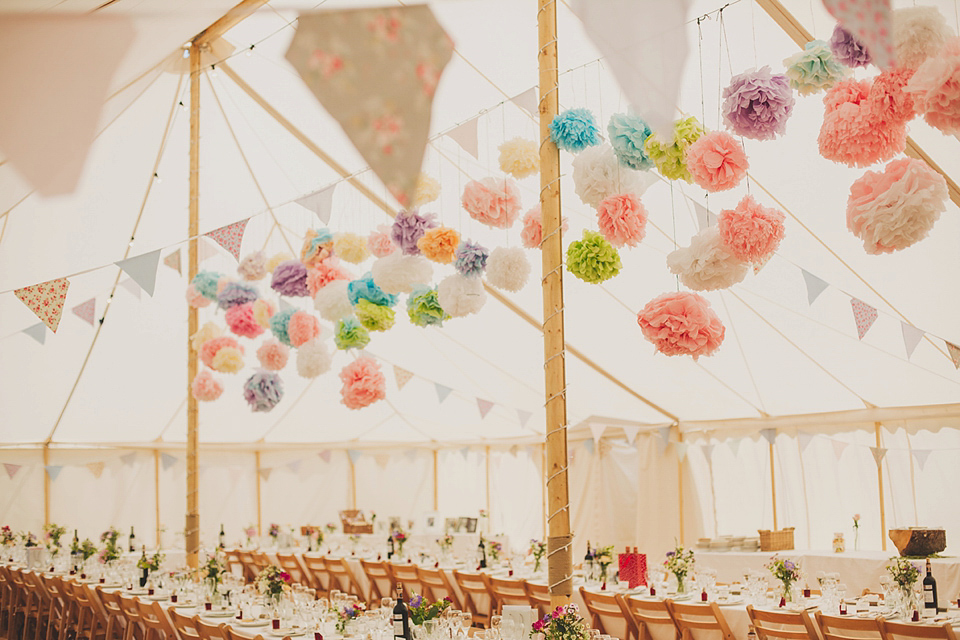 "We chose Sausage and Pear as we wanted a rustic caterer who would serve our wedding food in a relaxed, informal style. We chose afternoon tea style canapés, served outside on vintage cake stands, followed by a banqueting-style feast of sharing platters served on long tables. We ended our meal with a home-made dessert table, to which our guests all contributed, with a prize for the 'Star Baker'!"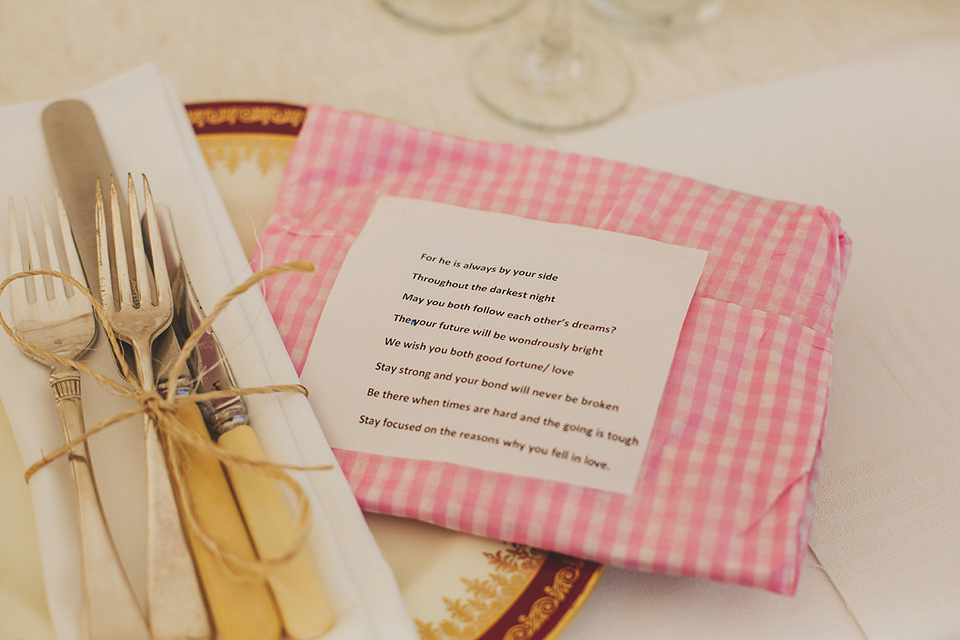 "Our caterer, Sausage and Pear made our wedding cake. James (the big cake-lover in our house!) wanted a proper Victoria sponge-cake with jam and cream. The cake was served rustically, on a wooden platter, and decorated with fruit and flowers."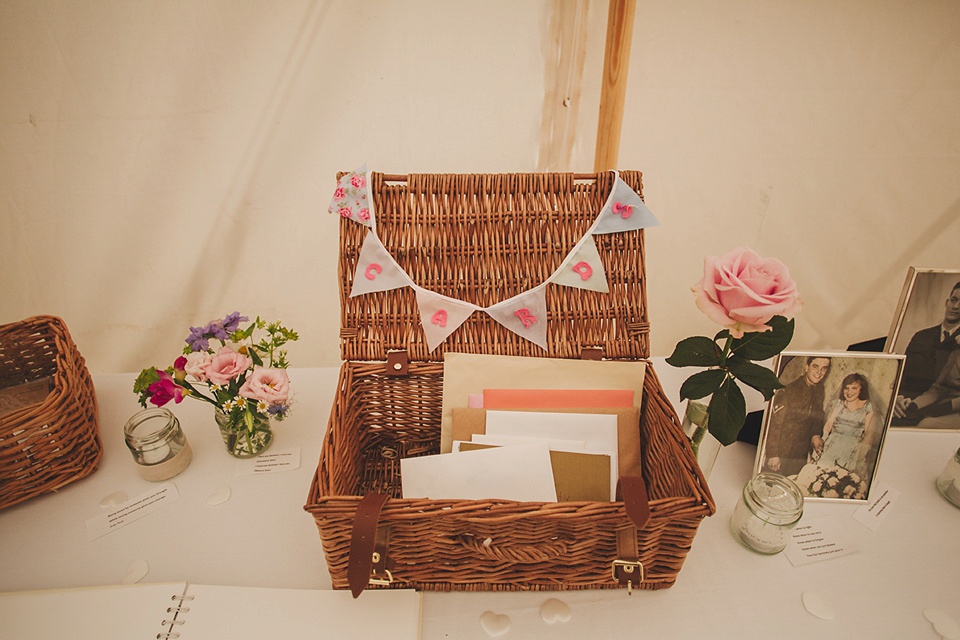 "We made our wedding favours, which were homemade apple-berry gin. We bought the ingredients from our local supermarket and then sourced small bottles and a funnel online. We also made little labels, using our leaf theme, and string."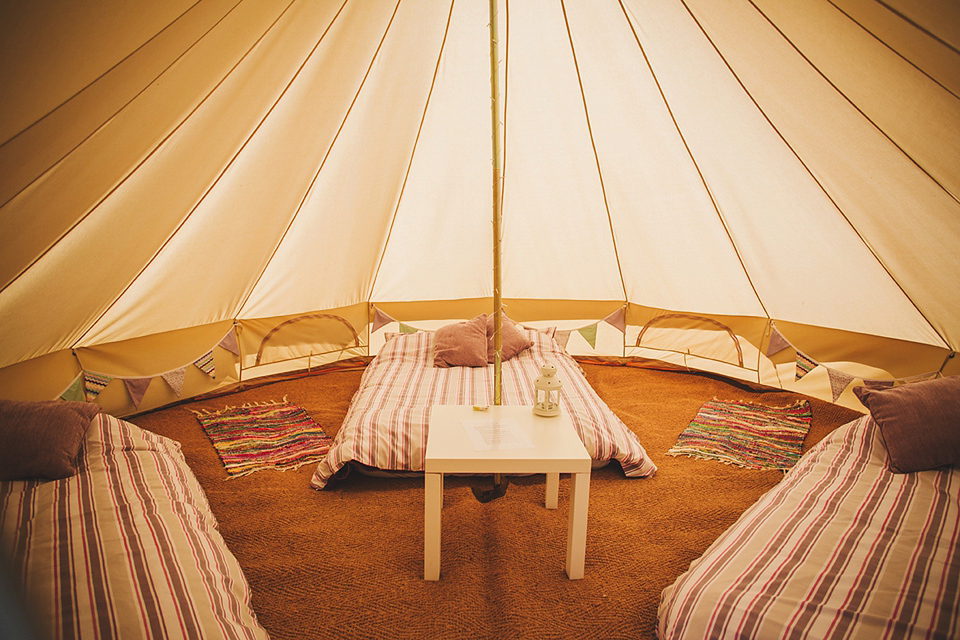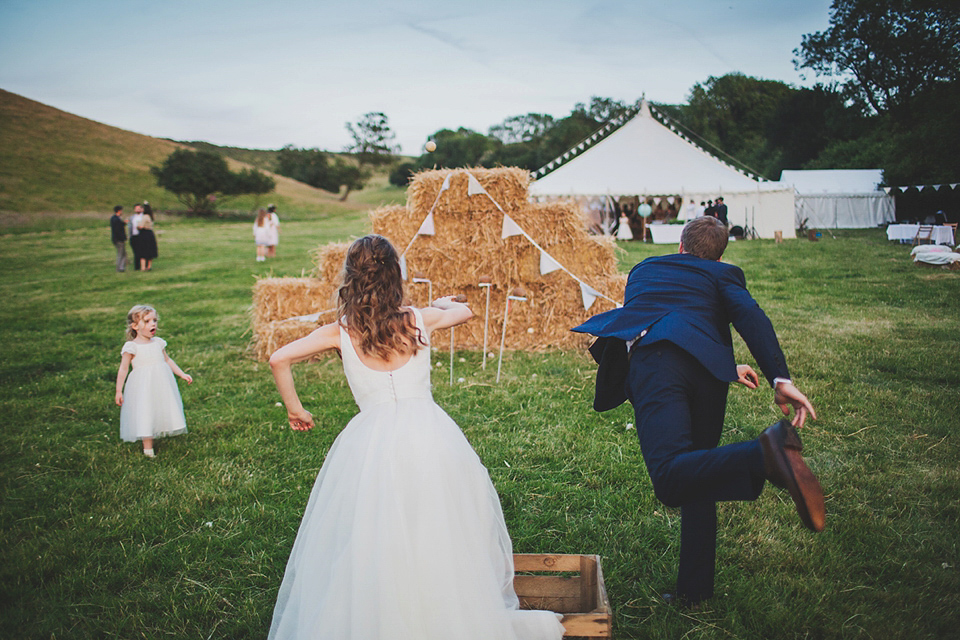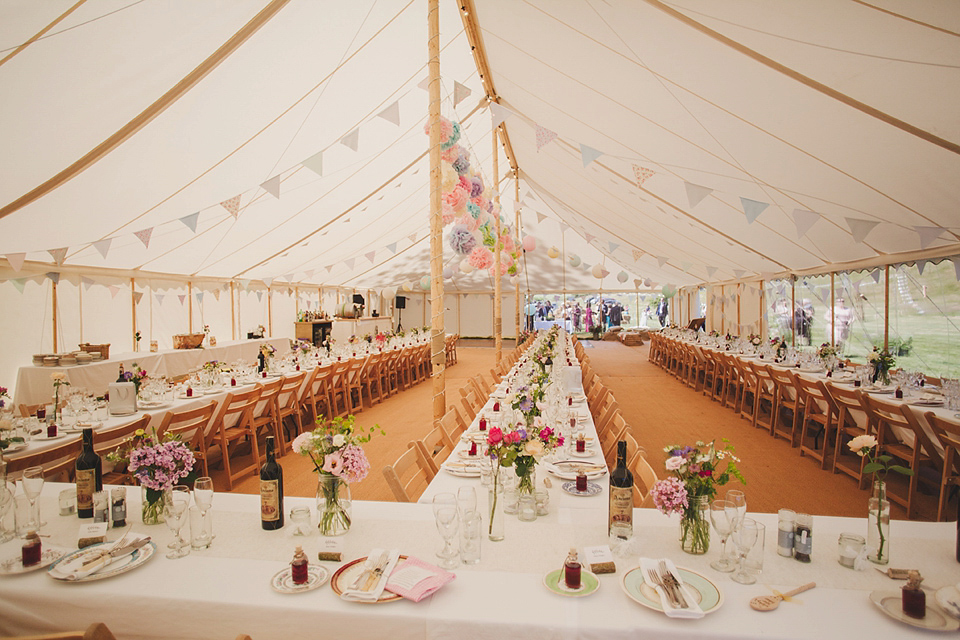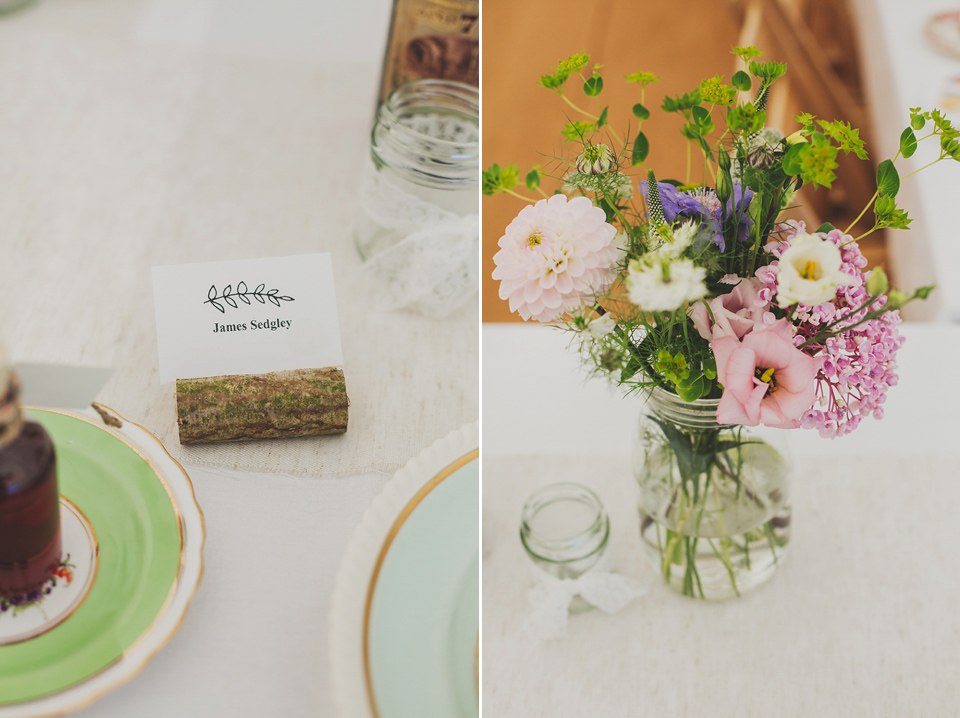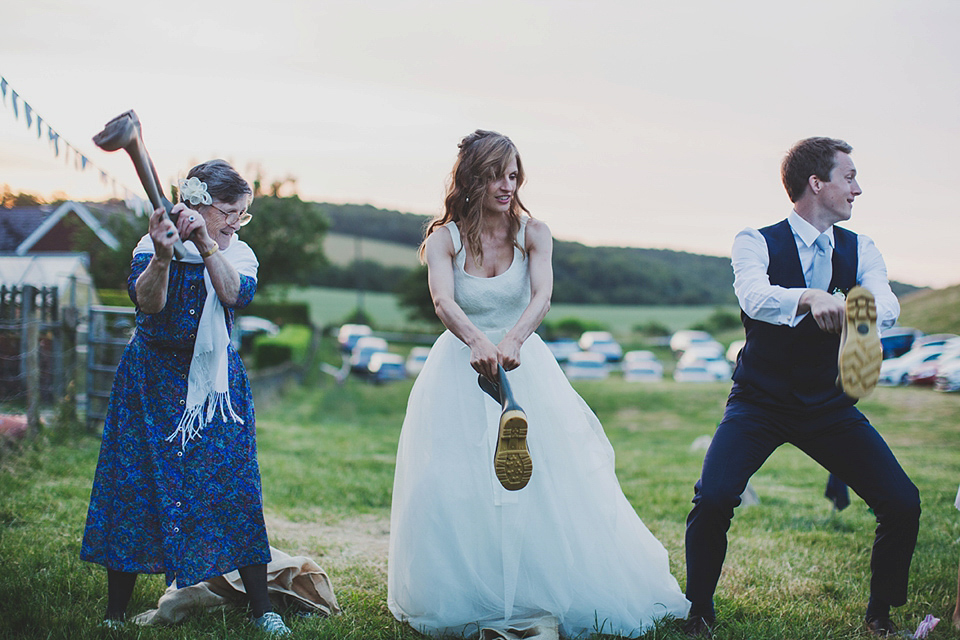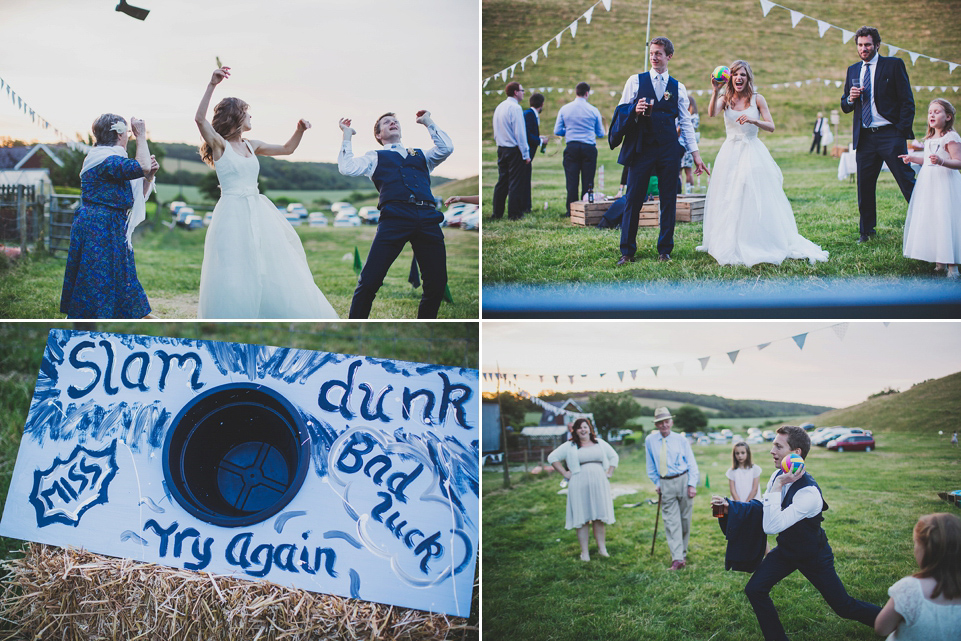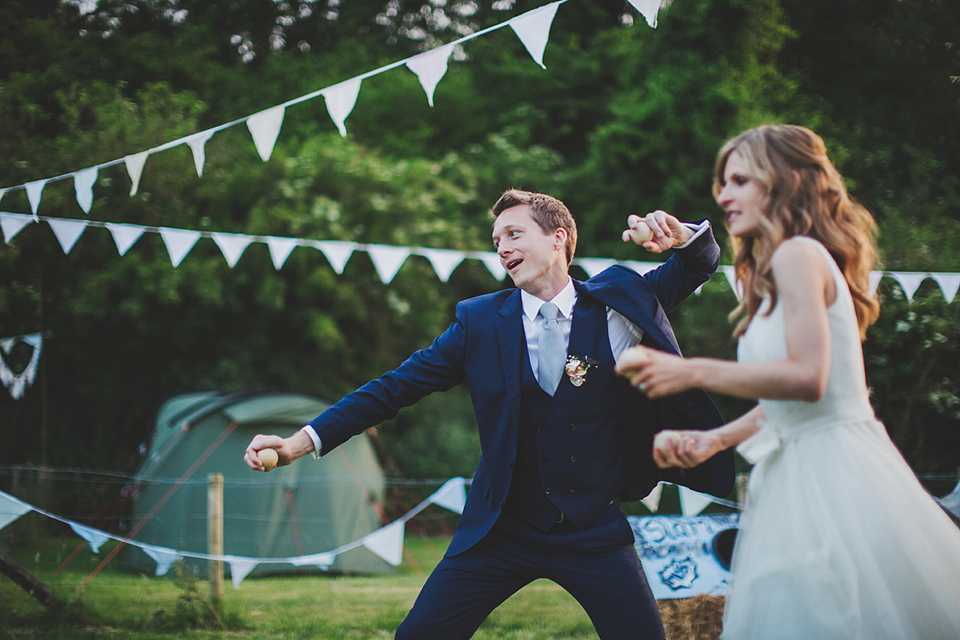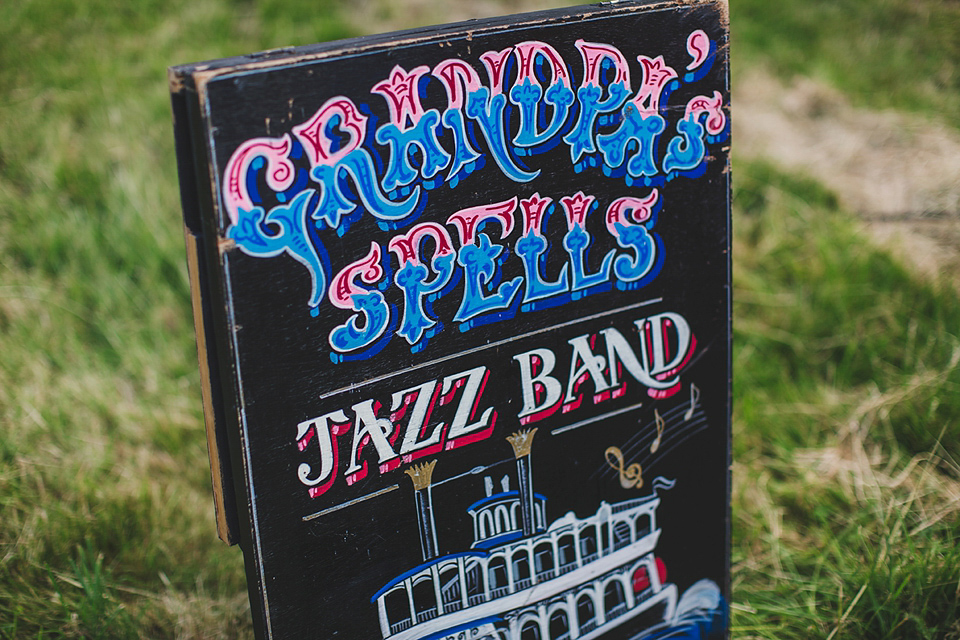 "For our afternoon drinks reception, which was held outside the marquee, we hired an accoustic jazz band called Grandpa's Spells. They were a huge hit with our guests (of all ages!) and created the fun, village-fete feel that we were after."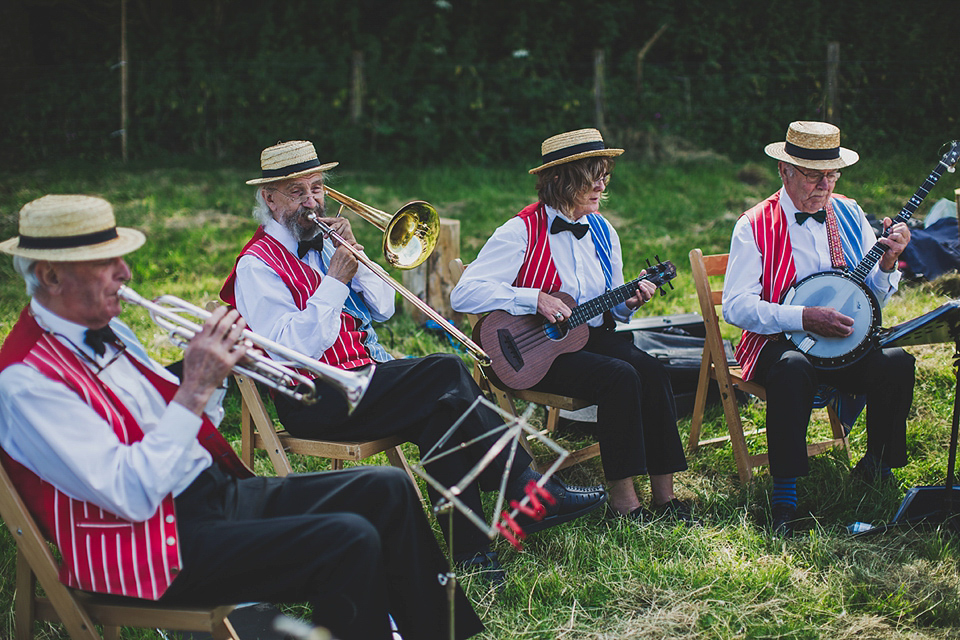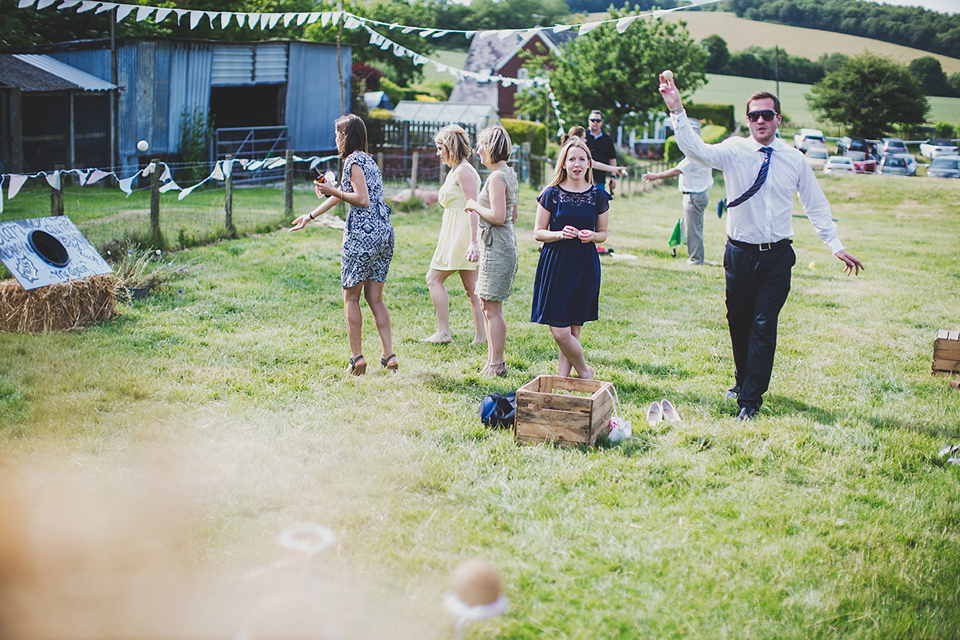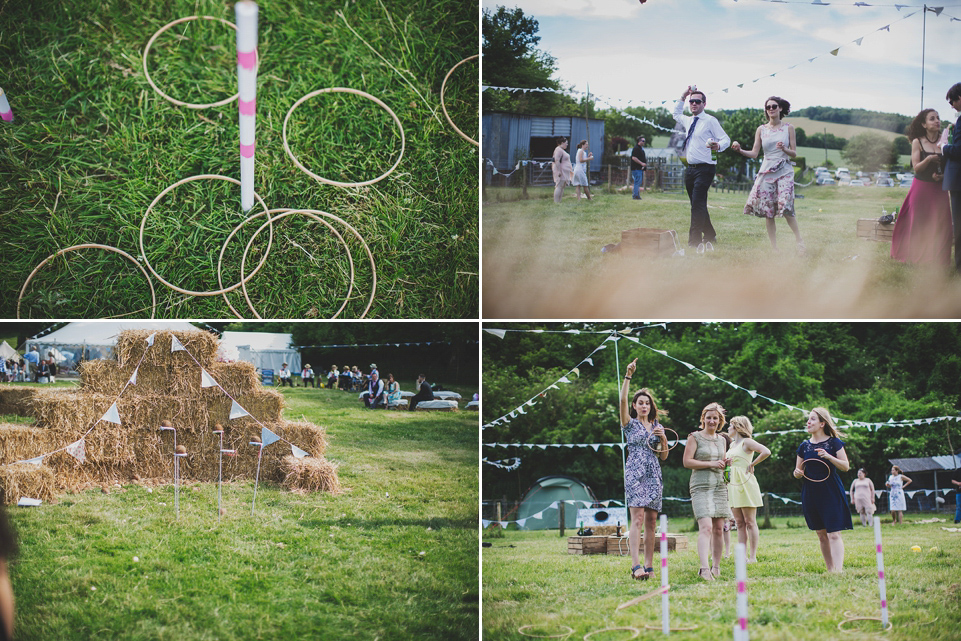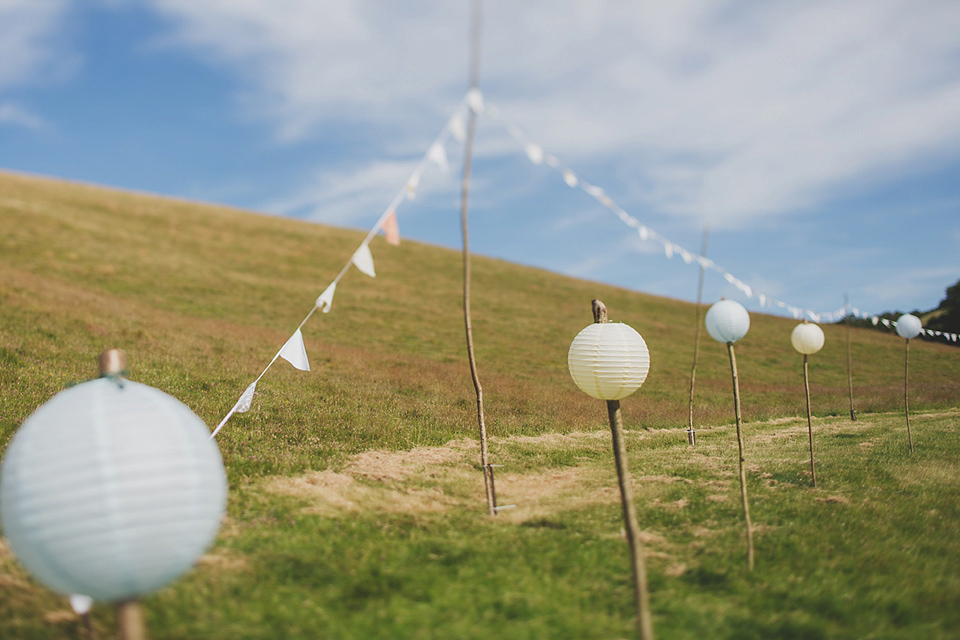 Words of Wedded Wisdom
"Remember that your wedding day is meant to be a giant party to celebrate your marriage. Focus on the things that you both like and don't be afraid to have a little fun! Also, don't be afraid to ask for help. For us, involving our friends and family was one of the best decisions we ever made. Not only did it remove stress from us, but it actually made the whole wedding planning process so much more fun and our day even more special. Asking our guests to bring home-made desserts was also a fun way to keep costs down."
What a wonderfully fun and relaxed wedding, photographed to perfection by Fazackarley – thank you so much Simon for sharing your beautiful photography today.
Readers, you can see more Jesus Peiro brides here on Love My Dress, and if you are anywhere in or around the Surrey area and planning a wedding, you absolutely must arrange to pay a visit to the infamous Miss Bush Bridal.
Have a lovely morning all,
Love Annabel xx
Photographer – Fazackarley
Venue  – East Meon in Hampshire
Wedding Dress – Jesus Peiro via Miss Bush Bridal
Veil – Miss Bush Bridal
Shoes –  Jimmy Choo
Groom – Hugo Boss
Bridesmaids – own choice
Flowergirls – John Lewis
Florist – DIY
Cake + Catering – Sausage and Pear
Transport –  Solent Bug and Bus
Entertainment – Festival Sons
Rings – Berganza in Hatton Garden
Stationery – DIY
Hair + Makeup – Natasha Wiggins Hair and Make Up
Decor – DIY/handmade + The Hanging Lantern Company