Welcome to the start of another exciting week on this beautiful blog lovelies! I have the most incredible wedding to start us off today. Lovers of floral crowns, get set for serious hair inspo, as you relish these beautiful pictures by the lovely Karolina from Hearts on Fire Photography, a valued member of our brilliant bridal resource and wedding directory, 'Little Book for Brides'.
Bride Alex, a Graphic Designer and groom Charlie, a Creative Director, tied the knot on a beautiful Summer's day on 4th July 2015 at a country house in Somerset, and were keen to create a fresh, modern style to their day.
"I had always dreamed of getting married, so wanted to maintain some traditions, like my dad walking me down the aisle and a top table, but we definitely didn't want it to be a 'normal' wedding. We wanted a modern, stylish, fresh feel to the day, whilst bringing in really personal touches about our relationship. An outdoor wedding was the dream and the British weather did us proud with the sun shining down on us."
Photography by Hearts on Fire
Find Hearts on Fire Photography in Little Book For Brides
Follow Hearts on Fire Photography on Instagram
The couple had a pink two-tiered cake, handmade by Alex's mum and sister but were also surprised by another incredible cake bearing a remarkable resemblance to a very important member of the family – their dog Merv!
"My family presented us with a life-size cake of our French bulldog Merv. Everyone started shouting and clapping when he was bought out and was one of the best parts of the day. The cake was made by the very talented Tattooed Bakers."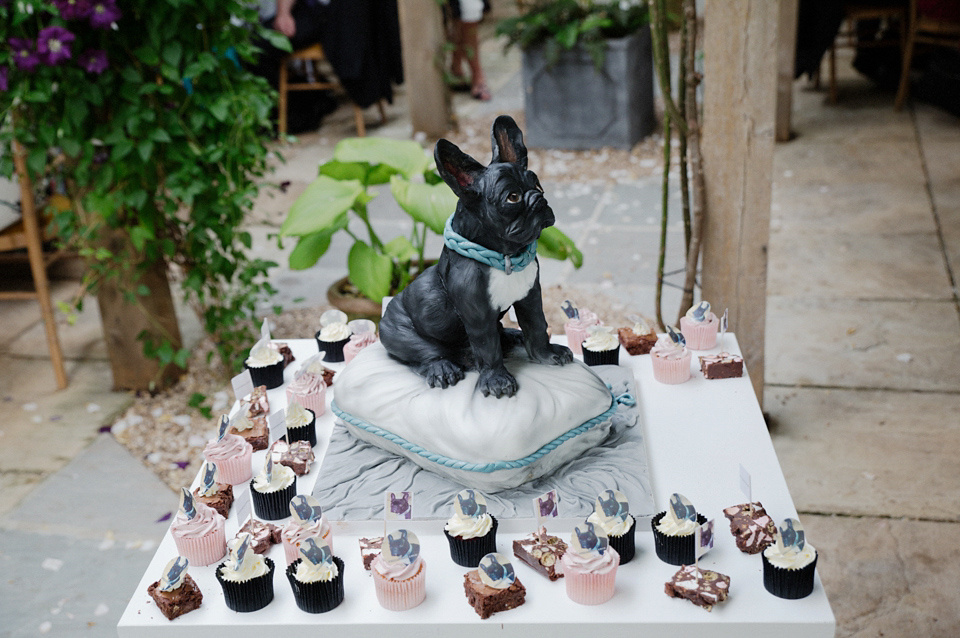 Designer Hermione de Paula – whose work we featured recently in this wonderfully modern and minimalist London wedding – created Alex's divine bespoke gown, with input from the beautiful bride to craft a totally unique dress. I absolutely adore the addition of the couple's initials, their wedding date, and even their beloved dog!
Alex wore the most incredible floral arrangement in her hair that I am sure will be of huge inspiration to brides-to-be thinking of a 'flowers in her hair' look.
"You will hardly ever see me without something in my hair and this was the same on my wedding day. I went for a massive real floral crown with velvet ribbon. "It was amazing and set off my vision 100 percent. Our florist Emma Vowles Flowers created it the morning of the wedding and travelled from Devon to help me fit the crown. I cried when I saw myself in it."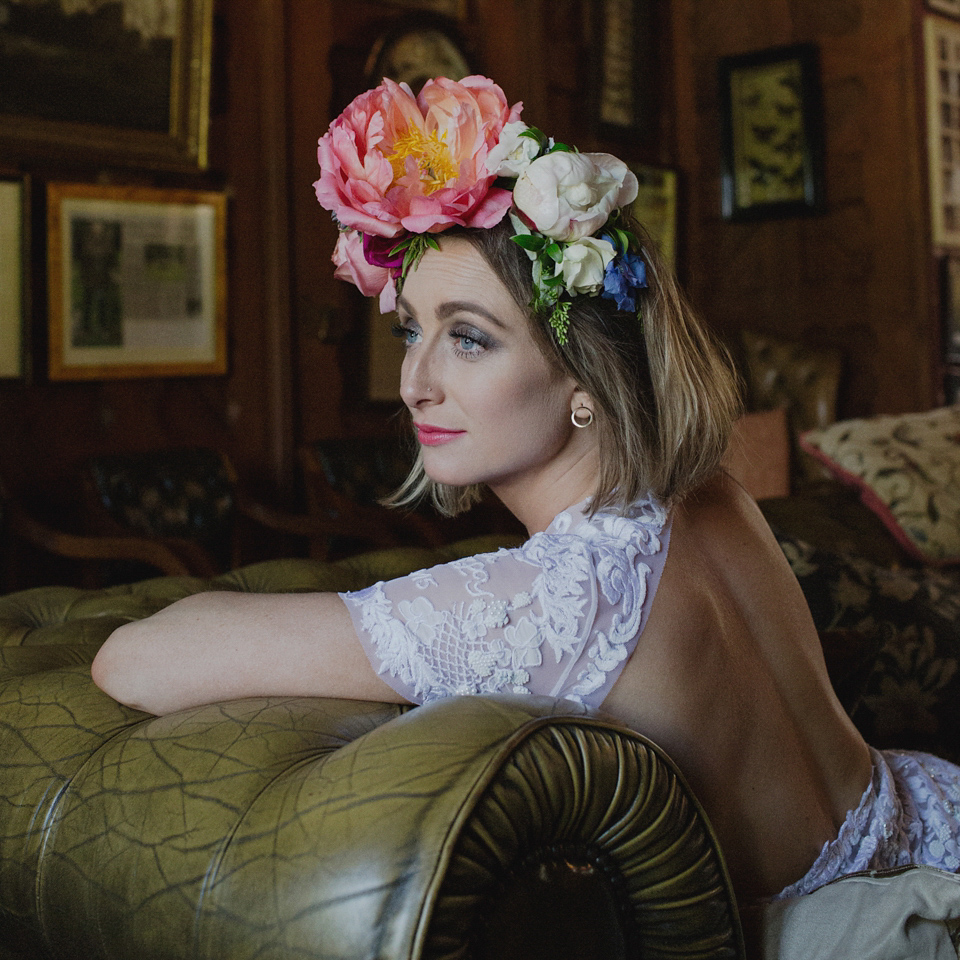 "We met 10 years ago at Nottingham University. I saw Charlie on the street, ran up to him and shouted 'You're fit!' He found me via MySpace and the rest, as they say, is history. One spring morning while walking on the White Cliffs of Dover, he forgot to get down on one knee, but asked me to marry him. It was amazing and a total surprise. We then spent 14 months planning the big day."
Hearts on Fire Photography caught spectacular, unique shots of the lovely couple.
"I saw Karolina's photos on a wedding blog and was blown away how stunning they were and instantly knew I wanted her to capture our special day. She is just amazing. We wanted something a little different, unique and relaxed and her reportage style was perfect. The end result was 100 times better than we expected and we are so happy."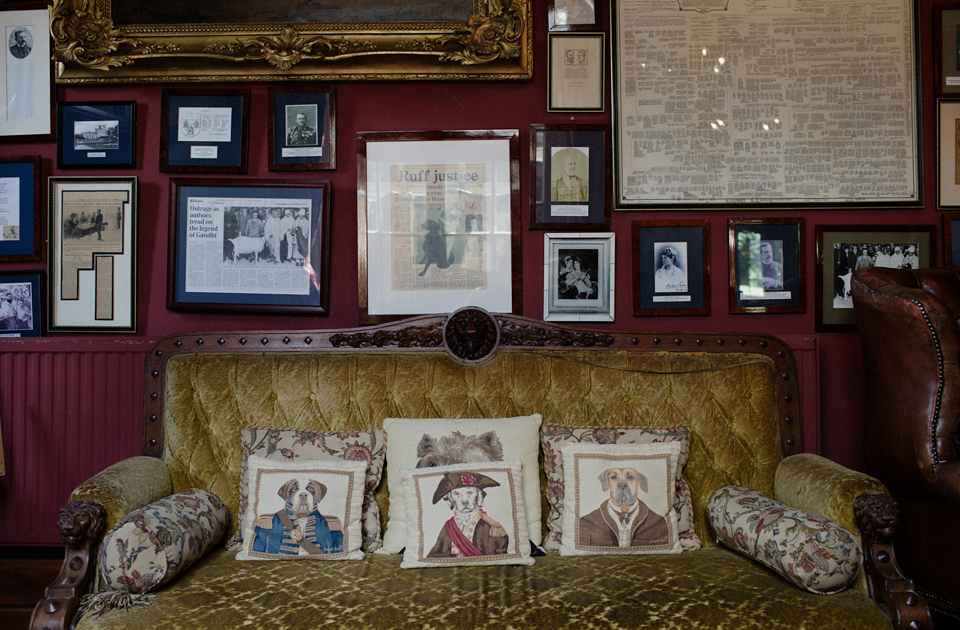 Alex and Charlie's ceremony and reception were held at the picturesque Maunsel House in Somerset, a beautiful house that came complete with an eclectic mix of taxidermy furnishings. 
"We wanted somewhere we could take over for the weekend and where we could all stay together and party into the night. Maunsel House is just amazing and unique and won us over instantly. The taxidermy, in-house pub and the friendly ghosts all aided to create the best weekend ever."
"I spent months and months trying on dresses that I didn't feel myself in. I had actually lost hope when I spotted a wedding dress on Instagram and fell in love. It turned out to be by the super talented Hermione de Paula. Over the next few months we worked together designing my bespoke dress, which featured our initials A and C, a portrait of our dog Merv and the date of the wedding. It was the ultimate dream dress and I felt amazingly sexy and confident in it. It was just so special and unique."
Alex's three maids wore on-trend mismatched dresses from Cos, Asos and Coast, paired with shoes from Cos, Kurt Geiger and Topshop and their own jewellery and look very stylish indeed.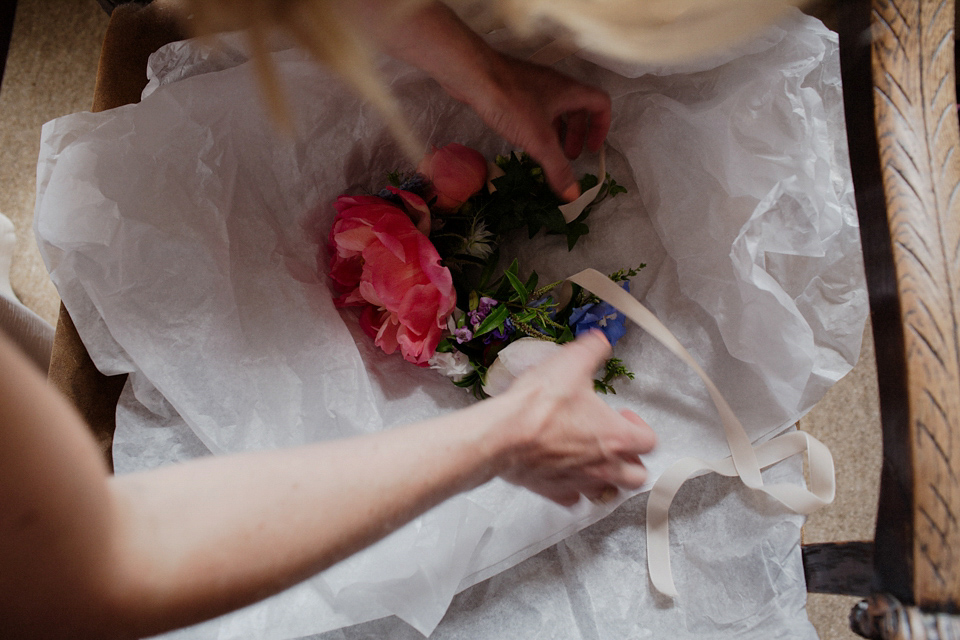 "We travelled down to Dorset to meet our florist Emma from Emma Vowles Flowers. She instantly got my vision and she was just amazing. I wanted a really natural, wild and messy feel with all bouquets and buttonholes being different. They were just stunning and one of my favourite elements of the day."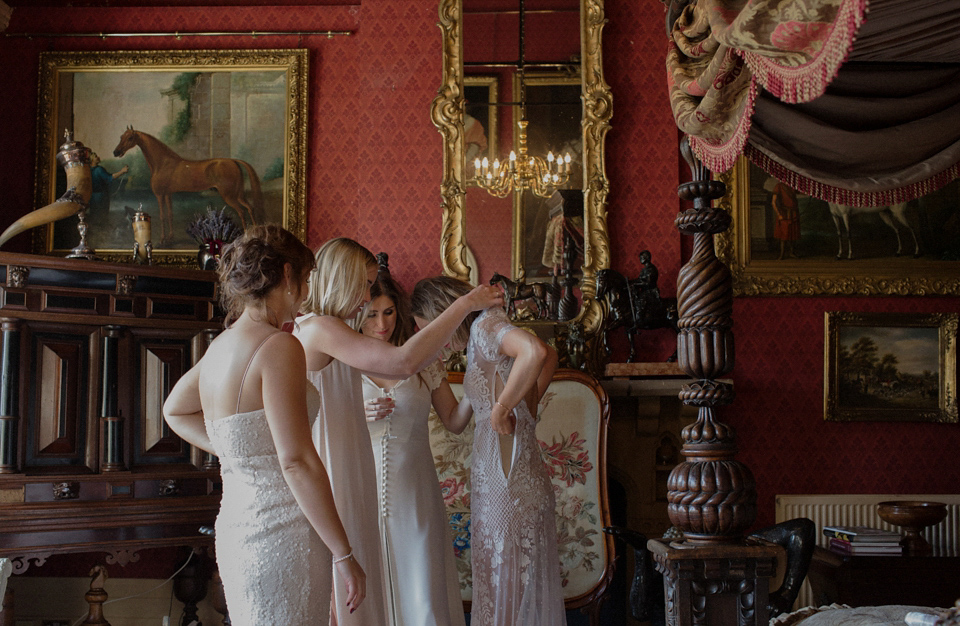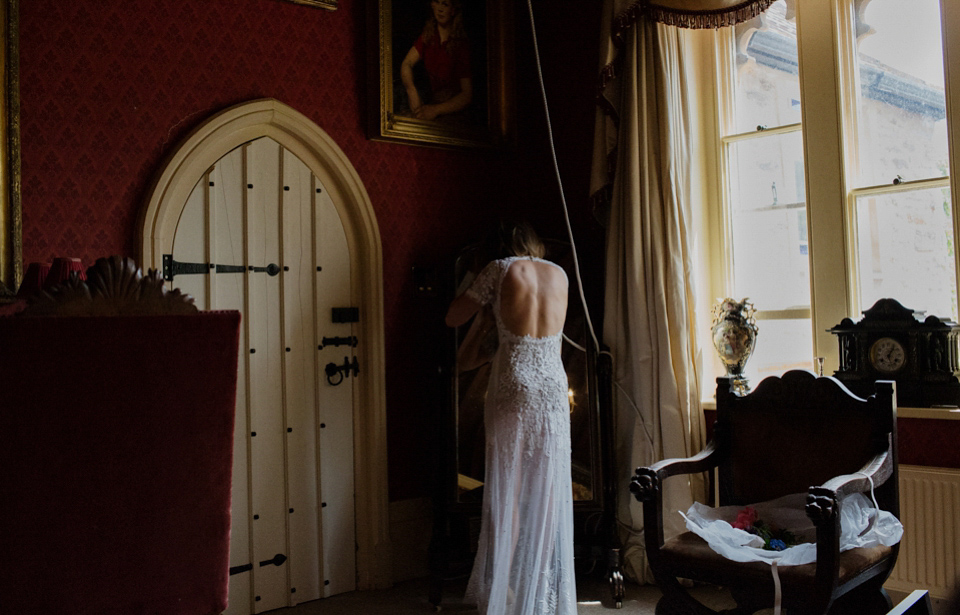 The bride accessorised with two bracelets, her favourite perfume and a pair of fabulous Kurt Geiger heels.
"I added two bracelets, one was as a gift from Charlie on the wedding morning and the other one my parents had engraved with AH, my new initials.
I wore my ultimate favourite perfume, Chloe Eau de Parfum – I had asked Charlie what his favourite smell was and he said it was this lovely scent."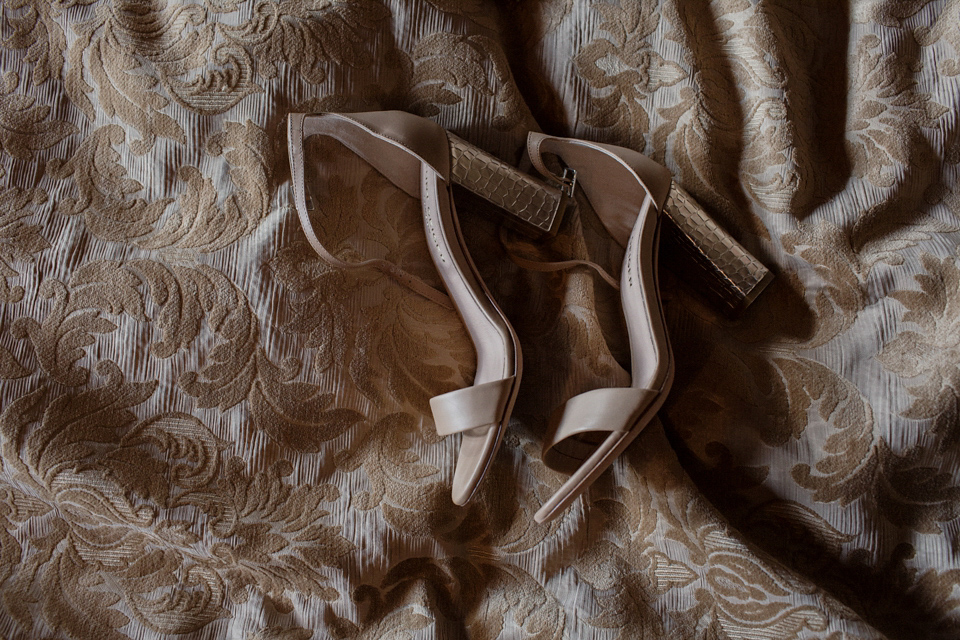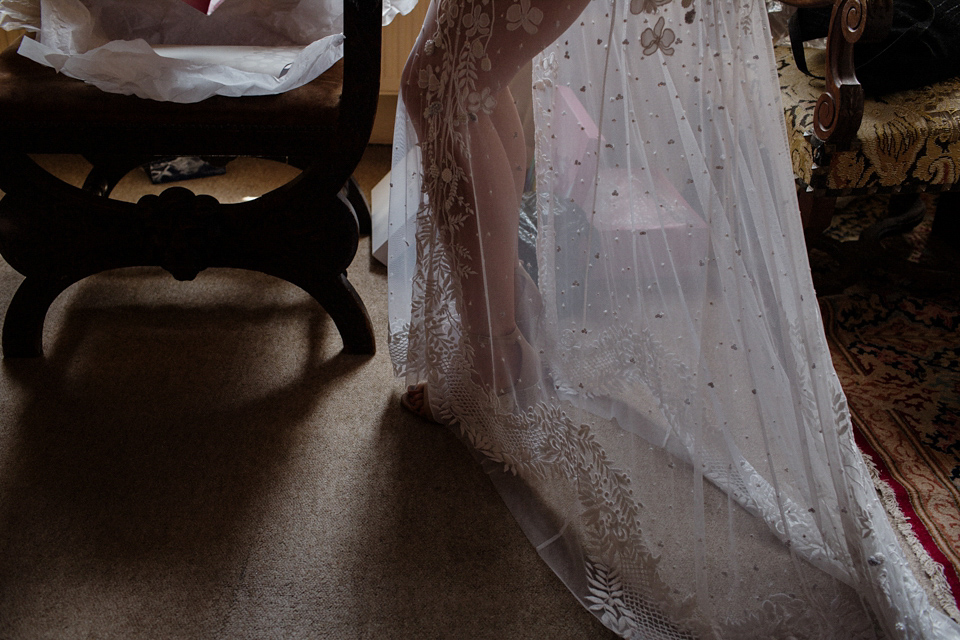 "I had my makeup done by one of my good friends Anna Hadden. She made me look better than I have ever looked. I love her! My hair was by the lovely Victoria from Victoria Hair and Spa. I didn't want the normal wedding hair up do and she created my vision perfectly."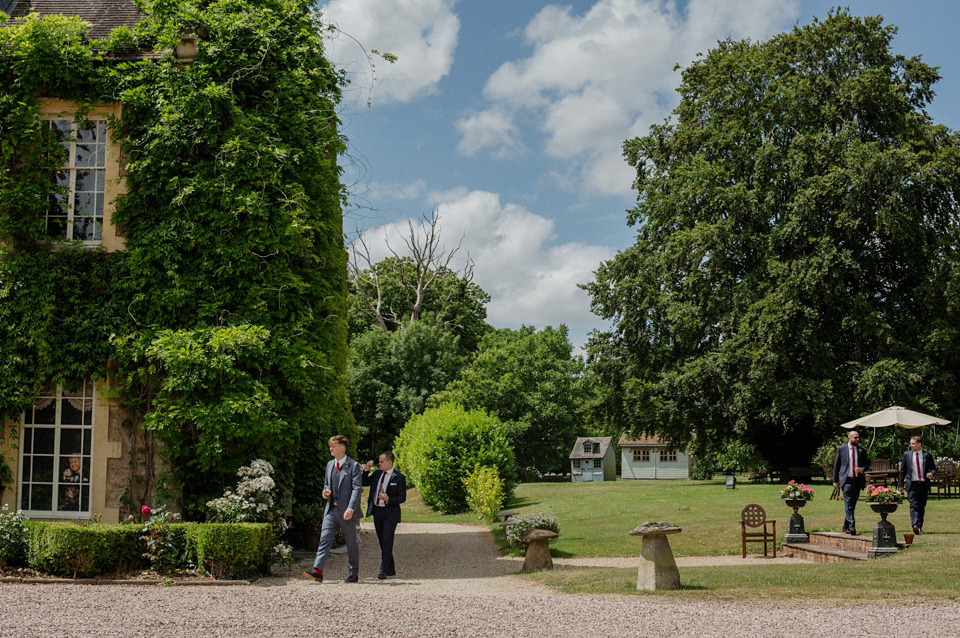 Being a graphic designer, the bride had creative contacts to help with the stationery design, as well as lending a dab hand herself.
"One of our friends and amazing illustrator Tom Edwards designed all the save the dates and invites. They were just amazing and featured portraits of myself, Charlie and Merv and were based on tarot cards. 
I designed the menus and place cards based around Tom's illustrations. My best friend, bridesmaid and amazing modern calligrapher Lamplighter London created the table plan and adorned chalk boards."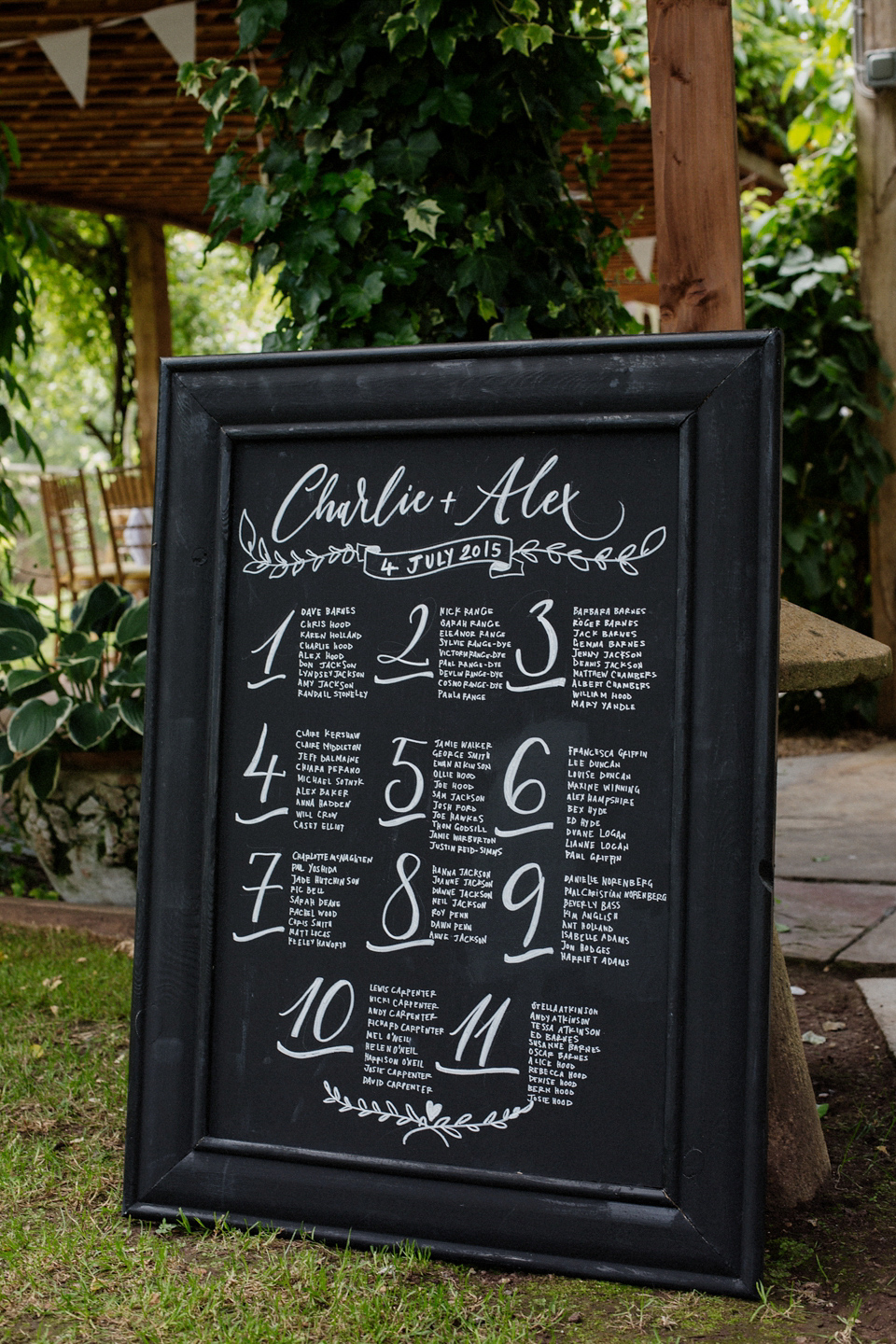 "Charlie is not usually a suit person, so he decided to get one made from Suit Supply on Saville Row, with a shirt from Cos. He looked fantastic and was a perfect match with my dress. His red socks peeping out really set it off. And he added an embroidered hanky with CHAZ written on it to dry any tears."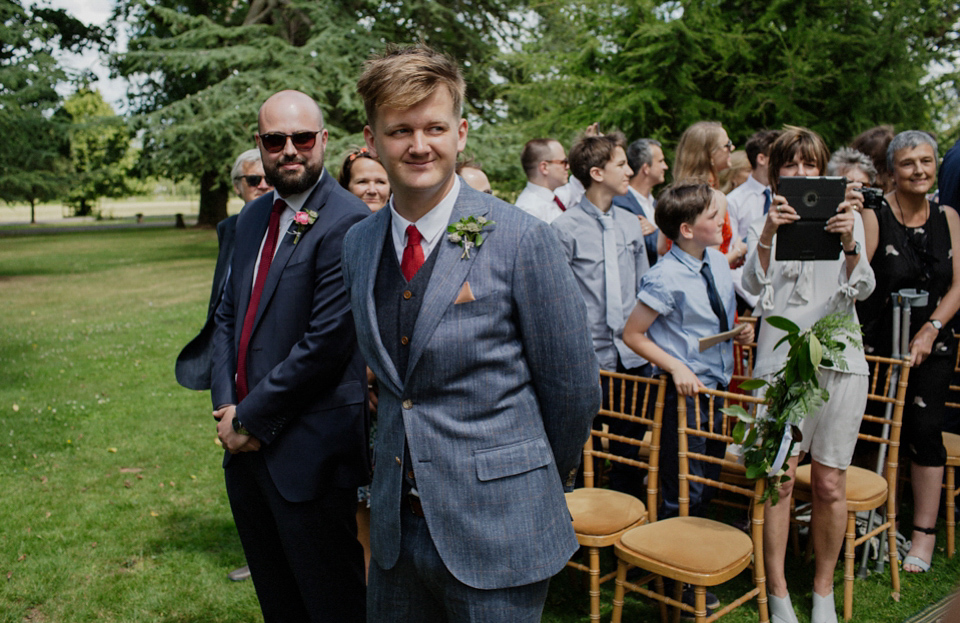 "My Dad walked me down the aisle and gave me away to the tune of 'Crimson and Clover' by Tommy James and the Shondells."
"It was really important to us to write our own vows and express how we felt about each other in front of our loved ones. We hadn't heard each other's and it was the most emotional and special part of the day for me.
We had three readings by my mother Lyndsey, Charlie's mother Karen and then Charlie's best friend and usher Alex Baker. Lyndsey read  'Us 2' by AA Milne from Winnie the Pooh. Karen read 'For Now' by Tracey Emin and Alex read 'I Wanna Be Yours' by John Cooper Clark. All of the readings meant something to us and the words were perfect."
"We went to the jewellery quarter in my local town of Birmingham to get our bands. We both wanted something simple and timeless. We opted for matching yellow gold bands and had them engraved with C and A 04/07/15 with a little heart."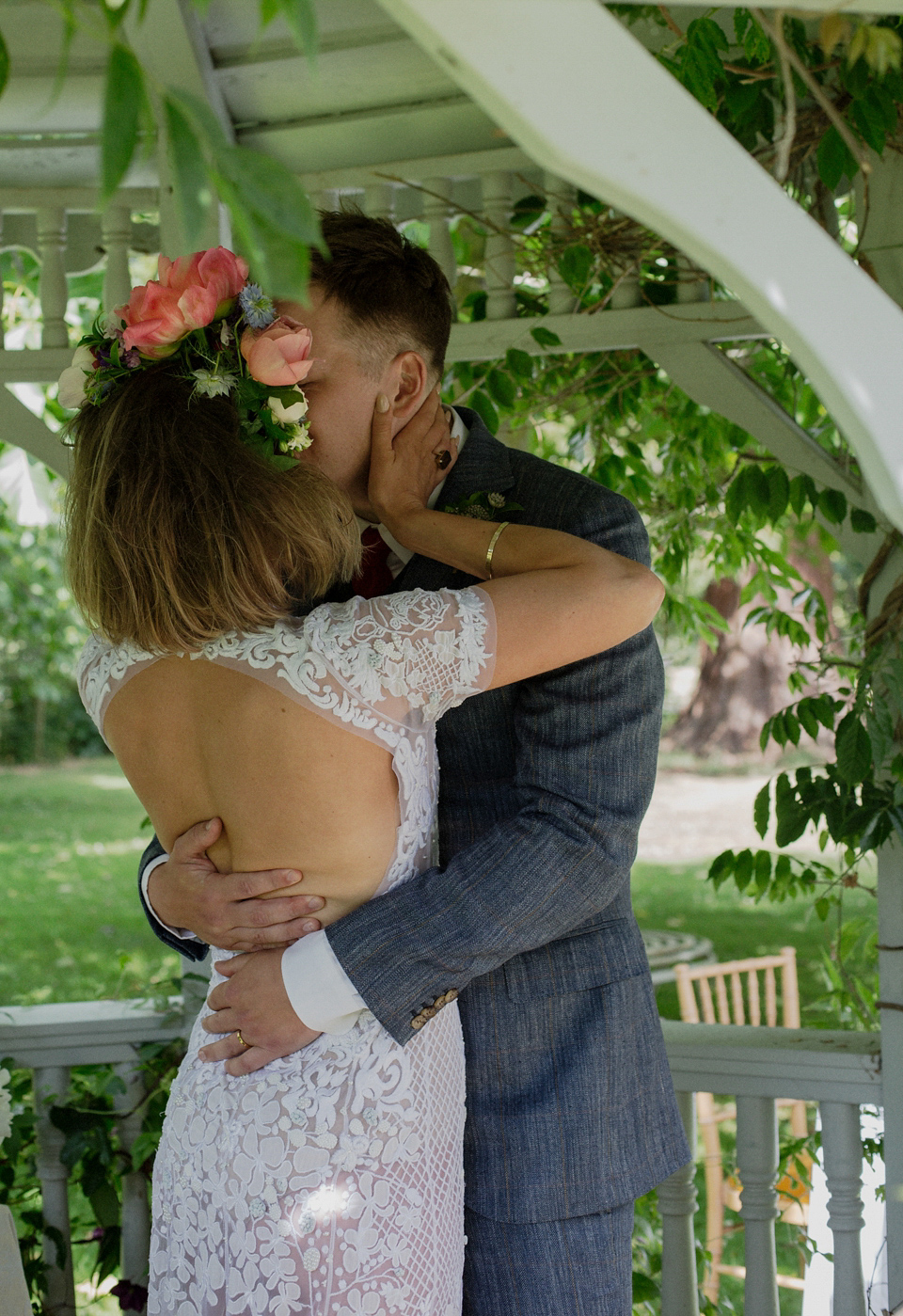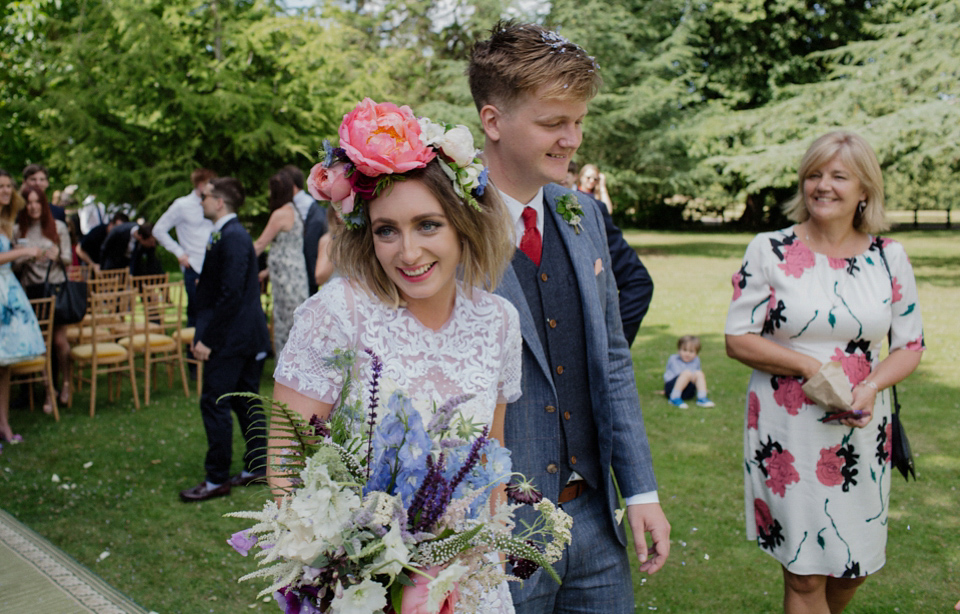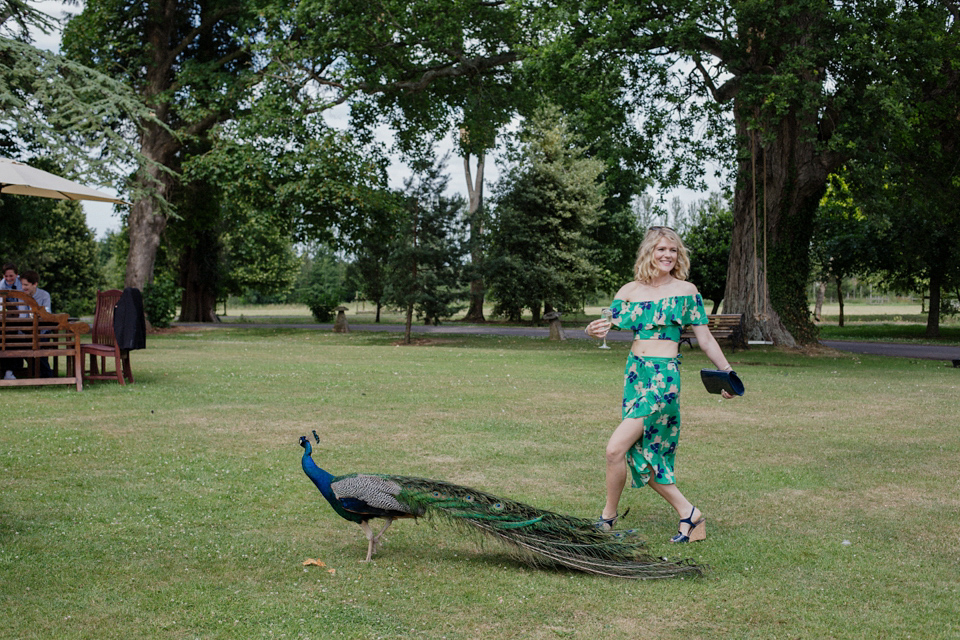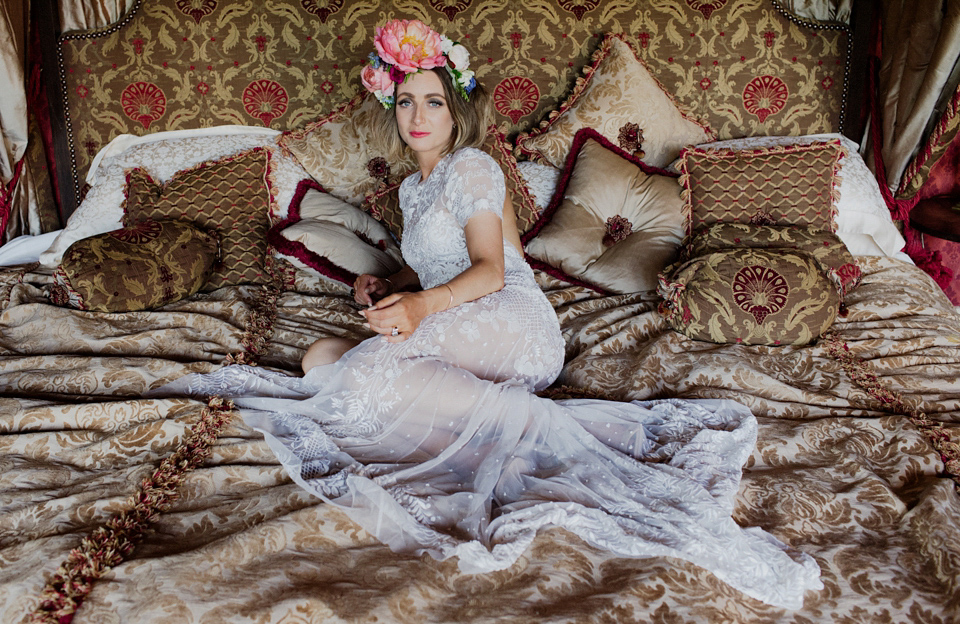 The couple decided to eat outdoors in the pergola area, with simple, yet modern and beautiful decor.
"The venue was a blank canvas amongst the roses and such a lovely space. My step-mum made 100's of metres of white bunting and we used tree trunks as table centres to hold the flowers in old pickling jars. We hired a giant A and C from Doris Loves that moved throughout the day and tied white ribbons to trees."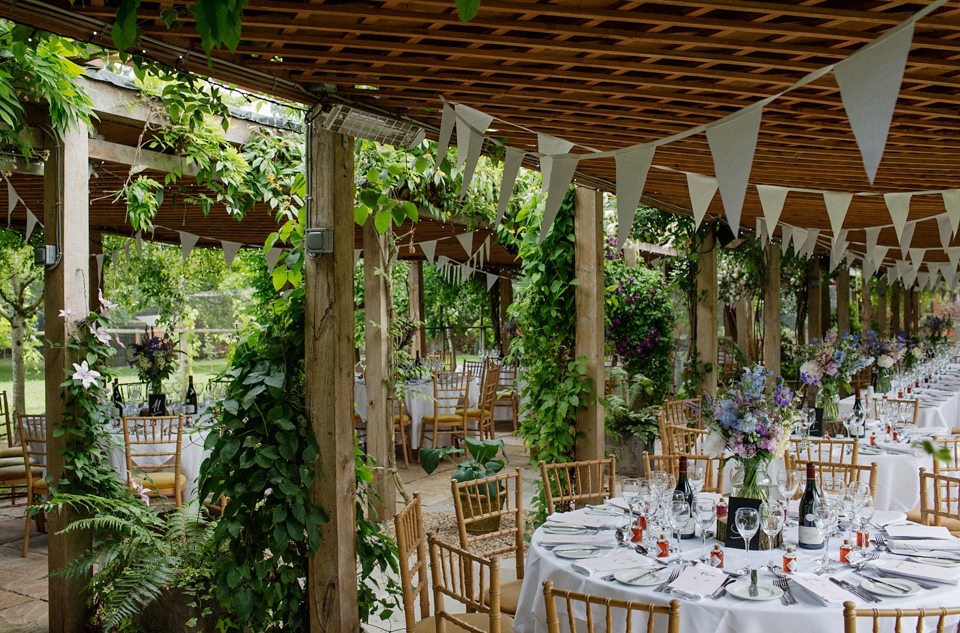 The couple handmade their favours for the guests – making home-brewed plum gin that was the prettiest colour.
"My dad has an orchard, so we sourced his plums and home-brewed plum gin for the favours. We bottled these in mini glass bottles with corks and adorned with a label reading 'The Jackson's home brew'. They went down a treat. For the kids Fatties Bakery from London created organic glitter fruit sherbet lollies. They were definitely a hit!"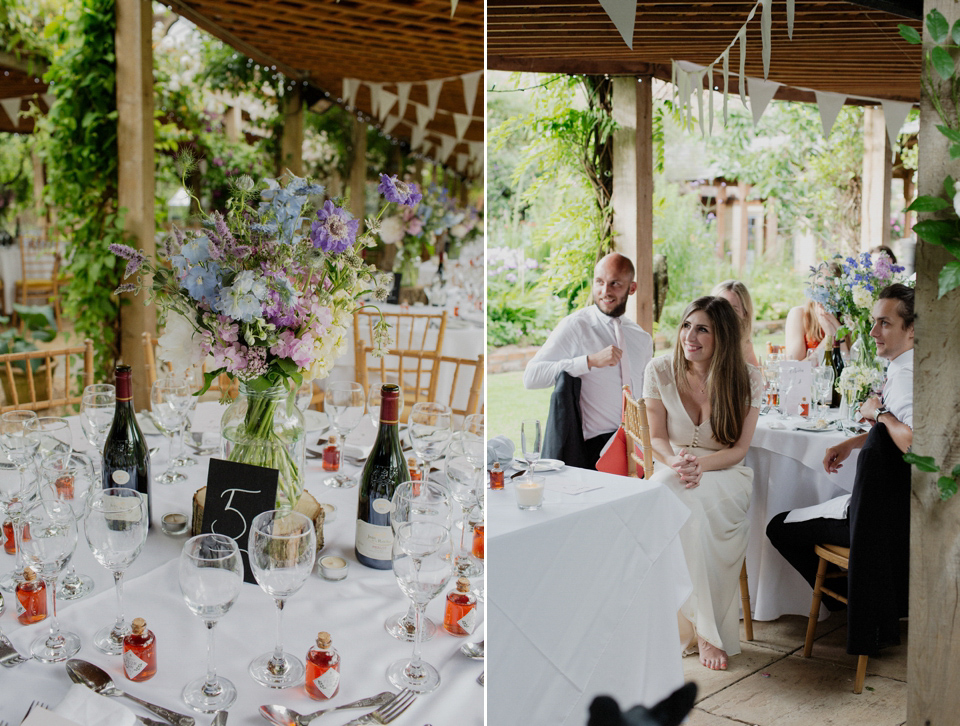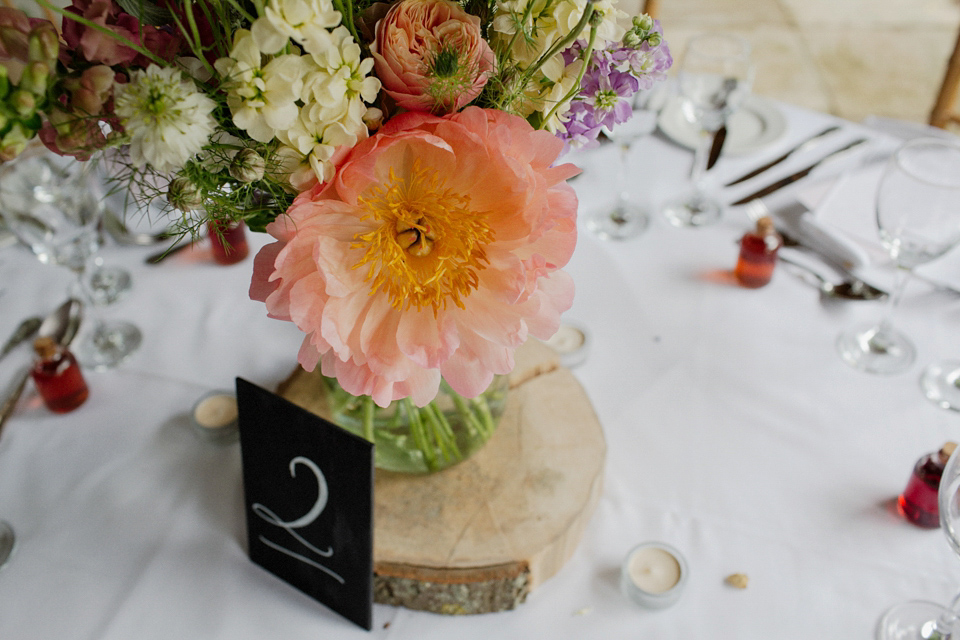 "My favourite part of our day was walking across the grass, seeing Charlie at the end of the aisle and reading our vows to each other. The whole day was filled with love and laughter and we wouldn't change one thing."
"The venue's in-house caterers, Bon Appetite, created a very tasty bespoke menu that included Al's Salad, Hood's Hog and Merv's marvellous meringue's.
The Cauldron, an artisan food van from Devon, supplied the evening food. They supplied the tastiest pulled pork, brisket and halloumi wraps, which our guests loved."
"My mum and sister are star bakers and there was never any thought of asking anyone else to do it. They created an amazing double-tiered baby pink masterpiece adorned with fresh flowers and an A and C. The rough icing was strawberry-flavoured and the striped inside cake was chocolate and vanilla. We also had mini donuts sprinkled with gold glitter. It was a 100 times better than I imagined."
"Charlie and I spent months creating different play lists for different parts of the day. One of our good friends DJ'ed in the evening and it turned into a massive country house party.  Our first dance was 'Baby I Love You' by The Ramones, Charlie's favourite band and an amazing up beat song for when we invited everyone to join us."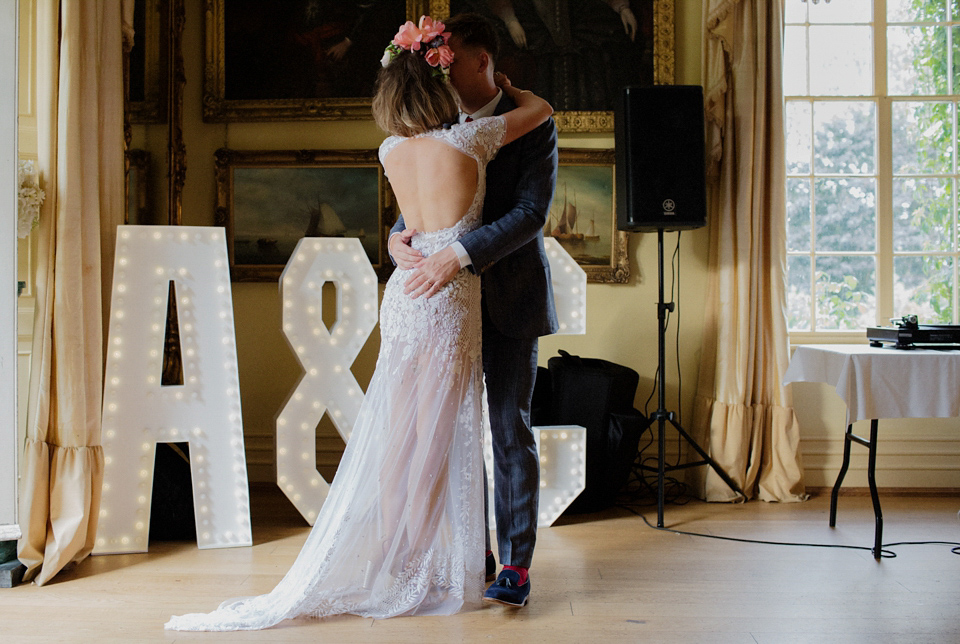 Words of Wedded Wisdom
"Enjoy the build up and preparation and don't wish the time away. When the big day comes try and take everything in and spend some time with your partner looking around at what you have created and all your loved ones celebrating with you. Other than that, just have the best party you've ever had."
It really is the best party you'll ever have. I've just loved sharing your wonderful day Alex and Charlie and, as a fellow floral crown lover, I'm in total awe of your clever florist! And Karolina, thank you for these unique, relaxed and heartfelt images – you've captured the couple's day perfectly.
I'd love to hear your thoughts below, lovely bride-to-be readers, on whether you're thinking of wearing flowers in your hair?
Here's to a brill week ahead everyone!
Love Jo -x-
Photographer – Hearts on Fire Photography
Venue + Catering – Maunsel House, Somerset
Dress – Hermione de Paula
Shoes – Kurt Geiger
Floral crown – Emma Vowles Flowers
Jewellery – Bracelets, presents from the groom and parents
Scent/Perfume – Chloe Eau de Parfum
Bridesmaid Dresses – Cos + Asos + Coast
Bridesmaid Shoes – Cos + Kurt Geiger + Topshop
Bridesmaid's Accessories – Own jewellery
Groom – Bespoke suit from Suit Supply + shirt from Cos
Best Man – Own suits + maroon ties
Florist – Emma Vowles Flowers
Rings – Via the Jewellery Quarter, Birmingham
Evening Catering – The Cauldron
Cake – Handmade by bride's mum and sister + Tattooed Bakers
Stationery – Friend Tom Edwards + by the bride + Lamplighter London
Decor – Giant letters from Doris Loves
Hair – Victoria Hair and Spa
Makeup – Anna Hadden
Entertainment – A friend as DJ