Good evening everyone, I couldn't let Monday slip by without sharing this gorgeous shoot. Full of the deep dark and glamorous shades of Winter, these images are the result of a small creative team coming together to create a little magic to inspire the Winter bride.
I adore the bohemian nature of these images that were sent in by photographer Tara Florence, who worked with bridal accessories designer Miss Clemmie – they bring to mind visions of those young, carefree aristocrats and iconoclasts of the late 1920s and early 1930s. If you've ever read Evelyn Waugh's 'Vile Bodies' or watched the movie 'Bright Young Things', you'll know what I mean. I also adore the gowns featured in this shoot – they are of the creations of our sponsors and Little Book For Brides members, Belle & Bunty, whose laid back, boho beats style was just utterly perfect this setting.
"The wonderful Kilworth House is the backdrop to our styled shoot and we took much inspiration from the beautiful Victorian hotel to set the scene and the overall look and feel of the images. We worked with rich winter purples, deep reds, burnt oranges and olive velvet tones to elevate and compliment the houses décor."
Photography by Tara Florence
Gowns by Belle & Bunty
Find Belle & Bunty in Little Book for Brides
"I adore working with Clementine of Miss Clemmie – apart from being a styling guru we also seem to draw on the same inspiration which works really well. Some of the imagery we had in mind when brainstorming was Ophelia, Klimt and early 20th century fashion."
"Texture was very important and as soon as the Belle & Bunty separates landed at Little Book for Brides member, Fairytale Weddings, we knew they'd be the perfect fit. They really brought to mind the wonderful Kate Moss' stripped back bohemian styling with their luxurious fabrics and I loved how adaptable they were. They opitimise the laid back mood and aesthetic we were looking to achieve and move so beautifully when worn – great for dancing on tables."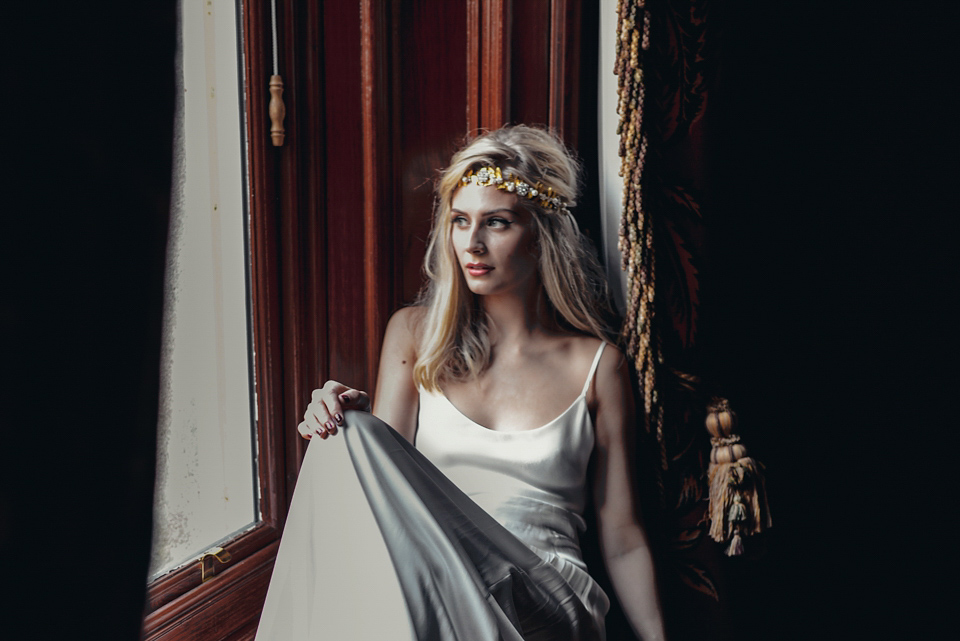 "With the loose hot iron curls we paired gold and pearl botanical halos which were a great fit. We were lucky enough to have some gorgeous golden light streaming in through the windows of Kilworth, beautifully highlighting the details and making Sophie almost blend in with paintings behind her. 
The beautiful blooms were supplied by The Flower Stylist.
"I think I must have been a florist in a past life as flowers always play a strong part in my images. I had these bath shots in mind for a long time and it felt so good to get an idea from my head into reality. Miss Clemmie calligraphed some quotes from Ophelia which we added to the bath for a little extra mystique."
Please take a moment to visit the websites of all those involved in this beautiful shoot. My love and thanks to photographer Tara Florence for sharing these most beautiful images today.
Love Annabel x
Photography – Tara Florence Photography
Dresses & Veil – Belle & Bunty @ Fairytale Weddings
Accessories – Miss Clemmie
Hair Stylist – Hair by Lynndy
Make-up Artist – Joanne Tromans
Cake – The Vintage Bluebell Bakery
Flowers – The Flower Stylist
Rings – Bijoux Jewels
Venue – Kilworth House
Styling – Miss Clemmie & Tara Florence
Gin – Warner Edwards
Model – Sophie Gibson