Hello lovely readers and I do hope you are having a good week so far.  I've the sweetest wedding to share with you today that just so happened to be a joint birthday party celebration too. How cool is that?  The birthday in question was the couple's daughter's 3rd birthday party. They truly embraced the whole concept of children at weddings in such a fun and creative way. We've covered the subject of children at weddings here and here. We've even shared a post on feeding children at weddings and have a whole blog category dedicated to children at weddings too.
Alison and John held their wedding on 31st May 2014 at a stunning location called 'Castleview' in Stirling, Scotland that had never previously been used as a wedding venue, hence was extra special.  The couple sourced and prepared much of the décor themselves, and the venue gave them the freedom to decorate as they liked. I absolutely love the material hanging on the treats tables, the giant pink balloons and am always a big fan of bunting as decoration. They then hired some items to add to the vibe of their outdoor garden party.
"John and I decided together that we wanted our wedding to be fun, unique, personal and something people would always remember; something that represented us as a family and in particular our little lady Olivia. So, we decided to get married on her birthday. After all, what better day to get married than the best day of our lives, the day our little Olivia was born?"
Photography by Rooftop Mosaic
Find Rooftop Mosaic on Little Book For Brides
Follow Rooftop Mosaic on Instagram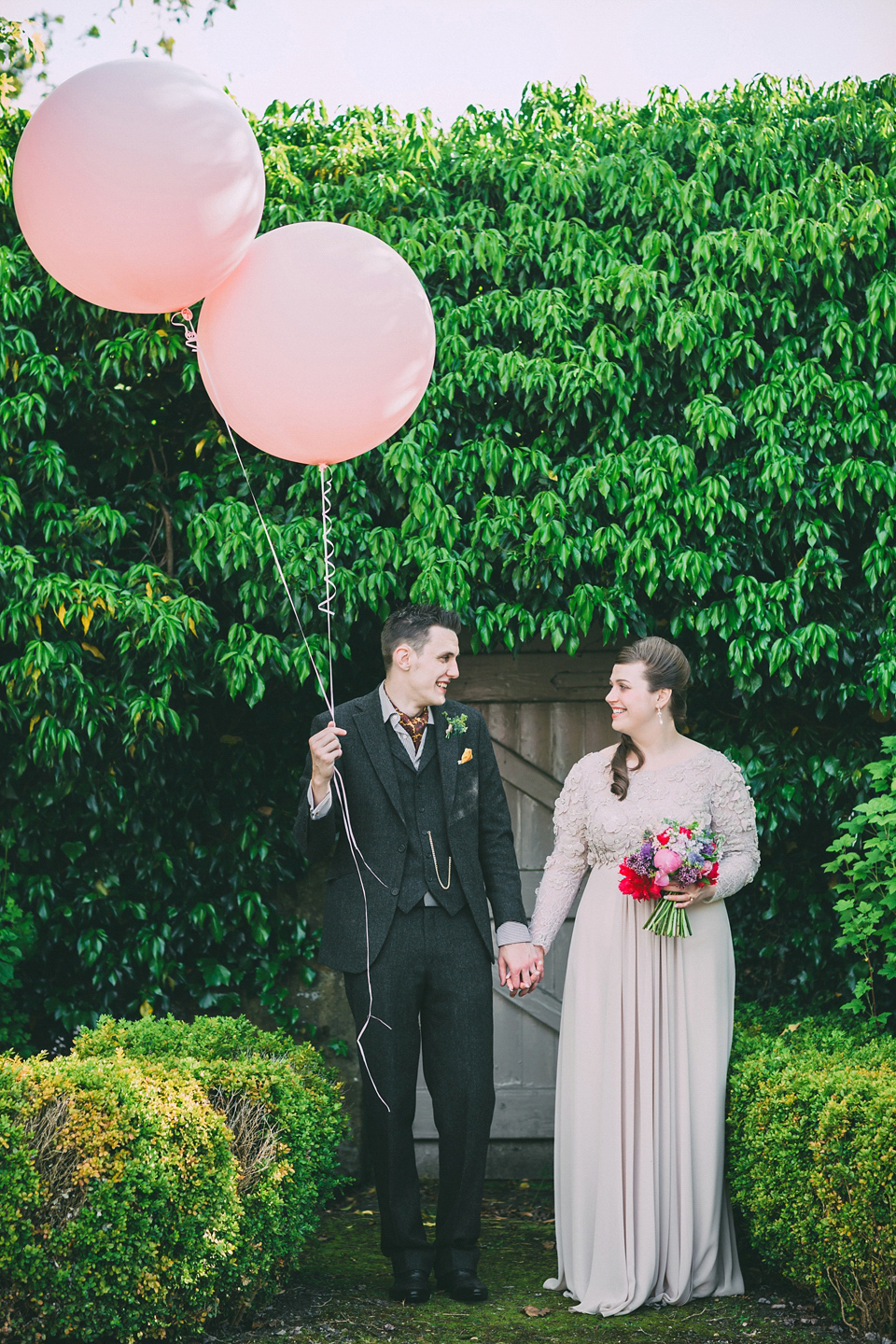 "As it was Olivia's third birthday we had to have the main cake as a Peppa Pig cake (her favourite!) and Rose Anne's Cakes did the most wonderful job. It was perfect and exactly what Olivia wanted – a pink Peppa Pig castle cake."
"We also had a vintage cake table with an array of cakes including carrot cake, macarons in a variety of flavours, cupcakes, rocky road, brownies, lemon sponge and a naked sponge wedding cake, yummy! And ice creams in cones. Everything was all just so delicious."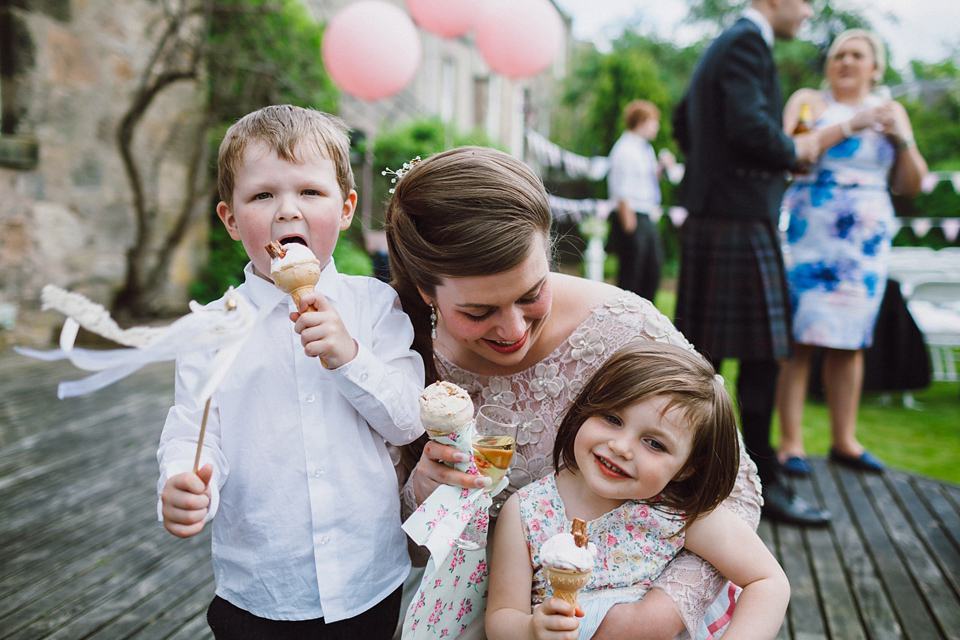 The stunning bride discovered her gown in a little boutique in Stirling called Connie's Closet.
"I wanted something different to a traditional wedding dress; something I put on and felt like me. I fell in love with the style and colour as soon as I saw it. I had tried numerous wedding dresses on but didn't get that feeling that everyone talks about. When I tried this dress on I fell in love."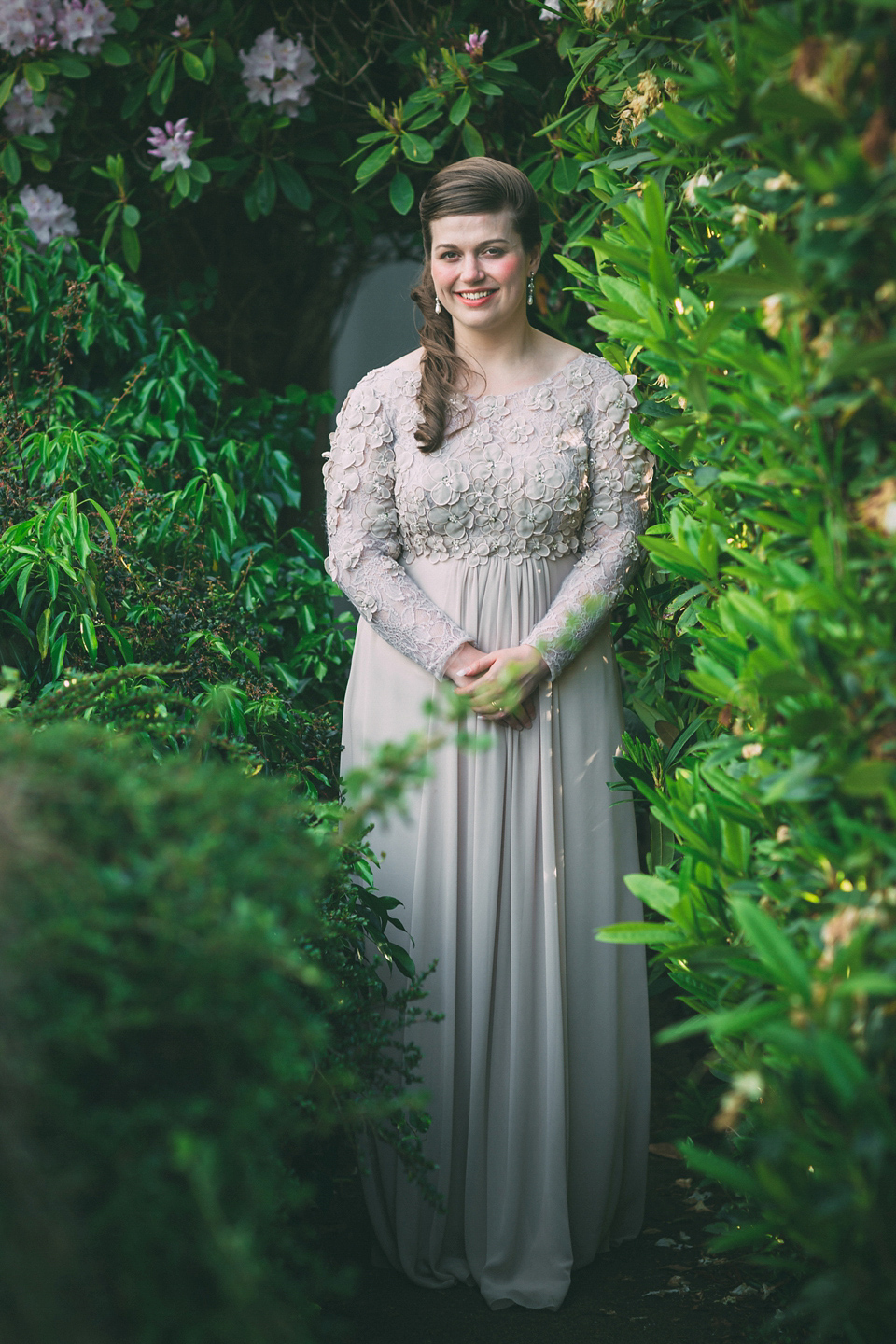 "We chose 'Castleview' as our venue, as we had booked previous ones but they just weren't what we were looking for. John and I went to see 'Castleview' and fell in love and just knew we could create our dream wedding here. Plus, as we were doing everything ourselves, hiring the venue meant that we could do what we wanted and as the venue had never been used for a wedding before, we knew it would be unique."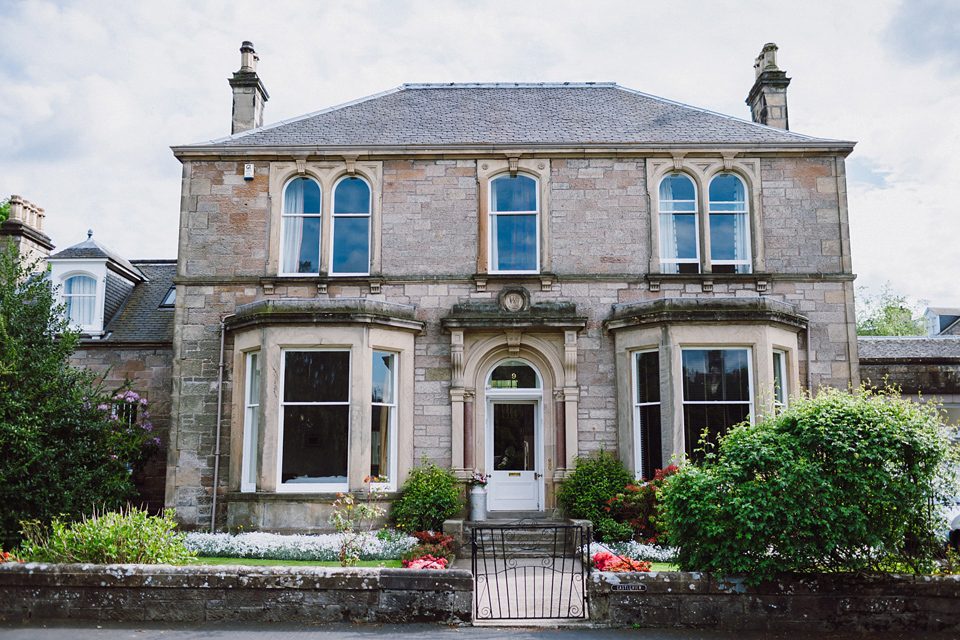 x
"I had the back of my dress altered slightly to make it lower at the back. I loved the detailing, colour and long sleeves. It was just perfect; I still look at photos and LOVE my dress. After all, your wedding dress is for you. Everyone's style is so different and this was the perfect one for me. Olivia told me "Mummy, you are beautiful" when I tried it on, which was priceless."
The handsome groom wore a tweed suit and his brother Steven, as best man, donned traditional Scottish attire with a kilt.
"John's suit was absolutely beautiful – it was a Harris tweed suit from Walker Slater in Edinburgh and he combined it with a scarf also from there and added his dad's pocket watch. Steven wore a kilt hired from Walker Slater."
John proposed a little later than he had expected to, after Alison's dad sadly passed away. I love this tale about their love story and his very romantic proposal, on a little trip away.
"John and I met in 2008 whilst on a night out with friends. He asked me to dance and now here we are … seven years on and married with two beautiful children, Olivia (now four years) and Noah (six months). John had decided to propose to me, however my dad passed away, so he decided to wait a little while longer. In May 2013, after I had completed my Masters in Social Work, he took me away to Pitlochry to treat me after years of very hard work. Whilst there, we went to the Queen's View (one of my Dad's favourite spots; he had always told me to go as it was beautiful) and then asked me to marry him. It was one of the most emotional days of my life – the whole day was just perfect and of course I said yes!"
Alison's best friend Jeanette was her bridesmaid and donned a gorgeous sparkly FCUK frock, paired with Topshop heels, a Debenhams hair accessory and a Pandora bracelet that was a gift from the bride.
"Jeanette and I had looked at numerous dresses and just didn't find any we both loved. Then we both spied this one and it was the perfect dress – Jeanette looked beautiful."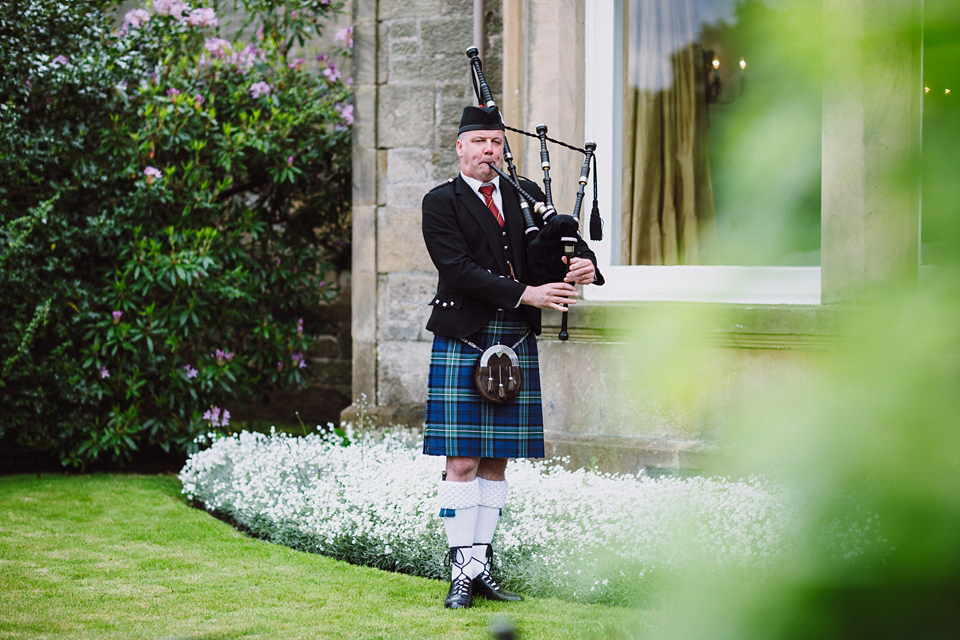 "We asked Joy from Joy Wood Floral Design to create flowers in lots of pinks with a selection of our favourite garden style flowers, including peonies. We wanted the flowers to be unstructured, but beautiful, and they were just that."
The couple married earlier in the year in a registry office, due to Alison's grandad being taken ill. They then chose a humanist ceremony for their celebration in May and added many special, sweet and very heartfelt touches.
"We had actually married on the 11th April in a registry office, as my Grandad had taken ill, and as my dad had recently passed we knew we couldn't marry without my grandad being present – it was so important to him and us to have him there as he was such an important figure in our lives. We couldn't be more grateful, as now he has passed away we know we helped complete one of his dreams to see me get married."
"We decided to do a humanist wedding, as we wanted it to be non-religious and totally focused on us as a family. We wrote our own dedications to each other and to Olivia and our hopes and dreams for us as a family. So on the 31st of May we stood in front of our friends and family and confirmed our love and commitment to each other. And doesn't every bride want to wear her dress twice?"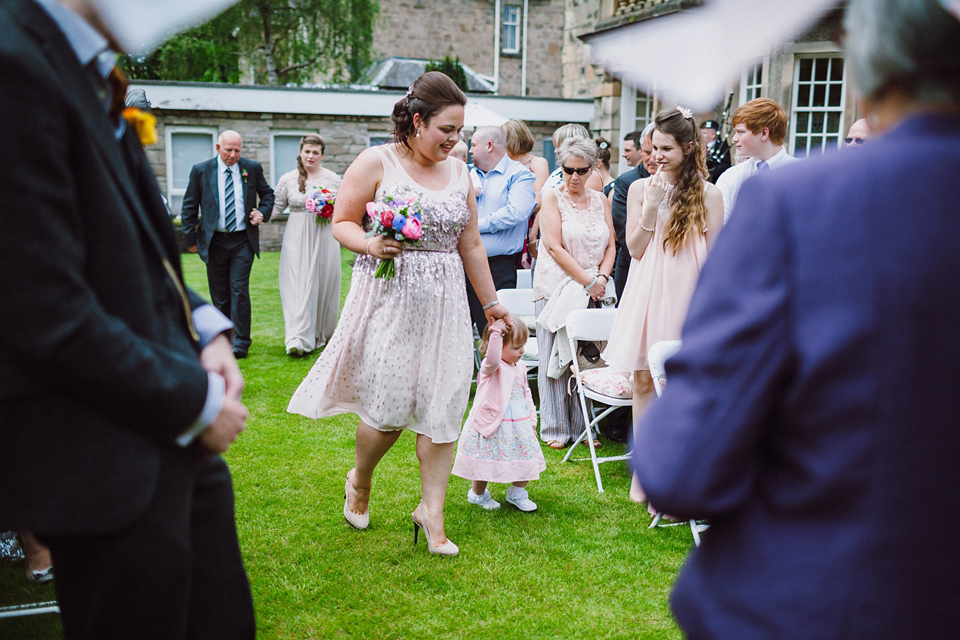 "I wore my Nan's wedding ring. She passed away in June 2012 and it was a huge privilege to wear her ring. My grandparents were married for sixty-five years and I hope I wear the ring for equally as long, if not longer. John's wedding ring was from Ernest Jones."
"|My dad passed away suddenly in November 2012 and so I asked his best friend Lou to give me away. This walk was one of the hardest walks I have ever done. I have never missed my dad as much as I did during this walk. My dad would have been very proud of Lou being there for me on such a special day and we had a piper play 'Caledonia' by Dougie MacLean."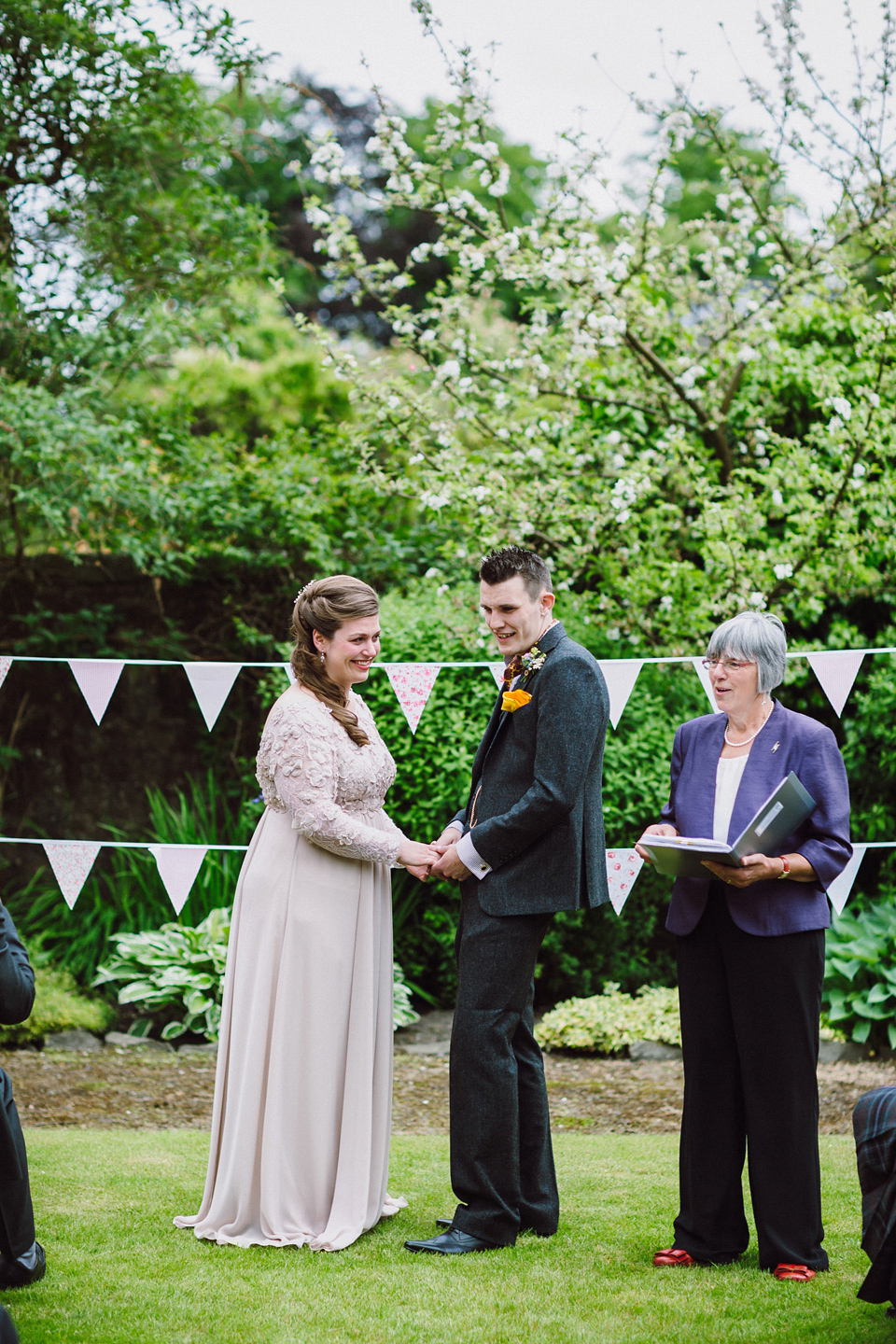 "Our first reading was 'Yes, I'll marry you my dear', by Pam Ayres. And the second reading was written by the best man, John's brother, and called "What is Love". We didn't choose the readings – we asked our friend Nici and sister-in-law Laura to choose them and surprise us on the day and we were delighted with their choices.
What is Love' by Steven Togneri
What is Love?
The answer remains elusive.
Love is not one thing,
Love is blind.
Love is tragic.
Love is fickle.
Love is misguided.
Most of all, Love is unconditional.
At its best, Love is a passionate commitment that we nurture and develop,
Despite its unexpected arrival.
Love, therefore is more than a powerful feeling.
Without commitment, it is mere infatuation.
Without passion, it is a mere dedication.
Without nurturing, even the strongest can wither.
Today,
This emotion invites us here to witness,
Two of the most committed and wonderful people,
Embarking on the best roller-coaster in the universe…
Love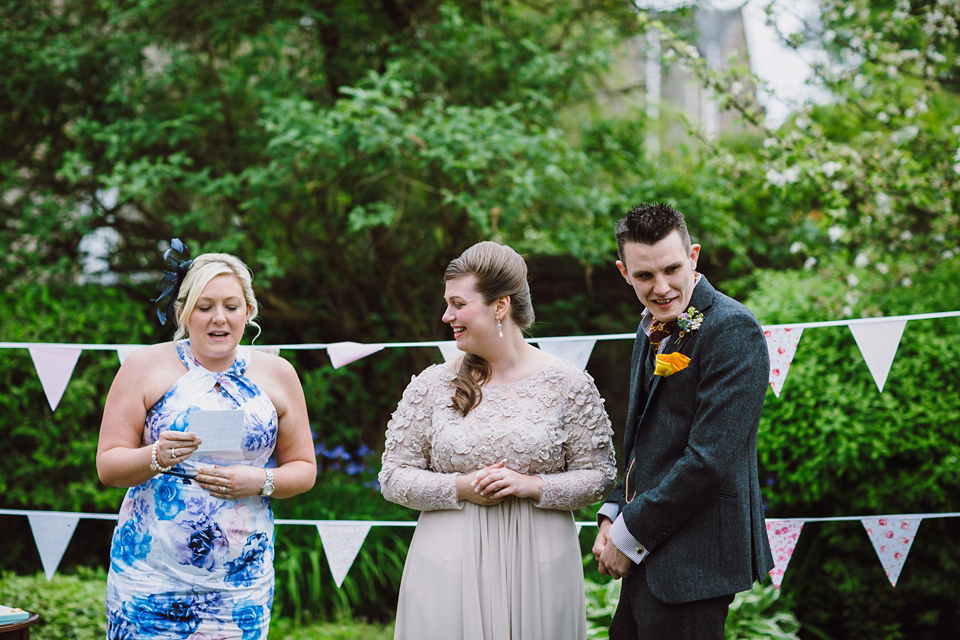 "My favourite part of the day was seeing everyone smile and laugh. I don't remember much of the day, it all goes so quickly, but I remember John and I stopping and he asked me if I was OK and I remember vividly saying, as I was looking around and seeing Olivia playing on the bouncy castle, people sat on blankets chatting, laughing and drinking "Yes, it's perfect, it's everything I wanted and I'm so happy with the whole day". I still remember that moment like it was yesterday."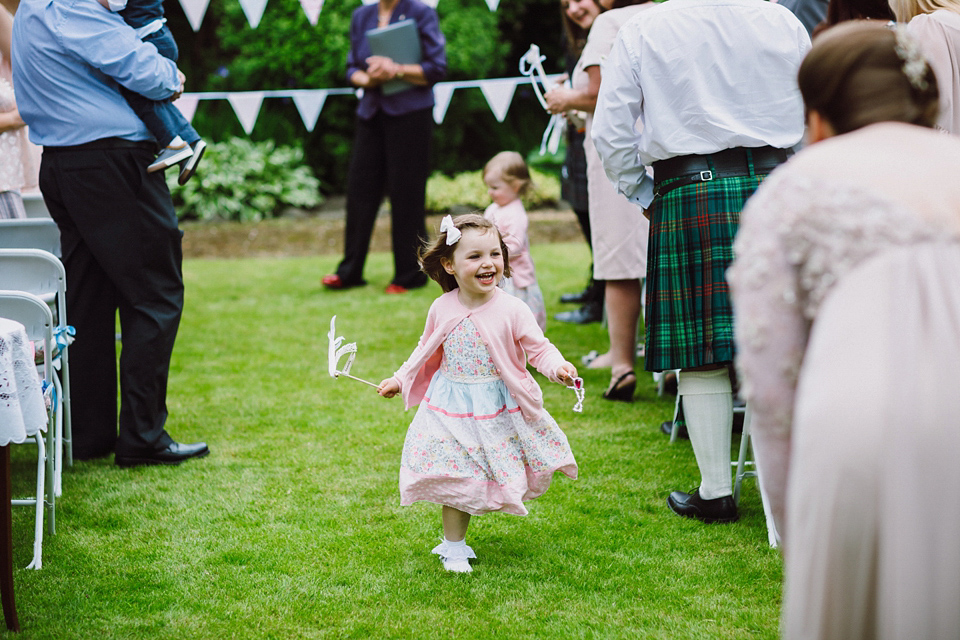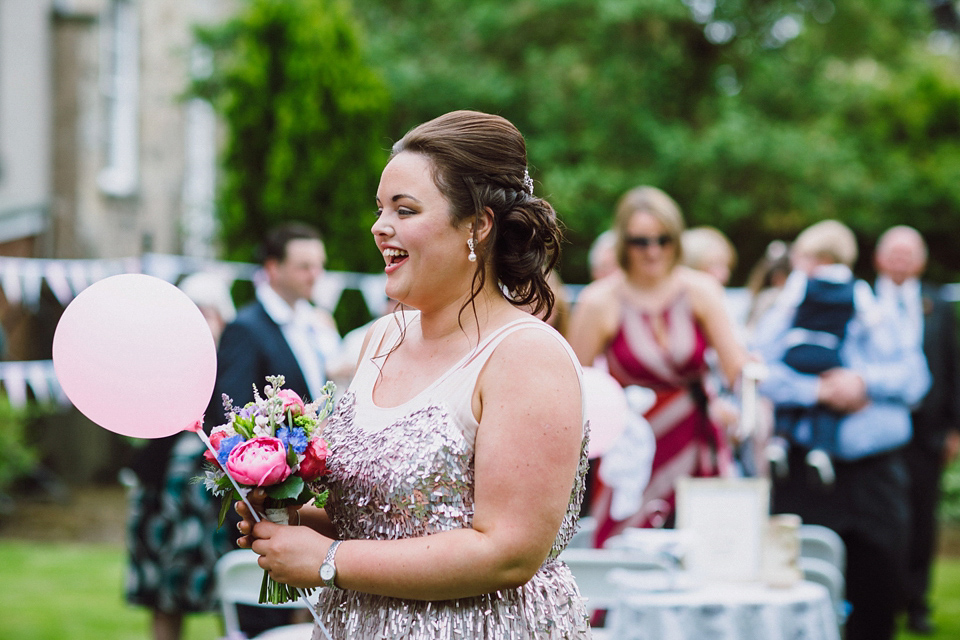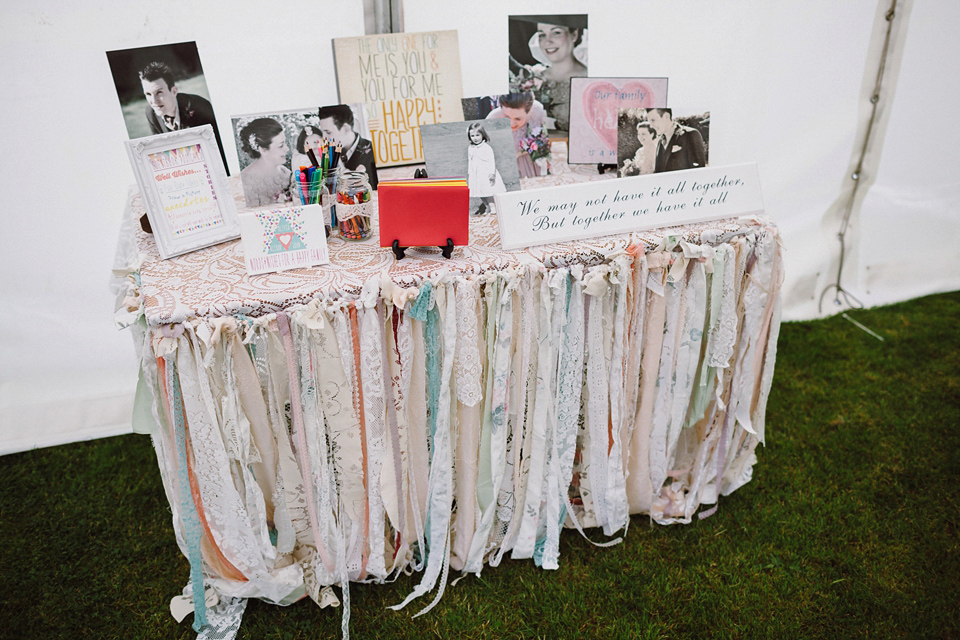 Clare from Florence and Bette designed the most beautiful stationery for the couple's wedding.
"Clare went the extra mile to ensure it was all perfect and worked with us from start to end to ensure everything went smoothly. She captured our family event perfectly by designing a family triangle to represent us all and our special day. I would recommend Claire in a heartbeat and have since used her services for further events."
"We did most of the décor ourselves. We made garlands and glasses out of jam jars and many of the other items and sourced vintage wares from charity shops and online, travelling miles on miles to gather these items.
We hired items from Joy Wood Floral Design – the suit cases, vases, napkins, chair cushions and bunting – and picnic benches from Gordon's Cater Hire, a marquee and chairs from Baillie's Marquees and our welcome sign was made by The Laser Boutique."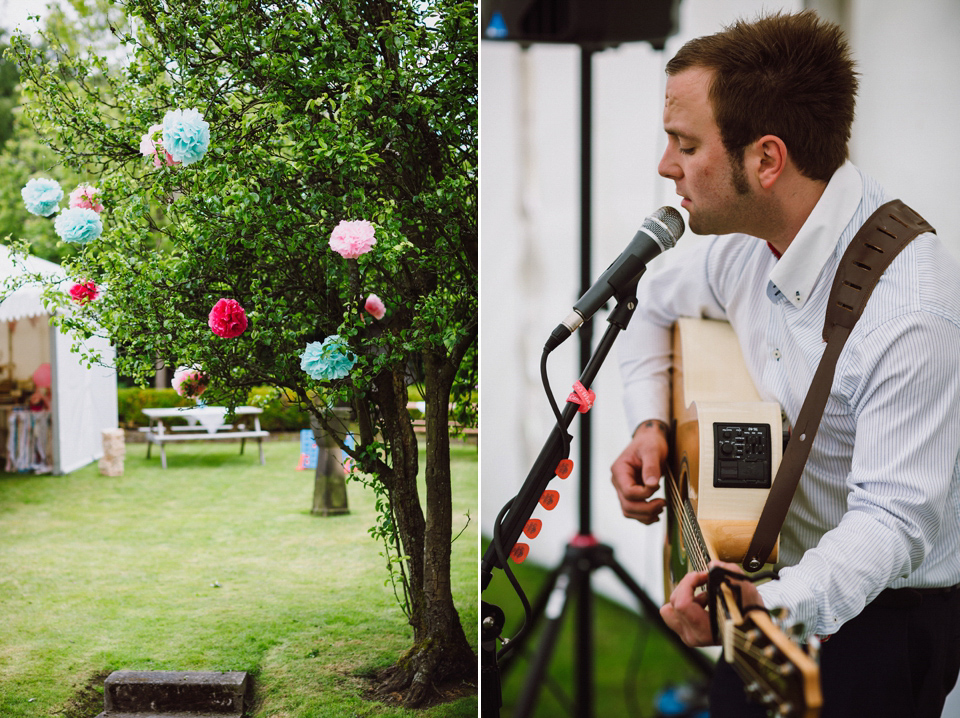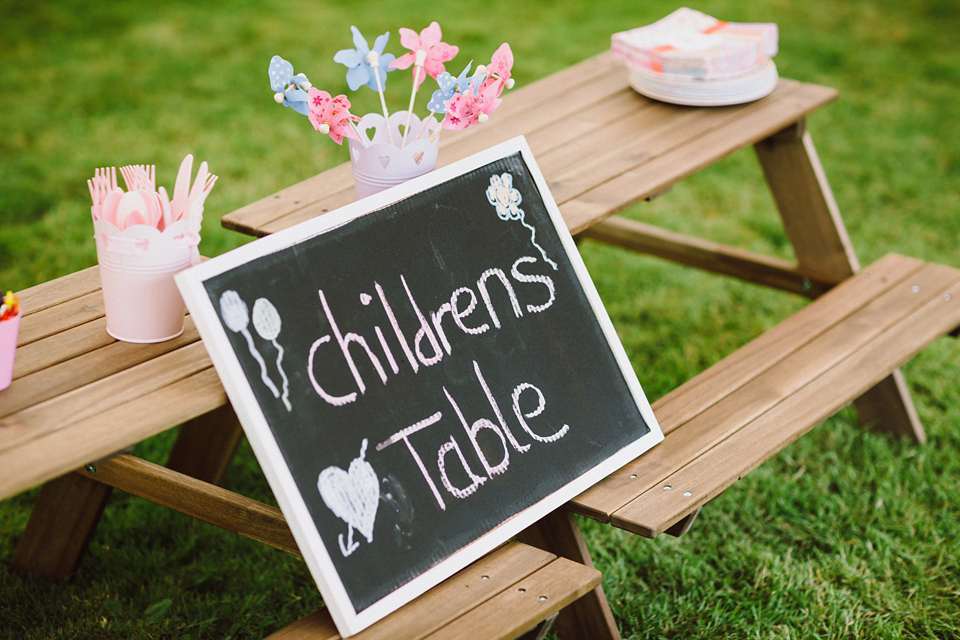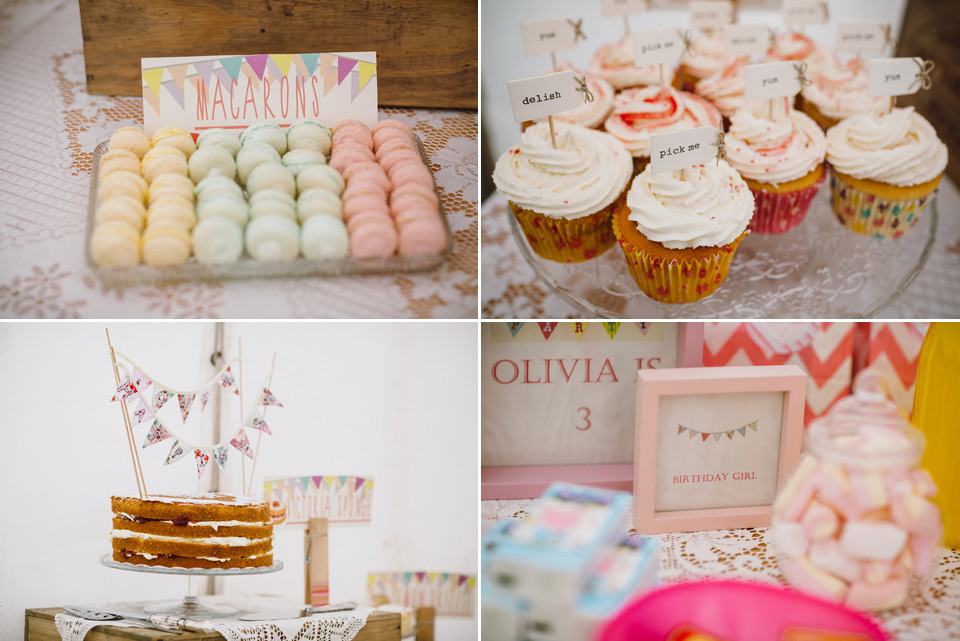 The wee little ones were kept entertained by a brilliant bright pink bouncy castle hired from Bounce-On and Brian Cattigan entertained the older guests and, for the first dance, he sang 'Caledonia' by Dougie Maclean.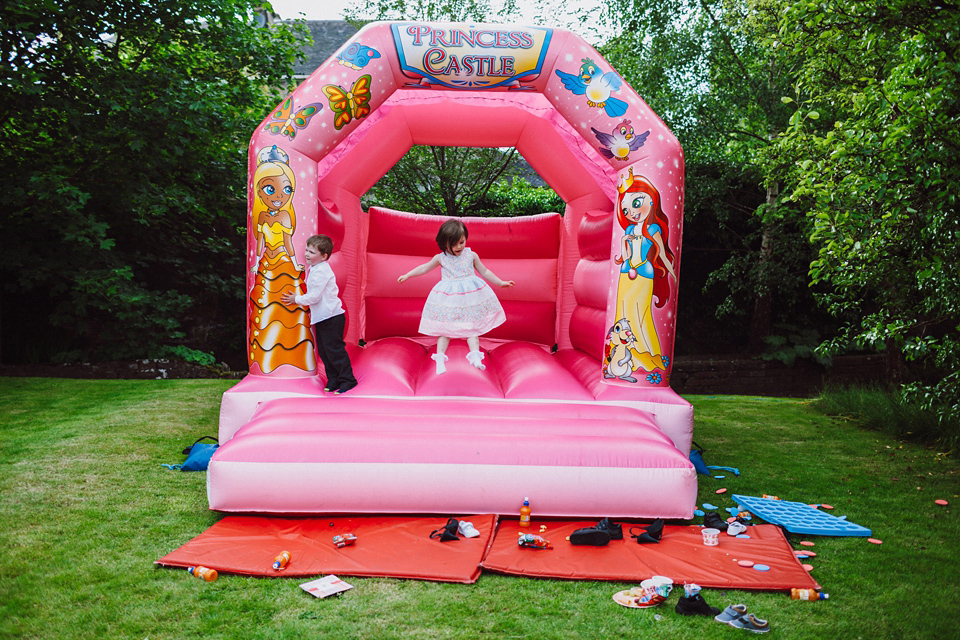 "Gail from Rooftop Mosaic was amazing! From the minute we met her she was just so easy and felt so comfortable to be around. We had explained to Gail the type of wedding we were aiming for and she captured it perfectly. She caught the tears of joy and the tears of sadness that were all cried on our special, but difficult, day and the photos are just perfect. The photos highlight the whole day in a nutshell, and when we look at our album the smiles and happiness shine through the pages. I couldn't recommend a better photographer."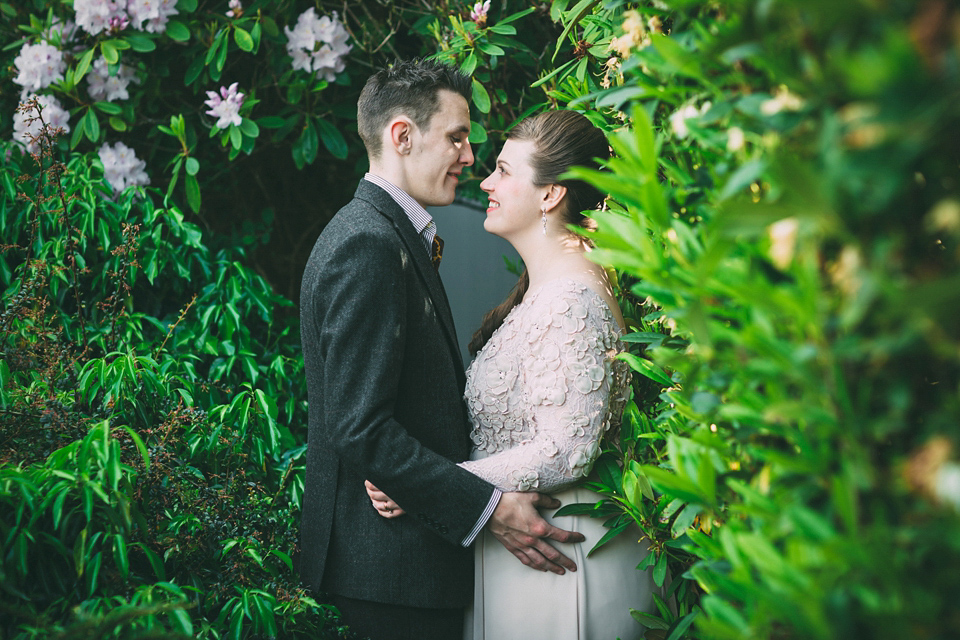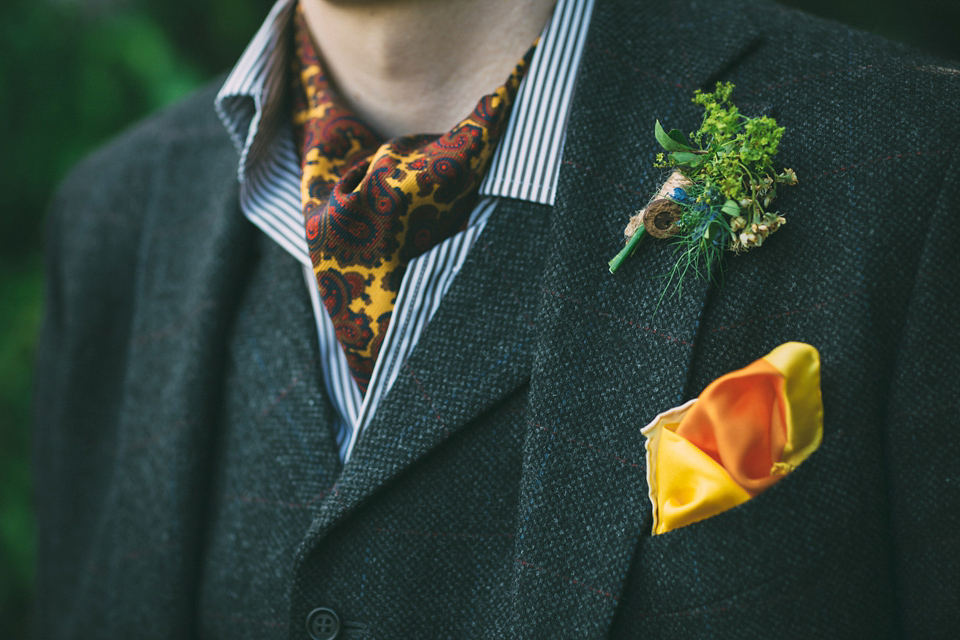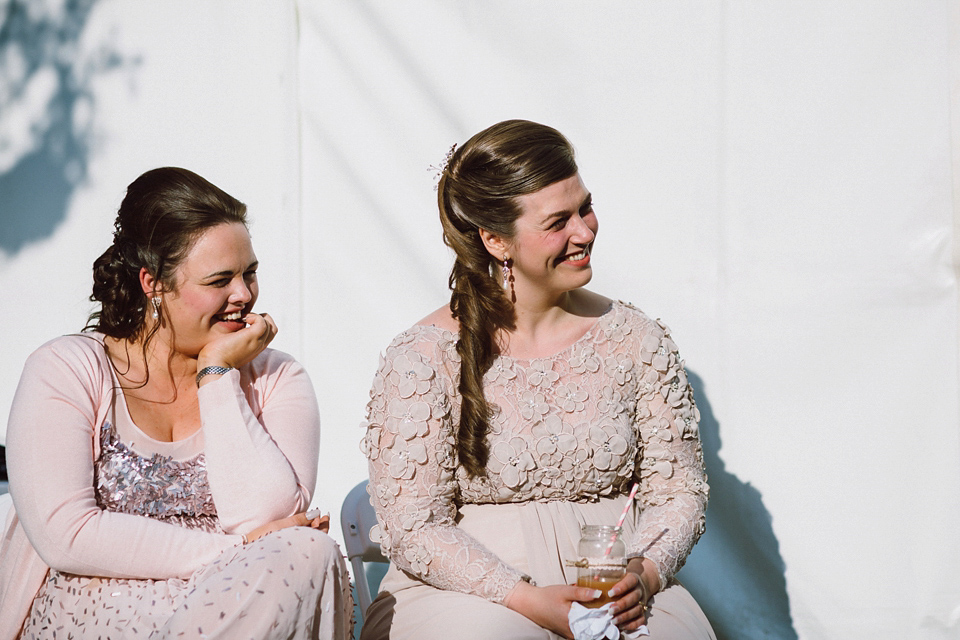 The sweet little dresses for the flower girls were by TU at Sainsbury's and were perfect for an outdoor garden party.
"I had looked for flower girl dresses and couldn't find anything I really liked, then whilst shopping with my mum I saw them and knew they would be just right."
Words of Wedded Wisdom
"Doing a DIY wedding was hard and it takes commitment and time to do it. Although it was exhausting, I wouldn't change what we did as the outcome was just perfect and everything we had envisaged. Also, we were very lucky with the weather, had this been awful it may have been a different story. We had planned the day around sun and thankfully sunny it was! So take this into account when planning your wedding, as the weather cannot be predicted.
Do your wedding how you wish; it's about you and your partner and a commitment to each other and your children if you have any. Don't plan your wedding around what others want or what you think they want; everyone's style is unique, you are unique, so make your wedding unique to yourselves. Our wedding represented us as a family; young, fun and happy and we wouldn't change the way we did things. It was as far away from traditional as you could get."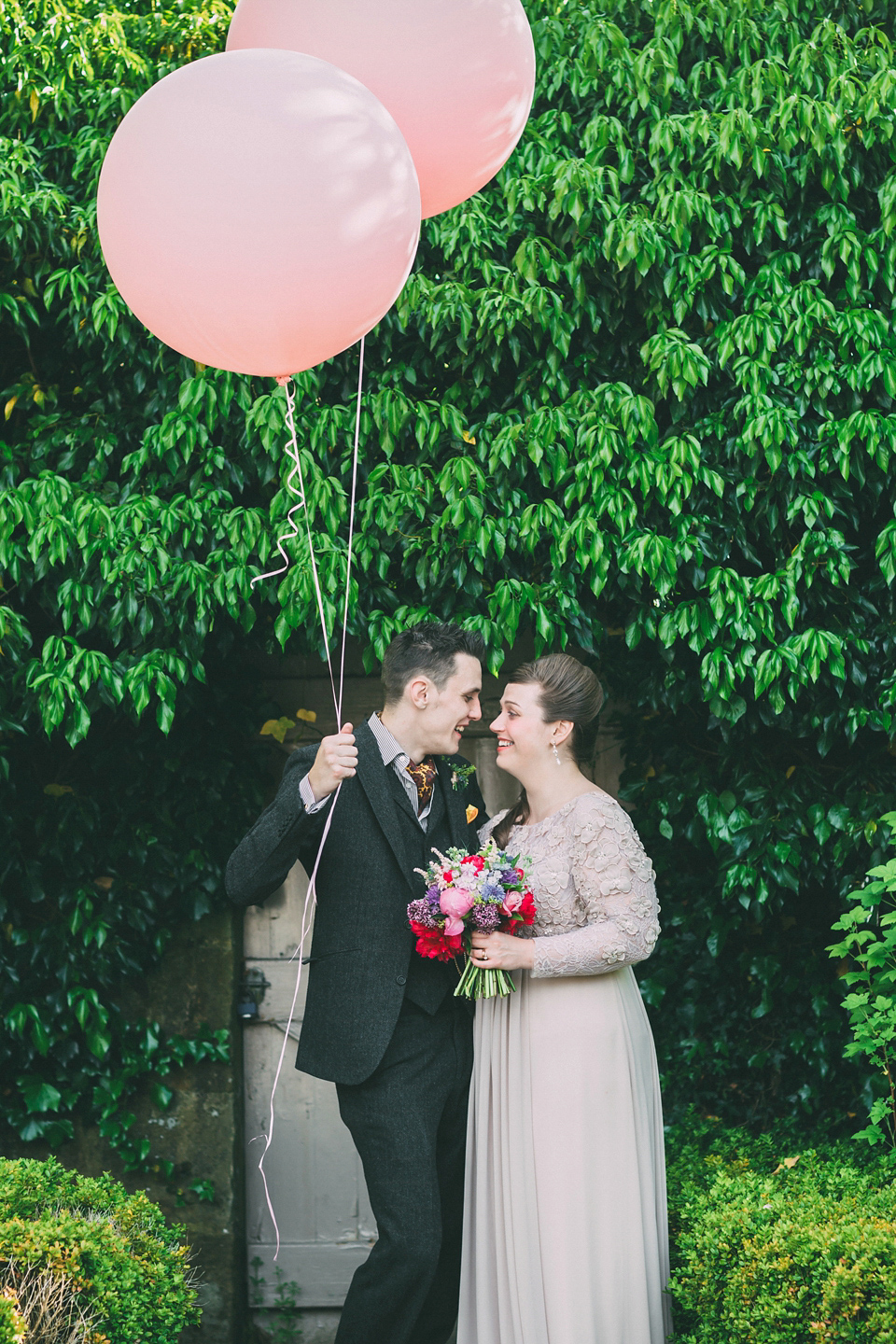 I am lost for words. Thank you so very much lovely Alison and John for sharing your incredibly special day with us and wishing you and your gorgeous family a lifetime of happiness. And a big thank you too to Gail from Rooftop Mosaic for these delightful images. The happy vibe simply oozes from the shots in the sunshine.
If you're thinking of including little ones in your wedding celebration, see here for more child-friendly weddings we've previously highlighted on the blog.
Have a brill rest of week lovelies!
Love Jo -x-
Photographer – Rooftop Mosaic
Venue – Castleview, Stirling (no website)
Dress – Via Connie's Closet
Shoes – Rachel Simpson Shoes via Hummingbird Boutique
Hair accessory – Via Hummingbird Boutique
Jewellery – Earrings from Debenhams
Scent/Perfume – 'Allure' by Chanel
Bridesmaid Dress – FCUK
Bridesmaid Shoes – Topshop
Bridesmaid's Accessories – Debenhams hair accessory + Pandora bracelet
Groom + Best Man – Walker Slater
Flower girls – TU at Sainsbury's
Florist – Joy Wood Floral Design
Rings – Alison – her Nan's wedding ring and John – via Ernest Jones
Catering – Michael R More Quality Butcher and Caterer
Cake – Rose Anne's Cakes
Stationery – Florence and Bette
Decor – Welcome sign from The Laser Boutique + picnic benches via Gordon's Cater Hire + marquee and chairs from Baillie's Marquees + various items hired from Joy Wood Floral Design + other decor sourced from charity shops and online
Hair – Jennifer (local hair dresser)
Entertainment – Brian Cattigan + bouncy castle from Bounce-On