It being Monday, I couldn't let the afternoon slip away without sharing a second wedding with you, and this one is particularly wonderful. Bride Kate and her groom Dave make up the wedding duo Music by Kate & Dave, and are also members of the 7-piece wedding band Groovestone. Kate also sings backing vocals for pop artists. The couple both teach singing and trumpet in schools too. Kate also works for stationery designer Lucy Says I Dom, so most of her days are arleady filled with wedding-themed goodness! (side-note readers – we featured stationery designer Lucy's own wedding on these very wedding blog pages back in 2012).
The couple tied the knot on 30th May 2015 at Henley-on-Thames Town Hall, followed by a village hall reception at Harpsden Village Hall, located just outside of Henley and there to capture everything on camera was Mr Tom Ravenshear. I'm so proud to have been supporting Tom for several years now, and am delighted to be able to recommend Tom's photography through our wedding directory, Little Book For Brides.
"We knew we wanted to have bright and vibrant décor so spurred by our love of Mexican food and colours, we decided to make it a 'fiesta feel'. We didn't want to get married in a church and we found a lot of town halls just didn't have high enough capacity for all our guests. We came across Henley Town Hall and it is such a beautiful, light space; we were instantly sold. Plus the steps outside were perfect for confetti."
Photography by Tom Ravenshear
See Tom Ravenshear in Little Book For Brides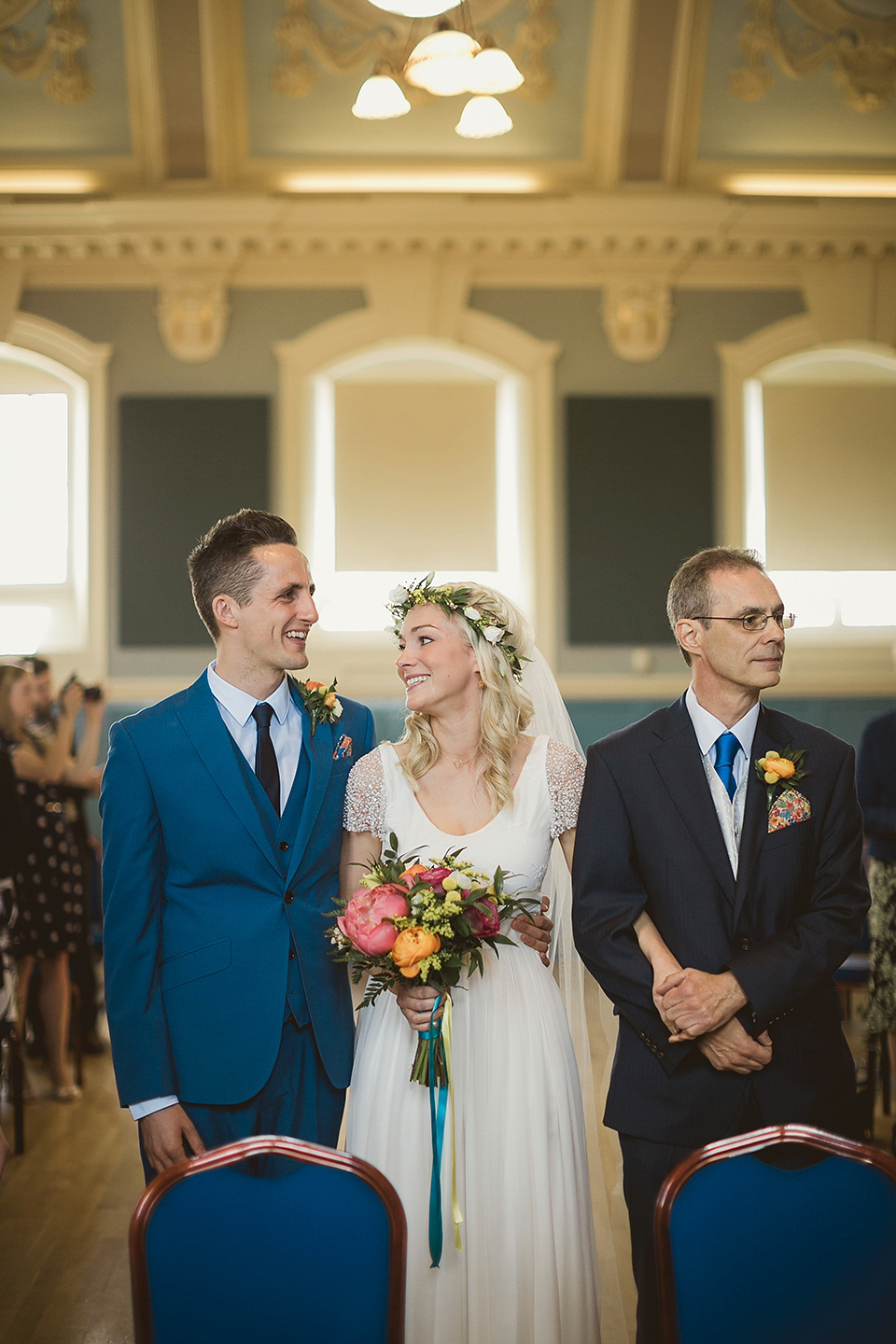 "Our reception was held at Harpsden Village Hall (just outside Henley). Again, we were looking for a village hall with a big enough capacity and also one we liked the interior of. Harpsden Village Hall had a huge green space outside which was perfect for the drinks reception and also for the kids (big and small!) at our wedding to play games and run around in. We had rounders for the grown ups!"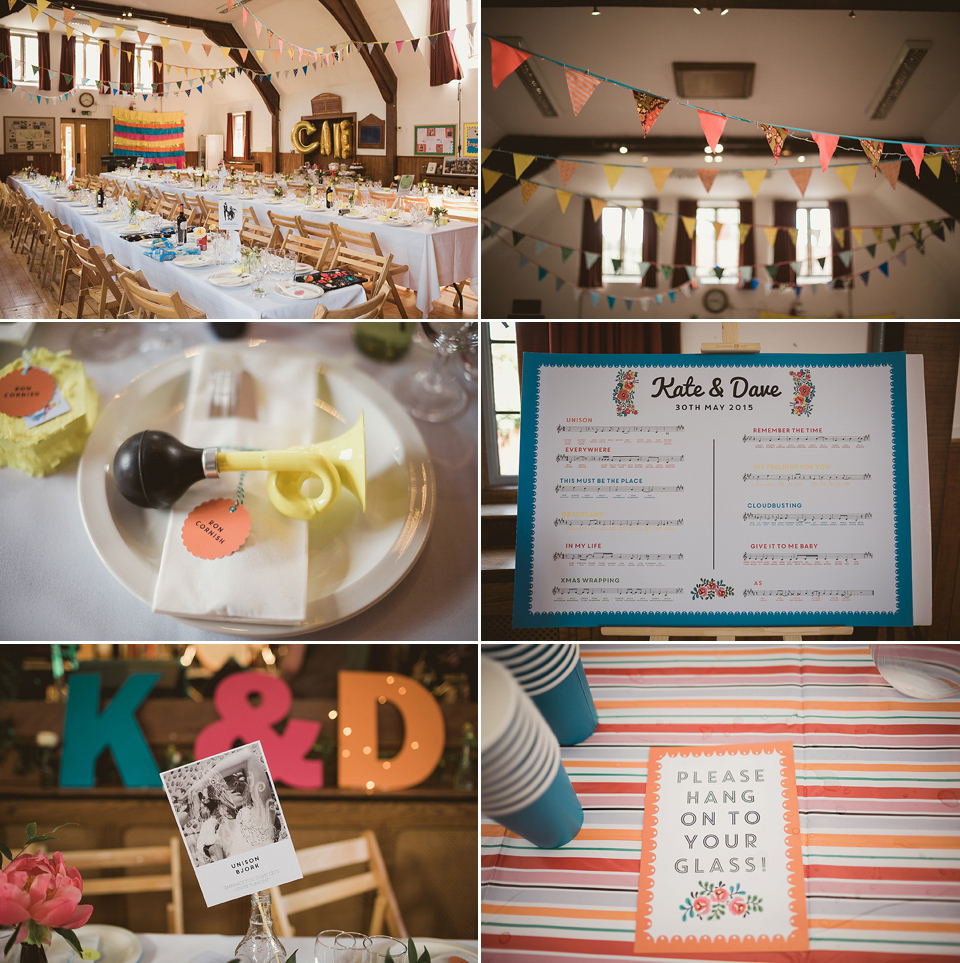 "I wore the Clare dress from designer Grace Loves Lace, they are based in Australia and I ordered it online – they also sell on Etsy too."

"I work for Lucy Says I Do – Lucy is an independent stationery designer based in London. She is also one of my best friends and a member of my extended family! She designed us a bespoke set based on Mexican folk art featuring bright colours and flowers. We came up with the idea of a musical table plan; each table was named after our favourite songs and we wrote out the melody line of each song and that became the table plan! People's names were written under each note.
Our Order of Service booklets were a beautiful blue containing all the song lyrics in the service. She also made us lots of bright Mexican themed tags for our wedding favours, plus little scalloped name tags for each guest. Each table name had a picture of the album the song was taken from plus a lyric line from each song that meant something to both of us."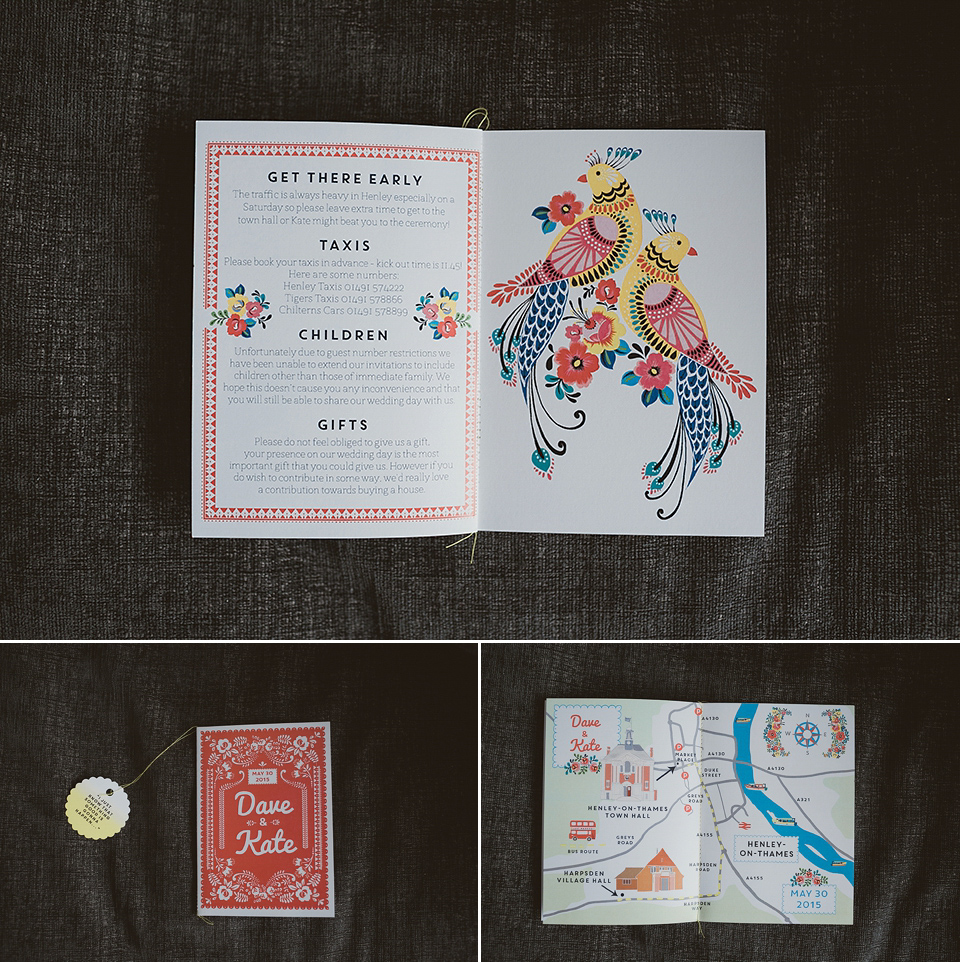 "We all did our own make up together at my parent's house and had our hair done altogether in the morning at The Retreat Salon in Wokingham. My sister made me a 'Maid Marion' style flower crown made up of soft ruscus, wax flowers, lisianthus, yellow solidago and a white anenome. I didn't want anything too big but definitely wanted flowers in my hair and it stayed on the whole day as it was so comfortable.
I went to Liberty's perfume department feeling like a child in a sweet shop and after a lot of searching and spritzing I found 'Do Son' by Diptyque. It has a tuberose scent which is my favourite, very alluring and fresh at the same time. It just smelt so special and I'm so pleased I wore it for the first time on the wedding day as now every time I wear it, it brings all the amazing memories of our day flooding back."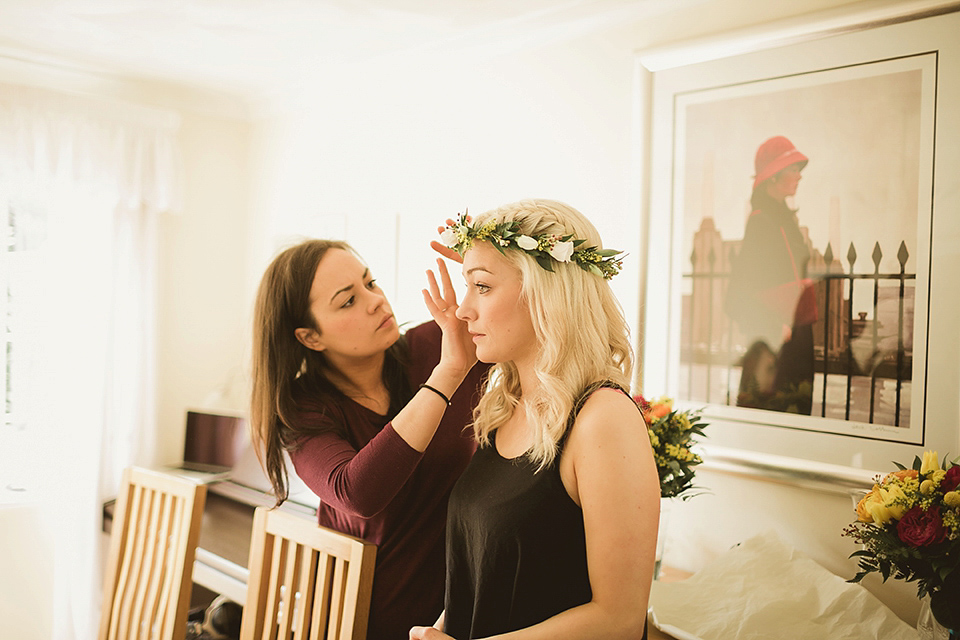 "My dad walked me down the aisle, he is the most calm and kind person and he held my hand before we walked in. I realised I will never forget that moment, it was very special."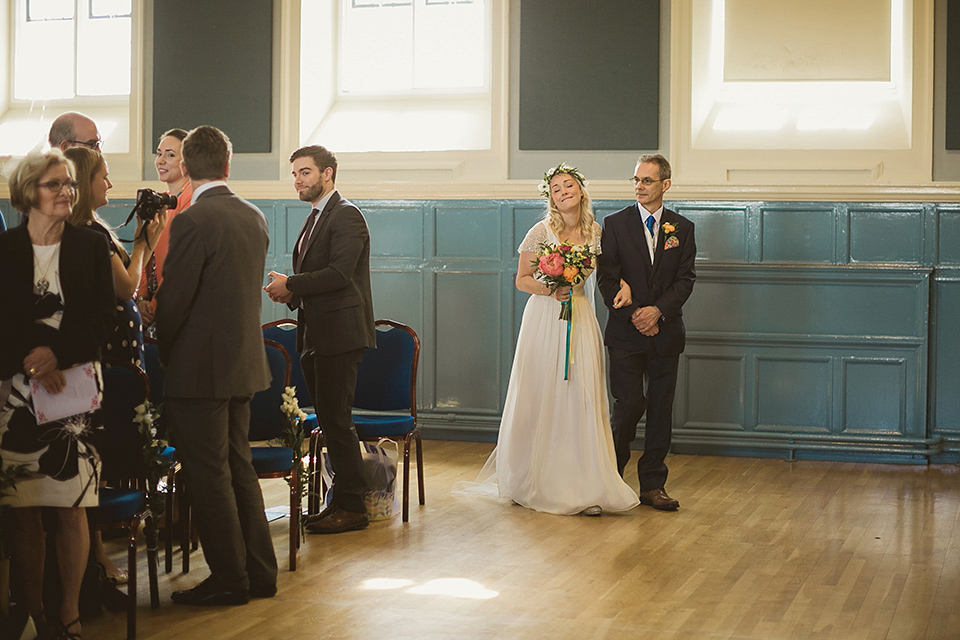 "One of our favourite singers is Kate Bush and we especially love her song Cloudbusting. I arranged it for string quintet and 15-piece choir, which consisted of all our very talented friends and also a few of my local singing pupils. It was one of the highlights of the whole day walking into this huge choral sound, with such gorgeous harmonies and also to have our friends be part of that made it so personal."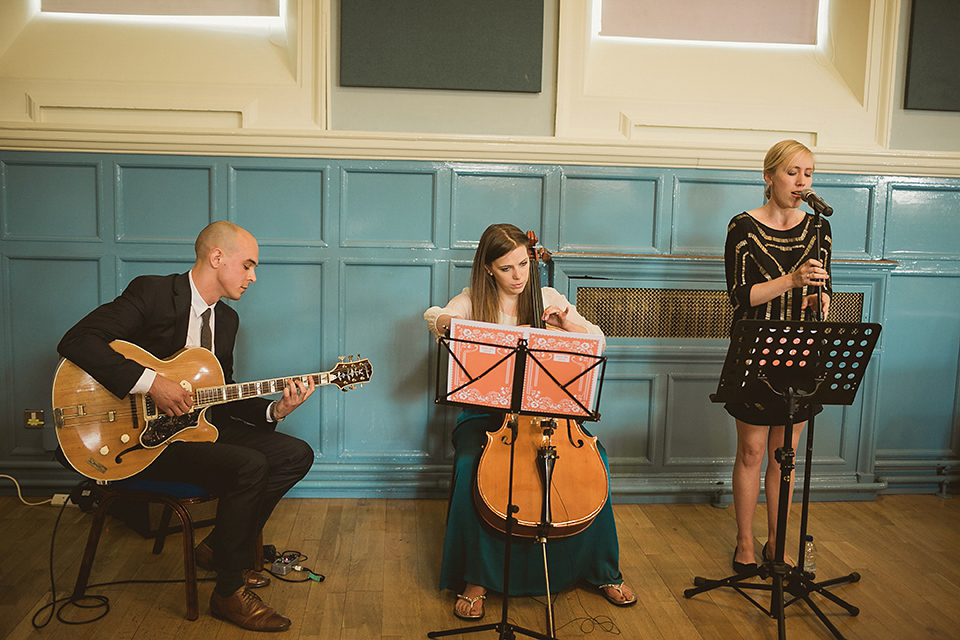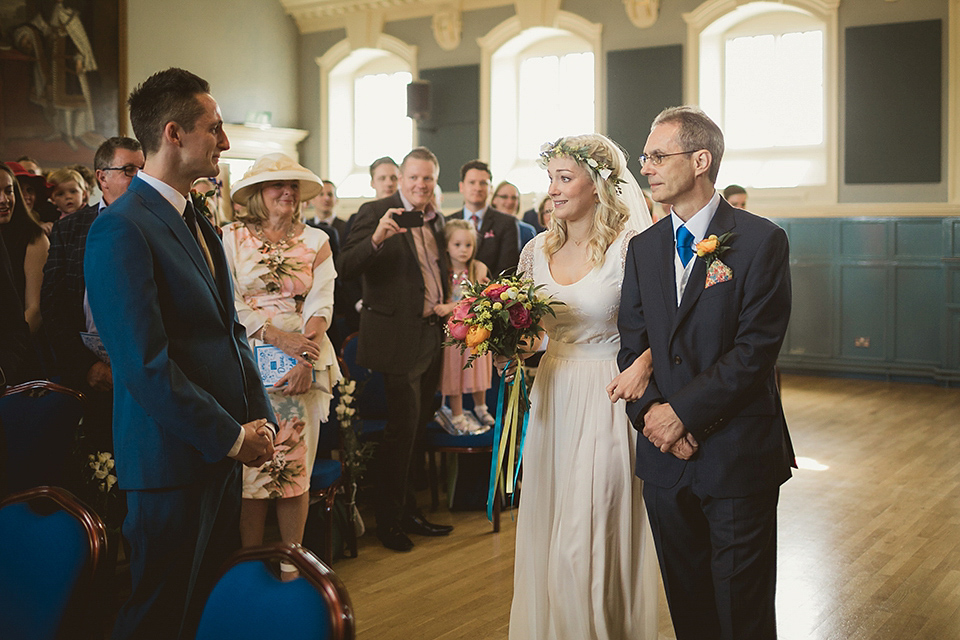 "The bridesmaids wore their own royal blue shoes. They also wore simple bright yellow dresses from Topshop I just felt they matched our bright theme so well and they came well within budget too! They also suited all three girls so well.
My bridesmaids all wore the gold bracelet I bought them from Etsy shop Lotus Stone Jewellery."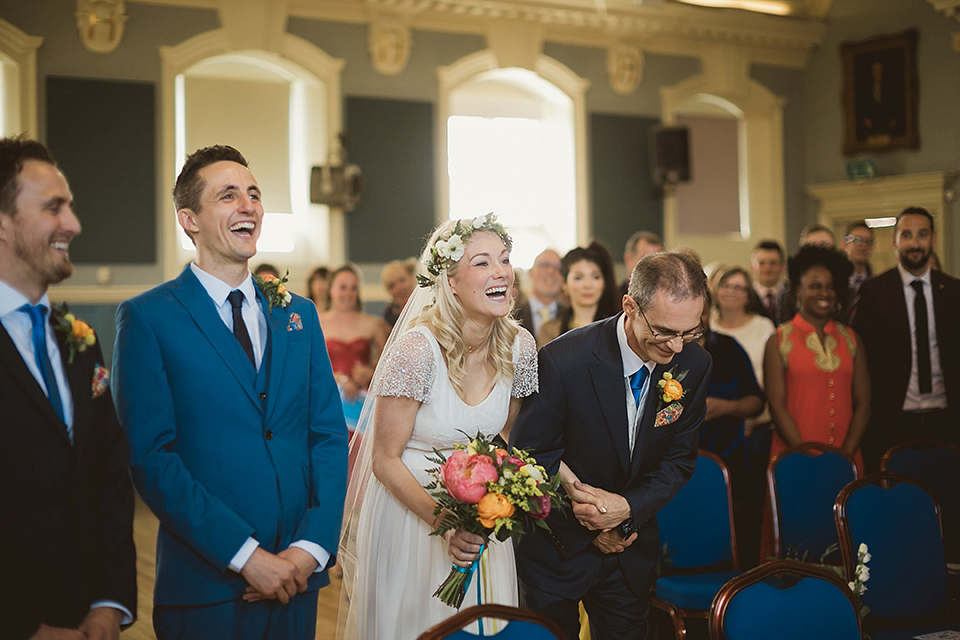 "We wrote our own vows, some funny, some serious and we wrote them separately so they would be a surprise to each other on the day. When I looked into his eyes and said them I felt so connected to him, it was so special to say them in front of everybody there in that moment. We had one song performance where the focus was entirely on the performers. We had our friends John, Hannah and Bex play 'In My Life' by the Beatles which was a very poignant and emotional part of the day."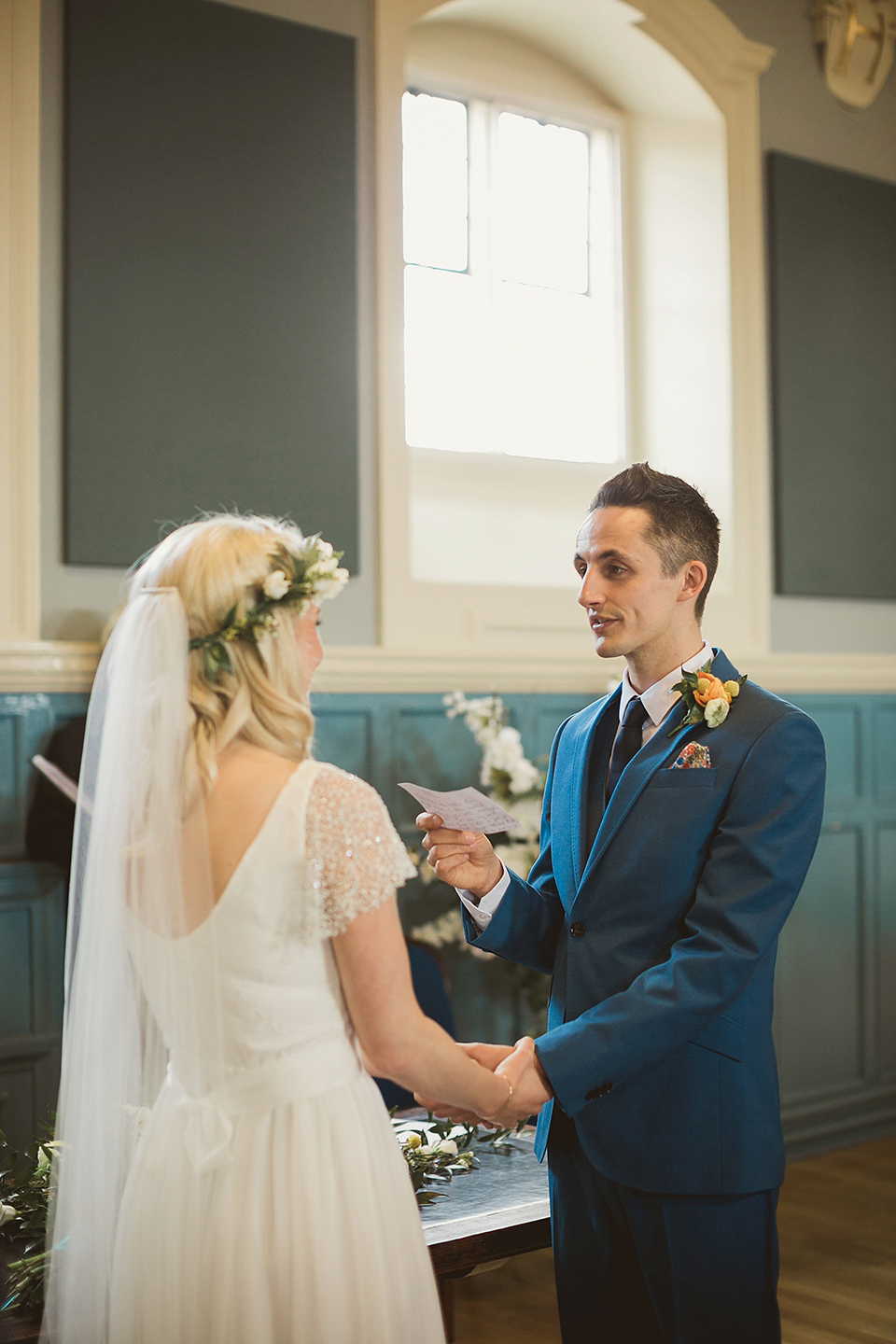 "We had two readings, one was the lyrics from the Stevie Wonder song 'As' read by our friend Chiara. We love this song anyway but if you actually read the lyrics they talk of love being unending and we really liked that sentiment for our wedding. The other reading was read by Dave's mum Ros and was the prose that accompanied a Rob Ryan print called 'Your Song Was My Song' which we instantly knew would be perfect…"
In my head every day, all day long, I sang my special song, a hidden thing, a simple waltz that went around and around and around just like how the world goes around and around. I looked at the world as my song sang along and I saw the whole thing as one long dance that would go on forever.
And then one day I heard someone else singing my song and I looked around and of course it was you. I never knew that your song was my song, is now our song and when we're gone this song will keep going around and around to keep on telling the people of the world to never forget how sweet life is.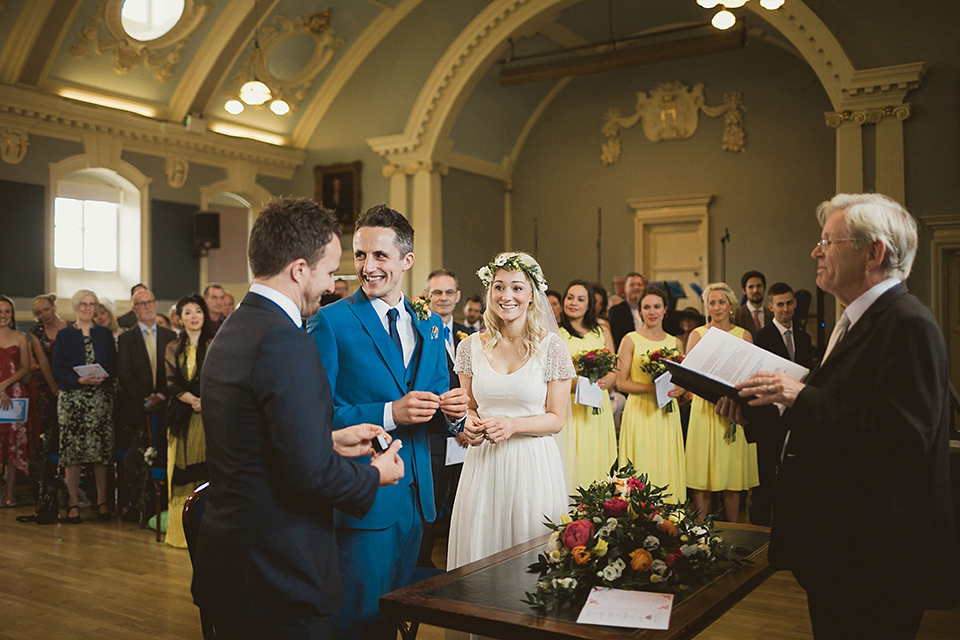 "Dave and I atually met studying Music at Southampton University – he was playing trumpet in the orchestra for a musical I was in with the university musical theatre society, Showstoppers. We became good friends and it was only when I joined our wedding band Groovestone that we realised we were meant to be together and our friendship morphed into something more."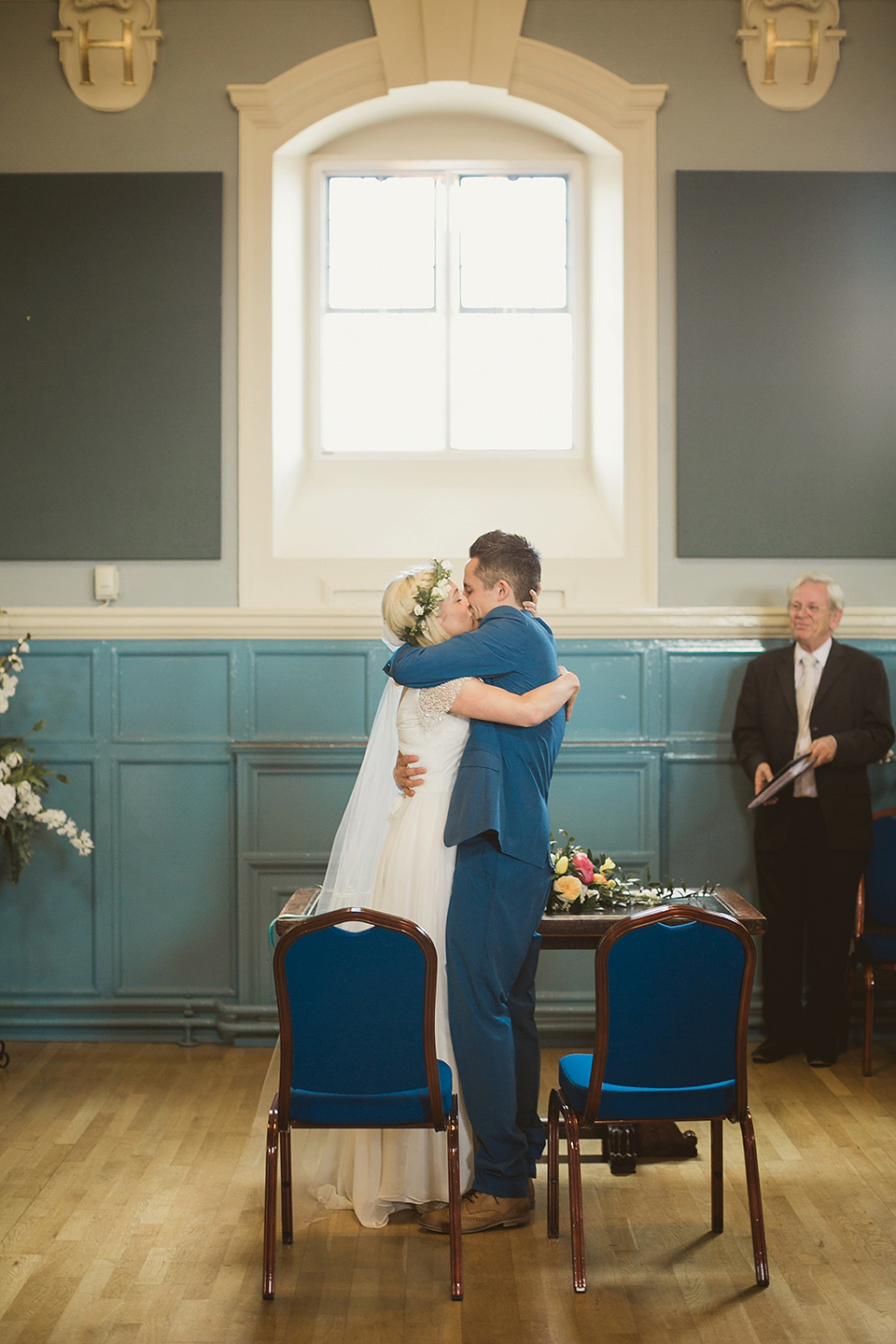 "Dave proposed to me with the most perfect ring from Alex Monroe – it's a gold twig band with an aquamarine jewel. I went back to Alex Monroe to get the thin gold twig band to accompany my engagement ring. For Dave, who wasn't sure if he really suited a ring, we popped to Hatton Garden to have a look around and we found a little antique gold jewellers and inside was a very simple thin gold band which he picked in the end.
Our engagement is one of the best stories and treasured nights of my life! We both love the TV series the US Office and the boss is a character called Michael Scott who proposes to a character called Holly in the office and Dave recreated that scene (which is a real tearjerker) with our families and friends in our flat. He led me inside and they were all lined up the stairs each holding a big candle and as I walked up the stairs, they each proposed to me (like in the show) and I had to 'run the gauntlet' and say no to all of them before getting to the top! I got to the top of the stairs and our lounge was covered with photos of us and beautiful church candles everywhere."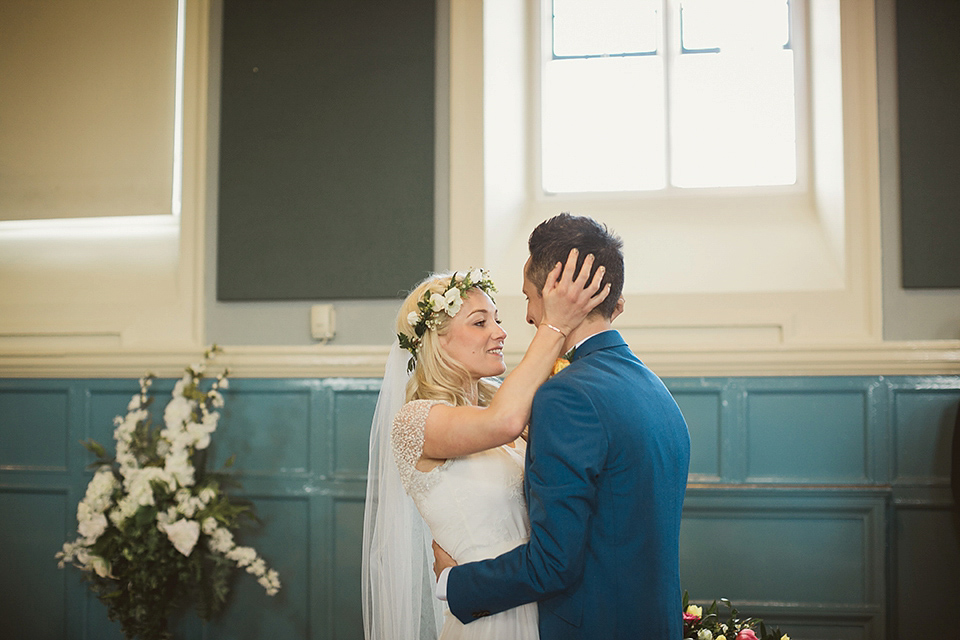 We call it 'The Bikram proposal', as it was hotter than the sun in there with all the candles – plus an actual fire hazard! He then proposed with just us in the room before I ran out into the hall to tell everyone. Then we all went to Sushi Samba by Liverpool Street for cocktails to celebrate and I just couldn't stop grinning. It was also such a surprise I was in total shock for about a week and didn't sleep for days!"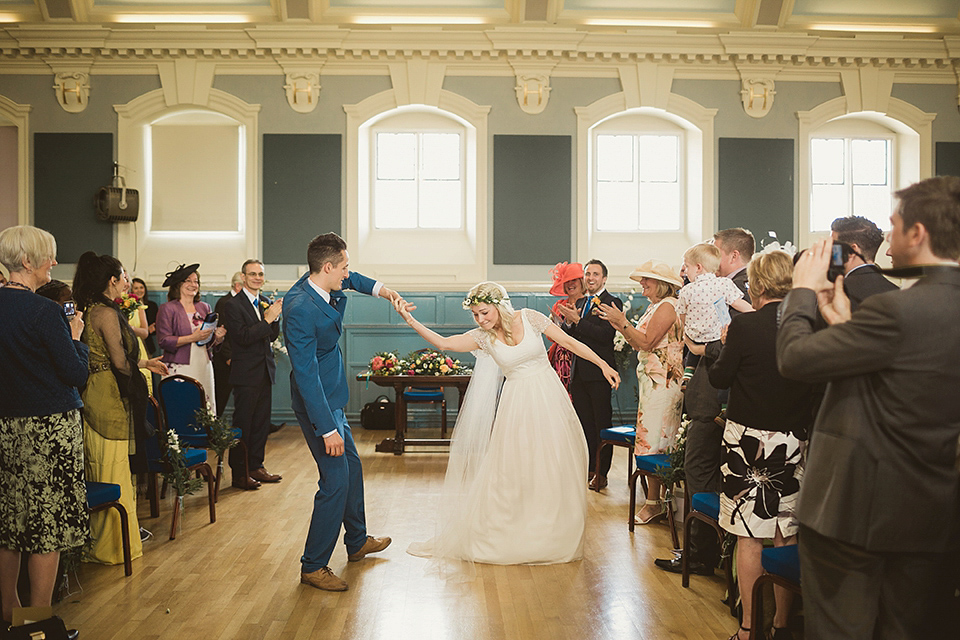 "Tom Ravenshear was the photographer for Dave's brother Ben's wedding in Spain, which was also featured on Love My Dress. We got to spend some time with him and got to know his work and decided he was the one, way before our wedding day! We felt he really cared about us and our wedding day, was so easy to get on with, down-to-earth and a total pro. His pictures captured the most special moments over the day."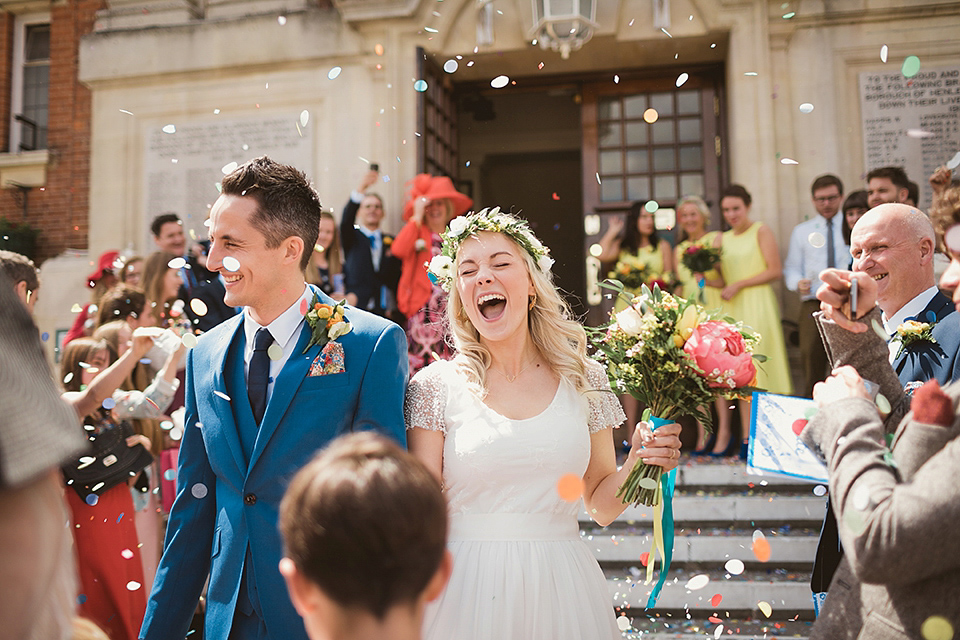 "Tom gets so involved and yet you hardly ever realise he is there over the course of the whole day. We are so glad we made the effort to get a fantastic photographer as we valued that very high on our list. After all, we are going to treasure these pictures for the rest of our lives."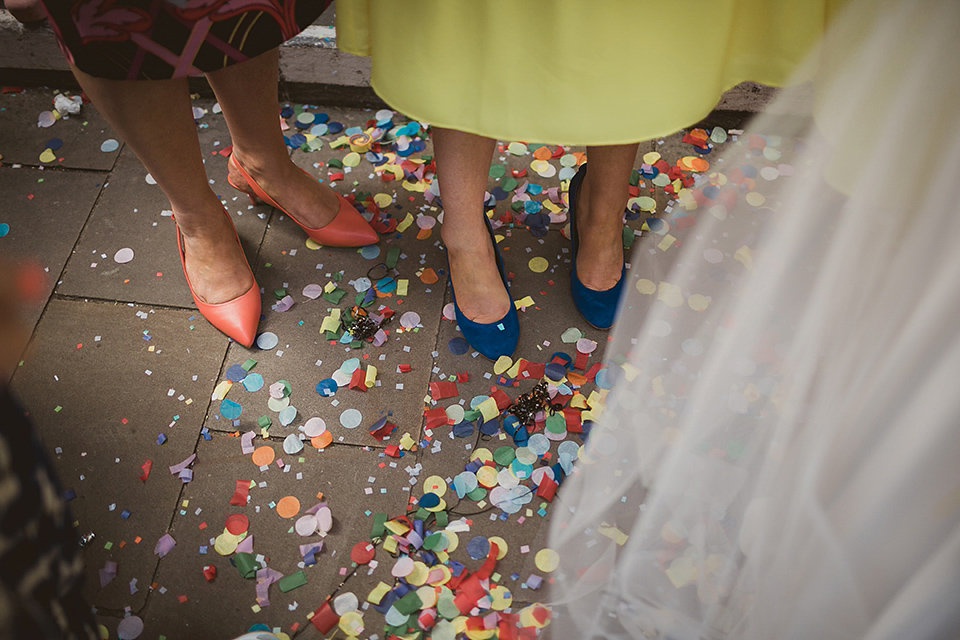 "My sister and florist Jenni did all of our flowers. It was so fun working with her as she really listened to everything we wanted, our only requirements were we wanted them bright and vibrant.  We chose bright pink peonies (with a special pink one from my parent's garden for my bouquet), David Austin roses, yellow tulips, orange ranunculus, white wax flower, white anenomes, yellow craspedia and plenty of deep green foliage like soft ruscus and leather leaf ferns. The boys had cute craspedia buttonholes with orange ranunculus.
She finally revealed my bouquet to me the night before the wedding day and I was close to tears as it was so beautiful and just made everything feel so real. She trailed some bright coloured ribbons from the bouquet which in the confetti pictures blew into the air and looked stunning. I was so happy and grateful for Jenni's hard work and the flowers made the whole hall look so vibrant. She also made us a soft ruscus garland to sit below the stage in the hall which looked so beautiful. Being my sister made it even more special."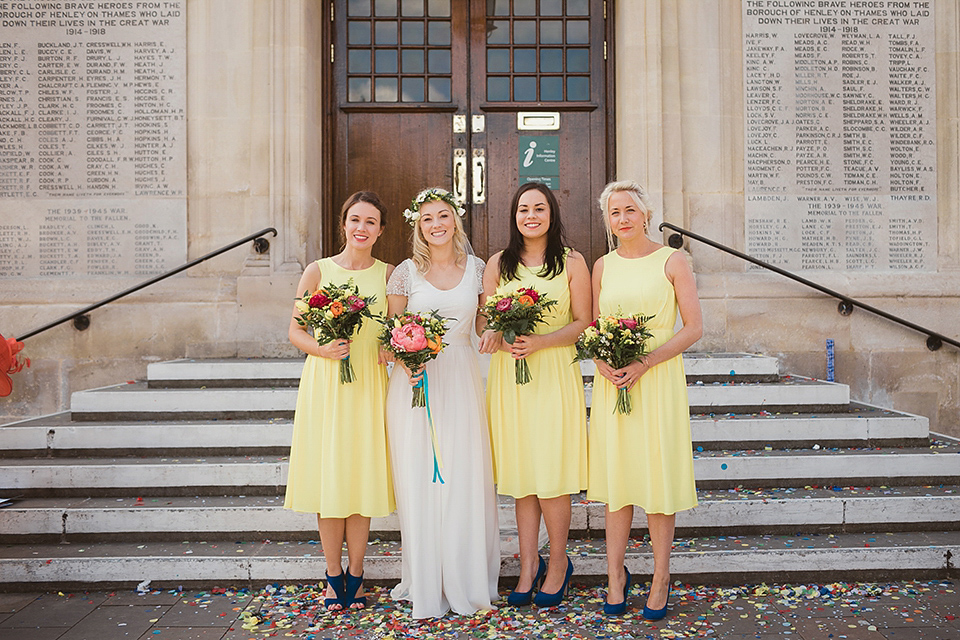 "Dave got his 3-piece blue suit from M&S. His shoes were Kurt Geiger brogues.
I made each of the groomsmen and the groom a bright coloured pocket square using Liberty fabric. Their ties were from www.tiesplanet.com and they all wore their own brown brogues. The Groomsmen, through borrowing or already owning, all wore a navy suit from Reiss so they were all matching!"
"My veil was from the Etsy shop Bridal Star I didn't want to spend very much but desperately wanted a veil as when else can you wear a veil?! It came off pretty quickly after the first set of pictures on the day though as due to my clumsiness I kept stepping on it (!) but I was so pleased I wore one down the aisle, it made me feel like a real bride."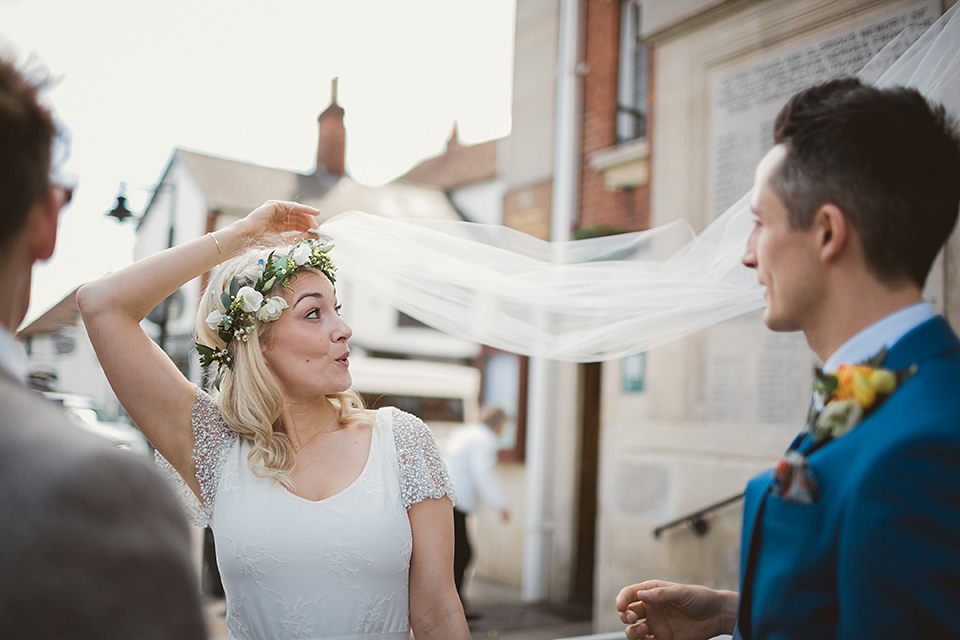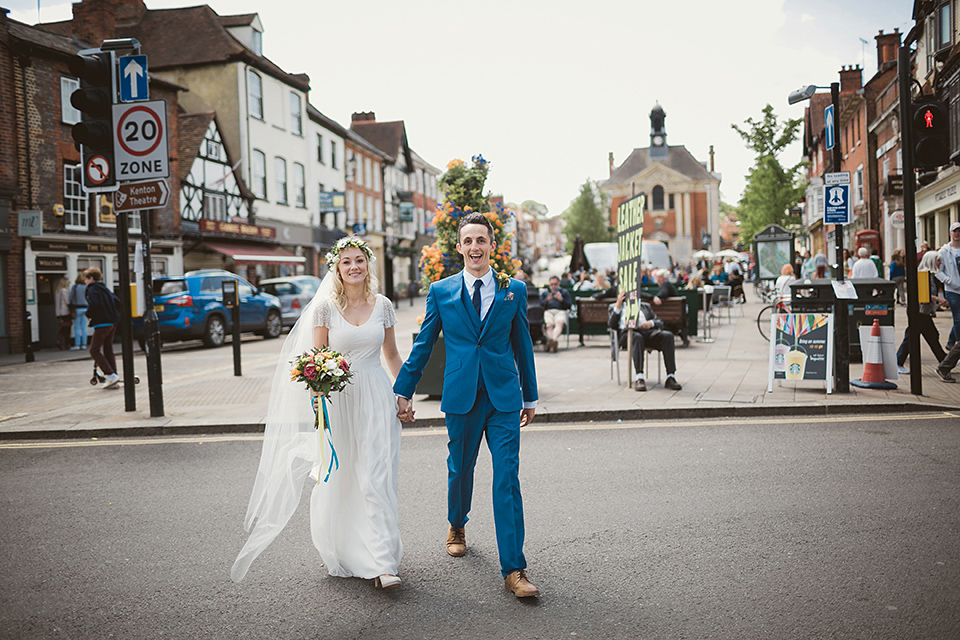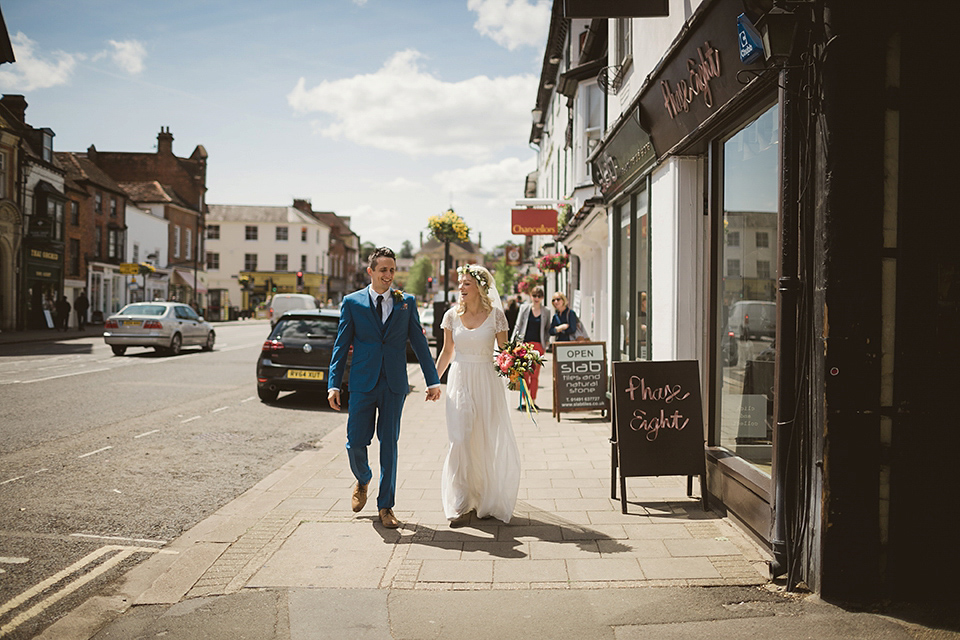 "I was so worried when I started looking at dresses as I thought I'd never be able to know what dress I'd want let alone make a decision to buy THE dress. I went to a few lovely boutiques with my mum and sister and had a lot of fun trying on the dresses but just couldn't seem to find a dress that was very 'me'."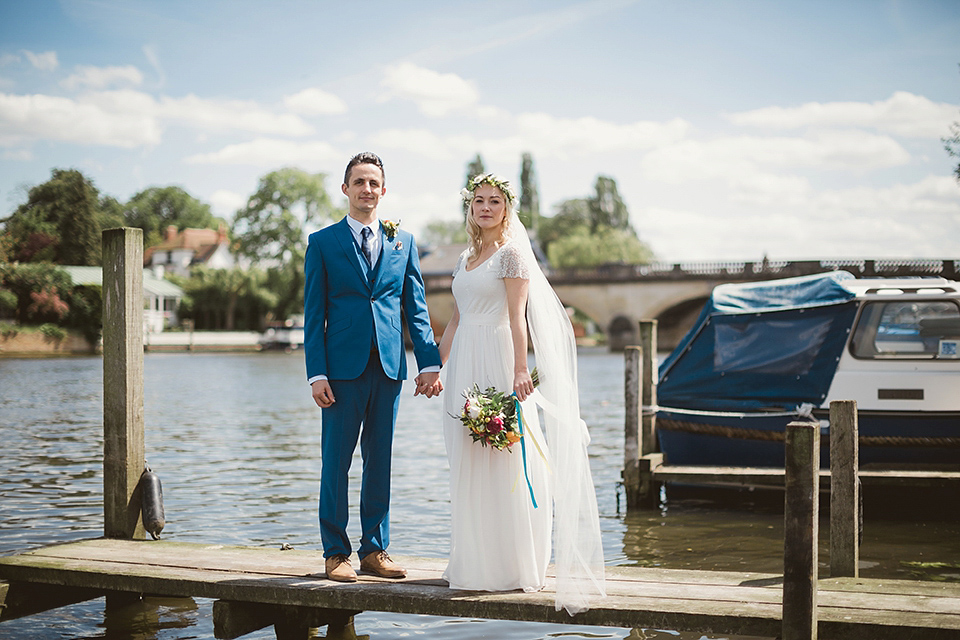 "I was searching for something a bit more boho and also something comfortable and relaxed as I knew I wanted to wear a bra with straps on the day. I also wanted to stay under £700 for a dress and all the gorgeous boho dresses I'd seen and loved were very expensive."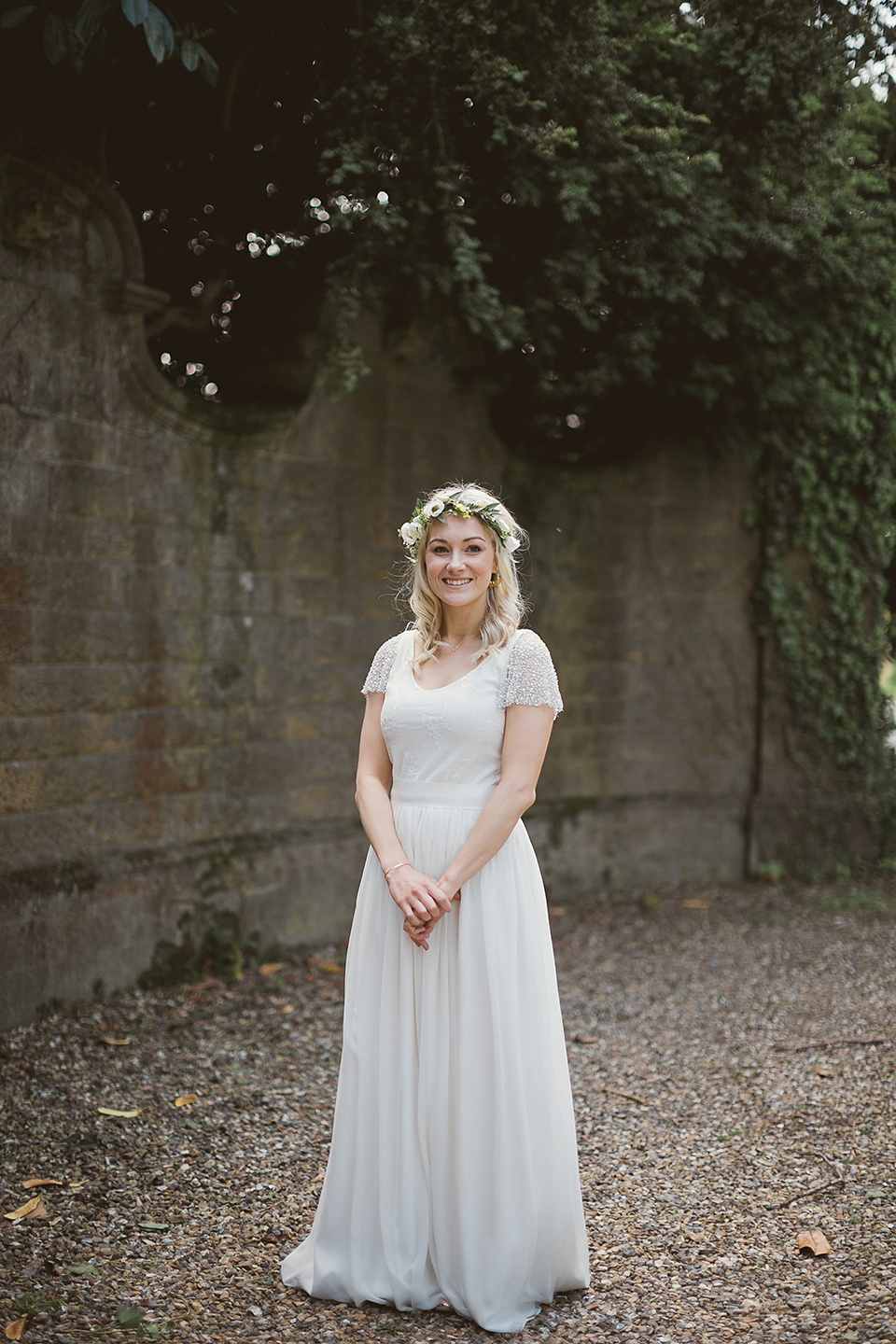 "Grace Loves Lace hand-make their dresses and I felt as if they really took pride in what they do. My dress was made with care and such beautiful, delicate materials. I came across them through an Australian wedding blog and as they ship internationally I thought I'd take a risk and order after staring at the Clare dress for weeks online. The delicate sequin sleeves for me were my favourite part as they added a little bit of something special without being too full on and I also thought they were quite original too."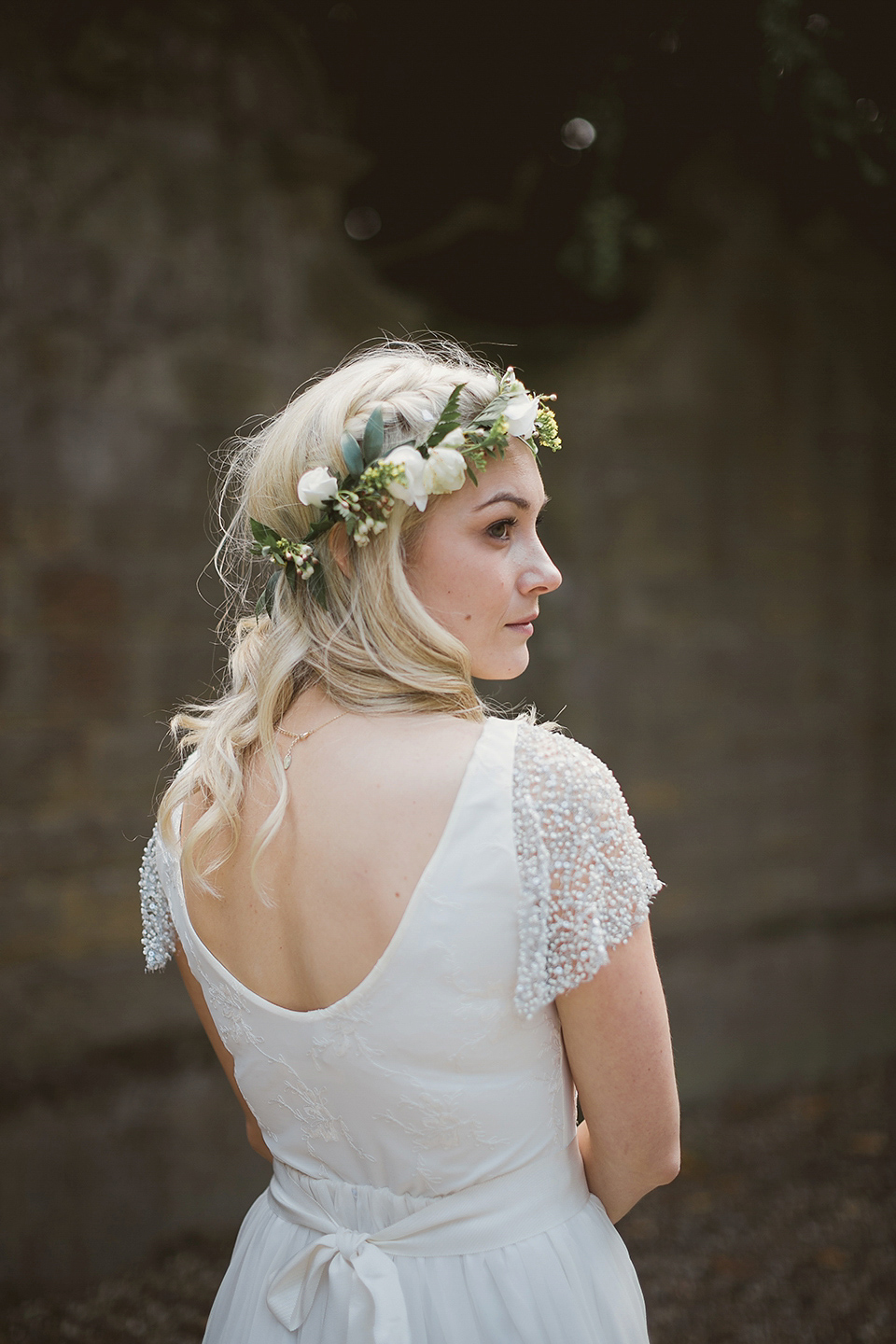 "I felt so comfortable during the whole day and at the same time very glamorous too. It was the perfect combination for me – a natural scruff – who just wanted to be a princess for a day!"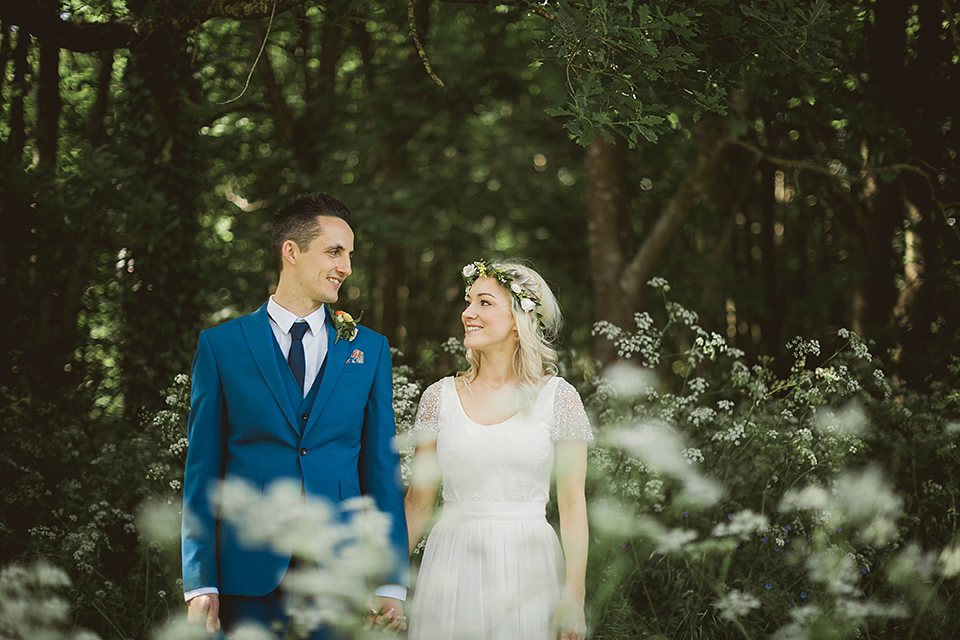 "We knew we wanted something different while trying to keep our budget low and so we decided on a food truck. We love Mexican food and to add to our fiesta theme we decided on the awesome Taco Truck who have an adorable red truck filled with the most delicious tacos. We chose 3 fillings for our big day and we've had such lovely comments from all our guests about how delicious the food was. The guys at Taco Truck are so friendly and we couldn't recommend them highly enough. www.tacotruck.com
Members of our family slaved away on the Friday before and prepared us many delicious salads to accompany the tacos.
We are so thankful for all their hard work and setting up on the Friday, I couldn't believe how much food they'd made as they proudly marched in on Friday afternoon with huge Tupperware boxes full of food!"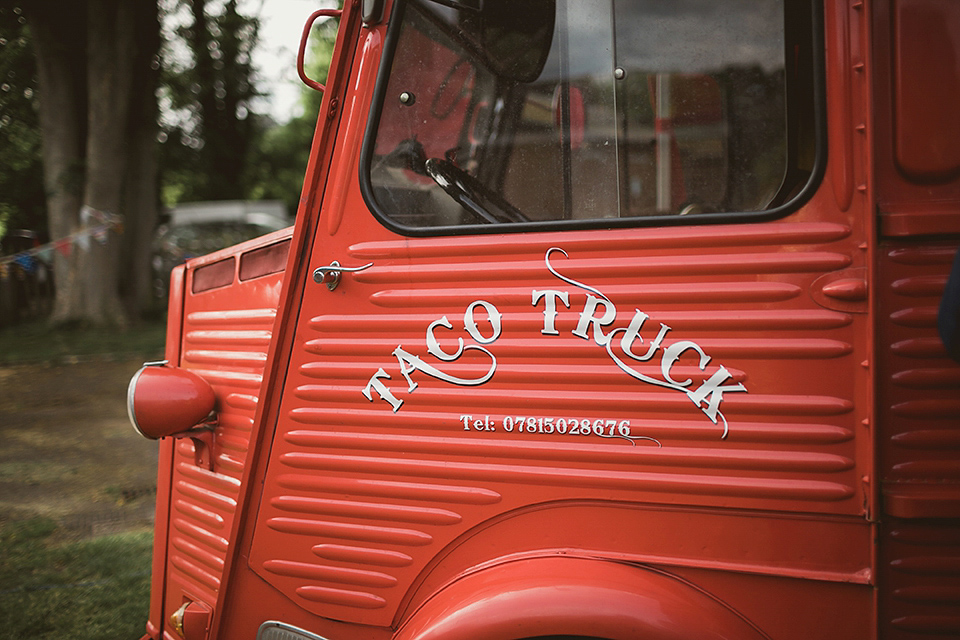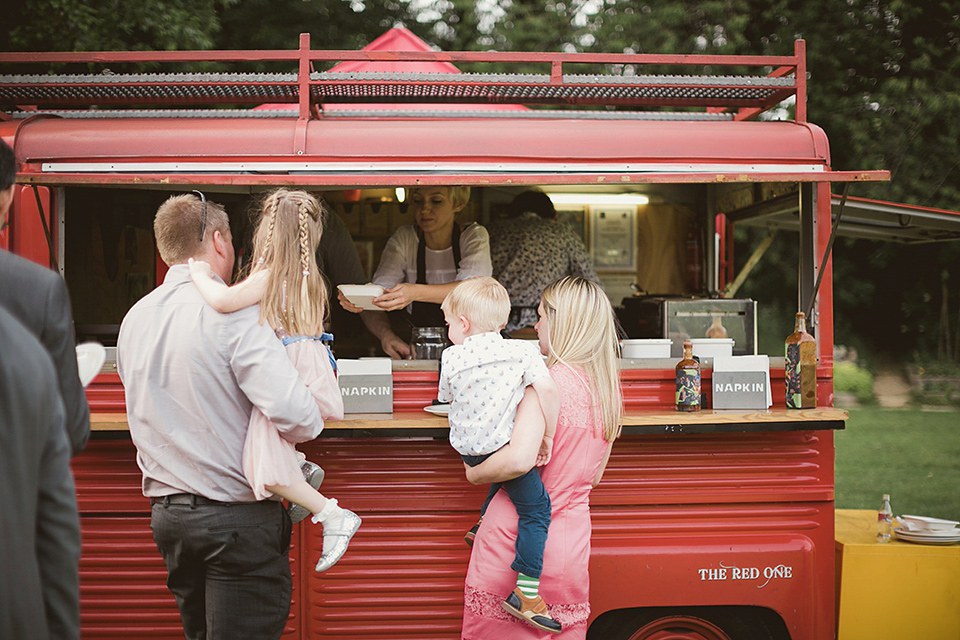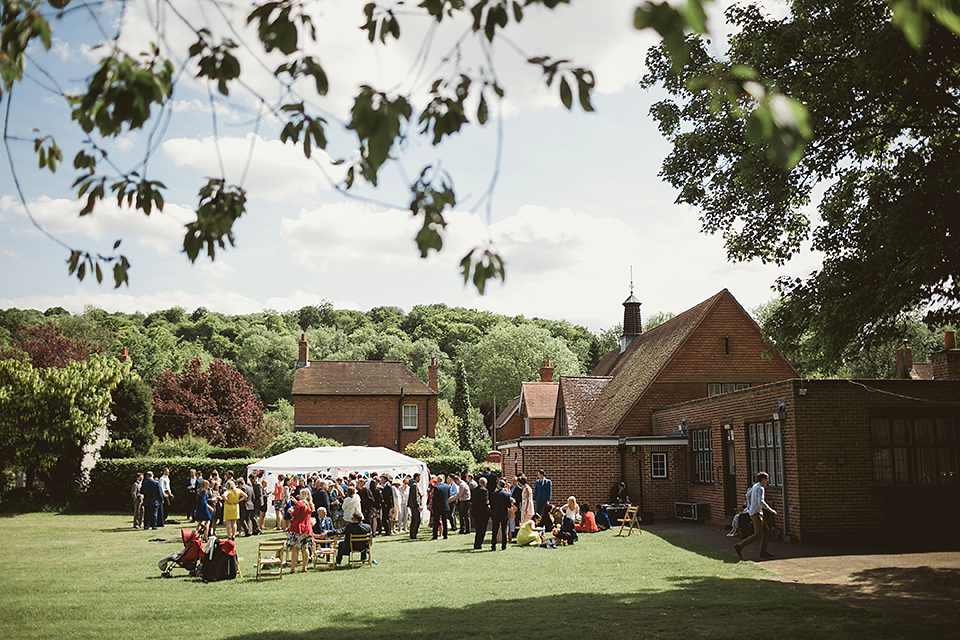 "We styled the entire village hall ourselves, as it was a blank canvas. It took all day on the Friday to get it all looking beautiful but we did it with a lot of help from our family and friends. My amazing mum made 10 meters of bunting from material we had been collecting and cutting up for over a year. I made a crepe paper ribbon wall using string and different coloured crepe paper rolls as a backdrop for the band.
Our friend Paul made us a frilled tassle backdrop for the bar too which looked incredible and it took him no time at all! We blew up massive CAKE letter balloons and borrowed some beautiful bright tablecloths from my bridesmaid Nicky to decorate the cake and salads table. We put up a mini gazebo outside for the drinks reception with some bunting around it."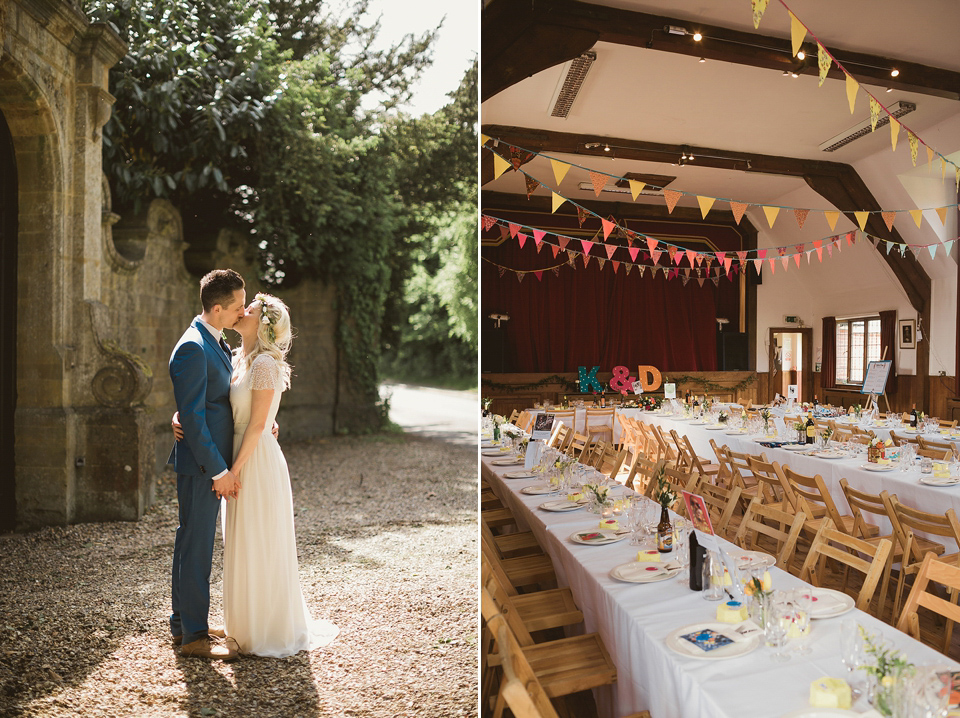 "Dave and I, plus some of our very kind friends made our DIY favours, we made small hexagonal yellow card piñatas for everyone to break open. We tied a tag on each one with bright coloured twine and covered them with tassled yellow crepe paper. This job took us weeks! Inside we put a few sweets plus an individual note to each guest thanking them for being there and including a funny memory we have with that guest. I found the DIY instructions on the blog Oh Happy Day which always has unqiue, lovely DIY tutorials which these days, brides on a budget are very grateful for!"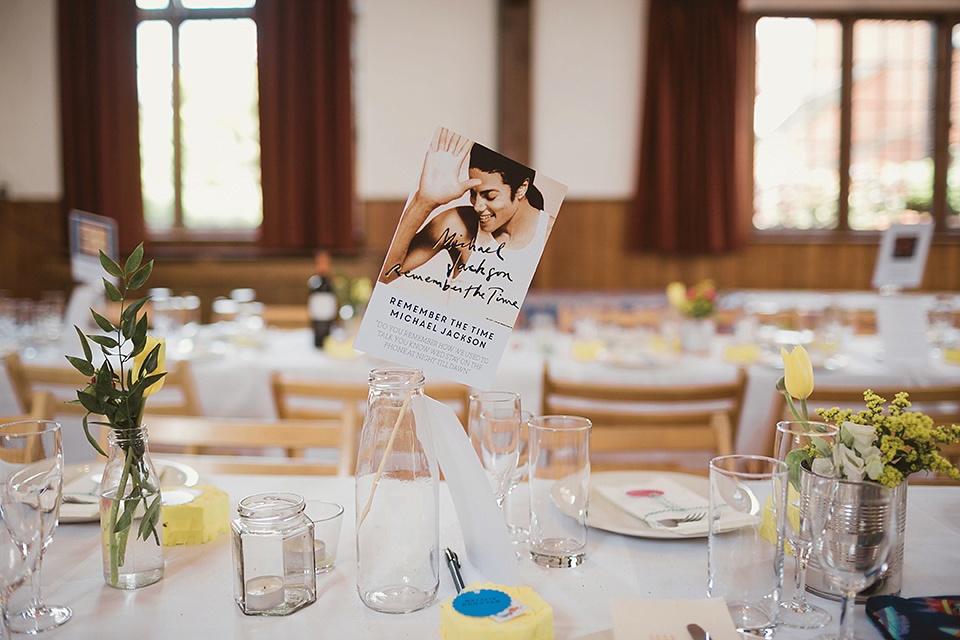 "We also recycled some signs from Lucy's wedding and painted them to say 'Tacos' to point all our guests in the right direction for the Taco Truck. Taking inspiration from Ben and Nicky's Spain wedding we also made our own light up K & D letters with fairylights which looked very cool as a backdrop to the top table alongside the garland of soft ruscus my sister Jenni fixed up as a backdrop to the top table. Jenni then filled lots of jam jars and bottles with our table flowers.
We hired a lot of furniture including extra tables, all the chairs, the fridge and glasses from Millie Miles Event Hire."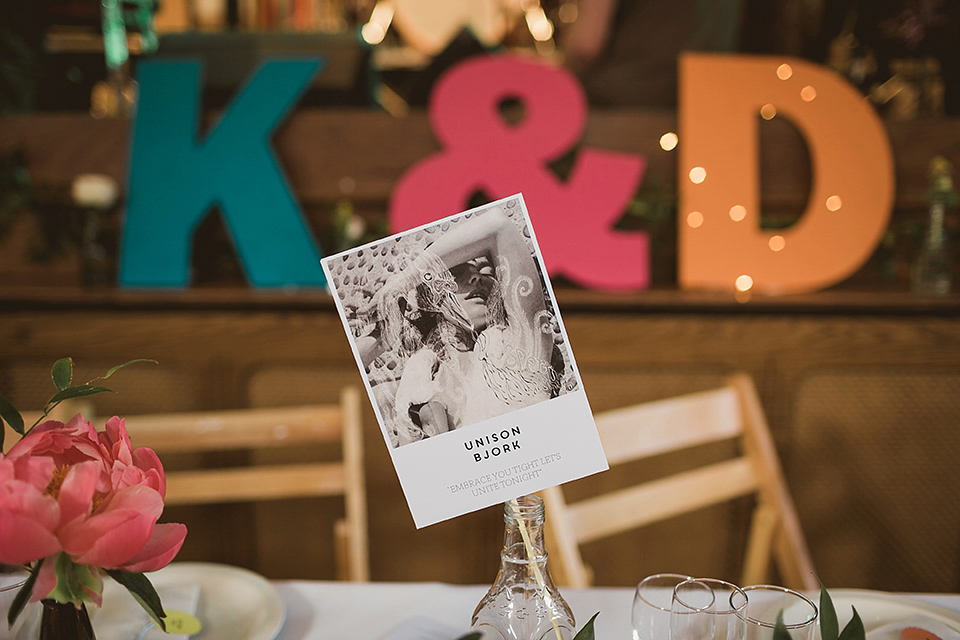 "We bought a tin bath on Ebay and filled it with ice and stuck all the bottled beers in there which looked great but was also very functional too! People then helped themselves."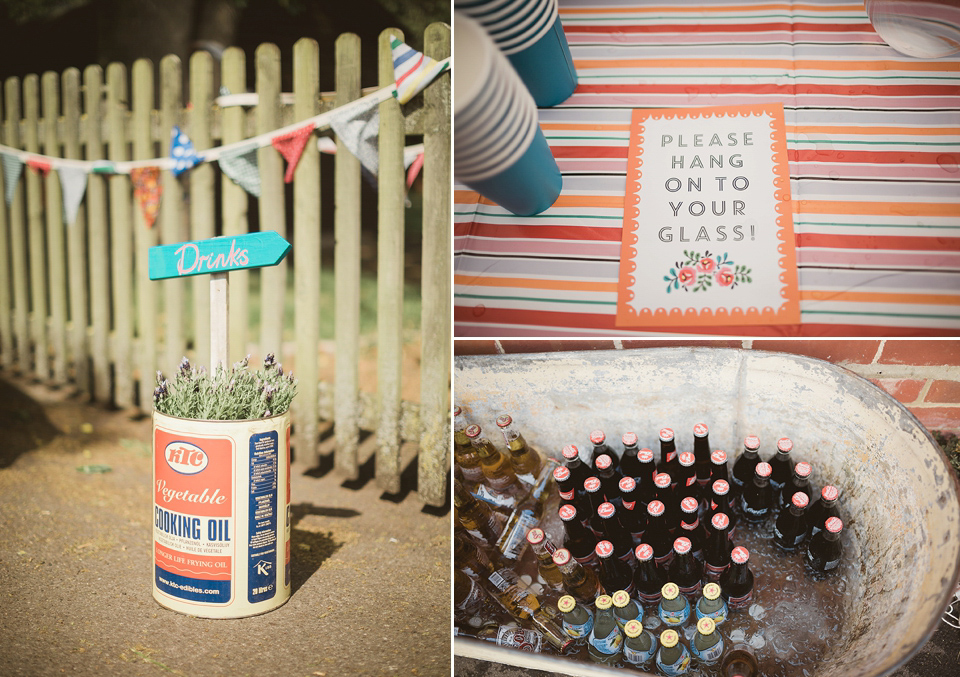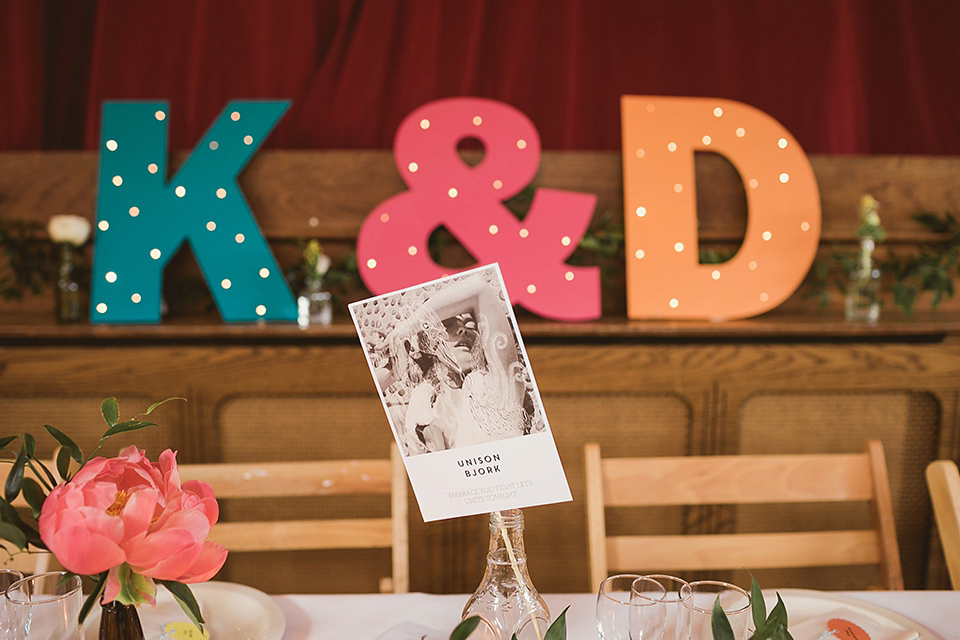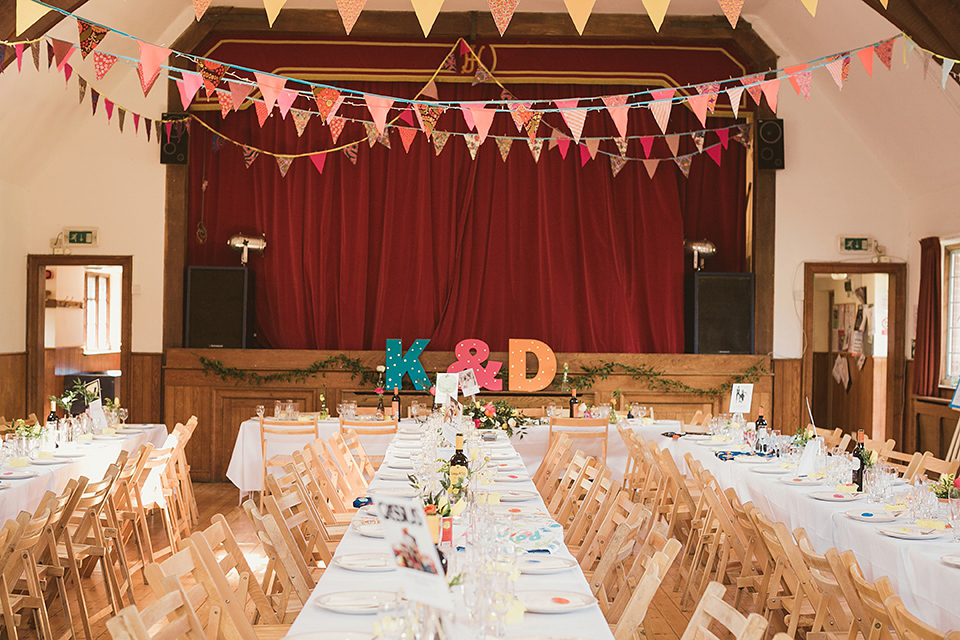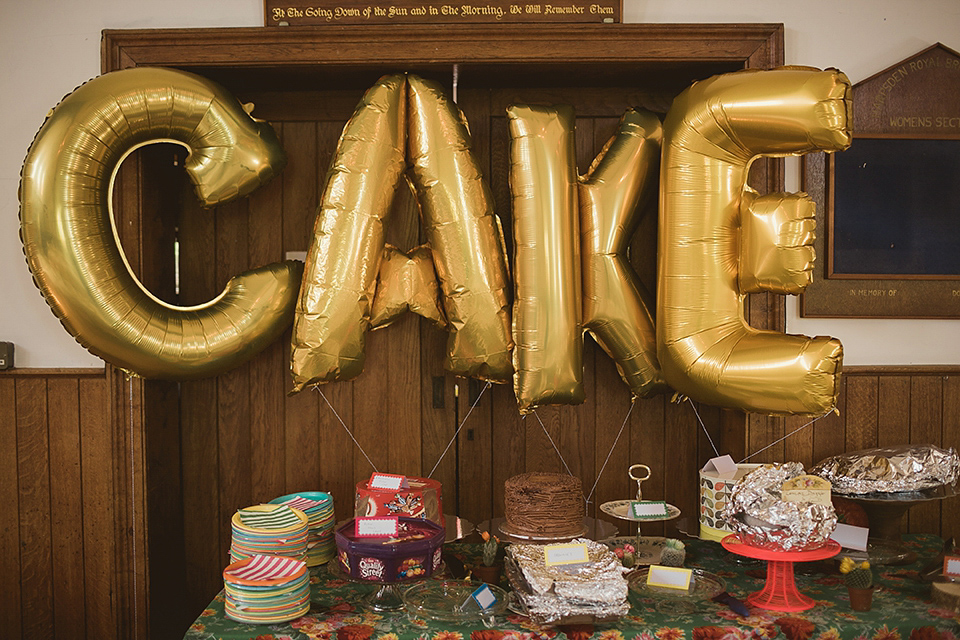 "We asked some of our amazing friends and family if they would bake us a cake for our cake table so we didn't have one specific cake but loads to choose from and they were all so delicious and looked great on our cake table!"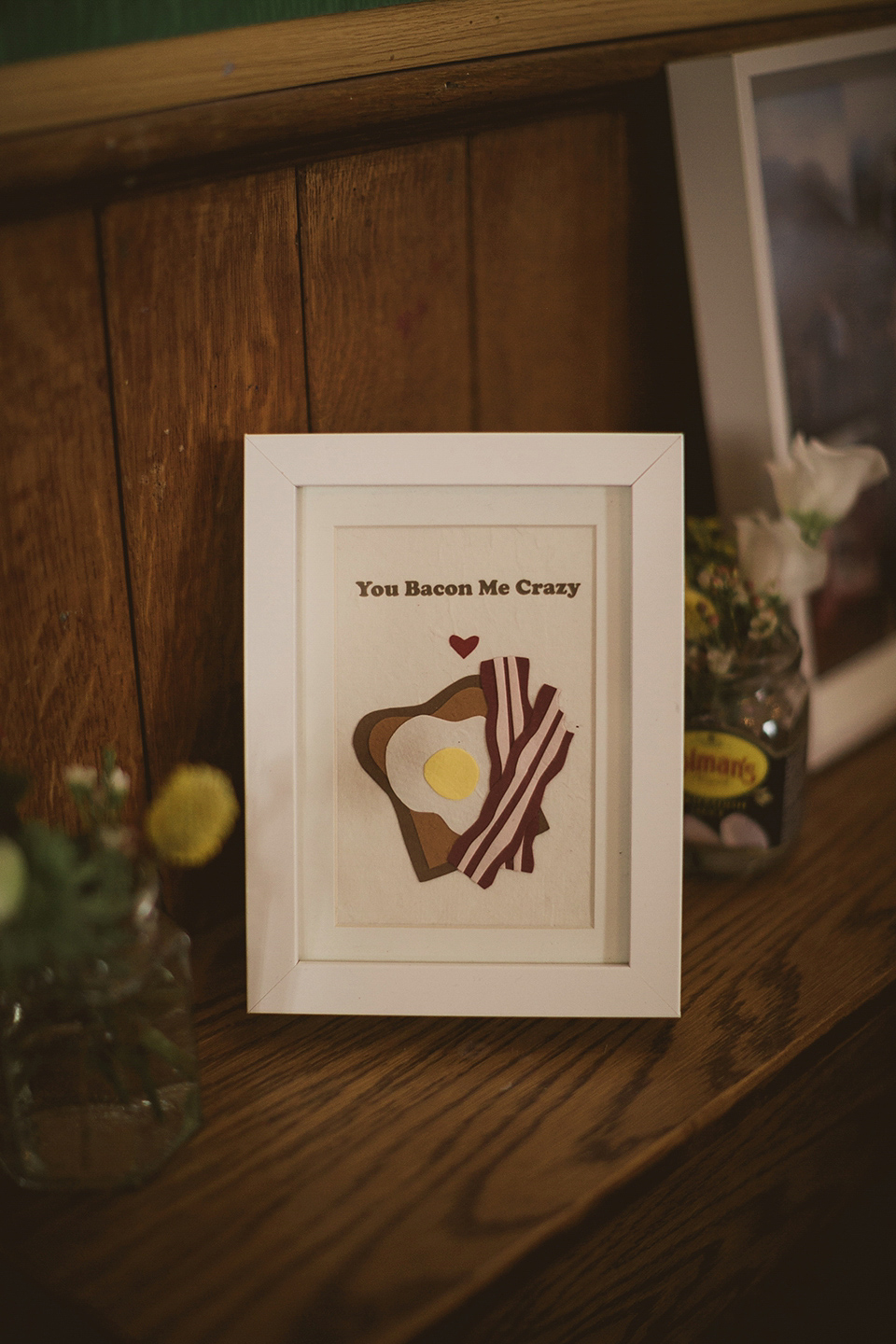 "My most favourite part was walking down the aisle to the sound of the choir and strings playing Kate Bush. We also loved arriving at the drinks reception later than everyone after taking some photos with our photographer Tom and seeing all our guests enjoying a mojito in the sunshine with the reggae tunes blaring out courtesy of our DJ friend Dan, it was a real 'pinch me' moment for the both of us as we stood and watched for a mindful moment at the scene realising they were all there to celebrate with us!"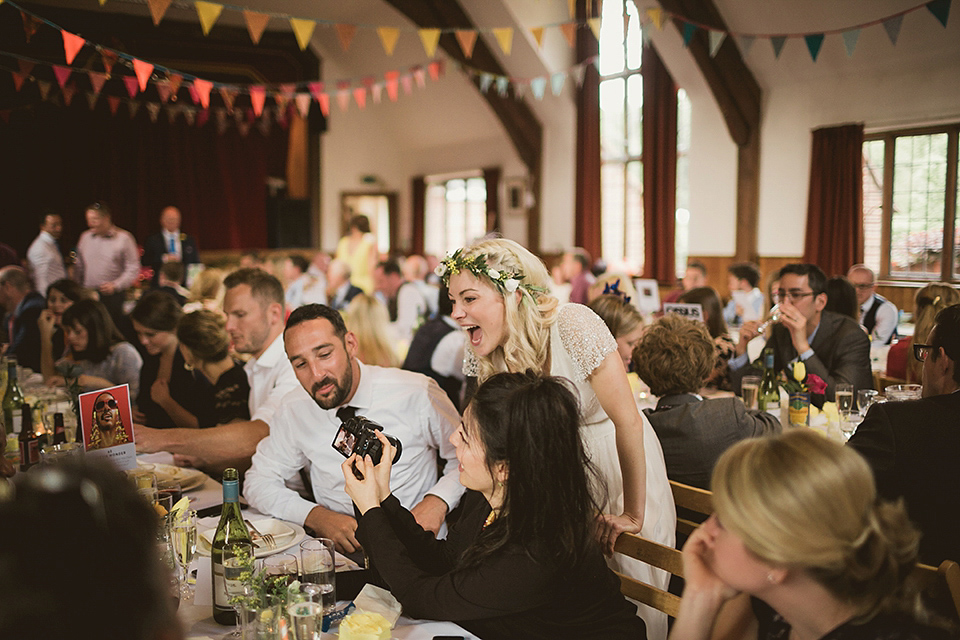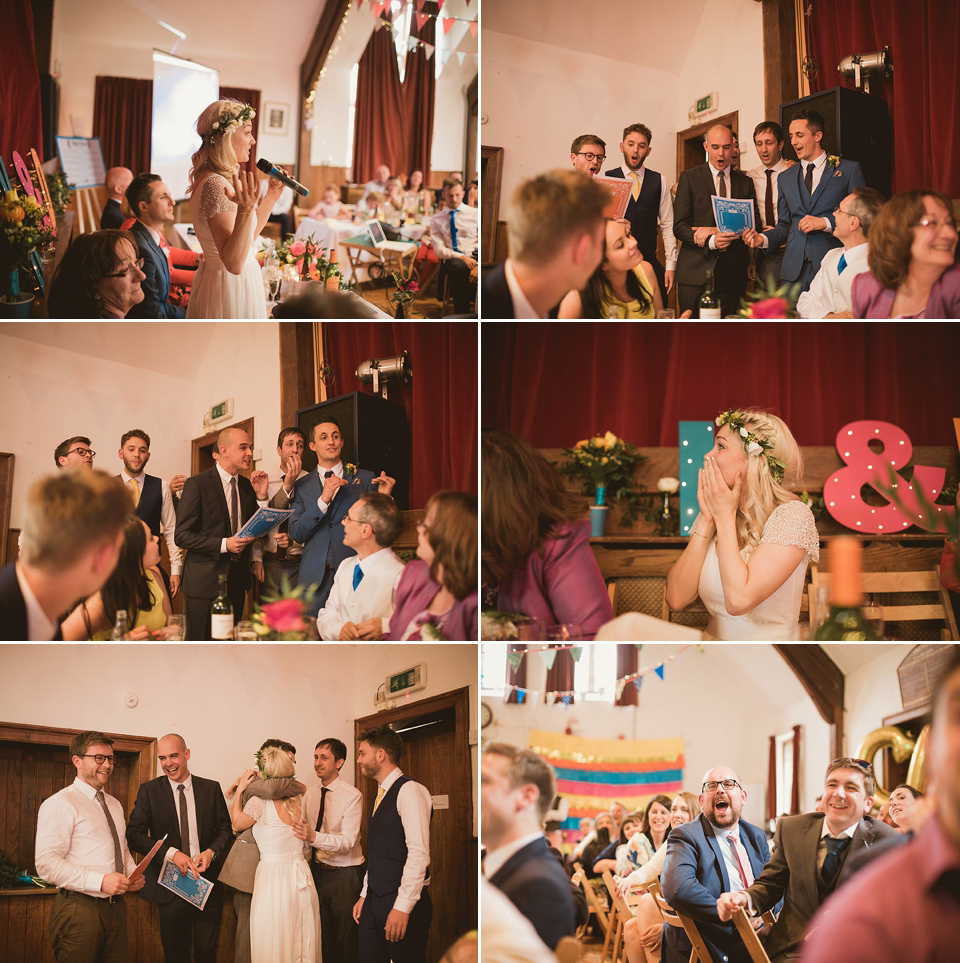 "We choreographed an entire dance routine to a mash up of Dirty Dancing (to lull people into thinking it was a 'traditional first dance'), Rick James' Give It To Me Baby, R Kelly's Bump and Grind and Michael Jackson's Wanna Be Startin' Something which was so much fun! We were never going to do the slow dance thing it's just not very us although we did have a slow dance at the very end of the night."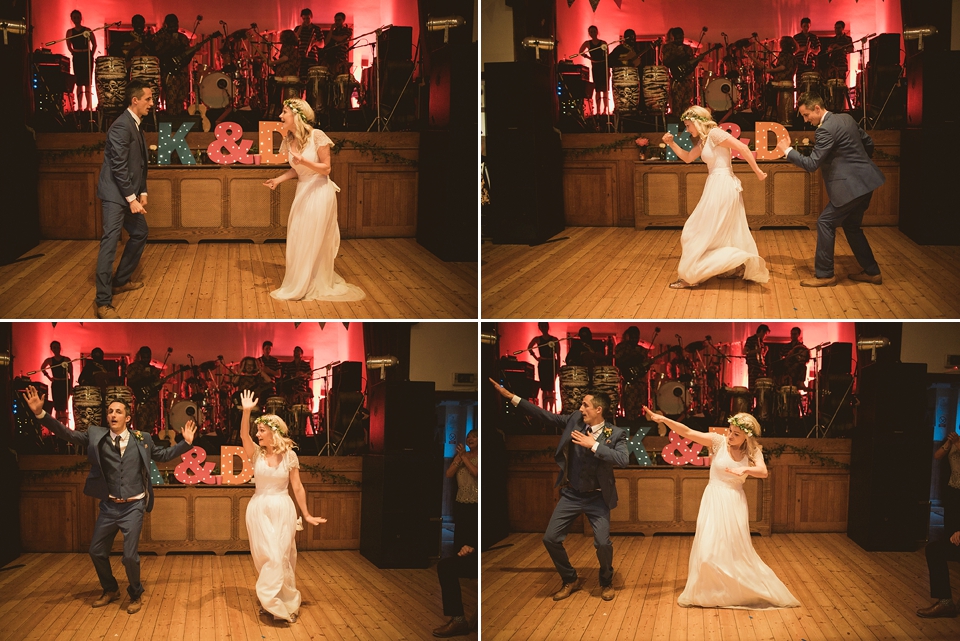 "We are both musicians so picking music was VERY hard! We didn't want a usual 'wedding band' as we are in a band ourselves so we decided to go with an African 9-piece band for the evening, especially formed for the day. They were a huge highlight of the day, the music was so uplifting and everybody was dancing away, led by the lead singer we even had some fun choreographed dancing too and everyone was on the dancefloor joining in, no matter how old or young! Dave had premixed some playlists of our favourite songs which were played afterwards to keep the party going.
Our last song was 'Everywhere' by Fleetwood Mac and everybody danced to that in a big circle at the end of the night, such an amazing moment."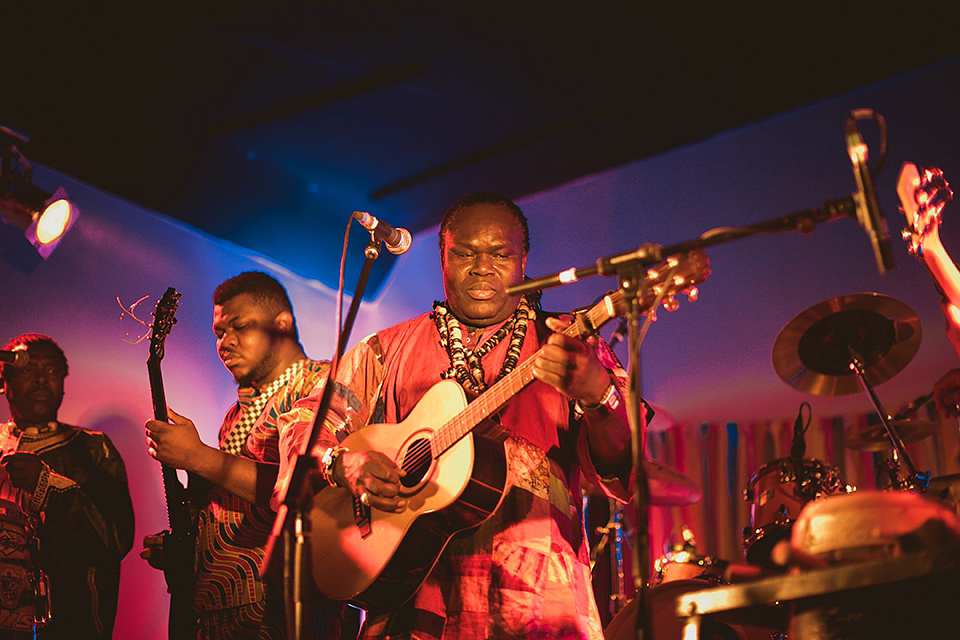 Words of Wedded Wisdom
"It's your wedding so make sure you include things you and your partner love and not what you think other people would like you to have. If you want reggae – have reggae! If you want to wear a blue dress – wear a blue dress! There are no rules because it should be a very individual day catered to you and your partner. That's the most important thing, there were very personal things about our wedding which were very 'us' and made it so special.
On a special note, my wedding band members are like my brothers and they surprised me with Dave during his speech by singing me my own personalised acapella barber shop version of the old song 'K-K-K-Katy' by changing all the lyrics! There were so many surprises on the day.
Finally, on reflection, I wouldn't have worried so much about the tiny details because on the day as it all goes past so quickly you forget what has/hasn't been done and you don't care as you're just having so much fun!"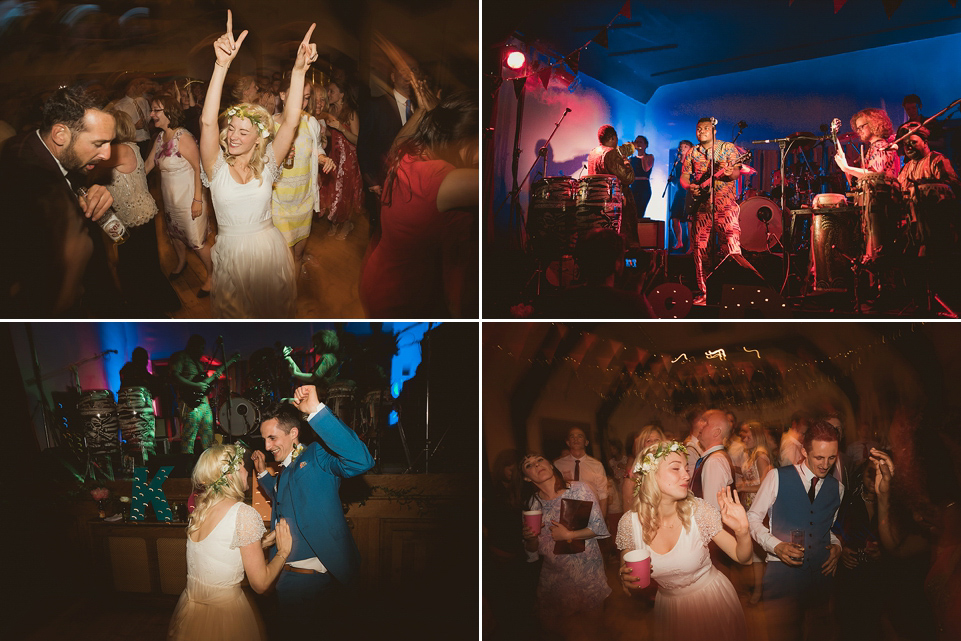 What an exceptionally beautiful day, wonderfully photographed by a gentleman who really knows his stuff – I adore sharing the work of photographer Tom Ravenshear – more of which you can see here on Love My Dress.
Huge, huge love and thanks to you Kate, thank you so much for choosing Love My Dress to celebrate and share your wedding with, I've loved every moment of working on this feature for our readers.
Love Annabel xx
Photographer –  Tom Ravenshear
Venue – Henley-on-Thames Town Hall + Harpsden Village Hall
Wedding Dress – Grace Loves Lace
Accessories –  Alex Monroe hooped earrings + Orelia stag necklace +  Lotus Stone Jewellery bracelet
Veil –Etsy shop Bridal Star
Shoes – Debut at Debenhams
Accessories – Alex Monroe
Perfume – Do Son by Diptyque
Groom – M&S suit + Kurt Geiger brogues
Bridesmaids – Topshop + bracelets by Lotus Stone
Florist – Jen's Stems
Cake – Guests own
Rings – Alex Monroe
Catering –  Taco Truck
Stationery – Lucy Says I Do